Details to follow
♦♦♦♦♦♦♦♦♦
=================================================================================================================
Bringing you shipping, freight, trade and transport related news of interest for Africa since 2002
Stay Well, Stay Safe, Stay Patient, don't become one
Advertise here – sidebar column banner space available – strengthen brand awareness at affordable rates – email us for a Rate Card to

 terry@africaports.co.za
Would you like to receive our free daily newsletter via email?  Send your email marked NEWSLETTER to terry@africaports.co.za 
♠♠♠
Join us as we report through 2021 and 2022
'and learn with Africa Ports & Ships' 
****

**

****
TODAY'S BULLETIN OF MARITIME NEWS
These news reprts are updated on an ongoing basis. Check back regularly for the latest news as it develops – where necessary refresh your page at www.africaports.co.za
Click on headline to go direct to story : use the BACK key to return  
FIRST VIEW:   SHEGARDIAH
News continues below
♦♦♦♦♦♦♦♦♦
The Monday masthead shows the Port Elizabeth Container & Ro-Ro Terminal
The Tuesday masthead shows the Port of Walvis Bay
The Wednesday masthead shows the Port of Ngqura aerial
The Thursday masthead shows the Port of Ngqura Container Terminal
The Friday masthead shows the Port of Mombasa
The Saturday masthead shows Port of Apapa (Lagos)
The Sunday masthead shows the Port of Port East london
♦♦♦♦♦♦♦♦♦
SEND NEWS REPORTS AND PRESS RELEASES TO   info@africaports.co.za
♦♦♦♦♦♦♦♦♦
News continues below
Earlier in the year we featured the Kuwaiti MR2 products tanker SHEGARDIAH (IMO 9856701) that at that time (July) was calling at Cape Town, having arrived from Durban to complete discharging her cargo at the Mother Port. At the end of November the tanker was back in South African waters, and was photographed departing from Durban on Monday, 29 November 2021, bound for Walvis Bay.
Borrowing from Jay Gates' report of that time – SEE HERE, the 48,578-dwt Shegardiah is owned and managed by the Kuwait Oil Tanker Company (KOTC) and operated for the state-owned Kuwait Petroleum Corporation. She was built by Hyundai Mipo shipyard at Ulsan in South Korea in 2020, entering service only on 28th April 2020 when she was handed over to her new owners.The tanker has an overall length of 183 metres, is 32m wide and is powered by a single HHI MAN-B&W 6S50ME 6 cylinder 2 stroke main engine producing 14,322 bhp (10,680 kW), driving a fixed pitch propeller to give a service speed of 14.5 knots. She has a cargo carrying capacity of 52,229 m3.
What was again visible to onlookers as the tanker sailed from Durban were some of her anti-piracy measures, including dark blue plastic drums which we assume to contain coiled razor wire, used in the event of an attempted boarding.
These barrels can be seen along the top of the hull and when released by a trigger, the coils are allowed to spiral downwards, while remaining suspended along the side of the ship with the top being secured within the barrel. The movement of the ship ensures the coils bounce upwards and sideways along the side of the hull, much in the way of coiled springs, effectively discouraging any pirate from attempting to board at that position.
Long-time readers may recall about ten or more years ago Africa PORTS & SHIPS carried a series of advertisements for the Cape Town developer of this anti-piracy device.
Pictures are by Keith Betts
Added 12 December 2021
♠♠♠
Photographs of shipping and other maritime scenes involving any of the ports of South Africa or from the rest of the African continent, together with a short description, name of ship/s, ports etc are welome.
♦♦♦♦♦♦♦♦♦
♦♦♦♦♦♦♦♦♦
NEWS
♦♦♦♦♦♦♦♦♦
News continues below
WHARF TALK: 304 metres of container ship – MSC STELLA
Story by Jay Gates




Pictures by 'Dockrat'
Once more the seasonal wind problems of the strong Southeast wind, that blows across the Western Cape, have started the usual delays to container handling at the Cape Town Container Terminal (CTCT). There are currently seven container ships anchored in Table Bay, all awaiting their turn to come alongside, and minimise the Cape Town delays that are now affecting their schedule. Plus an inordinately long, 18 hour, power outage at CTCT didn't help matters either, merely adding to their woes, and to the ongoing weather delays, which are affecting CTCT.
Occasionally, the arriving container vessel times it right, and neither the SE wind, or allocated position at CTCT due to a backlog of arrivals, and the subsequent unplanned brief spell at anchorage, or even a power cut, affects her schedule, and she simply sails straight into port.
On 15th December at 23h00, the Post-Panamax container vessel MSC STELLA (IMO 9279989) arrived at the Table Bay anchorage, from Ngqura, but before the need to settle down for the night in the anchorage, was instead brought straight into Cape Town harbour at midnight, berthing at the CTCT in the Ben Schoeman Dock.
Built in 2004 by the Hyundai Samho shipyard, at Mokpo in South Korea, MSC Stella is 304 metres in length and has a deadweight of 85,680 tons. She is powered by a single HHI MAN-B&W 10K98MC-C 10 cylinder 2 stroke main engine providing 77,656 bhp (57,819 kW), to drive a fixed pitch propeller for a service speed of 24.8 knots.
Her auxiliary machinery includes four MAN-B&W 8L27/38 generators providing 1,980 kW each, and a Cummins VTA28-DM emergency generator providing 608 kW. She has a Kangrim EA1100GY exhaust gas boiler, and a Kangrim MA10RSGY oil fired boiler. She has a container carrying capacity of 6,724 TEU, and provides 400 reefer plugs.
One of a class of eight sisterships, all built for her owner and operator, Mediterranean Shipping Company of Geneva, MSC Stella is managed by MSC Srl of Piano di Sorrento in Italy. She is operating on the MSC North West Continent to South Africa service, and on 20th December at 16h00, she sailed from Cape Town on her northbound leg, bound for Las Palmas in the Canaries.
Earlier this year, MSC Stella was another of the many MSC vessels caught in the blocking of the Suez Canal by the Ever Given, which took place in March 2021. At the time MSC Stella was operating the MSC India-Mediterranean service, and was heading northbound up the Red Sea towards Suez. The decision was taken to turn back MSC Stella, and she called into King Abdullah Port, located north of Jeddah in Saudi Arabia, and discharged all of her Mediterranean bound containers, before turning around and heading back to India.
Back in July 2012, her fleetmate MSC Flaminia caught fire in mid-Atlantic, after an onboard explosion, whilst en-route from Charleston in the USA, to Antwerp in Belgium. The crew abandoned ship, and 24 of the 25 crew members were picked up by the tanker DS Crown, which arrived on the scene two hours later. Second to arrive was MSC Stella who transferred the four most seriously injured crew members from DS Crown', and she headed for the Azores at full speed to seek medical attention for the casualties.
Sadly, one of the injured crewmembers from MSC Flaminia died from his injuries, received when fighting the onboard fire, before the vessel reached the Azores. The remaining three injured crewmembers were airlifted from MSC Stella by a SAR helicopter as she approached the Azores, and all three were transferred to a local hospital, one to an Intensive Care Unit. All recovered from their injuries. Sadly, one member of MSC Flaminia was reported as missing.
In September 2008, MSC Stella set a container movement record at the Napoleon Avenue Container Terminal, located up the Mississippi River, in the Port of New Orleans, whilst operating a 2M Alliance service, on behalf of MSC and Maersk Line. The record was set at the port when she turned around 2,870 containers on a single call.
In her long 17 years of service for MSC, she has received 49 Port State Inspections, of which two took place in South African ports. The first was in February 2009 at Port Elizabeth, and the second was in May 2010 in Cape Town. Both inspections took place under the auspices of the Indian Ocean MoU, and on both occasions no findings were reported.
Sign up for Africa Ports & Ships – it's free
Added 29 December 2021
♦♦♦♦♦♦♦♦♦
News continues below
WATCHING THE GANGWAY by Paul Ridgway

Watching the gangway
By Paul Ridgway
27 December 2021
Good Day All,
I trust that all has gone well over the recent festive days. On behalf of my Editor and contributors, particularly Jay Gates and Dockrat, I thank you all for your many messages of goodwill at this time. Of particular note has been the Festive Message attached here from IMO and issued by their ever-present and excellent media service. The banner image emphasises IMO's theme for 2021 which has been: Seafarers at the core of shipping's future. (IMO ©).
The next
Watching the gangway

will appear on Wednesday 5 January 2022
♦♦♦♦
News continues below
Watching the gangway: UNODC Programme Coordinator at Aden
On 15 December Mr Ulrich Häussermann the Programme Coordinator of UN Office on Drugs and Crime (UNODC) Global Maritime Crime Programme for the Gulf of Aden and Red Sea visited Aden port. He met Deputy Executive Chairman and discussed the Office activities in Aden and the progress made so far in their support to the port authority. After delivering basic knowledge training of Vessel Traffic Services (VTS) to the port's control tower staff, UNODC will further deliver training in this field and the use of marine telecommunications devices both their operation and maintenance.
Dr Mohammed Amzerba, Port of Aden Executive Chairman, sent his appreciation to UNODC for their continuous support and look forward to receiving experts in port security early in 2022 and the training for the port staff in VTS and the use and repair of the port's communications equipment. He also added that investigations to support the port's maritime training centre should be achieved in order to upgrade its capacity to deliver more and better training programmes to enable staff to attain STCW certifications.
The work of UNODC the Gulf of Aden and the Red Sea is set out HERE
here:
Sign up for Africa Ports & Ships – it's free
Added 29 December 2021
News continues below
Watching the gangway: MSC thanks Aden Container Terminal
The previous month Aden Container Terminal and its staff received a letter of thanks from MSC International Shipping Line, expressing their appreciation for the efforts of the terminal and its employees.
This message concerned the efforts made by the terminal's shift teams around the clock and their good performance in speedy container handling and reducing the time ships stay in the terminal's berth.
The following is the text of the message: "Dear Aden Container Terminal and its affiliates, you started work on the MSC Trader II at 11h15 on Sunday, 31 October, 2021, and finished work on it the next morning at 09h10. This means that 1,132 containers were handled in just 22 hours. It is a remarkable performance by the terminal teams, as it was found that the container handling rate reached more than 50 containers (Vessel Rate 51.44) per hour for production operations.
"We have closely monitored and noticed that vessel productivity has increased over the past months despite there being a slight increase in cargo volumes compared to the same period last year. Accordingly, the time taken for the ship is reduced, allowing ships to make more trips to Aden. Please continue to maintain the same momentum.
"Our sincere appreciation to all the staff at Aden Container Terminal and thanks for this collective achievement. This year has witnessed a remarkable improvement in the level of container handling and a reduction in the time period for ships to stay in the terminal's berth. It is expected that the terminal will witness an increase in the number of handled containers as well as the number of ships during the next year, as the shipping lines sensed an improvement in production and service operations."
An interesting short YouTube film of the port of Aden is available below.  Click where it reads  'Watch on YouTube'  [1:27]
Sign up for Africa Ports & Ships – it's free
Added 29 December 2021
News continues below
Watching the gangway: WCO Implementing electronic data exchange
The latest version of the

World Customs Organization

Data Model (version 3.11.0) has been published*. This version includes a new Message Implementation Guide (MIG), providing practical guidance for implementing part of the IMO Compendium on Facilitation and Electronic business. This was reported by IMO on 22 December.
At IMO the FAL MIG provides additional technical information, in addition to the semantic definitions, for implementing ship reporting formalities outlined in the Convention on Facilitation of International Maritime Traffic (FAL). The MIG has been developed following cooperation between the WCO and the IMO.
The IMO Compendium is a tool for software developers that design the systems needed to support transmission, receipt, and response via electronic data exchange of information required for the arrival, stay, and departure of the ship, persons, and cargo to a port.
With regard to this documentation it is understood that the IMO Compendium consists of an IMO Data Set and IMO Reference Data Model agreed by the main organisations involved in the development of standards for the electronic exchange of information related to the FAL Convention: the WCO, the United Nations Economic Commission for Europe (UNECE) and International Organization for Standardization (ISO). Readers are invited to watch the YouTube video below**.
A compilation of clearly structured, harmonised, standardised and reusable sets of data definitions and electronic messages the WCO Data Model is designed to meet operational and legal requirements of cross-border regulatory agencies, including Customs.
* SEE HERE
**You Tube video Digitalization key to facilitate international maritime traffic [3:06]
Sign up for Africa Ports & Ships – it's free
Added 29 December 2021
News continues below
Watching the gangway: DNV and carbon capture
It was reported from Oslo towards the end of December that Equinor, Shell, TotalEnergies, Gassco and classification society DNV would launch a new joint industry project or JIP to develop low-pressure systems for the transport of CO2 by ships.
It is understood that the CETO (CO2 Efficient Transport via Ocean) JIP will carry out the technology qualification of a low-pressure ship design and identify methods to scale CO2 transport volume, while reducing the associated risks, to support the development of opportunities in Carbon Capture and Storage (CCS).
CETO is funded by the project partners and GASSNOVA through the CLIMIT programme and is expected to be completed in 2023.
CCS will be a key technology if the world is to meet the goals of the Paris and Glasgow agreements. Although the technologies and the industry are very much still emerging, a possible challenge is connecting capture sources to facilities for use or storage sites, especially where pipelines are not an option. As a result, CO2 ship carrying technology will be needed if large quantities are to be safely transported at costs that are commercially viable.
Today, most transport of CO2 by ship takes place on a small scale and at medium pressure (15 bar at -28ºC), limiting the possibilities of scaling up to meet future growth in CCS.
DNV in its announcement indicated that to transport CO2 safely and efficiently on an industrial scale by ship, low pressure transport systems (approximately 7 bar at -49ºC) are a potential solution, as this enables much larger tank volumes, cargo capacities and therefore reduced transport costs. However, the industry currently has little practical experience with the transport of liquid CO2 (LCO2) under these conditions, it was pointed out.
Sign up for Africa Ports & Ships – it's free
Added 29 December 2021
News continues below
Watching the gangway: Class NK Survey App
Towards the end of the month ClassNK released PrimeShip-PSC Intelligence, mobile app for improving ship management system and Port State Control (PSC) performance at no charge, it was reported from Tokyo.
We understand that this application is the mobile version of PSC Intelligence PC version for ship management companies released in 2018. The application, which has been developed for seafarers, enables them not only to manually input the reports by PSC into data on their smartphones, but also to convert the PSC reports shot with a camera into data using AI-OCR. Furthermore, it is possible to report these PSC data and malfunctions of equipment to shore staff of the ship management company in a chat format, and manage the rectification.
PSC Intelligence analyses accumulated PSC data by respective ship management companies and ClassNK using AI technology and creates appropriate and pinpoint checklists with the PC version based on typical deficiencies investigation and actual results. The checklist function on the mobile app will be released soon, it is furthermore reported.
Information on how to use the application and so forth is AVAILABLE HERE
The introductory video (below) of the mobile app, including data conversion demonstration of PSC report [4:06]
Sign up for Africa Ports & Ships – it's free
Added 29 December 2021
News continues below
Watching the gangway: INMARSAT Launch
On 23 December Inmarsat, a world leader in global, mobile satellite communications confirmed the successful launch of its first Inmarsat-6 satellite, I-6 F1, by Mitsubishi Heavy Industries (MHI) from the JAXA Tanegashima Space Center in Japan.
The Inmarsat-6s (I-6) series are Inmarsat's first ever hybrid L- and Ka-band satellites, incorporating increased capacity and new technological advances for ELERA's transformational L-band services alongside additional Global Xpress (GX) high-speed broadband capacity. Adding to an existing global fleet of 14 geostationary satellites they extend Inmarsat's commitment to mission critical services while enabling a new generation of pioneering technologies to connect and sustain the world.
This launch is the first of seven planned for Inmarsat by 2024 in the company's fully-funded technology programme.
Launch success was confirmed by MHI at 15h59 GMT on 22 December following satellite separation from the H-IIA launch vehicle, with successful signal acquisition soon afterwards.
The most sophisticated commercial communications satellite ever launched, I-6 F1 has a huge deployed solar array 'wingspan' similar to that of a Boeing 767 and a 9 metre wide L-band reflector that will be deployed over the coming days. The satellite will then be raised to geostationary orbit (GEO) approximately 36,000km (~22,500 miles) above the Earth via its all-electric propulsion system and then undergo a thorough and extensive testing programme. I-6 F1 will enter service in 2023. Ground stations in Western Australia will support I-6 F1.
Rajeev Suri, CEO of Inmarsat, said: "This launch marks Inmarsat's newest technological leap forward as we maintain our strong commercial momentum and sector leadership. It gives me great pleasure and pride to confirm the successful launch of I-6 F1. This satellite extends our world leading mobile satellite communications services for our customers and partners, especially in the Indo Pacific region.
"My warmest thanks and congratulations go to the Inmarsat team that delivered flawlessly on this project as well as our launch provider Mitsubishi Heavy Industries and our satellite manufacturing partner Airbus Defence and Space."
Sign up for Africa Ports & Ships – it's free
Added 29 December 2021
News continues below
Watching the gangway: US Coast Guard medevacs cruise ship passenger
On 23 December the US Coast Guard reported from New Orleans the medical evacuation the previous day of a 53-year-old male cruise ship passenger approximately 218 miles south of Southwest Pass, Louisiana.
Coast Guard District Eight watch standers received a call at approximately 11h23 stating a man was experiencing stroke-like symptoms aboard the cruise ship Carnival Valor. Watch standers coordinated the launch of a Coast Guard Air Station New Orleans MH-65 Dolphin helicopter crew. The helicopter crew arrived at the scene, hoisted the passenger and a Carnival Valor nurse, and transferred them both to the University Medical Center in New Orleans. The man was last reported in stable condition.
Sign up for Africa Ports & Ships – it's free
Added 29 December 2021
News continues below
Watching the gangway: Transaid looks back on 2021
Transaid has continued to deliver impactful programmes in access to healthcare and road safety over the past year and, despite the challenging economic climate, it has also incorporated a successful Covid-19 strategy and response into several of its programmes. This is testament to the commitment and adaptability of partners, consultants, and the organisations and governments with which the charity works on a daily basis.
Transaid's fundraising team has had a busy year, working to increase awareness of its and to raise vital funds. In September, thirty Transaid riders returned to the road for the 'Way of the Roses' cycle challenge and recruitment has continued for the 2022 cycle Malawi challenge. From intrepid cyclists, to invaluable corporate supporters, Transaid is so grateful to all of the people who are helping it to make a tangible difference in sub-Saharan Africa.
Transaid's driver training programmes in Zambia, Tanzania and Uganda have continued at pace and 2021 saw the launch of a new three-year driver training programme in Ghana. The charity's access to healthcare programmes has also progressed and has never been more necessary, it is reported, as many of the public health gains that have been achieved in the last decade have been lost due to Covid-19.
About Transaid:
Transaid transforms lives through safe, available, and sustainable transport. Founded by Save the Children, The Chartered Institute of Logistics and Transport, and its Patron, HRH The Princess Royal, the international development organisation shares 25 years' worth of expertise in 23 countries with partners and governments – empowering people to build the skills to transform their own lives. To find out more: CLICK HERE and at twitter.com/TransaidOrg
Sign up for Africa Ports & Ships – it's free
Added 29 December 2021
News continues below
Watching the gangway: Rolls-Royce and Qatar
It was announced on 20 December simultaneously in London and Doha (UAE) that Rolls-Royce Group had reached agreement with the Qatar Investment Authority (QIA), the sovereign wealth fund of the State of Qatar, to invest £85 million in Rolls-Royce SMR Limited (SMR = Small Modular Reactors)
Rolls-Royce SMR is building a new technology solution to deliver affordable, low carbon, nuclear power. A single power station will occupy around one tenth of the size of a conventional nuclear generation site and power approximately one million homes. This could have far-reaching effect for power generation world wide and is a project of which we can expect to hear more.
QIA will join Rolls-Royce Group, BNF Resources UK Ltd and Exelon Generation Ltd as shareholders in Rolls-Royce SMR, taking a 10% share of the equity. Mr Mansoor bin Ebrahim Al-Mahmoud, Chief Executive Officer of QIA commented: "QIA is investing in the energy transition and funding the technologies that enable low carbon electricity generation. We will continue to seek out investments that align with our mandate to deliver long-term value for future generations through responsible sustainable investments."
Warren East, CEO, Rolls-Royce Group, added: "I am tremendously pleased to announce that we have further strengthened our relationship with Qatar, through QIA's investment in the Rolls-Royce SMR business. We have successfully raised the capital we need to establish Rolls-Royce SMR and it is encouraging to confirm that the business is now set up to succeed."
UK Business and Energy Secretary Kwasi Kwarteng, who chaired the recent COP 26 in Glasgow, reflected: "This investment is a clear vote of confidence in the UK's global leadership in nuclear innovation and follows the £210 million of government investment in the development in Small Modular Reactors.
"It represents a huge step forward in our plan to deploy more home-grown, affordable clean energy – ensuring greater energy independence for the UK, highly skilled jobs and bringing cheaper, cleaner electricity to people's homes."
The Rolls-Royce SMR business is now fully funded, having secured £490 million through commercial equity and UK Research and Innovation (UKRI) grant funding. The development of SMRs is a core part of the UK Government's 10-point plan for a green industrial revolution.
Rolls-Royce has been a nuclear reactor plant designer since the start of the UK nuclear submarine programme in the 1950s. Rolls-Royce SMR will draw upon standard nuclear energy technology that has been used in 400 reactors around the world. A Rolls-Royce SMR power station will have the capacity to generate 470mw of low carbon energy, equivalent to more than 150 onshore wind turbines. It will provide consistent baseload generation for at least 60 years, helping to support the roll out of renewable generation, helping to overcome intermittency.
Sign up for Africa Ports & Ships – it's free
Added 19 December 2021
News continues below
Watching the gangway: WHO in Africa
2021: A year in review
Africa is ending another challenging year. The Covid-19 pandemic continued to spread, fuelled by new variants, while vaccine deliveries to the continent stuttered before picking up, causing delays in vaccination drives amid intensified calls for equity. The region also faced a range of other major health emergencies, including cholera, Ebola, Marburg and meningitis.
Thanks to the region's expertise in health emergency response, the outbreaks were successfully brought under control. Despite the challenges, Africa made significant advances in health including spearheading the novel oral polio vaccine rollout, reinforcing Covid-19 genomic sequencing and vaccination drives as well as eliminating sleeping sickness in Cote d'Ivoire and trachoma in The Gambia. This was the text of a statement issued by the World Health Organization in December to mark the year's end.
A chronology of events involving WHO and Africa in 2021 can be FOUND HERE
Sign up for Africa Ports & Ships – it's free
Added 29 December 2021
♦♦♦♦♦♦♦♦♦
News continues below
WHARF TALK – Polar research vessel – RS KRONSPINS HAAKON
Story by Jay Gates




Pictures by 'Dockrat'
Antarctic season in Cape Town always brings a pageant of intriguing polar supply ships, polar fishing vessels and their fleet support vessels. It also brings those specialised Antarctic Research vessels, those that have been built with no other purpose other than to explore, discover and study every facet of the polar regions of the Earth, and especially Antarctica.
On 19th December at 0800, the Polar Research Vessel KRONPRINS HAAKON arrived off Cape Town, from Bergen in Norway, and proceeded into Cape Town harbour, berthing at the Eastern Mole in the Duncan Dock. As always, a berth at the Eastern Mole is indicative of a short stay, and one simply for bunkers, stores, or minor maintenance support.
Once she was alongside the Eastern Mole, the bunker tanker Southern Valour came alongside and began the transfer of the required bunker fuels. On completion of her bunkering, storing, and minor maintenance, Kronprins Haakon sailed from Cape Town on 21st December at 07h00, bound for the Southern Ocean, and the iceshelf off the Troll Norwegian Antarctic Research Base, located on the Princess Martha Coast, in Queen Maud Land at 72°00' South 002°32' East.
Built in 2017 by the Fincantieri shipyard at Genoa in Italy, Kronprins Haakon was sailed to the VARD shipyard at Langsten in Norway for final outfitting, and completion of seatrials in 2018. Built to a Rolls-Royce Marine NVC395 Polar design, she is 100 metres in length and has a deadweight of 3,613 tons.
Her power plant is diesel-electric, and Kronprins Haakon is powered by two Bergen B32:40L9 ACD 9 cylinder 4 stroke diesels producing 5,000 kW each, and two Bergen B32:40L6 ACD 6 cylinder 4 stroke diesels producing 3,500 kW each.
These provide both domestic power requirements, and provide power to two nozzled Rolls-Royce US ARC 0.8FP Azimuth Thruster Units, each producing 5,500 kW, which give her a service, and transit, speed of 15 knots. She also has an emergency generator providing 500 kW.
With two TT Polar Bow Thruster Units, each providing 1,100 kW, all linked to a Kongsberg Dynamic Positioning System. Kronprins Haakon has great manoeuvrability, and is classified as a DP1 vessel. She has a high icebreaking classification, namely PC3, which allows her to operate all year round in second year ice. She is capable of maintaining 3.5 knots whilst breaking 1 metre thick ice. To achieve this, her bow is constructed of 40mm thick steel plate.
Her ownership is shared between the Norwegian Polar Institute of Bergen (30%), the Norwegian Institute of Marine Research of Bergen (50%), and the UiT Norwegian Arctic University of Tromsø (20%). She is operated by the Norwegian Polar Institute, and managed by the Norwegian Institute of Marine Research.
Her building cost was US$198.1 million (ZAR3.1 billion). She has accommodation for 55 persons, including 17 crew, and her at-sea endurance is 15,000 nautical miles over 65 continuous days, or the equivalent of a non-stop voyage from her home port of Tromsø in Norway, down to Cape Town, and back again to Tromsø.
She is fully equipped for maritime and polar science, and has no less than three Sonar systems, including split-beam, multi-beam and single-beam capability down to 7,000 metres depth. She is also fitted with seven Echo-Sounder systems, capable of Navigational, Hydrographic, Bottom Profiling, Hydro-Acoustic, Fisheries and 2D or 3D Seismic Surveying. She has 15 fixed, onboard, laboratories, and is able to carry three additional laboratories carried in containers.
She also has Gravimeter and Magnetometer systems installed, three Coring systems, a CTD sampling system, and a moonpool to operate both submersible Aegis ROV and Hugin AUV equipment. She has a stern A-Frame for scientific and fisheries work, to allow her to tow any combination of nets, or scientific equipment.
Also able to assist in search and rescue operations, and in emergency situations, Kronprins Haakon has a firefighting capability of FiFi 1, as witnessed by the large water and foam monitors carried on her raised stern quarter decks, and she has a bollard pull of 158 tons. She is capable of continuous operations in outside temperatures of -35°C.
For logistics support, her cargo hold has a cargo carrying capacity of 1,180 m3, and she has a container carrying capacity of 20 TEU. She also has a hangar, capable of holding two medium sized helicopters, and a bow helideck capable of taking the largest Search and Rescue helicopters operated by the Norwegian Government, namely the EC225 Super Puma.
Named after the heir to the Norwegian Throne, Crown Prince Haakon, this is not the first visit to Cape Town of Kronprins Haakon. In April 2019, she arrived in Cape Town at the conclusion of a major marine science voyage in Antarctica, one that had started in Punta Arenas in Chile.
If Kronprins Haakon looks vaguely familiar, in regard to other recent news about new Polar Research Vessels entering service elsewhere in the world, it will be because the new British Antarctic Survey vessel RRS Sir David Attenborough is an improved, and enlarged, version of Kronprins Haakon.
Sign up for Africa Ports & Ships – it's free
Added 29 December 2021
♦♦♦♦♦♦♦♦♦
News continues below
WHARF TALK:     large stern trawler – LONG TENG
Story by Jay Gates




Pictures by 'Dockrat'
Of all the food supplements, vitamins, minerals and healthy oils that we are constantly urged to take, in order to maintain a balance in our hurried lifestyles, one of them is regularly touted as being the one to help keep the old ticker healthy. This is Omega-3 oil, and usually it is derived mainly from Fish oil. However, recently a more easily absorbed Omega-3 oil, and one that can be taken in lower concentrations, is now on the market as the new panacea. This is Krill oil.
Krill is the largest species of zooplankton, known as Euphausia Superba to the academics, and found in great abundance in the frigid waters of the Southern Ocean and Antarctica. The logistics of harvesting this resource are immense, and only a few nations have the resources that can achieve it. Of the six nations that are active in Antarctic Krill fishing, three of them use Cape Town as their over winter maintenance and overhaul base, with two others regularly calling at Cape Town en-route to, or back from, their season in Antarctica.
Back in September, on the 21st of that month at 10h00, the large stern trawler LONG TENG (IMO 8607373) arrived off Cape Town after a seven month voyage, one that had begun in February from the port of Zhoushan in China. The great majority of the time spent on that voyage, was spent in the waters of the Southern Ocean and in the vicinity of the Antarctic Peninsula, as Long Teng is one of less than 15 large stern trawlers, worldwide, whose sole mission is the harvest of Antarctic Krill. She had arrived from Antarctica at the conclusion of her latest fishing expedition in the region.
From her arrival at Cape Town in September, Long Teng has spent the last three months in various stages of refit and maintenance, both alongside the Repair Quay in the Duncan Dock and, more recently, alongside berth 502 in the Ben Schoeman Dock, which is the bespoke Dormac ship repair quay. On completion of all the required surveys, maintenance, repair and seatrials, Long Teng sailed from Cape Town on 23rd December at 11h00, bound for Antarctica and specifically for the UN FAO fishing area 48.3, which is the sea area around South Georgia.
Built in 1990 by VEB Volkswerft at Stralsund in the old communist East Germany, Long Teng is 120 metres in length and has a deadweight of 3,372 tons. She is powered by two SKL 6VDS48/42AL-1 6 cylinder 4 stroke main engines producing 3,600 bhp (2,648 kW) each, driving a controllable pitch propeller for a transit speed of 15 knots.
Her auxiliary machinery includes two SKL 8VDS26/20AL-2S generators providing 760 kW each, and a SKL 6NVD26.2 emergency generator providing 132 kW. She has a freezer capacity of 2,149 tons, and her three holds have a cargo carrying capacity of 3,582 m3. She has an operational crew of 135 persons. She carries a Chinese Ice classification of B1, which is the equivalent to the European Ice 1A classification, allowing her to operate in polar waters, with sea ice cover of 50cm thickness, or more.
Her design is an Atlantik-488, or Moonzund, class of large factory freezer trawler. Originally designed for the fishing fleets of the Soviet Union, the Moonzund trawler class was built between 1986 and 1993. Only 37 of the class were completed, prior to the collapse and break-up of the Soviet Union.
Currently owned by the Chinese state owned China National Fisheries Corporation (CNFC), based in Beijing, Long Teng was originally launched as 'Porechye', and operated by the Soviet Union's Zapryba VRPO at Kaliningrad, in the Baltic Sea. She came under Chinese state ownership in 2010, and operates with another CNFC Moonzund trawler in the Antarctic Krill fishery. CNFC are the largest Chinese, state owned, distant water fishing operator.
In order to fish for Krill in Antarctic waters, Long Teng is registered with the Commission for the Conservation of Antarctic Marine Living Resources (CCAMLR), and she is licensed to fish in UN FAO areas 48.1 (South Shetland Islands), 48.2 (South Orkney Islands, 48.3 (South Georgia) and 48.4 (South Sandwich Islands), with her license valid to the end of May 2022. Her first season in Antarctica was back in the 2012-2013 season. To monitor her operation in Antarctic waters, Long Teng has a sealed Inmarsat VMS unit onboard that reports her position continuously, in real time, back to CCAMLR. This prevents any IUU fishing taking place.
CNFC are a member of the Association of Responsible Krill Harvesting Companies (ARK), an organisation set up in 2012, and consisting of eight fishing organisations, from six different countries, who currently harvest 90% of the total reported catch of Antarctic Krill. The majority of the Krill catch is converted into krill meal, for consumption purposes, with the Norwegian members converting the Krill catch into Omega-3 health supplements.
ARK conducted a major biomass survey of Krill in 2019, using six vessels over a 108 day period, and covering 10,500 nautical miles of transect lines in UN FAO area 48. The biomass estimate from this survey was that there was 62.6 million tons of Krill in UN FAO area 48. This compared favourably with the previous complete survey, which was conducted in 2000, when Krill biomass was estimated at 60.3 million tons.
The outcome of this important survey was that CCAMLR, through ARK, set up a total annual catch limit, for all licensed Krill trawlers in UN FAO area 48, of 620,000 tons, which is a mere 10% of the biomass, and a total that is eminently sustainable. Of the six vessels that undertook the 2019 Krill survey, four of them have been visitors to Cape Town, namely Kronprins Haakon, RRS Discovery, More Sodruzhestva and Sae In Champion. More Sodruzhestva was covered in the 30th June edition of Africa Ports & Ships.
There are also further restrictions on the Krill fishery, in order to protect the sustainability of the species, is that the sea areas around the Antarctic Peninsula, South Shetland Islands and the Gerlache Strait region. In these areas, out to 40 kilometres from the shore, there is a voluntary closure period to fishing between early October and late March each year. This covers the breeding season, and young raising season, of Whales, Dolphins, Seals, Penguins, and other Seabirds that inhabit these areas, and use the inshore waters for feeding.
Prior to 2020, and the Covid pandemic, Long Teng used to move to the North Pacific in the closed Antarctic winter season, between October and March, and fish for Mackerel species (Blue, Chub and Spotted) under a license issued by the North Pacific Fisheries Commission (NPFC). She held this license between 2016 and 2019.
She is not the only Moonzund class trawler that frequents Cape Town, as another Moonzund trawler that is a regular visitor to Cape Town, is the South African registered Desert Diamond, owned by the Oceana Group of Cape Town, and covered by Africa Ports & Ships in the 21st June edition.
Sign up for Africa Ports & Ships – it's free
Added 29 Dcember 2021
♦♦♦♦♦♦♦♦♦
News continues below
WHARF TALK: Not quite a cruise ship – CONTI EVEREST
Story by Jay Gates
Pictures by 'Dockrat'
There was a time when a majority of the general cargo ships of the major international shipping lines offered up to 12 berths for passengers. The days of leisurely cruises on working vessels are now almost long gone, but not quite. There are still a number of commercial vessels that call regularly at South African ports, and that offer the opportunity of booking a cabin, and of taking a voyage without the need to share your deck space with a thousand other people.
On 8th December at 22h00, the Post Panamax container vessel CONTI EVEREST (IMO 9286231) arrived at the Table Bay anchorage, from Las Palmas in the Canary Islands. The annual weather delays at Cape Town harbour are with us again, and she remained at anchor for over three days. On 12th December at 07h00 she entered Cape Town harbour and proceeded into the Ben Schoeman dock, and went alongside the Cape Town Container Terminal.
Built in 2004 by Hyundai Industries at Ulsan in South Korea, Conti Everest is 334 metres in length and has a deadweight of 101,661 tons. She is powered by a single HHI MAN-B&W 12K98MC-C 12 cylinder 2 stroke main engine providing a colossal 93,323 bhp (69,591 kW), to drive a fixed pitch propeller for a service speed of 24.4 knots.
Her auxiliary machinery includes three MAN-B&W 7L27/38 generators providing 2,346 kW, three MAN-B&W 9L27/38 generators providing 2,986 kW, and a single Cummins VTA-28-DM emergency generator providing 500 kW. She has an Alfa Laval Qingdao CHR exhaust gas boiler, and an Alfa Laval Qingdao CHO oil fired boiler.
With a container carrying capacity of 8,714 TEU, with 700 reefer plugs provided, 'Conti Everest' is deployed on the MSC 'North West Continent to South Africa' container service, with calls at London – Rotterdam – Antwerp – Le Havre – Sines – Las Palmas – Cape Town – Port Elizabeth – Durban.
She completed discharge at Cape Town on 15th December, and sailed at 15h00 for Durban, where she arrived on the 17th December at midnight. She is currently completing the southbound discharge at Pier 2, berth 203, at the Durban Container Terminal, and is scheduled to have completed the northbound load on Christmas Day, when she will sail for Europe.
Owned by Conti Holdings of Munich, in Germany, Conti Everest is operated by Niederelbe Schiffahrts GmbH, of Buxtehude in Germany, and whose houseflag she flies. She is operated by MSC, and whilst she retains her 'Conti' name, there was a report that MSC had bought her in September this year for US$78 million (ZAR1.24 billion).
Back in March this year, Conti Everest was operating the MSC Australia Express Service between Australia and the North West Continent. She arrived at the southern entrance to the Suez Canal just after the Ever Given had run aground and blocked the canal for a week. Forced to anchor in the Red Sea, rather than be diverted around the Cape of Good Hope, Conti Everest was eventually able to continue with her northbound voyage once Ever Given was freed, and proceeded to her next port of call, which was Valetta in Malta.
The travel companies that offer voyages on working vessels, all advertise between 5 and 10 passenger berths available on Conti Everest. The cabins offered include the Owners Suite, Double Cabins and Single Cabins. If you are not in a hurry, or retired, and wish to take a leisurely cruise on a container vessel, maybe a voyage on Conti Everest is just the ticket. It happens to be an MSC cruise, but just not on one of the luxurious passenger vessels of MSC.
Sign up for Africa Ports & Ships – it's free
Added 22 December 2021
♦♦♦♦♦♦♦♦♦
News continues below
WATCHING THE GANGWAY: by Paul Ridgway

Watching the gangway
By Paul Ridgway
22 December 2021
Good Day to you all.
It falls to me to perform chowkidar duties during the Christmas and New Year break. So here is a selection of maritime and related news that has been received in recent days.
Before I leave I send best wishes for the week ahead, one of the most important in the Christian calendar.
The next Watching the gangway will appear on Wednesday 29 December 2021
News continues below
Watching the gangway: Port of Cape Town Multi-Purpose Terminal takes delivery of new mobile crane
Cape Town's Multi-Purpose Terminal (MPT) at the harbour has taken delivery of a fully assembled mobile harbour crane. This was handed over to operations in order to boost the handling of containers in the terminal.
The mobile crane was transferred to Cape Town from the Port of Port Elizabeth.
With deciduous fruit season well under way, the Cape Town MPT serves as an export gateway for the United States and West Africa and complements the Cape Town Container Terminal (CTCT) during periods of the notorious South Easterly winds.
The Liebherr mobile harbour crane arrived on Wednesday aboard the vessel ANNETTE and is equipped with the latest generation diesel engine and new technology that enhances safety.
With an outreach of 58 metres and the ability to reach up to 19 container rows, the crane also boasts rapid and efficient handling of loads up to 109 tonnes and allows maintenance service intervals to go up to 1000 hours.
"The flexibility of the crane to work on vessels of all sizes and also to handle different cargoes including containers, general and bulk cargo makes this acquisition of significant value to the agricultural industry in the Cape region," said Andiswa Dlanga, a TPT managing executive.
The new crane complements an existing terminal fleet of equipment, which includes another two mobile harbour cranes.
The acquisition of the mobile harbour crane will allow continuity in operations throughout scheduled maintenance intervals, especially with its ability to handle both New Panamax and Cape-sized vessels.
Sign up for Africa Ports & Ships – it's free
Added 22 December 2021
News continues below
Watching the gangway: Meet East London's new port manager, Lwandile Mabuza
Transnet National Ports Authority (TNPA) announced this week the appointment of Ms Lwandile Mabuza as the new Port Manager at the Port of East London.
Mabuza has more than 10 years of experience in the maritime industry, including strategic planning and programme development. She re-joins TNPA from Servest South Africa, where she held the position of Managing Director of the Marine Department.
Between 2016 and 2020, she worked as a Senior Operations Manager at the Port of Durban. Prior to that, she was a Researcher at Transnet Port Terminals.
Mabuza first entered the maritime sector with the establishment of the eThekwini Maritime Cluster (EMC), in which she held a senior position.
She takes the helm at East London from Ms Sharon Sijako, who was port manager for four years.
Sijako becomes Executive Manager: Operations, Development and Performance at TNPA head office at the Port of Ngqura.
Mabuza's appointment completes a range of port manager appointments that included Ms Mpumi Dweba-Kwetana, Port Manager: Port of Durban; Mr Shadrack Tshikalange, Port Manager: Port of Saldanha; Dr Dineo Mazibuko, Port Manager: Port of Mossel Bay; Mr Rajesh Dana, Port Manager: Port of Cape Town; and Mr Dennis Mqadi, Port Manager: Port of Richards Bay.
As previously announced, the ports of Port Elizabeth and Ngqura are currently undergoing a process of consolidation into a single port complex referred to as Nelson Mandela Bay Ports.
Ms Tandi Lebakeng continues to act as the Port Manager for Nelson Mandela Bay Ports until the process is finalised.
Sign up for Africa Ports & Ships – it's free
Added 22 December 2021
News continues below
Watching the gangway:  Dock strike at Ivory Coast's Port of Abidjan suspended
The one-day dock strike that saw the port of Abidjan all-but paralysed on Friday last week, was suspended later on Friday evening after the union claimed having made 'real progress' with its demands for improved working conditions.
A statement issued by the Ivory Coast National Federation of Dockers (Fenad-CI) declared the strike to be suspended with immediate effect and asked all dock workers to return to work.
The ending of the strike followed a meeting between Fenad-CI representing the workers, the Abidjan port's general management, the transport ministry and the labour inspectorate.
The one-day strike also affected Ivory Coast's second port, San Pedro.
A main theme of the worker's demands was the implementation of a government decree dates January 2019 which was supposed to improve working conditions, including wages.
"It's been nearly three years since that decree was signed but it has never been implemented," said Union spokesperson, Jonas Yapi.
The 2019 agreement was that dock workers would be paid at a rate of three euros per hour (R53.30 per hour). However, the union said they currently earned one euro an hour, although some dockers told local media their wages were as little as US$ 43 (R678.50) per month.
The strike was staged at a crucial time for the Ivory Coast, with the export of cocoa beans expected to top off at between 500,000 and 600,000 tonnes by mid-January.
Sign up for Africa Ports & Ships – it's free
Added 22 December 2021
News continues below
Watching the gangway:  New Mombasa Shipyard is commissioned 
The Kenya Shipyards Limited (KSL) Mombasa Shipyard at the Kenya Naval base (KNB() in Mombasa was commissioned by Kenya's President Uhuru Kenyatta on Friday, 17 December 2021.
In his address during the official commissioning, President Kenyatta said the shipyard added a new chapter in shipbuilding and repair.
"The direct, indirect and induced impacts of the Mombasa Shipyard will create many jobs, generate diverse investment opportunities and raise revenue for the country," he said.
"The key sub-sectors of the blue economy, which include maritime transport and logistics, fisheries, as well as ship-building and repair, represent low hanging fruits that must be exploited," the President said.
Kenyatta said the new shipyard heralds a new chapter in East Africa's shipbuilding industry, noting that the slipway will generate hundreds of new high-value jobs.
The new shipyard, the largest in the region, will be able to serve public and private commercial shipping needs by designing and building new vessels, undertaking repairs among other specialised maritime services.
During a guided tour of the facility two vessels were winched out of the water.
The shipyard is available for the maintenance of private operators both local and regional and is expected to create employment for youth while generating revenue for the country and ensuring the safety of maritime vessels sailing in Kenya waters, said the Cabinet Secretary (CS) for Defence, Eugene Wamalwa.
He said that ongoing key technical skills transfer will form a critical technical base in sustaining growth of the ship building industry in Kenya.
Chief of the Defence Force, General Robert Kibochi, described skills transfer as key to the shipbuilding industry. "We have currently trained close to 150 specialised teams in various areas including specialised welding which is critical in ship building," he said.
General Kibochi said that the mid-life refitting of the Kenya Navy Ship SHUPAVU at the facility will be a game changer as previously the refitting of Kenya Navy Ships was done in Spain or the Netherlands.
KSL, which was formed in collaboration with Dutch shipbuilder Damen, is also active at the Lake Victoria port of Kisumu, where the wagon ferry UHURU II is undergoing construction, and at Nairobi where the company is rehabilitating 31 diesel-electric locomotives for the metre-gauge railway operated by Kenya railways Corporation.
Sign up for Africa Ports & Ships – it's free
Added 22 December 2021
Watching the gangway: On Africa: Tax revenues…
On 15 December it was reported by the OECD that successful efforts to increase

tax revenues

and boost domestic revenue mobilisation in African economies over the last decade have been offset by rising debt-service costs, which amounted to almost two-thirds of the increased revenues generated between 2010 and 2019, according to a new report.
The publication Revenue Statistics in Africa 2021 shows that the average tax-to-GDP ratio in Africa was 16.6% in 2019, an increase of 0.3 percentage points (p.p.) from 2018. The report, launched in week commencing 12 December at the African Union's Specialized Technical Committee on Finance, Monetary Affairs, Economic Planning and Integration, covers 30 African countries representing 75% of Africa's GDP.
Tax-to-GDP ratios in the region ranged from 6.0% in Nigeria to 34.3% in the Seychelles and Tunisia, and increased in 16 countries between 2018 and 2019, while declining in 14. The rise in the Africa average tax-to-GDP ratio between 2018 and 2019 was driven by increases of over 2.5 p.p. in three countries (Equatorial Guinea, Mali and Tunisia) that were partly attributable to tax policy and administration reforms. In spite of this increase, the average tax-to-GDP ratio for Africa in 2019 remained below those of the Asia-Pacific, Latin America and the Caribbean (LAC), and the OECD at 21.0%, 22.9% and 33.8%, respectively.
To access the report, data, brochure and country notes, readers are invited to VISIT HERE
Sign up for Africa Ports & Ships – it's free
Added 22 December 2021
News continues below
Watching the gangway: …and coal
Looking back to COP26 for a moment I learnt only recently when sifting through decisions of Glasgow that Germany, the UK, the US, France and the EU announced a new partnership with South Africa aimed at supporting the country's energy transition. The focus is on phasing out coal-fired power generation.
In Germany the Federal Development Minister Gerd Müller re­marked in a statement at COP 26 on 2 November: "To keep the 1.5-degree target in reach, the international community must make a radical change of course and reduce emissions massively. This requires a global energy transition, which includes phasing out coal. Today, Germany agreed a phase-out of coal power with South Africa, the first partner country in the Southern hemisphere – together with the UK, the US, France and the EU. At the moment, the country generates almost 90% of its power from coal. Among countries that use coal for power, South Africa is in sixth place globally. The partnership supports the decarbonisation of South African power generation, the launch of renewable energies and the creation of new jobs. This will allow South Africa to take a leadership role in socially equitable energy transition."
Federal Environment Minister Svenja Schulze added: "The Glasgow conference can usher in a new phase in international climate cooperation, focussing on concrete implementation. The partnership with South Africa for a socially just energy transition can set standards in the field. A successful coal phase-out in South Africa has the potential to become a blueprint for other regions. Key elements that Germany will support include buffering the social and environmental impacts of structural change in mining regions and improving conditions for private investors for the expansion of renewables."
The goal of the new partnership is to provide additional funds for South Africa for technological innovations including green hydrogen. This will be financed through the Climate Investment Funds in order to mobilise further resources, for example multilateral banks, private investments, and bilateral aid. In total, US $.5 billion are planned for the next five years, the majority of which will be loans. Germany is contributing almost €700 million, €670 million of which will be sourced from the German development cooperation budget. The BMZ* and the BMU** have supported the energy and climate sector in South Africa for many years.
Investments in social infrastructure are planned to ensure a socially just coal phase-out in South Africa, particularly for the 90,000 current mine workers, vocational training for young people, career options for women, support for small and medium-sized enterprises and for regions as future hubs of innovation, for example in the fields of green hydrogen and electric vehicles. Germany will also support the South African mining regions with the environmental remediation of former mining sites.
* The Federal Ministry for Economic Cooperation and Development
** The Federal Ministry for the Environment, Nature Conservation, Nuclear Safety and Consumer Protection
Sign up for Africa Ports & Ships – it's free
Added 22 December 2021
News continues below
Watching the gangway: Biodiesel
In late November 2021, Canadian Steamship Lines (CSL) successfully completed the world's longest-running trials of B100 biodiesel on marine engines, accumulating nearly 30,000 running hours. Conducted on half of CSL's Canadian fleet, the tests resulted in a 23% total fleet life cycle reduction of CO2 as compared to marine gas oil (MGO).
During the trials, conducted in partnership with Canada Clean Fuels and with the collaboration of Sterling Fuels, 100% bio-content second-generation biofuel, requiring no modification to existing ship equipment, was substituted for 14,000 tonnes of MGO, a fossil fuel.
Sign up for Africa Ports & Ships – it's free
Added 22 December 2021
News continues below
Watching the gangway: Port of Dover
In mid-December Irish Ferries, a subsidiary of Irish Continental Group plc (ICG), added further capacity to their existing Short Straits service. Since joining the Port of Dover in June 2021, significant additional capacity has been added by Irish Ferries, indicating a high level of confidence in the Short Straits. This investment in the Dover-Calais crossing is evidence of the resilience, value and dependability of the route and bolsters Dover's offering of an inbound ferry every 25 minutes.
In adding Isle of Innisfree to their schedule of sailings Irish Ferries have already doubled their frequency on the Dover-Calais route since June. Moreover, with a third ship due to join the fleet in January, Irish Ferries will offer up to 30 sailings each day on the route, with sailings in each direction approximately every 90 minutes.
Sign up for Africa Ports & Ships – it's free
Added 22 December 2021
News continues below
Watching the gangway: Höegh Xiamen
On 4 June 2020, at about 15h30 Eastern Daylight Time, the crew of the 600 ft loa, Norwegian-flagged roll-on/roll-off vehicle carrier Höegh Xiamen were preparing to depart the Blount Island Horizon Terminal in Jacksonville, Florida, en route to Baltimore, Maryland, when they saw smoke coming from a ventilation housing for one of the exhaust trunks that ran from deck 12 (the weather deck) to one of the cargo decks.
Crew members discovered a fire on deck 8, which had been loaded with used vehicles. The crew attempted to fight the fire but were repelled by heavy smoke. Shoreside fire department teams from the Jacksonville Fire and Rescue Department arrived at 16h03 and relieved the crew. The captain, after consulting with and receiving concurrence from the fire department, had carbon dioxide from the vessel's fixed fire-extinguishing system released into decks 7 and 8, and the crew then evacuated from the Höegh Xiamen.
The fire continued to spread to the higher cargo decks and the accommodation. Shoreside firefighters entered cargo decks with fire hoses, and nine firefighters were subsequently injured, five of them seriously, in an explosion. Responders subsequently adopted a defensive strategy, cooling external exposed surfaces. The fire was extinguished over a week later on 12 June.
Höegh Xiamen and its cargo of 2,420 used vehicles were declared a total loss valued at $40 million, and in August 2020, the vessel was towed to Turkey to be recycled.
The US NTSB is now available SEE HERE
Sign up for Africa Ports & Ships – it's free
Added 22 December 2021
News continues below
Watching the gangway: Barcelona Europe South Terminal BEST
It was reported in mid-December that Hutchison Ports BEST container terminal has signed an agreement with Endesa (see: www.endesa.com ) for the contracting of 100% renewable sources energy, enabling them to reduce their CO2 emissions by more than half and to consolidate their position as a benchmark in the use of renewable energy.
Similarly, we learn that the terminal is increasing its number of solar panels and providing 40 charging points for electric cars.
Guillermo Belcastro, CEO of Hutchison Ports BEST, commented: "From 2022 onwards, 100% of BEST's electricity will come from renewable sources. In this way, we are at the forefront of sustainability in the port sector, becoming the greenest container terminal in the Mediterranean."
With this measure, the terminal eliminates annually the emission of 8,300 tonnes of CO2 into the atmosphere, it has been reported.
BEST is also expanding the number of solar panels for self-consumption with a total surface area of 4,763 m2, which will help to reduce CO2 emissions by 250 tonnes.
Automation of BEST terminal, with cranes powered mainly by electricity means that the commitment to renewables translates into a significant reduction in emissions compared to other conventional terminals. This has a direct impact on the environmental friendliness of the logistics chain that chooses BEST as its alternative in the Port of Barcelona.
Sign up for Africa Ports & Ships – it's free
Added 22 December 2021
News continues below
Watching the gangway: WHO and ILO form Action Group
It was announced from Geneva on 13 December that the World Health Organization and the International Labour Organization had agreed to form an Action Group to ensure implementation of Covid-19 protocols for transport workers. This was reported simultaneously in London and New York.
World Health Organisation Director-General Dr Tedros Ghebreyesus and ILO Director-General Guy Ryder have confirmed their organisations will form an Action Group "as a matter of urgency" with major transport bodies to ensure freedom of movement for international transport workers.
This commitment came after organisations and unions representing road, air and shipping companies and workers met Dr Tedros and Mr Ryder the previous week. They warned of the impact of new travel restrictions on transport workers and the already fragile global supply chain in the wake of the Omicron variant.
The International Air Transport Association (IATA), the International Chamber of Shipping (ICS), the International Road Transport Union (IRU), and the International Transport Workers' Federation (ITF), have made urgent pleas for governments' health departments to coordinate measures and avoid restricting the movement of transport workers.
Sign up for Africa Ports & Ships – it's free
Added 22 December 2021
News continues below
Watching the gangway: Jamaica and the IMO Council
Jamaica

has affirmed its commitment to the marine environment and blue economy as it was re-elected to Category C of the Council of the IMO.

Declaring, through a pre-recorded statement by The Hon. Robert Montague, Minister of Transport and Mining played at the opening of the IMO's 32nd Assembly, that: "Jamaica stands ready to partner with the IMO. Jamaica remains mindful of the vulnerabilities of our location but also our responsibilities to join with the international maritime community to preserve and protect the marine environment and the blue economy. With the impacts of climate change, Jamaica remains ready to assist our Caribbean partners. We continue to show leadership in the region in partnering with the IMO to find viable solutions to reduce emissions."

Minister Montague outlined: "Jamaica's long-term objectives fully recognise shipping as a major plank of our own Vision 2030 Development Plan. The maritime sector is a major contributor to the growth of Jamaica's economy, enabled by substantial investments in world class cruise and trans-shipment port facilities; global distribution through the logistics hub; and a dynamic university which continues to develop social capital to serve the region and beyond. Jamaica's maritime administration continues to execute its mandate, with a focus on: safety and security; the prevention of marine pollution; and the recognition, in law, of our valued seafarers as essential workers."

Jamaica is committed to serving the global maritime industry. It currently Chairs the IMO's Implementation of IMO Instruments Sub-Committee, and is the Vice Chair of the Board of Governors of World Maritime University. Jamaica has also been selected as Lead Partner Country on a number, of IMO Projects and regularly hosts regional capacity-building activities in collaboration with the IMO.
Sign up for Africa Ports & Ships – it's free
Added 22 December 2021
News continues below
Watching the gangway: ClassNK and Remote Surveys
It has been announced from Tokyo that ClassNK has released its Guidelines for Remote Surveys (Ver. 3.0). Based on the expertise gained from carrying out many remote surveys, the guidelines have been updated to provide clarification of applicable remote survey items and procedures.
The Guidelines for Remote Surveys stipulate applicable survey items and requirements for the use of information and communications technology (ICT) to ensure reliability equivalent to conventional witness surveys with transparency in the application of remote surveys.
To prevent delays in maritime transport arising from the impact of Covid-19, the class society has conducted its remote surveys in close cooperation with ship managers and relevant authorities to ensure both safety and smooth ship operation. Currently, it is understood that over 400 remote surveys are applied monthly to ships in service.
It is reported that the guidelines are available to download free of charge via ClassNK's website www.classnk.com for those who have registered for the ClassNK "My Page" service. To register for the "My Page" service free of charge, readers are invited to the ClassNK website www.classnk.com and to click on the "My Page Login" button.
Sign up for Africa Ports & Ships – it's free
Added 22 December 2021
News continues below
WHARF TALK: Heavylift vessel – ANNETTE
Story by Jay Gates




Pictures by 'Dockrat'
Heavylift ships always arouse interest on arrival in port, for no other reason that the desire to know what project cargo she might be carrying, if the cargo in question is visible on deck, is it easily identifiable as to what it might be, and is the cargo bound for a South African end user?
On 15th December at 16h00, the heavylift vessel ANNETTE (IMO 9266554) arrived off Cape Town from Port Elizabeth, and proceeded into Cape Town harbour, going alongside at F berth in the Duncan Dock. Her voyage had started at the Jebel Ali port, located at Dubai in the UAE.
One of two sisterships, Annette is an improved Type 161B design built in 2003 by JJ Sietas KG Schiffswerft at Hamburg in Germany. She is 152 metres in length and has a deadweight of 9,417 tons. She is powered by a single MAN-B&W 9L48/60 9 cylinder 4 stroke main engine producing 12,852 bhp (9,450 kW), driving a controllable pitch propeller for a service speed of 18 knots.
Her auxiliary machinery includes three Volvo D30A-MS generators providing 560 kW each, and a single Volvo TAMD163A emergency generator providing 344 kW. She has a PWT 157 exhaust gas boiler and a PWT 35 oil fired boiler. For manoeuvrability she has a transverse bow thruster, and a high efficiency, flap type, spade rudder.
For the carriage of project freight Annette has a single hold of 83 metres, with a single, folding hatch cover. She is served by two offset NMF 350 ton cranes, which can lift 700 tons when in tandem, plus a single NMF 250 ton crane aft. Her cargo carrying capacity is 13,604 m3 and she has 2,363 m2 of open deck space for further project freight. She has a container carrying capacity of 832 TEU, and provides 50 reefer plugs.
She is owned and operated by SAL Heavylift GmbH of Hamburg, and managed by SAL Shipmanagement, also of Hamburg. SAL was founded back in 1865 by the Heinrich family, with the company originally known as Schiffahrtskontor Altes Land GmbH. Five generations of the Heinrich family built up the family, with the initials of Paul Heinrich (PH) being incorporated into the company houseflag. The company was renamed as SAL Heavylift GmbH in 2012.
Her arrival at Cape Town showed her carrying a substantial amount of containers, all loaded far aft, and her project freight was a colossal Catenary Anchor Leg Mooring (CALM) buoy, which was loaded directly behind the accommodation block. She also carried a Liebherr mobile crane that was being transferred from Port Elizabeth to the Cape Town Multi-purpose Terminal – see that report elsewhere on this site.
The CALM Buoy is destined for the Cabinda enclave of Angola, and is owned by Cabinda Gulf Oil Company Limited (CABGOC), which is a subsidiary of the American Chevron Oil Company. It was built by Fabtech International at their Jebel Ali engineering works in Dubai, where it was loaded onto Annette. It is destined for the CABGOC Malongo Terminal in Cabinda.
The Malongo Terminal is a VLCC crude oil exporting port in Angola, located at 05°26' South 012°04' East. It currently operates with three SBM buoys, with all crude oil being transferred from an onshore oil storage farm. The CALM Buoy, being carried on Annette, will operate with two 20″ export floating hoses, and will be moored using six anchor chain mooring legs. The tender for the CALM Buoy was put out by CABGOC in 2019.
This is not the first time Annette has visited South African ports this year, as she also called into Cape Town as recently as October. On completion of loading in Cape Town, after a 48 hour stay, Annette sailed on 17th December at 16h00, bound for Luanda in Angola.
Whilst Manoeuvring inside the port of Esbjerg, in Denmark, in June 2018, Annette ran aground. The master of Annette was fined by the Danish Maritime Authority for failing to report the grounding. The next day Annette sailed directly to the FSG shipyard at Flensburg, in Germany, to undergo hull repairs.
In January 2017, whilst transiting the Bosphorus on a voyage from Constanta, in Rumania, to Rotterdam, Annette was off Haydarpaşa when she reported a major electrical fire in her engine room, with a subsequent loss of power. The Istanbul VTS despatched two tugs to the aid of Annette, and she was towed to the Ahirkapi anchorage, whilst repairs were undertaken.
In an unusual incident in August 2016, Annette was refused passage clearance to transit the Kiel Canal, from the Baltic Sea to the North Sea, whilst on a coastal voyage from Rostock in Germany, which lies on the Baltic coast, to Bremerhaven, which lies on the German North Sea coast. On this voyage she was carrying a project freight deck load of Wind Farm spare parts and a large mobile crane.
She had already entered the Kiel-Holtenau lock system, at the Baltic end of the canal, when it was discovered that, with her deck cargo, she would exceed the 40 metres maximum height allowed for vessels to transit the canal, in order for them to pass safely under all of the canal bridges. The vessel was forced to go astern out of the lock and, instead, she had to take passage around Denmark, and through the Skagerrak, reaching Bremerhaven two days later.
Sign up for Africa Ports & Ships – it's free
Added 22 December 2021
♦♦♦♦♦♦♦♦♦
News continues below
WHARF TALK: SA Port Statistics for November 2021
Port statistics for the month of November 2021, covering the eight commercial ports under the administration of Transnet National Ports Authority, are now available.
November saw an improvement in tonnages handled at the eight South African Ports, increasing from just over 20 million tonnes in October this year, to 25.463 mt in November, thanks mainly to good performances in the export of coal and other ores at Richards Bay, and iron ore and manganese at Saldanha Bay. Containers increased marginally from 329,822 TEU in October to 357,632 TEU in November, most of this increase happening through the Durban Container Terminals.
Perhaps more importantly one should do this comparison with November last year, which can be seen via the link below. Total tonnage handled in the current November is however a little higher than what was recorded in the same month of 2020 – 25.463 mt versus 24.783 in 2020. Containers on the other hand were down in comparison – 357,632 TEU in 2021 against 378,057 TEU in November 2020.
Vehicles imported and exported totaled 44,893 in November 2021 compared with 69,469 vehicles for the same month of 2020, a considerable decrease. Closer scrutiny reveals the drop was at the Eastern Cape ports, Port Elizabeth fell from 20,361 units in 2020 to 1,199 units this November. East London also saw a decrease in vehicles from 9,229 units in November 2020, to 3,187 this year. Durban was slightly up, from 39,875 units in 2020 to 40,502 this year
Ship calls at South African ports continue to fall, 702 for the month of November compared with 794 in 2020. This is also reflected in the gross tonnage of the various vessels and is not an indicator that ships are 'getting bigger'.
We repeat what we wrote a month ago, that this ongoing trend raises questions as to where the focus of our ports ought to be right now – on increasing capacity at the respective ports and in particular at the Durban container terminals, or to focus on improving efficiencies at the ports and terminals. Enlarging a container terminal will not by itself improve its efficiency, only its capacity, and for that there is currently no need. The time that container ships spend at the South African ports, and Durban in particular, when compared with other ports elsewhere in the world, are issues that should be urgently addressed.
Further details are available in the tables below and in the link provided for November 2020.
These details showing port cargo throughputs, ships berthed and auto and container volumes handled together with bulk and dry bulk volumes.
Statistics involving motor vehicles are measured in vehicle units. These include imports and exports, earth-moving and all ro-ro or wheeled vehicles each qualifying as a single unit and rated as at an average of one tonne each.
For comparison with the equivalent month of the previous year, November 2020 CLICK HERE
These statistical reports on Africa PORTS & SHIPS are arrived at using an adjustment on the overall tonnage compared to those kindly provided by TNPA and include containers recorded by weight; an adjustment necessary on account of TNPA measuring containers by the number of TEUs without reflecting the weight, thus leaving the SA ports undervalued in volumes in comparison with others.
To arrive at such a calculation,  Africa PORTS & SHIPS uses an average of 13.5 tonnes per TEU, which probably does involve some under-reporting.  Africa PORTS & SHIPS  will continue to emphasise this distinction, without which South African ports would be seriously under-reported internationally and locally.
Port Statistics continue below
Figures for the respective ports during November 2021 are:
Cargo handled by tonnes during November 2021, including containers by weight
| | |
| --- | --- |
| PORT | November 2021 million tonnes |
| Richards Bay | 8.619 |
| Durban | 7.119 |
| Saldanha Bay | 6.124 |
| Cape Town | 1.338 |
| Port Elizabeth | 0.750 |
| Ngqura | 1.269 |
| Mossel Bay | 0.097 |
| East London | -0.147 |
| | |
| Total all ports | 25.462 million tonnes |
CONTAINERS (measured by TEUs) during November 2021
(TEUs include Deepsea, Coastal, Transship and empty containers all subject to being invoiced by NPA
| | |
| --- | --- |
| PORT | November 2021 TEUs |
| Durban | 232,246 |
| Cape Town | 61,181 |
| Port Elizabeth | 4,059 |
| Ngqura | 55,292 |
| East London | -3,692 |
| Richards Bay | 1,162 |
| | |
| | |
| Total all ports | 357,632 TEU |
MOTOR VEHICLES RO-RO TRAFFIC (measured by Units- CEUs) during November 2021
| | |
| --- | --- |
| PORT | November 2021 CEUs |
| Durban | 40,502 |
| Cape Town | 4 |
| Port Elizabeth | 1,199 |
| East London | 3,187 |
| Richards Bay | 1 |
| | |
| | |
| Total all ports | 44,893 CEU |
SHIP CALLS for November 2021
PORT
November 2021 vessels
gross tons
Durban
241
8,739,715
Cape Town
125
3,186,836
Richards Bay
126
5,648,069
Port Elizabeth
54
1,452,575
Saldanha Bay
61
4,179,202
Ngqura
53
2,387,137
East London
17
495,467
Mossel Bay
25
152,395
Total ship calls
702
26,241,396
— source TNPA, with adjustments regarding container weights by AP&S
Sign up for Africa Ports & Ships – it's free
Added 22 December 2021
♦♦♦♦♦♦♦♦♦
News continues below
IMO adopts amendments to expand Council to 52 states
Opportunity for increased African representation on Council
In news from the International Maritime Organization in London, the Assembly has adopted amendments to the IMO Convention to expand the size of the Council, extend the term of its Members and recognise three additional language texts as authentic versions of the IMO Convention.
The Assembly is currently meeting for its 32nd session (6-15 December).
Until the amendments enter into force, the current structure will remain unchanged.
The amendments to Articles 16, 17, 18, 19(b) and 81 of the Convention on the IMO required a two thirds majority of the IMO Membership, or 117 Member States (based on the current membership of 175 Member States) for entry into force.
"The adoption of the amendments to the IMO Convention is a major milestone in the reform of the Council," said IMO Secretary-General, Kitack Lim.
"The expansion of the size of the Council to 52 will support the attainment of a representative, balanced, diverse, and efficient Council, that can support the interests of the whole membership and ensures the representation of all the major geographic areas of the world.
"In view of the importance of these amendments, I urge Member States to communicate their instrument of acceptance to me for deposit with the Secretary-General of the United Nations at their earliest convenience," Secretary-General Lim added.
The Assembly also agreed to consider for adoption an Assembly resolution to encourage the early acceptance of the amendments.
Expansion of the Council
Upon entry into force of these proposed Council reforms by the Assembly, the IMO Council will increase by 12 Member States, from its current 40 Members to 52. Expanding the size of the IMO Council would see 12 seats allocated to Categories (a) and (b) each and 28 seats to Category (c).
The categories are:
(a) – States with the largest interest in providing international shipping services
(b) – States with the largest interest in international seaborne trade each
(c) – States not elected under (a) or (b) above, which have special interests in maritime transport or navigation and whose election to the Council will ensure the representation of all major geographic areas of the world.
Member term length
Under the amendments, Council Members would remain in their roles until the end of the next two consecutive regular sessions of the Assembly, after which they would be eligible for re-election. Since Assemblies are usually held every two years, this would generally mean that Members would serve a four-year term.
Additional authentic languages
In the spirit of multilingualism embraced by the United Nations system, the IMO Assembly adopted an amendment to the IMO Convention, such that Arabic, Chinese and Russian, (which are already official languages of the Organization), will be added as authentic texts of the IMO Convention, supplementing the current authentic texts in English, French and Spanish.
Current Council Members
The current Council Members elected for the 2020-2021 biennium are:
Category (a): China, Greece, Italy, Japan, Norway, Panama, Republic of Korea, Russian Federation, United Kingdom, United States.
Category (b): Argentina, Australia, Brazil, Canada, France, Germany, India, the Netherlands, Spain and the United Arab Emirates.
Category (c): Bahamas, Belgium, Chile, Cyprus, Denmark, Egypt, Indonesia, Jamaica, Kenya, Kuwait, Malaysia, Malta, Mexico, Morocco, Peru, the Philippines, Singapore, South Africa, Thailand and Turkey.
History of the IMO Council
The IMO Council has seen a number of expansions since it was established with 16 Member States in March 1958, following the entry into force of the 1948 IMO Convention.
The most recent expansion was a result of the 1993 amendments that came into force in 2002 and increased the size of the Council to 40, with Groups (a) and (b) increased to 10 and Group (c) to 20 Member States.
Previous expansions came into force in 1984 – when the Council was increased in size to 32, with 16 places for Group (c); in 1978 when Council membership was increased to 24 Member States by enlarging Group (c) to 12 Member States; and in 1967 – when IMO adopted an amendment to the IMO Convention that increased the size of the Council to 18. source: IMO
Sign up for Africa Ports & Ships – it's free
Added 12 December 2021
♦♦♦♦♦♦♦♦♦
News continues below
WHARF TALK: tug on a mission – POSH OSPREY
Story by Jay Gates
Pictures by 'Dockrat'
The Cape has played host to some of the world's most powerful ocean towing vessels over the years, as oil rigs and offshore support barges have been moved, from one part of the world, to another by the major oil companies. As they pass the Cape, so the towing vessels take it in turn to enter Cape Town harbour, to refuel and take on stores, before continuing on with the tow.
As the exploration for new oil and gas fields went further offshore, so offshore assets continued to grow in size, especially with the introduction of Floating Storage Offshore (FSO) platforms, and Floating, Production and Storage Offshore (FPSO) platforms. As these behemoths left the shipyards of the Far East, the size, and power, of the ocean towing vessels needed to move them across the globe also grew, to meet the towing challenges such large platforms present.
On 6th December at 15h00, the Anchor Handling vessel POSH OSPREY (IMO 9658264) arrived from Colombo, in Sri Lanka, and entered Cape Town harbour, proceeding to the Landing Wall in the Duncan Dock. Her short stay was to take on bunkers, stores and make herself ready for her next assignment.
Within 48 hours, she was ready to continue with her voyage, and she sailed from Cape Town on 8th December at 15h00.
Interestingly, her destination was not a port, nor even an oil field, but to rendezvous with one of her fleet consorts, and sisterships, namely POSH EAGLE which had departed from Belem, in Brazil, the month before.
Proceeding at a speed of 13 knots to a position somewhere offshore Namibia, where Posh Eagle was sailing slowly south at 5 knots, and exhibiting 'Restricted Movement' on AIS. A sign that she was towing something, and Posh Osprey was likely proceeding to take over the tow, as Posh Eagle was indicating Cape Town as her destination, with an arrival date of 19th December.
Built in 2014 by the JMU Shipyard at Tsurumi in Japan, Posh Osprey is 75 metres in length and has a deadweight of 3,371 tons. She is powered by two Wärtsilä 12V32 12 cylinder 4 stroke main engines, producing 8,150 bhp (6,077 kW) each, to give her an impressive, combined 16,300 bhp (12,155 kW), driving two controllable pitch, nozzled, propellers, operated by two independent steering systems, to give her a transit speed of 15 knots.
Her auxiliary machinery includes two generators providing 400 kW each, and an emergency generator providing 60 kW. Designed as a combined anchor handling, ocean towing and salvage tug, Posh Osprey has a bollard pull of 205 tons. She has a FiFi 1 firefighting capability with two foam/water monitors capable of providing 1,200 m3 per hour, at a pressure of 11.5 bar.
For her different roles, Posh Osprey has the necessary manoeuvrability required, by having a Dynamic Position DP1 classification, provided by a Converteam DP system, assisted by two transverse thrusters, one bow thruster providing 800 kW, and one stern thruster providing 640 kW, and further aided by having two Rolls-Royce, high-lift, flap rudders.
A Raptor class vessel, and the last of four sisterships built for her owner, Posh Osprey is owned by PACC Offshore Services Holdings (POSH) of Singapore, and part of the Kuok Group. She is both operated and managed by POSH Fleet Services, also of Singapore.
Previously, Posh Osprey was placed into the POSH-Terasea towing joint venture, which defaulted on bank loans back in September 2019. The JV company was liquidated and, whilst at anchor in Singapore Roads she, and her sistership Posh Eagle, were both placed under Admiralty arrest by the Singapore High court in March 2020.
The Admiralty arrest request was made by the Sumimoto Mitsui Banking Corporation of Japan, who owned the loans. The Admiralty Court application process was completed in October 2020 when both vessels were sold at a Judicial Auction for US$4.6 million each (ZAR73.6 million each), and purchased back by their parent company, and current owner.
This is not the first time that Posh Osprey has arrived at Cape Town harbour. In March 2018 she, and her sistership Posh Eagle, were engaged on a long ocean tow of the semi-submersible rig OOS PROMETHEUS, from Brazil to Singapore, with both stopping off at Cape Town, one at a time, to take on bunkers and stores, before proceeding onwards with the tow.
Her last visit was earlier this year, in late March, when again in concert with her sistership Posh Eagle, she was involved in another long ocean tow. This time the Posh Osprey was towing the decommissioned, 1976 built, FPSO Tantawan, which was previously operated by Chevron in the Gulf of Thailand.
The FPSO had departed Thailand in late January under tow to her final scrapping destination, the ship recycling facility at Aliaga, in Turkey, where she arrived in early May. Both vessels took on 1,000 tons of bunkers in Cape Town, arriving one at a time, with Posh Osprey arriving on the 24th March, and Posh Eagle arriving on 31st March.
Sign up for Africa Ports & Ships – it's free
Added 12 December 2021
♦♦♦♦♦♦♦♦♦
News continues below
HMS Queen Elizabeth returns home to UK
On Thursday, 9 December the Royal Navy's flagship, aircraft carrier HMS QUEEN ELIZABETH, returned to Portsmouth after her global seven month maiden operational deployment leading Carrier Strike Group 21 (CSG21). Sailors, aviators, ships and aircraft have returned to their home bases in the Netherlands, the UK and the US.
Queen Elizabeth's ship's company were welcomed back to their home port of Portsmouth after sailing 49,000 nautical miles to and from the Indo-Pacific region.
A total of 3,700 personnel from nine ships, a submarine, five air squadrons and a company of Royal Marines will be home in time for Christmas. They departed the UK in early May.
On the Group's return Defence Secretary Ben Wallace said: "Today we pay tribute to the 3,700 personnel in the Carrier Strike Group that have been our global ambassadors on this historic and ground-breaking deployment.
"The personnel and their families have made considerable sacrifices to make this deployment the success it has been. We thank them for all their efforts in strengthening our relationships with our allies and partners around the world."
Families and friends gathered in Portsmouth to meet their loved ones. Those deployed will transit straight home where they will take a PCR test and quarantine until they receive the result. Twenty-five of those deployed on CSG21 met for the first time their babies who were born in the past seven months.
Chief of the Defence Staff Admiral Sir Tony Radakin added: "Throughout the past seven months HMS Queen Elizabeth and her Strike Group have been furthering the UK's interests and strengthening our partnerships around the globe. With involvement from across the Armed Forces, and our allies integrated throughout, this deployment has been a truly joint, truly international endeavour, which represents the very best of Global Britain.
"I thank everyone involved for their efforts to make this deployment such a resounding success, and I wish our returning sailors, aviators, soldiers and marines a very happy reunion with their families this Christmas."
Earlier this week, the Carrier Air Wing departed the group after clocking up 4,723 flying hours. The Air Wing consisted of UK F-35 jets from 617 (The Dambusters) Squadron based at RAF Marham, Wildcat helicopters from Royal Naval Air Station (RNAS) Yeovilton and Merlin helicopters from RNAS Culdrose.
US Marine Corps F-35 jets from VMFA-211 departed CSG21 in late November. United States' destroyer USS The Sullivans returned to her base port of Jacksonville, Florida in time for Thanksgiving last month and Dutch Frigate Evertsen recently returned to her home base of Den Helder.
Many families and friends greeted the frigate Richmond on arrival in Plymouth on 9 December, meanwhile Defender and Diamond returned to Portsmouth.
The Carrier Strike Group sailed across three oceans and five seas, cumulatively covering around 500,000 nautical miles. The group has engaged with 44 countries, strengthening partnerships with allies including Australia, Canada, New Zealand, France, Greece, Israel, India, Italy, Japan, Oman and the Republic of Korea.
This was the UK's most significant peacetime deployment in a quarter of a century, Carrier Strike Group 21 has been more than just a military endeavour, bringing together elements of defence, diplomacy and prosperity and flying the flag for Global Britain.

Reported by Paul Ridgway




London
Sign up for Africa Ports & Ships – it's free
Added 12 December 2021
♦♦♦♦♦♦♦♦♦
News continues below
UN continues international counter-piracy patrols off Somalia for 3 months
The U.N. Security Council on Friday (3 December) voted unanimously to allow international naval forces to continue using all necessary means to fight piracy off the coast of Somalia. However, after comment from Somalia that these patrols were no longer necessary as there hasn't been a successful case of piracy in four years, the U.N. agreed to allow counter piracy patrols but only for the next three months.
The use of international naval patrols has continued for more than 10 years and together with other measures, has seen the number of pirate attacks in the Somalia coastal waters wither away, although unsuccessful efforts at boarding ships have been reported.
The motion for a 12-month renewal, introduced by the United States, was formally objected to by Somalia.
"We believe that the Security Council resolutions on piracy and armed robbery off the coast of Somalia have successfully achieved its intended objective," said Somalia's U.N. Ambassador Abukar Dahir Osman.
He said there has been four consecutive years of no single piracy incident and no piracy hostage held in Somalia, which he claimed is testament to Somalia's "ownership of the problem in addition to Somalia's hard work in collaboration with our international partners."
Osman gave Somalia's consent for another three months extension of the mandate to allow a transition to bilateral arrangements within Somali national waters.
While welcoming the steady decline in ship hijackings in the area off the coast of Somalia, the Security Council said it recognised the ongoing threat that resurgent piracy and armed robbery at sea poses.
The UN body quoted reports from the U.N. Secretary-General Antonio Guterres and the Contact Group on Piracy off the Coast of Somalia, which it said continues to illustrate that piracy "has been repressed but not eradicated."
The resolution commended the efforts of the European Union naval forces operation off Somalia (EU NAVFOR), African Union efforts onshore, and other naval efforts in the region, including by China, India, Japan, South Korea and Russia.
Sign up for Africa Ports & Ships – it's free
Added 12 December 2021
♦♦♦♦♦♦♦♦♦
News continues below
IMO and the Central and Eastern Mediterranean: Pollution preparedness workshops
A series of three workshops to help prepare countries in the Central and Eastern Mediterranean to respond to pollution incidents has been completed, with a final online workshop held on 23 November. These activities were reported by the excellent IMO media service in the first week of December.
It is understood that participants from eleven countries attended the final workshop, which followed an initial online workshop held on 7-8 September. and a series of practical country-specific sessions.
These sessions were on the use of the ARPEL Readiness Evaluation Tool for Oil Spills, and the Sea Alarm Self-Assessment Tool (SAT) for Oiled Wildlife Response (between September and November). They were organised in Albania, Bosnia and Herzegovina, Croatia, Cyprus, Greece, Israel, Libya, Monaco, Montenegro, Slovenia, and Turkey. Participants from Egypt and Lebanon also attended the final online event.
This series of activities was organised with the support of Sea Alarm, ITOPF, ARPEL, and Polaris Applied Sciences.
Principal players were the Regional Marine Pollution Emergency Response Centre for the Mediterranean Sea REMPEC, under the auspices of IMO's Integrated Technical Cooperation Programme ITCP.
The trilogy of activities enabled each country to acquire practical and focused experience on the use of both tools. Participants agreed conclusions and recommendations, notably to urge all contracting parties to use these tools, to improve preparedness and response across the region and to capitalise the outcome of countries' assessments to implement improvement processes at sub-regional level.
Finally, the workshop recognised the instrumental role of REMPEC in coordinating multi-institutional processes and strengthening cooperation in the Mediterranean region.
It is understood that follow-up activities have been included under IMO's ITCP in 2022 to support Central and Eastern Mediterranean States in the development and implementation of their respective national oil spill preparedness and response programmes.

Reported by Paul Ridgway
London
Sign up for Africa Ports & Ships – it's free
Added 12 December 2021
♦♦♦♦♦♦♦♦♦
News continues below
SA's Imperial opens new multi-user logistics base in Germany
Imperial

has opened a new, multi-user logistics facility in Gelsenkirchen, Germany, located 8 kilometres away from Imperial's existing benchmark multi-user business site in Herten.
The launch customer for the new facility will be a long-standing Imperial customer, Lemken, which is a leading international manufacturer of agricultural machinery. Imperial will transfer Lemken's spare part logistics operations from Herten to Gelsenkirchen.
According to Imperial, the opening of its new multi-user facility in Germany supports its organic growth strategy, introduced in 2019, which has seen multiple investments in workforce expansion and operating infrastructure to date.
"Our latest multi-user facility provides Lemken with further space for growth, and will also mean that another long-standing customer, KONE, has additional space for its own expansion at our Herten location,|" says Hakan Bicil, CEO of Imperial's Logistics International business.
KONE provides elevators, escalators and automatic building doors, as well as solutions for maintenance and modernisation to add value to buildings throughout their life cycle.
"Above all, however, the latest base enables us to welcome further new customers to both business locations, and so we are already actively marketing our expanded capabilities," Bicil says.
Marco Averesch, previously Warehouse Manager in Herten, will take over operational responsibility for the Gelsenkirchen site, while Patrick König will be in overall charge of both Herten and Gelsenkirchen.
About Imperial
Imperial is an African focused provider of integrated market access and logistics solutions. With a focus on the key industries of healthcare, consumer, automotive, chemicals, industrial and commodities, Imperial takes its clients' and principals' products to some of the fastest growing and most challenging markets in the world. Ranked among the top tier global logistics providers and listed on the JSE in South Africa, Imperial has a significant African footprint and international expertise and seeks to connect Africa and the world.
Sign up for Africa Ports & Ships – it's free
Added 12 December 2021
♦♦♦♦♦♦♦♦♦
News continues below
Euler Hermes Outlook: South Africa to see rise in exports in 2021, 2022 and 2023
Authors: Ana Boata, Françoise Huang, Ano Kuhanathan
South Africa to see rise in exports in 2021, 2022 and 2023
Euler Hermes
*
expects global supply-chain disruptions to remain high until H2 2022
When it comes to inputs from China, Europe is losing the tug-of-war against the US, but reshoring remains more talk than walk
Global trade in volume to grow by +5.4% in 2022 and +4.0% in 2023
Paris, 9 December 2021 – Global supply-chain disruptions could remain high until H2 2022 amid renewed Covid-19 outbreaks around the world, China's sustained zero-Covid policy and demand and logistic volatility during Chinese New Year, according to Euler Hermes' Global Trade Report.
Nevertheless, the trade credit insurer expects trade growth to remain strong through 2022 and 2023, with some clear winners across regions and sectors.
Global supply-chain disruptions will remain high until H2 2022
After exceptionally strong performance since H2 2020, global trade of goods contracted in Q3, especially in advanced and emerging economies. However, advanced economies are suffering more from supply-chain bottlenecks rather than trouble with demand:
Euler Hermes finds that production shortfalls are behind 75% of the current contraction in global volume of trade, with the rest explained by transport delays. Looking ahead, rapidly growing orders for new transportation capacity (6.4% of the existing fleet) should turn operational towards the end of 2022 while increased spending on port infrastructure in the US should significantly ease global shipping bottlenecks.
South Africa to see rise in exports
After losing nearly USD-15bn in 2020 vs. 2019 (in goods and services), South Africa should see exports rise by USD+22bn in 2021, USD+5bn in 2022 and USD+2bn in 2023. This brings total South African exports in value terms above the pre-crisis level as soon as in 2021.
Sectors that should exhibit the largest export gains in 2022 and 2023 are services, metals and automotives. In terms of target markets, the largest export gains should be derived from China, the United States and Germany.
When it comes to inputs from China, Europe is losing the tug-of-war against the US.
Europe is more at risk compared to the US when it comes to the heavy reliance on intermediate inputs from abroad. Without production capacity increases and investments in port infrastructure, the normalisation of supply bottlenecks in Europe could be delayed beyond 2022 if demand remains above potential. Euler Hermes finds that the household equipment, consumer electronics, automotive and machinery and equipment sectors are most vulnerable to input shortages.
"China is a key downside risk for Europe: we estimate that a 10% drop in EU imports from China could be a drag of more than -6% on the metal sector, more than -3% on the automotive sector (incl. transport equipment) and more than -1% on computer and electronics," says Ano Kuhanathan, Senior Sector Advisor at Euler Hermes, which operates through the Allianz Global Corporate & Specialty (AGCS) license in South Africa.
Yet, reshoring and nearshoring will remain more talk than walk.
Despite the ongoing global supply-chain disruption, Euler Hermes finds no clear trend of reshoring or nearshoring of industrial activities so far. The only exception is the UK, which is likely to have faced disruptions due to Brexit. However, protectionism reached a record high in 2021 and should remain elevated, mainly in the form of non-tariff trade barriers (e.g. subsidies, industrial policies).
Overall, global trade will grow by +5.4% in 2022 and +4.0% in 2023
While there is a risk of a double-dip in Q1 2022, Euler Hermes expects a normalisation of international trade flows in volume from H2 2022, driven by three factors:
A cooling down of consumer spending on durable goods, given their longer replacement cycle and the shift towards more sustainable consumption behaviors.
Less acute input shortages as inventories have returned to or even exceeded pre-crisis levels in most sectors, and capex has increased (mainly in the US).
Reduced shipping congestions (global orders for new container ships have reached record highs over the past few months, amounting to 6.4% of the existing fleet) and the planned USD17bn spending on port infrastructure in the US.
"Overall, we expect global trade in volume to grow by +5.4% in 2022 and +4.0% in 2023, and then gradually return to its pre-crisis average levels. However, this comes at the expense increased global imbalances. The US will register record-high trade deficits (around USD1.3trn in 2022-2023), mirrored by a record-high trade surplus in China (USD760bn on average). Meanwhile the Eurozone will also see higher-than-average surplus of around USD330bn," explains Françoise Huang, Senior Economist for Asia-Pacific at Euler Hermes.
And the winners are…
Euler Hermes estimates that the energy, electronics and machinery & equipment sectors should continue to outperform in 2022. But the main export winner globally in 2023 should be automotive, thanks to the backlog of work and lower capex in 2021. At the regional level, Asia-Pacific should continue to be the main export winner in the coming few years (over USD3trn in export gains in 2021-2023).
* Euler Hermes is the global leader in trade credit insurance and a recognised specialist in the areas of surety, collections, structured trade credit and political risk. Headquartered in Paris, Euler Hermes is present in more than 50 countries with 5,800 employees. In 2020, Euler Hermes global business transactions represented 824 billion Euro in exposure. Euler Hermes is a full member of Allianz Group.
A reinsurance agreement is in place between Allianz Global Corporate & Specialty (AGCS) South Africa Limited and Euler Hermes to provide credit insurance in South Africa. Both companies are part of the Allianz Group. All trade credit insurance in South Africa is provided by AGCS South Africa (FSP No 16722). AGCS South Africa, with Euler Hermes' world market knowledge and risk services expertise supplied via Euler Hermes Services South Africa Pty Limited, collaborate to provide clients with world class credit insurance solutions.
Sign up for Africa Ports & Ships – it's free
Added 12 December 2021
♦♦♦♦♦♦♦♦♦
News continues below
Euro-Atlantic security: NATO SG praises France's contributions
During his visit to Paris on 10 December, NATO's Secretary General Jens Stoltenberg met France's Minister for Europe and Foreign Affairs, Jean-Yves Le Drian, and the Minister of the Armed Forces, Florence Parly, to address developments in the Euro-Atlantic area and the need for continuing to adapt NATO for the future. *
Said the Secretary General: "France is a strong ally. An ally that contributes to our shared security in many different ways, with high-end capabilities, and you invest more than two percent of GDP on defence. Your strategic nuclear forces contribute significantly to the overall security of the Alliance. And you are strongly committed to the fight against terrorism."
Stoltenberg thanked both Ministers for France's contributions to NATO deployments, including troops in the Alliance's defensive multinational battlegroup in Estonia, and jets as part of NATO's Baltic Air Policing.
Together they addressed Russia's renewed military build-up in and around Ukraine. The Secretary General stressed that the crisis requires a political and diplomatic solution, adding that: "We welcome the dialogue between President Biden and President Putin, as well as the efforts to convene a new meeting in the Normandy format, because dialogue is even more important when tensions are high."
He noted that NATO's offer of a meaningful dialogue in the NATO-Russia Council still stands.
The Secretary General also exchanged views with his French hosts on ways to further strength NATO-EU cooperation, which has already reached unprecedented levels. The Secretary General added in conclusion: "We discussed France's priorities for its Presidency of the European Council next year and I count on France's support as we develop a new joint NATO-EU declaration."
He reiterated his long-standing support for EU efforts on defence and made a plea for more resources with: "I welcome that all European allies have increased their defence budgets. But it is important that we keep up the momentum rather than new structures which risk duplicating what we already have."
* For an introduction to NATO readers are invited to SEE HERE

Reported by Paul Ridgway




London
Sign up for Africa Ports & Ships – it's free
Added 12 December 2021
♦♦♦♦♦♦♦♦♦
News continues below
MSC suspends South African cruises until 9 January
MSC Cruises South Africa announced on Friday that all further cruises during December and early January have been suspended. This was after the first opening cruise of the 2021/2022 summer season cruise ends with the return to Durban of MSC ORCHESTRA carrying a number of passengers on board who tested positive for the Covid-19 virus.
The ship, which arrived in South Africa a week earlier had returned to Durban at 04h30 on Friday from its inaugural cruise to Mozambique destinations, having sailed on Monday 6 December.
The full notice from MSC Cruises reads as follows:
Johannesburg, South Africa, 10 December 2021 – MSC Cruises today announced that it has voluntarily suspended all its domestic sailings in South Africa with immediate effect until 8 January, 2022. The temporary suspension was dictated by the cruise line's industry-leading health and safety protocol in connection with the most recent and sudden evolution, particularly in the past week of the pandemic ashore in the country, that puts the health and safety of its guests and crew as its utmost priority.
The decision will lead to the cancellation of all sailings of MSC Orchestra from the port of Durban and all booked guests will receive a voucher for a voyage later in the season at their convenience or a refund. MSC Orchestra will resume her cruise sailings on 9 January, 2022.
Ross Volk, Managing Director, MSC Cruises South Africa, said, "We made this voluntary decision in an abundance of caution towards our guests, our crew and the communities that MSC Orchestra was scheduled to visit in the coming weeks. This is what our health and safety protocol is designed to do, in accordance with the evolution of the pandemic ashore and to ensure the utmost protection to our guests and crew.
"In light of the most recent evolution of the Covid-19 pandemic across South Africa, we have been in consultation with the government's Department of Health which is working hard to understand the most up-to-date data of the virus and as health and safety is our number one priority our protocol clearly called for a temporary suspension of our forthcoming sailings with immediate effect.
"We now also await eagerly for any additional guidance from the South African government for its citizens so that we can also reflect any new measures into our own health and safety protocol.
"We understand that our decision will be very disappointing to those guests that will have their voyages cancelled but I hope that they will understand that it was made with their wellbeing in mind, as the health and safety of our guests, crew and communities we visit is our number one priority."
MSC Cruises resumed its sailing operation also in South Africa on Monday 6 December after a 20 month hiatus when MSC Orchestra departed from Durban for a 4-night cruise.
The approval to sail was granted by the government's Department of Health, Department of Transportation and South African Maritime Safety Authority who all approved MSC Cruises' health and safety protocol.
MSC Cruises' health and safety protocol has led the way in the global cruise industry since August 2020, being the first major cruise liner to resume international operations.
The line currently has 12 ships at sea operating regular cruises in Europe, North America, South America, and the Middle East.
MSC Cruises has to date safely and responsibly hosted over one million guests on its ships globally since it resumed operations in Summer 2020. The cruise line continually adapts its health and safety measures to the evolution of the pandemic ashore to ensure the highest level of protection for guests, crew and destinations visited. Today's decision is a further proof of this. End of MSC notification.
A Durban newspaper carried a report that a number of passengers were not allowed to leave the ship on Friday after other passengers disembarked, after having tested positive.
The report quoted a passenger saying while some passengers disembarked on Friday, other did noit have their passports returned and were asked to remain on board. He understood they had tested positive for the virus.
The newspaper quoted MSC's Ross Volk as saying: "A number of completely asymptomatic guests tested positive during today's testing procedure upon arrival and they are currently awaiting disembarkation for their safe return home."
He said while some passengers had disembarked, others will do so on Saturday "in full co-ordination and under the guidance of health authorities," said Volk.
Sign up for Africa Ports & Ships – it's free
Added 11 December 2021
♦♦♦♦♦♦♦♦♦
News continues below
IN CONVERSATION:
Planned seismic survey by Shell has kicked up a storm in South Africa. Here's an explainer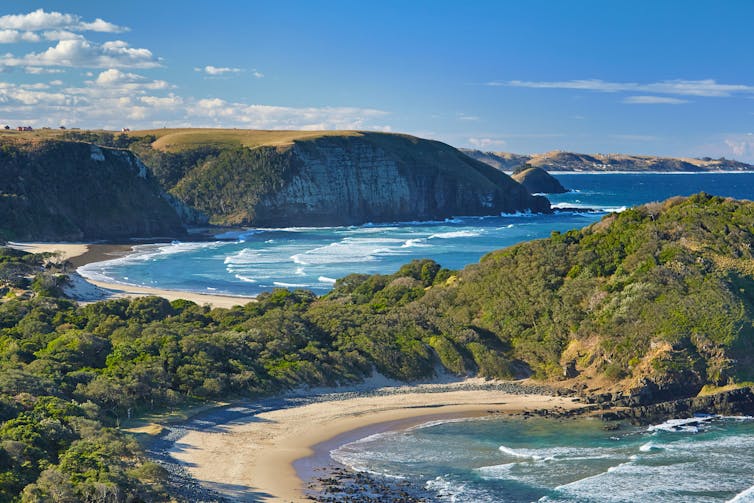 South African marine biodiversity is unique and valuable and the Wild Coast is an especially rich part of that heritage.  Peter Unger via GettyImages
The planned seismic survey off South Africa's Wild Coast by energy company Shell has unleashed public outrage in the country and beyond. The survey's aim is to search for oil and gas deposits. Environmental and human rights organisations and fishing communities are trying to block the move in court. The Conversation Africa asked researchers to share their insights on seismic surveys.
What is a seismic survey?
Seismic surveys have been used for at least 50 years in both onshore and offshore mineral and oil exploration. The concept is relatively simple: measure the time it takes for a compression wave ("sound") to move through solid material, strike a reflecting surface and return to a recorder. This allows the orientation and thickness of layers hidden below the Earth's surface to be measured, so hidden ore deposits and gas or oil trap structures can be identified.
This negates the need for costly drilling and makes seismic surveys a fast and cost-effective tool in exploration for natural gas or mineral deposits.
Offshore seismic studies use an array of airguns towed on a cable behind a ship to create loud sound pulses, which move through the water to strike and pass into the ocean floor. Though this sound pulse is extremely loud to human ears, it is of far lower amplitude than earthquakes and explosions, and the pulse is not sufficient to cause any physical disruption to faults or structures on the ocean floor. Therefore, it is considered geologically safe.
If a detailed seismic survey confirms the likely presence of gas or the mineral deposit of interest, then it might be followed by drilling test wells.
Is this one unusual?
Seismic surveys are not uncommon along the South African coast. The Petroleum Agency of South Africa keeps records of all seismic surveys, and it is clear from this map that many seismic surveys have been done in South African waters, and beyond, since 1967.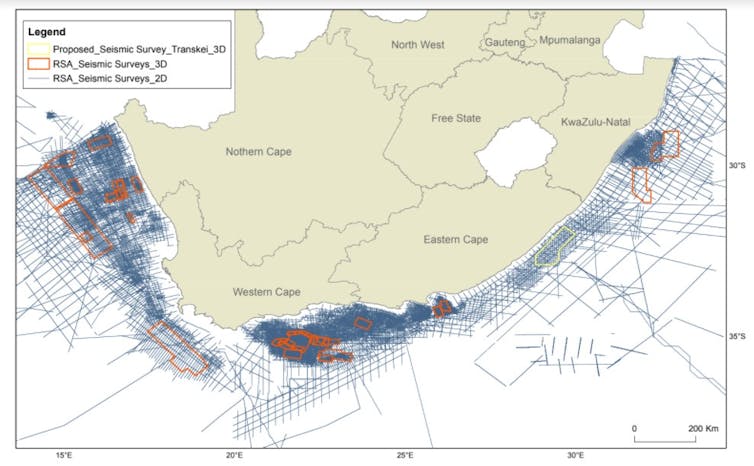 Seismic surveys have been done in South African waters.  Provided by author.
Superficially, there does not seem to be anything technically unique about this particular survey, but these details need confirmation from the company that is working with Shell, Impact Oil & Gas.
The main difference is that it has provoked a large public outcry. The concerns are wide and varied, and some of them are in the process of being tested in court. Some have not been successful, while others wait on an outcome.
Seismic surveys have a direct impact on the marine environment – which we unpack below. More importantly, they can also be the precursor of much larger and systematic impacts if the exploration leads to further offshore operations such as drilling.
South African marine biodiversity is unique and valuable in many ways, and the Wild Coast is an especially rich part of that heritage. It's therefore understandable that people wish to protect it and ask questions about who the true beneficiaries are.
In addition, projects to find new fossil fuel sources are inconsistent with staying within planetary boundaries for a sustainable future. They are at odds with promises made by the South African government during the 2021 United Nations Climate Change Conference (COP26).
What are the effects of marine acoustic seismic surveys?
Seismic surveys, and the subsequent exploitation of oil and gas reserves in much of the world's oceans, focus on continental shelves, those areas closest to the coast. Here the seafloor is fairly shallow, making it easier (and cheaper) to access oil and gas reserves.
Continental shelves are also productive regions where marine life is the most diverse, where predators hunt for food, or creatures mate and give birth or lay eggs, where corals grow, and ultimately where the most productive fisheries are. Surveys can therefore lead to wide-scale disruption of marine ecosystems, and the value that humans derive from them.
There is a growing body of evidence of the effects of seismic surveys on marine wildlife. These effects are pervasive in marine ecosystems, from the smallest organisms to the largest.
Plankton are very small organisms that form the basis of a healthy marine ecosystem. They consist of phytoplankton (small plants) and zooplankton (small animals). Zooplankton are severely affected by seismic surveys, leading to wide-scale die-off in the vicinity of blasting sites. Since other marine species survive by feeding (directly or indirectly) on zooplankton, this has an effect on the entire aquatic food web.
The critically endangered leatherback turtle, which frequents some areas to be surveyed, is similarly affected by seismic surveys. The Wild Coast is an important area where the young future-breeding individuals spend their time.
Whales and dolphins rely on sound to communicate, navigate and hunt. Generally, the dominant frequencies of seismic airguns (typically below 100 Hz) overlap with those of the communication signals of large baleen whales (10 Hz–1 kHz).
Some seismic surveys also use high frequency sonar mapping, which has been linked to the mass strandings of deep-diving toothed whales. For example in Madagascar 100 melon headed whales stranded and died. The strandings occur because the sonar interferes with their navigational system (echolocation), causing the whales to surface extremely fast. Gas bubbles form in their bloodstream and expand, resulting in decompression sickness, similar to "the bends" that human divers get.
Furthermore, the sound waves generated by seismic surveys may lead to temporary outward migration of wildlife. In another study conducted in the Bass Strait of Australia, it was found that noise exposure during larval development of scallops produced body malformations in nearly half of the larvae and their overall development was delayed.
So how dangerous is this survey?
Despite the examples we've given above, the science on the direct and long-term impacts of seismic surveys has not yet provided conclusive answers on many facets of marine ecosystems. But that doesn't mean there is no basis on which to act. Decisions are often made in the absence of scientific certainty to avoid potentially catastrophic changes in the environment.
The global scientific community has a specific method to assess the state of knowledge in a particular area, to support decision making. It is called a scientific assessment. Among the best known examples are the scientific assessment reports of the International Panel on Climate Change, regularly used in climate policy and decision making.
The same method has also been applied locally to assess the impact of fracking in South Africa's Karoo region. It is clear that we need a scientific assessment on the impact of seismic surveys to inform the current gaps in South Africa's National Environmental Management Act and guide the development of new policies.
Until we have the outcomes of such an assessment, the act provides for the application of the precautionary principle in environmental matters and states that:
… a risk-averse and cautious approach is applied, which takes into account the limits of current knowledge about the consequences of decisions and actions.
Other countries have also grappled with seismic survey impacts. Norway, for example, amends its management guidelines in response to findings from ongoing studies. The country does not rely on impact assessments that are years out of date.
Although still needed, it would be short-sighted to focus research on marine environmental impacts and seismic surveys only. The focus should be on the danger to humanity from additional fossil fuel exploration, and the associated increase in the impacts of climate change.
Climate science has matured to the point where there is very strong evidence for the links between life-threatening extreme events such as floods, fires and droughts, and climate change. There are also several new studies that map out feasible and just transitions to reduce our carbon footprint. There really are no good excuses left to continue with any fossil fuel exploration, and certainly not seismic surveys that have an impact on unique and rich marine ecosystems.

This article is republished from 

The Conversation 

under a Creative Commons license. Read the

 original article.
Sign up for Africa Ports & Ships – it's free
Added 10 December 2021
♦♦♦♦♦♦♦♦♦
♦♦♦♦♦♦♦♦♦
News continues below
GENERAL NEWS REPORTS – UPDATED THROUGH THE DAY
in partnership with – APO
More News at https://africaports.co.za/category/News/
♦♦♦♦♦♦♦♦♦
THOUGHT FOR THE WEEK
War is God's way of teaching Americans geography.
Ambrose Pierce
♠♠♠
News continues below………
♦♦♦♦♦♦♦♦♦
TO ADVERTISE HERE
Request a Rate Card from info@africaports.co.za
EXPECTED SHIP ARRIVALS and SHIPS IN PORT

Port Louis – Indian Ocean gateway port
Ports & Ships publishes regularly updated SHIP MOVEMENT reports including ETAs for ports extending from West Africa to South Africa to East Africa and including Port Louis in Mauritius.
In the case of South Africa's container ports of Durban, Ngqura, Ports Elizabeth and Cape Town links to container Stack Dates are also available.
You can access this information, including the list of ports covered, by  CLICKING HERE remember to use your BACKSPACE to return to this page.
News continues below
CRUISE NEWS AND NAVAL ACTIVITIES

QM2 in Cape Town. Picture by Ian Shiffman
We publish news about the cruise industry here in the general news section.
Naval News
Similarly you can read our regular Naval News reports and stories here in the general news section.
♦♦♦♦♦♦♦♦♦
♠♠♠
ADVERTISING
For a Rate Card please contact us at info@africaports.co.za
Don't forget to send us your news and press releases for inclusion in the News Bulletins. Shipping related pictures submitted by readers are always welcome. Email to info@africaports.co.za
TABLE BAY UNDERWAY SHIPPING
SHIP PHOTOGRAPHERS
Colour photographs
and slides for sale of a variety of ships.
Thousands of items listed featuring famous passenger liners of the past to cruise ships of today, freighters, container vessels, tankers, bulkers, naval and research vessels.
P O BOX 809, CAPE TOWN, 8000, SOUTH AFRICA
snai@worldonline.co.za
http://home.worldonline.co.za/~snai