Bringing you shipping, freight, trade and transport related news of interest for Africa since 2002
For a Rate Card please contact us at terry@africaports.co.za
TODAY'S BULLETIN OF MARITIME NEWS
Week commencing 6 November 2023.  Click on headline to go direct to story : use the BACK key to return.   
FIRST VIEW: 

 SAAGAR
Masthead:

  PORT OF CAPE TOWN
Stay Well, Stay Safe, Stay Patient, don't become one
For a free daily newsletter via email?  Send your email marked NEWSLETTER to terry@africaports.co.za 

Join us as we continue to report through 2023
'and stay up to date with Africa Ports & Ships'  – 21 years of reporting directly from Africa (est. 2002).  
SEND NEWS REPORTS AND PRESS RELEASES TO   info@africaports.co.za
 

FIRST VIEW:

  SAAGAR
The asphalt tanker SAAGAR (IMO 9483774) is seen arriving in Durban with a cargo of bitumen, much-needed for a multitude of purposes not the least of which is to fix potholes in the roads.
There was a time when this commodity, or at least some of the required amount, was manufactured in the port city of Durban, which had two refineries in operation, one of them being the largest in the country. Both have now ceased operations leaving South Africa to have to import the vast majority of its oil-based requirements.
SAAGAR was built in 2009 and has a deadweight of 5,887 tons. The tanker has a length of 112 metres and a width of 16m. She is flagged in the Cook Islands.
Her current owners and managers are based in the Sharjah emirate with the registered ownership in the name of Saagar Shipping Inc, presumably a nominal ownership detail, and her ISM, ship and commercial manager shown as being Safe Seas Ship Management, who have an address in the Hamriyah Free Zone in Sharjah, UAE.
The ship was listed as arriving from the Hamriyah Free Zone, which is an area on the northern coast of the emirate that came close to becoming a separate emirate apart from Sharjah during the earlier years of the 20th Century.
SAAGAR has had five different names since her launching in 2009. Her first was Captain Nikolas I, a strong indication that her initial owner/operator was a Greek company. On 1 March 2015 she became Newlead Granadino, followed two years later on 1 May 2017 as Asphalt Trader, which name rings more than a bell or two, suggesting she would have called in Durban at that time.
Four years later on 1 March 2021 the tanker adopted the name Spc Pride. As important as that moniker sounds, it didn't stop her being renamed SAAGAR the following year, on 1 September 2022.
The name SAAGAR is derived from the Sanskrit word for 'sea' and reflects the sheer immensity and strength but also tranquility of the ocean. A worthy name for a ship!
SAAGAR can be traced back to the ancient Sanskrit texts such as the Vedas and the Upanishads, some of the oldest scriptures in the world. – Terry Hutson
This picture is by Keith Betts
Africa Ports & Ships
♦♦♦

♦♦♦

♦♦♦
News continues below
Two former Transnet execs have their pension benefits interdicted
Africa Ports & Ships
The Special Investigating Unit (SIU) and Transnet have received an order from the Special Tribunal to interdict pension payouts due to two former Transnet executives linked to fraud involving approximately R33.5 million.
In terms of the Special Tribunal order – dated 23 October 2023- Lerato Mary Theresa Makenete, former executive manager responsible for group business continuity and disaster management, and former executive manager for safety, Landela Hawkins Madubane, are interdicted from withdrawing their pension benefits from Transnet Retirement Fund.
The pension funds of the former executives amount to R8.9 million. The pension funds will remain interdicted pending a finalisation of an application to be brought against former executives.
Transnet initiated and called on the support of the SIU to investigate this matter and requested the support of the SIU to expand and complete the investigations.
An investigation by the SIU into the affairs of Transnet has revealed that Makenete and Madubane allegedly colluded with three service providers to abuse Transnet's emergency procurement process during Covid-19. During the emergency procurement process at the height of the Covid-19 pandemic in April 2020, Transnet contracted Ramoyadi Air Conditioning, Ndzalo2 Trading, and Eagles Ropes to deliver over a million disposable breathalyser straws.
From 29 cents to R29.99 per straw
Makenete and Madubane allegedly colluded with suppliers to defraud Transnet by Inflating the price of the straws from 29 cents per straw to R29.99 per straw, resulting in a total payment of R33,834, 698.40.
The SIU and Transnet have instituted civil action in the Special Tribunal to review and set aside the contracts and recover financial losses suffered by Transnet due to overpayment of approximately R33.5 million.
Following the conclusion of the investigation, the SIU made disciplinary referral to Transnet against Makenete and Madubane. Transnet actioned the referral, however, they both failed to appear for disciplinary hearings, but the proceeding continued in their absence. The duo was found guilty and dismissed.
Special Tribunal & SIU
The order of the Special Tribunal is part of the implementation of SIU investigation outcomes and consequence management to recover financial losses suffered by State institutions because of corruption or negligence.
The SIU was, in terms of Proclamation R23 of 2020, directed by President Cyril Ramaphosa to investigate allegations of corruption, maladministration, malpractice and payments made by State institutions relating to personal protective equipment (PPE) procurement together with the conduct of State employees.
The SIU is empowered to institute civil action in the High Court or a Special Tribunal in its name to correct any wrongdoing uncovered during investigations, caused by acts of corruption, fraud, or maladministration.
In line with the Special Investigating Units and Special Tribunals Act 74 of 1996, the SIU refers any evidence pointing to criminal conduct it uncovers to the National Prosecuting Authority (NPA) for further action.
Sign up for Africa Ports & Ships Newsletter – it's free
Added 8 November 2023
♦♦♦♦♦♦♦♦♦
News continues below
WHARF TALK:  offshore platform supply vessel (PSV) – ALLIANZ CRYSTAL
Pictures by 'Dockrat'
Story by Jay Gates
The Persian Gulf is the location of one of the largest oil producing regions on earth. The marine logistics support for this offshore industry is also one of the largest, and the Gulf region is home to a large fleet of specialised offshore support vessels. Unbeknownst to many casual maritime observers, there is a healthy shipbuilding industry in the Gulf Region which turns out many offshore support vessels.
Occasionally, one of these home grown, Gulf built, vessels arrives in a South African port. The reason for such an arrival so far from home, would indicate that the vessel in question is changing contracts from one back home in the Gulf, to one associated with the many oil and gas support industries in West Africa, although this is not always clear.
On 25th October, at 06h00 in the morning, the offshore platform supply vessel (PSV) ALLIANZ CRYSTAL (IMO 9287572) arrived of the Durban Bluff, from Abu Dhabi in the UAE. She entered Durban harbour, presumably for bunkers and stores, as within 8 hours, at 14h00 that afternoon, she sailed from the port, and made her way south, with Cape Town now set as her destination.
On 29th October, at 08h00 in the morning, 'Allianz Crystal' arrived off Cape Town, and entered Cape Town harbour, proceeding into the Ben Schoeman Dock, and went to the far end of the dock, going alongside at berth 502. This berth is one of the two berths utilised by Dormac Engineering as their bespoke vessel maintenance berths for vessels requiring substantial engineering support and assistance.
Built in 2003 by the ZOMCO Shipyard at Al Khubar in Saudi Arabia, 'Allianz Crystal' is 50 metres in length and has a deadweight of 475 tons. She is powered by two Wärtsilä 6L20 six cylinder, four stroke, main engines producing 1,450 bhp (1,080 kW) each, driving two controllable pitch propellers, each with its own rudder, for a service speed of 12 knots.
Her auxiliary machinery includes three Cummins 6BT5.9-(D)M generators providing 112 kW each, and a single Cummins 4B3.9-(D)M emergency generator providing 45 kW. For additional manoeuvrability she has a Jastram bow transverse thruster providing 261 kW. She has a firefighting classification of FiFI1, with two monitors capable of throwing water over a maximum distance of 120 metres, at a rate of 1,200 m3/hour.
As a platform supply vessel, she has an aft deck area of 196 m3, and a deck strength for cargo of 2 tons/m2. For the movement of cargo on the after deck 'Allianz Crystal' is equipped with a 15 ton deck crane. She has three cargo tanks, one capable of holding 223 m3 of fuel, one capable of holding 220 m3 of fresh water, and one capable of holding 117 m3 of drill water. All three tanks have pumps with a pumping capability of 100 m3/hour.
With accommodation provided for up to 32 persons, there can be now doubt that 'Allianz Crystal' is fully air-conditioned as, very unusually, her upper deck is ringed with domestic, commercial, air-conditioning units.
Owned by Allianz Offshore Shipmanagement , of Abu Dhabi, 'Allianz Crystal' is both operated and managed by Allianz Middle East Shipmanagement LLC, also of Abu Dhabi, whose houseflag is displayed on her twin funnels. Shortly after arrival in Southern African waters, her name changed to 'TES Crystal', with her flag of registry also changing from that of Palau, to that of Saint Kitts & Nevis. The change has not yet registered with Equasis.
For the past few years, and prior to arriving in South Africa, 'TES Crystal' was working on a regular supply run from the Abu Dhabi ports of Mina Zahed, and Musaffah, to the offshore oil and gas island of Al Mubarraz. The island lies 51 nautical miles north west of the city of Abu Dhabi, located at 24°27' North 053°22' East.
What is unusual about Al Mubarraz Island is that it started out as just a small, low, offshore sandy island. In 1968 the Abu Dhabi Oil Company (ADOC), which despite its name is actually a Japanese owned company, discovered oil just off the island, and began to develop it as an offshore oil terminal to support the newly named Mubarraz Field.
Further oil finds to the north of the island meant that numerous man-made islands were created across the shoal that surrounds Al Mubarraz, all connected by a 17 kilometre long causeway. The existing, natural island now has a large central control, logistical, supply, and accommodation centre, and an oil storage terminal. There is a jetty for supply vessels to utilise.
The oil storage terminal is connected by pipeline to twelve offshore oil platforms, located in two fields, and via a further pipeline, laid along the whole length of the causeway, to the oil wells of two further fields in the northern part of the shoal. The terminal is connected to an offshore Single Point Mooring (SPM) to allow for the export of the stored crude oil by tanker.
Construction, and development of the island terminal and support infrastructure was completed in 1973. Part of the development included a world beating, and award winning, environmental programme that was aimed at the protection of the shallow water seagrass fields across the shoal, and the development of great swathes of mangrove plantations, which have now attracted over 50 species of bird, and protected the local habitats of endangered marine mammals such as the Dugong and Humpbacked Dolphins.
The reason for her name change, period of refit in Cape Town, and the next assignment of 'TES Crystal' are as yet unknown.
Sign up for Africa Ports & Ships Newsletter – it's free
Added 9 November 2023
♦♦♦♦♦♦♦♦♦
News continues below
Varamar and COSCO Shipping agree commercial partnership to boost respective trades
Varamar DMCC and ASL Shipping & Logistics Pvt Ltd, a COSCO Shipping group company, announced on Wednesday (8 November) that they have entered into a strategic commercial partnership with the aim of helping both companies to strengthen their respective trades.
Varamar, a liner and tramp carrier that specialises in breakbulk, dry-bulk, oversized and containerized cargo, has historically focussed on trade lanes connecting Europe with the Middle East, Asia and Far East, while also trading to Africa and the Americas.
The recent expansion of Varamar to 10 international branches, located in Antwerp, Hamburg, Genoa, Athens, Odessa, Istanbul, Dubai, Shanghai, Houston and Vancouver, has given it a chance to set new ambitions. Varamar operates mainly in the 3,000-30,000 dwt tonnage size.
The COSCO Shipping group, on the other hand, owns and operates larger (28,000 dwt- 60,000 dwt), bulk, multi-purpose and semi-submersible vessels, primarily focused at operating in Asia, the Middle East, Africa and the Americas.
Promoting each other's schedules
As well as acting to help each other gain market share, the two entities will promote their partner's schedules, cooperate with joint marketing initiatives, establish a process for sharing information on open tonnage, and support each other on adjacent trades.
The COSCO and Varamar fleets and schedules will be represented on Shipnext – the shipping platform – which will help both chartering teams facilitate cooperation.
Kaptan Singh (Malik) will be heading and creating teams for this partnership as head representative, working alongside Niraj Mehta, managing director of Varamar DMCC and Andy Zhuang, managing director of Varamar Shanghai.
"Both entities have different areas of operation and trade targets, so we believe this agreement plays to the strengths of each partner. We look forward to working together to strengthen the commercial and chartering activities of both COSCO and Varamar," said Andy Zhuang, managing director of Varamar Shanghai.
Sign up for Africa Ports & Ships Newsletter – it's free
Added 9 November 2023
♦♦♦♦♦♦♦♦♦
News continues below
In Conversation: Abandoned oil rigs could scrape carbon from the sky and store it in empty undersea reservoirs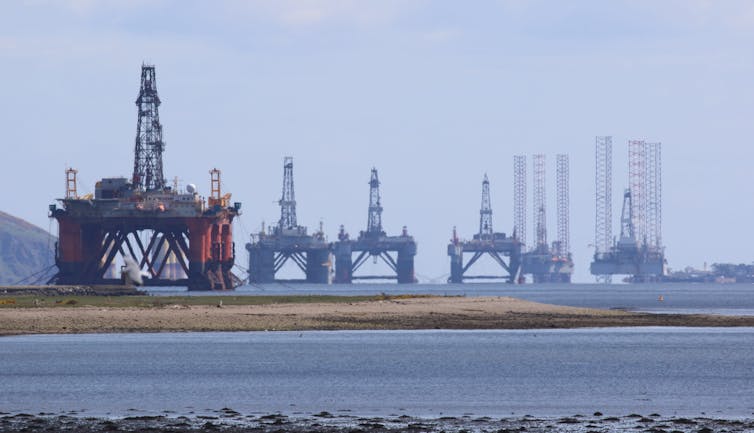 An oil rig graveyard in Cromarty Firth, Scotland.  Pxfuel
Keeping control of our planet's thermostat is proving tricky these days. Temperatures are rising slowly, and inaction is proving costly as we awkwardly lurch towards a cleaner future.
Some industries are proving stubbornly difficult to decarbonise, and we are likely to miss the key 1.5°C warming target. One response: big machines that suck CO₂ out of the air, also known as direct air capture.
Stemming from something like a realist science-fiction flick, these literal "skyscrapers" act like massive industrial vacuum cleaners. They strip the CO₂ from the air and store it in a secure location for at least 1,000 years. However, there are various problems with these machines, which is why they may be best suited to oil rigs.
The problems are threefold. Even if they were rolled out at a vastly bigger scale, they are still expensive, noisy and a major eyesore, which means they cannot be built where people live.
Also, for these machines to work at their best, they would ideally be powered by renewable energy which is why wind power has been endorsed by leading scientists as the perfect marriage for direct air capture.
On land, wind turbines the size of high-rise buildings have their critics. But offshore, there are no locals to bother and the turbines can produce more energy as the wind supply is more consistent.
There is also an abundance of sites below the sea where oil and gas has been extracted and where CO₂ can now be stored.
Make use of abandoned oil rigs
Placing CO₂ scrubbers on abandoned oil rigs and sending them out to sea would allow us to take advantage of this. It would also provide a way to deal with the dozens of abandoned oil rigs that pose a serious issue for the industry as they are expensive to decommission. The UK's rigs alone could cost an estimated £24 billion.
An international convention known as Ospar also dictates that such rigs cannot stay in the sea and must be removed. This conflicts with UK policy on the preservation of marine life since the legs of the rig can act as artificial reefs creating new marine habitats.
Taxpayers money that would be spent on decommissioning could instead be diverted towards retrofitting the big rigs with the ability to suck CO₂ from the air. Pipelines between air scrubbing machines and the carbon storage reservoirs can be prohibitively expensive, but would be cheaper in this scenario as most of the pipes already exist.
The rigs possess the capability to store CO₂ using the on-board equipment that was previously used to extract oil and natural gas, except it would, with minor modifications, be operated in reverse.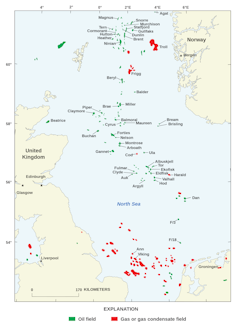 For now, the returns would be modest. Based on the amount of carbon these machines would typically capture – about 1 million tonnes of CO₂ a year requires machines covering half a square kilometre – a large oil rig might capture around 65,000 tonnes of CO₂ a year.
This of course isn't much on a global scale. The UK alone emits 332 million tonnes annually. But all options are worth trying, and it's a technology we can expect to improve in coming years.
It may also be possible to extract CO₂ directly from the oceans. Recent research by the Massachusetts Institute of Technology suggests this would actually be far more efficient. Carbon is 100 times more concentrated in seawater than it is in the sky, and this approach could ultimately begin reversing acidification in our oceans.
Rigs that can be moved to other sites on demand would be the perfect candidates, as the same rig could store CO₂ in many different sites under the sea. These sites include empty natural gas reservoirs and underground rivers, and it is this flexibility that could finally resolve the ongoing stalemate between the Ospar convention and the UK government.
The industry is still too small to deliver carbon removal on anything like the required scale. This is due to a lack of investment, and a very minimal market presence.
But, much like how the vaccines for COVID quickly matured due to the absolute necessity of the global pandemic, we now also require a significant mass investment to generate our own market that allows us to remove carbon. The US company Frontier, backed by tech giants, is providing US$925 million (£738 million) in order to stimulate such a market into existence.
Unfortunately, even this only represents between 0.1% and 1% of the total finances required every year up until 2050. That's because, even in an optimistic scenario where renewables grow and global emissions are reduced, we'll still need to remove 10 billion tonnes of carbon to compensate for the fact that industries like steel and cement are notoriously hard to decarbonise.
---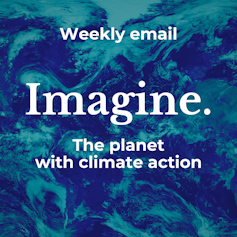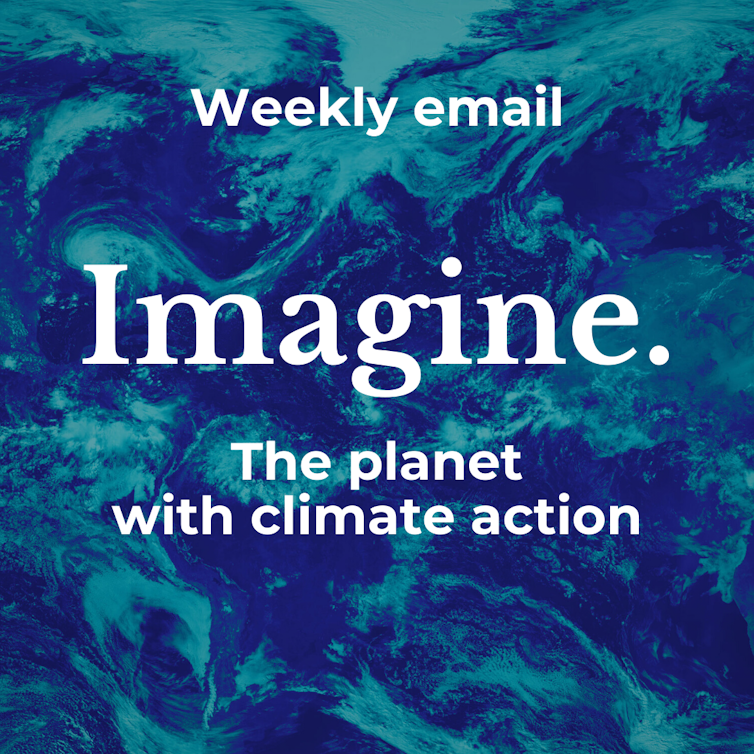 Don't have time to read about climate change as much as you'd like?
Get a weekly roundup in your inbox instead. Every Wednesday, The Conversation's environment editor writes Imagine, a short email that goes a little deeper into just one climate issue. Join the 20,000+ readers who've subscribed so far.

---
Ben Kolosz, Lecturer (Assistant Professor) of Renewable Energy and Carbon Removal, University of Hull
This article is republished from The Conversation under a Creative Commons license. Read the original article.
Sign up for Africa Ports & Ships Newsletter – it's free
Added 8 November 2023
♦♦♦♦♦♦♦♦♦
News continues below
ICVL plans to double its
Mozambique coal production
Africa Ports & Ships
India-owned International Coal Ventures Pvt Ltd (ICVL) has plans to double its coal production in the Tete region of Mozambique, increasing production to 4 million tons annually, with an investment of between USD 150-200 million.
Amarendru Prakash, chairman of the Steel Authority of India Limited (SAIL), revealed this intention back in September and confirmed the fact again at the ISA Coking Coal Summit held in Delhi this week.
Mozambique-based ICVL is a special purpose vehicle of SAIL, RINL, NMDC, CIL and NTPC for acquiring coal mines and assets overseas.
Prakash added that SAIL has imported around eight coking coal shipments each of 75,000 tonnes from Russia in the first two quarters of the 2023/24 fiscal year.
He said the Russian imports are likely to continue during the remainder of 2023/24, adding that they are comparatively cheaper than imports sourced from Australia and the US.
ICVL was created as a joint venture by the partners for the purpose of acquiring coal assets overseas to secure coal supplies on a long-term basis and essentially for their own use.
In Mozambique ICVL acquired Rio Tinto Coal Mozambique's Benga mine, the Zambeze project and Tete East project in the Tete province for the sum of USD 50 million, with access to the port at Beira along the Sena railway.
In a similar development India's Jindal Group's subsidiary Vulcan Minerals acquired the coal mining interests and Nacala railway corridor owned by Brazil's Vale in Tete province for the sum of USD 270 million.
Sign up for Africa Ports & Ships Newsletter – it's free
Added 8 November 2023
♦♦♦♦♦♦♦♦♦
News continues below
South African cruise season gets underway
Africa Ports & Ships
South Africa's 2023/24 cruise season got underway on Thursday 2 November with the arrival of the cruise ship VASCO DA GAMA in the port of Cape Town.
En route to South Africa Vasco da Gama called at the Namibian port of Walvis Bay to make the first southern Africa call this summer.
According to Transnet National Ports Authority (TNPA), there are 175 confirmed cruise vessel calls at South Africa's commercial ports, bringing an estimated 166,933 passengers who will visit the country's cities, game reserves and other attractions during their time ashore.
Figures collated by Africa Ports & Ships however suggest these numbers are understated and there will be many more ship calls.
Both sets of figures include the multiple calls of several of the ships, some of which will base themselves at one or another South African port while undertaking coastal cruises.
Figures provided by the Cape Town TNPA say that across six of South Africa's commercial seaports, TNPA will sail and dock approximately 175 scheduled vessel calls with 59 call-ins planned for Cape Town, 33 for Durban, 28 for Port Elizabeth, 25 for Richards Bay, 22 for Mossel Bay, and 8 for East London.
A list of ships provided by the Port of Durban tell a different story, with no less than 86 cruise ship calls scheduled for Durban alone.
TNPA has arranged for a spate of welcomes at a number of the ports where Vasco da Gama, by virtue of being the first of many, will call. Thus far Cape Town and Mossel bay have held celebrations, in essence an official welcome to the Vasco da Gama as she cruises along the South African coast.
At the Cape Town welcoming event, TNPA Managing Executive for Western Region Ports, Phyllis Difeto, said South Africa's ports are at the heart of driving economic growth and social sustainability, acting as gateways for international trade.
"At the core of our readiness for this year's cruise season is to ensure that our port infrastructure is reliable and efficient to handle passenger vessels of any size," Difeto said.
Wrenelle Stander, Wesgro CEO and Official Spokesperson for Cruise Cape Town, said that together with the public and private sector partners, Cruise Cape Town is committed to continuing its cruise development efforts in the region.
"Building on the success of the previous season, which injected an estimated R1.2 billion into the Western Cape economy alone, the team is dedicated to facilitating continued sustainable growth, as we anticipate even greater achievements in the seasons to come," Stander said.
"The city is experiencing a rapid tourism recovery and it is the collective efforts of all the stakeholders in tourism promotion, products, and services that have continued to bear fruit, repeatedly placing Cape Town as a global destination of choice for travellers and creating opportunities for the sector," said David Green, CEO of V&A Waterfront, which manages the cruise terminal.
"As a manager of Africa's best cruise terminal, the Waterfront, as always, is ready to give a warm welcome to cruise operators and visitors coming through our doors to enjoy the best of what South Africa has to offer."
Mossel Bay
A few days later, on Monday 6 November, Vasco da Gama dropped anchor in Mossel Bay and later a welcoming reception was held in the Cruise Reception area of the port.
A jovial group of traditional dancers and representatives from TNPA, Mossel Bay Municipality, and Iconic Mossel Bay welcomed Captain Michail Smyrnaios in a function that created a warm and inviting atmosphere before most of the passengers departed to visit some of the Garden Route's tourism destinations such as St Blaize Hiking Trail, Knysna and the Oudtshoorn adventure.
Dineo Mazibuko, Mossel Bay's port manager, said that during the past year's cruise season, the port welcomed a record-breaking number of 14 cruise vessels that made a significant contribution to the R1.2bn cruise tourism revenue generated by the Western Cape economy.
"This season, the port looks forward to hosting approximately 23 cruise vessels including Vasco da Gama, weather dependent, that will cement the Port of Mossel Bay as a key and strategic cruise tourism enabler in the region whilst simultaneously promoting the Garden Route District as an attractive cruise tourism destination of choice," he said.
Some of the ships that are scheduled to call at Mossel Bay this season are Norwegian Jade and Silver Spirit both on 3 February 2024, and visits by Norwegian Jade, Bolette, Norwegian Dawn, NG Explorer, Renaissance, and SH Diana.
Vasco da Gama meanwhile is continuing her cruise along the east coast and will make her debut at the new Nelson Mandela Cruise Terminal in Durban this Saturday 11 November 2023.
Sign up for Africa Ports & Ships Newsletter – it's free
Added 8 November 2023
♦♦♦♦♦♦♦♦♦
News continues below
WHARF TALK: MR2 products tanker – SEA ADORE
Pictures by 'Dockrat'
Story by Jay Gates
Sometimes the movement of a vessel within South African waters raises a question mark, as to follow it on AIS does not make any particular sense. Added to that is that the available AIS information is limited. That is not to say that the activities of the vessel are in any way suspect, or need further investigation. Other than her recent history has had her moving in, and out, of a major war zone, prior to heading south for the safer waters of Southern Africa.
On 30th October, at 14h00 in the early afternoon, the MR2 product tanker SEA ADORE (IMO 9256937) arrived off the Table Bay anchorage, from the Mossel Bay anchorage, and went to anchor for just over 12 hours. At 03h00 on 31st October, she entered Cape Town harbour, proceeding into the Duncan Dock, and went alongside the Eastern Mole, but the outer Eastern Mole berth, which is usually the berth set aside for vessels in transit, and calling for no other requirements than bunkers, stores, fresh produce, or for a minor maintenance requirement.
Built in 2004 by Hyundai Mipo dockyard at Ulsan in South Korea, 'Sea Adore' is 183 metres in length and has a deadweight of 47,803 tons. She is powered by a single HHI MAN-B&W 7S50MC-C seven cylinder, two stroke, main engine producing 11,407 bhp (8,390 kW), to drive a controllable pitch propeller for a service speed of 14.5 knots.
Her auxiliary machinery includes three Himsen 6H21/32 generators providing 900 kW each, and a single Cummins 6CT8.3-(D)M emergency generator providing 122 kW. She has a Kangrim Economiser exhaust gas boiler, and a Kangrim MB06DZDY oil fired boiler. For added manoeuvrability she has a Kawasaki KT-105B3 bow transverse thruster providing 1,000 kW.
She has twelve cargo tanks, with a cargo carrying capacity of 49,553 m3. She is able to carry six grades of product at any one time, and she has twelve cargo pumps, with each pump having a pumping capability of 600 m3/hour. That she wasn't in Cape Town to work any cargo was borne out by the fact that she did not fly the Red Danger flag on arrival, nor at the berth, and only flew the Yellow Pratique flag, along with the South African courtesy flag.
Nominally owned by Blue Diamond Shipping SA, 'Sea Adore' is both operated and managed by aptly named HSS Sea Transport of Petroleum LLC, of Dubai, whose houseflag she proudly displays on her funnel. She is one of six sisterships, all originally built for, and owned by, the Russian controlled SovComFlot (SCF) shipping company, of Saint Petersburg, in Russia. Her 'Safety Comes First' message on her accommodation front is a legacy from the SCF ownership, with the initials of the message being SCF, and the message itself remains painted in their unique SCF font, still applied on their vessels today.
The sisterships were known as the Anichkov Bridge class, with most of the vessels named after bridges which crossed the rivers of Saint Petersburg. On launching, 'Sea Adore' was originally named 'Okhta Bridge'. In 2019 SCF decided to dispose of the class, and 'Okhta Bridge' was sold to principals in the UAE for US$10.8 million (ZAR197.63 million).
The reason why 'Sea Adore' is in Cape Town is still a mystery. She has been in South African waters since August, but seems to have spent a majority of that time merely sitting at anchor in Mossel Bay, which appears to be a new parking lot for product tankers awaiting orders. Prior to August, it would appear that she was almost exclusively conducting her business in the Persian Gulf and Red Sea region.
One tends to forget that whilst the war zone in Ukraine had been running now for over a year, and the latest war zone in Israel and the Gaza Strip has been running for just over a month, that there is a more deadly war zone, mostly forgotten or ignored by most of the world, and running for almost ten years, and that is the war in Yemen.
In fact, the unrest in Yemen has been festering for over 50 years, but the current civil war between the Government of Yemen , and the Houthi Rebels, has been ongoing since 2014. As always in wars in the Middle East, one of the protagonists, the Houthis, are supported by Iran, with the official government being supported by Saudi Arabia. The United Nations, as per its charter, sits in the middle of the warring parties, trying to resolve the conflict.
When one looks back at the movements of 'Sea Adore;' for the last three years, one notices that her movements have not strayed any further than between the UAE, Djibouti, and Yemen. In this time, she paid at least three visits to both Djibouti, as well as to Aden in Yemen. The port of Aden is controlled by a faction that is supportive of the Yemen Government. She has also called into the port of Al Mukalla on a few occasions, which lies in territory controlled directly by the Yemen Government.
However, undertaking voyages to those ports in which the Houthi Rebels have control is more difficult and fraught. The main port is that of Hodeidah, located at 14°48' North 042°57' East, and which lies on the Red Sea coast. The port has been fought over by both sides, and today is the main harbour for shipments of Humanitarian Aid, which includes all fuel products.
Movements of all vessels are at the behest of the United Nations office which controls the aid programme in Yemen, and is known as the Office of the Special Envoy of the Secretary-General for Yemen (OSESGY). The OSESGY issues permits for the safe passage of vessels carrying humanitarian aid. For product tankers, such as 'Sea Adore', the majority of the fuel products brought into Hodeidah are loaded in the UAE, for discharge in Hodeidah under the auspices of the Yemen Petroleum Company (YPC).
The loading ports are Fujairah, in the Fujairah UAE, Jebel Ali, in the Dubai UAE, and Hamriyah, in the Sharjah UAE, with the latter being the preferred loading port. Prior to sailing, the United Nations Verification and Inspection Mechanism (UNVIM) teams conduct inspections on each vessel bound for Hodeidah, to ensure that they are carrying nothing other than UN approved humanitarian aid for Yemen. If satisfied, a permit is then issued by UNVIM for the vessel to conduct safe passage to Yemen. Inspections also took place in the port of Djibouti.
Despite this, if the Saudi Arabia led coalition was not happy with some aspect of the vessel, despite her holding a valid, and promulgated, UNVIM permit, naval forces were commonly intercepting vessels bound for Hodeidah, and ordering them to what is known as the Coalition Holding Area (CHA), located off the Saudi Arabian port of Jizan, located at 16°53'N 042°33' East on the Red Sea coast. Here the vessel is searched, and can be held for a long period of time.
Since 2020, 'Sea Adore' has been a mainstay of this humanitarian trade, and has made regular voyages into the Yemen War Zone with loads of fuel products from the UAE, for Hodeidah. As far back as February 2020 'Sea Adore' arrived in Hodeidah with a UN fuel parcel, and berthed after being held for 22 days at the Jizan CHA. The seizure of vessels, directing them to the CHA started to increase markedly in 2022.
In January 2022, 'Sea Adore' arrived in Hodeidah with her UNVIM permit, on the first of what would be no less than six voyages on behalf of the United Nations and YPC. On her next voyage, in March 2022, she was once more ordered by the Saudi Coalition to proceed to the Jizan CHA. Further voyages were undertaken, with arrival in Hodeidah on 5th April, 18th May, 29th July, and 27th September 2022.
Her arrival in Hodeidah at the start of April 2022, followed the OSESGY announcing that they had brokered a two month truce between the warring parties, with 'Sea Adore' being the first to arrive at the port under the terms of the ceasefire. The agreement was to allow a total of 18 tankers per month to make the voyage between the UAE and Hodeidah for the YPC, under the protection of the UN permit system.
The truce agreement was extended for a further two months in June and July 2022, and for a final time between August and September 2022. For 'Sea Adore', her final arrival in Hodeidah in September 2022, was also after a further period of forced detention in the Jizan CHA despite, once more, being in possession of the required entry permit issued by the UN. She carried mixed cargoes of petroleum, diesel, jet fuel, and kerosene, on all of her voyages.
Back in Cape Town, 'Sea Adore' had taken bunkers from the Cape Town harbour bunker barge 'Lipuma', and had completed all other tasks that had brought her to Cape Town. At 22h00 in the late evening of 5th November, she sailed from Cape Town, but bound now only for the short hop out to the Table Bay anchorage, where she waits for further orders, and where the mystery of her presence continues.
Sign up for Africa Ports & Ships Newsletter – it's free
Added 8 November 2023
♦♦♦♦♦♦♦♦♦
News continues below
Africa Ports & Ships
South Africa-Europe Container Service (SAECS)
Ocean Network Express (ONE) advises that due to berth congestion and to maintain schedule integrity, the container vessel SANTA TERESA on voyage 234S/234N will perform a double call.
As a result, the Port of Ngqura imports from the vessel Santa Teresa v.234S will be discharged in Port Elizabeth on 8 November 2023 (ETA), she will then proceed to Ngqura for full export operations, 11 November 2023 (ETA).
The updated schedule looks like this:
Santa Teresa v.234S/234N:
PORT                                ETA               ETD
Port Elizabeth (import call)  08-Nov-23      09-Nov-23
Ngqura (export call)           11-Nov-23      13-Nov-23
——————–
CMA CGM Peak-Season Surcharge
Dry Cargo to Dakar, Senegal
CMA CGM advises that a Peak Season Surcharge (PSS) will apply to dry cargo to Dakar, Senegal as follows:
With effect 13 November 2023 (loading date) and until further notice (1 December 2023 for North America & Latin America cargo)
From:  North Europe, Mediterranean, North Africa, North America, Latin America, Middle East & Indian Subcontinent
To:    Dakar, Senegal
Cargo: Dry
Amounts: EUR 200 / GBP 175 / USD 210 per container
Settlement: with the freight
Sign up for Africa Ports & Ships Newsletter – it's free
Added 8 November 2023
♦♦♦♦♦♦♦♦♦
News continues below
In Conversation: The price of fish & chips: The shark slayers and an unfolding disaster for the love of fried fish
An alien civilisation coming across our solar system would name our planet Ocean, for most of Earth is under water. Being air-breathing and living on the bits that stick out, we mostly regard the vast liquid blue that surrounds us as a beautiful but often scary "other". Billions of us, however, rely on it for food. This is part two of a series about the relationship between the creatures below the sea's surface and the people in boats who catch them. Read Part One 
Through a friend in 2011, Oliver Godfrey met Gary McFarlane, the then Port Elizabeth-based skipper of a demersal shark long-line boat called White Rose. When one of the crew was fired, he was offered a job. As a young photographer interested in wildlife, the chance to do some trips with him was appealing, so Oliver joined up on nine week-long trips. The next two months of shark catching would traumatise him for the rest of his life.
"Gary called himself Shark Slayer and he was that for sure," Oliver told me after years of remaining silent about his experience. "They were fishing between PE and De Hoop further west. Every trip – and I did nine or 10 – they were (tonnes) of sharks. Smooth-hounds, soupfin sharks, disallowed species such as ragged-tooth sharks, hundreds of spotted gully sharks and hammerheads, including hundreds of pregnant sharks. 
"Three great whites got entangled in the long-lines and killed while I was on board. The guys were indiscriminate. Hundreds of seabirds were hooked and killed – gannets, cormorants, albatrosses. There was big bycatch that was discarded dead. They were fishing next to – and I'm sure in – Marine Protected Areas [MPAs].
"I hung on longer than I should have to document what was going on, but I can tell you I ended up so broken by the massive carnage, the cruelty. Traumatised, depressed. 
"I needed help to get the story out, but nobody would help. I was advised to drop it. I had all these photographs. They knew that and I got frightened. Then I had three break-ins in two months. My hard drive with the pictures was stolen. 
"For years now I just left the story lying there. But it needs to be told because the killing hasn't stopped; the great whites are almost gone. And some of the images were saved to the cloud as proof of my story. So now I'm telling you."
That was how this story began. Could Oliver's story be corroborated? The ocean is large, the Department of Forestry, Fisheries and the Environment (DFFE) does not place observers on these boats; there are no snoopy members of the public out there in the empty sea; crews are dependent on skippers for jobs so won't talk. You can pretty much do as you please … which is why information from an "insider" like Oliver is rare and valuable. 
Great whites
There are around 535 species of sharks in the world, one in three listed as vulnerable, endangered or critically endangered. My checking began with the apex predator poster-fish: great whites. 
Despite being protected in South Africa, they're missing in action, collapsing a billion-rand cage-diving tourist industry. Why? Four reasons have been suggested by a range of sources: 
Orcas;

A shift in distribution;

They've been killed by the KwaZulu-Natal Sharks Board's nets and baited drum lines; and

The destruction of their food source (and themselves) by demersal long-line fishing boats.
Let's begin with the orcas. When the shark cage-diving industry in Gansbaai crashed for want of viewing great whites in 2017–2018, two orcas, Port and Starboard, were blamed. Five white sharks, their livers bitten out in a way typical of orca predation, washed up in Gansbaai. Culprits found and convicted. 
But then a study by University of Exeter scientist Robin Fisher noted that white sharks had started declining in Gansbaai in 2013, before the arrival of the two orcas, which had simply added to the problem. It was more likely, he said, that the orcas, which before had not predated on white sharks, were doing so because of the overfishing of pelagic fish stocks. 
So orcas may have moved inshore where they started preying on white sharks. However, the decline of white sharks in False Bay, starting in the early 2010s, actually matches the increase in effort by demersal shark long-line boats. As smaller sharks are also the whites' main prey, this and not orcas, said Fisher, was likely to have precipitated their population to crash.
A later study (discussed below) would confirm that whites began declining in Gansbaai and False Bay before the orcas arrived.
So could the problem be over-fishing? Sharks are caught in massive numbers worldwide – one study put the number at anything between 63 and 723 million hooked a year. A study by TRAFFIC on trade dynamics put South Africa's export of shark meat between 2012 and 2022 at 14,000 tonnes.  
Great whites, being apex predators, are relatively few in number – a study done by Alison Towner in 2013 estimated there were around 900 white sharks left in South Africa, while Dr Sara Andreotti of Stellenbosch University put that number in 2016 between 353 and 522. By fish standards that's not many.  
Main prey
They're very general hunters but have a selective preference for other sharks. A study of the stomach contents of 591 whites confirmed their main prey was smaller sharks such as bronze whalers, smooth-hounds and soupfin sharks, which were being targeted by long-line boats based in Gqeberha. They belong to three companies, Fisherman Fresh owned by Sharmilla van Heerden, Letap Fishing owned by Imraan Patel and Unathi Wena, whose MD is Tasneem Hajee. All are no strangers to controversy. Calls to all three were not returned and a list of questions to Van Heerden were not answered.
Unathi Wena and its boat White Rose are currently involved in a court case in Bredasdorp Magistrates' Court charged with fishing in a MPA. In 2014 Fisherman Fresh, was charged with illegally exporting 95 tonnes of shark and octopus to Australia, the sharks to be used in sales of fish and chips. Van Heerden was eventually acquitted.
For many years members of the public have reported seeing the Gqeberha long-liners prowling around MPAs (and occasionally in them), pulling out thousands of sharks. Every now and then a reminder comes ashore. In 2018, shark heads began washing up on the beach at Kanon Rocks and the boats White Rose and Mary Ann appear to have been the source. In 2020 a pile of headless, gutted sharks past their sell date were found dumped on Strandfontein beach in False Bay. 
In May 2019 the White Rose was caught allegedly fishing illegally in the De Hoop MPA. In the same month a second vessel, the tuna long-liner Prins Willem 1 was also arrested when it docked in Port Elizabeth. It had allegedly been illegally fishing in the Amathole MPA off East London. In both cases, a total security of R400,000 was paid and the catches were released.
According to Chris Fallows of Apex Shark Expeditions, who has worked with great whites in South Africa for more than 30 years, "in the late 1990s DFFE gave out demersal shark long-line permits and fishing for sharks in [False] Bay rapidly increased. By the mid to late 2000s we noticed a slow decline of white shark sightings at Seal Island, nothing drastic but an overall down trend. 
"Suddenly, around 2010, three boats started fishing the resource hard. They learnt how, where and when to target the smooth-hound, soupfin, bronze-whalers and hammerhead sharks. Their technique was highly focused and localised to sites where these species gather. They deny catching hammerheads because they're protected, but they do and we have evidence. Oliver got pictures.
"Their catches soared and our sightings of white shark in False Bay went through the floor. In a nutshell, there are no longer enough smooth-hounds and soupfins left in False Bay to sustain the white sharks for the eight months of the year they're not at Seal Island.
"Add to this the octopus fishery – which started in earnest around the same time targeting the key food source of smaller sharks – and you have a double whammy." 
Department of Fisheries scientists knew these sharks were racing towards crisis point. They openly acknowledged that even if all fishing for these species stopped, the soupfin shark stock could not be sustainably fished even by 2070.
A report issued by Fisheries in 2021 said that "at current catch, the soupfin shark is likely to be commercially extinct in 20 years. Fishing pressure is also already too high on the smooth-hound shark. Given that a maximum of four vessels have been active and fishing at any point in time, the state of the soupfin and smooth-hound shark stock cannot sustain an increase in effort".
The report added another concern: "There is a health concern related to sharks being consumed. Sharks over a certain size (12kg ~ 130cm total length) are not safe to consume due to high levels of accumulated methylmercury and arsenic (among others). For some species (predatory sharks like mako sharks and sevengills) it is likely that no sizes are safe to consume at all." 
While the department introduced slot limits (not to catch younger or more mature animals), their own research told them this alone would not be enough. For instance, in 2010 the department reported annual catches just by demersal long-liners of soupfin at 106 tonnes and smooth-hound at 110 tonnes. 
To be sustainable, the maximum upper limit for smooth-hound sharks was calculated at 75 tonnes annually from 2016 onwards; yet in 2019, the minister reported in Parliament estimated catch levels between 2016 and 2019 at one-and-a-half to three times higher than that by demersal long-liners alone. 
Limiting tonnage a no-go
Because limiting tonnage would make the industry less profitable, it hasn't been implemented. According to DFFE scientists who spoke to me off the record, this is presently totally unsustainable. The 2023 Parliamentary debate on fisheries can be accessed here.
Here's the thing: even though smooth-hound sharks are considered by the DFFE's own stock assessment as endangered and soupfin as critically endangered, they are still kept on the target species list of the official permit for demersal shark long-liners with no maximum catch limit. However, growing concern may be reflected in that by October 2023 only one demersal shark long-line licence had been allocated. 
Of course, those sharks are also caught as bycatch in other fisheries and by surf anglers and the final catch weight or composition is anybody's guess. 
But who's watching? There are no fisheries observers on those shark boats, catches are only occasionally checked and the DFFE mostly relies on the commercial logbooks entered by the same boats to track catches.
According to Oliver, "when a catch was being offloaded at the port, there's not a chance that every single specimen was inspected. It's bullshit for DFFE to try to claim that. I don't think the inspectors really knew what was on the catch list or off it. They just processed the paperwork, took the skipper's word for it, and off the catch went to Australia."
Deadly nets
The great white problem may not be just about long-line fishing catching their prey. A parallel threat is along the beaches of KwaZulu-Natal – baited drum lines and shark nets, which do not only separate sharks from people, but are also devices aimed at killing sharks.
Despite being protected in South Africa, an average of around 28 white sharks have been killed by the Sharks Board alone every year since 1991. 
According to Fallows: "On top of that source of mortality, when shark scientist Charlene da Silva of the Fisheries department did a test near Gqeberha with three demersal long-line sets they caught two great whites and killed one."
"Let's do the maths," renowned shark biologist Enrico Gennari tells me, sitting on the edge of his chair in agitation. "By the DFFE's own numbers, three whites caught over three days means that in nine weeks (the time Oliver was on the White Rose) shark long-liners would have caught and killed more white sharks than what Oliver reported. So Oliver's numbers are realistic. If we extrapolate what he saw to the average demersal shark long-line fleet of the last 10 or so years, it would equate to an average of 50 to 60 white sharks killed every single year". 
"When you add this to what the KZN Sharks Board kills, you have nearly 100 whites a year being taken out of an estimated population of at most 1,000, or maybe even half of that. 
"Great whites reproduce very slowly, only a few pups a year. At best, a 10% annual loss on a population of 1,000 is unsustainable. And that's likely why we start to see a decline year on year since the early 2013, after the increase in effort by the demersal shark long-line fishery.
"Of course the orcas added to the problem," says Fallows, "but elsewhere, when orcas kill white sharks, they move away but come back. They don't disappear. Here they have. It's because their population is crashing"
Maybe they migrated
A 2023 research paper in Ecological Indicators led by Dr Matt Dickens of the KwaZulu-Natal Sharks Board and a group of other scientists favours the redistribution theory. The paper, using what Gennari describes as simplistic inferences, claims the orcas chased great whites up the coast, but that their population is "pretty stable".
"Their population status appears largely unchanged," they write, "despite the substantial reduction in occurrence in False Bay and Gansbaai in the last five years. For the status of white sharks in South Africa to remain unchanged, the population must have redistributed along the South African coastline."
Gennari disagrees. "White sharks are down in False Bay, Gansbaai, Mossel Bay. Maybe there are three to 10 in Plettenberg Bay and a shark cage-diving operator in Gqeberha tells me he just saw his first white shark this year in August. If all the sharks migrated up the coast, you should have had a big uptick on the KZN drum lines, but you haven't seen that." 
That paper's message suggesting the white population is stable with no reason for concern and echoed by the media, says Gennari, "is very dangerous and could sink the conservation of white sharks in South Africa forever".
What now?
So where does that leave sharks in South Africa? The news is not good. "Fisheries are allowing the commercial fishing of endangered and critically endangered species," says Fallows. "It's unheard of. It's like allowing gin trapping of wild dogs in the Kruger National Park.
"Our so-called 'best managed fishery in the world' – as DFFE claims – has 'managed' two species from vulnerable to endangered and from endangered to critically endangered. We've also lost our white sharks; we've lost our hammerheads. 
"If this is the best fishery in the world, then the yardstick by which we measure these things is not merely low, it's subterranean. That's really where we are. It's disheartening."
Back to Oliver Godfrey, the traumatised photographer on the White Rose. It's likely what he was witnessing in 2011 was the beginning of the end of great whites on South Africa's southern shores through direct white shark mortality and the demolition of their food source by four long-liners. If his story had been heard earlier, something might, just might, have been done to stop the decline. But it wasn't.
"I come from a diving background. I absolutely love the ocean," he tells me. "What I saw was totally, totally ruthless. I felt it was my responsibility to record this experience. At the time I was handing out information to people, but they just didn't give a shit.  
"There was no limit on the numbers caught or species size. They didn't take the hooks out of bycatch they didn't want, they just bashed the fish on the side of the boat or simply cut their head off to not waste time taking out hooks. The damage caused by shark long-lining is insane. It is absolutely fucking insane."
It is clear that urgent action is needed. This includes the permanent withdrawal of the demersal shark long-line fishing permits and a switch by the Sharks Board to more modern and sustainable ways to protect bathers in KZN. 
Meanwhile, the shark cage-diving industry is in freefall with no end in sight and the little fishing communities that it supported are hurting. 
It is not just about white sharks, says Fallows. "They're a poster species for all others of the ocean. If we can't protect such an important creature so vital to South Africa's tourism, then the rest of our seas are in deep trouble." DM
This article first appeared on Daily Maverick and is republished here under a Creative Commons license.
Sign up for Africa Ports & Ships Newsletter – it's free
Added 8 November 2023
♦♦♦♦♦♦♦♦♦
News continues below
Cargo traffic on Lake Victoria increases during Q1
Africa Ports & Ships
Cargo handled at the respective Lake Victoria ports have shown a small but distinct increase for the first quarter of this year.
Statistics made available show that cargo handled increased to 79,000 tonnes during Q1, an improvement on the targeted 77,000 tonnes.
This has come about as the lake begins to see improved traffic with ships returning to service or newbuilds entering the trade among lakeside neighbours.
Lake Victoria's shores are shared between Uganda, Kenya and Tanzania, but other states Rwanda, Burundi, the eastern DRC, and South Sudan all make use of its marine services provided by the first three countries.
Recently the lake has seen newly built or refurbished ships taking to its waters, the latest being Kenya's Uhuru II which was built by a Kenyan shipyard at the Port of Kisumu.
A second Kenyan vessel, Uhuru I, has returned to service following a refurbishment undertaken also at Kisumu, after the ship had been out of service for more than a decade.
Lake Victoria Ports' Operation Officer, Francisco Mwanga, identified the major cargoes being carried on the lake as being fuel and general cargo.
He said an annual target has been set at 310,000 tonnes of cargo which he said is likely to be exceeded before the year is out.
This was an improvement on the 240,000 tonnes achieved in the financial year 2020/21 of 240,000 tonnes and the 270,000 tonnes in 2021/22.
The Kenyan ship Uhuru I recently arrived in the Tanzanian port of Mwanza on the southern end of the lake carrying 22 rail wagons and 771 tonnes of cement.
Tanzania and Uganda have also been improving their lake ship availability with Tanzania launching the large and impressive Mwanza in February this year to operate alongside the 1965-built Umoja.
Uganda has returned the Kaawa back into service from the northern end of Africa's largest lake. The rail ferry Kaawa had previously been out of service after a collision with the vessel Kabalega, which subsequently sank into the depths of Lake Victoria.
These are in addition to a number of mainly passenger ferries for shorter distance travel.
Sign up for Africa Ports & Ships Newsletter – it's free
Added 8 November 2023
♦♦♦♦♦♦♦♦♦
News continues below
Boluda provides new tug for Port of Lomé
Africa Ports & Ships
The Port of Lomé has commissioned its fourth tug, named VB LOMÉ, to enter service at the Togo port in West Africa.
Commissioning took place on 27 October with Edem Tengue, Togo's Minister of Maritime Economy, officiating and naming the ASD 2312 tug in the presence of harbour officials from the Port Autonome de Lomé (PAL).
With a bollard pull of 70 tonnes the port now has the capability of handling much larger ships more safely into the harbour. Built by Damen, the tug features the builder's twin fin skeg design plus twin Azimuth thrusters to enhance manoeuvrability and a safer environment for the crew of six.
"PAL can now accommodate even larger vessels than it did", Minister Tengue said proudly after having christened the 23-metre vessel in the traditional manner.
A spokesman for the port management said the new tug would be assigned to handle the bigger container ships now calling in West Africa.
The tug, he said, "will enable the Port of Lomé to strengthen its strategic and competitive positioning in relation to its rivals on the West African coast."
The port of Lomé operates in a competitive position with the ports of Abidjan and Tema in the West African region, and now including the recently expanded port of Lekki in Nigeria.
Sign up for Africa Ports & Ships Newsletter – it's free




Added 8 November 2023
♦♦♦♦♦♦♦♦♦
News continues below
In Conversation: The Lawless Oceans — forced labour on rust-bucket boats docking at Cape Town harbour
An alien civilisation coming across our solar system would name our planet Ocean, for most of Earth is under water. Being air-breathing and living on the bits that stick out, we mostly regard the vast liquid blue that surrounds us as a beautiful but often scary "other". Billions of us, however, rely on it for food. This is part one of a series about the relationship between the creatures below the sea's surface and the people in boats who catch them.
Rust eats metal and on the Hong Iu 313 there was so much it was surprising the long-line fishing boat held together enough to brave the sea. I (Don) stepped onto deck and found the ragged crew tying hooks to nylon lines coiled on the filthy deck. There was an acrid smell of diesel, fish and sweat.
The customs man I'd accompanied called for their passports and they began lining up. There was hardly any of the sort of joshing you'd expect from a group of men who've worked together for years. Most of them looked very young and all seemed nervous.  
I wasn't supposed to be there. Cape Town port authorities don't permit people not on ship business to enter and captains of foreign fishing boats refuse access to anyone they don't know. I had tagged along with the customs officer and tried to look like his unobtrusive assistant. While he checked, gathering everyone on the foredeck, I moved off to explore.
The Hong Iu 313 is flagged as Taiwanese and based in Kaohsiung. The crew were mostly Filipino. She's not a neat vessel. Its narrow decks were littered with rope and pipes, paint was peeling on the bulkheads and many areas were red with rust.
I ducked through a door into a narrow passageway that gave access to a tiny, grubby kitchen and a mess room where a woman was counting out piles of R100 notes. 
Insanely cramped cabins led off of the room, each with four bunks that looked as though stretching out would be impossible. They had a damp, sweaty smell. Clothing and blankets were strewn about, there seemed to be no storage space and the portholes were covered with cardboard, no doubt to allow the day shift to sleep.
The Hong Iu 313 is also not a happy boat. Following complaints by the crew, it had been detained six months earlier in Durban by inspectors of the South African Maritime Safety Authority (Samsa) under provisions of the ILO's Work in Fishing Convention, C188. Problems included lack of documentation, poor accommodation, insufficient food, poor safety and health conditions and no crew list. Lifebuoys were rotten, the sole anchor was not operational (there should have been two). 
The inspectors were particularly concerned about the vessel's stability. It was declared unseaworthy and all crew were evacuated following the first inspection. It was released from detention once it had been stabilised, repaired and the other issues addressed. The owner of the vessel also paid a detention fee of R12,365. 
Six months later, when I encountered the Hong Iu 313 at port in Cape Town, a second Samsa inspection had taken place. Some changes, like repair to rotten lifebuoys, had been made, although little else seemed to have changed. The crew complained that the captain had been physically abusive to the cook, kicking him whenever he made a mistake, and that the captain's relationship with the crew was generally intolerable. One crew member said that if he could not leave the boat he would jump overboard.
According to a newsletter by the Catholic Stella Maris organisation, which serves foreign crews, the crew said they had also not been paid in a consistent manner and often not in full. Food, they were told, consisted of noodles, rice and pork bones with occasional fish. If chicken was served, two would be split between 24 crew. Drinking water was unclean, broken gear was not replaced and crew needing medical attention were provided with only traditional Chinese medicine which offered no relief.
There may have been much more to tell, but Stella Maris reported the interviews were being held in plain sight of the captain.
When Samsa inspected the boat in Cape Town, it ensured that crew who wanted to go home could and issued the boat a clean bill of health. As you read this, it's fishing southeast of Cape Town.
The Hong Iu 313 is not an exception but the norm among tens of thousands of boats stripping the world's oceans of fish. Most crews in the South Atlantic are contract migrant labourers from the Philippines and Indonesia. That they work under the conditions they do for the pay they get says much about the state of the economies of the countries from which they come. 
Sad record
In Cape Town, the more we looked into crew conditions on mainly Taiwanese, Chinese and Japanese-flagged fishing boats, the worse it got. I (Melissa) am based at the School of International Development and Global Studies at the University of Ottawa and have been researching fishing labour practices in Asia, Ireland and elsewhere. 
I interviewed some of the crews in Cape Town through a translator and sourced others through reliable sources who cannot be named because crews and other informants fear victimisation or worse. We checked them out and found them to be reliable, many the result of lengthy interviews by informants who shared the information with us on condition of anonymity. These are some of the issues and events that were raised. 
In 2021, Ricky Balbino, a Filipino on the Thai fishing boat San Carlos 3 operating off Cape Town, died of a ruptured appendix. A fellow crew member, not named, had earlier died of "an intense headache", and a crewman on Senshu Maru 03 committed suicide by jumping overboard. The captain of Ching Chang Long, Guo Quan Xi, was found dead in his bathroom. He had previously been accused of abusing his crew.
Read more: Fisheries crime is a huge parallel economic system – FishFORCE is harnessing tech to fight it
In September 2022, a young fisher on the Taiwanese trawler Jan Lih 212 died while working and in February 2023 a Filipino, Jayron Villanueva, died in his sleep after a 20-hour shift on Chin Chang Long. When it docked several crew asked to be flown home or changed to another vessel because they feared for their lives "due to death incidents".
Aboard the Hang Chuan 212 a crewman named Ernesto JoviJo reportedly "went mad" and another, on the Taiwanese longliner Hsiang 101, "lost his mind". On that boat the captain refused crew access to the toilet, forcing them to use a hole in the deck. The ceiling of the cabins leaked when it rained, the drinking water was unclean and everything was rusted.
Reports are common of 20-hour shifts, insufficient food or protective gear, failure to fly fishers home after the completion of contracts, withholding of passports while in port and shocking working conditions and accommodation.
These are just a few reports filtering into a single port, Cape Town, among the many at which boats dock along the fringes of the vast southern Atlantic fishing grounds. They include details of beatings by captains and bosuns of the thousands of mainly young Filipino and Indonesian workers. Time after time these crews tell of dangerous working conditions and verbal and racist abuse.
Fishing frenzy
With the northern waters depleted of fish, the South Atlantic – the only region of the world's oceans without a functioning UN regional fisheries management organisation – is now under siege from legal and unregulated foreign fishing activities. 
The International Transport Workers' Federation (ITF) warns that an overfishing catastrophe is looming. According to a report by the UN Food and Agriculture Organization (FAO), the annual global marine fish catch was 78.8 million tonnes in 2022. We will investigate the state of fish in the fourth article in this series. 
The fishing frenzy is having a detrimental impact on labour conditions. The human cost of the fish on our plates is almost unimaginable and deeply worrying, but the industry is so complex and widespread that precise numbers of people involved are hard to obtain.
Our World in Data, which collects fishing statistics, estimates that 39 million people are employed in the wild catching of fish, and 21 million in fish farming and over the past 10 years this has increased rapidly. For those in boat-based fishing this includes 37% engaged full time, 23% part time and the rest working as either occasional fishers or those of unspecified status. 
To avoid fishing vessels making too many return trips between the coast and the high sea, other vessels come to collect the fish caught and bring the goods back to port. This practice can result in crew remaining at sea for years at a time.
The FAO estimates are similar at about 58.5 million people engaged in the global fishing sector, 15 million of them working on an estimated 4.1 million fishing boats at any one time. Of the total, about 5.6 million fishers are African, but the majority, 49 million, are from Asia. Perhaps 100,000 or so of all fishers globally are migrant workers, although the FAO says exact numbers are not known.
Taiwan's deep-water fleet consists of about 1,100 boats and roughly 20,000 migrant workers (mostly from Indonesia, but also the Philippines plus fewer from Vietnam and Myanmar). China's fleet is bigger – about 3,000 boats – but we don't know the number of migrant or Chinese fishers working on it.
Fishing has long been known as one of the world's most dangerous professions. Among fishers on the high seas, the International Labour Organization (ILO) conservatively estimates that each year about 24,000 die in the global fishing sector through accidents, overwork or when unseaworthy boats sink.
However, a study by the FISH Safety Foundation, analysing news, investigative articles and social media about fishing safety and reviewing responses to information requests from government officials, put the figure far higher – about 100,000. It says most are avoidable and a huge percentage officially unrecorded.
The study shows that these deaths and injuries disproportionately victimise impoverished people in low-income countries, which is why they're so seldom noted. To survive, these men have no alternative but to work on poorly equipped, unregistered boats engaged in dangerous behaviours chasing depleted fish stocks.
Migrant workers can be treated like "disposable resources" while vessel owners have only one objective: catching as many fish as possible to make the biggest profits.
Duncan Copeland, a senior campaigner at the Environmental Justice Foundation (EJF), who boarded a South Korean-flagged trawler with naval forces from Sierra Leone, described what he saw as horrendous.
"The men were working in the fish hold with no air or ventilation in temperatures of 40-45 degree C. It was rusty, greasy, hot and sweaty. There were cockroaches everywhere in the galleys and their food was in disgusting boxes. All they had for washing was a pump bringing up salt water. They stank. It was heart-breaking."
Taiwanese owners often buy old Japanese boats but flag them as Japanese. In this way they get around Taiwan's revised fisheries regulations that were imposed after a series of shocking revelations prompted in part by Greenpeace East Asia campaigns.
The EJF also found vessel after vessel along the African coast engaged in pirate fishing, some up to 40 years old, rusted and in terrible repair.
Disposable resources
Many migrant workers incur significant debt well before going out to sea. There are cases of recruitment agencies seeking out the poorest workers they can find, offering them contracts and the possibility of work abroad. Some agencies demand large sums of money up front as recruitment fees, payable as a debt against future wages. More experienced fishers change agencies, terms and captains, whereas new recruits take what they can get.
Documents are signed and before they know it, workers from Indonesia, the Philippines and Cambodia find themselves working on fishing vessels in deplorable conditions where they can be forced to work for years to pay off their debts. The United Nations describes this practice as forced labour.
Migrant workers can be treated like "disposable resources" while vessel owners have only one objective: catching as many fish as possible to make the biggest profits. While some crew-captain relations are good, and there are cases of crew making a decent living from fish work, even in best-case scenarios this is persistently difficult work with long working hours.
Crews docked in Cape Town said that while longlining they had on occasion worked for 32 hours without sleep when fish were abundant. When coffee and sugar ran out they had to buy it from the captain. Medical supplies were insufficient: some crew brought their own medical supplies, but couldn't anticipate all health issues. Some men complained of intense toothache. In port they were paid in South African rands but couldn't send it home because they had no entrance stamp in their passports so banks refused to deal with them.
Salaries vary greatly, generally starting at about $500, although some crew spoke of salaries as low as $190 a month. Salaries only improve with significant time and experience at sea.
The agency, they said, did not support them in the face of violations of contracts by captains, putrid food and insanely long working hours. They also failed to notify families when fishers "disappeared" at sea.
While at sea, crews seek opportunities to make extra money. At the end of one fishing contract, a fisher noted that he made an extra $300 through shark finning. "We throw away the body and fins go for about $25 a kilogram… no one inspects the vessel."
If poor working conditions were not enough, migrants working on fishing boats are often at the mercy of unscrupulous outfits known as manning agencies – essentially recruiters. Fishers find it difficult to coordinate between a boat owner and a "manning" agency. These agencies vary widely and are tough to negotiate with. Crew members explain that often you have to pay to get on cargo boats so you need to start in fishing to "prove your sea legs".
A number of crews in Cape Town mentioned a Philippines-based agency, which they heard had been red-listed by the ITF. They said their families had not received their allotment fees and there seemed a slim chance of getting their hard-earned salary being held by the recruiter.
The fishers complained that the agency often refused to fly them home when their contracts ended and induced captains to bribe them to extend contracts for another year. There were cases of the agency promising a wage on recruitment that ended up 40% lower when workers arrived at their destination.
The agency, they said, did not support them in the face of violations of contracts by captains, putrid food and insanely long working hours. They also failed to notify families when fishers "disappeared" at sea.
Beyond unscrupulous recruitment agencies, transhipment at sea is another challenge facing crews. To avoid fishing vessels making too many return trips between the coast and the high sea, other vessels come to collect the fish caught and bring the goods back to port. This practice can result in crew remaining at sea for years at a time. In Cape Town some crew spoke of being at sea for more than two years before returning briefly to port, either at the end of a contract or for offloading fish.
Are there solutions?
The seas and oceans cover more than 70% of our planet and have no borders. These problems cannot be solved individually. This is a major challenge for thousands of migrant workers who may be abused by their captains on the world's oceans every day. Dwindling fish resources combined with growing demand is making this issue increasingly urgent.
Fighting for fish increases competition and reduces compassion or a desire to stick to the rules. This is bad news for both crews and the creatures they hunt.
However, faced with international pressure, several countries have taken steps to improve working conditions on fishing vessels. Thailand, which has been particularly singled out for criticism in recent years, has been trying to better regulate its industry since 2015. So has Taiwan.
Both countries have included labour standards as part of their fisheries reforms, including raising minimum wages and inspecting boats and crew going in and out of port. NGOs in countries where migrant workers are drawn, especially Indonesia and the Philippines, are pushing for greater attention and regulation of recruitment agencies. A good recruitment agency is a game changer.
Research by one of us (Melissa) says an important start would be that more countries sign the Work in Fishing Convention C188, which was drafted to lay down provisions for labour standards on fishing vessels, including regulating working hours. States that ratify C188 can inspect foreign fishing vessels in their ports, and detain vessels if they find that conditions on board are hazardous to the safety and health of crew.
South Africa was the first African country to ratify C188. However, only 21 coastal states have ratified the convention and few countries carry out port inspections. This places South Africa in a unique and important position: more inspections are needed.
A few other promising areas include the campaign Wi-fi Now for Fishers' Rights! advocating for Wi-Fi access on all Taiwanese boats, port-based organisations such as Stella Maris, and the drive for greater unionisation of fish workers. Unionisation is critical if workers are to have a voice in collective bargaining.
But every day out of sight on the high seas where no country holds jurisdiction, fishers are working under conditions that none would tolerate in factories or farms in the home countries of the boat owners. Next time you eat fish, spare a thought for what it's costing them. DM
Next: KILLING FISH. Part 2: The price of fish and chips
The impact of C188
The objective of C188, drafted by the International Labour Organization, is to ensure that fishers have decent conditions of work on board fishing vessels. C188 stipulates the minimum requirements for work on board; conditions of service; accommodation and food; occupational safety and health protection; medical care and social security.
It is unique in that it:
Sets out minimum labour standards for work in fishing;
Enables inspections of foreign fishing boats, for countries that have ratified C188. This can include reviewing contracts, ensuring crew have access to medical care, and understanding working hours on a particular boat; and
Boats found in violation of C188 can be fined or detained.
Far more countries need to ratify C188, to ensure that forced labour is rooted out of fishing, particularly on the high seas.
This article first appeared on Daily Maverick and is republished here under a Creative Commons license.
Sign up for Africa Ports & Ships Newsletter – it's free
Added 7 November 2023
♦♦♦♦♦♦♦♦♦
News continues below
WHARF TALK: NeoPanamax container vessel – MAERSK AMAZON
Picture by 'Dockrat'
Story by Jay Gates
Container vessels that run on many of the myriad container scheduled services, offered by an equally myriad selection of container vessel operators, seem to come and go at regular intervals. Some of the big operators appear to conduct a lot of short tern chartering arrangements, and bring new vessels in, sometimes just for a single port schedule rotation, and then they are gone again.
Yet, if the casual maritime observer has a keen eye for ship recognition, based on outline rather than name, then he or she might notice that some of the container vessels that are regular callers into South African ports, have in fact been around for many years, and calling frequently. However, they may not necessarily have always been working for the same operator, or not carrying the same colour scheme, or even sailing with the same name.
On top of this is the ongoing problem with the major South African container terminals at Durban, and especially Cape Town, where productivity is truly woeful. Only last week, this writer reported on an astonishing wait of almost a fortnight for a major operator, running on a published schedule, to get a berth at the Cape Town Container Terminal. It is impossible to run a programme with these sorts of delays, impossible to guarantee import and export timings, and impossible to maintain a reputation. So if you think that a 13 day wait off port limits for a berth is shocking, then you are invited to read on.
Way back on 5th October, at 09h00 in the morning [to provide perspective, that's two days before the Israeli-Hamas war broke out], the NeoPanamax container vessel MAERSK AMAZON (IMO 9398395) arrived off Cape Town on her scheduled voyage from Singapore. The vessel, like the 'Luanda Express' of last week, runs on the Maersk Line's Far East to West Africa service (FEW6). The question was whether or not there was going to be a berth ready on arrival, to enable 'Maersk Amazon' to maintain her FEW6 schedule.
With the knowledge that 'Luanda Express' had to endure a 13 day wait for a berth, which must have thrown the FEW6 schedule into turmoil for the thousands of importers, and exporters, all around the FEW6 port rotation, the question would be for how long might 'Maersk Amazon' remain out in the Table Bay anchorage, or drifting off port limits, until she was informed that her berth was ready for her.
On 26th October, at 09h00 in the morning, she finally entered Cape Town harbour, proceeding into the Ben Schoeman Dock, to go alongside at the Cape Town Container Terminal (CTCT) to begin her turnaround a berth 603. From the 5th, to the 26th, is a 21 day wait, a full three weeks, waiting for a scheduled berth, which must have completely ruined the published Maersk schedule, notwithstanding a weary acceptance that even once in port, the vessel turnaround time at the CTCT was likely to be the worst one across the whole FEW6 port rotation.
Built in 2009 by Hyundai Samho shipyard at Incheon in South Korea, 'Maersk Amazon' is 334 metres in length and has a deadweight of 108,574 tons. She is powered by a single HHI Man-B&W 12K98MC-C twelve cylinder, two stroke, main engine producing 93,323 bhp (68,640 kW) to drive a fixed pitch propeller for a service speed of 25.6 knots.
Her auxiliary machinery includes four generators producing 2,800 kW each. For added manoeuvrability she has a bow transverse thruster providing 2,800 kW. She has nine holds, with a container carrying capacity of 8,325 TEU, with a provision of 700 reefer plugs.
One of four sisterships, 'Maersk Amazon' is nominally owned by MS Blue Star Amazon Ltd, operated by Moller Singapore AP Pte. Ltd., of Singapore, and managed by Anglo-Eastern Shipmanagement Ltd., of Hong Kong. She is one of three vessels that Maersk Line provide on the FEW6 service, which is operated by a total of 13 vessels, all with a container capacity between 8,300 and 9,200 TEU.
Despite her now being a Maersk Line vessel, run by a Maersk Line subsidiary out of Singapore, she only entered the Maersk fleet back in 2020. Before this she was named 'MSC Los Angeles', operated by the Mediterranean Shipping Company (MSC), and before 2018 she had always been known as 'Zim Los Angeles', operated and owned by Zim Lines of Haifa in Israel.
From 2016 onwards, and almost exclusively throughout the time period to today, a period of seven years with few gaps, and for the three different operators mentioned, she has operated scheduled container services to East Africa, South Africa, and West Africa, both from ports in the Far East, and from ports on the West Coast of South America.
After a period of almost 80 hours alongside in Cape Town, which nowadays is probably considered a good turnaround time, if not par for the course, 'Maersk Amazon' was ready to sail, now almost four weeks behind schedule. At 17h00 on 29th October, she departed Cape Town, bound for her next port rotation of the FEW6 service, that of Walvis Bay in Namibia.
She arrived in Walvis Bay at 09h00 on 2nd November, and departed the next day at 10h00 on 3rd November, after a 25 hour turnaround, and now bound for her West African turnaround port of Pointe Noire in the Republic of Congo, where she was due to arrive at 14h00 of 6th November.
The FEW6 scheduled port rotation is Qingdao- Shanghai- Ningbo- Nansha (all China)- Tanjung Pelepas (Malaysia)- Singapore- Cape Town- Walvis Bay (Namibia)- Pointe Noire (Congo)- Luanda (Angola)- Cape Town- Singapore- Qingdao. This service is unique in South African terms, as it is one of the very few container services to South Africa that only calls in at Cape Town, and no other South African port, either eastbound, or westbound.
For comparison of turnaround times at other ports, on her current outward voyage, starting at Qingdao, which is her major discharge and loading port in China, the following turnaround times were recorded. At Qingdao it was 24 hours, then Shanghai was 20 hours, Ningbo was 18 hours, Nansha was 18 hours, Tanjung Pelepas was 20 hours, and Singapore was 15 hours. Her 80 hours in Cape Town is telling for a depressingly familiar snapshot of woeful productivity, but on her previous voyage the turnaround time in Cape Town was a shocking 105 hours.
Turnaround time issues with the Cape Town Container Terminal are numerous for all operators, on all scheduled services, and both FEW6, and 'Maersk Amazon', have not escaped the problems. Back in April 2022, the westbound call at Cape Town was omitted by 'Maersk Amazon' due to terminal congestion, and berthing delays. Again, in January 2023, she again omitted the eastbound call to Cape Town, once more due to berthing delays at the port.
Interestingly, back in June 2019, 'Maersk Amazon' actually received a Port State Inspection at Cape Town, under the auspices of both the Abuja MoU, and the Indian Ocean MoU. There were no findings recorded for this inspection. Equally interesting, and a good example of the vast differences in competencies of Port State Inspection teams, happened to her this year.
In April 2023, 'Maersk Amazon' received a Port State Inspection on arrival at Pointe Noire on her FEW6 service. The inspection was also under the auspices of the Abuja MoU, and there were no findings recorded by the Congo inspection team. She sailed back to Qingdao in China, arriving there in June 2023, where she received another Port State Inspection on arrival. Despite it being less than two months from the last inspection in Pointe Noire, the more efficient Chinese Port State Inspection, under the auspices of the Tokyo MoU, recorded no less than ten findings against 'Maersk Amazon'.
Whilst none of the deficiencies warranted a detention, they included deficiencies in documentation and certification, fire safety equipment, navigation lights, and her compass. One wonders how there can be such huge discrepancies, from zero to ten findings, especially in terms of safety critical navigation equipment, found within weeks of one inspection to another.
Hopefully, life on 'Maersk Amazon' will not change too much in the near future, based on recent reports coming out of the Maersk Line HQ in Copenhagen. Shipping group A.P. Moller-Maersk has just reported a steep drop in third-quarter profits and revenue, and said it would be looking to cut at least 10,000 jobs in the face of overcapacity, rising costs, and weaker prices.
These job cuts have already begun, with a reported 7,000 already identified. Maersk Line, which controls about one-sixth of global container trade, transporting goods for a host of major retailers and consumer goods companies such as Amazon, Walmart and Nike, flagged a steeper downturn in demand than analysts and investors had expected.
Sign up for Africa Ports & Ships Newsletter – it's free
Added 7 November 2023
♦♦♦♦♦♦♦♦♦
News continues below
MAIB lifeboat investigation – RRS Sir David Attenborough
Edited by Paul Ridgway
London
On 4 March 2021, the port lifeboat from RRS Sir David Attenborough fell into the water while the crew were practising lifeboat drills in Loch Buie, Isle of Mull, Scotland.
This research vessel, built in 2016, is under the Falkland Islands flag, is classed by Lloyd's Register and owned by United Kingdom Research and Innovation and managed by the British Antarctic Survey.
The investigation by the UK Marine Accident Investigation Branch (MAIB) found that a critical interlock device on the lifeboat davits had heavily corroded due to lack of maintenance.
The interlock failed to operate correctly and subsequently caused the lifeboat to fall from the davit and into the sea with three crew on board. It also found that the installation of the lifeboat davits was not in accordance with the manufacturer's instructions and did not meet international regulations.
Safety issues
The MAIB found that:
* The safety equipment survey had failed to identify that the davit installation was not compliant with SOLAS.
* The ship's crew had not been trained in the operation of the davit and were unfamiliar with the correct operating procedure.
* The ship's operator had suspended maintenance of critical equipment.
Recommendations
The UK Maritime and Coastguard Agency (MCA) has been recommended by the MAIB in this report (by recommendation No 2023/108) to review its processes for delegating Safety Equipment Surveys to Recognised Organisations and ensure that feedback mechanisms are in place to provide the necessary assurance that the surveys have been carried out effectively and in compliance with SOLAS regulations.
A second recommendation (No 2023/109) has been made to the MCA to review its policy for delegation to consider whether it is appropriate to delegate initial safety equipment surveys for newbuild vessels or those joining the UK register.
The report
The full title of the document is: Report on the investigation of the falling of a lifeboat into the sea during a launching exercise on board the polar research vessel RRS Sir David Attenborough on Loch Buie, Isle of Mull, Scotland on 4 March 2021.
The full report is available here
Editorial note.
This article is based on material kindly made available by the UK Marine Accident Investigation Branch.
Sign up for Africa Ports & Ships Newsletter – it's free
Added 7 November 2023
♦♦♦♦♦♦♦♦♦
News continues below
MSC judged 'Best Shipping Line – Asia-Africa' for 4th year at AFLAS
Africa Ports & Ships
MSC, the world's largest container shipping company and among the biggest in logistics, has been crowned the 'Best Shipping Line – Asia-Africa' at the Asian Freight, Logistics and Supply Chain (AFLAS) Awards.
This is the fourth time that MSC bagged the accolade after winning in 2019, 2020 and 2022. MSC says this victory in 2023 reaffirms its continuous strong performance in connecting Asia and Africa.
In 2021, MSC was adjudged the winner for the 'Best Shipping Line – Asia-Europe' award category.
AFLAS
Hosted and organised annually by Asia Cargo News, the nominations and results of AFLAS are based on votes by shippers, customers, industry stakeholders, as well as readers and subscribers of the news platform. The award presentation was held in Singapore on 28 September 2023.
MSC has been connecting the two continents seamlessly through its two services providing direct connections, the Africa Express and Ingwe service.
"To help our customers overcome ongoing industry challenges, and to bring them outstanding and reliable coverage, we've also continuously developed new and enhanced services to serve them better," says MSC.
"For instance, our Africa Express service has been upgraded with a new direct call at Abidjan, providing exchange directly and quickly with major markets in Asia such as China. By dropping Colombo call on Africa Express and Ingwe service, we also managed to shorten our transit time by 2 days to the first POD call."
Africa Global Logistics
MSC recently reinforced its continuous investment in Africa with AGL (Africa Global Logistics) to provide multimodal solutions from warehousing and cold storage to other logistics solutions.
Leveraging its thriving logistics footprint in Africa, AGL also supports with maritime container terminals, as well as efficient multipurpose terminals and rail operations.
Confidence and Satisfaction
"As an industry, we were faced with various global challenges in the past year, from port congestions to economic slowdown," said Gilbert Cappellini, MSC Vice President (Liner- Asia).
"At MSC, we remained steadfast in understanding our customers' unique shipping needs and in adapting to the industry conditions to help them overcome these challenges. This award is a testament to our customers' confidence and satisfaction in our solutions, services and our ongoing partnership with them.
"We are beyond honoured and will remain committed to serving them even better."
Sign up for Africa Ports & Ships Newsletter – it's free
Added 7 November 2023
♦♦♦♦♦♦♦♦♦
News continues below
Ship collision in Cape Town's Duncan Dock
Two ships were in what appears to have been a fairly minor collision in Cape Town's Duncan Dock earlier on Monday (6 November).
The container vessel APL HOUSTON (IMO 9597537) was entering harbour when according to one report the boxship experienced engine problems. A social media report stated the container ship was going astern when her stern collided with the bows of the cable layer NIWA (IMO 8819029) berthed on the Eastern Mole.
With the assistance of tugs APL Houston later went outside the port before reentering and berthing in the container terminal.
The extent of any damage to either vessel is not known at this stage. Any updates will be welcome to share with readers.
Sign up for Africa Ports & Ships Newsletter – it's free
Added 6 November 2023
♦♦♦♦♦♦♦♦♦
News continues below
Kenya: IMO maritime security legislation training
Edited by Paul Ridgway
London
National legislation enables provisions of IMO treaty instruments to be implemented in each country. With this in mind IMO assists countries with this process and according to the IMO media service its latest workshop was held in Mombasa from 31 October to 3 November.
Emphasis on the legislative drafting process
IMO is working with the State Department for Shipping and Maritime Affairs in the Ministry of Mining, Blue Economy and Maritime Affairs of Kenya, to strengthen the legal framework related to IMO instruments dealing with maritime security.
Particular emphasis is on the legislative drafting process to support domestication of SOLAS Chapter XI-2 and the International Ship and Port Facility Security (ISPS) Code, including control and compliance measures.
Multi-agency participation
The Mombasa workshop brought together twenty-five participants from various agencies, including Kenya Coast Guard Service, Kenya Maritime Authority, Kenya Ports Authority, National Police Service, Office of the Attorney General (Department of Legislative Drafting), Office of the Director, Public Prosecutions, State Department for Foreign Affairs, State Department for Immigration and Citizen's Service, State Department for Internal Security and National Administration, State Department for Shipping and Maritime Affairs.
Broad agenda
Topics discussed during the event included flag, port, and coastal State obligations relevant to the ISPS Code, as well as familiarity with the content of IMO circular MSC.1/Circ.1525 on Guidance for the development of national maritime security legislation.
EU-funding
This workshop was the latest in a series of activities under the EU-funded project on Port Security and Safety of Navigation in Eastern and Southern Africa and the Indian Ocean.
2025 Africa's Integrated Maritime Strategy
Under the project, IMO aims to assist the nine participating countries to enhance maritime security and safety within the region in line with the 2050 Africa's Integrated Maritime Strategy.
Sign up for Africa Ports & Ships Newsletter – it's free
Added 7 November 2023
♦♦♦♦♦♦♦♦♦
News continues below
Fugro's next-generation coastal mapping system on view
Africa Ports & Ships
Fugro is showcasing their latest Rapid Airborne Multibeam Mapping System, RAMMS 2.0, at this week's Hydro 2023 conference being held in Genoa, Italy.
RAMMS 2.0 is the world's only airborne lidar system that can deliver both full water column imaging and high-resolution bathymetry, making it ideal for accurately mapping, monitoring and modelling coastal environments. This information is critical for coastal hazard assessment and mitigation, marine resource management, coastal engineering and navigation safety.
The new sensor builds on the success of Fugro's original RAMMS, which was co-developed with technology partner Areté in response to client needs for more robust Geo-data delivered faster and more sustainably.
Since its launch in 2018, Fugro has used RAMMS to map more than 50,000 km2 in the Americas and Europe, meeting international accuracy standards while also reducing carbon emissions by up to 80%.
The key enhancement in RAMMS 2.0 is its dual-laser capability, which, combined with machine learning, not only boosts data accuracy but also accelerates project delivery. This unique hardware-software integration was recently put to the test in Portugal, where RAMMS 2.0 was deployed from an uncrewed aerial vehicle (UAV), successfully mapping an area of challenging surf zone.
"The dual-laser, full water column capability of RAMMS 2.0 is a game-changer for coastal resilience," said Mark MacDonald, Hydrography Director for Fugro in the Americas and Global Product Owner for Fugro RAMMS.
He said the innovation being introduced at Hydro 2023 empowers users to unlock the full potential of a single dataset to characterise the water column, map the seafloor, understand habitats, and make informed decisions about coastal management.
MacDonald will present the new system during a talk entitled 'Fugro RAMMS Lidar Unveiled: Leading the Way in Coastal Ecosystem Discovery', on Wednesday, 8 November. He'll be joined by Fugro's Global Geospatial Lead Pooja Mahapatra and Coastal Resilience Manager for Europe and Africa Benoit Cajelot.
Sign up for Africa Ports & Ships Newsletter – it's free
Added 7 November 2023
♦♦♦♦♦♦♦♦♦
News continues below
Maputo Port Development Corp renews marine services contract with P&O Maritime Logistics
Africa Ports & Ships
Maputo Port Development Corporation (MPDC) has renewed its marine services contract with P&O Maritime Logistics.
The renewed contract is in the name of P&O Maritime Moçambique S.A., a subsidiary of P&O Maritime Logistics, which in turn is owned by the UAE-based group, DP World.
P&O Maritime Moçambique S.A. has operated marine craft services in the Mozambique port of Maputo including Pilotage, tugs and mooring operations since 2012.
Internationally, P&O Maritime Logistics own and operate approximately 400 vessels and provide a wide portfolio of value-added marine services.
The further extension of the contract ensures stability and continuous improvement until 2033, spanning a second decade of collaboration.
In terms of the agreement, P&O Maritime Logistics will invest around USD 14 million in the acquisition of state-of-the-art, environmentally friendly vessels designed to increase operational efficiency and reduce carbon emissions.
According to the announcement, a integrated tug and bridge simulator, adapted to the requirements and needs of the ports of Maputo and Matola, is to be introduced.
This, it says, will play a crucial role in the assessment, training and continuous improvement of tugboat pilots and boom pilots who have to navigate a range of challenging weather conditions and emergency scenarios.
Among the advantages offered with the simulator, is that ships arriving at the port will have the opportunity to be assessed in the simulator before their actual arrival, further increasing safety and efficiency.
MPDC says the simulator will also be used as a training ground for young cadets from the Nautical School, as part of the P&O Maritime Logistics training memorandum with the School.
"The maritime simulator is expected to be fully operational by the end of the first half of 2024, further improving the safety and efficiency of the Port of Maputo," the statement reads.
A total of 45 young Mozambicans have benefited from having received training abroad, where they gained valuable sea experience aboard P&O Maritime Logistics ships. Following their return to Maputo they have been able to contribute with their knowledge and helping to promote the maritime profession in Mozambique.
A significant number of them were able to secure full-time employment within the company and assisting towards sustainable growth of the local economy.
"MPDC looks forward to the continuation of this productive partnership and the opportunity to continue promoting maritime excellence and sustainable development in the region," the company states. source: MZNews
Sign up for Africa Ports & Ships Newsletter – it's free
Added 6 November 2023
♦♦♦♦♦♦♦♦♦
As notícias continuam abaixo
Maputo Port Development Corp renova contrato de serviços marítimos com P&O Logística Marítima
Africa Ports & Ships
A Corporação de Desenvolvimento do Porto de Maputo (MPDC) renovou o seu contrato de serviços marítimos com a P&O Maritime Logistics.
O contrato renovado é em nome da P&O Maritime Moçambique S.A., uma subsidiária da P&O Maritime Logistics, que por sua vez é propriedade do grupo sediado nos Emirados Árabes Unidos, DP World.
A P&O Maritime Moçambique S.A. opera serviços de embarcações marítimas no porto moçambicano de Maputo, incluindo pilotagem, rebocadores e operações de amarração desde 2012.
Internacionalmente, a P&O Maritime Logistics possui e opera aproximadamente 400 navios e fornece um amplo portfólio de serviços marítimos de valor agregado.
A nova prorrogação do contrato garante estabilidade e melhoria contínua até 2033, abrangendo uma segunda década de colaboração.
Nos termos do acordo, a P&O Maritime Logistics investirá cerca de 14 milhões de dólares na aquisição de embarcações de última geração e amigas do ambiente, concebidas para aumentar a eficiência operacional e reduzir as emissões de carbono.
De acordo com o anúncio, será introduzido um simulador integrado de rebocador e ponte, adaptado aos requisitos e necessidades dos portos de Maputo e Matola.
Isto, afirma, desempenhará um papel crucial na avaliação, formação e melhoria contínua dos pilotos de rebocadores e pilotos de lança que têm de navegar numa série de condições meteorológicas desafiantes e cenários de emergência.
Entre as vantagens oferecidas pelo simulador está que os navios que chegam ao porto terão a oportunidade de serem avaliados no simulador antes de sua chegada efetiva, aumentando ainda mais a segurança e a eficiência.
A MPDC adianta que o simulador será também utilizado como campo de treino para jovens cadetes da Escola Náutica, no âmbito do memorando de formação da P&O em Logística Marítima com a Escola.
"O simulador marítimo deverá estar totalmente operacional até ao final do primeiro semestre de 2024, melhorando ainda mais a segurança e eficiência do Porto de Maputo", lê-se no comunicado.
Um total de 45 jovens moçambicanos beneficiaram de formação no estrangeiro, onde adquiriram uma valiosa experiência marítima a bordo dos navios da P&O Maritime Logistics. Após o seu regresso a Maputo puderam contribuir com os seus conhecimentos e ajudar a promover a profissão marítima em Moçambique.
Um número significativo deles conseguiu garantir um emprego a tempo inteiro na empresa e ajudar no crescimento sustentável da economia local.
"A MPDC espera a continuação desta parceria produtiva e a oportunidade de continuar a promover a excelência marítima e o desenvolvimento sustentável na região", afirma a empresa. fonte: MZNews
Inscreva-se na Newsletter Africa Ports & Ships – é grátis
Adicionado em 6 de novembro de 2023
♦♦♦♦♦♦♦♦♦
News continues below
WHARF TALK: French Navy (Marine Nationale) Frigate FS FLORÉAL (F730)
Pictures by 'Dockrat'
or as indicated
Story by Jay Gates
There was a time when the folk who lived in South African port cities, especially those of Cape Town and Durban, took a great interest in visiting warships. They would wait in great anticipation for their arrival in port, advertised well in advance in the shipping columns of the local newspapers, or on the local radio stations, because these warships nearly all had 'open ship' visitors days to allow the public onboard to see what made a warship tick.
To see a warship up close, or to have the rare opportunity to tour a foreign warship was something that the local population, and the casual maritime observer, absolutely loved. Then in July 2004 United Nations body that oversees international shipping, the International Maritime Organisation (IMO), implemented The International Ship and Port Facility Security (ISPS) Code. The implementation of the ISPS changed everything within the ports.
The ISPS Code is a comprehensive set of measures to enhance the security of ships, and port facilities, developed in response to the perceived threats to both ships, and port facilities, in the wake of the 9/11 attacks in the United States. The set of measurements, within the ISPS Code for international security, prescribes responsibilities to government authorities, port authorities, shipping companies and seafarers that effectively closed off, and fenced in, ports to members of the public, and preventing what is now known simply as 'unauthorised access'.
In terms of Cape Town, that meant no longer were members of the public, and the local shipspotters, allowed to stand on the quayside and wave off friends departing on a warship, or stand on the end of the breakwater to cheer out a warship. Not all was lost, as Jetty No.2, in the V&A Waterfront, was still utilised for all visiting warships. The public could at least get close and admire the lines, and the ISPS was managed with a simple fence and gate, which provided for 'Authorised Access for Shipboard Visitors'.
That was until January 2012, when the Department of Home Affairs decided that Jetty No.2 was no longer suitable, from an ISPS Security perspective, for visiting warships, and Transnet banished them all to the Duncan Dock. Since then, all arriving warships have been effectively banned from the V&A, except for recently when the ANC Government kowtowed to their friends in China, and allowed a whole flotilla of Peoples Liberation Army Navy (PLAN) warships to use Jetty No.2 for their visit.
It seems that Transnet follow the ISPS, unless instructed otherwise by their political masters. Seemingly China is good, and France is bad, or at least occasionally bad. In the last 18 months, no less than 7 French warships have arrived for visits to Cape Town, and six were sent to the Duncan Dock. But strangely, the French warship 'FS Malin P701' in November 2022 was allowed to dock in the V&A. Did that mean that things had changed? It seems not, as the next French warship to arrive, 'FS Astrolabe P800' in June this year, was also sent to the Duncan Dock.
On 1st November, unlike all previous visits by NATO warships, an unannounced arrival off Cape Town was the French Navy (Marine Nationale) Frigate FS FLORÉAL (Pennant Number F730), from her home port of the French naval base on Réunion Island. The 8th French warship to arrive in Cape Town in less than two years, she entered Cape Town harbour and proceeded not to the V&A waterfront, but to D berth in the Duncan Dock, this despite Jetty No.2 being available. She would still be visible to view from the Passenger Cruise Terminal at E Berth.
Laid down in April 1990, launched in October 1990, and commissioned in May 1992, 'FS Floréal' was built by Chantiers de l'Atlantique Shipyard at St. Nazaire in northern France. She is 94 metres in length and has a displacement of 2,600 tons. Built as a Patrol Frigate, for operations in low threat environments, 'FS Floréal' is known as a Frégate de Surveillance.
Built as the lead unit of a class of light frigate, known as the Floréal Class, of which six were built. As a cost saving measure, she was built to merchant ship standards, and constructed using civilian methods. In this way, such shipbuilding of warships meant that three Floréal Class Frigates could be built for the same cost as just one of the La Fayette Class of Frigate.
She is powered by four SEMT Pielstick 6PA6 L280 BPC diesel engines producing 8,820 bhp (6,580 kW), driving two LIPS controllable pitch propellers for a maximum service speed of 20 knots. Her auxiliary machinery includes three generators providing 750 kW each. For added manoeuvrability 'FS Floréal' has an Ulstein bow transverse thruster providing 203 kW. She also has twin rudders and, unusually for a warship, two fin stabilisers.
She is armed with a 100mm (4") CADEM main gun, two GIAT F2 cannons and two 12.7mm M2HB machine guns. Her MM38 Exocet anti-ship missiles were removed in 2014 and were not replaced. She also carries an AS565 Panther anti-submarine helicopter. Her radar systems include air defense, fire control, surveillance and navigation. She has a range of 9,000 nautical miles at an economical speed of 15 knots.
Based at the Port des Galets naval base on Réunion Island, she is designed to patrol the French Departments of Réunion and Mayotte, the French Austral territories of the Îles Éparses around Madagascar, plus the Sub-Antarctic Crozet Islands, Kerguelen Island and St. Paul and Amsterdam Islands in the South Indian Ocean. She operates with a crew of 90, plus 24 Marines. The other Floréal Class frigates are based in the French overseas departments of Martinique (2 Frigates), Tahiti, Nouméa (New Caledonia), and a second one in Réunion (FS Nivôse F732).
Named after the eighth month of the Republican Calendar, 'Floréal' was the second month of Spring, which translates as 'Flower'. The republican Calendar was short lived, beginning after the French Revolution, and only lasted for 12 years, between 1793 and 1805. It was an attempt to decimalize the calendar, and remove the Julian Calendar, having three, ten day, weeks for every 30 day month. All Frigates in the Floréal Class are named after months in this calendar.
Over the course of her long career, 'FS Floréal' has made many visits to South African ports, especially Durban and Cape Town, as well as a visit to Richards Bay in September 2015 when she was the French naval unit participating in the regular naval 'Exercise Oxide' with the South African Navy, testing interoperability between the two naval forces.
Her visits to Durban have been many, and include October 2014, October 2017, February 2022, and February 2023, with most visits lasting for 5 days. Cape Town has seen her calling in April 2012, April 2013, March 2015, and May 2017, with most calls being for 6 days. On most occasions, she sails from her South African port visits on patrols down to the Southern Indian Ocean TAAF islands, which can last for up to two months.
Her visit to Durban in October 2017 ended in near disaster, when a huge storm, producing hurricane storm force 12 winds, gusting up to 80 knot, created condition of mayhem within Durban harbour. Many ships ran aground, including one container vessel that blocked the entrance channel to Durban Harbour, and another container vessel that parted all her wires and drifted down on 'FS Floréal', collided with her, causing substantial damage to her hull and upperworks. Luckily, there was no damage below the waterline. After patching up, she sailed back to Mauritius for more permanent repairs.
In October 1995, 'FS Floréal' was sent to the Comores to arrest Bob Denard, the French Mercenary, who had staged a coup on the islands. He was arrested without a shot being fired, and returned to France, where he was jailed for 14 months. It was to be the last successful African coup carried out by European Soldiers of Fortune.
In October 2010, the South African yacht 'Choizil' sailed from Dar es Salaam, in Tanzania, bound for Richards Bay. She was intercepted by Somali pirates, and taken back to Somalia. The skipper, Peter Eldridge, escaped with the yacht, but two of her crew, Durban couple Bruno Pelizzari and Debbie Calitz, were taken ashore and held hostage for almost two years, with an idiotic ransom of US$4 million (ZAR72.85 million) demanded for their release.
The yacht was spotted by 'FS Floréal' whilst on patrol in the area, and Peter Eldridge was rescued and taken to safety. Sadly, 'Choizil' was last seen hard aground on the Somali coast, and lying derelict, having been stripped bare by locals. Her crew, both from Durban, were taken into captivity.
As well as the yacht 'Choizil' in 2010, 'FS Floréal' was instrumental in the operation to free the two crew of the hijacked yacht 'Tanit' in 2009. Sadly, one of the hostages, both French citizens, died in the operation, as well as two of the pirates holding the yacht.
She has spent a great deal of time operating with the Combined Task Force (CTF) 150 in the Gulf of Aden, interdicting drug running dhows, and resulting in almost 13.5 tons of drugs being captured. She has also been intercepting Somali pirates, including her AS565 Panther helicopter driving off pirates who were attempting to board the Lebanese flagged vessel 'Princess Sarah'.
The arrival in Cape Town of 'FS Floréal', though unannounced, was for her to participate in the starting festivities for the second leg of the Ocean Globe Race (OGR) 2023, which got underway on 5th November at 14h30 in the afternoon in Table Bay. This leg is to Auckland in New Zealand, and the race follows the traditional '3 stops and 3 capes', 27,000 nautical miles, route taken by the original Whitbread Around the World races, which ran between 1973 and 1981.
The race started from Southampton, with calls only at Cape Town, Auckland, Punta Del Este, and back to Southampton. All 14 yachts, which are participants in the race, have previously taken part on one of the Whitbread races, including the sole South African entrant, Yacht 'Sterna SA (42)'. Whilst in Cape Town, the Royal Cape Yacht Club (RCYC) acted as host for all aspects of the race.
Both 'FS Floréal' and the new South African Navy IPV 'King Sekhukhune 1' were the official starter and guard ships for the race start, with 'King Sekhukhune 1' having the honour of firing the starter gun. South African Yachtswoman Kirsten Neuschäfer, the winner of the gruelling solo around the world Golden Globe Race (GGR) 2022 will fire the starting gun from 'SAS King Sekhukhune 1'. Whilst South African Yachtsman Jeremy Bagshaw, who also took part in the GGR 2022 race, will drop the flag from aboard 'FS Floréal'.
Sign up for Africa Ports & Ships Newsletter – it's free
Added 6 November 2023
♦♦♦♦♦♦♦♦♦
News continues below
Shipping Service and Schedule Updates
Africa Ports & Ships
MSC applies congestion surcharge on SA ports
Due to the congestion in the South African ports generating difficult conditions to operate, MSC will apply a Congestion Surcharge (CGS) for cargo from any destination except East and West Africa to all South African ports in order to maintain services at the required level.
As from 3 December 2023 (Bill of Lading date) onwards, the CGS will be charged USD 210/TEU for dry cargoes only.
CMA CGM suspends shipments to/from Niger via port of Cotonou
CMA CGM informs its customers that on 25 October 2023, the Cotonou Port Authorities published a notice advising that, due to current operational constraints and congestion, all loadings to and from Niger are suspended in the port of Cotonou until further notice.
Following this instruction and with immediate effect, CMA CGM will apply a booking stop for any shipment to and from Niger in transit through the port of Cotonou.
"If your cargo has already arrived at Cotonou, a strict compliance with Cotonou Port Authorities order is expected, advises CMA CGM.
"Three regimes with several facilities have been offered to economic operators whose cargoes are awaiting removal on Beninese territory:"
Consumption in Benin
Change of itinerary or destination
Transshipment or re-export
CMA CGM further advises that all additional costs and charges, including but not limited to return freight, storage, plugging, terminal handling charges, and all local demurrage charges, shall be for Merchant's account and that Carrier shall not be liable for any loss of damage to cargo whatsoever arising out of this force majeure situation.
"We will keep you informed about any evolution of the situation that arose totally beyond our control."
CMA CGM: Matadi Congestion Surcharge
CMA CGM advises that following the congestion currently occurring in the DRC port of Matadi, it will apply the following Port Congestion Surcharge (PCS):
The surcharge will be effective from 15 November 2023 (loading date) and until further notice (1 December 2023 for USA & territories, Venezuela, Brazil, Panama, Colombia, Paraguay, Uruguay, Argentina, Ecuador).
From all origins, to Port of Matadi in DRC, Dry & Reefer cargo surcharges: USD 200 / GBP 165 / EUR 190 per TEU
Settlement: as per freight.
Tema Port omission on CMA CGM EURAF 1
CMA CGM advises that due to persistent congestion in Dakar Terminal and to preserve schedule integrity, TEMA, Ghana will be omitted on their EURAF 1 service until further notice.
During this period, TEMA shipments will be loaded on CMA CGM's EURAF 2 service.
Sign up for Africa Ports & Ships Newsletter – it's free
Added 6 November 2023
♦♦♦♦♦♦♦♦♦
News continues below
TNPA to the rescue of Richards Bay Alkantstrand Beach
Africa Ports & Ships
When the Alkantstrand beach adjacent to the entrance to the port of Richards Bay becomes eroded by tidal and storm action, it is to the ports authority at Richards Bay that everyone turns. Only the TNPA has the equipment and knowledge of how to 'fix' the problem.
So it was recently when the ports authority was called on to address the beach erosion challenges at Alkantstrand Beach.
The activation of the Beach Restoration Project by TNPA was in response to recent adverse weather conditions that have caused considerable erosion to the beach's shoreline and displaced sandbags that are meant to maintain the shore's stability.
To date, the ports authority has achieved notable milestones which include the refurbishment of the floating line, the installation of geo sandbags, thorough clearance of debris along the shore, sandbag placement on eroded sections and the commencement of sand pumping using the dredger ILEMBE for beach restoration.
"TNPA is committed to preserving and enhancing our coastal resources," said Richards Bay Port Manager, Capt. Dennis Mqadi.
"Through the first phase of the project, the sand filling of the eroded section from the shore will create a more stable bathing area of approximately 250 metres."
The working teams will continue to fill the sandbags to create a stockpile during the day which will be distributed after 18h00 each day, weather permitting. This measure will allow the extension of a stable bathing area up to approximately 300 metres.
The City of uMhlathuze (Richards Bay/Empangeni) and TNPA are committed to collaborate further on this by establishing working teams to ensure a seamless restoration process of Alkantstrand Beach.
Sign up for Africa Ports & Ships Newsletter – it's free
Added 6 November 2023
♦♦♦♦♦♦♦♦♦
News continues below
IMO marks 50 years since the MARPOL Convention was adopted
Edited by Paul Ridgway
London
MARPOL at 50
As we well know ships today must take measures on board to stop sewage, garbage and operational waste entering the sea without restriction – and ships must control emissions into the air. Ships must be designed and built to prevent and limit accidental spills of oil and chemicals. This is all thanks to rules adopted by the IMO.
On 2 November, IMO marked fifty years since the adoption of the International Convention for the Prevention of Pollution from Ships (MARPOL), the primary global treaty for the prevention of pollution of the marine environment by ships from intentional, operational or accidental causes.
2023 World Maritime theme
The anniversary has been marked throughout the year under the 2023 World Maritime theme: MARPOL at 50 – Our commitment goes on.
Of the half-century IMO Secretary-General Kitack Lim commented: "Today, 2 November, is a landmark milestone – fifty years since IMO Member States adopted this key treaty to protect the marine environment from pollution by ships from intentional, operational or accidental causes.
"We can look back and welcome the steps that were taken back in 1973 to address pollution by oil and chemicals carried on ships, but also to mitigate pollution by packaged goods, by sewage and by garbage. In the 1990s, a new annexe was adopted to address air pollution and emissions from ships. MARPOL regulations have been driving innovation to tackle pollution and to address global issues, including climate change.
"Of course, now is not the time to sit back. Shipping must embrace decarbonisation, digitalisation and innovative technology, including automation – while ensuring the human element is kept front and centre of the technological and green transition to ensure a sustainable planet for future generations.
"MARPOL has made a difference to shipping – and to the health of our oceans – and will continue to do so, as we look ahead to the next 50 years."
Video series
To mark the fiftieth anniversary since the adoption of the MAROL treaty, IMO asked Secretariat staff what MARPOL means to them. Readers are invited to watch the videos on the link here
MARPOL makes a difference
The theme, MARPOL at 50 – Our commitment goes on, throws a spotlight on IMO's important regulatory work over half a century to protect the environment from the impact of shipping, and emphasizes the Organization's ongoing commitment to do more in support of the UN 2030 Agenda for Sustainable Development and the 17 Sustainable Development Goals (SDGs).
The SDGs are to be found here.
On social media
To mark this anniversary IMO invited Member States and everyone in the maritime industry to mark the anniversary on social media using the hashtag #MARPOLat50 and tag @IMOHQ on X (formerly Twitter), Instagram, Facebook and LinkedIn.
Sign up for Africa Ports & Ships Newsletter – it's free
Added 6 November 2023
♦♦♦♦♦♦♦♦♦
News continues below
Ramaphosa calls for lengthier AGOA to incentify African industry
Africa Ports & Ships
An extension of the African Growth and Opportunity Act (AGOA) for a longer period of time can act as an instrument to entice investors to pour more resources into the African continent.
That's the view of South Africa's President Cyril Ramaphosa, speaking at the opening of the AGOA Forum in Johannesburg last week.
"We would like you to look at the extension or renewal of AGOA for a sufficiently lengthy period for it to act as an incentive for investors to build new factories on the African continent," the president said..
"As we were going around talking to a number of product producers, the recurring message and word I heard is 'we can do more…if this opportunity is extended and we can build more capacity if we have certainty that yes, the period of extension will be longer'.
"Shorter periods of extension impede investment ambitions and we therefore want to see a much lengthier period of extension," he said.
"The United States and Africa… are going to be here for a long time. We are here for the long haul so let us make AGOA a long haul opportunity for all of us."
The President reflected on the successes that have been made under AGOA for African countries.
"When excluding exports of crude oil under AGOA, the data show that the programme has substantially improved the export competitiveness of certain African products, especially textiles and apparel.
"Apparel exports from Lesotho, Ethiopia, Mauritius, Madagascar and Kenya have not only led to the creation of tens of thousands of jobs but these countries have become reliable producers for American consumers.
"Other parts of manufacturing have also seen success under AGOA. South Africa's auto exports to the United States under AGOA have contributed to job creation in South Africa and in the auto supply chain within neighbouring countries.
"We value the relationship with the United States, the world's largest national market, and a country with which we have relationships that go well beyond trade. The African Growth and Opportunity Act – or AGOA – has served as the cornerstone of the US-Africa commercial relationship for more than two decades," President Ramaphosa said.
Africa on the rise
According to Ramaphosa, trading has been in the DNA of Africans for thousands of years.
"From earlier times, our forebears were already trading not only within Africa but with the rest of the world. They traded right across the continent… but they also traded with the world. Trading is part of our DNA; it is in our blood and it is this trading that we want to modernise and we look for partners to support us in this development as we modernise our trading practices and relations," he said.
As the continent continues to modernise its trading, it is moving away from being a supplier of raw materials to a producer of ready-made consumer products.
"Africa is an important source of critical raw materials but we do not want to be defined by simply being the producers of commodities. The great industrial opportunity lies instead in the transformation of the rocks that we mine and the metal that we produce into the sophisticated industrial and consumer goods that societies across the world need.
"Gone should be the days when Africa is just seen as a source of rock, soil and dust being exported out of our continent. We now want to produce the products that are finished or near finished, which are utilised in other parts of the world. We want to earn full value for our products," he said.
President Ramaphosa said he remains concerned about the negative effects that trade restrictions on products like steel, aluminium or citrus fruit have on AGOA utilisation rates.
"We hope that the discussions at this forum will help lay the basis for these to be addressed in future."
The President said more targeted efforts to promote greater levels of investment can help to unlock AGOA's opportunities.
The purpose of the forum is to discuss ways to expand trade and investment relations between the United States and sub-Saharan Africa, and the implementation of AGOA, including encouraging joint ventures between small and large businesses. – SAnews.gov.za
Sign up for Africa Ports & Ships Newsletter – it's free
Added 6 November 2023
♦♦♦♦♦♦♦♦♦
News continues below
European ports concern over the EU ETS for maritime sector
Africa Ports & Ships
As part of the implementation process of the EU emission trading system (ETS) directive for the maritime sector, the Commission held a public consultation on the list of non-EU neighbouring ports that would fall under the 'transshipment clause' that has been introduced in the directive intended to limit the risks of carbon and business leakage once the EU ETS maritime comes into force.
See our related report:  See what? A simple guide to the EU ETS
In its reply to the consultation, the European Sea Ports Organisation (ESPO) reiterates its support for an emission trading scheme as instrument for greening the shipping sector, but expresses its serious concern about first signs of carbon and business leakage due to the limited scope of the current legislation.
For ESPO, the principle to not consider as a 'port of call', in the counting of the ETS charges, the calls to some transshipment ports neighbouring the EU is only a partial solution to the problem.
Neighbouring African ports favourably positioned
ESPO fully agrees with the identification of Tanger Med and East Port Said as major neighbouring transshipments ports. However, it will not be enough to ensure that evasion cannot take place.
While only a few neighbouring ports are reaching the very high transshipment volume thresholds put forward in the legislation (65%), many ports and terminals around Europe have and/or are building up transshipment capacity. ESPO suggests the Commission should therefore not only look at current volumes, but also consider the transshipment capacity in the different ports neighbouring the EU.
Under the current legislation, even if the call at a non-EU transshipment port is subject to the special regime, it is still more favourable for ships to call at a non-EU port than at an EU transshipment port.
When ships call at an EU transhipment port, the last leg between the transshipment port and any other EU port is subject to ETS charges for 100% of the journey. On the other hand, if the ships call at a non-EU transshipment port, only 50% of the journey is accounted for.
"We see a real ramping up of investments in additional TEU capacity in ports and new terminals in neighbouring countries, including investments realised by major shipping lines in these ports, and we also hear about first rerouting movements outside Europe," stresses Zeno D'Agostino, Chairman of ESPO.
"This reinforces the idea that shipping lines, where relevant, are preparing their way out of the EU ETS maritime. We recognise the importance of the EU ETS Directive and supports its aim, but we continue to regret that this legislative framework disadvantages EU ports vis-à-vis non-EU ports, without the expected benefit in terms of emission reduction."
For the maritime EU ETS to be a success, ESPO says the European Commission must make sure that the ETS implementation safeguards the competitiveness of European ports, and avoids carbon and business leakage to ports neighbouring the EU.
For Europe's ports, monitoring should already take place ahead of the application date, as rerouting and evasion movements are already in preparation or happening now. Moreover, the monitoring should happen continuously, not only with a report every two years.
"One must realise, that once evasion is established, and trading routes have changed, it will be very difficult to reverse the negative developments," says Isabelle Ryckbost, ESPO Secretary General.
While it is difficult to prove a direct causal link between certain rerouting and developments of terminals outside the EU, the level and intensity of recent developments in non-EU ports strengthen the concern of many European affected ports on the possible adverse effect of the EU ETS without the expected environmental benefit.
On top of losing transshipment capacity and the corresponding jobs, Europe risks losing oversight and control of the entire supply chain.
Given the current situation and developments and the serious consequences of the implementation of this legislation for the competitiveness and future of some European ports, ESPO says it hopes for an open, continuous and constructive dialogue with the Commission allowing to map adverse impacts and signal evasion at a very early stage, in view of achieving an ETS that delivers the ambitions it has been designed for.
Maersk – opinion and surcharges
See also Maersk Line's comments on this matter, including estimated emissions surcharges that will apply to South Africa, East Africa and West Africa as from 1 January 2024. To see that report CLICK HERE
Sign up for Africa Ports & Ships Newsletter – it's free
Added 6 November 2023
♦♦♦♦♦♦♦♦♦
News continues below
Two leading terminal operators initiate widespread electrification of container handling equipment
Africa Ports & Ships
APM Terminals and DP World have jointly announced an initiative to accelerate decarbonisation of the world's terminals through the widespread electrification of container handling equipment (CHE).
The initiative is grounded in research showing the tipping point for battery-electric CHE can be reached within the next 2-8 years with the right actions from industry stakeholders.
The research findings and roadmap for electrification of CHE are the subject of an industry White Paper, currently endorsed by Eurogate, Port of Kalundborg, and Smart Freight Centre.
CHE is a critical enabler of port operations and is used to move containers on and off ships across the world's 940 container ports.
In 2020, the global fleet of CHE enabled the transportation of 815 million TEUs, with a total value of USD 8.1 trillion. Estimated at 100,000-120,000 units, the global CHE fleet is responsible for 10-15 million tonnes of carbon dioxide per annum.
Research has found that the challenges hampering the uptake of battery-electric CHE can be mostly overcome. An inflection point for battery-electric CHE to replace diesel CHE as the more affordable, attractive and accessible option can occur in the next 2-8 years, provided that industry stakeholders take action now.
The White Paper identifies key levers and related actions that can be taken by the players across the value chain including terminal operators, OEM's, port authorities, affiliated government entities and shipping line operators.
"Let me be clear: we need to accelerate our work in decarbonisation, and we need to do it now," says Keith Svendsen, CEO of APM Terminals.
"I am happy to say the research we conducted through Systemiq and ZEnMo strongly backs that a tipping point for the electrification for CHE is within reach in this decade. We are now calling for action for the entire port ecosystem to accelerate towards this milestone. It is important for us to stand together, take concrete action with several industry partners for this to happen," he said.
Tiemen Meester, COO of Ports & Terminals, DP World, described battery-electric equipment in ports as a realistic, achievable and affordable way to dramatically reduce carbon emissions.
"Throughout my career I've seen many industry players talk about various methods for achieving net-zero, but I've never been so convinced by one tactic's ability to accelerate decarbonisation. It is my sincere hope that the findings in the White Paper can be used by the entire industry to galvanise real change with electric CHEs."
The research mentioned provides for a number of actions that can be taken to reach a tipping point, including making zero-emission operation a requirement as part of new concessions in ports, and terminal operators and equipment manufacturers working together to scale up demand.
Furthermore, suppliers can work on further developing their supply chains and standardising certain components, with the support of terminal operators.
"Essentially, what we want is to provide a healthier, cleaner, and more efficient workplace for the thousands working at the terminals and living in the communities around them," says Sahar Rashidbeigi, Global Head of Decarbonisation at APM Terminals.
"And while electrification of of the container handling equipment is one piece of the puzzle, we believe it is one piece that can be addressed relatively easier and faster than others if we work together and avoid unnecessary complexity."
APM Terminals and DP World say they encourage industry peers to review the research and support its goals. As a next step, the partners are preparing to mobilise industry-wide collaboration around CHE electrification and zero-emission port operations.
Sign up for Africa Ports & Ships Newsletter – it's free
Added 6 November 2023
♦♦♦♦♦♦♦♦♦
News continues below
The Master's Practical Guide to Maritime Law published to aid seafarers with incidents at sea
Africa Ports & Ships
The International Chamber of Shipping (ICS) has launched its first edition of The Master's Practical Guide to Maritime Law as a simple and practical legal reference book specifically to aid seafarers with incidents at sea.
Co-authored with the International Federation of Shipmasters' Associations (IFSMA), the guide is specifically designed to help Masters at sea identify and address common legal issues.
As Masters are not qualified lawyers, the guide is designed to help them understand how to manage legal risks and respond within the confines of the law to protect the interests of themselves, the shipowner and other crew members. With such high stakes, it is crucial for Masters to have access to this one-stop-shop for practical legal guidance.
The detailed and practical guide bridges the gap between theory and practice by bringing real-world situations, both in port or sea, to life, helping Masters navigate common legal issues and pitfalls and assist in protecting the shipowner's interests.
Guy Platten, Secretary-General at the International Chamber of Shipping, said the current maritime operating environment is rapidly changing, and this comprehensive guide is vital to supporting seafarers with incidents at sea.
"This first edition specifically for seafarers is essential reading not only for seasoned Masters seeking to refresh their knowledge, but also Masters who are embarking on their very first voyage and would benefit from guidance through the legal intricacies within the maritime industry.
"Working so closely with IFSMA on this guide was crucial in ensuring that the guide addresses the key legal issues commonly facing Masters today and provides comprehensive guidance in an easy to digest way," Platten said.
The Master's Practical Guide to Maritime Law encompasses a wide range of subjects: with each chapter, Masters should gain a comprehensive understanding of their rights, responsibilities and obligations under maritime law from the start of a voyage until the end.
It covers the legal responsibilities in areas such as ship documentation, contractual relationships and commercial responsibilities for carriage of cargo, as well as dealing with crimes on board and local legal enforcement. The guide also explains the international conventions that underpin the global maritime legal framework, for example on pollution regulations.
Serving shipmaster Martin Bjorkell, who contributed to the guide and recently presented on it at the IFSMA Biennial General Assembly in Tokyo, described the guide as proving invaluable for the industry.
It will help Masters know how to approach legal issues effectively, highlighting best practices and providing expert guidance on managing legal risks, with particular emphasis on the commercial aspects that form a significant part of every Master's responsibilities on board," he said.
"We wanted Masters to feel empowered to make informed decisions on matters that might have legal consequences to ensure the safety of the crew, ship, environment and cargo."
The guide will be valuable for a wide array of individuals working across the whole industry including chief officers, shipowners, P&I clubs, officers in training and training institutions.
While the guide strives to offer a comprehensive overview on legal issues which the Master may encounter, it does not replace the need to obtain professional legal advice in the relevant jurisdiction particularly when the Master and shipowner is faced with legal challenges beyond the scope of the guide.
CLICK HERE for more information and to pre-order The Master's Practical Guide to Maritime Law.
Sign up for Africa Ports & Ships Newsletter – it's free
Added 6 November 2023
♦♦♦♦♦♦♦♦♦
News continues below
Xeneta Update: Upturn in the ocean freight shipping market proves to be a false dawn
Africa Ports & Ships
Any hopes of a revival in long-term ocean freight shipping rates were short-lived after the latest data from Oslo's Xeneta indicated the market is once again in decline.
In September, the Xeneta Shipping Index (XSI®), which tracks real-time rates developments on a month-to-month basis, revealed global long-term contracted rates had increased for the first time in 12 months.
This raised the question of whether it was a sign of a resurging market or merely a temporary halt in its decline.
It now appears September was indeed a false dawn after data released by Xeneta this week showed October reverted to a now familiar downward trend with the Global XSI® dropping by 2.6% to 165.3 points.
"Carriers have had some success in capacity management, limiting the impact of the 3.3% decrease in global shipping volumes year to date," said Emily Stausbøll, Xeneta Market Analyst. "However, this hasn't been enough to support sustained rate increases on a global basis.
"The answer to the contrasting fortunes on the XSI® in September and October could be found in the Far East, where we saw some unusual, and seemingly one-off, behaviours. For example, Korea to Australia and New Zealand grew 2% in September yet dropped 31.1% in October.
"Therefore, it isn't necessarily surprising that September's XSI® global rate increase proved to be a false dawn for carriers."
Knowledge is power
"Knowledge is power when entering negotiations, so shippers should be armed with the latest data and intelligence in the Xeneta platform to understand the long-term XSI® trajectory," she said.
Calm before the storm
Freight shipping companies have already endured 62.2% being wiped off market prices in the past 12 months and, far from the tides turning in their favor, the situation may get worse before it gets better.
Stausbøll said that significant changes in Global XSI® will come in the New Year following the tender season when many shippers will be signing new contracts at lower rates than the ones they are replacing.
"For example, last year the index fell by 0.6% in October, while in January it fell by 14.7%. This was then followed by an even bigger drop in May when it fell by 27.5%, driven by the large number of new contracts with shippers in the US.
"I expect the storm to arrive in January with an even more severe decline on the XSI® than 2023. The picture is unlikely to be quite as dire for carriers by May, but 2024 still looks set to be a stormy time for them on the XSI®."
Dire situation sees carriers subsidising ocean freight rates
European Imports was the only XSI® sub-index to grow in October, up by 3.0% to 187.5 points. However, when we turn our attention to European exports the story is very different, falling by 11% in October to 164.3 points, Stausbøll said.
"To provide an example of the dire situation carriers find themselves, the average of all valid long-term rates between North Europe and China is USD 95 per FEU, excluding terminal handling charges.
"With rates at such a low level, it becomes clear that carriers are transporting goods across the world at below cost and are effectively subsidising shippers on this back haul trade."
Far East market could get even more painful
The index for exports out of the Far East fell by 6.9% in October to 152.8 points. This is a 75.1% drop from a year ago, and the lowest this index has been since January 2021.
The index for imports into the Far East fell to 108.8 points in October, 6.2% lower than September and the lowest any index on the XSI® has been since October 2021.
Stausbøll said: "The drop in Far East exports is particularly painful for carriers because of the impact it has on their earnings given the scale and importance of this trade on a global level. It will get even more painful when the storm of new rates hits the XSI® in January."
US imports could be high risk trade in 2024
US imports fell 3.4% to 186.8 points on the XSI® in October – but without successful capacity management by carriers the situation could have been much worse.
With volumes dropping 15% year to date – more than any other major trade – we would expect the index for US Imports to show the most severe decline. However, this has not been the case, with rates on the XSI® falling broadly in line with other major trades.
"Carriers have prioritised removing capacity from this high-priority trade – often sacrificing profitability on other smaller trades," Stausbøll said.
"Yes, the carriers have limited the damage on this trade, however an XSI® of 186.8 points gives plenty of room for it to fall. And with the storm coming in 2024, could this be a trade that represents one of the most significant risks to carriers?"
Sign up for Africa Ports & Ships Newsletter – it's free
Added 6 November 2023
♦♦♦♦♦♦♦♦♦
GENERAL NEWS REPORTS – UPDATED THROUGH THE DAY
in partnership with – APO
More News at https://africaports.co.za/category/News/
♦♦♦♦♦♦♦♦♦
THOUGHT FOR THE WEEK
"It is forbidden to kill; therefore all murderers are punished unless they kill in large numbers and to the sound of trumpets."
― Voltaire
♥♥♥
News continues below………
♦♦♦♦♦♦♦♦♦
TO ADVERTISE HERE
Request a Rate Card from info@africaports.co.za

Port Louis – Indian Ocean gateway port
Africa

Ports & Ships 

publishes regularly updated SHIP MOVEMENT reports including ETAs for ports extending from West Africa to South Africa to East Africa and including Port Louis in Mauritius.
In the case of South Africa's container ports of Durban, Ngqura, Ports Elizabeth and Cape Town links to container Stack Dates are also available.
You can access this information, including the list of ports covered, by  CLICKING HERE remember to use your BACKSPACE to return to this page.
News continues below
CRUISE NEWS AND NAVAL ACTIVITIES

QM2 in Cape Town. Picture by Ian Shiffman
We publish news about the cruise industry here in the general news section.
Naval News
Similarly you can read our regular Naval News reports and stories here in the general news section.
♦♦♦♦♦♦♦♦♦
♠♠♠
ADVERTISING
For a Rate Card please contact us at info@africaports.co.za
Don't forget to send us your news and press releases for inclusion in the News Bulletins. Shipping related pictures submitted by readers are always welcome. Email to info@africaports.co.za
Total cargo handled by tonnes during September 2023, including containers by weight
| | |
| --- | --- |
| PORT | September 2023 million tonnes |
| Richards Bay | 6.246 |
| Durban | 7.382 |
| Saldanha Bay | 4.285 |
| Cape Town | 1.361 |
| Port Elizabeth | 1.413 |
| Ngqura | 0.726 |
| Mossel Bay | 0.109 |
| East London | 0.203 |
| | |
| Total all ports during September 2023 | 21.725 million tonnes |
TABLE BAY UNDERWAY SHIPPING
SHIP PHOTOGRAPHERS
Colour photographs and slides for sale of a variety of ships.Thousands of items listed featuring famous passenger liners of the past to cruise ships of today, freighters, container vessels, tankers, bulkers, naval and research vessels.P O BOX 809, CAPE TOWN, 8000, SOUTH AFRICA
snai@worldonline.co.za
http://home.worldonline.co.za/~snai
=================