Bringing you shipping, freight, trade and transport related news of interest for Africa since 2002
For a Rate Card please contact us at terry@africaports.co.za
TODAY'S BULLETIN OF MARITIME NEWS
Week commencing 23 October 2023.  Click on headline to go direct to story : use the BACK key to return.   
FIRST VIEW: 

 SMIT AMANDLA
Masthead:

  PORT OF CAPE TOWN
Stay Well, Stay Safe, Stay Patient, don't become one
For a free daily newsletter via email?  Send your email marked NEWSLETTER to terry@africaports.co.za 

Join us as we continue to report through 2023
'and stay up to date with Africa Ports & Ships'  – 21 years of reporting directly from Africa (est. 2002).  
SEND NEWS REPORTS AND PRESS RELEASES TO   info@africaports.co.za
****

****

****
___________________________
****

**

****
 

FIRST VIEW:

  SMIT AMANDLA
Smit Amandla, the former John Ross (IMO 7385215), in AMSOL funnel markings, arrives in the port of Durban on 8 July 2017. Sadly, the famous tug is about to take her final journey to the breakers after a long and eventful career as South Africa's 'standby tug'. Built in Durban in 1976 she earned a special place in the hearts of all ship-loving people of this country. Farewell, faithful servant and friend! Pictures by Trevor Jones
These pictures are by Trevor Jones
Africa Ports & Ships
  ♦♦♦

♦♦♦

♦♦♦
News continues below
Second SA Navy MMIPV to be named SAS King Shaka on Friday
by defenceWeb
The second SA Navy (SAN) multi-mission inshore patrol vessel (MMIPV) built in South Africa will, the shipbuilders have it, be named in a ceremony at Naval Base (NB) Durban on Friday, 27 October.
SAS King Shaka Zulu (P1572) will join SAS King Sekhukhune I (P1571) in SAN service, with MMIPV number three, SAS Adam Kok (P1573) set to complete the class in the SAN patrol squadron next August.
Damen Shipyards Cape Town (DSCT) is the shipbuilder for all three MMIPVs and notes in a statement advising of Friday's naming ceremony the newest addition to the SAN inventory is "a vital addition" to the fleet. Designed for rapid response capabilities along South Africa's 2,798 km coastline, primary missions include countering piracy, illegal fishing and smuggling operations.
SAS King Sekhukhune I was taken into service in May last year and has, since operational testing and evaluation (OTE), been part of the SAN deployment for this year's Armed Forces Day/Week in Richards Bay in February and the joint Russo/Sino/SA naval exercise Mosi II off the Northern KwaZulu-Natal coast.
Ahead of the Richards Bay deployment, she took part in exercises Ibsamar and Oxide. She was also tasked to be in Cape Town's V&A Waterfront for last month's cancelled mini navy festival.
The MMIPV was, according to reports, abeam the submarine SAS Manthatisi (S101) during the ill-fated vertrep (vertical replenishment) evolution with a 22 Squadron Super Lynx maritime helicopter on 20 September.
Like her sister ships, King Shaka Zulu is a DSCT Stan Patrol 6211 vessel. The 62 metre long, 750 ton vessels have a 20 knot economical speed and a range of 2,000 nautical miles.
Each vessel is fitted with a Reutech 20 mm Super Sea Rogue marine gun and Reutech FORT (frequency modulated optical radar tracker) low probability of intercept (LPI) optronics radar tracking system.
Along with SAS King Sekhukhune I and the refurbished strikecraft SAS Makhanda (P1569), King Shaka Zulu will make up the three-ship strong patrol squadron at NB Durban.
The busy east coast port was previously home port of the then Warrior strikecraft flotilla and will be the patrol squadron base until the new SAN base at Richards Bay is ready to receive, operate and maintain vessels.
There is, as yet, no finality on when the new naval base will become operational. This was made clear by SAN Chief, Vice Admiral Monde Lobese, when addressing an August medal parade.
He said the "planned move to Richards Bay is progressing steadily and we [the SAN] are at the mercy of Transnet National Ports Authority to move the process forward.
"Remember, the TNPA asked us to move, not the other way around. The Navy agreed to the move in principle, but made it clear we expect a brand new naval base in Richards Bay before we move there. Currently the memorandum of understanding between the SANDF and TNPA has been finalised and we are waiting to sign it."
Written by defenceWeb and republished with permission. The original article can be found here
Sign up for Africa Ports & Ships Newsletter – it's free
Added 26 October 2023
♦♦♦♦♦♦♦♦♦
News continues below
Malawi & Chinese investors plan Nacala Railway extension into Zambia and Tanzania
Africa Ports & Ships
Malawi and China have signed a two billion euro (YS$ 2.11 bn) agreement that will see the existing railway network connecting Malawi with the port of Nacala, extended on the inland side into southern Malawi, Zambia and Tanzania.
In doing so the port of Nacala will score from significantly increased traffic from the landlocked central African countries, and economically benefiting Malawi as the facilitating logistics provider.
The Nacala railway corridor currently runs westwards from the port and into Malawi before continuing further west into Mozambique's Tete province. That section of the line is used primarily for moving coal from the mines near Moatize to the coal terminal opposite the Nacala port.
The report says the development will take place in three stages. The first involves rehabilitating the railway in the south of Malawi from where it connects with Mozambique's Sena railway near the Zambezi and moving northwards to Nkaya in Balaka district.
The second phase will refurbish the existing railway from Nkaya to Mchinji near the Zambia border.
The final phase will involve a new railway from the capital Lilongwe to Mbeya, which is in south-western Tanzania and providing a connection with the Cape gauge TAZARA railway in that country.
The existing Nacala Corridor railway is constructed to Cape gauge (1067mm) as is the existing and previously abandoned sections of the Malawi railway system.
Thus there will be a seamless railway from the Nacala port, continuing west into Malawi from where there a southern section will connect with Mozambique's Sena railway).
The central Malawian section will extend to the Zambia border near Mchinji, while the new northern section will connect Malawi and Mozambique with the Cape gauge Tazara railway in Tanzania, which connects Zambia and the DRC with the port of Dar es Salaam.
The project will proceed on a build, operate and transfer basis in which the investor will have occupation of the railway for a period of 30 years after which ownership is to be transferred to the Malawian government.
Additional financing is being sourced from China and the UAE Sovereign Wealth Fund and covers building or rehabilitating the railway, the provision of locomotives, wagons and coaches, railway stations and inland ports.
Sign up for Africa Ports & Ships Newsletter – it's free




Added 26 October 2023
♦♦♦♦♦♦♦♦♦
News continues below
WHARF TALK:  handy size transshipment vessel – WHYALLA
Pictures by 'Dockrat'
Story by Jay Gates
The exciting thing for the casual maritime observer, sitting and waiting in any of the major ports along the South African coastline, is the sheer variety of different types of vessel that are likely to call over the course of the year. This is no more relevant a statement than it is at Cape Town. The geographical location of Cape Town, since her inception, has always made her a major ocean crossroads port, a supply and maintenance port, and a general landfall bunker port.
In the modern age, the casual maritime observer gets to see just about everything that there is to see, both normal, not so normal, and quite simply abnormal. The breakdown of types to be spotted very rarely includes one very specialised type of vessel, that in sheer numbers are very few and far between. Their rarity is that their normal operating environment does not have them travelling very far, and there is no requirement for their need in South African waters.
On 22nd October, at 05h00 in the morning, the handy size transshipment vessel WHYALLA (IMO 8618188) arrived off Cape Town, from Takoradi in Ghana, and immediately entered Cape Town harbour, proceeding into the Duncan Dock and going alongside the outer Eastern Mole berth. The berth indicated another visitor arriving purely for the logistical reasons of needing nothing other than an uplift of bunkers, the loading of fresh provisions, and other required stores.
Built in 1987, originally as a standard handy size bulk carrier by Tsuneishi shipbuilding at Fukuyama in Japan, 'Whyalla' is 141 metres in length and has a deadweight of 13,732 tons. In 2008 she was purchased for conversion to a self-loading transshipment vessel, equipped with a single transshipment loading boom. In 2012, she was upgraded with an improved loading boom, and the inclusion of a telescopic ship loader arm.
For her operational work 'Whyalla' is required to have a high degree of manoeuvrability, and she was refitted with two stern Kawasaki Rexpeller azimuth propeller pods, plus a single bow transverse thruster providing 670 kW. Such manoeuvrability allows her to position herself alongside bulk carriers, up to Capesize, to conduct transshipment operations. Rather than utilise large Yokohama fenders to protect herself when lying alongside another vessel, 'Whyalla' has a unique set on no less than 13 Taihong rubber fenders along the full length of her hull.
For her transshipment operations 'Whyalla' has two holds, and a cargo carrying capacity of 18,159 m3. Her holds are fitted with a conveyor belt system that transfers the bulk ore from her holds to either a 50 metre long, rotating, loading boom that is capable of loading at a rate of 1,500 tons per hour, or a 27 metre long, ship loader arm, that is telescopic out to a distance of 38 metres, and which can load ore at a rate of 4,200 tons per hour.
She was originally owned by Canada Steamship Lines (CSL), of Montreal in Canada, who operate the world's largest fleet of self-unloading bulk carriers, mostly operating in the bulk trades along the Great Lakes of North America. CSL also operate a large fleet of self-loading transshipment vessels, which are utilised all around the world at major bulk loading ports.
Nominally owned by Whyalla Shipping Co. Ltd., 'Whyalla' is operated by SMT Shipping Cyprus Co. Ltd., of Limassol in Cyprus, and managed by SMT Shipping Poland Sp. Z.o.o., of Sopot in Poland. SMT operate a fleet of 5 transhipment vessels, on operations around the world. The fleet is supported by a fleet of Bulk Shuttle vessels, who bring ore out from local exporting ports to the transshipment anchorages, and harbour tugs who manage the berthing requirements of those vessels engaged in the transshipment operations.
Africa has a number of transshipment operations operating on a near continuous basis. It is in those areas where local bulk port facilities are not big enough to allow large gearless bulk carriers to enter port. SMT and CSL operate a joint venture in West Africa, known as Mariac Belt Shipping and they include operating Iron Ore transhipments in the port of Freetown in Sierra Leone, Bauxite Ore transhipments in the port of Conakry in Ghana, and Manganese Ore transhipments in the port of Takoradi in Ghana.
It was from Takoradi that 'Whyalla' has been operating for over the last two years. The operation is on behalf of the Ghana Manganese Co. Ltd. (GMC) of Tarkwa, who are the only producer of Manganese in Ghana, which originates from just one mine in the country. The mine is located close to the towns of Tarkwa, and Nsuta, and the concession covers a vast area of 170 km2, of which only 3% of the site has so far been mined. The mine is of the open cast variety.
It is located just over 40 miles inland from Takoradi, and the mined ore is transported down to the port of Takoradi by both road truck and rail. The railway system in Ghana was originally laid by the British Colonial authorities, in what was then known as the Gold Coast colony, and its purpose was both as a limited passenger service, and a majority mineral and cocoa freight operation.
The first line laid in the country was 43 miles in length, and was laid in 1901, linking Takoradi (Sekondi) with Tarkwa, with an extension to nearby Prestea in 1911, solely to move Manganese ore down to Takoradi. Today Ghana is the world's 5th largest exporter of Manganese ore, with the vast majority of it shipped to China. The ore from Tarkwa, and Nsuta, is Manganese Carbonate, which is of high quality, and is essential for Stainless Steel production. South Africa remains the world's number one exporter of Manganese ore.
With 'Whyalla' operating mainly in the offshore anchorage, the Manganese ore itself is moved out of Takoradi harbour by small bulk shuttle vessels, and tugs are stationed in the anchorage to position the shuttle vessels alongside 'Whyalla'. What most casual maritime observers may not be aware of is that Cape Town has played host to a number of these shuttle vessels, and tugs, as they have been positioned to Ghana to join in the joint venture operation.
In late August, and early September, three small, gearless, bulk carriers, arrived in Cape Town, one after another, on a long voyage from China, and all calling for bunkers en route to West Africa. All three were from a large class of coastal and river bulk carriers, numbering over one hundred, built for various Chinese state owned shipping companies, and all from 2018.
They were all originally named 'Wei Qiao Jia Da', followed by a number, and were 110 metres in length, with a deadweight of 9,582 tons and a cargo carrying capacity of 6,942 m3 in a single hold. All were built at the Jinglu Shipyard at Penglai in China. They had been renamed 'Konta I' (Wei Qiao Jia Da 27), who arrived on 31st August, 'Konta II' (Wei Qiao Jia Da 28), who arrived on 1st September, and 'Konta III' (Wei Qiao Jia Da 68), which arrived on 22nd September.
The crew had ferried them from China, via Singapore, Seychelles, Mozambique, and Cape Town, and had reported that they were very poor seaships. After uplifting bunkers, provisions, and stores, 'Konta I' sailed from Cape Town bound for Takoradi, and both 'Konta II' and Konta III' were bound for Conakry. All are part of the SMT fleet, and all assigned as shuttle vessels for the two individual transshipment operations in Ghana and Guinea.
The tug operator that forms an integral part of the SMT/CSL venture off Takoradi, and Conakry, is Emar Offshore Services, who operate three Damen built tugs for the transshipment operations, namely 'E One', 'E Two', and 'E Three'. In early August a further tug 'E Eight' also passed through Cape Town heading to West Africa, although she is currently in Luanda.
For the nomenclature fan, 'Whyalla' is named for the port in South Australia, for which she was originally converted to act as a transshipment vessel. Whyalla is the major export port for the Australian mining company Broken Hill Proprietary (BHP), who operate the large Iron ore mines located in outback South Australia, and with the mines all having appropriate names such as Iron Knob, Iron Monarch, Iron Queen, Iron Prince, Iron Duke, Iron Duchess, Iron Baron and Iron Knight.
With her fresh produce loaded, her stores replenished, and her bunker uplift completed, 'Whyalla' sailed from Cape Town at 1600 in the afternoon of 22nd October, bound for Port Louis in Mauritius. Her next call is presumably for a further bunker and stores uplift, en route to her next contract, wherever that may be.
The possibility also exists that she is returning to a cold lay-up at Batam, in Indonesia, located directly opposite Singapore, which is where she was reactivated over two years ago for her transshipment role at Takoradi. The third option, based on her being 36 years of age, is that she may be heading for the beaches of the Indian sub-continent, and scrapping. However, as her name has yet to change to indicate such a future, this assumption can, for the time being, be discarded.
Sign up for Africa Ports & Ships Newsletter – it's free
Added 26 October 2023
♦♦♦♦♦♦♦♦♦
News continues below
Africa Ports & Ships
Another senior executive of Transnet has resigned from his position with the company.
Ali Motala, head of Transnet Freight Rail's export coal business, is the man to have handed in his letter of resignation from the country's state-owned rail and port logistics company.
Motala's departure was first reported by News24, referencing a number of senior Transnet personnel as the source.
His departure follows that of Transnet Freight Rail CEO Sizakele Mzimela, Transnet Group CEO Portia Derby, and Group CFO Nonkululeko Dlamini.
Motala has been with the state-owned Transnet for almost 30 years in various senior positions. Among these most recently was head of TFR's North Corridor since 2021 and prior to that his title was General Manager, Strategy in the Office of the Chief Executive.
During his period in charge at the North Corridor, which carries most of South Africa's coal exports, the corridor experienced considerable losses in coal carried for export and a shortage of serviceable locomotives, along with recurring vandalism and disruptions on the Richards Bay coal line.
The coal line traditionally carries the greatest volume of traffic.
The line is generally Transnet's most important revenue source.
Sign up for Africa Ports & Ships Newsletter – it's free
Added 26 October 2023
♦♦♦♦♦♦♦♦♦
News continues below
In Conversation: Tiny and mysterious: research sheds light on sub-Saharan Africa's seahorses, pipefish and pipehorses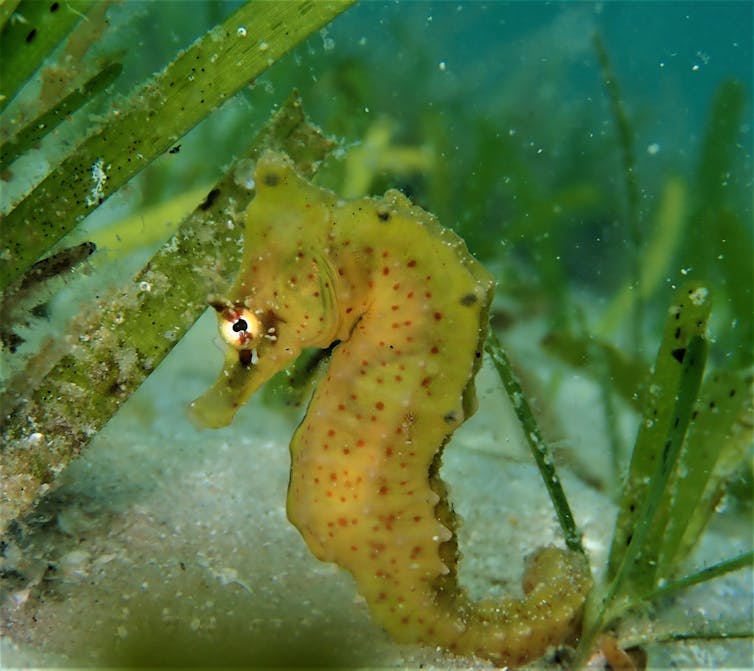 A giraffe seahorse (Hippocampus camelopardalis).
Louw Claassens, Author provided
Seahorses are considered fabled creatures by many; something that only exists in old mythical tales of the ocean. But these curious animals really exist – and they're not the only members of the Syngnathidae family of fishes. Other syngnathids are pipefish, pygmy pipehorses and seadragons, and all are enchanting.
Sadly, syngnathids all over the world are at risk. They face major threats, ranging from both intentional and unintentional harvesting to habitat loss and alterations. Syngnathids are commonly found in shallow, coastal environments, which magnifies the impacts of these threats.
Syngnathids, and specifically seahorses, are the subject of various global and regional research initiatives. They are relatively well studied in many parts of the world. This is, however, not true for sub-Saharan Africa. Most of the published research from the region has focused on the endangered Knysna seahorse (Hippocampus capensis) and the critically endangered estuarine pipefish (Syngnathus watermeyeri), both found in South Africa. Recently, a pygmy seahorse (Hippocampus nalu) was also discovered in Sodwana Bay, South Africa – the first ever recorded from Africa.
But South Africa is just one country on a vast continent. This prompted us to conduct a comprehensive review of the diversity, distribution, ecology and conservation status of the family Syngnathidae in sub-Saharan Africa and adjacent islands. We attempted to collate all existing information, data and observations of syngnathids in the region.
Our findings unveiled a total of 63 syngnathid species across 26 genera in the study area. Mozambique exhibited the highest species diversity, followed by Madagascar and South Africa. There were many interesting, exciting data points, but it also became evident that regionally much needs to be done in terms of research and conservation action on the ground (or rather, in the water!).
How we did it
It's no easy task to gather information for this kind of review, especially because there isn't a lot of published information available. As a first step, we did a deep dive to collate all peer reviewed published articles, as well as information produced outside traditional publishing and distribution channels, such as management plans and government documents.
We then turned to the African marine community, reaching out to our network of keen divers and researchers within the region. We also used various citizen science platforms such as iSeahorse and even created an iNaturalist project for all syngnathid observations in sub-Saharan Africa. On iNaturalist, people could log their observations with the location, drawing on the wider community for help with identification where needed.
The response from the marine community and observations logged on iNaturalist yielded some wonderful results. For instance, the discovery of a new species of pipehorse, currently under peer review.
What we found
Once all the data was collected and collated, some key findings emerged.
There is limited information on the biology of sub-Saharan syngnathids, making it tough to understand the population dynamics, habitat use and association, and life history of species. This highlights the need for further species-specific research.
Most assessments that included information on syngnathid populations came from general fish surveys. It is very tough to find syngnathids and they tend to be sparsely distributed, so targeted survey approaches are needed to detect them.
Twenty percent of syngnathid species found in the region are listed as data deficient on the IUCN Red List. One example is Bulbonaricus brucei, which is only known from its type specimen (the first specimen collected and used to describe the new species). There have been no published observations of this species after its initial description in 1971. This highlights the need for locally significant and current data.
Sub-Saharan syngnathids are susceptible to the same threats as species elsewhere in the world, like harvesting, poaching, impacts from by-catch and habitat loss and alteration. We concluded that different species face different types of threats based on where they are found along the seascape. Similarly, what would work in terms of conservation actions depends on the species and where it is found.
To illustrate this, we created a schematic summarising the main threats and the most suitable conservation actions across the seascape for all syngnathids found in sub-Saharan Africa.
More to learn
It's clear from this review that sub-Saharan Africa is home to many weird and wonderful syngnathids. We believe that many remain to be discovered. However, it is also apparent that research and conservation actions must be scaled up. Scientists need to conduct more species-specific assessments to develop locally significant management and conservation actions. It's also crucial to untangle syngnathid diversity and taxonomy in the region for deeper understanding, combined with the development and support of local expertise.

Louw Claassens, Research Associate of Zoology and Entomology, Rhodes University; David Harasti, Adjunct assistant professor, Southern Cross University, and Graham Short, Research Associate, Australian Museum
This article is republished from The Conversation under a Creative Commons license. Read the original article.
Sign up for Africa Ports & Ships Newsletter – it's free
Added 26 October 2023
♦♦♦♦♦♦♦♦♦
News continues below
Revision of IMO instruments: LSA and related equipment
Edited by Paul Ridgway
London
On 13 October IMO reported that experts in ship construction, operations and survival at sea had met for the second session of the Intersessional Working Group on the Revision of SOLAS Chapter III and the LSA Code (ISWG-SOLAS III-LSA).
Gaps in provisions of SOLAS
The aim of the meeting in Hamburg, Germany held from 9 to13 October was the establishment of a set of high-level goals and requirements to fill gaps in the provisions of SOLAS chapter III and the International Life-Saving Appliance (LSA) Code.
Survival at sea studies; broad input
Furthermore, the principle is that those who have been taking part – for example life-saving appliance manufacturers, naval architects, flag Administration representatives, medical experts, surveyors and master mariners – should identify and rank in matrix form hazards relating to survival at sea in incidents of ship abandonment.
Reporting to March 2024
The Sub-Committee on Ship Systems and Equipment agreed at its meeting in February/March 2023 (SSE 9) that the Intersessional Working Group should hold a second session to advance work begun at its first in October 2022. The Group will submit its report to SSE 10 to be held from 4 to 8 March 2024.
Federal German host
Approximately twenty participants from eight Member States and four observer international organizations attended the October meeting held in Germany. That meeting was co-chaired by Stephan Assheuer and Rainer Hamann (Germany) and hosted by the Federal Ministry for Digital and Transport of Germany at the premises of the Federal Maritime and Hydrographic Agency of Germany.
Sign up for Africa Ports & Ships Newsletter – it's free
Added 26 October 2023
♦♦♦♦♦♦♦♦♦
News continues below
Intermodal strengths set MSC Namibia up for the future
Africa Ports & Ships
MSC, having been present in Namibia for more than 25 years, says it is continuing to expand and grow, while seeking the best options and opportunities for customers.
"Just like we do it around Africa," MSC Namibia said this week.
"Our African network continues to grow, with local agencies in more than 40 countries. Across the continent, our integrated sea, road and rail services have enabled us to become the supply chain partner of choice for our customers," a spokesman for the company added.
"MSC Namibia assists customers with weekly ship calls, and we continue to expand our intermodal transport services and options from Walvis Bay."
Regional trucking services
The ship[p[ing and logistics provider is now offering international trucking services to countries such as Botswana, the Democratic Republic of the Congo, Zambia, Zimbabwe. Walvis Bay is linked through Lomé or Pointe-Noire serving as transshipment ports for cargo from the Far East and Europe – including the U.K, Northwest Continent & Med. Trade.
MSC Intermodal strengths
A comprehensive range of services including warehousing, depot storage facilities and more is provided.
Others include:
*  Customer maintains control over the movement and delivery of goods from point of origin to the final destination
*  Advantaged demurrage and detention policy up to final place of delivery
*  No container deposits required
*  Dedicated team to handle all Customer needs on all corridors
*  Flexibilities to the customer in terms of splitting cost, being pre-paid or collect, import or export
The company's Namibian office is situated close to the Namibian Port Authorities, Immigration and Namibian Customs Authorities.
"Our ability to be close to the relevant authorities enables us to assist with customs clearance upon request. The strength of the MSC network also enables us to offer seamless digital solutions, such as the eBL, to our customers, assisting them with optimizing their supply chain performance."
Transit times to key destinations include:
Zambia, LUSAKA – 10 days TT
Botswana, GABORONE – 4 days TT
Zimbabwe, HARARE – 8 days TT
Democratic Republic of the Congo, LUBUMBASHI – 25 days TT
Sign up for Africa Ports & Ships Newsletter – it's free




Added 26 October 2023
♦♦♦♦♦♦♦♦♦
News continues below
Chinese investors want to develop two terminals at Port of Beira
Africa Ports & Ships
An interesting story being reported by Rádio Moçambique states that Chinese investors want to build two new terminals in the Port of Beira.
If the project goes ahead this will considerably increase the port capacity.
The Port of Beira is owned by the state rail and port company, Portos e Caminhos de Ferro de Moçambique (CFM) and managed and operated by Dutch company Cornelder de Moçambique.
The Rádio Moçambique report states that the Chinese are interested in developing berths 11 and 13 in the port, and have presented their proposals to CFM and other relevant Mozambican authorities.
Chinese companies and groups are becoming increasingly influential in various parts of Mozambique but this is the first time that a practical intervention has been seen in one of the existing ports.
The group of investors represent Chinese and multinational companies with an influential presence in the African infrastructure construction market.
The report says the investors met with Mozambique Prime Minister Adriano Maleiane during his visit to China last week, at which time Tsingshan Holding Group's president, Xiang Guangda, impressed on him the need to speed up the study of the project.
Prime Minster Maleiane apparently gave assurances that the relevant Mozambican counterparts were taking care of the final details, in order, he said, that the capacity of the Beira port could be increased.
The Tsingshan Holding Group is active in the stainless steel and nickel industry but earlier in October it was announced that the Tsingshan Group will invest US$ 233.2 million to set up a plant in Chile to produce lithium iron phosphate (LFP), used to power electric vehicles.
Sign up for Africa Ports & Ships Newsletter – it's free
Added 25 October 2023
♦♦♦♦♦♦♦♦♦
As notícias continuam abaixo
Investidores chineses querem desenvolver dois terminais em Porto da Beira
Africa Ports & Ships
Uma história interessante divulgada pela Rádio Moçambique afirma que os investidores chineses querem construir dois novos terminais no Porto da Beira.
Se o projeto for adiante, isso aumentará consideravelmente a capacidade portuária.
O Porto da Beira é propriedade da empresa estatal ferroviária e portuária Portos e Caminhos de Ferro de Moçambique (CFM) e gerido e operado pela empresa holandesa Cornelder de Moçambique.
A reportagem da Rádio Moçambique afirma que os chineses estão interessados em desenvolver os berços 11 e 13 do porto e apresentaram as suas propostas ao CFM e outras autoridades moçambicanas relevantes.
As empresas e grupos chineses estão a tornar-se cada vez mais influentes em várias partes de Moçambique, mas esta é a primeira vez que se vê uma intervenção prática num dos portos existentes.
O grupo de investidores representa empresas chinesas e multinacionais com presença influente no mercado africano de construção de infra-estruturas.
O relatório diz que os investidores reuniram-se com o primeiro-ministro de Moçambique, Adriano Maleiane, durante a sua visita à China na semana passada, altura em que o presidente do Tsingshan Holding Group, Xiang Guangda, lhe impressionou a necessidade de acelerar o estudo do projecto.
O Primeiro-Ministro Maleiane aparentemente deu garantias de que os homólogos moçambicanos relevantes estão a tratar dos últimos detalhes, para, disse, que a capacidade do porto da Beira possa ser aumentada.
O Tsingshan Holding Group atua na indústria de aço inoxidável e níquel, mas no início de outubro foi anunciado que o Grupo Tsingshan investirá US$ 233,2 milhões para instalar uma fábrica no Chile para produzir fosfato de ferro-lítio (LFP), usado para energia elétrica veículos.
Inscreva-se na Newsletter Africa Ports & Ships – é grátis
Adicionado em 25 de outubro de 2023
♦♦♦♦♦♦♦♦♦
News continues below
WHARF TALK: heavylift combi-freighter ALANIS
Pictures by 'Dockrat'
Story by Jay Gates
The arrival of the heavylift combi freighters is always something to look forward to for the casual maritime observer, if only because it might have some rather interesting items of outsized freight visible as deck cargo.
Most often, the casual maritime observer is mildly, though not completely, disappointed if there is no deck cargo to be seen, but her draft indicates there may be something of interest stowed safely in her hold. Occasionally, the vessel in focus has a different story to tell, not tied up with her cargo, but rather with what occurred as she sailed towards South Africa.
On 18th October, at 19h00 in the early evening, the heavylift combi-freighter ALANIS (IMO 9468085) arrived off the Sandy Point anchorage, north of Saldanha Bay, after a voyage across the South Atlantic from Santos in Brazil. She remained at anchor for a full day, and at 20h00 in the evening of 19th October she entered Saldanha Bay harbour, going alongside the general MPT berth.
She had arrived at Saldanha Bay with one more person onboard than when she started the voyage from Brazil. However, her call at Saldanha Bay was ostensibly to discharge an item of project freight, and after a stay of just over 24 hours, 'Alanis' sailed from Saldanha Bay at 21h00 on 20th October, for a slow steam and short hop, bound down the west coast to Cape Town.
She arrived off Cape Town at 01h00 on 22nd October, and entered Cape Town harbour, proceeding into the Duncan Dock, and going alongside the inner berth of the Eastern Mole. As 'Alanis' is not a products tanker, and the Eastern Mole has no facilities for general cargo handling, it was clear she was calling, as many Saldanha Bay callers do, purely for bunkers, and possibly stores, only.
Built in 2010 by Jiangzhou Union Shipbuilding at Ruichang in China, 'Alanis' is 138 metres in length, and has a deadweight of 12,653 tons. She is powered by a single MaK 6M43C six cylinder, four stroke, main engine producing 7,344 bhp (5,400 kW) and driving a controllable pitch propeller, with a free hanging flap rudder, for a service speed of 15 knots.
Her auxiliary machinery includes three MAN D2840 LE301 generators providing 450 kW each, and a single MAN D2866E emergency generator providing 99 kW. She has a single Tube-Tec TOH1350H50 exhaust gas boiler, and a single Alfa Laval Aalborg EGH650V50 oil fired boiler. For added manoeuvrability 'Alanis' has a bow transverse thruster providing 500 kW.
She has three holds, with a cargo carrying capacity of 15,953 m3, which are served by two NMF DKII electro-hydraulic cranes, each capable of lifting 180 tons, and when used in tandem they are capable of a lift of 360 tons. Her holds tanktops are strengthened for loads of 16 tons/m2. She has a container carrying capacity of 665 TEU, with a total of 50 reefer plugs available.
She is a Beluga F-360 class of vessel, of which over 86 were built for the now defunct German heavylift specialist carrier, Beluga Shipping GmbH, of Germany. The F class all had a name beginning with 'Beluga', followed by a word beginning with the letter F, hence the class name. The numbers indicated the heavylift capability, i.e. 360 tons in this case, with 'Alanis' first entering service as 'Beluga Faith'.
She is nominally owned by Alina Schiffahrtsgesellschaft, of Drochtersen in Germany, and operated by dship Carriers, of Hamburg in Germany, whose houseflag she displays on her funnel, and whose names she proudly advertises on her accommodation sides, and contact details on her accommodation front. There are six Beluga F-360 vessels in the dship Carriers fleet, and she is managed by Rambow Reederei, of Drochtersen, also in Germany.
She has a high ice classification of Ice 1A, which allows her to operate in Baltic Sea first year ice thickness of up to 0.8 metres, and in Polar waters first year ice thickness of between 0.3 metres and 0.7 metres. This ice navigation capability allowed the Beluga F class vessels to be the first to achieve a passage on the Northern Sea Route back in August 2009.
There were three Beluga F class vessels that made the voyage in that year, all carrying heavy project freight and equipment for a new power station being built at Surgut, close to the discharge port of Novyy, at Yamburg, located at the mouth of the River Ob in Siberia. The equipment was all loaded at Ulsan, in South Korea, and the vessels were escorted by the Russian nuclear powered icebreakers '50 Let Pobedy', and the 'Rossiya'.
On completion of their discharge at Novyy, located at 67°41' North 072°53' East, one of the vessels continued across the Northern Sea Route to the Russian port of Murmansk, to load a cargo for Rotterdam, and the two others both went on to the Russian port of Archangelsk, to load cargoes of pipes, destined for discharge at the port of Onne in Nigeria.
The passage from Western Europe to the Far East, via the Northern Sea Route, cuts over 3,000 nautical miles from the same voyage if routing via the Mediterranean Sea, and the Suez Canal. This marks a saving of operational, logistical, and bunker costs of over US$300,000 (ZAR5.69 million). The saving for a Suezmax bulk carrier, or tanker, would be even greater.
In July 2020, 'Alanis' was on passage downriver from Toledo in Ohio, to Duluth in Minnesota, along the Welland Canal, in the Canadian province of Ontario, and which forms a part of the St. Lawrence seaway route from the Atlantic Ocean to the Great Lakes of North America. She was carrying a full cargo of wind turbine bodies.
Whilst passing Port Robinson on the canal, she was in collision with the Canadian bulk carrier 'Florence Spirit', which was on a voyage upriver from Montreal, to Colborne, with a cargo of coal. She was holed above the waterline, and 'Alanis' to go into the drydock at the Heddle Shipyard, at Port Weller, for repairs, before continuing her voyage to Lakehead.
On her current voyage, whilst en route from Santos to Saldanha Bay, 'Alanis' was alerted by the Brazil Maritime Rescue Co-ordination Centre (MRCC), located at Rio de Janeiro, to a distress call received from a German yacht named 'M Jambo', which had indicated she was sinking, and the lone sailor aboard was abandoning ship into a liferaft.
The position was over 900 nautical miles off the Brazilian coast, and it took 'Alanis' almost 20 hours to reach the position, where the liferaft was sighted, and the German sailor, 59 year old Martin Dalsrup, was rescued. He was on a single-handed voyage from New York to Cape Town, on his Bavaria 34 Holiday ketch, when his cruise came to an abrupt end on 5th October.
In heavy seas, with 4 metre swells, and force 5 winds, and moving along at 6 knots, he struck an underwater obstacle which caused structural damage to his hull, and he began to take on water, which his pumps could not cope with. With his yacht slowly sinking, he had no option but to activate his EPIRB, and abandon his yacht.
After the successful rescue of Martin Dalsrup on 6th October, 'Alanis' continued on her voyage to Saldanha Bay, where Martin was landed, hence why she arrived at the port with one more person aboard than when she departed from Santos. Martin was taken to Cape Town, by road, and plans have been made for him to fly back to Germany with his wife, who had flown from Germany to Cape Town, in order to meet him on arrival in South Africa.
Back in Cape Town, 'Alanis' completed her bunker uplift, and at 15h00 in the afternoon of 22nd October she sailed from Cape Town, now bound for Durban, where she is due to arrive at 20h00 in the evening of 25th October.
Sign up for Africa Ports & Ships Newsletter – it's free
Added 25 October 2023
♦♦♦♦♦♦♦♦♦
News continues below
UHURU II takes to the waters of Lake Victoria
Africa Ports & Ships
When the lake ferry ship UHURU II (IMO 9933928) entered the waters of Lake Victoria this month it marked a special milestone in the long and at times proud history of shipping on Africa's largest lake.
Not only has Kenya re-entered commercial activities after a long period in the doldrums, but Uhuru II became the country's first locally-built commercial ship.
Historically, most lake ships were built elsewhere, broken down and transported to Mombasa or Dar es Salaam and from these ports moved overland to whichever Great Lake applied where they were reassembled and placed in service. At least one ship dates back to pre-World War I.
The building of Uhuru II more than suggests that Kenya, like its lake neighbours of Tanzania and Uganda, intends increasing trade and commercial traffic using the waters of Lake Victoria as was common practice in colonial days.
The 1,800-tonne Uhuru II is a true cargo ship, 100 metres in length and capable of carrying 1,063 tonnes of cargo.
Her engine power consists of Caterpillar 3500 series four-stroke, V-type, turbocharged marine diesel engines and providing an operating speed of 14 knots.
The ship cost US$ 20 million to build, a figure that the yard claims is considerably less than if the vessel had been built internationally.
The expected cargo will consist of fuel and petroleum products to be carried from Kenya to Uganda and other destinations, as well as dry bulk cargo consisting mainly of cereals, fertilizers, sugar and seeds.
The ship will operate alongside her namesake, the 1,260-tonne UHURU, an older generation freighter and ferry which was built in 1966 and has recently undergone a refurbishment.
Construction of Uhuru II commenced on 29 May 2021 at the state-owned Kenya Shipyards Limited in the port of Kisumu and in partnership with Dutch shipbuilder, Damen Shipyards.
Kenya Shipyards, which falls under the Kenya Ministry of Defence, has a main shipyard at Mombasa and a second smaller yard at Kisumu where Uhuru II was built. The shipyard's main objective is to build, repair and service ships and boats of the Kenyan Navy, but is also available to carry out maintenance and shipbuilding for Kenyan and regional interests.
There has been talk that the shipyard will undertake construction of up to 17 additional lake ships for Kenyan and neighbouring countries, but this has yet to be confirmed.
The port at Kisumu has also undergone a recent rehabilitation, including construction of a new jetty to facilitate the oil business. After some years of little activity, Kisumu is again becoming an increasingly busy port with a solid future ahead.
Sign up for Africa Ports & Ships Newsletter – it's free
Added 25 October 2023
♦♦♦♦♦♦♦♦♦
News continues below
Transnet engages with unions over recovery plan
Africa Ports & Ships
The Chairperson of the Transnet Board of Directors, Andile Sangqu on Tuesday (24 October) met with the senior leadership of Transnet's recognised unions, United National Transport Union (UNTU) and the South African Transport and Allied Workers Union (SATAWU).
The meeting with the unions formed part of stakeholder engagements on the organisation's Recovery Plan. The plan is a result of an instruction from government for the Transnet Board to prepare and present a financial and operational recovery plan within a specified short space of time.
The board of directors subsequently issued a media release saying they had completed the task and would then discuss the "operational and financial details of the business turnaround plan including areas which require immediate government support," with the Public Enterprises Minister Pravin Gordhan and Finance Minister Enoch Godongwana.
In its meeting on Tuesday with the unions, Andile Sangqu and members of the Executive Committee (EXCO), outlined the salient points of the plan.
Transnet said that further engagements with stakeholders continue as the organisation works towards finalisation and implementation of the plan.
The urgency of this action by the board of directors in response to government's instruction follows the news that Transnet posted a R5.7 billion loss for the most recent financial year ended 31 March 2023 and declining freight rail volumes impacting the country's mining industry and other sectors.
From a recent peak well in excess of 200 million tonnes of freight moved by rail, volumes dropped to 149.5 million tonnes over the 2022/23 year.
Sign up for Africa Ports & Ships Newsletter – it's free
Added 25 October 2023
♦♦♦♦♦♦♦♦♦
News continues below
Shore-Side electricity and data monitoring take hold in the cruise industry
Africa Ports & Ships
On July 7, 2023, the United Nations International Maritime Organization (IMO) and its participating maritime countries set their Greenhouse Gas (GHG) emissions strategy to achieve net zero 'by or around' 2050. As a result, the shipping industry, including cruise lines, is adopting various strategies to achieve this ambitious goal, including new fuels, air scrubbers and shore-side electricity (SSE) systems.
"The adoption of the 2023 IMO Greenhouse Gas Strategy is a monumental development for IMO and opens a new chapter towards maritime decarbonization," IMO Secretary-General Kitack Lim said in a press statement.
One significant strategy being adopted by cruise lines and ports is shore-side electricity (SSE), also called 'cold ironing' or shore power systems. According to some estimates, the industry can lower CO2 and other pollution emissions up to 98% by shutting down all on-board power generation from diesel engines and connecting to shore power supplied by the local utility.
Those additional pollutants include sulfur dioxide (SO2), nitrogen oxides (NOx) and particulate matter (PM). Overall CO2 reduction depends partially on the electricity sources of the port's grid. If, for example, a port depends upon renewable energy sources such as wind, solar, or hydroelectric power, the GHG emissions reductions can be significant.
As a result, many cruise lines and ports are adopting the technology. Carnival Cruise Lines, for example, says that as part of its emission abatement program, 57% of its ships are fully equipped to leverage shore power technology, even though less than 5% of the ports it uses offer shore power connections. But the number of ports adopting the technology is growing.
Miami-Dade County, in partnership with Florida Power and Light Company (FPL), Carnival Cruise Line, and Royal Caribbean Group, expect…
Read the rest of this report in the TRADE NEWS section available by CLICKING HERE
Sign up for Africa Ports & Ships Newsletter – it's free
Added 25 October 2023
♦♦♦♦♦♦♦♦♦
News continues below
TotalEnergies wants Palma airport expanded to take Boeing 737s
Africa Ports & Ships
Clearly concerned about the isolated position of the Afungi peninsular where TotalEnergies hopes to resume building its LNG liquefaction plant, the French oil major says it wants the small regional airport serving the small port town of Palma and Afungi area to be expanded.
According to reports, TotalEnergies wants the airport to be able to handle larger aircraft such as the Boeing 737.
This, a spokesman for the company at Afungi said, is in response to the expected increase in infrastructure once the construction recommences.
He said the airport runway has a length of 1,700 metres but there is a plan to extend this to 2,300 metres in order that bigger aircraft may use the airport.
He also gave an assurance that the TotalEnergies consortium is committed to strengthening security conditions in the perimeter where the liquefied natural gas (LNG) factory will be built.
In March 2021 the nearby port town of Palma and the northern coastal section of Cabo Delgado province as far south as Mocimboa da Praia was overrun by Islamic jihadists and was only liberated much later by Rwandan armed forces.
The insurgency resulted in around 4,000 deaths and left more than one million people displaced, according to the United Nations High Commissioner for Refugees (UNHCR).
Following the intervention by Rwandan and Southern African Development Community (SADC) armed forces, a degree of law and order is slowly being reintroduced, which has resulted in the president of TotalEnergies, Patrick Pouyanné, saying recently that the company intended relaunching the project before the end of the year.
Sign up for Africa Ports & Ships Newsletter – it's free
Added 25 October 2023
♦♦♦♦♦♦♦♦♦
News continues below
Cape Corridor Kroonstad-East London rail slot agreement cancelled
Africa Ports & Ships
Transnet Freight Rail (TFR)

and

Traxtion Sheltam

have jointly agreed to the cancellation of the conditional award of slots between Kroonstad and East London on the Cape Corridor.

As part of the process leading to the implementation of the National Rail Policy (NRP), TFR initiated a project to sell slots on its rail network where excess capacity was available.

This was under Phase 1 of an initiative to open rail access to third parties. On 1 April 2022, TFR advertised slots on the Container and Cape Corridors through a competitive open market process.

On 25 November 2022, TFR announced the conditional award of slots to Traxtion Sheltam for the Kroonstad to East London section. This was subject to the completion of the application process, including the fulfillment of all condition's precedent before the planned start date of 1 April 2023.

There were no successful offers for the Container Corridor.
Gathering insights
According to TFR, the Phase 1 slots sale process was to explicitly serve the purpose of gathering insights and learnings that would inform the future implementation of third-party open access regime on TFR's rail network – this in line with the NRP and other regulatory reform initiatives.
TFR said the negotiation phase was protracted due to the inherent complexity of the contract negotiations, design of the required service, interface with municipal owned rail network on the chosen customer access route, unpacking the impact of the Employers Association / Bargaining Council, as well as the commercial reality of the service offering to the eventual customer or customers.
Terminating current slots
"Given the above scenario and the reform work that the Department of Transport (DOT), and the Interim Rail Economic Regulator Capacity (IRERC) have embarked on and which informs Phase 2 of third-party open access regime, TFR and Traxtion Sheltam have jointly agreed to terminate the current slots awarded under Phase 1."
The statement says that TFR and Traxtion Sheltam jointly recognise the increased speed of the Government's Rail Reform agenda and acknowledge that the Government's Rail Reform process will establish the Infrastructure Owners, Infrastructure Managers and Operators' rights and obligations within an independent legislated framework.
They agree it would be beneficial to align as soon as possible with those principles, requirements, and objectives. The 2-year pilot project, for example, had certain investment limitations that may have hampered rail development along the East London railway corridor and will be addressed in Phase 2 of the third-party open access regime.
According to the statement, TFR and Traxtion Sheltam gained great learnings through engagements on this initial Phase 1 slots sale process which both parties will use in the roll out of third-party access.
"Traxtion Sheltam is looking forward to participating in Phase 2 of the implementation of the third-party access and the realisation of rail reform in South Africa."
Transnet said it is continuing to engage with all relevant stakeholders on third-party access where appropriate, aligning with the work that the DOT continues to undertake towards the implementation of the NRP.
Sign up for Africa Ports & Ships Newsletter – it's free
Added 24 October 2023
♦♦♦♦♦♦♦♦♦
News continues below
WHARF TALK: tug JOHN ROSS, aka SA AMANDLA   Part 2
Pictures as indicated
Story by Jay Gates
Part 2
One of the more famous jobs undertaken by 'John Ross', under the auspices of the GTA, was in August 1984 when she was towing a jack up rig through the Magellan Straits in South America, and successfully maintained the tow when a violent local storm, known as a Williwaw, produced hurricane force winds of 110 knots, threatening both the tug and the tow.
Other famous salvage jobs that 'John Ross' was involved in around South Africa's coast includes the 'Castillo de Bellver' on fire off Saldanha Bay in 1983, the bulk carrier 'Ikan Tanda', aground off Scarborough in 2001, the container vessel 'Sealand Express', aground off Milnerton in 2003, the bulk carrier 'Cape Africa', heavily damaged off the Western Cape coast in 2004, or the bulk carrier 'Antaios', abandoned in the South Atlantic Ocean in 2016.
Back in February 1985, I was serving onboard the 'R.S. Africana' under Captain Derek Krige, and we had sailed from Cape Town to undertake an international Krill research voyage, known as SIBEX, in the Prydz Bay area of the Australian Antarctic Territory. Whilst down at 66° South, and in extremely rough seas during a severe Williwaw, which produced winds speeds of 60 knots, and seas of 10 metres, 'R.S. Africana' had a major hydraulic failure of her steering gear, that severely damaged the rams controlling the rudder movement.
With no main steering available in near hurricane force winds, Captain Krige managed to turn the vessel using the Bow Azimuth Thruster, and using that as a steering rudder, and moving slowly astern, we rode out the Williwaw, and awaited rescue. Despite the isolated position of the vessel, we were taken in tow by the Soviet Russian Krill Trawler 'Zvesda Chernomorya', out of the Ukrainian port of Kerch, and whose name translates as 'Star of the Black Sea'.
The Russians towed 'R.S. Africana' to a position of 56° South, below Marion Island, where we were met by 'John Ross' who had steamed at full speed down from Cape Town to take over the tow. Under the command of the late, great, Captain Danny Betts, and where all initial VHF conversations were undertaken in Afrikaans, so that the Russians would not know what was being discussed, the 'Zvesda Chernomorya' passed the tow to 'John Ross', and then steamed back south to continue with her Antarctic Krill trawling expedition. Under tow of 'John Ross, the 'R.S. Africana' arrived back safely in Cape Town on 23rd March.
For those who want to read more about the trials, tribulations, and exploits of the 'John Ross' the casual maritime observer should try to avail themselves of a copy of the book, now sadly out of print, titled 'A Tug at my Heart', written by Captain Okke Grapow, and Tony Westby-Nunn. You will have to search hard for a copy, as it is now a rare beast. But well worth the read, if you can avail yourself of a copy.
From the nomenclature fans, 'John Ross' first started her long career in 1976 as 'S.A. John Ross', with the familiar orange, white, and blue bands of Safmarine. Within one year this was shortened to simply 'John Ross', with her ownership changing to a Bermuda company, with her funnel change simply having her orange funnel band painted blue, to give her a blue, white, blue banding. This was the standard funnel colours for all non-South African registered vessels in the Safmarine fleet.
In 1982, as the Falklands War erupted, Safmarine realised that 'John Ross', now flying the Red Duster, could be requisitioned as a 'Ship Taken Up From Trade' (STUFT) by the British Government for the duration of the conflict, as indeed both tugs were likely going to be.
To avoid her being sent into the Falklands conflict zone as part of the British fleet being sent to recapture the islands, her Safmarine managers quickly had both 'John Ross' and 'Wolraad Woltemade' swiftly removed from the Bermuda Register to avoid the call up, first back to the South African register, and then both were re-registered in Panama.
Her ownership changes continued, with the new Pentow Marine set up in Cape Town, where her central white band was painted yellow, to give her the Pentow colours of blue, yellow, blue bands on a grey funnel. With Safmarine falling under the Maersk brand, which had no interest in the marine salvage industry, the tug division was offloaded, and sold out of Safmarine.
After the 1994 elections, both tugs were purchased by Smit International, of Rotterdam, who placed them under the South African operating subsidiary of Smit Marine Pty. Ltd., of Cape Town, and she received Smit corporate colours, with an overall blue funnel, complete with the Smit logo.
Her circular journey back to being fully South African owned began, when the obligatory requirement for a BEE component meant that in 2003 she came under the ownership of Smit Dudula Pty. Ltd., also in Cape Town. At this point she was renamed 'Smit Amandla', and in 2009 her ownership changed once more to Smit Amandla Marine Pty. Ltd., still in Cape Town.
Finally, she was transferred to African Marine Solutions Pty. Ltd. (AMSOL), also of Cape Town, and her blue funnel acquired the AMSOL logo, and she once more acquired the naming prefix of S.A., retaining 'Amandla', and so became 'S.A. Amandla', a name which she kept to almost the very end of her long career.
As 2023 hove into view, it was obvious that her 47th year of operations were likely to be her last. AMSOL had purchased the 'Umkhuseli' as a powerful towing vessel, and the writing was on the wall. AMSOL officially announced that in September 2023, 'S.A. Amandla' would be retired from service, and sold on for scrapping.
In August 2023, one month before her retirement, AMSOL gave Capetonians the opportunity to look over this iconic vessel, before she left these shores. For a few days, they threw open the vessel, and invited the folk of Cape Town to come down to the V&A waterfront for timed, guided tours. As expected, it was a sell out on all days.
It is hard to know exactly how many lives 'S.A. Amandla' has saved in her 47 years undertaking rescue and salvage missions. Or how many polluting barrels of crude oil have been prevented from washing up on South African shores, to decimate local wildlife, and spoil pristine locations.
What is known is that every life saved, and every pollution incident averted, was solely down to the professional ability, bravery, and derring-do of her Masters, Officers, and Crew over that 47 years. Names such as the late Captain Danny Betts, Captain Nick Sloane, and Captain Ian Merriman, Captain Okke Grapow and Captain Pim Zandee being just a few, out of many, of these professionals for whom South Africa owes a debt of gratitude.
For those who like to link real Social History with Maritime History, one can see a bronze statue of Wolraad Woltemade, sculpted by Mitford Barberton in 1956, located outside the headquarters building of Old Mutual, in Pinelands, Cape Town. For those on the east coast, there is a bronze statue of John Ross, sculpted by Mary Stainbank in the 1970s, standing outside John Ross House, located on the Victoria Esplanade in Durban. There is also a plaque to John Ross at the Old Fort in Durban. [See Part 1]
Sadly, Charles Rawden MacLean, aka John Ross, sailed from Port Natal in 1830 to return to the United Kingdom. He never returned to Port Natal again, other than in passing. On 13th August 1880 he died aboard the passenger steamer 'RMS Varne', whilst on passage from Le Havre to Southampton. He is buried in Southampton's Old Cemetery, and his rededicated headstone describes him as an opponent of slavery, and a friend on King Shaka Zulu. He was certainly known as a friend to the Zulu Nation.
The loss of 'S.A. Amandla' to the oxy-acetylene torches of the likely Indian scrap merchants is, sadly, yet another example of a lost South African maritime icon which, quite possibly, could have been utilised for the benefit of a wide variety of people, as a joint museum, training establishment, and educational facility, based in the V&A Waterfront of Cape Town.
She was unique in that 'S.A. Amandla' was built in South Africa, she was owned by South Africans, manned by South Africans, based in South Africa throughout her long career, and had a hugely positive international reputation. As always, the sea blindness of the South African authorities shows that they lack any maritime vision, and the time to have made a positive decision in that regard is now passed, and the opportunity to save her for the nation, and a future national asset, have now been lost.
In early October, 'S.A. Amandla' was moved over from her berth in the V&A Waterfront, to the Dormac engineering facility at berth 502 in the Ben Schoeman Dock. Such a move was quite likely a precursor to preparing her for her final voyage out of Cape Town, and a voyage to the beaches of the Indian sub-continent.
That certainly appeared to be the case, as on the 18th October, all AIS systems showed that 'S.A. Amandla' has received both a name change, and a change to her port of registry. As is most appropriate for what she represents to the South African nation, and to the international maritime salvage industry, her name changed to 'Iconic 09', and her registry changed to that of St. Vincent.
As the minutes tick down to that time when she sails out of Cape Town for the last time, I am reminded of the words of the first verse of the farewell song that is traditionally sung by the crowds, at the end of the last rugby match played by a touring All Blacks team. It is poignant, and it is meaningful for 'S.A. Amandla'.
Now is the hour
When we must say goodbye
Soon you'll be sailing
Far across the sea
SALA KAHLE
Sign up for Africa Ports & Ships Newsletter – it's free
Added 24 October 2023
♦♦♦♦♦♦♦♦♦
News continues below
DP World to operate Port of Dar es Salaam on 30-year concession
Africa Ports & Ships
After all the legal interventions and attempts to deter the process, the Tanzania Ports Authority (TPA) and DP World of Dubai have moved ahead and signed a

30-year concession

agreement for the modernisation and operation of the Dar es Salaam port.
The concession agreement was signed on Sunday (22 October) between Mr Plasduce Mkeli Mbossa, Director General of the TPA and Sultan Ahmed Bin Sulayem, Group Chairman and CEO of DP World. Present at the signing was Samia Suluhu Hassan, President of the United Republic of Tanzania.
Tanzania's primary objective in awarding the concession to DP World is to optimise the port's operations and improve transport and logistics services throughout Tanzania and its hinterland, which includes the country's landlocked neighbours, Burundi, Rwanda, Uganda, the eastern DRC and Zambia and Malawi.
This is the first phase of a multi-phase investment plan. DP World will initially invest more than US$ 250 million to upgrade the port and the investment could increase to $1 billion during the concession period, alongside hinterland logistics projects.
This investment will have a positive impact for Tanzania's socioeconomic development, in terms of job creation and increased access to products and services, among other benefits.
"We are honoured to partner with the Government of Tanzania to revitalise the port of Dar es Salaam," said Sultan Ahmed bin Sulayem, DP World Group Chairman and CEO.
"This is in line with Tanzania's strategic development plans. The development will deliver trade opportunities for the region, connecting East Africa and broader sub-Saharan Africa with global markets, driving economic growth, job creation, enhanced access to products and service, and creating value for all our stakeholders."
Bin Sulayem said the Port has greatly benefitted from recent investments made by the Government of Tanzania to improve its infrastructure.
"DP World will work with the TPA alongside the port's existing stakeholders to build on this progress to allow faster cargo clearing and improved cargo planning – strengthening Dar es Salaam's critical role as the maritime gateway for green energy metals from the copper belt in Southern-Central Africa."
He said improved efficiency will attract more shipping lines and bigger ships into Dar es Salaam, which will ultimately lead to lower ocean freight costs for Tanzanian importers and exporters.
Other future investments in modernising the port may include investments in temperature-controlled storage to enhance Tanzania's agricultural sector, as well as greater connections to rail-linked logistics.
Investments will also potentially include the future development of a special economic zone together with the broader port's logistics sector, which will increase Tanzania's role and influence on the future of global trade.
The port will connect to the hinterland of sub-Saharan Africa through a network of roads, highways, railways and dedicated freight corridors and ports, supporting the growing demand for logistics solutions across the continent and connecting businesses in the region to global markets.
Tanzania is currently constructing a high-speed standard gauge railway (SGR) connecting Dar es Salaam with Lakes Victoria and Tanganyika.
Plasduce Mkeli Mbossa, Director General of the TPA, described that concession as testament to Tanzania's ability to drive large-scale infrastructure development by partnering with strategic players.
This, he said, will allow the government to redirect funds to other critical areas of the economy for the benefit of the people of Tanzania.
Tanzania's Minister of Transport, Professor Makame Mbarawa, described the signing of the concession agreement as a momentous event and another significant breakthrough in building best-in-class infrastructure in Tanzania under the Public-Private Partnership model.
"With DP World's expertise the port will play an important role supporting the creation of direct and indirect employment in various sectors such as transportation, distribution and supply chain," he said.
"Importantly, the Tanzania Ports Authority will be a shareholder of the port concessionaire, and there will be no job losses for employees at the port authority."
Sign up for Africa Ports & Ships Newsletter – it's free
Added 24 October 2023
♦♦♦♦♦♦♦♦♦
News continues below
TNPA seeks RFIs for seven port hydrogen terminal initiatives
Africa Ports & Ships
Transnet National Ports Authority (TNPA) on Monday issued a Request for Information (RFI) for the development of a terminal facility and related facilities for hydrogen initiatives at each of its commercial seaports.
The RFI assesses market interest in developing, designing, constructing, financing, operating, and maintaining an import and export terminal for hydrogen initiatives.
This includes green hydrogen, green ammonia, green methanol, and or grey hydrogen at the ports of Cape Town, Durban, East London, Mossel Bay, Ngqura, Port Elizabeth, and Saldanha.
"The introduction of this initiative is part of TNPA's strategic projects that enable Just Transition, making it a step closer to enabling greener shipping and decarbonization of the company's marine fleet in order to remain globally competitive," said TNPA Sector Specialist, Renewable Energy, Amanda Makgoga.
The project is also in line with the Hydrogen Society Roadmap for South Africa, approved by Cabinet in 2021.
It also supports the National Development Plan 2030, which advocates for increased investment in an energy sector that is both economically inclusive and environmentally sustainable.
RFI documents can be accessed from the National Treasury's e-tender publication portal
or the Transnet website CLICK HERE
The RFI Responses must be submitted to TNPA by no later than 16h00 on 31 January 2024. Requests for clarification of this RFI must be emailed to hydrogenrfi@transnet.net
Sign up for Africa Ports & Ships Newsletter – it's free
Added 24 October 2023
♦♦♦♦♦♦♦♦♦
News continues below
Cape Town Agreement on fishing safety: Key milestone reached
Edited by Paul Ridgway
London
On 19 October IMO announced that the Republic of Nicaragua's accession marks a major step for 2012 Cape Town Agreement's* entry into force and improved fishing vessel safety.
IMO Secretary-General Kitack Lim welcomed the deposit by Nicaragua. "I congratulate Nicaragua on its deposit, which takes us a step further to meeting the entry into force criteria for this vital treaty on fishing vessel safety.
"I encourage and urge States which have not yet done so, to take the necessary steps to become a party to the Cape Town Agreement."
The purpose of the Cape Town Agreement is to improve safety standards in the sector thus reducing loss of life, and to ensure improved working conditions for fishers.
Additionally, its provisions are designed to tackle illegal, unreported and unregulated (IUU) fishing, reduce marine pollution and enhance protection of polar waters, as well as decrease risks for search and rescue services.
Once in force, the Agreement will introduce minimum requirements in the design and construction of fishing vessels of 24 metres or more in length, or the equivalent in gross tons, as well as in the inspection of those vessels by port states.
History of the Cape Town Agreement
The International Convention for the Safety of Life at Sea (SOLAS) is generally considered the primary treaty for the world's shipping fleet – but fishing vessels are exempted from most SOLAS regulations, such as those that apply to ship construction, life-saving appliances and fire protection.
Although the Cape Town Agreement was adopted in 2012, work to introduce a mandatory regulatory framework for fishing vessels began 35 years previously with the adoption of the 1977 Torremolinos International Convention for the Safety of Fishing Vessels.
Not enough countries ratified the Convention due to the complexities of implementing its provisions, so an updated version called the Torremolinos Protocol Relating to the Torremolinos Convention was developed. It was adopted in 1993 but faced the same difficulties as the Convention in attracting the required number of ratifications, preventing its entry into force.
The subsequent 2012 Cape Town Agreement was the result of five years of intensive discussions to achieve consensus on an instrument that would introduce an effective and robust globally binding agreement to address the safety of fishers and fishing vessels.
IMO's commitment to improving safety in the fishing industry
IMO has worked hard, in cooperation with other UN organizations such as FAO and ILO and non-governmental organizations to encourage and support States to ratify and implement the Cape Town Agreement. That work continues.
IMO has developed an easy guide to the Cape Town Agreement, see here.
The importance of the CTA is underlined in this downloadable leaflet on 10 reasons to ratify the 2012 Cape Town Agreement.
Contracting Parties to the Cape Town Agreement
The twenty-two contracting Parties to the CTA are: Belgium, Belize, Congo, Cook Islands, Croatia, Denmark, Finland, France, Germany, Iceland, Japan, Kenya, The Netherlands, New Zealand, Nicaragua, Norway, Peru, Portugal, Saint Kitts and Nevis, Sao Tome and Principe, South Africa and Spain.
* At 186 pages the Cape Town Agreement.
Sign up for Africa Ports & Ships Newsletter – it's free
Added 24 October 2023
♦♦♦♦♦♦♦♦♦
News continues below
SAMSA investigating Vaal River boating tragedy
Africa Ports & Ships
The South African Maritime Safety Authority (SAMSA) said on Monday (23 October) that it has launched an investigation into Saturday's Vaal River boating accident in which four people died, one of them a young toddler.
According to a South African Police Services (SAPS) report, the incident occurred at about 16h00 on Saturday when two vessels, a small boat with 10 people on board, and a barge, motored past each other in opposite directions, with the barge, due to its size, reportedly creating a large wake.
This led to the smaller motor boat, which was heading towards Vereeniging, capsizing and throwing the occupants into the water.
Among the people who fell into the river was a mother and her three-year old toddler who were trapped beneath the overturned speedboat. Both were wearing personal flotation devices.
In addition, two adults, also wearing flotation devices, drowned further away from the capsized boat. Six others including the skipper survived the incident.
The SAPS Water Wing arrived on the scene at around 17h30 and assisted with retrieving the deceased from the river. Paramedics also attended the survivors.
SAMSA said an investigation into the incident is ongoing.
Sign up for Africa Ports & Ships Newsletter – it's free
Added 23 October 2023
♦♦♦♦♦♦♦♦♦
News continues below
Tau Morwe back! Appointed acting head of SAMSA
Confirmation of Sobantu Tilayi's reinstatement as Chief Operations Officer (COO)
Africa Ports & Ships
The South African Maritime Safety Authority (SAMSA) Board of Directors on Friday confirmed the reinstatement of the organisation's Chief Operations Officer (COO), Mr Sobantu Tilayi, after two years of suspension based on allegations since investigated and concluded.
The Board unanimously agreed with recommendations of a Senior Counsel, saying it is pleased to announce the reinstatement of Sobantu Tilayi at SAMSA as the Chief Operating Officer "after a difficult period of absence."
Regarding the two other executives that were suspended along with Mr Tilayi, one of the cases is now before the Council for Conciliation, Mediation and Arbitration (CCMA), while the other is still undergoing relevant disciplinary processes. The SAMSA Board said it hoped that both these will be concluded very soon.
Tau Morwe as acting CEO
The Board said that having considered the important issue of SAMSA's internal stability and leadership, it has decided to appoint Mr Tau Morwe as the new Acting Chief Executive Officer.
The appointment is a transitional measure pending the recruitment of a permanent CEO. Tau Morwe takes over from Ms Zamachonco Chonco, Chief Financial Officer (CFO) who has been acting CEO and who will step aside from this position at the end of October 2023.
Morwe is one of six people appointed recently by the Minister of Transport and endorsed by Parliament, to serve as non-Executive members on the SAMSA Board. They include Mr. M. Fakir (Chairperson), Mr. S. Nguse, Ms. F. Nojozi, Dr. N. Skeepers, and Adv. N. Sobekwa.
The transitional appointment of Mr Morwe, also a Deputy Chairperson of the Board of SAMSA, has the approval of the Minister of Transport.
As Acting CEO of SAMSA, he will oversee the company's day-to-day operations. Among key issues he has been tasked with is to provide stability to the organisation, whilst undertaking a fair and impartial recruitment process for a permanent CEO and for other executive and senior positions that require filling.
Mr Morwe was the first chief executive of the then newly created Transnet Port Terminals. He later served as Transnet's acting group chief executive during 2018/19 and has a proven track record of leadership in South Africa's maritime industry.
SAMSA was established on 1 April 1998 following the enactment of the South African Maritime Safety Authority Act No.5 of 1998. The organisation is a Schedule 3A public entity in terms of the Public Finance Management Act No. 1 of 1999 ("PFMA") mandated with pursuit and fulfilment of a set of national objectives in the maritime sector in order to promote the Republic's maritime interests.
Additionally, in terms of section 356 of the Merchant Shipping Act, 1951 (Act 57 of 1951), SAMSA is charged with implementation of the Merchant Shipping (National Small Vessel Safety) Regulations 2007 that seek to promote boating safety across the length and breadth of South Africa.
Sign up for Africa Ports & Ships Newsletter – it's free
Added 23 October 2023
♦♦♦♦♦♦♦♦♦
News continues below
WHARF TALK: tug JOHN ROSS, aka SA AMANDLA Part 1
Pictures as indicated
Story by Jay Gates
Part 1
If the name Charles Rawden MacLean was the question, how many casual maritime observers would be able to relate the answer to South African maritime history or, more to the point, to the history of South Africa, especially that of the colonial beginnings of KwaZulu-Natal?
There is some debate as to the date of birth of Charles Rawden MacLean, based on the early exploits of his life. The debate is whether it is 22nd November 1812, or 17th August 1815, with the former being the more likely. He was born in the Scottish Highland fishing port of Fraserburgh, which is also the location of the first Lighthouse in Scotland, Kinnaird Head, first lit as far back as 1787, and now a popular museum.
As with many other young boys, who grew up in fishing ports around the United Kingdom, Charles Rawden MacLean went away to sea at an early age, and ended up as an apprentice on the 150 ton brig 'Mary', which sailed from the UK, via St. Helena, and Cape Town, bound for Port Natal in the newly established British Colony of Natal, in South Africa.
In those far off days the norm on ships, which it still is today, was that most everybody was given a nickname associated either with their surname, profession, or the place where they came from. So it was with Charles Rawden Maclean. We can assume he had ginger hair, as many Highland Scots do, as the nickname given to red headed Scotsmen in those days was none other than 'John Ross'.
The 'Mary' was wrecked at Point Fynn, now simply called the Point, shortly after arrival at Port Natal on 1st October 1825, now simply called Durban, and 'John Ross' began his life ashore in the newly established British Colony of Natal, which led to the reason for his future fame.
To cut a long story short, the early history of Port Natal, just like many British colonial settlements around the world, was a struggle. The settlement was running short of essential supplies, and medicines, and the nearest place where these were likely to be obtained, was the Portuguese colony of Delagoa Bay, and the settlement of Lourenço Marques, now simply called Maputo.
In 1827 John Ross embarked on as astonishing overland walk, considered to be a walk of over 600 kilometres, or over 300 miles, from Port Natal to Delagoa Bay to seek the needed supplies and medicines. His journey was successful, and he took just three weeks to make the return walk back to Port Natal with his precious cargo.
This epic journey, made to help others in dire need, ensured that John Ross would become a permanent part of South African History. A similar, though fateful act of bravery, also to help others in need, was made in Cape Town in 1773. Although he perished in his attempt to save life, the name of this person also became a permanent part of South African history. The name of this person was Wolraad Woltemade. Both of these men's names were to be honoured in the late 20th Century.
The closure of the Suez Canal in the late 1960s meant that every single tanker, routing from the Middle East to both Europe and North America, was now sailing around the Cape. Coupled with the increase in size of these vessels, with the arrival of the Very Large Crude Carriers (VLCC), the risks to the coastline from an accident involving a VLCC were growing.
In February 1971, the tanker 'Wafra', en route from Saudi Arabia to a stores stop at Cape Town, was about to round Cape Agulhas when she experienced an engine failure, after her engine room was flooded. She ran aground, causing an oil spill, which caused both pollution and a severe threat to coastal wildlife. It was only because the German salvage tug 'Oceanic' was in the area, which was very fortuitous, that she was able to attend the grounding and pull 'Wafra' away from the coast, where she was eventually sunk by the South African Air Force.
In the wake of the accident, the Department of Transport came to the conclusion that the 'Oceanic' had prevented an environmental disaster, and that what was needed was a powerful salvage tug to be on permanent standby, to prevent any future disaster. It was also the start of the Kuswag (Coastwatch) organisation, and the South African government authorities called for two salvage tugs to be built commissioned, and built to act as coastal guardians.
It was also to be the first dedicated, emergency towing service in the world. A service that was a government subsidised, emergency response capability, and one that has since been copied by many developed nations across the globe. The two tugs, to be owned and operated by Safmarine, would be were to be named after South African heroes, who had selflessly gone to the aid of people in distress. They were to be named 'Wolraad Woltemade' and 'John Ross'.
They were to be not only the most powerful salvage tugs in the world when introduced, but also to be the fastest. The first, given the typical Safmarine name prefix of S.A., was 'Wolraad Woltemade. She was built by the Robb Caledon Shipyard, at Leith in Scotland, and she received the appropriate radio callsign of ZTUG.
She entered service with Safmarine in 1976, under contract to the South African Department of Transport, and chartered by the South African Maritime Safety Authority (SAMSA). She was based in Cape Town, and throughout her career undertook some of the most famous salvage operations off the South African coast, such as the tow of the 'Venoil' in 1977. The full list of salvage operations, successfully undertaken off the South African coast are too numerous to mention.
Her career mirrored that of 'John Ross', especially the numerous ownership changes. She continued in service until December 2009, when 'Wolraad Woltemade' was appropriately renamed 'Icon', and she sailed for the scrappers beach at Alang in India. She arrived there on 14th January 2010, and one week later her scrapping commenced. She truly was an 'Icon', and it was the end of a great 34 year career. Her sister ship was blessed with an even longer career.
Also built in 1976, but by the James Brown and Hamer shipyard at Durban, and also entering service with the Safmarine naming prefix of S.A., 'John Ross' also received the appropriate radio callsign of ZTOW. She is 95 metres in length and has a deadweight of 2,055 tons. As built, she was powered by two Mirrlees-Blackstone KVMR16 sixteen cylinder, four stroke, main engines producing a walloping 19,200 bhp (14,132 kW), driving a single controllable pitch propeller, housed in a Kort nozzle, and with twin rudders, for a maximum service speed of 20 knots.
Her auxiliary machinery included two MaK 4M361AK generators providing 720 kW each, and two MaK 8M281AK generators providing 308 kW each. She is capable of providing up to 1,500 kW of power to a disabled vessel. For added manoeuvrability 'John Ross' has a bow transverse thruster providing 600 kW. She has accommodation for 38 crew and salvage personnel.
She has an endurance of 38 days at her maximum service speed of 20 knots, and an increased endurance of 70 days at an economical speed of 13 knots. When conducting towing operations with a boat shaped tow behind her, she has an endurance of 40 days, at a towing speed of 7 knots. When conducting towing operations with a rig shaped tow behind her, she also has an endurance of 40 days, but at a towing speed of 5 knots.
She had two fixed air compressors providing air at 960 m3/hour, and a single portable air compressor providing air at 200 m3/hour. For salvage work, 'John Ross' has a workboat, and two Rigid Hull Inflatable Boats (RHIB). She had a fully equipped onboard salvage store, containing numerous items of portable salvage equipment, and numerous portable generators, pumps, wires and hoses.
As built, 'John Ross' had a 30 ton derrick aft of her accommodation, specifically to assist with the lifting of towing wires, and salvage gear, onto casualties. This derrick, and the associated aft mast structure, was later removed due to stability issues. She has a robust firefighting capability, with two monitors capable of throwing water at a rate of 600 m3/hour.
For her towing and salvage work, 'John Ross' had two friction winches, with static loads of 320 tons, and 180 tons. One winch reel contained 2,000 metres of 70 mm towing cable, and the other contained 2,000 metres of 56 mm towing cable. She also carried one spare reel of 70 mm towing cable. Her bollard pull, as built, was given as 181 tons, making her the most powerful salvage tug on earth. Although other sources placed her bollard pull anywhere from 150 tons to 210 tons, it was, and it still is, a powerful amount of pulling power.
The South African Government emergency towing contract meant that at least one of the two sisterships had to remain on permanent standby, mostly in Cape Town, on a 24 hours a day, 7 days a week, and 365 days a year basis, with a requirement for her to be underway within 30 minutes of receiving a call out.
The other salvage tug not on government contract was allowed to undertake commercial tows anywhere in the world. This was usually as part of the Global Towing Alliance (GTA), of which Safmarine was a working member, along with the great Dutch towing firms of Smit and Wijsmuller, plus Svitzer of Denmark, and COESS of Shanghai in China.
End of Part 1
Sign up for Africa Ports & Ships Newsletter – it's free
Added 23 October 2023
♦♦♦♦♦♦♦♦♦
News continues below
South Africa Europe Container Service (SAECS) schedule updates
Africa Ports & Ships
Vessel MEHUIN Voyage 234S
Ocean Network Express (ONE), a member of the SAECS service between South Africa and northern Europe, advises that due due to ongoing operational delays and to maintain schedule integrity, the container vessel MEHUIN on voyage 234S will omit her Cape Town call.
Cape Town imports will be discharged in Durban and transferred to the vessel SANTA RITA on v.234S, ETA 8 November 2023.
The cargo originally planned for the vessel Mehuin on v.234N in Cape Town will be transferred to the vessel Santa Rita v.234N, ETD 11 November 2023.
Vessel SANTA CRUZ Voyage 233N/234S
In a further schedule change, in order to minimise vessel delay, the vessel SANTA CRUZ v.233N/234S will perform a change of rotation, advancing her London Gateway call prior to the Rotterdam call.
Santa Cruz v.233N/234S:
PORT                          ETA                       ETD
London Gateway        Fri 27-Oct-23         Fri 27-Oct-23
Rotterdam                  Sun 29-Oct-23       Mon 30-Oct-23
Bremerhaven              Tue 31-Oct-23        Wed 01-Nov-23
Algeciras APM             Sun 05-Nov-23      Mon 06-Nov-23
Algeciras TTI               Mon 06-Nov-23      Mon 06-Nov-23
Ngqura                        Tue 21-Nov-23        Wed 22-Nov-23
Sign up for Africa Ports & Ships Newsletter – it's free
Added 23 October 2023
♦♦♦♦♦♦♦♦♦
News continues below
Indian Navy patrol ship INS Sumedha visits Nigeria
Africa Ports & Ships
The Indian Navy offshore patrol ship,

INS SUMEDHA

is the latest Indian naval ship to pay an official visit to Nigeria.
In 'diplomatic-speak' the call starting on 13 October was said to improve bilateral relations and security in the Gulf of Guinea.
The visit by the patrol ship was aimed to further strengthen diplomatic relations, reinforce maritime co-operation, and boost interoperability between the two navies, the Indian Navy said in an official statement.
This is the Indian Navy's second deployment to the piracy prone Gulf of Guinea (GoG) patrol after the maiden GoG patrol was undertaken by INS Tarkash in Oct 2022. The Indian Navy says it aims to partner with Regional countries in combating piracy & ensuring secure seas for unimpeded trade.
According to the Nigerian Navy's Flag Officer Commanding (FOC) Western Naval Command, Rear Adm. Mustapha Hassan, the visits by the Indian Navy also served to improve friendship, cooperation and interoperability between the two countries.
Admiral Hassan noted this while welcoming the crew of INS Sumedha to the Western Naval Command Headquarters, Apapa, Lagos State.
The visits, he said, aligned with the vision of the Chief of Naval Staff (CNS), Vice Adm. Emmanuel Ogalla, towards improving security in Nigeria's maritime domain.
"The Nigerian Navy, in particular, has had a good relationship with the Indian Navy in terms of training support, hardware exchanges, port visits and exercises.
"The collaboration between the two countries is good for enhancing national security and, in this case, security in the Gulf of Guinea."
India's Defence Attachè to Nigeria, Col. Romi Singh Legha, said the Nigerian Navy, in particular, along with other navies in the region, have been instrumental in controlling piracy in the last two years.
"To further this success, the INS Sumedha has joined to help in this operation which the Nigerian Navy is carrying out," he said.
INS Sumedha was launched at Goa Shipyard on 21 May 2011, and was handed over to the Indian Navy on 11 March 2014. Sumedha was the third ship of the indigenous Saryu-class Naval Offshore Patrol Vessel (NOPV) Project to be included into the Indian Navy.
The ship's weapon system includes a SRGM 76.2 mm gun, close in weapon systems, latest navigational and early warning radar, and chaff launching for self protection.
The vessel has two rigid inflatable fast motor boats and the capability of carrying a helicopter.
The ship's company is made up of 9 officers and 105 sailors.
Sign up for Africa Ports & Ships Newsletter – it's free
Added 23 October 2023
♦♦♦♦♦♦♦♦♦
News continues below
IMRF Awards 2023: SA and Uganda score
Reported by Paul Ridgway
London
The prestigious International Maritime Rescue Federation (IMRF) Awards returned for an eighth year to recognise volunteer and professional SAR personnel, organisations and technologies from around the world. This year's award winners were announced on 18 October.
Introduction
An introductory video is available here
Of the awards, categories were as follows:
Individual: For Outstanding Individual Contribution to Maritime SAR Operations
Team: For Outstanding Team Contribution to Maritime SAR Operations
Innovation & Technology: For Innovation and Technology in the Field of Maritime SAR
Vladimir Maksimov Award for Lifetime Achievement: For Lifetime Achievement in the Maritime SAR Sector
#WomeninSAR Award: For an Individual who has made an Outstanding Contribution to Improving Equality of Opportunity for Women and Girls in Maritime SAR.
Africa recognition
Two awards went to Africa:
Uganda
The Individual award For an Outstanding Individual Contribution to a Maritime SAR Operation was won by Henry Ategeka, Ministry of Works and Transport, Uganda.
Henry oversaw the establishment of a fully-fledged Maritime Department in the Ministry of Works and Transport in Uganda, and is spearheading the establishment of nine SAR centres and a Maritime Rescue Coordination Centre on Lake Victoria, Lake Albert, and Lake Kyoga.
Henry's quick thinking and timely response to rescue operations like that of mv Nodi diverted catastrophe and saved lives and goods. He has led safety campaigns including distribution of more than 4,000 life jackets to vulnerable and economically disadvantaged water users, and established a toll-free call centre to handle emergencies.
Innovation & Technology: Inmarsat
The award for Innovation & Technology in the field of Maritime SAR was won by the Inmarsat Maritime Safety Team in the UK.
The team's efforts encompass a range of initiatives geared towards supporting SAR operations and ensuring the safety of seafarers worldwide.
A significant contribution is the development of Inmarsat's RescueNET, a free service facilitating fast, reliable and approved SAR communications.
A free Distress Chat function also aims to promote better coordination among MRCCs and has already helped to foster improved relationships between SAR organisations of different countries. The team are on call around the clock to assist in SAR efforts and provide training for SAR authorities worldwide.
SA Runner Up
The Runner Up in this category was the Beach Safety Camera Network of the National Sea Rescue Institute (NSRI) in South Africa.
The volunteer-operated Beach Safety Camera network was conceptualised and implemented by NSRI Drowning Prevention Manager Andrew Ingram and Jason Kampel, Director of Delve Aquatic Systems and an NSRI volunteer.
NSRI initially installed two Pan Tilt Zoom (PTZ) cameras on apartment buildings looking onto two Cape Town beaches that are well-known for rip currents and have had multiple drownings. This cut the time to check a possible emergency from twenty minutes to a matter of seconds, and enabled preventative action by spotting rip currents and flash rip currents building up.
Harmonisation of SAR: Cape Town gathering
The IMRF is set to present and discuss a number of papers at the upcoming thirtieth meeting of the ICAO-IMO Joint Working Group on Harmonisation of Search and Rescue (SAR JWG), which will take place in Cape Town from 6 to 10 November.
Sign up for Africa Ports & Ships Newsletter – it's free




Added 23 October 2023
♦♦♦♦♦♦♦♦♦
News continues below
FLNG Hilli Episeyo off Cameroon offloads 100th LNG cargo
Africa Ports & Ships
Golar LNG Limited's FLNG (floating liquefied natural gas) vessel HILLI EPISEYO completed offloading its 100th LNG cargo on Saturday 14 October 2023.
Hilli, as the FLNG is better known, was the world's first FLNG conversion and also introduced Cameroon as the world's 20th LNG exporting nation in 2018.
Since then Hilli has maintained market leading commercial uptime since her contract start-up.
The 100th cargo was loaded onto the LNG tanker Energy Integrity.
"The unrivalled track record of first-class operations for a pioneering vessel is a significant achievement, and a testimony to the near 5 ½ years of close and constructive co-operation between Golar, Perenco and the government of Cameroon," said Golar CEO Karl-Fredrik Staubo.
"We see the proven capabilities of FLNG as increasingly valuable in today's energy market, enabling monetization of associated and stranded gas reserves, and catering to a world dependent on energy diversification for energy security."
Staubo said they look forward to maintaining this strong operational track record and collaborative partnership.
Sign up for Africa Ports & Ships Newsletter – it's free
Added 23 October 2023
♦♦♦♦♦♦♦♦♦
News continues below
Namport warns about fake vacancy advertisements
Africa Ports & Ships
The Namibian Ports Authority (Namport) has issued a warning about fake vacancy advertisements that have begun appearing across various social media platforms.
Calling this an issue of utmost importance, Namport said… "It has come to our notice that false vacancy advertisements titled Namport Recruitment 2023 are circulating across various social media platforms, falsely indicating the presence of job openings at Namport.
"We would like to categorically state that these alleged vacancies are entirely false and have not been officially announced or authorized by our Human Capital Team or any authorized representative within Namport. We strongly urge the public to exercise caution and discernment when encountering such false information."
Namport added that the spreading of fake news was not only misleading but has the potential to cause "unwarranted confusion and disappointment."
Namport says it has established formal communication channels through which it advises of job opportunities. These include official advertisements in local print media, updates on the Namport official social media platforms, and on the website www.namport.com
"We acknowledge the aspirations of many Namibians to join the Namport team. However, it is important to note that there are currently no job vacancies available.
"If and when such opportunities do arise within the structure of Namport, we will, as a matter of standard practice, communicate these through the official channels mentioned above."
Sign up for Africa Ports & Ships Newsletter – it's free
Added 23 October 2023
♦♦♦♦♦♦♦♦♦
News continues below
Cameroon's Port of Kribi handles first wheat cargo
Africa Ports & Ships
The Port of Kribi in the Cameroon has handled its first cargo of wheat earlier this month.
Although relatively small at this stage, the 5,000 tons of wheat forms a significant development in the diversification of traffic at the port's multipurpose terminal.
In a statement, the port authority said that between 2018 and 2021 the traffic at the port of Kribi's multi-purpose terminal was predominantly sawn timber for export.
Since the start of 2022 however, there has been a shift towards imports, driven by what it called the robust growth of clinker traffic.
The Port Authority of Kribi said in the statement that clinker imports have since become so dominant in the multipurpose terminal's operations that this raw material, essential for cement production, accounted for 81% of import traffic and 54% of the terminal's overall activity in 2022.
The inaugural import of wheat therefore, was a welcome development in the port activity.
On a separate occasion, the director-general of the port authority, Patrice Melom, told an operational meeting with the port community that during the first half of 2023 the Kribi Port had handled a record 5.3 million tons of goods.
He said this achievement was attributed primarily to "domestic full container imports" which achieved their highest volume since 2018 with 29,850 TEUs handled in one semester. source: Business in Cameroon
Sign up for Africa Ports & Ships Newsletter – it's free
Added 23 October 2023
♦♦♦♦♦♦♦♦♦
News continues below
Tragedy on the Congo River as passenger vessel capsizes
Africa Ports & Ships
At least 52 people died when their river vessel capsized on a river in the Democratic Republic of Congo (DRC) earlier this month
The unnamed vessel was reportedly carrying more than 300 people as well as construction material when it capsized on the Congo River near the city of Mbandaka (formerly Coquilhatville), the capital of Équateur Province.
The accident occurred in the early evening as the vessel was making for the town of Bolomba.
Initial reports suggest the vessel was overloaded, a recurring problem with river and lake transport across much of Africa, especially in regions where serviceable roads or alternative means of transport do not exist.
There were conflicting reports of the number of people that were on the vessel but the death toll was expected to be high.
One report quoting the DRC Health Minister, Didier Mbula, says that 189 passengers were rescued. Transport Minister Marc Ekila said the boat was not supposed to be travelling in the dark of night. He too confirmed the vessel was overloaded.
Following the reports of the accident there has been an outcry against gross overloading and travelling after dark, with calls for the authorities to administer the laws.
National deputy candidate Joseph Bayoko Lokondo said it was time for government intervention. He said the ban on nighttime navigation should be enforced which he said would reduce the number of such deadly incidents.
In addition there should be stricter rules about vessels having sufficient lifejackets available on board and regular inspections to ensure the seaworthiness of river craft.
Sign up for Africa Ports & Ships Newsletter – it's free
Added 23 October 2023
♦♦♦♦♦♦♦♦♦
News continues below
Promotion of IMO's technical assistance: New brochure issued
Edited by Paul Ridgway
London
On 17 October IMO announced the issue of a new IMO brochure detailing key priorities and the Organization's programme of technical assistance to support Member States, particularly those categorized as Small Island Developing States (SIDS) and Least Developed Countries (LDCs).
More than a third of IMO's 175 Member States are classified as SIDS or LDCs.
With the title All Hands on Deck the publication is available as a booklet and online. To download a copy readers are invited to see here.
Launching the publication at the conclusion of the first day of the 73rd session of the Technical Cooperation Committee (TC) IMO Secretary-General Kitack Lim commented: "For the first time, IMO has brought together all the different elements that we prioritise…A single technical cooperation strategic framework to illustrate, in a visual form, our key priorities and strategies for supporting Member States to meet their international obligations, and to promote their commitment to sustainable maritime development.
"Member States can see the type of assistance available to them, and our donors and implementing partners are able to see where and how they can contribute to moving Member States along the capacity building pathway."
IMO is committed to supporting safe, secure and efficient shipping, and to preventing marine and atmospheric pollution from ships, in line with the UN 2030 Agenda for Sustainable Development.
The IMO technical cooperation programme sets the strategic framework to assist Member States meet their international maritime responsibilities.
Sign up for Africa Ports & Ships Newsletter – it's free
Added 23 October 2023
♦♦♦♦♦♦♦♦♦
News continues below
Xeneta Update: Stormy 2024 forecast as shipping lines set sights on freight rate increases
Supply chains around the world could be at serious risk amid expected increases in the cost of ocean freight shipping during 2024.
Africa Ports & Ships
Oslo-based Xeneta has carried out in-depth analysis of the latest ocean freight rates and branded the current market as unsustainable.
"The cost of moving goods by sea has plummeted during 2023 by almost 60% for long term contracts on a global level and some corridors, such as the Transatlantic into US East Coast and Far East to Europe, down by around 80% on both short and long-term rates," said Xeneta CEO Patrik Berglund.
"In fact, freight rates are so low that shipping liner companies are effectively subsidising businesses to transport their goods around the world.
"The big shipping liner companies won't allow this to continue and will jack up prices – it could be in 2024 or it could be later – but it's inevitable and the carriers will want it sooner rather than later."
Xeneta is warning businesses who locked into long-term contracts with shipping liner companies at the lower end of 2023 prices that they could be first to suffer if the market turns.
Berglund, speaking following the release of Xeneta's Ocean Freight Outlook 2024, added: "The shipping liner companies will look at contracts agreed in 2023 and, in many cases, deem them non-profitable. They will take every opportunity they can to not transport those customers' containers.
"Instead, they will choose to transport containers belonging to customers with healthier 2024 contract prices, if the market rises. It feels unfair, and perhaps it is, but the shipping liner companies are within their rights to do it.
"This is the kind of opportunistic behavior we saw from shipping liner companies during the pandemic to save their bottom line.
"Businesses face a real challenge keeping supply chains intact if their goods are stuck in a port halfway around the world. It is therefore vital for companies entering negotiations for new contracts to have access to the very latest market data to understand whether, or when, this risk exposure becomes a reality."
If there is a saving grace for businesses in 2024 it may be through continued over-capacity, which has reached record levels in 2023. If this overcapacity continues carriers will have no incentive to choose between transporting the lower or higher priced containers and will pick up both.
Dark skies on the horizon
The ocean freight sector has undergone a tumultuous journey in recent years as it recovers from congestion caused by Covid-19 at ports across the shipping networks.
The current global economic downturn has also resulted in declining consumer spending and demand for goods, which generally spells bad news for the shipping industry. Containers transported between the Far East and US West Coast alone have fallen by 16.2% during 2023.
Berglund said: "I think about underlying weak macro-economics; inflation, interest rates, cost of living and reduced global consumption of goods. On top of that you have turmoil across the world, whether it is in Ukraine or the Middle East, so there are some heavy dark skies in the horizon for the shipping industry."
Emissions regulations are a conundrum
To add to shipping industry woes, 2024 will see the introduction of the EU Emissions Trading Scheme (EU ETS) and more stringent application of the IMO's Carbon Intensity Indicator (CII), both of which will require ocean liner companies to pay for their emissions.
While Berglund welcomes the drive towards greater environmental and climate responsibility, he has hit out at unrealistic expectations.
"The new environmental regulations will prohibit carriers from utilizing their fleet effectively because their vessels aren't environmentally-friendly enough," he said.
"The fact the cost of ocean shipping is so low means there is no money in the market. At the same time we are asking these huge, loss-making shipping liner companies to spend vast sums of money purchasing new vessels in order to make their green transition.
"Customers want ocean transport to be green but they are not willing to pay the bill. It's a bizarre situation and a conundrum for the industry."
In conclusion, Berglund is advising businesses reliant on the ocean shipping network to stay agile and responsive to emerging risks and opportunities during 2024.
"If we have learned anything from the past few years, it is to expect the unexpected," he said.
"Disruption is the norm and there could be market forces around the corner no one could have predicted. That's why it's so important to understand your supply chains and have real-time access to ocean freight shipping rate data and insight."
For more, visit www.xeneta.com
Sign up for Africa Ports & Ships Newsletter – it's free
Added 23 October 2023
♦♦♦♦♦♦♦♦♦
GENERAL NEWS REPORTS – UPDATED THROUGH THE DAY
in partnership with – APO
More News at https://africaports.co.za/category/News/
♦♦♦♦♦♦♦♦♦
THOUGHT FOR THE WEEK
"I'd rather regret the things I've done than regret the things I haven't done."
–Lucille Ball
♠♠♠
News continues below………
♦♦♦♦♦♦♦♦♦
TO ADVERTISE HERE
Request a Rate Card from info@africaports.co.za

Port Louis – Indian Ocean gateway port
Africa

Ports & Ships 

publishes regularly updated SHIP MOVEMENT reports including ETAs for ports extending from West Africa to South Africa to East Africa and including Port Louis in Mauritius.
In the case of South Africa's container ports of Durban, Ngqura, Ports Elizabeth and Cape Town links to container Stack Dates are also available.
You can access this information, including the list of ports covered, by  CLICKING HERE remember to use your BACKSPACE to return to this page.
News continues below
CRUISE NEWS AND NAVAL ACTIVITIES

QM2 in Cape Town. Picture by Ian Shiffman
We publish news about the cruise industry here in the general news section.
Naval News
Similarly you can read our regular Naval News reports and stories here in the general news section.
♦♦♦♦♦♦♦♦♦
♠♠♠
ADVERTISING
For a Rate Card please contact us at info@africaports.co.za
Don't forget to send us your news and press releases for inclusion in the News Bulletins. Shipping related pictures submitted by readers are always welcome. Email to info@africaports.co.za
Total cargo handled by tonnes during September 2023, including containers by weight
| | |
| --- | --- |
| PORT | September 2023 million tonnes |
| Richards Bay | 6.246 |
| Durban | 7.382 |
| Saldanha Bay | 4.285 |
| Cape Town | 1.361 |
| Port Elizabeth | 1.413 |
| Ngqura | 0.726 |
| Mossel Bay | 0.109 |
| East London | 0.203 |
| | |
| Total all ports during September 2023 | 21.725 million tonnes |
TABLE BAY UNDERWAY SHIPPING
SHIP PHOTOGRAPHERS
Colour photographs and slides for sale of a variety of ships.Thousands of items listed featuring famous passenger liners of the past to cruise ships of today, freighters, container vessels, tankers, bulkers, naval and research vessels.P O BOX 809, CAPE TOWN, 8000, SOUTH AFRICA
snai@worldonline.co.za
http://home.worldonline.co.za/~snai
=================