Bringing you shipping, freight, trade and transport related news of interest for Africa since 2002
For a Rate Card please contact us at terry@africaports.co.za
TODAY'S BULLETIN OF MARITIME NEWS
Week commencing 9 October 2023.  Click on headline to go direct to story : use the BACK key to return.   
FIRST VIEW: 

 Kota Lekas
Masthead:

  PORT OF CAPE TOWN
Stay Well, Stay Safe, Stay Patient, don't become one
For a free daily newsletter via email?  Send your email marked NEWSLETTER to terry@africaports.co.za 

Join us as we continue to report through 2023
'and stay up to date with Africa Ports & Ships'  – 21 years of reporting directly from Africa (est. 2002).  
SEND NEWS REPORTS AND PRESS RELEASES TO   info@africaports.co.za
****

****

****
___________________________
Advertising Feature:
INVITATION TO TENDER: Dock Pontoon – Pontoon Lifter
Morska Stocznia Remontowa "Gryfia" S.A., Szczecin, Poland
announces a written invitation to tender for the sale of Set of units:
(Dock-pontoon PN – SSR –1, Dock-pontoon PN-SSR-3, Pontoon Lifter SSR-1)
The subject matter of the tender procedure is the ownership right to the Set of units (Dock-pontoon PN-SSR-1, Dock-pontoon PN-SSR-3, Pontoon Lifter SSR-1).
Technical description:
Dock-pontoon PN-SSR-1 – Built in 1966
– total length is 91,40 m
– external width 19,40 m
– internal width 17,00 m
– total height 9,30 m
– pontoon height 2,00 m
– load capacity 1460 tons
Dock-pontoon PN-SSR-3 built in 1967
– total length is 91.40 m
– external width 19.40 m
– internal width 16.00 m
– total height 9.20 m
– pontoon height 2.60 m
– load capacity 1460 tons
Pontoon Lifter SSR-1 built in 1966
– total length is 74.00 m
– external width 27.00 m
– internal width 21.00 m
– height of the pontoon 11.00 m
– carrying capacity 1700 tons
II. ASKING PRICE
Set of units – USD 1,100,000 (in words USD: one million one hundred thousand 00/100) net + applicable VAT.
which consists of:
– Dock-pontoon PN-SSR-1 – 300 000 USD net + applicable VAT
– Dock-pontoon PN-SSR-3 – 380 000 USD net + applicable VAT
– Pontoon Lifter SSR-1       – 420 000 USD net + applicable VAT
III. BID DEPOSIT
USD 55,000.00 (in words USD: fifty-five thousand 00/100)
IV. DATE AND PLACE OF THE TENDER, SUBMISSION OF TENDERS
1. The tender will take place on 27.10.2023 at the registered office of Morska Stocznia Remontowa "Gryfia" S.A. in Szczecin, ul. Brdowska 12, 71-700 Szczecin, Poland.
2. The rules concerning the tender procedure and the qualification procedure of the tenderers, and the formal requirements concerning the tender are regulated by the "Tender Rules" available on the website of the Morska Stocznia Remontowa "Gryfia" S.A.:
https://www.msrgryfia.pl/en/przetargi
Sign up for Africa Ports & Ships Newsletter – it's free
Added 3 October 2023
___________________________
****

**

****
 

FIRST VIEW:

  KOTA LEKAS
Pacific International Lines' (PIL) container ship KOTA LEKAS (IMO 9625401) makes an entry into Durban harbour at 13h50 on 26 September 2023. The 4,800-TEU vessel was arriving from Singapore, but had spent the previous 4 days outside port in the Durban outer anchorage. The port, including the container terminal is under pressure from the number of ships calling at present, coupled with weather and operational delays that has seen an accumulation of vessels waiting to enter port reaching the 60 mark during the recent weekend.
That's in addition to upwards of 30 vessels in port and working cargo at any given time.
PIL is a Singapore-based company which is where Kota Lekas is registered and flagged. The ship was built in 2014 and has a deadweight of 57,712 tons. Her overall length is 255 metres and width is 37.3 metres. The ship is powered by a Hyundai Heavy Industries 8s79me-c8 main engine.
For interest of those interested in the time that container and other ships spend in South African ports, Kota Lekas arrived at the Durban anchorage on 22 September where she remained for 4 days before entering port on 26 September. Her stay at the container terminal lasted another 4 days and 5 hours before she was able to sail for Cape Town, where she arrived on 3 October. As at 19h00 on Sunday 8 October the container ship remains at anchor off the Cape Town port.
By way of comparison, Kota Lekas arrived in Singapore on 3 September and departed just over one day later on 5 September, having spent a total of 28 hours and 38 minutes in port.
This picture is by Trevor Jones
Africa Ports & Ships
  ♦♦♦

♦♦♦

♦♦♦
News continues below
RCL part of new service between Far East and East Africa
Africa Ports & Ships
A new Far East to East Africa service has been announced by

Regional Container Lines (RCL)

.
Commencing in November the service will have a 56-day rotation as follows:
Qingdao, Shanghai, Ningbo, Nansha, Port Klang, Mombasa, Dar Es Salaam, Port Klang, Qingdao.
RCL is deploying one vessel in this service which it shares with Emirates Shipping Line, Global Feeder Shipping, Interasia Lines, KMTC Line and TS Lines.
The six vessels each have an average capacity each of around 2,800 TEU.
Referred to as the REA service, it will also mark the first service to provide a direct link between Qingdao and Dar Es Salaam.
RCL is a Thai based container shipping line, founded in 1979 and listed on the Thai Stock Exchange since 1988.
RCL operates with a fleet of 49 vessels with sizes ranging from 388 TEU capacity to 11,714 TEU, plus a container fleet of close to 138,000 TEUs.
According to a RCL spokesperson, vessel deployment into East Africa service is part of RCL's continuous commitment to enhance its service coverage and to serve the needs of their valuable customers.
The line's current route network includes North Asia-Asean, intra Asean, Asia-India Subcontinent, Asia-Gulf, and soon, with the new service, Asia-East Africa.
Sign up for Africa Ports & Ships Newsletter – it's free
Added 12 October 2023
♦♦♦♦♦♦♦♦♦
News continues below
WHARF TALK: Pipelaying vessel – CASTORONE
Pictures by 'Dockrat'
Story by Jay Gates
Cape Town attracts vessels of every shape and size, due to its geographical location, and its ability to produce whatever is needed for the visitor. As always, the offshore oil and gas industry is the one sector of the maritime industry, whose vessels arrive on a regular basis in Cape Town, and the industry that produces the kind of vessel that defies belief, in size, in design, in complexity, in specialization, in overall capacity to simply produce a sense of awe to the casual maritime observer.
On 9th October, at midday, the large pipelaying vessel CASTORONE (IMO 9444194) arrived at the Table Bay anchorage, from the Rio Cullen area of Argentina, and went to anchor for the best part of a day, before coming into Cape Town harbour, at 08h00 in the morning of 10th October. She entered the port, proceeding into the Duncan Dock, and unusually, going alongside not just B berth but also C berth at the Fresh Produce Terminal (FPT).
Her berth is unusual, because 'Castorone' is a pipelaying vessel, carrying no cargo for offloading, thus taking over two, normally busy, commercial berths. The reason for requiring two berths is simple. Built in 2012, with her hull being built by the CIMC Raffles Offshore shipyard at Yantai in China, and then being towed to the Keppel shipyard in Singapore, where she was outfitted, and completed. She is a full 325 metres in length, hence why both B and C berth at the FPT were both needed to accommodate her huge bulk.
She has a deadweight of 36,602 tons, and has diesel-electric propulsion. She is powered by no less than eight Wärtsilä 2V38B twelve cylinder, four stroke, generators producing 11,421 bhp (8,400 kW) each, giving an overall power output of 91,368 bhp (67,200 kW). She has a single emergency generator providing 1,200 kW.
Power is provided to two fixed pitch propellers, complete with twin rudders, providing 8,000 kW each, and with additional propulsion provided by six azimuth retractable thrusters, each providing 5,934 kW, giving her a service speed of 14 knots. She has an ice classification of ICE 1A, allowing her to navigate in Baltic Sea first year ice thickness of up to 0.8 metres, and Polar Sea first year ice thickness from between 0.3 metres, and up to 0.7 metres.
Additional manoeuvrability is provided by a further two bow transverse thrusters providing 2,250 kW each, and a single stern transverse thruster providing 2,250 kW. The amount, and variety, of her propulsion gives 'Castorone' the highest dynamic positioning classification of DP3. This is provided by a single joystick Kongsberg K-Pos 32 system, consisting of two HiPAP 501 systems, four DGPS systems, and two Walking Taut Wire systems.
Her working deck area is an impressive 4,300 m2, and her deck equipment includes a single main deck crane capable of lifting 600 tons, two pipehandling, mobile gantry, cranes each capable of lifting 55 tons, a single pedestal crane capable of lifting 30 tons, and a single knuckleboom crane capable of lifting 35 tons.
Capable of a pipelaying capacity of laying triple joint pipes up to an individual 12 metres in length, or of laying double joint pipes up to an individual length of 18 metres, 'Castorone' is able to lay pipes with a maximum diameter of up to 48 inches, increasing to 60 inches with a coating. Her onboard pipe holding storage capacity is 20,000 tons, which equates to four operational days' worth of pipe.
Production of the pipeline string is made in the onboard, undercover, pipe station which has four pipe welding stations, and four pipe completion stations, with a further triple joint pipe station. The completed pipe string is laid via a stern 'S-Lay' ramp and hinged stinger, which adds a further 120 metres to the overall length of 'Castorone', and is made up of three articulated sections.
She is capable of laying a length of 8 kilometres of pipe per day, down to a depth of 3,000 metres. To provide real time oversight of the pipelaying operation, she utilises two Work Remote Operating Vehicles (ROV), both capable also of operating to a depth of 3,000 metres. To counter the stress produced by the pipelaying operation, 'Castorone' has a bollard pull of 180 tons.
She has accommodation for up to 702 personnel, although a standard complement of between 450 and 600 persons are carried on normal pipelaying operations. The accommodation also includes offices, conference rooms, a gymnasium, hospital, mess rooms, a coffee bar, a cinema, lounges, Television rooms, and recreation rooms.
For crew change, and logistic, requirements, as with all large offshore oil and gas support vessels, 'Castorone' is fitted with a helideck, located on her bow. The helideck is 22 metres in diameter, and capable of handling helicopters up to a maximum weight of 12.8 tons, which allows her to accept the largest offshore helicopter currently in service in the industry, namely the Sikorsky S-92A.
Her parent company is Saipem SpA, of Milan in Italy, who are a subsidiary company of the Italian oil major ENI. She is nominally owned by Saipem Portugal Comercio, of Madeira, and her operations and management being undertaken by Saipem Offshore Norway AS, of Stavanger in Norway.
In previous years, 'Castorone' has completed some complex pipeline laying projects, including her first contract which was the laying of a 190 nautical mile pipeline, at a water depth of 2,100 metres, on the Keathley Canyon project in the Gulf of Mexico. She also completed a big 480 nautical mile pipeline on the West Australian Ichthys gas field, in a water depth of 275 metres.
Her arrival in Cape Town, from Rio Cullen in Argentina, links the reason for the arrival in Cape Town, back in late August, of the heavylift cargo vessel 'Atlantic', which was bound for Punta Quilla in Argentina, and as reported in the 30th August edition of Africa Ports & Ships. She was carrying supplies of pipe to Argentina, for loading onto the pipelaying support vessel 'Normand Commander' which was working with 'Castorone' on the short twin 19 nautical mile pipeline being laid in the Fénix gas field, located off the coast of Tierra del Fuego.
The natural gas from the Fénix gas field was fed back to the  Vega Pléyade platform, where it was piped to the Rio Cullen LNG terminal on Tierra del Fuego. The field is operated by the French oil major, Total Energy, and all gas output from the field is for domestic use in Argentina. On completion of this project, 'Castorone' proceeded across the South Atlantic Ocean to Cape Town.
Her arrival in Cape Town, as with all similar oil and gas support vessels of this size, is merely for purposes of uplifting bunkers, stores, provisions, and conducting a major crew change prior to continuing to her next contract. The choice of using B and C berth, was that this was the closest that 'Castorone' could be berthed to the Passenger terminal at D berth, where customs and immigration requirement could be completed by the large number of crew being changed.
No sooner had 'Castorone' gone alongside, the harbour bunker tanker 'Lipuma' came alongside to begin the bunker uplift process. Once complete, in all port turnaround areas, 'Castorone' is expected to sail for Western Australia. She is scheduled to lay the 233 nautical mile long pipeline on the Scarborough gas field, located in the offshore Caernarvon Basin. This is a 36 inch pipeline, being laid from the Scarborough gas field, in a water depth of 1,400 metres, back to the onshore gas receiving terminal, operated by the Australian oil major, Woodside Energy.
Sign up for Africa Ports & Ships Newsletter – it's free
Added 12 October 2023
♦♦♦♦♦♦♦♦♦
News continues below
Trade News: Fastro Lifting System Nominated for Heavy Lift Awards
Africa Ports & Ships
Fastro's modular and ergonomic lifting system has been nominated for the HLPFI Heavy Lift Awards.
The patented Fastro system introduces a new technique in heavy lift operations for attaching slings to heavy loads, offering a lightweight and time-efficient alternative to traditional bow shackles. The Fastro modular lifting system aims to improve both safety and ergonomic working conditions together with a more cost-effective rigging solution.
Traditional lifting operations often involve bulky bow shackles, which can be challenging to manoeuvre in tight spaces and slow down manual handling. The Fastro system introduces a game-changing solution with its Octo component—a figure '8' shape trunnion-like element that allows the quick, secure coupling of two split-eye softslings. This innovation not only accelerates the handling process, but also enhances safety and ease of use for the riggers.
Read the rest of this report in the TRADE NEWS section available by CLICKING HERE
Sign up for Africa Ports & Ships Newsletter – it's free
Added 12 October 2023
♦♦♦♦♦♦♦♦♦
News continues below
Kenya creates new agency for road, rail & maritime accidents
Africa Ports & Ships
Kenya has created a new agency charged with investigating accidents on the country's roads, its rail, pipeline and maritime services.
To be known as the Kenya Transport Accident Investigation Bureau (KTAIB), the agency becomes part of institutional and legal reforms aimed at streamlining transport accident investigations.
Excluded from the areas of transport is aviation and aircraft-related accidents, which the cabinet said was best investigated under the Civil Aviation Act, 2013, in compliance with international best practice and Kenya's international obligations.
The notice issued by government said: "Once established, the Bureau will utilize international best practices and will pursue safety interventions in Road, Rail, Pipeline, and Marine Transport."
KTAIB will be an independent agency tasked with comprehensive transport-related accident investigations and the making of safety recommendations.
Kenya's Ministry of Transport has been instructed to take the initiative in preparing the legal framework necessary to move ahead with the policy intervention.
"In that regard, the Ministry is expected to lead all industry stakeholders in preparation of the Kenya Transport Accident Investigation Bureau Bill, 2023," the Cabinet said.
Accidents falling under the scope of KTAIB are currently under the jurisdiction of the National Transport Safety Authority (NTSA) and the Kenya Police. source: Capital FM
Sign up for Africa Ports & Ships Newsletter – it's free




Added 12 October 2023
♦♦♦♦♦♦♦♦♦
News continues below
Drillship Deepwater Orion passes along South African coast
Africa Ports & Ships
Among the notable ship movements experienced along the long South African coast at any given time, has been the recent movement of the drillship DEEPWATER ORION (IMO 9516870).
Owned and operated by Transocean, which acquired Deepwater Orion's original owner, Norwegian company Ocean Rig in 2018, Deepwater Orion was built by Samsung Shipbuilding & Heavy Industries at Geoje in South Korea in 2011.
Classified as an ultra-deep rig which until 2019 was originally named Ocean Rig Poseidon, Deepwater Orion arrived in the Algoa Bay anchorage earlier in the month.
Sailing from the Eastern Cape waters the drill ship rounded the coast and was later attended by the AMSOL Anchor Handling Tug Supply Vessel (AHTSV) UMKHUSELI – the tug that has taken over the duties of South Africa's most famous tug, SA Amandla (John Ross).
Umkhuseli provided support services to the drillship at Saldanha Bay.
Deepwater Orion has a length of 228 metres and is 42m wide and has a deadweight of 61,125 tons.
The drillship is on her way to Walvis Bay where she is due later today (Thursday 12 October). From there it is believed she is on her way across the South Atlantic to commence a three-year US$456 million contract with Brazilian national oil company, Petrobas, which is due to start in this fourth quarter of 2023.
Sign up for Africa Ports & Ships Newsletter – it's free




Added 12 October 2023
♦♦♦♦♦♦♦♦♦
News continues below
RCI's Utopia of the Seas floats out at French shipyard
Africa Ports & Ships
It's still nine months away from making her debut as the latest Oasis-class cruise ship, but an event at the Chantiers de l'Atlantique shipyard in Saint-Nazaire, France recently saw Royal Caribbean International's new UTOPIA OF THE SEAS float out and take one step closer to delivering what RCI calls "the world's biggest weekend" in July 2024.
That debut of the sixth Oasis-class ship will be in Port Canaveral (Orlando) in Florida, USA but first the official float out, which has taken 17 months to reach, has taken place at the shipyard on France's Atlantic coast.
The process itself took nearly 15 hours, beginning with filling the new ship's dry dock with more than 210 million litres of water overnight. Utopia was then moved into an outfitting dock, where she will be completed in summer 2024.
Utopia will have several unique features to distinguish the ship from her sisters in Royal Caribbean's fleet. One of these is the longest dry slide at sea – the 90-metre-long Ultimate Abyss – to a first-of-its-kind immersive train car dining experience.
"On board will be more than 40 ways to dine and drink, more pools than the days to count, thrills, ways to chill and more," says Royal Caribbean.
"Friends and families celebrating any occasion can create their ultimate weekend and memories with their pick and mix of new signature adventures and reimagined experiences, like newly designed resort-style pools, a new Caribbean tiki bar – the Pesky Parrot – a reimagined Izumi restaurant, now in Central Park, with a new convenient pick-up window for fresh sushi and Japanese street food, and al fresco dining; and showstopping nightlife and entertainment."
Utopia will offer 3-night weekend and 4-night weekday getaways – a first in the revolutionary Oasis Class to offer short escapes when the ship debuts in July 2024. Every vacation will feature visits to Nassau, the Bahamas, and Perfect Day at CocoCay – Royal Caribbean's private island.
The 236,857-gt Utopia will also make waves as the first 'Oasis' Class ship powered by liquefied natural gas (LNG), the cleanest-burning marine fuel to date and following the lead taken by Icon of the Seas (Icon class).
Capable of carrying 5,668 passengers in double occupancy, the ship stands as high as a 17-storey building, has 17 passenger decks (11 with cabins) and has a length of 362 metres and width of 64 metres.
More details about Utopia are available at www.RoyalCaribbean.com/Utopia.
Sign up for Africa Ports & Ships Newsletter – it's free
Added 12 October 2023
♦♦♦♦♦♦♦♦♦
News continues below
SAMSA's Sobantu Tilayi reinstated in his former position with the maritime authority
Africa Ports & Ships
More than two years after he was suddenly suspended from duty,

Sobantu Tilayi

has been reinstated in his former position with the South African Maritime Safety Authority (SAMSA).
No official announcement of his return appears to have been issued by the Safety Authority, which did issue a press statement when sending Tilayi into limbo in April 2021.
It would appear therefore that the original charges have now, after all this time, been shown as unfounded. Tilayi, officially the chief operating officer, also served lengthy periods as acting CEO before his suspension that preceded a forensic investigation into the charges levelled against him.
In all respects he was in fact the face and voice of SAMSA, which as an organisation has been largely silent and unheard since he was sent away.
From what we have been able to gather, Tilayi faced about eight charges of so-called misconduct – these included overstepping his authority and gross negligence or the dereliction of his duties.
The charges were the result of the forensic investigation carried out by an accountancy and audit firm.
The 160-page report raised a number of issues and allegations against Tilayi some of which allegedly placed SAMSA's stability and reputation at risk.
With his return to duty, this means all those charges have been refuted and dismissed.
Comment from the industry has been welcoming of his return.
Sign up for Africa Ports & Ships Newsletter – it's free
Added 11 October 2023
♦♦♦♦♦♦♦♦♦
News continues below
WHARF TALK: Handy class products tanker – BRO DEVELOPER to HAWKS PROGRESS
Pictures by 'Dockrat'
Story by Jay Gates
It is not often that Cape Town sees the arrival of a Handy size products tanker, as a sea voyage of the magnitude required to get to Cape Town, and the amount of product a city of that size requires, means that it would not be economically viable to send such a small class of tanker. So the arrival of one such class of tanker does raise the odd question as to why she is here.
The only time that a Handy tanker arrives in Cape Town is generally when one of the many bunker tankers, that hang around Algoa Bay, comes up to the Mother City either to upload a fresh amount of bunker fuel for dispensing back in Algoa Bay, or on the odd occasion when they actually deliver bunker fuels, taken from a 'mother' tanker in Algoa Bay, and top up the bunker tank in the port tank farm. The Richards Bay, and Walvis Bay, based bunker tankers are similar, and equally infrequent, visitors to Cape Town.
On 3rd October, at 09h00 in the morning, the Handy class Products Tanker BRO DEVELOPER (IMO 9313125) arrived off Cape Town, at the conclusion of a transatlantic voyage from Santos in Brazil, which in itself is unusual for such a size of tanker. Was she here to deliver a parcel of fuel, or to load a cargo of fuel? She entered Cape Town harbour, and proceeded into the Duncan Dock, going alongside the Eastern Mole.
However, she went alongside the outer berth at the Eastern Mole, which is not the berth set up for tanker discharge operations. Rather, this berth is for those vessels whose reason for calling at Cape Town is merely transitory, and to upload bunkers, stores, provisions, or receive some minor maintenance support. Was she here for any of these requirements?
Built in 2007 by Jinling Shipyard at Nanjing in China, 'Bro Developer' is 147 metres in length and has a deadweight of 14,736 tons. Unusually for a product tanker of any class, 'Bro Developer' is powered by not one, but two, MAN-B&W 7L27/38 seven cylinder, four stroke, main engines producing 3,236 bhp (2,380 kW) each and driving not one, but two, Rolls-Royce AZP120 Azimpull azimuth controllable pitch propellers, for a service speed of 13.5 knots.
Her auxiliary machinery includes no less than four MAN-B&W 6L16/24 generators providing 500 kW each, and a single Scandia DC12 emergency generator providing 250 kW. She has a single Alfa Laval Aalborg Mission OC composite exhaust gas boiler, and a single Alfa Laval Aalborg OL Mission oil fired boiler. For additional manoeuvrability 'Bro Developer' has a bow transverse thruster providing 1000 kW.
She has 13 cargo tanks, and a cargo carrying capacity of 18,151 m3. She is equipped with 13 cargo pumps, each capable of pumping at a rate of 385 m3/hour. Her tanks are all epoxy coated, and she can carry up to nine grades of product at any one time.
She is one of four sisterships, all built with an ice classification of ICE 1C, which allows 'Bro Developer' to navigate in Baltic Sea waters of first year ice thickness of 0.4 metres. However, for most of the past year 'Bro Developer' has been operating on a coastal charter, carrying fuel products along the Brazilian coast between the ports of Açu, Rio de Janeiro, and Santos.
When built, the first of the four sisterships was awarded the accolade of 'Ship of the Year 2006' by Lloyds List. One of her winning design features was that her twin propulsion systems enhance safety in both narrow, and heavily trafficked , shipping lanes. Her sisterships were named 'Bro Designer', 'Bro Deliverer', and Bro Distributor'.
She was built in accordance with the Norwegian Classification Society, Det Norske Veritas (DNV), and their 'Clean Design Class Qualification'. This qualification requires vessels to produce a reduction of emissions to both air, and sea, not only in normal commercial operations, but also in the event of an incident, or an accident.
On arrival in Cape Town 'Bro Developer' was owned by Maersk Product Tankers AS, of Copenhagen in Denmark, and operated by Maersk Tankers AS, also of Copenhagen. She was managed by Broström AB, also of Copenhagen. As built, both she and her sisterships were owned by Broström Tankers AB, of Gothenburg in Sweden, hence the name prefix of 'Bro', with the Swedish company being purchased by Maersk Tankers in 2009. All of her sisterships have already been sold out of the fleet by Maersk Tankers.
The reason for her arrival in Cape Town was now becoming a little clearer. Within days of her arrival, scaffolding began to appear both over her stern, and over her bow, and slowly, but surely, the name 'Bro Developer' began to be overpainted, and disappear from view. In its place, the name 'Hawks Progress' began to emerge into view. A simple renaming, for charter reasons, or a full vessel sale, making her the last of the sisterships to be sold by her owners?
It was indeed a full vessel sale, as her new nominal owners were now shown to be Hawks Progress Pte. Ltd., of Singapore, and her operations and management were now being shown as Synergy Denmark AS, of Copenhagen. As to what market she was potentially being bought for, was possibly for bunkering purposes. It is only a supposition, as her nominal owners address in Singapore is shared with up to three other companies who operate in the bunker market, and specialise in bunker sales, and bunker operations.
With her identity change still very much underway, it is not yet known where the now 'Hawks Progress' will be sailing to next. It may be back to Singapore, where bunker tankers are aplenty, due to the roadsteads of Singapore being a major maritime crossroads, and a holding anchorage for vessels awaiting orders.
Equally, it may be that 'Hawks Progress' is yet one more bunker tanker heading for Algoa Bay. A recent SARS crackdown on the fleet of bunker tankers that are stationed in Algoa Bay, resulting in up to half a dozen of them being refused authority to continue with their bunker operations, whilst potential tax issues are being investigated, may have opened up an opportunity there for a new player in the field.
Or it may be none of the above, and she will be placed onto a similar charter in the Singapore and nearby Indonesia market, similar to that which she operated on previously in Brazil, one of connecting smaller coastal, or island, ports with much needed domestic, and industrial, fuel products for a local market. Time will tell.
Sign up for Africa Ports & Ships Newsletter – it's free
Added 11 October 2023
♦♦♦♦♦♦♦♦♦
News continues below
Giant FPSO GTA set to enter Durban for engineering work
by Terry Hutson
Africa Ports & Ships
Attracting much attention in the Durban and coastal area is the newly built Floating Production, Storage & Offloading vessel named simply GTA, which stands for 'Greater Tortue Ahmeyim', a bp-operated liquefied natural gas (LNG) project off the coasts of Mauritania and Senegal.
The FPSO departed the shipyard on 20 January 2023 from Qidong, China after successfully completing a series of sea trials following construction over the past three and half years. It is now under tow for 12,000 nautical miles via Singapore to its final destination – remaining around 40km offshore on the maritime border of the neighbouring countries as she travels.
The tugs in attendance on this long journey are POSH FALCON, POSH EAGLE, POSH TEAL AND POSH OSPREY.
The journey so far saw them travel down the East African and Mozambican coasts before entering South African waters. The immediate destination is the port of Durban, where FPSO GTA is due to undergo further engineering work while berthed at Pier 1, berth 103.
After a weekend of unsettled and windy weather, an abortive attempt was made on Tuesday 10 October to bring the giant vessel into port, only for a problem to occur. Unconfirmed reports say that one of the port tugs lost her assisting tow when the tow cable snapped. This was as the FPSO was lined up for the fairway into the port but still a kilometre or two out.
As this report is compiled the POSH tugs and GTA are again waiting an entry some distance off the entrance channel, with another attempt likely for today early morning (Wednesday).
The FPSO is a key part of the major integrated GTA development that also includes subsea development of gas fields and near-shore floating LNG (FLNG) facilities off the West African coast. The project's first phase is set to produce around 2.3 million tonnes of LNG per year.
The contractors for the FPSO are Cosco Shipping and Technip Energies. The FPSO will process natural gas – removing condensate, water, and other impurities – before exporting it by pipeline to the project's FLNG facilities, 10km offshore.
With eight processing and production modules, the FPSO will process around 500 million standard cubic feet of gas per day.
The majority of the gas will be liquefied by the FLNG facilities, enabling export to international markets, while some is allocated to help meet growing demand in the two host countries. Condensate will be periodically transferred from the FPSO to shuttle tankers for export to market.
The FPSO, which will sit in about 120m of water, will have up to 140 people on board during normal operation and serve as home for the project's production team.
With an area equivalent to two football fields and 10-storeys in height, the FPSO is made of more than 81,000 tonnes of steel, 37,000m of pipe spools and 1.52 million metres of cable. It has also undergone more than 330,000 inspections.
Sign up for Africa Ports & Ships Newsletter – it's free
Added 11 October 2023
♦♦♦♦♦♦♦♦♦
News continues below
Nacala Corridor to be managed by Mozambique, Malawi and Zambia
Africa Ports & Ships
The presidents of three African countries, Mozambique, Malawi and Zambia, signed agreements at the weekend that ill lead to the joint management of the important Nacala Corridor.
The agreements between Mozambique's President Filipe Nyusi, Zambia's Hakainde Hichilema, and Malawi's Lazarus Chakwera, was formalised at the conclusion of the inauguration ceremony of the expansion and modernization works at the port of Nacala, as reported in yesterday's Africa Ports & Ships.
Also in attendance was Japan's Vice Minister of Foreign Affairs, Hosaka Yasushi.
The agreements are legal instruments translated into institutional agreements for the Nacala Development Corridor, Road and Rail, within the scope of the Southern African Trade and Connectivity project. In Mozambique it is implemented by the Ministry of Transport and Communications.
The agreements aim to create norms, institutions, mechanisms and procedures to increase trade between the three countries and improve regional integration.
Nyusi described them as aiming to strengthen the corridor's operations and encourage the region's development.
In this context, he said, these agreements represent the introduction of a new paradigm in the management of the Nacala Corridor, in a tripartite approach, addressing the concerns of economic agents, ensuring integrated mechanisms for the continuous movement of people and goods.
"These mechanisms are intended to reduce transport costs and transit time to improve the competitiveness of the Nacala Development Corridor, thus making it more attractive for its users", Nyusi added.
Japan's Deputy Minister of Foreign Affairs, Hosaka Yasushi, described the port of Nacala as "the gateway that connects the interland countries of Southern Africa to the Indian Ocean and one of the best natural ports in East Africa.
"Japanese businesspeople are also very interested in the port and the joint public-private mission sent in May this year also visited the port," he said.
The expansion and modernization works at the port of Nacala began in 2018. The works include the reconstruction of the north pier, widening of the main access road, construction of buildings, gates, electrical substations and installation of a modern fire-fighting system. source AIM
Sign up for Africa Ports & Ships Newsletter – it's free
Added 11 October 2023
♦♦♦♦♦♦♦♦♦
News continues below
Namport and Interpol Central Bureau for Namibia in collaboration
Africa Ports & Ships
In a significant step towards enhancing port security and strengthening global trade relations, a Memorandum of Understanding (MoU) has been signed between the Namibian Ports Authority (Namport) and the Interpol National Central Bureau for Namibia.
One of the primary objectives of this MoU is to provide Namport with direct access to the Interpol Information System. This access will empower Namport to boost the law enforcement efforts of the Namibian Police (Nampol) and further enhance security measures within Namibia's ports.
Namport, as the authority responsible for the development and management of ports in Namibia, not only serves the country's trade needs but also acts as a crucial gateway to international markets for neighboring countries within the Southern African Development Community (SADC) Region.
Given the international obligations under agreements, including the International Ship and Port Facility Security Code (ISPS Code), Namport upholds specific security measures to protect its ports and vessels.
"The MoU signing represents a significant milestone in not only enhancing Namibia's port security but also contributing to global security at large," said Andrew Kanime, Namport's Chief Executive Officer of Namport.
Lieutenant-General Joseph Shimweelao Shikongo, the Inspector General of the Namibian Police, urged both parties to explore further areas of potential cooperation in the ongoing effort to combat crime and ensure the full adherence to the terms and conditions of the MoU.
Sign up for Africa Ports & Ships Newsletter – it's free
Added 11 October 2023
♦♦♦♦♦♦♦♦♦
News continues below
DNV Study: Can CO2 capture and nuclear get ships to net zero?
by Eirik Ovrum
DNV
Uncertainties over the future supply and cost of carbon-neutral fuels are compelling reasons for shipowners, ports and other stakeholders to consider all technology options for reaching net zero. DNV's latest Maritime Forecast to 2050 includes case studies on whether on-board carbon capture and nuclear propulsion could be significant options.
"In this decisive decade for shipping decarbonization, no stone should be left unturned in securing the future we need and want," Eirik Ovrum, Maritime Principal Consultant at DNV and lead author of the Forecast says. "Our research indicates conditions under which carbon capture and nuclear could help bridge the gap between short-term measures and the bigger effort needed beyond 2030 to achieve 2040 and 2050 targets in the new IMO and forthcoming EU emissions regulations."
Evaluating CO2 capture and nuclear to cut ship emissions
The studies add fresh insight to assist maritime stakeholders who have to make costly investment decisions now on ship design and operations, and on what fuels to produce, distribute and bunker.
The research has two goals. One is to establish if using these technologies is realistic operationally. The second is to compare their lifetime costs with fuel strategies most often discussed in the industry, such as fuel oil, liquefied natural gas (LNG), methanol and ammonia, each blending in carbon-neutral fuels (bio-/e-MGO, bio-/e-LNG, bio-/e-methanol, blue/e-ammonia) to comply with greenhouse gas (GHG) emission reduction targets.
DNV's FuelPath model provides results for various scenarios
DNV's techno-economic evaluation involves two case studies using the company's tried and tested FuelPath model for a large, modern deep-sea ship, a 15,000 TEU container vessel sailing between the Far East and Western Europe.
Inputs that can be varied (Figure 1) in the model include ship specifications and use, a newbuild's greenhouse gas (GHG) emission targets and design options such as converters and fuel systems.
Studying ship decarbonization post-2030
Maritime Forecast to 2050 describes the technical, operational and economic assumptions involved in the case studies. In essence, the model assesses the economic performance of available design options related to a fuel over a vessel's lifetime. The outputs include total cost of ownership and the cost of fuel strategies under different fuel-price scenarios. Annual costs include annual payments on capital expenditure (CAPEX), fuel costs, carbon prices and operating expenditure (OPEX).
Benchmarking fuel strategies for the case-study ship
Based on real-world data and experience, the research first benchmarks the cost of the fuel strategies reflecting energy converter and fuel-system design options open to the case-study vessel over its lifetime.
The benchmark span of annual costs and net present value for the case-study ship with fuel strategies using fuel oil, LNG, ammonia, methanol and all four with carbon-neutral blend-in for compliance (DNV Maritime Forecast to 2050, 2023 edition)
More specifically, DNV draws on its data-driven estimates of maximum and minimum fuel prices annually over the period 2030–2060 to create benchmark spans of annual costs and net present value for the case-study ship for various fuel strategies (Figure 2). It uses these spans to evaluate under what conditions on-board carbon capture and nuclear propulsion could be feasible.
On-board CCS case study model
Assumptions for this study are described extensively in Maritime Forecast to 2050. Briefly though, the ship runs on heavy fuel oil (HFO), has a carbon dioxide (CO2) capture unit and storage tanks, and is fitted with a scrubber for sulphur oxides (SOX) and exhaust pre-treatment.
The study models annual costs under two on-board CO2 capture and storage (CCS) scenarios, Low and High cost, to compensate for economic uncertainties such as CAPEX and OPEX. It focuses on two parameters that it assesses as impacting most on the economics of on-board CO2 capture. One is the 'fuel penalty', the extra energy used for operating the capture unit. The other is the 'CO2 deposit cost', the sum of the CO2 transport and storage costs.
What is required for an economic case for on-board CCS?
For the annual cost range, the Low CSS (cost) scenario is seen to perform well against the other fuel strategies (Figure 3). The Forecast attributes this partly to the HFO price in the scenarios, and partly to fuel penalty and CO2 deposit costs compared with the cost of buying a larger share of carbon-neutral fuels.
Range of case-study annual costs (left) and net present value (right) for Low and High cost scenarios for on-board carbon capture and storage (CCS) compared with the benchmark (DNV Maritime Forecast to 2050, 2023 edition)
The High CCS (cost) scenario performs around the middle of the studied fuel strategies. For net present value, the High CCS (cost) case is close to the mean for the fuel strategies by mid-century while the Low CCS (cost) case outperforms three-quarters of them.
"Our research suggests there can be an economic case for on-board CCS if the capture technologies have low fuel penalties and if a CCS industry can offer the low CO2 storage costs in our model," Ovrum says.
Nuclear propulsion case study model
Assumptions for this are fully described in Maritime Forecast to 2050. One is that the reactor is leased along with its related systems and services. This is because CAPEX for nuclear propulsion is uncertain but thought likely to be up to twice the cost of the ship itself.
As with the carbon capture study, High Nuclear and Low Nuclear cost scenarios are used to mitigate uncertainty over reactor costs for merchant vessels (the Forecast discusses cost drivers).
What is required for an economic case for nuclear propulsion?
Figure 4 below shows the estimated annual costs (CAPEX, OPEX, fuel cost, carbon cost) and net present values for nuclear propulsion compared with the benchmark fuel strategies (fuel oil, LNG, methanol and ammonia) during ship decarbonization.
Range of case study annual costs (left) and net present value (right) for Low and High cost scenarios for ship nuclear propulsion compared to the benchmark (DNV Maritime Forecast to 2050, 2023 edition)
The annual costs of nuclear appear as more or less stable compared with the benchmark cost range that increases from 2030 to decarbonization in 2050. This, the Forecast concludes, indicates that nuclear propulsion will be increasingly competitive as GHG limits are tightened.
"The takeaway is that there can be an economic case for nuclear propulsion if reactors are developed that can reach the lower range of cost levels described here," Ovrum concludes.
Key takeaways from the case studies
DNV's conclusions support the prospect that under the right conditions, on-board CO2 capture and nuclear propulsion could mitigate competition for sustainable biomass and renewable electricity.
On-board CO2 capture could release maritime from competing for carbon-neutral fuels.
Nuclear propulsion is itself carbon-neutral and less exposed to price swings and supply issues than carbon-neutral fuels.
The implications for maritime stakeholders
The report acknowledges that carbon capture would need on-board facilities to remove exhaust CO2, onshore processing of captured CO2, temporary storage and offloading facilities, and infrastructure such as pipelines and permanent storage. Obstacles to nuclear include international regulations, public perception and technology costs.
"Both technologies face barriers for sure. But our studies suggest they could in the right circumstances be economical and valuable additions to the flexible toolbox maritime needs to meet mid- and long-term decarbonization targets amid anticipated competition for carbon-neutral fuels," Ovrum emphasizes.
Sign up for Africa Ports & Ships Newsletter – it's free
Added 11 October 2023
♦♦♦♦♦♦♦♦♦
News continues below
Port of Mocimboa da Praia officially recommissioned
Africa Ports & Ships
A key factor in the return to normality in Mozambique's northern Cabo Delgado province came about last week with the recommissioning of the little port at Mocimboa da Praia (MdP).
MdP was one of two ports in the northern stretches of the province to suffer the most through the actions of Islamist terrorists on 4 August 2020, when they overran the Mozambican military and police stationed in the small town and set about destroying much of the infrastructure.
Mocimboa da Praia and Palma further north were until that time acting as important dropping off points by sea for the burgeoning oil from gas activities of TotalEnergies, who were building a liquefaction plant on the nearby Afungi Peninsula situated between the two centres.
MdP was the first to fall to the insurgents followed later by Palma and it was well into the following year before Mozambican authorities, through the actions of supporting troops from Rwanda, were able to claim the ejection of the Islamists from first one town and port then the other.
The reinforcements from Rwanda and later the South African Development Community (SADC) that turned the tide have since helped restore some stability to much of the province (although the threat and some terrorist activity continues), in particular with the reconstruction of port and airfield infrastructure and other key points in the region.
On Monday (9 October 2023) Mozambique's President Filipe Nyusi, paid Mocimboa da Praia a visit to inaugurate the port and airfield.
Port administrator Helenio Turzão told news agency Lusa that ongoing port rehabilitation at MdP has a budget of US$ 30 million of which at least US$ 7 million was invested in the new docking pier and the completion of the access channel signalling system.
And according to the Mozambique Airports administration, the rehabilitation at the small airfield was budgeted at approximately US$ 240,000.
The attacks and destruction of the two town's infrastructure coupled with the loss of life among the local population not only destabilised the people and economy of the province but also placed any further development of the important TotalEnergies liquefaction site in limbo.
Almost all of the local population of MdP, approximately 62,000, abandoned the town and immediate area and have only recently begun to return with any feeling of confidence.
According to the United Nations High Commissioner for Refugees (UNHCR), around 4,000 people in the province lost their lives and one million people in all were displaced.
Mozambican authorities dispute these numbers, the president is quoted as acknowledging that "more than 2,000" people lost their lives.
Sign up for Africa Ports & Ships Newsletter – it's free
Added 10 October 2023
♦♦♦♦♦♦♦♦♦
News continues below
WHARF TALK: multi-purpose cargo vessel – BREADBOX HARRIER
Pictures by 'Dockrat'
Story by Jay Gates
Sadly, the maritime world is still full of unscrupulous shipowners, or uncaring managers, or indifferent crewing agencies, who are happy to take the money, but allow the crews under their control to live in varying degrees of squalor and poverty. The kind of which would simply not be tolerated in the developed, or first, world.
Sometimes the shipowner, who hands over managing control of his vessels to third parties, is completely unaware that such shocking levels of abandonment are taking place on his vessels. Every year, the International Transport Federation (ITF), and its affiliates, deal with a number of cases of abandonment. This is where a shipowner 'abandons' their responsibilities for the ship and its crew.
Under the terms of the Maritime Labour Convention (MLC) of 2006, abandonment occurs when a shipowner does one, or more, of the following three things in respect of the crew;
* fails to cover the cost of the seafarer's repatriation; or
* has left the seafarer without the necessary maintenance and support; or
* has otherwise unilaterally severed their ties with the seafarer including failure to pay contractual wages for a period of at least two months.
When this happens, ITF Support teams, and Inspectors, become involved to try and arrange for the repatriation of the affected crew, and to recover any outstanding wages. Any such case is reported to the International Labour Organisation, which then logs the details on their 'Abandonment of Seafarers Database'.
What one does not expect to see on this database is a vessel that is running on a regular, scheduled, service to South Africa, and whose international reputation is considered second to none. Yet, strangely as that seems, and as recently as September this year, such a report was listed on the ILO Abandonment Database, and on conclusion, and closure of the case, the vessel in question headed south to its voyage terminus in South Africa.
On 2nd October, at 07h00 in the morning, the multi-purpose cargo vessel BREADBOX HARRIER (IMO 8812899) arrived at the Table Bay anchorage, from Walvis Bay in Namibia, and went to anchor for a short period of just five hours. She then entered Cape Town harbour, at midday, and proceeded into the Duncan Dock. Initially going alongside L berth for a short period, she then shifted across the dock, going alongside the inner, tanker, Eastern Mole berth, indicating that her visit to this berth was for a mixture of bunkers, stores, or maintenance.
Built in 1991 by the Zhonghua Shipyard at Shanghai in China, 'Breadbox Harrier' is 91 metres in length and has a deadweight of 3,194 tons. She is powered by a single Hudong MAN-B&W 4L35MC-E four cylinder, two stroke, main engine producing 2,300 bhp (1,692 kW) and driving a fixed pitch propeller for a service speed of 12 knots.
Her auxiliary machinery includes three MWM TBD234V8 generators providing 255 kW each, and a single MWM D327-6 emergency generator providing 45 kW. She has two Ceka GH204-AKHT composite boilers.
She has a cargo carrying capacity of 4,715 m3, and a single cargo hold measuring 52 metres by 10 metres, with a deck strength of 10 tons/m2. The hold is served by two portside located cranes with a lifting capacity of 25 tons each, and which can lift 50 tons when operated in tandem. She has a container carrying capacity of 204 TEU.
One of a large class of 20 vessels built by the shipyard, and built at a unit cost of US$4.7 million (ZAR91.1 million) each, and known as the Baltimar Class, 'Breadbox Harrier' has an ice classification of ICE 1C, which means she is able to navigate in Baltic Sea waters with a first year ice thickness of 0.4 metres. She is one of four sisterships listed in the current Breadbox fleet.
Her name on her bow is, strangely, whilst painted in a known and tidy font, is painted without reference to a parallel line, based on the hull, or bow, but seemingly the shipyard painter misread the drawing plan for her new name, as the name of 'Breadbox Harrier' is painted with a distinct uphill gradient, running from bow to stern.
Owned by Efe Shipping Ltd., of Istanbul in Turkey, and managed by Nisa Denizcilik, of Gaziantep in Turkey, 'Breadbox Harrier' is operated by Breadbox Shipping Lines BV, of Rotterdam in Holland. At the start of 2023 Breadbox announced that she would enter service on the Breadbox Inter Africa Service, which links Europe, with West and Southern Africa, to support the growth of this longstanding company activity.
Some six months later, on24th July 2023, 'Breadbox Harrier' turned up on the ITF Abandonment Database, with a recorded date of abandonment given as 20th April 2023, in the port of Dakar in Senegal. The abandonment listed 17 seafarers, from Holland (1), Turkey (2), Pakistan (2) and Syria (12), with concerns over non-payment of wages, lack of provisions, poor onboard facilities, and no crew repatriation, with the total outstanding wages amounting to US$120,000 (ZAR2.33 million), affecting the Syrian members of the crew.
The ITF reported that the authorities of Palau, Liberia, and Sierra Leone often do not respond when approached by the ITF on matters such as that reported from 'Breadbox Harrier', and where this vessel happens to be registered in Sierra Leone, with her port of registry being the capital city of Freetown.
When Breadbox Shipping Lines were approached, the Director of the company expressed disappointment with the situation. He stated that Breadbox had chartered the vessel from Turkish owners for a three year period, and this was the first time that he had been made aware of the reported problems, which should not have happened.
Within one day, on 24th July, the ship received fresh provisions, and four of the Syrian crew were repatriated. By 5th September, all owed wages had been paid, all crew repatriated home, and improvements had been made to the onboard crew facilities. The ship then sailed from Dakar, and continued en route to Cape Town, via her published itinerary.
In her long career, 'Breadbox Harrier' has received 49 Port State Inspections. Interestingly, of these inspections she had received no less than five detention notices, all under her previous Indonesian owners, and all from the Port of Cairns, in the Australian State of Queensland.
In November 2014, and as a result of the continuing, and repeated compliance issues, the Australian Maritime Safety Authority (AMSA) banned the vessel from entering, or using, any Australian port for a period of three months.
In Cape Town, 'Breadbox Harrier' completed her uplift of bunkers and stores at the Eastern Mole, and at 21h00 on the evening of 5th October, she sailed from Cape Town, but only as far as the Table Bay anchorage, which is where she currently remains. Her next movement, on her Inter Africa Service is not yet shown on her AIS.
However, according to the Durban Transnet Port Authority, E berth at the Multi-Purpose Terminal (MPT), at the Point, is scheduled to be working 'Breadbox Harrier' from 14th October onwards. As it is a three day sail from Cape Town to Durban, and assuming there is no requirement to go to anchor on arrival off Durban, there is a possibility that 'Breadbox Harrier' will remain in the Table Bay anchorage until at least 11th October.
Sign up for Africa Ports & Ships Newsletter – it's free
Added 10 October 2023
♦♦♦♦♦♦♦♦♦
News continues below
President Nyusi inaugurates new infrastructure at Port Nacala
Africa Ports & Ships
On Saturday, 7 October 2023 Mozambique's President Filipe Nyusi officially inaugurated rehabilitated and modernised infrastructure at Mozambique's third largest port of Nacala.
The official function was attended by Malawi's President Lazarus Chakwera, Zambia's President Hakainde Hichilema, and Japan's Minister of Foreign Affairs, Hosaka Yasushi.
President Nyusi described the Nacala port as a reference for the state of the Mozambican economy and the economies of the region.
"The Port of Nacala is crucial for the flow of exports, as well as for the import of cereals, fertilisers, fuels, medicines and equipment of various types, to meet the consumption needs of Mozambique and neighbouring countries without direct access to the sea," he pointed out.
He said the port now made use of new cutting-edge technology, could boast of a high level of efficiency, increased handling capacity and a deepwater port. Nacala was now one of the modern ports of Africa, he claimed.
As a result of the interventions, the Port of Nacala Container Terminal now has a container handling capacity of over 250,000 TEUs a year, compared with the 170,000 previously.
Financed by the Japan International Cooperation Agency (JICA), the upgrade project has cost more than US$ 270 million.
Sign up for Africa Ports & Ships Newsletter – it's free
Added 10 October 2023
♦♦♦♦♦♦♦♦♦
News continues below
East London dry dock enjoying busy spell
Africa Ports & Ships
The Princess Elizabeth Dry Dock at the Port of East London is enjoying a busy spell and achieving its objective of servicing commercial vessels as opposed to mainly departmental craft.
This is a result of a contract between Transnet National Ports Authority (TNPA), which has the landlord function at the Eastern Cape port, and 6SIGMA Shipyards.
The contract will see the port servicing three Norwegian vessels until end November 2023 at its dry dock. According to TNPA this is a result of an intended diversification of its customer base beyond TNPA marine craft.
The first two Norwegian vessels, ANTARCTIC SEA and ANTARCTIC ENDURANCE, have completed their dry docking and maintenance programmes, and the port expects the arrival of the third vessel, SAGA SEA, before the end of November.
"The Port of East London team has been hard at work to give 6SIGMA Shipyards a service to write back home about," said TNPA Port Manager for the Port of East London, Sphiwe Mthembu.
"What is most exciting, besides the revenue this partnership brings to the port, is the employment opportunity for the East London community."
The arrival of the three Norwegian vessels will have seen the East London community benefiting through approximately 70 to 100 employment opportunities.
The Princess Elizabeth Dry Dock has a docking length of 200 metres with an emergency docking length of 210m, and is equipped with four electric cranes that have combined capacity of 39 tons.
The dock was officially opened on 3 March 1947 by the then Princess Elizabeth during the British Royal Tour of South Africa, hence its name.
Sign up for Africa Ports & Ships Newsletter – it's free
Added 10 October 2023
♦♦♦♦♦♦♦♦♦
News continues below
In Conversation: The Atlantic Ocean's major current system is slowing down – but a 21st century collapse is unlikely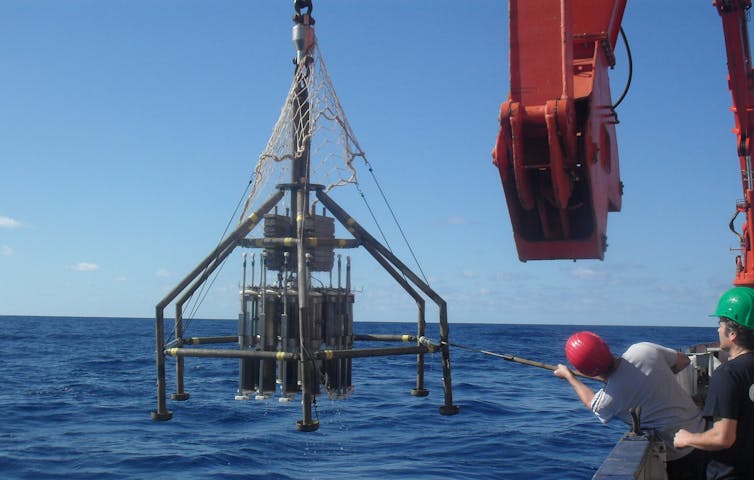 Scientists collect water and sediment samples to study how the oceans and climate are changing.  Eugene Bergh, Author provided
Whether the water at your local beach is being roiled by nasty weather or is a perfectly calm expanse of blue, there's always a great deal going on under the surface. The ocean is composed of various currents and water masses; those currents flow around the world through what is called thermohaline circulation.
This circulation drives the distribution of heat, salinity and nutrients throughout the world's oceans, ensuring that our whole planet is habitable for life.
The Atlantic leg of this circulation is called the Atlantic Meridional Overturning Circulation (AMOC). The Atlantic Ocean is situated between the Americas, western Europe and the western margin of Africa. The AMOC distributes heat away from the tropics northward, ensuring that tropical regions are not overheated, which would cause an imbalance in climate. It, like other oceanographic systems, varies annually, over decades and centennially. Scientists study these oceanographic systems over a longer time period to understand how they work and to make predictions on how they will function in future and what their impact may be.
In July 2023 two Danish academics – physicist Peter Ditlevsen and his sister, the statistician Susanne Ditlevsen – published a paper in which they stated that the AMOC was in decline and would likely shut down mid-century. That would bring dramatic consequences: rising sea levels, global heating, shifts in marine ecosystems, and seriously compromised food security. It could also seriously affect the upwelling marine ecosystem along the western margin of South Africa and Namibia, which is the most productive upwelling system in the Atlantic.
In the Ditlevsens' scenario, Europe could see massive cooling of around 5℃ to 10℃ and the tropics could become overheated. Certain areas around the world would experience severe droughts and flooding. And the oceans would become more acidic.
The paper has generated controversy in the scientific community. As a geologist whose research interests include oceanographic change, I don't find the article surprising. Research has shown that the AMOC has not been a stable feature of the ocean over millions of years and is sensitive to climate change. However, I agree with the general scientific consensus: the shutdown of the AMOC will not be as abrupt as the paper claims; it will instead be more gradual over the coming centuries.
Constant shifts
The Atlantic Ocean is not the only part of the ocean's thermohaline circulation that is experiencing shifts. In the South Indian Ocean, the Agulhas Current is also weakening due to changing distribution in heat and freshwater from the Pacific Ocean to the Indian Ocean.
And in the Pacific Ocean, west of the Americas, El Niño events – the warming of that specific ocean – are intensifying.
The Ditlevsens based their findings largely on sea surface temperatures. The paper does not consider other factors such as which carbon dioxide (CO₂) levels in the atmosphere (and take-up by the oceans), coupled with temperature changes, would be the tipping point for the AMOC to shut down, or the state of deep water generation – water of specific density, salinity and temperature – at the source regions in the North Atlantic for the functioning of the AMOC.
The broad consensus among scientists is that, while the AMOC is weakening, the probability of it completely shutting down in this century is low.
It's also important to point out that ocean currents and circulation change over time. The AMOC has strengthened and waned pre-human history over geological time, particularly in response to colder or warmer periods. For example, studies along the western margin of South Africa have found that the AMOC in the South Atlantic is sensitive to changes in the global climate cycle.
Previous research has also indicated that the AMOC weakened or shut down before, thousands of years ago during the Last Glacial Maximum. That happened under different conditions than what we are experiencing today. During that time the climate was much colder and the ice sheets were at a maximum position, although a warming phase led to the retreat of ice sheets afterwards.
Perspective
This large body of evidence suggests that the AMOC will continue to weaken as currents fluctuate over time, driven by different environmental factors. But scientists have not yet accepted that a total shutdown of the system will occur over the next few years or couple of decades.
However, the paper that's caused so much controversy shouldn't be dismissed entirely. For one thing, it's a good conversation starter on this very important topic. It also provides a timeline for when the AMOC could shut down – anywhere between 2025 and 2095. While the consensus is that this isn't accurate, it's a useful starting point from which other scientists could generate scenarios and models for further study.
In doing so, our collective understanding of the AMOC system will deepen, which should influence policy decision-making.

Eugene Bergh, Senior Lecturer, North-West University
This article is republished from The Conversation under a Creative Commons license. Read the original article.
Sign up for Africa Ports & Ships Newsletter – it's free
Added 10 October 2023
♦♦♦♦♦♦♦♦♦
News continues below
APM Terminals Monrovia boosted by new cranes and dredging
Africa Ports & Ships
The Freeport of Monrovia has been boosted by the commissioning of two Liebherr 600 mobile harbour cranes and the completion of dredging which has increased the draught alongside to 12,5 metres.
This has ensured the entry of larger and more economical gearless vessels.
According to APM Terminals, this latest US$15 million investment will greatly enhance the productivity of the port and reduce vessel waiting time for shipping lines, which could translate to a reduction of prices in the market for goods imported into Liberia, a direct boost for the economy.
Economic gateway
APM Terminals Liberia says that through its strong partnership with the National Port Authority (NPA), the Liberian Maritime Authority (LiMA) and the Government of Liberia, together with regulatory stakeholders, it remains dedicated to transforming the Freeport of Monrovia into an economically viable gateway to the Mano River Union basin.
The Minister of Finance and Development Planning, Samuel D. Tweah Jr, meanwhile, has commended APM Terminals Liberia for "going above and beyond expectations". He described the partnership as "crucial".
Long-term investment
Diana Nebo, Managing Director of the National Port Authority, highlighted the importance of the equipment and partnership. "We are invested in deepening our long-term and collaborative partnership with APM Terminals Liberia," she said.
"This new equipment will significantly enhance productivity and certainly help in our ambitious drive to reaffirm the Freeport of Monrovia's position as the gateway to the economy of Liberia and the Mano River Union," Nebo added.
APM Terminals Liberia's Etienne Saint-Jean, Head of Operations, emphasised the logistics, technical know-how, transfer of knowledge and training involved in the continued smooth operation as well as increased capacity, efficiency, and potential of the new machines.
"The progress we have made to date lays the foundation for continued training and development of our teammates to deliver world class service and efficiency to our clients, customers and the people of Liberia," he said.
Sign up for Africa Ports & Ships Newsletter – it's free
Added 9 October 2023
♦♦♦♦♦♦♦♦♦
News continues below
WHARF TALK: Linea Ignazio Messina &C. SpA Part 2
Story by Jay Gates
In 2017, the owner of MSC, Gianluigi Aponte, used his subsidiary Italian holding company, Marinvest, to enter into negotiations with Ignazio Messina &C. SpA, to take over a 49% stake in the company. The effective, take-over was approved by the Italian Competition Commission as not having a reduction in competition. At the same time, MSC would also take on a controlling 52% stake in a new company to be called Ro-Ro Italia SpA. This new company would control four of the Ignazio Messina &C. SpA Con-Ro vessels.
One of the four vessels transferred included 'Jolly Titanio'. The investment in Ignazio Messina &C. SpA Linea Messina by the Aponte family was valued at US$28.5 million (ZAR521.45 million). In 2018, MSC chose 'Jolly Titanio' to replace existing tonnage on their Ro-Ro service to West Africa. In 2019 she made her first appearance in Durban, sporting a full MSC funnel, and with the hull 'Linea Messina' logo removed, and the Ignazio Messina hull painted houseflag painted out, and an amendment to her name of 'MSC Titanio'. A sign of things to come perhaps.
At the time, Ignazio Messina &C. SpA had their own South African registered company, registered as Ignazio Messina SA Pty. Ltd. As a result of the share purchase of the parent company by MSC, the South African Competition Commission issued instructions to protect Linea Messina's operations in South Africa, under the terms of the Competition Act 89 of 1998. It stated that;
There were to be no staff mergers specific retrenchments to Ignazio Messina SA (IM) staff in South Africa for a period of three years. IM could continue to use their own supplier and service providers for three years. IM and MSC businesses were to be kept separate, and no steps to integrate them were to be undertaken. All IM marketing, pricing, and business shall be managed solely by IM SA, independent of MSC, including all business to, and from South African ports, to East Africa, and vice-versa. Any MSC appointed member of the IM Board of Directors will not be allowed to undertake any day to day IM business.
However, the agreement also stated that nothing could prevent MSC and Ignazio Messina undertaking integration outside of the South African business. Most importantly, the agreement would only have a duration of three years from the date of implementation. That date is now upon us, and signs of fuller integration into the MSC business are showing signs of getting underway with IM, and a switch to traditional MSC operations.
In September 2022, the first of the 'Precious' class of Con-Ro was sold on to an American buyer, when 'Jolly Diamante' was renamed 'Liberty Power' and transferred to the ownership of Liberty Global Logistics LLC , of New York City. The start of the switch to MSC ways of thinking were now taking place.
In May 2023, Ignazio Messina announced that they were to change strategy, by replacing part of its Con-Ro vessel fleet, with classic container ships, as these were a mode of transport that better meets the expectations of its customers. With the exception of Grimaldi Lines, also of Italy, Linea Messina was the last European liner shipping company operating large Con-Ro vessels. Very much MSC ways of thinking were coming to the fore.
That same month, May 2023, Ignazio Messina &C. SpA announced that they had sold a further three of their 'Precious' class vessels to the USA. In this case the three vessels had been purchased by the US Maritime Administration at a sale price of US$88 million (ZAR1.7 billion) each. They are destined to be assigned into the standby military support role in the US Ready Reserve Fleet, under the operations of the Military Sealift Command, ironically known by the acronym 'MSC'.
The first two vessels have already been delivered to the US Army Port at Norfolk, Virginia, with 'Jolly Quarzo' being renamed 'USNS Cape Sable', and 'Jolly Cristallo" being renamed 'USNS Cape San Juan'. The third vessel, 'Jolly Perla' only arrived for handover, at Norfolk, on 2nd October, with an, as yet, unknown name change. It may be that they will be seen again in South African ports, calling for stores and bunkers, if being moved to the prepositioning fleet at Diego Garcia, or moving military equipment to where the American forces require it.
This left just four 'Precious' class Con-Ro vessels in Ignazio Messina &C. SpA service, with 'Jolly Palladio' and 'Jolly Vanadio' operating the Italy to East and South Africa service, and 'Jolly Cobalto' and 'Jolly Titanio' on the Italy to Middle East and India service. It was not long before their fate was also made known.
In August 2023 it was announced that all four remaining 'Precious' class Con-Ro vessels had been sold to the Abu Dhabi Ports company. With immediate effect, 'Jolly Cobalto' was transferred to the new owners, and renamed 'Rahman', and the other three vessels were to be handed over by the end of 2023, thus ending Ignazio Messina &C. SpA Con-Ro services to South Africa. However, it will not be the end of the service.
Both vessels currently on the South Africa run are heading north back to Italy, with 'Jolly Palladio' having sailed northbound from Durban on 25th September, and 'Jolly Vanadio' having sailed northbound from Durban on 30th September. Whilst not confirmed, this may have been their final call at Durban on this service, and the last time the casual maritime observer will get to see a Linea Messina Con-Ro vessel in a South African port.
To replace the loss of the large Con-Ro vessels on the Italy to East and South Africa service, Ignazio Messina &C. SpA had earlier announced that they had acquired two container vessels from Northern Shipping GmbH, of Hamburg. The sisterships were 'Northern Priority', and 'Northern Promotion', both with container carrying capacities of 4,600 TEU. They were to be the first ever fully cellular vessels ever to be owned by Ignazio Messina &C. SpA, and a clear sign that MSC influence was growing within the company.
On August 24th 2023, they took delivery of 'Northern Promotion' in the Korean port of Busan. The vessel was built in 2010, by Daewoo Shipbuilding in South Korea, and the same shipyard that built the initial four 'Precious' class Con-Ro vessels. She is 264 meters long, and was renamed 'Jolly Argento' (Silver). On 22nd September, her sistership was handed over to Ignazio Messina &C. SpA, and was renamed 'Jolly Oro' (Gold).
Both of the new container vessels were sent to the Chinese ports of Xiamen, and Guangzhou, to load a full set of new, empty, containers, for use on their new service, prior to return to Genoa. From there, as from October, i.e. this month, both vessels are to be deployed onto the Italy to East and South Africa service. Thus, the casual maritime observer is soon to see the first Linea Messina pure boxboat, arriving in Durban, as the company begins its new phase of life in the classic container ship market.
The question now is simple. How long before the funnel becomes yellow and black, and a more traditional name is applied, with the logo 'MSC' appearing on the hulls of these two vessels.
Sign up for Africa Ports & Ships Newsletter – it's free
Added 9 October 2023
♦♦♦♦♦♦♦♦♦
News continues below
TNPA Mossel Bay clears way to increase ship repair capacity
Africa Ports & Ships
In a drive to expand capacity, improve efficiencies and promote the long-term operation of its ship repair facility at the Port of Mossel Bay, Transnet National Ports Authority (TNPA) has concluded the feasibility study for rehabilitating the facility.
The project, to be implemented in September 2024, will increase the port's slipway and cradle capacity from 200 tons to 500 tons and entails the installation of new technology, side slip, smart electrical network, and a new workshop.
Despite its current capacity limitations, in the 2022/23 financial year, the port almost doubled the number of vessels serviced at its ship repair facility with 20 vessels versus an average of 13 in previous years.
This is attributed to TNPA's accelerated maintenance programme and quick turnaround time.
"The increase in utilisation of the port's ship repair facility can only be taken to greater highs by the successful implementation of the rehabilitation project," said TNPA's Port Manager for the Port of Mossel Bay, Dr Dineo Mazibuko.
"We are certain that a bigger and better facility will have immense benefits for locals and key industry role players."
Beyond its critical function in preserving maritime assets, the Port of Mossel Bay's ship repair facility serves as a contributor to job creation and economic growth of the Garden Route District.
Detailed designs will be reviewed by end October 2023 and an Environmental Impact Assessment (EIA) will be conducted prior to project commencement in compliance with the Department of Forestry, Fisheries, and the Environment (DFFE).
Whilst the facility will be out of commission during project implementation, industry role players can look forward to even more improved services once it is commissioned.
Sign up for Africa Ports & Ships Newsletter – it's free
Added 9 October 2023
♦♦♦♦♦♦♦♦♦
News continues below
Hydrogen and ammonia-fuelled ships: IMO and safety guidance
Edited by Paul Ridgway
London
On 5 October the IMO news service reported that the Sub-Committee on Carriage of Cargoes and Containers made significant progress on the development of draft interim guidelines for the safety of ships using hydrogen and ammonia as fuel. This was the ninth meeting of the IMO committee, known as CCC 9, and held from 20-29 September in the London HQ.
Urgent guidance needed
Taking into account the urgency of providing guidance to administrations, ship owners and the industry at large on the safe use of hydrogen and ammonia as fuel, and in support of IMO's emission targets, the Sub-Committee agreed to convene an intersessional working group from 9 to13 September 2024. The working group will be invited to further develop the draft interim guidelines for ships using low-flashpoint oil fuels.
Interim guidelines on LPG
The Sub-Committee agreed to a draft MSC circular on interim guidelines for use of liquefied petroleum gas (LPG) cargo as fuel, for approval by MSC 108, which provides additional coverage for ships under the IGC Code and complements the Interim guidelines for the safety of ships using LPG fuels (MSC.1/Circ.1666) approved by MSC 107.
Meanwhile, the Sub-Committee also initiated the development of draft amendments to the IGC Code with respect to the safe use of LPG as fuel, based on the Interim Guidelines, as well as provisions for the safe use of LPG as fuel for gas carriers carrying cargoes other than LPG listed in chapter 19 of the IGC Code.
Current guidelines
The CCC Sub-Committee plays a vital role in the development of technical provisions for alternative fuels and related technologies, ensuring that safety implications and potential risks associated with the use of alternative fuels and related technologies are duly addressed.
Guidelines already developed include:
* Interim guidelines for the safety of ships using methyl/ethyl alcohol as fuel (MSC.1/Circ.1621).
* Interim guidelines for ships using fuel cells (MSC.1/Circ.1647).
* Interim guidelines for the safety of ships using LPG fuels (MSC.1/Circ.1666).
Development in 2024 and 2025
The work plan, updated at this session, foresees the further development of guidelines through 2024 and 2025 with finalisation of mandatory provisions for methyl/ethyl alcohols and further development of mandatory provisions for fuel cells at CCC 12 in September 2026.
IGC Code revision
Other matters discussed at CCC 9 include its ongoing revision of the International Code of the Construction and Equipment of Ships Carrying Liquefied Gases in Bulk (IGC Code), the increased frequency of accidents related to entering enclosed spaces resulting in loss of life, and a draft Marine Environment Protection Committee (MEPC) circular on recommendations for the carriage of plastic pellets by sea in freight containers.
Summary of CCC9
To read a full summary of the CCC 9 meeting readers are invited to see here.
Sign up for Africa Ports & Ships Newsletter – it's free
Added 9 October 2023
♦♦♦♦♦♦♦♦♦
News continues below
Nigerian Government encourages use of barges to evacuate cargo from Eastern ports
Africa Ports & Ships
Nigeria's Federal Government has revealed plans to encourage the movement of containers by barges from the Onne port and other Eastern ports to the hinterlands.
This was disclosed by Dr. Magdalene Ajani, Permanent Secretary, Federal Ministry of Transportation/ Marine and Blue Economy, disclosed this recently during her assessment visit to the Onne port in Rivers State, which is currently being managed by the West Africa Container Terminal (WACT).
Speaking during the visit, Ajani pointed out the need for the National Inland Waterways Authority and the Nigerian Ports Authority to collaborate with the Boat and Barge Operators Association to synchronize and develop a methodology that will result in the movement of containers in barges from its current location to the hinterlands.
The Permanent Secretary, who commended the efforts of WACT to provide within the port a successful work environment that meets international best practice, said "they are doing a great job".
She said these efforts are currently hampered by the basic challenge of evacuating cargo from the port. This is because of some poor sections of the access road leading from Eleme Junction to Onne Port.
Dr Ajani committed the government into producing solutions to this issue within the near future.
In response, Naved Zafar, WACT's managing director confirmed WACT's belief in Nigeria, which he said helped set high ambitions.
It was these ambitions that led to WACT further expanding and modernizing the terminal, he said.
"The West Africa Container Terminal is equally committed to supporting the Federal Government's drive to promote non oil export out of the country," Zafar added.
Sign up for Africa Ports & Ships Newsletter – it's free
Added 9 October 2023
♦♦♦♦♦♦♦♦♦
News continues below
Star of the Seas to be the next RCI Icon class ship
Africa Ports & Ships
Less than three months ahead of the introduction of the first Icon class cruise ship, ICON OF THE SEAS (IMO 9829930) , Royal Caribbean International has revealed some information of the second ship of this class including the intended name, STAR OF THE SEAS.
Now under construction in Turku, Finland, further details of the next ship will soon be revealed, says Royal Caribbean.
Promising that the Icon's debut will introduce the first-of-its-kind vacation unique to the class – "from the beach retreat to the resort escape and the theme park adventure" ….."the lineup of new experiences and favourites on Star will set the stage for even more ways for every type of family and adventurer to make memories without compromise", the cruise line says.
The first look at Icon and Icon Class set the tone in October 2022 when it led to the cruise line's single largest booking day and highest volume booking week in the brand's then 53-year history.
The unprecedented consumer demand sparked Royal Caribbean to release 2025-2026 vacations on Icon three months ahead of schedule and now is adding Star's name and debut season.
Icon's highlights include six record-breaking waterslides at Thrill Island's Category 6 waterpark, seven pools – one for every day of the week; Surfside, a stay-all-day neighbourhood for young families; entertainment across air, ice, water and stage; 40-plus ways to dine and drink; and more.
"The idea of combining the best of every type of vacation into one ultimate adventure has created more excitement than ever anticipated, and Star of the Seas will be the next bold answer to the record-breaking consumer demand we've seen for nearly a year and counting with Icon of the Seas," said Michael Bayley, president and CEO, Royal Caribbean International.
Star will become the cruise line's third ship powered by liquefied natural gas (LNG), combining the use of the cleanest-burning marine fuel available to date with a proven lineup of industry-leading environmental programs on board.
With applications ranging from waste heat recovery systems to shore power connection, Royal Caribbean's most sustainable ship will advance parent company Royal Caribbean Group's journey to its intention of introducing a net-zero cruise ship by 2035.
The Icon of the Seas will become the largest cruise ship in the world once she begins sailing from Miami in January 2024. She will hold that title for all of that year, until her sister ship Star comes into service in 2025.
Icon and her future sisters come in at around 250,000 gross tons, well exceeding the Oasis of the Seas type ships currently in service. The current holder of the record is Wonder of the Seas which entered service in 2022. When the latest of the Oasis class arrives next year, Utopia of the Seas, she will not even qualify for the No. 1 spot as Icon of the Seas will have entered service.
Icon-class ships will feature 20 decks and have a length of 365 metres and a passenger capacity of 5,610, which is actually less than Wonder's 5,734 – that's based on simple double occupancy.
Add the family factor however and things change. With an expected increase in family traveling, Icon's family capacity jumps to a maximum of 7,600 as against Wonder's 7,084. Passengers will have a choice of 28 categories of room types.
Both Icon-class ships are under construction at Turku but Icon of the Seas has already undergone her sea trials and is expected to cross the Atlantic for the first time on 23 December 2023. She will then undertake a series of special sailings before embarking on her first 'proper' scheduled cruise from 28 January 2024.
Sign up for Africa Ports & Ships Newsletter – it's free
Added 9 October 2023
♦♦♦♦♦♦♦♦♦
News continues below
Obituary: Captain Tom Woodfield OBE – Polar Medallist
Reported by Paul Ridgway
London
It was with shock that I learnt that Captain Tom Woodfield had crossed the bar on 30 September at the age of 90.
Tom Woodfield went to sea aged 16 as a cadet with a subsidiary of Cunard then joined the Falkland Islands Dependencies Survey in RRS Shackleton in 1955. He subsequently became a much sought-after polar navigator, attaining the furthest south for any vessel in the Weddell Sea. That was achieved when in command of RRS Bransfield on her maiden voyage.
He made twenty seasonal voyages to the Antarctic in three Royal Research Ships between 1955 and 1974: RRSs Shackleton, John Biscoe and Bransfield. In 1964 the Falkland Islands Dependencies Survey (FIDS) became the British Antarctic Survey (BAS). He played a paramount role in the gradual change from using under-powered and poorly-equipped ships to the professionally-managed and sophisticated vessels such as his last command, Bransfield.
Tom Woodfield qualified with the Royal Navy as a hydrographic surveyor and was gazetted with the Polar Medal in 1971 with the clasp 'Antarctic 1955-68'.
In 1967 he was admitted as a Younger Brother or junior member of the guild of Trinity House (founded in 1514) and was elected as an Elder Brother in 1974 then joined the Board of Trinity House where I was working as part of the secretariat.
At Trinity House he served briefly on the Pilotage Committee at a time when fast launches were being introduced to replace the cruising cutters in the Isle of Wight and London Pilotage Districts. With a move to the Light Committee he oversaw lighthouse modernisation with electrification, re-engineering and, in its infancy, increased automation. He led the design team on construction of new tonnage, the Trinity House Vessel (THV) Patricia, built as No 530 by Henry Robb at the Caledon Yard in Leith and commissioned in 1982.
While at Trinity House he took leave to sail in the Whitbread Round the World Yacht Race in 1978 providing invaluable advice on sailing in Antarctic waters. The following year he supported Sir Ran Fiennes on his Transglobe Expedition in mv Benjamin Bowring. Simultaneous with his time at Trinity House he established a polar ship-broking business and with German partners designed, funded and built a polar expedition vessel.
He was able to turn his business brain to advantage in consultancy services provided by Trinity House. He also sat on the Harwich Harbour Board and on his retirement from Trinity House in 1992 was appointed OBE.
He acted for the owners of mv Polar Circle in her sale to the Ministry of Defence to replace HMS Endurance the Royal Navy's ice patrol ship.
As a member of the Parliamentary South West Atlantic Group (SWAG) Tom Woodfield contributed to Lord Shackleton's report of 1982 on the Falkland Islands and went on to serve on Antarctic and Falkland Island advisory committees and lectured on those topics.
In retirement he sailed with Sir Robin Knox-Johnston in STS Malcolm Miller to Spitzbergen.
He later wrote Polar Mariner: Beyond the Limits in Antarctica, published by Whittles Publishing in 2016.
This delivers a dramatic story of true endeavour and exploration in the footsteps of the early pioneers and outlines Tom Woodfield's career navigating Antarctic waters for two decades supporting British scientific stations and in which he explored and surveyed the uncharted in often ferocious weather.
Of time in Bransfield he recalled her extraordinary maiden voyage when it was feared she would split in two. The battle with a horrendous storm at the end of his last voyage is described together with his final sentimental return to the Falklands.
Sign up for Africa Ports & Ships Newsletter – it's free
Added 9 October 2023
♦♦♦♦♦♦♦♦♦
News continues below
Orange Marine launches new cable laying vessel, Sophie Germain
Africa Ports & Ships
The French communications company, Orange Marine has recently launched its new cable-laying vessel, the SOPHIE GERMAIN (IMO 9930507), as part of its mission to play a major role in the long-distance network infrastructure market.
Sophie Germain, named for the French mathematician, physicist, and philosopher (1776-1831), is the first vessel of its generation designed specifically for the repair of different types of submarine cables, either fiber optic telecommunications cables or Wind Farms Intra-array power cables.
Orange Marine owns 15% of the global cable ship fleet and will further establish its significant role in the industry with the new vessel.
"This technological flagship with a low environmental footprint joins the fleet of Orange Marine, our subsidiary for submarine cable laying and maintenance, which has already deployed over 257,000km of cables under the oceans," said Orange Wholesale CEO Michaël Trabbia.
It is claimed that in addition to furthering the company's role in the industry, the Sophie Germain also plays into its emissions targets by achieving 25% less fuel consumption than average, 22% fewer emissions and 82% fewer nitrogen oxide emissions.
The 100m-long x 18.8m wide ship, which will be based in the port of La Seyne-sur-Mer, has also achieved Bureau Veritas' CLEANSHIP classification and can be connected to an onshore power supply to further reduce emissions when docked.
She operates with low sulfur diesel (Diesel Oil LowSulfur <0.1%), regardless of the geographical location of the vessels. Nitrogen oxides are reduced by way of an installed system comparable to a catalytic converter.
Sophie Germain becomes the first vessel of its generation designed specifically for the repair of different types of submarine cables, either fiber optic telecommunications cables or Wind Farms Intra-array power cables.
She is fitted with:
• a last generation ROV (Remotely Operated Vehicle) stored in an hangar
• an Offshore crane
• fiber optic cable lay equipment and Power cable lay spread including a carousel
• high standard accommodations
The vessel has a transit speed of 12.5 knots (maximum 14.5 knots) and is specifically designed with a high focus on station keeping performances and low fuel consumption.
Sign up for Africa Ports & Ships Newsletter – it's free
Added 9 October 2023
♦♦♦♦♦♦♦♦♦
News continues below
Logistics provider Van den Bosch expands into East Africa & Indian Ocean Islands
Africa Ports & Ships
The international logistics service provider, Van den Bosch, headquartered in Erm, Netherlands, and with offices in Europe, Africa and the Middle East, is expanding operations to East Africa and the Indian Ocean Islands.
This will be achieved through cooperation with independent logistics provider, the Celero Group, which provides a variety of freight forwarding and supply chain solutions.
Celero Group, whose home base is in Mauritius, has a strong presence in the African and East Indian transportation sector, including offices in Madagascar and Reunion Island.
"The expansion into East Africa and the Indian Ocean islands is important for our network," explains Mark Ashton, Commercial Director of Van den Bosch DMCC.
Van den Bosch DMCC is based in Dubai, from where all deep-sea shipments are coordinated, and is now among the world's largest tank operators for the food industry.
Shared vision
The collaboration with Celero will focus on liquid bulk logistics for the food industry.
"The new regions in our network offer us unique opportunities in terms of supply change for liquid bulk logistics, as we establish connections with both African and European markets," said Ashton.
"In this, Celero shares our vision and core values, but also offers extensive knowledge, expertise and field experience in the region."
Sign up for Africa Ports & Ships Newsletter – it's free
Added 9 October 2023
♦♦♦♦♦♦♦♦♦
News continues below
Transnet Freight Rail CE Sizakele Mzimela resigns
Africa Ports & Ships
The chief executive of Transnet Freight Rail (TFR), the largest division under the Transnet umbrella, has resigned following mounting pressure from business and industry.
Chief Executive Sizakele Mzimela's resignation will see her leave TFR at the end of October 2023.
Both the Mining Council and two of the largest business and industry chambers, the Durban Chamber of Business & Industry and its Pietermaritzburg & District equivalent, as well as organised labour, have been vocal in demanding her dismissal.
TFR, which handles about 45% of all Transnet business, has registered massive losses under Mzimela's watch, with freight hauled by TFR trains decreasing each year in alarming fashion. In the last financial year TFR hauled 149.5 million tonnes, down from 172.7mt in the 2022 financial year and 181.1mt a year before that.
Coal exports hauled to the Richards Bay coal port dropped to record lows of below or around 50mt during her tenure at the rail freight company, during which a gross shortage of locomotives was reported and sabotage and vandalism further disrupted operations.
Mzimela, with no prior experience in rail transport, had been with Transnet since April 2020. Before that she had a career in aviation, including in executive positions at SAA and SA Express.
Transnet has appointed Russell Baatjies as acting TFR CE with effect from 1 November 2023, while a recruitment process for a permanent CE is underway.
Until recently, Baatjies was the Managing Executive for the Cape Corridor.
He has previously held the role of General Manager for the Iron Ore and Manganese (IOM) Business Unit at TFR, a position he held since 2017.
Under his leadership, the IOM team's achievements include the implementation of the world's longest production train, and the highest manganese volumes transported at 15.5 million tons.
Other previous senior roles he has held at Transnet include Regional Executive as well as Local Business Manager at Transnet Engineering.
Mr Baatjies holds a Bachelor of Science (Rail Operations) from the University of Glasgow Caledonian, and a B.Tech from Cape University of Technology.
See related report Rudderless Transnet as top executives depart
Sign up for Africa Ports & Ships Newsletter – it's free




Added 5 October 2023
♦♦♦♦♦♦♦♦♦
GENERAL NEWS REPORTS – UPDATED THROUGH THE DAY
in partnership with – APO
More News at https://africaports.co.za/category/News/
♦♦♦♦♦♦♦♦♦
THOUGHT FOR THE WEEK
"If you realized how powerful your thoughts are, you would never think a negative thought."
Peace Pilgrim
♠♠♠
News continues below………
♦♦♦♦♦♦♦♦♦
TO ADVERTISE HERE
Request a Rate Card from info@africaports.co.za

Port Louis – Indian Ocean gateway port
Africa

Ports & Ships 

publishes regularly updated SHIP MOVEMENT reports including ETAs for ports extending from West Africa to South Africa to East Africa and including Port Louis in Mauritius.
In the case of South Africa's container ports of Durban, Ngqura, Ports Elizabeth and Cape Town links to container Stack Dates are also available.
You can access this information, including the list of ports covered, by  CLICKING HERE remember to use your BACKSPACE to return to this page.
News continues below
CRUISE NEWS AND NAVAL ACTIVITIES

QM2 in Cape Town. Picture by Ian Shiffman
We publish news about the cruise industry here in the general news section.
Naval News
Similarly you can read our regular Naval News reports and stories here in the general news section.
♦♦♦♦♦♦♦♦♦
♠♠♠
ADVERTISING
For a Rate Card please contact us at info@africaports.co.za
Don't forget to send us your news and press releases for inclusion in the News Bulletins. Shipping related pictures submitted by readers are always welcome. Email to info@africaports.co.za
Total cargo handled by tonnes during August 2023, including containers by weight
| | |
| --- | --- |
| PORT | August 2023 million tonnes |
| Richards Bay | 6.678 |
| Durban | 7.199 |
| Saldanha Bay | 5.643 |
| Cape Town | 1.314 |
| Port Elizabeth | 1.589 |
| Ngqura | 1.243 |
| Mossel Bay | 0.083 |
| East London | 0.230 |
| | |
| Total all ports during July | 23.947 million tonnes |
TABLE BAY UNDERWAY SHIPPING
SHIP PHOTOGRAPHERS
Colour photographs and slides for sale of a variety of ships.Thousands of items listed featuring famous passenger liners of the past to cruise ships of today, freighters, container vessels, tankers, bulkers, naval and research vessels.P O BOX 809, CAPE TOWN, 8000, SOUTH AFRICA
snai@worldonline.co.za
http://home.worldonline.co.za/~snai
=================