Bringing you shipping, freight, trade and transport related news of interest for Africa since 2002
For a Rate Card please contact us at terry@africaports.co.za
TODAY'S BULLETIN OF MARITIME NEWS
Week commencing 18 September 2023.  Click on headline to go direct to story : use the BACK key to return.  68,753 Pages viewed in the previous week Sunday to Saturday. 
FIRST VIEW: 

 Port of Durban – Quo Vadis?
Masthead:

  PORT OF CAPE TOWN
Stay Well, Stay Safe, Stay Patient, don't become one
For a free daily newsletter via email?  Send your email marked NEWSLETTER to terry@africaports.co.za 

Join us as we continue to report through 2023
'and stay up to date with Africa Ports & Ships'  – 21 years of reporting directly from Africa (est. 2002).  
SEND NEWS REPORTS AND PRESS RELEASES TO   info@africaports.co.za
****

**

****
FIRST VIEW:

  Port of Durban – Quo Vadis?
Enough is enough is the cry from the Durban Chamber of Commerce & Industry, one of the largest and most influential in the country. Last week the chamber issued a demand to the relevant ministry in government for the removal of the chief executive of Transnet along with her entire executive management, citing incompetence amounting to economic sabotage.
The call in such strong terms, which will be echoed by many in business across the land, follows a long period in which the performance of not only the Durban port but other South African ports are being lambasted over their respective performances, particularly in the eyes of an interested international audience.
The chamber also accuses Transnet Freight Rail of less than satisfactory performance – something few will argue with. The mining sector knows full well the cost of this.
How Transnet and its board chooses to respond to this will now be watched with more than interest, for the country's economy will depend to a large extent on what remedial action will be taken. The bold action of the Durban Chamber of Commerce & Industry is to be applauded for their brave action.
Terry Hutson
Africa Ports & Ships
♦♦♦

♦♦♦

♦♦♦
News continues below
Three SA Navy submariners dead after fatal incident at sea
by defenceWeb
Three South African Navy (SAN) submariners died after they were washed off the deck of the submarine SAS Manthatisi (S101) off Kommetjie in Western Cape.
The incident happened just before 15h00 on Wednesday, according to National Sea Rescue Institute (NSRI) spokesman Craig Lambinon, who said NSRI Kommetjie was activated following reports of submariners experiencing difficulties offshore, near the Slangkop Lighthouse. Other NSRI stations were activated along with the City of Cape Town Water Rescue Network, Western Cape EMS Rescue Squad, Cape Town Fire and Rescue Services, South African Police Service (SAPS) and the South African Air Force (SAAF) in the form of a Super Lynx maritime helicopter and an Oryx medium transport helicopter, both on the strength of 22 Squadron at Air Force Base (AFB) Ysterplaat.
"On arrival on scene, seven divers were rescued from the water. Sadly, two are deceased, one has been transported to hospital in a serious condition and it appears at this stage that four are safe with minimal injuries," he said. A rescue mission was launched for the recovery of an eighth person aboard a naval vessel, Lambinon said on Wednesday.
This was updated on Thursday by Dave Smith, NSRI Kommetjie station commander, to three dead, one critical and four safe. The Kommetjie NSRI station duty crew was first to respond on receipt of a MOB (man overboard) alert sounded from SAN vessels off Slangkop lighthouse.
The SAN in a Wednesday statement said the incident occurred during a vertical replenishment (vertrep) exercise with a Super Lynx helicopter when high waves swept seven crew members off the surfaced submarine.
"The vertrep evolution was immediately cancelled and efforts were launched to recover the members. A surface swimmer was dispatched from the helicopter to assist with the rescue. Unfortunately, the recovery operation was negatively affected by rough sea conditions," the Navy said, adding a distress call was made, leading to the dispatch of the NSRI from Kommetjie.
"All seven members were recovered but sadly there were three fatalities with one senior officer in critical condition. The remaining members, including the surface swimmer, are currently being treated in hospital. The names of the members will be released once the next-of-kin have been informed," the statement read.
According to Cape Town-based defence pundit Dean Wingrin the Type 209 submarine was transiting to the V&A Waterfront ahead of the weekend's Heritage Day events with MMIPV (multi-mission inshore patrol vessel) SAS King Sekhukhune (P1571) abeam in heavy seas.
An inquiry into the circumstances surrounding the incident will be convened in due course.
"The Minister of Defence and Military Veterans (Thandi Modise), the Chief of the SANDF (General Rudzani Maphwanya), Chief of the SAN (Vice Admiral Monde Lobese) and Flag Officer Fleet (Rear Admiral Musawenkosi 'Kop' Nkomonde) extend sincere condolences to the families of the members who tragically lost their lives. The SANDF further extends its sincere thanks and appreciation to the emergency services who assisted in the recovery of the stricken submariners," the SAN statement concluded.
South African National Defence Union (SANDU) National Secretary Pikkie Greeff said expressed the union's sincere condolences to the families of the deceased and injured members and reminded the public of the extreme and real risks which SANDF members expose themselves to in service of South Africa.
"SANDU further expresses its gratitude to efforts by the civilian rescue services as well as 22 Squadron of the SAAF in attending to the incident," Greeff stated.
Democratic Alliance (DA) shadow defence and military veterans minister Kobus Marais added his name and that of his party to those of "the SAN and South Africa's entire defence community" to the list expressing and offering condolences during what he called "a regrettable training exercise incident.
"As we mourn those who died, let us also recommit ourselves to ensuring the safety and wellbeing of all those who serve in the national defence force. We owe it to them to continuously strive for an optimally resourced force with the highest standards of safety and security to prevent tragedies such as this happening in the future," he said.
African Defence Review (ADR) Director Darren Olivier noted that, "as has been seen over the past few days around South Africa's coast, the present Cape wave conditions are highly unusual and unpredictable." High seas in recent days have caused damage to houses, vehicles and infrastructure, including railway lines, along the Eastern and Western Cape [and KZN] coastlines.
Olivier stated that accidents of this nature can happen despite precautions taken to keep sailors safe and pointed to a similar incident the United States Navy (USN) in 2007 when a sailor died after being washed off the deck of a submarine.
Written by defenceWeb and republished with permission. The original article can be found here
Sign up for Africa Ports & Ships Newsletter – it's free
Added 21 September 2023
♦♦♦♦♦♦♦♦♦
News continues below
WHARF TALK: Grimaldi Con-Ro ships in South Africa
Story by Jay Gates
There are only three shipping companies around the world, who operate international shipping services using an unusual, and unique, class of vessel known as a combination Con-Ro. As its description implies, the Con-Ro is a hybrid between a traditional Ro-Ro vessel, and a Container vessel. In short, it is a conventional Ro-Ro vessel that also has a substantial TEU capacity. In some cases, some of them can load, or discharge the containers, using their own deck cranes.
There are actually five shipping companies who operate Con-Ro vessels. However, two of them are American Jones Act companies who do not operate internationally. The two American shipping companies, Matson Incorporated and Crowley Maritime Corporation, operate Con-Ro vessels, and they both sail on purely domestic schedules, with Matson operating between the US mainland and Hawaii, and Crowley operating between the US mainland and Puerto Rico.
Of the other three Con-Ro operating companies, two of them are regular callers at Durban, as part of their regular published sailing schedules. The two in question are the Italian Linea Messina, and the Saudi Bahri, companies. The third company makes only irregular calls on the South African coast, and their visits are few and far between. That company is the Grimaldi Group of Naples in Italy.
Over the past two years, there have been a number of the elusive Grimaldi visitors to South African shores, and four of these visitors are looked at here. The fact that they are rarely seen in these waters, but they follow a multi-port coastal schedule when they do arrive, is an indication that they are being chartered in.
It is either charters to cover existing Ro-Ro schedules, of regular operators in the Pure Car and Truck Carrier (PCTC) sector, or it is a single project freight charter, with induced cargo to add ports to the singular route. The former is more likely, as the visitors are bereft of any deck containers, and Cape Town is seemingly rarely, if ever, on the calling schedule.
The most recent arrival was the 'Grande Gabon' (IMO 9437933) which arrived in Durban on 13th July this year, where she went alongside R berth at the Car Terminal. As with most callers who call in regard to the local car industry, her stay was less than one day, and after 22 hours alongside, she sailed for Port Elizabeth, where she arrived on 16th July. Again, her stay was short, and she sailed after just 12 hours, bound for Emden in Germany, which is a large automotive export port, and where more than two million vehicles are exported every year.
Built in 2011 by Hyundai Mipo dockyard at Ulsan in South Korea, 'Grande Gabon' is 211 metres in length and has a deadweight of 25,682 tons. She is powered by a single HHI MAN-B&W 8S60ME-C eight cylinder 2 stroke main engine producing 25,894 bhp (19,040 kW), driving a controllable pitch propeller for a service speed of 21 knots.
Her auxiliary machinery includes three generators providing 1,996 kW each. For added manoeuvrability 'Grande Gabon' has two bow transverse thrusters providing 1,000 kW each, and a single aft transverse thruster providing 1,000 kW.
For cargo operations, her stern ramp has a rolling cargo capacity of 250 tons. Her lane capacity is 3,839 metres, and she can carry 3,711 cars. Her container carrying capacity is 1,276 TEU, and she has two 40 ton cranes for container loading and discharge.
She is one of a class of five sisterships, known as the ' Grande Marocco G3' class. She is owned by Inarme SpA, of Naples in Italy, operated by Grimaldi Deepsea SpA, also of Naples, and managed by Grimaldi Group SpA, also of Naples, with all three companies being registered at the same address. All of the sisterships are named after African nations, and the four sisters of 'Grande Gabon' also have the 'Grande' prefix, followed by Guinea, Congo, Sierra Leone, and Marocco, with the latter being the lead vessel in the class.
The lead vessel 'Grande Marocco' (IMO 9437907) also made a visit to South Africa in April 2022. As with 'Grande Gabon', she also called into Port Elizabeth on 7th April, where she had arrived from Tema in Ghana. Her visit was reported on in Africa Ports & Ships. She then proceeded to Durban, where she was alongside for a short 5 hour period, before sailing back around the Cape, for a return to Northern European ports.
On 4th November 2022 the 'Grande Cotonou' (IMO 9724738) arrived off Durban, from Lagos in Nigeria, and went alongside for 18 hours. She then sailed for East London, where she arrived on 6th November, and spent a short 6 hours alongside, before sailing the short hop down to Port Elizabeth, where she arrived on 8th November, and spent 14 hours alongside. She then sailed back to Northern European ports.
Built in 2015 by Hyundai Mipo dockyard at Ulsan in South Korea, 'Grande Cotonou' is 236 metres in length and has a deadweight of 31,340 tons. She is powered by a Wärtsilä 8RTFlex58T 8 cylinder 2 stroke main engine producing 23,657 bhp (17,400 kW), driving a controllable pitch propeller for a service speed of 20 knots.
Her auxiliary machinery includes three generators producing 1,860 kW each. For cargo operations she has a stern ramp with a rolling capacity of 250 tons. Her lane capacity is 5,720 metres, and she has a capacity for 5,209 cars. Her container carrying capacity is 1,758 TEU. She is fitted with two 40 ton cranes to enable her to load and discharge her containers.
One of six sisterships, known as the 'Grande Lagos G4' class, and as with the other Grimaldi vessels, she is owned by Inarme SpA, of Naples, operated by Grimaldi Deepsea SpA, and is managed by Grimaldi Group, also of Naples. Again, the class all have names associated with Africa, in this case African major cities, and the sisters of 'Grande Cotonou' have the prefix of 'Grande', followed by Dakar, Abidjan, Luanda, Tema, and Lagos, which is the lead ship in the class.
The next Grimaldi vessel to call, after 'Grande Cotonou', was her sistership 'Grande Dakar' (IMO 9680724) which arrived at Port Elizabeth on 23rd December 2022 to load VW cars, built locally at Uitenhage, or now known as Kariega in the local dialect. She spent 11 hours alongside, before heading up the coast to East London, where after a short delay for Christmas Day, she entered the Buffalo River on 26th December, for a stay of 27 hours.
Unusually, she then sailed past Durban, bound for Maputo in Mozambique, where she docked on 31st December, but for an extremely short 2 hours, indicating a project freight call. She then sailed for Durban, and after a short delay for the New Year, 'Grande Dakar' entered Durban harbour on 3rd January 2023. After just 11 hours alongside, she sailed directly for Emden in Germany, which is the major export port for Audi, VW, and Porsche vehicles.
The Grimaldi Group were founded in Naples by five brothers in 1947, and over the years have grown the company to a current fleet of 130 vessels, most of them owned. The company operates car ferries on scheduled services in the Mediterranean Sea, Ro-Ro vessels also on scheduled services in the Mediterranean Sea, PCTC carriers on scheduled services around Europe and Mediterranean ports, to the USA, South America, and Australia, as well as a large fleet of Con-Ro vessels on services on services from Europe to the USA, and to West Africa.
The scheduled route to West Africa, from Northern Europe, operates on a seven day departure cycle, and are split into two services. The Central Express service operates a route structure of Hamburg- Tilbury- Antwerp- Casablanca- Cotonou- Lagos- Tema- Takoradi- Abidjan- Conakry- Luanda- Pointe Noire.
The Southern Express service operates a route structure of Hamburg- Antwerp- Dakar- Nouakchott- Monrovia- Lome- Bata- Malabo- Douala- Libreville- Banjul. With these two services, Grimaldi effectively covers every West African nation from Morocco in the North, to Angola in the South.
There are also occasional calls scheduled for Le Havre in France, and Leixoes in Portugal, on southbound sailings. It also allows for occasional forays further south to South Africa itself, as witnessed by these errant arrivals, and which allows the local casual maritime observer the rare opportunity to be able to tick off the Con-Ro fleets of every international shipping company that operates them.
* This marks the 150th Wharf Talk article written and provided by Jay Gates so far this year, most of them illustrated by 'Dockrat'.
Sign up for Africa Ports & Ships Newsletter – it's free
Added 21 September 2023
♦♦♦♦♦♦♦♦♦
News continues below
In Conversation: South Africa's destructive storm surges: geoscientist reveals the 3 factors that drove them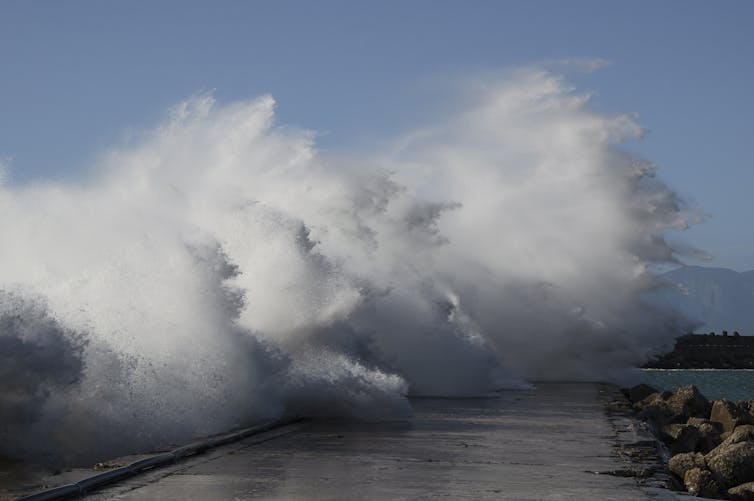 Tidal surges can cause enormous damage. Martha van der Westhuizen
A series of powerful tidal surges battered coastal areas in South Africa's Western Cape, Eastern Cape and KwaZulu-Natal provinces over the weekend of 16 September. One person died; cars, homes and businesses were damaged. The Conversation Africa asked Jasper Knight, a geoscientist who researches coastal processes, to explain what happened.
What drove the flooding?
A critical combination of three factors resulted in this significant flooding. First, a storm surge associated with low-pressure weather systems coming onshore. These happen very commonly but often don't result in high amounts of flooding by themselves.
Second, low-pressure cells often result in strong onshore winds, and these can whip up the sea surface and create big waves which can potentially run further inland, especially when the sea surface is raised.
Third, the coincidence of the storm with the period of high tide (a monthly event) and equinoctial high-high tide (a seasonal event). It is this combination that is the cause here, not these individual factors in isolation.
What is a storm surge?
This is where the level of the sea surface near the coast is temporarily raised up and results in flooding along that coastal stretch. Storm surges are caused by a low pressure (cyclone) weather system approaching the coastline from the ocean. Low pressure causes the sea surface to bulge upwards below the centre or eye of the cyclone, and the magnitude of this disturbance is related to the severity of the low pressure system – the deeper the low pressure cell, the higher the elevation of the sea surface. This is usually on the order of tens of centimetres to one metre or so.
As the cyclone approaches land, the water surface along the coast rises.
What is a spring tide?
Despite their name, spring tides are regular occurrences throughout the year. They take place when the sun, Earth and moon are in alignment, and this happens once every (lunar) month. In addition, there are also times of the year, around the equinoxes, where spring tides are higher than average.
We are very near the spring (vernal) equinox in the southern hemisphere (which is on or about 22 September). This is a period when the sun is aligned overhead of Earth's equator and so exerts a bigger tidal force on the oceans. This may have been a contributing factor to the higher water levels around the coast.
Were people sufficiently warned?
Tidal patterns are highly predictable and this data is widely available for ports or harbours along the coast. In this case, the South African Weather Service issued a warning. This information is particularly useful for boaters, fishermen and other coastal users. Weather patterns are also fairly predictable, which is what weather forecasting is all about, so we know when a big storm may be approaching.
However, the net result of all of these factors in combination is less predictable: although low-lying coastal areas are vulnerable to flooding, forecasters may not know exactly when or how high.
The other issue here is not just areas being covered by water but also the speed at which the water waves are moving, which is a factor in their destructiveness.
What kind of emergency measures could be put in place?
Local communities need to be warned more clearly and effectively if there is a threat of a storm surge and of coastal flooding. People and assets (like cars, anything that is moveable) should be moved from the area or kept inside. People tend to want to go to the sea to watch the waves but this puts them at more risk. Roads should be closed off where possible to keep people safe and away from the area. Floodwater management through using sandbags and similar actions should be undertaken.
Exactly the same measures used in places like Florida in the US for reducing hurricane risk should be used in South Africa, such as boarding up windows, keeping assets indoors, evacuating people from high risk areas, and moving furniture in houses to the first floor to reduce flood impacts.
Storm surges – and sea levels rising in future – are not going to go away so we need to be prepared for them.

Jasper Knight, Professor of Physical Geography, University of the Witwatersrand
This article is republished from The Conversation under a Creative Commons license. Read the original article.
Sign up for Africa Ports & Ships Newsletter – it's free




Added 21 September 2023
♦♦♦♦♦♦♦♦♦
News continues below
Fatal pilot ladder crew accident: ATSB Report
Edited by Paul Ridgway
London

According to statement from the Australian Transport Safety Bureau (ATSB) on 9 August 2021, crew were being transferred to and from the bulk carrier Formosabulk Clement, via the launch boat PT Transporter, in the Port of Brisbane anchorage, about five nautical miles offshore.
The operation involved many visits from PT Transporter to transfer crew on and off the anchored bulk carrier.
While the vessels were separated during a break from transfers before the accident, the bulk carrier turned about its anchor, exposing the transfer area to prevailing weather.
Language difficulties
Language difficulties between the crews meant the bulk carrier's main engine was not used to correct this issue, prior to the launch coming back alongside.
As PT Transporter approached, a crewmember of the bulk carrier climbed down the vertical pilot ladder without the knowledge of the ship's master, or the skipper of the launch.
A wave, larger than previously encountered, then lifted PT Transporter higher than expected, sufficient for the smaller vessel to make contact with the crewmember who was knocked into the water.
The crewmember, who had sustained fatal injuries, was quickly recovered from the water.
Four hundred days at sea
According to ATSB Chief Commissioner Angus Mitchell: "This was a tragic accident, involving a seafarer who had been at sea for more than four hundred days due to global border restrictions during the Covid-19pandemic."
The ATSB's report notes the bulk carrier was en route to Newcastle and was not scheduled to call at a Queensland port, but had stopped at Brisbane's outer anchorage to conduct a crew transfer under Maritime Safety Queensland's Covid crew transfer protocols, an equivalent of which was not available in New South Wales.
Clear safety lessons
Mitchell said the investigation highlights clear safety lessons for all operators conducting crew transfers like this one, as there was no common or complete understanding amongst the personnel on board either vessel in terms of how the transfer would be conducted.
He added: "Clear, unambiguous communications within and between workgroups are essential for the safe completion of any task.
"On this occasion, key personnel misinterpreted the actions and intentions of other parties.
"Problems with language, translation and interpretation are known risks in international shipping that were not adequately mitigated on this occasion.
"Both ship and launch crew assumed those on the other vessel understood what was happening and about to happen and were experienced in the transfer operation from each other's perspective – but this simply was not the case."
Updated procedures adopted
Since the accident, the operator of the launch has updated crew transfer arrangements and procedures, with a traffic light system for operational assessment and control.
The operator of the bulk carrier has also completed investigations and held multiple safety meetings and training exercises to share details of, and lessons learned from, the accident.
Additionally, Maritime Safety Queensland amended its Covid crew change procedure for vessels at anchor, including limiting crew changes to risk-assessed conditions and daylight hours only.
Reminders issued
In conclusion Mitchell said: "All parties are reminded of the importance of maintaining active and adaptable communications before and during the planning, co-ordination and control of a complicated task.
"Where possible, all parties should share plans and information well before undertaking a task so as to allow all involved to have a common and complete understanding of the planned activity."
The ATSB report
In order to read the report: Fatal fall from the pilot ladder of Formosabulk Clement, 5 nautical miles east of Caloundra, Queensland on 9 August 2021 readers are invited to see here.
Sign up for Africa Ports & Ships Newsletter – it's free
Added 21 September 2023
♦♦♦♦♦♦♦♦♦
News continues below
Minister Gordhan responds on Chamber of Commerce port and rail concerns
Africa Ports & Ships
The Minister of Public Enterprises (DPE), Mr Pravin Gordhan, has reacted to correspondence from the Association of South African Chambers (ASAC) in which its members have called for decisive action to resolve the issues impacting the economy because of Transnet's underperformance.
The minister said the correspondence followed a directive that he gave to the Board of Transnet about three weeks ago to urgently make recommendations to address a range of operational shortcomings facing the state-owned freight and logistics company.
"The recently announced annual financial results of Transnet have made it very clear that the entity urgently requires serious interventions that will address the root causes of the deficiencies that are having a negative impact on our economy and are hurting our export competitiveness," Gordhan said.
"The Board is seized with the injunction that I have given it, and I am sure that the issues that have been raised by the Chambers will be addressed in its recommendations or in the feedback that the Board will present to the shareholder."
Minister Gordhan described the shortcomings of Transnet as being of national concern.
The issues that the minister directed the Board to report back on include the following:
1. Operational transformation.
2. Root causes.
3. Stringent / Rigorous accountability oversight.
4. Management review.
5. Information and operational data transparency
6. Excessive cost structure.
7. And employee engagement.
"I am confident that the board understands the scale of the challenges that are confronting Transnet, and I can assure the South African public that the board has my full support in its effort to come up with the requisite remedial actions," Minister Gordhan added.
"We will be engaging the Chambers."
Sign up for Africa Ports & Ships Newsletter – it's free
Added 20 September 2023
♦♦♦♦♦♦♦♦♦
News continues below
Port Elizabeth tanker berth reinforced and refurbished
Africa Ports & Ships
Repairs to the Port Elizabeth tanker berth and embankment have been completed ahead of schedule, Transnet National Ports Authority (TNPA) has announced.
The repair project on this occasion involved completing the revetment and general refurbishment near tanker berth 15 and nearby ore berth 14.
The completion of this project was achieved three months ahead of schedule, which has been welcomed by the operators of oil tankers and Liquid Nitrogen Gas tankers.
The revetment barricade was constructed with rock armour which is designed to absorb and scatter incoming wave energy and prevent erosion of an embankment.
Due to wave action over the years the existing revetment had eroded with the rock armour displaced. With the now protected berths and embankment, liquid bulk vessels will enjoy safe berthing operations, says TNPA.
During the execution of the project, and with the collaboration of the tanker operators and agents, the tanker berth and berth 14 remained operational throughout the project execution.
Siganeko Magafela, a representative from the South African Petroleum Industry Association (SAPIA), expressed satisfaction and congratulated TNPA on completing this work way ahead of schedule.
Pamela Yoyo, TNPA Port Manager for Nelson Mandela Bay Ports (Port Elizabeth and Ngqura), said the execution of projects that enhance and protect port infrastructure is well within TNPA's mandate.
"However, it is worth commending the project team for their customer-centric approach and agility in concluding the project within compressed timelines," she said.
Sign up for Africa Ports & Ships Newsletter – it's free
Added 20 September 2023
♦♦♦♦♦♦♦♦♦
News continues below
WHARF TALK:  handysize Chemical Tanker FAIRCHEM CUTLASS
Pictures by 'Dockrat'
Story by Jay Gates
The casual maritime observer will, by now, know that there is a clear difference between a Products Tanker, and a Chemical Tanker. In most cases, but not all, the Chemical Tanker is much smaller than a Products Tanker, and in nearly all cases, the Chemical Tanker sports an amidships manifold connection layout that is quite comprehensive, and displaying nearly twice the tank connections than your standard Products Tanker.
On 14th September, at 17h00 in the late afternoon, the handysize Chemical Tanker FAIRCHEM CUTLASS (IMO 9746164) arrived off Cape Town, from Varna in Bulgaria, and entered Cape Town harbour. She proceeded into the Duncan Dock, and went alongside the outer berth in the tanker basin to begin her discharge.
Built in 2015 by Fukuoka Shipbuilding at Nagasaki in Japan, 'Fairchem Cutlass' is 147 metres in length and has a deadweight of 19,985 tons. She is powered by a single Makita MAN-B&W 6S42MC-C7 six cylinder two stroke main engine, producing 6,798 bhp (5,069 kW) and driving a fixed pitch propeller for a service speed of 14 knots.
Her auxiliary machinery includes three generators providing 515 kW each, and a single emergency generator providing 187 kW. She has a single Tortoise auxiliary vertical boiler. For added manoeuvrability she has a bow transverse thruster providing 631 kW.
Her cargo carrying capacity is 21,835 m3, and 'Fairchem Cutlass' has 20 stainless steel cargo tanks, ranging in size from 573 m3, up to 1,526 m3. She is capable of carrying 20 separate grades of chemical products in her tanks, and for loading and discharge purposes she has twelve cargo pumps capable of pumping at a rate of 300 m3/hour, and eight cargo pumps capable of pumping at a rate of 200 m3/hour.
One of six sisterships, 'Fairchem Cutlass' is nominally owned by Eurus Maritime SA, and operated by Fairchem Chemical Carriers Incorporated, of Wilton in the US state of Connecticut, and whose houseflag she displays on her funnel. She is managed by Synergy Navis Marine Pvt. Ltd., of Pune in India. All of the her sisterships are named after swords, or parts of swords.
Her operators, Fairchem Chemical Carriers Inc., operate a large fleet of specialised chemical and edible oil tankers, for the carriage of IMO II/III cargoes. They also have an office in South Africa, based at Glenwood in Durban, which specialises in Operations, Chartering, and Administration. This link to South Africa is reflected in the fact that the company also operates a class of four chemical tankers, known as the South African Flower class, and named as Fairchem Fynbos, Fairchem Restio, Fairchem Rooibos and Fairchem Protea.
Again, by now, the casual maritime observer will have made the connection between the departure port in Europe of 'Fairchem Cutlass', and what liquid cargo she might be holding in her tanks, as Varna gives a very strong clue as to what she may have been carrying. The answer is Sunflower Oil. The cargo bound for South Africa is likely bound for two industries, one being the food industry, and one, although less likely, being the fuel industry.
Sunflower Oil is used extensively in the food industry, as anybody who uses oven ready chips will know, or who has a passion for tinned tuna, or likes fried foods of any kind. It is a major source of polyunsaturated fat in any diet, which is why the food industry is the most likely destination for the cargo. However, it is also used as a component in the production of Biodiesel, although its use in South Africa for that process is less likely.
Despite some quarters saying that Sunflower Oil should be avoided in cooking, it actually has proven health benefits. It can be used to help reduce high cholesterol, and so reduce heart disease. It is also used for high blood pressure, eczema, dry mouth, dry skin, and many other conditions. It has good anti-inflammatory properties, and contains a large amount of both Vitamin A and Vitamin E.
The run from Varna to South African ports is one that is made more often than the casual maritime observer would think. It occurs on a regular basis, of three to four per annum, sometimes more, with. This because Bulgaria is not only the world's seventh largest producer of Sunflower Oil, but it is also the largest producer of Sunflower Oil in the EU, with 37% of the total bloc production.
The world's largest producer of Sunflower Oil was Ukraine, with 29% of the world's production, followed by Russia with 27%. Sadly, the illegal invasion of Ukraine by Russia has resulted in a 50% reduction in the worldwide availability of Sunflower Oil, with Russia using foodstuffs as a weapon, and using vast amounts of military hardware to destroy not only the food storage facilities in Ukrainian ports, but also the stored food itself. This food being destroyed deliberately, and systematically, is destined for the poor and hungry of Africa, and yet the South African government, an AU member, cannot see anything but good in Putin and his methods.
With Bulgaria's position now elevated as a major exporter of Sunflower Oil, the major port of Varna, in Bulgaria, has two bulk liquid terminals that specialise in the storage of export Sunflower Oil. One such terminal, Oiltanking, also has a direct working link to South Africa, being the majority partner in local South African company Oiltanking Grindrod Calulo (Pty) Ltd (OTGC), with the shareholding of OTGC being Oiltanking GmbH (46%), Grindrod (33.5%), and Calulo Investments (20.5%).
OTGC operates two harbour oil terminal facilities in South Africa. One is located on Johnstone Road, on Maydon Wharf in Durban harbour, and the other one in the Tanker Basin in Cape Town harbour. Both tank farms are designed for the import, and onward distribution, of Vegetable Oils. The last tanker that called into Cape Town earlier this year, sailed from Cape Town to Durban, and on arrival there went to Island View to discharge, but the one prior to that went to Maydon Wharf 9 to discharge, indicating that OTGC were the nominated storage company for the Sunflower Oil cargo in both ports.
In Varna harbour, the Devnya Oiltanking facility in Varna has two tanks, providing 12,000 m3 of vegetable oil storage, with direct pipeline access to two of their own berths. These berths are both designed to handle tankers up to 30,000 dwt, i.e. Handysize. Additionally, the Oiltanking facility provides a railway siding, linked to a loading facility, where the sunflower oil is transferred from the railway tank wagons, directly to the vessel on the loading berth, by a pipeline linking both.
This is not the first time that 'Fairchem Cutlass' has arrived in South Africa in the last two years to discharge a cargo. She previously discharged a cargo in Durban back in March 2022, and again in Walvis Bay, in Namibia, back in December 2022.
After an almost three day period alongside in Cape Town, 'Fairchem Cutlass' was ready to sail, and at 13h00 on 17th September she departed Cape Town, bound for Durban, where she is due to arrive late in the evening of 20th September.
Her arrival berth in Durban, being either Maydon Wharf or Island View, will determine who the import customer is for her cargo. The causal maritime observer will be looking towards Maydon Wharf, which is what happened with the last Sunflower Oil imported cargo earlier this year.
Sign up for Africa Ports & Ships Newsletter – it's free
Added 20 September 2023
♦♦♦♦♦♦♦♦♦
News continues below
Dutch barge converted by Concordia Damen into Nigerian dredger
Africa Ports & Ships
Concordia Damen in the Netherlands recently delivered a special project: the conversion of a Dutch barge into a Nigerian dredger. The TSHD (Trailing Suction Hopper Dredger)

SAYONARA

has now arrived and is at work on the Lagos lagoon.
Three years ago, the Werkendam shipyard came into contact with a Nigerian dredging company via Damen Shipyards Gorinchem. This eventually led to the start of the complex conversion project in December 2021.
After extensive testing to ensure that the vessel, once in Nigeria, would not experience any teething problems, the special TSHD was transported by Jumbo-SAL-Alliance's HLV FAIRPLAYER to the customer in Lagos.
Why convert?
Converting an inland shipping barge instead of building a new-build dredger has several advantages, according to the yard. Both because of the fast delivery time and because this method simply saves money at the bottom line, it is a very attractive option for dredging businesses.
On top of that, all the dredging equipment was supplied by Damen Dredging – the same installations that are usually fitted in newbuilds. These include a 500 mm trailing suction pipe, gantries, winches, the dredge pump and valves. The refitted TSHD has a capacity of about 1,400 m3.
Through close cooperation with several trusted suppliers, including, for example, system integrator Werkina Werkendam, the conversion of the Inland Trailing Suction Hopper Dredger has been a success.
To create the necessary space for the dredge pump – with drive and various dredging pipes – Concordia Damen cut the Sayonara in half and extended it with 7.5m and a special pump chamber.
Concordia Damen
Concordia Damen's core business is to design and build inland vessels based on innovative and cost-effective profiles, primarily for customers in Western Europe and South America – and now Africa. Since the founding of the company, Concordia Damen has delivered more than 250 vessels with different specifications to ship owners in both the Netherlands and globally.
Sign up for Africa Ports & Ships Newsletter – it's free
Added 20 September 2023
♦♦♦♦♦♦♦♦♦
News continues below
TNPA joins forces with tenants to keep the Port of Durban clean
Africa Ports & Ships
The Port of Durban comes in for a fair amount of criticism whenever there has been heavy rain over the coastal area, often unfairly.
The criticism relates to the large amount of litter and pollution that enters the Bay of Durban, some from two rivers and a stream that feed into the Bayhead area, and city litter and rubbish, including liquid pollution, that is fed into the bay via numerous drains and several canals that drain the city area.
Other pollution enters the bay on the incoming tide through the port entrance channel, pollution that has entered the sea from the nearby Umgeni River. It is then left to Transnet National Ports Authority (TNPA) to arrange and be responsible for the cleanup of the entire harbour area.
This week it was announced that the Port of Durban, i.e. TNPA, has teamed up with its Bayhead Precinct tenants to commemorate International Coastal Clean-Up (ICC) Day themed 'Sea the Change' to preserve the environment and keep the port clean.
International Coastal Clean-up Day is commemorated on 15 September and is recognised as the world's largest volunteer effort for ocean health, which encourages people to remove waste and debris from the world's beaches and waterways during the September month.
It also aims to raise environmental awareness and influence organisations operating in the port precinct to develop smart solutions to marine debris challenges.
"The Port of Durban has participated in the International Coastal Clean-Up initiative for almost a decade now and remains committed to encouraging our employees and stakeholders to rid our coastline of debris and pollution," said said Mpumi Dweba-Kwetana, Port Manager in the Port of Durban.
"The South African constitution also empowers us to conduct these operations under section 24(b) which reminds us of our responsibility to prevent pollution and ecological degradation as well as to promote conservation in the port."
The 2023 activation was augmented to include a clean-up operation in the Bayhead Precinct and Bayhead Natural Heritage site, which are adjoining landside areas.
The day saw over 200 volunteers, including employees from Dormac Marine and Engineering, playing an active role in the cleanup operation. The partnership with Dormac reinforced the spirit of collaboration to bring about environmental change and minimise the negative impact on the human and marine environment in the port, a spokesperson for the port said.
Sign up for Africa Ports & Ships Newsletter – it's free
Added 20 September 2023
♦♦♦♦♦♦♦♦♦
News continues below
CMA CGM & Maersk set joint targets for decarbonising shipping industry
Africa Ports & Ships
Maersk

and CMA CGM have decided to join forces on several areas relating to

decarbonisation

.

While remaining in full compliance with all laws and regulations, both companies believe that joint action will help accelerating the green transition in shipping.

Each company has set a net-zero target for their shipping business, identified scalable solutions that can create impact in this decade, and have each already taken ambitious paths on promoting decarbonisation for shipping.

Maersk has been ordering vessels that can be operated on bio/e-methanol.

CMA CGM has been ordering and operating LNG-propelled vessels, that can also be operated on bio/e-methane, the new green equivalent of current LNG, and has also placed orders for vessels that can be operated on bio/e-methanol.

While these two fuel streams appear now as the most mature among existing solutions, both companies expect the future fuel mix of shipping will include other streams that should be developed in the coming years.
Ambitious collaboration
Specifically, both shipping lines have decided to work together to develop the use of alternative greener fuels for container vessel propulsion, namely:
* Developing high standards for alternative sustainable, green fuels – including the analysis of full lifecycle and related greenhouse gasses – and helping to setting the framework of mass production of green methane and green methanol.
* Developing and maintaining standards for operation of green methanol vessels with regards to safety and bunkering, as well as accelerating port readiness for bunkering and supply of bio/e-methanol at key ports around the world.
* Continuing to explore jointly R&D on other components of the net zero solution as new alternative fuels, like ammonia, or innovation technology for our ships.
* Two leading shipping companies to push advocacy together for the energy transition of the industry.
"Moreover, Maersk and CMA-CGM both agree to the fundamental role of regulation in securing the decarbonisation of the sector. Both companies warmly welcome the outcome of the recent Marine Environment Protection Committee of the International Maritime Organization during which the IMO's 2023 strategy for reducing GHG Emissions from Ships was adopted, with reinforced targets to tackle harmful emissions.
"Maersk and CMA CGM remain committed to jointly advocating for and encouraging IMO Member States to adopt ambitious measures in their pursuit of the highest attainable goals. Regional measures such as the EU Fit for 55 and the Inflation Reduction Act in the US are welcomed by both companies to help stimulate demand for green shipping solutions.
"CMA CGM and Maersk affirm their readiness to collaboratively engage with regulatory stakeholders in establishing a robust and sustainable international regulatory GHG framework and invite other international shipping lines who so wish to join them in this cooperation with the regulatory institutions. Such a framework is in both our companies' perspective a prerequisite to reducing carbon emissions for the shipping industry and securing a level-playing field for a global business environment.
"This partnership is a milestone for the decarbonisation of our industry. By combining the know-how and the expertise of two shipping leaders, we will accelerate the development of new solutions and technologies, enabling our industry to reach its CO2 reduction targets. We are looking forward to being joined by other companies."  source: Maersk
Sign up for Africa Ports & Ships Newsletter – it's free
Added 20 September 2023
♦♦♦♦♦♦♦♦♦
As notícias continuam abaixo
Angola substituirá o armazenamento flutuante de petróleo por terminal
Africa Ports & Ships
Terminal Oceânico do Barro do Dande em construção a norte de Luanda
O Ministro dos Recursos Minerais, Petróleo e Gás de Angola, Diamantino de Azevedo, disse que o planeado novo Terminal Oceânico da Barra do Dande (TOBD) na província do Bengo ajudará a eliminar a necessidade de armazenamento flutuante de produtos petrolíferos no país.
Explicou o desenvolvimento como sendo em termos de criação de condições para a implementação de decretos presidenciais sobre reservas estratégicas e nacionais.
Falava à margem da visita do Presidente de Angola, João Lourenço, ao projecto.
O ministro disse que um armazenamento flutuante de produtos petrolíferos é mais caro do que ter um terminal adequado e exige mais segurança, ao mesmo tempo que afecta a autonomia do país em produtos petrolíferos.
"Queremos criar condições para que o país tenha maior autonomia no abastecimento do mercado nacional em produtos petrolíferos", disse.
O ministro disse que a exportação não é o objectivo principal do projecto, embora sempre que haja excedente de produto disponível, este pode ser disponibilizado para exportação para mercados regionais, essencialmente RDC e Zâmbia.
Revelou que a estratégia de refinação petroquímica permitiu a melhoria da Refinaria de Luanda, que passou a produzir mais gasolina e menos resíduos.
O terminal servirá também para armazenamento de hidrogénio verde, contribuindo para a transição energética e contará com uma planta de enchimento de garrafas de gás de cozinha.
O Terminal Oceânico da Barra do Dande está a ser construído em duas fases numa área de 390 hectares.
A primeira fase prevê a construção de 16 tanques com capacidade de armazenamento de 580 mil metros cúbicos de gasolina, gasóleo e GPL.
Na fase 2 o projeto inclui 29 tanques e capacidade de armazenamento de 724 mil m3.
A Sonangol foi felicitada pelo esforço no financiamento do projecto, apesar de diversas dificuldades. fonte: ANGOP
Inscreva-se na Newsletter Africa Ports & Ships – é grátis
Adicionado em 20 de setembro de 2023
♦♦♦♦♦♦♦♦♦
News continues below
Angola to replace floating storage of petroleum with terminal
Africa Ports & Ships
Barro do Dande Ocean Terminal under construction north of Luanda
Angola's Minister of Mineral Resources, Oil & Gas, Diamantino de Azevedo, said the planned new Barra do Dande Ocean Terminal (TOBD) in the province of Bengo will help eliminate the need for floating storage of petroleum products in the country.
He explained the development as being in terms creating conditions for the implementation of presidential decrees on strategic and national reserves.
He was speaking on the sidelines of the visit of Angola's President João Lourenço, to the project.
The minister said floating storage of petroleum products is more expensive than having a proper terminal and requires more security while affecting the country's autonomy in oil products.
"We want to create conditions for the country to have greater autonomy in terms of supplying the national market in petroleum products," he said.
The minister said export is not the primary aim of the project, although whenever there is a surplus of available product, this can be made available for export to regional markets, essentially the DRC and Zambia.
He revealed that the petrochemical refining strategy allowed the improvement of the Luanda Refinery, which had begun to produce more gasoline and less waste.
The terminal will also serve for the storage of green hydrogen, contributing to the energy transition and will have a filling plant for cooking gas cylinders.
The Barra do Dande Ocean Terminal is being constructed in two phases over an area of 390 hectares.
The first phase includes the construction of 16 tanks with a storage capacity of 580,000 cubic metres of gasoline, diesel and LPG.
With phase 2 the project includes 29 tanks and a storage capacity of 724,000 m3.
Sonangol was congratulated for the effort in financing the project, despite various difficulties. source: ANGOP
Sign up for Africa Ports & Ships Newsletter – it's free
Added 20 September 2023
♦♦♦♦♦♦♦♦♦
News continues below
Wharf Talk: SA Port Statistics for August 2023
Africa Ports & Ships
Port statistics for the month of

August 2023

, covering the eight commercial ports under the administration of Transnet National Ports Authority, are now available.
The statistics here reflect port cargo throughputs, ships berthed and auto and container volumes handled together with bulk and dry bulk volumes.
Motor vehicles are measured in vehicle units as well as included in tonnage on the basis of 1 tonne per unit.
Containers are counted in TEUs, with each TEU representing 13.5 tonnes.
Figures for the respective ports during August 2023 are:
Total cargo handled by tonnes during August 2023, including containers by weight
| | |
| --- | --- |
| PORT | August 2023 million tonnes |
| Richards Bay | 6.6748 |
| Durban | 7.199 |
| Saldanha Bay | 5.643 |
| Cape Town | 1.314 |
| Port Elizabeth | 1.589 |
| Ngqura | 1.243 |
| Mossel Bay | 0.083 |
| East London | 0.230 |
| | |
| Total all ports | 23.947 million tonnes |
CONTAINERS (measured by TEUs) during August 2023
(TEUs include Deepsea, Coastal, Transship and empty containers all subject to being invoiced by NPA
| | |
| --- | --- |
| PORT | August 2023 TEUs |
| Durban | 251,515 |
| Cape Town | 72,955 |
| Port Elizabeth | 21,574 |
| Ngqura | 51,573 |
| East London | 6,998 |
| Richards Bay | 30 |
| | |
| | |
| Total all ports | 404,645 TEU |
MOTOR VEHICLES RO-RO TRAFFIC (measured by Units- CEUs) during August 2023
| | |
| --- | --- |
| PORT | August 2023 CEUs |
| Durban | 56,352 |
| Cape Town | 4 |
| Port Elizabeth | 19,795 |
| East London | 11,998 |
| Richards Bay | 6 |
| | |
| | |
| Total all ports | 88,147 |
SHIP CALLS for August 2023
| | | |
| --- | --- | --- |
| PORT | August 2023 vessels | gross tons |
| Durban | 251 | 8,491,114 |
| Cape Town | 120 | 2,895,574 |
| Richards Bay | 123 | 5,337,223 |
| Port Elizabeth | 98 | 2,430,143 |
| Saldanha Bay | 53 | 3,362,928 |
| Ngqura | 57 | 2,808,984 |
| East London | 26 | 991,794 |
| Mossel Bay | 29 | 148,140 |
| | | |
| Total ship calls | 757 | 26,465,900 |
— source TNPA, with adjustments regarding container weights by Africa

Ports & Ships
Sign up for Africa Ports & Ships Newsletter – it's free
Added 19 September 2023
♦♦♦♦♦♦♦♦♦
News continues below
WHARF TALK: Anglo-Boer War Hospital Ships – Part 2
Story by Jay Gates
The 'Avoca' was built in 1891 by the William Denny Shipyard at Dumbarton, for the British India Associated Steamer Company. She was 104 metres in length and had a gross registered tonnage of 5,183 tons. She had a triple expansion steam engine, driving a single screw for a service speed of 14 knots.
As built 'Avoca' had accommodation for 80 first class passengers, and 1,000 third class passengers. She entered service on the UK Royal Mail service to Queensland in Australia. IN 1899 she was chartered to act as Troopship for the British Government and made four voyages to South Africa. For her fifth voyage, she was converted into a hospital ship, for the duration of the war.
In later years, 'Avoca' was sold on to become an emigrant ship, operating between Rotterdam in Holland, to Halifax in Nova Scotia, Canada, and New York City. She was lost on 5th May 1917 when she was torpedoed by the German submarine UC-48 off the coast of Ireland. She sank with the loss of 45 lives.
The 'Orcana' was built by the Harland & Wolff Shipyard in Belfast, Northern Ireland, for the Pacific Steam Navigation Company (PSNC), of Liverpool. She was 130 metres in length and had a gross registered tonnage of 4,821 tons. She had a triple expansion steam engine producing 483 nhp, driving a single screw for a service speed of 11 knots. She served the traditional PSNC route between the United Kingdom and South America, and was utilised to carry emigrants from Portugal to Brazil, and from Spain to other Spanish speaking South American destinations.
She served throughout the Boer War between October 1899 to December 1902, initially as a troopship. On her first voyage she brought the 1st Battalion, the Argyll and Sutherland Highlanders, to Durban, where she arrived on 24th November 1899. She was then converted to a hospital ship, and for the rest of the war she repatriated a total of 217 officers, and 2,373 NCOs and men, all sick or wounded, back to England.
In 1904 'Orcana' was sold on to the great German company, the Hamburg America Line, and used on their transatlantic routes. In April 1917, when the USA entered the First World War, she was seized by the American authorities. On 5th June 1918 she was sunk by the German submarine U-82 off the Bishop Rock lighthouse, close to the British mainland.
The 'Nubia' was built in 1894 by the John Caird shipyard at Greenock in Scotland. She was 131 metres in length and had a gross registered tonnage of 5,914 tons. She was powered by a Caird & Co. triple expansion steam engine producing 700 nhp, driving a single screw for a service speed of 14 knots.
She was built for the great Peninsular and Oriental Steam Navigation Company (P&OSN), and made her maiden voyage from the United Kingdom to Calcutta in India. She had accommodation for 90 first class passengers, and 62 second class passengers.
Before the start of the Boer War, she was acting as a troopship and carrying troops of the Loyal North Lancashire Regiment from Cairo in Egypt, to India. Five of the soldiers of the regiment died onboard of Cholera, which was thought to have originated in the fresh fruit that was taken onboard at Port Said.
She was chartered by the British Government and converted to a hospital ship. She served in this role from October 1899 to 1903. During her time as a hospital ship she repatriated 333 officers, and 4,322 NCOs and men, all sick or wounded, back to England. She was lost on 20th June 1915 when she wrecked less than a mile from the port of Colombo, in then Ceylon.
The last of the Boer War hospital ships being looked at is the 'Simla'. She was also built in 1894 at the John Caird shipyard at Greenock, for the P&O Steam Navigation Company, for their routes from the United Kingdom to India, and was a sistership to 'Nubia'. She was 131 metres in length and had a gross registered tonnage of 5,884 tons. She had a Caird & Co. triple expansion steam engine producing 700 nhp, driving a single screw for a service speed of 15 knots.
She also provided accommodation for 90 first class passengers, and 66 second class passengers, and 'Simla' started out being chartered as a troopship by the British Government. She took the Queen's Own Cameron Highlanders to South Africa, landing them in Durban on 25th March 1900. She was then converted to a hospital ship, and on 27th August 1900 she sailed from Cape Town, bound for England, with 18 officers, and 274 NCOs and men, all sick or wounded.
On 23rd April 1902 she arrived in Durban, from Lourenço Marques in Portuguese East Africa. She was carrying 246 invalids, all sick or wounded, who were in transit back to England. She sailed for England, four days later, on 27th April 1902.
She was lost on 2nd April 1916 when she was torpedoed by German submarine U-39 in the Mediterranean Sea, off Malta, with the loss of 11 lives.
Despite the dire requirement to have to have hospital ships at your disposal during wartime, there is something quite beautiful about a converted passenger liner, resplendent in her overall white finish, and displaying the international symbols of the Red Cross.
Sadly, this is sometimes not enough, and in the next big war, the First World War, some German U-Boat Commanders had no respect for the International Committee of the Red Cross, or the articles of the Geneva Convention. On more than one occasion during that dreadful war, they felt no compunction about targeting, torpedoing, and sinking fully lit, and marked, hospital ships. However, that story is for another time.
Sign up for Africa Ports & Ships Newsletter – it's free
Added 19 September 2023
♦♦♦♦♦♦♦♦♦
News continues below
Rail line into Port Elizabeth heavily damaged by rough sea action
Manganese flow into port temporary suspended
Africa Ports & Ships
The extremely rough seas being experienced around the South African coast in recent days has caused heavy damage to the main railway line that leads into Port Elizabeth harbour.
Approaching the city and port, the line runs along the coast, separated from the sea only by piles of concrete dolosse. Heading into the port it also comes close to the sea.
On Saturday 16 September at the peak of the high seas pounding the coast during the abnormal spring tides, washed away about 500 metres of track and pushed large rocks and other debris and sand onto the track for approximately 1,000 metres.
Transnet Freight Rail said this has heavily impacted he flow of manganese ore into the harbour as train movements are temporary suspended.
TFR said it is exploring other contingencies, including utilising the Port Elizabeth station as a bypass into and out of the Port, although it said such a method will result in a reduced operation.
On Monday 18 September TFR said major repairs will be conducted during the coming week, dependent on favourable weather conditions.
"We continue to monitor the weather forecast to ensure the safety of our teams working on the recovery. Normal operations will resume promptly after the line has been repaired and declared safe for train movement," TFR said.
Customers have been notified about the extent of the infrastructure damage and the resultant impact on operations.
Sign up for Africa Ports & Ships Newsletter – it's free
Added 18 September 2023
♦♦♦♦♦♦♦♦♦
News continues below
Abo FPSO sold to Nigerian interests
Africa Ports & Ships
BW Offshore has confirmed the sale of its Abo FPSO to STAC Marine Offshore Limited, a member of the Nigerian Transport Group (STAC) for USD 20 million.
As part of the transaction, BW Offshore has entered into a bareboat charter with STAC to allow for uninterrupted operations for the client during a transition period of a maximum two months.
Upon expiry of the bareboat charter, STAC will assume responsibility for operations of the unit.
Originally known as the GRAY WARRIOR, a Suezmax tanker built in 1976, the vessel underwent conversion at Keppel Shipyard before beginning its operations as a FPSO in April 2003.
Abo FPSO has now reached a commendable milestone, having completed two decades of service on the Abo field, located in deepwater offshore Nigeria. More specifically, it lies in block OML 125 (OPL 316), with a water depth of 805 metres.
Abo FPSO has an oil production capacity of 44,000 b/d, a gas handling capacity of 44 mmcf/d, and can store 930,000 bbls.
Abo field is operated by Nigerian Agip Exploration, a subsidiary of the Italian oil company Eni 1.
This is the second FPSO sold by BW Offshore in recent months. In July, it sold FPSO SENDJE BERGE, also in Nigeria, to a local FPSO owner and operator for USD 15 million.
Sign up for Africa Ports & Ships Newsletter – it's free
Added 19 September 2023
♦♦♦♦♦♦♦♦♦
News continues below
Ghana commissions two ex-USCG patrol ships into navy
Africa Ports & Ships
The US Government has donated two former US Coast Guard patrol boats to the Ghana Navy to help fight illegal fishing and piracy off the Ghanaian coast.
The two cutters, the former Protector-class patrol boats, built by the Bollinger Shipyards, have been renamed and commissioned as GNS FAIDOO and GNS AMOAMA.
The arrival of the two patrol boats comes at a time of a resurgence in piracy following a two-year lull. Illegal fishing along the long West African coast, however, continues unabated and it is only with regular patrols and inspections that this curse will possibly be arrested.
The re-emergence of piracy is occurring further offshore and will require the ability of patrol vessels capable of extending anti-piracy patrols into deep ocean, to counter this new tactics of the pirates.
Ghana's latest additions have a speed of 25 knots and can remain at sea for around three days. Each vessel requires a crew of between 10 and 12.
The Protector class are 27 metres long and 5.92m wide and are powered by two MTU 8V 396 TE94 diesel engines. Based on the Damen Stan 2600 type, they have a range 0f 1,700km (roughly 1,000 miles) and are armed with two .50 caliber M2 Browning machine guns.
Each boat is equipped with a Rigid Hulled Inflatable Boat (RHIB).
Fishery patrols are likely to play a major role for GNS Faidoo and GNS Amoana, with increasing numbers of international fishing vessels operating in the Gulf of Guinea, including off the Ghana coast. As a result much of the fish stock is under threat of collapse due to over-exploitation.
This includes stock of sardinella, a staple food for Ghanaians.
US Ambassador to Ghana, Virginia Palmer, drew attention to this at the commissioning ceremony at Ghana's Naval Base at Sekondi on 9 September.
"Piracy and illegal fishing pose a persistent threat to Ghana's prosperity," she said. "These 86-foot ships will help the Ghana Navy increase patrols to address these threats."
The patrol boats were accompanied by two 38-foot Defender class patrol boats that will see service with Ghana's Special Boat Squadron, a section of the Ghana Navy. The two Defenders came with their trailers and a variety of spare parts and will include training.
Sign up for Africa Ports & Ships Newsletter – it's free
Added 19 September 2023
♦♦♦♦♦♦♦♦♦
News continues below
Air cargo: Dangerous goods study
Edited by Paul Ridgway
London
On 14 September it was announced from Geneva by the International Air Transport Association (IATA) with Labelmaster, and Hazardous Cargo Bulletin, the publication of results of their eighth annual 2023 Global Dangerous Goods Confidence Outlook.
The survey results highlighted the need to reduce process complexity, establish effective staff recruitment and retention programmes, and enhance digitalization to facilitate the safe and compliant transport of dangerous goods (DG) or hazardous materials (hazmat).
In the words of Robert Finn, vice president, Labelmaster: "Ongoing supply chain disruptions along with the continued growth of e-commerce and markets that rely on DG – from consumer products to electric vehicles – have made shipping goods safely and compliantly increasingly difficult.
"While organizations showed improvement in their DG operations over the last year, the survey underscored the need to reduce process complexity and enhance digitalization to address future supply chain and regulatory challenges."
Nick Careen, IATA's senior vice president of operations, safety, and security, added: "Confidence among DG professionals is high, yet challenges remain. These include process complexity, the mis-declaration of DG and the recruitment of skilled personnel. To meet the future growth in DG shipments, we need well-trained professionals following globally agreed standards and supported by the right technology and infrastructure."
Key Findings and Recommendations
DG professionals are confident about the industry's level of infrastructure and investment.
The survey found that:
* 85% of respondents believe that their infrastructure is on par or ahead of the industry.
* 92% increased or kept their DG investment the same year-over-year.
* While 56% believe their current infrastructure meets existing needs, only 28% responded that it meets both current and future needs.
Process complexity, misdeclared DGs and attracting qualified staff remain challenging.
The survey found that:
* 72% of those replying need more support to address future DG compliance.
* Views of the labour market are mixed, with 40% indicating that current challenges will persist, 32% expecting the labour market to improve and 28% believing that it will become more difficult to find qualified staff.
* 56% said they expect the mis-declaration of DGs to stay the same or worsen.
Sustainability remains a focus across the industry.
* 73% of DG professionals report that their organizations have sustainability initiatives in place or planned.
* However, 27% do not have any sustainability initiatives planned, showing room for improvement.
Creating a Better DG Supply Chain
The survey results point to the challenges that the air cargo value chain continues to face in process simplification, digitalization, and training.
Some key compliance tools from IATA and Labelmaster are helping to address these needs by:
* Reducing complexity by establishing repeatable processes with DG software such as Labelmaster's DGIS.
* Integrating DG software into enterprise resource planning (ERP) and warehouse management system (WMS) to ensure complete, accurate data.
* Strengthening employees' understanding of DG regulations with Labelmaster's immersive 3D experiences, in other words training.
Finn added: "While DG professionals are generally optimistic about the future, the survey shows improvements to processes are needed to adapt to supply chain and regulatory changes. The good news is there are plenty of tools available that will help organizations address current and future needs and keep regulated goods moving safely, compliantly, and efficiently."
To learn more about the state of the global DG supply chain readers are invited to download material here.
Sign up for Africa Ports & Ships Newsletter – it's free
Added 18 September 2023
♦♦♦♦♦♦♦♦♦
News continues below
Durban Chamber of Commerce says Transnet CEO and execs must go
Africa Ports & Ships
First it was the Mining Council that called for the axing of Portia Derby, chief executive of Transnet, along with her management executives.
Now the Durban Chamber of Commerce & Industry (DCC), one of the largest and oldest business forums in the country, has added its voice saying the CEO and her executive team should all resign.
Durban is home to the largest and busiest general cargo port in South Africa. The railway from Durban inland to Gauteng and other provinces, is also the country's main general freight rail corridor.
The letter making this known was sent on 12 September to the Minister of Public Enterprises, which has responsibility for Transnet, citing the top Transnet management of effectively sabotaging businesses because of a lack of service delivery.
The letter to Minister Gordhan, signed by Palesa Phili, DCC's chief executive, states the lack of service delivery amounts to sabotaging South Africa's business, which it says it can no longer tolerate.
The Chamber accuses Derby and her head of Freight Rail, Sizakele Mzimela, and Transnet National Ports Authority CEO, Pepi Silinga, as not having the best interests of the business community at heart.
The letter identifies the current port infrastructure as suffering through the lack of service delivery.
Concern is expressed about the condition of the ports.
Derby's behaviour, it said, is "clearly geared towards sabotaging businesses, through the lack of service delivery with the current port infrastructure."
In addition, the Transnet executive team has proven time and time again that they are incompetent. "Businesses are collapsing and losing revenue daily… we cannot allow this to continue any longer."
The letter to Gordhan says the chamber believes there needs to be an in-depth investigation into TPNA's recruitment and procurement processes.
The Chamber specifically questions Derby's motives in her statement last month when she expressed concern about potential job losses in the trucking sector should Transnet Freight Rail improve on its services.
While acknowledging external factors affecting the performance of rail, it says there is no evidence of meaningful interventions to identify and rectify internal inefficiencies nor is there any stakeholder engagement by TFR.
"This is resulting in business uncertainty".
The new Transnet Board has already been tasked by Gordhan to conduct a sweeping and thorough review of Transnet, including of the executive management, asking whether the right people with the right skills are in place. The Board was also asked to identify the root causes of the inability of management and staff to meet performance targets.
One problem with this instruction is the time it will take to carry it out for any meaningful effect, if any.
Response
On Friday (15 September) Transnet issued a written statement in response to DCC's letter to the minister.
Transnet said it had been made aware of the DCC's letter expressing concerns about operations at the city's port, and calling for the removal of the Transnet leadership.
Portia Derby, it said, met with the Mayor of eThekwini (Durban), Cllr Mxolisi Kaunda, and the CEO of the Chamber, Palesa Phili, on the sidelines of another engagement in Durban and the parties have agreed to collaborate on finding solutions to the pressing challenges.
"A meeting will be held as a matter of urgency to discuss the critical issues which cause frustration to the members of the Chamber. After this meeting a joint statement will be issued by the parties, detailing the interventions to be implemented by Transnet."
Sign up for Africa Ports & Ships Newsletter – it's free
Added 18 September 2023
♦♦♦♦♦♦♦♦♦
News continues below
WHARF TALK: Anglo-Boer War Hospital Ships – Part 1
Story by Jay Gates
The use of hospital ships in both wartime and peacetime is nothing new. The Royal Navy documented that the ship hospital ship 'Goodwill' accompanied a Royal Navy Flotilla in the Mediterranean Sea as far back as between 1608 and 1609.
The Royal Navy has continued to use hospital ships vessels throughout the next four hundred years, although the standard and understanding of a hospital ship from 1608 would not be one that could be applied to a hospital ship of 2008.
The casual maritime observer will be well aware that hospital ships of the Allies were regular callers in South African ports throughout both the First World War, and the Second World War, of which there were many. Certainly a subject for a future story within these hallowed pages.
This was especially so as many South African soldiers were serving in the war zones of Southwest Africa, East Africa, North Africa, Italy and elsewhere in both conflicts, and South African hospitals and medical staff at both Cape Town and Durban were in great demand for the treatment and convalescence of these repatriated heroes.
What few folk may be aware of is that the use of hospital ships in the Boer War of 1899-1902 was also very prevalent. There were thousands of British soldiers, and Colonial soldiers, who required medical care, and many of these were to be repatriated to the United Kingdom to receive that medical care.
It was the first time that steamships were utilised, and where every hospital ship was chartered from their commercial owners, or what is known as 'taken up from trade', to serve in that capacity. Some of these vessels were used as Troopships before, later, they were switched to a hospital ship role, but a number of them were converted to be used solely as hospital ships.
In all, a total of 15 hospital ships are thought to have been utilised throughout the Boer War by the British Government, all built as small passenger liners, and previously operated by some of the greatest British shipping companies. One of them was unique in how it was operated, and only remained in service in the South African arena for a short period of six months. Of the total of 15 hospital ships, we will take a brief look at five of them.
The background to the Boer War is very much one of Imperial expansion, and depending on whether or not you speak English or Afrikaans, or if you received a pre-1994 Nationalist education, your view of that war, and its aftermath, will very much differ, and is unlikely to change. The anti-colonial 'woke' world we are now forced to live in means that we are being challenged to change even those views.
One tends to forget that in 1899 the concept of a South African citizen did not exist, and anyone with an Anglo-Saxon heritage, and an English speaker, generally considered themselves to be a British citizen, and loyal to Queen Victoria. It is not for nothing that the old colony and province of Natal in general, and Durban in particular, considered themselves to be the standard bearers of the last outpost of the British Empire.
On the outbreak of what is loosely known as the Boer War, in October 1899, Bernard Baker, the owner of the Atlantic Transport Line, offered to the British Admiralty one of his fleet of vessels to be used as a hospital ship for the conflict. He would arrange for the cost of the conversion of the vessel, which was the 'Maine'.
She was built in 1887 by the William Grey shipyard at Hartlepool in Northeast England. She was 96 metres in length and had a gross registered tonnage of 2,854 tons. She was powered by a Central Marine Engineering triple expansion engine, driving a single screw.
The conversion of 'Maine' to that of a hospital ship was completed by Fletcher & Fernall, of Limehouse Reach on the River Thames, during November and December 1899. The cost of the conversion was met by a charitable fund known as 'The American Ladies Hospital Ship Fund', which was formed by a group of three American women living in England at the time. All three were American-born socialites, and much of the raised funds came from American citizens.
The Chairperson of the fund was none other than Lady Randolph Churchill, of Brooklyn in New York. She was the wife of Lord Randolph Churchill, and the mother to the great Winston Churchill. The fund launched a swift fund-raising campaign for the conversion of the 'Maine' and quickly raised the required £41,000. The vessel owner, Bernard Baker, paid the crew wages, and the vessel operating expenses whilst 'Maine' remained in British Government service.
The vessel was retitled as the 'American Hospital Ship (AHS) Maine', and flew the American flag at her masthead. She sailed from London on Christmas Eve, 24th December 1899, bound for Durban, where she arrived on 31st January 1900. Lady Churchill accompanied the vessel, serving on the crew as a Nursing Aid. Whilst crewed by British Officers, once she was handed over to the American government, the medical staff onboard 'Maine' were mostly American.
The first hospital ship to be utilised in the Boer War, 'Maine' remained in Durban harbour for the next two months serving as a Base Hospital Ship. In an ironic twist of fate, one of the soldiers treated onboard 'Maine' was none other than Lady Churchill's other son, Major John Churchill, who had been wounded at the battle of Tugela Heights, during the British advance towards Ladysmith.
Winston Churchill himself had an adventure of his own whilst he was in South Africa, acting as a journalist, with his capture by Boer forces, followed by a famous escape from captivity, and a return to British lines. It is all 'Boys Own' stuff.
After a stay of just over two months in Durban, 'Maine' sailed for Southampton, carrying British sick and wounded officers and men. She arrive back in Southampton on 23rd April 1900. Less than a fortnight later, on 5th May 1900, she sailed once more for South Africa, this time for Cape Town. After a stay of just over a week in Cape Town, she returned to Southampton for a final time, with yet more British wounded and sick officers and men, arriving back on 2nd July 1900.
After a short Boer War exposure of just two six months, she never returned to South Africa. However, after the end of the Boer War, Bernard Baker formally donated 'Maine' to the British Government in 1903. On the formation of the Royal Fleet Auxiliary (RFA) in 1905, 'Maine' was given the RFA prefix to her name, and became not only the first such vessel to be known as an RFA, but also the first hospital ship to be a permanent part of the Royal Navy fleet.
She served as a hospital ship during the Boxer Rebellion in China, and in June 1911 she was part of the Royal Navy fleet in the Coronation Fleet Review for King George V in Torbay. On the eve of the First World War, on 17th June 1914, 'RFA Maine' ran aground on the Isle of Mull, in the Scottish Highlands, and could not be refloated. She was declared a total loss.
Part 2 tomorrow
Sign up for Africa Ports & Ships Newsletter – it's free
Added 18 September 2023
♦♦♦♦♦♦♦♦♦
News continues below
Citrus Exports: 2023 Orange season comes to an end
Africa Ports & Ships
The

Citrus Growers' Association of South Africa (CGA)

and the

Fresh Produce Exporters' Forum (FPEF)

have announced the conclusion of the 2023 orange exports to Europe.
The final day of inspection for oranges exported to Europe from South Africa, not including exports from the Western and Northern Cape provinces, was on Friday the 15th of September.
As the South African citrus season in Europe comes to its natural end around the 15th of October, this gives the floating consignments of approved oranges time to reach destinations in Europe, said the CGA.
The CGA and FPEF's announcement also allows the northern hemisphere to take advantage of current excellent market conditions. It is in a spirit of budding co-operation with European citrus producers, notably in Spain, that the South African industry now hands over the handling of citrus demand to the northern hemisphere.
Consumers worldwide, including Europe, have shown an exceptional appetite for South African citrus. The local industry has not been able to fill the demand by European orange consumers this year.
"Considering the challenges growers have had to face during the 2023 season – which included continued load shedding, unusual weather and logistical strain at ports and on rail – the CGA and FPEF wants to thank growers, exporters and other industry role-players for their continued productivity and commitment to an industry that supports 140,000 livelihoods," said the statement.
"As ever, the CGA and FPEF remain committed to working with government and other value chain partners to ensure local growers can withstand the current economic headwinds." source: CGA & FPEF
Sign up for Africa Ports & Ships Newsletter – it's free
Added 18 September 2023
♦♦♦♦♦♦♦♦♦
News continues below
– Disasters in Morocco and Libya
– Security in Somalia
Edited by Paul Ridgway
London
Morocco and Libya
On 13 September, IMO S-G Kitack Lim expressed his deepest condolences to the Government of the Kingdom of Morocco and to all those impacted by the devastating earthquake which struck on 8 September killing nearly 3,000 people.
The same day a letter of condolence was sent to the Libyan authorities and to the families of those who have lost their lives in the massive flooding in eastern Libya following storm Daniel. It was reported that thousands of lives had been lost with many thousands missing. The Secretary-General emphasised that the IMO community stands ready to support UN relief efforts.
Somalia
Enhancing maritime security is a crucial catalyst for the sustainable development of the maritime sector. It supports government efforts to generate revenue, create employment opportunities, and ensure stability, all of which are of paramount importance to the beneficiary states of the Regional Programme on Maritime Security in the Red Sea Area.
This capacity-building programme focuses on countering piracy, armed robbery against ships, and other illicit maritime activities in the Red Sea area.
Efforts to safeguard the Red Sea area from strategic threats such as maritime terrorism, illegal, unregulated, and unreported (IUU) fishing, the trafficking of drugs, weapons and people, and the illegal wildlife trade is a high priority.
Of growing concern are emerging threats such as cyber security, aerial drones, boat-borne improvised explosive devices, and attacks on ships using limpet mines. If left unchecked, these activities could undermine the value of the maritime sector and the blue economy in the countries of the region.
Twenty-five participants, representing relevant ministries and agencies from the Federal Republic of Somalia attended a three-day workshop in Mogadishu held from 10 to 12 September to discuss the importance of multi-agency collaboration, active participation, and engagement of all stakeholders for the effective application of maritime security measures.
Topics covered included:
* How to establish a National Maritime Security Committee structure in line with the requirements of the Jeddah Amendment to which Somalia is party.
* How to develop a National Maritime Security Risk Register (NMSRR) using the IMO Risk Assessment methodology.
* An explanation of the process to develop the country's National Maritime Security Strategy (NMSS), with the support of IMO.
Workshop participants were from the Office of the Attorney General; the Ministry of Ports and Marine Transport; the Ministry of Justice; the Ministry of Fisheries and the Blue Economy; the Somali Maritime Research Center; Puntland Maritime Police Force; the Puntland Ministry of Marine Transport, Ports and Crime Prevention; and Bosaso Port Administration (BPA).
The Red Sea Programme is funded by the European Union and jointly implemented by IMO, the United Nations Office on Drugs and Crime (UNODC), INTERPOL, and the Intergovernmental Authority on Development (IGAD). Under this initiative, IMO aims to assist participating countries in enhancing maritime security and safety in the Red Sea Area, aligning with the 2050 Africa Integrated Maritime Strategy.
Sign up for Africa Ports & Ships Newsletter – it's free
Added 18 September 2023
♦♦♦♦♦♦♦♦♦
News continues below
Senior Transnet Engineering manager arrested for corruption
Africa Ports & Ships
Transnet Engineering

has revealed that one of the company's managers was arrested for alleged corruption.
A team of Transnet internal investigators, working with the SAPS Directorate for Priority Crime Investigation (DPCI) officers from Gauteng and Limpopo provinces, arrested a manager from Transnet Engineering on allegations of corruption.
The manager was arrested following a joint operation on 2 September 2023, where a bribe of R150,000 was solicited from one of Transnet's suppliers in exchange for Transnet assets valued at R1 million.
Following the arrest, the employee appeared in court on 4 September 2023 on corruption charges and was granted bail of R5,000.
Transnet said it welcomes the dedication of its internal investigation team as well as officers from Limpopo and Gauteng DPCI.
"Transnet would also like to extend its gratitude to the supplier for their cooperation and assistance."
The company said it it is committed to rooting out all forms of criminality and encourages all employees, vendors, and customers to report any suspicious illegal conduct to the Transnet Anti-Fraud and Corruption Hotline: Toll free: 0800 003 056, Fax: 086 551 4153.
Email: reportit@ethicshelpdesk.com
Sign up for Africa Ports & Ships Newsletter – it's free
Added 18 September 2023
♦♦♦♦♦♦♦♦♦
News continues below
ONE and Project Maji: Safe fresh water in rural Ghana and Kenya
Edited by Paul Ridgway
London
It was reported from London on 13 September that Ocean Network Express (ONE) had announced its partnership with Project Maji, a pan-African safe water NGO, to address the critical issue of clean water access in rural communities in Ghana and Kenya.
This partnership, made through its subsidiary and regional headquarters Ocean Network Express (Europe) Ltd., aims to transform many lives by installing multiple solar-powered water access points, significantly improving health and education prospects.
Maji tower in Ghana
Recognising the pressing need for clean water and its transformative impact on communities, ONE has funded the implementation of sustainable water solutions in both Ghana and Kenya as well as financing free water kiosks supplying rural schools.
This contribution is set to make an immediate and lasting difference in the lives of those who have long grappled with water borne diseases and unsafe drinking water.
In Ghana, ONE has sponsored the creation of the Project Maji River Solution on the banks of the Volta River, featuring a pumping and filtration station that supplies safe water to three Maji towers spread out across the Adidokpoe and Afalekpoe communities. This positively impacts the lives of over 4500 people in the two rural communities.
Support to Kenya
Additionally, ONE has extended its support to Kenya by funding the establishment of the Maji Plus system, a comprehensive solar piped system providing safe water for a population of 3000. By facilitating access to clean water, ONE and Project Maji are not only safeguarding the health of individuals but also triggering a positive chain reaction across various aspects of these communities.
Rapid sand filtration
At the core of these initiatives is technology that involves rapid sand filtration, a water purification method that treats both surface and river water making it fit for human consumption and domestic use. The Maji tower is a structure constructed with a concrete platform to hold a 2500L tank which supplies water through three dispensing taps fitted with a cashless dispensing system.
For convenience, the tower offers two spouts at overhead height to facilitate people fetching water with a head bucket as well as a standard height spout.
Multiple water dispensing points
Through the establishment of multiple water dispensing points, residents gain convenient access to clean water, eliminating the need for arduous journeys to distant water sources. Moreover, the provision of free water access in local schools contributes to a conducive learning environment which will help foster the growth of the next generation.
This partnership also signifies ONE's commitment to Sub-Saharan Africa, with its established offices in Ghana, Ivory Coast, Nigeria, South Africa, and the launch of Ocean Network Express Kenya Ltd. in April this year.
By engaging with local communities, ONE reaffirms its dedication to sustainable development and corporate social responsibility, and vision to create a lasting impact beyond business operations.
Sign up for Africa Ports & Ships Newsletter – it's free
Added 18 September 2023
♦♦♦♦♦♦♦♦♦
News continues below
Trade News: Converting floriculture from airfreight to sea
Africa Ports & Ships
As a means of lowering transportation costs of flower shipments an reducing carbon footprint, Daikin Reefer says it is working with key floriculture industry stakeholders to convert cut flower shipments from air to sea.
Japanese headquartered Daikin Reefer is a business unit of the refrigeration division of global refrigeration, air conditioning and climate control provider Daikin Industries, Ltd.
The global cut flower market had an estimated value of USD 36.4 billion in 2022 and is expected to grow further. Flowers are highly perishable and need specific post-harvesting treatment and proper handling before they are even ready for temperature-controlled transportation.
Nearly all cut flowers are transported by costly air freight due …
Read the rest of this report in the

TRADE NEWS

section available by CLICKING HERE
to their extreme time-sensitivity and are nearly always bound for distant export markets, i.e. Kenya – Europe.
Air freight has traditionally been seen as the only way to reduce the farm-to-market time: one of the biggest challenges for exporters is maintaining the vase life of flowers from the moment they are picked right through to their arrival at destination, and cut flowers need to be transported under precise atmospheric conditions to maintain optimum condition and value.
In recent years cut flower exporters have found it increasingly difficult to secure freight capacity and have also endured extremely high freight rates, resulting in the need to identify alternative logistical and transportation solutions.
But now, according to Daikin, a number of successful cut flower shipment trials using Daikin Active CA (controlled atmosphere) have been undertaken in collaboration with industry stakeholders, including cut flower exporters and shipping lines.
As a result of the successful trials, live commercial shipments by sea have now taken place, thereby converting shipment from air to sea and proving the efficacy of the Daikin Active CA method. These live commercial shipments include Kenyan roses to Europe, and chrysanthemums and carnations from South East Asia to Japan and Colombia to Asia.
"Cargo outturn for these shipments was excellent, due to the unique technological advantages that Daikin Active CA offers exporters and shippers of cut flowers," Daikin claimed in a statement.
Firstly, Daikin Active CA has customised control logic that continually monitors and fine-tunes both temperature and atmospheric composition inside the container. A rich nitrogen gas with humidity is charged into the container, reducing the respiration of the cargo by reducing oxygen content, which means both O2 and CO2 levels can be controlled and humidity is conserved.
Secondly, unlike other CA offerings in the market, Daikin Active CA does not use membrane technology to inject dry nitrogen into the container, which is largely considered unfavourable for horticultural perishable produce, particularly cut flowers.
"The remarkable performance of Daikin's Controlled Atmosphere technology has significantly revolutionised the logistics landscape for shipments of our perishable cut flower chrysanthemums to Japan," said Katrine Yam, Business Development Director for Daido Hana Sdn Bhd.
"Daikin has not only unlocked a more efficient and cost-effective mode of transporting fresh cut flowers, but has also mitigated the challenges posed by vessel delays," Yam said.
"We are able to safely declare sea logistics with Daikin Controlled Atmosphere as an alternative to air logistics. This has improved the efficiency of sea logistics and further, positively impacted the global supply chain. This exceptional performance is a game-changer in sea logistics for us."
Takashi Adachi, General Manager of Nippon Express, said that as a logistics provider serving floriculture exporters, they are confident that their customers' produce will get to market in prime condition with Daikin Active CA, thanks to its quality, reliability and unique ability to maintain the freshness of cut flowers even on longer sea shipments.
"Daikin Active CA has proven its success in both trial and live shipments of cut flowers and now sets the standard that both we and our customers would expect for sea shipments of their valuable produce," said Yu Kurimoto, Managing Director of Ocean Network Express (ONE).
"Combining Daikin's technology with ONE's expertise in ocean transport and young reefer fleet, we can offer best-in-class service to our customers to deliver their cargo to the market in optimal condition."
"We are confident that Daikin Active CA is now the preferred choice for exporters and shippers of cut flowers," commented Ah Huat Goh, General Manager, Global Marketing & Service, Reefer Department at Daikin Reefer.
"We are leading the way in providing technologically advanced, cost-effective and environmentally sustainable transportation solutions for cut flowers, reducing the previous dependency on air freight alone for their export."
Sign up for Africa Ports & Ships Newsletter – it's free
Added 18 September 2023
♦♦♦♦♦♦♦♦♦
News continues below
Dheeraj Bhatia appointed CEO of Hapag-Lloyd Terminal Holding
Africa Ports & Ships
As the major container shipping lines become more involved in landside terminal operations, comes news that German container carrier Hapag-Lloyd has appointed their own Dheeraj Bhatia to become Member of the Executive Board responsible for terminals within the group. This becomes effective as from January 2024.
He will also become CEO of the new Rotterdam-based Hapag-Lloyd Terminal Holding, in which Hapag-Lloyd AG's infrastructure holdings will be pooled.
Bhatia has more than 20 years of experience in the container shipping business. During this time, he has held several international management positions, including at Norasia Container Lines Limited and CSAV.
In 2014, Bhatia joined Hapag-Lloyd as Managing Director and initially headed Area India. Since 2018, he has been based in Dubai and serving as Senior Managing Director of Region Middle East. At the same time, he has been a member of Hapag-Lloyd's Executive Committee.
"With Dheeraj Bhatia's appointment, we are gaining a proven expert in container shipping for the Executive Board of Hapag-Lloyd AG. Thanks to his international experience, the Supervisory Board is firmly convinced that the development, expansion and integration of our terminal portfolio will be in the best of hands," said Michael Behrendt, Chairman of the Supervisory Board of Hapag-Lloyd AG.
A new Terminal & Infrastructure portfolio will be established on the Executive Board. Bhatia will thus be the first Indian national as well as the fifth member of the Executive Board – alongside CEO Rolf Habben Jansen, CIO/CHRO Donya-Florence Amer, CFO/CPO Mark Frese and COO Dr Maximilian Rothkopf.
Hapag-Lloyd
Hapag-Lloyd operates with a fleet of 258 container ships and a total transport capacity of 1.9 million TEU. The Company employs around 14,000 people and has 400 offices in 135 countries and a total of 115 liner services worldwide.
Sign up for Africa Ports & Ships Newsletter – it's free
Added 18 September 2023
♦♦♦♦♦♦♦♦♦
News continues below
MSC in J/V with Hamburg-controlled HHLA Port Terminal & Logistics Group
Africa Ports & Ships
The

City of Hamburg and Mediterranean Shipping Company S.A. (MSC)

last week entered into a binding Memorandum of Understanding aimed at a strategic partnership regarding Hamburger Hafen und Logistik Aktiengesellschaft (HHLA).
Within the MoU, MSC intends to acquire all free-floating A-Shares of HHLA and will launch a voluntary public takeover offer at EUR 16,75 per A-Share (57% premium to 30-day volume weighted average price).
The intention is for HHLA to be operated as a strategic joint venture, with the City of Hamburg holding a stake of 50.1% and MSC ultimately holding 49.9%.
In the course of the partnership, MSC will substantially increase its container volume at HHLA terminals in Hamburg, beginning in 2025 and raising it to at least 1,000,000 TEU per year from 2031 onwards.
In addition, MSC will establish its new German headquarters with several hundred employees in Hamburg. Furthermore, MSC and the City of Hamburg also agree to commit on a long-term investment plan to be developed in alignment with HHLA.
Further development of HHLA & Hamburg Port
The aim of the partnership is to establish a strong and well-funded basis for the further development of HHLA and the entire Port of Hamburg, making it a central hub for MSC's globally connected network of container services and logistics chains.
As a result MSC will acquire a strategic share in a leading European logistics company, with a network of container terminals in Hamburg, Odessa, Tallinn and Trieste, excellent hinterland connections, railway-company METRANS and well-connected intermodal hubs in Central and Eastern Europe.
This follows MSC having been investing heavily in developing its portfolio of intermodal solutions, including rail which spans from Sines (Portugal) to Trieste (Italy), and has been working to shift more cargo from road to rail in line with its shoreside decarbonisation aims.
Terminal expansion
The agreement would also see MSC expand its terminal portfolio. Through its subsidiary Terminal Investments Limited (TiL) MSC operates 70 terminals across the world, including terminals in Antwerp, Singapore, and Rotterdam.
To further grow its global terminal footprint, MSC has also acquired AGL (Africa Global Logistics), a logistics provider with a strong presence on the African continent with intermodal solutions and 21 port concessions.
In addition to its fleet of 760 vessels, MSC is currently implementing a robust fleet modernization plan and expects to take delivery of more than 90 newbuildings over the next three years, including the 24,000+ TEU Celestino Maresca-class vessels that are the most fuel efficient by design.
Commenting on the signing of the agreement Soren Toft, CEO of MSC Mediterranean Shipping Company said the City of Hamburg and MSC have had a close bond for decades.
"We are excited to build on this long-standing partnership by integrating the City of Hamburg and Germany even closer into our global ocean freight network and diversified intermodal footprint across Europe."
Expanding MSC's global reach
Toft said the deal not only expands MSC's global reach, but also unlocks the trade potential for the City of Hamburg and Germany.
"As a family-owned company we are fully accountable to our employees, customers and partners. We employ a long-term view and this partnership is an exciting step for MSC to grow its long-term presence in Hamburg and Germany."
Dr Peter Tschentscher, First Mayor of the Free and Hanseatic City of Hamburg described the strategic partnership between the City of Hamburg and one of the world's leading shipping companies, MSC, as a milestone in the further development of the port.
"It reflects MSC's strong commitment to the Port of Hamburg, is in line with the Senate's strategic port policy goals and can give our entire maritime economy the boost it needs in difficult times," he said.
The partnership is stipulated for an indefinite time, with a termination possible after 40 years at the earliest. Both partners have agreed that this partnership is and should remain open to all other past and future partners of the Port of Hamburg, HHLA and its terminals.
Next step
As a next step MSC will draft the takeover offer document. The takeover offer document will be submitted within the next four weeks for approval by the Bundesanstalt für Finanzdienstleistungsaufsicht (BaFin) which will take approximately 10 working days.
Immediately after the approval the offer document will be published (expected for the second half of October). During the following four-week offer period, that will be followed by a mandatory two-week period, investors can decide to accept the offer. The closing of the offer will be subject to regulatory approval, and approval by the Parliament of the Free and Hanseatic City of Hamburg.
Sign up for Africa Ports & Ships Newsletter – it's free
Added 18 Sept4ember 2023
News continues below
SAECS schedule update – Cape Town omission for MOL Proficiency
Africa Ports & Ships
In a service advisory for the South Africa Europe Container Service (SAECS), Ocean Network Express (ONE) has advised that the vessel MOL PROFICIENCY on voyage 233S/234N will omit her Cape Town calls.
Instead, ONE advises that Cape Town imports will be discharged in Durban and transferred to the vessel MOL PRESENCE, on voyage 233S, ETA 26 September 2023.
The reason given for the Cape Town port omission is for weather delays and to maintain operational schedule integrity.
The cargo originally planned for the MOL Proficiency v.234N in Cape Town will be transferred to the M/V Mol Presence v.234N, ETD 5 October 2023.
Sign up for Africa Ports & Ships Newsletter – it's free
Added 18 September 2023
♦♦♦♦♦♦♦♦♦
     GENERAL NEWS REPORTS – UPDATED THROUGH THE DAY
in partnership with – APO
More News at https://africaports.co.za/category/News/
♦♦♦♦♦♦♦♦♦
THOUGHT FOR THE WEEK
Don't worry about the world coming to an end today. It is already tomorrow in Australia.
Charles Shulz
♠♠♠
News continues below………
♦♦♦♦♦♦♦♦♦
TO ADVERTISE HERE
Request a Rate Card from info@africaports.co.za

Port Louis – Indian Ocean gateway port
Africa

Ports & Ships 

publishes regularly updated SHIP MOVEMENT reports including ETAs for ports extending from West Africa to South Africa to East Africa and including Port Louis in Mauritius.
In the case of South Africa's container ports of Durban, Ngqura, Ports Elizabeth and Cape Town links to container Stack Dates are also available.
You can access this information, including the list of ports covered, by  CLICKING HERE remember to use your BACKSPACE to return to this page.
News continues below
CRUISE NEWS AND NAVAL ACTIVITIES

QM2 in Cape Town. Picture by Ian Shiffman
We publish news about the cruise industry here in the general news section.
Naval News
Similarly you can read our regular Naval News reports and stories here in the general news section.
♦♦♦♦♦♦♦♦♦
♠♠♠
ADVERTISING
For a Rate Card please contact us at info@africaports.co.za
Don't forget to send us your news and press releases for inclusion in the News Bulletins. Shipping related pictures submitted by readers are always welcome. Email to info@africaports.co.za
Total cargo handled by tonnes during July 2023, including containers by weight
| | |
| --- | --- |
| PORT | July 2023 million tonnes |
| Richards Bay | 6.046 |
| Durban | 6.971 |
| Saldanha Bay | 6.439 |
| Cape Town | 1.328 |
| Port Elizabeth | 1.007 |
| Ngqura | 1.452 |
| Mossel Bay | 0.105 |
| East London | 0.303 |
| | |
| Total all ports during July | 23.651 million tonnes |
TABLE BAY UNDERWAY SHIPPING
SHIP PHOTOGRAPHERS
Colour photographs and slides for sale of a variety of ships.Thousands of items listed featuring famous passenger liners of the past to cruise ships of today, freighters, container vessels, tankers, bulkers, naval and research vessels.P O BOX 809, CAPE TOWN, 8000, SOUTH AFRICA
snai@worldonline.co.za
http://home.worldonline.co.za/~snai
=================