News continues below
Bringing you shipping, freight, trade and transport related news of interest for Africa since 2002
Stay Well, Stay Safe, Stay Patient, don't become one
Advertise with us – left or right sidebar or centre column banner space available – strengthen brand awareness at affordable rates – email us for a Rate Card to terry@africaports.co.za
For a free daily newsletter via email?  Send your email marked NEWSLETTER to terry@africaports.co.za 
♠♠♠
Join us as we report through 2022
'and stay up to date with Africa Ports & Ships' 
****

**

****
TODAY'S BULLETIN OF MARITIME NEWS
These news reprts are updated on an ongoing basis. Check back regularly for the latest news as it develops – where necessary refresh your page at www.africaports.co.za
Click on headline to go direct to story : use the BACK key to return  
FIRST VIEW:  BRONAGH J  &  ALPHA FALCAO
♦♦♦♦♦♦♦♦♦
The week's mastheads:
Monday: Port of Durban Container Terminal night
Tuesday: Port of Durban Multi-Purpose Terminal (Point)
Wednesday: Port of Durban Island View Liquid Bulk Ttreminal
Thursday: Port of Durban, Maydon Wharf
Friday: Port of Cape Town Elliott Basin
Saturday: Port of Cape Town dry dock
Sunday: Port of Cape Town Tanker Basin
♦♦♦♦♦♦♦♦♦
SEND NEWS REPORTS AND PRESS RELEASES TO   info@africaports.co.za
♦♦♦♦♦♦♦♦♦
♦♦♦♦♦♦♦♦♦
News continues below
FIRST VIEW:   BRONAGH J  & ALPHA FALCAO
The standard array of cargo-working callers to the port of Durban has thrown up relatively little of interest in the last several weeks, so it is fortunate that a couple of non-standard visitors have provided some leavening in this staple fare.
Perhaps the most unusual vessel, and also one that was featured in this column

*

back in 2017 at the time of her only previous Durban visit, was the bulk-handling transhipment vessel Bronagh J  (IMO: 9413133)  

(2007 / 5,337 dwt)
. 

My photograph shows this "object" on the way into Durban, under tow by the diminutive Palau-registered tug Alpha Falcão (IMO: 9512953).

The tug was reported on Marinetraffic.com to be on a voyage from Mombasa to Durban, but presumably she picked up her tow en route off the Mozambican coast, where Bronagh J operates as a transhipment or transfer vessel to shuttle titanium group minerals (ilmenite, rutile and zircon) from the Kenmare Moma mine. The transfer takes place from a loading jetty on the coast near the mine precinct to bulk carriers that lie some 4-5 nautical miles offshore.

Bronagh J was purpose-built in Singapore for this operation, and the dome-shaped silos that are visible in my photograph must be storage silos for the minerals, with the loading gantries used for the actual transhipment. The vessel is self-propelled for the jetty-bulker shuttle (although she did not use her own propulsion capability for the Moma-Durban voyage), with a designated carrying capacity of just over 5,000 tons. That equates to a very large number of shore-to-ship cycles, as the Kenmare mining website reflects annual exports of something in excess of 800,000 tons. It is not clear whether a second transfer vessel is also employed, but if so, she is yet to be seen in these waters.* 

The vessel is currently lying at the Bayhead off the Sandock yard, but she must presumably be destined for dry-docking for her five-year survey and refurbishment. In comparison with historic activity levels, our repair facilities are now quite under-utilised, the Prince Edward graving dock tragically so, but it's good to see that Durban still serves as a repair focus for specialist vessels employed elsewhere in the southern Indian Ocean. Bronagh J will presumably look a great deal smarter when she leaves port after the ship repairers are done with her.
* We've been reminded that 

there is a second vessel in operation at the Moma mine in Mozambique, named PEG, which has also visited Durban on at least one occasion, when it was towed to the ship repair yards in Bayhead behind AMSOL' s SA Amandla.
Story and pictures by Trevor Jones.
Acknowledgements to Trevor Jones and to Bluff Signal, the publication of the World Ship Society, Port Natal Branch.
♦♦♦♦♦♦♦♦♦
MORE NEWS
♦♦♦♦♦♦♦♦

♦♦♦♦♦♦♦♦

♦♦♦♦♦♦♦♦
News continues below
Algoa Oil Spill Update – Umnenga II and Lefkas
In an update issued Thursday afternoon, the South African Maritime Safety Authority (SAMSA) said the investigation into the cause of Monday's oil spill in Algoa Bay is continuing. The Oil spill occurred during a ship-to-ship transfer of oil involving two tankers, the Suezmax tanker UMNENGA II and the smaller bunker tanker LEFKAS.
Bunker oil was being transferred from the larger vessel into Lefkas.
As the clean-up and recovery of the spilled oil continued on Thursday morning (26 May), the recovery teams also continued with the aerial surveillance using a drone and oil recovery boats.
As reported in Africa Ports & Ships yesterday, the two tankers involved were separated on Wednesday night with the smaller vessel MT Lefkas berthing at the Port of Port Elizabeth.
Umnenga II is unable to berth as yet due to the unavailability of a suitable berth at the nearby port of Ngqura.
Boat patrols by SANParks has revealed no oil near the Algoa Bay islands and no oiled birds were spotted and once again members of the public are requested to report oiled birds and wildlife to SANPARKS or SANCCOB Gqeberha at Cape Recife Nature Reserve on 063 942 4702, but not to approach or try to capture the affected wildlife.
Rangers will continue to monitor the islands for oiled birds returning from their feeding grounds in Algoa Bay.
None of the oil has reached the beaches and SAMSA believes most of the oil has been cleaned from the ocean surface and there is no longer any oil sheen visible on the waters.
A fixed wing aircraft with state-of-the-art oil sensing equipment has been charted from Cape Town to conduct a full search for any oil over the entire Algoa Bay area.
The aircraft will use high-definition cameras and oil detection systems to complete a full aerial surveillance of the Algoa Bay area.
If there is any oil spotted the aircraft will also complete live oil spill modelling to determine the direction of oil, however the authorities are optimistic that most of the oil has been recovered and only the vessel hull cleaning (of Umnenga II) needs to be completed.
Bunkering operations remain suspended.
Sign up for Africa Ports & Ships – it's free




Added 27 May 2022
♦♦♦♦♦♦♦♦♦
News continues below
WHARF TALK:     MR2 oil products tanker –     JAL SASVATA
Story by Jay Gates
Pictures by 'Dockrat'
For those product tankers that are operating on charters to South African based fuel distributors, the normal modus operandi is that loading takes place in Durban, at the Island View Terminal, and the tanker then discharges her parcels at one, or more, Southern African ports, before heading back to Durban to repeat the process. Occasionally, the route taken is distinctly odd, as it seems to discharge at three ports at a time, but not necessarily always having Durban as the turnaround port.
On 24th May at 22h00 the MR2 product tanker JAL SASVATA (IMO 9400801) arrived at the Table Bay anchorage from Port Elizabeth, and went to anchor until the following afternoon when at 16h00 on 25th May she entered Cape Town harbour, proceeding to the Tanker Basin in the Duncan Dock.
Built in 2009 by Naikai Shipbuilding at Onomichi in Japan, 'Jal Sasvata' is 180 metres in length and has a deadweight of 46,590 tons. She is powered by a single Hitachi MAN-B&W 6S50ME-C 6 cylinder 2 stroke main engine producing 12,889 bhp (9,480 kW), to drive a fixed pitch propeller for a service speed of 13.4 knots.
Her auxiliary machinery includes three generators providing 850 kW each, and a single emergency generator providing 80 kW. She has a Miura KF-282ST exhaust gas boiler, and a Miura HB-15T oil fired boiler. She has 14 epoxy coated cargo tanks, with a cargo carrying capacity of 52,137 m3.
Her satellite communications fit is unusual for a 13 year old, second hand, tanker, as 'Jal Sasvata' has what appears to be both a small MSS (L Band), and a large VSAT (Ku Band), satellite dome on her monkey island.
Nominally owned by Jal Sasvata Pte. Ltd. of Singapore, she is operated by Bothra Group of Visakhapatnam in India, and managed by Synergy Maritime Pvt. Ltd. of Chennai in India.
Originally one of ten sisterships, 'Jal Sasvata' was purchased from her previous owners in 2018 for a reported price of US$15 million (ZAR234.85 million). She has been reported as being for sale once more, and in the last week it was reported that she has been sold, to an undisclosed buyer, for US$17 million (ZAR266.17 million).
So 'Jal Sasvata' has realised a tidy profit for her owners of US$2 million (ZAR31.3 million) over the last four years, or the equivalent of US$500,000 (ZAR7.83 million) per year.
Operating on the South African coast since March this year, 'Jal Sasvata' has been delivering much needed fuel products to East London, Port Elizabeth and Cape Town, calling on numerous occasion at each port. Presumably, as is usually the normal way of doing things, all fuel product cargoes are loaded in Durban. However, her current voyage port rotation is not entirely what you would expect for a coastal tanker.
She had previously visited Cape Town on 16th May, and then sailed for East London, where she arrived on 18th May. She then sailed in the morning of the 20th May for Port Elizabeth, arriving there that same evening. She then sailed from Port Elizabeth on the morning of the 23rd May, but bound for Cape Town once more, where she arrived at the anchorage on the late evening of the 24th, and where she is now alongside.
So her Cape Town to Cape Town routing (CPT- ELS- PLZ- CPT) did not include Durban, which begs the question of where she loaded her current cargo of fuel products. Is Cape Town, or Port Elizabeth, acting as a temporary loading terminal, for coastal domestic fuel requirements? Is it possibly linked to infrastructure issues arising from the recent KZN floods?
Sign up for Africa Ports & Ships – it's free
Added 27 May 2022
♦♦♦♦♦♦♦♦♦
News continues below
Nigeria continues dredging of Escravos channel to improve access to Eastern Ports
Dredging of the Escravos channel in Nigeria's Niger Delta region is about half complete after the Federal Government awarded a contract to deepen the only real access for the Eastern ports.
Speaking in Warri last week, the managing director of the Nigerian Ports Authority (NPA), Mohammed Bello-Koko, said a contract to complete the dredging has been awarded. He said dredging would help expand the channel and enable larger ships to visit the ports.
The Escravos river, a tributary of the Niger in the Delta region, is 35 miles long and flows in a westerly direction through mangrove swamps and coastal sand ridges to the Bight of Benin. The Escravos channel which is being dredged leads to the Eastern ports of Warri, Sapele, Burutu, Koko and Forcados.
"We all know that the breakwaters collapsed about 10 years ago, and there has been high siltation resulting in reduction of the draft from seven metres to three metres in some places," Bello-Koko said.
He added that the NPA has started the mapping and charting of the Escravos channel, commencing from the Fairway buoy down to Koko port. This is something that hasn't been done for over a decade.
"The essence is to enable us to be able to know the draught along the way and also ensure that the navigational aids are properly placed. This is because there are some decisions that can only be taken after knowing that the channel has been properly mapped and surveyed," he said.
Bello-Koko said this was evidence that the NPA is beginning to pay attention to the ports outside of Lagos.
"We have a special interest in ensuring that Warri and the other ports are more active. This is why we have been holding stakeholder meetings and we are going to Port Harcourt for another one."
He said the NPA will deploy more port equipment and will ensure that the signals are working to ensure safe navigation of vessels.
Sign up for Africa Ports & Ships – it's free




Added 27 May 2022
♦♦♦♦♦♦♦♦♦
News continues below
IN CONVERSATION: Pan-African integration has made progress but needs a change of mindset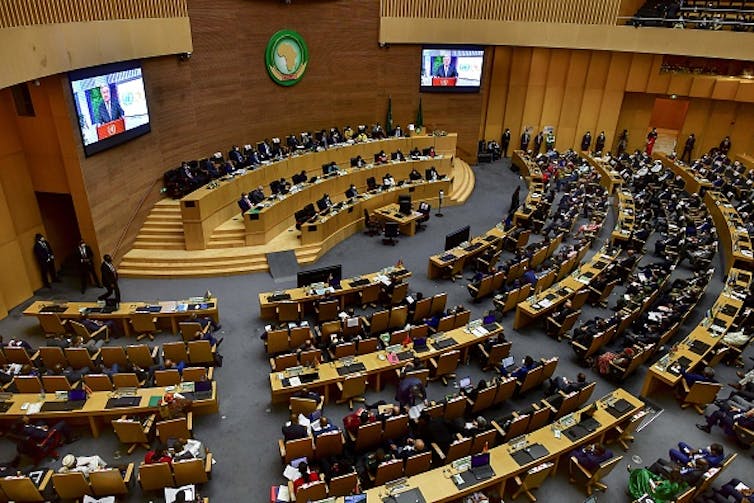 UN Secretary General Antonio Guterres addresses an African Union summit in Addis Ababa via video in February 2022.  Tony Karumba/AFP via Getty Images
This year's celebration of Africa Day provides another opportunity to assess how far continental integration has progressed.
Integration would mean a truly united Africa – either a federalist "United States of Africa" or the African Union (AU) exercising binding powers over member states. At present the AU merely serves as a platform for coordinating the interactions of its 55 member states.
Although some progress has been made, more needs to be done to achieve the goal of integration.
Member states need to move beyond paying lip service to unity, and empower critical AU organs. This requires a shift in mentality. States need to appreciate the need to sacrifice some autonomy for common socioeconomic and political gains. Lacklustre commitment to continental integration is connected with Africa's peripheral position in global dynamics.
In my view, as a researcher of the institutional dynamics of Africa's integration process, pan-African integration is in a crucial phase. This phase is as important as the creation of the Organisation of African Unity in 1963 and its eventual replacement with the AU 20 years ago.
A pan-African worldview
In a 1969 speech, the then Tanzanian president, Julius Nyerere, captured what the African worldview entails:
We recognise that we are involved in the world and that the world is involved in us. Involvement without understanding, however, can be embarrassing and even dangerous.
A pan-Africanist worldview understands that the continent cannot exist in isolation. However, this must be accompanied by a determination to drive an agenda that enhances pan-African goals.
This position reflects the views of many of Nyerere's contemporaries, and those who came after him, on how Africa should position itself on the global stage.
Kwame Nkrumah's "African personality", Thabo Mbeki's "African renaissance", and the oft-repeated "African solutions to African problems" have also been used to capture the essence of an effective pan-African worldview.
Mbeki's idea speaks to restoring Africa's dignity, and pushing for its economic and political development. Nkrumah's advances the principles of societal equality. It places the community over the individual in preparing African societies to establish a federal union of African states that is assertive on the global stage.
What's working
The continent has seen some positive developments that could advance integration. They include the adoption of the following instruments and processes: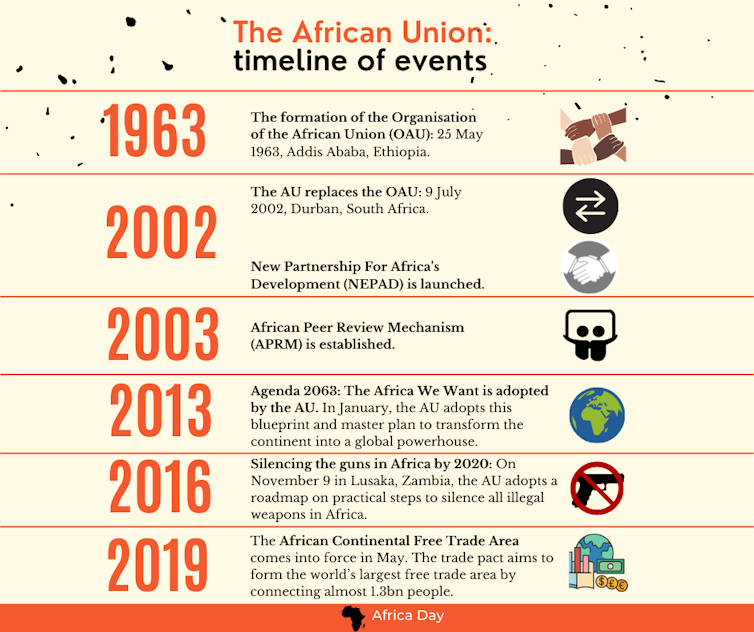 As Thomas Tieku, an expert on Africa's international relations, has observed, despite some of the failures of pan-African integration, the AU has set admirable guidelines on governance, peace and security.
It has also developed enforcement mechanisms for violations of its standards. It has quickly adopted the African Continental Free Trade Area, empowered the African Union Development Agency-NEPAD, mobilised resources to get COVID-19 vaccines, and integrated the AU development agenda into national development plans.
Yet pan-African continental integration remains constrained by many problems. These include countries' unwillingness to transfer powers to AU organs.
Addressing this will require a change of worldview. Africa needs to rebalance the way it sees itself and relates to the world. African states need to equip national and regional institutions to deliver on the promise of political and economic development.
What's not working
The ability to project a strategic pan-African worldview is undermined by several factors. One is the unwillingness to transfer supranational powers to key AU institutions. For example, the Pan-African Parliament has only limited, advisory rather than full legislative powers.
Similarly, the AU Commission lacks the power to make member states comply with institutional rules. The 2017 Kagame report on AU reforms noted that the union has passed over 1,500 resolutions but has no mechanism for tracking their implementation.
Member states have failed to comply with about 75% of the decisions of the African Court on Human and Peoples' Rights. In reaction to judgments against them, member states such as Tanzania, Benin, Rwanda, and Côte d'Ivoire have withdrawn the permission allowing individuals and NGOs access to the court.
The AU's dependence on external funding is another impediment. Despite ongoing financial reforms, at least 61% of its budget comes from external donors. Some use donations as a tool to manipulate AU processes.
The continuous violation of AU norms and standards on human rights and governance is a major obstacle to deepening continental integration. For example, there has been an upsurge in military coups in recent years. In addition, democratic backsliding is on the rise, through unconstitutional changes of term limits, digital repression, violent clampdown on opposition voices, and electoral fraud.
The AU's response has been tepid. In some cases, leaders involved in suppressing democratic voices are tasked with leading key processes in the AU.
The limited role of civil society in pan-African integration is another concern. And there is little public awareness of what the AU does and how.
Despite the benefits that could come from an integrated Africa, many African countries remain wary of the process. For example, some restrict human mobility. They have refused to sign the continental protocol on free movement, citing security concerns and protection of local jobs.
Changing mindsets
The effectiveness of reforms at the AU depends on a change of mindset. Members need to understand that enhancement of Africa's position in global realpolitik depends on an internally cohesive body. This will require actions in three key areas:
Without a system that emphasises fundamental rights and good governance, regional integration goals such as trade, free movement of people, gender equality, peace and security cannot be realised.

This article is republished from

The Conversation

under a Creative Commons license. Read the

original article.
Sign up for Africa Ports & Ships – it's free




Added 27 May 2022
♦♦♦♦♦♦♦♦♦
News continues below
ISRAR fishing fleet blacklisted in Indian Ocean to safeguard tuna
The ISRAR fleet of tuna fishing vessels, which has a history of illegal fishing activity, has been blacklisted in the Indian Ocean by a key international body.
This decision by the Indian Ocean Tuna Commission comes after investigations by the Environmental Justice Foundation (EJF)* led to the fleet being banned from catching tuna in the Atlantic and being dropped by its insurer.
SEE HERE for that report dated 28 March 2022 in Africa

Ports & Ships
EJF said in a statement on Wednesday that it applauds these actions, saying that protecting the oceans from these illegal operators is a vital step in safeguarding irreplaceable marine ecosystems.
A fleet of the ISRAR vessels, known for operating illegally in the Atlantic for many years, has now been blacklisted by the Indian Ocean Tuna Commission (IOTC) at the 26th session meeting of the IOTC in Seychelles.
As such, any tuna fishing in the Indian Ocean by these vessels is strictly prohibited. This comes after the fleet was blacklisted by the International Commission for the Conservation of Atlantic Tunas (ICCAT) in 2021 and dropped by its insurers in March 2022.
The fact that the fleet is now banned from both the Atlantic and Indian oceans demonstrates the scale of the illegality.
This fleet has gone to extreme lengths to evade scrutiny of its illegal actions. This includes relocating its fishing activities from one ocean to the other, changing the nation's flag under which the vessels were operating, changing the names of the vessels and engaging in illegal transhipment.
EJF called this a textbook example of operators using the chronic lack of transparency in fisheries to perpetrate illegal activities and decimate ocean ecosystems – this urgently needs to change, EFJ said.
"There are simple, low-cost measures which are well within the reach of any country and could play a pivotal role in the battle against illegal fishing and accompanying human rights abuse in the sector."
Steve Trent, CEO of the Environmental Justice Foundation, applauded both the Atlantic and Indian Ocean tuna commissions for taking action to prevent the ISRAR fleet from continuing to decimate ocean ecosystems with impunity.
"However, tackling each illegal fleet one by one is not the solution," he said. "To safeguard the ocean, food security and livelihoods around the world, we need to place transparency at the heart of global fisheries.
"Cracking down on opacity by preventing the use of flags of convenience and improving port inspections, coupled with the publishing and sharing of information – such as vessel license lists, history of offenses, and full ownership details – can help governments, regional fisheries management organisations, law-abiding fishing companies, NGOs, retailers and even consumers to work together to rid our oceans of these damaging operators.
"We need to hold these illegal operators to account, and that starts with transparency."
EFJ said that fleets such as this cause irreversible damage to the oceans, threatening marine life and the people who depend on it around the world.
"This was recognised by nations in attendance at the IOTC meeting this week, where the several member countries urged the Commission to blacklist the fleet."
* The Environmental Justice Foundation is an international non-governmental organisation working to protect the environment and defend human rights. EJF is a charity registered in England and Wales (1088128). www.ejfoundation.org
Sign up for Africa Ports & Ships – it's free
Added 26 May 2022
♦♦♦♦♦♦♦♦♦
News continues below
Clean-up of Algoa Bay oil spill involving Umnenga II and Lefkas, continues
On Wednesday the recovery of oil that spilled into Algoa Bay during an offshore bunkering operation was continuing. The oil spill occurred on Monday 23 May 2022 and involved a ship-to-ship transfer from the 280-metre x 50m Suezmax crude oil tanker UMNENGA II into the bunkering tanker LEFKAS.
Both tankers are operated by Minerva Bunkering.
See Africa

Ports & Ships

earlier report of Tuesday 24 May by CLICKING HERE
Five oil recovery boats have been deployed in collecting the oil and by Tuesday afternoon all the visible heavy oil surrounding the two vessels had been accounted for but large patches of light oil sheen were spotted elsewhere in Algoa Bay.
A helicopter was introduced for aerial surveillance and to assist in directing the boats towards the oil sheen for collection, however due to rough sea conditions, the recovery operation had to be suspended by 15h35.
The removal of the oiled 'oil absorbent material' between the two vessels, that remained alongside each other, continued throughout Tuesday night. On Wednesday aerial surveillance was increased to two flights per day, together with a vessel-launched small drone assisting with the clean-up operations and providing continuous aerial surveillance in the immediate area around the vessel.
The DFFE offshore patrol vessel SARAH BAARTMAN was due to arrive in Algoa Bay overnight Wednesday and will be available to assist with clean-up operations if need be.
According to SAMSA, oil spill modelling provided by the International Tanker Owners Pollution Federation (ITOPF) indicates that the oil will not impact the Swartkops river nor Metro beaches but will drift eastward towards the beaches of Woody Cape.
Beach inspections were carried out on Tuesday and Wednesday and will continue as necessary. By Wednesday no oiled birds or wildlife had been reported, however members of the public are being requested to report any such sightings to SANPARKS or SANCCOB Gqeberha at Cape Recife Nature Reserve on 063 942 4702. They are asked not to approach or try to capture the affected wildlife.
SANPARKS boat patrols and rangers have been placed on St Croix Island out in Algoa Bay to assist with the monitoring and capture of birds and other wildlife.
Although the two tankers were required to remain alongside each other as a preventative measure, by 20h45 when this report was finalised, the smaller tanker Lefkas had separated and was proceeding towards Port Elizabeth.
The 162,290-dwt Umnenga II remained at anchor out in Algoa Bay apparently until a berth comes available in Ngqura harbour.
SAMSA said late Wednesday that the cause of the spill was still under investigation, but bunkering operations in Algoa Bay remained suspended.
Sign up for Africa Ports & Ships – it's free




Added 26 May 2022
♦♦♦♦♦♦♦♦♦
News continues below
WHARF TALK:  Inspection, Maintenance and Repair (IMR) vessel NOR GOLIATH
Story by Jay Gates
Pictures by 'Dockrat'
Whenever a heavylift vessel calls into Cape Town, the observer is generally impressed by the size of the cranes that give the vessel the 'heavylift' moniker. A pair of 200 ton hydraulic cranes is enough to evoke a nod of approval, and if it has a pair of 400 ton mast cranes, it is even more impressive. But these cranes simply pale into insignificance when a heavylift vessel, employed by the offshore oil and gas industry, comes to town. As always, their size takes the breath away.
On 24th May at 16h00 the Inspection, Maintenance and Repair (IMR) vessel NOR GOLIATH (IMO 9396933) arrived off Cape Town from Pointe Noire in the Congo. She entered Cape Town harbour and, unusually, proceeded to the Passenger Terminal, located at F berth in the Duncan Dock. Such a berth for an offshore vessel of this size indicates that a major crew change was possibly to be undertaken.
Built in 2009 by Drydocks World Pertama at Batam in Indonesia, 'Nor Goliath' is 180 metres in length and has a deadweight of 21,011 tons. She is a diesel electric vessel and has a total of eight Caterpillar 3516C-HD V16 4 stroke main engines, producing 3,569 bhp (2,525 kW) each, to give an overall power provision of 28,552 bhp (21,000 kW), to give her a service speed of 12 knots.
Her engines provide power to drive motors on three, aft located, Rolls-Royce Azimuth Thrusters each providing 3,333 kW each. Power is also provided for two forward located, Rolls-Royce retractable Azimuth Thrusters providing 2,400 kW each. She also has two transverse bow thrusters providing 1,355 kW each. All these thrusters give 'Nor Goliath' a DP3 dynamic positioning capability, provided by Kongsberg.
The reference systems that give 'Nor Goliath' the accurate station keeping capability that is provided by a DP3 system, are two Acoustic Positioning Reference Systems, two Differential GPS positioning reference systems, two Taut Wire Positioning Reference Systems, and two Laser Positioning Reference Systems. All of these systems can work together to provide the information required to be able to maintain station in heavy seas.
As well as being officially known as an Installation, Maintenance and Repair (IMR) vessel, 'Geo Goliath' is also able to provide heavylift capability, offshore construction, platform decommissioning support, and Saturation Diving support.
She has accommodation for 296 persons, who are engaged in all of these offshore work elements for which 'Nor Goliath' is designed to carry out. A 23 metre helideck is provided to allow for logistic support, and offshore crew changing, capable of being utilised by the Sikorsky S-92A, which is the largest offshore helicopter currently available.
She has a steaming endurance of 60 days, with a sea speed maintained at 9 knots, and she has a 100 day offshore endurance, when operating in a heavylift role.
Her saturation diving support systems include a three man diving bell, two six-man living habitats and a hyperbaric lifeboat that is capable of holding 12 divers in decompression. She also has Air Diving decompression chambers.
She has two moonpools, for use by both an onboard Remotely Operated Vehicles (ROV). Her onboard Triton XLX ROVs are rated to operate in water depths down to 3,000 metres.
For offshore emergencies, 'Nor Goliath' is equipped as a FiFi2 category firefighting vessel, and she has a bollard pull, via a stern ramp, of 260 tons.
For her IMR and heavylift working environments she has two 70 ton, Liebherr cranes, and for her major work she has a gargantuan Liebherr MTC 78000-1400 (1600) Liptronic Mast Crane, capable of achieving a 1,600 ton lift. She has an aft working deck area of 4,800 m2.
Owned by Goliath Offshore Holdings Pte. Ltd. of Singapore, she is operated by Coastline Maritime Pte. Ltd, also of Singapore, and she is managed by V Ships Ltd. of London.
In March 2017, 'Nor Goliath', operating under her former name of 'OSA Goliath', was seized by the authorities of Aruba, in the Caribbean. Her arrest was as collateral against a debt incurred by the Mexican offshore company, Oceanografia SA (OSA), whose company name she carried.
In August 2019 an attempt to request a Lien against 'Nor Goliath' was defeated in the US District Court for the Southern District of Mississippi. The four tugboat owners, for whom the case was brought, were owed US$1.1 million (ZAR17.26 million) in towage fees, by the Epic Company who had gone into liquidation.
As 'Nor Goliath' has been chartered by Epic to lift out decommissioned oil platforms, and place them onto barges for the tug to take them to shore for recycling disposal, it had been argued that 'Nor Goliath' could be held against the debt. The case was dismissed, with an appeal lodged for the US Appeal Court to hear in 2022.
Sign up for Africa Ports & Ships – it's free
Added 26 May 2022
♦♦♦♦♦♦♦♦♦
News continues below
Abuja MoU: Harmonising Port State Control and Flag State implementation
Heads of Maritime Administrations in West and Central Africa discussed during a
three-day regional workshop

in Lagos held from 9 to 11 May.
The main objective of the workshop was to provide a platform to create awareness on the duties and responsibilities of the Heads of Maritime Administrations on port State control matters and to exchange views and discuss experiences to enhance the harmonisation of port State control (PSC) activities and flag State implementation in the Abuja MoU region. They also discussed information sharing capabilities.
The Abuja MoU is one of ten regional Port State Control regimes (for more information on PSC readers are invited to SEE HERE
The high-level workshop was a collaboration between IMO, the Secretariat of Abuja MoU, Nigerian Maritime Administration and Safety Agency and the Federal Ministry of Transportation, Nigeria. Participants were more than 100 officials from 20** of the 22 Member States of Abuja MoU.
Heads of Maritime Administrations were urged to take immediate action in giving effect to Corrective Action Plans following the IMO Member State Audit (IMSAS) of States in the region. To support gender equality, they were encouraged to include women when nominating personnel for IMSAS auditors following the applicable training.
Specific workshop outcomes included:
*Familiarisation on the need for an effective port State control regime and the risks and dangers of not doing so.
*Enhanced procedures for port State control inspections, requirements for port State control officers (PSCOs) and understanding of the functioning and harmonisation work among regional PSC regimes.
*A progress report on the Abuja MoU on port State activities and Near Coastal Voyage Code.
*Appreciation of IMO's Integrated Technical Co-operation Programme (ITCP) activities and how they relate to the region.
*A draft assessment format for eventual consideration by the Abuja MoU Committee was developed. Participants were encouraged and guided on how to complete and submit an IMO flag State performance self-assessment form.
Three member States (Democratic Republic of the Congo, Equatorial Guinea and Mauritania) made commitments to submit their letters of acceptance to attain full membership of Abuja MoU.
**The participating countries included Angola, Benin, Cabo Verde, Cameroon, Congo, Côte d'Ivoire, Democratic Republic of the Congo, Equatorial Guinea, Gabon, Gambia, Ghana, Guinea, Guinea Bissau, Liberia, Mauritania, Nigeria, Senegal, Sierra Leone, South Africa and Togo.

Edited by Paul Ridgway
London
Sign up for Africa Ports & Ships – it's free
Added 26 May 2022
♦♦♦♦♦♦♦♦♦
News continues below
Zimbabwe citrus sector turns towards China for new exports
Following a successful signing of a Citrus Phytosanitary Protocol signed in January this year between Zimbabwe and China, Zimbabwe citrus exporters will now look at developing exports to China.
Government officials said this will be part of efforts of moving away from an over-reliance on the South African and European markets.
The Phytosanitary Protocol requires introducing a cold chain system for fresh citrus fruits exports to China.
The report said this is similar to the one between Zimbabwe and the European Union to manage fruit pests that include the False Codling Moth, which feeds on a wide range of crops from cotton and macadamia nuts to citrus species.
China has also agreed to provide technical assistance to Zimbabwe regarding fresh citrus exports to the Chinese market.
"Zimbabwe and China signed a protocol in 2021 to facilitate export of Zimbabwe citrus fruit products to China. Processes are also underway to facilitate other agricultural products to China," said Information, Publicity and Broadcasting Services minister Monica Mutsvangwa.
She said there is great scope to increase these trade figures if the trade potential and market access opportunities between the two countries are fully tapped. "Zimbabwe flowers have now found a market in China and the demand is growing," the minister added.
"The number of Chinese business people visiting Zimbabwe to explore business opportunities has been increasing." She said however, that of late, the numbers have decreased due to travel restrictions triggered by the COVID-19 global pandemic. source: newsday, Zimbabwe
Sign up for Africa Ports & Ships – it's free




Added 26 May 2022
♦♦♦♦♦♦♦♦♦
News continues below
IN CONVERSATION: Environmental groups launch legal review of go-ahead for Phinda gas-to-power plant in Richards Bay
by Tembile Sgqolana, Daily Maverick
Environmental justice groups have approached the Pretoria High Court to review and set aside an environmental authorisation granted for Phinda Power's proposed gas-to-power plant in the Richards Bay Industrial Development Zone. 
The groups include the South Durban Community Environmental Alliance (SDCEA), groundWork and Friends of the Earth South Africa, represented by the Centre for Environmental Rights.
Forestry, Fisheries and the Environment spokesperson Albi Modise said the department was consulting with its lawyers on the matter.
This is the third judicial review application brought by groundWork and SDCEA against Forestry, Fisheries and the Environment Minister Barbara Creecy's decision to uphold environmental authorisations for proposed gas-to-power projects.
This latest challenge to the proposed Phinda Power plant in Richards Bay comes after Creecy dismissed groundWork's appeal against the decision in November 2021 to grant environmental authorisation for the project. 
In the first court challenge in April 2022, groundWork and SDCEA, supported by activist organisation Natural Justice, received a court date for the landmark litigation launched in 2021 against the environmental approval of the proposed 3,000 MW Eskom gas-to-power station. 
It's the first challenge of its kind in South Africa.
On 11 May 2022, the groups launched legal proceedings to set aside an amendment to the environmental approval for another gas-to-power plant, RB2, in Richards Bay.
The groups were calling on the government to take into account scientific evidence of greenhouse gas emissions released during the lifecycle of gas as a fossil fuel and to recognise the serious potential climate change impacts of the RB2 project.
In this latest court challenge, GroundWork and SDCEA argue that the original environmental impact assessment (EIA) failed to consider all feasible and reasonable alternatives and that the minister's reliance on the inclusion of gas power in the 2019 integrated resource plan does not exclude the consideration of alternatives, as required under the National Environmental Management Act and EIA regulations.
Desmond D'Sa, office coordinator at SDCEA, said the review was launched in light of the serious and avoidable environmental and climate impacts of gas power, while much cleaner renewable technologies existed that could meet South Africa's energy needs sooner and more cheaply.
"These concerns are pivotal given the growing climate crisis and the state's obligation to give effect to Section 24 of our Bill of Rights that grants us a right to an environment that is not harmful to our health and wellbeing," he said.
Avena Jacklin, climate and energy justice campaign manager at groundWork, said it is proposed that the gas-to-power plant initially operates using liquefied petroleum gas as a fuel source before transitioning to natural gas once supply is made available in Richards Bay via imported liquefied natural gas. 
"Contrary to gas proponents' suggestion that gas is cleaner than coal, methane — which escapes into the atmosphere at the different levels in the supply chain — has far greater potential for global warming than the carbon dioxide emitted through the burning of coal. 
"In addition, the plummeting prices of renewable energy and the high price of gas means that gas is no longer a viable investment, and any gas infrastructure risks becoming a stranded asset.
"Relying on gas puts our energy supply at risk," said Jacklin. DM/OBP
This article first appeared on Daily Maverick and is republished here under a Creative Commons license.
Sign up for Africa Ports & Ships – it's free
Added 26 May 2022
♦♦♦♦♦♦♦♦♦
News continues below
Another offshore bunkering oil spill in Algoa Bay
Another oil spill has occurred in Algoa Bay involving a ship-to-ship transfer of bunker fuel.
The Southern African Foundation for the Conservation of Coastal Birds (SANCCOB) is on high state of readiness to receive oiled birds and other environmentalist bodies opposed to offshore bunkering in the bay are on similar alert.
The South African Maritime Safety Authority (SAMSA) said on Tuesday it has initiated all relevant oil spill response teams as per the National Oil Spill Contingency Plan to assist with the containment and cleanup operation.
The vessels involved in the ship-to-ship transfer of fuel oil are the locally-flagged bunkering tanker LEFKAS (IMO 9417531), and the crude oil tanker UMNENGA II (IMO: 9311610).
Umnenga has been in the Algoa Bay anchorage since April. Lefkas is stationed at Port Elizabeth as one of the bunkering vessels.
The oil spill occurred on Monday (23 May 2022) at around midday while a transfer of oil was taking place. According to SAMSA all the relevant pollution response units were quickly activated, and booms deployed to contain the oil around the vessels.
The two tankers were ordered to remain attached to help with the containment of oil.
SAMSA said that throughout Monday night the collection of oil that had spilled continued. On Tuesday it was not known how much oil had gone into the sea.
Members of the public are asked to report any oiled wildlife to SANParks.
A previous oil spill into Algoa Bay occurred on 17 November last year, involving the Croatian bulk carrier, SOLIN (IMO 9629483), which was receiving bunkers from the South African-flagged bunker tanker SEA EXPRESS (IMO 8952065).
Sign up for Africa Ports & Ships – it's free




Added 25 May 2022
♦♦♦♦♦♦♦♦♦
News continues below
WHARF TALK: A bitumen tanker named BISKRA
Story by Jay Gates
Pictures by 'Dockrat'
The recent catastrophic floods experienced in KwaZulu-Natal not only destroyed lives and property, but destroyed critical infrastructure such as roads. To rebuild roads you need asphalt, also known as bitumen. Bitumen is a byproduct of oil refining, and if you don't have a local refinery, then you don't have bitumen to hand.
For South Africa, the continuing loss of two major oil refineries, one in Durban and one in Cape Town, both of which were major suppliers of Bitumen throughout the country, means that to build, rebuild, or repair domestic roads, you have to import the product.
On 20th May at 20h00 the handy bitumen tanker BISKRA (IMO 9030709) arrived off Cape Town from previous port calls in Lomé in Togo, and Sapele in Nigeria. She entered Cape Town harbour and proceeded to the tanker berth on the Eastern Mole, in the Duncan Dock, where FFS refiners have a storage terminal for oil products.
Built in 1993 by the Fincantieri Navali Italiani S.p.A shipyard at Livorno in Italy, 'Biskra' is 135 metres in length and has a deadweight of 11,406 tons. She is powered by a single Fincantieri Sulzer 6ZAL40S 6 cylinder 4 stroke main engine producing 4896 bhp (3,604 kW), to drive a controllable pitch propeller for a service speed of 13.3 knots.
Her auxiliary machinery includes three generators providing 730 kW each. For added manoeuvrability when berthing, or unberthing, 'Biskra' has a transverse bow thruster. She has nine cargo tanks and a cargo carrying capacity of 14,306 m3.
Owned by Rubis Eastern Caribbean (REC) Srl of Barbados, and operated by Maritec NV of Antwerp in Belgium, 'Biskra' is managed by Maritec Tanker Management Pvt Ltd. of Mumbai in India. All of the companies are a subsidiary of the Rubis Asphalt Middle East (RAME) company of Dubai, who operate as the head structure of the Bitumen division of the parent company of them all, which is the Rubis Group, of Paris in France.
The bitumen cargo of 'Biskra' came from the Rubis controlled bitumen terminals in Togo and Nigeria. In Togo, the Rubis operating company has the unusual name of European Railroad Established Services, better known as Eres Togo. Created in 2006 in Lomé, and acquired by Rubis in 2015, the bitumen terminal has a total storage capacity of 36,000 tons, stored in six tanks of 6,000 tons each.
Initially, the Togo terminal served purely as a hub to supply Nigeria, where the port facilities are not capable of handling the larger Rubis bitumen tankers of 40,000 tons. The smaller handy bitumen tankers, such as 'Biskra' are normally used to supply the terminals in Nigeria.
Also acquired by Rubis in 2015, the Nigerian operation of Rubis is known as Ringardas Nigeria, and the company operates two bitumen terminals within the country, with a small terminal in Port Harcourt capable of storing 7,000 tons, and their major terminal located in Sapele, capable of storing 28,000 tons of bitumen.
A previous bitumen cargo from Rubis, back in September 2021, was carried on their other handy bitumen tanker 'Viveka', and incorporated a combined visit to both Cape Town and Durban, with the whole cargo coming from the Eres Togo terminal in Lomé.
The last Cape Town call being in March, where 'Viveka' made history by pumping the bitumen, not into tankers or bitutainers, but directly into storage tanks provided by FFS Refiners at the Eastern Mole. This was the first time that bitumen had ever been pumped directly into a shoreside facility at Cape Town. This visit was covered in Africa Ports & Ships on 8th March.
Back in February 2022 Rubis arranged a 12 month rental of 4,000 tons worth of tank storage space through FFS Refiners. This call by 'Biskra' is the second such arrangement whereby bitumen was pumped directly into shoreside tanks.
Operating in the Gulf of Guinea, and especially off the coast of Nigeria, brings with it the scourge of piracy, and 'Biskra' has attracted a fair bit of attention in that direction. In February 2018 she was attacked by a skiff containing between 10 and 12 pirates who opened fire on her. The onboard security team returned fire, and the pirates aborted the attack. The Nigerian Navy was informed of the attack.
The next month, in March 2018, 'Biskra' was gain approached by a skiff containing 8 pirates, who opened fire on her. Once more, her onboard security team returned fire, and the pirates broke off their attack. The Nigerian Navy was again informed, and 'Biskra' continued with her voyage to Bonny.
In February 2020, whilst delivering a cargo of bitumen to the Turkish port of Tutunciftlik, located on the Asian shore of the sea of Marmara, 'Biskra' was prevented from sailing as a result of a breach of the MARPOL rules, when she was convicted of a dirty oil discharge into the harbour. She was fined US$105,500 (ZAR1.65 million), and allowed to continue with her voyage, back to Port Harcourt in Nigeria, once the fine had been paid.
Her time alongside in Cape Town was not wasted, and she took the opportunity of sending one of her inflatable liferafts ashore for a service, with the entire liferaft casing lowered onto the quay by the stores crane of 'Biskra', where it was loaded onto a truck and taken away.
On completion of her discharge in Cape Town, 'Biskra' sailed on 23rd May at 09h00, bound for Durban, where no doubt, her remaining cargo of bitumen is awaited to be used in the reconstruction of the flood damaged roads of the province that surround the great port city.
Sign up for Africa Ports & Ships – it's free
Added 25 May 2022
♦♦♦♦♦♦♦♦♦
News continues below
NPA warns that Nigerian port concessions may be revoked unless….
Nigerian Ports Authority (NPA) has issued notice on five port terminal operators that their concessions may be revoked unless they meet their obligations in terms of the concession agreements.
NPA managing director, Mohammed Bello-Koko told selected maritime journalists at the recent weekend that the five affected terminal operators have been issued six-month renewal agreements laying down conditions that must be met in order that the concessions are not revoked permanently.
"The essence is that we have value for money. If today, we revoke the current concession agreement and bring new people on board, the new bidders will naturally pay the NPA far higher than what the current terminal operators are paying.
"We know this, but we are not yet saying that. What we are saying is let us sit at the table and create a concession agreement that is fair. We need an agreement that holds the terminal operators responsible for their actions."
Bello-Koko said the introduction of the Infrastructure Concession Regulatory Commission (ICRC) ensured a new interpretation of the concession agreement.
"At the point of expiration of any concession agreement, the then Legal Agreement says that the terminal operators can apply for renewal and we will renew. It was after the concession agreement that the ICRC Act came onboard. The ICRC Act requires that there should be a new owner, a new bid and so on and so forth. So you can see there is conflict."
He pointed out that the Port of Tin Can Island was practically collapsing and there needed to be a focus on rehabilitating the quay walls of that port.
"We have taken a holistic review of decaying infrastructures at our ports and have decided that it is very important that we rehabilitate Tin-Can and Apapa ports," he said.
"We are asking the terminal operators, you people have operated these port terminals for about 10 or 15 years. How much money are you going to invest in these port terminals?"
Bello-Koko said that some of their lease have already expired. For the concessions to be renewed, the NPA need to have categorical commitments from these affected operators concerning their investments in the development of the terminals and ports.
"If the terminal operators cannot give us such commitments, then we either give the terminals to someone else or go and borrow money to rehabilitate those ports.
He warned that if the NPA had to borrow money to rehabilitate the ports, then what the terminal operators are paying will have to change. "The rates will have to go up. If we don't do that, these terminal operators will keep managing those places, and the ports will keep collapsing."
He said there is a reluctance among the terminal operators for the NPA to begin reconstructing the port facilities, "because that will mean stopping them from operating.
But, he said, "We have had interest from the World Bank, IFC, Afri-Exim Bank and others. Surprisingly, it was the World Bank that actually gave money to the NPA to construct part of Apapa port so many years ago. The World Bank has come again to tell us that if we need funding, they will give it to us."
– West Africa correspondent
Sign up for Africa Ports & Ships – it's free
Added 25 May 2022
♦♦♦♦♦♦♦♦♦
News continues below
IN CONVERSATION: Rising sea levels are driving faster erosion along Senegal's coast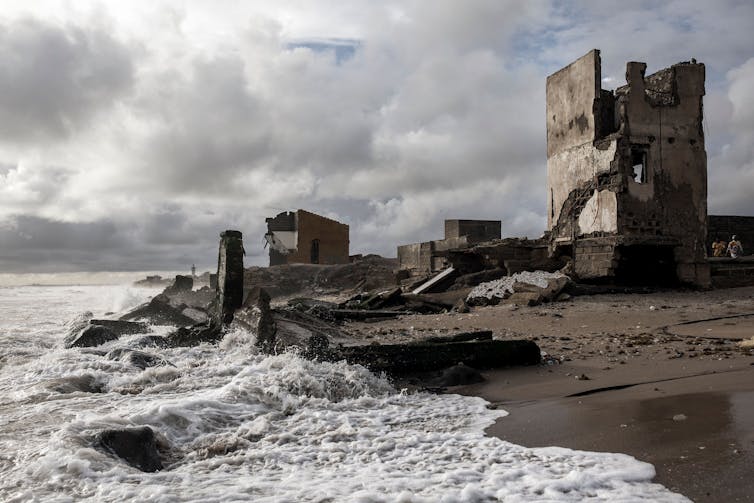 Destroyed buildings along an eroded coastline in Bargny, Senegal.  Picture by John Wessels / AFP via Getty Images
Coastal retreat in West Africa is a pressing problem. The contact between land and sea on coasts produces intense erosion and sedimentation processes. When erosion is more intense than deposits of soil and sand, the sea advances and the coastline retreats. This can be caused by intense storms, coastal works, sand extraction or the rise in sea level.
The United Nations has recently highlighted the impacts associated with sand mining, a problem with many environmental and social consequences.
Senegal provides an example of coastal erosion. Between 1954 and 2002, the country's coastline retreated by an average of 2.2 metres per year, reaching three metres per year between 2014 and 2018. This coastal retreat is destroying houses, tourist buildings and fishing infrastructure, and leading to the disappearance of beaches and the loss of agricultural land.
The advance of the sea is also making groundwater more saline and unsuitable for human consumption and agriculture. In estuarine areas, an increase in salinity affects mangroves and fisheries .
It is important to know what is causing this coastal retreat so that responsibilities can be assigned for dealing with it. There are two dimensions, one local and the other global.
At the local level, some human actions can lead to coastal erosion and beach disappearance. The construction of breakwaters, often in response to erosion, alters the way the sea normally moves sand from one place to another. Although breakwaters solve local problems, they may create new ones: sand deposit in one area occurs at the cost of erosion in another.
Another problem in West Africa is illegal mining of coastal sand, mostly for construction. Sand is in demand, and beaches are an easy source of supply.
At a global level, this region is highly affected by climate change. A rise in sea level is becoming more and more pronounced . One of the impacts is an increase of coastal erosion, which affects agriculture, fisheries and tourism.
In a recent study we aimed to evaluate shoreline retreat in a 13km section of Senegal's coast, in the Palmarin peninsula. We were looking for trends over time and causes.
The study showed an increasing retreat of the coastline over dozens of kilometres, with no local human action to justify it. The main cause is climate change. It is likely there will be significant impacts for the environment, the population and economic activities. There is an urgent need to develop an adaptation plan for this area.
Palmarin, a classic story of climate change
We chose to study the Palmarin area because it is highly vulnerable to coastal erosion, land flooding and soil salinisation. Shoreline retreat is already intense. Previous studies showed shoreline retreat rates of 1.20m/year in 1982 and 2.20m/year in 1954–2002.
We looked at the period 2005-2018 and compared our results with earlier estimations and measurements. We used as shoreline retreat indicator the sea erosion front. This is the small scarp between the beach and hinterland, which is easily recognisable in aerial photos. We found an increase of retreat to 2.45 m/year in 2005–2010, 2.60 m/year in 2010–2014 and 3.05 m/year in 2014–2018.
We also assessed the risk of coastal retreat in the short and medium term future.
Our short-term estimates showed probable damage to villages, tourist camps and roads. There is also a significant risk that coastal erosion will connect the sea and the intertidal mud flat areas of the Saloum estuary. This would break up the peninsula into several islands, changing the way that erosion evolves, producing a decline of mangroves and thus threatening fishing. Mangroves are important spawning areas, so erosion affects fishing, an essential economic resource for the local population.
In the studied area there are currently no coastal defences or sand extraction areas. Therefore, coastal erosion cannot be attributed to human actions. On the other hand, sea level rise is indisputable and explains what is happening.
A global responsibility
Lorries removing sand from a beach make for a media-friendly image, while a gradual rise in sea level by a few millimetres each year is much more subtle. Yet its effects are devastating. The advance of the sea on the coasts of West Africa can affect hundreds of thousands of people.
Action is needed at both global and local levels to mitigate the effects of coastal retreat.
Locally, works that alter coastal dynamics should be avoided and coastal sand mining should be controlled. Many countries already do this. In Senegal the mining code prohibits sea sand extraction, the gendarmerie combat illegal mining and the government conducts studies to find alternatives to sea sand.
But these measures, which may solve local problems, will not halt the current coastal retreat. Strong global action by all countries is essential to mitigate climate change by drastically reducing greenhouse gas emissions.
Local adaptation measures are also necessary to guarantee the future of the region and its inhabitants. Coastal defences are expensive and don't stop beaches from disappearing. In many places, it will be necessary to consider moving the population away from the coastline to allow the formation of new beaches. Doing so will require large investments and land occupations, and may affect agriculture and biodiversity.
Climate change is a global process, but each country's responsibilities are different. Therefore, adaptation to its effects must also be global, and its financing must be commensurate with those responsibilities.
West African countries must avoid the local causes of coastal retreat. But above all, they should get international support to adapt to the social, environmental and economic problems arising from climate change, a global problem for which they are hardly responsible.

This article is republished from

The Conversation

under a Creative Commons license. Read the

original article.
Sign up for Africa Ports & Ships – it's free




Added 25 May 2022
♦♦♦♦♦♦♦♦♦
News continues below
MAIB Report: Fumigant poisoning, mv Thorco Angela
Synopsis
A stevedore suffered sickness and disorientation after handling cans containing fumigant while discharging cargo at No 3 Alexander berth in the Port of Liverpool from the general cargo vessel Thorco Angela*.
The ship berthed in Liverpool in October 2021.
The circumstances of the incident are recorded in (United Kingdom) Marine Accident Investigation Branch (MAIB) preliminary assessment (PA) summary number 4/22: Thorco Angela published on 18 May 2022.
Aluminium phosphide fumigant
In July 2021, 8,000 tons of bagged sweet potato product was loaded into the cargo holds of Thorco Angela in Rizhao, China. While loading, shore stevedores and, at a later time during the load, Thorco Angela's crew, placed cans and pouches of aluminium phosphide fumigant between the bags of cargo. On 19 July, Thorco Angela departed Rizhao for northern Europe, and carried out scheduled crew changes during the voyage that included the master, chief officer, second officer and third officer.
At 17h45 on 10 October, Thorco Angela berthed in Liverpool. At 19h55, stevedores subcontracted to Peel Ports Liverpool started cargo discharge. The stevedores found open cans containing powder among the cargo and alerted their supervisor. At 22h00, cargo work was suspended and the stevedores waited in a mess room on the quay.
In the early hours of the next morning, one of the stevedores became unwell and was taken to hospital suffering with nausea, loss of balance, and nerve damage to his hand; he had an extended absence from work while recuperating. After the accident, Thorco Angela's crew removed some of the fumigant from the cargo holds. A specialist contractor subsequently removed 150kg of fumigant from Thorco Angela's cargo holds.
Preliminary assessment
The MAIB preliminary assessment identified that:
1] The fumigant was provided to Thorco Angela by one of the cargo suppliers, but it was likely that specialist fumigators were not allowed to board Thorco Angela and deploy the fumigant due to the Covid-19 restrictions that were in force in Rizhao. Thorco Angela's crew were not trained to deploy or remove the fumigant and the personal protective equipment they were wearing was inadequate for the task.
2] Thorco Angela's officers did not adhere to the company's safety management system (SMS) or international guidelines on the use of fumigants. Consequently, the fumigant was incorrectly deployed and did not fully volatilise and disperse during the voyage to the United Kingdom.
3] The use of the fumigant in the cargo holds was neither documented on board Thorco Angela, nor communicated to Peel Ports Liverpool by Thorco Angela's master, voyage charterer, or ship management company before the vessel's arrival. Thus, Peel Ports Liverpool were unaware of the presence of fumigant on board Thorco Angela so did not initiate its fumigant removal protocols before clearing the vessel to start discharging cargo.
4] The risk presented by the cans of fumigant was underestimated when they were first found, which delayed the cessation of cargo discharge, and Peel Port's emergency response procedure was not strictly followed.
5] The stevedore ingested fumigant either while working cargo or while eating and smoking after leaving Thorco Angela.
Action taken
As a result of the MAIB's preliminary assessment, the Chief Inspector of Marine Accidents has written to Peel Ports Liverpool advising them of the safety issues identified and highlighted the guidance regarding fumigated cargo emergency response planning detailed in the Department for Transport publication A Guide to Good Practice on Port Marine Operations.**
The Chief Inspector has also written to the vessel's managers Auerbach MARINE GmbH & Co. KG notifying them of the shortfalls in Thorco Angela's officers' actions and the failure of the company SMS.
Peel Ports Liverpool has carried out an internal investigation into the accident and committed to the addition of cargo fumigation status to its vessel cargo work checklist and development of fumigation awareness training for its management, supervisors, and stevedores.
*

Ship particulars
Flag: Marshall Islands; classification society Det Norske Veritas; built 1997; loa 139.96m; gt 9938; minimum safe manning 13.
**a copy of A Guide to Good Practice on Port Marine Operations can be found HERE
See also fumigant handling advice published by GARD: CLICK HERE
This item is taken from www.gov.uk/maib-reports/ and is reproduced here by kind permission. MAIB Crown Copyright 2022 ©

Edited by Paul Ridgway
London
Sign up for Africa Ports & Ships – it's free
Added 25 May 2022
♦♦♦♦♦♦♦♦♦
News continues below
Port of Douala Fruit Terminal upgraded
The fruit terminal infrastructure in the Cameroon port of Douala has been renewed and extended, the Cameroon government has announced.
This has been no quick achievement, it took nearly eight years to reach the point where the project could be officially inaugurated, along with an investment of CFA 4.7 billion.
Last week Tuesday the project was officially inaugurated.
The port's refurbished landside space can now process up to 500,000 tons of bananas each year, compared with 300,000 tons previously.
"This project is an important component of the support provided by the European Union (EU) to the banana sector in Cameroon for the past two decades and even more," said Philippe Van Damme, head of the EU delegation in Cameroon.
The investment has been made under the EU-led Banana Accompanying Measures (BAM), which aims to boost the competitiveness of the banana sector across Africa.
Sign up for Africa Ports & Ships – it's free




Added 25 May 2022
♦♦♦♦♦♦♦♦♦
News continues below
WHARF TALK: SA Port Statistics for April 2022
Port statistics for the month of April 2022, covering the eight commercial ports under the administration of Transnet National Ports Authority, are now available.
We will endeavour to update with similar statistics for the missing months of earlier this year, which we believe to have been a result of TNPA's relocation to Ngqura from Johannesburg, and some necessary corrections to a previously published document.
In the meantime, here are the statistics covering the eight ports for the month of April 2022.
Total tonnage handled at the 8 ports in January was a less thah normal 19.592 million tons while containers handled amounted to 314,507 TEU. These totals were adversely affected by the floods that engulfed large parts of Durban and its port, as well as that of Richards Bay, disrupting the movement of cargo by rail and road, which has yet to be caught up.
The details in the tables below show port cargo throughputs, ships berthed and auto and container volumes handled together with bulk and dry bulk volumes.
Statistics involving motor vehicles are measured in vehicle units. These include imports and exports, earth-moving and all ro-ro or wheeled vehicles each qualifying as a single unit and rated as at an average of one tonne each.
For comparison with the equivalent month of the previous year, April 2021 CLICK HERE
These statistical reports on Africa PORTS & SHIPS are arrived at using an adjustment on the overall tonnage compared to those kindly provided by TNPA and include containers recorded by weight; an adjustment necessary on account of TNPA measuring containers by the number of TEUs without reflecting the weight, thus leaving the SA ports undervalued in volumes when compared with other ports across the world.
To arrive at such a calculation,  Africa PORTS & SHIPS uses an average of 13.5 tonnes per TEU, which probably does involve some under-reporting.  Africa PORTS & SHIPS  will continue to emphasise this distinction, without which South African ports would be seriously under-reported internationally and locally.
Port Statistics continue below
Figures for the respective ports during April 2022 are:
Total cargo handled by tonnes during April 2022, including containers by weight
| | |
| --- | --- |
| PORT | April 2022 million tonnes |
| Richards Bay | 5.650 |
| Durban | 4.395 |
| Saldanha Bay | 5.439 |
| Cape Town | 1.706 |
| Port Elizabeth | 1.005 |
| Ngqura | 1.212 |
| Mossel Bay | 0.034 |
| East London | 0.153 |
| | |
| Total all ports | 19.592 million tonnes |
CONTAINERS (measured by TEUs) during April 2022
(TEUs include Deepsea, Coastal, Transship and empty containers all subject to being invoiced by NPA
| | |
| --- | --- |
| PORT | April 2022 TEUs |
| Durban | 158,603 |
| Cape Town | 80,632 |
| Port Elizabeth | 6,184 |
| Ngqura | 64,345 |
| East London | 4,735 |
| Richards Bay | 8 |
| | |
| | |
| Total all ports | 314,493 TEU |
MOTOR VEHICLES RO-RO TRAFFIC (measured by Units- CEUs) during April 2022
| | |
| --- | --- |
| PORT | April 2022 CEUs |
| Durban | 37,460 |
| Cape Town | 8 |
| Port Elizabeth | 9,375 |
| East London | 6,409 |
| Richards Bay | 0 |
| | |
| | |
| Total all ports | 53,252 CEU |
SHIP CALLS for April 2022
PORT
April 2022 vessels
gross tons
Durban
234
8,371,734
Cape Town
262
3,711,574
Richards Bay
110
4,600,120
Port Elizabeth
82
1,777,729
Saldanha Bay
44
3,186,478
Ngqura
59
2,140,179
East London
26
944,609
Mossel Bay
47
167,530
Total ship calls
864
24,899,953
— source TNPA, with adjustments regarding container weights by Africa

Ports & Ships
Sign up for Africa Ports & Ships – it's free
Added 24 May 2022
♦♦♦♦♦♦♦♦♦
News continues below
WHARF TALK: Japanese-built MR2 product tanker – CALANDRIA
Story by Jay Gates
Pictures by 'Dockrat'
The flow of much needed fuels into South Africa carries on unabated, with many tankers now making multiple port calls, and dropping off small parcels, as they transit around the Southern African coast. The ongoing heavy rains in KwaZulu-Natal are not helping the fuel distribution operators, and so the flurry of tanker arrivals is not expected to reduce any time soon.
On 20th May at 20h00 the MR2 product tanker CALANDRIA (IMO 9536832) arrived off Cape Town from Port Elizabeth (Gqeberha), and entered Cape Town harbour, proceeding to the Tanker Basin in the Duncan Dock. Her draft was not deep, and she was riding fairly high out of the water, which indicated that she was not fully loaded. As such, her stay was not expected to be a long one.
Built in 2012 by Shin Kurushima Dockyard at Onishi in Japan, 'Calandria' is 182 metres long and has a deadweight of 45,950 tons. She is powered by a single Mitsui MAN-B&W 6S50MC-C 6 cylinder 2 stroke main engine producing 12,889 bhp (9,480 kW), driving a fixed pitch propeller for service speed of 15 knots.
Her auxiliary machinery includes four generators providing 2,240 kW, and she has a Tortoise upright exhaust gas boiler. She has 14 epoxy coated cargo tanks, and has a cargo carrying capacity of 52,842 m2.
The voyage of the 'Calandria' has been a long one. She loaded her fuel products in and around Singapore, taking on parcels from Jurong Island in Singapore, then Pengerang and Tanjung Pelepas in nearby Malaysia. She loaded in less than a day in each of these large oil terminals.
Her first stop was in Durban, where she arrived on 12th May and after 43 hours alongside discharging her parcel, she sailed for East London on the 14th May, arriving in the Buffalo City on 16th May.
After 27 hours discharging in East London she sailed for Port Elizabeth on the 17th May. Her stay in the Windy City was for a 20 hour period between the 18th and 19th May, when she sailed for Cape Town, her final stop.
Nominally owned by Calandria Shipping, which is a subsidiary of the Hadley Shipping Company of London, she is operated within the MR pool of Maersk Tankers of Copenhagen, and she is managed by Anglo-Eastern Tanker Management (Hong Kong) Ltd.
Her pedigree is shown on her funnel, by the diamond containing the letters HSC, which stands for, and is the houseflag of, the Hadley Shipping Company. This family owned, London based, shipping company traces its founding back to 1912 as a ships agency known as the Immingham Agency Company.
In December 1926 the Hadley Shipping Company was formed to take advantage of the then Anglo-Saxon Petroleum Company (better known today as Shell Tankers) divesting of some of their fleet in a 'sale and charter back' scheme. The company started with the ownership of a single ex Anglo-Saxon (Shell) tanker.
The name of the company, The Hadley Shipping Company Ltd., was chosen by one of the founders, Walter Warwick, having his family home at Hadley Wood, in Hertfordshire, just north of London. Today the Hadley Shipping Group owns a fleet of bulk carriers, product tankers, container ships, and specialised Ro-Ro Ships used to transport military vehicles and stores for the UK Ministry of Defense, and for NATO forces.
Purchased very recently from the MOL Tankers subsidiary, of the great Mitsui OSK Line (MOL) of Tokyo, 'Calandria' joined the HSC fleet only in April 2022. An interesting observation of her recent change of ownership, is that her new name was painted on both her bow, and her stern, using what appears to have been a stencil arrangement, as each letter is broken, into pieces, as a stencil would do.
She is not the first 'Calandria' in the fleet of the Hadley Shipping Company. The previous 'Calandria' (IMO 7004354) was built for their ownership in 1970. That 'Calandria' was not a products tanker, but a short sea trader, with two holds, serviced by four derricks.
The previous 'Calandria' was built by Scheepsverf Bodewes at Martenshoek in Holland. she was 78 metres long and had a deadweight of 2,598 tons. She remained in the HSC fleet until 1979, when she was on sold for further service. She lasted until 2012, and was finally scrapped as the 'Qiong Xi' of the People's Republic of China.
The current 'Calandria', as with her previous three ports, did not hang around long, and by 21st May at 13h00, after a stay of just 17 hours, she had completed her discharge, and sailed from Cape Town. However, she did not go far, as she went directly to the Table Bay anchorage to, presumably, await orders for her next voyage.
Sign up for Africa Ports & Ships – it's free
Added 24 May 2022
♦♦♦♦♦♦♦♦♦
News continues below
IMO Madagascar Port Security Workshop
Strengthening port security was the focus of an IMO workshop held from 9 to 13 May in Antananarivo, Madagascar.
IMO officials assisted the maritime administration to develop the legal framework to give full and complete effect to the IMO instruments dealing with maritime security, including the International Ship and Port Facility Security Code (ISPS Code).
This workshop focused on the legislative aspect of maritime security. Participants are also discussing improving the collaboration of the various bodies involved in maritime security and strengthening the know-how of the Port Facility Security Officers (PFSOs) – who develop security plans and procedures for the port facilities.
EU sponsorship
It is understood that the workshop was the first of a series of activities in Madagascar under a port security project, sponsored by the European Union. It is anticipated that future workshops will involve further collaboration between the implementing partners, IMO, the International Criminal Police Organization (INTERPOL) and the United Nations Office on Drugs and Crime (UNODC).
Madagascar's Port Maritime and Waterways Agency hosted the workshop for 27 participants from various agencies including Customs, fisheries surveillance, police, navy, and representatives of the ports of Toamasina and Ehoala.

Edited by Paul Ridgway




London
Sign up for Africa Ports & Ships – it's free
Added 24 May 2022
♦♦♦♦♦♦♦♦♦
News continues below
WHARF TALK: Maritime News in Brief
The South African Antarctic supply and research ship, SA AGULHUS II, has returned to the port of Cape Town on conclusion of her annual logistical and scientific voyage to Marion Island with the 78th Marion Island Overwintering team onboard.
SA Agulhas ll is managed by AMSOL (African Maritime Solutions) on behalf of the South African Department of Forestry, Fisheries and Environment.
♦♦♦♦
Oil spill management exercise held in Table Bay
A staged oil spill management exercise was held in Table Bay earlier in May involving ocean going vessels, onshore vehicles and a large number of personnel, according to South Africa's Interim Incident Management Organisation (IMOrg).
The exercise falls under the Department of Transport and plays a critical role in co-ordinating preparedness and response to marine emergencies, utilising the internationally recognised Incident Management System (IMS) which was introduced in 2015.
According to the South African Maritime Safety Authority (SAMSA), the exercise included 50 delegates from government, non government and private sector institutions in South Africa, Namibia and Angola.
IMOrg Project manager was Captain Ravi Naicker. Among the ocean going vessels taking part were AMSOL's tugs, UMKHUSELI and the well-known SA AMANDLA.
Watch IMOrg IMS YouTube video on ths training exercise [6:35]
♦♦♦♦
MOL stages anti-piracy exercise involving LNG tanker
Mitsui O.S.K. Lines, Ltd. (MOL), whose ships are regular visitors to South African and other African ports, held a joint public-private sector anti-piracy training session in mid-May with the LNG tanker LNG MARS while the vessel was under way in the southern area of Ise Bay (Japan).
The exercise was based on a scenario that pirates were pursuing and closing in on the MOL-operated tanker. The training focused on emergency telecommunication and the realistic drill included some tension-filled moments as the Japan Coast Guard's patrol ship MIZUHO rushed to the scene.
MOL said the exercise confirmed the effectiveness of its risk management system and ensured that everyone concerned could communicate clearly and swiftly.
♦♦♦♦
Suez Canal enjoying growth in number of ships
According to Suez Canal Authority chairman, Osama Rabie, the number of ships crossing the Suez Canal in the first four months of this year has increased by 10% compared with the same period in 2021.
Rabie said 1166 ships crossed the canal between 1 January and 1 May this year, compared with 1066 vessels over the same period in 2021.
This is despite the negative impact of the Russia-Ukraine war, resulting in a decline in Black Sea traffic from South-East Asia which uses the canal en-route.
♦♦♦♦
SAECS ship to phase out
It has been reported that the container ship MAIRA XL (IMO 9710232) on voyage 222S will phase out of the Southern Africa Europe Container Service (SAECS) during her call at Durban, after discharging her import cargo. Maira is currently en-route from Bremerhaven to Algeciras where she is due on 28 May. She will sail direct from Algeciras for Ngqura (ETA 14 June) with a Durban ETA of 17 June 2022 at 18h00.
The replacement vessel MOL PROFICIENCY (IMO 9403619) will phase into the service on 20 June 2022 and cover onward voyages. Cape Town imports from Maira XL will discharge in Durban for connection onto the MOL Proficiency v.222N.
Ngqura exports will load to the Maira XL v.222S, discharging in Durban to connect with the Mol Proficiency v.222N.
Sign up for Africa Ports & Ships – it's free




Added 24 May 2022
♦♦♦♦♦♦♦♦♦
News continues below
Kenya: Developing a National Maritime Security Risk Register – IMO support
Identifying emerging threats to maritime security is key in developing the right tools to ensure sound maritime security governance.
To address this, thirty participants from several Kenyan Government ministries and agencies with responsibility for maritime security policy and operational implementation took part in a five-day IMO-sponsored workshop from 9 to 13 May.
They assisted the Kenyan Government in the development of its National Maritime Security Risk Register.
It is understood that the finalised National Maritime Security Risk Register will assess the threat, impact, and vulnerability criteria of all security threats to Kenyan national maritime security interests. This will enable the National Maritime Security Committee to formulate and coordinate new work programmes to mitigate these risks.
Furthermore, the scheme will also drive the development of the strategic objectives in the Kenyan National Maritime Security Strategy, which will set out Kenya's vision for how it will safeguard its maritime domain for the next twenty years.
Securing and safeguarding the growth of the country's blue economy is critical for development and economic growth. This forum followed an earlier workshop on the Development of the National Maritime Security Strategy held this year on 7 and 8 March, which shared good practice on the establishment of an effective National Maritime Security Committee structure and the development of a National Maritime Security Strategy.
EU-funding
This multi-agency workshop of 9 to 13 May was an excellent example of the whole of government approach to maritime security. The workshop is part of the EU-funded project on Port Security and Safety of Navigation in Eastern and Southern Africa and The Indian Ocean, which IMO is delivering with implementing partners Interpol and UNODC.
London
Sign up for Africa Ports & Ships – it's free
Added 24 May 2022
♦♦♦♦♦♦♦♦♦
News continues below
DR Congo shipping line opens offices at Dar es Salaam & Mombasa
The Democratic Republic of Congo (DRC), which apart from a narrow access to the Atlantic Ocean, is basically landlocked and with poor roads and limited rail connectivity. The eastern half of the country is economically divided from the capital, Kinshasa, and tends to look eastwards towards the Indian Ocean and the ports of Mombasa and Dar es Salaam, or to the ports of South Africa far to the south, for shipping purposes.
The country's state-owned shipping company, Lignes Maritimes Congolaises (LMC), has recently secured facilities and offices the ports of Mombasa and Dar es Salaam and is seeking to develop additional trade via the Indian ocean ports. LMC has been in existence since 2014.
According to DRC officials from Kinshasa, yard space has already been secured in Mombasa and at Dar es Salaam.
Operations at these ports involving the LMC are expected to accelerate from June this year.
The announcement comes a little more than a month after the DRC became the latest member of the East Africa Community (EAC) trading bloc.
Eastern DRC connections
The DRC is connected to Dar es Salaam by the cape gauge (3ft 6ins/1067mm) Tazara railway (DRC-Zambia-Tanzania), the metre gauge Tanzania railway between Dar es Salaam and Kigomo and from thence across Lake Tanganyika by ferry to the DRC side.
A standard gauge railway (SGR) connects Kenya's Mombasa port with Naivasha, in the area west of Nairobi, from where a metre gauge railway connects with Lake Victoria and to the Uganda border, from where the metre gauge Uganda railway connects to Kampala. At this point road transport connects Uganda with the eastern DRC.
Both Kenya and Tanzania are constructing standard gauge railways to improve connections with inland destinations, including the DRC, although the Kenyan SGR is stymied from continuing by lack of finance .
In each of these countries considerable volumes of traffic are carried by road.
It is reported that LMC will be opening offices in both Mombasa and Dar es Salaam.
The company will most likely focus on facilitating trade via the respective East African ports and chartering space with shipping lines that carry cargo to and from the DRC.
It will also manage the storage and security of cargo destined to or from the DRC.
In the meantime, Tanzania is continuing with the expansion and improvement of its lake ports, including Kigoma, the largest port on Lake Tanganyika, as well as on Kasanga, the second largest. These two ports are on the eastern side of the lake, facing the DRC which lies on the opposite western side of Africa's long and narrow lake.
The port of Dar es Salaam currently handles 1.8 million tonnes of cargo annually from the DRC, including bulk copper, while exports to the DRC were valued at a little over US$ 207 million.
Sign up for Africa Ports & Ships – it's free
Added 23 May 2022
♦♦♦♦♦♦♦♦♦
News continues below
WHARF TALK: THREE CONFEDERATE RAIDERS AT THE CAPE IN 1863
Story by Jay Gates
"Daar kom die Tuscaloosa" is not the opening line of the well known Cape folk song, and neither is "Daar kom die Georgia". What is well known is "Daar kom die Alabama", but in fact at the same time in August 1863 there were not just one, but there were actually three Confederate States Naval vessels in South African waters off the Western Cape coast, and who anchored in the same port within three days of each other.
Yet hardly anyone has ever heard of the other two Confederate raiders, nor the fact that between them, they used Cape harbours on no less than seven occasions in eight months, and not just the one visit, by the one vessel, that evoked the famous song.
The famous Confederate States Ship (CSS) Alabama, under the command of Captain Raphael Semmes, of the Confederate States Navy (CSN), started life in 1862 as a clandestine new build, from the famous Laird Shipyard, in Birkenhead on the River Mersey. She sailed under the false name of 'Enrica' to Terceira in the Azores, where her real, and deadly, purpose was revealed.
From Terceira, the newly commissioned Sloop-of-War 'CSS Alabama' sailed on the first of her seven expeditionary raiding voyages into the Eastern Atlantic. It was her fourth expeditionary raiding voyage, known as the South Atlantic Expeditionary Raid, that brought her to South African shores. She arrived off Saldanha Bay on 29th July 1863 to complete her raiding voyage.
It was on this raiding voyage that, on 20th June 1863 she intercepted the 350 ton, Yankee Barque, 'Conrad' off the coast of Brazil, which was en-route from Buenos Aires to New York, with a cargo of wool and skins. As she was a good sailor, Captain Semmes decided to utilise her as a tender for the 'CSS Alabama', and he commissioned her into the Confederate States Navy as the 'CSS Tuscaloosa', named after a city in the state of Alabama.
He transferred his 4th Lieutenant, John Low, as her Commander, as well as 15 of the crew of 'CSS Alabama', together with two 12 pounder, rifled, brass cannons, and a plentiful supply of rifles, pistols and ammunition. The new 'CSS Tuscaloosa' was loaded with enough stores for a three month cruise, and tasked with proceeding on a raiding voyage of her own, with the orders to rendezvous with 'CSS Alabama' at the Cape of Good Hope.
When 'CSS Alabama' was in Saldanha Bay, she suffered a tragic accident that resulted in the death of her 3rd Engineering Officer, Lieutenant Simeon Cummings. Buried in a plot on the farm 'Kliprug' in Saldanha Bay, he was the only Confederate serviceman, from the American Civil War, to have been laid to rest in South Africa. His headstone was paid for by a group of Royal Navy Officers, based in Simonstown.
It was not until 131 years later, in May 1994, that the mortal remains of Lieutenant Simeon Cummings were exhumed, and returned to the United States. He was laid to rest in Columbia, in the state of Tennessee. Only a few of his shipmates witnessed his burial in South Africa, but over 5,000 were present when he was reinterred back in his beloved Southern States.
At the beginning of August 1863, 'CSS Alabama' sailed from Saldanha Bay and headed for Cape Town. The population of the city had become so enthralled by her raiding success that thousands of people climbed Signal Hill, lined Green Point seafront, and climbed onto the roofs of buildings in Cape Town itself to witness her arrival.
As she neared Cape Town, on 5th August 1863, she came upon the Boston Barque 'Sea Bride', and in front of a crowd of thousands of witnesses, she took 'Sea Bride' as a prize. There were arguments about whether, or not, he was within the three mile territorial waters of the Cape, when he made his capture. Captain Semmes left his prize out to sea, and entered Table Bay, for the first of his four visits to Cape ports.
Interestingly, for those who wonder, there is a very good reason as to why a three mile territorial limit was in place around the world at this time. It is down to the range of a cannonball, fired from a cannon, mounted on a coastal fort. It was considered that a cannonball only had a maximum range of three miles, and therefore, anything it could hit was considered territorial waters, and anything beyond that range was considered to be international waters.
His stay off Cape Town only lasted three days, and on 8th August, Captain Semmes sailed 'CSS Alabama' around to False Bay, and anchored off Simonstown on 10th August. He remained there, taking on coal and supplies for six days and sailed on 15th August for the high seas, and the start of his fifth raiding voyage, known as the South African Expeditionary Raid.
This first stay at the Cape was a very social one for the Officers and Crew of the 'CSS Alabama', and it was on her stop at Simonstown that some of the famous photographs were taken of Captain Semmes. The photographer was Arthur Green, a commercial photographer based in Cape Town. The ships log of 'CSS Alabama' on 12th August 1863 states "Photographers and Visitors on board."
At the same time, the 'CSS Tuscaloosa' arrived in Simonstown on 8th August, and remained at anchor next to 'CSS Alabama' until 14th August, when Captain Semmes ordered Lieutenant Low to take his vessel and escort 'Sea Bride' to Angra Pequena, now known as Lüderitz in Namibia, where a sale had been agreed. From there he was to head for Brazil to seek out more Yankee prizes, and return to the Cape of Good Hope by year end.
With the 'CSS Tuscaloosa' sailing from Simonstown on 14th August, and 'CSS Alabama' sailing from Simonstown on 15th August, it was the very next day that the third Confederate raider arrived in Simonstown. On 16th August 1863, the 'CSS Georgia', under the command of Lieutenant William Maury CSN, arrived in False Bay, from a raiding voyage off the coast of Brazil. A fairly new ship to the Confederate Navy, 'CSS Georgia' had only been in commissions since April 1863, and had previously been operating as a British merchant steamer.
Despite the British Government taking a Neutral stance in the American Civil War, they frequently allowed both Northern and Southern belligerent warships to utilise Cape Town for much longer than the 24 hours allowed under international law.
After taking on coal and supplies over the course of almost a fortnight, 'CSS Georgia' sailed from Simonstown on 29th August, and sailed north for Tenerife in the Canary Islands. She captured nine ships on her raiding voyage, but this was to be her last cruise, as she herself was later captured by the USS Niagara.
Arriving back in Simonstown on 16th September for coal supplies and provisions, 'CSS Alabama' was now aware that a powerful Northern warship, the USS Vanderbilt, had arrived in Cape Town and was searching her out. Captain Semmes made the decision to leave the rich pickings of Cape waters, and on 24th September 1863 he sailed from False Bay, heading for the Far East on his sixth raiding voyage, known as the Indian Ocean Expeditionary Raid.
It was now the turn of the 'CSS Tuscaloosa' to return from her raiding voyage, and on 26th December 1863 she arrived back from Brazil and anchored off Simonstown. Since her last visit, the views of the British Government had changed, and instead of being welcomed, as all of the Confederate Naval vessels had previously, she was detained.
The vessel was accused of breaking Neutrality Laws, and a naval force from the Simonstown based, Royal Navy vessel 'HMS Narcissus' took over the 'CSS Tuscaloosa'. Lieutenant Low had no choice but to pay off his crew, and they all sailed back to the United Kingdom. The second of the Cape Confederate raiders was now also out of the battle.
This left 'CSS Alabama' still out at sea capturing Northern vessels. After a voyage in the Java Sea, and in the Sunda Strait, where she had used the facilities of the British Colonial Straits Settlement at Singapore, she left on her seventh and last raiding voyage, which ultimately brought her back to the Cape.
On 20th March 1864, 'CSS Alabama' arrived in Table Bay for the last time. She was in need of a refit, after being at sea continuously for over 200 days, and having never visited a Southern Confederate port. After her final coaling and provision storing at Cape Town, on 25th March she sailed from Cape Town and headed north for Cherbourg in France, and a last attempt at raiding.
There is still a piece of 'CSS Alabama' in the Cape. It is a Confederate Navy Battle Ensign, measuring 170cm x 290cms, and is at the Iziko Museum in Cape Town. This ensign is believed to have been made aboard by her British crew, sometime between the two visits to Cape Town of 'CSS Alabama. This ensign was given to William Anderson, whose ship chandler company made repairs on 'CSS Alabama', shortly before she made her fateful return voyage to Cherbourg.
A second Confederate Naval Ensign, known as 'The Stainless Banner', and of South African origin, was made, and then presented to 'CSS Alabama' on one of her two port visits to Cape Town. Today, that ensign resides in the Tennessee State Museum, in the USA.
Her arrival at Cherbourg was to be her final fling. Waiting for her was the 'USS Kearsarge', and she sailed out of harbour for her final battle on 19th June 1864. She was outgunned by the 'USS Kearsarge' and she succumbed with the loss of 19 of her crew, and 21 further wounded. She sank, but Captain Semmes was picked up by a British vessel nearby and was taken back to Southampton.
Raphael Semmes survived the American Civil War, was promoted to Rear Admiral in the CSN, and died in 1867 at home in Mobile in the state of Alabama. He was aged 68, but did not die of old age, but of food poisoning!
Very little is known about the 'CSS Tuscaloosa', but the details of 'CSS Alabama' are well known, with a length of 220 feet, and a displacement tonnage of 1,050 tons. She had two horizontal steam engines, producing 300 bhp each, driving a single screw propeller for a service speed of 13 knots. She also had an auxiliary sailing barque rig on three masts.
Her normal operating crew was 145 persons, including 28 Officers, and for her main armament, she carried six 32 pounder guns, one 68 pounder gun, and one 110 pounder rifled gun.
The 'CSS Georgia' was 212 feet in length, and had a displacement tonnage of 600 tons. She was also steam engine powered, and had an auxiliary sail rig, of a Brig, set on two masts. Her main armament was two 24 pounder guns, one 32 pounder gun, and two 100 pounder guns.
A period of South African maritime history that a lot of folk think is well known, but actually very few know the full story. It was the year of the American Confederacy, which touched the Cape, not once, but seven times, and not with one famous vessel, but three.
Sign up for Africa Ports & Ships – it's free
Added 23 May 2022
♦♦♦♦♦♦♦♦♦
News continues below
CGA calls for urgent update on interventions at the ports
On Thursday, 19 May the Citrus Growers Association (CGA) issued the following statement by CGA CEO Justin Chadwick and intended for publication
Statement by CGA CEO Justin Chadwick
CGA calls on Minister Gordhan to provide an urgent update on interventions at the ports
"Tomorrow [20 May 2022], Minister of Public Enterprises, Pravin Gordhan will be delivering his department's 2022/2023 budget speech in Parliament. The Citrus Growers' Association (CGA) hopes that Minister Gordhan will use this opportunity to provide an urgent update on government's plans to address the ongoing challenges at South African ports over the short and longer term.
This follows an Indaba held by CGA in Pretoria last week, which was attended by citrus growers from across the country. The meeting focused on the many serious challenges currently facing the sector, which threaten the longer term sustainability and profitability of the industry and, in turn, the 130,000 jobs it sustains and R30 billion in export revenue it brings in annually.
The main challenges raised by growers were the significant increases in a number of input costs, including fuel, fertiliser and electricity prices. However, their biggest concern was the surge in freight costs over the past year, which has seen some shipping lines hiking their prices by as much as 150%. At these levels, it now costs between 2 and 2.5 times as much to ship the fruit, as it does to produce it over the course of an entire year. It was therefore agreed at the Indaba, that the CGA would investigate the feasibility of collaborating with other fruit sectors to take control of their shipping in order to guarantee some price stability in the future.
The other serious challenge raised was the ongoing operational issues at the country's ports as a result of aging and out of service equipment and staff shortages. The perennial productivity problems at Durban port, which handles 60% of the country's citrus exports, was further compounded by the recent rain and flooding in KwaZulu-Natal. Despite the impressive efforts by Transnet and the eThekwini municipality to ensure the damage to port access roads and the port itself was repaired in record time, it still interrupted the start of the season with many growers having to delay their harvesting and packing of fruit.
The citrus industry is expected to export 170 million cartons this season, which will result in billions more Rands in revenue for the country and more jobs being sustained. However, if current issues at the ports continue to hamper citrus reaching key markets, it will have a severe impact on fruit quality and grower sustainability.
It is therefore critical that Minister Gordhan provides a progress update on the short-term interventions, announced by President Ramaphosa in his SONA in February, which Transnet was planning to implement including: procuring additional equipment and implementing new systems to reduce congestion at the ports.
It is also crucial that he provides an update on the Request for Qualification (RFQ) published by Transnet earlier this year with regard to introducing Private Sector Participation (PSP) in the Durban Port Container Terminal Pier 2 and Ngqura Container Terminal. Critical to the success of this process is for it to include realistic ownership provisions for private operators. We would also appreciate an update on the planned R100 billion infrastructure development project at Durban port that was announced last year.
The CGA remains committed to working with government and stakeholders across the value chain to address issues affecting the ports. In this regard, it has established a Logistics Response Committee that identify risks in the logistics chain, including problems at the ports, and then develop plans to tackle the highest priority items. We will continue working with all role players so our industry is able to export quality fruit across the globe during the current season and remain a key contributor to the economy and jobs."
By Justin Chadwick.
Sign up for Africa Ports & Ships – it's free
Added 23 May 2022
♦♦♦♦♦♦♦♦♦
News continues below
The London-based International Chamber of Shipping (ICS) representing 80% of world's merchant fleet and the Suez Canal Authority (SCA) have signed a landmark agreement to enhance cooperation.
It was announced on 11 May from Ismailia, Egypt, that the International Chamber of Shipping and Egypt's Suez Canal Authority (SCA) had signed a Memorandum of Understanding (MOU) covering key issues impacting international ship owners and operations of the Suez Canal.
This yearlong commitment, signed during a meeting at the SCA HQ, will increase information sharing and negotiations on the movement of global trade through the Canal. It will open communication on long-term strategies for toll pricing, environmental protection, and decarbonisation.
In-depth collaboration
It is understood that the MOU represents a formalisation of dialogue between ICS and SCA. The organisations hope it will lead to in-depth collaboration on operational and structural policies of the Canal, the safety and security of transiting vessels, and enhancing pilotage, towing and repair services.
The agreement follows a period of close co-operation between the two organisations, who have been in regular contact over the Covid-19 pandemic, and during the grounding of Ever Given in 2021.
COP 27

*

this November
Egypt is increasingly positioning itself as a key figure in the shipping sector's decarbonisation, and the country will host COP27 this November. A maritime delegation led by ICS is scheduled to return to Egypt for the UN climate summit to continue meaningful dialogue on shipping's transition to net-zero.
Admiral Osama Mounier Mohamed Rabie, Chairman and Managing Director of SCA, remarked: "We adopt an ambitious vision to reinforce the pivotal role of the Suez Canal Authority amid the international community of maritime navigation, and the benefit of our clients is our major priority."
Esben Poulsson, Chairman of the ICS, said that ICS has enjoyed a close liaison with the Suez Canal Authority for almost a century. "We thank the Authority for its hospitality and look forward to building on our cemented relationship.
"The maritime industry is at an inflection point as we earnestly begin our transition to a renewable future. The conversations we have had this week leave me with great confidence that Egypt will be one of the leaders of industry's green transition, leaning on its position at the heart of the maritime world."
This was the first in-person meeting between ICS and the SCA since July 2015.
The previous visit focused on the widening of the southern canal, and an overview of the dual canal construction system, which has since been completed.

Edited by Paul Ridgway
London
Sign up for Africa Ports & Ships – it's free




Added 23 May 2022
♦♦♦♦♦♦♦♦♦
News continues below
Malawi grants licence to African Railway Company to import fuels from the port of Nacala
The port of Nacala may shortly may shortly become a regular port-of-call for the increasing fleet of product tankers arriving on the southern African coast.
That's according to a news broadcast by Radio Mocambique which said a license has been granted for fuel to be imported into Malawi via the northern Mozambique port of Nacala.
The license with an initial duration of six months has been issued to African Rail Corporation Limited to handle the transportation of the fuel from the port to Malawi.
The short six-month period is to allow the Malawi Ministry of Transport to assess the effectiveness of African Rail Corporation in its operations.
If satisfied a contract with a longer period may be granted.
The company will operate along the Nacala-Blantyre-Lilongwe rail route and later, on the by-then reopened Beira-Blantyre-Lilongwe line involving the Sena Railway.
The use of the Nacala-Malawi railway for the importing of fuel and of general freight is expected to help reduce transport costs, improve efficiency on the logistics sector, help create jobs and to provide welcome competition in the transport sector, said Malawi's transport minister, Jacob Hara.
The granting of this latest contract comes a month after the presidents of Mozambique, Felipe Nyusi, and Malawi, Lazarus Chakwera, signed a number of trade agreements and cemented the good relationship between the two countries.
It was a relatively few years ago, under different governments of the two countries, that relationships soured considerably, including the turning down by Mozambique of a proposal to reopen the waterway involving the Zambezi and Shire rivers as a means for Malawi to transport goods to and from the Indian Ocean.
Sign up for Africa Ports & Ships – it's free




Added 23 May 2022
♦♦♦♦♦♦♦♦♦
News continues below
Bashir Jamoh hopes to remain NIMASA as Director-General
Director-general of Nigerian Maritime Administration and Safety Agency (NIMASA), Bashir Jamoh, hopes to remain in office after all.
Jamoh had indicated he was intending to stand for Governor of Kaduna State in the 2023 general election, which meant that he had to resign his position with NIMASA by 16 May this year. This was in terms of an instruction issued by Nigeria's President Buhari.
That was in accordance with the provision of Section 84(12) of the new Electoral Act which bars political appointees from voting or being voted for at party primaries.
See related report on this topic

 HERE in Africa

Ports & Ships

 
Earlier this year Jamoh said he loved the maritime industry. "I have a great passion for it and I can work in it for the rest of my life, but my people want me to serve them at the state level, I will not fail them, it would be unfair to do that so I will avail them of my services at the state.
"If they also want me to serve them at the federal level, I will also not disappoint them; I will go and serve them. So, it is not only about what I want for myself but what my people want me to do for them," he said.
Now he has reversed that decision, despite having spent a lot of effort and money of seeking support for himself as a candidate for the governorship.
However, it is not clear what his position now is, as it is reported that some civil society groups maintain that all political appointees who have purchased party nomination forms must be compelled to resign their appointments irrespective of the decision to continue with their political pursuits or not.
President Buhari will now have to decide what to do with political appointees who change their minds on this issue.
Sign up for Africa Ports & Ships – it's free




Added 23 May 2022
♦♦♦♦♦♦♦♦♦
News continues below
Good news for the South African citrus industry: EC withdraws Cold Treatment requirement
It was good news for the South African citrus industry when the European Commission last week withdrew its requirement for cold treatment for oranges arriving from countries where codling moth is present.
The proposal for the application of cold treatment in transit for oranges from the affected countries was introduced within the framework of the Standing Committee on Plants, Animals, Food and Feed (SCoPAFF) on 1 February this year.
South Africa and Zimbabwe would be the parties specifically affected.
The regulation change had been backed by a scientific report from the European Food Safety Authority (EFSA) and was publicly presented in March and April at the EU and the World Trade Organization (WTO).
This past week the European Commission withdrew the cold treatment requirement proposals.
In March the Citrus Growers' Association of Southern Africa (CGA) launched a campaign urging industry stakeholders to lodge objections to the proposed legislation.
Sign up for Africa Ports & Ships – it's free




Added 23 May 2022
♦♦♦♦♦♦♦♦♦
News continues below
Shipping costs costing E Cape citrus industry dearly
Hannes de Waal, CEO of the Sundays River Valley Citrus Company (SRCC) and chairperson of the Citrus Growers Association, says the citrus industry in the Sundays River Valley region has had tremendous growth, with further growth to come.
However, he said, shipping costs far outstrip production costs on Eastern Cape citrus farms.
"Shipping costs are taking us out. Shipping costs are two and a half times our production cost at the moment. There's a very big problem in this industry with shipping costs. The second big problem is input costs: fertilisers and so forth have jumped through the roof."
According to de Waal, between 40% and 60% of South African citrus producers cannot break even under current conditions. "That's my estimate, and the reason for that is shipping costs."
Last year they trucked 12% to 15% of their fruit to the port of Durban, where usually it would've been less than 3%.
This year, given the current shipping rotation, the expectation is that they'll be forced to put 10% to 15% of their crop on the road to KwaZulu-Natal again.
"We hope that it'll change over time. It's simply not cost effective especially for the big producers," he said, adding that if they were to increase their cost structure through a higher wage bill, they could well be hastening the end of their business.
The Sundays River Valley region has recently ended a two-week illegal strike over wages, during which several weeks of harvesting and packing were lost. R100m of fruit due to be exported was lost together with more than R70 million worth of damage to property, infrastructure and packhouses.
Intimidation kept citrus workers away, and two workers died.
de Waal said that workers never asked whether they supported the illegal strike and are relieved to be back at work again. However, the region is no more susceptible to labour action than elsewhere in SA.
"We acknowledge that South Africa has profound socio-economic problems and we're the only large industry here, so we're the obvious target."
Sign up for Africa Ports & Ships – it's free
Added 23 May 2022
♦♦♦♦♦♦♦♦♦
News continues below
Air cargo: Air France-KLM and CMA CGM accord
Major long term strategic partnership
It was announced from Paris and Marseille on 18 May that Air France-KLM Group and the CMA CGM Group had signed a long-term strategic partnership in the air cargo market.
It is understood that this exclusive partnership will see both parties combine their complementary cargo networks, full freighter capacity and dedicated services in order to build an even more competitive offer thanks to the unrivalled knowhow and global footprint of Air France-KLM and CMA CGM.
A ten-year exclusive strategic commercial partnership
CMA CGM and Air France-KLM share a strong ambition to invest and grow sustainably in the air freight business.
This agreement will have an initial duration of ten years. Air France-KLM and CMA CGM will join and exclusively operate the full-freighter aircraft capacity of the respective airlines consisting initially of a fleet of ten full-freighter aircraft, and an additional combined twelve aircraft on order:
* Four full-freighter aircraft at CMA CGM Air Cargo (with outstanding orders for an additional eight aircraft, two of which may be operated by Air France-KLM in the future).
* Six full-freighter aircraft at Air France-KLM Group based at Paris-Charles de Gaulle airport and Airport Schiphol (with outstanding orders for an additional four aircraft).
.This new commercial partnership also covers Air France-KLM's belly aircraft capacity, including over 160 long-haul aircraft.
The partnership will leverage both partners' respective global sales teams, presenting one voice to the customer. The strategic commercial partnership is expected to generate significant revenue including the joint design of the full freighter networks and enhanced products and services mix opportunities.
It will help meet customers' ever-increasing need for more integrated and resilient supply chains and will leverage Air France-KLM's vast existing franchise, experience and capabilities in air freight, backed by a global cargo network. CMA CGM will mobilize its large commercial network and global logistics platform and will complete this offer with innovative logistics and multimodal solutions, particularly in sea and land transport.
CMA CGM Group to become a reference shareholder of Air France-KLM Group
As part of this long-term exclusive partnership, CMA CGM will reinforce its commitment in the air freight industry by becoming a new reference shareholder in Air France-KLM. CMA CGM has the firm intention to take up to 9% of Air France-KLM's ex-post share capital, for a period consistent with the implementation of the strategic commercial partnership.
Of this partnership Rodolphe Saadé, Chairman and CEO of the CMA CGM Group commented: "I am very pleased with this strategic partnership with Air France-KLM. It allows us to significantly accelerate the development of our air division, CMA CGM Air Cargo, which was created just over a year ago, and to position our two companies among the world's leading players in air freight.
"This partnership is fully in line with CMA CGM's strategy and its ambition to become a leader in integrated logistics, for the benefit of its customers. Through our stake in the company, Air France-KLM will be able to count on us to support its future development."
About CMA CGM
The CMA CGM Group, a global leader in sea, land, air and logistics solutions, is present in 160 countries through its network of more than 400 offices and 750 warehouses. With its subsidiary CEVA Logistics, a world leader in logistics, which transports 400,000 tons of air freight and 2.8 million tons of land freight each year, and its air freight division CMA CGM Air Cargo, the CGM Group is continually innovating to offer its customers a complete and increasingly efficient range of new shipping, land, air and logistics provisions.

Edited by Paul Ridgway
London
Sign up for Africa Ports & Ships – it's free




Added 23 May 2022
♦♦♦♦♦♦♦♦♦
News continues below
GENERAL NEWS REPORTS – UPDATED THROUGH THE DAY
in partnership with – APO
More News at https://africaports.co.za/category/News/
♦♦♦♦♦♦♦♦♦
THOUGHT FOR THE WEEK
"Sometimes, you lie in bed at night and you don't have a single thing to worry about. That always worries me!"
♠♠♠
News continues below………
♦♦♦♦♦♦♦♦♦
TO ADVERTISE HERE
Request a Rate Card from info@africaports.co.za
EXPECTED SHIP ARRIVALS and SHIPS IN PORT

Port Louis – Indian Ocean gateway port
Ports & Ships publishes regularly updated SHIP MOVEMENT reports including ETAs for ports extending from West Africa to South Africa to East Africa and including Port Louis in Mauritius.
In the case of South Africa's container ports of Durban, Ngqura, Ports Elizabeth and Cape Town links to container Stack Dates are also available.
You can access this information, including the list of ports covered, by  CLICKING HERE remember to use your BACKSPACE to return to this page.
News continues below
CRUISE NEWS AND NAVAL ACTIVITIES

QM2 in Cape Town. Picture by Ian Shiffman
We publish news about the cruise industry here in the general news section.
Naval News
Similarly you can read our regular Naval News reports and stories here in the general news section.
♦♦♦♦♦♦♦♦♦
♠♠♠
ADVERTISING
For a Rate Card please contact us at info@africaports.co.za
Don't forget to send us your news and press releases for inclusion in the News Bulletins. Shipping related pictures submitted by readers are always welcome. Email to info@africaports.co.za
TABLE BAY UNDERWAY SHIPPING
SHIP PHOTOGRAPHERS
Colour photographs
and slides for sale of a variety of ships.
Thousands of items listed featuring famous passenger liners of the past to cruise ships of today, freighters, container vessels, tankers, bulkers, naval and research vessels.
P O BOX 809, CAPE TOWN, 8000, SOUTH AFRICA
snai@worldonline.co.za
http://home.worldonline.co.za/~snai
================================================================