News continues below
Bringing you shipping, freight, trade and transport related news of interest for Africa since 2002
Stay Well, Stay Safe, Stay Patient, don't become one
Advertise with us – left or right sidebar and centre column banner space available – strengthen brand awareness at affordable rates – email us for a Rate Card to terry@africaports.co.za
For a free daily newsletter via email?  Send your email marked NEWSLETTER to terry@africaports.co.za 
♠♠♠
Join us as we report through 2022
'and stay up to date with Africa Ports & Ships' 
****

**

****
TODAY'S BULLETIN OF MARITIME NEWS
These news reprts are updated on an ongoing basis. Check back regularly for the latest news as it develops – where necessary refresh your page at www.africaports.co.za
Click on headline to go direct to story : use the BACK key to return  
News continues below
♦♦♦♦♦♦♦♦♦
The week's mastheads:
Monday: Port of Richards Bay Coal Terminal
Tuesday: Port of Richards Bay
Wednesday: Port Harcourt (Nigeria)
Thursday: Port Elizabeth Manganese Terminal
Friday: Port Elizabeth Car & Container Terminal
Saturday: Port of Walvis Bay
Sunday: Port of Ngqura
♦♦♦♦♦♦♦♦♦
SEND NEWS REPORTS AND PRESS RELEASES TO   info@africaports.co.za
♦♦♦♦♦♦♦♦♦
♦♦♦♦♦♦♦♦♦
News continues below
The heavy load carrier HAPPY STAR (IMO 9661259) which called in Durban for bunkers on 23 April this year was en-route from Batu Ampal in Indonesia to Nouakchott in Mauritania. After a 20 hour, 31 minute stay in port she sailed again for the West African port where she arrived on Sunday 8 May.
Happy Star, which flies the flag of The Netherlands, was built in 2014 at the Ouhua Shipbuilding yard in China. The ship was named in October that year by Mrs Leanda Breakell, the wife of Mr Greg Breakell, managing director of ThyssenKrupp Industrial Solutions (Australia) Pty Ltd.
With a gross tonnage of 18,374 tons and a deadweight of 18,062t, the 156-metre long by 29m wide heavy load ship is owned nominally by Scheepsbelang Happy Star CV, and operated and managed by Biglift Shipping of The Netherlands.
When launched she featured two 900 tonne heavy lift mast cranes built by Huisman and installed by Huisman at its yard in Xiamen, China, where the naming ceremony was held. On entering service with Big Lift she became the company's new flag ship.
At that stage with her high crane pedestals and lengthened jib, Happy Star had a lifting height that out-shone all other similar type ships. With the weather deck extending over the full width of the vessel, her load space can be used to the utmost. The weather deck hatch covers are pontoon type and bear 15 t/m2. Her tweendeck is adjustable in height and Happy Star can sail with open weather deck hatches on a draught of up to 8 m. The vessel has Finnish/Swedish 1A Ice Class notation.
In October 2018, four years after entering service, Happy Star again came to the attention of Huisman but at that company's Service & Assembly plant in Schiedam in The Netherlands. On this occasion Huisman upgraded Happy Star's two heavy mast cranes from 900 metric tonnes to 1,100mt, beyond the capabilities of any other heavy lift vessel worldwide.
This provides Happy Star with a capability of 2,200 mt in tandem lift and a lifting curve that ranges from 2,200 mt at 21 m, 1,800 mt at 25 m, 1,600 mt at 28 m to 1,000 mt at 41 m, with a lifting height of nearly 47 m above the main deck.
Coral Sul FLNG development
Of further local interest, Happy Sky was recently involved with the CORAL SUL FLNG development in northern Mozambique when, along with two other Big Lift vessels, she loaded tether piles and template foundation piles, as well as buoys in Bilbao ES and Marina di Carrara IT. Along with the other two vessels, the cargo was transferred in Mozambique onto Skandi Africa and various PSVs in the ports of Maputo and Pemba.
These pictures are by Trevor Jones
♦♦♦♦♦♦♦♦♦
MORE NEWS
♦♦♦♦♦♦♦♦

♦♦♦♦♦♦♦♦

♦♦♦♦♦♦♦♦
News continues below
Record Maputo port handling a pointer to market recovery
In 2021, the Port of Maputo achieved a new handling record of 22.2 million tons, representing 21% year-on-year growth compared to the previous year's handling volume of 18.3 million tons.
As a reflection of a post-Covid market recovery, Mozambique's Maputo Port Development Company (MPDC) CEO Osório Lucas says this growth can also be attributed to a more efficient usage of several of the port's rehabilitated berths, as well as an expanded ferro slab footprint and dedicated rail siding.
"Investment in automation solutions within the port were carried out throughout last year, as part of a strategic expansion plan prepared by the MPDC to address the bottlenecks within the Maputo Corridor and therefore improve the efficiency of cross-border cargo flow in Sub-Saharan Africa," Lucas said.
Work carried out included the completion and activation of the Vessel Arrival Notification (VAN) system and the Rail Arrival Notification (RAN) system, the automation of all port weighbridges and the promotion and establishment of the integration between Customs, Single Electronic Window systems and port systems.
The Port of Maputo holds a key position within the Maputo Development Corridor, a transportation corridor of roads, rail and port connecting landlocked regions of Gauteng, Limpopo and Mpumalanga in South Africa with sea trade routes.
Recent upgrades
Lucas adds that the recent upgrades and investment in port and rail infrastructure port provide huge potential for future growth and play an important role in creating long-term solutions to facilitate cross-border trade through the Corridor.
At this year's Transport Evolution Mozambique Forum & Showcase hosted by the MPDC which took place at the Port of Maputo this past week from 11-12 May 2022, solutions for achieving regional integration through effective trade corridors was one of the key topics explored in a collaborative round table discussion led by leading public and private stakeholders in the transport industry.
Now in its third year, the 2-day trade event returned to an in-person format after a successful digital edition in 2021.
In addition to a showcase of the latest future-proofed transport solutions for optimised port efficiency and sustainable rail and corridor expansion from leading suppliers across the globe, this year's event included several regional industry roundtables that offered transport professionals a unique networking opportunity as they tackled topics such as the efficiency around cross border requirements along the Maputo Corridor to facilitate faster trade into the region.
African Continental Free Trade Area (AfCFTA)
The African Continental Free Trade Area (AfCFTA) Secretariat and Mozambique's Ministry of Industry and Trade addressed a panel discussion on AfCFTA implementation, looking at how effectively South African Development Countries (SADCs) are implementing AfCFTA and exploring the ways in which transport infrastructure can evolve to close the gaps and provide transport solutions that support the expansion of inter-African trade.
Hosted by Maputo Port Development Company, Transport Evolution Mozambique was designed to enable the Southern and Eastern African transport sector to discuss, develop and plan robust corridors to service the region. The event encompassed the entire regions' transport network from maritime stakeholders, port, rail, and road authorities, and included suppliers servicing those authorities.
The event brought together public and private sector entities to identify opportunities for collaboration, investment and infrastructure needs to support growing trade and economies.
Sign up for Africa Ports & Ships – it's free




Added 13 May 2022
♦♦♦♦♦♦♦♦♦
News continues below
WHARF TALK: longline fishing vessel – TRONIO
Story by Jay Gates




Pictures by 'Dockrat'
A well managed remote fishery, being fished by a well managed fishing vessel, which follows international regulations to the letter, is what we all want to see. You know when this principle is working, because the vessel itself is awarded a prestigious Marine Stewardship Council (MSC) title, and foreign governments request the same fishing vessel to conduct exploratory marine research, on their behalf, into untapped new fishing grounds, linked to the target species that the vessel normally fishes for.
One of the most expensive fillets of fish you can order in a top class restaurant is that of Toothfish. The two species of Toothfish are to be found only in the deep oceanic waters of the sub-Antarctic and the Antarctic. The South Atlantic Ocean, South Indian Ocean, and the great Southern Ocean span a vast area between South America and Australia, and if you need regular bunkering facilities, or an approved harbour to offload your catch, or a maintenance base in which to obtain engineering support, there is really only one major harbour you can head for.
On 2nd May at 10h00, the longline fishing vessel TRONIO (IMO 9361603) arrived off Cape Town, at the end of a three month voyage. She arrived out of Port Stanley in the Falkland Islands, where she had spent her time fishing for Toothfish in the cold waters of South Georgia and the sub-Antarctic region of the South Atlantic Ocean.
She entered Cape Town harbour and proceeded to the Landing Wall in the Duncan Dock, which is the normal berth set aside for those visitors who are here for either an extended maintenance stay, or some immediate shoreside engineering support.
Built in 2005 by Astilleros Armon SA, at Navia, in the Northern Spanish principality of Asturias, her construction was quite a rapid affair as she was laid down in May 2005, launched in July 2005 and completed in October 2005, a period of less than six months. She is 55 metres long and has a deadweight of 648 tons.
She is powered by a Caterpillar 3516B V16 4 stroke main engine producing 1,875 bhp (1,379 kW), driving a controllable pitch propeller for a service speed of 12.5 knots. Her auxiliary machinery includes three generators providing 320 kW each, plus an emergency generator. For added manoeuvrability 'Tronio' has a transverse bow thruster.
One of two sisterships, she operates with a crew of 40 persons. She has a cargo carrying capacity of 345 tons of frozen fish, and she has four freezer fish holds with a total capacity of 1,799 m3. Her target fish species are Patagonian Toothfish (Dissostichus Eleginoides) and Antarctic Toothfish (Dissostichus Mawsoni).
She is both owned and operated by Pesquiras Georgia SL of Celeiró, in Lugo Province of Northern Spain, and she is managed by Georgia Seafoods Ltd. of Port Stanley in the Falkland Islands. Georgia Seafoods is a member of the Coalition of Legal Toothfish Operators (COLTO), whose members manage the Toothfish fisheries around the world, to ensure the sustainability of the fishery and to prevent any Illegal, Unreported and Unregulated fishing (IUU) by pirate fishing companies.
She was purpose built for the Toothfish fishery, and has an Ice classification of 1C, which allows her to operate in first year ice of 0.4 metres in thickness. She regularly fishes within the frozen sea ice of Antarctica.
She is authorised by the Commission for the Conservation of Antarctic Marine Living resources (CCAMLR) to fish in Area 48.6 (South of 60° South to the Antarctic coast of Queen Maud Land), and Area 88.1 (South of 60° South to the Antarctic coast of the Ross Dependency). She has been registered with CCAMLR since she entered service in 2005.
In order to track her movements she is fitted with a sealed Stratos ELB2000 Vessel Management System (VMS), which reports her position hourly to the Fisheries Inspectors of the Spanish General Secretariat of Fisheries. The VMS can also be polled at any time by the authorities to determine her actual whereabouts. She carries an independent, official, scientific observer on every fishing voyage that she undertakes.
Her MSC award meant that in 2020 she was approved by the Norwegian Government's Directorate of Fisheries to conduct marine scientific research, on their behalf, into the potential of the Toothfish fishery that surrounds the isolated Norwegian Antarctic possession of Bouvetøya (Bouvet Island), in Area 48.6.2, located at 54°25'South 003°21'East, some 1,600 nautical miles southwest of Cape Town. She ran eleven sets of lines around the island, as part of that research programme.
She was then selected by the South Pacific Regional Fisheries Management Organisation (SPFMRO) to conduct exploratory fishing research into a potential new fishery on the George V Fracture Zone, located at 54°50'South 145°30'East, due south of Adelaide, Australia. She has been authorised to conduct three scientific voyages to this region on behalf of the European Union, over the three year period of 2021, 2022 and 2023. Each voyage must be undertaken between 1st May and 31st October every year, and must not be more than 60 days in duration.
On each SPFMRO voyage there is a maximum catch limit of 75 tons of Toothfish, with 5 fish per ton to be tagged, and released, as part of the survey. Fishing depth is set between 600 metres and 2,500 metres with lines of 5,000 hooks per set. The sets must be deployed using weighted lines, Tori lines, and Bird Excluding Devices (BED), to ensure that the Albatross and Seabird populations are not at risk of becoming unintentional bycatch. An official EU appointed observer will document all aspects of the fishing operation over the three year period.
In order to be authorised to work in any Southern Oceanic region, including both temperate and tropical regions, and at any time of the year, 'Tronio' also been given authority to fish by the Indian Ocean Tuna Commission (IOTC), and by the Inter American Tropical Tuna Commission (IATTC), which covers the Eastern Pacific region.
She also fishes in the sub-Antarctic region of the South Atlantic Ocean, under the authority of the South East Atlantic Fisheries Organisation (SEAFO), and 'Tronio' is licensed to fish in Sub Area D, which is located across the fracture zones of the mid-Atlantic ridge, between 40° South and 50° South, and 20° West and 15° East, mainly to the Southeast of Tristan da Cunha and Gough Island.
Her Toothfish operations in the sub-Antarctic fracture zones, due south of South Africa, are authorised by the South Indian Ocean Fishing Agreement (SIOFA). An example of the responsible management of the Toothfish fishery by her owners and managers, is that 'Tronio' voluntarily stopped fishing in SIOFA Area 51.7, which was on the El Cano Ridge, located Northeast of Marion and Prince Edward Islands. This was as a result of concern raised by the Australian and French Government Fisheries Departments in regard to potential overfishing.
The South African Government are signatories to CCAMLR, IOTC, SEAFO and SIOFA, and all fish landings can only be made in Cape Town, Port Elizabeth and Durban, and nowhere else in South Africa. Landings must be made in the presence of South African Inspectors from the Department of Environment, Forestry and Fisheries (DEFF).
Her ongoing requirement for annual calls into Cape Town, in order to obtain bunkers, land her fish catches, conduct crew changes, take stores uplifts, receive engineering support, and undergo annual hull surveys and inspections, is shown in her comings and goings over the last seven years. She used Cape Town in 2021, 2019, 2018, 2017, 2016 and 2015, with only 2020 being a year where she did not call. On two occasions, in 2019 and 2018, her calls lasted for six months, as she spent the whole of the off season, alongside, in Cape Town.
Known in the USA and the UK as Chilean Sea Bass, Toothfish is not widely available in South Africa. When you consider the current market buying price, you understand why the lack of availability would be. Currently, Toothfish is marketing at just under US$16 (ZAR257) per kilogramme. This compares to ZAR180 per kilo for Kingklip in South Africa, or at ZAR95 per kilo for Hake. A ton of Antarctic Toothfish, at market, will set you back a princely US$11,939 (ZAR192,119). No wonder it is a prized menu item at the high-end best restaurants in New York.
Sign up for Africa Ports & Ships – it's free
Added 13 May 2022
♦♦♦♦♦♦♦♦♦
News continues below
Mozambique to activate maritime courts
Amid growing offshore crimes, the Mozambican assembly passed a bill last week which activates the maritime courts nationwide. This is part of the country's effort to fight a growing trend of offshore crimes including piracy, illegal fishing, and terrorism.
The bill sets out the structure, operation, and function of the maritime courts, which have been approved to be set up but were never introduced more than 26 years ago, according to the Minister of Justice, Constitutional and Religious Affairs Helena Kida. She addressed the media shortly after the session of the assembly in Maputo.
According to the minister, activating the bill will allow cases of maritime jurisdiction to be trialed by the specialised courts designed only for these incidents, which will help accelerate the processes.
The minister said the training of the magistrates for these courts is already underway and the priority is to install the court in regions that are vulnerable to offshore crimes.
The Mozambican coastline extends for more than 2,400 km. More than 60 percent of the country's population lives in coastal areas. source: China.org
Sign up for Africa Ports & Ships – it's free
Added 13 May 2022
♦♦♦♦♦♦♦♦♦
News continues below
IN CONVERSATION: The war in Ukraine: Africa risks paying a heavy price for neutrality
Far from being swift, Russia's invasion of Ukraine now looks likely to become a long-running war of attrition. It will therefore have an accumulating, and increasingly drastic, impact on Africa unless it can be brought to swift end.
But can African countries influence that? And do they want to?
This article argues that both African and western countries need to change their approach if Africa is to suffer less damage from the crisis. If it continues to sit on the fence, it risks exacerbating conflict in Africa itself.
The Ukraine war has compounded the economic problems caused by the pandemic. Both the International Monetary Fund and UNECA have emphasised the economic damage being done to African countries. On top of food price inflation and Africa's dependence on food supplies from both Ukraine and Russia, the World Food Programme has highlighted the shortage of emergency supplies to feed the starving in drought-struck eastern Africa.
The 20%-40% increase in oil and gas prices has hit consumers and manufacturers as well as farmers through the price of fertiliser. And as revenue falls and demand for government spending rises, there is a growing risk of debt distress. This is true even of hitherto stable countries like Ghana.
This economic pressure, and particularly rising food prices, may not only provoke protest but precipitate political instability and conflict across the continent. It was, after all, food price rises that stimulated the Arab Spring in 2011. Sri Lanka's current foreign exchange crisis shows how politically dangerous it can be.
The war in Ukraine has also diverted global political attention from Africa's problems, and made it harder for the UN to lead international peace-making efforts. From Putin's point of view, the more chaos in the world the better to divert his enemies. But, unless the African Union is willing and able to step in, the lack of global attention risks more African conflicts getting out of hand.
The Ukraine crisis, therefore, significantly increases political stress and potential conflict throughout Africa. Economic, political and social stress levels are already high due to climate change and demographic growth. Countries like Nigeria and Mozambique as well as those in the Horn of Africa and Sahel have latent or actual conflicts that will be exacerbated.
African governments are already appealing for more economic support to mitigate these stresses. But many donor countries are now diverting more money to defence, and it would be quicker and more effective to tackle the root of the problem: Russia's invasion of Ukraine.
Yet African governments seem increasingly reluctant to put pressure on Russia.
The neutrality question
The shocking breach of national sovereignty and territorial integrity initially led many to support the Kenyan arguments at the UN Security Council against the invasion, and on 2 March 28 voted for the UN resolution condemning the invasion and only one, Eritrea, against. Even so, 17 abstained and 8 absented themselves.
A month later, however, in the vote to remove Russia from the UN Human Rights Council on 7 April, only 10 voted for, 9 against and the remaining 34 sat on the fence.
A few authoritarians, like President Isaias Afwerki in Eritrea, and a number of states that depend on Russia for security, like Mali and the Central African Republic, were always likely to support it. But other countries with sound democratic credentials, like Senegal, Ghana and Botswana, have also avoided picking sides.
Many Africans firmly believe they should remain neutral. They argue that this is not Africa's quarrel and that western countries are hypocritical, defending their own invasions, like Iraq, while opposing Russia's in Ukraine. They also wonder why the suffering of Ukrainians should be more important than the suffering of Ethiopians, to which the west has paid so little attention.
Not all agree.
South Africa has been accused of prioritising its political ties to Russia over its principles of sovereignty and self-determination: Ramaphosa urged a peaceful solution, but criticised NATO for its expansion rather than Russia for its invasion.
For European and North American countries, the immediate point of historical reference is the Second World War: dictators who invade their neighbours cannot be trusted and must be firmly opposed for the safety of the whole world. Hence their remarkable unity and swift response.
For Africa, however, the historical reference is the Cold War, when the Soviet Union supported the liberation struggle against (western) imperial powers. This looks to Africans more like a replay of the Cold War, of Russia vs 'the west', than of World War II (democrats vs dictators) and non-alignment therefore seems natural.
Russia actively promotes this interpretation on social media in Africa, pedalling a narrative that NATO is the aggressor and Russia the victim, writing the Ukrainians out of the script.
But this creates four problems for Africa. It prolongs the war. It implies accepting Russia's right to a 'sphere of influence' over neighbouring countries, whatever the views of their citizens. It means ignoring the principles of self-determination and non-interference. And it risks Africa becoming again a playground for great power rivalry.
Soviet imperialism was just as real as western imperialism, simply more local. Ukrainians and other east Europeans, achieved their independence from Russia long after most African countries, and are equally determined to keep it. Many therefore rushed to join NATO and the EU, with the full support of their citizens; and Ukrainian refugees have received a warm welcome in neighbouring countries because their hosts are all too aware that unless Russian aggression is stopped, they too could be refugees tomorrow.
What would an alliance with Russia bring African countries in a multipolar world where the international rule of law is ignored and might alone makes right?
The Syrians know already: ruthless and effective military support for a client dictator enabling him to crush and expel all dissent.
The Libyans also know, though Russia's military support for General Haftar was neutralised by Turkey's intervention.
Even in South Africa the Russian alliance nearly brought the country a ruinous contract to build nuclear power plants that would have generated more corruption than energy.
The Wests' mistakes
But western countries also need to recognise they are not innocent. From an African perspective, trade still feels unbalanced, the costs of 'structural adjustment' are still resented, and while western donors see themselves defending human rights, financial probity, good governance and civil society, others see them as hypocritical, supporting dictatorial regimes past, like Mobutu Sese Seko in Zaire (now DRC), and present, like Rwanda and Uganda.
Most recently, the benign western self-image has been badly damaged by the vaccine inequality exposed by the Covid-19 pandemic.
Western governments have been using the wrong arguments, appealing to the need to preserve the international rule of law and multilateral institutions when many Africans see these as skewed in favour of 'the west' and Africa as perpetually disadvantaged.
African perceptions of western hypocrisy have been reinforced by the contrast between support for Ukraine and the precipitous departure from Afghanistan, relative indifference to Syria's suffering, and hostility to African refugees. The scenes of European border guards discriminating against black refugees played directly into the narrative that 'the west' supports white folks more than black.
Even if ending the war is clearly very much in Africa's self-interest, Western countries need to address this perception if they are to persuade African countries to put more pressure on Russia.
Two steps are needed:
1) The West would be wise to admit its own past sins and omissions, and admit African countries to a fuller part in the global order, to give them more confidence that it will work in their interests and is a preferable alternative to acting as clients to one superpower or another.
2) Africans themselves need to look at where their real interests lie. Distrust of 'the west' is understandable, but does that make Russia a trustworthy alternative? The Ukrainians don't think so, nor many Libyans, and certainly not the millions of Syrians who have been forced into exile by Russian bombs.
The dangers of sitting the fence
Will Africa benefit from standing aside, urging talks, while the conflict continues and the world economy is irreparably damaged?
The longer the war continues, the worse the economic damage to Africa, and the greater the risk that conflict breaks out in African countries themselves. Russia will not stop the war until forced to do so, by arms or by bankruptcy.
If African countries mean what they say about respecting sovereignty and building a fairer international system, they need to step in, not step away. But they also need to be clearer to western countries what their price is.
To stay neutral risks signalling African weakness and marginalisation in international affairs. A confident, assertive, self-interested and united Africa would say: 'Stop this: it is wrecking all of us.' Sitting on the fence helps no-one, especially when the fence will inevitably one day collapse.

This article is republished from

The Conversation

under a Creative Commons license. Read the

original article.
Sign up for Africa Ports & Ships – it's free
Added 13 May 2022
♦♦♦♦♦♦♦♦♦
News continues below
Swire Shipping warmly welcomed as it joins World Shipping Council
The World Shipping Council (WSC) said in a statement that, as it continues its work for a safe, secure and sustainable industry, it is excited to welcome a new member in Swire Shipping.
Swire Shipping, which is headquartered in Singapore, celebrates its 150th anniversary in 2022. For much of its modern history it has been actively involved in liner shipping in the Asia Pacific region. As a leading provider of specialist customer solutions for a wide range of cargo, Swire aims to provide a full suite of land and ocean solutions.
"We are very pleased to welcome Swire Shipping to WSC," said John Butler, President & CEO of the WSC.
"Expanding our membership broadens our perspective when representing the liner sector and we look forward to participation from Swire Shipping representatives in our Councils and Working Groups."
Jeremy Sutton is Chief Operating Officer of Swire Shipping, and has been elected as a representative to the WSC Board, effective immediately.
"We are delighted to join the World Shipping Council and to share our knowledge and experience especially in the areas of safety, security and sustainability," Sutton said.
"We also look forward to learning from our peers and by so doing, contribute to building a vibrant, safe and sustainable industry for years to come."
World Shipping Council
The World Shipping Council is the united voice of liner shipping, working with policymakers and industry groups to shape the future growth of a socially responsible, environmentally sustainable, safe, and secure shipping industry. WSC is a non-profit trade association with offices in Brussels, Singapore and Washington, D.C.
Sign up for Africa Ports & Ships – it's free
Added 13 May 2022
♦♦♦♦♦♦♦♦♦
News continues below
P&O Ferries' sackings: Unions trigger ILO investigation
UK's failure to enforce worker protection laws
A number of unions and global union federations have written to the International Labour Organization (ILO is part of the UN) asking it to urgently intervene on behalf of the 800 seafarers who were illegally fired and cruelly mistreated by P&O Ferries.
The unions argue, it was reported on 11 May, that the UK government's failure to enforce relevant labour laws and punitive sanctions to ensure compliance following P&O Ferries' illegal firing of seafarers without consultation, is a serious violation of the ILO's principles concerning the freedom of association and collective bargaining. The government has also contravened international treaties to which the UK is bound.
P&O Ferries' assault on the legal framework triggered workers' organisations including International Transport Workers' Federation (ITF), seafarers' unions Nautilus International and the Rail, Maritime and Transport Workers (RMT); the UK Trades Union Congress (TUC); the European Transport Workers' Federation (ETF), and the International Trade Union Confederation (ITUC) to jointly file an official complaint with the ILO about the UK Government.
Failure to abide by standards
These organisations consider the matter so serious that they have also requested the urgent personal intervention of ILO Director General Guy Ryder, asking him to point out to the UK its failure to abide by internationally recognised labour standards.
"P&O Ferries' CEO has admitted the company behaved illegally when it fired 800 seafarers without warning in March, and he has told parliament he would do the same again," commented Stephen Cotton, General Secretary of the ITF.  "P&O Ferries has behaved in the most calculated and egregious way and expects to get away with it."
Laws let companies buy their way out of trouble, workers left with few options
Cotton added: "P&O Ferries has run roughshod over these workers' right to freedom of association and to collective bargaining. That's the consequence of this company blatantly ignoring their legal requirement to consult with the seafarers and their unions, before it sacked them en-masse over Zoom, escorted them off the ships with handcuff-trained security guards and replaced them with a non-unionised workforce on just a fraction of the pay."
Cotton said unions were concerned that under UK law workers could be financially pressured to sign away their rights to legally challenge an employers' lawbreaking. "P&O Ferries 'priced in' breaking the law and then set about blackmailing the seafarers with gag-order packages worth more than if the workers took P&O to court and won a statutory settlement, buying their legal silence and snuffing out their rights."
Cotton said that although P&O's actions were unethical, there were few routes for unions to challenge the actions under current UK law.
In conclusion he added: "Through the ILO, we're demanding that the UK strengthens their employment laws so that workers can actually rely on the rights the government says they have.
"There needs to be a genuine deterrent to rogue employers. We want to see directors being disbarred if they wilfully ignore workers' right to consultation.
"There should not be a cap on the compensation a worker can receive for an employer failing to consult. It needs to be removed so that courts can apply penalties that fit the crime in cases like P&O Ferries' which is fire and rehire on steroids."
He said the UK Government needed to allow unions and workers to seek injunctive relief from courts which could pause controversial firings and even reverse sackings until an employer conducts the proper consultation.
Until the UK makes these changes to its laws, the country is in violation of ILO Conventions 87 and 98. ILO C98 obliges the country to 'encourage and promote' collective bargaining machinery, stipulating that all 'workers shall enjoy adequate protection against acts of anti-union discrimination'.
Unions speak out
RMT general secretary Mick Lynch said that gangster capitalists like P&O Ferries are trashing the law and maritime safety standards in order to make a quick buck. "This cannot be tolerated. Employers like P&O Ferries, hell-bent on attacking workers rights to profit their owners in Dubai, must face effective legal consequences at the ILO level."
Nautilus International general secretary Mark Dickinson, said: "Fifty days into this self-imposed crisis, P&O Ferries CEO Peter Hebblethwaite, who admitted to breaking the law, has not paid any price for the illegal sacking of our members. He's got to go."

Edited by Paul Ridgway




London
Sign up for Africa Ports & Ships – it's free




Added 12 May 2022
♦♦♦♦♦♦♦♦♦
News continues below
WHARF TALK: South African Railways Class 19D Locomotive 3322 – 1948
Story by Jay Gates
Pictures by 'Dockrat'
For those who remember the days of steam, the harbours of South Africa were full of the sights, sounds and smells of steam locomotives of the South African Railways (SAR). These grand old ladies could be seen arriving in the port with wagon loads of bulk cargo, or refrigerated cargo, as well as constantly shunting wagons to and from the loading berths and shunting yards within the harbour complex.
I remember well the number of times in Cape Town harbour when I was held up by the shunter, waving his red flag, as another locomotive crossed the dock roadway ahead of me. It is a sight that is now, sadly, long gone from our harbours. Except that, Cape Town still has a trick up its sleeve for the nostalgic ferroequinologist amongst you.
Back in the December 14th edition of Africa Ports and Ships, I reported on the magnificent SAR Class 26 locomotive, named 'Red Devil', that can be seen languishing on the sidings within the Cape Town harbour complex, adjacent to the Royal Cape Yacht Club. Sadly, she has not seen much use in the last few years. The same cannot be said about another very active SAR locomotive that is also to be seen waiting its calling in Cape Town harbour.
Between 1937 and 1949, South African Railways introduced no less than 235 examples of the Class 19D steam locomotive onto its huge rail network. Between 1951 and 1955, around Southern Africa, another 33 of the Class 19D locomotives were delivered to the state owned railways of Rhodesia and Angola, as well as to the private mine owners of the Wankie Colliery in Rhodesia, and the Nkana Copper mine in Northern Rhodesia. The nickname of the whole of this class was 'Dolly'.
The Class 19D was the most numerous class of steam locomotive in operation across the SAR network. It was used to cover every requirement of the railway, and included use for passenger, freight, branch line, and shunting duties, which included cross border working on some of the passenger routes. It was used in every region across South Africa, except that, strangely, it was never deployed in the Western Cape region.
One of its shunting duties was in Pretoria, where the Class 19D was utilised to move the Blue Train carriages, and rolling stock, around. For which, it was the only SAR 19D locomotive to be painted Blue, rather than the standard Black of all other units of the class.
The 268 Class 19D locomotives were the final development of the Class 19 family of locomotives to be built. Based on the Whyte Notation, the Class 19D had a 4-8-2 mountain wheel classification, which means that she has four leading wheels, eight driving wheels, and two trailing wheels, to give her a wheel outline arrangement which looks like oOOOOoo[facing forward].
Built by five different manufacturers, the first 40 were built by Krupp, of Essen, in Germany. The next 90 were split between Krupp (40), Borsig Lokomotiv Werke, of Henningsdorf, in Germany (40), and Škoda Works, of Plzeň, in Czechoslovakia (15). Plzeň is also the city where the famous lager beer is brewed, better known to the serious drinker as Pilsen.
After the end of the Second World War, manufacturing of the Class 19D was shifted to the United Kingdom, and the next 100 Class 19D were built by Robert Stephenson & Hawthorns, of Darlington, and the North British Locomotive Company (NBL), of Glasgow. The class was one of the last to be retired from service by the SAR. The last of the Class 19Bs were made by NBL, and included SAR locomotive number 3322.
SAR Class 19D, 3322, NBL Serial Number 26042, was built in 1948, and delivered to SAR in 1949. For those who drive regularly through Cape Town harbour, you will see this magnificent locomotive, in the railway siding close to the Royal Cape Yacht Club. After her retirement from service with SAR, she languished, slowly rusting away, at the Voorbaai Locomotive Depot, at Hartenbos in the Western Cape.
Fortunately, she was saved from the scrap man, and the Cape Town based Ceres Railway Company gave her a new lease of life, hauling passenger outings on their heritage railway routes throughout the winelands and fruit growing destinations of the Western Cape.
She was converted from coal burning, to oil burning, and has carried a number of pet names on her front. She was called 'Sarah-Jane', and then she became 'Dominique' for a number of years, but is now known as 'Clare'.
Built originally with a MX tender, this was replaced with a MT1 tender, together with an X17 water tender. The requirement for the X17 tender is to carry sufficient water for her regular tourist runs into the Western Cape interior, and into the Boland, due to lineside watering facilities being removed, vandalized or simply unserviceable.
Thankfully, as well as 3322, there were a number of Class 19D locomotives that were saved for posterity, and which enabled both local, and international, tourists to experience the thrills of being hauled at speed behind a steam train on the main line. Currently, Ceres Rail run regular outings from Cape Town to the Elgin Rail Market, in the Western Cape, and which includes a thrilling climb up Sir Lowrys Pass, with two Class 19D locomotives in Ceres Rail service.
It not only includes Ceres Rail, but Class 19D locomotive travel can be experienced on other preserved steam railways across South Africa, including with Friends of the Rail in Pretoria, with Rovos Rail, also of Pretoria, and the Umgeni Steam Railway, of Kloof in KwaZulu-Natal.
Sadly, the Reefsteamers of Johannesburg had to close their doors to the popular Magaliesburg outings in 2019, and are no longer operational. There are other steam services, using other classes too.
As mentioned earlier, the magnificent Class 26 'Red Devil' owes her existence to the Class 19D. The successful experimental modifications to a Class 19D by SAR engineer David Wardale, resulted in SAR senior management giving the go-ahead for the conversion of a Class 25NC locomotive into the one, and the only ever conversion, to a Class 26, as 'Red Devil' is unique, and the only one of her class ever built.
Sadly, the increased efficiency in the design came too late to save the steam locomotive, and they were all retired by SAR to be overtaken by Diesel and Electric locomotives.
If you desire to experience the sights, sounds and smells of riding behind a steam locomotive in South Africa, look up your local steam preservation railway organisation, and book yourself, and your family, a trip on their trains. Not only will you not regret it, but you will be doing your bit to save the steam railway heritage of South Africa for future generations.
Sign up for Africa Ports & Ships – it's free




Added 12 May 2022
♦♦♦♦♦♦♦♦♦
News continues below
Dar es Salaam port hits new hot spot with record vehicle shipment
Tanzania's Port of Dar es Salaam reach a new record in vehicle handling this week when a total of 4,397 motor cars were handled off the MOL car carrier, MERIDIAN ACE.
The 200-metre long by 32m wide car carrier arrived in the Tanzanian port from Japan via Singapore en-route. The number of cars to be handled at the port exceeded the previous highest number of 4,041 vehicles, set a month ago with the arrival of the vessel Frontier Ace.
Of the Meridian Ace shipment this week, 3,406 motor cars were in transit to several regional destinations in neighbouring landlocked countries, including the DRC, Zambia, Malawi and Uganda.
The balance of 991 cars were being shipped to local Tanzanian buyers.
The port of Dar es Salaam handles around 90% of Tanzania's import and export traffic, in addition to handling cargo on behalf of its landlocked neighbours. In recent weeks the port has come under pressure with container handling, forcing some lines to carry cargo destined for Dar es Salaam, to Mombasa in Kenya.
Tanzania is currently pursuing the upgrading of not only its ports but also the rail, with a standard gauge railway under construction that closely follows the route of the metre gauge railway to inland destinations including Lakes Victoria and Tanganyika.
This railway is expected to link the Dar es Salaam port with the inland countries of Burundi, Rwanda and Uganda, as well as connecting with traffic across Lake Tanganyika into the eastern DRC and lake traffic across Lake Victoria.
The country also operates a Cape gauge railway (3ft 6ins) known as Tazara, that reaches from Dar es Salaam into Zambia where it connects with the vast Cape gauge railway from South Africa up through Zimbabwe and Zambia and into the DRC.
From the DRC Copperbelt the 3ft 6ins gauge railway extends further west before crossing into Angola where it become the Benguela Railway, reaching that port and nearby Lobito on the Atlantic coast.
The combination of these three Cape gauge railways, the Tazara railway, the section through Zambia and the DRC, and the Benguela Railway, make it possible to travel by rail from the Indian Ocean across the width of Central Africa to the Atlantic coast.
Sign up for Africa Ports & Ships – it's free
Added 12 May 2022
♦♦♦♦♦♦♦♦♦
News continues below
IN CONVERSATION: Whale sharks: how we discovered what's killing so many of the world's largest fish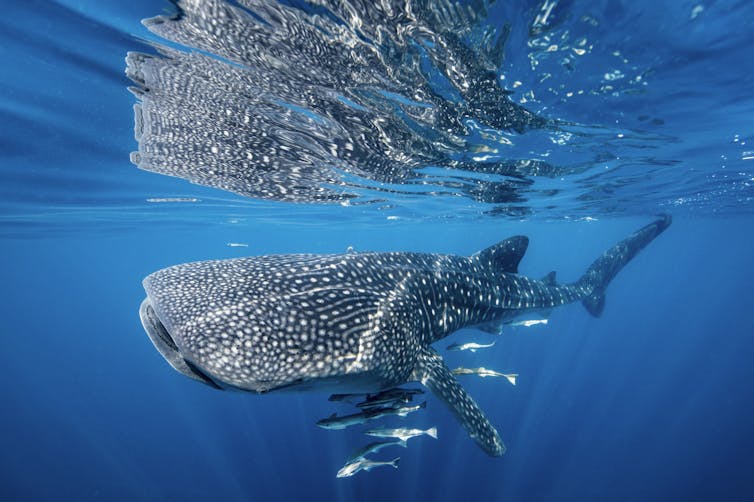 This whale shark bears a scar from colliding with a boat.
David Robinson, Author provided
Over 80% of international trade is carried by sea. Much of what we use and consume everyday either has been or will be transported on huge vessels which plough the global ocean.
The courses these container vessels take are fixed shipping routes known as marine highways, which are not unlike motorways on land. These highways, which vessels travel back and forth, connect distant ports, often on opposite sides of vast oceans.
Marine highways can also cut across the movements and migratory routes of marine animals. Giant plankton-feeding whales and sharks are particularly vulnerable to being struck and killed by large vessels as they spend long periods near the surface. Our new study found that this threat may be a greater cause of death for the world's largest fish, the whale shark, than anyone previously realised.
Whale sharks can reach lengths of up to 20 metres. Despite their robust appearance, their numbers have declined by over 50% in the last 75 years. In 2016, they were added to the growing list of endangered shark species.
Unlike most other species of shark that roam the open ocean, intentional or accidental catches by industrial fishing fleets are not thought to be a leading cause of whale shark decline. This is because major whale shark fisheries have been closed down, and the species has been protected by international trade bans since 2003. Instead, several factors point to shipping being a leading, yet hidden cause of death.
Whale sharks spend a lot of their time cruising just below the ocean surface, often feeding on microscopic animals called zooplankton, which can put them in the direct path of a ship. If a large one collides with a whale shark, the shark probably stands little chance of survival. There is often no trace of these events because, if a fatal collision occurs, the body sinks, as whale sharks evolved from smaller, bottom-dwelling sharks and have retained their negative buoyancy.
This makes detecting and recording collisions difficult. Before now, the only evidence available was a sparse set of eyewitness accounts, news reports and encounters with sharks harbouring injuries from collisions with smaller vessels.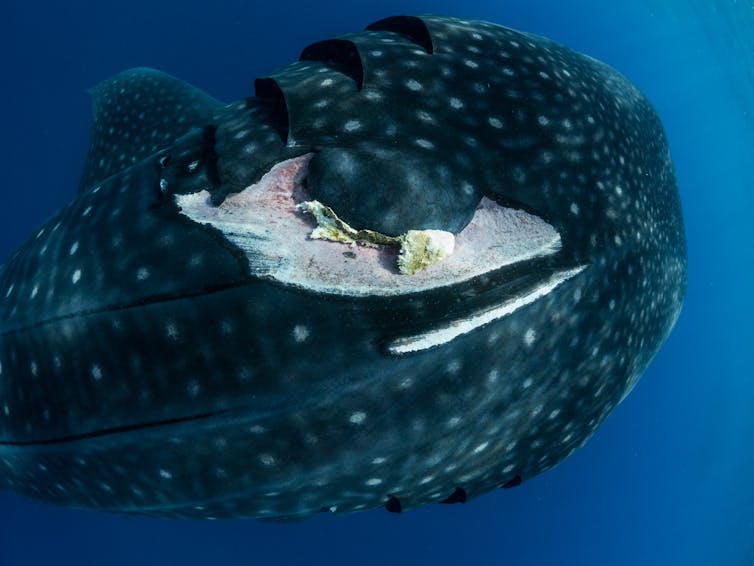 We set out to uncover the hidden deaths of whale sharks by bringing together an international team of over 60 scientists from 18 countries. Our Global Shark Movement Project satellite tracked almost 350 whale sharks by fitting them with electronic tags, mapping their positions across all major oceans in unprecedented detail. This revealed the most densely occupied regions, which were often in coastal areas where the species is known to congregate.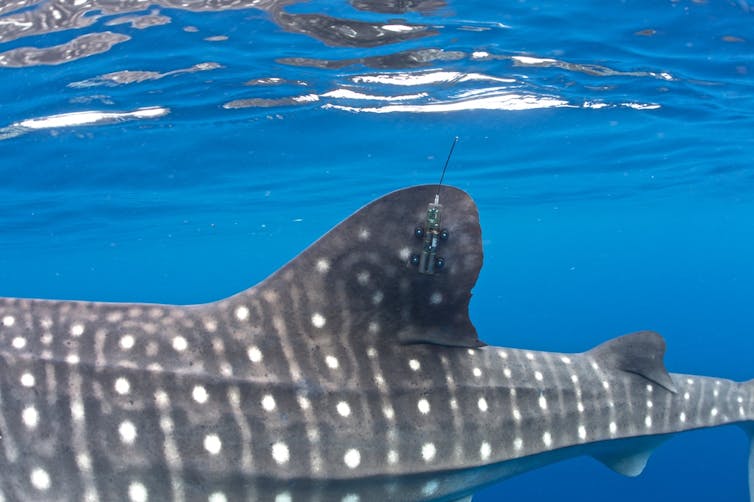 Striking overlap
We compared these movements with a mandatory ship tracking system, which was initially developed to prevent ships colliding with each other. This helped us track global fleets of cargo, tanker, passenger, and fishing vessels – the types of large ships (heavier than 300 gross tons) capable of striking and killing a whale shark. We found that a staggering 92% of the horizontal space occupied by whale sharks and nearly 50% of their depth layers overlapped with the activities of these fleets.
We then developed state-of-the-art models to identify the collision risk within these overlapping areas and found that the Gulf of Mexico, Arabian Gulf and Red Sea posed the highest risk to whale sharks. These regions are home to some of the world's busiest ports and sea passages, and because our estimated levels of risk correlated with known fatal collisions here, they appear to be some of the most dangerous places in the world for whale sharks to inhabit.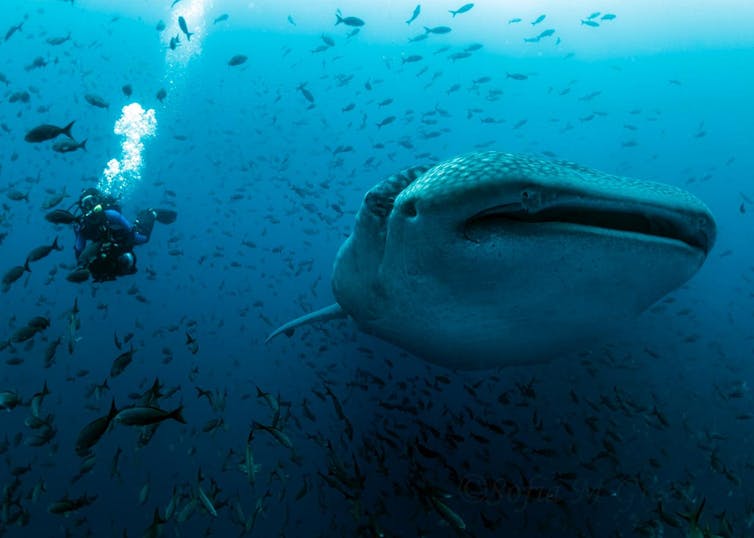 Within high-risk areas, whale sharks regularly crossed vessel paths and passed close to ships that were travelling about ten times faster than they were swimming. This gave the sharks very little time to respond to an oncoming ship, and these close-range encounters may be happening more often than we have the capacity to monitor, potentially ending in fatal strikes.
Alarmingly, whale shark tag transmissions ended more often in busy shipping lanes than we expected. Even after accounting for the random technical failures of transmitters, we found 24% of tags stopped transmitting in busy shipping lanes, most likely due to whale sharks being lethally struck and sinking to the ocean floor.
We may even have recorded whale sharks dying due to collisions. Some of the tags record depth as well as location and showed sharks moving into shipping lanes but then sinking slowly to the seafloor hundreds of metres below – the smoking gun for a lethal ship strike.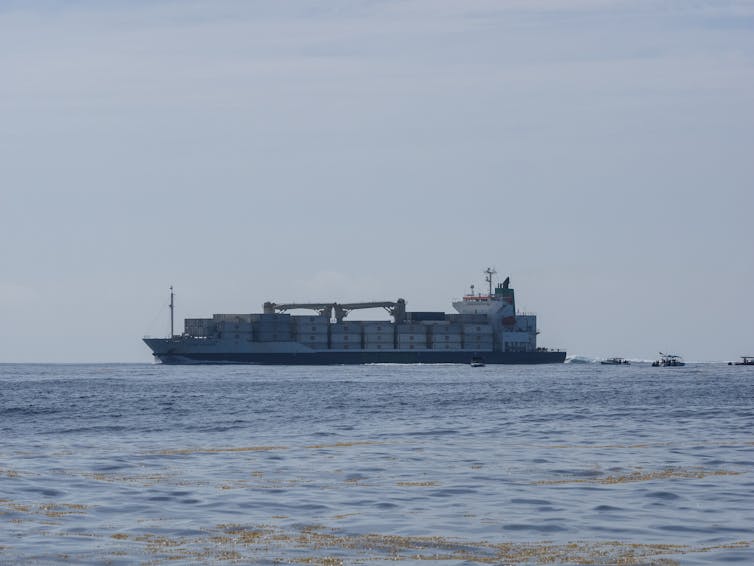 En route to danger
The substantial threat to whale sharks uncovered by our study makes a strong case for urgent protection measures. At present, there are no international regulations to protect whale sharks from ship collisions. In light of our study, this species faces an uncertain future if action is not taken soon.
As a first step to address this crisis, the International Maritime Organization (IMO) could develop a global reporting scheme that consolidates records of ship-wildlife collisions for whale sharks and other threatened species. Such a network would help regional authorities implement protection measures by providing evidence of where collisions are happening.
Initiatives to lower the risk of ship strikes could emulate measures to protect whales from collisions, such as IMO regulations that require ships to slow down or navigate more carefully. Our study can help by identifying high-risk areas where these measures could be trialled.
Rapid action may be the only way to prevent whale shark numbers from sinking further towards extinction.

This article is republished from

The Conversation

under a Creative Commons license. Read the

original article.
Sign up for Africa Ports & Ships – it's free




Added 12 May 2022
♦♦♦♦♦♦♦♦♦
News continues below
Suez Canal Authority adds another dredger to canal expansion fleet
The Hussein Tantawi, which is the largest dredger operating in the Suez Canal
The number of dredgers at work in the Suez Canal expansion phase has been increased with the addition of the Suez Canal Authority (SCA) dredger TARIQ BIN ZIYAD, bringing the total at work in widening and deepening the southern section of the canal, to eight.
Admiral Osama Rabie, chairman and managing director of the SCA, said the project of further developing the southern section of the canal is proceeding according to plan.
Priority was given to improving the navigability of the southern part of the Suez Canal following the canal's closure when the giant container ship, Ever Given, went aground and blocked it completely for six straight days.
The effect of that was felt across many parts of the globe and none more than in Europe, as between 400 and 500 ships were affected in one way or another.
The project aims at increasing the navigational safety at the southern entrance by 28% and increasing the capacity of the canal to receive more ships per convoy with an average of six additional ships, Rabie said.
The eight dredgers are Mohab Mameesh, Hussein Tantawi, Seddik, Tareq Bin Ziyad, Al-Hamra, Al-Merfa, Al-Sadr and Cassiopeia.
Egypt started the dredging of the southern section of the Suez Canal in May 2021, a few weeks after the accident involving Ever Given.
Initially, two dredgers – the 10th of Ramadan Dredger and Mashhur – were used at 122 kilometres. The SCA also worked on digging parallel passages from the 132nd kilometre to the 162nd kilometre position near the Suez Gulf, and from the 122nd kilometre to the 132nd kilometre position located in the Bitter Lakes. The parallel passages are on the western side of the Canal.
Sign up for Africa Ports & Ships – it's free




Added 12 May 2022
♦♦♦♦♦♦♦♦♦
News continues below
Transport Minister Mbalula says the National Rail Policy is critical to structural reforms in the economy
National Rail Policy to support economic recovery efforts
South African Transport Minister Fikile Mbalula said on Monday the National Rail Policy is critical for fast tracking the implementation of priority structural reforms in the economy to support economic recovery.
"The key policy position on the introduction of third-party access on the rail network is one of the key thrusts to drive efficiencies and improve competitiveness," he said.
"The National Rail Policy will guide the building of the local industry capacity thereby boosting the manufacturing capacity and localisation.
"Government will ensure that industrialisation and the local production of steel and other inputs, rail lines and supplies, and rolling stock is promoted through policies that will require state and private operators to procure all supplies from South African-based manufacturers," the Minister said.
The policy also encourages the entry of black, female and young industrialists as local manufacturers, including through manufacturing joint ventures.
The Minister said a localisation strategy will be used to develop the industrial base for an active export strategy, particularly to other African countries.
This will also support the Steel Master Plan of government.
The department working with the Department of Trade, Industry and Competition (the dtic) will set up a joint committee to develop the strategy and will engage the private sector on investment plans required to unlock opportunities in the sector.
Rolling stock as a key pillar to railway operations will be an integral part of this approach.
"Government supports the provision of own rolling stock by freight and passenger train operators as an additional funding source in kind, to close the gap between existing funding sources and overall funding requirements, as well as the provision of extra capacity by private sector rolling stock leasing companies," the minister said.
Private Sector Participation (PSP)
"Train operators and State-Owned Enterprises (SOEs) can lease their rolling stock to any other party and to encourage new entrants in the market. With regard the role of Private Sector Participation in railways, the department will spearhead the development of a Private Sector Participation (PSP) Framework for the rail industry," Mbalula said.
This framework will aim to guide the collaboration between the major SOEs and private sector companies to deliver new economic infrastructure projects to augment the current level on infrastructure projects.
High Speed Rail
"The pursuit of PSP should, however, not be construed as the privatisation of the South African Railways, as there is no such policy on the table. Central to the passenger rail reforms is the introduction of High Speed Rail into the service mix," the Minister said.
The department will develop a High Speed Rail Framework to provide the foundation for the prioritisation of high speed rail corridors in South Africa.
"The framework will determine the strategic objectives for high speed rail in the country and determine the criteria to be used in determining and prioritising these corridors. Feasibility studies on proposed high-speed rail services will be conducted by the department guided by the framework," the Minister said.
Implementation of the policy
The implementation of the White Paper on National Rail Policy will be segmented along short, medium and long-term policy reforms.
In the short-term, over the next three years, policy reforms include:
* Accounting separation of Transnet Freight Rail's Infrastructure Manager and Train Operator, introduction of the National Rail Bill
* Introduction of third-party access
* Concessioning of branch lines
* Finalisation of the National Rail Master Plan and
* Finalisation of the Commuter Rail Devolution Strategy.
Unpacking medium & long-term policy reforms
The Minister said the Policy further unpacks medium and long-term policy reforms that will place the industry on a sustainable growth path.
"Giving practical expression to the objectives of the White Paper on National Rail Policy requires of us to pay particular attention to skills development and growing the requisite capacity in the country.
"Our long-term vision of an institution of higher learning specialising in rail engineering and operations will be built on the foundation of interventions such as the Centres of Excellence model the Department has developed in partnership with universities in the country and the Transnet Freight Rail's School of Rail.
"This will go a long way in ensuring that there is adequate capacity to respond to the current challenges and giving the implementation of the National Rail Policy the necessary encouragement," the Minister said.
Sign up for Africa Ports & Ships – it's free




Added 11 mAY 2022
♦♦♦♦♦♦♦♦♦
News continues below
WHARF TALK: a monument to history –          SS GREAT BRITAIN
Story by Jay Gates
In this day and age, there are very few people who could name anyone who, in the modern era, is considered to be a ship designer, a ship builder and a multi-skilled engineer. But ask anyone in the maritime industry to name one such person from the Victorian era, and if any one name pops up, it is almost certainly only going to be Isambard Kingdom Brunel (1806-1859).
The great British engineer was more famous for building railways, bridges, railway stations and tunnels, than he was for shipbuilding. The fact that he only actually had a hand in the construction of three ships speaks volumes of the high regard in which he was held. That was because the design of each of his vessels was considered revolutionary for its time.
His first vessel, the 1838 passenger carrying paddle steamer, 'Great Western', was the first steamer built for passenger transatlantic voyages, and a link to the railway that he built, the Great Western Railway (GWR). It enabled a seamless transfer of passengers, and emigrants, from his GWR railway terminus of Temple Meads station in Bristol, on to Bristol Docks and onwards on a transatlantic voyage to New York, under the care of the Great Western Steamship Company. Sadly, the Great Western never made a voyage to South African waters.
His third vessel, was another revolutionary design, the 1858 'Great Eastern', also designed for transatlantic passenger service to New York. Her huge size, four times larger than any other vessel yet built, meant that she was not a success, and she was converted to a cable ship, at a time when undersea telegraph communications cables were being laid to connect all of the colonies, territories and dominions of the British Empire. This work included her one, and only, call to South African waters, when she called at Cape Town in December 1869. See the story in Africa Ports & Ships from 20th June 2021.
Brunel's second vessel, the GREAT BRITAIN was probably the most famous one of them all. When launched in 1843 she was the largest ship ever constructed, she was longer than any other vessel yet built, she was the first iron hulled, steam powered, screw driven, transatlantic ship ever built, and she was truly revolutionary for her day. So much so that Prince Albert, the wife of Queen Victoria, and the father of Prince Albert, both of whom are the letters of the V&A Dock in Cape Town harbour, was the person who launched the famous ship.
Due to her great size of the day, there were no slips large enough to build 'Great Britain', so she was built in the disused Great Western drydock, within the George Hillhouse shipyard in Bristol. She was 332 feet, or 98 metres, in length and had a displacement of 3,400 tons. She had two Maudsley of Dartford 4 cylinder engines, producing 1,000 bhp (746 kW) driving her single six bladed screw for a service speed of 11 knots. Her hull was put together using 60,000 rivets.
She cost £120,000 to build, the equivalent of £16.32 million today (ZAR326.09 Million). She was initially built with six masts, one of which was square rigged, and the other five were fore and aft rigged. She could carry 360 passengers, with 120 crew, all accommodated over four decks, and could carry 1,200 tons of cargo. Her maiden voyage took place in 1845, and that first transatlantic crossing to New York took 14 days.
Her transatlantic career came to an end when she ran aground on the coast of Northern Ireland in September 1846, and remained there until July 1847. On being returned to service she was re-rigged, down to 5 masts, 2 of which were square rigged. After only 5 transatlantic voyages, which had become unprofitable, she was sold in 1852 to Gibbs, Bright and Company of Liverpool, and converted for further service.
Her new owners re-rigged her again, now down to four masts, 2 square rigged and 2 fore and aft rigged. She also gained a second funnel. The new owners intended to employ 'Great Britain' on the emigrant trade to the developing colonies of Australia. Her accommodation was increased to take 1,000 passengers, and her engines were replaced by units from John Penn and Company of Greenwich. Her first voyage to Melbourne sailed from Liverpool on 21st August 1852, and was intended to be a direct non-stop sailing to Australia, under the command of Captain Barnard Mathews.
However, poor decisions made on course and route taken meant that she was running out of coal, and had to call into Jamestown at St. Helena Island to load some additional coal supplies. These were not enough to get her to Australia and on 23rd September 1852 'Great Britain' entered Table Bay and anchored off Cape Town to load enough coal and stores to get her to Australia. Her arrival caused quite a stir with local Capetonians, and tours of the vessel took place whilst she spent six days at anchor off Cape Town.
The arrival of such a famous vessel at Cape Town, was such that it was recorded for posterity by the acclaimed Cape Town based, Scottish marine artist, John Wilson (1774-1855), who painted her arriving under full sail in Table Bay.
Sailing from Cape Town on 29th September 1852, 'Great Britain' arrived in Melbourne after a voyage of 81 days, 20 days over her published schedule. The errors of this first voyage were never repeated and she went on to make a total of 32 voyages to the colonies of Queensland, New South Wales and Victoria in Australia, taking 25,000 passengers to a new life in Australia. Today, almost 300,000 Australians are directly descended from passengers who arrived on 'Great Britain'. It was not expected that Cape Town would ever see her call again.
In 1857 she was re-rigged once more, now down to 3 masts, all of which were square rigged, and one of her funnels was removed. In May 1857 the so-called Indian Mutiny broke out in India, and British military reinforcements were called for to help quell the rebellion. Chartered by the British Government, 'Great Britain' was sent to Queenstown (Cobh) in Ireland to embark cavalry troops from the famous 'Death or Glory' 17th Lancers (Duke of Cambridge's Own), they of the famous 'Charge of the Light Brigade' of the earlier Crimean War (1853-1856).
Also embarked were cavalry troops of the 8th Hussars (King's Royal Irish), and 'Redcoat' infantry troops of the 56th Regiment of Foot (West Essex). Sailing from Queenstown on 24th September 1857, 'Great Britain' made her second, unexpected call at Cape Town in early November 1857. On arrival in Cape Town she found that she was one of 68 troopships at anchor in Table Bay, and received news that the sieges of both Lucknow and Delhi had been broken, and the two cities had been relieved. She sailed from Cape Town, bound for Bombay, arriving there on 17th December 1857, after a voyage of 85 days.
On completion of this voyage, she reverted to her Australian emigrant trade, which included taking the first ever England Cricket team to Australia in 1862. She continued on this route up to 1881, when the advent of steamships and the opening of the Suez Canal, meant that this trade was no longer worthwhile for her owners. She was sold on to Anthony Gibbs of London, who removed her engines, and converted her to a full sailing ship, for trading from Liverpool to San Francisco, via Cape Horn.
In 1885, she sailed from Penarth in South Wales, on her third voyage to San Francisco, and the 47th voyage of her 30 year career, when on February 1886 she ran into an intense gale whilst trying to round Cape Horn. She was dismasted, and turned round to head for Port Stanley in the Falkland Islands. She arrived there, and repair was not viable, so she was used as a wool store, and a coal hulk, and remained in this static role for the next fifty years.
By 1933 she had deteriorated to the point where she was towed around to Sparrow Cove, and abandoned. She stayed there until 1970, when her importance to British maritime history was recognised, and she was rescued by the Brunel Society, and returned to the UK to be restored to her former glory. She arrived back at Bristol in July 1970, and watched by a shoreside crowd on the banks of the River Avon, estimated to be over 100,000 people, she was once again placed into the same drydock in which she was built.
Her conservation took a further 35 years, at a cost of £11.3 million (ZAR225.82 million), and she was fully restored, both internally and externally. In July 2005 she was opened to the general public, and is open 365 days a year.
The Great Western drydock, where she now resides, has had a waterproof, and airtight, glass roof placed around the hull of 'Great Britain'. The collected rainwater lying on the drydock roof gives off the impression that 'Great Britain' is afloat. Visitors are allowed to enter the drydock and walk around the lower hull on the dock floor.
A visit to 'Great Britain' is well worth it if any reader is ever passing Bristol.
Sign up for Africa Ports & Ships – it's free
Added 11 May 2022
♦♦♦♦♦♦♦♦♦
News continues below
Seafarer dies, a number missing when Ghanaian fishing vessel Comforter II sinks off Takoradi coast
A number of seafaring fishermen are missing and one man is confirmed dead after the Ghanaian fishing vessel COMFORTER II (IMO 8787197), sank south of Takoradi in Ghanaian waters. Another 14 were rescued.
The sinking happened on Friday 6 May when the Comforter II was some 97 nautical miles south of the port of Takoradi.
The single dead body recovered so far is that of the vessel's captain, a 62-year old Chinese man, Cai Tuanqui. The 14 crew who were rescued are 10 Ghanaians and four Chinese, while the missing crew are 10 Ghanaians and one Chinese.
One of the Ghanaians who is missing is Collins Amoah, a fisheries observer on the vessel.
The sinking took place shortly after midnight on Friday morning while the vessel was between Elmina and Takoradi.
According to a report the crew was hauling in the net, which was filled with fish. There was a storm at the time with heavy rain, It is thought the weight of the net pulled the vessel over onto its side and then into a full capsize.
Comforter II had a length of 45 metres and a width of eight metres and was sailing under the Ghanaian flag.
Sign up for Africa Ports & Ships – it's free
Added 11 May 2022
♦♦♦♦♦♦♦♦♦
News continues below
Fire on board fishing vessel Shinsei Maru No3 being scrapped in Cape Town harbour
A fire was reported on Tuesday morning on board a fishing vessel, Shinsei Maru No.3, which is tied up alongside Quay 700 in Cape Town harbour.
Shinsei Maru No.3 is currently being demolished for scrap and carried no crew though there were seven workmen on the vessel at the time and who were all safely evacuated.
The fire was reported at 09h30.
TNPA's Port of Cape Town Fire department, three harbour tugs, together with the City of Cape Town Fire Department all responded to the fire.
Due to poor visibility from smoke the nearby Cape Town Container Terminal operations had to be
briefly suspended resulting in two vessels being impacted, one scheduled to dock and the other container vessel working cargo alongside Quay 601.
Transnet said that other port operations were continuing as normal with the situation being closely monitored. The cause of the fire, which was extinguished by 11h50, is being investigated.  By 12h00 container terminal operations had resumed.
Meanwhile, the hulk vessel remains berthed at Quay 700 and vessel cutting activities have been halted until the investigation has been completed.
Transnet said it has invoked "Business Continuity Management (BCM) in order to monitor environmental pollution and any disruption to operations."
Shinsei Maru No.3 (IMO 8520094) was built in Japan in 1985 and in service carried a crew of 39.
Sign up for Africa Ports & Ships – it's free
Added 11 May 2022
♦♦♦♦♦♦♦♦♦
News continues below
River port solves some of Bolivia's logistics problems
A report from UNCTAD (United Nations Conference on Trade and Development) says that a Bolivian river port named Jennefer is helping importers and exporters of the South American landlocked country to overcome logistics challenges.
The port of Jennefer on the Paraguay-Paraná waterway is a part of UNCTAD's port management programme.
Bismark Rosales (picture below), the general manager of Port of Jennefer, has seen the country's trading fortunes improve dramatically since the port earned international status in 2018.
"Our country had a very large supply of soybeans, urea and cement to export, but we were not competitive in international markets," Rosales says.
"The reason was not a lack of quality or technology, but the very costly logistics required to transport the goods by land to the ports of neighbouring countries."
Over 80% of international trade is carried by sea. Without a coastline providing access to global maritime routes, importers and exporters in Bolivia had to rely on ports in neighbouring countries, traditionally in Chile, to trade with the world.
The rugged terrain leading across the Andean mountains to Chile's ports meant the transit costs to reach the Pacific Ocean were often the most expensive part of total shipping costs.
But in 2018, Port of Jennefer and two of the country's other river ports were accorded international status, opening up a new world of possibilities along the 3000-kilometre Paraguay-Paraná waterway leading to the Atlantic Ocean.
In just three years, the volume of international cargo floating to and from the country along the Paraguay-Paraná waterway has increased by 62%, reaching 2.1 million tons in 2021.
A defining moment
When Mr. Rosales started in the port as the administrative and human resources manager in 2011, he saw Bolivia's trade potential and understood it was hindered by the lack of an international port.
He recommended investing in projects to expand the port, including a new industrial area and terminal, and the dredging of an 11-kilometre long channel to improve access to the Paraguay-Paraná waterway.
A defining moment in his and the port's journey, he says, was joining UNCTAD's TrainForTrade port management programme in 2016.
"Participating in the port management programme gave me the confidence and capacity to successfully direct the many ongoing projects at the port," he says, "and later to become the general manager."
Besides completing the port management course, Mr. Rosales became a programme instructor in Bolivia and a trainer and evaluator for participating ports in Argentina, the Dominican Republic and Peru.
New port regulations
The UNCTAD programme helped Bolivia change its port regulations, paving the way for a private operator like Port Jennefer to earn international status.
"At the time, the rules didn't allow private ports to carry out international trade operations, and Bolivia doesn't have public ports," Rosales said.
By putting representatives from businesses, private ports and the port authority in the same room, the programme helped them work together to tackle the logistics and legal hurdles hindering the country's trade.
New regulations were adopted in 2018, allowing private ports to operate internationally.
"It helped tremendously when we were sitting at the same table, talking about the country's port development and legislation," Rosales said.
A global vision
UNCTAD's port management programme has a network of about 250 ports in Africa, Asia, Latin America and the Caribbean. Joining such a global network, Mr. Rosales says, gave him a new vision for Port Jennefer.
"It helped me establish good contact with other ports. This has allowed me to have a vision of where we can go with the port and what investments we need to reach those objectives."
A major improvement introduced, thanks to the course, was to invest in building direct access from the port's terminals to the highway, allowing trucks to avoid the neighbouring city of Puerto Quijarro.
"This has reduced traffic in the city, greatly improving the local community's living conditions," Rosales said, adding that he now sees port development not only as a project for his company but also as a national endeavour.
"UNCTAD's port management programme has changed the history of the Bolivian river and maritime trade."
Sign up for Africa Ports & Ships – it's free
Added 11 May 2022
♦♦♦♦♦♦♦♦♦
News continues below
WHARF TALK: troubled Supramax bulk carrier – NS QINGDAO
Story by Jay Gates
Pictures by 'Dockrat'
It is not often that a vessel arrives at a South African port to discharge a parcel of bulk cargo, but then goes onto complete the discharge of that same cargo at another South African port, but over six months later. The vessel in question has held the shipping, chemical, environmental and salvage communities in thrall for the full length of her stay in South African waters, until such time that she got to the point where she could finally sail on her intended voyage.
Way back on 14th October 2021 the Supramax bulk carrier NS QINGDAO (IMO 9567439) entered Durban Harbour, after a voyage from Gwangyang in South Korea, and berthed at Maydon Wharf 14, and began to offload her mixed cargo of ten types of bulk agricultural and industrial chemicals, three of which were considered as important enough to be listed in the International Maritime Dangerous Goods (IMDG) Code.
For the dangerous goods fans out there, the list of solid chemicals that 'NS Qingdao' carried were listed as Sodium Metabisulphite, Magnesium Nitrate Hexahydrate (IMDG UN Code 1474, Class 5), Caustic Calcined Magnesite, Electrode Paste, Monoammonium Phosphate, Ferrous Sulphate Monohydrate (IMDG UN Code 3077, Class 9), Zinc Sulphate Monohydrate (IMDG UN Code 3077, Class 9), Dicalcium Phosphate, Sodium Sulphite and Calcium Chloride.
For reasons yet unpublished: the unloading plan was either not made available to the unloading supervisor, was not followed, was not clear, did not list all the contents of that particular hold, or was simply not understood. After some local rain was allowed to enter the open holds and react with one, or more, of the chemicals loaded in hold number 3, an unstable chemical reaction began, resulting in toxic fumes starting to emit from some of the chemicals in the hold.
The authorities made the decision that the vessel must leave port to vent her holds, and on 24th October 'NS Qingdao' sailed from Durban to the outer anchorage. By 27th October the authorities made the decision that she should proceed a full 850 nautical miles away from Durban, in order to control the chemical reaction in the cargo, and have it discharge offshore, into barges, in the safe confines of the St Helena Bay anchorage in the Western Cape. She duly arrived there in early November, under escort of the AMSOL salvage tug 'Umkhuseli'.
It was the start of a marathon of epic proportions to get the cargo offloaded, in which the decision on how to tackle the problem was changed on numerous occasions, and was only completed over five months later. As stated, the initial decision was for the cargo to be offloaded into barges, whilst 'NS Qingdao' remained at anchor. The cargo would be then discharged into skips, each one capable of holding 5 tons of chemicals.
Problems began to emerge when it was obvious that the chemical reaction in the hold was causing the cargo to begin heating up, and was creating conditions for spontaneous combustion. Her cargo continued to have 'hot spots', and minor fires within the cargo were now a real threat to both the HAZMAT crews dealing with the problem, and to the vessel itself.
In early January 2022, after discussions between the South African Maritime Safety Authority (SAMSA), the Department of Forestry, Fisheries and Environment (DFFE), and Dangerous Goods Chemical experts, the decision was made to take 'NS Qingdao' out to sea and begin dumping the cargo into the open ocean. The rationale for this decision was in order to protect the hull integrity of the vessel, due to the real potential of a cargo fire creating the situation on the vessel where she could break up, and result in a major inshore pollution incident.
With a DFFE dumping permit in place, and under escort at all times by a salvage vessel, initially 'Umkhuseli', and then by 'Boka Pegasus', a location was chosen that was 150 nautical miles directly offshore from Cape Columbine, with water depths of 3,000 metres. Despite the strong vocal protests of the wildlife and environmental lobby, a total of 1,450 tons of the cargo was dumped into the ocean in this location.
Whenever the weather worsened, 'NS Qingdao' was brought back to the anchorage of St. Helena Bay to await better conditions. This 'to and fro' shuttling from the anchorage to the dumping ground carried on for the next month until the requisite amount of chemicals had been dumped.
At this point, a sufficient amount of the cargo had been offloaded to remove the problems of spontaneous combustion in the chemicals. The authorities now decided that what was initially classed as a Severe Maritime Emergency, could be downgraded to a simple Cargo Salvage Operation. This meant that the task of discharging the remainder of the cargo could be undertaken, and safely managed, within the confines of a harbour.
As such, 'NS Qingdao' was brought into Saldanha Bay, and she went alongside the Multi-Purpose Terminal, where discharging could continue alongside a fixed berth. By early April, almost 1,000 skips had been filled, plus road tankers containing contaminated ballast water from 'NS Qingdao' were also brought into use. All of the offloaded cargo and water was taken to the local High Hazardous Waste Management and Landfill Site, located at Vissershok, where the chemicals were treated and made safe.
By the end of April, the complete discharge of the contents of hold number 3 were complete and 'NS Qingdao' was ready to go back to sea, after receiving some minor shoreside engineering support, which was only available at Cape Town. She sailed from Saldanha Bay on 30th April at 22h00, and arrived at the Table Bay anchorage the next morning, 1st May at 06h00. She remained at anchor for the rest of the day, and at 17h00 that afternoon she entered Cape Town harbour, and entered the Duncan Dock, proceeding to the Landing Wall.
Saldanha Bay is better known as a major iron ore export port, and the long stay at Saldanha Bay for 'NS Qingdao' was quite obvious as her white painted accommodation block had taken on a rusty brown appearance, from the iron ore dust, and she looked quite 'under the weather'. Her hull, adjacent to hold number 3, was also streaked with the caked remains of her chemical discharge, and her black hull looked like a giant seagull had deposited it's lunch at this spot.
Built in 2011 by Yangzhou Guoyu Shipbuilding at Yizheng in China, 'NS Qingdao' is 190 metres in length and has a deadweight of 56,745 tons. She is yet another of the numerous, and popular, SDARI Dolphin 57 Supramax class of bulk carrier, designed by the Shanghai Merchant Ship Design and Research Institute (SDARI), of which almost 500 have been built thus far, and are a standard offer at most of the Chinese State owned shipyards.
She is powered by a single Wärtsilä 6RT-Flex50 6 cylinder 2 stroke main engine producing 12,889 bhp (9,480 kW), to drive a fixed pitch propeller for a service speed of 14.2 knots. Her auxiliary machinery includes three generators providing 600 kW each, and an emergency generator providing 99 kW. She has a composite CHM 222 boiler.
She has five holds, serviced by four 30 ton, grab equipped, hydraulic cranes, and she has a cargo carrying capacity of 71,634 m3. She is owned, operated and managed by YKJ Shipping Co. Ltd., of Ningbo in China.
After receiving the necessary engineering support, and clearing any maintenance issues created by her long stay in South African waters, 'NS Qingdao' was finally ready, after almost six months, to continue her original voyage to Brazil. She finally sailed from Cape Town on 4th May, at 23h00 in the dead of night, bound for the port of São Francisco do Sul, located at 26°15' South 048°38 West, in the State of Santa Catarina, in Southern Brazil.
Despite all the potential problems that beset 'NS Qingdao' as a result of the loaded cargo, such as possible cargo documentation issues, initial discharge operations management, and safety management oversight, there appears not to have been a recorded Port State Inspection carried out on her during her whole time alongside in Durban, Saldanha Bay, or Cape Town.
Sign up for Africa Ports & Ships – it's free
Added 10 May 2022
♦♦♦♦♦♦♦♦♦
News continues below
Sustainability concerns muddy the maritime waters – Allianz
[LONG READ: 2400 words]
Allianz:

Shipping losses fall, but Ukraine war, costly issues with large vessels, the shipping boom, and sustainability concerns muddy the waters
* Safety & Shipping Review 2022: 54 large ships lost worldwide last year. Total losses down 57% over past decade. South China, Indochina, Indonesia, and the Philippines top loss location. The Arabian Gulf saw a significant increase in loss activity to rank second. British Isles sees most shipping incidents.
* Southeast Asian waters are replacing the Gulf of Guinea as the most dangerous for commercial shipping.
* Ukraine invasion has multiple impacts: loss of life/vessels, exacerbation of crew crisis, trade disruption, sanctions burden, and cost and availability of bunker fuel.
*Fires, container ship and car carrier incidents leading to oversized losses and 'general average' process becoming more frequent. Sustainability concerns driving up costs of salvage and wreck removal. Decarbonization of shipping industry creating new risks.
* Shipping boom safety impact: growing use of non-container vessels to carry containers, working life of vessels being extended, port congestion putting crews and facilities under pressure.
The international shipping industry is responsible for the carriage of around 90% of world trade, so vessel safety is critical. The sector continued its long-term positive safety trend over the past year but Russia's invasion of Ukraine, the growing number of costly issues involving larger vessels, crew and port congestion challenges resulting from the shipping boom, and managing challenging decarbonisation targets, means there is no room for complacency, according to marine insurer Allianz Global Corporate & Specialty SE's (AGCS) Safety & Shipping Review 2022.
"The shipping sector has demonstrated tremendous resilience through stormy seas in recent years, as evidenced by the boom we see in several parts of the industry today," says Captain Rahul Khanna, Global Head of Marine Risk Consulting at AGCS.
"Total losses are at record lows – around 50 to 75 a year over the last four years compared with 200+ annually in the 1990s. However, the tragic situation in Ukraine has caused widespread disruption in the Black Sea and elsewhere, exacerbating ongoing supply chain, port congestion, and crew crisis issues caused by the Covid-19 pandemic.
"At the same time, some of the industry's responses to the shipping boom, such as changing the use of, or extending the working life of, vessels also raise warning flags. Meanwhile, the increasing number of problems posed by large vessels, such as fires, groundings and complex salvage operations, continue to challenge ship owners and their crews."
The annual AGCS study analyses reported shipping losses and casualties (incidents) over 100 gross tons. During 2021, 54 total losses of vessels were reported globally, compared with 65 a year earlier. This represents a 57% decline over 10 years (127 in 2012), while during the early 1990s the global fleet was losing 200+ vessels a year.
The 2021 loss total is made more impressive by the fact that there are an estimated 130,000 ships in the global fleet today, compared with some 80,000 30 years ago. Such progress reflects the increased focus on safety measures over time through training and safety programs, improved ship design, technology and regulation.
According to the report, there have been almost 900 total losses over the past decade (892). The South China, Indochina, Indonesia, and the Philippines maritime region is the main global loss hotspot, accounting for one-in-five losses in 2021 (12) and one-in-four-losses over the past decade (225), driven by factors including high levels of trade, congested ports, older fleets, and extreme weather.
The Arabian Gulf (46) and West African Coast (38) are fifth and sixth respectively over the same period. Globally, cargo ships (27) account for half of vessels lost in the past year and 40% over the past decade. Foundered (sunk/submerged) was the main cause of total losses over the past year, accounting for 60% (32).
While total losses declined over the past year, the number of reported shipping casualties or incidents rose. The British Isles saw the highest number (668 out of 3,000).
Machinery damage accounted for over one-in-three incidents globally (1,311), followed by collision (222) and fires (178), with the number of fires increasing by almost 10%.
Globally, most incidents, over the past decade, have been caused by machinery damage or failure (9,968), followed by collision (3,134), contact (2,029), piracy (1,995) and fire/explosion (1,747).
Piracy: Southeast Asian waters are replacing the Gulf of Guinea
Maritime piracy and armed robbery attacks reached the lowest recorded level since 1994 last year (132), according to the International Maritime Bureau (IBM). The drop can be attributed to successful intervention by authorities, but continued coordination and vigilance is necessary to ensure the long-term protection of seafarers given recent rising numbers of incidents in the Singapore Straits and Southeast Asia and recent reports of incidents in Ivory Coast, Angola, and Ghana waters.
The Gulf of Guinea remained the world's piracy hotspot in 2021 but saw activity fall from 81 reported incidents in 2020 to 34 in 2021, according to the IMB. The good news has continued in Q1 2022.
The IMB's latest global piracy and armed robbery report recorded 37 incidents globally in the first three months of 2022 – compared to 38 incidents over the same period last year – with nearly half of them (41%) occurring in Southeast Asian waters, particularly in the Singapore Straits.
Decrease in Gulf of Guinea
In comparison, there was a welcome decrease in reported incidents in the Gulf of Guinea region with seven incidents reported since the start of the year. There have been no reported crew kidnappings within the Gulf of Guinea waters in Q1 2022 compared to 40 crew kidnappings in the same period in 2021.
Ukraine impact: safety and insurance
The shipping industry has been affected on multiple fronts by Russia's invasion of Ukraine, with the loss of life and vessels in the Black Sea, disruption to trade, and the growing burden of sanctions. It also faces challenges to day-to-day operations, with knock-on effects for crew, the cost and availability of bunker fuel, and the potential for growing cyber risk.
The invasion has further ramifications for a global maritime industry already facing shortages. Russian seafarers account for just over 10% of the world's 1.89 million workforce, while around 4% come from Ukraine. These seafarers may struggle to return home or rejoin ships at the end of contracts.
Meanwhile, a prolonged conflict is likely to have deeper consequences, potentially reshaping global trade in energy and other commodities. An expanded ban on Russian oil could contribute to pushing up the cost of bunker fuel and impacting availability, potentially pushing ship owners to use alternative fuels. If such fuels are of substandard quality, this may result in machinery breakdown claims in future.
At the same time, security agencies continue to warn of a heightened prospect of cyber risks for the shipping sector such as GPS jamming, Automatic Identification System (AIS) spoofing and electronic interference. Prior to the Ukraine invasion there had already been a number of these incidents, reported in the Middle East and China.
South African ports
At the same time, the shipping industry continues to fall victim to cyber-attacks. India's busiest container port, Jawaharlal Nehru Port Trust, was hit by a ransomware attack in February 2022, following incidents at US and South African ports in recent years.
"The insurance industry is likely to see a number of claims under specialist war policies from vessels damaged or lost to sea mines, rocket attacks and bombings in conflict zones," explains Justus Heinrich, Global Product Leader, Marine Hull, at AGCS. "Insurers may also receive claims under marine war policies from vessels and cargo blocked or trapped in Ukrainian ports and coastal waters."
The evolving range of sanctions against Russian interests presents a sizeable challenge. Violating sanctions can result in severe enforcement action, yet compliance can be a considerable burden. It can be difficult to establish the ultimate owner of a vessel, cargo or counterparty.
Sanctions also apply to various parts of the transport supply chain, including banking and insurance, as well as maritime support services, which makes compliance even more complex.
A burning issue: fires on board
During the past year, fires on board the roll-on roll-off (ro-ro) car carrier Felicity Ace and the container ship X-Press Pearl both resulted in total losses. Cargo fires are indeed a priority concern.
There have been over 70 reported fires on container ships alone in the past five years, the report notes. Fires often start in containers, which can be the result of non-/mis-declaration of hazardous cargo, such as chemicals and batteries – around 5% of containers shipped may consist of undeclared dangerous goods.
Fires on large vessels can spread quickly and be difficult to control, often resulting in the crew abandoning ship, which can significantly increase the final cost of an incident.
Fires have also become a major loss driver for car carriers. Among other causes, they can start in cargo holds, caused by malfunctions or electrical short circuits in vehicles, while the open decks can allow them to spread quickly.
The growing numbers of electric vehicles (EVs) transported by sea brings further challenges, given existing counter-measure systems may not respond effectively in the event of an EV blaze. Losses can be expensive, given the value of the car cargo and the cost of wreck removal and pollution mitigation.
Salvage
When large vessels get into trouble, emergency response and finding a port of refuge can be challenging. Specialist salvage equipment, tugs, cranes, barges and port infrastructure are required, which adds time and cost to a response.
The X-Press Pearl, which sank after it was refused refuge by two ports following a fire – the ports were unable or unwilling to discharge a leaking cargo of nitric acid – is one of several incidents where container ships have had difficulty finding a safe haven.
Meanwhile, the salvage operation for the car carrier Golden Ray, which capsized in the US in 2019, took almost two years and cost in excess of $800mn.
"Too often, what should be a manageable incident on a large vessel can end in a total loss. Salvage is a growing concern. Environmental concerns are contributing to rising salvage and wreck removal costs as ship owners and insurers are expected to go the extra mile to protect the environment and local economies," says Khanna.
"Previously, a wreck might have been left in-situ if it posed no danger to navigation. Now, authorities want wrecks removed and the marine environment restored, irrespective of cost."
Higher salvage costs, along with the burden of larger losses more generally, are a cost increasingly borne by cargo owners and their insurers.
"General average', the legal process by which cargo owners proportionately share losses and the cost of saving a maritime venture, has become a frequency event, as well as a severity event, with the increase in the number of large ships involved in fires, groundings and container losses at sea compared with five years ago," explains Régis Broudin, Global Head of Marine Claims at AGCS.
It was declared in both the Ever Forward and Ever Given incidents. The large container ship Ever Forward ran aground in the US in March 2022, and was stuck for over a month before it was freed, almost a year to the day after its sister vessel, Ever Given blocked the Suez Canal.
Post-pandemic world brings new risk challenges
While the Covid-19 pandemic resulted in few direct claims for the marine insurance sector, the subsequent impact on crew welfare and the boom in shipping and port congestion raises potential safety concerns.
Demand for crew is high, yet many skilled and experienced seafarers are leaving the industry. A serious shortfall of officers is predicted within five years.
For those who remain, morale is low as commercial pressures, compliance duties and workloads are running high. Such a work situation is prone to mistakes – 75% of shipping incidents involve human error, AGCS analysis shows.
The economic rebound from Covid-19 lockdowns has created a boom time for shipping, with record increases in charter and freight rates. While this is a positive for shipping companies, higher freight rates and a shortage of container ship capacity are tempting some operators to use bulk carriers, or consider converting tankers, to transport containers.
The use of non-container vessels to carry containers raises questions around stability, firefighting capabilities, and securing cargo. Bulk carriers are not designed to carry containers, which could impact their manoeuvring characteristics in bad weather, and crew may not be able to respond appropriately in an incident.
Extending the working life of vessels
With demand for shipping high, some owners are also extending the working life of vessels. Even before the pandemic, the average age of vessels was rising.
Although there are many well-managed and maintained fleets composed of older vessels, analysis has shown older container and cargo vessels (15 to 25 years old) are more likely to result in claims, as they suffer from corrosion, while systems and machinery are more prone to breakdown.
The average age of a vessel involved in a total loss over the past 10 years is 28.
Shipping bottlenecks and port congestion
Covid-19 measures in China, a surge in consumer demand, and the Ukraine invasion have all been factors in ongoing unprecedented port congestion which puts crews, port handlers and facilities under additional pressure.
"Loading and unloading vessels is a particularly risky operation, where small mistakes can have big consequences, explains Heinrich.
"Busy container ports have little space, while the experienced labour required to handle the containers properly is in short supply. Add in fast turnaround times and this may result in a heightened risk environment," he says.
Climate change: transition problems
With momentum gathering behind international efforts to tackle climate change, the shipping industry is coming under increasing pressure to accelerate its sustainability efforts, the report notes, given its greenhouse gas emissions grew by around 10% between 2012 and 2018.
Decarbonisation will require big investments in green technology and alternative fuels. A growing number of vessels are already switching to liquefied natural gas (LNG), while other alternative fuels are under development, including ammonia, hydrogen and methanol, as well as electric-powered ships.
The transition to alternative fuels will likely bring heightened risk of machinery breakdown claims, among other risks, as new technology beds down and as crews adapt to new procedures.
Sign up for Africa Ports & Ships – it's free
Added 10 May 2022
♦♦♦♦♦♦♦♦♦
News continues below
Renewed call to ban the export of scrap metal
South Africa's Minister of Transport, Fikile Mbalula, has called for a ban on the export of scrap metal as the theft and vandalism of critical rail infrastructure continues to sabotage the country's economy.
"We are unequivocal in our call to ban the export of scrap metal and will support any measure that will bring us closer to this reality," the Minister said on Monday.
Addressing a media briefing on the White Paper on the National Rail Policy in Pretoria, he said taking this step will reinforce government's interventions aimed at protecting public assets and making the theft of cables and other metals less lucrative.
"The criminality behind the rampant theft and vandalism of railway infrastructure that has stripped bare our stations and rail network requires extraordinary interventions that go beyond merely stepping up security.
"We must eliminate this perverse incentive by banning the export of scrap metal and therefore limit the market that aids this criminality. The corporate sector must come to the party and bolster our efforts to deal a decisive blow to this criminality that is enabled by scrap dealers buying stolen scrap metal," Mbalula said.
Sign up for Africa Ports & Ships – it's free
Added 10 May 2022
♦♦♦♦♦♦♦♦♦
News continues below
Floating Border Outposts introduced for India's Border Security Force
Indian Register of Shipping class classes nine FBOPs
Indian Register of Shipping reported a few weeks back that it is classing a series of nine Floating Border Outposts (FBOPs), constructed by Cochin Shipyard Limited for the Border Security Force, Ministry of Home Affairs.
Six vessels have been delivered so far, it is understood, and are being deployed in the Sundarbans in West Bengal. The next three vessels will be based in creeks of Kutch (Gujarat).
Each FBOP carries four Daughter Boats onboard for patrolling, capable of attaining a speed of 29 knots.
IRS has played a dual role in this project; as Classification Society for classing the vessel and also to ensure that the specific requirements of BSF are met. IRS has been involved in the project as early as tendering stage, taking an active role in finalising the technical specifications and subsequently evaluating the technical bids of the shipyards.
"IRS, along with CSL, has ensured that all the operational requirements of these vessels have been met to the satisfaction of the owners," said Mr Shammy K, Principal Surveyor & Head of IRS Survey Station, Kochi.
"These vessels will meet the tough conditions of the Sundarbans and Gujarat creeks."
Managing Director Mr Vijay Arora said that IRS is pleased to be associated with Indian Defence and Paramilitary forces.
"IRS has been involved with Ministry of Home Affairs/ Border Security Force for the FBOP project, ensuring compliance with procedural requirements, and guiding the yard towards possible solutions for any issues faced during the classification process," he advised.

Edited by Paul Ridgway




London
Sign up for Africa Ports & Ships – it's free
Added 10 May 2022
♦♦♦♦♦♦♦♦♦
News continues below
Ghana Ports and Harbours Authority MD, Michael Luguje, appointed IAPH vice president
To rally Africa's ports to further enhance resilience
International Association of Ports and Harbors (IAPH) says it is pleased to announce that Mr Michael Achagwe Luguje, Managing Director, Ghana Ports and Harbours Authority, Ghana, has been elected as Vice President for the Africa Region by a vote of confidence of its Region's members.
"On behalf of my country Ghana and the Ghana Ports and Harbours Authority, I thank IAPH's member organizations in Africa for the confidence they have placed in me," said Luguje.
"During my tenure as VP, I will focus on rallying Africa's ports to further enhance our resilience through stronger cooperation, knowledge sharing and capacity building within Africa and globally under the umbrella of the IAPH."
IAPH President Captain Subramaniam Karuppiah commented: "We are delighted to welcome Michael to the IAPH board and his new role as Vice President.
"In recent years he has worked very closely with our team on raising the profile of the global initiatives taken by IAPH, in particular the efforts to accelerate digitalisation in the maritime supply chain and the importance of establishing a sound port cybersecurity strategy, with IAPH experts attending in person and remotely at the recent Port Management Association of West and Central Africa (PMAWCA) conference in Douala, Cameroon."
Luguje will take over the reins from Jens Meier, IAPH Vice President for the Europe Region and CEO of Hamburg Port Authority, who was additionally appointed as temporary Coordinator for Africa following the tenure of Ms Hadiza Bala-Usman, former Managing Director of Nigerian Ports Authority.
Jens Meier said he welcomed Luguje as he joins IAPH as Vice President for the Africa Region.
"In the last year, we took the initiative to reach out to individual members in our IAPH Africa Region to increase their engagement, including personal calls I have made with their CEOs and an open, online forum to discuss key issues including decarbonisation and digitalisation together with our European members. We wish Michael well in taking this engagement to the next level."
Michael Luguje holds a Bachelor of Arts degree in French and Linguistics from the University of Ghana, and a Master of Science degree in Maritime Affairs (Port Management) from the World Maritime University, Malmo, Sweden, and an EMBA in Project and Strategic Management (PGSM, France).
Prior to being appointed Director-General of Ghana Ports and Harbours Authority (GPHA) in July 2018, he occupied several other international roles representing the continent, including Secretary-General – Port Management Association of West and Central Africa (PMAWCA); Executive Secretary – Pan African Association of Port Cooperation (PAPC) and Regional Coordinator for West and Central Africa, International Maritime Organization (IMO).
Based on Article 21 of the IAPH Constitution, Michael Luguje has officially taken office as of April 27, 2022, until the Annual General Meeting during the IAPH World Ports Conference in 2023.
About IAPH
Founded in 1955, the International Association of Ports and Harbors (IAPH) has developed into a global alliance of 162 port authorities, including many of the world's largest port operators as well as 127 port-related businesses.
Comprising of 87 different nationalities across the world, member ports handle approximately one third of the world's sea-borne trade and well over 60% of the world container traffic.
With its NGO consultative status recognised by the IMO, ECOSOC, ILO, UNCTAD, UNEP, and WCO, IAPH leads global port industry initiatives on decarbonisation and energy transition, risk and resilience management, and accelerating digitalisation in the maritime transport chain.
Its World Ports Sustainability Program has grown into the reference database of best practices of ports applying the UN Sustainable Development Goals and integrating them into their businesses.

Edited by Paul Ridgway
London
Sign up for Africa Ports & Ships – it's free
Added 9 May 2022
♦♦♦♦♦♦♦♦♦
News continues below
WHARF TALK: large LR2 Aframax tanker – SEALEGEND
Story by Jay Gates
Pictures by 'Dockrat'
Some of the most famous of the shipping lines that served South Africa were family owned, but they never made it to their individual centenary. This was because the company either folded, were amalgamated or were simply sold off, and subsumed, by other carriers before the 100 year celebratory mark came around. Companies such as Ellerman Lines, Union-Castle Lines, Clan Line, Bank Line, and now Deutsche Afrika Linien spring to mind.
Yet, there are some shipping companies that are still operating today, and which have a long history, in excess of a century, and which are still owned by the same family, as they have been throughout their history. To this day, these companies are unknown to most shipping folk, mainly because the South African trades were never their specialty.
On 2nd May at 17h00 the large LR2 Aframax tanker SEALEGEND (IMO 9906568) arrived off Cape Town, from Antwerp in Belgium, and entered Cape Town harbour to proceed to the long tanker berth in the Duncan Dock. Her name is not a typo error, in respect of she should be called 'Sea Legend'. Her owners have named all their vessels in a similar manner of joining the word 'Sea' with another word, and stringing them both together into one word.
A relatively new vessel, she only entered service in August 2021, built by Daehan Shipbuilding at Haenam in South Korea. She is 250 metres in length and is powered by a single MAN-B&W 6G60ME-C9.5 Tier III 6 cylinder 2 stroke main engine producing 18,130 bhp (13,520 kW), driving a fixed pitch propeller for a service speed of 14.5 knots.
Her auxiliary machinery includes three MAN-B&W 7L23/30H generators providing 960 kW each, and a Cummins LTA-10-G2 emergency generator providing 250 kW. She has a single economiser boiler, and two Alfa Laval Aalborg Mission CHO oil fired boilers. She has 12 cargo tanks with a cargo carrying capacity of 124,506 m3.
With the long tanker berth in Duncan Dock's Tanker Basin being promulgated by Transnet as being for vessels of up to a maximum of 250 metres in length, 'Sealegend' only just fits alongside the berth. Her actual builder's length is given as 249.90 metres, which gives her a clearance, on the full length of the berth, of just 5cm on either side, or less than the length of your little finger.
Owned by Valles Steamship Co. Ltd. of Hong Kong, 'Sealegend' is both operated and managed by Valles Steamship (Canada) Incorporated of Vancouver. On entering service, only 9 months ago, in August last year, 'Sealegend' was immediately placed on a charter contract with ST Shipping & Transport Pte. Ltd. of London and Singapore.
Her owners, Valles Steamship Co. Ltd., were founded over one hundred years ago, in 1917, by the Koo family of Shanghai, initially as a Customs Clearing House. They then entered the shipowning business and traded mainly on the North Chinese Coast and up the Yangtze River. In 1949, when the Communists took over China, they moved to Hong Kong to continue trading.
In 1995, just before the British handover of Hong Kong to the Chinese, Valles Steamship opened their Operations and Ship Management offices in Vancouver. They have just passed their 105th anniversary of continuous trading, and remain a Hong Kong based shipowning company.
The company has remained under both the ownership and management of the same family throughout their long history, with the 4th generation of the Koo family currently running the business. In November 2021, the Executive Director of Valles Steamship Co. Ltd., Wellington Koo, was elected as the next Chairman of the Hong Kong Shipowners Association. Such a preeminent appointment, in such a prestigious shipping role, is indicative of the esteem to which the Koo family are currently held in the huge, well connected, Hong Kong shipping world.
As always, with a large LR2 tanker in Cape Town, the speed of discharge due to a poor pumping rate means that she has already spent 5 days alongside discharging into the shoreside facilities. The Louisiana Offshore Oil Port (Loop) advertises an impressive discharge rate of 16,000 m3 per hour, which means that if 'Sealegend' was fully loaded with a single product, to her maximum capacity of 124,506 m3, she would be fully offloaded at the Loop in less than 8 hours.
With the carriage of multiple cargoes, one of the Rotterdam Europoort oil product storage terminals offers a slowest tanker discharge rate of 2,000 m3, which means a vessel the size of 'Sealegend' would be fully offloaded in just over 2.5 days (63 hours). Recently, the Cape Town average discharge for an LR2 tanker never seems to be much less than 7 days.
Sign up for Africa Ports & Ships – it's free




Added 9 May 2022
♦♦♦♦♦♦♦♦♦
News continues below
Durban Point Waterfront plans a revival (of sorts)
After standing still for two years during the initial outbreak of Covid-19, the Durban Point Waterfront at the harbour entrance appears to be stirring, with further ambitious plans announced.
Earlier this year the attractive new KwaZulu Cruise Terminal opened at the Point and has since welcomed cruise ship passengers to the sunshine city, which for generations has been regarded as South Africa's playground.
Delivering on its theme of 'Rebuilding the local tourism sector', the City promoted Durban to over 3,700 delegates attending the 2022 Africa Travel Indaba, during which tourism developments in the pipeline were highlighted.
The Indaba, normally an annual affair, though Covid brought a two-year hiatus, was held at its usual venue, the Inkosi Albert Luthuli International Convention Centre from 2 to 5 May.
Among the announcements, the City's skyline is set to change with the construction of a multi-million-rand ferris wheel, the Durban Eye, to be built along the beachfront promenade. The expected launch date is February 2023, just in time for the Easter holidays. This development intrigued many Indaba delegates including international media.
The developer of the R450 million Durban Eye has been appointed and expected to start onsite in July. This will offer tourists a spectacular 360-degree panoramic view of the City, beachfront and port. The 60-metre-high attraction will boast 30-36 eight-seater cabins. The full rotation of the wheel will take 20 minutes. Retail businesses will surround the structure.
It will be situated at the southern end of the beachfront, bordering the harbour entrance channel. The site looks toward the Bluff headland and will welcome cargo and passenger cruise ships into the harbour and the newly built passenger cruise terminal, the KwaZulu Cruise Terminal.
The position of the Durban Eye aims to attract visitors to the Point Waterfront area.
The Indaba was termed a success with a direct projected spend of R29 million. There were 655 exhibitors, 126 African products were showcased, and 19 countries from the continent, including South Africa, were present.
There were 956 buyers (who buy tourism products and experiences for their customers), with 450 being international buyers and the rest being local South African buyers. More than 22,000 meetings had been logged in the diary system and just over 14,000 meetings were held.
A total of 377 media from 21 different countries were hosted, 274 were local, 51 were from African countries, and 52 were international media.
Other exciting developments in the pipeline for the City includes the opening of the 200-bedroom Radisson Blu Hotel at the Oceans project in uMhlanga ahead of the winter season in June this year. The R650 million hotel has 20,000 black investors, and the City will spend R100 million on public transport facilities and the upgrade of nearby roads. The overall investment is more than R1 billion from the private sector.
To ensure the sector's sustainable recovery, Durban continues to work with the region's route development committee to attract more international flights and to enhance intra-Africa trade. The plans include reactivating the Air Namibia flights and reigniting talks with Qatar and Emirates airlines to fly direct to Durban again.
Royal Eswatini Air is due to start flying to King Shaka International Airport, Monday to Saturday starting from the first week of June.
This follows the commencement of direct flights on the Air Link route from Harare to Durban operating three times a week as from March this year.
Sign up for Africa Ports & Ships – it's free
Added 9 May 2022
♦♦♦♦♦♦♦♦♦
News continues below
Enhancing security of cruise terminals in the Seychelles
The Seychelles is an important cruise tourism destination. Screening checkpoints for passengers and their baggage are key in ensuring the safety and security of international ports.
A new IMO developed training course in maritime cruise, ferry passenger and baggage screening and searching took place at the Seychelles Defence Academy from 26-28 April. Thirty officers from six government agencies* with responsibility for port terminal security learnt about effective screening and searching of passengers and their baggage.
The Seychelles welcomes thousands of passengers via air and sea every year, making it extremely important to have an effective screening system.
IMO support to Member States
This training course was reported by the IMO media service on 28 April. The workshop was piloted by IMO to support Member States in dealing with new and emerging threats to maritime security.
The new course is aimed specifically at security staff, their supervisors and port facility security officer, to highlight good practice including: the setting up and design of screening checkpoints for passengers and their baggage; the effective use of security equipment; and the calibration of security equipment to ensure its optimal use.
IMO is also developing a more advanced training course in this area, which will include practical hands-on training on how to carry out an effective body search, and how to properly use x-ray screening techniques to screen baggage.
This training in maritime cruise and ferry passenger and baggage screening and searching is only one of a number of new training courses and workshops being rolled-out by IMO, with further courses being trialled over the next couple of years.
The workshop was conducted under the auspices of the Jeddah Amendment to Djibouti Code of Conduct with funding from the EU Port Security project.
* Seychelles Maritime Safety Authority, Seychelles Coast Guard, Seychelles Revenue Commission, Seychelles Marine Police, Seychelles Civil Aviation Authority, and Seychelles Anti-Narcotic Bureau.

Edited by Paul Ridgway
London
Sign up for Africa Ports & Ships – it's free
Added 9 May 2022
♦♦♦♦♦♦♦♦♦
News continues below
AD Ports (Abu Dhabi) Group to develop port projects in Egypt
Agreements focus on joint development and operation of a Multipurpose Terminal in Safaga Port and management of cruise ship berths at Sharm El Sheikh, Hurghada and Safaga ports
AD Ports Group and the

Red Sea Ports Authority

have signed a Term Sheet and a Head of Terms agreement for major port projects along Egypt's coastline, it's been announced.
Safaga Port
The first agreement will see AD Ports Group develop, operate, and manage a multi-purpose terminal in Safaga Port in a consortium with the Red Sea Ports Authority and the Egyptian Group for Multipurpose Terminals Company, the commercial arm of the Egyptian Ministry of Transportation.
The multi-purpose terminal project in Safaga Port is an important national project due to its strategic location on the Red Sea. Upon completion in 2024, the terminal will offer quay lengths of up to 1,000 metres capable of handling all types of general, dry and liquid bulk cargo.
As part of the agreement, the new joint venture will provide port users with a wide range of marine services. These include services related to vessel traffic management, dangerous goods control, provision of navigation aids, fire prevention and firefighting, anchorage, dredging, as well as pilotage, towage, and mooring and unmooring solutions.
The signing ceremony was witnessed by Lieutenant-General Engineer Kamel El-Wazir, Minister of Transport of Egypt, and signed by Major General Mohamed Abdel Rahim, Chairman of the Board of Directors of the Red Sea Ports Authority; Rear Admiral Abdel Qader Darwish, Chairman of the Board of Directors of the Egyptian Group for Multipurpose Terminals, and Saif Al Mazrouei, CEO of the Ports Cluster, AD Ports Group.
The transport minister said the agreements were in line with the directions of President Abdel Fattah El-Sisi, president of Egypt, and are aimed at making Egypt a global trade and logistics hub through the development of Egyptian ports at the Red Sea and Mediterranean Sea coasts.
Capt Mohamed Juma Al Shamisi, Managing Director and Group CEO, AD Ports Group, said the agreements cover a full range of services across multiple ports along the Red Sea coast. "The Ministry of Transport has ambitious plans to boost maritime trade and transportation, and AD Ports Group stands ready to leverage its expertise and experience to support these vital development projects," he said.
Cruise berth terminals at Sharm El Sheikh, Hurghada and Safaga
The second agreement covers the development, operation, and management of cruise ship berths and terminals at Sharm El Sheikh, Hurghada and Safaga ports, and to provide support services to help extend cruise tourism in Egypt.
In addition, AD Ports Group will develop plans for cruise ship lines linking Abu Dhabi, Hurghada, Sharm El Sheikh and Aqaba.
Under the terms of the agreement, AD Ports Group can carry out development work to enhance the experience of visiting tourists.
The memorandum was signed by Major General Mohamed Abdel Rahim, Chairman of the Board of Directors of the Red Sea Ports Authority and Saif Al Mazrouei – CEO of the Ports Cluster, AD Ports Group.
The agreements are the latest in a series between AD Ports Group and maritime organisations in Egypt, including an agreement with the Egyptian Group for Multipurpose Terminals for the joint development and operation of Egypt's Ain Sokhna Port.
Ain Sokhna Port
In March 2022 it was announced that AD Ports had signed a Memorandum of Understanding (MoU) with the Egyptian Group for Multipurpose Terminals, the commercial arm of the Egyptian Ministry of Transportation, to jointly oversee the development and operation of Egypt's Ain Sokhna Port.
Under the agreement, the two organisations are working closely together to conduct a feasibility study into the future development of Ain Sokhna Port.
They're exploring potential investment opportunities to enhance capacities and capabilities, which will enable the port to target untapped market segments and establish new revenue streams.
The AD Ports Group will manage the research study for Ain Sokhna Port, which is expected to be conducted over a period of six months, while the Egyptian Group for Multipurpose Terminals will support the project with the provision of financial, technical, environmental, commercial, and operational data necessary to ensure the study's successful conclusion.
Minya river port, Damietta & Greater Cairo
A second MoU, signed with the Egyptian Group for Multi-Purpose Terminals and the River Transport Authority, will see the parties collaborate on three main projects including building and operating a river port in Minya; managing and operating warehouses in Damietta; and equipping, managing and operating passenger lines in Greater Cairo.
"These agreements represent an important step in the field of maritime and river transport in Egypt by developing port operations and establishing and operating logistics areas," said Rear Admiral Abdul Qadir Darwish, Chairman of the Egyptian Group for Multipurpose Terminals.
Sign up for Africa Ports & Ships – it's free
Added 9 May 2022
♦♦♦♦♦♦♦♦♦
News continues below
UNCTAD: Five global actions needed to build a sustainable ocean economy
Trade in ocean-based goods

and services is estimated to be worth at least $2.5 trillion per year – about 3% of global GDP in 2020. Ocean-based economic opportunities for which markets do not yet exist, such as marine ecosystems services, are estimated to be worth at least $24 trillion.
Underfunding
UNCTAD reports that these resources and opportunities are under threat and their protection is underfunded.
More troublesome plastic
About 8-12 million tonnes of plastic waste and 51 trillion microplastic particles flood the marine environment, making it into the global food chain. Nearly 34% of the world's fish stocks are below sustainable biological levels. Yet only 1.6% of Official Development Assistance – roughly $2.9 billion per year – targeted the ocean economy from 2013 to 2018.
The distribution of the funds was geographically uneven, with little provided to the poorest nations, particularly small island developing states (SIDS) and least developed countries.
The fourth in the series of the UN Oceans Forum, organized by an UNCTAD-led coalition from 6 to 8 April, called for sufficient and reliable long-term investment in a Blue Deal to conserve and sustainably use the ocean for sustainable development.
How trade can help
A summary by the forum's chair sets out how countries can use trade to protect the ocean, while boosting the local economy and creating jobs, in line with Sustainable Development Goal 14 is AVAILABLE HERE
Lisbon UN Ocean Conference
UNCTAD will contribute to discussions at the 2022 UN Ocean Conference in Lisbon from 27 June to 1 July 2022.
Here are five recommendations from the UN Oceans Forum on the actions needed to build a sustainable ocean economy:
1. Promote non-polluting substitutes
The forum called for boosting the research, development and adoption of material substitutes that are less polluting to the ocean and are recyclable or compostable, such as natural fibres, marine algae by-products and post-harvest agricultural waste. This can reduce man's dependence on plastics while spurring innovation.
2. Finalise a fisheries subsidies agreement
The world urgently needs to sign and implement a global agreement under the World Trade Organization (WTO) to regulate fisheries subsidies. Technical support by WTO, UNCTAD, the Food and Agriculture Organization (FAO) and the UN Environment Programme (UNEP) will be key in the implementation phase, hopefully after the 12th WTO Ministerial Conference set for 12 to 15 June 2022 in Geneva, Switzerland. Also required are greater efforts towards developing ocean economy and trade strategies, bridging governance gaps and tackling illegal, unreported and unregulated fishing and illicit trade in marine resources.
3. Address social issues in ocean sectors
Greater efforts are needed to address social sustainability issues that exclude poor and marginalized communities or individuals from benefiting fairly and equitably from the commercialization of ocean resources. Ocean economy stakeholders could facilitate inclusivity by understanding better and overcoming trade-related hurdles, such as non-tariff barriers.
4. Scale up access and use of technology
Stakeholders should leverage technology such as data collection and analysis tools and UNCTAD Trains to obtain information that includes WTO notifications on fisheries subsidies. Forum participants called for continuous development of user-friendly UNCTAD and FAO tools for the monitoring of ocean-based sectors.
5. Build sustainable and resilient supply chains
More work is needed to ensure sustainable supply chains, support small-scale fishers and promote economic diversification, for example by expanding seaweed farming and relevant by-products' sectors. The resilience of the ocean economy should be enhanced through better seaport infrastructure, more sustainable shipping operations and greater trade openness, particularly for SIDS.
Organisation of African States' input
The coalition that organised the fourth Oceans Forum included FAO, UNEP, the Commonwealth Secretariat, the Organisation of African, Caribbean and Pacific States, the Development Bank of Latin America, the International Ocean Institute and the governments of Portugal and Kenya.
The details above were published in a news briefing kindly provided by UNCTAD in the first week of May.

Edited by Paul Ridgway
London
Sign up for Africa Ports & Ships – it's free
Added 9 May 2022
♦♦♦♦♦♦♦♦♦
News continues below
NATO maritime groups train with Finland and Sweden
Ships from Standing NATO Mine Countermeasures Group 1 (SNMCMG1) and Standing NATO Maritime Group One (SNMG1) were recently in the Baltic Sea to exercise and conduct port visits in Finland and Sweden, reports NATO.
From 25 to 27 April, SNMCMG1 stopped in Turku, Finland, and practiced mine countermeasures with their Finnish counterparts. Led by Estonian Navy Commander Ott Laanemets, SNMCMG1 comprises flagship Latvian Navy LNVS Virsaitis, Estonian Navy ENS Sakala, and Royal Netherlands Navy NHLMS Schiedam.
Following the visit, the group was scheduled to participate in an exercise led by Finland's Coastal Fleet in the Archipelago Sea.
On 29 April, SNMG1 arrived in Stockholm, Sweden, and exercised with Swedish partners to increase interoperability. SNMG1 includes flagship HNLMS De Zeven Provinciën (The Netherlands), FGS Erfurt (Germany), HMCS Halifax (Canada), and FGS Spessart (Germany).
Currently, SNMG1 also comprises FS Latouche-Tréville (France), which stayed at sea for operations.
The port visit ended on 2 May. Prior to the port visit, SNMG1 conducted a close-air-support exercise with a Swedish Navy submarine in the Baltic Sea. The group trained in anti-submarine warfare, which included fixed-wing aircraft and helicopter operations, and defensive procedures while entering and leaving port.
SNMCMG1 and SNMG1 are part of NATO's Standing Naval Forces and the NATO Response Force.
Since Russia's unprovoked and unjustified invasion of Ukraine, NATO has further reinforced its deterrence and defence, on land, in the air, and at sea.
Finland and Sweden are NATO's closest partners, with years of experience training and operating alongside NATO Allies. source: NATO
Sign up for Africa Ports & Ships – it's free




Added 9 May 2022
♦♦♦♦♦♦♦♦♦
News continues below
Sustainable maritime transport in Caribbean
Norway-funded Carib-SMART Preparatory Phase Programme will enable Caribbean SIDS maritime sector to build-back better after pandemic
A new programme to develop and implement a Sustainable Maritime Transport (SMART) system in the Caribbean has begun in a preparatory phase, aimed at supporting the small island developing states (SIDS) of the Caribbean region to build-back better from the impact of the Covid-19 pandemic on the maritime sector.
SIDS economies in the Caribbean are heavily dependent on the maritime sector. The long-term programme will aim to deliver safe, secure, efficient and reliable transport of goods across the region, while minimising pollution, maximising energy efficiency and ensuring resource conservation.
Preparatory phase
The preparatory phase of the programme, which is funded by the Government of Norway, commenced with the Regional Inception Meeting for the Carib-SMART Preparatory Phase held virtually on 25 April. Stakeholders involved in the Programme, including the heads of maritime administrations of the Caribbean Member States, considered the draft work plan for the preparatory phase of the Programme.
As reported by the IMO media service on 5 May it was learnt that the work plan recognizes that a Sustainable Maritime Transport (SMART) system should provide a seamless and reliable service in the most efficient manner. To achieve this, the complexity of the interrelation among various actors in the Maritime Transportation System of Caribbean SIDS should be recognized and taken into account in planning specific actions.
Development of the programme will acknowledge that a SMART System in the Caribbean region requires well-organized administrations that cooperate regionally and promote compliance with global standards, supported by institutions with relevant technical expertise. This would start with the transposition and implementation of the international maritime conventions and regional codes through legal, policy and institutional reforms as well as through building the necessary capacity to implement and enforce these regulations.
Coordination of support
It is understood that the SMART System will also focus on coordinated support from the shore-side entities intrinsic to shipping, such as providers of aids to navigation, oceanographic, hydrographic and meteorological services, search and rescue services, incident and emergency responders, port facilities, trade facilitation measures, and cargo-handling and logistics systems – as well as a reliable supply of fuel for ships.
Collaboration of parties
Need for a qualified and flexible work force will be an essential part of the SMART System. The programme will seek the collaboration of shore-side actors, from both industry and Governments, for the protection and provision of care for seafarers, to ensure that the System's social integrity does not become eroded and that qualified, professional seafarers have an attractive and healthy work environment.
In the SMART system the Preparatory Phase will aim to develop, design and secure regional endorsement for the long-term technical assistance Programme (Carib-SMART Programme). The preparatory phase is being executed by IMO through IMO's Technical Cooperation Division (TCD), backstopped by the Department of Partnerships and Projects (DPP).
Caribbean Member States' representation
The Regional Inception meeting was attended by the heads of maritime administrations of the Caribbean Member States, legal focal points, representatives from the IMO Secretariat and the Caribbean Community (CARICOM) and the Organisation of Eastern Caribbean States (OECS) Secretariats; and consultants recruited for the Preparatory Phase of the Programme. All the consultants are from the Latin America and Caribbean region and many are graduates of the IMO training institutes: the IMO International Maritime Law Institute (IMLI) in Malta and the World Maritime University (WMU) in Sweden.

Edited by Paul Ridgway




London.
Sign up for Africa Ports & Ships – it's free
Added 9 May 2022
♦♦♦♦♦♦♦♦♦
News continues below
Ukrainians strike another Russian vessel in Black Sea
Reports that another of Russia's principal ships in the Black Sea, the frigate ADMIRAL MAKAROV, has been damaged by a Ukrainian drone attack, appear to be incorrect and a result of misidentification.
The reports said the frigate, one of Russian's latest ships, had been struck by a Ukrainian R-360 Neptune missile guided by an overhead aerial drone, which left the frigate badly damaged and burning with the crew having been evacuated by helicopters sent to the scene.
It now appears that the ship that was struck and left badly damaged is a landing ship of the Serna class, of which 12 ships were built between 1994 and 2014.
Aerial images showing the landing ship being struck by a missile or bomb are available on social media, which appear to confirm the corrected reports. The scenes show the vessel being struck and left burning.
It is thought the vessel had been monitored by a Turkish-built Bayraktar TB2 drone which may also have been involved in the actual attack.
This occurred not far from where the pride of the Russian Navy, the cruiser MOSKVA, was struck by two Ukrainian Neptune missiles on 14 April, resulting in the cruiser sinking during a storm as she was being towed to a safe port.
The earlier reports saying the attack was on the frigate Admiral Makarov came from several sources, and included Twitter accounts that monitor open-source satellite flight data fed by transponders. These did report accurately that a number of Russian ships and aircraft had rushed to the rescue of the burning vessel, except that they appear to have misidentified the actual ship.
Several landing ships were among the last Russian naval vessels to enter the Black Sea ahead of the invasion of Ukraine by Russian forces, following which Turkish authorities closed the Bosphorus to any further naval ships. The landing ships sailed from the Baltic and their arrival in the Black Sea was another indicator of the Russian intention to invade Ukraine.
Sign up for Africa Ports & Ships – it's free
Added 9 May 2022
♦♦♦♦♦♦♦♦♦
News continues below
GENERAL NEWS REPORTS – UPDATED THROUGH THE DAY
in partnership with – APO
More News at https://africaports.co.za/category/News/
♦♦♦♦♦♦♦♦♦
THOUGHT FOR THE WEEK
There is a wisdom of the head, and a wisdom of the heart.
– Charles Dickens
♠♠♠
News continues below………
♦♦♦♦♦♦♦♦♦
TO ADVERTISE HERE
Request a Rate Card from info@africaports.co.za
EXPECTED SHIP ARRIVALS and SHIPS IN PORT

Port Louis – Indian Ocean gateway port
Ports & Ships publishes regularly updated SHIP MOVEMENT reports including ETAs for ports extending from West Africa to South Africa to East Africa and including Port Louis in Mauritius.
In the case of South Africa's container ports of Durban, Ngqura, Ports Elizabeth and Cape Town links to container Stack Dates are also available.
You can access this information, including the list of ports covered, by  CLICKING HERE remember to use your BACKSPACE to return to this page.
News continues below
CRUISE NEWS AND NAVAL ACTIVITIES

QM2 in Cape Town. Picture by Ian Shiffman
We publish news about the cruise industry here in the general news section.
Naval News
Similarly you can read our regular Naval News reports and stories here in the general news section.
♦♦♦♦♦♦♦♦♦
♠♠♠
ADVERTISING
For a Rate Card please contact us at info@africaports.co.za
Don't forget to send us your news and press releases for inclusion in the News Bulletins. Shipping related pictures submitted by readers are always welcome. Email to info@africaports.co.za
TABLE BAY UNDERWAY SHIPPING
SHIP PHOTOGRAPHERS
Colour photographs
and slides for sale of a variety of ships.
Thousands of items listed featuring famous passenger liners of the past to cruise ships of today, freighters, container vessels, tankers, bulkers, naval and research vessels.
P O BOX 809, CAPE TOWN, 8000, SOUTH AFRICA
snai@worldonline.co.za
http://home.worldonline.co.za/~snai
================================================================