Bringing you shipping, freight, trade and transport related news of interest for Africa since 2002
YOUR BANNER AD COULD BE HERE ?
<<< 

                      OR  HERE                 

>>>
Stay Well, Stay Safe, Stay Patient, don't become one
Advertise with us – left or right sidebar or centre column banner space available – strengthen brand awareness at affordable rates – email us for a Rate Card to

 terry@africaports.co.za
For a free daily newsletter via email?  Send your email marked NEWSLETTER to terry@africaports.co.za 
♠♠♠
Join us as we report through 2022
'and stay up to date with Africa Ports & Ships' 
****

**

****
TODAY'S BULLETIN OF MARITIME NEWS
These news reprts are updated on an ongoing basis. Check back regularly for the latest news as it develops – where necessary refresh your page at www.africaports.co.za
Click on headline to go direct to story : use the BACK key to return  
FIRST VIEW:   SANTA CRUZ & SANTA CLARA
News continues below
♦♦♦♦♦♦♦♦♦
The Monday masthead shows the Port of Durban T-Jetty

The Tuesday masthead shows the Port of Durban Container Terminal

The Wednesday masthead shows the Port of 
Durban Container Terminal
The Thursday masthead shows Port of Durban Multi-purpose Terminal (Point)
The Friday masthead shows Port of Durban Island View
The Saturday masthead shows the Port of Durban Maydon Wharf
The Sunday masthead shows the 
Port of Cape Town Elliott Basin
♦♦♦♦♦♦♦♦♦
SEND NEWS REPORTS AND PRESS RELEASES TO   info@africaports.co.za
♦♦♦♦♦♦♦♦♦
♦♦♦♦♦♦♦♦♦
News continues below
FIRST VIEW:   SANTA CRUZ & SANTA CLARA
A regular caller along with several of her sister ships in Hamburg Süd colours although in actual Maersk service on the SAECS service between South Africa and the UK and northern Europe, is SANTA CRUZ (IMO 9444742). We have featured this ship previously in Africa

Ports & Ships

, the most recent was in September last year while Santa Cruz was calling at Cape Town, see that account HERE.
Santa Cruz, named after a province in Argentina, is 299 metres in length and 42m wide and has a deadweight of 93,423 tons. Her mechanical details are available in the link above. The ship has a container carrying capacity of 7,100 TEU which includes 1,600 reefers – an important factor on this service. As an independent company Hamburg Süd prided themselves in having among the highest number of reefer plugs on their ships.
Santa Cruz was built in 2011 as the fourth in an eventual class of ten similar 'Santa' ships, all built by Daewoo Shipbuilding at their Geoje yard in South Korea between 2010 and 2012. Many of these ships called at Durban on their maiden delivery voyages, of which one vessel, SANTA CLARA was officially named in the port in March 2011, attended by a group of top company officials. Africa Ports & Ships was also present that day.
Pictures by Keith Betts & Terry Hutson
Sign up for Africa Ports & Ships – it's free
Added 21 February 2022
♦♦♦♦♦♦♦♦♦
NEWS
♦♦♦♦♦♦♦♦

♦♦♦♦♦♦♦♦

♦♦♦♦♦♦♦♦

♦♦♦♦♦♦♦♦
News continues below
Ukraine Crisis: Black Sea, Bosporus and Sea of Azov- Update
As is now well-known, on the early morning of Thursday 24 February, Russian forces commenced operations within Ukraine. This has included blocking access to the Sea of Azov and blockading other Black Sea ports such as Odessa.
There are reports that the Marshall Islands flagged Bulk Carrier YASA JUPITER (IMO 9848132) has suffered damage to the vessel bridge area whilst drifting approximately 50n.miles south of Odessa.
A report by the Turkish General Directorate of Maritime Affairs said: "Following the information that a bomb hit the Turkish-owned YASA JUPITER with the Marshall islands flag off the coast of Odessa, it was learned during the meeting that there was no request for help, that the ship was in transit to Romanian territorial waters, that there was no loss of life and that it was safe."
Meanwhile, all commercial operations at Ukrainian sea ports have been suspended by order of the Ukrainian military.
Any vessel currently within Ukrainian Ports has been advised to leave immediately it is deemed safe to do so. Vessels should ensure they are broadcasting on AIS and clearly state their intentions across VHF. Any vessels challenged by military Russian military vessels should comply fully with instructions.
Dryad Global has issued advice that all commercial operators should avoid any transit or operation within the EEZ of Ukraine or Russia within the Black Sea. Commercial operations within the EEZ of Turkey, Bulgaria and Romania remain unaffected at this time.
As the situation develops there remains a high degree of uncertainty regarding the freedom of navigation throughout the wider Black Sea. As such the primary risk to all vessels and commercial operations operating beyond the key risk area remains one of commercial uncertainty rather than risk to safety of crew. Vessels and commercial operators are reminded to avoid all operations and transit within the EEZ of Russia and Ukraine at this time. No attempt should be made to access the Sea of Azov.
Russia is not believed to hold any intent towards targeting any foreign or civilian vessels through military action. Whilst an invasion of Ukrainian territory is underway it is assessed as unlikely that this would lead to a kinetic exchange between forces within the maritime domain.
Despite this, all vessels and commercial operators are being advised to avoid the EEZ of Russia and Ukraine within the Black Sea and Sea of Azov.
On the 15th February 2022, the Joint War Committee added Ukrainian and Russian Waters in the Black Sea and Sea of Azov to the Hull war, Piracy, Terrorism and Related Perils Listed Areas. source Dryad Global
Sign up for Africa Ports & Ships – it's free




Added 25 February 2022
♦♦♦♦♦♦♦♦♦
News continues below
WHARF TALK: Trader 18 class heavylift – PACIFIC DAWN
Story by Jay Gates




Pictures by 'Dockrat'
Another day, another heavylifter. You might be excused in thinking that the market for heavylift vessels has been cornered by German shipowners, as it would seem that every one that arrives at a South African port is German owned. Except that this time the arrival is not one of the many German owned heavylift vessels.
On 18th February, just before midnight, the heavylift vessel PACIFIC DAWN (IMO 9558464) arrived off Cape Town, from Batu Ampal in Indonesia. Without delay she entered Cape Town harbour and proceeded to the Eastern Mole in the Duncan Dock. As expected, this meant her call was merely one for bunkers and stores, and her time in port would not be long.
Her hull was built in 2010 by Partner Stocznia, of Sczcecin in Poland, and she was towed around to Holland, where she was completed by Hartman Marine Shipbuilding BV at Urk in Holland. With a length of 105 metres in length, 'Pacific Dawn' has a deadweight of 3,750 tons. She is powered by a single Wärtsilä 8L32 8 cylinder 4 stroke main engine producing 5,003 bhp (3,680 kW), to drive a controllable pitch propeller for a service speed of 16.5 knots.
Her auxiliary machinery includes two Scania generators providing 348 kW each, and a single emergency generator providing 96 kW. For added manoeuvrability she has a ZF TT3001-FP bow transverse thruster providing 300 kW, and a ZF TT3001-FP stern transverse thruster providing 250 kW.
For heavylift work, and outsize cargoes, 'Pacific Dawn' has a single hold of 64 metres by 12 metres, serviced by two Liebherr CBB 120 ton cranes, which are capable of lifting 240 tons when operating in tandem. She has 10 pontoon hatch covers, and carries a travelling pontoon lifting gantry crane on deck. Her cargo carrying capacity is 4,396 m3, and she has a container carrying capacity of 222 TEU, with provision made for just four reefer plugs.
One of four sisterships, known as a Trader 18 class, and with her design winning the Dutch Ship of the Year Award in 2007, 'Pacific Dawn' is owned and managed by Hartman Shipping BV of Urk in Holland. She is operated by Ocean 7 Projects, of Kolding in Denmark. Unusually, her operators logo is painted on the accommodation block front, and her owners logo is painted, not on the side of her funnel, as would be the norm, but on the front face of her funnel.
After a stay of just over 17 hours, and having taken on bunkers from the bunker tanker 'Al Safa', which almost dwarfed 'Pacific Dawn', and completing her fresh stores uplift, she sailed from Cape Town on 19th February at 17h00, bound for Ambriz in Angola, which is a major oil and gas industry service port in the north of the country.
In January 2012, 'Pacific Dawn' was discharging her cargo of machinery, alongside in the Alexandra Dock, at Kingston-upon-Hull in the United Kingdom, when she had a seawater valve failure, and 540 tons of water entered her engine room, flooding her and giving her a list. Five fire engines and two pump units, with thirty firefighters were called to the vessel, and they managed to both stabilise 'Pacific Dawn', and pump out her engine room.
However, the damage caused by the seawater ingress was such that 'Pacific Dawn' had to be towed back to Holland. She was towed across the North Sea to Ijmuiden, by the Wagenborg tug 'Waterman', and taken to Amsterdam for repairs to be carried out.
In March 2016 'Pacific Dawn' suffered a main engine failure as she was sailing, in ballast, from the port of Harlingen in Holland, bound for Mongstad in Norway. She subsequently ran aground on the breakwater at the Harlingen Harbour entrance.
Two local tugs were called in to successfully refloat her, and she anchored north of Harlingen, in the Wadenzee, to await a hull inspection. Later that day she was cleared to continue her voyage to Norway, accompanied out into the North Sea by her tugs.
Sign up for Africa Ports & Ships – it's free




Added 25 February 2022
♦♦♦♦♦♦♦♦♦
News continues below
Three Taiwanese fishing vessels go aground off Mauritus coast
With shades of the bulk carrier Wakashio in close memory, three Taiwanese fishing trawlers went aground on Wednesday on the reefs of Pointe-aux-Sables and Bain-des-Dames.
The three vessels held a total crew of 40, all of whom were safely rescued.
The first vessel to go aground was the WEN HANG DAR 168 which ran onto the Pointe-aux-Sables reef approximately 6 miles from Port Louis during the early hours of Wednesday morning. A radio request for help was made at 02h45 local time.
The 37 metre long vessel has some 81 tonnes of fuel in its tanks.
The other two trawlers, MAAN YU FENG No.168 and MAAN YU WENG No.1 went aground on the reef at Bain-des-Dames also on Wednesday morning. Each vessel is reported to be carrying 20 tons of fuel in their tanks.
With heavy swells – a legacy of the cyclone Emnati, crashing against the trawlers hulls, some of the crew jumped into the sea and were rescued by National Coast Guard crew and taken to Port Louis.
The balance of crew who remained on board their vessels were later evacuated by the Mauritius Police Helicopter Squadron and flown to police headquarters on the island.
Some of the seafarers received minor injuries and have received treatment in hospital at Port Louis.
It appears the three trawlers were ordered to leave Port Louis ahead of the cyclone which passed to the north of the island. The three vessels were awaiting their turn to re-enter the port and were drifting when they fell prey to the heavy swells created by the cyclone.
The Greek salvage group Polygreen has been appointed to oversee the removal of fuel oil from the three vessels, using Polygreen's locally-based associate Polyeco for the actual removal, which however is proving a difficult task owing to the heavy swells still running.
The company has also placed floating booms around the three trawlers in case of leaks.
The anti-pollution vessel VASILEOS P (IMO 9651307), which had been dispatched to the island of Reunion to assist with salvaging the grounded Mauritian tanker TRESTA STAR – a victim of cyclone Batsirai, has arrived off Mauritius to assist with the salvage operation.
Onshore, a crisis committee has been created under the supervision of the Director of Shipping  to coordinate the salvage and mitigation of pollution efforts.
Sign up for Africa Ports & Ships – it's free
Added 2 February 2022
♦♦♦♦♦♦♦♦♦
News continues below
ONE & Hapag-Lloyd restructure Asia-East Africa service into two services
Ocean Network Express (ONE) and

Hapag-Lloyd

have announced the upgrading of their joint Asia – East Africa service (EAF/ONE and VSA/Hapag-Lloyd) with the creation of two new services known as EA3 (Mombasa) and EA4 (Dar es Salaam).
The EA3 service with a Mombasa loop includes a call at Qingdao. Together with the EA4 Dar es Salaam service, both line's believe the restructuring will benefit customers by way of a more reliable service between Asia and East Africa, with a greater frequency and more stable schedule.
The EA3 service starts from Qingdao on 13 March 2022 and the EA4 service begins at Shanghai on 10 March 2022.
The services' rotation are as follows:
EA3 (Mombasa):
Qingdao – Shanghai – Ningbo – Nansha – Singapore – Port Kelang – Mombasa – Port Kelang –
Singapore – Nansha – Qingdao (Weekly frequency)
EA4 (Dar es Salaam):
Shanghai – Ningbo – Nansha – Singapore – Port Kelang – Dar Es Salaam – Port Kelang – Singapore – Shanghai (Weekly frequency)
Details of the number and size of ships involved have not been provided but the EAF (EAS for Hapag-Lloyd) service deployed eight ships with an average capacity of 2,745 TEU. ONE provided 70% of the ships and Hapag-Lloyd 30%.
With the new enhanced service they will require additional vessels and to maintain the capcity they may have to look to some of their other services and remove ships from there, as this size of vessel is reported as fully sold out on the charter market.
Sign up for Africa Ports & Ships – it's free




Added 25 February 2022
♦♦♦♦♦♦♦♦♦
News continues below
Western Cape fishing harbours revamp almost complete
According to the government's Public Works and Infrastructure Minister, Patricia de Lille, the programme aimed at refurbishing Western Cape fishing harbours is expected to be completed as early as next month.
de Lille said this at a media briefing on the implementation of the infrastructure investment plan.
"Phase 1 entails the redevelopment of the 13 proclaimed fishing harbours in the Western Cape currently being implemented by the Department of Public Works and Infrastructure which includes the refurbishment and upgrades of the harbours to an 80% operational efficiency.
"The repair programme is just over 97% completed and is expected to be fully completed by March 2022," she said.
The 13 affected harbours are Kalk Bay, Gordons Bay, Hermanus, Gansbaai, Struisbaai, Arniston, Lamberts Bay, Laaiplek, St Helena Bay, Saldanha Bay, Pepper Bay, Hout Bay and Stilbaai.
"To date, this project has created 894 job opportunities and empowered local SMMEs to the value of R114 million." She said that in April 2021 she conducted a site visit to the Saldanha Bay harbour project.
"In December 2021, we opened the refurbished multi-purpose centre at the Hermanus harbour which is being utilised by local traders as part of efforts to stimulate local economic growth and create jobs for the surrounding coastal communities."
De Lille said phase 2 of the Small Harbours SIP includes the new small harbours identified in the Eastern Cape, Northern Cape and the KwaZulu-Natal which is currently in the project preparation stage.
"A number of the projects have been launched and are progressing well especially in the human settlements and transport sectors and we highlighted a number of these with site visits last year.
"We are not just making announcements, we will only launch projects after all processes have been completed such as the financing.
Sign up for Africa Ports & Ships – it's free
Added 25 February 2022
♦♦♦♦♦♦♦♦♦
News continues below
Mossel Bay's cup runs over – two cruise ships on Saturday
The port of Mossel Bay on South Africa's south coast is in for a treat this weekend, Saturday to be more precise. On this day not one but two cruise ships will call and go to anchor in the bay outside the small port.
The ships are the MS EUROPA 2 which has already called here once before a few weeks ago, and Silverseas SILVER WHISPER who will arrive from Cape Town as she heads along the coast towards Richards Bay and Durban.
It's rare for two cruise ships to be at Mossel Bay together and one hopes the sea conditions will be kind and allow passengers to go ashore in tenders to enjoy the attractions ashore.
According to Mossel Bay Tourism authorities this is a rare and auspicious occasion that affirms Mossel Bay as an ideal location on the South African cruise route.
MS Europa 2 will arrive at approximately 07h30 on Saturday with 128 passengers and 373 crew-members, and will sail away from Mossel Bay at 18h00 to call at the Port of Cape Town the following day.
Silver Whisper will arrive at approximately 07h00 with 230 passengers and 298 crew-members from Cape Town and will depart later that day at 18h00, bound for Port Elizabeth the next morning.
"The arrival of these two majestic vessels is a clear indication of the scale and magnitude of the cruise tourism industry's confidence in our ability to provide excellence marine services and our determination to become a major role player in the tourism industry," said Mossel Bay Port Manager, Dineo Mazibuko.
Mazibuko said that Europa 2 is returning to Mossel Bay two weeks after her first visit this season. "Port management trusts that her return is the start of a long relationship that will be fruitful to all parties involved. The Silver Whisper is returning to the city after long hiatus from having Mossel Bay in their cruise itinerary."
Sign up for Africa Ports & Ships – it's free




Added 24 February 2022
♦♦♦♦♦♦♦♦♦
News continues below
Pointe Noire's Congo Terminal continues to upgrade facilities
Congo Terminal at Pointe Noire in Congo Brazzaville is continuing to upgrade its facilities and has just achieved a new milestone with the completion of the extension works of the yard surface area of dock D.
A subsidiary of Bolloré Ports, last year became the third port in sub-Saharan Africa to achieve a container throughput of over 1 million TEU (after Durban and Mombasa). See our report of this achievement by CLICKING HERE
The works which began a year ago and had a price tag of 3 billion CFA francs (approximately €5 million), have increased the storage area by 3.5 hectares and will support additional volumes after a record year by Congo Terminal with more than one million containers handled.
This new project follows the reconstruction in 2017 of 700 linear metres of dock D and a yard of 3 hectares.
Engineered by a local company, these works are part of an investment plan designed to make the Pointe-Noire deep water port an oceanside doorway to Africa. Bolloré Ports has invested more than 250 billion CFA francs (€400 million) since 2009 to upgrade the container terminal's infrastructure and equipment – efforts that have considerably improved its productivity.
In step with its environmental commitments, which are reflected in its Green Terminal labelling process created by Bolloré Ports and approved by Bureau Veritas, Congo terminal has equipped this new storage area just as the other yards with LED lighting masts. The goal is to reduce the consumption of electricity and therefore greenhouse gas emissions.
"Through this new investment, we are continuing to boost the competitiveness of Congo's economy and step up the impulse of trade in the region," said Anthony Samzun, Managing Director of Congo Terminal.
"With this new storage area, we raise our capacity to 45 ha, which will help us keep pace with the momentum of import & export flows in the Congo corridor while offering us the opportunity to respond to the expectations of ship owners,"
As mentioned, Congo Terminal is a Bolloré Ports concession and is the operator of the container terminal at Pointe-Noire.
The company is involved in a public-private partnership that enables it to meet the requirements of its customer base of shipowners, importers and exporters. The port has ISO 9001:2015, ISPS (safety) and Pedestrian Free Yard (HSE) certification, and benefits from having leading-edge technology and equipment, including the Navis 4 terminal operating system.
The terminal employs nearly 900 Congolese employees and encourages solidarity initiatives in favour of young people, environmental protection and education.
Sign up for Africa Ports & Ships – it's free
Added 24 February 2022
♦♦♦♦♦♦♦♦♦
News continues below
WHARF TALK: the super luxury cruise ship – SILVER WHISPER
Story by Jay Gates




Pictures by 'Dockrat'
The flow of expeditionary supply, and scientific research, vessels through Cape Town whilst en-route to, or from, Antarctica is well documented. Less well known is the flow of passenger vessels that have completed their austral season in Antarctica, and are on their positioning voyages back to the northern hemisphere, and a new boreal season.
Putting the Covid disruptions of the last two years aside, this is an annual occurrence at Cape Town, and this is the time of year when the procession begins.
On February 22nd at 08h00, the luxury passenger vessel SILVER WHISPER (IMO 9192179) arrived off Cape Town, from Tristan da Cunha, and immediately entered Cape Town harbour. She went alongside the Passenger Terminal, at E berth in the Duncan Dock, without any tug assistance.
Built in 2001, with her hull being built at Cantieri Navali Visentini, at Porto Viro on the northern Adriatic coast of Italy, 'Silver Whisper' was towed around to the Mariotti Ship yard, located at Genoa, for completion and outfitting. She is 186 metres in length and has a deadweight of 2,980 tons.
She is powered by two Wärtsilä 8L46B 8 cylinder 2 stroke main engines, each producing 10,610 bhp (7,850 kW), driving two controllable pitch propellers for a maximum speed of 21 knots, and a cruising speed of 17.5 knots. Her auxiliary machinery includes three Wärtsilä Vasa 6R32 generators providing 2,340 kW each.
For added manoeuvrability, she has two transverse bow thrusters, and for added passenger comfort she has two Fincantieri stabilisers. She is one of two sisterships, with her sister being 'Silver Shadow', and she cost US$150 million (ZAR2.3 billion) to build.
Owned and operated by Silversea Cruises of Fort Lauderdale, in Florida, USA, 'Silver Whisper' is managed by V Ships Leisure, of Monaco. She was designed by the Oslo based naval Architect firm of Petter Yran and Bjorn Storbratten.
She carries 382 passengers, and has a crew of 295.
As an upmarket, luxury passenger vessel, 'Silver Whisper' provides more space per passenger than any other cruise ship. Her passenger facilities include four restaurants, five bars, a shopping arcade, casino, theatre, spa, gym, observation lounge and library.
She has ten decks, of which seven are passenger decks, and she has 194 passenger suites, all outside cabins. The smallest suite offered has an area of 27m2, and her largest, and most luxurious suite offered, has an area of 133m2.
Her current cruise, which ended in Cape Town, began in Punta Arenas, in Chile, on 31st January. The itinerary of 'Silver Whisper' included four days cruising through the Antarctic Peninsula, thence to South Georgia, on to Tristan da Cunha, and finally an arrival in Cape Town.
She was the first passenger vessel to call at Tristan da Cunha since the outbreak of the Covid pandemic. Sadly, quarantine restrictions still in place at Tristan da Cunha, to protect the islanders, meant that no passengers from 'Silver Whisper' were allowed to go ashore.
She is due to remain in Cape Town until 24th February, when she will sail at 23h00 for Mossel Bay for a nine hour stay (08h00-1700), then to Gqeberha for an eleven hour stay (0700-1800), then on to Richards Bay for a fifteen hour stopover (08h00-23h00), before coming back on herself to Durban, where she will have an overnight stay, and 40 hours in port, from 07h00 on the 2nd March, sailing at 23h00 on 3rd March.
On leaving South African waters, she will call in at Maputo in Mozambique, Zanzibar in Tanzania, before calling in at La Digue, in the Seychelles, and the cruise terminating on 16th March at Victoria, in the Seychelles.
Her upmarket status is reflected in the prices you are invited to pay, for this 21 day cruise, sailing under cruise number WH220224021. The smallest, and thus the cheapest, suite available on 'Silver Whisper' will cost US$18,400 (ZAR277,351), with the top range suites costing upwards of US$60,200 (ZAR907,419), or the equivalent of ZAR43,210 per day.
In January 2020, 'Silver Whisper' embarked on what was, at the time, the first ever world cruise that would take in all seven continents, including a call in Antarctica, in one cruise. The cruise was scheduled to last for a length of 140 days, calling in at 62 destinations, across 32 countries.
The cruise began on 6th January 2020 from Fort Lauderdale. Sadly, after making it down the whole length of the east coast of the Americas, calling at Antarctica, and making her way up the west coast of South America, the Covid-19 pandemic broke out, and in March the cruise was cancelled. All of her passengers were flown home, and 'Silver Whisper' sailed all the way back to Marseilles in France, for lay-up, and to await the restart of her cruising programme in 2021.
Sign up for Africa Ports & Ships – it's free




Added 24 February 2022
♦♦♦♦♦♦♦♦♦
News continues below
Damaging fire destroys Matola Cargo Terminal warehouses
A report in today's Noticias quotes the Mayor of Matola as saying that it was too early to speculate as to the cause of a fire that broke out at the

Matola Cargo Terminal

.
The fire started in the early hours of Wednesday morning (23 February) in the area of the Matola Cargo Terminal (better known as 'Frigo') in Matola's Trevo neighbourhood.
The fire, which spread to about six warehouses owned by various companies, broke out at around 01h00.
The mayor said the firefighting teams were still fighting the fire.
"There is a lot of merchandise, and they are trying to save what is not yet already destroyed, but we regret to say that much of it was burned," he said.
The town or city of Matola, which is situated next to Maputo, is a largely industrial area and is home to the Mozal aluminium smelter. The nearby port of Matola handles mostly bulk products including coal and liquid bulk commodities.
People living in Matola said they heard loud explosions and saw flames which appeared to accompany the start of the fire.   Source: Noticias
Sign up for Africa Ports & Ships – it's free




Added 24 February 2022
♦♦♦♦♦♦♦♦♦
News continues below
GB Met Office on wildfires: Up to 50% increase in wildfires by 2100
Even the Arctic faces rising risk of burning due to climate change
A new report published on 23 February by the United Nations Environment Programme (UNEP) has predicted that even if greenhouse gases are reduced, there could be a substantial increase in the wildfires around the world.
The report, which included contributions from the Met Office and the UK Centre for Ecology & Hydrology, found that some of the biggest increases will be in areas not typically used to seeing wildfires, such as the Arctic and central Europe. Areas of tropical forest in Indonesia and the southern Amazon are also likely to see increased burning if greenhouse gas emissions continue at their current rate.
Scientists at the Met Office and the UK Centre for Ecology & Hydrology carried out modelling to predict future increases in wildfires for the 126-page report: Spreading like Wildfire: The Rising Threat of Extraordinary Landscape Fires.
They combined the most up-to-date satellite observations of wildfires, vegetation cover and meteorological conditions with multiple climate models, enabling the scientists to make projections for future fires with much more confidence than previously.
Although landscape fires are a natural process and, in some instances, needed for a healthy ecosystem, this report focuses on large, unusual fires (referred to as wildfires), and it is the change in pattern of these wildfires that is causing most concern. There is projected to be a global increase of extreme fires of up to 14% by 2030, 30% by 2050 and 50% by the end of the century.
Met Office climate scientist and contributing author to the UNEP report, Dr Chantelle Burton, commented: "We are already seeing the impact of climate change on weather patterns all over the world, and this is disrupting normal fire regimes in many regions. It is important for fire research to explore what is changing, what effect this could have on people and the environment, and what communities need to do to prepare."
The research used two scenarios to examine potential future wildfire patterns: one where ambitious action is taken to reduce greenhouse gas emissions (RCP 2.6); the other to represent a scenario with only modest mitigation to reduce greenhouse gas emissions (RCP 6.0).
The study found that even if we reduce greenhouse gas emissions, there are likely to be more wildfire events by 2100 because global temperatures are continuing to rise and may reach 1.5°C to 2.0°C higher than pre-industrial times.
Dr Douglas Kelley, Land Surface Modeller at the UK Centre for Ecology & Hydrology and lead data analyst for the report, added: "Wildfires can significantly affect the global carbon cycle. Fires in ecosystems that store large amounts of carbon result in the release of vast quantities of CO2 into the atmosphere. This exacerbates global warming, which in turn increases the risk of wildfires.
"Reducing global greenhouse gas emissions will avoid some of the biggest increases in wildfires in forests, peatlands and permafrosts, which will help limit warming and fires, as well as the impacts of people and wildlife."
In addition to impacts on climate, wildfires have wide-ranging impacts on people and the environment including:
* Damage to ecosystems, resulting in widespread deaths of plants and animals.
* Increased risk to people's lives, directly as a result of the fires as well as worsening air quality, which exacerbates respiratory and cardiovascular conditions of those who inhale smoke.
* Economic costs of rebuilding areas after damage to homes, businesses and infrastructure.
Camilla Mathison, contributing author and Met Office climate scientist, concluded by saying: 'Curtailing future greenhouse emissions reduces the risks of wildfires but does not remove it entirely, which means we also need to adapt to increases in burning in some regions.'

Edited by Paul Ridgway
London
Sign up for Africa Ports & Ships – it's free
Added 24 February 2022
♦♦♦♦♦♦♦♦♦
News continues below
South Africa adopts marine plastic pollution treaty ahead of UN environmental meeting
by Onke Ngcuka, Daily Maverick
Marine litter and plastic pollution are among South Africa's negotiating mandates as the country heads to the United Nations Environmental Assembly (UNEA) in Nairobi, Kenya, at the end of February. 
Cabinet adopted a draft resolution on plastic pollution in light of the detrimental effect the fossil fuel byproduct poses to the country and continent's environment. In essence, the draft resolution is a call for a legally binding global agreement on plastics. 
It seeks to address the waste management of plastic, the circular approach of the material while recognising its effects on marine life, and the fact that plastic pollution is a transboundary issue. 
About 14 million tonnes of plastic finds its way into marine ecosystems every year, flowing into lakes, rivers and seas. Often this plastic is ingested by marine animals. At times, the microplastics eaten by fish and other creatures are in turn eaten by humans, posing a health risk to them as well. 
Originally sponsored by Rwanda and Peru, the treaty seeks to address the compounds and additives used in plastic, promote the reduction of plastic waste, raise awareness and behavioural change about plastic pollution, and create the structures to measure progress and reporting. 
"A legally binding treaty should also consider the entire lifecycle of plastic. Governments must rein in on these industries with stricter regulations and the removal of all fossil fuels subsidies. Taking action against plastic pollution at its origin will help to address the growing climate crisis, too," said Nhlanhla Sibisi, climate and energy campaigner at Greenpeace Africa. 
Almost 80,000 tonnes of plastic leak into the oceans and rivers of South Africa each year, making up 3% of the plastic waste generated in the country every year. About 2,371 thousand tonnes of plastic waste is generated in South Africa per annum. From that, 70% is collected, but just 14% of it (including imported waste) is recycled.
"The agreement would tackle plastic pollution across the full lifecycle of plastics, from preventive measures in the upstream part of the lifecycle, to downstream ones addressing waste management, in order to prevent plastic pollution in the marine and other environments and to support the goals outlined in the 2030 Agenda for Sustainable Development," the draft treaty states. 
Addressing an online meeting with national stakeholders and the media, the Minister of the Department of Forestry, Fisheries and the Environment, Barbara Creecy, said marine and land pollution were not mutually exclusive. 
"What we understand is that you can't tackle marine litter without looking at how that lands up in rivers, water systems and ultimately washes into our oceans. What we understand is that 80% of the plastic that ends up in our oceans comes from land-based sources. 
"It means that if you want to deal effectively with marine plastic pollution, you can't deal with it effectively only by focusing on the pollution in the sea itself," Creecy said. 
Last year, a leaked draft document showed that South Africa would not be joining the treaty ahead of the Ministerial Conference in September last year, with the department saying no decision had been taken on the treaty at the time. 
Creecy said getting a draft treaty on marine pollution had been investigated from 2014, adding it had taken up to now to get all the relevant international and national stakeholders to agree that the evidence was valid.
"What you would understand is that there are different interest groups [in South Africa], across the globe and in regional environments. It would have taken the UN time where everybody agrees that this is a serious problem and it needs to be tackled with the seriousness of an internationally binding legal agreement," the minister said. 
At UNEA, South Africa will request special needs and circumstances of the African continent on the plastic pollution treaty. In addition, the country will express the need for additional finance for technology transfer necessary to implement the treaty and support developing countries.  
Other themes that will be discussed at the assembly include nature-based solutions and biodiversity, chemicals and minerals, green recovery and circular economy and organisational and administrative matters. 
"We definitely hope that our progressive position to support this is able to translate into national action that demonstrates how South Africa can reduce the impact of plastic by adopting zero-waste systems aimed at stopping plastic at the production phase. 
"If we want to address the issue, then we need to ensure that we focus on prevention rather than cure," said Niven Reddy, campaign research and technical support manager at  GroundWork. 
The assembly will take place from 28 February to 2 March. DM/OBP
This article first appeared on Daily Maverick
and is republished here under a Creative Commons license.

Sign up for Africa Ports & Ships – it's free




Added 24 February 2022
♦♦♦♦♦♦♦♦♦
News continues below
Nelson Mandela Bay Ports manager appointed
The appointment of a

Port Manager

for the single port complex in Nelson Mandela Bay (Port Elizabeth and Ngqura) has been announced.
She is Pamela Yoyo who takes up office on 1 March 2022.
Previously the ports of Port Elizabeth and Ngqura were managed by Transnet National Ports Authority (TNPA) on a separate basis. The ports are a mere 23km apart, are both in Algoa Bay and have a similar customer base and serve the same hinterland, although Ngqura is promoted generally as a transshipment port.
According to the TNPA, the establishment of a single port complex, to be known as the NMB Ports, gives effect to the demands of lowering the cost of doing business, satisfying customer needs and improving port efficiency.
Port Elizabeth port has a focus on clean cargo such as automotive, fishing and related activities, although it has yet to achieve that status. The older port, dating to the 1930s as a harbour, Port Elizabeth continues to handle petroleum and liquid bulk commodities and manganese ore. These are intended for transfer to Ngqura in due course.
The more recent Port of Ngqura became operational in October 2009 and is a deep-water port that handles containers and in the future, industrial commodities such as manganese and liquid bulk.
The new port manager-designate, Pamela Yoyo has experience in port terminal operations, where she held senior positions in human resources and terminal operations at Transnet Port Terminals (TPT). One of her achievements was leading the migration from a terminal-based incentive scheme to a centralised Operating Division incentive scheme.
Yoyo possesses a master's degree in Transport and Logistics from the University of Stellenbosch and a Post Graduate Certificate in Strategic Business Leadership from the University of Cranefield – UK. Coupled to these qualifications, she holds a Bphil Maritime Studies Certificate from the University of Stellenbosch as well as a B-tech degree in Human Resource Management.
Yoyo's appointment concludes the recruitment process of all the TNPA port managers on all eight South Africa's commercial and seaports – SEE HERE
Sign up for Africa Ports & Ships – it's free




Added 23 February 2022
♦♦♦♦♦♦♦♦♦
News continues below
WHARF TALK: Ulstein X-Bow AHTS tug – ALP KEEPER
Story by Jay Gates
Pictures by 'Dockrat'
It is a strange thing that, due to her local celebrity status, and her incredibly long and famous history, many folk still believe that the South African salvage tug 'SA Amandla' is one of the, if not, the most powerful salvage tug on the planet. So when an ultra-modern looking tug, designed for a multitude of tasks, including towing and salvage, arrives at a South African port, with a published bollard pull that is almost 100 tons greater than that of the 'SA Amandla', it definitely tends to turn heads.
On 17th February at 11h00 the large Anchor Handling Towing Supply (AHTS) vessel ALP KEEPER (IMO 9737266) arrived off Cape Town from Porto Amelia, better known as Pemba, in Mozambique. She entered Cape Town harbour and proceeded directly to the Landing Wall in the Duncan Dock, a sign that some minor maintenance support was required.
Built in 2018 by Niigata Shipbuilding at Niigata in Japan, 'Alp Keeper' is 89 metres in length and has a deadweight of 4,139 tons. She is powered four MaK 9M32C 9 cylinder 4 stroke main engines, each producing 6,100 bhp (4,500 kW), giving a total of 24,400 bhp (18,000 kW) to drive two, nozzled, Caterpillar BCP1330F controllable pitch propellers for a service speed of 13 knots.
Her auxiliary machinery includes three Caterpillar C32 generators providing 940 kW each, and one Caterpillar C9 emergency generator providing 200 kW. She is a Dynamic Position Class 2 (DP2) vessel, and for added manoeuvrability, she has two high performance Becker rudders, one for each propeller, with two Caterpillar BTT625, transverse, bow thrusters providing 1,500 kW each, and two Caterpillar BTT419, transverse, stern thrusters providing 1,050 kW each.
Although 'Alp Keeper' is classed as an AHTS vessel, she was designed by Ulstein in Norway, principally for long distance, oceanic towage, and specifically for towing massive offshore structures such as FPSOs and FLNGs. Her design also gives her advanced capabilities of carrying out salvage work, anchor handling, positioning and heading control, and conducting mooring survey works. As an Ulstein SX157 design, her stand out feature is her Ulstein X-Bow.
She has an impressive bollard pull of 302 tons, and whilst her normal transit service speed is 13 knots, she is capable of 19 knots when proceeding on an emergency deployment. For anchor handling work her aft working deck provides 550 m2 of open space. Her large fuel carrying capacity of 3,400 m3 gives her a 45 day endurance operating at full power. She has accommodation for 35 persons.
In order to allow her to operate in almost any given oceanic area, she is classified as Ice Class 1B, which allows her to operate, without icebreaker assistance, in waters covered in first year ice of 0.6 metres thickness. For firefighting and salvage work she is also classified with a FiFi 2 firefighting capability.
Owned, operated and managed by Alp Maritime Service BV of Rotterdam, in Holland, 'Alp Keeper' is one of four sisterships, and was the last of the quartet to enter service. As is the tradition in Alp Maritime Service, she is named with a link to the game of Association Football. Her sisterships having the names of 'Alp Striker', 'Alp Defender' and 'Alp Sweeper'.
Her appearance in Southern African waters is down to the fact that 'Alp Keeper' and two of her sisterships (Striker and Sweeper) were involved in the long tow of the new 'Coral Sul' floating liquid natural gas processing unit (FLNG), from the Samsung shipyard in Geoje, South Korea, to her new permanent home. This location is the Coral Sul gas field, in the Rovuma Basin, offshore of Northern Mozambique.
The Coral Sul FLNG unit itself is the first floating LNG facility in the whole of Africa. She is a mighty 432 metres in length, and weighs a colossal 220,000 tons. She will be operated by a crew of 350, all accommodated in an eight storey [floating] accommodation block. The FLNG unit has twelve gas treatment modules fitted, for the conversion process of the natural gas into a liquid form, for onward worldwide export.
The Coral Sul gas field is to be operated by the Italian Energy Company, ENI, and is located in 2,000 metres depth of water. The gas field is estimated to have a gas reserve of 450 billion m3 of natural gas, with six wells having been drilled to extract the natural gas for the FLNG unit. BP has contracted to take all of the natural gas that the field will produce over its lifespan. Exports will take place with a regular shuttle of LNG tankers, arriving for ship to ship transfers direct from the FLNG unit to the tanker.
The operation to bring the Coral Sul FLNG unit to Mozambique required not only the three Alp Marine Service tugs, including 'Alp Keeper', to tow her to the location, but on arrival there were a further two smaller Alp Marine Service tugs waiting for her. All five vessels were then used to hold the FLNG unit in position, whilst a mooring vessel connected her to a comprehensive, pre-laid, mooring chain pattern.
On completion of this mooring operation, three of the Alp vessels, including 'Alp Keeper', were released from their contract, leaving two vessels in place to remain on station for operational support during the FLNG umbilical and riser hook-up operation. The other two released Alp vessels are also currently heading for South Africa.
After three days alongside, and on completion of bunkering, storing and any minor maintenance interventions required, 'Alp Keeper' sailed from Cape Town on 20th February at 12h00. Her voyage did not take long, only a mere 20 minutes, as by 12h30 she had gone to anchor in the Table Bay anchorage.
For those who wonder which vessel holds the title of the world's most powerful tug, that accolade falls to the Norwegian multi-purpose offshore support vessel 'Island Victory', which boasts a staggering bollard pull of 477 tons. Such power comes from the fact that she has a total engine output of 42,880 bhp.
The next three vessels on the list are also multi-purpose offshore support vessels, and you have to go down the list, to the fifth most powerful vessel, before you arrive at an actual vessel designed for ocean towing. So, the current world's most powerful tug is the 'KL Saltfjord', a Norwegian Anchor Handling Tug Supply (AHTS) vessel, which still offers an impressive bollard pull of 397 tons.
Depending on which source material you refer to, the bollard pull of 'SA Amandla' is anywhere between 150 tons and 210 tons. Sadly, now at over 45 years of age, 'SA Amandla' does not make the list of the most powerful, as the modern oil and gas industry has spawned hundreds of offshore specialist vessels, capable of both oceanic towing and salvage interventions, with bollard pulls that outmatch her by a long way.
Sign up for Africa Ports & Ships – it's free




Added 23 February 2022
♦♦♦♦♦♦♦♦♦
News continues below
IMO Secretary-General expresses concern over Euroferry Olympia fire
Of the events first reported on 18 February IMO Secretary-General Kitack Lim has now commented here: "I express my deep concern regarding the incident involving the fire on board the ro-ro Euroferry Olympia, on 18 February, near the Island of Corfu in the Ionian Sea, while en route from Igoumenitsa, Greece, to Brindisi, Italy.
"I wholeheartedly appreciate the efforts of the search and rescue authorities of Greece, as well as nearby merchant ships, for the rescue of more than 275 people and the ongoing work to locate a number of missing people.
"I am saddened to learn of a confirmed fatality. I convey my condolences to all who have been impacted by the loss.
"We are closely monitoring the situation as it evolves.
"I look forward to receiving the investigation report into this incident in due course."
It was further reported that IMO's Sub-Committee on Ship Systems and Equipment (SSE) is engaged in ongoing work to minimise the incidence and consequences of fires on ro-ro passenger ships.

Reported by Paul Ridgway
London
Sign up for Africa Ports & Ships – it's free




Added 23 February 2022
♦♦♦♦♦♦♦♦♦
News continues below
Citrus season approaches as lemons are packed for export
Capespan is approaching the 2022 citrus season logistics with military precision, says a report in Fresh Plaza, and quoting Nico Kotze, Capespan's citrus chief, as saying the first lemons are being packed after delays in harvesting due to the weather in the north of the country.
Exporting of the lemons was due to commence immediately to Russia, Canada, the Middle East, and also to the Far East.
Exporting to the Far East and, more specifically China, follows the easing of the cold protocol on lemons to China, which Kotze described as presenting a very big opportunity for South Africa following a trial container last year which he said went well.
He posed the question however, as to the demand from China for South African lemons this season on account of China having a decent crop. "We see demand into July, August and September as the good sales window."
Kotze predicted the South African lemon crop will be bigger this year, which he said might cause some concerns, but markets are expected to be emptier than in 2021.
Soft citrus
It's expected that satsuma mandarins will be available this week as the launch pad for the soft citrus season.
Demand for this mandarin is looking fair from the Northern Hemisphere.
Kotze described the outlook in the citrus industry as still very positive. "Due to our location in the Southern Hemisphere, excellent quality and proximity to most of the world, our citrus is still very sought-after," he said.
"If you look at what South Africa has built in relatively 'new regions' – the likes of China, Asia, the USA, and so on – it is still a very exciting space to be involved in. The big question is: where else can we build in the time to come, and how much more can we put in the markets at a competitive price?"
Logistics
Turning to logistics, Kotze said nothing was being left to chance.
"The biggest strategic shift for us has been to plan the logistics, shipping and volume to precision ahead of the season. Doing this in the framework of agreed programmes, varieties, arrival and sales weeks. It's absolutely critical that you have the containers and conventional vessels to ensure you can get the volumes out."
He said Capespan is making use of conventional vessels for its grapes and will do the same on citrus. It's expensive in a period of already heightened freight tariffs, but it buys you peace of mind, he added.
source: Fresh Plaza
Sign up for Africa Ports & Ships – it's free




Added 23 February 2022
♦♦♦♦♦♦♦♦♦
News continues below
IN CONVERSATION: The story of how Swahili became Africa's most spoken language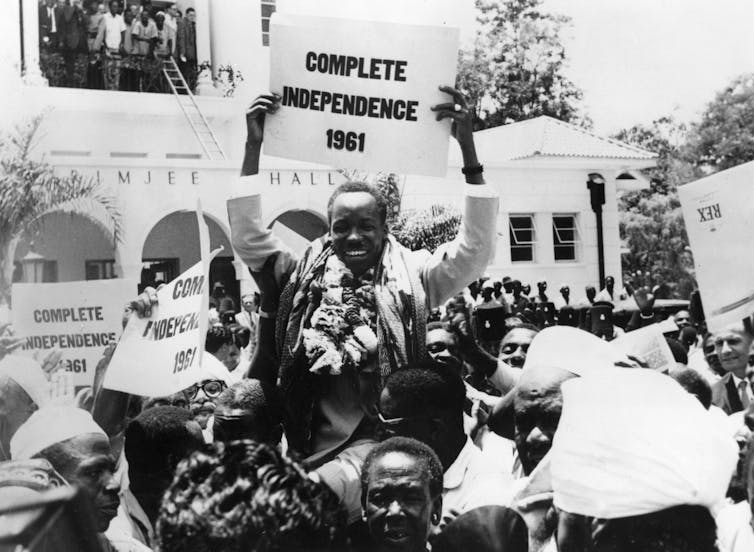 Tanzanian leader Julius Nyerere, a Swahili advocate.  Keystone/Getty Images
The historical lands of the Swahili are on East Africa's Indian Ocean littoral. A 2,500-kilometre chain of coastal towns from Mogadishu, Somalia to Sofala, Mozambique as well as offshore islands as far away as the Comoros and Seychelles.
Once just an obscure island dialect of an African Bantu tongue, Swahili has evolved into Africa's most internationally recognised language. It is peer to the few languages of the world that boast over 200 million users.
Over the two millennia of Swahili's growth and adaptation, the moulders of this story – immigrants from inland Africa, traders from Asia, Arab and European occupiers, European and Indian settlers, colonial rulers, and individuals from various postcolonial nations – have used Swahili and adapted it to their own purposes. They have taken it wherever they have gone to the west.
Africa's Swahili-speaking zone now extends across a full third of the continent from south to north and touches on the opposite coast, encompassing the heart of Africa.
The origins
The historical lands of the Swahili are on East Africa's Indian Ocean littoral. A 2,500-kilometre chain of coastal towns from Mogadishu, Somalia to Sofala, Mozambique as well as offshore islands as far away as the Comoros and Seychelles.
This coastal region has long served as an international crossroads of trade and human movement. People from all walks of life and from regions as scattered as Indonesia, Persia, the African Great Lakes, the United States and Europe all encountered one another. Hunter-gatherers, pastoralists and farmers mingled with traders and city-dwellers.
Africans devoted to ancestors and the spirits of their lands met Muslims, Hindus, Portuguese Catholics and British Anglicans. Workers (among them slaves, porters and labourers), soldiers, rulers and diplomats were mixed together from ancient days. Anyone who went to the East African littoral could choose to become Swahili, and many did.
African unity
The roll of Swahili enthusiasts and advocates includes notable intellectuals, freedom fighters, civil rights activists, political leaders, scholarly professional societies, entertainers and health workers. Not to mention the usual professional writers, poets, and artists.
Foremost has been Nobel Laureate Wole Soyinka. The Nigerian writer, poet and playwright has since the 1960s repeatedly called for use of Swahili as the transcontinental language for Africa. The African Union (AU), the "united states of Africa" nurtured the same sentiment of continental unity in July 2004 and adopted Swahili as its official language. As Joaquim Chissano (then the president of Mozambique) put this motion on the table, he addressed the AU in the flawless Swahili he had learned in Tanzania, where he was educated while in exile from the Portuguese colony.
The African Union did not adopt Swahili as Africa's international language by happenstance. Swahili has a much longer history of building bridges among peoples across the continent of Africa and into the diaspora.
The feeling of unity, the insistence that all of Africa is one, just will not disappear. Languages are elemental to everyone's sense of belonging, of expressing what's in one's heart. The AU's decision was particularly striking given that the populations of its member states speak an estimated two thousand languages (roughly one-third of all human languages), several dozen of them with more than a million speakers.
How did Swahili come to hold so prominent a position among so many groups with their own diverse linguistic histories and traditions?
A liberation language
During the decades leading up to the independence of Kenya, Uganda and Tanzania in the early 1960s, Swahili functioned as an international means of political collaboration. It enabled freedom fighters throughout the region to communicate their common aspirations even though their native languages varied widely.
The rise of Swahili, for some Africans, was a mark of true cultural and personal independence from the colonising Europeans and their languages of control and command. Uniquely among Africa's independent nations, Tanzania's government uses Swahili for all official business and, most impressively, in basic education. Indeed, the Swahili word uhuru (freedom), which emerged from this independence struggle, became part of the global lexicon of political empowerment.
The highest political offices in East Africa began using and promoting Swahili soon after independence. Presidents Julius Nyerere of Tanzania (1962–85) and Jomo Kenyatta of Kenya (1964–78) promoted Swahili as integral to the region's political and economic interests, security and liberation. The political power of language was demonstrated, less happily, by Ugandan dictator Idi Amin (1971–79), who used Swahili for his army and secret police operations during his reign of terror.
Under Nyerere, Tanzania became one of only two African nations ever to declare a native African language as the country's official mode of communication (the other is Ethiopia, with Amharic). Nyerere personally translated two of William Shakespeare's plays into Swahili to demonstrate the capacity of Swahili to bear the expressive weight of great literary works.
Socialist overtones
Nyerere even made the term Swahili a referent to Tanzanian citizenship. Later, this label acquired socialist overtones in praising the common men and women of the nation. It stood in stark contrast to Europeans and Western-oriented elite Africans with quickly – and by implication dubiously – amassed wealth.
Ultimately, the term grew even further to encompass the poor of all races, of both African and non-African descent. In my own experience as a lecturer at Stanford University in the 1990s, for instance, several of the students from Kenya and Tanzania referred to the poor white neighbourhood of East Palo Alto, California, as Uswahilini, "Swahili land". As opposed to Uzunguni, "land of the mzungu (white person)".
Nyerere considered it prestigious to be called Swahili. With his influence, the term became imbued with sociopolitical connotations of the poor but worthy and even noble. This in turn helped construct a Pan African popular identity independent of the elite-dominated national governments of Africa's fifty-some nation-states.
Little did I realise then that the Swahili label had been used as a conceptual rallying point for solidarity across the lines of community, competitive towns, and residents of many backgrounds for over a millennium.
Kwanzaa and ujamaa
In 1966, (activist and author) Maulana Ron Karenga associated the black freedom movement with Swahili, choosing Swahili as its official language and creating the Kwanzaa celebration. The term Kwanzaa is derived from the Swahili word ku-anza, meaning "to begin" or "first". The holiday was intended to celebrate the matunda ya kwanza, "first fruits". According to Karenga, Kwanzaa symbolises the festivities of ancient African harvests.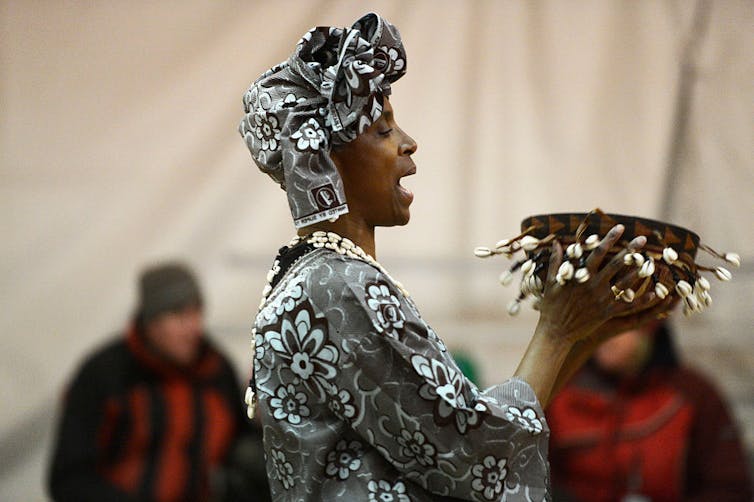 A Kwanzaa celebration in Denver, US. Andy Cross/The Denver Post via Getty Images
Celebrants were encouraged to adopt Swahili names and to address one another by Swahili titles of respect. Based on Nyerere's principle of ujamaa (unity in mutual contributions), Kwanzaa celebrates seven principles or pillars. Unity (umoja), self-determination (kujichagulia), collective work and responsibility (ujima), cooperative economics (ujamaa), shared purpose (nia), individual creativity (kuumba) and faith (imani).
Nyerere also became the icon of "community brotherhood and sisterhood" under the slogan of the Swahili word ujamaa. That word has gained such strong appeal that it has been used as far afield as among Australian Aborigines and African Americans and across the globe from London to Papua New Guinea. Not to mention its ongoing celebration on many US college campuses in the form of dormitories named ujamaa houses.
Today
Today, Swahili is the African language most widely recognised outside the continent. The global presence of Swahili in radio broadcasting and on the internet has no equal among sub-Saharan African languages.
Swahili is broadcast regularly in Burundi, the DRC, Kenya, Liberia, Nigeria, Rwanda, South Africa, Sudan, Swaziland and Tanzania. On the international scene, no other African language can be heard from world news stations as often or as extensively.
At least as far back as Trader Horn (1931), Swahili words and speech have been heard in hundreds of movies and television series, such as Star Trek, Out of Africa, Disney's The Lion King, and Lara Croft: Tomb Raider. The Lion King featured several Swahili words, the most familiar being the names of characters, including Simba (lion), Rafiki (friend) and Pumbaa (be dazed). Swahili phrases included asante sana (thank you very much) and, of course, that no-problem philosophy known as hakuna matata repeated throughout the movie.
Swahili lacks the numbers of speakers, the wealth, and the political power associated with global languages such as Mandarin, English or Spanish. But Swahili appears to be the only language boasting more than 100 million speakers that has more second-language speakers than native ones.
By immersing themselves in the affairs of a maritime culture at a key commercial gateway, the people who were eventually designated Waswahili (Swahili people) created a niche for themselves. They were important enough in the trade that newcomers had little choice but to speak Swahili as the language of trade and diplomacy. And the Swahili population became more entrenched as successive generations of second-language speakers of Swahili lost their ancestral languages and became bona fide Swahili.
The key to understanding this story is to look deeply at the Swahili people's response to challenges. At the ways in which they made their fortunes and dealt with misfortunes. And, most important, at how they honed their skills in balancing confrontation and resistance with adaptation and innovation as they interacted with arrivals from other language backgrounds.
This is an edited extract of the first chapter of The Story of Swahili from Ohio University Press

This article is republished from

The Conversation

under a Creative Commons license. Read the

original article.
Sign up for Africa Ports & Ships – it's free




Added 23 February 2022
♦♦♦♦♦♦♦♦♦
News continues below
The Rio de la Plata estuary: As seen by Copernicus Sentinel satellite
The Rio de la Plata estuary is one of the largest in the world.
A constant mixing of freshwater and seawater in this area is visible from space, as shown in the image captured by one of the Copernicus Sentinel-3 satellites on 14 February 2022.
The Rio de la Plata estuary drains the waters of the Paraná and Uruguay rivers, which flow through five South American countries (Bolivia, Paraguay, Brazil, Argentina and Uruguay).
Along their course, the two rivers drain large quantities of sediments, which are then discharged into the estuary together with freshwater. Beautiful eddies are created by the mixing of the freshwater with the saltwater, together with the sediments, floating near the surface and appearing in shades of brown.
The Copernicus Sentinel-3 mission is composed of two twin-satellites, Sentinel-3A and Sentinel-3B, which allow monitoring of water quality and sediment transport in coastal areas.
The imagery, data and information produced by the Copernicus programme of the European Union is made available on a full, free and open basis to businesses, scientists and citizens.

Edited by Paul Ridgway
London
Sign up for Africa Ports & Ships – it's free
Added 23 February 2022
♦♦♦♦♦♦♦♦♦
News continues below
IN CONVERSATION: Britain's ownership of the Chagos islands has no basis, Mauritius is right to claim them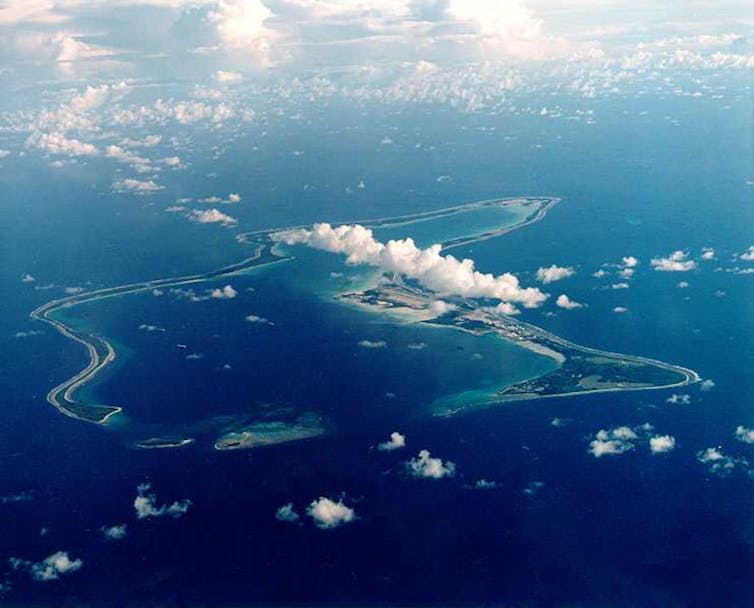 Chagos Islands, situated in the Indian Ocean, halfway between Africa and Indonesia.
History/Universal Images Group via Getty Images
The decolonisation of Mauritius was never fully completed. This is because, in 1965, the British government put islands belonging to Mauritius into a new colonial jurisdiction, the British Indian Ocean Territory, which still exists today. It is long past time for this colonial-era wrongdoing to be made right, and for Mauritius to be made whole.
The islands in question are the Chagos group in the central Indian Ocean. In the early 1960s, British and American diplomats conspired to establish a military base on Diego Garcia, the largest atoll of the Chagos Archipelago.
The island was attractive for a number of reasons: it boasted a natural harbour, was big enough to host a sizeable military presence (including a large airstrip), and was situated roughly equidistant between East Africa and Southeast Asia.
In short, Diego Garcia was the perfect place from which to guard against the expansion of Soviet naval power and political influence in the emerging Third World. But as the Mauritius-born scholar Jean Houbert later wrote:
There were two problems, however: the Chagos belonged to Mauritius, and they were inhabited.
Conceived in illegality
Determined not to let these obstacles prevent the construction of a military base on Diego Garcia, officials in London resorted to sheer illegality.
First, Britain dismembered the colony of Mauritius by making the Chagos Islands part of the new colony of British Indian Ocean Territory in November 1965, an entity that would remain firmly under the control of London.
Next, British agents forcibly depopulated the entire Chagos group between 1965 and 1973. The point was to establish that the archipelago lacked a permanent civilian population, and so could be governed as nothing other than a militarised site.
Port Louis and other African capitals have long alleged that the detachment of Chagos from Mauritius was a violation of prevailing rules on decolonisation. In 2019, the International Court of Justice agreed with this view in a scathing advisory opinion. So have other international courts, as well as the UN General Assembly.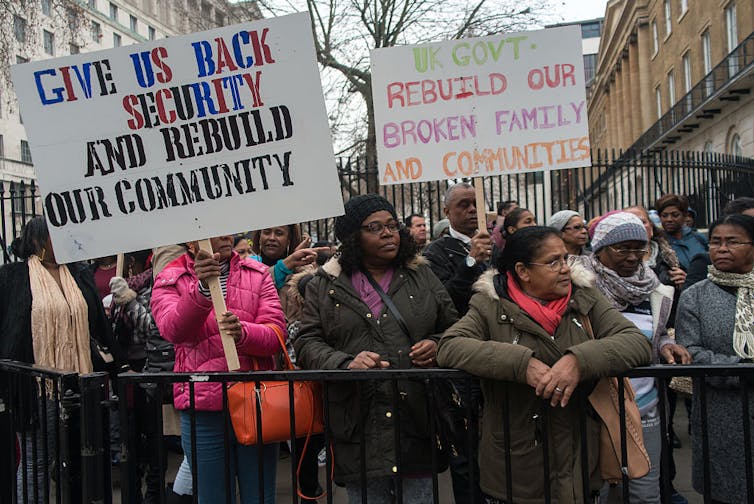 Chagossian demonstration against the UK Government.  Photo by Alberto Pezzali/Pacific Press/LightRocket via Getty Images
The depopulation of Chagos has been ruled unlawful, too. In 2000, two High Court judges in the UK held that a legal ordinance enacted in 1971 to expel the indigenous Chagos Islanders was entirely incompatible with British law, and that preparations ought to be made for the islanders to exercise their lawful right of return.
This means that Britain enjoys the dubious distinction of having broken both international and domestic laws within just a few years of creating the British Indian Ocean Territory –- hardly an auspicious beginning for the country's last ever colony.
Rules-based order
Today, British leaders claim to be committed to a "rules-based" order in the Indo-Pacific. At least one Member of Parliament has portrayed the military base on Diego Garcia as central to this endeavour. If this is true, however, then it must come as quite a surprise to the government of Mauritius and members of the exiled Chagossian community.
Britain never did allow the Chagos Islanders to return to their homes, despite having been instructed to do so by its own judiciary. Instead, the government used Orders in Council –- a form of primary legislation done without any input from Parliament –- to reimpose the total exile of the Chagos Islanders in 2004.
This grossly undemocratic measure was, in effect, a way to sidestep the High Court and rid the government of an inconvenient constraint on its power. The islanders resolved to fight on, but their legal challenges have so far come to nothing.
Nor has London bowed to international pressure to decolonise. Only five states agree with Britain that the Chagos Islands ought to remain under its jurisdiction. By contrast, more than 23 times as many – a whopping 116 world governments – have called for Britain to exit the Chagos Islands "as soon as possible."
Can a state be regarded as friendly to the idea of rules-based global governance when it shows such blatant disregard for international law, institutions, and world opinion?
Mauritius and the Chagossians
For a long time, Port Louis and the Chagos Islanders' various campaign groups waged their legal and political battles in isolation from one another. Today, however, they have come together in support of decolonisation.
When the flag of Mauritius was raised last week above the Chagos islands of Peros Banhos and Salomon, the Mauritian ambassador to the United Nations stood proudly alongside Olivier Bancoult of the Chagos Refugees Group.
It is important to emphasise that not all Chagossians agree with this joining of forces. Some view Port Louis with distrust and point out that their people have suffered mistreatment at the hands of both governments, not just Britain.
However, if justice is ever going to be done in the Chagos Islands –- including a restoration of the islanders' right of return -– then it will only happen under Mauritian sovereign control. This much is abundantly clear by now: decolonisation is a prerequisite for resettlement.
Decolonise now
Mauritius has waited long enough to regain its lost territory. Especially given that Port Louis has pledged to allow the US base on Diego Garcia to exist under its stewardship, there are no excuses left to justify persistent British colonialism.
All that remains is for Britain to do the decent thing and decolonise the Chagos Archipelago without delay. In the final analysis, this is the best way for London to demonstrate its commitment to international rules: to actually follow them.

This article is republished from

The Conversation

under a Creative Commons license. Read the

original article.
Sign up for Africa Ports & Ships – it's free




Added 22 February 2022
♦♦♦♦♦♦♦♦♦
News continues below
WHARF TALK: Large LR2 Cosco product tanker – MEI LIN WAN
Story by Jay Gates
Pictures by 'Dockrat'
That the arrival of the largest class of product tanker, the LR2, is a rare thing at Cape Town, is merely as a result of the port infrastructure. This is solely due to the fact that such a vessel is often of the maximum dimensions that the port can take, when loaded, and whose length overall is pretty much the maximum that can fit alongside the largest tanker berth that is available in the port.
For the reader, the longest tanker berth at Cape Town is listed by Transnet to be for vessels with a maximum length of 250 metres. One sometimes worries that the current ability of the port infrastructure to cope with such a large tanker, and the vast amount of liquid cargo that has to be pumped out and piped around the port, may also have something to do with why the arrival of an LR2 tanker is a rare thing.
Back on 3rd February at 16h00, the LR2 Aframax tanker MEI LIN WAN (IMO 9614074) arrived at the Table Bay anchorage, from Pengerang in Malaysia and Pulau Bukom in Singapore, and she remained at anchor for almost five days, awaiting the one berth that could accommodate her. On 8th February at 08h00 she entered Cape Town harbour, entering the Duncan Dock and going alongside the long tanker berth to begin her discharge of fuel products.
Built in 2012 by Dalian Shipbuilding Industry Group at Dalian in China, 'Mei Lin Wan' is 245 metres in length and has a deadweight of 109,485 tons. She is powered by a single DMD MAN-B&W 6S60ME-C8 6 cylinder 2 stroke main engine producing 19,420 bhp (14,482 kW), which drives a fixed pitch propeller for a service speed of 14 knots.
Her auxiliary machinery includes three generators providing 780 kW each. She also has two Alfa Laval Aalborg CHO oil fired boilers, and a single Alfa Laval Aalborg CHR boiler. Her cargo carrying capacity is 118,683 m3.
The Long Range Class 2 (LR2) tanker is any tanker that has a deadweight between 80,000 and 160,000 tons. Above the higher figure, and the class is known as a VLCC (Very Large Crude Carrier), and below the lower figure, the vessel is classed as an LR1 tanker. The LR2 is the largest class of tanker that can be considered to be a fuel products tanker.
One of four sisterships, 'Mei Lin Wan' is owned by the China Shipping Development Company, of Beijing, and she is operated by COSCO Shipping Energy Transportation Co. Ltd., of Shanghai. She is managed by China Shipping Tanker Co. Ltd., also of Shanghai.
After a long ten days alongside discharging, 'Mei Lin Wan' finally sailed from Cape Town at 10h00 on 18th February, bound for Fujairah in the UAE. On sailing, the pilot ladder was being set against a 'Pilot Flag' marking, marked on the hull, and set below the water line. This has been reported on before as a strange place to place such a marking. However, logic reveals all, and there is an explanation as to why it would be painted, potentially, out of sight.
As explained by a Pilot from the Port of Houston, in Texas. "A lot of ships have this symbol painted on the hull. The middle of this marking is nine metres below the main deck. It is recommended that ships with more than nine metres of freeboard rig a combination of gangway and ladder, and not just a ladder, so that the pilot doesn't have a three-story climb to get onto the ship." – Lou Vest, Houston Pilot.
Amongst the fuel products carried to Cape Town by 'Mei Lin Wan', it included 50,000 tons of Gasoil, and 12,000 tons of Jet Fuel. Assuming she was fully laden on arrival, and assuming her discharge was a continuous operation, as is usually the case, it means that her daily discharge rate into the port infrastructure was approximately 11,800 m2 per day, or less than 500 m3 per hour. This is not a rate to write home about, hence a ten day discharge for 'Mei Lin Wan'.
Compare that to an advertised discharge rate of 16,000 m3 per hour at the Louisiana Offshore Oil Port for a VLCC tanker, or 4,000 m3 per hour at Rotterdam for an LR2 tanker, both being the equivalent of less than a 2 day discharge. It is generally accepted in the oil terminal industry that a Suezmax, or VLCC, tanker can discharge at a rate greater than 10,000 m3 per hour, and an LR1, or LR2, tanker can discharge at a rate of up to 4,500 m3 per hour.
The loading ports of 'Mei Lin Wan' are both located within miles of each other, surrounding Singapore. Pengerang is located in Malaysia, just to the northeast of Singapore Island, and is known as the Pengerang Integrated Petroleum Complex (PIPC). It is a megaproject that covers 80 km2 in area.
The PIPC refinery can refine 300,000 barrels per day, and the first elements of the PIPC were brought into production in 2019. There are two oil storage terminals, with Pengerang Terminal 1 able to store 1.3 million m3 of oil products, and Pengerang Terminal 2 able to store 2 million m3 of oil products.
Pulau Bukom, is located in Singaporean waters, 5 km to the southwest of Singapore Island. It is a set of three small islands, together with reclaimed land, and all linked together, measuring only 1.45 km2 in area. The complex is run by Shell, and is known as the Shell Eastern Petrochemicals Complex (SEPC). It refines 500,000 barrels per day.
The whole area of Pulau Bukom is taken over by an oil refinery and oil storage terminals, which can berth 13 tankers on jetties, and one VLCC crude oil tanker on an offshore SBM. The SEPC was completed only in 2010, at a cost of US$3.05 billion (ZAR46.1 billion). Pulau Bukom itself is the site of the very first oil refinery to be constructed in Singapore, with the first refinery opening in 1961, at a building cost of US$30 million (ZAR453.5 million).
Sign up for Africa Ports & Ships – it's free




Added 22 February 2022
♦♦♦♦♦♦♦♦♦
News continues below
NEW BOOKS: The Spanish Civil War at Sea
The Spanish Civil War at Sea
By Michael Alpert
Published by Pen & Sword Maritime
ISBN: 978 1 52676 436 2
Price £25.00, 304 pages.
The Spanish Civil War of 1936-1939 underlined the importance of the sea as the supply route to both General Franco's insurgents and the Spanish Republic. There were attempted blockades by Franco as well as attacks by his Italian and German allies against legitimate neutral, largely British, merchant shipping bound for Spanish Republican ports and challenges to the Royal Navy, which was obliged to maintain a heavy presence in these waters. Although there were no warship losses the Royal Navy suffered 17 ships damaged. There were more than eighty air attacks on merchant ships of which 29 were damaged and six sunk.
In the conflict Republicans loyal to the left-leaning Popular Front government of the unstable Second Spanish Republic, in alliance with communist and anarchists, fought against an insurrection by the Nationalists, an alliance of monarchists, conservatives and traditionalists, led by a military junta headed by General Francisco Franco.
Due to the international political climate the war had many aspects and was variously viewed as class struggle, a religious struggle, a struggle between dictatorship and republican democracy, revolution and counter-revolution, and between fascism and communism.
The Nationalist forces received munitions, soldiers, and air support from Fascist Italy and Nazi Germany, while the Republican side received support from the Soviet Union and Mexico. Other countries, such as Britain, France and the United States, continued to recognise the Republican government but followed an official policy of non-intervention.
Despite this policy, tens of thousands of citizens from non-interventionist countries directly participated in the conflict and many fought in the pro-Republican International Brigades. There was throughout a huge displacement of people.
The Royal Navy was involved in the conflict from the beginning and evacuated civilians with a 'Can do' attitude and strove to protect British merchant shipping around the coasts of Spain.
The Royal Navy was well placed to assist, deploying destroyers and minesweepers as a deterrent in an effort to keep either side's warships away. Geographically, Spain was between the waters of the Home Fleet and those of the Mediterranean Fleet, and of course there was HM Naval Base and Dockyard at Gibraltar within easy steaming.
From the start of the Civil War, patrols were set up to protect the many merchant ships transiting the Strait of Gibraltar and frequently warships of the Royal Navy were fired on. It is likely that there was confusion arising from the near common lines of British and Spanish warships.
There were enforced blockades of each side's ports and the Royal Navy protected British merchant ships running the blockades. At one time 33 British warships were on station, including the mighty Hood, Repulse and the cruisers Shropshire and Galatea and a sizeable force of destroyers. The hospital ship Maine was also part of the British naval commitment.
Overall, the Royal Navy was able to track German naval movements. Britain was rapidly learning of its navy's vulnerabilities and it was demonstrated that attacks from the air could be serious. At the same events in and around Spanish waters were seen as an annoying disruption to the annual training routines of both the Home and the Mediterranean Fleets. According to one commentator, echoed by others since, it was viewed as a dress rehearsal for the Second World War. Nationalists won the war and went to rule Spain until Franco's death in 1975.
To the thirteen chapters and two appendixes are added more than 20 pages of chapter notes, the bibliography and index. These sections in the tail end of Pen & Sword books are its strengths, as always.
With the sub-title: Dark and Dangerous Waters the book is based on original documentary sources in both Britain and Spain and is intended for the general reader as well as students and academics interested in the history of the 1930s, in naval matters and in the Spanish Civil War. Of course for subscribers to Africa Ports & Ships it provides further background to the events of history in the waters around our continent.

Reviewed by Paul Ridgway




London Correspondent
Sign up for Africa Ports & Ships – it's free




Added 22 February 2022
♦♦♦♦♦♦♦♦♦
News continues below
Madagascar braces as Cyclone Emnati expected to reach Madagascar Tuesday evening
UPDATE on Cyclone Emnati,

Wednesday 23 February 00h30
Cyclone Emnati has crossed the coast of Madagsacar near Manakara and is moving inland.  Wind speeds of 80 knots were recorded immediately prior to the crossing of the coast.  Heavy rains are falling especially on the south side of the cyclone.  Waves of 10 metres and a surge of 1 metre were also reported along the east coast.
It is no expected that Cyclone Emnati, which approached the coastline of Madagascar in a south-westerly direction, will take a turn towrds the south and exit the island on late Wednesday or more likely Thursday in the very south of the island, i.e. the cyclone will move down the island before exitng back into the Indian Ocean and moving further south or south-easterly, weakening as it goes.  Added 23 February 2022  00h30
At 12h00 UTC Monday 21 February Cyclone Emnati was in position 18.2 S / 52.8 E and is expected to make landfall over central/south Madagascar by Tuesday evening 22 February 2022. MeteoFrance suggests that the storm's intensity has been over-estimated and that maximum wind speeds were in the region of 75 knots, not 85kn, however it is likely to re-intensify as it approaches Madagascar possibly returning to an intensive cyclone condition by the time it goes overland.
The cyclone is tracking west-southwestward and then a little more southwestward from Monday night (21st) with landfall expected for Tuesday evening. Emnati should emerge at sea from the south of Madagascar on Wednesday night or Thursday morning. The cyclone should then slowly drift southward, crossing the 30th parallel on Friday and curving southeastward away from the African continent.
Impacts on land:
Reunion island is experiencing disturbed weather in the wake of the cyclone as it slowly moves south-westward towards Madagascar, with local rains and a heavy swell at sea on the north of the island. These conditions should improve by Tuesday.
Madagascar: Emnati remains a very dangerous cyclone which should make landfall on Madagascar on Tuesday evening potentially as an intensive tropical cyclone. The actual landfall area remains uncertain with a high probability over the Fianarantsoa province, especially between Mananjary, Manakara and Farafangana.
Near the impact zone destructive winds with gusts near 200km/h and 10-metre high waves offshore may be expected, with storm surge reaching around 1 metre and very intense rainfall in the area of up between 200 and 400mm in the lowlands and nearly 500mm on the nearby mountains over a 24 hour period. This can produce significant flooding, particularly as much of southern Madagascar has been experiencing a lengthy drought. source: MeteoFrance
Sign up for Africa Ports & Ships – it's free
Added 22 February 2022
♦♦♦♦♦♦♦♦♦
News continues below
Cyclone Emnati approaching Madagascar
A new extreme weather event, the fifth of 2022, is about to hit Madagascar. This was reported by the European Commission's Directorate-General for Defence Industry and Space on 21 February.
This image, acquired by one of the Copernicus Sentinel-3 satellites, shows tropical cyclone Emnati en route towards the eastern coast of Madagascar on 21 February 2022 at 0550 UTC.
According to MeteoFrance, the cyclone is expected to impact the island in the late evening/night of 22 February and to make landfall in the same area that had already been affected by Tropical Storms Ana and Batsirai.
Data acquired by the Copernicus Sentinel satellites allow us to monitor the development of disasters worldwide and estimate the extent of the affected area.

Edited by Paul Ridgway
London
Sign up for Africa Ports & Ships – it's free
Added 22 February 2022
♦♦♦♦♦♦♦♦♦
News continues below
Despite challenges, CTCT handles 6% more deciduous fruit exports
It is peak season for South Africa's deciduous fruit exports and the Cape Town Container Terminal has recorded a volume increase of 6% year on year despite inclement weather, shipping backlogs and a slow uptake of the truck booking system.
According to Wandisa Vazi, Managing Executive at the Cape Terminals "It's certainly a challenging season considering an average loss of 39 days during this period annually owing to fog, wind and at times underwater currents but, the team goes above and beyond."
She added that downtime introduced by equipment maintenance and at times breakdowns – placed immense pressure on the system although there were many other contributing factors. Currently, the terminal is averaging 7 days in vessel delays.
"In working with our stakeholders, the terminal is maximising its network of 16 sea-cargo terminals across the Transnet Port Terminals (TPT) business and securing employees from the other terminals nationally on secondment," Vazi said, adding that this will assist to speed up recovery as the move will result in deploying a seventh gang (operational team) in light of improved equipment availability.
Other initiatives included the increased number of operational equipment on both the landside and waterside with reliability programs in place to sustain equipment performance. According to Vazi, the terminal was also collaborating with original equipment manufacturers for increased turnaround times of spares availability and maintenance, deploying engineering expertise from other terminals and Transnet operating divisions to prioritise equipment performance.
Fruit from Africa for the World
Between October and March every year, the Cape Town Container Terminal loads table grapes, berries, plums, apples, pears and peaches onto vessels destined for Europe, Africa, the Far and Middle East as well as the United States.
With the season currently at its peak, the terminal is urging industry to capitalise on the underutilised night shift capacity for truck deliveries to keep the momentum.
"The terminal is operational over a 24–hour period for seven days a week while industry works 12 – 16 hours during five days of the week. This is a window to mitigate any arising challenges and an opportunity to further enhance integrated planning," said Vazi.
As at the end of January, the terminal had moved 18,296 refrigerated containers of deciduous fruits and continues to plan with and give feedback to customers through regular communication channels daily. With the terminal handling mainly panamax and post panamax vessels, consignments can go up to 3,500 containers offloaded or loaded per vessel with an average of 120 gate transactions of trucks per hour.
"The impact wind has during this season especially now that we are in peak – cannot be underestimated. We are currently handling over 1000 trucks from late yesterday and today's bookings because the terminal was wind bound. Once the wind subsides, we review our planning by the hour to ensure a reduction of truck queues at the gate," said Vazi, speaking last Friday.
Vazi said that between April 2021 and January 2022, weather was the second biggest contributor (at 25%) to vessel cancellations and omissions after blank sailing (32%), which occurs when customers do not nominate a vessel for a respective window.
Others include delays in West Africa, Far East, Europe and Schedule Recovery (21%), system disruptions (10%), delays along South African ports (8%) and actual operational delays at 3%.
However, during the same period – while berth occupancy has decreased by 12%, berthing delays have improved by 52%, she maintained.
Sign up for Africa Ports & Ships – it's free




Added 21 February 2022
♦♦♦♦♦♦♦♦♦
News continues below
WHARF TALK: tug and barges on tow – BRITOIL 71, WENDEL MARINE 1 & 2
Story by Jay Gates
Pictures by 'Dockrat'
There are many tug/tow combinations that pass through South African waters. Almost all of them are clearly associated with the oil and gas industry, as the towed asset is a rig, FPSO or a barge loaded with offshore hardware. Most are headed to, or from, the oil fields of West Africa, and a few are headed for the oilfields of Brazil. Sometimes, the tow is headed to one of these areas, but the asset under tow does not always seem to be a definite fit for the oil industry.
On 15th February at 08h00, the ocean going tug and anchor handling vessel BRITOIL 71 (IMO 9581332) arrived off Cape Town, from Port Louis in Mauritius. She had as her charge on a shortened dual bridle, two seemingly empty barges, the Wendel Marine 1 and the Wendel Marine 2, which she had towed all the way from Batam in Indonesia.
She had held off Hout Bay for two days, awaiting for the strong Southeast winds to subside, and on arrival off the port, with no delay, she proceeded directly into Cape Town harbour, with the Transnet harbour tugs 'Umbilo' and 'Usiba' assisting with the control of the barges as she entered the Duncan Dock, and berthed at the Landing Wall.
Built in 2011 at the company owned PT Britoil Indonesia Offshore Shipyard, at Batam in Indonesia, 'Britoil 71' is 47 metres in length and has a deadweight of 570 tons. She is powered by two Caterpillar 3608 8 cylinder 4 stroke main engines, each producing 3,634 bhp (2,719 kW), to drive twin controllable pitch propellers, both housed in Kort nozzles, for a non-towing transit service speed of 14 knots.
Her auxiliary machinery includes three Caterpillar 3412C generators providing 500 kW each, and a single Caterpillar C4.4 emergency generator providing 86 kW. For added manoeuvrability she has a single Brunvoll FU-45 bow transverse thruster providing 380 kW.
She has a bollard pull of 100 tons for ocean towage, with deck space of 180 m2 provided for anchor handling. For firefighting purposes, 'Britoil 71' has two fire monitors capable of pumping 222 m3/hour of water. She has accommodation for up to 24 persons, and has an endurance of 8,000 nautical miles at a reduced service speed of 13 knots.
One of three sisterships, 'Britoil 71' is owned, operated and managed by Britoil Offshore Services Pte. of Singapore. The majority of their current fleet was built in the company owned shipyard at Batam. For crew management purposes, her owners also run their own maritime training school for their employees, and they also have an in-house cadet training scheme.
Her two barges, owned by Wendel Marine Pte. of Singapore, and named very imaginatively as 'Wendel Marine 1' and Wendel Marine 2', are both 60 metres in length. Prior to the current ocean tow that they are currently embarked on, they were both licensed, by the Singapore Port Authority, to transport sand and reclamation material, for dumping at the Jurong Island port reclamation project, which is located adjacent to the VLCC anchorage, which is located to the southeast of Singapore.
In October 2011, when towing a disabled chemical tanker towards Singapore, in the southern reaches of the Malacca Strait, 'Britoil 71' was boarded by five masked and armed pirates. The pirates stole cash, phones and laptops from the crew, in a raid that took just ten minutes. No member of the crew was harmed in the attack.
The attack on 'Britoil 71' was one of six that all occurred in 2011, all in the same area, and with all the targets being tugs conducting towage operations. Not unsurprisingly, the authorities came to the conclusion that the raids were most probably all the work of the same gang of pirates, operating out of one of the many nearby islands of Indonesia.
After a 72 hour stopover in Cape Town, with bunkers replenished, fresh stores loaded and minor maintenance issues resolved, 'Britoil 71' and her two barges sailed from Cape Town at 09h00 on 18th February, for a long South Atlantic ocean tow, and bound for Portocel in Brazil. That Portocel is mainly a bulk wood pulp exporting port, with no links to the oil and gas industry, gives no clue as to the ultimate requirement for the two barges being taken halfway around the world, effectively from Singapore to Brazil.
Sign up for Africa Ports & Ships – it's free




Added 21 February 2022
♦♦♦♦♦♦♦♦♦
News continues below
Cyclone Emnati now an intense cyclone, will reach Mozambique Channel
At 09h00 Sunday 20 February the latest cyclone of the SouthWest Indian Ocean region, Cyclone EMNATI 13S, has intensified into an intense cyclone as it tracks west-south-westwards at 7 knots on a course that, if it remains unchanged, will take it across the mid-to southeastern coast of Madagascar.
At 09h00 the cyclone was in position near 17.3S 55.5E about 190 n.miles nort-northwest of Port Louis, Mauritius with sustained winds reported at 105 knots gusting to 130 knots. The significant wave height was reported as 30ft (9.144 metres). Meteo France reported the storm as having become progressively better refined and warmer resulting in it intensifying.
At that stage it was considered unlikely for the cyclone trajectory to change from a general west-southwest course.
On the fringes of the cyclone, Reunion can expect gale force winds during parts of Monday and Tuesday.
The cyclone is expected to make landfall over Madagascar on Tuesday 21 February during daylight hours, between Mananjary and Vatomandry. Emnati is expected to cross the mainland at high speed and exit into the Mozambique Channel in the afternoon of Wednesday 23 February. Heavy rains will fall over land and sea and Madagascar can expect more flooding in low-lying areas.
Once back over the sea (Mozambique Channel) Emnati, in a weakened condition, will take a south-southwest direction and is likely to slowly weaken further along this trajectory into a post-tropical system by Thursday. sources: JTWC, Meteo France, Mauritius Met Services.
To be updated……
Sign up for Africa Ports & Ships – it's free
Added 21 February 2022
♦♦♦♦♦♦♦♦♦
News continues below
WHO – EIB partnership: Support of the EU for health systems in Africa
€ 500 million pledge
It cannot be denied that a safe Africa with disease under control will provide nations with the footings for a sound economy within which to prosper.
On 17 February Dr Tedros Adhanom Ghebreyesus, WHO Director-General, met Werner Hoyer, President of the European Investment Bank (EIB), to discuss the WHO-EIB initiative aiming at promoting an innovative impact investment that will support health systems strengthening in Africa with a focus on Primary Health Care (PHC). A joint statement was released.
WHO welcomed the new EIB commitments to support impact investing, in the context of a new tripartite initiative (WHO-EIB-European Commission), established to support countries across Africa to close the health funding gap, building resilient health systems based on a solid foundation of PHC, to help them reach health-related SDGs. The EIB President announced €500 million made available with the aim of mobilising €1 billion of new investment in this partnership supporting resilient health system strengthening based on PHC.
WHO is joining forces with African partners, the EIB and the European Union to marry this significant investment with WHO's experience and know-how to build resilient health systems. Innovative financing schemes such as this would bring together the work of WHO and the EIB, in a broader and systemic partnership combining grants, WHO technical assistance and impact investments.
About the European Investment Bank
The EIB is the European Union's investment bank and is owned by the EU Member States. at the beginning of 2022, the EIB set up a new branch – EIB Global – to develop innovative investments, sustainable living, climate actions, support the EU's neighbourhood and enlargement policies and so forth. The EIB Global will operate /invest outside the EU.
About the EIB-WHO partnership, incl. financial information
In May 2020, the EIB and WHO signed an MOU to scale up their cooperation to strengthen public health, supply of essential equipment, training and hygiene investment in countries most vulnerable to Covid-19.
* Main areas of cooperation include:
* Improving local public health efforts to tackle coronavirus.
* Building resilient health systems in vulnerable countries across Africa.
* Long-term collaboration to overcome market failures in global health.
* Scaling up investment to tackle antimicrobial resistance.
*Improving the effectiveness of malaria treatment.
* Strengthening EIB support for healthcare, life science and Covid-19 investment.
EIB support for the global Covid-19 response
EIB has contributed significantly to the global response to the pandemic, particularly by means of investments on vaccines development, supporting local manufacturing, and health system resilience.
The EIB invested in strong support for improved access to medicines and vaccines in Africa, local production capacity and technology transfer through the SHIRA initiative *.
Covid-19 affected countries are shown HERE
Opportunities
If all goes to plan surely the proposals here will create business for shipping companies, air freight operators, truckers and others in the great EU-Africa supply chain.

Edited by Paul Ridgway




London
* An EU financing platform to support health security and resilience in Africa. More by way of introduction is to be found by CLICKING HERE
Sign up for Africa Ports & Ships – it's free




Added 21 February 2022
♦♦♦♦♦♦♦♦♦
News continues below
Two ships on fire: survivor found safe on ferry, crew of car carrier safely evacuated
All 22 crew members of the burning car carrier FELICITY ACE (IMO 9293911) were safely evacuated last Thursday, as the fire spread out of control.
The 5000- CEU MOL vessel was on her way to the United States (Rhode Island) when the fire began last Wednesday, 16 February 2022 at approximately 11h30 CET. The ship is loaded with German high-end motor cars – including Porsches, Audis and Bentleys.
It is believed the ship was loaded with around 4,000 motor vehicles on this voyage. Some of them are electric cars and immediately some suspicion has fallen on the lithium-ion batteries used in these vehicles. This has not been verified however and won't be known until a forensic report becomes possible.
After the ship was abandoned by the crew it was left to drift in the ocean about 90 nautical miles off the Azores.
After the crew were rescued by helicopters and ships in the area they were taken to Faial Island in the Azores ad accommodated in a hotel. None were injured.
A Dutch tug has been deployed from the Azores to assist. Felicity Ace is reported to have taken on a list and may become at risk of capsizing.
Fire on ferry Olympia
In a second fire on board a ship, this time with fatalities, the Italian Grimaldi ferry OLYMPIA (IMO 9010175) was travelling between the Greek port of Igoumenitsa and the Italian port of Brindisi when a fire broke out on Friday, 18 February 2022.
The 1995-built ferry was carrying more than 290 passengers and crew, in addition to 153 trucks and 32 motor cars. 20 people were evacuated from the ship by the Greek Coast Guard and taken to the island of Corfu.
Unfortunately 11 passengers remain missing but one other, a Belorussian lorry driver was found alive near the ship's stern. The 21-year old man was able to descend down a ladder to the deck of an assisting tugboat, with the words: "Tell me I'm alive".
The fire is reported to have been started in one of the holds where trucks are parked.
Several fire-fighting tugs are in attendance, trying to douse the fire with water. The ferry was meanwhile being towed towards the shore.
Sign up for Africa Ports & Ships – it's free
Added 21 February 2022
♦♦♦♦♦♦♦♦♦
News continues below
Transnet Port Terminals (TPT) moving head office
Transnet Port Terminals (TPT) will be relocating its head office as from 1 March 2022 to one of the owned Transnet buildings in Durban.
The new street address will be 202 Anton Lembede Street (Smith Street), a building currently occupied also by Transnet Pipelines. The high rise building lies next to the Central Methodist Church & Bookshop which is on the corner of Samora Machel Street (previously Aliwal Str).
Since its creation as a separate state-owned entity in 2000, TPT has used a building at Kingsmead Office Park (next to the famous Kingsmead Cricket Ground).
With the troubling finances of Transnet in recent years it therefore makes for a logical move, though visitors and staff may find parking something of a challenge as the building is located within the Durban CBD.
Sign up for Africa Ports & Ships – it's free




Added 21 February 2022
♦♦♦♦♦♦♦♦♦
News continues below
The year's first focused patrol for NATO's Operation Sea Guardian concluded on 12 February.
Flagship Turkish frigate TCG Barbaros, led the focused patrol between 25 January and 12 February. Submarines from Greece and Turkey supported the flagship as well as several air assets from Greece, Poland, Turkey and the United States during their deployment to the Eastern Mediterranean.
Focused operations of NATO's Operation Sea Guardian help NATO maintain an accurate maritime picture of daily activity in the Mediterranean Sea and is an opportunity to increase cooperation and interoperability between Allied navies.
These security patrols also provide situational awareness at sea, enabling operators to better understand the maritime environment and to establish daily patterns of life near shipping routes. Support and cooperation provided by the submarines and maritime patrol aircraft are key enablers to efficiently maintain a multi-domain view of the current maritime activities in these patrolled areas.

Edited by Paul Ridgway
London
Sign up for Africa Ports & Ships – it's free
Added 21 February 2022
♦♦♦♦♦♦♦♦♦
News continues below
NATO Allies exercise interoperability in the Mediterranean
French, Italian and US maritime forces conducted training activities while sailing in company in the Mediterranean on 6 and 7 February.
The French carrier Charles de Gaulle's Task Force 473 integrated with the USS Harry S Truman Carrier Strike Group and Italian carrier Cavour (C-550) strike groups, highlighted the strength of maritime partnerships amongst the three nations and demonstrating high-end maritime strike capabilities.
Events such as this enhance NATO's interoperability and strengthen the exchanges with partners, essential to European security in this strategic area
Elements of the French, Italian and US maritime forces routinely operate together, fostering a cooperative approach towards regional security and stability. These training opportunities bring together three strategic NATO Allies strengthening interoperability and enhancing high-end cooperation.
To quote Rear Admiral Christophe Cluzel, commanding the French carrier Charles de Gaulle's Task Force 473: "These activities strengthen our ability to operate together at the top of the spectrum. Developing this advanced level of interoperability takes time, commitment and energy, but it is a treasure we must preserve.
"Sailing alongside our NATO allies is a primary objective of our Clemenceau 22 deployment. Events like this enhance our interoperability and strengthen the exchanges with our NATO partners, essential to European security in this strategic area."
The convergence of three NATO allied aircraft carrier strike groups is a unique opportunity for them to work, operate and learn together. It is essential for improving interoperability and maintaining high readiness and strengthening cohesion and maritime integration.

Edited by Paul Ridgway
London
Sign up for Africa Ports & Ships – it's free




Added 21 February 2022
♦♦♦♦♦♦♦♦♦
News continues below
The Namibian Ports Authority welcomes the MS Europa 2
The cruise ship MS EUROPA 2, which appeared twice in our pages of last week – CLICK HERE and HERE, is featured once more this week, as befitting such a lovely cruise ship.
As she continues her cruising in South African waters, with a number of coastal cruises, she included a call at both Walvis Bay and Lüderitz.
About 498 visitors, including passengers and crewmembers from across the world, disembarked from the MS Europa 2 when she docked at the Port of Walvis Bay on the morning of Thursday 17 February, making good use of the port's passenger terminal. The vessel, which overnighted at Namibia's main port, arrived from the Port of Lüderitz around 07h00, departed on Friday evening heading to South Africa's Port Elizabeth.
Namport expects to roll out its red carpet to more passenger vessels during the upcoming months at both its ports.
03 Mar MS EUROPA 2
24-Mar CRYSTAL ENDEAVOR
*


16-Apr QUEEN VICTORIA
21-Apr ASTOR
24-May MS INSIGNIA
Namport said in a statement that it remains appreciative that the tourism industry is a key player in Namibia's economy and continues to be committed to advancing the country's drive of economic recovery.
"The presence of tourists from passenger vessels such as the MS Europa 2 and others are a direct positive injection into the tourism industry which will aid our journey of economic recovery as a country," said Mr Elias Mwenyo, Executive: Commercial Services at Namport.
Sign up for Africa Ports & Ships – it's free
Added 21 February 2022
*  This cruise now unlikely as the Crystal Endeavour, the line's newest and most luxurious vessel, has been seized in an Argentine port with the owning company Crystal Cruises going into apparent liquidation. Two other ships, Crystal Serenity and Crystal Symphony, both regular callers in Southern Africa over the years, were similarly seized in the Bahamas.
♦♦♦♦♦♦♦♦♦
News continues below
Record container lift for MSC Diletta at Felixstowe
With an upsurge in newbuilding of container ships, as the major carriers record their best ever profits together with increased rates and demand on the major trade routes, we regularly hear of new records being set for the latest 'biggest ship'.
We've also seen images of some of these mega-sized ships leaving their first port of embarkation with full loads of containers emblazoned with the carriers logo, providing a useful marketing exercise as the ships move from Asia towards Europe. Most often these boxes are empties being relocated.
So when news came of a MSC ship lifting a record load at a port in northern Europe, this seemed like something in reverse, with an unusual record load at the other 'end'.
The news involved the MSC DILETTA (IMO 9897004), a 2021-built ship with a reported capability of carrying up to 23,964 TEU (close enough to be called a 24,000 TEUer), which called at the port of Felixstowe in the UK where she took on a record 23,773 TEU, said to be the most ever loaded at any UK or EU port.
MSC Diletta operates on the 2M Alliance Griffin/AE55 Far East Asia to North Europe service operated by Mediterranean Shipping Company and Maersk.
In December the 2M Alliance opted to consolidate sailings on this service and another route, which led to Felixstowe recording this record number of containers being handled on a single ship.
"The size of container ships has been increasing for many years and with growing demand for services into the Port of Felixstowe we are seeing ever greater container exchanges," said Robert Ashton, Felixstowe operations chief.
"We are also seeing a trend to consolidate cargo on fewer ultra-large ships," he said.
At the start of this year the 2M Alliance reported its intention of temporarily dropping calls at Rotterdam and increasing the port time in Felixstowe, to handle an increased number of boxes. At the same time, another Far East route would omit calls at Felixstowe, increasing its time in Rotterdam.
Conversely, MSC Diletta sailed to Rotterdam directly from Felixstowe on this particular call.
This move was a result of various supply chain dislocations that have resulted in long wait times at larger ports in either China or northern Europe.
MSC Diletta (228,400-dwt), at 400 metres long and 61m wide and a 14m draught, is one of MSC's new ultra-large class of containerships, with a total rated capacity of 23,964 TEU. The ship wqs built at the Daewoo yard in Okpo, South Korea and is owned by SPDBFL No. Ten Shanghai Ship Leasing, care of MSC Mediterranean Shipping Co SA of Geneva, Switzerland, with Mediterranean Shipping Co Srl of Naples, Italy as the ISM manager.
Sign up for Africa Ports & Ships – it's free
Added 21 February 2022
♦♦♦♦♦♦♦♦♦
News continues below
New influx of Saharan dust in the Mediterranean
This image, acquired by one of the Copernicus Sentinel-3 satellites on 15 February 2022, shows a Saharan dust plume engulfing southern Italy and Malta, as it crosses the Mediterranean Sea.
After affecting Greece for a few days, the dust plume should then reach Turkey and Cyprus, while being actively monitored by the Copernicus Atmosphere Monitoring Service.
The Copernicus Atmosphere Monitoring Service (CAMS) monitors and forecasts air quality on a global scale, assessing the concentration and dispersion of atmospheric pollutants and aerosols.
The imagery, data and information produced by the Copernicus programme of the European Union is made available on a full, free and open basis to businesses, scientists and citizens.

Edited by Paul Ridgway
London
Sign up for Africa Ports & Ships – it's free
Added 21 February 2022
♦♦♦♦♦♦♦♦♦
News continues below
GENERAL NEWS REPORTS – UPDATED THROUGH THE DAY
in partnership with – APO
More News at https://africaports.co.za/category/News/
♦♦♦♦♦♦♦♦♦
THOUGHT FOR THE WEEK
Right-thinking people are not supposed to discuss any meteorological or geophysical event – a hurricane, a wildfire, a heat wave, a drought, a flood, a blizzard, a tornado, a lightning strike, an unfamiliar breeze, a strange tingling on the neck – without immediately invoking the climate crisis. It causes earthquakes, plagues and backyard gardening disappointments. Weird fungus on your tomato plants? Classic sign of global warming.
— Joel Achenbach
♠♠♠
News continues below………
♦♦♦♦♦♦♦♦♦
TO ADVERTISE HERE
Request a Rate Card from info@africaports.co.za
EXPECTED SHIP ARRIVALS and SHIPS IN PORT

Port Louis – Indian Ocean gateway port
Ports & Ships publishes regularly updated SHIP MOVEMENT reports including ETAs for ports extending from West Africa to South Africa to East Africa and including Port Louis in Mauritius.
In the case of South Africa's container ports of Durban, Ngqura, Ports Elizabeth and Cape Town links to container Stack Dates are also available.
You can access this information, including the list of ports covered, by  CLICKING HERE remember to use your BACKSPACE to return to this page.
News continues below
CRUISE NEWS AND NAVAL ACTIVITIES

QM2 in Cape Town. Picture by Ian Shiffman
We publish news about the cruise industry here in the general news section.
Naval News
Similarly you can read our regular Naval News reports and stories here in the general news section.
♦♦♦♦♦♦♦♦♦
♠♠♠
ADVERTISING
For a Rate Card please contact us at info@africaports.co.za
Don't forget to send us your news and press releases for inclusion in the News Bulletins. Shipping related pictures submitted by readers are always welcome. Email to info@africaports.co.za
TABLE BAY UNDERWAY SHIPPING
SHIP PHOTOGRAPHERS
Colour photographs
and slides for sale of a variety of ships.
Thousands of items listed featuring famous passenger liners of the past to cruise ships of today, freighters, container vessels, tankers, bulkers, naval and research vessels.
P O BOX 809, CAPE TOWN, 8000, SOUTH AFRICA
snai@worldonline.co.za
http://home.worldonline.co.za/~snai
================================================================