Bringing you shipping, freight, trade and transport related news of interest for Africa since 2002
Stay Well, Stay Safe, Stay Patient, don't become one
Advertise here – left & right sidebar column banner space also available – strengthen brand awareness at affordable rates – email us for a Rate Card to

 terry@africaports.co.za
For a free daily newsletter via email?  Send your email marked NEWSLETTER to terry@africaports.co.za 
♠♠♠
Join us as we report through 2022
'and stay up to date with Africa Ports & Ships' 
****

**

****
TODAY'S BULLETIN OF MARITIME NEWS
These news reprts are updated on an ongoing basis. Check back regularly for the latest news as it develops – where necessary refresh your page at www.africaports.co.za
Click on headline to go direct to story : use the BACK key to return  
FIRST VIEW:   IMKE, HAPPY ROVER & BBC RUSSIA
News continues below
♦♦♦♦♦♦♦♦♦
The Monday masthead shows the Port of Walvis Bay

The Tuesday masthead shows the Port of Ngqura

The Wednesday masthead shows the Port of Ngqura
The Thursday masthead shows Port of Mombasa
The Friday masthead shows Port of Apapa (Nigeria)
The Saturday masthead shows the Port of East  London
The Sunday masthead shows the 
Port of Durban Sugar Terminal 
♦♦♦♦♦♦♦♦♦
SEND NEWS REPORTS AND PRESS RELEASES TO   info@africaports.co.za
♦♦♦♦♦♦♦♦♦
♦♦♦♦♦♦♦♦♦
News continues below
FIRST VIEW:   IMKE, HAPPY ROVER & BBC RUSSIA
"I saw three ships come sailing by"
– traditional Christmas carol
Three of the smallish heavy lift vessels called recently in Durban, all a few weeks too late for Christmas, and each for the reason of requiring bunkers before proceeding with their respective journeys. One of the three ships, the Maltese-flagged IMKE (IMO 9341756), was carrying a cargo for South Africa, a giant shiploader that was delivered to the port of Richards Bay where it has already gone into service. A report on this was previously published here in <i>Africa Ports & Ships. The ship is 134 metres in length and 23m wide and was built in 2010. She has a deadweight of 9,962 tons and is German owned and managed. Imke was photographed by Trevor Jones.
The second ship we are featuring this week is the HAPPY ROVER (IMO 9139309), built in 1997 and sailing under the flag of The Netherlands. Her cargo consisted of wind turbine blades and she was arriving from Deendayal in India. It was not clear where her cargo was destined although the ship's next call was in Pecem, a port in Brazil. During the past 25 years Happy Rover has called at Durban and other South African ports on a number of occasions. The ship is very similar in size to Imke, 138 metres in length and 23m wide. She has a deadweight of 12,950 tons. The ship is Dutch-owned and managed as well as flagged. This photograph was by Keith Betts.
Our third heavylift general cargo ship to call in Durban recently was the Antigua & Barbuda-flagged BBC RUSSIA (IMO 9700392), which arrived without any visible cargo. The largest of the three heavylifts, BBC Russia is 147 metres in length and 23m wide, with a deadweight of 12,729 tons. She is also the youngest, having been built in 2018. She is part of the BBC Chartering fleet whose ships are regularly calling in South African ports, usually for bunkers but occasionally with cargo to be discharged or loaded. This photograph was taken by Keith Betts
The pictures are byTrevor Jones & Keith Betts
♦♦♦♦♦♦♦♦♦
NEWS
♦♦♦♦♦♦♦♦

♦♦♦♦♦♦♦♦

♦♦♦♦♦♦♦♦

♦♦♦♦♦♦♦♦
News continues below
Preparing Durban and Ngqura for concessioning, aka special purposes vehicle
Politicians the world over are noted for their skills at blowing smoke in the face of awkward questions – or by obfuscating rather than providing direct answers. They have even perfected the art of not saying what they are saying.
Last year and again last week Public Enterprises minister Pravin Gordhan suggested that government and Transnet have no intention of privatising the Durban and Ngqura container terminals, but will instead set up a "special purposes vehicle" that will involve an international terminal operator (or operators?) to run the two terminals.
How is this not a concessioning process?
In 2021 we were told that this was the path Transnet was to follow, following growing criticism over delays and general inefficiencies that saw President Cyril Ramaphosa being called to personally intervene by conducting an inspection of the Durban container terminals (and later another at Cape Town).
We're not convinced how much he actually saw back then, as the visit was carefully stage-managed by those he might otherwise have interrogated. Nevertheless it emerged a little while after that meeting that Transnet would publish a request for qualification from potential bidders, and that international terminal operators would be brought in to help put right two of the most important container terminals in the country.
This is not privatising the ports, it was said. How that was sold to labour is not clear, and thus far the unions have remained very quiet on the matter.
This week Transnet disclosed that the final bid evaluation will be concluded in just over three months time in June 2022. Necessary upgrades to the terminals, including associated port works should be completed during 2023, it was added.
According to Transnet, the 'special purpose vehicle' is necessary to provide the required investment in the terminal "to improve efficiencies, resolve operational challenges and modernise."
What this is of course, is nothing other than an admission by implication that Transnet Port Terminals (TPT) by itself cannot manage the job, despite almost 20 years of effort.
In other words, we've had about 20 years of mostly wasted effort, based on the current state of inefficiencies at the respective terminals including that of Cape Town, in which all four South African container terminal ports remain ranked as the worst in the world! Eish.
Port users will welcome the idea that someone like DP World or APM Terminals, or maybe MSC Terminals will soon be managing and operating the Durban and Ngqura container terminals, making all the necessary investments and adding the essential management skills.
How these private, sorry, special purpose vehicle partners will go about installing and maintaining the necessary work ethic will be an interesting one. That, in the opinion of many port users, will be the real challenge, not necessarily the addition of new equipment and infrastructure.
Both terminals are in fact already quite well equipped, if only for the lack of maintenance.
Transnet reports that the final bid evaluation process is to be concluded by June this year, just three months away, and that the request has received an 'extremely positive response'.
At least these steps are positive and could lead to the status of our ports and terminals becoming the efficient facilities necessary to help grow South Africa's economy. Elsewhere across Africa ports that used to be backward and avoided if at all possible, are now, with the input of private enterprise, morphing into highly capable and efficient entrepôts to their respective countries and regions, with some now regarded as hub ports for the wider region.
While these developments are obviously welcome news, a disturbing doubt remains over the local scene, one which hangs over the statement by Minister Gordhan a week ago that the involvement of private partners for Transnet does not mean the entity is being privatised.
For the terminals to be successful it IS necessary to privatise them, Mr Minister, even if you give it another name. Let the terminal operators in and let them do their jobs with as little interference as possible. The president got it right in his State of the Nation speech last week, when he said the private sector must lead in rebuilding the economy, not the State.
Speaking to parliament's public enterprise portfolio committee Gordhan said that Transnet "doesn't have the capital that it requires to attend to every single need that the economy has … [Transnet] does require investment in its equipment and infrastructure and so it needs to find alternate ways of generating revenue which would assist with operational costs but also with investment, maintenance of equipment."
It appears from this that government has bought the story that all the port terminals require is lots of new equipment. While this may have a germ of truth, the private sector knows full well that the problems lie not with the machinery but with issues like maintenance and performance. It's called the work ethic.
In the latter years of the 1990s when Transnet was broken up into separate constituents, port operations were separated from the port authority (TNPA) with the stated intention that the operating side of the company would set about preparing itself for privatisation (although that word was carefully avoided even though it never fooled labour). Mr Tau Morwe was brought in on a four-year project to head the division and oversee this preparation for concessioning.
Meanwhile, a number of international port operators, including Hutchison Ports and an American group came to look and consider their options. Transnet's port operator was by then facing the dilemma of whether to invest in port equipment (STS cranes, RTGs, straddle carriers etc) in order to provide a better service, or to leave that to the private operator to make their own choice.
Pressure from the business sector convinced Transnet in the early 2000s to at least make some investment, and pressure from the unions ensured that no thought could be given to concessioning any of the container terminals. Thus was Transnet Port Terminals (TPT) born, out of a forced marriage one might say, and the re-equipping of the terminals with modern cranes etc got underway.
So, with what is essentially a concessioning process back on the agenda, and regardless of how much smoke is blown over how it is described, we have come full circle as we witness over 20 years of wasted time and effort, all at a huge crippling cost to the economy.
– trh
Sign up for Africa Ports & Ships – it's free




Added 18 February 2022
♦♦♦♦♦♦♦♦♦
News continues below
WHARF TALK: maiden visit on a maiden voyage – SLETRINGEN
Story by Jay Gates




Pictures by 'Dockrat'
It is always a pleasure to witness a maiden call of any vessel into any South African port. Made more so if the vessel is actually making its maiden commercial voyage, and even more when it is calling whilst making its actual delivery voyage, from the shipyard, and heading back to where it is likely to spend its entire working career.
With its normal sphere of operations being firmly in the northern hemisphere, it actually means this port call is a true one off event, and you are not likely to ever see this particular vessel grace a Southern African port again, ever.
On 15th February at 11h00 the self-unloading mini bulker SLETRINGEN (IMO 9911927) arrived off Cape Town, from Banjarmasin in Indonesia, and after a short wait off the port of just over one hour, she entered Cape Town harbour and proceeded straight to the eastern Mole in the Duncan Dock. The choice of berth was an indicator that her arrival was purely transient, and she was calling for stores and bunkers only.
The IMO number of the 'Sletringen', starting with 99, is a clear indication that she is a new vessel. In fact, so new, that she is actually on her delivery voyage back, and she was delivered to her owners as recently as 23rd December 2021, less than eight weeks ago.
Built by Dayang Shipbuilders of Yangzhou in China, 'Sletringen' is 120 metres in length and has a deadweight of 8,534 tons. She is powered by a single MaK 8M25E 8 cylinder 4 stroke main engine, producing 3,755 bhp (2,800 kW), to drive a fixed pitch propeller for a service speed of 13.5 knots.
The MaK engine of 'Sletringen' is a Tier III model, and utilises Selective Catalytic Reduction (SCR) technology to reduce NOx emissions. SCR works by injecting urea into the exhaust stream, where a catalyst helps convert nitrogen oxide into harmless diatomic nitrogen carbon dioxide and water vapor. The MaK SCR system uses state of the art exhaust gas temperature (EGT) management, with a closed loop system that senses a required NOx reduction, adjusting the amount of urea injected appropriately.
She is the first of two extremely environmentally friendly sisterships, built as an MDC 1308 Ecolution class vessel, from the Marine Design and Consulting firm, of Knarrevik in Norway. For enhanced manoeuvrability at ports with limited, if any, harbour tug provision, 'Sletringen' has a transverse bow thruster providing 420 kW, and a transverse stern thruster providing 315 kW. Her eco-design is that both thrusters are completely electrical, with all power coming from an onboard battery system.
She has two holds, with a cargo carrying capacity of 12,109 m3. She has a travelling gantry crane, which is utilised for lifting and moving her hatch covers. Her holds will be serviced by a single travelling Sennebogen 870E grab crane. Again, her eco-friendly design is that this crane will be completely electrical in operation, with all power coming from her onboard battery system. In a reverse of operational application, the Sennebogen 870 model is usually to be seen as a shoreside harbour crane, as opposed to one carried aboard a vessel for cargo loading and discharging purposes. The crane is scheduled to be fitted on her arrival back in Europe.
Owned by Berge Rederi AS of Hitra, in Norway, whose houseflag is to be seen both on her funnel, and on her prow, 'Sletringen' is operated by Rimship AS of Trondheim, in Norway, and managed by TransMar AS, also of Hitra. Hitra is an island located at the approaches to the entrance of Trondheim Fjord. She is named after the Sletringen Lighthouse, which is located on an offshore island just a few miles to the northwest of her owners head office. The Sletringen Lighthouse, erected in 1899, is 45 metres in height, constructed of cast iron, and is the tallest lighthouse in Norway.
Her owners operate their fleet of self-unloading mini bulk carriers almost exclusively between Norway, the Baltic Sea, Northwest Europe and as far south as the Mediterranean Sea. For her proposed area of operations she has an Ice Class 1B classification, which allows her to navigate without icebreaker assistance in waters covered by 0.6 metres thickness of first year ice.
After a short harbour stay in Cape Town of only 14 hours, and on completion of taking on fresh stores, and of receiving her required bunkers from the bunker tanker 'Al Safa', 'Sletringen' sailed from Cape Town at 01h00 in the morning of 16th February, with her destination set as being Delfzijl in Holland.
After departing from the Dayang Shipyard, 'Sletringen' proceeded directly to Banjarmasin in Indonesia, to load a bulk cargo, which would have paid for her delivery voyage back to Europe. Banjarmasin, is located on the island of Borneo, and is the capital city of the Indonesian province of South Kalimantan. It is a river port, located 20 nautical miles up the Barito River. The major bulk cargo exports from the Banjarmasin harbour complex, which is known as Trisakti Port, is coal and tropical hardwood logs.
Sign up for Africa Ports & Ships – it's free




Added 18 February 2022
♦♦♦♦♦♦♦♦♦
News continues below
IN CONVERSATION: African countries must protect their fish stocks from the European Union – here's how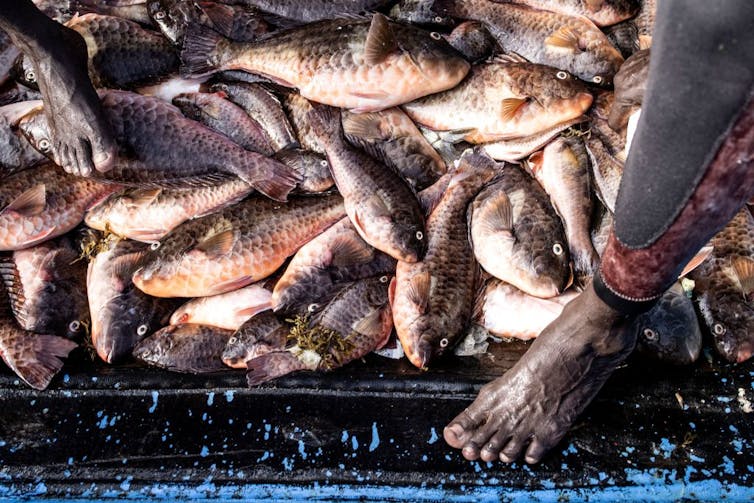 Freshly caught fish are pictured in a pirogue in Dakar, Senegal.  Photo by JOHN WESSELS/AFP via Getty Images
Fisheries serve as a source of employment for millions of people in the small scale sector on the coastline of Africa. Their fishing activities, in turn, provide food security to over 200 million Africans.
To regulate the fishing industry, African countries have signed numerous agreements with trading blocs such as the European Union (EU). The EU has two forms of Sustainable Fisheries Partnership Agreements with African states: the tuna agreement and the mixed agreement.
The tuna agreement allows EU vessels to pursue migrating tuna stocks as they move along the shores of Africa and through the Indian ocean. The mixed agreement allows EU vessels access to a wide range of fish stocks in the coastal state's exclusive economic zones.
There are currently 11 agreements in force –- seven tuna and four mixed agreements. Ten of these agreements are with countries in Africa, six of which are in West Africa.
While these agreements contribute revenue to coastal states, who cannot extract the resources themselves, they are not all that they seem.
Exploitative agreements
First, the value negotiated for these agreements does not commensurate with the value of species removed, as such favours the EU economically than African states.
For example, when looking at the access fees paid versus what's extracted, the access value of catches by EU fleets in Senegal (between 2000 and 2010) was US$11.9 million, while the value of reported catch in the same period was US$19.2 million. In Guinea-Bissau, the access value of catches by EU fleets in the same period was US$5.7 million, while the value of the reported catch was US$8.6 million.
Second, depleted or overexploited species – such as bigeye and yellowfin tuna, hake and sardinella – are targeted. This exacerbates the rate of depletion and undermines food and economic security for local fishers. Local fishers can't compete with the speed at which European vessels catch fish.
Third, some vessels that benefit from these agreements use the access to then engage in illegal, unreported, and unregulated fishing activities. For instance, the landed value of the legal catches caught by EU fleet in Senegal was US$50.9 million between 2000 and 2010, while the landed value of illegal catch was US$10 million.
There are other forms of illegal, unreported, and unregulated fishing perpetrated by EU vessels. For example, in 2017 it was reported that vessels from four EU countries –- Greece, Italy, Portugal and Spain –- unlawfully authorised vessels to fish in The Gambia and Equatorial Guinea's waters. This was in breach of the exclusivity clause in the Agreements which prevent individual operators from making private agreements with coastal States with which the EU has established a fisheries agreement.
Nineteen ships from these countries fished with permits granted unlawfully for more than 31,000 hours in the exclusive economic zones of The Gambia and Equatorial Guinea.
Recent events suggest that there's a lack of willingness by the EU to penalise implicated vessels. Specifically, in 2019 the Coalition for Fairer Fisheries Agreement, alongside other NGOs, sent a complaint to the European Commission asking them to initiate infringement proceedings against Italy.
They argued that Italian fisheries authorities had failed to comply with their obligations, under the Common Fisheries Policy, to sanction the illegal activities of Italian trawlers in the Inclusive Economic Zone of Sierra Leone.
The implicated vessels had been making incursions in the inshore areas reserved for artisanal fishers, catching species that they were not allowed to catch, infringing rules on shark finning, using the wrong fishing gear in The Gambia and transshipment – the transfer of catch from one vessel to another without authorisation.
Despite a long history of illegal activity, the Directorate General of Maritime Affairs and Fisheries responded by noting, "no illegal activities of the operators can be proven in this instance". Their reason:
the lack of exact nautical maps for the delimitation of Sierra Leone the Inclusive Economic Zone creates difficulties in identifying the actual illegal activities from those being carried out outside…
This position is problematic because many countries on the continent do not have delineated maritime boundaries.
Protecting resources
African governments must not allow this to continue. They must act to secure livelihoods for their people, even when attracting foreign direct investment. The opportunity cost and cost of regenerating fish stocks (depleted by all fisheries) in Africa between 1980 and 2016 was estimated at US$326 billion dollars.
Income accrued by small-scale fishers in Africa has reduced by up to 40% over the last decade. This is because less fish are available. It's a huge food security challenge in places where fish are the only source of protein.
The reduced catch is also associated with rises in unemployment. In Senegal, for example, many blame fisheries agreements with the EU for destroying their livelihoods. This in turn pushes scores of young people to make the difficult and illegal journey to Europe.
Here's how governments can address the situation
First, subsidies paid by EU members states to their fishing industries must be denied to repeat offenders of illegal, unreported and unregulated fishing. This was recently put forward by the European Commission to members of the EU parliament. But the parliamentarians voted against it.
Other countries, such as China, are already taking action against fishing vessels involved in illegal, unreported and unregulated fishing. For example, the Chinese Ministry of Agriculture cancelled subsidies and withdrew permits for three fishing Chinese companies in West Africa.
Second, African countries should prioritise investment in their industrial fishing sector. This would allow the fisheries to be exploited by national vessels and sold as exports. Higher revenue would be generated and jobs created for the continent's growing youth population.
Third, African governments must do far more to ensure that future and renewed fishing agreements are negotiated more robustly. This includes more clarity on how some of the revenue accrued can be invested in coastal communities most affected by foreign fishing vessels.
Fourth, African states should consider building collaborative initiatives that safeguard the social, economic, and environmental contributions of their fisheries. Perhaps there is a lesson to be learnt from the Pacific Tuna Forum Fisheries Agency. It has formed alliances to negotiate access as a bloc to balance power over agreements with distant fishing fleets.
Fifth, all suspected illegal activities must be subject to a thorough investigation. Deterrent sanctions must be imposed where violations are found. This should be done regardless of whether cases are settled in or out of court.
Sixth, for transparent and accountable decision-making, the following information must be publicly available:
Licence fees paid for access to fisheries resources and conditions of access
Illegal, unreported and unregulated fishing infringements and sanctions imposed or paid
Numbers of fishing days allocated to each licensed vessel
Total catches of all fishing sub-sectors, including by-catch
Make vessel-monitoring data publicly available. This could be done through the publication of unedited vessel monitoring system data and
the introduction of mandatory, functioning automatic identification systems for all industrial vessels.
Finally African government must recognise the EU's actions in safeguarding their respective national interests. It is time for African states to also prioritise and protect the interests of their people.

This article is republished from

The Conversation

under a Creative Commons license. Read the

original article.
Sign up for Africa Ports & Ships – it's free




Added 18 February 2022
♦♦♦♦♦♦♦♦♦
News continues below
NATO uplift in Eastern Europe: UK's contribution outlined
UK's substantial contribution to NATO's uplift in Eastern Europe is strengthening the Alliance's Defences on land, sea and air, amid ongoing tensions with Russia. This was announced on 16 February.
Defence Secretary Ben Wallace had been in Brussels to discuss the UK offer and the situation in Ukraine with NATO Allies.
Currently the UK is doubling the number of personnel in Estonia and sending additional equipment, including tanks and other armoured fighting vehicles. Troops and equipment were expected to move to Estonia this week.
The Royal Welsh battlegroup, which includes armoured vehicles and personnel, will leave Sennelager in Germany and bases in the UK and begin to arrive in Estonia during the coming week. Apache helicopters will soon be making their way to conduct exercises with NATO Allies and partners in Eastern Europe.
Four additional UK Typhoon jets have also landed in Cyprus and will shortly begin to patrol the skies with NATO Allies in Eastern Europe.
It is understood that HMS Trent (pictured) has already begun conducting patrols in the Eastern Mediterranean Sea alongside NATO Allies from Canada, Italy, Spain and Turkey.
HMS Diamond is preparing to sail in the coming days for the Eastern Mediterranean and will join NATO allies' assets.
The majority of the 350 Royal Marines of 45 Commando committed to Poland have already arrived. One thousand more British personnel are at readiness in the UK to support a humanitarian response, if needed. Additionally, the UK has already supplied Ukraine with light, anti-armour, defensive weapon systems as well as an additional defensive package of body armour, helmets and combat boots.
Defence Secretary Ben Wallace commented: "Alongside our NATO Allies, we are deploying troops and assets on land, sea and air to bolster European defences in response to the build-up of Russian military forces on the border of Ukraine.
"NATO and our allies have been clear that an invasion of Ukraine will be met with severe consequences.
"De-escalation and diplomacy remain the only path out of this situation."
While in Brussels, the Defence Secretary held meetings with a number of NATO counterparts including Turkey, Canada and Italy. Ministers discussed the ongoing Russian military build-up on the border with Ukraine and the international community's response.
The UK is Europe's largest contributor to NATO and the carrier HMS Prince of Wales leads the Alliance's Maritime High Readiness Force.
The Foreign, Commonwealth and Development Office has advised all British nationals to leave Ukraine immediately.
HMS Trent is the current UK representative in Standing NATO Maritime Group 2 (SNMG2). The Task Group is a core part of the NATO Response Force (NRF), which is a technologically advanced, multinational force made up of rapidly deployable land, air, maritime and Special Operations Forces components. It provides collective defence and a rapid military response to emerging crises.

Edited by Paul Ridgway
London
Sign up for Africa Ports & Ships – it's free
Added 18 February 2022
♦♦♦♦♦♦♦♦♦
News continues below
Cyclone Updates: As one disappears, so another arrives: Cyclone Emnati
As Cyclone Dumako enters the Mozambique Channel as a tropical disturbance, with the prospect of bringing more unwanted rains to Mozambique, Malawi and neighbouring territories, so another tropical cyclone is brewing out in mid Indian Ocean on a heading that could endanger Rodrigues, Mauritius and Reunion, as well as Madagascar and further west.
At early Thursday morning, Cyclone Emnati (13S) was in position near 14.2S 67.8E roughly 500 nautical miles south-southwest of Diego Garcia island, with winds of 45 knots gusting to 55 knots and tracking westwards at 6 knots over the previous six hours.
Wave height was 15 feet (4.5 metres) and although named as Emnati, the storm was being described as 'moderate'. Nevertheless, the inhabitants of Mauritius and Reunion were advised to follow the evolution of this storm system as it may intensify and alter direction slightly to impact on the islands.
Cyclone Emnati should pass to the north of Mauritius by the weekend. If necessary this report will be updated online.
Sign up for Africa Ports & Ships – it's free
Added 17 February 2022
♦♦♦♦♦♦♦♦♦
News continues below
CMA CGM Group awarded concession to manage and operate Beirut Container Terminal
This followed a bidding process in which CMA Terminals, a fully-owned subsidiary of the CMA CGM Group, was chosen to manage, operate and maintain the Port of Beirut's container terminal for a 10-year period starting in March 2022.
The announcement is not much of a surprise. The CMA CGM Group already has a strong presence in the country and currently accounts for almost 55% of the container terminal's volumes. This is a result of the nine weekly calls that CMA CGM ships make together with its transshipment operations.
The company also has deep ties with Lebanon. Jacques R Saadé, who founded CMA CGM in the Lebanon 43 years ago, was born on 7 February 1937 in Beirut, Lebanon, of a father who was born in Latakia to a family of Lebanese origins and a mother who came from Lebanon.
In terms of the 10-year concession, CMA Terminals is targeting an annual throughput of 1.4 million TEU.
The company will make an investment of US$33 million in the container terminal including $19 million over the next two years. This sum will be devoted to:
1.] A complete infrastructure upgrade: refurbishment, replacement, and acquisition of new port equipment.
2.] The construction of a new technical facility for maintenance and spare parts storage.
3.] A digital transformation of the terminal, by implementing the very latest management, optimisation and interconnection systems between the operations and the various operators within the port's community.
4.] Environmental performance improvements, through the purchase of greener and eco-friendly equipment.
CMA CGM says it will use its own expertise and that of the previous operator's teams in pursuit of its development goals for the terminal.
The Group is invested in 52 port terminals across 33 countries via its subsidiaries CMA Terminals and Terminal Link – the latter a joint venture.
"Faithful to our commitments to Lebanon, we will be launching shortly an ambitious investment plan that will transform Beirut port's container terminal into a state-of-the-art facility that meets the best international standards," said Rodolphe Saadé, Chairman and CEO of the CMA CGM Group.
"It will be at the service of the Lebanese people and will revitalise the economic exchanges between Lebanon and the rest of the world."
Sign up for Africa Ports & Ships – it's free
Added 17 February 2022
♦♦♦♦♦♦♦♦♦
News continues below
Reinstatement of bunkering operations off Algoa Bay threatens endangered species, say environmentalists
by Tembile Sgqolana, Daily Maverick
Environmental organisations have opposed the decision by the South African Maritime Safety Authority (Samsa) to lift the moratorium on new licences for

fuel ship-to-ship (STS) bunkering

in biodiversity hotspots in Algoa Bay from 1 April.
The organisations have shared a petition that had been signed by more than 900 people by Tuesday.
On 31 January, Samsa announced that the moratorium on the awarding of bunkering licences in Algoa Bay would be lifted from 1 April, with applications being accepted from 1 February. 
The moratorium took effect on 22 August 2019 pending the finalisation of a holding capacity and risk assessment study.
The lifting follows the last sitting of the bunkering stakeholder session, held in December 2021, which resolved that the moratorium should be lifted. The lifting means that new potential entrants can now submit their applications with effect from 1 February.
Environmental organisations represented on the Bunkering Environmental Working Group (BEWG), a working group of the Bunkering Stakeholders Forum (BSF), endeavour to ensure that environmental considerations are factored into the BSF's recommendation-making. 
These organisations have opposed STS bunkering (which involves the transfer of fuel from one vessel to another while at sea) since it was initially permitted in Algoa Bay in 2016. Their opposition is due to the high risks involved and the proximity to foraging and breeding grounds of endangered marine species.
The BEWG said no input had been sought from them before the decision to lift the moratorium on new bunkering licences in Algoa Bay.
The group said the decision to expand offshore bunkering operations is linked to Operation Phakisa — an initiative launched by the government in 2014 and aimed at unlocking the country's blue economy to stimulate the growth and development of SA's seas. 
"Operation Phakisa is targeting four key areas of blue-economic growth: marine transport and manufacturing; aquaculture; offshore oil and gas; and marine protection," said the BEWG.
It said that: "The moratorium was placed on 22 August 2019 following a second oil spill since 2016 and pending the finalisation of a holding capacity and risk assessment study. However, while an anchorage holding capacity study (commissioned by Samsa) was completed in 2020, the environmental risk assessment to be commissioned by the Transnet National Port Authority (TNPA) has yet to commence."
The BEWG said that in the absence of a robust environmental study, environmental organisations have strongly opposed the decision to lift the moratorium.
"In addition, users of Algoa Bay have not been afforded a public participation opportunity through a meaningful consultative process. Concerns raised by conservationists have been realised over the past six years as three oil spills have occurred as a direct result of fuel STS bunkering, affecting endangered African penguins and other threatened seabird species. 
"The impact of oil pollution on marine life must not be underestimated; research has shown that in the long term, African penguins that were oiled, cleaned and released have lower breeding success than unoiled birds."  
The BEWG said Algoa Bay is a marine biodiversity haven, recognised by the declaration of the Addo Elephant National Park Marine Protected Area. 
"St Croix Island previously held the largest African penguin breeding colony in the world, and Bird Island currently holds the world's largest Cape gannet breeding colony, with two thirds of the global population breeding at this site. These islands form part of a global Important Bird and Biodiversity Area, and South Africa has undertaken international obligations to conserve both of these species," said the BEWG.
The organisation said the African penguin population is declining at an alarming rate due to anthropogenic threats, including oil pollution. 
"St Croix Island, the closest island to STS bunkering activities, has suffered a staggering 80% decline of African penguins in the past five years. During this time, vessel numbers have more than doubled in the bay, with bulk carriers having increased more than threefold. Vessel activity has been concentrated in shipping lanes and anchorage areas, where bunkering services are located, that overlap important foraging areas for penguins from St Croix Island," the BEWG said. 
The BEWG said scientists are investigating the impacts on African penguins of marine noise pollution associated with these activities. 
"This threat accumulates with others such as oiling and competition with fisheries, and certainly contributes to the rapid and significant decline of penguins at this colony. African penguins are known to avoid waters with excessive marine noise, as was the case for penguins from St Croix Island during seismic survey activities in 2013," reads the statement.
Nicky Stander, of the Southern African Foundation for the Conservation of Coastal Birds, said the increasingly intense use of the oceans in several economic sectors often goes unnoticed by the public.
"So, why should we care about the health of the marine environment and the species that depend on it? Seabirds are ocean indicators and are often the first to warn us after a pollution incident. Oceans are the world's largest source of protein, with nearly half of the world's population depending on the oceans for their primary source of protein.
"Oceans absorb about 30% of carbon dioxide produced by humans, buffering the impacts of global warming. We are indeed linked to our oceans in all possible aspects. The future of the oceans and our future are inseparable," Stander said.
Professor Lorien Pichegru, a marine biologist at Nelson Mandela University, said sustainable socioeconomic development is crucial for South Africa. 
"To ensure that job creation in one industry does not imply jobs loss in others, reliable and complete risk assessments must be conducted. We depend on healthy oceans for food and jobs, but also for our mental wellbeing," said Pichegru.
Dr Melissa Lewis of BirdLife South Africa said the organisation was strongly opposed to the lifting of the moratorium and urged that it be reinstated. 
"Algoa Bay and its biodiversity are of not only national but also international importance. Ship-to-ship bunkering has already demonstrated a risk of oil spills in this ecologically sensitive and valuable area. We find it inconceivable that this activity should be further expanded without a thorough assessment of its full range of environmental impacts, and of whether (and, if so, how) these can be mitigated to an acceptable level," said Lewis. 
She said it was crucial that decision-making regarding ship-to-ship bunkering in this and other areas be informed by a proper understanding of the risks involved and that — in the face of uncertainties — a precautionary approach be applied. 
"It is also crucial that such decision-making be preceded by meaningful stakeholder consultation," she said.
Frank Collier of Zwartkops Conservancy said they were totally opposed to the transfer of fuel in Algoa Bay.
"We have seen the effect on birdlife resulting from the three 'small' oil spills which have occurred to date. It is only a matter of time before we have a major disaster, possibly on the scale of the Exxon Valdez disaster in 1989."
He said a major oil spill occurring when the prevailing southwesterly wind is blowing would carry the oil into the Addo National Park's marine protected area. 
"If the wind is blowing from the east, the oil will end up on the beaches and, together with an incoming tide, will pollute the Zwartkops River mouth and estuary with devastating consequences for all forms of marine and birdlife. The cost to the country… will far outweigh the benefits accruing to the metro from the bunkering operations," he said.
Dr Eckart Schumann of the Wildlife and Environment Society of South Africa, said the deliberations in the stakeholders' forum and in the environmental working group are separating into stereotypes: the environmentalists are regarded as blocking legitimate economic initiatives, while the STS operatives are regarded as being unconcerned about the consequences of their actions, as long as they make money.
"We should all be working together on this, determining optimum operating conditions which will preserve the long-term integrity and ecological functioning of Algoa Bay, while at the same time allowing such operations which will bring economic benefits for the local community," said Schumann.
He said for this to happen, there had to be functional controlling bodies that complied with the requisite laws and carried out any necessary investigations to determine optimum conditions for bunkering to occur. DM/OBP
This

article

first appeared on

Daily Maverick and is republished here under a Creative Commons license.
Sign up for Africa Ports & Ships – it's free




Added 17 February 2022
♦♦♦♦♦♦♦♦♦
News continues below
WHARF TALK: survivor on the South African coastal service – BORDER
Story by Jay Gates




Pictures by 'Dockrat'
There was a time when Cabotage was not King, and all coastal freight for carriage purely between two South African ports, was carried in South African owned vessels, crewed in the main by South Africans, and with their owners having their head offices within the confines of either Cape Town harbour, or Durban Harbour. Sadly, those times are long past, and they are not likely to return any time soon.
The Durban based company was the greatly missed Unicorn Lines, with vessels either named after South African rivers, or places indicating a point where something ended. The latter included names such as Bastion, Boundary, Bulwark, Ridge, Verge, Range, Rampart, Frontier, Horizon, Barrier and Border. Whilst Unicorn Lines might be gone, the famous names are not.
On 11th February, just before midnight, the multi-purpose feeder container vessel BORDER (IMO 9063988) arrived off Cape Town, from Lüderitz in Namibia, and proceeded straight into Cape Town harbour, going alongside A berth in the Duncan Dock.
Built in 1993 by Stocznia Szczecinska at Szczecin in Poland, 'Border' is 163 metres in length and has a deadweight of 14,120 tons. She is powered by a single Cegielski MAN-B&W 6L50MC 6 cylinder 2 stroke main engine producing 9,422 bhp (6,930 kW), driving a controllable pitch propeller for a service speed of 17 knots.
Her auxiliary machinery includes three Sulzer 6AL20D generators providing 504 kW each, and a single MAN 2866TE emergency generator providing 116 kW. She has a Gdanska LA721D-161 exhaust gas boiler, and a Gdanska VX825 oil fired boiler. For assistance with berthing and unberthing she has a transverse bow thruster providing 590 kW.
She was built as one of eleven lengthened versions of the very popular Szczecinska B-183 design vessels. With 4 holds, served by three Towimor T type 40 ton cranes, 'Border' has a container capacity of 1,156 TEU, with 98 reefer plugs.
She is owned by and managed by Schiffahrtskontor Tom Wörden GmbH of Oldendorf in Germany, whose houseflag adorns her funnel, and she is operated by Navalis Shipping, also of Oldendorf. She has been chartered by Grindrod Shipping of Durban, to operate on their Ocean Africa Container Lines (OACL) service, almost continuously since July 2006, and for which the Grindrod name is now emblazoned on her hull. Previous to this, Ocean Africa adorned her hull.
Operating on the OACL Coastal Service, 'Border' currently has a port rotation of Durban- Cape Town- Walvis Bay- Lüderitz- Cape Town- Durban. The Coastal Service round trip rotation is 14 days, and she is currently joined on this service by another OACL vessel with a name evoking another era, namely 'Barrier'. Until recently, 'Horizon' was also operating on this service.
OACL was a joint venture with Safmarine, and Grindrod acquired the 51% shareholding of Safmarine in August 2012, as Safmarine was being integrated into her new owners, Maersk Line. OACL became a wholly owned company within the Grindrod Group. OACL operates between all major ports from Angola on the West coast of Southern Africa, through to all major ports in Mozambique on the East coast of Southern Africa.
On completion of her loading, 'Border' sailed from Cape Town at 17h00 on 13th February, bound for Durban, and the conclusion of her current voyage 240N. She will return to Cape Town in ten days time, under voyage 241S, on the next rotation of her 15th year sailing on the long lived OACL Coastal Service.
In her long 29 year career to date, 'Border' has received a total of 40 state port inspections. As a result of her longevity on the Southern African coast, she has received a total of 12 port inspections in South African ports, all between July 2006 and, and the last one taking place as recently as 20th January 2022 in Durban. In total, nine of the inspections took place in Durban, two in Cape Town and one in Port Elizabeth. All took place under the auspices of the Indian Ocean MoU, and none of the inspections resulted in a detention order.
Sign up for Africa Ports & Ships – it's free
Added 17 February 2022
♦♦♦♦♦♦♦♦♦
News continues below
Sunken Dutch supply vessel Smit-Lloyd 102 believed found off Cape coast
The watery grave of a Dutch offshore supply tug named SMIT-LlOYD 102, which was lost off Storms River mouth 51 years ago, is believed to have been discovered by South African salvage and towing company, Bridge Maritime.
Neil Scott-Williams of Bridge Maritime told a Dutch newspaper this week that his company has "almost certainly" found the wreck 63 km off the Cape St Francis coast. It was almost by chance that they found the wreck at a depth of 90 metres, he said.
"We are 95 percent sure that we have found the Smit-Lloyd 102."
He said the site of the wreck is 370km from the place where the ship overturned. According to Scott-Williams, that is not strange, given the "enormous" current that is there. "Moreover, there was a heavy storm, so then such a ship can sink a lot further."
Sonar images resemble that of the missing vessel and as far as it is known, no other ships have sunk in that area.
Scott-Williams told the Dutch paper that his company was returning to the wreck site to take images of the wreck using an unmanned underwater vehicle (UUV) but would not attempt to salvage it. "It's a watery grave and it remains so," he said.
Smit-Lloyd 102 was employed on the offshore oil rig in the Outeniqua Basin when she was caught by what was described as a freak 15-metre wave in otherwise rough seas and strong 100km/h winds early in the evening of Old Year's Night, 1970.
The little vessel with a crew of seven was overwhelmed by the wave about ten miles to the west of Storms River Mouth, according to one of two survivors, who managed to launch a dinghy and were later washed ashore. They found their way to a seaside cottage from where they were rushed to the Humansdorp Hospital.
The other five crew, including the captain, were lost with the ship.
The Dutch newspaper De Telegraaf managed to contact one of the survivors, the now 81-year-old former helmsman Karel Kaffa from the Smit-Lloyd 102, Karel Kaffa.
"It was very bad weather," he said. "Southwesterly storm, wind force 10." The water that had been spilled over the ship had flowed into a cargo of pipes that the ship had on board. The ship became unstable and capsized.
Kaffa and a seaman named Johannes Brenkelmann were able to save themselves in the ship's dinghy. He said they waited, but no one came and after a while they could no longer see the ship. The current took their dinghy ashore where they found their way to a house and asked for help.
It is believed that Brenkelmann lost his life a few years later in a stabbing on another ship in Indonesia. Kaffa remained at sea until his retirement.
The last known sighting of the Smit-Lloyd 102 was by the crew of the Durban yacht Cariad, which was making its way to Cape Town to take part in the first Cape to Rio Race. Cariad was involved in a drama of its own with one of the yachtsman being washed overboard by the heavy seas, and another diving into the sea to safely rescue him.
Shortly before the storm started they witnessed the Smit-Lloyd 102 passing them and going in the other direction towards Port Elizabeth.
trh: sources: De Telegraaf, Tugs Towing & Offshore, AP&S files.
Sign up for Africa Ports & Ships – it's free
Added 17 February 2022
♦♦♦♦♦♦♦♦♦
News continues below
Dachser: Supporting Africa's logistics needs with bulk ocean freight
Before sea freight containers took over sixty years ago, break bulk was the main form of moving cargo. Roughly 90% of all goods worldwide are still shipped by sea, of which 70% is now containerised cargo. Break bulk sea freight however still makes up a significant segment of transportation and has several advantages for clients, whether by air or sea freight, says Detlev Duve, managing director of DACHSER South Africa.
Globally, logistics leader DACHSER has undertaken many complex break bulk shipments. Due to Africa's economic reliance on the extraction of natural resources, logistics operators in Africa will often be required to facilitate the movement of large machinery and parts.
Break bulk is where items are not transported in containers, but carried in units such as pallets, bags, drums or crates, or as larger non-unitised cargo. Cargo can be moved in smaller units, and it allows goods to enter less developed ports that are not set up for loading and unloading containers. Break bulk would also be used for hazardous materials, as they have to stay separate.
Break bulk is also essential when it comes to moving large, heavy or unusually shaped goods such as heavy machinery or construction materials, without dismantling the equipment into smaller shipments. This is a clear benefit for large or complex capital equipment, such as turbines or construction equipment, as it can avoid the costs of disassembling, packing, offloading and re-assembling.
Duve cites the example of moving mega machinery between South Africa and China. The project took a year to complete, and required intensive coordination and highly specialist knowledge. The client required the replacement of two stacker reclaimers and two ship loaders to be fabricated in China using raw materials from South Africa. Two E-houses were sent on break bulk vessels from South African ports to Tianjin in China. The completed machinery was then brought back to South Africa on three break-bulk charter vessels. DACHSER South Africa handled the safe passage, customs clearance and offloading onto South African soil.
"One ship loader equates to 99,000 cubic metres and approximately 830,000 kg. At 73 metres in length, these machines equate to the width of a rugby field. The client's shipment included two ship loaders and two stacker reclaimers. This is the ultimate in the transportation of mega machinery," explains Duve.
Specialised and experienced staff
The project called DACHSER South Africa's capabilities, experience and networks into play. "For our client, this mammoth undertaking a success in terms of time, cost and efficiency. At DACHSER South Africa, this is what we aim for, and to get this right, we are prepared to move mountains," Duve continues.
As the break bulk cargo is not containerised, there is more danger of damage and theft. More labour and space can be required, making it a more expensive option. In some cases, specialised warehouses would be required for break bulk storage, or specialist equipment is needed. The transfer points, where the cargo switches from one mode of transportation to another either at ports or airports, may require special equipment and manpower.
A global network, innovative thinking and specialised experience is essential to deal with complex logistics challenges. "We can tap into the expertise of our extensive country network to make sure these projects go without a hitch," he said.
DACHSER:
A family-owned company headquartered in Kempten, Germany, DACHSER is a leading supplier of logistics services worldwide, offering comprehensive transport logistics, warehousing, and customer-specific services in two business fields: DACHSER Air & Sea Logistics and DACHSER Road Logistics, and is represented in 42 countries, including
DACHSER South Africa
Sign up for Africa Ports & Ships – it's free
Added 17 February 2022
♦♦♦♦♦♦♦♦♦
News continues below
IMO has reported that the Regional Programme for Maritime Security in the Red Sea Area (The Red Sea Project) was launched at the Djibouti Regional Training Centre on 10 February.
The project, funded by the European Union, focuses on supporting Djibouti, Eritrea, Ethiopia, Somalia, Sudan and Yemen across four key areas of maritime security:
* Domestication of international maritime legislation.
* Implementation of maritime security measures.
* Development of a port security management system; and
* Port State Control compliance.
This launch follows a six-month inception phase, during which the project team met remotely with the main stakeholders of each beneficiary country to agree on tailored work plans. Implementation is now underway, starting with legal gap analyses and assistance to maritime authorities in ratifying or strengthening the implementation of relevant regional agreements on Port State Control.
IMO joined the other implementing partners The United Nations Office on Drugs and Crime (UNODC), INTERPOL, EU and the Intergovernmental Authority on Development (IGAD) at the launch event.
Sign up for Africa Ports & Ships – it's free




Added 17 February 2022
♦♦♦♦♦♦♦♦♦
News continues below
Wake up, South Africa, urges maritime sector
About time South Africa woke up from its (maritime) slumber
"South Africa can no longer afford own goals – our neighbouring countries are outmanoeuvring us and positioning themselves to be competitive and attract investment to grow their jobs, capabilities and supply chain," says Ms Nthato Minyuku, chairperson of the South African Maritime Safety Authority (SAMSA).
Ms Minyuku's was speaking in summation of input drawn from a group of maritime sector key role players at this year's SAMSA stakeholders event held last week, but also reflecting SAMSA's viewpoint.
The gathering was the first scheduled calendar year event by SAMSA that drew together a large number of the country's maritime economic sector representatives, to both share their own experiences and broad plans while at the same time getting briefed about SAMSA performance, its short term strategic as well as business plans.
The SAMSA stakeholders event is scheduled to coincide with the country's State of the Nation Address (SONA) presented by the President of the Republic.
Held virtually online for the second year running due to Covid-19 pandemic related conditions, the two hour event drew close on 100 representatives from across the country's maritime economic sector, with at least eight of those (excluding SAMSA representatives) forming a guests speakers panel sharing their views and perspectives about conditions being experienced in respective sub-sectors.
The panel included Andrew Millard, director of Vuka Marine – owners of the country's only fleet of commercial cargo vessels registered under the South African flag; Capt. Rufus Lekala, Chief Harbour Master at Transnet National Ports Authority (TNPA); Peter Besnard, CEO of SAASOA; Unathi Sonti, Chairperson of the Maritime Business Chamber; Cleeve Robertson, CEO of the National Sea Rescue Institute (NSRI); Mthozami Xiphu, Board Chairman of the SA Oil & Gas Alliance (SAOGA); Innocent Dwayi, Vice Chairperson of FishSA as well as Ms Kaashifah Beukes, CEO of the Saldanha Bay Industrial Development Zone.
Among issues touched upon by the group were the following, in no particular order:
* SA losing its seat in the IMO Council in the last elections in December 2021 and thereby potentially losing its voice and influence in the global arena.
* Continued uncertainties and lack of urgency in resolving long standing "shipping taxation" matters, which render the SA Ship registry uncompetitive.
* Lack of predictability of the SAMSA tariff increase process, which impacts negatively on the affected firm's budgeting progress.
* Need to strengthen management of the new risk (prevention and combating of marine pollution) introduced through Ship-To-Ship (or bunkering) operations in Algoa Bay. This, they said, remained a great concern for environmental activists and required a collaborative effort between the public and private sector.
* Limited support given the fishing community, following the issuing of fishing rights, with regards especially the capacitation of small scale fishers and cooperatives, including fishing safety awareness initiatives and training and development.
* South Africa's ports efficiencies.
* Negative impacts of Covid-19 on shipping in general, resulting in reduced revenues.
* Lack of certainty on SAMSA's stand on strategic Objective 3 of its legislated mandate: "Promoting the country's maritime interests", including unpacking what this means.
* Slow transformation of the industry, more so limited support given to new entrants and small businesses (whilst noting some progress through SAMSA initiatives.
* More support for non-profit organisation such as the NSRI to fulfil and expand its work e.g. water safety awareness and training, as well as strengthen capacity to fulfil its search and rescue efforts.
* Collaborative effort in advocating and lobbying for a just transition to clean energies and decarbonisation regimes, covering not just SA, but also the African continent.
* Defining South Africa's role within the African Continental Free Trade Area arrangement, and how to capitalise on the opportunities presented by same.
* Lack of a collaborated effort in attracting and promoting investment into the SA maritime industry, inclusive of the maritime related infrastructure.
Summing up their inputs, Ms Minyuku, who also gave highlights of the SAMSA's performance over the last year, said: "What resonates across all inputs from our various speakers today is that there have been some gains in the maritime industry, yet constraints remain – especially within the context of ongoing COVID19 restrictions.
"Through concerted inter-governmental and industry partnership – we can bank and scale up innovative solutions, especially in times of stress. Yet we must also progress on delays in policy, legislative, regulatory and institutional reforms required to unlock the industry.
"South Africa can no longer afford own goals – our neighboring countries are outmanoeuvring us and positioning themselves to be competitive and attract investment to grow their jobs, capabilities and supply chain.
"The WF 2022 Global Risk Report is telling – South Africa is identified as one of 31 countries with a high risk around erosion of social cohesion. It also finds that prolonged economic stagnation, employment and livelihoods crisis and state collapse are some of the biggest risks facing us over the next two years. There is clearly no time to waste, and we all need to redouble our efforts.
"Last year I sat here on the same platform, five months after taking the helm of the SAMSA Board – I assured you that when we meet again in 2022, we would be talking about a stabilising SAMSA poised to prepare South Africa to become an International Maritime Centre while contributing to economic recovery and the building of a developmental state."
Performance & Progress:
Turning onto SAMSA's performance and progress, she highlighted a number of issues among which were: general financial instability of the entity; late or no approval of tariffs threatening the entity's ability to fulfil its legislated mandate; challenges with attracting and retaining critical and scarce skills, executive suspensions and the impact on senior management capacity and the SAMSA brand, possible restructuring and a model to be employed to create a lean and requisite organisation, the impact of the Covid-19 pandemic on the entity's ability to rollout its outward looking programmes and initiatives as well lack of adequate investment in critical SAMSA tools of trade.
Apart from these, Minyuku said there were also areas of significant positive achievements.
"I am pleased to report on behalf of the SAMSA Board that despite the challenges presented by the prolonged Covid-19 pandemic, a legacy of controversy as well as poor audit outcomes – we stayed true to this commitment. We are turning the corner in stabilising SAMSA and good governance in five (5) key areas.
* We have delivered our first unqualified audit in four (4) years for the financial year ending 30 March 2021. We stayed honest to the Audit Recovery Plan which we tabled to the Minister by diligently closing out the internal weaknesses underlying previous audit findings.
* taken a non-negotiable line on addressing whistleblower and stakeholder allegations of malfeasance. You are aware that we have course corrected by suspending implicated executives and running an independent forensic investigation to get to the bottom of longstanding issues which have gone unaddressed for too long.
* run a successful CEO recruitment process and made recommendations of a suitable candidate to the Minister for appointment – these details will be shared with industry once the process is completed
* held the SAMSA Executive accountable to maintaining our going concern status by tightening our belt and achieving savings targets introduced through austerity measures.
* reviewed and approved enhancements to over 20 ICT, HR, Finance and Legal policies to bring SAMSA up to speed with current practice in this regard.
"I wish to commend the SAMSA Executive Team for buying into our vision to play their part – not only to ensure that the dreaded "cash flow day zero" never saw the light of day, but that we turnaround our audit record around," she said.
To listen and watch Ms Minyuku's remarks, click on the video below. [7:22]
To view and listen other participants' videoed remarks of participants, CLICK HERE and then scroll down.
Sign up for Africa Ports & Ships – it's free
Added 16 February 2022
♦♦♦♦♦♦♦♦♦
News continues below
WHARF TALK: 9,300-TEU container ship – APL CHARLESTON
Story by Jay Gates
Pictures by 'Dockrat'
For those who spent time out in the Far East at any time in the 60s, 70s and 80s, they may recall spotting the large general cargo vessels of the American President Lines, resplendent with their unmistakable Spread Eagle and Stars houseflag, which adorned their red and blue funnels. They were a true American owned, crewed and operated company, dominating the Pacific trades, and including a trio of splendid passenger vessels.
As always, in this day and age, in a period of take-overs, amalgamations, mergers and asset strips of the shipping industry, the great name of American President Lines disappeared, and instead a homogenous, foreign company emerged and as is the seeming corporate custom of the day, the corporate identity was replaced with the ubiquitous acronym instead, and APL was the result.
On 3rd February at 07h00, the container vessel APL CHARLESTON (IMO 9597551) arrived at the Table Bay anchorage, and as is currently the case with virtually all container vessels arriving at Cape Town, her schedule came to an abrupt halt, and she was forced to go to anchor for a full week to await a berth in the port. She finally entered Cape Town harbour on 10th February at 11h00, and entered the Ben Schoeman Dock and went alongside berth 604 at the Cape Town Container Terminal.
Built in 2013 by Daewoo Shipbuilding at Geoje in South Korea, 'APL Charleston' is 328 metres in length, and has a deadweight of 115,026 tons. She is powered by a single Doosan MAN-B&W 10S90ME-C9.2 10 cylinder 2 stroke main engine producing 69,455 bhp (51,070 kW), to drive a fixed pitch propeller for a service speed of 22.8 knots.
Her auxiliary machinery includes four HHI generator sets providing 3,360 kW each. She has a Kangrim EA30011 Economiser exhaust gas boiler, and a Kangrim PA0402P01 oil fired boiler. To assist with berthing and unberthing, 'APL Charleston' has a single transverse bow thruster providing 3,000 kW. With nine holds, 'APL Charleston' has a container carrying capacity of 9,326 TEU, with the provision of 1,104 reefer plugs.
She is one of twelve sisterships, all of whom are named after ports of North, Central and South America. The first ten of her sisters were originally ordered as having a container carrying capacity of 8,400 TEU. These ten newbuildings were upgraded after the original order was placed, to be able to carry an increased 9,200 TEU. The final two sisterships were ordered with an original container carrying capacity of 9,200 TEU.
She is named after the city of Charleston, which is the major port, and the largest city, of the state of South Carolina in the USA. For the nomenclature enthusiasts, Charleston was founded in 1670 as Charles Towne, named after King Charles II of England. The state of South Carolina was founded in 1712, and named in honour of King Charles I of England, where Carolus is the Latin derivation of Charles. It was one of the original thirteen British American Colonies and a founder state of the independent USA in 1776.
Owned by Neptune Orient Lines of Singapore, 'APL Charleston' is operated by CMA CGM International Shipping Pte. Ltd. of Singapore, and she is managed by Neptune Ship Management Services, also of Singapore. Although a fleet unit of APL, of Singapore, she is internally chartered out to CMA CGM, and so carries APL titles on her hull, but carries the CMA CGM logo on her funnel.
She is one of twelve container vessels operating on the CMC CGM Asia-West Africa Service. This service provides a weekly departure, on an 84 day rotation, with CMA CGM providing five of the twelve vessels operating the service. Maersk Line provide three vessels, COSCO provide two, with both Hapag-Lloyd and NileDutch providing one vessel each. Her container carrying capacity makes 'APL Charleston' the largest vessel operating on this service.
The port rotation for the Asia-West Africa Service is Qingdao- Shanghai- Ningbo- Nansha- Tanjung Pelepas- Singapore- Cape Town- Walvis Bay- Pointe Noire- Luanda- Cape Town- Singapore- Qingdao. Operating on the northbound leg of the service, 'APL Charleston' departed from Cape Town at 11h00 on 14th February, bound for Walvis Bay in Namibia.
Whilst founded back in 1848, the name of American President Lines did not come about until 1938. The company was acquired by Singapore based Neptune Orient Lines in 1997, and the head office was relocated to Singapore, with the company name altered to simply APL. In 2016 Neptune Orient Lines themselves were acquired by the CMA CGM, and APL became a separate operating company within the CMA CGM Group.
Sign up for Africa Ports & Ships – it's free
Added 16 February 2022
♦♦♦♦♦♦♦♦♦
News continues below
Cyclone Dumako 12S: Weakening but threatening, another on the horison
Cyclone Dumako, described as weak and weakening, remains a threat to northern Madagascar on account of the excessive rain it is bringing. The cyclone is due to cross over the Madagascan coast near the once-famous Sainte-Marie island before heading inland.
With winds in the region of 40 and 45 knots gusting to 55 knots as it crosses the coast this evening, the storm has sufficient strength to survive the overland journey though in a weakened form and to not only enter the Mozambique Channel, but to continue its westward march into Mozambique and later across Malawi and other adjacent African countries.
Northern Madagascar including the capital of Antananarivo is still recovering from the damage caused by wind and rain from Cyclone Ana (Cyclone Batsirai passed overland more to the south) and now faces additional heavy downpours.
Areas on alert include Sava, Analanjirofo and Toamasina.
More heavy rains may occur in central/northern Mozambique and Malawi when the storm crosses the channel and travels inland – these areas too suffered from Ana just a few weeks ago. It is not thought likely that the storm will increase too much in intensity from crossing the Mozambique Channel.
Cyclone Dumako is just the latest tropical storm to reach the western Indian Ocean this year, all in the space of less than two months, but meteorological experts warn that on average the region can anticipate up to 8 or 12 cyclones each 'season'.
Some experts believe that with climate warming taking place these severe storms may move further south, posing threats to southern Mozambique, Eswatini and parts of the eastern South African coast and adjacent inland areas like Mpumalanga and Limpopo provinces.
These storms bring coastal flooding, especially in low-lying Mozambique and southern Malawi, and pose severe hazards to the many islands of the south-western Indian Ocean that may lie in their path. On the African mainland bridges and roads are washed away and hundreds of thousands of people lose their homes and crops, bringing great hardship tho those who can least afford it.
Ironically, the south-eastern part of Madagascar, one of the world's largest islands,has been under a devastating drought for several years. The staple diet for people on the island is rice, and many of the fields have been washed away by the storms.
The U.N.'s Intergovernmental Panel on Climate Change late last year warned of extreme weather-related hazards that the entire south-western Indian Ocean region was expected to face.
The report said that the surface of the Indian Ocean was warming faster than the global average which it said gave rise to more cyclones and more droughts. Cyclones in particular feed on warm water, which is why they often intensify when crossing into the Mozambique Channel which is traditionally warm.
New Storm
Meanwhile, a new Tropical Disturbance is being reported in mid Indian Ocean that is thought likely to intensify into a Tropical Depression, a step away from becoming a full cyclone. This was tracking east-northwest but it is thought this will curve south west by Thursday 17 February on a path that could bring it on a path between St Brandon and Rodrigues islands by Saturday 19 February in the direction of Mauritius.
Sign up for Africa Ports & Ships – it's free
Added 16 February 2022
♦♦♦♦♦♦♦♦♦
News continues below
IN CONVERSATION: Five reasons why militants are targeting Kenya's Lamu county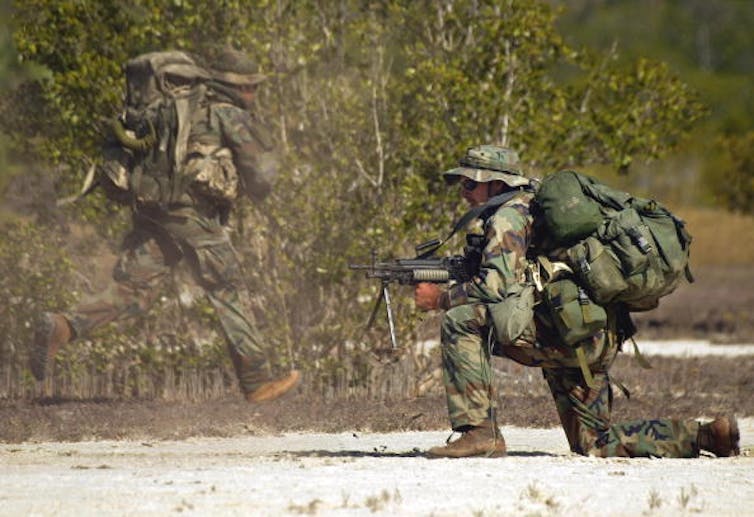 US marines take part in the joint military exercises with the Kenyan Army near Lamu, Kenya. PEDRO UGARTE/AFP via Getty Images
The frequency of terrorist attacks within Kenya's Lamu County on the border with Somalia has been alarming. Frequent kidnappings there were the ostensible reason Kenya invaded Somalia in 2011. Three years later, the seaside county was the scene of a deadly attack in which 48 were killed during an Al-Shabaab siege.
Lamu is in the news again. In January this year, the government declared a dusk-to-dawn curfew amidst a wave of killings. Several terrorist attacks have also been carried out.
Here are the five reasons why Lamu County is a constant target of Al-Shabaab militants:
1. Unique topography
The natural and physical features of Lamu county offer an ideal setting for political violence, including insurgency and terrorism. It is one of the counties that border Somalia. Its expansive Boni Forest comprises about 21.4% of the county's land area.
Lamu's proximity to Somalia, and the Boni Forest, therefore makes it conducive for Al-Shabaab's infiltration. The forest provides a haven for military training and a staging point for hit and run tactics.
The short distance to Somalia also makes it easy for terrorists to move illicit weapons that can be used for such crimes. Hotspots of violent extremism and terrorism in Lamu include, Pandanguo Basuba, Boni Forest, Pangani, Gamba, Milihoi, Bargoni, Mpeketoni, Amu, Witu, Kiunga, Faza, Pate, Siu and Dar es salaam Point
2. Land Tenure
Competition for land is another significant factor that creates opportunities for Al-Shabaab operations in Lamu. Land disputes in Lamu are historical and contemporary. The tensions between the indigenous and non-indigenous communities are influenced by several historical and contemporary factors. In Mpeketoni, the scene of the deadly 2014 attack, land disputes spring from the settlement of communities from other parts of Kenya.
Topping this list is local level politics. Local leaders tend to politicise land ownership. This is due to the perception that non-indigenous communities in some parts of the county have significant influence on local political decisions and electoral outcomes.
This politisation fuels land grievances and political intolerance. This leads to the emergence of organised militias at the local level. This provides ideal conditions for Al-Shabaab to advance its agenda – by using such militias as proxies and affiliates.
Non-indigenous communities often complain that some of the attacks are conducted by locals who appear to have military training.
3. Religious diversity
Related to the settlement tension is the issue of religion in Lamu. Originally, the county was overwhelmingly Muslim like other counties bordering Somalia – Garissa, Mandera and Wajir – where 98% are Muslim.
However, the historical and contemporary migration of non-indigenous communities have contributed to religious diversity in the county. Today the Muslim population comprises 51%, Christian 47% and other religious groups at 2%.
The religious diversity provides an ideal opportunity for Al-Shabaab to advance its divisive political ideology through radicalisation of the local population. Attacks seek to symbolise the militants' ideological aims and objectives of creating an Islamic Caliphate in the Horn of Africa.
Al-Shabaab also often targets non-Muslims in the hope of creating interfaith tension. That is why Al-Shabaab prefers to attack areas that have large non-indigenous populations.
4. Tourist attractions
Al-Shabaab's operations target Lamu because of the symbolic significance of tourism in the county. The county is one of Kenya's top beach, festival and agro-tourism destinations. This is because of its rich marine ecology, terrestrial wildlife and pristine beaches. Others are water sports, cultural and heritage assets as well as its religious, cultural and food festivals.
More significant is that Lamu County is a popular destination for tourists from various Western states. Al-Shabaab targets tourists from Western states in Lamu and other coastal areas for both symbolic and economic reasons.
As part of its war tactics, the attacks involve kidnapping tourists for ransom. They are also designed to attract international media attention.
The group requires such a profile as part of its financing strategy. It is also part of Al-Shabaab's strategy of sabotaging both the Lamu's and Kenya's economy.
5. High-profile projects and military bases
Al-Shabaab's attacks also target large-scale development and defence infrastructure. The most notable public project is the Lamu Port-South Sudan-Ethiopia Transport corridor (LAPSSET). This project which seeks to link Lamu port to South Sudan and Ethiopia – via rail and roads – is the single largest infrastructure undertaking in the eastern Africa region.
Other targets include military personnel and assets stationed in Lamu. They include Kenyan and US military bases at Manda Bay. The Kenya Navy Manda Bay base serves as a national, regional and global military installation.
Given that Al-Shabaab is now a transnational actor, and a threat to domestic and regional security, Manda Bay base has been used as a launching pad for several major counter-terrorism operations.
The Manda Bay military facility is also used by the US Department of Defence as a forward operating location. It falls under the operational control of the Combined Joint Task Force-Horn of Africa, based in Djibouti.
Lastly, attacking Lamu port, and the military facilities used by the Kenya Defence Forces and the US military, is part of Al-Shabaab's symbolic response to Kenya's state-led development initiatives and global counter-terrorism operations.
On January 2020, Al-Shabaab attacked Manda Bay and killed one US military service member and two contractors. The militants also destroyed aircraft and infrastructure. This was Al-Shabaab's first and most fatal attack, beyond Somalia, on a US military facility in Africa since 2017.

This article is republished from

The Conversation

under a Creative Commons license. Read the

original article.
Sign up for Africa Ports & Ships – it's free




Added 16 February 2022
♦♦♦♦♦♦♦♦♦
News continues below
Modernisation of Port Infrastructure Underpins Nigeria's Economic Future – NPA boss
Building a modern and resilient port infrastructure would fast track the country's economic development, facilitate good paying jobs and enable sustained peace across the country.
So says Acting Managing Director of the Nigerian Ports Authority (NPA), Mohammed Bello-Koko.
Speaking at the Onne and Rivers Ports, gave an assurance where he had conducted an assessment tour, Bello-Koko gave an assurance of the NPA's resolve to improve service quality and delivery at the Eastern ports, so that they can serve as competitive alternatives to the ports in Lagos.
He said that the NPA on behalf of its supervising Ministry, is working with relevant agencies towards reducing clearance time of imports and cost of handling of non-oil exports, to complement the economic diversification agenda of the Federal Government.
He advised that the Federal Executive Council has approved the first segment of the dual carriage road for the evacuation of cargo covering a distance of 1.2 km, and it is expected that the next segment will be executed during 2022.
"We have made budgetary provisions for the construction of these critical roads. We have also observed that Onne has transformed into a very busy gateway, unfortunately unauthorised persons have began to find their way into the port to vandalize assets belonging to the Authority.
"We have noticed in recent months the upsurge in cargo traffic at Onne… …and there is need to ensure that what [was] experienced in Lagos does not repeat itself here in terms of traffic congestion and the access roads which must be free of gridlocks.
"In line with our infrastructure development and modernisation agenda, we have come here to inspect the port internal roads network because we must develop the necessary infrastructure that would support and sustain the increasing cargo volumes at Onne Port and other port locations," the MD said.
Noting the level of redundancy at some of the terminals at the port, Bella-Koko said the NPA would review approvals issued to the affected terminals in terms of the type of cargo so that they can begin to attract appreciable cargo volumes.
He hinted that Management is considering granting new tariff reliefs at some eastern ports, especially Calabar, in order to make these ports more attractive to shipping lines and cargo owners.
On the parking of trucks indiscriminately on the access road to Onne Port, he explained that plans are underway to establish a truck terminal in the area, which would be followed by the introduction of an electronic call-up system for the trucks in the eastern corridor, starting with Onne Port.
Infrastructure
Addressing a one-day workshop on Friday 11 February, Bello-Koko reiterated the NPA's commitment towards improving maritime activities at the eastern ports through renewal and expansion of port infrastructure in the region, he advised:
For Delta port, the consultant on the rehabilitation / reconstruction of the Escravos breakwater, Messrs Royal Haskonin DHv, has gone far with the engineering studies which is expected to be completed soon. In the interim plans have reached an advanced stage to dredge the escravos entrance for safe navigation of vessels in the channel to Delta ports.
At the Rivers Port, through active collaboration with the BUA Group, equipment has been mobilised for the reconstruction of quay walls and berths by April 2022. "We have also commenced third party towage operations as well as deploying additional pilot cutters and security boats," he said.
"For the Calabar Port, we have made allocations in the 2022 budget for the rehabilitation of Mcliver Jetty for passenger use and the construction of a radio/signal station at the dockyard in the port, among other projects.
Bello-Koko said the NPA trusted that the renewed efforts aimed at improving shipping and cargo operations in the eastern ports, will result in consignees and shipping lines developing increased confidence in the use of these ports.
"We are hopeful that these measures will attract fresh investments into the region as well as boost the socio-economic well-being of residents in the region,' he said.
Sign up for Africa Ports & Ships – it's free




Added 15 February 2022
♦♦♦♦♦♦♦♦♦
News continues below
Nacala export coal train in accident with truck
A freight train operating along the Nacala logistics corridor has collided with a loaded truck carrying bagged maize.
The accident occurred near Malema in Mozambique's Nampula province.
According to reports the driver of the truck ignored warnings including a stop sign and overtook other stopped vehicles queuing at a level crossing as the coal train approached.
It appeared that the truck driver was determined to cross the level crossing ahead of the others while taking little or no notice of the approaching train.
As the truck drove over the rails it was struck by the train's locomotive, one  of the Dash 9s, causing the truck to be carried some distance along the line and totally destroying it. Fortunately there were no injuries on either the truck or train.
Although reports do not mention it, it was clear from photographic evidence that the locomotive had been derailed but not seriously.
The railway concerned is the 900km line between the coal mines at Moatize in Tete province, and the port at Nacala. The line passes through Malawi en-route and carries the bulk of coal mined in Tete province and other commodities including passengers. Most of the coal transported to the port at Nacala-a-Velha is destined for Asia.
Nacala Logistics, the operator of the train involved, sent a technical crew to restore the line to service.  source: Lusa
Sign up for Africa Ports & Ships – it's free




Added 15 February 2022
♦♦♦♦♦♦♦♦♦
News continues below
Maputo and Matola dry bulk terminals plan to increase capacity – MPDC
The Maputo Port Development Company (MPDC) announced on Monday that in response to the increasing demand for export capacity, the Maputo and Matola Drybulk Terminals (GML and TCM), both sub-concessions of the MPDC, are considering an expansion of their capacity.
This at a time when the global coal demand, which peaked in mid-2021, is still reaching price record highs due to the major surge in coal prices worldwide.
"We are pleased GML's throughput will be increased from the current capacity of 1.5 million tonnes per annum to 4.5 million tonnes per annum in the first half of this year, an increase of 200%," said MPDC in its statement.
TCM's current capacity of 7.3 million tonnes per annum will be increased to 12 million tonnes per annum in the short to medium term, and to 20 million tonnes per annum in the long run. "This enhances South Africa's miner exports on a year-on-year performance basis, increase volume exports by existing port users and promote port access to new users."
In anticipation of growing demand for exports, TCM commenced with infrastructure, plant and equipment rehabilitation and replacement in 2009 which included deepening of the berth and quay offset. An amount of US$128.7 million has been invested to date.
To see related report in Africa Ports & Ships    CLICK HERE
The expansion of GML's capacity is underway and the feasibility study for the planned expansion project at TCM has already been completed. Critical to both projects is unlocking road and rail bottlenecks along the corridor.
"As a team, we are focused on operational excellence and never compromise on safety. Our operations team works closely with the customer, MPDC marine services, and the vessel agent to ensure that every operation runs smoothly and efficiently," the MPDC said.
Cargo handling records
This has led to breaking new cargo handling records – 1 million tonnes in September 2021. "The investment in channel dredging, paired with the rehabilitation and deepening of TCM's berth to -15,4 metres, has equipped the port to accommodate bigger vessels and become more competitive in the region," explained Xolani Mbambo, CEO of Grindrod Freight Services.
The expansion plans are included in the Port of Maputo's new masterplan, which will be presented to the public in early May 2022 during the Maputo Port's Conference.
Sign up for Africa Ports & Ships – it's free




Added 15 February 2022
♦♦♦♦♦♦♦♦♦
News continues below
WHARF TALK: Number One cruise ship in the world – EUROPA 2
Story by Jay Gates
Pictures by 'Dockrat'
The sporadic restart of the cruise season in South Africa, due to the lingering after effects of the Covid-19 pandemic, has seen the resident MSC cruise liner making a few calls at Cape Town, earlier in the season. Prior to that, only one truly international cruise ship called in, and she had to ensure the blowback from the discovery of the Omicron variant in South Africa. Now, the second international cruise ship has called in, and in a pure co-incidence, she happens to be a fleet mate of the first arrival.
On 13th February at 09h00, the luxury cruise liner EUROPA 2 (IMO 9616230) arrived off Cape Town, from Mossel Bay, and immediately entered Cape Town harbour and, without tug support, she proceeded to the Passenger Terminal at F berth in the Duncan Dock. Her arrival was the termination stop of her current cruise, which had begun at Port Louis, in Mauritius, on 31st January as Cruise EUX 2233, with coastal hops down the South African coast via Durban, East London, Gqeberha and Mossel Bay.
Built in 2013 at Chantiers de l'Atlantique (STX) shipyard at St. Nazaire in France, 'Europa 2' is 226 metres long and has a deadweight of 5,285 tons. She has diesel electric propulsion, with power provided by four Caterpillar 6M43C 6 cylinder engines, producing 8,046 bhp (6,000 kW) each, with power fed to Converteam PWM MV7000 converters, driving two Rolls-Royce Mermaid electric propulsion pods, producing 9,722 bhp (7,250 kW) each. She cost US$360 million (ZAR5.48 billion) to build.
Her auxiliary machinery includes four Caterpillar M43C generator sets, providing 6,000 kW each, and a single Cummins KTA50-D(M) emergency generator providing 1,400 kW. She has four Alfa Laval Mission XW-347 exhaust gas boilers, and two Alfa Laval UNEX CHB-6000HE oil fired boilers. For improved manoeuvrability 'Europa 2' has two bow transverse thrusters. For comfort in rough seas, 'Europe 2' has two Blohm and Voss 14 m2 stabiliser units fitted.
Her environmental credentials, as expected, are quite high and she was designed from the outset to be an eco-friendly vessel. She burns low sulphur marine gas oil, and has Selective Catalytic Reduction (SCR) systems, which together reduces her SOx emissions by 93%, and her NOx emissions by 95%. She has a ballast water management system, and a biological sewage treatment plant. Her hull is designed to provide an 18% saving in fuel burn.
One of her most modern environmentally important systems, is that 'Europa 2' is fitted out with a complete Cold Ironing connection. This means that, at those ports that are able to provide the service, she is able to take all of her 'in harbour' power from a shore connection. As she requires 2,200 kW of power per hour when she is alongside, it means that she reduces her emissions down to practically zero, as she does not need to run any onboard generators to provide power for the ships systems and facilities that are required to run when in port.
Owned by Hapag-Lloyd Kreuzfahrten GmbH, of Hamburg in Germany, 'Europe 2' is operated by TUI Cruises GmbH, also of Hamburg. She is managed by Columbia Cruise Services Ltd. of Limassol in Cyprus. She was never a fleet member of the well-known Hapag-Lloyd shipping line.
Hapag-Lloyd was acquired in 1998 by Preussag AG (who became TUI AG in 2002) and became its fully owned subsidiary in 2002. Hapag-Lloyd Kreuzfahrten (Hapag-Lloyd Cruises) was broken away from Hapag-Lloyd shipping line in 2008, and integrated into TUI AG, some five years before 'Europa 2' entered service. In 2020, Hapag-Lloyd Kreuzfahrten was sold to TUI Cruises, which is a joint venture between TUI AG and Royal Caribbean Cruises of the USA.
She has seven passenger decks, seven restaurants, six bars, a spa covering 800 m2, a theatre, pool and gym. For shore excursions, in developed locations, she has tenders, capable of seating 150 passengers. For shore excursions, in remote locations, she has twelve zodiacs to get passengers ashore. Her hospital even has a fully fitted dialysis unit provided for passengers.
Carrying a normal crew complement of 370, 'Europa 2' states that they never carry more than 500 passengers. She has 251 passenger suites, and the boast of 'Europa 2' is that she does not have any cabins, she only has suites. These vary from 35 m2 in size, up to a palatial 114 m2.
The Berlitz Guide to Cruising and Cruise Ships has voted 'Europa 2' as the Number One cruise ship in the world, and given her a Five Star Plus rating, their highest. She took the Berlitz No.1 ship title from her fleet mate 'Europa', which had held that accolade for more than a decade.
Her next cruise, EUX2234, which starts from Cape Town on 14th February (Valentine's Day), will take her on a 14 day round robin, ending back in Cape Town on 28th February, via calls at Lüderitz (8 hour stay), Walvis Bay (10 hour stay), Gqeberha (overnight 23 hour stay), Durban (13 hour stay), Mossel Bay (10 hour stay), and back to Cape Town.
After a ten hour turnaround, 'Europa 2' will sail from Cape Town the same day, 28th February, on Cruise EUX2235, which will end in Las Palmas in the Canary islands, via calls at Lüderitz (7 hour stay), Walvis Bay (10 hour stay), Jamestown at St. Helena (7 hour stay), Mindelo at the Cape Verde Islands (10 hour stay), and then Las Palmas.
However, 'Europa 2' is scheduled to return to Cape Town before the end of the year. She is scheduled to complete Cruise EUX2225, starting at Victoria in the Seychelles in early October, and via Antsiranana and Nosy Be in Madagascar, followed by more South African coastal port hopping via Richards Bay, Durban, Gqeberha and Mossel Bay, she will arrive back in Cape Town on the morning of 28th October.
That same evening, on 28th October, she will make a final departure from Cape Town on a return cruise, EUX2226, back up the South African coast via Gqeberha, East London, Durban, Richards Bay, d'Ehoala (Fort Dauphin/Tôlanaro) in Madagascar, Le Port in Reunion, and ending in Port Louis in Mauritius on 10th November. The 'Europa 2' published cruise programmes for both 2023, and 2024 up to October that year, do not, as yet, show her returning to South African, or Indian Ocean shores.
Sign up for Africa Ports & Ships – it's free




Added 15 February 2022
♦♦♦♦♦♦♦♦♦
News continues below
Tresta Star grounding off Reunion: problematic salvage ahead
Salvaging the grounded tanker TRESTA STAR off the rocky coast of south-eastern Reunion island promises to be difficult.
That's the consensus of salvage experts now that some examination of the wreck has become possible.
The oil products tanker Tresta Star, built in 2019, went aground after losing engine power as the small tanker headed for the south coast of the island ahead of the oncoming Batsirai cyclone on Thursday, 3 February.
See the report in Africa Ports & Ships by CLICKING HERE – use your BACKSPACE button to return to this page.
Experts went on board the tanker on Tuesday 8 February to carry out an inspection and assessment of the damage and what they discovered does not look encouraging.
It was confirmed that the hull of the vessel presents problems – in particular a breach of three metres in the engine room compartment. However the main structure appears sound with no indication of the ship's back breaking at this point.
Having said that, the ship is described as "deeply grounded." It is the rocks on which the ship sits that will make it difficult to be towed clear.
The Maltese-flagged anchor handling tug VASILEIOS P (IMO 9651307) was commissioned by the owners of Tresta Star to approach the grounded tanker and take soundings as well as begin pumping out water. Another vessel is to be brought in to take off the oil and fuels remaining on board the tanker, mostly bunker fuels as the tanker's tanks were empty when she grounded.
Traces of hydrocarbons have been found in the sea near the casualty, which are being linked to previous transportation of heavy fuel oil.
Access to the site is now prohibited as are the use of drones overhead.
Sign up for Africa Ports & Ships – it's free
Added 15 February 2022
♦♦♦♦♦♦♦♦♦
News continues below
India exports four diesel-electric locomotives to handle Beira coal exports
Video [1:08] with specifications of the new locomotives (YouTube)
India has exported four diesel-electric locomotives to Mozambique where they are to go into service on the coal route to the port of Beira.
The Cape gauge locomotives, manufactured at the Banaras Locomotive Works (BLW) in India, were inaugurated into service on Friday 11 February by Mozambique's President Filipe Nyusi.
The locos were designed, manufactured, and financed by India for export in the spirits of 'Atmanirbhar Bharat', a term meaning 'self-reliant India', which is a phrase popularised by India's Prime Minister Narendra Modi and the Government of India in reference to the economic vision and economic development in the country.
Also on hand to witness the inauguration was Zimbabwe's president, among other dignitaries.
The 3,000 HP AC traction locomotives will be used in multiple units on the coal line from Moatize in Tete province to the port at Beira, hauling 43-wagon trains of 3,561 tons of coal to the port. The locos could also work on the line from the Zimbabwe border to the port.
For the convenience of the train crew the locomotives have on board a toilet, a fitted refrigerator and hot plate stove. The locomotives come equipped with a computer-controlled brake system and larger fuel tank of 6,000 litres for longer operation.
A spokesman for BLW said they were looking forward to more opportunities to play a key role in India's International Economic Cooperation initiative in partnership with the Ministry of External Affairs and the Rail India Technical and Economic Service Limited (RITES).
YouTube video of handover of the new locos [4:08] (not in English)
Sign up for Africa Ports & Ships – it's free




Added 15 February 2022
♦♦♦♦♦♦♦♦♦
News continues below
MOL  partners carry out successful autonomous ship operation
Mitsui OSK Lines (MOL) and its partners have carried out a second successful test involving an autonomous cargo ship, this time with the feeder container ship MIKAGE (IMO 9815367) which sailed unmanned for more than 100 miles from Japan's Tsuruga Port in Fukui Prefecture to Sakai Port in Tottori Prefecture.
The sea trial formed part of the unmanned ship project MEGURI2040 – a portent of the future – which is being led by the Nippon Foundation.
The successful sea trial took part between 24 and 25 January 2022.
On arrival at Sakai port an aerial drone was used to assist with the berthing of the ship.
Using a selection of technology, the ship followed a previously formulated route using the MES-S-developed autonomous ship operation control system, which is required to accurately grasp ship location information, various external elements such as wind and tides or currents, and to engage ship handling performance that is specific to the vessel, i.e. manoeuvrability, conditions of acceleration and deceleration)/configuration of ship handing equipment.
Navigation rules
Information on other ships and obstacles/debris on the set route was gathered by the Furuno Electric-developed autonomous surrounding information integration system, which measures and displays positions, speed, types of nearby ships, and position of obstacles/debris by integrating information gained by cognition through radar, AIS, and camera images.
Based on the integrated information, the ship navigated the safe route formulated by the autonomous collision avoidance routing system.
The autonomous berthing and unberthing required especially delicate handling, with the ship using information from the Furuno Electric-developed berthing/unberthing support sensor.
This is equipment that calculates and visually displays accurate relative distances and relative angles between the pier and hull from information gathered by LiDAR/camera/satellite compass.
'Automated mooring' an element of the consortium's project.
Ordinarily, a crewmember on the ship passes the heaving line by throwing it to a worker on the pier. In this sea trial, the A.L.I.-developed automatic flight drone carried the line to the pier. As technology advances in the future, this is expected to become an alternative approach to mooring operations, which is a heavy burden on seafarers.
Plans for a future sea trial
In order to develop highly versatile technologies, the consortium plans a sea trial of autonomous navigation using the coastal car ferry SUNFLOWER SHIRETOKO (IMO 9236717), which has different characteristics from the coastal containership.
Second autonomous sea trial
Meanwhile, a second Japanese sea trial was carried out this week, involving another feeder container ship, the 204-TEU SUZAKU (IMO 9853357) which commenced an autonomous sailing between Tokyo Bay and Ise Bay on Monday, 7 February 2022. The 2019-built ship was retrofitted for autonomous sailing at the Innoshima Sanwa Shipyard.
The pilot project is sponsored by the Joint Technological Development Programme for the Demonstration of Unmanned Ships under the Nippon Foundation, and is testing the feasibility of unmanned navigation through crowded waters.
Yara Birkeland
While the MOL consortium is claiming a world first in autonomous ocean travel, it should be remembered that the Norwegians may have been there first, when in November 2021 the Norwegian-built 120-TEU container ship YARA BIRKELAND commenced commercial autonomous operations for the Norwegian fertiliser producer, Yara International.
The battery-operated Yara Birkeland is carrying containers of fertiliser from the company's Porsgrunn plant to Norway's Brevik and Larvik ports. However, it remains a test-bed operation and we're not sure if this has become a fully autonomous operation as yet or whether the ship carries a small navigational crew on board.
See our report of 29 November in Africa Ports & Ships HERE
Sign up for Africa Ports & Ships – it's free




Added 14 February 2022
♦♦♦♦♦♦♦♦♦
News continues below
Madagascar faces third cyclone in three weeks, Cyclone Dumako
A third cyclone/tropical storm threatens Madagascar in as many weeks, as Cyclone Dumako (12S) bears down on the north-western coast where it is expected to make landfall later tomorrow (Tuesday 15 February).
While being described as a moderate tropical storm with current winds of 50 knots gusting to 65 knots, Dumako will deposit large amounts of rain on an already drenched part of the island.
Dumako was situated near position 16.5S 55.2E at 06h00 on Monday 14 February, having tracked west-southwestward at between 13 and 16 knots, passing safely to the north of Reunion and Mauritius. At 09h00 the JTWC was reporting the storm centre as near position 16.6S 54.6E. The storm was passing to the south of Tromelin island on Monday mid morning.
Meteo France advises that during the earlier hours on Monday the cloud pattern has experienced strong electrical activity which it describes as a sign of intensification. At that stage the winds were in the range of 45 knots reaching towards 50 knots. The system remains small, i.e. not wide across as was Cyclone Batsirai.
The storm is expected to continue westerly which will land it over Madagascar between St Mary's island (Sainte Marie) and Antalaha, sometime on Tuesday between midday and evening. Although described as a weaker storm, Dumako is still expected to survive the crossing of Madagascar and exiting into the northern Mozambique Channel, possibly as a large depression zone over the north of the channel.
Over land Dumako will deposit heavy rain (50-100mm) in less than 24 hours between Toamasina and and Antalaha, with local accumulations of up to 200-300mm likely near Sainte-Marie and strong gusts of 80-100 km/h may be expected in the area of landfall.
The cyclonic swell reaching the coast from Tuesday will be around 3 metres and possibly up to 5 metres in height.
The small size of the system makes it susceptible to rapid fluctuations in intensity, which could be greater than the current forecast. sources: Cyclocane, Meteo France, Mauritius Meteorological Services, Joint Typhoon Warning Centre (JTWC).
Sign up for Africa Ports & Ships – it's free




Added 14 February 2022, 10h45 CAT
♦♦♦♦♦♦♦♦♦
News continues below
Nacala port and railway to handle most of Malawi's fuel needs in future
Malawi

is set to become one of the largest users of the

port of Nacala

for the import of petroleum products.
Announcing this last week, the Malawi National Petroleum Company said it will soon begin importing fuels via the port and Nacala Railway Corridor.
It said this initiative aims at alleviating the high cost of road transport from the ports of Beira in Mozambique, Durban in South Africa and Dar-es-Salaam in Tanzania.
The landlocked country's largest strategic fuel reserve in Lilongwe is already connected to the Nacala rail network. Railway works on the Mchinji – Salima section are 92% complete which will connect with the Blantyre fuel reserve.
According to the executive vice president of the National Petroleum Company of Malawi, Hellen Buluma, on completion of the railway works, Malawi will become one of the biggest users of the port of Nacala as a result of the importation of fuels.
Buluma said that using road transport entails high costs for Malawi, due to limited truck availability and capacity. Malawi pays US$ 10 per ton per kilometre against US$ 7, the average price established in the SADC region.
It is this high cost of transport that has an adverse effect on Malawi's economic competitiveness, she said, hence the shift in business strategies from Beira, Dar-es-Salam and Durban to Nacala.
The distance between Blantyre in Malawi and the port of Durban is about 2,300 kilometres. From Blantyre to Dar es Salaam by road is 1,783km, whereas the distance by road between the Malawi city and the port of Nacala is 877km.
The road distance between Malawi and the port of Beira is around 800km but is considerably longer if the route is taken through Zimbabwe.
By contrast, the rail distance from Malawi to the port at Nacala is around 600km.
Malawi has a small economy and with slow growth being experienced as a result of a concentration on a small number of profitable commodities, a method of lowering the cost of fuel in the country is seen as highly desirable.
Currently the port of Beira handled approximately 17% of containerised imports and exports for Malawi, and around 13% of bulk cargo. The port of Nacala currently handles 7% of containerised and bulk cargo for Malawi. This can be a factor affected by less shipping lines calling at Nacala at present.
Sign up for Africa Ports & Ships – it's free




Added 14 February 2022
♦♦♦♦♦♦♦♦♦
News continues below
WHARF TALK: Drill ship with fascinating history – JOIDES RESOLUTION
Story by Jay Gates


Pictures by 'Dockrat'
Over the past few decades, the sighting of a drillship arriving at, or departing from, Cape Town is not something that is considered as rare. Recently, the oil and gas industry have had two drillships operating in Namibian waters, just north of the Orange River, and a third drillship passed the Cape, only last month, heading for Angolan waters.
Despite the irregular appearance of such oil and gas industry drillships, there is one class of drillship that really is rare, and that most observers would not recognise. That is because there are only two of them in the world. They are both drillships dedicated solely to scientific research and discovery, and one of them has spent the best part of the last year operating out of Cape Town, and will continue to do so for a good part of the year still to come.
On 5th February at 07h00, the research drillship JOIDES RESOLUTION (IMO 7423081) arrived at Cape Town, from an area of the South Atlantic Ocean between Tristan da Cunha and Gough Island. She had been carrying out deep seabed drilling in the southernmost reaches of an area known as the Walvis Ridge. She proceeded into Cape Town harbour and went straight alongside the Repair Quay in the Duncan Dock.
The voyage that had just ended at Cape Town, began off Walvis Bay, in Namibia, where the Walvis Ridge begins, and she had carried out seabed core sampling in a line stretching all the way to Gough Island. She had sailed out of Cape Town on 29th December, and had been away at sea for 39 days. She has an operational endurance of 75 days.
Her low IMO number gives a clue that 'Joides Resolution' has been around a while. She was built in 1978, a full 44 years ago, by the Hawker Siddeley Shipyard, at Halifax, in Nova Scotia, Canada. She is 143 metres in length and has a deadweight of 8,233 tons. She was originally built as an oil and gas industry drillship, operated by a consortium of Sedco and BP, and even back in 1978, she cost US$67 million (ZAR1.02 billion) to build.
Converted in 1984 from an oil exploration drilling vessel to a scientific drilling vessel, 'Joides Resolution' was given her current name, which is an acronym for Joint Oceanographic Institutions for Deep Earth Sampling (JOIDES), and the name of Captain James Cook's exploration vessel, 'HMS Resolution', whose two voyages are considered to be the greatest voyages of discovery in history.
She was rebuilt again, and modernised, between 2006-2009, at the Jurong Shipyard in Singapore. She can accommodate 65 crew, and 50 scientific passengers. For offshore logistic support, 'Joides Resolution' has a 20 metre, stern mounted helideck, capable of taking AS332 Super Puma helicopters. She is classified as Ice Class B for her operations, which allows her to operate in first year ice of 0.6 metre thickness, without icebreaker support.
As a diesel electric vessel, 'Joides Resolution' is powered by no less than seven GM EMD 16 cylinder 2 stroke engines, with two of them being EMD 645E engines producing 2,011 bhp (1,500 kW) each, and five of them being EMD 645E3 engines producing 2,816 bhp (2,100 kW) each. The engines provide domestic power, as well as propulsion power to EMD D79-MB motors. For propulsion, she has two controllable pitch propellers producing 9,000 bhp (6,711 kW), giving her a transit speed of 10.5 knots.
As a drillship, she requires super accurate station keeping capabilities, and her dynamic positioning ability is provided by her having no less than two transverse stern thrusters, providing 560 kW each, and a mammoth ten retractable azimuth thrusters, six located forward, and four located aft, and all providing 560 kW each.
She has a 62 metre high drill tower, and can drill down to a depth of 8,235 metres, with a maximum drill string length of 9,150 metres. The deepest depth to which she has drilled is 5,980 metres, and the deepest hole below the seabed that she has drilled is 2,111 metres. In contrast, the shallowest depth to which she has drilled is a shallow 37.5 metres. All her records were recorded from the Pacific Ocean. Her farthest North record is 80° 30' North 08° 12' East, and her farthest South record is 70° 48' South 014° 36' West, in the Weddell Sea of Antarctica.
Between January 1985 and September 2003, 'Joides Resolution' operated on the Ocean Drilling Programme (ODP). She was then demobilised, and in June 2004 she began operating on the International Ocean Discovery Programme (IODP), which she continues to do to this day. The IODP is funded mainly through the National Science Foundation (NSF) in the USA, with 23 programme members, located all around the globe, also providing funding towards the IODP.
Owned by Overseas Drilling Ltd., of Kristiansand in Norway, 'Joides Resolution' is operated by an organisation called the Joides Resolution Science Operator (JRSO), through the Texas A&M University, which is located to the northwest of Houston, in the USA. She is managed by Siem Offshore, of Kristiansand in Norway.
She had previously visited South Africa back in 2016, when she arrived in Cape Town in March 2016, from Port Louis, in Mauritius, where she completed a SAFARI research voyage, where she investigated the interaction between climate and the Agulhas Current during the Plio/Pleistocene eras. She underwent a refit in Cape Town, and on completion of her refit, she sailed from Cape Town in July 2016, for Colombo, in Sri Lanka, on a drilling research cruise via the Southwest Indian Ocean Ridge.
She did not return to South African shores again until February 2021, when she arrived from Kristiansand, in Norway, after completing a research voyage on the southern portion of the mid-Atlantic Ridge, down to 30° South. Her next voyage was, unfortunately, cancelled due to Covid-19, and restrictions put in place by the South African government at the time, which prevented the next set of scientists arriving in South Africa. She remained in port until April.
In April 2021 she sailed for Reykjavik, in Iceland, again to conduct research on the mid-Atlantic Ridge. She returned from Reykjavik in 20th December 2021, after a third mid-Atlantic Ridge cruise. This brings her up to date, as her next cruise had 'Joides Resolution' departing from Cape Town on 29th December for the Walvis Ridge, which was her last voyage, arriving back in Cape Town on 5th February.
With her turnaround completed, and having taken on bunkers and fresh stores, 'Joides Resolution' sailed from Cape Town at 10h00 on 10th February. This current scientific assignment, now underway, is to the Agulhas Plateau, located 500 nautical miles south of South Africa, and the Transkei Basin, where she will conduct drilling to reconstruct the Cretaceous–Paleogene era tectonic, and climatic, evolution of the Southern Ocean basin. She is due to return to Cape Town in early April.
Next, 'Joides Resolution' is scheduled to conduct two further identical cruises in the South Atlantic Ocean, with the first one from April until June, and then a follow up cruise from June to August, where both cruises will conduct drilling transects along slow flowing crustal ridges, on the western side of the mid-Atlantic Ridge, close to the line of the 30° South parallel.
On completion of the second South Atlantic transect cruise in early August, 'Joides Resolution' will depart Cape Town for the last time in August 2022, to conduct a transit cruise ending in Lisbon, in Portugal. Her future, published, programme does not indicate if, or when, she will return once more to South Africa, or Southern African waters.
Sign up for Africa Ports & Ships – it's free




Added 14 February 2022
♦♦♦♦♦♦♦♦♦
News continues below
Namport scores some positive results amidst difficult economic times
The Namibian Ports Authority (Namport) reports positive growth in its business dealings amidst the current economic turmoil, which the world is still recovering from.
Namport has responsibility for the management and operations of the ports of Walvis Bay and Lüderitz.
With only one and half months remaining of its financial year, the Ports Authority says it is pleased to announce an increase of 252 vessel (24%) calls during April 2021-January 2022, in comparison to the same period in 2020/2021's financial year.
The increase in vessel calls were predominantly due to increased petroleum vessels, Namibian and foreign fishing vessels, foreign tugs, and research vessels. An increase of sixteen percent (16%) is also noted in vessel gross tonnages.
The Ports Authority is equally proud to announce an increase in its Bulk and Break Bulk (BBB) volumes with an improvement of 173,587 tonnes (5%), year on year. The growth is mainly due to increased exports of 251,334 tonnes (20%) of commodities such as marble, ship spares, petroleum products, and bulk salt.
During the past two decades, Namport has recorded substantial growth, in both size and significance, from a minor national port to a key regional and international role player.
With its recent substantial infrastructural investment in expanding the facilities and its capabilities at the Port of Walvis Bay, Namport believes it will increase its relevance even more.
"The Namibian Ports Authority is well on the trajectory of realizing its vision of becoming the best performing seaports in Africa," says Elisa Hasheela, Acting Executive: Commercial Services.
Sign up for Africa Ports & Ships – it's free




Added 14 February 2022
♦♦♦♦♦♦♦♦♦
News continues below
Green shipping boost: UK Maritime Minister announces plans to explore shore power
In the UK a call for evidence has been launched by the Department for Transport as the government aims to accelerate maritime decarbonisation by switching to emissions-cutting shore power at UK ports.
In an announcement of 7 February it was anticipated that vessels could eventually plug into onshore power sources while berthed, lowering emissions.
Launching a call for evidence on shore power during his keynote speech at the annual UK Chamber of Shipping (UKCoS) Dinner on 7 January, the Maritime Minister Robert Courts outlined how, as well as vital environmental benefits, stimulating the innovation of new green technologies will continue the revival of the UK's shipbuilding industry, bringing private investment, creating jobs and revitalising coastal communities.
Maritime Minister Robert Courts said: "Climate change is one of the biggest challenges this generation faces, and we will continue to lead international efforts to decarbonise the maritime sector.
"Shore power will end the outdated practice of ships keeping their engines running while in port, reducing the poisonous fumes entering the air and ensuring we meet our net zero 2050 goals."
Already leading the charge on key decarbonisation technologies such as zero-emissions vehicles, the UK became one of the few nations in the world to have a dedicated Clean Maritime Demonstration Competition, which pledged £23 million in 2021 to fund over 55 decarbonisation projects.
This was joined by commitments made at COP26, in which the UK launched the Clydebank Declaration, a coalition of 22 countries keen to develop green shipping corridors.
Mark Simmonds, Director of Policy and External Affairs for the British Ports Association, said: "The ports industry has a key role to play in supporting the decarbonisation of shipping and shore power will be an important part of that.
"This call for evidence is a step forward and will help us all better understand the current barriers to delivering more shore power to ships.
"We look forward to sharing the sector's experiences so far and exploring how industry and government can work together to lower emissions in ports."
Tim Morris, CEO at the UK Major Ports Group, added: "Shore power has the potential to play a positive part in the future of zero emission maritime, although it is an area that currently faces some significant challenges.
"The call for evidence is, therefore, an important step in finding the right, viable ways that industry, government and networks can work together to support the wider deployment of shore power where it is an appropriate solution."
The consultation
This call for evidence aims to address the gaps in understanding by gathering information on shore power's benefits and costs. It will be followed by further consultation on specific policy proposals to support its uptake, it is understood.
Once all consultations (closing 25 April 2022) are concluded the UK Department for Transport will announce a set of interventions to support the uptake of shore power in the UK as part of the refresh of the Clean Maritime Plan in 2023.
For the consultation document readers are invited to SEE HERE
European advance
Four days later the One Ocean Summit in Brest, northern France, declared that there will be international effort for environmentally friendly ports.
At the Summit port authorities and stakeholders signed a joint-commitment to reduce the environmental impact of port calls.
It is understood that port authorities will deploy shore-side electricity supply for container vessels and cruise ships by 2028.
The European Investment Bank (EIB), the EU bank, concluded by announcing its intention to support the declaration and confirmed its commitment for a low-carbon economy.

Edited by Paul Ridgway




London
Sign up for Africa Ports & Ships – it's free
Added 14 February 2022
♦♦♦♦♦♦♦♦♦
News continues below
Queen Anne: Cunard reveals name of its next cruise ship
Cunard has announced the name of its newest ship still under construction,

QUEEN ANNE

, which will join the fleet in 2024 as the latest in a quartet alongside Queen Mary 2, Queen Victoria, and Queen Elizabeth.
Cutting of the first steel took place in Italy in 2019 at the Fincantieri Castellammare di Stabia shipyard in Naples, the same yard that delivered the Queen Victoria in 2007 and Queen Elizabeth in 2010.
When Queen Anne enters service in early 2024, she will become Cunard's 249th ship.
Cunard promises a new experience across dining, culture, and entertainment, with a blend of old and new. "Together with a team of world-renowned designers, we have created a ship designed with distinction and re-imagined the voyage experience," Cunard says.
"For over 180 years we've set the bar and then raised it, continually refining the definitive experience of ocean travel. From this spirit comes the finest ship of its era. A ship inspired by our past and built for our future. We look forward to welcoming you on board Queen Anne."
According to Cunard, the name Queen Anne "celebrates Cunard's rich heritage, royal history and refined status."
Cunard says it explored multiple naming options before being inspired by Queen Anne's reign. They subsequently engaged with British historian, author and television presenter, Kate Williams, to assist in the detailed research.
"It is so exciting that the fourth ship of the fleet will be named after Queen Anne. She has a fascinating tale to tell – one of queenship, unity of developing constitutional monarchy, a golden age of the arts. She was an inspiring woman, wildly popular with her people. She should be celebrated. This new ship in the Cunard fleet is the perfect way to do it!" Williams said.
From May this year it will be possible to book voyages in Queen Anne.
Sign up for Africa Ports & Ships – it's free
Added 14 February 2022
♦♦♦♦♦♦♦♦♦
News continues below
EMSA signs cooperation agreements: EU Naval Missions to Somalia and Libya
Enhanced maritime awareness
It was announced on 11 February that the European Maritime Safety Agency (EMSA) is supporting EU Naval Force operations – known as Atalanta and Irini – following the signature of two cooperation agreements (see illustration below) with EU NAVFOR-Somalia (Operation Atalanta) on the one hand and EUNAVFOR MED (Operation Irini) on the other.
Operation Atalanta targets counter piracy and the protection of vulnerable vessels and humanitarian shipments off the coast of Somalia, while Operation Irini seeks to enforce the UN arms embargo on Libya and in doing so contribute to the country's peace process.
By cooperating with EMSA in the areas of maritime security and surveillance, multiple sources of ship specific information and positional data can be combined to enhance maritime awareness for the EU Naval Force in places of particularly high risk and sensitivity. The support provided by EMSA comes in the context of the EU's Common Security and Defence Policy.
EUNAVFOR-Somalia Atalanta
EMSA has been supporting the EU NAVFOR-Somalia Atalanta operation since April 2011 when piracy off the coast of Somalia was at its peak. The various measures taken to suppress piracy have been successful and the mandate of the operation was not only renewed at the beginning of last year but also expanded to include measures against illegal activities at sea, such as implementing the arms embargo on Somalia, monitoring the trafficking of weapons, and countering narcotic drugs.
Through the cooperation agreement, EMSA is providing EU NAVFOR with access to an integrated maritime monitoring solution which offers the possibility of consulting vessel position data, central reference databases and earth observation products.
This is integrated with EU NAVFOR data – such as vessel risk level based on vulnerability assessments – creating a specifically tailored maritime awareness picture. The new cooperation agreement extends the longstanding collaboration with EU NAVFOR for an indefinite period and is a great example of how EMSA is serving maritime security and law enforcement communities worldwide.
EUNAVFOR MED Irini
The EUNAVFOR MED operation Irini began on 31 March 2020 with the core task of implementing the UN arms embargo on Libya using aerial, satellite and maritime assets. It replaces operation Sophia but with a new mandate. While EMSA has been providing satellite AIS data to EUNAVFOR MED since 2015, the new cooperation agreement allows for access to EMSA's Integrated Maritime Services platform and in particular to the Agency's Automated Behaviour Monitoring (ABM) capabilities.
These services help EUNAVFOR officers to keep a close eye on Libya's ports as well as to monitor the flow of maritime traffic in the area and target specific vessels for inspection based on suspicious behaviour picked up by the ABM tool. While the agreement is open ended, operation Irini's mandate is expected to run until 31 March 2023.
About EMSA
The European Maritime Safety Agency is one of the European Union's decentralised agencies established for the purpose of ensuring a high, uniform and effective level of maritime safety, maritime security, prevention of and response to pollution from ships, as well as response to marine pollution from oil and gas installations. The agency promotes a safe, clean and economically viable maritime sector in the EU.
Readers are invited to visit EMSA's website HERE for more information on the organisation.

Edited by Paul Ridgway




London
Sign up for Africa Ports & Ships – it's free




Added 14 February 2022
♦♦♦♦♦♦♦♦♦
News continues below
CMA CGM will no longer carry plastic waste on its ships
French container carrier CMA CGM has decided that as from 1 June this year its ships will no longer carry

plastic waste

.
This will apply worldwide, the company said, calling this a landmark decision in the shipping industry to protect the oceans and biodiversity.
Rodolphe Saadé, Chairman and CEO of the CMA CGM Group, made this announcement during the One Ocean Summit, organised by Emmanuel Macron, President of the French Republic. He described the decision as CMA CGM continuing to demonstrate its commitment to protecting the environment and conserving biodiversity.
Saadé also announced that the Group will host one of the two sites of the French Institute for Decarbonisation at Tangram, the Group's innovation and training centre due to open in Marseille in 2023.
A major priority for the oceans and for conserving biodiversity
Every year, around 10 million tons of plastic waste end up in the sea, a figure that is set to triple over the next 20 years to reach 29 million tons per year if not reversed. This will cause irreversible damage to marine ecosystems, fauna and flora.
The causes of this pollution include open-air storage and the absence of processing infrastructure for plastic waste that does not actively get recycled or reused.
According to CMA CGM, its decision to no longer transport plastic waste on board its ships will help prevent this type of waste from being exported to destinations where sorting, recycling or recovery cannot be assured.
The Group says it has decided to take practical steps where it has the operational capability to do so, heeding the urgent calls made by certain NGOs.
CMA CGM adds that the Group is stepping up its efforts to make conserving biodiversity one of the priorities of its CSR policy and to develop trade that is more responsible and fair for everyone and for the planet.
Sign up for Africa Ports & Ships – it's free




Added 14 February 2022
♦♦♦♦♦♦♦♦♦
News continues below
MS Europa 2 doesn't disappoint – making annual visits to South African destinations
South Africa has seen a number of cruise ship cancellations in recent years and not excluding the 2021/2022 summer cruise season, during which several ships shied away at the news of the outbreak of the Omicron variant of the coronavirus.
The MSC Orchestra was on the point of arriving off the coast for the start of the new season and has remained here, ultimately being able to commence local cruises on the South African, Namibian and Mozambican coasts. MSC Orchestra has since settled into her regular routine based out of Durban with a couple of visits to the Cape included.
While several other cruise lines shied away, Hapag-Lloyd's EUROPA 2 has stuck to her advertised schedule and is currently cruising on the South African east and south coasts, having spent several days in Durban, followed by a call each at East London and Port Elizabeth and now at Mossel Bay where the ship arrived on Saturday 12 February where her passengers were able to go ashore to visit local attractions.
MS Europa 2, like her predecessor Europa, is a regular caller at the South African and Namibian ports and has not allowed the Covid-19 pandemic to keep her away this year. She is carrying about 300 passengers and 200 crew members on this visit and sailed for Cape Town on Saturday early evening.
Mossel Bay port manager, Dineo Mazibuko was delighted to have the passenger ship call at the port, even if that meant Europa 2 anchoring outside due to port limitations.
"We have a highly skilled and qualified team that will support and assist the vessel upon its
arrival in our shores and we are confident that allowing tourists on stopovers to access tourism, leisure and wildlife experiences in and around our city will provide a big economic boost for not only our Municipality but also the Garden Route District," Mazibuko said in advance of the ship's arrival.
She described this as setting Mossel Bay's 2021/22 cruise season back on track following the unforeseen cancellation of MSC Orchestra's visit due to unsuitable weather conditions.
Another cruise ship, SILVER WHISPER, is due to call at Mossel Bay when that ship visits South African destinations later in the month. Silver Whisper, also no stranger to the coast, is due in Mossel Bay on 26 February 2022.
MSC Orchestra is meanwhile currently undertaking scheduled cruises out of Durban on Friday's and Mondays, sailing to Portuguese Island off the Maputo coast, and to MSC's own holiday destination at Pomene on the central Mozambican coast.
Sign up for Africa Ports & Ships – it's free




Added 14 February 2022
♦♦♦♦♦♦♦♦♦
News continues below
AFRICOM's Cutlass Express Exercise 2022 kicks off in Seychelles
This year's Cutlass Express exercise began on 7 February as the largest US military training operation organised by the American naval forces in the Indian Ocean.
The exercise, the 11th to be staged, is confined to the north-west sector of the Indian Ocean bounding the shores of East Africa and the Gulf of Aden and Red Sea in the west and Seychelles, Madagascar, Mauritius and India in the east. A total of fourteen nations are involved in Cutlass Express, which is staged every year under the auspices of the US AFRICOM command and conducted by US Naval Forces Africa.
Participating countries include Seychelles, Mauritius, Comoros, India, Kenya, Madagascar, Mozambique, Tanzania, United Kingdom, and the United States. Rwanda and Sudan are also participating in the training for the first time this year.
Who the missing two nations are have not been mentioned in the offiial statements but may be Djibouti and Somalia.
According to a US Embassy statement, the 11 day naval training exercise is designed to bring together US forces and regional partners to share their expertise and experience.
It says the exercise is designed to improve regional cooperation in support of the Djibouti Code of Conduct, maritime domain awareness, information sharing between maritime operation centers, maritime interdiction, adherence to the rule of law, and counter-proliferation interdiction capabilities in order to disrupt illicit maritime activity and strengthen safety and security in the region.
Cutlass Express also focuses on addressing piracy through information sharing and coordinated operations among international navies.
Cutlass Express was launched on Friday (11 February 2022) from the Seychelles by Commander David Caffrey, the Executive Officer of Naval Reserve Component for NAVAF, and Lieutenant Colonel Jean Attala, the Commander of the Seychelles Coast Guard.
"The solution to transnational threats is multinational cooperation, said Commander David Caffrey said at the launch ceremony.
"And that is exactly what I see before me today, several nations and organisations gathered in a common cause. I am proud to be a part of this collaborative exercise. The effort and teamwork we will see on display the next two weeks is a testament to the professionalism and dedication of our forces."
Lieutenant Commander Matthew Kohlmann, Office of Security Cooperation Chief at the US Embassy in Seychelles said that Cutlass Express this year is being combined with US Central Command's International Maritime Exercise (IMX) and will comprise 33 partner nations.
"We are extremely excited to be bringing together so many partner nations to practice operations that will contribute to the safeguarding of the waters of the Western Indian Ocean," Kohlmann said.
"Each participating nation has worked hard during the planning stages for this exercise, and now we get to see all this hard work pay off. The global maritime domains will be the direct beneficiaries of these efforts."
Training is taking place in Seychelles, Kenya and Bahrain.
The year's exercise will include an in-port training period, as well as at-sea scenarios and a senior leadership symposium.
The exercises will test the ship's abilities to conduct maritime interdiction operations by boarding teams against simulated suspect vessels, detecting illicit activity, and follow-on evidence collection procedures.
The scenarios will test tactical proficiency of participating nations to counter illicit trafficking but are also meant to promote information sharing and overall cooperation that will lead to sustained and enhanced maritime security and stability.
From Seychelles, about 40 officers from the Seychelles Coast Guard and Seychelles People's Defense Force are among the participants at this year's training, as are more than 90 officers from the Mauritius National Coast Guard, as well as Mauritius VBBS (Visit Board Search and Seizure) teams.
Sign up for Africa Ports & Ships – it's free




Added 14 February 2022
♦♦♦♦♦♦♦♦♦
♦♦♦♦♦♦♦♦♦
News continues below
GENERAL NEWS REPORTS – UPDATED THROUGH THE DAY
in partnership with – APO
More News at https://africaports.co.za/category/News/
♦♦♦♦♦♦♦♦♦
THOUGHT FOR THE WEEK
"There is nothing that war has ever achieved that we could not better achieve without it." 
– Havelock Ellis
♠♠♠
News continues below………
♦♦♦♦♦♦♦♦♦
TO ADVERTISE HERE
Request a Rate Card from info@africaports.co.za
EXPECTED SHIP ARRIVALS and SHIPS IN PORT

Port Louis – Indian Ocean gateway port
Ports & Ships publishes regularly updated SHIP MOVEMENT reports including ETAs for ports extending from West Africa to South Africa to East Africa and including Port Louis in Mauritius.
In the case of South Africa's container ports of Durban, Ngqura, Ports Elizabeth and Cape Town links to container Stack Dates are also available.
You can access this information, including the list of ports covered, by  CLICKING HERE remember to use your BACKSPACE to return to this page.
News continues below
CRUISE NEWS AND NAVAL ACTIVITIES

QM2 in Cape Town. Picture by Ian Shiffman
We publish news about the cruise industry here in the general news section.
Naval News
Similarly you can read our regular Naval News reports and stories here in the general news section.
♦♦♦♦♦♦♦♦♦
♠♠♠
ADVERTISING
For a Rate Card please contact us at info@africaports.co.za
Don't forget to send us your news and press releases for inclusion in the News Bulletins. Shipping related pictures submitted by readers are always welcome. Email to info@africaports.co.za
TABLE BAY UNDERWAY SHIPPING
SHIP PHOTOGRAPHERS
Colour photographs
and slides for sale of a variety of ships.
Thousands of items listed featuring famous passenger liners of the past to cruise ships of today, freighters, container vessels, tankers, bulkers, naval and research vessels.
P O BOX 809, CAPE TOWN, 8000, SOUTH AFRICA
snai@worldonline.co.za
http://home.worldonline.co.za/~snai
================================================================