Bringing you shipping, freight, trade and transport related news of interest for Africa since 2002
Stay Well, Stay Safe, Stay Patient, don't become one
Advertise here – sidebar column banner space available – strengthen brand awareness at affordable rates – email us for a Rate Card to

 terry@africaports.co.za
Would you like to receive our free daily newsletter via email?  Send your email marked NEWSLETTER to terry@africaports.co.za 
♠♠♠
Join us as we report through 2021
'and learn with Africa Ports & Ships' 
****

**

****
TODAY'S BULLETIN OF MARITIME NEWS
These news reprts are updated on an ongoing basis. Check back regularly for the latest news as it develops – where necessary refresh your page at www.africaports.co.za
Click on headline to go direct to story : use the BACK key to return  
FIRST VIEW:  PALMGRACHT
News continues below
♦♦♦♦♦♦♦♦♦
The Monday masthead shows the Port of Durban Container Terminal

The Tuesday masthead shows the Port of 
Durban Container Terminal by night
The Wednesday masthead shows the Port of Durban Multipurpose Terminal (Point)
The Thursday masthead shows the Port of Durban Island View Liquid Bulk Terminal
The Friday masthead shows the Port of Durban Maydon Wharf
The Saturday masthead shows the Port of Cape Town Elliott Basin
The Sunday masthead shows the Port of Cape Town FC Sturrock Dry Dock
♦♦♦♦♦♦♦♦♦
SEND NEWS REPORTS AND PRESS RELEASES TO   info@africaports.co.za
♦♦♦♦♦♦♦♦♦
News continues below
The general cargo ship PALMGRACHT (IMO 9424558) departs from Durban with an interesting selection of project type cargo on board. The ship was built in 2010 and flies under the flag of The Netherlands. Palmgracht's carrying capacity is 19,413-dwt and she has an overall length of 168.5 metes and a width of 25.5m.
The above picture is by Trevor Jones
Sign up for Africa Ports & Ships' – it's free
Added 21 November 2021
♠♠♠
Photographs of shipping and other maritime scenes involving any of the ports of South Africa or from the rest of the African continent, together with a short description, name of ship/s, ports etc are welome.
♦♦♦♦♦♦♦♦♦
♦♦♦♦♦♦♦♦♦
NEWS
♦♦♦♦♦♦♦♦♦
News continues below
Cruising resumes in Namibia and South Africa
Cruising has resumed in Southern African waters, with the arrival yesterday in Walvis Bay of the German cruise ship, MS EUROPA.
Walvis Bay receives its first cruise ship of season
As you read this MS Europa is docked at the new cruise terminal in the Namibian port, having overnighted to enable passengers the opportunity of experiencing the desert sky at night – a unique experience by itself.
For those readers who do not know, Walvis Bay is surrounded on the land side by desert sands and once out of the town there is no impediment to experiencing the full glory of the star-lit sky.
Later on Friday MS Europa will sail south for the Port of Lüderitz, which lies closer to the Orange River and the border with South Africa.
MS Europa will be returning to Walvis Bay on 5 December 2021. The ship carries a maximum of 498 passengers, 275 crew members and sports a total of 11 decks.
Since the outbreak of COVID-19 in early 2020, Namport has put in various measures that included the temporary suspension of passenger vessel services at its ports, as a way of curbing the potential spread of the COVID-19 virus, in line with prevailing international practices.
After assessing the situation locally and globally and in consultation with stakeholders such as Health and Immigration Authorities, the Namibian ports have been made once again ready and open to receive passenger vessels subject to meeting the approved health protocols, including a number of additional reinforcement measures, not only for the safety of the passengers but for the ease of mind of all local citizens.
Namport says it is confident the measures it has in place are adequate and will be able to provide visitors a safe and enjoyable Namibian experience. Namport says that as an entity, "our first responsibility lies with ensuring the safety of our workforce, port users and the Namibian community at large.
"Namport remains appreciative that the tourism industry is a key player in Namibia's economy and we continue to be committed to advancing the country's drive of economic recovery."
South African ports gear up for Cruise Season 2021/22
In South Africa, Transnet National Ports Authority (TNPA) is gearing up to welcome cruise vessels and passengers to South African shores during the upcoming cruise Season, with the first vessel expected to dock at the Port of Cape Town at the end of November.
The port cities of Cape Town, Mossel Bay, Port Elizabeth, Durban and Richards Bay are scheduled to receive a total of 20 passenger vessels during the cruise season, which begins in November and ends in May 2022.
"We are thrilled to be able to welcome cruise passengers and crew back to our shores," said Captain Sabelo Mdlalose, Acting Chief Harbour Master at TNPA. "We encourage visitors to adhere to COVID-19 guidelines, including social distancing and mask wearing, both onboard and while exploring our cities."
Following the country's move to adjusted COVID-19 Alert Level 1 regulations on 1 October 2021, the Department of Transport (DOT) confirmed that passenger ships may plan and recommence tourism activities along the South African coast.
In addition, passenger vessels will be permitted to call at South African ports to replenish fuel, stores and provisions; for repairs and maintenance; and for medical evacuations, emergencies and other services approved by the DOT.
Foreign crew changes will be permitted at all eight commercial ports, and shore leave will be allowed for all crew in line with South African immigration and port health protocols.
International embarkation and disembarkation is restricted to Cape Town, Durban and Port Elizabeth. Cape Town is scheduled to receive vessels from Walvis Bay and Luderitz along the Namibian coast, and Gough Island and Tristan Da Cunha in the South Atlantic.
All crew and passengers arriving at a port to join a vessel will be required to abide by the protocols and regulations issued by the Department of Health (Port Health), as well as Marine Notice 21-21(C) issued by the South African Maritime Safety Authority (SAMSA).
Passenger vessel owners and operators will also need to adhere to strict operating protocols. Embarkation and disembarkation must be staggered at terminals to ensure social distancing and must comply with curfew restrictions. No visitors will be allowed to board any passenger ships whilst alongside.
"Our ports are ready for the 2021/22 Cruise Season. We pride ourselves in our role of enabling the South African tourism industry, which has been affected by the COVID-19 pandemic. This season will also see the official opening of a new cruise terminal at the Port of Durban," said Captain Mdlalose.
The South African cruise industry experienced significant growth before the pandemic and presented new business opportunities for multiple industries across the port cities, including food and beverage, accommodation and retail.
Local tour guides and operators provided a gateway for passengers and crew members to experience the rich diversity that South Africa has to offer, and local supply businesses replenished everything from fresh drinking water, eggs and ice-cream, to fuel and engine oil. The ship repair industry also benefitted.
Sign up for Africa Ports & Ships – it's free
Added 25 November 2021
♦♦♦♦♦♦♦♦♦
News continues below
Danish Naval forces on HDMS Esbern Snare kill four Gulf of Guinea pirates
The Danish Defence Command announced this morning (Thursday 25 November 2021) that special forces on board the Danish Navy frigate, HDMS ESBERN SNARE had returned fire on a boat carrying suspected pirates, leaving four of the latter dead and one wounded.
The report by the Danish Defence Command reads:
"On Wednesday, November 24, the crew of the frigate Esbern Snare responded to reports of an increased risk of piracy in the waters south of Nigeria. The ship headed in that direction and sent the ship's Seahawk helicopter in advance to observe.
The crew of the helicopter found a speeding motorboat with eight suspicious men on board in the afternoon in an area with a number of merchant ships. On board the vessel, the helicopter crew could see a number of the tools associated with piracy, including ladders.
No reaction
During the evening, Esbern Snare was close enough to send the Frogman Corps off in their fast-moving RHIB boats to board the pirate boat. Esbern Snare called the pirates to bring them to a halt so that the Danish soldiers could get on board.
When the pirates did not react, the Danish forces fired warning shots, cf. their powers. The pirates then opened fire directly on the Danish soldiers. The Danish soldiers then reacted in self-defence and responded to the fire from the pirates.
A brief firefight ensued. No Danish soldiers were injured, but five pirates were hit. Four of the pirates died. One was injured.
Detained on board
After the firefight, the pirate boat sank. The eight pirates have been taken aboard the frigate Esbern Snare, where one wounded man was treated for his injuries.
The inter-ministerial working group will deal with what should happen to the pirates." End of quote.
Comment from Dryad Global 
The incident involving the Danish Navy and the death of four pirates represents a key milestone in the evolution of piracy within the Gulf of Guinea. Whilst a logical consequence of Naval Forces being deployed to protect commercial shipping against the threat of hijack and kidnap, this is the first time where suspected pirates have been killed by an international Naval vessel operating within the region.
The Danish Navy is a highly trained and formidable maritime force who are understood to have acted in self defence whilst attempting to interdict a suspicious vessel.
In the short term pirates continuing to target commercial vessels operating within the Gulf of Guinea are unlikely to be significantly deterred from conducting such operations in future as a result of this activity. However this incident shows the Danish government's intent to have an enforcement impact in the region under its sovereign mandate.
The presence of a multi national Naval coalition has long been required within the Gulf of Guinea, both in order to support the littoral states counter piracy efforts and to provide a coordinated and sustained program for the combating of piracy across the longer term.
The EU CMP (Coordinated Maritime Presences) remains in pilot stage and currently individual states continue to provide the backbone of the international Naval presence throughout the region. The recent incident involving the Danish Navy highlights the need for a sustained Naval presence and the effectiveness of deploying such forces.
Sign up for Africa Ports & Ships – it's free
Added 25 November 2021
♦♦♦♦♦♦♦♦♦
News continues below
WHARF TALK: container ship with a story – MAERSK LUZ
Story by Jay Gates
Pictures by 'Dockrat'
Container vessels continue to grow, and continue to get bigger, and continue to get longer. Sometimes getting bigger and longer is not the answer, as many of the ports receiving them cannot provide the deeper approach channels, or the necessary longer berths and quays, or the harbour support facilities that big box boats require.
It is sometimes all about making do with what you already have in service, and adapting your existing fleet to fit the new, and expanding, requirement. There are some very innovative shipping companies out there, that have managed to do exactly that with their container vessels, as growth in certain trade routes requires increased carrying capacity.
On 21st November at 08h00 the large neo-Panamax container vessel MAERSK LUZ (IMO 9526904) arrived off Cape Town, from Durban, and proceeded directly into harbour, entering the Ben Schoeman Dock and going alongside berth 604 to begin her northbound load.
Built in 2011 by Daewoo Shipbuilding at Geoje in South Korea, Maersk Luz is 300 metres in length and has a deadweight of 106,043 tons. She is powered by a single Doosan MAN-B&W 9S90ME-C8 9 cylinder 2 stroke main engine, producing a colossal 52,861 bhp (38,880 kW), to drive a fixed pitch propeller for a service speed of 22.8 knots.
Her auxiliary machinery includes three MAN-B&W 9L32/40CD generators providing 4,500 kW each, and a single MAN-B&W 6l32/40CD emergency generator providing 2,800 kW. She was built with a container carrying capacity of 7,450 TEU, for which 1,707 reefer plugs are provided.
Owned by A.P. Moller-Maersk AS of Copenhagen, and operated by Maersk Line AS, also of Copenhagen, Maersk Luz is managed by Maersk Shipping Hong Kong Limited. In 2018, for a short period, Maersk Luz was placed on charter with Deutsche Afrika-Linien GmbH (DAL), and renamed DAL Kalahari for the duration of the charter.
One of 16 sisterships, built as a SAMMAX Class (South America Maximum), designed for service to ports on the South American East Coast, Maersk Luz was the fourth of the class to be completed. The first eight vessels of the class were identical. At this point her owners decided that they required an increase in container carrying capacity, and rather than build a new class of container vessel, the last eight of the class were substantially different than the first eight.
In 2015, Maersk decided to bring the first eight vessels up to the same standard as the last eight, and Maersk Luz was given an additional three decks to her accommodation block, raising it from 9 decks in height, to 12 decks in height. This allowed her to carry a full two more tiers of containers in her stack, on all bays, and her container carrying capacity was able to be increased from 7,450 TEU to 8,850 TEU.
Operating on the joint Maersk South Africa Europe Container Service (SAECS), and the Ocean Network Express (ONE) South Africa Rainbow Express service (SRX), the port rotation for Maersk Luz is Rotterdam – London – Bremerhaven – Algeciras – Ngqura – Durban – Cape Town – Rotterdam.
Her current call at Cape Town has been delayed due to the first of the big Southeasterly blows causing the Container Terminal to cease working due to high winds. This is a regular occurrence in Cape Town at this time of the year, much to the frustration of shippers. On completion of her onload of European bound containers, Maersk Luz will be sailing for Rotterdam.
In December 2020, Maersk Luz caused a delay to her SAECS rotation when, on arrival at Durban, a crewmember tested positive for Covid-19. She was placed into isolation out in the Durban anchorage, losing one week of her schedule, which caused an operational switch around of other SAECS vessels, in order to maintain the weekly SAECS schedule.
Sign up for Africa Ports & Ships – it's free
Added 25 November 2021
♦♦♦♦♦♦♦♦♦
News continues below
Mozambique Beira-Malawi railway to reopen in first half of next year
The branch line railway extending into Malawi from the Sena Railway, which connects the port city of Beira with Tete province, is set to reopen within the first half of next year, according to a report carried by Mozambique media.
The line crosses the Zambezi river over the famous Dona Ana bridge to Vila da Fronteira on the Malawi border, and has been closed since September 1986 during the Mozambique civil war.
In May this year President Filipe Nyusi officially launched the reconstruction of the 70 kilometre section of 3ft 6ins Cape gauge railway requiring rehabilitation – 44 km of which lies in Mozambique and the remaining 26 within Malawi.
The total length of the railway is 115 kilometres of which 71 kilometres is on the Malawian side.
The planned reopening of the line follows a number of years of discussions and negotiations between Mozambican and Malawian officials over finding an alternative to the road monopoly that has existed since the railway fell into disuse. These included restarting river transport along the Shire and Zambezi rivers, which failed to find favour among the Mozambican authorities.
In the early colonial days of both countries the two rivers provided the most reliable means of transport from Malawi to the coast.
Mozambique is currently connected by rail with Malawi in two places by one railway. The dedicated coal line from Moatize in Tete province runs to the northern port of Nacala via Malawi and then back into Mozambique. By arrangement with the railway operator, this also carries passengers and general freight along the northern Nacala section, with branch lines to several towns.
Malawi-generated traffic using this railway for the port at Beira would however face a long extension into Tete province, whereas the section that is to be reopened is more direct and quicker.
Additionally, the Sena Railway, named after the town of Sena on the banks of the Zambezi, is owned and operated by CFM, the Mozambican state-owned port and railway company.
The Executive Director of CFM for the central region, Asinio Bainha, said that technical work is continuing on the Mozambican side of the line including the completion of signalling and railway crossings. He said there is no rush because some of the work can be completed whilst the trains are running. The main delay is on the Malawian side, he added.
Once open the railway is expected to divert at least a part of Malawi's import and export traffic from the port of Nacala to that of Beira.
Sign up for Africa Ports & Ships – it's free
Added 25 November 2021
♦♦♦♦♦♦♦♦♦
News continues below
SAA & Kenya Airways jointly plan a Pan African airline by 2023
South African Airways (SAA)

and

Kenya Airways

have signed a strategic partnership framework which marks a milestone in the two companies' plans to form a Pan African airline by 2023.

This after the two airlines signed a memorandum of cooperation in September to share knowledge, expertise and technology moving forward.

The latest strategic partnership framework was signed during a ceremony in the presence of President Cyril Ramaphosa and his Kenyan counterpart President Uhuru Kenyatta during the latter's State Visit to South Africa.

SAA chairperson John Lamola said the agreement for the envisioned intra-Africa airline will have positive knock-on effects on other sectors.

"The partnership will improve the financial viability of the both airlines by creating the most formidable air transport connection in Africa by benefiting from at least two attractive hubs of Johannesburg and Nairobi. It will ignite the Kenya and South Africa tourism circuits, which account for significant portions of the respective country's GDP," Lamola said.
Kenya Airways chairperson Michael Joseph added that the partnership will contribute to the vision of the Africa Continental Free Trade Area (AfCFTA) by easing travel between the East and Southern African countries.
"It will increase connectivity through passenger traffic, cargo opportunities, while enhancing the implementation of the Africa Continental Free Trade Area Agreement. The geo location of the two countries will make the Pan-African Airline Group attractive by creating the most formidable Airline Group that is expected to take advantage of strengths in South Africa, Kenya, and Africa," Joseph said.
In a joint statement, the two airlines said the strategic partnership framework will pave the way for more cooperation.
"The signing… will see both airlines work together to increase passenger traffic, cargo opportunities, and general trade by taking advantage of strengths in South Africa, Kenya, and Africa. It is expected that the partnership will improve the financial viability of the two airlines. Customers will also benefit from more competitive price offering for both passenger and cargo segment," the two airlines said.
Sign up for Africa Ports & Ships – it's free
Added 25 November 2021
♦♦♦♦♦♦♦♦♦
News continues below
WHARF TALK: Heavylift visitor – FRIEDA
Story by Jay Gates




Pictures by 'Dockrat'
Whilst Cape Town continues to be the 'go to' port for bunkers and victuals, whenever vessels are conducting long ocean passages, and need a top up of anything and everything, one type of vessel that seems to make regular calls throughout the year is the heavy lift, or project cargo, vessel, with many of them seemingly being German owned.
On 21st November at 12h00, the heavylift vessel FRIEDA (IMO 9435117) arrived off Cape Town from Taicang in China, proceeding directly into Cape Town harbour and proceeding to the Eastern Mole in the Duncan Dock.
The port of origin of Frieda, Taicang, is located in the mouth of the Yangtze River, and lies to the north of Shanghai. After two days alongside taking on the required bunkers, stores and fresh victuals, Frieda departed Cape Town on 23rd November at 12h00, with her destination lying in a northerly direction from Cape Town, but being currently unknown.
Built in 2008 by the Jiangdong Shipyard, at Wuhu in China, Frieda is 139 metres in length and has a deadweight of 12,742 tons. She is powered by a single Caterpillar MaK 6M43C 6 cylinder 4 stroke main engine producing 7,342 bhp (5,400 kW), to drive a ducted controllable pitch propeller for a service speed of 15 knots. Her ducted Becker Mewis propeller gives her an 8% energy saving, in comparison to a non-ducted propeller.
Her auxiliary machinery includes three MAN D2842-LE301 generators providing 510 kW each, and a single MAN D2866-E20 emergency generator providing 99 kW. She has an Alfa Laval Aalborg exhaust gas boiler, and an Alfa Laval Aalborg oil fired boiler.
One of the many Volharding Beluga F-Series vessel built for the now defunct Beluga Shipping, Frieda is one of the E-300 designs, based on her maximum lifting capacity. She has two Electro-Hydraulic NMF cranes of 150 tons lifting capacity each, both located on the port side of Frieda, and capable of lifting 300 tons when used in tandem.
She has three holds with a cargo carrying capacity of 15,952 m3. Her container carrying capacity is 665 TEU, for which 50 reefer plugs are provided. On arrival in Cape Town Frieda was clearly carrying a mixture of containers forward, which were used as a protection for a large, inboard, item of project freight, plus a number of large covered project freight items, loaded along the full length of her three hold hatchtops.
Owned and managed by Krey Schiffahrts GmbH, of Leer in Germany, whose houseflag she has represented on her funnel, Frieda is operated by Bockstiegel Reederei GmbH of Emden, also in Germany. Bockstiegel is also involved in heavylift charter provision to the heavylift specialist, BBC Chartering, of which many other F-Series vessels, similar to Freida, are employed.
In April 2019 Frieda was involved in a search and rescue operation in the Western English Channel, whilst on a voyage from Gibraltar to Tunadal in Sweden. The dismasted British yacht 'Toledo Bay' was in distress and the Falmouth MRCC requested Frieda to divert to try and locate the stricken yacht.
After a two hour search, the yacht was found, and Frieda provided a lee for the yacht until a French Navy SAR helicopter arrived and lifted off the single crewmember remaining aboard the yacht. The second yacht crewmember had been washed overboard and was lost.
Back in October 2016, Frieda herself was in distress and required assistance to get her out of trouble in the North Pacific Ocean. She was on a voyage from Shanghai to Portland, in Oregon in the USA, when she suffered an engine failure in stormy weather, which was forecast to deteriorate further, and the assistance of the USCG was requested. The closest Coast Guard cutter was USCGC Morgenthau, which was 500 miles away to the north, on a patrol in Alaskan waters, and was diverted to the assistance of Frieda.
Once within helicopter distance of Frieda, the USCGC Morgenthau launched her onboard helicopter to rendezvous with the vessel and ascertain local conditions for the impending tow. In the meantime the USCG requested assistance from other vessels nearby, and the bulk carrier 'Resolve Pioneer' diverted to Frieda. On arrival, she managed to take Frieda in tow.
Both vessels made their way, at a towing speed of 6 knots, towards Seattle, in Washington in the USA, which was over 1,000 miles away. It took a full seven days, under tow by Resolve Pioneer, for Frieda to arrive safely at Seattle, and be able to effect repairs to her engine.
Sign up for Africa Ports & Ships – it's free
Added 24 November 2021
♦♦♦♦♦♦♦♦♦
News continues below
Greenpeace slams Cameroon's proposed 15% increase in raw timber export duty
Greenpeace Africa this week criticised the Cameroon government plan to increase taxes on
raw timber exports

.

The environmental NGO said says the option to increase raw timber exports taxes is insufficient to effectively combat deforestation and climate change.

"As it stands, the rise is not a deterrent, this increase in exit fees as it stands is not a deterrent," says Ranece Jovial Ndjeudja, Forest Campaign Manager for Greenpeace Africa.

Ndjeudja said that for effective forest protection, a paradigm shift is needed through the promotion of alternatives that can stop tree cuttings. "Greenpeace Africa believes that the paradigm shift presents social and cultural benefits for communities as well as economic incentives that equal or even exceed that of the option currently promoted by the government."

The Greenpeace statement said that woodcutting, even selective cuts, significantly place forest and wildlife at risk because it will likely facilitate the job for poachers. It explained that to carry out their illegal activities, poachers take forest tracks that would not have been available if no trees were cut.

According to the Cameroon draft 2022 budget, the government decision to increase raw timber export rates would allow it to generate additional taxes and customs revenues. It says this increase aligns with the CEMAC (Central African Economic and Monetary Community) decision to heavily tax raw timber exports to discourage such practices.

The current duty on raw timber exports stands at 35%, with the proposal being that this is increased to 50%. Finance Minister Louis Paul Motazé argues that this will be sufficient for tightening conditions requires to export raw timber from the Central African country.

In addition, those engaged in wood transformation in the country who want to acquire equipment not available locally, will receive further encouragement by having taxes and duties wavered on the importing of necessary equipment and tools that cannot be obtained locally.

The government believes these measures will boost the local wood industry, create new jobs, and increase locally added value.
It is understood that the measures announced this week are the precursor to a total prohibition of raw timber from the forests of Cameroon. This was originally planned for 2022 in the CEMAC zone and postponed for another year.
In a report titled 'Tainted Timber, Tarnished Temples: How the Cameroon-Vietnam Timber Trade Hurts the Cameroonian People and Forests', two NGOs revealed that Vietnamese forest operators active in Cameroon illegally exported over XAF170 billion (US$ 284 million) worth of raw timber. It said that by hiding these commercial transactions, the operators manipulate their turnover and therefore the value of the taxes to be paid to the Cameroonian administration.
In the first half of 2021, Cameroon generated 4% of its exports earning from raw timber. During the period, raw timber was the sixth main export earning provider for Cameroon after crude petroleum oils (39%), raw cocoa beans (13%), natural liquefied gas (9%), sawn wood (7%), and raw cotton (7%).
Sign up for Africa Ports & Ships – it's free
Added 24 November 2021
♦♦♦♦♦♦♦♦♦
News continues below
HMS Queen Elizabeth cross-decks with the Italian Navy
History was made on 22 November when HMS Queen Elizabeth exchanged F-35B jets from the US Marine Corps VFMA-211 squadron with the Italian Navy and Italian Air Force.
The VFMA-211 US Marine Corps jets departed HMS Queen Elizabeth and landed on the Italian carrier Cavour. Two F35B Lightning jets from the Italian Navy and Italian Air Force landed, refuelled, and relaunched from Queen Elizabeth.
Film of Lightning jets operating on this day with Cavour is available HERE
Italy is the third nation that has landed jets on the British carrier. On completion of the refuelling Queen Elizabeth launched an Italian Navy F-35, Italian Air Force F-35, US Marine Corps F-35 and finally an F-35B from 617 Squadron, Royal Air Force. The jets then operated in the skies above the two carriers developing their interoperability and mutual understanding of procedures.
Queen Elizabeth is the deployed flag ship for Carrier Strike Group 21(CSG21) which by the end of her deployment will have seen her work with over 40 countries around the world in a seven-month deployment.
The Strike Group includes warships from the United States Navy, The Royal Netherlands Navy, and Marines from the US Marine Corps. As well as frigates and destroyers from the Royal Navy, two Royal Fleet Auxiliary supply ships and air assets from 617 Squadron RAF, 820, 815 and 845 Naval Air Squadrons. This will be the largest deployment of Fifth Generation Fighter Jets in history, it has been recorded.

Edited by Paul Ridgway




London
Sign up for Africa Ports & Ships – it's free
Added 24 November 2021
♦♦♦♦♦♦♦♦♦
News continues below
Shipping companies unprecedented profits continue
Container carriers are enjoying the fruits of unprecedented profits arising from record high rates on principal routes
While some analysts are predicting these rates to have now peaked, others have suggested it may take up to two years before prices return to normal – whatever normal now means.
CMA CGM setting the pace
French shipping and logistics group CMA CGM, which not too many years ago had to face restructuring and refinancing, last Friday disclosed record third quarter profits of US$ 5.6 billion based on the on rising freight prices.
In August CMA CGM announced second quarter net profits of $3.5 billion despite a second year of challenges raised by the COVID-19 pandemic.
On Friday CMA CGM said it has recorded an 89.4 per cent rise in sales year-on-year to $15.3 billion, with the majority of sales coming from the group's maritime services.
In 2019 the group posted a $229 million loss – in 2020 it made a profit of $1.755 billion. CMA CGM now sees this trend continuing at least through the first six months of 2022.
CMA CGM has meanwhile strengthened its move into logistics which included the acquisition of Switzerland's Ceva Logistics and the investment in four A350F cargo aircraft for its news airfreight division, Air Cargo. CMA CGM has also signed a 35-year concession for Abu Dhabi's new state of the art Khalifa container port in a joint venture with a local ports group, and has taken a 90 per cent stake in Los Angeles' Fenix Marine Services terminal.
Hapag-Lloyd 71 per cent hike in revenue
German shipping company Hapag-Lloyd is another container carrier to have enjoyed the fruits of increased demand coupled with rapidly raised tariffs, and has reported a 71 per cent increase in revenue to $17.9 billion for the first three-quarters of 2021, compared to $10.5 billion for the equivalent period of 2020.
During the current nine months of the year the freight rate increased by 66 per cent. During this period the number of TEUs carried increased 3.3 per cent to 8.9 million TEUs.
According to Hapag-Lloyd, the first nine months of the 2021 financial year were dominated by continuing strong demand for transport from the Far East to the rest of the world and by resulting operational challenges. It said the sharp rise in transport volumes and the effects of the COVID-19 protective measures led to congestion of port and hinterland infrastructure in North America and, increasingly, in Asia and Europe as well.
Rolf Habben Jansen, CEO, Hapag-Lloyd said that "despite all the operational challenges, we achieved an extraordinarily strong nine-month result.
"However, global supply chains are under enormous pressure, which further intensified during the peak season in the third quarter. This unfortunately also creates additional operational burdens for carriers, ports and terminals – but, most importantly, for customers worldwide.
"We will do everything in our power to help with suitable offers and to do our part to resolve the situation through targeted investments and flexible capacity management."
At 30 September 2021, Hapag-Lloyd's fleet comprised 257 container ships compared with 234 ships for the same period of 2020, with ten of those additional container ships coming as a result of the takeover of NileDutch.
ZIM has a happy year so far
Israeli company ZIM Integrated Shipping Services Ltd (ZIM) is yet another container carrier to post record financial results for the first nine months of 2021 as well as for Q3.
During the nine months total revenues increased from $2.63 billion in 2020 to $7.26 billion this year, mostly from containerised cargo and a result of raise freight rates as well as additional cargo carried.
Net income in this period was $2.94 billion ($158 million in 2020), which included a tax expense of $636 million. Additionally, adjusted EBITDA increased from $504 million in the first nine months of 2020 to $4.24 billion for the same period this year.
Container volumes over the nine months of 2021 increased to 2,623,000 TEU compared with 2,042,000 through the same period in 2020.
During the third quarter of 2021 ZIM reported an income of $1.46 billion, an increase of 913 per cent and an adjusted EBITDA of $2.08 billion – an increase of 693 per cent year-on-year.
In this three month period the container line carried 884,000 TEU, up by 16 per cent on the same perod of 2020.
Operating income (EBIT) for this quarter of 2021 reached $1.86 billion, compared to $189 million in the same period in 2020, showing a year-on-year increase of 884%. Revenues reached $3.14 billion, increasing 210% when compared to $1.01 billion in the same period in 2020.
Sign up for Africa Ports & Ships – it's free
Added 24 November 2021
♦♦♦♦♦♦♦♦♦
News continues below
Keta port Phase 1 will cost $600 million – Ghana Ports Authority
The proposed port of Keta in Ghana's Volta region near the border with Togo, has an estimated cost of US$ 600 million for Phase 1.
This was revealed by Kweku Ofori Asiamah, Ghana's Transport Minister, speaking at a gathering of stakeholders to explore feasibility studies and to gather feedback from the private sector.
He appealed to the private sector to partner with government in raising the necessary capital and expertise to help deliver the project.
"A project of this nature is highly capital intensive and government on its own may not be able to finance it all, hence the need for the involvement of the private sector. I am informed that some companies have already expressed some interest in participating in the port development. I therefore look forward to the other private sector interests in this project," Kweku Ofori Asiamah said.
Director General of the GPHA, Michael Luguje, said the need for a third commercial port in Ghana has been made necessary by the growing demand for intra-regional trade.
"We have seen that it is a port that is feasible, viable and attractive. If you all go back into the history of many ports, including here in Ghana, you would realise that none of the ports were built on the basis of immediate first- and second-year high profitability. It is a very progressive journey towards building the port," Luguje said.
The Board Chairman of Ghana Ports & Harbours Authority (GPHA), Isaac Osei, made the point that no interested party or stakeholder would be left out of the deliberations. He told stakeholders that the GPHA was determined to ensure that all inputs were listened to and studied.
According to the GPHA the project to build a new commercial port at Keta is viable for the handling of containerised and dry and liquid bulk cargoes as well as for the establishment of a shipyard repair facility.
The GPHA says that following the feasibility studies, a social and environmental impact assessment will be staged in early 2022, followed by the procurement process for investors.
See also Ghana's proposed Keta port is "not dead"
Sign up for Africa Ports & Ships – it's free
Added 24 November 2021
♦♦♦♦♦♦♦♦♦
News continues below
Algoa Bay oil spill: birds found contaminated

Rain hampers NS Qingdao discharge
SAMSA and other stakeholders are continuing to monitor the sea beaches and island in Algoa Bay for oil contamination after a spill occurred during bunkering operations last week.
The bulk carrier SOLIN (IMO 9629483) was being refueled from the bunker tanker SEA EMPEROR (IMO 9383601) on Wednesday 17 November when about 80 litres of heavy fuel oil (HFO) overflowed from a tank on the Solin and spilled into the sea.
The South African Maritime Safety Authority sad yesterday it and other stakeholders including the Department of Environment, Forestry & Fisheries (DEFF) were continuing to monitor and investigate the oil spill.
SAMSA said that to date, a small amount of emulsified heavy fuel oil, commonly known as Tar Balls has washed ashore along the beach between Hougham Park and Sundays River. A service provider has been appointed to remove the tar balls, samples were collected and submitted to SAMSA to determine if the oil originated from this particular bunkering incident.
To date four birds (three Cape Gannets and one African Penguin) were found to be contaminated by oil and have been captured and are being cared for by the Southern African Foundation for the Conservation of Coastal Birds (SANCCOB).
The beaches and islands are being monitored daily when weather permits for any additional oil/tar balls or oiled wildlife.
The vessel Insurer is providing a 'Letter of Undertaking' to cover the costs of the clean-up operation and Solin should be released soon.
NS QINGDAO
In another incident on the South African coast, due to the wind and recent rains in St Helena Bay on the Cape West Coast, the cargo holds of the bulker

NS QINGDAO

had to be closed to prevent further incidents and the ship was instructed to sail 20 nautical miles offshore.
This was purely a precautionary measure. The aim has been to open and ventilate the cargo hold offshore due to the excess buildup of toxic fumes in the hold. Once the hold is properly ventilated, the vessel will return to St Helena to continue the discharge operation.
NS Qingdao is being escorted by the tugs Umkhuseli and SA Amandla.
NS Qingdao was on safe anchorage in St Helena Bay where she was towed after her chemical cargo become unstable due to contact with rain whilst discharging in the port of Durban. See our report of this incident by CLICKING HERE
Sign up for Africa Ports & Ships – it's free
Added 23 ovember 2021
♦♦♦♦♦♦♦♦♦
News continues below
Navigating the challenges of the Suez Canal
About 12% of international trade passes through the 193-kilometre canal that connects the Mediterranean Sea and Red Sea, making it the shortest shipping route between Asia and Europe.
The risks of negotiating the man-made route were highlighted with the dramatic grounding of the giant containership Ever Given in March this year that blocked the Suez Canal for a week – delaying some 369 ships carrying an estimated $9.6 billion of trade – before the ship was finally refloated.
Transit monitoring
Aziz Nabil, operations manager for Inchcape Shipping Services Egypt, pointed out that, while Inchcape did not act as the transit agency for the Ever Given, it was one of the first agencies to report the incident and the first to notify the world when the ship was freed, given it has 24/7 surveillance of traffic on the Suez Canal.
While incidents on this scale are rare, he says blockages can occur due to issues such as engine failure as the canal is traversed by ever-larger ships and Inchcape therefore closely monitors a vessel's progress via VHF radio for the entire 12-hour passage.
He added: "This means, in the event of an incident, we are able to respond instantly by alerting the authorities even before it has been notified by the ship's captain so the SCA can immediately mobilise tug assistance to prevent escalation of the incident."
This direct line of communication is also important to process the large volume of compliance documentation required from multiple authorities when arranging transits for a range of vessels – including tankers, containerships, bulkers and cruise ships.
Paperwork challenge
Nabil went on to explain: "Port agency for Suez Canal transit is not an easy task for the ship's master. After the initial transit request, we are in communication with various government bodies and then submit an electronic application for transit with the SCA to gain a time slot in the daily vessel convoy.
"An Inchcape officer will then board the ship while at anchorage for the master to complete the required documentation so we can then secure the necessary approvals for transit to proceed. There is a lot of paperwork to be done to ensure there is no delay in entering the canal."
Cairo-based Inchcape Egypt has a 100-strong team of expert and professional staff, including six boarding officers, that covers all 60 ports in the country and is licensed to provide a wide variety of port agency services for any type of ship.
Inchcape handles more than 120 ship transits a month on the Suez Canal, which also entails the logistical challenge of timely delivery of stores and co-ordination of crew changes.
Cost avoidance
Nabil said: "Before a vessel enters the canal, we are in daily contact with the master to gain detailed information on the nature of the ship's cargo as well as operational and technical issues such as visibility from the bridge, the state of radar equipment, vessel draft, and the condition of rudders and anchors."
He explained reporting of potential issues ahead of time is vital to prevent a delay in joining the two convoys of about 30 vessels that transit the canal in either direction from around 04h00 each day, as missing a time slot can incur a fine of up to $5000.
Similarly, knowing the vessel's draft in advance means it can be adjusted if necessary to avoid a cost of around $15,000 for a special tug escort required by the SCA if the draft exceeds 47 feet, while other tugs can cost up to $30,000.
Inchcape also navigates for shipping companies the chain of rebates offered on the Suez Canal. Such cost savings will be even more important given the SCA plans early next year to increase transit tolls by 6% for around 20,000 ships that traverse the canal annually.
To conclude Nabil stated: "Cost avoidance is a massive issue and this necessitates strong knowledge and expertise in handling Suez Canal transits, which is clearly also a factor in preventing serious incidents that can hit the flow of global trade."

Reported by Paul Ridgway




London
Sign up for Africa Ports & Ships – it's free
Added 23 November 2021
♦♦♦♦♦♦♦♦♦
News continues below
WHARF TALK: seismic survey vessel arrives – AMAZON WARRIOR
Story by Jay Gates
Pictures by 'Dockrat'
Houston, the Eagle has landed. As always, the arrival of a specialised offshore oil and gas industry support vessel is always a welcome sight, due to their impressive size and the highly complex nature of the job that they were designed to do. Occasionally, there are those who are not impressed by such an arrival. Sadly, they are mostly uninformed, and thankfully, they are not likely to be readers of this august publication.
On 21st November at 08h00, the Seismic Survey vessel AMAZON WARRIOR (IMO 9662394) arrived off Cape Town from Las Palmas in the Canary Islands, and at 10h00 entered Cape Town harbour to proceed to the Landing Wall in the Duncan Dock.
Built in 2014 by Flensburger Schiffbau GmbH (FSG) at Flensburg in Germany, Amazon Warrior is 126 metres in length and has a deadweight of 6,866 tons. She has diesel electric propulsion, with power provided by two Wärtsilä 9L32 9 cylinder 4 stroke main engines, producing 10,400 bhp (7,650 kW), with motors driving two controllable pitch propellers.
She has two operational speed modes, with her transit speed set at 17 knots, and her towing speed set at 5 knots. For full redundancy, she has two separate engine rooms. Her auxiliary power comes from two Wärtsilä 6L20 generators, providing 2,640 kW.
She has accommodation onboard for 76 persons, a mixture of ship's crew, charterer's representatives, and seismic acquisition teams. A helicopter deck, located on her foredeck, will allow her to conduct crew changes offshore, and whilst underway, thus avoiding having to cut short any survey lines, and return to port.
Whilst out at sea on her survey, Amazon Warrior will be accompanied at all times by two escort vessels. One will be acting as a chaser vessel to clear the seas ahead of Amazon Warrior of any dangers, whilst the other will be acting as a supply vessel to conduct any at sea transfers that are required.
One of two sisterships, Amazon Warrior is considered to be one of the largest (but not the largest by far) seismic survey vessels in the world, and was built from the hull up as a specialised seismic vessel, known as a FSG 760 type. Her other sistership is also currently operating in African waters, and is conducting a seismic survey off the coast of Angola, but without ill-informed protests.
She is capable of towing up to 18 steerable, streamer arrays. When fully deployed, her seismic array is over 1,600 metres wide, and can be up to 10 kilometres in length. She can carry up to 227 kilometres of reeled, streamer cable array on her carousels.
Owned by Shearwater GeoServices, of Bergen in Norway, and managed by Reflection Marine UK Ltd. of Horley in the UK, Amazon Warrior is currently contracted out to Shell Exploration and Production for a five month, 3D survey in South African waters. Her survey area stretches from Morgan Bay to Port St. Johns along the Eastern Cape coast. It will take place more than 20 kilometres offshore, and in water depths ranging from 700 metres to 3,000 metres.
With the current furore of her arrival in South Africa, it is not the first time Amazon Warrior has been targeted by environmentalists. In April 2017, when she was operating in New Zealand waters, conducting a seismic survey for Chevron, she was forced to suspend one survey line when three Greenpeace activists jumped into the sea next to the vessel.
The group were arrested and charged under a 2013 New Zealand law called the "Anadarko Amendment", which was put in place to stop protests at sea around oil exploration. The law change made it an offence to interfere with, or get closer than within, 500 metres of an offshore ship involved in oil exploration, with a potential fine of NZ$10,000 (ZAR110,310). In addition, interfering with the operations of such a ship is punishable by up to 12 months in jail, or a fine of up to NZ$50,000 (ZAR551,550) under the terms of the law in New Zealand.
Sign up for Africa Ports & Ships – it's free
Added 23 November 2021
♦♦♦♦♦♦♦♦♦
News continues below
IN CONVERSATION: How South Africa can get communities involved in conserving coastal and marine areas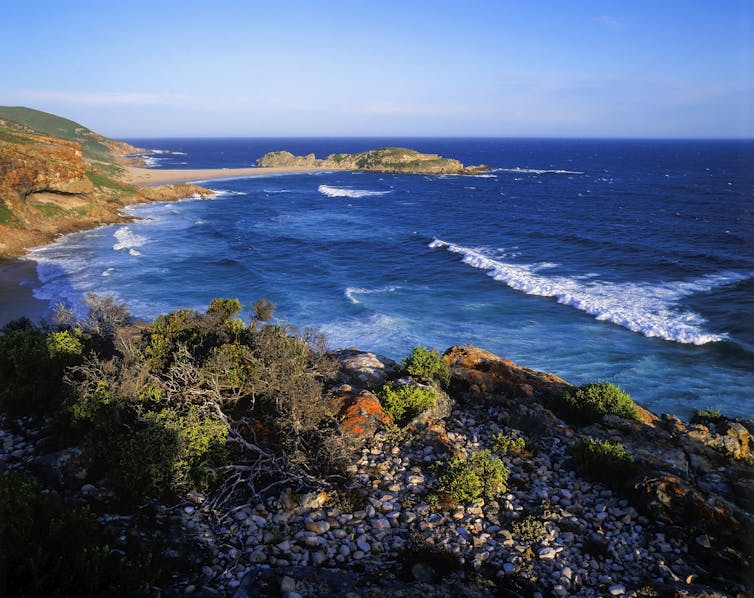 Coast of Robberg marine protected area at the Robberg Peninsula, South Africa.  Franz Aberham via GettyImages
Protected areas, according to the International Union for Conservation of Nature, are clearly defined geographical spaces set aside to conserve nature, ecosystem services and cultural values. They are important to reduce biodiversity loss and protect sources of food, clean water and medicines. They also offer protection from the impacts of natural disasters.
The recent Protected Planet 2020 report found a 42% increase in protected area coverage between 2010 and 2019. This includes a 68% increase in coastal and marine protected areas over the same decade. But the Living Planet Report 2020 shows that biodiversity is still being lost at alarming rates. It notes an average decrease of 68% in global population sizes of many species in the past 50 years. Not surprisingly, the same report states that "our relationship with nature is broken".
The central challenge facing conservation is that it's not only an ecological, but also a social issue. If the local context and priorities of those who most directly rely on natural resources for their survival isn't considered, conservation efforts will continue to fail. Therefore, many have called for a new conservation movement which incorporates the interests and priorities of local and Indigenous people. This is what the Post-2020 Global Biodiversity Framework recognises and strives for.
Recent research has emphasised the importance of community-conserved areas. These are protected areas governed, managed and conserved by custodian Indigenous people and local communities. But so far, while about 8% of the global marine environment is currently protected, only 1% of these protected areas involve custodian Indigenous people and local communities.
In Africa a similar trend exists. Only 0.01% of the current coastal and marine protected areas (which cover 17.7% of the coastal and marine environment) have some form of community stewardship. This despite many conservationists and initiatives in the region pointing to the success of community-level conservation action.
The barriers and enablers
In a recent paper, my colleagues and I explored what prevents and enables community protection of coastal and marine areas in South Africa. We reviewed global and South African literature to identify common factors in these types of initiatives. We then refined this list based on interviews with a variety of people involved in conservation in South Africa.
We found that local communities can conserve areas when:
they have secure rights and decision-making power,
conserved areas align with local needs,
the state provides technical and financial support and
there are streamlined processes to legally declare community-conserved areas.
The success of community-conserved areas requires self-motivated local champions who can get things done and get people involved. It also takes good communication. Initial and ongoing support from the state, non-governmental, private sector and civil society partners is essential too.
A potential barrier to success is the relationship between communities and partners – especially the government. In South Africa, strained relations stem largely from the "people-free" conservation approaches taken during the colonial and apartheid regimes. Under apartheid, black people were denied access to and use of land and resources. Many communities were even evicted in the name of conservation.
Therefore, a key enabler will be improving community perceptions and support for conservation by providing redress for these communities. Also, where needed, cultural institutions must be revitalised. These include cultural rules and practices that regulate the use of natural resources, respect for and effectiveness of traditional leaders to enforce this. If this is achieved, and communities can receive a source of income or livelihood from conserved areas, they are more likely to protect them. But it's important to monitor initiatives to prevent the capture of benefits by a few local elites.
Reducing biodiversity loss and sustainably meeting the needs of people means having stronger enablers in place and reducing constraints. Conservation should empower communities to be valued and effective in decision-making and management activities.
Technical and financial support should be present from the outset. Madagascar, which has 178 locally managed marine areas, is a great example of what happens when local communities have recognition and power. Here conservation delivers both social and ecological benefits.
Going forward
South Africa has the potential to do something similar to Madagascar. It has laws that recognise communities to establish and manage conservation areas. But the country is yet to declare a community-conserved area in the coastal and marine realm.
Our respondents highlighted a need for greater government support – most notably, a more streamlined approach to establishing these initiatives. It needs greater efficiency in concluding land claims and land-use plans. The government needs to recognise that local communities can contribute to both social and ecological objectives.
Other countries in the region have shown how conservation can be more inclusive. And a recent report found community-conserved areas useful in South Africa, especially in areas of high biodiversity.
This approach can also deliver much needed local economic development. The country needs to embrace this new conservation movement.

This article is republished from

The Conversation

under a Creative Commons license. Read the

original article.
Sign up for Africa Ports & Ships – it's free
Added 23 November 2021
♦♦♦♦♦♦♦♦♦
News continues below
With calls and messages to its 24-hour helplines more than tripling last year as a direct result of the Covid-19 pandemic, the Croydon (S London) – based

International Seafarers Welfare and Assistance Network (ISWAN)

has had a unique insight into the challenges faced by seafarers around the world.
The ISWAN Annual Review 2020-21, published earlier this week and covering the financial year from April 2020 to March 2021, highlights some of the key issues seafarers have faced and how ISWAN has been able to help.
These include:
♦ Over 20,000 calls and messages to its helplines from seafarers and their families seeking help and support with twice the usual number of calls and messages relating to suicides or suicidal thoughts.
♦ More than US $272,000 in grants awarded to those in desperate need through relief funds administered by ISWAN.
♦ Over 1,800 seafarers safely returned home with the help of ISWAN's team in India.
♦ Food delivered daily by ISWAN's team in the Philippines to around 2,000 crew members left stranded in Manila during the national lockdown.
ISWAN's Chief Executive Officer Simon Grainge commented:
"In a year dominated by the pandemic, ISWAN adapted well to the new working environment and enthusiastically stepped up to meet the increased demands on its services from seafarers as they struggled with their own challenges.
"However, none of this has been achieved alone. ISWAN is enormously grateful for the sustained commitment of its funders who have enabled our work to continue, and our colleagues in the other maritime welfare organisations that have collaborated so effectively with us.
"We would also like to thank every single person who has donated to ISWAN, liked or shared our social media posts, and spread the word about our work – your support means so much to us.
'The pandemic has yet to run its course and seafarers are still being asked to go above and beyond the call of duty, so ISWAN will do the same – supporting them in the best way we can."
Readers may download the ISWAN Annual Review 2020-21 on the website HERE
Main funders of ISWAN are:

Reported by Paul Ridgway




London
Sign up for Africa Ports & Ships – it's free
Added 23 November 2021
♦♦♦♦♦♦♦♦♦
News continues below
Nigerian Navy's landing ship launched at Damen Shipyards, Sharjah
The Albwardy Damen Shipyards in Sharjah, UAE, recently launched a 100-metre long LST (landing ship) for the Nigerian Navy.
The roll-on, roll-off landing ship will have the capacity to accommodate a crew of 32 and 250 Embarked Marine Forces personnel.
According to information provided by Damen, the vessel also has deck space for vehicles, a helicopter / UAV deck and significant space for cargo, which can be loaded via both a stern and a bow ramp or using the 25-tonne main crane.
These and other capabilities are designed to enhance the Nigerian Navy's ability to deploy troops and military hardware and vehicles in support of maritime security operations, as well as the supply of relief material in the event of disasters or other crises.
Overall, the naval ship will be a critical component of power projection for the enhancement of Nigeria's maritime security at every level.
The launching of the vessel is according to plan and despite the disruptions caused by the COVID-19 pandemic.
The LST 100 is scheduled for delivery to the Nigerian Navy in 2022.
Sign up for Africa Ports & Ships – it's free
Added 23 November 2021
♦♦♦♦♦♦♦♦♦
News continues below
DFFE says it notes concerns over Shell's East Coast seismic surveys
The Department of Forestry, Fisheries and the Environment (DFFE) says it has noted concerns about the forthcoming seismic survey to be conducted by Shell and Impact Africa Limited off the coast of South Africa.
"The impact of the seismic survey, to be undertaken by Shell and Impact Africa, has been authorised under the Mineral and Petroleum Resources Development Act (MRPDA), which under section 39(2) of the Act requires the submission of an environmental management plan which is to assess and evaluate the environmental impacts of the activity," the department said today (Monday).
The Minister of Minerals Resources and Energy is the Minister responsible for the administration of the MPRDA.
The department said, therefore, that the Minister responsible for environmental affairs is not mandated to consider the application or to make a decision on the authorisation of the seismic survey.
"It should be noted that since the coming into effect of the One Environment System on 8 December 2014, the application process for the seismic survey was finalised. All decisions made under the MPRDA at the time remain valid and binding, until set aside by a court of law," the department said.
The seismic survey is expected to be conducted between December 2021 and February 2022.
See also WHARF TALK below.
Sign up for Africa Ports & Ships – it's free
Added 22 November 2021
♦♦♦♦♦♦♦♦♦
News continues below
Cameroon cuts customs duty to cover freight rate increases
Cameroon has reacted to excessively high transportation rates by sea for imported goods that it is reducing custom duties in an attempt at compensation.
This was announced last week by the Minister of Finance, Louis Paul Motaze, with the ministry issuing a statement that: "The freight rate to be used for the calculation of the customs value of goods imported by sea must be decided by reducing the total amount actually paid or to be paid for the shipment of such goods by 80%, in the context marked by an unprecedented rise in the cost of international goods transportation services."
The new measure aimed at lessening the effect on landed costs as a result of increased sea rates, will remain in force until 28 February 2022, but is extendable if necessary.
Elsewhere it has been stated it could take up to two years before freight rates by sea can return to normal levels.
Guy Innocent Diffouo, Head of the Legislation Department at the Directorate General of Customs, said that the measure will mean importers will no longer feel the effects of the rising international freight costs.
He said that the customs value of imported goods are calculated by adding freight costs and insurance to the goods purchase price.
"The customs and tax duties to be paid by the importer are calculated based on that customs value. For almost eight months now, there has been an unprecedented rise in maritime freight rates. Depending on the country, those rates are up by 40 to 70%."
He described this as good for the State since the more customs values increase, the more revenues it will generate.
"But it makes life more expensive with retail prices going up. So, basically what the Minister of Finance did with this crucial decision is to mitigate the impact of the rising freight cost and keep customs value static," he said.
He further explained: "For instance, if in January, the freight cost was €1000 per container and today it is €5000, [there is an additional €4000 that would have been added to calculate the imported goods' customs valued]. The impact of the measure issued by the Minister of Finance is that it will reduce the freight rate to be taken into account for the calculation of the customs value by €4000, meaning that things are back to normal." source: Business in Cameroon
Sign up for Africa Ports & Ships – it's free
Added 22 November 2021
♦♦♦♦♦♦♦♦♦
News continues below
WHARF TALK: Second seismic support ship arrives – OCEAN FORTUNE
Story by Jay Gates




Pictures by 'Dockrat'
Slowly, and assuredly, the seismic support vessels for the mother ship have been arriving in Cape Town. As well as the Seismic Support vessel who will act mainly as the Chase vessel, so the second Seismic Support vessel, who will act as the Supply Support vessel, has now entered port.
On 21st November at 10h00, the Seismic Support vessel OCEAN FORTUNE (IMO 9742431) arrived off Cape Town from Las Palmas in the Canary Islands, and she entered Cape Town harbour, proceeding to the Landing Wall in the Duncan Dock. Her voyage had originated from Farsund in Norway.
Built in 2015 by the Cemre Marien Endustri Shipyard, at Altinova in Turkey, which is located in the far northeastern shore of the Sea of Marmara, Ocean Fortune is 70 metres in length and has a deadweight of 2,990 tons.
She has diesel electric propulsion, where four Yanmar 6EY22LW 6 cylinder 4 stroke generators provide 1,341 bhp (1,000 kW) each, to power two motors producing 2,079 bhp (1,550 kW) each, which drive two nozzled, Berg, controllable pitch propellers to give Ocean Fortune a transit speed of 13.4 knots. For Dynamic Positioning requirements, she is classified as a DP2 capable vessel.
Designed by SALT ship designers, in Stord in Norway, as a SALT-450 Seismic Support Ship, Ocean Fortune is one of two sisterships. She has an operating crew of 12 persons, and also has accommodation for a further 48 passengers if required.
Nominally owned by Sun Atlantic Limited, Ocean Fortune is operated by Vestland Offshore AS, of Torangsvåg in Norway, and she is managed by Vestland Management AS, also of Torangsvåg. Her operator's logo is clearly displayed on her hull.
As part of her role as a seismic support ship, she is capable of acting as an emergency towing vessel, should the seismic survey vessel itself require towing, or if another vessel, lying in the track of the seismic survey vessel, has propulsion difficulties and cannot proceed out of the way. For this, Ocean Fortune has a bollard pull of 51 tons.
As a support vessel, she has a large aft working deck, with an area of 500 m2. The deck is capable of holding 1,000 tons of cargo and stores that may be required offshore. She has a single ABAS 12 ton deck crane, on her aft deck, to allow her to load cargo and stores, and transfer them to the seismic vessel should the need arise. She is also equipped to undertake ship to ship fuel transfers, if needed. On arrival, she carried a complement of four Yokohama fenders on her deck.
Prior to arriving in South Africa, for the start of the forthcoming seismic survey off the Wild Coast, she had previously completed a similar, five month, seismic support contract in the North Sea, for another seismic survey vessel. For this contract, Ocean Fortune was based out of Newcastle-on-Tyne in the UK.
Sign up for Africa Ports & Ships – it's free
Added 22 November 2021
♦♦♦♦♦♦♦♦♦
News continues below
IN CONVERSATION: African marine rules favour big industry, leaving small-scale fishers in the lurch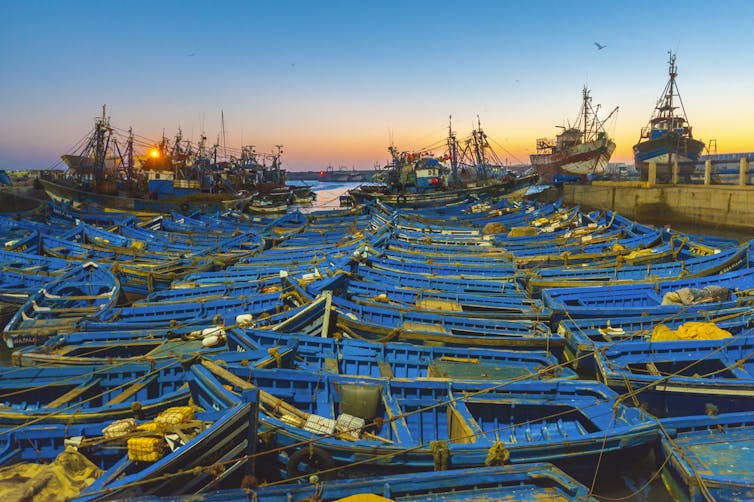 Traditional blue boats moored at the harbour of Essaouira, Morocco.  Marco Bottigelli/GettyImages
The

African marine fisheries sector

is huge. It's valued at more than US$24 billion per year.
The sector is comprised of two main players. One is the continent's artisanal or small-scale fishers, a form of fishing conducted on small fishing boats by coastal communities. The other is industrial fisheries, including trawlers and distant water fishing fleets. These vessels are sometimes owned by African nationals but mostly overseen by international fishing companies or as part of a joint venture. Fishing by non-African fleets is done through access agreements or licences issued by African states.
Perhaps surprisingly to some, the small-scale fisheries make a greater contribution to the continent's economy than their industrial counterparts. They're also vital to the livelihoods and diets of millions of people. In Africa, the fisheries and aquaculture sector employs about 12.3 million people. Half of these are fishers, the rest work in fish processing and marketing, or fish farming. Their catch feeds millions.
But all is not well in Africa's oceans. Distant water fleets are over-exploiting fish stocks through overfishing and illegal, unreported and unregulated fishing. This is because there's limited domestic or regional capacity to monitor the activities of these trawlers and enforce existing laws.
It's hard to provide exact data, because the actions of some of these fleets are unsanctioned, but it's estimated that in West Africa, illegal, unreported and unregulated fishing is the equivalent of 40% to 65% of legally reported catch.
The marine fisheries sector is under threat due to these unsustainable rates of fishing, and also because of weak fisheries governance.
Some African states are trying to address the problems of unsustainable fishing through the introduction of new policies and management practices. In a recent paper, we reviewed four case studies of such measures, from Ghana, Liberia, Madagascar and Somalia.
Our findings demonstrate two things. First, fisheries governance measures in Africa are largely constraining small-scale fishers, while failing to contain the industrial fisheries sector.
Second, despite a higher incidence of illegal, unreported and unregulated fishing in industrial fisheries than in small-scale fisheries, efforts to develop and regulate fisheries continue to advance the industrial sector. African states have continued to enter new agreements and issue new licences to distant water fleets. They also fail to institute stringent measures to curb their illegal activities.
We argue that the small-scale fishing sector is better adapted to meet the continent's nutritional and socio-economic needs. States must therefore redirect efforts to govern fisheries towards regulating the industrial sector. They must also ensure small-scale fishers have priority access to nearshore fishing grounds and fish stocks.
Targeting artisanal fishers
We found that African governments are introducing measures that target small-scale fishers while maintaining a "business-as-usual" relationship with the industrial sector.
For instance, in Ghana, a "closed season" was introduced in 2015. This means fishing is prohibited in the period that the restriction is in place. The aim is to protect fish stocks.
According to the plan the industrial sector must observe a two months closed season, first implemented in 2016, while the artisanal sector observes a one month closure implemented in 2019. This has increased poverty and vulnerability within fishing communities because they are expected to stay at home without an alternative source of livelihood and with little to no support from the state.
Meanwhile, the government gave licences to three new trawlers despite protests from the artisanal sector and NGOs. This ignored a moratorium on the licensing of new trawlers. It also happened despite a 2015 fisheries management plan flagging that the industrial sector was operating at an unsustainable level.
This makes it clear that the government's interest isn't to contain the activities of the industrial sector. Ghana's measures instead target the most vulnerable, who are also the least able to resist and easiest to police.
Reduced fishing areas
Governments in Liberia, Madagascar, and Somalia, meanwhile, are reducing the fishing areas of small-scale fishers and enlarging access to industrial vessels. This is happening despite the need for conservation and limited capacity to monitor the activities of industrial vessels. Also, in some cases, agreements with the industrial fleets aren't providing much in the form of economic return.
Liberia announced the reduction of fishing areas close to the shore (inshore) from six to three nautical miles for small-scale fisheries. This would halve the area that small-scale fisher folk have exclusive access to. Meanwhile, access to the area between four nautical miles and beyond was granted to industrial vessels from Senegal that are linked to distant water fleets from Spain.
In Madagascar and Somalia, the industrial fisheries sector is being expanded through access agreements and licences to distant water fleets linked to the European Union and China. This is leading to a further decline of legally allocated operational ranges for artisanal fishers and an increased threat to their livelihoods.
A way forward
Small-scale fishers and their communities are already under tremendous pressure. They bear the burden of conservation policies, while being squeezed out by other sectors within the blue economy.
Catches and catch opportunities for local fishers have declined, conflicts increased and fish processors and mongers, many of whom are women, are left with less fish to process and sell.
Fisheries policies and management practices as they stand will only worsen the situation. Coastal states should instead support small-scale fishers by adopting a unified social development approach to fisheries governance.
Such an approach is detailed in the Food and Agriculture Organisation's Voluntary Guidelines in Support of Small-scale Fisheries. The guidelines, created in 2015 with extensive input from fishfolk all over the world, recognise that multifaceted factors undermine livelihoods in fishing communities.
Some of these guidelines include:
Secure, equitable and socio-culturally appropriate tenure rights to fishery resources, fishing areas and adjacent land and forests
Ensure meaningful and informed participation of small-scale fishing communities in the whole decision-making process related to fishery resources
Manage resources and allocate tenure rights responsibly
Support social development and decent work
Look at fish workers along the entire value chain, from catching through processing to trading fish
Promote gender equality
Take climate change and disaster risk into account
By championing and empowering fishing communities in fisheries governance, the guidelines are a critical next step that African states and their development partners should invest in implementing. They are already signatories to them.
African governments must also address the impacts of the industrial fisheries. This can happen through, among other things, greater monitoring and the introduction of no fishing zones for trawlers, to allow full recovery and protection of species.
States must put sustainability before profitability. This entails building collaborative initiatives that safeguard the social, economic, and environmental contributions of their natural resources. Africa could learn a lesson from the Pacific Tuna Forum Fisheries Agency on how to form alliances to negotiate access as a bloc (for instance through the African Union) to balance power over agreements with distant fishing fleets, and place outcomes more equitably in the hands of African citizens.

Ifesinachi Okafor-Yarwood, Lecturer, University of St Andrews and Edward H. Allison, Director of Science and Research, WorldFish, CGIAR System Organization
This article is republished from
The Conversation
under a Creative Commons license. Read the
original article.
Sign up for Africa Ports & Ships – it's free
Added 22 November 2021
♦♦♦♦♦♦♦♦♦
News continues below
TRADE NEWS: World's first inline Active Heave Compensator successfully tested
Testing performed by Seaqualize, together with Van Oord
In no less than 62 hours of rigorous offshore testing, tech scale-up Seaqualize successfully completed offshore trials for its inline
Active Heave Compensator (iAHC), the 'Delta600'

.

Together with testing partners Van Oord and nautical research institute MARIN, the offshore lifting tool was tested for fixed-to-floating, floating-to-fixed and floating-to-floating transfers of 300mT loads. The Delta600 is DNV certified and ready for work.

The Seaqualize Delta – the world's first iAHC

Since December 2019, Seaqualize, developed the world's first iAHC: a tool specifically designed for heavy lift, in-air load control. The tool can balance and transfer loads of up to 600mT in mid-air, while the barge or crane vessel is heaving up and down in heavy seas of up to Hs2,5m.
Increased 4-season uptime
This functionality is….
Read the rest of this report in the

TRADE NEWS

section available by CLICKING HERE
Africa Ports & Ships bringing news and views from the maritime and logistics sector in Africa and further afield – Always Something New from Africa
Sign up for Africa Ports & Ships' – it's free
Added 22 November 2021
♦♦♦♦♦♦♦♦♦
News continues below
WHARF TALK: SA Port Statistics for October 2021
Port statistics for the month of

October 2021

, covering the eight commercial ports under the administration of Transnet National Ports Authority, are now available.
Last month's impressive port statistics are now looking something more like a flash in the pan, as the improvements in import/export trade have not extended into October. As if to affirm this, a comparison with October in 2020 shows a dramatic drop in cargo tons handled compared to October this year, mainly in the bulk cargo area.
For a better understanding of where things have gone awry it would be necessary to examine in greater detail than is available in the basic stats we provide here. However, it is in the export of dry bulk commodities, in particular dry bulk exports, that one can see why October has been so poor. Liquid bulk also suffered for the month, year-on-year.
With mounting worldwide pressure on the use of coal it doesn't augur well for South Africa, where coal has been king for many years.
On the other hand, containers, auto and breakbulk each compared favourably year-on-year, albeit down on the previous month this year.
This is just an indication that much work remains to be done if South Africa is to climb out of the recession in which it found itself, no matter how bright a picture the politicians might wish to paint. For now, South Africa's economy appears stuck in the doldrums and the 2021 'peak' season is over, almost before it began.
Ship calls at South African ports continue to fall, 746 in October 2020 compared with 646 this year for the same month. This cannot be ascribed to increased ship size – in 2020 the gross tonnage of ships that called was 27,130,980 tons whereas this year it dropped to 23,618,239. We know that gross weight is not necessarily the best measurement here but it does help in confirming that South Africa's ports are seeing less ships overall.
Such a continuing condition must surely raise question marks on any decision-making aimed at increasing capacity at the respective container terminals? Perhaps the ports might be better served with identifying areas where improving efficiency can be achieved. A recent webinar in which TNPA painted its future picture didn't encourage much confidence in that regard.
To illustrate the dire straits we're in, container ships are down from 141 calls in October 2020 (7,580,980 million tons) to 115 ship calls in October 2021 (5,990,130-gt)
In September this year container volumes peaked at 451,310 TEU – the figure for October is 329,822 TEU (2020 – 325,711 TEU), a decrease of 121,488 TEU. The port of Durban handled 196,385 TEU this October (2020 was 213,052 TEU). This rates poorly if compared to one month ago (September 2021) when the country's principal container port handled 281,594 TEU, a decrease of 85,209 in one month – the decrease is more than enough to wipe out what either Ngqura or Cape Town handled for the month of October.
Further details are available in the tables below and in the link provided for 2020.
These details showing port cargo throughputs, ships berthed and auto and container volumes handled together with bulk and dry bulk volumes.
Statistics involving motor vehicles are measured in vehicle units. These include imports and exports, earth-moving and all ro-ro or wheeled vehicles each qualifying as a single unit and rated as at an average of one tonne each.
For comparison with the equivalent month of the previous year, October 2020 CLICK HERE
These statistic reports on Africa PORTS & SHIPS are arrived at using an adjustment on the overall tonnage compared to those kindly provided by TNPA and include containers recorded by weight; an adjustment necessary on account of TNPA measuring containers by the number of TEUs without reflecting the weight, thus leaving the SA ports undervalued in volumes in comparison with others.
To arrive at such a calculation,  Africa PORTS & SHIPS uses an average of 13.5 tonnes per TEU, which probably does involve some under-reporting.  Africa PORTS & SHIPS  will continue to emphasise this distinction, without which South African ports would be seriously under-reported internationally and locally.
Port Statistics continue below……
Figures for the respective ports during October 2021 are:
Cargo handled by tonnes during October 2021, including containers by weight
| | |
| --- | --- |
| PORT | October 2021 million tonnes |
| Richards Bay | 7.329 |
| Durban | 5.363 |
| Saldanha Bay | 3.349 |
| Cape Town | 1.276 |
| Port Elizabeth | 1.155 |
| Ngqura | 1.380 |
| Mossel Bay | 0.041 |
| East London | -0.116 |
| | |
| Total all ports | 20.011 million tonnes |
CONTAINERS (measured by TEUs) during October 2021
(TEUs include Deepsea, Coastal, Transship and empty containers all subject to being invoiced by NPA
| | |
| --- | --- |
| PORT | October 2021 TEUs |
| Durban | 196,385 |
| Cape Town | 62,228 |
| Port Elizabeth | 7,648 |
| Ngqura | 63,282 |
| East London | -0,255 |
| Richards Bay | 534/td> |
| | |
| | |
| Total all ports | 329,822 TEU |
MOTOR VEHICLES RO-RO TRAFFIC (measured by Units- CEUs) during October 2021
| | |
| --- | --- |
| PORT | October 2021 CEUs |
| Durban | 35,263 |
| Cape Town | 3 |
| Port Elizabeth | 12,448 |
| East London | 2,467 |
| Richards Bay | 1 |
| | |
| | |
| Total all ports | 50,182 CEU |
SHIP CALLS for October 2021
PORT
October 2021 vessels
gross tons
Durban
223
8,660,703
Cape Town
121
2,554,160
Richards Bay
122
5,657,851
Port Elizabeth
67
1,827,775
Saldanha Bay
38
2,237,229
Ngqura
47
2,072,808
East London
16
520,091
Mossel Bay
12
87,662
Total ship calls
646
23,618,239
— source TNPA, with adjustments regarding container weights by AP&S
Sign up for Africa Ports & Ships – it's free
Added 22 October 2021
♦♦♦♦♦♦♦♦♦
News continues below
WHARF TALK: Seismic support ship – ASTRA G
Story by Jay Gates




Pictures by 'Dockrat'
There is an awful lot of misplaced, and misunderstood, emotion being displayed at the moment in regard to Shell Exploration and Production's intention to carry out a four month long 3D Seismic Survey, in a sea area covering 6,000 km2, between Morgan Bay and Port St. Johns, off the coast of the Eastern Cape. The survey is due to get underway on 1st December.
On 19th November at 07h00, the Seismic Survey Support vessel ASTRA G (IMO 9648491) arrived off Cape Town, inbound from Las Palmas in the Canary Islands. Her voyage had started from Scheveningen in Holland. She entered Cape Town harbour and went alongside the Eastern Mole in the Duncan Dock, the usual berth for vessels on a short stay, and requiring to uplift bunkers and stores, before proceeding onwards with their voyage.
Built in 2013, Astra G is actually the world's first purpose built Seismic Survey Support vessel, as prior to her entering service, all other similar vessels were former trawlers or small offshore support vessels that had been converted to carry out this important task. She was the first built of two sisterships.
Her hull was built by the Crist shipyard, at Gdynia in Poland, before being brought around to the Damen Maaskant shipyard, at Stellendam in Holland for outfitting and completion. She is 40 metres in length and has a deadweight of 250 tons. She is powered by two Caterpillar C32 ACERT V12 4 stroke main engines, producing a total of 2,602 bhp (1,940 kW) to drive two fixed pitch propellers for a service speed of 9 knots.
Her auxiliary machinery includes three Caterpillar C4.4 generators providing a total of 297 kW. Each of her two propellers has an individual fishtail rudder, each of which can be operated in full synchronization as dual rudders, or individually, for greater speed control and manoeuvrability. With a minimum manning crew of just five, Astra G is able to accommodate nine more crew, or passengers, as required.
Her role, as a dedicated Seismic Survey Support vessel, means that Astra G is normally required to run ahead of the actual Seismic Survey vessel, at a slow speed of around 4 knots, and ensure that no other vessels get in the way of the approaching survey vessel. The modern 3D survey vessels can be towing up to 14 streamers, up to 1,500 metres behind the vessel, and are unable to easily manoeuvre, in order to get out of the way of other vessels.
Additionally, her role calls for Astra G to temporarily remove, or lift out of the water, any buoys, fishing nets or other floating objects and obstructions, that are found ahead of the main survey vessel, For that purpose, she has a large open aft working deck, with a 2 ton Heila deck crane, with which to store anything brought onboard.
Not only that, Astra G is equipped with a towing hook, and has a 22 ton bollard pull. This requirement serves two purposes, with the main purpose being to provide immediate assistance to the survey vessel, should she have propulsion difficulties, and be in a position to be able to tow her at a minimum speed to prevent low speed entanglement, and damage, to her towed streamer array. The other purpose being to enable her to tow away any other vessel that may have broken down ahead of the survey vessel.
Her completion shipyard in Holland, the Maaskant yard, is Damen's shipyard that usually builds one-off vessels, or short series vessels, rather than the building, for stock, of Damen standard designs, which is the norm at most other Damen shipyards worldwide.
Nominally owned by Rederij Groen II BV, of Scheveningen in Holland, Astra G is operated and managed by Rederij Groen BV, also of Scheveningen. The company has a long history of providing both seismic support vessels, and offshore support vessels, for the oil and gas industry. It is not the first time that Astra G has been in South African waters, as she was acting as a seismic support vessel between November 2019 and March 2020.
The unique design of Astra G, as the first purpose built seismic survey support vessels, meant that the Royal Institute of Naval Architects (RINA) gave her the accolade of making her one of their 'Significant Small Ships of 2013'.
That Astra G has arrived, and is now alongside in Cape Town, taking on Marine Diesel bunker fuel from a road tanker, is indicative that the actual Seismic Survey vessel itself is not that far away. As Seismic Survey vessels usually operate with two support and chase vessels, and not just one such as Astra G, also indicates that there is still one more support vessel to come.
Sign up for Africa Ports & Ships – it's free
Added 21 November 2021
♦♦♦♦♦♦♦♦♦
News continues below
News from the coast: Bunker spill, Skandi Afria, dredger Macuti, MSC Trieste, NS Qingdao, Marvin Star, Algoa
Bunker spill in Algoa Bay
The oil spill in Algoa Bay this past week was certainly one of the biggest talking points of the recent week. In essence, the bunker tanker

SEA EMPEROR

was delivering a parcel of heavy fuel oil to the Croatian bulk carrier, SOLIN (IMO 9629483), when something went wrong.
According to SAMSA (South African Maritime Safety Authority), one of the tanks on the Solin overflowed, and about 80 litres spilled overboard and into the sea.
A boom was quickly placed in position but something like this always takes a little time, no matter how efficient everyone is in dealing with the emergency. As a result some oil may have 'gotten away', necessitating an ongoing inspection of nearby beaches an islands.
SAMSA's reporting of the matter suggests there has been no contamination to speak of, in which case the episode has been little more than a scare, It does reinforce the fears of those who warned that undertaking bunkering at sea in the Algoa Bay comprised a risk. This is not the first such leak and others are bound to occur, no matter what precautions are taken. Where there is a human element mistakes will always happen.
Skandi Africa completes drydocking, sails for Australia
Pipe laying vessel SKANDI AFRICA (IMO 9687459) has left our shores, having completed a short stay in the Durban dry dock, where she became one of if not the first commercial ships in the dock for a long long time. Most of the vessels settling on the blocks in the Prince Edward Graving Dock tend to be departmental (Transnet) vessels – tugs or dredgers.
This has been a source of irritation to ship repair firms in the port including those who have their own floating docks. One of the problems with taking up space in the dock by tugs is the length of time they spend in completing maintenance or other repairs.
Skandi Africa sailed on Sunday for Dampier in Western Australia, having arrived in Durban on 3 November from Mozambique, where the pipe layer had been engaged in work relating to the LNG gas fields off Cabo Delgado province.
For more information of Skandi Africa SEE HERE
She had been the second pipe layer recently in port – the other being LV NORTH OCEAN 105 which underwent repairs in Durban in August before heading off to Cape Town where she entered the dry dock in that port for further maintenance. For details of that vessel, CLICK HERE
Vessels such as these are uncommon and it may be a while before South Africa's ports again play host to such eye-catching ships.
Dredger Macuti
Another unusual long-term visitor at Durban is the Mozambique dredger MACUTI (IMO 9641144) which is laid up at the Bayhead after arriving in port following a dreadful collision in the port of Beira.
Owned by the Mozambican state-owned dredging company, Emodraga, the 2500m³ trailing suction hopper dredger (TSHD) was built in 2013 and saw less than three years service in the Mozambique ports (mainly Beira) before that fateful day of Monday, 27 June 2016 the container ship MSC Chiara, sailing from the port for Durban, collided with Macuti in the entrance channel, leaving the dredger badly damaged and taking on water from a 6-metre gash in the engine room hull.
To save the ship the master ran her aground on one of Beira's numerous sandbanks.
MSC Chiara was also badly damaged but not in danger of sinking.
A local team put together by Emodraga, joined forces to prevent Macuti from sinking, following which, after some three months, sufficient temporary repairs had been undertaken to enable her to be sent to Durban on tow behind the AMSOL tug Savé River for permanent repair. According to a report on Rádio Moçambique, the repair was going to cost around US$10 million.
Savé River remained in Durban as she had gone off charter.
MSC Chiara also went to Durban where she was repaired and returned to service.
In Durban Macuti underwent some repairs but since then has remained alongside a quayside at the Bayhead where it is assumed financial matters preclude her from returning to Beira.
MSC Trieste arrives on tow in Saldanha Bay
The container ship MSC TRIESTE (IMO 9484479), which lost all propulsion while passing the South African coast off Plettenberg Bay, has arrived in Saldanha Bay on tow behind the AMSOL standby tug, SA AMANDLA.
The two vessels arrived in the Western Cape port at 06h30 on Sunday 21 November, with MSC Trieste going to anchor in the bay. In these sheltered waters repairs to the container ship can be carried out.
More used to giant Capesize bulkers arriving to load iron ore or manganese ore, or the occasional large crude oil tankers delivering their cargo, Saldanha Bay does not normally experience container ships calling in the port. This arrival was necessitated by MSC Trieste breaking down while sailing from West Africa for the Far East.
With a length of 365 metres and a beam of 49m, the 154,633-dwt box ship is too large to enter Cape Town seeking repair. She could have gone into Durban, but that port already has another large MSC ship undergoing long-term repairs, the 12,400-TEU MSC KATRINA (IMO 9467445), which also became incapacitated in much the same position on the Cape South Coast after experiencing a fire in her engine room.
The heavily laden 154,792-dwt MSC Katrina was towed to Durban where she arrived on 16 September and is undergoing repairs alongside at Pier 1, taking two berths out of action. Possibly for this reason authorities opted to have MSC Trieste towed to Saldanha Bay.
NS Qingdao at St Helena Bay
Readers will recall the news of the bulker carrier NS QINGDAO which arrived in Durban to discharge her cargo of chemicals at Maydon Wharf. Unfortunately rainwater contaminated the cargo, which is packed in large bags, and the cargo began emitting toxic fumes.
The ship was hastily taken outside to the anchorage where the fumes could safely dissipate. SAMSA then decided in conjunction with other stakeholders, that the ship should go to St Helena Bay where the cargo can be offloaded onto another vessel, taken ashore and disposed of safely.
With the AMSOL tug Umkhuseli in company, NS Qingdao sailed to St Helena Bay where the operation of discharging her cargo commenced. Umkhuseli remains on standby in the bay.
Auction of tanker MARVIN STAR postponed
The intended auction of the crude oil tanker Marvin Star (IMO 9422366), which was to take place at the office of attorneys Bowmans on Thursday 25 November 2021 at 11h00, has been indefinitely postponed.
The tanker is at anchor at the Walvis Bay anchorage and the planned auction was by order of the High Court of Namibia.
No reason for the postponement of the auction has been given.
Research vessel Algoa sails for West Coast
AMSOL advises that the fishery research vessel ALGOA (IMO 7410369) for the Integrated Ecosystem Programme: Southern Benguela, where research will be carried out on the shelf and slope regions off the South African West Coast.
The aim of this multi-disciplinary scientific cruise is "increased collaboration, enhanced learning and developing an ecosystem indicator that can be used to monitor and understand seabird and benthic ecosystem indicators."
Algoa which was built in 1975, is under the command of Captain Kenton Smith.
Sign up for Africa Ports & Ships – it's free
Added 21 November 2021
♦♦♦♦♦♦♦♦♦

</h3

News continues below

Addition of pulses and their products in the definition of grains
In many regions around the world, pulses are a basic staple food and a vital source of plant-based protein, amino acids, vitamins and minerals, with global trade in the commodity increasing continuously over the last five years to reach 16-17 million tons in 2021.
The London-based International Grains Council (IGC*) announced that, with effect from 1 November 2021, pulses, such as lentils, dry peas, chickpeas, dry beans, other pulses will be included in the definition of "grain" or "grains" under Article 2(1)(e) of the Grains Trade Convention, 1995.
As a result, the IGC Secretariat will expand its market information for pulses. It currently provides updates on pulses trade and estimates of production in the GMR (Grain Market Report) on a monthly basis.
For the latest GMR in summary SEE HERE
Supply and demand balances are published for the major exporters for dry peas, lentils and chickpeas. The Secretariat is also currently constructing global supply and demand balances and developing a pulses-specific area on the IGC member website which would include a FOB prices matrix.
By extending the definition of grains to include pulses, the IGC seeks to increase market transparency for pulses and to enhance co-operation to increase the global trade of this commodity which plays an essential role in achieving food security.
About the IGC
The International Grains Council (IGC) is an intergovernmental organisation that seeks to:
♦ Further international cooperation in grains trade;
♦ Promote expansion, openness and fairness in the grains sector;
♦ Contribute to grain market stability and to enhance world food security.
These objectives are sought by improving market transparency through information-sharing, analysis and consultation on market and policy developments.
Grains, rice and oilseeds market conditions are currently monitored on a daily basis, through circulation of daily reports and maintaining web-based information services, and the Council formally exchanges information at Market Conditions Committee meetings and Council sessions.
The annual IGC Grains Conference is a public forum for discussion, and an opportunity to bring international buyers and sellers, industry representatives and policymakers together.
Council Sessions
The IGC holds two regular Council Sessions each year, either in London or, by invitation, in member countries. Its functions are:
♦ To oversee the implementation of the Grains Trade Convention, 1995;
♦ To discuss current and prospective grain market developments;
♦ To monitor changes in national grain policies and their market implications. The budget in fiscal 2021/22 (Jul/Jun) was set at £1.72 million. The Chairperson and Vice-Chairperson are elected annually, the posts alternating between exporting and importing members.
Chairperson 2021/22: Mr Taras Kachka, Deputy Minister for Economic Development, Trade and Agriculture, Trade Representative of Ukraine.
Vice-chairperson 2021/22: Mr James M Kiiru, Minister, Kenya High Commission, London.
The IGC provides administrative services to the Food Assistance Committee, which consists of all the parties of the Food Assistance Convention (FAC).
* Conseil international des céréales
Consejo Internacional de
Международный Совет по Зерн

Reported by Paul Ridgway




London


Based on press information kindly provided


and other details to be found

HERE
Sign up for Africa Ports & Ships – it's free
Added 21 November 2021
♦♦♦♦♦♦♦♦♦

</h3

News continues below

FLNG Coral South (Sul) launched and ready to work off Mozambique
The development of the offshore gas industry off Cabo Delgado province in Mozambique received a boost last week with the naming and departure ceremony of the Coral-Sul (IMO 9831684) FLNG (Floating Liquefied Natural Gas) vessel from the Samsung Heavy Industries shipyard in Geoje, South Korea.
The development of the LNG industry in Mozambique has been widely reported as having been delayed indefinitely or possibly abandoned. These predictions were generally aimed at the onshore liquefaction plant at Afungi near the small harbour town of Palma, involving the French oil major Total Energy.
What has been mostly ignored is the offshore project of Italian oil and gas company Eni and its partners, which from the beginning opted to place their liquefaction plant offshore in the Coral field of the Rovuma Basin.
This involved producing and selling gas from the southern part of the Coral field, using a floating plant for liquefying natural gas (LNG) with a capacity of 3.4 million tonnes, linked to six already sunk subsea gas producing wells.
The nominal owner of the 337,500 gross ton FLNG Coral-Sul offshore processing plant is registered to Eni SpA of Rome, Italy, with Eni SpA also being the ship and commercial manager.
The huge vessel, 432-metres in length, includes an eight-storey high accommodation module for up to 350 people who will live and work on board. Once in operation Coral-Sul will deliver an expected 3.4 million tonnes a year of LNG to British Petroleum (BP). It is claimed this will be from the world's deepest FLNG facility with six wells already dug almost 2,000 metres deep.
Production of LNG is expected to commence in the second half of 2022.
Work commenced on the FLNG hull and topside modules in September 2019, with launching of the hull taking place in January 2020 and the lifting of the first topside module in May that year.
Coral-Sul is one of four LNG orders placed worldwide of which Samsung has built three.
While this construction was taking place in Korea, ultra-deepwater drilling continued in the northern Mozambique Channel in what is known as the Rovuma (river) Basin.
Avoiding the insurrection
In proceeding with the FLNG project, Eni and its partners have avoided the insurrection taking place onshore in Cabo Delgado province, which brought about the abandonment and postponement of the Total Energy onshore project.
Meanwhile, the drilling and placement of the Coral-Sul FLNG vessel faces dangers from a different source, the weather. Coral-Sul will be located in an area strongly prone to annual cyclones, which required that the FLNG had to be constructed with that in mind. It is estimated that Coral-Sul will remain offshore for 25 years without the need for dry-docking.
With that consideration, the design team carried out a number of simulations in tanks and wind tunnels.
Incidentally, readers may see reference of this FLNG bing named CORAL SOUTH – this is an anglicisation of the name which is correctly Coral-Sul, with the hyphen. Sul in Portuguese means South.
Now watch a YouTube video showing the construction and installation of topside modules on Coral-Sul [5.41]
Sign up for Africa Ports & Ships – it's free
Added 21 November 2021
♦♦♦♦♦♦♦♦♦
News continues below
Sea-based sources of marine litter: New report by GESAMP
The sources and impact of sea-based marine litter form the focus of a new report by the Group of Experts on the Scientific Aspects of Marine Environmental Protection (GESAMP), an advisory body to the United Nations sponsored by ten UN entities including IMO

*

.
This report can be downloaded HERE
This report outlines the various sources of litter and the impact and assesses the current availability of data and identifies knowledge gaps for the main categories of sea-based sources of marine plastic litter. The Working Group was established by GESAMP, on the request of IMO, Food and Agriculture Organization (FAO), and United Nations Environment Programme (UNEP).
Here is stressed the urgent need to reduce marine litter as the document outlines a number of ongoing initiatives and suggested steps to combat this issue, providing readers with practical information. It also highlights knowledge gaps and suggested areas for future academic and scientific research, including on the impact of Covid-19 on ocean industries and livelihoods that result in marine litter.
Although very little quantification of sea-based sources of marine litter exists in the scientific, peer-reviewed and grey literature (highlighted as an area for further research), the report looks at five main categories. These are:
♦ Fishing: Abandoned, lost, or otherwise discarded fishing gear (ALDFG) from artisanal, commercial and recreational fishing operations is a large source of marine litter. It can include surrounding nets, seine nets, trawls, dredges, lift nets, falling gear, gillnets and entangling nets, ropes, traps, hooks and lines, floats and buoys, sinkers and anchors and miscellaneous gear including metallic materials.
♦ Aquaculture: Ocean and coastal farming can be a source of marine litter in the form of aquaculture equipment and plastics, including ropes, buoys, mesh bags, anti-predator netting, cages, tanks, and so forth.
♦ Shipping and Boating: Marine litter from merchant ships, cruise ships, yachts and leisure craft can take the form of solid waste, waste from cargo holds (for example wire straps, packaging materials, plastic sheets, boxes and so forth), waste generated during the normal operations of the ships, personal litter from individuals on board, debris from vessel wear and tear, and sewage (although this is regulated by IMO's MARPOL treaty, accidental discharges occur occasionally). With regard to shipping readers are invited to see pages 31 to 42.
♦ Dumping of waste and other matter at sea: this category includes dredged materials, which is by far the most significant in terms of volumes, and potentially the largest source of plastic or other litter from wastes dumped at sea.
♦ Other ocean uses: marine litter can occur as a result of offshore oil and gas exploration; shark and 'stinger' nets set up in beach areas to prevent harm to humans; weather monitoring, which can create debris, such as weather balloon equipment including acid batteries, plastic components and latex rubber; artificial reefs, which may be constructed out of waste materials such as old tyres and so forth and may be impacted by tidal and weather conditions; scientific research equipment and activities; and fireworks.
The report concludes that sea-based activities do contribute to the global burden of marine litter, and that this does warrants concern.
However, it is not possible to estimate the total contribution of sea-based sources and a concerted effort to update global estimates is needed to fill these knowledge gaps, together with renewed efforts to reduce inputs of marine litter from all sources.
It is of note that this 112-page report does not examine the potential toxic effects of plastics on marine life, as this and other subjects are covered in detail in the reports produced by GESAMP Working Group 40 on Sources, Fate and Effects of Microplastics in the Marine Environment, see in particular its second report (GESAMP Reports and Studies No. 93, published in 2016.
* GESAMP is made up of scientific experts from IMO, FAO, Intergovernmental Oceanographic Commission of UNESCO (IOC-UNESCO), United Nations Industrial Development Organization (UNIDO), World Meteorological Organization (WMO), International Atomic Energy Agency (IAEA), United Nations (UN), UNEP, United Nations Development Programme (UNDP), and the International Seabed Authority (ISA).

Reported by Paul Ridgway
London
Sign up for Africa Ports & Ships – it's free
Added 21 November 2021
♦♦♦♦♦♦♦♦♦
News continues below
Maersk issues first green bond to fund first green methanol vessels
A.P. Moller – Maersk (Maersk)

has launched its Green Finance Framework designed to allow the company to issue a variety of sustainable financing instruments which may include bonds, loans, project finance and other instruments.
This 10-year, €500 million, green bond comes under the umbrella of Maersk´s Green Finance Framework and has met a final order book of €3.7bn. The transaction priced at coupon of 0.75%, lowest annual interest ever for Maersk.
"Issuing Green Financing Instruments is a further step to integrating sustainability into our financing operations as it is an effective tool for channelling investments to projects with positive environmental impact and thereby contributing to the achievement of the UN Sustainable Development Goals (SDGs) and the Paris Agreement," says Patrick Jany, CFO at A.P. Moller – Maersk.
"With this green bond, we aim at diversifying our investor base by reaching out to new investors and increasing the transparency of our ESG ambitions and performance even further towards our stakeholders."
Cicero Green was appointed to review Maersk´s Green Finance Framework and ultimately verify its alignment with the ICMA Green Bond Principles 2021 and the Green Loan Principles 2021 and market practices. Based on the overall assessment of the eligible green assets under this framework and governance and transparency considerations, Maersk's Green Finance Framework has received a Cicero Medium Green shading and a governance score of Excellent.
Carbon neutral methanol by 2023 and 2024
By establishing the new Green Finance Framework, Maersk intends to align its funding strategy with its goal to become carbon neutral by 2050.
To start with, the company has now successfully placed its inaugural 10-year, €500 million green bond to fund the build of its first feeder vessel and the ground-breaking series of 8 large ocean-going container vessels which will be capable of operating on carbon neutral methanol by 2023 and 2024, respectively.
The transaction was met with strong demand with a final order book at € €3.7bn. The transaction priced at coupon of 0.75%, the lowest coupon ever for Maersk.
Sign up for Africa Ports & Ships – it's free
Added 21 November 2021
♦♦♦♦♦♦♦♦♦
News continues below
Call by Nigeria's Dangote Group for ports in Africa to be reformed
The COO of Africa's largest cement manufacturer, Nigeria's Dangote Group, last week issued a call for ports in Africa to undergo reform and the easing of bureaucracy and unnecessary regulations.
Rabiu Umar was speaking to a Nigerian news broadcaster, Arise News Channel, during last week's Intra-African Trade Fair (IATF) being held at the Durban ICC.
He said that in the context of establishing the African Continental Free Trade Area (AfCFTA) agreement, and over-regulated and bureaucratic port system as found across Africa, hindered the free flow of trade across the continent.
He said the trade barriers highlight a lot of issues around infrastructure, around diplomacy, around ports. You may get your goods to the ports, he said, but it takes an unnecessarily long time, citing the example of Nigeria for either imports or exports.
"I was on a panel yesterday and someone from South Africa said it's cheaper to move goods from Durban to China than from Durban to Cape Town. So, the challenges are not just related to a particular region, they're all across.
"Bringing down these barriers will mean that goods and services can move much more freely and that will definitely give us a competitive advantage on the continent from one country to another."
Umar said there was a renewed interest in Dangote group and Nigeria from other African countries.
What has been impressive has been the level of interest, he said. "From across the continent, many countries come in to find out what we do, trying to either sell us a solution, or try to buy something from us. This has been from all over.
"We have a presence in 10 countries, like I said, including South Africa. So we had people come in, who are in South Africa to ask to do business with us. We have had people who want to know about our fertilizer business, for example, and all sorts and of course, the famous refinery, people are interested in finding out more and how they can collaborate and do business with us. So, it's been a worthwhile trip so far," he said.
Asked what On should be done to boost Intra-African trade, Umar said fixing infrastructure, tariff reduction, ease of payments and settlements should be priority.
"It's a very difficult process. It is not just about the road transport or the quality of the roads you have. We don't have a rail system and of course, you know, road transportation is very expensive. The second part is the tariffs, the systems and the process, the bureaucracy.
"So for us to get to where we need to get to, I think the key condition is to remove these barriers to trade, the biggest one being infrastructure, you need the infrastructure to move goods. The second part of it, you need to cut out the red tape, from a diplomatic perspective, from a customs perspective, from even a payment settlement perspective, which is one of the things the Afreximbank has done with the settlement system among the African countries meaning that you are kind of dollarising the economies of these countries." Source: Arise News Channel and Ships & Ports
Sign up for Africa Ports & Ships – it's free
Added 21 November 2021
♦♦♦♦♦♦♦♦♦
News continues below
GENERAL NEWS REPORTS – UPDATED THROUGH THE DAY
in partnership with – APO
More News at https://africaports.co.za/category/News/
♦♦♦♦♦♦♦♦♦
THOUGHT FOR THE WEEK
"Life is not a problem to be solved, but a reality to be experienced."
-Søren Kierkegaard
♠♠♠
News continues below………
♦♦♦♦♦♦♦♦♦
TO ADVERTISE HERE
Request a Rate Card from info@africaports.co.za
EXPECTED SHIP ARRIVALS and SHIPS IN PORT

Port Louis – Indian Ocean gateway port
Ports & Ships publishes regularly updated SHIP MOVEMENT reports including ETAs for ports extending from West Africa to South Africa to East Africa and including Port Louis in Mauritius.
In the case of South Africa's container ports of Durban, Ngqura, Ports Elizabeth and Cape Town links to container Stack Dates are also available.
You can access this information, including the list of ports covered, by  CLICKING HERE remember to use your BACKSPACE to return to this page.
News continues below
CRUISE NEWS AND NAVAL ACTIVITIES

QM2 in Cape Town. Picture by Ian Shiffman
We publish news about the cruise industry here in the general news section.
Naval News
Similarly you can read our regular Naval News reports and stories here in the general news section.
♦♦♦♦♦♦♦♦♦
♠♠♠
ADVERTISING
For a Rate Card please contact us at info@africaports.co.za
Don't forget to send us your news and press releases for inclusion in the News Bulletins. Shipping related pictures submitted by readers are always welcome. Email to info@africaports.co.za
TABLE BAY UNDERWAY SHIPPING
SHIP PHOTOGRAPHERS
Colour photographs
and slides for sale of a variety of ships.
Thousands of items listed featuring famous passenger liners of the past to cruise ships of today, freighters, container vessels, tankers, bulkers, naval and research vessels.
P O BOX 809, CAPE TOWN, 8000, SOUTH AFRICA
snai@worldonline.co.za
http://home.worldonline.co.za/~snai