Bringing you shipping, freight, trade and transport related news of interest for Africa since 2002
Stay Well, Stay Safe, Stay Patient, don't become one
Advertise here – side column banners available – strengthen brand awareness at affordable rates – email us for a Rate Card to

 terry@africaports.co.za
Would you like to receive our free daily newsletter via email?  Send your email marked NEWSLETTER to terry@africaports.co.za 
♠♠♠
Join us as we report through 2021
'and learn with Africa Ports & Ships' 
****

**

****
TODAY'S BULLETIN OF MARITIME NEWS
These news reprts are updated on an ongoing basis. Check back regularly for any late developing news – where necessary refresh your page at www.africaports.co.za
Click on headline to go direct to story : use the BACK key to return  
FIRST VIEW:  MSC JEANNE
EARLIER NEWS CAN BE FOUND HERE AT NEWS CATEGORIES…….
The Monday masthead shows the Port Harcourt

The Tuesday masthead shows the Port Elizabeth Manganese Terminal
The Wednesday masthead shows the Port Port Elizabeth Container & Car Terminal
The Thursday masthead shows the Port of Walvis Bay
The Friday masthead shows the Port of Ngqura
The Saturday masthead shows the Port of Ngqura Container Terminal
The Sunday masthead shows the Port of Mombasa
♦♦♦♦♦♦♦♦♦
SEND NEWS REPORTS AND PRESS RELEASES TO
info@africaports.co.za
♦♦♦♦♦♦♦♦♦
News continues below
One of the older MSC ships still in service with a company noted for operating both new and older tonnage. MSC JEANNE (IMO 913 5638) was built in 1996 by Hyundai in South Korea and has operated for a series of companies and under a number of names – Eos 1, Ming Dynasty, Zim Mumbai, Thorswave, and Wave before becoming MSC Jeanne in September 2013 in the service off the Mediterranean Shipping Company (MSC) who now own, manage and operate the vessel.
While with the subject of names, this is not the first ship in the Swiss/Italian company service to carry Jeanne as the name, her predecessor (IMO 7814826) having been built in 1979.  The current MSC Jeanne has an overall length of 195 metres and is 32m wide, deadweight 35,021 tons and has a container carrying capacity of 2,959 TEU. She is flying the flag of Liberia.
The above picture is by KEITH BETTS
Added 10 October 2021  Africa Ports & Ships
♠♠♠
Photographs of shipping and other maritime scenes involving any of the ports of South Africa or from the rest of the African continent, together with a short description, name of ship/s, ports etc are welome.
♦♦♦♦♦♦♦♦♦
♦♦♦♦♦♦♦♦♦
NEWS
♦♦♦♦♦♦♦♦♦
News continues below
Transnet declares Force Majeure at Richards Bay Bulk Terminal

Following two devastating fires in the conveyor line system belt routes at the Port of Richards Bay Bulk Terminal, Transnet has declared force majeure.
The latest fire was on this Wednesday night 13 October, exacty a week after the first fire on 6 October and in the same conveyor network.
The fire was contained within five hours after the terminal isolated the electrical power to the routes to ensure that firefighters were able to extinguish the fire at speed.
There were no injuries to any of the employees, service providers or customers on site although emergency services were called to the scene as a standard precautionary measure.
By Friday evening the cause of the fire remained unknown and a preliminary investigation is currently underway. Expert assessors and investigators are onsite establishing the extent of the damage.
There is some speculation that sabotage was the cause but there is as yet no proff that such is the case.
Transnet says the terminal, operated by Transnet Port Terminals (TPT), is engaging with its affected customers and is in the process of putting the necessary contingencies in place as some routes are operational. It said further details will be provided as more information becomes available.
Added 16 October 2021
Sign up for Africa Ports & Ships' free Newsletter
♦♦♦♦♦♦♦♦♦
News continues below
Nigerian Ports Authority (NPA) to prioritise Intra-African trade
The Nigerian Ports Authority (NPA) is setting about repositioning its seaports as efficient and reliable gateways to not only the domestic market but also neighbouring landlocked states reliant on Nigeria's ports. This, it says, is aimed at optimising Nigeria's trade inter-connectivity with other countries under the

African Continental Free Trade Area (AfCFTA)

agreement.
That's according to Acting Managing Director of the NPA, Mohammed Bello-Koko, in a goodwill message read on his behalf by Onari Brown, NPA's Executive Director, Marine and Operations. This was at the recent Nigerian International Maritime Summit (NIMS) held in Lagos.
Bello-Koko said the NPA, having keyed into the Federal Government's agenda to lift 100 million Nigerians out of poverty within a decade, has prioritised the expansion and improvement of port infrastructure, including ICT and security systems, in order to significantly bring down transportation costs of Nigeria's trade within the continent and globally.
"Given the urgency with which the new vistas of opportunity of the African Continental Free Trade Agreement beckons, the Authority is eager for actionable ideas and synergistic partnerships that the summit promises to deliver.
"The promotion of the African Union agenda of well-interconnected and integrated networks of transport infrastructure to boost opening of markets and increase intra-regional trade, will serve to complement our ongoing aggressive efforts at attaining seamless port hinterland connectivity through multi-modalism."
Commending the organisers of the summit for taking steps to promote Nigeria as a centre of maritime excellence in the region, he assured industry stakeholders and port users of the unwavering commitment of the management of the NPA to effectively address all the identified bottlenecks in port operations and harness the opportunities that AfCFTA will present, especially in the area of non-oil export trade.
Added 14 October 2021
Sign up for Africa Ports & Ships' free Newsletter
♦♦♦♦♦♦♦♦♦
News continues below
WHARF TALK: keeping the wheels turning – HELLAS NEMESIS
Story by Jay Gates
Pictures by 'Dockrat'
The ongoing flow of mainly MR2 class tankers to South African shores from India, as a result of the ongoing domestic refinery closures, continues to see them arriving from Indian oil ports that show, more and more, how India's oil exporting industry continues to burgeon and flourish.
The tanker arrivals are often vessels that are servicing more than one South African port, and builds on the list of Indian ports that feed South Africa's fuel needs, not just from new purpose built oil terminal facilities, but from ports that are some of the oldest in India's maritime history.
On 7th October at 17h00 the MR2 tanker HELLAS NEMESIS (IMO 9722649) arrived at the Table Bay anchorage from Chennai in India, on her first stop at a South African port for this particular voyage. After a short eight hour wait out in the anchorage she entered Cape Town harbour at 01h00 on 7th October and proceeded to the Tanker Berth in the Duncan Dock.
Built in 2016 by Hyundai Mipo Dockyard at Ulsan in South Korea, Hellas Nemesis is 183 metres in length and has a deadweight of 49,994 tons. She is powered by a single HHI MAN-B&W 6G50ME-B9.3 6 cylinder 2 stroke main engine, producing 9,762 bhp (7,180 kW) to drive a fixed pitch propeller giving her a service speed of 14.5 knots. She has 12 cargo tanks and a cargo carrying capacity of 53,700 m3
Owned by Consolidated Marine Management of Athens, Hellas Nemesis is operated by Latsco London Ltd., and managed by Latsco Marine Management of Athens. She is currently deployed in the London based, Navig8 MR Tanker pool, and is utilised solely as a Spot Market tanker.
The funnel colours of Hellas Nemesis show a large black 'L', on a yellow background, which clearly identifies her as a part of the Latsis Group, founded by the Greek shipping magnate John. S. Latsis, and currently controlled by his son Spiros J. Latsis, and one of Greece's largest shipping concerns.
After a stay of just over 30 hours, and on completion of her parcel discharge in Cape Town, Hellas Nemesis sailed at 09h00 on 8th October, bound for Durban. She arrived off the Durban Bluff at 20h00 on 11th October, and by 21h00 she was alongside Island View berth 7 (IV7) to continue her discharge of refined fuel products.
Her port of origin, for this current voyage, Chennai, located in the state of Tamil Nadu in the South East of India, is one of India's oldest ports. Formerly known as Madras, where the world's second tastiest curry also originates, the enclosed dock was started in 1881. The Bharathi dock, within Chennai Port, where she loaded her cargo, was only constructed in 1972.
It contains two tanker berths capable of handling Suezmax tankers up to 150,000 deadweight tons, with each berth having five loading arms capable of loading fuel products at a rate of 1,000 tons per hour.
The cargo, destined for Cape Town and Durban, originated at the Manali Refinery, situated in North Chennai. Owned by the Chennai Petroleum Corporation Ltd. (CPCL), it is one of India's most complex refineries and is capable of refining up to 235,000 barrels per day.
Amongst many refined products, the Manali refinery specialises in the production of Petroleum Spirit, Kerosene, Jet Fuel, Diesel Oil and Fuel Oil, which is exactly the list of products needed in South Africa to keep the wheels turning, and the businesses running.
Added 14 October 2021
Sign up for Africa Ports & Ships' free Newsletter
♦♦♦♦♦♦♦♦♦
News continues below
IN CONVERSATION: Overseas trade has a hidden environmental 'disaster footprint' – new report
Chattaphan Sakulthong / shutterstock
Environmental disasters are increasingly a fact of life around the world. Each year, floods, droughts and landslides affect tens of millions of people, leaving vast human and economic destruction in their wake. The cost in human lives and livelihoods each year is enormous.
Yet their labelling as "natural" disasters or "acts of God" has cast them as difficult to predict and prevent. As the impacts of climate change are felt more and more clearly, their severity is expected to worsen and their predictability diminish. As global temperatures continue to rise, we are facing a future world increasingly defined by disaster.
We're increasingly aware of the link between these extreme events and the carbon emissions from our power generation, transport and food production. But one important aspect that's often overlooked is overseas trade. By purchasing goods made abroad, we effectively outsource our emissions – with consequences for those places increasingly affected by environmental disasters.
In a newly published report, Disaster Trade, I and other experts in supply chain analysis, embodied emissions and construction considered the environmental and human impacts of international trade. We demonstrated that our trade has not only a carbon footprint but also a "disaster footprint".
The UK and many other wealthy European countries have committed to ambitious emissions targets with apparent success. Yet once you consider overseas trade, the achievements of such policies are grossly overstated.
Many of the environmental gains achieved by major polluters derive not from sustainable emissions reductions, but from moving carbon-intensive processes to manufacturing bases in developing countries. Clothes or building materials used in the UK still need to be made, but their production overseas allows the emissions associated with their manufacture to be regulated less stringently and accounted for less carefully.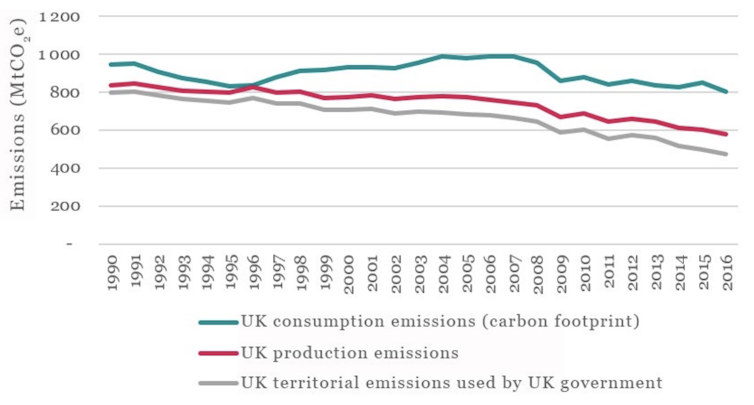 Consequently, while emissions produced within the UK's borders declined by 41% between 1990 and 2016, the emissions from products British people consume declined by just 15%. As of 2016, almost half of UK emissions were produced overseas, compared with 14% in 1990.
Worse still, the process of moving these emissions creates emissions of its own. A nation's carbon footprint is increasingly global, mobile, and harder to define as a result.
Indeed, there is a growing recognition that national accounting of carbon usage may lie at the root of the more generalised failure to make concerted inroads into carbon emissions. The ability of wealthier countries to effectively outsource emissions to less wealthy ones has been described as "carbon colonialism".
There is increasing unease over the effectiveness of emissions targets based on what countries produce themselves, which allow ever more greenhouse gas emissions to "flow through the carbon loophole" of international trade.  In total, imported emissions now account for a quarter of global CO₂ emissions, making this the next frontier of climate policy.
Yet the carbon footprint alone doesn't tell the whole story. As emissions continue to rise globally, increasing the risk of natural hazards such as droughts, floods and landslides, the related impact of trade and investment from high-consuming countries is worsening. And these risks tend to be higher in poorer, exporting countries than in the richer countries who buy their goods.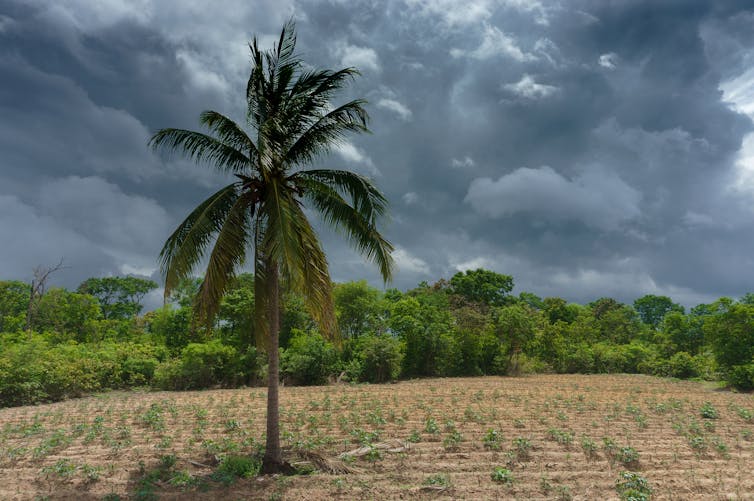 In Cambodia for instance, from where the UK imports 4% of its garments, factories providing clothes for the British market are linked to carbon-intensive energy generation, large-scale deforestation, and mismanagement of water resources, intensifying the impacts of drought.
In South Asia, from where the UK imports a growing proportion of its bricks, brick production plays a major role in degrading the environment, engendering droughts and floods, while undermining agricultural livelihoods.
In Sri Lanka, a major exporter of tea for the British market, a combination of increasingly intense and unpredictable rainfall, with degrading housing infrastructure progressively weakened by these conditions, has translated into a tragic propensity to landslides.
Climate change impacts, including the disasters of droughts and floods, are therefore effectively traded out by wealthier countries and imported by less wealthy ones as the price of economic growth. All the while, this environmental degradation remains hidden by an emphasis on the nation state, which is no longer appropriate for a globalised and interconnected world. In view of this, what is necessary is a new conception: one that recognises disasters not as autonomously emergent or globally induced, but as rooted in specific process of industry, trade and consumption.
By degrading environments in this way, international trading practices channel and intensify the impacts of climate change and make natural disasters more likely. The result is that when the UK and other countries import goods, they are effectively exporting disasters, not only contributing to climate change globally, but also exacerbating its impacts in specific locations. Yet despite the severity of this global disaster footprint, the environmental impacts of trade are not recorded in the UK's statistics or strategies on climate change.
As our new report shows, disasters may be unpredictable, but they are anything but random. As the climate continues to change, the global systems we depend upon in our everyday lives will play an ever greater role in shaping the incidence and intensity of disasters they help create in developing countries.

Laurie Parsons, Lecturer in Human Geography, Royal Holloway University of London
This article is republished from The Conversation under a Creative Commons license. Read the original article.
Added 14 October 2021
Sign up for Africa Ports & Ships' free Newsletter
♦♦♦♦♦♦♦♦♦
News continues below
Protect our Oceans, keep trash in the bin – Port of Mossel Bay
The Southern Cape Port of Mossel Bay is today (Friday 15 October) making a statement with regards the internationally observed Coastal Clean Up Day, under the theme "
Keep trash in the bin and not in the ocean

."

Port employees will be working with numerous stakeholders and volunteers, and will be gearing up to fight against coastal pollution while forming part of the largest global coastal clean-up initiative.

They will be joining forces with the Mossel Bay Municipality, the National Sea Rescue Institute (NSRI), Seavuna, Afro Fishing and Sea Gypsy, to create awareness on how to conserve the oceans to pupils from three Port of Mossel Bay's-adopted Primary Schools.

The three schools are Imekhaya, Isalathiso and Garden Route Primary Schools.

Shadrack Tshikalange, Mossel Bay Port Manager, said that although the International Coastal Clean-up Day (ICCD)
is observed annually on the third Saturday of September, the Port of Mossel Bay is determined to keep the momentum going by pushing this initiative forward and not only limiting it to September.

"Pollution is a global problem that happens every day, the port aims to eradicate pollution in our oceans by implementing campaigns that deal or address it directly," he said.

"The execution and impact of this initiative is huge, it will also make an indirect but meaningful contribution towards the eradication of plastics which forms part of another global campaign called Plastic Free July."
The programme fits in directly with Transnet's Integrated Management System plan in terms of Environmental Sustainability.
Volunteers and other stakeholders will be provided with face masks, gloves, refuse removal bags and sanitisers.
Such engagements are a great investment of knowledge to youngsters and strengthen the special relationship the port has with its customers and stakeholders, said Tshikalange.
Added 14 October 2021
Sign up for Africa Ports & Ships' free Newsletter
♦♦♦♦♦♦♦♦♦
News continues below
Coega Development Corp welcomes DHL as investor in the SEZ
The Coega Development Corporation (CDC) has welcomed

DHL

as an investor in the Coega Special Economic Zone (SEZ)
Khwezi Tiya, CDC's Chief Executive Officer said the CDC believes that the decision taken by DHL to locate their investment in the Coega SEZ was a correct one, and highlights the importance of SEZ's in South Africa, as key enablers for growth and development.
"The Coega SEZ is a transshipment hub and a leading investment destination in Africa, and it provides a location with modern infrastructure for sustainability and businesses to thrive,"Tiya said. "Furthermore, Coega seeks to provide a location that focuses on Environment, Sustainability and Growth reinforced by our foundational culture of innovation and continuous improvement."
He said the timing for the opening of the DHL facility is especially significant because of the current devastated economy as a result of the COVID-19 Pandemic.
"We are pleased that the DHL investment at Coega has contributed to socio-economic development in line with our vision, making a significant impact on the local economy."
He advised that during the construction of facilities, more than 255 construction jobs were created, and a total of 24 SMME contractors benefited from the project.
"We understand that DHL now employs more than 50 people at its Coega SEZ facility, which is important during these difficult economic times. Moreover, we hope that DHL's success at Coega will be sustainable in order to create more jobs during operations to boost the local economy for many years to come.
"We hope that this lays a foundation for further DHL investments."
Added 14 October 2021
Sign up for Africa Ports & Ships' free Newsletter
♦♦♦♦♦♦♦♦♦
News continues below
Transnet investigating another fire at Port of Richards Bay
Two weeks after operations at one of the port terminals at Richards Bay had been disrupted by a fire that broke out along the port's conveyor systems, a second fire has occurred on several lines of the port's import conveyor systems.
Transnet said it is investigating this latest fire and that business continuity plans have been implemented. Engagements, it said, are taking place with affected customers.
Transnet did not identify the latest location but the YouTube video above is self-revealing. The conveyor systems were still burning earlier this morning (Thursday 14 October).
The latest fire started on Wednesday 13 October, exactly one week after the first. On the previous occasion – Wednesday 6 October, the fire in the conveyor network was reported at around 22h30.
The cause of the first fire has not, so far as we are aware, been made public. However the damage to the conveyor network, on which the port relies heavily for loading and discharging cargo from ships on the bulk cargo berths, appears to be fairly extensive.
This morning (Thursday) port users in the Bayvue Precinct (along Newark Road) were advised to take safety measures by avoiding the area and ensuring proper use of PPE so as to not inhale the fumes.
When we published the report of the first fire on the following day the cause had not yet been identified but a technical team and Risk personnel were reported on site to carry out an investigation. There has been no announcement of its cause.
Added 14 October 2021
Sign up for Africa Ports & Ships' free Newsletter
♦♦♦♦♦♦♦♦♦
News continues below
Three new port managers appointed by Nigeria Ports Authority
Acting Managing Director of the Nigerian Ports Authority,

Mohammed Bello-Koko

, has announced the appointment of three new port managers at Nigerian ports, and the redeployment of several other senior officials.
The shake-up comes in the context of the NPA setting out to turn Nigerian ports into the most prominent and important maritime hub for West Africa.
Onne: Yitnoe Stanley Magaji, former Technical Assistant Marine and Operations, is the new Port Manager at the port of Onne.
Tin Can Island: Buba Jibril, former Traffic Manager, LPC moves to Tin Can Island Port as Port Manager.
Calabar: Ovbude Nelson Uwaifo, former Traffic Manager at the Dangote Jetty at Lekki, is the new Port Manager at Calabar.
Re-deployments:
The former Port Manager at Tin Can Island Port, Engr. Yunusa Ibrahim Anji, moves to corporate headquarters as Assistant General Manager Port Engineering.
Dantsoho M. Abubakar, the former Port Manager of Onne, now becomes Technical Assistant to Managing Director, Special Duties.
Mrs Asein Marie Ehemeiri, former Port Manager at Calabar, moves to Corporate Headquarters as Principal Manager Traffic.
Other appointments include Okaga Charles Bamidele, Principal Manager Traffic, who becomes Technical Assistant Marine and Operations to the Managing Director.
Leoso Akintunde Oladipo, Principal Manager Traffic LPC, assumes duty as Traffic Manager at Lagos Port Complex.
Aliyu Abubakar, Principal Manager Traffic, Kirikiri Lighter Terminal, takes over as Traffic Manager, Dangote Jetty, Lekki.
These appointments are with immediate effect.
Added 13 October 2021
Sign up for Africa Ports & Ships' free Newsletter
♦♦♦♦♦♦♦♦♦
News continues below
WHARF TALK: LR1 Panamax products tanker – NORDIC TRISTAN
Story by Jay Gates




Pictures by 'Dockrat'
As long as two major South African coastal refineries remain out of action, so the continuous stream of product tankers, will keep arriving from all points of the compass. A good number of these tankers will continue to arrive from ports that some folk probably did not even know existed. Some of these ports are located in countries that some folk were not even aware exported fuel products, let alone were aware that these ports of origination even had a refinery in situ, or sizeable oil storage facilities, to enable exports to take place.
On 9th October at 05h00 the LR1 Panamax products tanker NORDIC TRISTAN (IMO 9374856) arrived at the Table Bay anchorage from the port of Korfez in Turkey. She remained at anchor for nine hours, and then entered Cape Town harbour and went alongside the long tanker berth in the Duncan Dock at 14h00 that same day.
Built in 2007 by New Times Shipbuilding at Jiangsu in China, Nordic Tristan is 229 metres in length and has a deadweight of 73,604 tons. She is powered by a single Hudong MAN-B&W 5S60MC-C 5 cylinder 2 stroke main engine producing 15,363 bhp (10,170 kW), to drive a fixed pitch propeller for a service speed of 14.4 knots.
Her auxiliary machinery includes three Yanmar 8N21L-EV generators providing 970 kW each. She also has two Alfa Laval Aalborg oil fired boilers. She has 12 cargo tanks, and a cargo carrying capacity of 81,336 m3.
Owned by Ernst Jacob GmbH of Hamburg, Nordic Tristan is operated by the London based Navig8 LR8 pool of LR1 tankers, all of which are placed on the spot market. She is managed by Jacob Tankschiffahrts GmbH of Hamburg.
The Turkish port of Korfez, where her current cargo was loaded, is situated on the northeastern shore of the Sea of Marmara, located between the Bosporus and the Dardanelles, and lies some 50 miles east of Istanbul. Korfez is also the location of the second largest oil refinery in Turkey.
One of four refineries in Turkey, the Izmit refinery at Korfez is owned by Türkiye Petrol Rafinerileri AŞ (Tüpraş), and operates with seventeen production units. In 2020 it had a refining capacity of 13.4 million tons, which equated to 35% of the total of all Turkish refining capacity. Of this total, 10.7 million tons was used entirely for domestic consumption, and accounted for 33% of Turkish petroleum products.
Its importance to the Turkish economy is such that the refinery owners have invested heavily in the infrastructure between 2015 and 2021, having spent US$600 million (ZAR8.96 billion) on upgrade projects to the Residuum, and to Fluid Catalytic Cracking performance enhancements.
Back in September 2008, under previous ownership, and whilst unloading at the port of Dalhousie, in the Canadian province of New Brunswick, Nordic Tristan spilled 64 tons of bunker fuel into the river. The insurance claim for the costs of clear up operations, and for port and user compensation, came to a total of US$1.34 million (ZAR20 million).
It resulted in the detention of Nordic Tristan for six days. Although her detention was not for the normal reasons of being based on Class related, Port State Inspection, deficiencies. Rather, it was for non-compliances with the MARPOL Annex 1 requirements.
In September 2019, Nordic Tristan was detained in Antwerp for five days, under the auspices of the Paris MoU. The Port State Inspection at the time highlighted twelve serious deficiencies, which resulted in her detention.
Added 13 October 2021
Sign up for Africa Ports & Ships' free Newsletter
♦♦♦♦♦♦♦♦♦
News continues below
WTO issues new edition of Trade Profiles
On 11 October the World Trade Organization (WTO) issued the latest edition of its annual statistical publication, Trade Profiles, which provides a series of key indicators on merchandise trade and trade in commercial services for 197 economies.
The profiles include a breakdown of exports and imports for each economy as well as its main trading partners. The cut-off point for the data included in the publication is 13 August 2021.
For merchandise trade, major exports and imports are listed for both agricultural and non-agricultural products. For trade in services, a detailed breakdown is provided for transport, travel and other commercial services. Foreign affiliate statistics (FATS) and statistics on industrial property are also provided.
Profiles are available for all WTO members and observers and for other selected economies. The data are presented in a two-page format for each economy, providing a concise overview of global trade.
The publication can be downloaded HERE in English, French, and Spanish.
Printed copies will be available later this month, it is understood.
To learn more
WTO has indicated that there is a wealth of statistical data to be found online here:
Additional data are available through the WTO statistics webpage
The WTO's time series portal:.
The International Trade and Market Access online data application:
The WTO also provides short-term trade data: through the WTO statistics webpage.
Time series data on merchandise and commercial services trade, on an annual basis, may also be downloaded HERE:
The WTO's other annual statistical publications are World Tariff Profiles
and The World Trade Statistical Review which was published earlier this year.

Reported by Paul Ridgway
London
Added 13 October 2021
Sign up for Africa Ports & Ships' free Newsletter
♦♦♦♦♦♦♦♦♦
News continues below
DP World and CDC Group create US$ 1 billion investment platform in three African ports
DP World is committed to Africa for the long-term and sees significant opportunity for future growth across the continent – Sultan Ahmed Bin Sulayem, Group Chairman and CEO of DP World
DP World has announced the creation of an investment port and logistics platform in partnership with the UK's development finance institution and impact investor CDC Group (CDC).
The platform covers a long-term investment period. DP World is contributing its stakes in three existing ports initially, in Senegal, Egypt and Somaliland, and expects to invest a further $1 billion through the platform over the next several years.
CDC is committing approximately $320 million initially and expects to invest up to a further $400 million over the next several years. The transaction is subject to certain final regulatory approvals.
The platform will invest in origin and destination ports, inland container depots, economic zones and other logistics across Africa to increase trade, create new job opportunities and broaden access to essential goods.
It will initially be seeded with minority stakes in existing DP World assets with significant capacity expansion plans, including Dakar (Senegal), Sokhna (Egypt) and Berbera (Somaliland).
Trade enabled through the ongoing expansions is expected to create an additional 138,000 employment opportunities in the wider economy. By 2035, the ports are expected to support stable employment for around 5 million people indirectly.
DP World has more than 20 years of experience developing and operating ports and infrastructure and providing logistics solutions in Africa and globally. This transaction is aligned with DP World's strategy of partnering with organisations that offer complementary expertise and have a shared vision for enabling trade and driving economic and social development.
CDC is the UK's development finance institution and impact investor with over 70 years of experience successfully supporting the sustainable, long-term growth of business in Africa and South Asia. CDC is owned by the UK Government and has a dual objective to deliver development impact by supporting business growth that lifts people out of poverty and makes a financial return.
Sultan Ahmed bin Sulayem, Group Chairman and CEO, DP World, said DP World is excited to announce the partnership with CDC Group that will enable increased investment in ports and logistics infrastructure across Africa, driving efficiency and trade growth.
"The partnership will create transformational opportunities for tens of millions of people over the next decade," he said.
"In CDC, we have found a partner with whom we share the common goal to invest in the long term and help build responsible and sustainable infrastructure in Africa, which is key to unlocking the trade potential of the continent.
"DP World is committed to Africa for the long-term and sees significant opportunity for future growth across the continent. The partnership with CDC offers the flexibility to accelerate and capitalise on these opportunities.
He said that by combining DP World's in-depth knowledge of ports and logistics and CDC's expertise in infrastructure investment in Africa, it will be possible to drive greater supply chain efficiencies, provide improved trade connectivity and ultimately enhance value for all stakeholders.
Nick O'Donohoe, Chief Executive Officer, CDC, pointed out that stable and flourishing economies are built on reliable access to global and intra-continental trade.
"Africa's full potential is limited by inadequate ports and trade bottlenecks, putting the brakes on economic growth in some of the world's fastest-growing economies and undermining social resilience in the least developed parts of the world.
"This platform will help entrepreneurs and businesses accelerate growth with access to reliable trade routes, and it will help African consumers benefit from the improved reliability and reduced cost of vital goods and food staples."
O'Donohoe said CDC is proud to support DP World to do even more in Africa, charting a stronger course for African trade around the world.
Added 13 October 2021
Sign up for Africa Ports & Ships' free Newsletter
♦♦♦♦♦♦♦♦♦
News continues below
KPA denies there is port congestion at Mombasa
The

Kenya Ports Authority

said last week that less than half of the container yard capacity was occupied and argued that reports of port congestion were misleading.
These reports claimed that Mombasa had experienced congestion for three straight weeks as a result of a dispute between cargo owners (importers) and the KPA management.
It was said the dispute arose over the KPA forcing importers to make use of the standard gauge railway (SGR) from Mombasa to Nairobi.
Importers complained that the cargo intended for Mombasa owners was being railed at their cost to Nairobi's Inland Container Depot (ICD) for clearance before being taken back to Mombasa also at the cost of the importer.
This is not the first time this claim has been made.
A group of importers and Mombasa-based Container Freight Stations (CFSs) accused the KPA of detaining thousands of containers at the port instead of not releasing them to local CFSs where they can be cleared and collected.
Among the containers held at the port are reefers, out-of-gauge containers, and containers carrying dangerous cargo which cannot be carried on the SGR.
The KPA accepted that some containers awaiting clearance were railed to Nairobi's Inland Container Depot "by mistake" but said it has always taken responsibility to rail them back to Mombasa for clearance and collection by owners.
However, it says there is plenty of spare capacity at the port in Mombasa.
KPA Acting Managing Director, John Mwangemi, said the Mombasa yard has capacity for 35,000 TEU and that only 43 per cent of the yard was at that time occupied. The Mombasa terminal yard was occupied with 14,960 TEUs last Wednesday, he said.
"Currently, the port of Mombasa is fluid with no congestion due to improved infrastructure and efficient operation measures that have been instituted," Mwangemi stated.
He disclosed that the port of Mombasa receives an average of 3,000 containers daily.
"If the containers were not being cleared for three weeks, we would have no place to stack containers from the ships and there would be a major ship and yard congestion, prompting international protests by shipping lines."
Of the 14,960 containers in the yard, 4,074 were empties awaiting shipment offshore. Another 3,832 TEU were undocumented out of which 813 TEU were for the local market and the balance transshipment containers.
Added 12 October 2021
Sign up for Africa Ports & Ships' free Newsletter
♦♦♦♦♦♦♦♦♦
News continues below
WHARF TALK: Final reefer of the 2021 season – ICE GLACIER
Story by Jay Gates




Pictures by 'Dockrat', Trevor Jones, Keith Betts
The arrival in a South African port of a reefer is always welcomed, as these fine looking vessels are the closest thing that people of a certain age can identify with, as a vessel that looks, and acts, like a general cargo ship of old. The current reason for seeing them in number, is often more prosaic. It is mainly down to a lack of reefer container availability, poor productivity at our container terminals, and ongoing port delays for arriving vessels.
The upshot of all these issues that affect specific export products, was that the South African fruit growers and exporters decided to bypass the logjam, and switch the shipping of their produce back to reefers, in the old fashioned way, rather than put them into the uncertain vagaries of the current container port system in this country. The result has been nothing short of spectacular, in terms of productivity, on time sailings and arrivals at destination.
To most people, the increase in reefer traffic at the three South African ports of Durban, Port Elizabeth and Cape Town, has gone largely unnoticed. However, between April and October this year, a stream of forty reefer vessels has arrived at, and sailed from, the three South African ports carrying every kind of South African export fruit you could possibly name.
These vessels were running two, almost weekly, schedules, with one schedule operating from South Africa ports to Europe, and the other schedule running from Cape Town only, to the East Coast of the United States. Hidden from view, and largely unheralded, the last reefer vessel of the 2021 season has just departed from Cape Town, with the last of this year's crop of citrus fruits.
On the 7th October at 13h00, the reefer ICE GLACIER (IMO 8706789) arrived without fanfare at the Cape Town pilot station from Port Elizabeth, and entered Cape Town harbour, going directly to B berth in the Duncan Dock, to begin the final onload of the last of the 2021 Cape citrus crop. She has partly loaded the last of the seasonal Limpopo, Mpumalanga, KwaZulu-Natal and Eastern Cape citrus crop at Durban and Port Elizabeth, prior to her arrival at Cape Town.
Built in 1988 which, at 33 years old, makes her the senior citizen of this year's citrus reefer callers, Ice Glacier was completed by Hashihama Zosen shipyard at Tadotsu in Japan. She is 145 metres in length and has a deadweight of 14,933 tons. She is powered by a Ishikawajima Sulzer 6RTA-52 6 cylinder 2 stroke main engine, producing 9,335 bhp (6,913 kW), to drive a fixed pitch propeller for a service speed of 18 knots.
With four holds, serviced by four 8 ton cranes, Ice Glacier has a refrigerated cargo carrying capacity of 703,262 ft3, or the equivalent of 19,914 m2. She has a container carrying capacity of 151 TEU, for which 70 reefer plugs are fitted.
Until July this year, Ice Glacier was owned by Maestro Shipping of Virum, in Denmark, but came under the ownership of Baltic Reefers of St. Petersburg in Russia. She remains managed by Maestro Ship Management of Limassol in Cyprus, and is operated under the 'Reefer Alliance', which is a joint venture between Baltic Reefers and Seatrade, of Groningen in Holland.
Throughout this current South African soft fruit and citrus export season, the nigh-on weekly schedule of reefer sailings from Durban, Port Elizabeth and Cape Town for European destinations, has been carried out by the Reefer Alliance. Between May and October, the Reefer Alliance provided twenty two reefers to ensure the export of fruit went unimpeded to its intended destination, with no delay required to be built in.
The South African fruit exporters had become so exasperated by the problems of the lack of reefer containers, the working issues within Transnet Container Terminals, and ongoing delays to container vessels calling to pick up the export crop, that they determined to continue with an expanded sailing programme of pure reefer vessels, calling at privately managed, and run, fruit terminals in the three SA ports. Such were the problems early on, that they even started a month early, with three chartered reefers in April, prior to the start of the published schedule.
In all, some twenty five reefers carried the European service throughout the six month fruit export season. The destinations for all of the fruit was St. Petersburg (Russia), Rotterdam (Holland), Dover (UK) and Lisbon (Portugal). With all vessels being serviced at the FPT facilities in all SA ports, and all vessels looked after by Anlin Shipping.
The other major South African citrus fruit export service linked Cape Town only, with Gloucester in New Jersey. A total of fifteen reefers, all from within the Seatrade fleet, provided a weekly sailing with citrus fruits to the United States and Canada, with the destination for all sailings being the Gloucester Marine Terminal, on the Delaware River. This terminal lies directly opposite the Packer Avenue Container Terminal, located in Philadelphia, Pennsylvania, which is the joint Maersk/MSC AMEX container service terminal, provided solely between May and October, for further SA fruit exports to the USA.
On 3rd October, the Seatrade reefer Whitney Bay sailed from Cape Town, to Gloucester NJ, as the final sailing on the 2021 citrus export season to the USA. Less than a week later, on 8th October at 12h00, after just a 23 hour call to collect the last of the 2021 Cape citrus, Ice Glacier herself sailed from Cape Town, as the last caller on the citrus export season to Europe. Her ultimate destination was St. Petersburg. However, her first call was given as Agadir in Morocco. There is a very good reason for this additional stop on what was, previously, a direct service.
The South African citrus export season, generally runs for the six months between May and October. So the end of the SA season coincides with the start of the Moroccan season. It dovetails nicely with the Moroccan citrus export season, as this runs the opposite from the SA season, from October to May each year. The start of the Morocco citrus harvest generally starts in week 40, which started on 4th October.
The Agadir region of Morocco is where their season starts, as it is located in the far south of the country, with Clementines and Mandarins being the first crop available for export. In the previous 2020-2021 season, Morocco exported 2.4 million tons of citrus fruits.
As Russia, and the EU, are the top export destinations for Moroccan citrus fruits, and Russia is the end destination of this voyage of Ice Glacier, it makes great sense for her to call at the port of Agadir, northbound, to pick up the first of the available Moroccan export fruit, and 'top-up' her holds, to arrive at St. Petersburg with her holds full.
Added 12 October 2021
Sign up for Africa Ports & Ships' free Newsletter
♦♦♦♦♦♦♦♦♦
News continues below
CDC calls for proposals for new manganese export terminal at Ngqura
The Coega Development Corporation (CDC) in the Eastern Cape has issued a Request for Proposal (RFP) inviting capable and competent service providers with proven experience and track record to submit proposals for the development of a
New Manganese Export Terminal (NMET)

at the Port of Ngqura in the Eastern Cape.

"The primary objective of this project is to provide world-class end-to-end services to the manganese sector in South Africa through ensuring that there is a reliable, efficient and cost-effective bulk materials handling facility and impeccable export services at the Port of Ngqura," the CDC said on Monday (11 October 2021).

The Request for Proposal follows the announcement by Transnet SOC Ltd on 9 June 2021 that the Transnet National Ports Authority (TNPA) has appointed the CDC as the implementing agent of choice for the relocation of the manganese terminal and the Liquid Bulk Terminal from the Port of Port Elizabeth to the Port of Ngqura.

This relationship between Transnet and the CDC is consistent with the objective of government to leverage areas of excellence to increase the capacity of the State to deliver.

The project is expected to contribute towards the much-needed economic development of the country.
"Our partnership with Transnet seeks to fast-track infrastructure delivery for the benefit of the country, given the importance of logistics as an enabler of economic development which is needed especially – amid the COVID-19 pandemic," said CDC Executive Manager for Infrastructure Planning and Development. Dr Mpumi Mabula.
"As far as Coega is concerned, we see the development of a new Manganese Export Terminal at the Port of Ngqura as contributing towards sustainable and inclusive growth."
The project will unlock significant investment in the mining sector through improvement in logistics infrastructure and services, and this development is therefore very critical in advancing government's objectives as set out in the Economic Reconstruction and Recovery Plan, the CDC added.
The NMET seeks to have facilities that meet the best environmental standards, with a focus also on near-zero dust emissions, and zero impact on the groundwater, and other natural resources. The required technical solution is for a covered or enclosed manganese stockyard.
"We are moving away from an open stockyard solution for environmental sustainability and world-class best practices," Mabula said.
Added 12 October 2021
Sign up for Africa Ports & Ships' free Newsletter
♦♦♦♦♦♦♦♦♦
News continues below

Improved water management
Monitoring
Early warnings
In a news item from the Geneva-based World Meteorological Organization (WMO) on 5 October it was learnt that water-related hazards such as floods and droughts are increasing because of climate change. The number of people suffering water stress is expected to soar, exacerbated by population increase and dwindling availability.
It was reported that management, monitoring, forecasting and early warnings are fragmented and inadequate, while global climate finance efforts are insufficient according to a new multi-agency report.
WMO's publication The State of Climate Services 2021: Water highlights the need for urgent action to improve cooperative water management, embrace integrated water and climate policies and scale up investment in this precious commodity which underpins all the international goals on sustainable development, climate change adaptation and disaster risk reduction.
See the 46-page report HERE

Not forgetting Africa
"Increasing temperatures are resulting in global and regional precipitation changes, leading to shifts in rainfall patterns and agricultural seasons, with a major impact on food security and human health and well-being," commented WMO Secretary-General, Professor Petteri Taalas.
"This past year has seen a continuation of extreme, water-related events. Across Asia, extreme rainfall caused massive flooding in Japan, China, Indonesia, Nepal, Pakistan and India. Millions of people were displaced, and hundreds were killed. But it is not just in the developing world that flooding has led to major disruption. Catastrophic flooding in Europe led to hundreds of deaths and widespread damage.
"Lack of water continues to be a major cause of concern for many nations, especially in Africa. More than two billion people live in water-stressed countries and suffer lack of access to safe drinking water and sanitation."
We need to wake up to the looming water crisis, Professor Petteri Taalas said.
Water-related hazards and stress
According to figures cited in the report, 3.6 billion people had inadequate access to water at least one month per year in 2018. By 2050, this is expected to rise to more than five billion.
In the past 20 years, terrestrial water storage – all the water on the land surface and in the subsurface, including soil moisture, snow and ice – has dropped at a rate of 1cm per year. The biggest losses are occurring in Antarctica and Greenland, but many highly populated lower latitude locations are experiencing significant water losses in areas that are traditionally providing water supply, with major ramifications for water security.
The situation is worsening by the fact that only 0.5% of water on Earth is useable and available freshwater.
Increase in African drought
The number and duration of droughts also increased by 29% over this same period. Most drought-related deaths occurred in Africa, indicating a need for stronger end-to-end warning systems for drought in that region.
Overall, the world is seriously behind schedule on the UN Sustainable Development Goal No. 6 (SDG 6) to ensure availability and sustainable management of water and sanitation for all.
Recommendations, including drought warning in Africa
The report makes strategic recommendations for policy makers to improve the implementation and effectiveness of climate services for water worldwide:
* Invest in Integrated Resources Water Management as a solution to better manage water stress, especially in Small Island Developing States (SIDS) and Least Developed Countries (LDCs);
* Invest in end-to-end drought and flood early warning systems in at-risk LDCs, including for drought warning in Africa and flood warning in Asia;
* Fill the capacity gap in collecting data for basic hydrological variables which underpin climate services and early warning systems;
* Improve the interaction among national level stakeholders to co-develop and operationalize climate services with information users to better support adaptation in the water sector. There is also a pressing need for better monitoring and evaluation of socio-economic benefits, which will help to showcase best practices;
* Fill the data gaps for climate services in the water sector. Members' data on climate services for water is missing from 65 WMO Members and particularly from SIDS. Just 19% of SIDS provided data for this report which is insufficient to assess the state of SIDS capacities and climate services needs for water.
* Join the Water and Climate Coalition. This is organised by WMO in response to the need for integrated policy developments and improved practical solutions. The coalition provides countries with support to improve assessment of water resources as well as forecasting and outlook services for water.

Reported by Paul Ridgway
London
Added 12 October 2021
Sign up for Africa Ports & Ships' free Newsletter
♦♦♦♦♦♦♦♦♦
News continues below
Mammoet's heavy lifting services in action for Djibouti's first renewable energy farm
Heavy lifting and transport specialist, Mammoet has been contracted to install 17 WTG at Siemens Gamesa Renewable Energy's Goubet wind farm in Djibouti
Despite high resource potential in Djibouti, only half of its population has access to electricity due to a lack of access and the high cost of power and interruptions.
In line with the commitment to deliver cleaner, more reliable and affordable energy in Africa, Siemens Gamesa Renewable Energy (SGRE) has sealed a contract to build the first renewable energy installation in Djibouti.
The new 59 MW wind farm will almost double the country's current installed power generation capacity, help reduce the cost of electricity, improve energy independence and decrease the country's CO2 emissions. The farm will be built on a 395-hectare site, near the Goubet cove in the Gulf of Tadjoura, Djibouti and will consist of 17 of SG132 (3.4MW) wind turbines.
Mammoet Djibouti, the regional office for Mammoet's Horn of Africa and East Africa operations, has been contracted by SGRE to offload and assemble 17 wind turbines, these consisting of 68 towers, 51 blades, 17 nacelles, drive trains and hubs.
For the discharge on site and the installation of tower sections 1 and 2, Mammoet provided several cranes, ranging from 60t to 1,200t capacity. For the installation and assembly scope, Mammoet positioned a Liebherr LTR 11200 telescopic boom crawler crane, purposely built for erecting of wind farm turbines, along with the support of Tadano ATF 220G and Terex A600 hydraulic cranes.
For the offloading and pre-assembly of the T1 and T2 sections, the team utilised a 400t Liebherr LTM 1400 for it's manoeuvrability and flexibility along with ATF 110G hydraulic cranes.
"It is fantastic to have been given the opportunity to work on Djibouti's first wind farm project," said Chase Minnaar, General Manager Mammoet Djibouti. "Recognising our track record globally, the client was confident that the Mammoet team can deliver despite many challenges, such as border closures due to pandemic and specifically when it comes to remote locations such as these.
"We are proud to contribute to the project that supports the transition to a more sustainable future of the Republic of Djibouti and the entire region." he added.
Scheduled to be commissioned in 2021, the Goubet wind farm, part of Djibouti's expanding national renewable energy development programme, will allow the 940,000 population of Djibouti and its key industries to strengthen its electrical independence and economic development.
Added 12 October 2021
Sign up for Africa Ports & Ships' free Newsletter
♦♦♦♦♦♦♦♦♦
News continues below
Impact of Congestion on Chinese Ports – project44 report
●
386 ships are waiting off Shanghai and Ningbo container ports
●
Chinese government's energy policies are expected to exacerbate global trade imbalances, throttling output during peak demand
●
Growing backlogs at Chinese factories and ports will create shortages and raise costs for businesses and consumers
A record-setting 73 cargo ships anchored off of California's Los Angeles and Long Beach last month made headlines, but port congestion at China's largest ports underscores the scale of the situation.
According to project44 data, as of 7 October, there were around 386 ships (anchored and moored) off Shanghai and Ningbo — two of China's busiest ports, of which, 228 were cargo and 45 container vessels.
These numbers spell further product shortages, delays for businesses and consumers, against a backdrop of holiday sales and a global post-Covid recovery.
Containerised trade through Chinese ports accounts for 40% of global container trade and Shanghai is currently the world's busiest container port with Ningbo the 3rd busiest container port in the world.
While these berthing delays are partially driven by lingering backlogs from the COVID-19 closure of Ningbo port, the impact of Typhoon Chanthu, and the current Golden Week between 1st and 7th October 2021, other factors are worsening the situation.
Container rollover rates, defined as the percentage of containers that miss their scheduled sailings, have stayed high, indicating that Chinese ports are not making significant headway in dealing with excess cargo.
At Ningbo, which was temporarily shut when a worker tested positive for COVID-19 in July, rollover rates are still rising, reaching 36% in September.
Although the ports of Hong Kong and Shanghai showed a slight reduction in the rollover rates, the total percentage still remains high at 41% and 37% respectively.
Moreover, businesses across China are facing a power-shortage crisis as Beijing has imposed strict rationing of electricity, forcing manufacturers to scale back just as demand heats up. Mandatory power limits and shortages of coal reserves are starting to affect global trade.
"We can expect these growing backlogs across Chinese manufacturers and ports to exacerbate imbalances at US and European ports," said project44's VP of Supply Chain Insights Josh Brazil, likening the current situation to a 'global whiplash effect.'
"As it becomes increasingly hard to get inventory from factory floors to end-consumers, competition for shipping capacity will heat up," said Brazil. "The only way to survive in a market like this is by being proactive with granular visibility into your shipments.
"At this point, pretty much everybody is feeling the pain," Brazil said. "The challenge is less about achieving full inventory — that ship has sailed — and more about adapting to, and planning for future disruption."
Lead Times
Container lead times is the total transit time for a container/ship from the Port of Load till the Port of Discharge including the time spent at the various ports en-route including time spent at anchorage at the wayports or at the destination port.
When there are cargo rollovers due to vessel space capacity, overbooking, blank sailings etc, additional costs will be incurred by way of port costs which contributes to increase in freight rates.
The delays caused by cargo rollovers also affect production and delivery patterns at the destination ports as customers who have placed orders for raw materials for manufacturing or retail goods for consumers cannot get their goods in time.
Insights generated by projected44's real-time supply chain visibility platform show that the lead times for shipments from China to US West Coast have drastically increased in 2021 compared to 2020 and 2019.
As can be seen in the above charts,
● lead times from Yantian to the West Coast of North America increased by 9 days between 2019 and 2021 (34.85%).
● lead times from Shanghai and Qingdao increased by 9 days (36.39%) and 10 days (32.79%) respectively, to the main ports in the West Coast of North America.
"Orders are reaching customers with a delay of at least 10 days compared to 2019 pre-pandemic delivery times," Brazil says.
"Customers need to ensure that they allow enough time for the goods to move from Point A to Point B and to ensure that the cargo is cleared and delivered on time," Brazil added.
Disclaimer: The data referenced in this release is sourced from project44's freight visibility platform, based on the logistics indicators that the platform tracks. The sample data sets referenced do not include all freight movement data tracked by other entities. Data from project44's platform reflects a statically significant sample size to draw conclusions.
Added 12 October 2021
Sign up for Africa Ports & Ships' free Newsletter
♦♦♦♦♦♦♦♦♦
News continues below
Update on fire on the Houseboat Shayamanzi on Lake Jozini
The fire that claimed the lives of two people on board the houseboat Shayamanzi with one other remaining missing earlier on Monday was started in the engine compartment of the luxury vessel.
In an update issued by the South African Maritime Safety Authority (SAMSA) it is reported that the houseboat was on a two night cruise on the Lake Jozini with four crew and five passengers reported to be of German nationality.
It is believed that the vessel caught fire as it was passing Crocodile Bay when one of the deck hands noticed smoke coming out of the engine compartment.
On investigation it was discovered that one of the engines was on fire. There were also very strong winds blowing at the time creating a choppy sea.
The Crew and one of the passengers tried to fight the fire but all attempts failed and the fire spread rapidly within the compartment and to the upper deck, forcing the crew and passengers to abandon ship.
SAMSA said the investigation is ongoing and the search operation for the missing crew member was continuing.
Added 11 October 2021
Sign up for Africa Ports & Ships' free Newsletter
♦♦♦♦♦♦♦♦♦
News continues below
WHARF TALK: a tale of a new tanker & new oil & gas port – AL KHTAM
Story by Jay Gates




Pictures by 'Dockrat'
Most maritime observers are pretty confident that they can recognise many a shipping company by the combination of hull colours and funnel colours. Sometimes even the accommodation block colour can be added to the mix to identify the company. In most cases, they would, in all probability, be correct. On the odd occasion, they would put the colours together, and decidedly get it wrong, through no fault of their own.
On 1st October at 20h00, the largest tanker capable of utilising the discharge berths in Cape Town harbour, the big LR2 products tanker AL KHTAM (IMO 9823534) arrived at the Table Bay anchorage from Pengerang in Malaysia and, after a night at anchor, she entered Cape Town harbour and berthed at the long tanker berth in the Duncan Dock to begin her discharge of fuel products.
A very recent newbuild, and on her maiden arrival in Cape Town, Al Khtam only entered service in July 2021. She was built by Dalian Shipbuilding at Dalian in China, and is 250 metres in length, although, actually, exactly 249.86 metres in length. With the longest of the dedicated tanker berths in Cape Town harbour being published at 250 metres in length, she fits the berth by a whopping 7 centimetres on either end.
As the largest of the product tanker classes, an LR2 Aframax, Al Khtam has a deadweight of 114,644 tons. She is powered by a single MAN-B&W 6G60ME-C9 6 cylinder 2 stroke main engine, producing 15,363 bhp (11,300 kW) to drive a fixed pitch propeller for a service speed of 14 knots. She has 12 cargo tanks, and a cargo carrying capacity of 123,500 m3.
When delivered, Al Khtam was the fifth of ten sisterships being constructed for her owners. However, the casual observer would be forgiven if they thought she was one of the current Maersk Tanker fleet, based on her unmistakable colours. Indeed, she was completed as Maersk Silvia, an 'S' class tanker, built to the order of Maersk Tankers AS of Copenhagen, and handed over to her new owners as recently as 14th July.
That is where the Maersk connection stops. Maersk Tankers AS are currently undergoing a major change, and have recently sold off their entire Ship Technical Management division to the Synergy Group of Singapore, and intend to reposition themselves as a service provider only. Part of that rationalisation includes the disposal of part of their current fleet of tankers. In 2020 they disposed of 14 product tankers, whilst adding only four to the fleet.
In April this year, Maersk Tankers AS sold off six of their new 'S' class tankers to the Abu Dhabi National Oil Company (ADNOC). The sale was an en block sale to ADNOC for US$51.5m (ZAR779.5 million) per vessel. The 'S' class are so new that only three of the sold vessels had entered service at the time of the sale, with the other three still being completed on the stocks at the Dalian shipyard. Maersk Silvia was one of the uncompleted vessels sold.
The six 'S' class vessels sold to ADNOC in April were the Maersk Sandra (completed August 2020 and renamed Al Bateen), Maersk Sara (completed January 2021 and renamed Al Falah), Maersk Scarlett (completed March 2021 and renamed Tarif), Maersk Selma (completed April 2021 and renamed Al Ruwais), Maersk Silvia (completed July 2021 and renamed Al Khtam) and, finally, Maersk Simone (completed August 2021 with new name still to be announced).
All of the six newly acquired vessels are now operated, and managed, by ADNOC Logistics and Services of Abu Dhabi. For the etymologists, Al Khtam is a desert region, located 80 kilometres to the South East of Abu Dhabi city, and a popular area for off-road 4×4 driving.
Being delivered directly to ADNOC from the shipyard, would explain fully why Al Khtam is in full Maersk colours, and not ADNOC colours. The famous Maersk Star is still faintly visible on her bow. No doubt her new owners will take the first opportunity that they can, in the near future, to repaint the vessel in the usual black hull and funnel, with the ADNOC Falcon on the funnel, and with a white accommodation block. Until then she, and her new sisterships, will continue to confuse shipspotters around the world as to what it is that they are looking at, and to who owns her.
Her arrival from Pengerang, highlights the massive investment in oil refining and storage infrastructure that Malaysia is making, unlike similar investment here. Pengarang, though located in Malaysia, is situated directly opposite Changi Airport in Singapore. It is a dedicated Oil and Gas complex and port, and construction of the complex was only begun in 2011.
The Pengerang Deepwater Terminal (PDT), and associated facilities, cost US$3 billion (ZAR45.3 billion) to construct. Petronas, the Malaysian state owned energy company, are in the process of completing the refinery, known as RAPID (Refinery and Petrochemical Integrated Development), with their partners, the Saudi ARAMCO energy company.
RAPID was due for completion in late 2021, but has been delayed by 18 months due to a major fire (sounds familiar?). The investment costs of the refinery alone will be a staggering US$16 billion (ZAR241.6 billion). It will be capable of refining 300,000 barrels of oil per day.
The whole complex is known as the Pengerang Integrated Petroleum Complex (PIPC), and when completed will include refineries (RAPID), oil storage facilities, petrochemical plants, LNG terminals, regasification plants and more deepwater loading terminals, capable of handling tankers up to VLCC size, plus associated terminal and pipeline facilities. An idea of the size, and capability, of the PIPC is that, at present, there are twenty deepwater tanker berths available, with more still under construction, and to come.
On 6th October, Al Khtam had completed her offload and at 09h00 she sailed from Cape Town, to sea for orders. An interesting marking on her hull was that of the 'H' (Hotel) signal flag, whose meaning is 'I have a Pilot onboard', and in this instance is a signal of where the Pilot Boat should come alongside. In this case, the Pilot Boat in use to disembark the Transnet Harbour Pilot was, again, the venerable 1976 built 'PB Petrel'.
Added 11 October 2021 Africa Ports & Ships
Sign up for free Newsletter
♦♦♦♦♦♦♦♦♦
News continues below
IN CONVERSATION:  China's 'Silk Road urbanism is changing cities from London to Kampala – can locals keep control?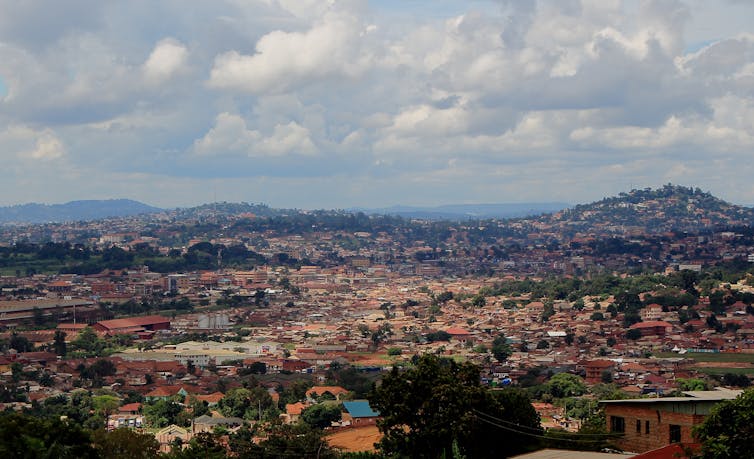 View of Kampala.   Shutterstock.
A massive redevelopment of the old
Royal Albert Dock

in East London is transforming the derelict waterfront to a gleaming business district. The project, which started in June 2017, will create 325,000 square metres of prime office space – a "city within a city", as it has been dubbed – for Asian finance and tech firms. Then, in 2018, authorities in Kampala, Uganda celebrated as a ferry on Lake Victoria was unloaded with goods from the Indian Ocean, onto a rail service into the city. This transport hub was the final part of the Central Corridor project, aimed at connecting landlocked Uganda to Dar es Salaam and the Indian Ocean.

Both of these huge projects are part of the US$1 trillion global infrastructure investment that is China's Belt and Road Initiative (BRI). China's ambition to reshape the world economy has sparked massive infrastructure projects spanning all the way from Western Europe to East Africa, and beyond. The nation is engaging in what we, in our research, call "Silk Road urbanism" – reimagining the historic transcontinental trade route as a global project, to bring the cities of South Asia, East Africa, Europe and South America into the orbit of the Chinese economy.

By forging infrastructure within and between key cities, China is changing the everyday lives of millions across the world. The initiative has kicked off a new development race between the US and China, to connect the planet by financing large-scale infrastructure projects.
Silk Road urbanism
Amid this geopolitical competition, Silk Road urbanism will exert significant influence over how cities develop into the 21st century. As the transcontinental trade established by the ancient Silk Road once led to the rise of cities such as Herat (in modern-day Afghanistan) and Samarkand (Uzbekistan), so the BRI will bring new investment, technology, infrastructure and trade relations to certain cities around the globe.
The BRI is still in its early stages – and much remains to be understood about the impact it will have on the urban landscape. What is known, however, is that the project will transform the world system of cities on a scale not witnessed since the end of the Cold War.
Silk Road urbanism is highly selective in its deployment across urban space. It prioritises the far over the near and is orientated toward global trade and the connections and circulations of finance, materials, goods and knowledge. Because of this, the BRI should not only be considered in terms of its investment in infrastructure.
It will also have significance for city dwellers – and urban authorities must recognise the challenges of the BRI and navigate the need to secure investment for infrastructure while ensuring that citizens maintain their right to the city, and their power to shape their own future.
London calling
Developments in both London and Kampala highlight these challenges. In London, Chinese developer Advanced Business Park is rebuilding Royal Albert Dock – now named the Asian Business Port – on a site it acquired for £1 billion in 2013 in a much-criticised deal by former London mayor Boris Johnson. The development is projected to be worth £6 billion to the city's economy by completion.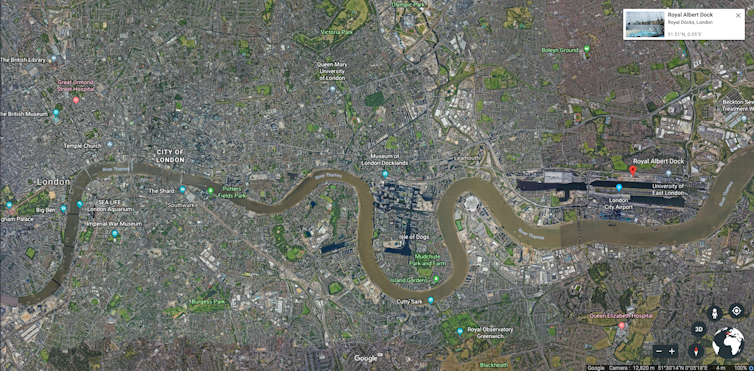 Formerly Royal Albert Dock, now Asian Business Port.    Google Earth.
But the development stands in sharp contrast with the surrounding East London communities, which still suffer poverty and deprivation. The challenge will be for authorities and developers to establish trusting relations through open dialogue with locals, in a context where large urban redevelopments such as the 2012 Olympic Park have historically brought few benefits.
The creation of a third financial district, alongside Canary Wharf and the City of London, may benefit the economy. But it remains to be seen if this project will provide opportunities for, and investment in, the surrounding neighbourhoods.
Kampala's corridor
The Ugandan capital Kampala is part of the Central Corridor project to improve transport and infrastructure links across five countries including Burundi, the Democratic Republic of the Congo (DRC), Rwanda, Tanzania and Uganda. The project is financed through the government of Tanzania via a US$7.6 billion loan from the Chinese bank Exim.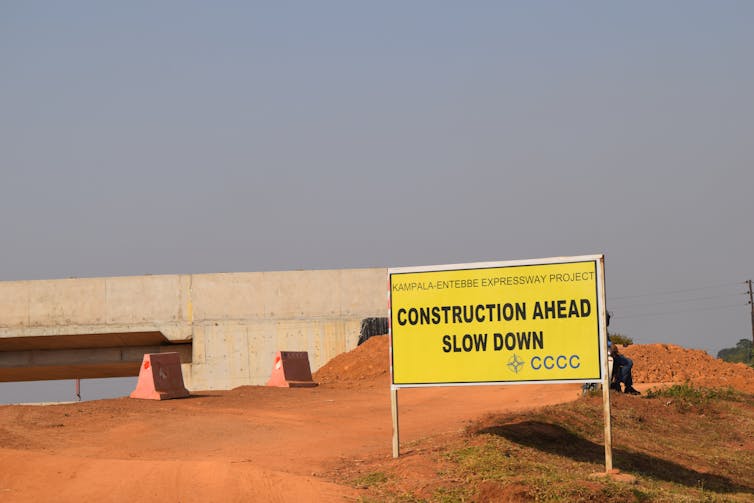 Under construction: the Chinese-funded Entebbe-Kampala Expressway.
Dylan Patterson/Flickr., CC BY-SA
The growth of the new transport and cargo hub at Port Bell, on the outskirts of Kampala, with standardised technologies and facilities for international trade, is the crucial underlying component for Uganda's Vision2040.
This national plan alone encompasses a further ten new cities, four international airports, national high speed rail and a multi-lane road network. But as these urban transformations unfold, residents already living precariously in Kampala have faced further uncertainty over their livelihoods, shelter and place in the city.
During fieldwork for our ongoing research into Silk Road urbanism in 2017, we witnessed the demolition of hundreds of informal homes and businesses in the popular Namuwongo district, as a zone was cleared 30 metres either side of a rehabilitated railway track for the Central Corridor required.
As Silk Road urbanism proceeds to reshape global infrastructure and city spaces, existing populations will experience displacement in ways that are likely to reinforce existing inequalities. It is vital people are given democratic involvement in shaping the outcomes.

Jonathan Silver, Senior Research Fellow, University of Sheffield and Alan Wiig, Assistant Professor of Urban Planning and Community Development, University of Massachusetts Boston
This article is republished from

The Conversation

under a Creative Commons license. Read the

original article.
Added 11 October 2021
Sign up for Africa Ports & Ships' free Newsletter
♦♦♦♦♦♦♦♦♦
News continues below
SA's hydrogen valley receives feasibility study stamp of approval
The establishment of South Africa's hydrogen valley, which has the potential to create up to 32,000 jobs per year by 2030, is inching closer to reality.
This follows the launch of the Hydrogen Valley Feasibility Study Report by the Department of Science and Innovation (DSI) and partners during a virtual event on Friday (8 October).
According to the report, the job growth may be seen in sectors across the whole hydrogen value chain — from sourcing of resources, production, transport and storage to applications such as fuel cell manufacturing.
The use of hydrogen as an emission-free marine fuel is becoming a reality and several shipping companies have expressed their intention of introducing ships fueled by clean hydrogen
The feasibility study was completed in partnership with Anglo American Platinum, clean energy solutions provider Bambili Energy, and energy and services company ENGIE.
Estimates have placed the potential gross domestic product (GDP) impact, both direct and indirect, of the hydrogen projects at US$3.9 billion to US$8.8 billion should the full vision of the hydrogen valley be realised.
In addition, this project could bring an additional US$900 million to US$2,000 million in tax revenue by 2050.
"This revenue could be used to invest in the hydrogen economy and further magnify the positive impact," the report found.
Job creation, according to the study, also has the potential to contribute to the "just transition".
"For example, jobs requiring training the workforce will put male and female workers on equal footing."
National initiative
According to the DSI, the hydrogen valley will serve as an industrial cluster, bringing various hydrogen applications in the country together to form an integrated hydrogen ecosystem.
The initiative is also set to play a key role in supporting the Economic Reconstruction and Recovery Plan for South Africa.
Delivering his keynote address, the DSI's Director-General, Dr Phil Mjwara, said the establishment of a hydrogen valley was an important national initiative.
"The implementation of phase 3 of the Economic Reconstruction and Recovery Plan is driven by the core elements of reconstruction and transformation, and this entails building a sustainable, resilient and inclusive economy."
Mjwara believes that this establishment has great potential to unlock growth and revitalise the industrial sector.
In addition, this move will position South Africa to be an exporter of cost-effective green hydrogen to the world.
"And one of the things that I'm particularly excited about is that it is also important to see this hydrogen valley as a place that will open up training for young people."
In other countries, these valleys are used to promote clean emerging technologies and support emissions reduction.
Meanwhile, hydrogen and fuel cell technologies offer an alternative source of clean electricity, while hydrogen allows energy to be stored and delivered in usable form.
"Using hydrogen as an energy carrier could potentially reduce South Africa's dependence on fossil fuels that cause global warming while reducing the country's reliance on imported oil."
Mjwara said implementing this complex initiative is not going to be achievable unless government continues with its ongoing partnerships.
The country's proposed hydrogen valley will start near Mokopane in Limpopo, where platinum group metals (PGMs) are mined, extending through the industrial and commercial corridor to Johannesburg and leading finally to Durban.
Hydrogen economy
Natascha Viljoen, CEO of Anglo American's PGMs business, said: "The opportunity to create new engines of economic activity through hydrogen has been validated through this feasibility study with our partners."
As a leading producer of PGMs, Viljoen said the company has been working towards establishing the right ecosystem to successfully develop, scale-up and deploy hydrogen-fuelled solutions.
"These include investing in innovative ventures and enabling technologies, as well as forging wide-ranging collaborations across industry, to fully harness the transformative potential of green hydrogen for our economy in South Africa," she added.
Meanwhile, ENGIE's Managing Director of Green Hydrogen, Michèle Azalbert, said the study identifies potential projects that could constitute the South African hydrogen valley and kick-start the country's hydrogen economy.
CEO of Bambili Energy, Zanele Mavuso Mbatha, believes the project will bring significant public awareness around renewable energy solutions and contribute significantly to the national and provincial objectives for new investment, job creation, renewable energy sources, and new export markets.
"This initiative underpins a growth market for the South African economy while supporting Bambili Energy's mission, which also helps to reduce global carbon emission levels," Mbatha said.
Added 11 October 2021
Sign up for Africa Ports & Ships' free Newsletter
♦♦♦♦♦♦♦♦♦
News continues below
New IMO video highlights need for domestic ferry regulations
Domestic ferry operations play a crucial role in the movement of people and goods in many regions around the world. But about 95% of ferry casualties world-wide occur during domestic operations.
In a new short three-minute animated video, IMO provides key messages on the importance of safety standards on domestic passenger ferries and the development of model regulations.
The video was launched during IMO's Maritime Safety Committee (MSC 104) which ended on 8 October and which is in the process of finalising Model Regulations on Domestic Ferry Safety. These provide framework provisions which can be adapted by interested countries for direct incorporation into national law.
Regulations for passenger ship safety in IMO's International Convention for the Safety of Life at Sea (SOLAS) do not generally apply to passenger ships on domestic voyages, but many countries base their regulations on the IMO standards.
To protect the human lives that rely on this transport, creating a safe and reliable ferry system is crucial to many nations' sustainable future.
This video has been made possible through collaboration between IMO and the Royal Thai Government.
The video [3:09]


Reported by Paul Ridgway
London
Added 11 October 2021
Sign up for Africa Ports & Ships' free Newsletter
♦♦♦♦♦♦♦♦♦
News continues below
Fire onboard luxury passenger vessel on Jozini Dam, northern Zululand
SAMSA investigating
The South African Maritime Safety Authority (SAMSA) said on Sunday afternoon that it was investigating a fire on-board one of the luxurious Shayamanzi houseboat at the Jozini Dam in northern Kwa-Zulu Natal.
Emergency personnel were on the scene and the vessel was at that time (Sunday, 13h00) still on fire.
SAMSA confirmed that two people (one crew member and one passenger) had died and another crew member was missing.
The luxury houseboat was reportedly on a two night cruise on the Jozini Dam with four crew and five passengers.
Jozini Dam, which is on the border with Eswatini (Swaziland) and is flanked by the Lebombo Mountains, is a popular destination for fishermen and wildlife enthusiasts.
According to SAMSA, the authority is, together with other stakeholders including emergency services, continuing to monitor the situation.
Added 10 October 2021
Sign up for Africa Ports & Ships' free Newsletter
♦♦♦♦♦♦♦♦♦
News continues below
Second cargo of copper cathodes exported through Port of Walvis Bay
The Namibian Ports Authority (Namport) has recorded a second breakbulk shipment of copper cathodes via the Port of Walvis Bay.
Namport recorded another milestone when the general cargo ship UNISEA (IMO 9484247) docked at the Port of Walvis Bay last week to load over 8,500 metric tonnes of copper cathodes for export to the Port of Panama City in Florida, USA.
This was the second consignment of copper being exported via Walvis bay in a breakbulk format as an alternative to containerised cargo.
The copper cathodes arrived in Walvis Bay from the Mopani Copper Mine in Zambia, having been transported to the Namibian port by road for loading as breakbulk directly into the general cargo vessel.
Due to the ongoing global shortage in containers, it has become a phenomenon for shippers to opt for their consignments to be carried by bulk or general cargo vessels to ensure continuity of operations and less dependency on scarce containers.
With Namibia's ports being strategically located along the West Coast of Africa and supplemented by the country's excellent road infrastructure which is rated number one in Africa, the country is able to play a signidicant role in the facilitation of trade via the respective transport corridors serving hinterland markets within SADC.
The four transport corridors that connects Namibia to other SADC countries are: Trans Kunene connecting Namibia to Angola; the Walvis Bay Ndola Lubumbashi Development Corridor connecting to Zambia and southern Democratic Republic of Congo; Trans Kalahari Corridor connecting Namibia to Botswana; and the Trans Oranje corridor responsible for connecting Namibia to the Republic of South Africa.
The Namibian ports are not only strategically located, but the Ports Authority has furthered this advantage by investing in state of the art infrastructure and equipment in order to provide an excellent customer service experience to everyone making use of the port facilities at Walvis Bay and Lüderitz.
Added 10 October 2021
Sign up for Africa Ports & Ships' free Newsletter
♦♦♦♦♦♦♦♦♦
News continues below
WHARF TALK: From Russia with…. – VENTURE GRACE
Story by Jay Gates




Pictures by 'Dockrat'
South Africa often gets visits from vessels that have achieved the ultimate status of being 'award winning' ship designs. Of course, to the ship observer, such accolades are never well known, and these vessels will be viewed as just another visitor. This year South African ports, namely Cape Town and Durban, have hosted visits from two of a small class of twelve award winning bulk carriers. One arriving from a port that very few people will have ever heard of.
On 6th October at 14h00 the Handymax bulk carrier VENTURE GRACE (IMO 9731406) arrived at the Table Bay anchorage from Ust-Luga in Russia. After a short three hour stay at anchor, she entered Cape Town harbour and berthed at A berth in the Duncan Dock to begin her offload of a parcel of mineral fertiliser.
Known as an HBC43 design, a designation based on her owners initials, and a derivation of the successful B.Delta43 design, from Deltamarin of Helsinki in Finland, Venture Grace was built by Qingshan Shipyard at Wuhan in China. She was one of twelve sisterships built, and the last to be delivered from this shipyard before it was closed by its parent company, Sinotrans-CSC.
Built in 2018, Venture Grace is 190 metres in length and has a deadweight of 43,343 tons. She is powered by a single Yinchang MAN-B&W 5S50ME-B9.3 5 cylinder 2 stroke main engine, producing 8,113 bhp (6,050 kW), to drive a fixed pitch propeller for a service speed of 14 knots.
Her auxiliary machinery includes three Anqing Daihatsu 6DK-20E generators providing 710 kW each. She also has a composite boiler. Her five holds are serviced by four 30 ton cranes, each grab equipped. Her cargo carrying capacity is 53,247 m3.
What is special about the Venture Grace is that when she was still being completed, her HBC43 design had already met the Energy Efficient Design Index (EEDI) III requirements, some nine years before they were to become an international requirement, being rated at 20% below the 2020 limit, and achieving a 30% reduction in CO2 emissions.
In 2017 the HBC 43 design won the NorShipping 'Energy Efficient' award, as well as the International Bulk Journal 'Bulk Ship of the Year' award.
Owned and operated by Hamburg Bulk Carriers (HBC) GmbH, and managed by the Su-Nav Group of Chennai in India, Venture Grace completed the discharge of the fertiliser parcel for Cape Town on 8th October, and at 17h00, under leaden skies, her bluff bow pointing seaward, she sailed from Cape Town, bound for Durban.
The arrival of Venture Grace from the Russian port of Ust-Luga, located in the Baltic Sea, and situated some 68 miles west of St. Petersburg, and 30 miles east of the Estonian Border, highlights what the Russian government are saying will, one day, become the biggest deepwater port on the planet. This grandiose claim is based on the fact that Ust-Luga is a new port, whose history is very recent, and whose development is still under way.
The go ahead for this new deepwater port was given only in 1997, by the Russian Government, initially as a specialist coal and fertiliser terminal to export Russian dry bulk commodities, in order to avoid having to use non-Russian Baltic ports. The Coal and initial Fertiliser Terminal was constructed at a cost of US$2.1 billion (ZAR31.4 billion).
At the start of this project, the settlement of Ust-Luga, which translates as the Mouth of the River Luga, had a population of just under 2,000 inhabitants. By 2025, the Russian government expects the population to have increased to 35,000, in line with the development, and job opportunities, of the nearby new port. Such rapid development enabled the growth of what was, effectively, the first new town constructed since the dissolution of the Soviet Union.
The port of Ust-Luga continues its development, and now contains an oil terminal, with oil storage facilities, a container Terminal and a Ro-Ro terminal. Started in 2019, the new, three berth, fertiliser terminal was completed, and commissioned, in January 2021. It is expected to achieve a target capacity of 12 million tons of mineral fertiliser (mainly Potash and Phosphates) to be exported by the end of 2021.
The export fertiliser, in bulk, will arrive at the new complex by train, and be transferred into dome-like storage facilities, ten of which are currently in various stages of either construction, or actually completed, and in use. These are all linked by conveyor belt to the loading berths, where auto-loaders will load the awaiting vessels.
Added 10 October 2021
Sign up for Africa Ports & Ships' free Newsletter
♦♦♦♦♦♦♦♦♦
News continues below
Confident UK logistics recovery forecast
It was reported from London on 6 October that a survey by the Chartered Institute of Logistics and Transport in the UK (CILT UK) has revealed that, despite the majority of logistics and supply chain organisations being affected by international supply issues, more than half of respondents are confident of a full recovery in twelve months.
Established in 1919, CILT (UK) is the chartered body for professionals involved in the movement of goods and people and their associated supply chains. A part of the CILT international family with over 33,000 members worldwide, CILT is the UK's leading membership organisation for professionals working in logistics, transport and their associated supply chains.
LogMark, CILT (UK)s logistics and supply chain benchmarking club for corporate members, surveyed its members to get a picture of the future of supply chain following Covid and Brexit disruptions.
Survey results were gathered from more than 50 supply chain member organisations including representatives from Amazon, DHL, Castell, John Lewis, Logistex and NHS Supply Chain.
Major challenges
It was found that 62% of respondents noted major challenges such as supplier services and local logistics issues.
Warehousing and distribution disruptions affected more than 50% of respondents, with members reporting social distancing measures had altered picking and packing strategies. Staff availability was also flagged as a key issue, with 63.5% of members reporting employment difficulties.
Despite the many challenges faced by the profession in the past 18 months, members indicated they were generally confident of a full Covid recovery. Over 70% expressed they expect a return to pre-pandemic operation within 12 months.
However, only 9% of respondents were confident of reaching that milestone in the next three months, ahead of the Christmas period.
Widespread disruption encountered
Kevin Richardson (pictured), CEO at CILT (UK), said every corner of the profession has experienced disruption during the pandemic, but it was encouraging to see a large number are looking toward a quick recovery.
"Our member responses give a good indication of challenges across all supply chains and we recognise driver shortages and the Christmas period will continue to test our services. As many businesses look to recover in the coming months, these insights will support future planning and resilience," he said."
"Sharing trends through this survey is hoped to spark conversation throughout our profession and facilitate knowledge sharing to strengthen our supply chains across the board."
Covid disruption unprecedented
Over 72.5% of members reported they had plans in place for similar future challenges and while Covid disruptions have been unprecedented, respondents could identify key business areas to strengthen.
When asked what changes were required to protect supply in future, international logistics was noted by 82% of members, risk management was recognised by 63%, and 45% identified manufacturing.
Helen Hardy, Director of Membership and Engagement at CILT (UK), said the survey findings have been shared within the benchmarking club to grow awareness and encourage our profession to share solutions.
She added: "We hope to use these findings to further support our members across all areas of supply chain. We want to help members to manage risk, reduce costs, run more efficiently and work together to increase supply chain resilience."
About CILT
To find out more about LogMark and corporate membership of CILT, CLICK HERE

Reported by Paul Ridgway




London
Added 10 October 2021
Sign up for Africa Ports & Ships' free Newsletter
♦♦♦♦♦♦♦♦♦
News continues below
TSHD Isandlwana sets new dredging record at Port of Mossel Bay
All-time high dredging record achieved at the Port of Mossel Bay
Transnet National Ports Authority (TNPA) Trailing Suction Hopper Dredger

ISANDLWANA

set a new 24-hour dredging operation record at the

Port of Mossel Bay

on Tuesday, 5 October 2021 with a new daily volume record of 30,381m3 surpassing the previous record of 26,220 m3 set in December 2018 by the same dredger.
This record-breaking dredging campaign forms part of TNPA's mandate which is prescribed by Section 11 of the Ports Act to arrange marine-related services, i.e. pilotage services, tug assistance, berthing services, dredging and hydrographic services and to provide aids to assist the navigation of vessels within port limits and along the coast.
Mossel Bay Port Manager, Shadrack Tshikalange, said the excellent achievement with Isandlwana not only placed TNPA and the Port of Mossel Bay at the centre of marine service delivery excellence, but also positioned the Port of Mossel Bay as a "preferred port of choice of the Oil and Gas, Fishing and Tourism Industries."
He said that customer satisfaction and the improvement of port facilities form part of TNPA's core functions. "As one of the key role players in the port system, the Port of Mossel Bay aims to ensure that we provide the best service to our customers, port visitors and stakeholders."
"TNPA dredging campaigns are not only aimed at showcasing the specialised dredging skills and equipment at TNPA's disposal to not only service our South African ports, but are also aimed at showcasing TNPA's the capability to offer these specialised services to our SADC partners and other external customers," said Tshikalange.
Isandlwana arrived at the Port of Mossel Bay on Monday last week, 4 October 2021, with the aim of conducting scheduled maintenance dredging at the port's sandtrap & entrance channel.
After the completion of the Port of Mossel Bay dredging which was due to end on Saturday, 9 October 2021, she will return to the central region to complete the work in the Ports of Ngqura & East London.
This record breaking achievement is a first of its kind by Isandlwana. It directly contributes to the dredger's daily production, reduces its standing time and shortens the duration of the Port of Mossel Bay dredging project.
The combined efforts of the Port of Mossel Bay & Dredging Services team are commendable and set a good example of how things are to be done by youngsters who will join the organisation in future.
Tshikalange said the TNPA and the Port of Mossel Bay look forward to playing a positive role in the continuation of successfully servicing and growing the maritime industry as well as the economy of the country.
Readers can also look forward to the TNPA Logistics Supply Chain and Maritime Engineering Webinar which is scheduled to take place on 28 October 2021.
This is aimed at showcasing TNPA's strategic role as Port landlord, and its broader role in the global transport freight logistics chain and trade as well as creating awareness on Maritime Engineering related careers in the Maritime Industry and Oceans Economy.
It is due to be streamed live in all TNPA's social media platforms.
Added 10 October 2021
Sign up for Africa Ports & Ships' free Newsletter
♦♦♦♦♦♦♦♦♦
News continues below
TRADE NEWS: Haropa port installs ShoreTension®
The constant increase in the size of seagoing vessels imposes more stringent demands on port actors where mooring operations are concerned. In order to offer optimum service to its customers during their calls at Le Havre, Haropa Port has installed a ShoreTension® system – a solution enabling vessels to remain securely moored along the quayside.
Ships regularly have difficulty in keeping securely alongside quay, a problem known as "surging", which refers to back and forth movements by the ship along the terminal berth. Such movements are generally encountered when other vessels pass nearby.
In order to ensure the safety of boatage and mooring operations, Haropa Port, in consultation with boatmen, pilots, owners and stevedores in Le Havre, conducted a study in 2019 involving installation of centimetric GPS units on around forty ships. The objective: to measure and qualify such effects with a view to considering potential technical solutions.
Building on the results obtained, Haropa Port decided to equip the port with the ShoreTension® solution developed by KRVE, boatmen operating in the port of Rotterdam. This consists of special mooring ropes in Dyneema® (an ultraresistant polyethylene fibre) attached to hydraulic rams. This standalone system is additional to the ship's conventional mooring.
The ShoreTension® system is positioned…
Read the rest of this report in the TRADE NEWS section available by CLICKING HERE
Added 10 October 2021 Africa Ports & Ships
Sign up for free Newsletter
♦♦♦♦♦♦♦♦♦
News continues below
Admiral Sir Tony Radakin KCB ADC appointed as Chief of the Defence Staff
It was announced on 7 October that HM the Queen had approved the appointment of Admiral Sir Tony Radakin KCB ADC to take over from General Sir Nicholas Carter GCB CBE DSO ADC Gen as the next Chief of the Defence Staff.
Defence Secretary Ben Wallace, said: "I'm delighted to congratulate Admiral Sir Tony Radakin on his appointment as Chief of the Defence Staff, a post he will take up on 30 November. Admiral Tony brings an unparalleled wealth of experience to the role at a time of significant change for the Armed Forces and Ministry of Defence. We are modernising to address the challenges posed by an increasingly unstable world and I know he will lead the Armed Forces with distinction in his new post.
"Admiral Tony has been an outstanding First Sea Lord and Chief of Naval Staff overseeing a period of transformation in the Royal Navy that has seen more ships deployed, for longer, all over the world. That includes the inaugural voyage of HMS Queen Elizabeth at the head of our new Carrier Strike Group which set sail in May.
"There is much to be done, at home and abroad, the threats against the UK and our allies are growing. Last year this Government made the biggest investment in Defence since the Cold War, and delivered a transformational vision for the future of the Armed Forces through the Integrated Review and Defence Command Paper. I would like to thank General Sir Nick Carter for his leadership and counsel as Chief of the Defence Staff. I now look forward to working with Admiral Tony as we fulfil the ambitions we both share for the nation's Armed Forces."
Admiral Radakin's career
Tony Radakin was appointed First Sea Lord and Chief of the Naval Staff in June 2019. He was born in Oldham and made in the Royal Navy.
Commissioned in 1990, his operational service has involved the Iran/Iraq Tanker War, security duties in the Falklands, NATO embargo operations in the Adriatic, countering smuggling in Hong Kong and the Caribbean, and three command tours in Iraq – both ashore and at sea. He has commanded from Lieutenant to Rear Admiral of ashore, afloat and international forces. This includes HMS Blazer and Southampton URNU, HMS Norfolk, the Naval Training Team in Iraq, the Iraqi Maritime Task Force, Portsmouth Naval Base, and Commander of UK Maritime Forces and NATO's High Readiness Maritime Component Commander.
His staff appointments have predominantly been in either Joint or Defence roles, including: operational planning at PJHQ, two tours as a Military Assistant, and two tours involving financial, capability and strategic force development. More recently, he was Chief of Staff of the Joint Forces Command (2016 – 2018) and Second Sea Lord (2018 – 2019).
The Chief of the Defence Staff
The Chief of the Defence Staff is the professional head of the Armed Forces and principal military adviser to the Secretary of State for Defence and the government. The role reports to the Secretary of State and the Prime Minister.
Responsibilities
The Chief of the Defence Staff's responsibilities include:
*Leading defence (with the Permanent Secretary (Perm Sec)).
*Setting strategy for defence, including the future development of the Armed Forces (subject to ministers' direction, and together with Perm Sec).
*The conduct of current operations (as strategic commander).
*Leading relationships with other countries' Armed Forces.

Reported by Paul Ridgway




London
Added 10 October 2021
Sign up for Africa Ports & Ships' free Newsletter
♦♦♦♦♦♦♦♦♦
News continues below
Covid-19's heavy US$10 Billion burden on African airlines
Coronavirus, or Covid-19 as the World Health Organization prefers to call it, is today (11 October) exactly 19 months since being declared officially a Pandemic, and has cost African airlines US$10.21 billion in revenue, says East African Business Council executive director, John Bosco Kalisa.
He was speaking at a private sector meeting of stakeholders in Kigali in Rwanda.
Kalisa said this as African airlines are making their first tentative steps towards resuming a new normal type of operation. Several airlines have either gone out of business and are unlikely to resume, while others, including South African Airways and Kenya Airways are returning after individual forms of Business Rescue and government bail-out.
National lockdowns across the world all but destroyed the tourism sector in countries such as Kenya and South Africa, leading to massive reductions in the flying public and increased travel cancellations.
The East African Community (EAC) bloc alone lost an estimated $4.8 million in projected tourist receipts, said the report presented by Kalisa.
As airlines begin a return to activity, he suggested there should be a reduction in the costs of airline travel-related fees and taxes, in order to make global travel by tourists more attractive and affordable and to encourage tourists to travel to African destinations once again.
The loss of passenger revenue led to some airlines focusing on building up airfreight in order to keep some aircraft in the air. How they balance maintaining these airfreight levels while refilling aircraft cabins with passengers makes for another challenge the air industry has to solve.
Added 10 October 2021
Sign up for Africa Ports & Ships' free Newsletter
♦♦♦♦♦♦♦♦♦
News continues below
GENERAL NEWS REPORTS – UPDATED THROUGH THE DAY
in partnership with – APO
More News at https://africaports.co.za/category/News/
♦♦♦♦♦♦♦♦♦
THOUGHT FOR THE WEEK
"The question isn't who is going to let me; it's who is going to stop me."
-Ayn Rand
♠♠♠
News continues below………
♦♦♦♦♦♦♦♦♦
TO ADVERTISE HERE
Request a Rate Card from info@africaports.co.za
EXPECTED SHIP ARRIVALS and SHIPS IN PORT

Port Louis – Indian Ocean gateway port
Ports & Ships publishes regularly updated SHIP MOVEMENT reports including ETAs for ports extending from West Africa to South Africa to East Africa and including Port Louis in Mauritius.
In the case of South Africa's container ports of Durban, Ngqura, Ports Elizabeth and Cape Town links to container Stack Dates are also available.
You can access this information, including the list of ports covered, by  CLICKING HERE remember to use your BACKSPACE to return to this page.
News continues below
CRUISE NEWS AND NAVAL ACTIVITIES

QM2 in Cape Town. Picture by Ian Shiffman
We publish news about the cruise industry here in the general news section.
Naval News
Similarly you can read our regular Naval News reports and stories here in the general news section.
♦♦♦♦♦♦♦♦♦
♠♠♠
ADVERTISING
For a Rate Card please contact us at info@africaports.co.za
Don't forget to send us your news and press releases for inclusion in the News Bulletins. Shipping related pictures submitted by readers are always welcome. Email to info@africaports.co.za
TABLE BAY UNDERWAY SHIPPING
SHIP PHOTOGRAPHERS
Colour photographs
and slides for sale of a variety of ships.
Thousands of items listed featuring famous passenger liners of the past to cruise ships of today, freighters, container vessels, tankers, bulkers, naval and research vessels.
P O BOX 809, CAPE TOWN, 8000, SOUTH AFRICA
snai@worldonline.co.za
http://home.worldonline.co.za/~snai