Bringing you shipping, freight, trade and transport related news of interest for Africa since 2002
Stay Well, Stay Safe, Stay Patient, don't become one
Advertise here – For a Rate Card email us at terry@africaports.co.za
♠♠♠
Join us as we report through 2021
'You learn with Africa Ports & Ships' 
****

**

****
TODAY'S BULLETIN OF MARITIME NEWS
These news reports are updated on an ongoing basis. Check back regularly for the latest news as it develops – where necessary refresh your page at www.africaports.co.za
Click on headline to go direct to story : use the BACK key to return  
EARLIER NEWS CAN BE FOUND AT NEWS CATEGORIES…….
The Sunday masthead shows the Port of Apapa (Lagos)
The Monday masthead shows the Port of East London
The Tuesday masthead shows the Port of Durban Sugar Terminal
The Wednesday masthead shows the Port of Durban T-Jetty
The Thursday masthead shows the Port of Durban Container Terminal
The Friday masthead shows the Durban Container Terminal by night
The Saturday masthead shows the Durban Multi Purpose or City Terminal
♦♦♦♦♦♦♦♦♦
SEND NEWS REPORTS AND PRESS RELEASES TO
info@africaports.co.za
♦♦♦♦♦♦♦♦♦
News continues below
Our First View comes from afar this week, Lyttelton on the South Island of New Zealand, where photographer and ship enthusiast Alan Calvert reports that after he worried whether the reefer vessel ORANGE STREAM (IMO 9795983), which had inconsiderately arrived in port in the hours of darkness, would actually sail at her scheduled departure time of 15h00, the Dutch vessel kindly made her move a few hours early!
"As if moving in daylight wasn't enough, the clouds opened up and the sun came out just at the right time," he reports happily.
"Orange Stream arrived in Lyttelton from Bangkok to load beef and lamb for the US and from there was to complete loading in Tauranga. The cargo would usually go by containers but extravagant freight rates and delays in container terminals adding huge costs to the shipper, it must have been well worthwhile to ship it on pallets."
The 7,155-dwt Orange Stream was built in 2019 and has the Port of Willemstad as her port of register. Her owners are Orange Stream Shipping Company NV, of the Netherlands and managers are Seatrade Groningen BV, also of the Netherlands. The reefer is 115 metres in length and 18m wide with a 10.3m draught She has four holds with 12 refrigerated compartments and is geared with 8 derricks of 7m or 4 x 7m utilising the union purchase system in which the runner wires of both the derricks are coupled together to swivel to a union hook and work in conjunction with each other.
The ship also carries up to 52 reefer hi cube containers with 52 plugs.
One of a fleet of 38 company reefer ships, Orange Stream is also one of four sister vessels, the others being Orange Spirit (built 2018), Orange Sea (built 2019) and Orange Strait (built 2019). – trh
Pictures are by Alan Calvert
Added 18 July 2021
♠♠♠
Photographs of shipping and other maritime scenes involving any of the ports of South Africa or from the rest of the African continent, together with a short description, name of ship/s, ports etc are welome.
♦♦♦♦♦♦♦♦♦
♦♦♦♦♦♦♦♦♦
NEWS
♦♦♦♦♦♦♦♦♦
News continues below
Seafarer vaccine prioritisation:
IMO welcomes WHO vaccine roadmap
IMO Secretary-General Kitack Lim has welcomed the World Health Organization's decision to name seafarers as one of the groups of transportation workers that should be prioritised for Covid-19 vaccination in instances of limited supplies. This was reported on 22 July.
Updated guidance for Stage II of its vaccine roadmap from the WHO's Strategic Advisory Group of Experts on Immunization (SAGE) states: 'Seafarers and air crews who work on vessels that carry goods and no passengers, with special attention to seafarers who are stranded at sea and prevented from crossing international borders for crew change due to travel restrictions.'
IMO Secretary General Lim commented: "I am glad to see that the WHO recognises the importance of vaccinating seafarers on cargo ships.
"These individuals are responsible for transporting over 80% of all goods around the world, including food, medicine and vaccine supplies – and have continued to do so despite extremely challenging circumstances. Seafarers will play a key role in the global recovery, and barriers to international travel and crew change must be removed."
The SAGE guidance aims to provide guidance for overall programme priorities as well as vaccine-specific recommendations and consists of three steps:
Step 1: A values framework.
Step 2: Roadmap for prioritising uses of COVID-19 vaccines.
Step 3: Vaccine-specific recommendations.
The vaccine prioritisation roadmap considers priority populations for vaccination based on epidemiologic setting and vaccine supply scenarios and can be used by countries to shape their national response to the pandemic.
The IMO has made a number of calls for priority vaccination for seafarers this year, including issuing a joint statement with other UN organizations in March 2021, calling for seafarers and aircrew to be prioritised for Covid-19 vaccination.
In May, IMO adopted a resolution which encouraged priority vaccination for seafarers in national Covid-19 vaccination programmes and Secretary-General Lim called on all IMO Member States to designate seafarers as key workers and support a fair global distribution of Covid-19 vaccines.
Additional information and resources related to the IMO's work during the Covid-19 pandemic can be found by CLICKING HERE
COVID-19 vaccine inequity will have a lasting and profound impact on socio-economic recovery in low- and lower-middle income countries without urgent action to boost supply, share vaccines and ensure they're accessible to everyone now. For an introduction to the efforts of WHO, UNDP and the University of Oxford with regard to vaccine equity readers are invited to SEE HERE.
Reported by Paul Ridgway
London
Added 22 July 2021
♦♦♦♦♦♦♦♦♦
News continues below
WHARF TALK: Bottom Longliner with a long history,  No.707 HONG JIN
Story by Jay Gates




Pictures by 'Dockrat'
With the conclusion of the Antarctic fishing season, another lesser known element of this hard and dangerous industry is that of the longliner, but not the usual 'drifting' longliner frequently seen in Cape Town or Durban as part of the large Tuna fleets. Instead the lesser known vessel is a 'bottom' longliner, and her target species is another delicacy, namely Dissostichus Mawsoni, better known to fisheries experts as Antarctic Toothfish, but sold in your local supermarket, and marketed, as Chilean Sea Bass.
On 3rd July at 11h00 the South Korean flagged bottom longliner No.707 HNG JIN (IMO 8608822) arrived at the Table Bay anchorage, where she remained for the next six days. She had arrived back in Cape Town from the far distant waters of the Antarctic Peninsula and the Falkland Islands. She had stopped off at Montevideo en-route to Cape Town in order to drop off her catch, and she had been away at sea for just under six months.
On 9th July at 09h00 No.707 Hong Jin entered Cape Town harbour and went directly into the V&A Dock, where she berthed in the Albert Basin adjacent to the five star Cape Grace Hotel. She had arrived in Cape Town to undergo some serious maintenance and be taken out of the water for her annual hull survey. It is obvious she is hard working, as she was looking very tatty and worn, with a prominent encrustation of marine life all around, and below, her waterline.
On 11th July she was lifted out of the water on the Synchrolift, where she has had hull plating removed from both the Port and the Starboard side, as well as having her rudder unshipped and her propeller and shaft removed. Her barnacle infestation was also removed. She was still undergoing heavy maintenance and renewal more than ten days later.
Built in 1986 by the Miho Shipyard at Shizuoka in Japan, No.707 Hong Jin is 58 metres in length with a deadweight of 641 tons. She is powered by a single Niigata 6M31AFTE 6 cylinder 4 stroke main engine providing 1,501 bhp (1,119 kW). She has a freezer hold capacity of 320 tons.
Owned by the Hongjin Corporation of Seoul, No.707 Hong Jin is licensed by the Commission for the Conservation of Antarctic Marine Living Resources (CCAMLR), of which South Africa is a signatory, to be able to operate in any Southern Ocean and Antarctic Fishing Area including the Pacific (FAO Area 88), Indian (FAO Area 58) and Atlantic regions (FAO Area 48). She also has authorisation to fish, with additional local licensing permissions, on the Patagonian shelf and around the Falkland Islands (FAO Area 41).
Her target species in Area 41 is Dissostichus Eleginoides, better known as Patagonian Toothfish, but as with Antarctic Toothfish it is still sold as Chilean Sea Bass. The Patagonian Toothfish is found on all sub-Antarctic island shelves, including those of Marion and Prince Edward Island, South Africa's possession in the South Indian Ocean.
The family of toothfish became known as 'White Gold' and attracted very good prices at market, which made it very lucrative. So much so that it was at the centre of the long battle against the Illegal, Unreported and Unregulated (IUU) fishing boats, starting over twenty years ago, that hunted down the fish with impunity and with no care of sustainability. Two famous IUU chases included one in 2015 where the Sea Shepherd campaign vessel BOB BARKER chased the IUU vessel THUNDER for 110 days, over 18,700 km of ocean, until Thunder scuttled herself when she realised she was not going to get away from the activist patrol vessel.
The other famous chase involved the South African authorities, back in 2003, where the S.A. AGULHAS joined with the Australian Fisheries Patrol vessel SOUTHERN SUPPORTER and the Falkland Islands Fisheries Protection vessel DORADA to chase down the IUU vessel VIARSA 1. She was arrested after a chase of 21 days, and over 7,200 km, and taken to Cape Town, then Fremantle, where her Toothfish catch was confiscated and the vessel was sold for scrap in India.
The IUU stigma also involved No.707 Hong Jin herself when she was accused by CCAMLR of IUU fishing in the waters of Area 41 in 2013, when it was discovered that she had a discrepancy of 30,925 kg of toothfish landed, against the amount declared as caught. She was initially suspended from fishing in CCAMLR managed waters of Antarctica for three years. The Hongjin Corporation appealed the decision and won, allowing No.707 Hong Jin to continue bottom longlining for Toothfish in Antarctica.
She has also been involved in three incidents in Antarctic waters, one of which concerned herself. In January 2020 No.707 Hong Jin collided with a heavy ice flow, when fishing in the Ross Sea area of the Pacific, which damaged her steering gear. The damage was not able to be repaired and she requested assistance. The South Korean government despatched the Korean Research Icebreaker ARAON which reached the vessel four days later and towed her into safer waters to allow her to effect repairs.
In January 2012 the Korean longliner JEONG WOO No.2 got into difficulty in the Ross Sea when she caught fire. The crew were forced to abandon the vessel in ice strewn seas and No.707 Hong Jin was one of the first to respond to the distress call, arriving on scene 24 hours later where she rescued the crew. Sadly three crewman died in the blaze and seven were injured.
In December 2010 another Korean longliner, the No.1 IN SUNG, sank within 30 minutes of hitting an iceberg growler in the Ross Sea. She sank so fast that many of the crew were unable to get off the vessel, and those who could were forced to abandon the vessel without having lifejackets or wearing survival suits. Only 3 miles away at the time, No.707 Hong Jin was able to rescue 20 of the crew immediately. Sadly 17 other crewmen lost their lives, with the No.707 Hong Jin also picking up five of the bodies.
Added 22 July 2021
♦♦♦♦♦♦♦♦♦
News continues below
IN CONVERSATION: Nigeria's ambitious new maritime security project must avoid old traps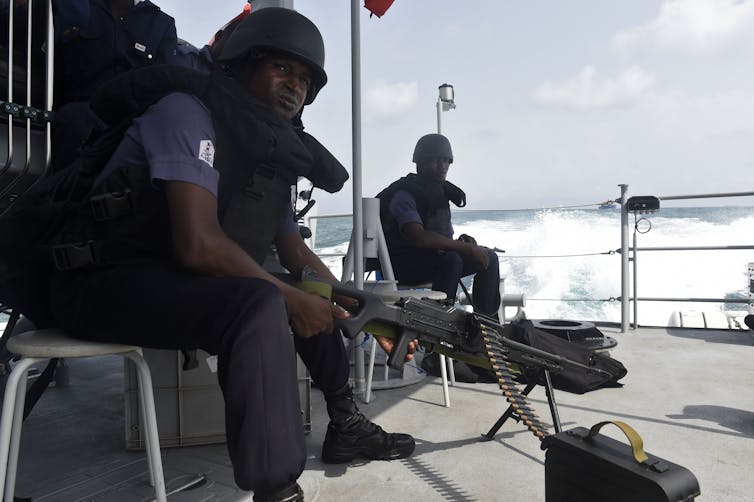 Nigerian naval members sit in a vessel during a multinational maritime exercise. Pius Utomi Ekpei/AFP via Getty Images
President Muhammadu Buhari recently inaugurated a project designed to prevent illegal activities in Nigeria's coastal waters and enforce maritime regulations. It also aims to prevent illegal activities on inland waterways.
Known as the Deep Blue Project, it was initiated by the federal ministries of transportation and defence in 2017. It's being implemented by the Nigerian Maritime Administration and Safety Agency. Personnel have been hired from the navy, army, air force, police, and Department of State Services.
The $195 million project is said to be the first integrated maritime security strategy for West and Central Africa. It's designed to tackle piracy, sea robbery, and other crimes at sea in Nigerian waters and up to the the Gulf of Guinea.
The Gulf encompasses over 12 countries from Senegal to Angola. It's a strategic maritime domain with huge natural resources, and provides a critical route for international shipping.
But the region, and Nigeria in particular, has recorded frequent vicious attacks against vessels and multiple kidnapping of seafarers for ransom by pirate gangs. The gangs have evolved in sophistication. They have also extended attacks as far as 200 nautical miles from shore.
Most studies, including mine, affirm that the root of maritime insecurity in the Gulf of Guinea stems primarily from bad governance. Despite endowment with vast natural resources, most of the states parade some of the worst indices of human development. These include environmental devastation, high unemployment rates and widespread poverty generated by corruption and bad governance.
I also found that unsustainable practices of oil companies have destroyed traditional farming and fishing livelihood systems in coastal communities. This has forced some people to make desperate choices. With declining opportunities for legitimate livelihood amid affluence, some young people in the region take to criminality for survival.
Pervasive corruption among maritime security forces has made them unequipped to deal with security threats. The Deep Blue Project is obviously designed as a reactive intervention against piracy. Yet successfully countering the evolving threat depends on addressing enabling factors rather than just reacting to events. It also, crucially, must include avoiding mistakes made in the past.
The project's importance
Nigeria depends primarily on oil export through the Gulf of Guinea's maritime corridor for much of its revenue and foreign exchange earning. However, maritime threats cost it an estimated $26.3 billion annually.
Nigeria also accounts for 75% of crime in terms of incidents in the Gulf of Guinea, particularly piracy. The International Maritime Bureau said 135 crew were kidnapped from their vessels worldwide in 2020. The Gulf of Guinea accounted for over 95%.
In the first three months of 2021, the Gulf of Guinea accounted for 43% of all reported piracy incidents and 40 crew kidnapped. The pirate gangs originate almost exclusively from Nigeria.
As a result the global maritime community has consistently called for enhanced efforts to tackle piracy and maritime insecurity in the region.
This has led to the adoption of a host of national, regional and international initiatives. There is equally increasing deployment of naval forces by Denmark, France, Italy and the US.
How far can the project go?
How far the project will go in deepening maritime security depends on several factors.
The first is whether mistakes of the past are avoided. These have included:
an overtly militarised response to threat,
negligence of the driving or enabling factors of criminality,
dearth of accountability mechanisms in response initiatives, and
poor appreciation of the dynamics of the wider criminal space.
Already, the project's largely military-centric approach has been criticised. This means that the intricate drivers of maritime insecurity, especially piracy, are ignored. These include socio-economic, environmental and governance factors that enable piracy to fester.
Much of the problem stems from state corruption, declining job opportunities, hollow maritime security forces, and weak law enforcement. Opportunistic foreign, corporate or individual interests that emerge afterwards only help to expand and perpetuate criminality.
A related factor is the inter-agency rivalry which has undermined multi-agency interventions during successive administrations. The multi-agency nature of the new project holds great promise. But in it lies a peril common to Nigeria's approach to security. Rivalry and mistrust manifest among Nigeria's agencies. This results in weak coordination, limited intelligence sharing and sub-optimal performance.
There are also concerns over robust internal mechanisms for ensuring transparency and accountability. These are paramount to the project's success.
Projects such as this have in the past served as avenues for vested interests to divert or misappropriate public funds. Politicians, government officials and corporate firms have been involved.
The Olusegun Obasanjo administration was accused of spending between $300 million and $400 million on equipment for fighting maritime insecurity with nothing to show for it.
Similarly, the Goodluck Jonathan administration used the public-private partnership model. It committed resources towards acquisition of assets to fight maritime insecurity. But it was not sustainable.
These concerns are fundamental given that Nigeria's finance minister, Zainab Ahmed, recently disclosed that Nigeria will borrow $1.76 billion from the domestic markets to fund the fight against insecurity. Thus, lack of transparency may mean that revenue generated through the project may not be used judiciously.
Poor maintenance culture as seen in the aviation, energy, health and transportation sectors may also mean that the recently acquired assets will grind to a halt sooner than expected. These include:
land assets (a new intelligence centre, 16 armoured vehicles for coastal patrol and 600 specially trained troops);
sea assets (two special mission vessels and 17 fast interceptor boats);
air assets (two special mission aircraft for surveillance, three special mission helicopters and four unmanned aerial vehicles).
Another factor is the project's interface with other regional initiatives to counter the vested interests that sustain piracy. Ransom payment has made piracy extremely lucrative. This has entrenched a network of interests of both foreign and local state and non-state actors. Some global shipping companies and foreign actors are using cash and bypassing local authorities in the region to negotiate directly with pirates.
While it costs a pirate gang between $5,000 and $10,000 to mount an operation at sea, ransoms paid for kidnapped crew typically range from $18,000 per person to as much as $500,000.
Without the government's commitment in addressing these factors, the project will only be an addition to maritime security initiatives in the troubled region.

Freedom C. Onuoha, Senior Lecturer, Political Science , University of Nigeria
This article is republished from

The Conversation

under a Creative Commons license. Read the

original article.
Added 22 July 2021
♦♦♦♦♦♦♦♦♦
News continues below
Cutting GHG emission from shipping: IMO and ten years of mandatory rules
The year 2021 marks a decade of action since IMO adopted the first set of mandatory energy efficiency measures for ships.
On 15 July the IMO announced marking a decade of action on cutting greenhouse gas emissions from shipping, since the first set of international mandatory measures to improve ships' energy efficiency was adopted on 15 July 2011, as part of the International Convention for the Prevention of Pollution from Ships (MARPOL).
To support the implementation of the measures and encourage innovation, IMO has been implementing a comprehensive capacity building and technical assistance programme, including a range of global projects. These include the GEF-UNP-IMO GloMEEP Project (now concluded), the European Union-funded global network of maritime technology cooperation centres (GMN project), the IMO-Norway GreenVoyage2050 project and the IMO-Republic of Korea GHG SMART Project.
On this notable commemoration IMO Secretary-General Kitack Lim reflected: "In July 2011, the first set of mandatory measures to improve the energy efficiency of new build ships was adopted, fundamentally changing the baseline for the performance of the incoming global fleet in terms of emission reduction.
"The pace of regulatory work to address GHG emissions from shipping has continued within the framework of the IMO Initial Strategy for reducing GHG emissions from shipping, and most recently with the adoption of further, key short-term measures aimed at cutting the carbon intensity of all ships – new build and existing ships – by at least 40% by 2030, compared to the 2008 baseline, in line with the initial strategy ambitions.
"The package of mandatory measures combined with implementation support sets shipping on a pathway to decarbonisation. There is more work to do, but we have solid foundations, which is contributing to the global fight against climate change."
IMO's mandatory measures are supported by capacity building, technical assistance and technology cooperation.
Shipping will need new technologies, new fuels and innovation to meet the GHG targets. In a statement by IMO it indicated that there needs to be investment in R&D, infrastructure and trials.
A range of IMO-executed projects are focusing on supporting developing countries to implement the MARPOL Annex VI energy efficiency measures and promote trials and training.
These include:
* The GEF-UNDP-IMO Global Maritime Energy Efficiency Project (GloMEEP) that assisted a number of lead pilot countries to initiate legal, policy and institutional reforms and build the related capacity to start implementing the MARPOL Annex VI at national level.
* The European Union-funded Global Maritime Technology Cooperation Centre Network (GMN) project has established five regional centres of excellence and several pilot projects are ongoing. One in the Pacific has installed solar panels on a ferry – leading to fuel savings of 32% in operation and 87% reduction in GHG emissions at anchor. Other examples include collecting and analysing ship fuel consumption data; helping to improve ship trim optimisation; developing technology needs assessments; and carrying out port energy audits. Data from pilot projects is shared to facilitate scaling up and roll out elsewhere.
The Current IMO climate action projects are listed here:
* IMO-Norway GreenVoyage2050 Project
* Global Industry Alliance (GIA) to Support Low Carbon Shipping.
* IMO-European Union GMN (Global Maritime Network of Maritime Technology Cooperation Centres) project.
* GEF-UNDP-IMO GloFouling Project which addresses the issue of hull fouling that contributes to GHG emissions.
* Global Industry Alliance (GIA) for Marine Biosafety
* IMO-Republic of Korea GHG-SMART project.
* IMO-EBRD-World Bank FIN-SMART roundtable – co-lead by IMO, the European Bank for Reconstruction and Development and the World Bank.
* IMO and the UN Environment Programme (UNEP) Maritime Zero and Low-Emission Innovation Forum in September 2021.
* IMO-Germany Asia Maritime Transport Emissions project (known as the Blue Solutions Project) to cut maritime transport emissions in Asia
For an introduction to IMO's current work in connection with GHG reduction readers are invited to CLICK HERE
Reported by Paul Ridgway
London
Added 22 July 2021
♦♦♦♦♦♦♦♦♦
News continues below
RINA to classify China's largest newbuild cruise ship
Italian classification society RINA has signed an agreement with Shanghai

Waigaoqiao Shipbuilding (SWS)

for the classification of the largest ever cruise ship to be built in China.
With an overall length of about 341 metres and a gross tonnage of approximately 140,00GT, the cruise ship will be the largest ever built in China with a capacity of more than 6,500 between passengers and crew on board.
"The Chinese cruise ship industry is expanding rapidly, and the new vessel is being designed to respond to that growth as well as Chinese tastes," said Mr Wang Qi, Chairman of at SWS.
China's increasing demand for leisure activities
"China's burgeoning economy is providing increased demand for leisure activities encouraged by the Chinese government, while its large geographic area and population promise sustained demand and no shortage of potential routes."
The cruise project will be built according to the highest standards ever applied in China for environmental protection with RINA additional class notations "Green Plus" and "HVSC" (High Voltage Shore Connection).
In addition, the cruise ship design and equipment will follow the RINA notation "Biosafe Ship", aiming to control and prevent possible on-board infection outbreak.
"The Chinese shipbuilding industry has been the number one in the world for some time," said Mario Moretti, Asia Marine Senior Director at RINA.
He added that this has historically been focused on merchant and cargo vessels. "We are very pleased to be working closely with SWS in building China's largest ever passenger ship. The agreement represents a milestone in Chinese shipbuilding as it expands into the passenger sector responding to the growth of sea-borne tourism."
The expected delivery date of the vessel is December 2025.
Carnival Corp
SWS is a subsidiary of China State Shipbuilding Corp (CSSC). In November 2018 SWS signed an agreement with Carnival Corp for two cruise ships of around 133,000-gt, with an option for a further four ships. In addition CSSC set up the Cruise Ship Design Team in a joint venture with Fincantieri leading to the provision of a technology licence for the cruise ship model platform and a series of technical services to SWS.
The ship's design is being tailored according to the tastes of Chinese travellers and the CSSC Carnival Cruise Shipping Limited, the new Chinese cruise band of the j/v between Carnival Corporation and CSSC.
Added 22 July 2021
♦♦♦♦♦♦♦♦♦
News continues below
Transnet IT network experiences disruptions: apparent hack
weather interrupts Eastern Cape operations
Transnet said on Thursday afternoon (22 July) that it is currently experiencing a disruption in some of its IT applications. It said the source of this problem is being investigated.
There is speculation that the company's IT networks were hacked.  A government spokesperson said it could not yet be determined whether the possible hacking was a contination of last week's actions against business and society.
"All business continuity plans have been activated. Operations across the Group are continuing, with the Freight Rail, Pipelines, Engineering and Property divisions reporting normal activity," Transnet said.
Container Terminals affected
"Port terminals are operational across the system, with the exception of container terminals, as the NAVIS system on the trucking side has been affected. In the Eastern Cape, terminal operations have been halted due to inclement weather conditions, and will continue manually once it is safe to do so."
The announcement said the IT problem was not preventing the Ports Authority from operating – "vessels moving in and out of the ports are being recorded manually."
Transnet said that customers had been made aware of the disruption and are being engaged throughout the process.
"Work is underway to reduce the downtime to ensure that the impacted systems are up and running again as soon as possible."
Added 22 July 2021: 14h00
♦♦♦♦♦♦♦♦♦
News continues below
SANDF troops arrive in Pemba as part of SADC regional standby force
Units of the Southern African Development Community (SADC) regional standby force including advance special forces troops from South Africa have arrived at Pemba in Mozambique to provide support to the Mozambique government and people in their efforts at curbing the insurgency taking place in Cabo Delgado province.
Confirmation of this came on Wednesday 21 July from the South African National Defence Force (SANDF) together with images showing a C130 Hercules of the South African Air Force on the airport apron reportedly at Pemba as well as another C130 transport aircraft of the Botswana Defence Force unloading Botswana troops and equipment.
Pemba is the capital town and seaport of Cabo Delgado province and is to the south of the conflict zone, which is near the small harbour towns of Mocimboa da Praia and Palma, both of which have been attacked and overrun by Islamist insurgents.
Mocimboa da Praia, which was intended as one of the logistic points of entry to the Total-led gasification plant on the Afungi peninsula close to the other harbour town of Palma, remains under control of the terrorists. Palma is back under control of the Mozambique forces, aided by soldiers from Rwanda.
Although not a part of the SADC contingent, about a thousand troops and support personnel from Rwanda have already taken up a presence at Afungi and Palma, where it is reported the Rwandans successfully engaged with a group of insurgents near the village of Quionga close to Palma, during which a firefight ensued and 30 insurgents were killed as they withdrew towards the nearby Tanzanian border.
The arrival of South African military personnel has been in doubt owing to the deployment of close to 25,000 soldiers during last week's unrest in KZN and Gauteng provinces of South Africa. There were also indications that the Mozambican Government was not too keen of having SADC troops in his country, although the presence of Rwandan military force appear to have been welcomed.
Be that as it may, the SADC forces have begun their deployment. Though unconfirmed, it is thought they will comprise 3,000 troops made up of three infantry battalions, two special forces squads (likely to have been those that arrived in Pemba this week), as well as support units, attack helicopters and at sea, patrol ships and a submarine, with the maritime elements to be mostly if not all provided by South Africa.
Refugees from Palma and other areas of Cabo Delgado affected by the insurgents, continue to flee by any way possible to the safety of Pemba. However, there have been tragic consequences of this, and a dhow carrying a number of those escaping from the historic island of Ibo, has sunk en-route and 11 women and children were drowned. – trh
Added 21 July 2021
♦♦♦♦♦♦♦♦♦
News continues below
Pilot transfer arrangements:
Bahamas Maritime Authority introduces inspection campaign
The BMA has shared the results of the International Maritime Pilots' Association (IMPA see: www.impahq.org ) Safety Campaign with its fleet since 2015. Noting a consistent level of non-compliant pilot boarding arrangements across the industry and the related tragic deaths, The BMA has implemented a range of steps to improve safety. In January this year, Safety Alert 2021-01 was expanded to highlight common defects and why they are non-compliant as well as to share the IMPA survey results.
Subsequently the Authority published an Information Notice in March 2021 to make vessels under the Bahamian Flag aware of the SOLAS requirements with regards to equipment and arrangements for pilot transfer. This included the pilot ladder construction and maintenance requirements under the ISO 799-1:2019 standard. To further emphasise the importance of the issue, The BMA produced a training presentation for its Authorised Flag Inspectors worldwide to ensure that they were specifically aware of these requirements and regulations.
To underpin the new initiatives, the BMA has decided to undertake a CIC to run for the second half of 2021. The related Technical Alert raises the root causes of many of these cases, namely:
* Use of non-compliant pilot and combination ladders;
* Unauthorised modifications to deck access;
* Defective winches and reels; and
* Incorrect ladder securing.
Not only will inspectors be asked to complete a checklist as to the compliance of equipment, they will also require evidence that the ship has conducted at least one training session to increase crew awareness of correct procedures. To aid inspectors, the checklist includes photographs demonstrating examples of both good and unacceptable practice.
Nick Dowden, Marine Investigator at the BMA (pictured), commented on this programme: "We have supported IMPA's Safety Campaign for some time but realised that we needed to take positive action to improve the situation within our fleet. We are continually striving to make our ships safer and improve the lives of the seafarers who work on them. By insisting that our ships follow the SOLAS requirements to the letter, we hope to mitigate the difficulties experienced by marine pilots as they embark and disembark. In fact, we are hoping that other flags follow suit and add this safety issue to their own inspection criteria."
The BMA will review the outcome of the CIC and publish the findings at a later date.
Bahamas Maritime Authority
The Bahamas Maritime Authority (BMA) is one of the world's top ten largest ship registries with a reputation for quality and excellent service.
It has a worldwide network of offices and Consulates including representation in Nassau, New York, London, Piraeus, Hong Kong and Tokyo – all dedicated to providing expert advice to its customers 24 hours a day.
Reported by Paul Ridgway
london
Added 21 July 2021
♦♦♦♦♦♦♦♦♦
News continues below
WHARF TALK:  South African-flagged bunker tanker visits Cape Town – LEFKAS
Story by Jay Gates
Pictures by 'Dockrat'
The sight of MR and LR class tankers, of all flags, arriving from all parts of the globe, is now a common sight at all the major South African ports due to the continued and enforced closure of domestic refineries at Durban and Cape Town. What is not a common sight is a bunker tanker, under the South African flag, delivering a parcel of fuel from a South African port that does not have refining capacity.
On 19 July at 10h00 the bunker tanker LEFKAS (IMO 9417531) arrived at Cape Town harbour from the Port Elizabeth anchorage in Algoa Bay, and proceeded to the tanker berth in the Duncan Dock. This was a month after she had completed a similar voyage where she discharged a parcel of Marine Fuel Oil (MFO) to Cape Town. She was in port for just 24 hours and sailed back to Port Elizabeth at 10H00 on 20 July.
Built in 2010 by Qingdao Hyundai Shipbuilding at Qingdao in China, at a cost of US$13.9 million (ZAR204 million), Lefkas is 103 metres in length and has a deadweight of 6,321 tons. Her design as a bunker tanker, and having a deadweight of less than 10,000 tons has her classed as a 'Small' tanker. She is powered by a single HHI-EMD 9H25/33P HiMSEN 9 cylinder 2 stroke main engine producing 2,897 bhp (2,160 kW). She has a cargo carrying capacity of 6,642 m3.
Owned and operated by Aegean Bunkering Services of Athens, and named after one of the Greek Ionian islands, she is based from Port Elizabeth, and also makes regular calls along the coast to Ngqura. Like her trips to Cape Town, Lefkas has also made longer voyages to Richards Bay to deliver bunker fuel parcels.
In March 2016 she arrived in Port Elizabeth, where she was granted a license to provide bunker fuel to any passing vessel that required it, but uniquely for South Africa the bunkering operation would take place offshore. An interesting observation of her protection from the vagaries and potential excessive movement of the vessel when conducting offshore ship-to-ship transfers (STS), is that despite having Yokohama fenders to protect her hull, rolling action means that she also has rubber tyres and a rubber strake as added protection for her boat deck and bridge deck.
As part of operational deal for starting such an operation in Algoa Bay, Lefkas switched flag from Liberia to South Africa in July 2016, and her home port was changed from Monrovia to Port Elizabeth. She became the third vessel to be registered in the Windy City, after two 'K Line' bulk carriers. It is strange that this port is chosen above the traditional Durban or Cape Town as a port of registry for such vessels. If nothing else, it takes more paint to achieve it!!
From a start back in 2012 when the opportunity first presented itself, Aegean Bunkering Services embarked on the process of securing approvals from SAMSA for offshore ship-to-ship transfers (STS), and of obtaining bunkering licenses from Transnet National Ports Authority to conduct bunkering operations in both the Port of Port Elizabeth and the Port of Ngqura. Aegean became the first company to offer bunkering services off port limits (OPL) in South Africa, with bunkers transferred at anchorage in Algoa Bay.
The role of Lefkas would be to act as a runner (barge) between Aegean's other, bigger, tanker station offshore and those passing vessels that required bunkers. Initially she could supply both Intermediate Fuel Oil (IFO) and Marine Gas Oil (MGO), with the supply operation being run locally by Aegean Bunkering Marine Services Pty Ltd. (ABMS), which has a South African partner with a 26% ownership stake in the company.
The only real interesting question to ask is why the voyage of a small tanker is seen as economically viable in bringing bunker supplies on a two day voyage from Algoa Bay to Cape Town, by taking its cargo from a local Algoa Bay source that had it delivered to Port Elizabeth from elsewhere.
Presumably the main delivery had to initially come from a tanker arriving from either the Middle East or the Far East, and not Europe (the delivery tanker would have had to pass Cape Town en-route), and which transferred the parcel into Lefkas for onward delivery to Cape Town.
There are enough regular deliveries to Cape Town, from Durban, by locally contracted tankers to discount a halfway transfer to Lefkas in Algoa Bay. The Cape Town based bunker tanker Al SAFA takes her deliveries directly from other tankers arriving from both Durban and elsewhere.
Added 21 July 2021
♦♦♦♦♦♦♦♦♦
News continues below
Durban's Toyota Motor Corporation returns to production following unrest
South Africa's largest motor vehicle producer, Toyota Motor Corporation (TMC), has reopened with the easing of fears of further unrest or insurrection in KZN.
Last week TMC closed down its giant production factory at Prospection in the south of Durban, after rioting and looting broke out across the province and spreading into Gauteng.
TMC employs 7,200 people in the Durban factory.
At the time Toyota challenged the city to provide reassurance that KZN remained worthwhile for future investments. It says now that the city and province have shown them a 'recovery roadmap' that answers its questions and as a result it has reopened its factory on Tuesday, 20 July.
TMC said the positive response from the city and province in the form of the recovery roadmap helped assuage the fears of the parent company TMC.
The Prospecton factory produces a range of vehicles for local and export consumption, including the Hilux range, the Fortuner, the Quantum and the Corolla Quest. Several new models are planned and will shortly be launched, including the mid-sized Corolla Cross with production due to start in October this year.
Added 21 July 2021
♦♦♦♦♦♦♦♦♦
News continues below
Durban's SAPREF refinery reopens following unrest
The SAPREF refinery in Durban, South Africa's largest which produces 35% of the country's refined fuel, has returned to service after an enforced shutdown over safety concerns.
These relate to the unrest that rocked Durban and the rest of KZN and much of Gauteng a week ago, with widespread looting and burning of warehouses, factories and shopping malls.
SAPREF which is situated near Isipingo in the south of Durban, adjacent to the now disused former Durban International Airport, is reached via a dedicated road connecting it to the Southern Freeway and N-3 highway and lies on the south side of the Mlazi river.
At the height of what government circles has called a planned insurrection last week, SAPREF ceased operations after unrest closed delivery routes while the possibility of violence raised concerns over the safety of refinery personnel and production capability.
As a result, SAPREF declared force majeure during the week.
"With key delivery routes open and materials supply secured, Sapref can now restart the refinery," Sapref said this week.
The restart, which commenced today, Wednesday 21 July 2021, will take between 7 – 10 days to complete.
SAPREF is a 50/50 joint venture between Shell and BP and produces 180,000 barrels of refined fuel product per day (b/d) including petrol, diesel, marine fuels, base oils, paraffin waxes, and bitumen.
South Africa currently has just three refineries in production, including the restarted SAPREF. The others are the SASOL coal to liquid plant at Secunda, producing 160,000 b/d and the Sasol & Total Natref refinery in Sasolburg, producing 107,000 b/d.
The Engen refinery in Durban, which had a production ceiling of 105,000 b/d, ceased production earlier this year, following an explosion and fire in December 2020. In April it was announced that Engen would be converted into an import terminal.
Engen is connected with the port via a pipeline, as is the nearby SAPREF refinery.
In Cape Town the Astron Energy 110,000 b/d refinery (former Chevron/Caltex refinery) has also ceased production following a fire in July last year, but says it intends restarting during 2022.
Added 21 July 2021
♦♦♦♦♦♦♦♦♦
News continues below
INSIGHTS: Five lessons to learn from hydrogen as a ship fuel
DNV paper
Green
hydrogen

could play a crucial role in the maritime industry's journey towards decarbonisation, but there are significant challenges with implementing hydrogen technology in shipping.

Five points are made in the DNV paper titled Five lessons to learn on hydrogen as ship fuel:

*  Knowledge gaps: More testing needed on the safety aspects of handling, storage and bunkering hydrogen.
*  Safety: Hydrogen's unique properties make it very different from natural gas
*  Fuel system: Use hydrogen in its pure form when possible
*  Framework: The Alternative Design process is currently the best approach
*  Implementation: Scaling up hydrogen operations will be a challenge

Produced through electrolysis, H2 is free of carbon emissions and could be widely available across the globe in the future – as a marine fuel or a key enabler for synthetic fuels. Many in shipping recognise hydrogen's potential, but the barriers to implementing H2 technology are substantial.

Led by DNV, a consortium of 26 partners and observers have come together in the MarHySafe joint development project (JDP) to address the challenges surrounding hydrogen operations: safety and regulations.

To learn more about hydrogen as a ship fuel readers are invited to CLICK HERE
Reported by Paul Ridgway
London
Added 21 July 2021
♦♦♦♦♦♦♦♦♦
News continues below
CMA CGM to launch a new Indian Ocean feeder service to/from Comoros
French container carrier CMA CGM has announced that it will be launching a dedicated product on the
Mozambique Channel Comoros islands.
The product in question is a feeder service at Longoni on the island of Mayotte where CMA CGM has a terminal.
"The new service will enable CMA CGM to ensure a smooth routing of containers to/from Comoros," said the shipping company.
The Comoros feeder will run with one ship on a fortnightly basis.
The first sailing of this new service will be with the container vessel ATHENS (IMO ) on voyage 001BOR.
Details of the first sailing of this service are:
ETA Longoni 30/07, ETA Moroni 02/08, ETA Mutsamudu 09/08
CMA CGM says its current IOFEED 1 service will continue serving Reunion, Mauritius, Longoni and the North of Madagascar.
Added 20 July 2021
♦♦♦♦♦♦♦♦♦
News continues below
WHARF TALK: Owned by an oil producer – SHEGARDIAH
Story by Jay Gates
Pictures by 'Dockrat'
Today, the top ten oil tanker operating companies in the world have no connection to oil exploration, production or refining. The vast majority of the oil tanker operators in this modern era are merely shippers of a commodity. In the heyday of global shipping, most oil tankers actually belonged to the oil company whose product they were carrying. Those were the days when the great fleets of Shell, BP, Texaco, Mobil, Esso, Amoco and Chevron criss-crossed the globe.
A few of these tanker companies remain, but sadly, most of these great shipowners have reduced their fleets to a rump, or even withdrawn from the trades altogether. So it is always nice to see an arrival in port of a tanker that belongs to a shipping company that is actually owned by a large oil producer.
Late on 10th July the MR2 products tanker SHEGARDIAH (IMO 9856701) arrived off Cape Town port limits (OPL) from Sohar in Oman, with an intermediate stop in Durban to discharge part of her cargo. On arrival, rather than go to the Table Bay anchorage to await her berth, she elected to drift and slow steam OPL until 13th July at 15h00 when she entered Cape Town harbour and berthed at the Tanker Berth in Duncan Dock. After completion of her refined products part cargo discharge she departed Cape Town for Fujairah in the UAE on 15th July at 09h00.
A relatively new vessel, Shegardiah was built by Hyundai Mipo shipyard at Ulsan in South Korea in 2020, entering service only on 28th April 2020 when she was handed over to her new owners. She is 183 metres in length and has a deadweight of 48,578 tons. She is powered by a single HHI MAN-B&W 6S50ME 6 cylinder 2 stroke main engine producing 14,322 bhp (10,680 kW), driving a fixed pitch propeller to give a service speed of 14.5 knots. She has a cargo carrying capacity of 52,229 m3.
One of four sisterships, built to the Hyundai 49K (Class 2) design, Shegardiah is owned and managed by the Kuwait Oil Tanker Company (KOTC) and operated for the state owned Kuwait Petroleum Corporation. She has been a regular visitor to African ports, and prior to this voyage she had visited Durban on three previous occasions, in October 2020, February 2021 and April 2021, as well as paying visits to Dar es Salaam on two occasions and to Djibouti.
Her regular transits from the Gulf region to the Red Sea, East and South Africa has had her crossing the dangerous waters of the Gulf of Oman, Arabian Sea and the coast of Somalia. It is not unknown to see vessels entering South African ports displaying anti-piracy measures such as having razor wire deployed along their decks, or having a mannequin placed in a 'lookout' position to act as a deterrent to an approaching skiff. Both of these examples were to be seen on Shegardiah as she discharged in Cape Town.
What was new to observers was Shegardiah having dozens of blue plastic barrels hanging over the side of the vessel, located along the whole length of her hull and across her stern. These may be razor wire canisters used to store lengths of razor wire for deployment at sea, or they may simply be used as obstruction barriers to deny pirate attempts at deploying ladders from skiffs, or they may have another, yet as unknown, anti-piracy purpose.
Added 20 July 2021
♦♦♦♦♦♦♦♦♦
News continues below
CIVIL UNREST: ONE reveals SAECS service contingency plan
Ocean Network Express (ONE), a member line of the South Africa Europe container service known as SAECS, has revealed a schedule contingency plan that has been implemented to minimise schedule disruption. This, it says, is due to the continued civil unrest in Durban and Johannesburg impacting the Durban container terminal and road/rail networks.
Transnet has elsewhere announced the container terminal and rial networks as having returned to normal service – see report below.
Vessel Maira XL voyage 213N
* All Durban imports to be discharged at Ngqura terminal on 18–20 July
* Considering the transport challenges in Durban, ONE urges all importers of Gauteng-destined cargo to take delivery of imports directly from NCT by road or rail
* Urgent Durban imports will be transported by feeder on the M/V Border voyage 205A to Maydon Wharf Terminal Durban ETD Ngqura 22-23 July with ETA Durban 24-25 July
* The M/V Maira XL will maintain Durban port call for exports only, to enable faster berthing.
* The export call at Ngqura for exports is TBA based on Durban performance.
Vessel Santa Clara voyage 213N
* Vessel will continue to work in Durban container terminal and discharge all imports and load all stacked Durban exports
* Ngqura northbound call will be omitted so that vessel can sail directly to Cape Town to meet the export CTOC berthing window
* Ngqura export cargo in stack for M/V Santa Clara v.213N will be loaded on the M/V Maira XL 18-20 July
Schedule Details are as below (subject to change):
SANTA CLARA V.213N ARRIVES DEPARTS
Durban                           In Port     20 July
Ngqura                           OMIT       OMIT
Cape Town                    22 July      24 July
On proforma
MAIRA XL V.213N   ARRIVES    DEPARTS
Ngqura (2nd call)    18 July          20 July
Durban                     21 July           25 July (TBA)
Ngqura TBA
Cape Town              29 July          31 July
On Proforma
BORDER V.205A    ARRIVES   DEPARTS
Ngqura                     22 July        23 July
Durban (MWT)        25 July
Forward   TBA
MAERSK offers reduced tariffs
In a related matter concerning last week's unrest and the challenges affecting many Durban and Gauteng shippers,
Maersk (South Africa)

says that the situation appears to be normalising and the port terminals are back in operation. Maersk said it is encouraging all customers to take release of shipments and alleviate any impact to port congestion.

"We understand that customers may have been impacted and unable to receive their cargo and therefore Maersk will support with reduced tariffing."

Details of the reduced tariffing and associated matters can be found HERE

Similarly, a report carried by FreshPlaza reported that Maersk was reaching out to offer support to the country and industry by offering free coastal feedering within South Africa (Cape Town and Port Elizabeth) to Durban (Maydon Wharf) for containerised humanitarian and food items to help provide relief in Durban, irrespective of operator of the container or merchant/ agency who want to ship it.
Added 20 July 2021
♦♦♦♦♦♦♦♦♦
News continues below
Connectivity crucial to seafarers' welfare needs: Inmarsat sponsored report
Thetius report, sponsored by Inmarsat, finds digital crew welfare services will be central to shipping's ability to deliver fairer conditions for global seafarers
Inmarsat a world leader in global, mobile satellite communications, has further showcased its commitment to crew welfare by sponsoring a new report exploring the future of seafaring to 2050.
This report offers recommendations on how shipping, training institutions and welfare services can respond to the changing needs of tomorrow's seafarers.
The thought-provoking study, A fair future for seafarers?* has been prepared by maritime innovation consultancy Thetius. Authors are Nic Gardner and Nick Chubb and the document has been published with shipping's Covid-19 crewing crisis yet to be resolved. Taking a view of the shipping industry to 2050, the report suggests epidemics and pandemics may become more common, predicts that crew safety, fatigue and harassment issues are unlikely to recede in the short term, and foresees the potential for seafarer abandonment and criminalisation as growing problems that need to be addressed.
If such scenarios appear bleak, they also highlight connectivity as a necessity. According to the report: 'Seafarers in 2050 will likely have greater interaction and engagement with teams of people ashore.'
Shipping economics and carbon emission strategies point to shorter port stays. Welfare services will become more digitally focused than physical, face-to-face contact. Lower crew numbers and shorter shore leaves will also mean less reliance on seafarer centres, therefore online charity outreach services will grow in vital importance.
To quote Ronald Spithout, President, Inmarsat Maritime: "Drawing on recent experience, fast-changing digital landscapes and testimony from industry authorities, this report offers a clear vision of the critical role connectivity and technology will play in crew welfare in the coming years. The 2020-21 pandemic may come to be seen as a tipping point for telemedicine."
Issued on 14 July the report highlights how fatigue monitoring and management systems will likely replace manual logging of rest hours.
Eupnoos and Workrest
Following the 2020 Crew Welfare Open Innovation Challenge, Inmarsat and Shell Shipping and Trading are sea trialling the software capability provided by Eupnoos and Workrest to enable intelligent fatigue management from the data collected by wearable technology.
Inmarsat forecasts that in 2050, seafarers will have been born into the digital era, Gardner and Chubb note, but the use of artificial intelligence (AI), 3D printing, and extended reality (XR) technology onboard ships will still demand higher levels of technical training.
Signs of change are also apparent here, with the Isle of Man Registry working with start-up Tapiit to create an app to live stream training, and organisations such as Ocean Technology Group delivering maritime training using VR headsets.
In conclusion Spithout commented: "We are fully aware of the sacrifices our seafarers continue to make to keep the world economy running. This new report includes important proposals for the creation of a global seafarer advocacy organisation and an urgent strategic review of local seafarer services.
"For its part, Inmarsat is doing everything in its power to support our seafarers. We are doing so through enhancing connectivity and the digital services that support safety, continuous professional development and crew welfare as well as continuously working in collaboration with charities, ship owners and managers to provide enhanced welfare services."
Inmarsat Fleet Xpress portal
The launch of this report comes at a time when Inmarsat is preparing to launch a refreshed version of its Fleet Xpress portal, Fleet Hotspot, in the third quarter of 2021. Crews access Fleet Hotspot independently of a ship's operational bandwidth.
Spithout reported that this updated service will include new features for crews, including the ability to create their own 'Fleet Hotspot' account and use credit across multiple devices.
The new report can be downloaded by CLICIKNG HERE://
* The report is sub-titled: How will seafaring change in the coming decades and how should the welfare sector adapt to the change?
Reported by Paul Ridgway
London
Added 20 July 2021
♦♦♦♦♦♦♦♦♦
News continues below
Port an rail operations in KZN restart after unrest
The Ports of Durban and Richards Bay are reporting normalised levels of operations over the past two days, with all employees having reported for their shifts and the ports working towards clearing the backlog caused by the unrest in the past week.
The reinstatement of the supply-chain on the key national roads, the N2 and N3 has helped increase activities at the port terminals as trucks are now able to call the ports. Transnet said the two ports remained open throughout the protests of last week, but the operations were significantly impacted by the shutdown of the warehouses and cold storage facilities, public transport as well as limited truck movement.
A number of Transnet staff also stayed away during the period of unrest, which lasted most of the week.
Richards Bay & Durban ports
In Richards Bay, the Multi-Purpose and Dry-Bulk Terminals handled seven vessels over the weekend. Pier 2 in the Port of Durban serviced four vessels while Pier 1 continues to work on the two vessels berthed alongside.
Transnet says it has been engaging all impacted customers throughout this time, to ensure that services can resume as quickly as possible, and where required, to deal with bottlenecks caused by the protests.
Rail
The rail-corridor network between Gauteng and Durban, which was negatively impacted by the unrest – has been re-opened with train services running since Friday. Transnet Freight Rail has since managed to run 42 trains since its re-opening on Friday 16 July, and will continue to run more trains as efforts to stabilise this key network intensify.
Pipelines & Cable Theft
The challenge of cable theft continues unabated along with community encroachment on the network. To deal with these problems all trains will be accompanied by security to ensure that they are able to provide a reliable service.
The Transnet Pipelines network remains operational. Additional patrols have been deployed across the entire network, resulting in the arrest of four people for tampering with the pipeline on Monday night (19 July). Transnet has confirmed that this is not linked to the unrest.
Transnet says it remains on high alert and additional security and protection of critical infrastructure across the network remains in place.
A 24-hour Nerve Centre hotline remains operational to monitor and respond to security-related incidents.
Added 20 July 2021
♦♦♦♦♦♦♦♦♦
News continues below
ZPMC wins order to supply Ports of Durban & Cape Town with new RTGs
Chinese port equipment manufacturer, Shanghai Zhenhua Heavy Industries (ZPMC) has won an order to supply new automated rubber tyre gantry cranes (RTGs) to Transnet.
The automated RTGs are in line with the current trend of terminal automation to which Transnet is slowly adapting.
This is the first time that ZPMC has managed to become a supplier of RTGs to South Africa. ZPMC has however supplied seven large Ship-toShore (STS) cranes which are in service on Pier 2 at the Durban Container Terminal.
ZPMC also supplied Transnet with 22 straddle carriers in 2020, whoch are currently being completed on site in Durban by a team from ZPMC and from Transnet Port Terminals.
The company also supplied the port of Cape TOwn with a single RMG.
"This bid has once again expanded ZPMC's product layout in South Africa," said ZPMC.
The order for 17 RTG sets will go into service at the ports of Durban and Cape Town.
The award of the contract to the Chinese manufaturer was made at the end of June after Transnet National Ports Authority (NPA) issued the tender in October 2020.
ZPMC said it has broken the monopoly of mostly Kalmar RTGs in service with Transnet.
The port of Durban handles over 60% of South Africa's container throughput and together with Cape Town the two ports handle close to 80%.
Added 19 July 2021
♦♦♦♦♦♦♦♦♦
News continues below
General cargo ship sinks off Liberia, 18 missing
A number of people on board a Liberian coastal ship identified as NIKO IVANKA has sunk off the coast of Liberia on Saturday, it has been learned.
The ship which is registered in Liberia departed from Monrovia for the port of Harper to the southeast of Monrovia on Saturday afternoon but six nautical miles off the coast of Marshall, the vessel began to take on water and sent out a distress signal to alert the Liberian Coast Guard.
The Coast Guard immediately launched a rescue mission but by the time the scene where Niko Ivanka last reported, the vessel had already sunk.
According to authorities in Monrovia, a total of 11 peple from the ship were rescued, leaving between 15 and 17 still missing. The ship's manifest had 18 people listed as being on board, including the Swedish master. Among the passengers were nine members of West Africa's regional school examinations body.
The commissioner of Liberia's Maritime Authority, Eugene Lenn Nagbe, confirmed that 11 people had been rescued. One of these was a woman. "We are commissioning an investigation into how a vessel that was detained because of failure to meet rudimentary safety requirements managed to get on the sea with passengers and cargo. Priority now is to search and rescue," he said.
Mr Nagbe said there were between 15 and 17 people still missing.
The Chinese owner of the vessel has been detained by Liberian police and was taken into custody.
The vessel named Niko Ivanka was built locally in Nigeria in 2018, specifically for coastal trading purposes.
Added 19 July 2021
♦♦♦♦♦♦♦♦♦
News continues below
Abu Dhabi Maritime Academy:
Columbia Shipmanagement – Training programmes intro
* Columbia Shipmanagement – Training programmes intro
* Parties to create, market, and conduct courses and programmes for students and trainers, as well as to participate in joint research projects
It was announced from Abu Dhabi, UAE, on 5 July that Abu Dhabi Maritime Academy (ADMA), a subsidiary of Abu Dhabi Ports, had signed an MoU with Columbia Shipmanagement (CSM) for the development of training programmes, as well as the provision of consultancy services focused on the applications of alternative fuels, efficiency enhancement and artificial intelligence (AI) within maritime operations.
Abu Dhabi Ports' maritime education facility will work closely with CSM, a world-leading in ship management and maritime services, to devise, market, and conduct courses and programmes for trainers and students.
Captain Maktoum Al Houqani, Head of Maritime Cluster, commented: "The advent of digitalisation has permeated virtually every industry across the world and is rapidly transforming how we both operate and conduct present-day business — and this is no more evident than within the maritime sector.
"In addition to conventional training, our collaboration with Columbia Shipmanagement aims to educate the next generation of seafarers and port operators on the immense benefits associated with Artificial Intelligence and impress upon them how innovation will become the essential facilitator in enabling global trade in an ever-evolving digitally-powered future."
Mark O'Neil, CEO of CSM, added: "We look forward to working with ADMA in developing AI and digital solutions in the important area of seafarers training. The UAE is one of the world's best strategic locations for crew changes but is also a key centre for innovation in crew training.
"We have been impressed with ADMA's advanced simulator facilities and we are confident that together with ADMA, we will introduce more innovative and high-tech training solutions.
"Our advanced eLearning platform coupled with the work of our Performance Optimisation Control Room and software development teams will help to achieve these goals for the benefit of our partners and the seafarers in the region and globally."
In addition to assisting ADMA with the development of the new curriculum, CSM will provide resources for the creation of eLearning and interactive courses, introduce innovative technologies such as AI and holographic telepresence*, as well as consultancy services in collaboration with ADMA.
Under the directives of the MoU agreement, ADMA and CSM are also expected to collaborate on joint research projects dedicated to the development of innovative and advanced maritime technologies of the future.
Columbia Shipmanagement
With over 40 years of tradition, commitment and professionalism, Columbia (founded in Cyprus) has established its position as a world-class ship manager and maritime service provider.
Abu Dhabi Ports
Established in 2006, Abu Dhabi Ports serves as a major facilitator of logistics, industry, and trade, as well as a bridge linking Abu Dhabi to the world. Part of ADQ, one of the region's largest holding companies with a broad portfolio of major enterprises spanning key sectors of Abu Dhabi's diversified economy, Abu Dhabi Ports' vertically integrated business approach has proven instrumental in driving the emirate's economic development over the past decade.
Operating several clusters covering ports, industrial cities & free zone, maritime, logistics, and digital, Abu Dhabi Ports' portfolio comprises eleven ports and terminals in the UAE and Guinea, and more than 550 square kilometres of industrial zones within Khalifa Industrial Zone Abu Dhabi (KIZAD) and ZonesCorp, the largest integrated trade, logistics, and industrial business grouping in the Middle East.
For more information readers are invited to visit: www.adports.ae
* An evolving technology for full-motion, 3D video conferencing. This can project realistic, full-motion, real-time 3D images of distant people and objects into a room. With real-time audio communication there is a high level of realism not far removed from physical presence.
Reported by Paul Ridgway
London
Added 19 July 2021
♦♦♦♦♦♦♦♦♦
News continues below
WHARF TALK: Norway's Odfjell tanker             – BOW SKY
Story by Jay Gates
Pictures by 'Dockrat'
There was a time when the separation of Product Tankers and Chemical Tankers was quite distinct, and each type plied their own trades. Today the two types of tanker are often merged, and an MR Products Tanker and a Chemical Tanker are now merely classed as both being a Product/Chemical Tanker with no distinction between the two, despite one type clearly unable to carry the products of the other.
On 15 July at 08h00 the Chemical Tanker BOW SKY (IMO 9215268) arrived at the Table Bay anchorage and remained there for a short while only, being brought into Cape Town harbour at 16h00 that same evening and taken alongside the short tanker berth in the Duncan Dock. She remained discharging for a two day period and sailed for Durban on 17 July at 18h00.
She had arrived from loading at both Rotterdam and Carteya Guadarranque in Southern Spain, and was due to discharge Palm Oil at Cape Town. Owned and managed by Odfjell Tankers of Bergen in Norway, Bow Sky is managed by Odfjell Management AS, also of Bergen. This is not her first trip to Southern Africa this year, as Bow Sky paid visits to both Richards Bay and Durban back in May.
Built in 2005 by the New Szczecin Shipyard (Stocznia Szczecinska Nowa) at Szczecin in Poland, Bow Sky is one of 8 sisterships, and is 183 metres in length with a deadweight of 49,479 tons. She is powered by a single Wärtsilä 6RTA58T-B-2 6 cylinder 2 stroke main engine producing 17,330 bhp (12,750 kW), which drives a controllable pitch propeller to give a service speed of 15 knots.
Her auxiliary engines include three MAN-B&W 6L28/32H generator sets providing 1,424 kW each, and a MAN-B&W D2866TE emergency generator set. She has one Aalborg AV-6N exhaust gas boiler, and one Aalborg AQ-18 oil fired boiler.
With 40 cargo tanks, Bow Sky is able to vary her cargo carrying capacities, ranging from tank sizes of 352 m3 to 2,594 m3, with a total cargo carrying capacity of 52,100 m3. This variety of tanks allows Bow Sky to carry a potentially wide mixture of IMO Type I, II and III chemicals, petroleum products, vegetable, animal and fish oils, and molasses. This wide variety of tank options is in strict contrast to a MR class products tanker that may also have a cargo carrying capacity of 52,000 m3, but is usually limited to 12 or 15 identical sized tanks at most.
An unusual aspect of Bow Sky delivering a cargo of Palm Oil to Cape Town is the fact they the cargo originated in Europe, namely Holland and Spain. Generally speaking, almost all Palm Oil cargoes come direct from Malaysia or Indonesia, which are the world's largest producers and exporters of Palm Oil.
What is not well known is that the Rotterdam port complex hosts five Palm Oil refineries that have a combined capability of refining 3,750,000 tons per annum, with two of them refining Palm Oil to produce Biodiesel. The CEPSA San Roque refinery at Carteya Guadarranque in Spain, which was the last loading port of Bow Sky, also has a refinery unit that refines 205,000 tons of Palm Oil per annum, again for the purposes of producing Biodiesel.
Added 19 July 2021
♦♦♦♦♦♦♦♦♦
News continues below
Carrier Strike Group 2021 & Japanese Navy hold anti-piracy drill in Gulf Of Aden
The Carrier Strike Group 2021 and a destroyer of the Japanese Navy have held anti-piracy exercises while transiting through the Gulf of Aden.
The Carrier Strike Group consists of the Royal Navy aircraft carrier, HMS Queen Elizabeth, together with escort ships of the RN, US and Dutch navies. The group is heading towards Western Pacific waters but has conducted joint exercises en-route including in the Mediterranean.
This latest exercise included the Japanese Maritime Self-Defense Force (MSDF) destroyer Setogiri and P-3C patrol planes. It was the first time that the MSDF has exercised with Britain's new aircraft carrier.
"Together with Britain, the United States and the Netherlands, we have demonstrated our willingness and capability to ensure the safety of sea traffic that is the cornerstone of global prosperity," said Japanese Defense Minister, Nobuo Kishi.
"We will continue to conduct joint exercises with the strike group in a strategic manner," he added.
The destroyer Setogiri and P-3C aircraft are involved with an anti-piracy mission in the Gulf of Aden.
The various units engaged in replenishment at sea and photographing vessels during the joint exercising..
Added 19 July 2021
♦♦♦♦♦♦♦♦♦
News continues below
Port Window: Durban Port Bulletin report
Moshe Motlohi, Transnet National Ports Authority General Manager reports:
This week has been a particularly devastating one for the whole of South Africa. With KZN being heavily impacted by the unrest, we as the Port of Durban are grateful that we have not incurred any damage to our port infrastructure. We would like to thank the law enforcement agencies and the SANDF for their swift mobilisation of personnel at critical areas around the port.
Cutler [Island View] is now operating at 20%, following a force majeure on petro-chemical operations by some terminal operators in the past week. This is to ensure the supply of fuel for the greater KZN and Gauteng region. We would like to extend appreciation to the owners of petrol stations in the city for opening their facilities to supply essential workers with fuel so as to ensure social and economic continuity.
The port has ensured non-interruption of operations during this week with the allocation of core marine and operational staff, however absenteeism is still a contributing factor to some delays in the port system, attributed by the unavailability of transport and blockages in most roads leading into the port.
We would like to assure our port users that we will continue to ensure that operations do not come to a complete stop.
In the next week [this] the focus will be on the recovery and rebuilding of our City. Essential cargo will be released to keep the welfare of our society and the economy running as per our mandate. We urge you to use your available resources sparingly since the country's supply chain is under immense pressure. The next coming weeks will prove difficult for some, let us spare a thought and come together in cleaning up our various neighbourhoods and avoid stockpiling.
Stay safe and remember that the fight against Covid-19 is not over; register and get vaccinated, keep wearing your masks and maintain social distancing at all times.
Added 18 July 2021
♦♦♦♦♦♦♦♦♦
News continues below
Port Window: Port of Durban Volume & Vessel Call Performance
CONTAINERS: This sector performed above budget with imports and exports this week. The main contributor was the export of empty containers which were above budget by 16%. Volumes, however during this week were materially impacted by the civil unrest as the majority of port users shut their doors or operated with minimal resources.
AUTOMOTIVES: Imports finished off the week lower when compared to the previous week with a total of 2,369 units landed. Exports as well finished slightly lower due to the higher volumes handled in the previous reporting periods.
DRY BULK: Chrome exports bolstered volumes within the sector as a total of 102,427 tons was loaded for the week. Fertiliser imports also performed extremely well as just more than 82,000 tons was landed as we possibly note an early start to the incline on volume. Maize, rice and wheat all performed marginally well for the week.
BREAK BULK: We note an improvement on volume in the break bulk sector for the week with more than 57,000 tons of cargo throughput registered. Bagged rice performed well with just over 16,000 tons landed. Citrus exports came in at 8,037 tons for the week with steel performing extremely well at just over 24,000 tons handled.
LIQUID BULK: This sector came in under budget, the main contributor for the negative variance was SBM volumes which achieved 35% below budget. This was due to 2 vessels handled carrying refined cargo. Petroleum and chemicals achieved 41% and over 100% above budget respectively.
Added 18 July 2021
♦♦♦♦♦♦♦♦♦
News continues below
PROBLEMS ASSOCIATED WITH SURGING IN CAPE TOWN HARBOUR – JULY 2021
Article written by Dr Howard Waldron, former Senior Lecturer in the Department of Oceanography at the University of Cape Town, with editing & additional input from Jay Gates.
Pictures are by 'Dockrat' unless otherwise indicated – Shackleton's Quest is courtesy of the Scott Polar Research Institute (SPRI), Cambridge, UK
Over this past Cape winter one thing that has been apparent to both the casual observer, and the many users of Cape Town harbour, has been the regular use of harbour tugs to hold vessels against the quay when working cargo, and especially when working containers. When asking Port Control for the reason, the response has always been 'Due to Surging'.
The question about surging was recently asked in Africa Ports & Ships, and a basic response was forthcoming, but nothing that would satisfy the mariner with a keen interest, nor the observer with a serious wish to know. The problem with giving an explanation on hydrodynamics is to ensure that you get it pretty much right. The best, and the only, way to get it right is to ask a person who actually knows, because he actually teaches it at tertiary level.
Asking a teacher to put it down in such a way that even the layman will understand it, or in my world to make it 'idiot proof', is how you educate people on any subject.
For that I am indebted to a good friend of mine, Doctor Howard Waldron, former Senior Lecturer in the Department of Oceanography at the University of Cape Town, whom I asked to provide an explanation for the current surge problem. I first sailed with Howard way back in the early 1980s on the R.S. Africana when he was one of the Oceanographers onboard during a particular research cruise concerning the Benguela Current Ecology Programme.
This article is effectively entirely of Howard's making and in his words, as I have done nothing but tinkered around the edges, reworked some of his words, and added an anecdote or two. It answers all questions perfectly. But first, a definition to get started;
Storm Surge: "a rising of the sea as a result of wind and atmospheric pressure changes associated with a storm."
The classic storm surge is one that affects the River Thames, for which the Thames Barrier was built to help protect the City of London from any such surge. Holland also has examples of coastal surge barriers to protect inland areas.
In the case of Cape Town, the storm surge is caused by the coming together of several atmospheric variables that act to increase the level of the sea over, and above, the level of the predicted tide. This effect will be more impactful on the coast during high spring tides. It is worth checking the recent Cape Town tidal cycles, or tide tables, to see if they are coincident with the surge problems recently experienced in Cape Town harbour.
So let's say we have a Spring high tide at the same time as a Low Pressure weather system is passing the Cape, something that is very common in the winter, and especially in the previous few weeks.
In a Low Pressure storm system, the air circulates clockwise (in the Southern Hemisphere) and so Cape Town experiences strong Northwesterly winds which blows the water onshore. This, in itself, increases the sea level above the predicted tide level.
Superimposed on this is the effect of the low air pressure on sea level height. High pressure systems depress sea level, and Low Pressure systems increase the sea level. Just imagine the High Pressure pressing down onto the sea and the Low Pressure kind of sucking it up. The sea level is increased by 1cm per HPa. So if air pressure goes from 1010 HPa to 980 HPa the sea level will be 30cm higher.
So you have a Spring high tide, strong onshore winds and a higher sea level due to the low pressure.
The problems in Cape Town harbour are exacerbated by something called a Seiche. This is a standing wave occurring in a semi-enclosed basin. The classic analogy is sloshing water in a bath tub. You set up a wave in the bath, or in a swimming pool, and the wave resonates with the bath or pool dimensions and you get water sloshing all over the place – A resonance effect.
So you're in the harbour, the sea level is much higher than the predicted tide and the strong onshore winds have blown the water against one side of the semi-enclosed basin, which is called "set-up." The water in the harbour is actually sloped up against one end or side. The forcing mechanism, i.e. the wind, eases or stops and the water at the high end sloshes back across the harbour due to gravity. This sets up a standing wave, or Seiche, which can last from hours, and sometimes even for days.
Such a scenario sometimes makes it very difficult for the harbour pilot to bring vessels alongside, and it makes it very difficult for cargo operations to take place as the ship is constantly moving up and down the quay on its mooring ropes, i.e. Surge, or sometimes known as Range Action. To make some matters worse, if the design of your quayside is such that it is built on open piles, or columns, rather than a filled in quayside wall, then there is the ability for the water mass to pass between the vessel and the quayside (or underneath the quayside), and provide a third force that tries to push and pull the vessel, on and off the quay.
Hence the need for one, two or sometimes even three harbour tugs to hold the vessel against the quayside, something that observers have been noticing quite frequently in recent weeks in Cape Town harbour.
This problem is not new to Cape Town as the V&A stared experiencing the problem almost as soon as it was completed in the late 1800s. Harbour Engineers tried various methods to try and overcome what was then a little understood phenomenon. Rumour has it that the alcoves that are very visible in the V&A dockside walls were originally designed and installed to try and dissipate the surge. Photographs from early in the 20th century clearly show their lower inward sloping walls and curved design. They have now all been filled in, but it would be interesting to know if this was indeed the reason for the alcoves, and if they worked.
In the second world war, the surge problems experienced in the Duncan Dock were so severe, in that they interfered with the essential working of cargo needed for the war effort, that the SAR&H conducted a scientific study over three years to try and understand and mitigate the problem. A further scientific paper was produced in the mid 1950s by an Oceanographer from the Texas A&M University in the USA to try and explain the causes of surge in Cape Town harbour.
Also see, https://oceanservice.noaa.gov/facts/seiche.html
Added 18 July 2021
♦♦♦♦♦♦♦♦♦
News continues below
Meteorology: Reported extremes – New rapid response team will provide guidance
It was announced from Geneva on 1 July that the World Meteorological Organization (WMO) has recognised a new record high temperature for the Antarctic continent of 18.3° Celsius on 6 February 2020 at the Esperanza station (Argentina).
However, it rejected an even higher temperature, of 20.75°C, which was reported on 9 February 2020 at an automated permafrost monitoring station (Brazil) on Seymour Island.
It is understood that the record for the Antarctic region (continental, including mainland and surrounding islands] was 17.5°C (63.5°F) recorded on 24 March 2015 at Esperanza Research Station. The record for the Antarctic region (all ice/land south of 60 degrees latitude) is 19.8C, taken on Signy Island in January 1982.
On this WMO Secretary-General Professor Petteri Taalas commented: "Verification of this maximum temperature record is important because it helps us to build up a picture of the weather and climate in one of Earth's final frontiers.
"Even more so than the Arctic, the Antarctic, is poorly covered in terms of continuous and sustained weather and climate observations and forecasts, even though both play an important role in driving climate and ocean patterns and in sea level rise."
He added: "The Antarctic Peninsula (the northwest tip near to South America) is among the fastest warming regions of the planet, almost 3°C over the last 50 years. This new temperature record is therefore consistent with the climate change we are observing. WMO is working in partnership with the Antarctic Treaty System to help conserve this pristine continent."
It was reported that a committee for WMO's Weather and Climate Extremes Archive conducted an extensive review of the weather situation on the Antarctic peninsula at the time of the reported records. This determined that a large high-pressure system over the area created föhn conditions (downslope winds producing significant surface warming) and resulted in local warming at both Esperanza Station and Seymour Island. Past evaluations have demonstrated that such meteorological conditions are conducive for producing record temperature scenarios.
Close examination
The committee also examined the two observations' instrumental setups. Examination of the data and metadata of the Esperanza station observation, operated by Argentina's national meteorological service (Servicio Meteorológico Nacional, SMN) revealed no major concerns.
However, a detailed analysis of data and metadata of the Seymour Island permafrost monitoring station operated by a Brazilian polar science research team indicated that an improvised radiation shield led to a demonstrable thermal bias error for the temperature sensor.
At WMO the investigation committee emphasises the permafrost monitoring station was not badly designed for its purpose, but the project investigators were forced to improvise a non-optimal radiation shield after losing the original set. While this modification did not cause a problem with regard to the project's specific goals involving recording permafrost variations, the thermal bias in air temperature created by the nonstandard radiation shield does invalidate the temperature observation with regard to being an official WMO weather observation.
Polar science and climate experts from Argentina, Brazil, New Zealand, Spain, the United Kingdom and the United States make up the WMO international evaluation committee.
Spanning 14 million km2 (roughly twice the size of Australia), the Antarctic is cold, windy and dry. Average annual temperature ranges from about −10°C on the Antarctic coast to −60°C at the highest parts of the interior. Its immense ice sheet is up to 4.8km thick and contains 90% of the world's fresh water, enough to raise sea level by around 60 metres were it all to melt.
Reported by Paul Ridgway
London
Added 18 July 2021
♦♦♦♦♦♦♦♦♦
News continues below
Cabo Delgado Update: 1000 Rwandan troops arrive to protect Mueda and the gas
Cabo Delgado war: Joseph Hanlon reports:
700 Rwanda soldiers

and 300 police have been arriving in Cabo Delgado since 9 July. "Most – if not all – of the Rwandan troops will be based in Afungi, establishing a secure perimeter around the liquefied natural gas project there. Sources on the ground say that there is an ongoing offensive to clear the area around the gas projects, and that Rwandan troops will be charged with holding positions once they are cleared," reported Cabo Legado on 13 July.
Rwandan Deputy Inspector General of Police Felix Namuhoranye said units would be deployed to both Afungi and Mueda. (Taarifa 9 July) A communique released by the Government of Rwanda on 9 July said "The Rwandan contingent will support efforts to restore Mozambican state authority by conducting combat and security operations, as well as stabilisation and security-sector reforms."
Rwanda is third among countries contributing troops to UN peacekeeping operations and has been involved in 14 peacekeeping missions. Thus its army is much better trained and more experienced and disciplined that Mozambique's own army.
Meanwhile it is widely reported that Zimbabwean forces are already in Cabo Delgado. Zitamar (15 July) reported that "an unofficial deployment of troops from Rwanda and also Zimbabwe in June have been helping the FDS recapture Palma and the surrounding areas from the insurgents. Once the insurgents have been removed, the expectation is that Rwandan forces (both military and police) will be put in place to protect the TotalEnergies site" – along with the Mozambican Joint Task Force. "It's unclear if this protection will also extend to the local population in the town of Palma and the Quitunda resettlement village, now home to thousands of refugees from Palma," notes Zitamar.
Cabo Delgado governor Valige Tauabo, speaking to refugees in Quitunda on 14 July, appealed to local people to cooperate with foreign forces being deployed in the province.
Comment: The Rwanda statement is interesting in two ways. The two tasks are protecting the gas and protecting Mueda, which is symbolically important as the Makonde capital and also has become the government military centre. But the insurgents were getting close to Mueda and many people in the town thought that, like Palma and Mocimboa da Praia, it could not be defended. Putting Rwandan, Zimbabwean, and perhaps SADC (see below) troops there is a clear signal Mueda is to be defended by foreign troops.
The other important point is that Rwanda says its forces will be "conducting combat operations." They are not there just to train Mozambicans, but to fight and win the war.
The total number of deaths in the war in now 3,103 according to Cabo Legado (13 July).
Keeping Portugal, EU, US & South Africa at arms length
Other foreign troops are also on their way, but Mozambique is less enthusiastic and is keeping them somewhat distanced from the fighting.
The first SADC forces should be arriving this week, although there has been some confusion. The Status of Forces Document had not been signed. The Herald (Harare, 13 July) said SADC wanted a South African major-general to command the brigade, with a Botswana colonel as the deputy commander. Mozambique expressed a strong preference for a Zimbabwean commander, citing successful past cooperation with Zimbabwean forces and Zimbabwe having more experience of successful counter-insurgency operations. A small SADC team from Zimbabwe and Botswana is already in Mueda (Zitamar 5 July).
The prior deployment of Rwandan troops clearly put South Africa's nose out of joint. South Africa's Defence Minister Nosiviwe Mapisa-Nqakula told the SABC on Saturday that it was "unfortunate" that Rwanda had deployed its troops into Mozambique before SADC.
But it will be hard for South Africa to be involved at all. Defence Minister Nosiviwe Mapisa-Nqakula plans to increase from 5,000 to 25,000 the troops responding to the insurrection in South Africa. What started with riots sparked by the jailing of former President Jacob Zuma expanded to widespread looting and violence – the biggest since the end of apartheid. At least 72 [now 212] people have died and more than 1,700 have been arrested in South Africa's worst unrest in years. (BBC 15 July)
Meanwhile Portugal has succeeded in getting more troops into Mozambique under a European Union umbrella. Portugal was president of the Council of the European Union until 30 June and used its position to press hard for a Portuguese military mission, to expand it small training programme already under way. On 12 July the European Council announced a two year mission to help Mozambique's armed forces to build a "Quick Reaction Force" that aims to restore security to Cabo Delgado. The mission of around 120 people will arrive between September and October. It will provide military training including operational preparation, specialised training on counter-terrorism, and training and education on the protection of civilians and compliance with international humanitarian law and human rights law, the statement said.
The mission will be stationed at bases in Katembe, in Maputo, and in Chimoio, Manica province. Both are far away from the battle zone, underlining that the Portuguese will be kept at arms length.
In a further diplomatic balancing, the EU Training Mission in Mozambique (EUTM Mozambique) will be led by French Vice Admiral Herve Blejean, as commander, while Brigadier General Nuno Lemos Pires, of Portugal, will lead the mission on the ground as force commander.
Secretary of State Antony J. Blinken spoke on 14 July with Mozambican President Filipe Nyusi. US Spokesperson Ned Price said the Secretary and President reaffirmed the strength and importance of US-Mozambique relations and "our joint commitment to countering ISIS". source: "Mozambique News Reports and Clippings"
Added 18 July 2021
♦♦♦♦♦♦♦♦♦
News continues below
WHARF TALK: tanker with a difference, & the hint lies in the name – POLAR UNICORN
Story by Jay Gates
Pictures by 'Dockrat'
The regular arrival of a large LR1 tanker at a South African port, and especially Cape Town, is now becoming a normal occurrence with the ongoing closure of the Cape Town refinery, but it isn't often that an LR1 tanker arrives at a South African port that has a fully enclosed bridge, and that hints at a design more suited for operations in northern, and more cooler climes.
On 9th July at 23h00 the LR1 Panamax tanker POLAR UNICORN (IMO 9334569) arrived at the Table Bay anchorage, as the second tanker in as many weeks to have arrived all the way from the Italian refinery at Sarroch on the island of Sicily. She remained at anchor for a full five days awaiting the longer tanker berth in the Duncan Dock, and she finally entered the port on 14th July at 12h00 to discharge her cargo of refined fuel products.
Built in 2008 by Onomichi Dockyard at Kobe in Japan, Polar Unicorn is 229 metres in length and has a deadweight of 73,956 tons. She is powered by a single Mitsui MAN-B&W 6S60MC-C 6 cylinder 2 stroke main engine producing 18,184 bhp (13,560 kW), driving a fixed pitch propeller to give a service speed of 15 knots.
Her auxiliary machinery consists of three Nishishiba generating sets producing 980 kW each, and she has one Osaka composite boiler and one MHI Nagasaki water tube boiler. She has 15 cargo tanks and provides a cargo carrying capacity of 86,475 m3.
Originally built as part of the fleet of the well-known Sanko Line, but since 2015 nominally owned by Polar Unicorn Shipping, Polar Unicorn is currently both operated and managed by Prime Tanker Management Corporation of Athens.
The use of the word 'Polar' in her name is quite appropriate, as back in August 2011 Polar Unicorn actually completed a voyage across the top of the world. She sailed from the Russian oil port of Vitino, destined for Map Ta Phut in Thailand. To save both time and money, she sailed to the Far East via the Arctic Northern Sea Route, accompanied and assisted the whole way by one of the Russian nuclear powered icebreakers. The requirement for a fully enclosed bridge becomes clear when you realise that she was an Arctic voyager.
Interestingly, the oil port of Vitino, which is located on the White Sea, near to Murmansk in the European Arctic region of Russia, can take vessels with a maximum length of 230 metres, a beam of 32 metres and a maximum draft of 10.9 metres. The nominal dimensions for Polar Unicorn are length 228.5 metres, beam 32.2 metres and a draft up to 12.5 metres. So she was a perfect maximum fit for the port. These maximum dimensions are not very different for any LR1 tanker that is looking to safely call in at Cape Town.
Added 18 July 2021
♦♦♦♦♦♦♦♦♦
News continues below
Namibian shipping sector donates containers to country's health system
The Namibian Ports Authority (Namport) in collaboration with shipping company Maersk and TransNamib, the country's rail unit, recently donated six (6) 40 foot fitted-out refrigerated containers to the Ministry of Health and Social Services in that country.
This is in response to a need that came about as the country's health system is being placed under immense pressure during the third wave of the COVID-19 pandemic. The containers will be placed at the following areas in Namibia and transported by TransNamib:
* Windhoek (2)
* Otjiwarongo (1)
* Rehoboth (1)
* Gobabis (1)
* Onandjokwe (1)
The trio hopes this gesture will in some way ease the current burden experienced by the Ministry. The containers comes with a tag price of N$ 1 million (R1 million).
Namport has contributed over N$ 1.5 million towards several initiatives over the past twelve months, donating over N$ 1.5 million towards medical facilities, equipment and protective gear to curb the spread of the COVID-19 virus.
"As an entity, we realise that this enemy is not only the responsibility of government alone, but that we as a nation can only win this war if we all collectively join our efforts and resources in this fight against COVID-19," said Namport in a statement.
"We continue to praise our brave health workers who, on a daily basis continue fighting in the front lines to save the lives of all Namibians. Namport remains committed to upholding its values of being committed, connected and caring."
Added 18 July 2021
♦♦♦♦♦♦♦♦♦
News continues below
Service levels slowly improving, says Transnet. Meanwhile one boxship ups anchor & leaves

16 July 2021, 17h00: Transnet Soc issued the following update on the situation regarding the ports of Durban and Richards Bay, and including the Natcor rail between the port of Durban and Gauteng.
Service levels in the ports of Durban and Richards Bay have improved slightly since the start of Thursday working shifts, as the country begins mop-up operations after protest action over the past few days.
Port and terminal operations are slowly beginning to normalise as the number of employees reporting for shifts starts to increase following restoration of public transport in parts of KwaZulu-Natal.
The Port of Richards Bay has managed to clear all shipping backlogs. Terminal operations at the Port of Durban continue to improve. Marine service operations to service vessels have been available throughout this period.
The Transnet Pipeline network remains operational.
However, fuel and food shortages, as well as remaining road closures in the Durban port vicinity, continue to constrain the rest of the supply chain, as trucks cannot get into and out of the port, resulting in backlogs. In Richards Bay, where trucks handle dry bulk commodities, truck movements are underway.
Although no security incidents have been reported in the last 24 hours, Transnet remains on high alert and additional security and protection of critical infrastructure remains in place.
On the rail side, work is underway to restart the suspended NATCOR line. However, this has been delayed by the need to clear remnants of the looting activities strewn along the railway.
Testing of the line is being undertaken to ensure it is safe. Transnet continues to monitor the situation and will resume rail services on this critical line as soon as it is safe to do so.
Transnet continues to work on solutions to mitigate the current challenges, and to ensure that once all blockages in the supply chain have been cleared, we are able to deliver goods into and out of the country.
A 24-hour Nerve Centre hotline remains operational to monitor and respond to security-related incidents. Transnet continues to work closely with law enforcement agencies, including members of the South African Defence Force to safeguard the infrastructure.
Transnet's operations in the rest of the country continue to operate normally.
Meanwhile, at least one ship, the container vessel LEONIDIO (IMO 9618587) has raised its anchor and sailed from the Durban outer anchorage without making the the scheduled call in Durban.
The 62,161-dwt Leonidio arrived from Port Elizabeth from where she sailed on Monday 12 July, going to the Durban anchorage on arrival as no container ship movements at the port were taking place due to the unrest in Durban and KZN.
Added 16 July 2021
♦♦♦♦♦♦♦♦♦
News continues below
 Incremental improvement in Transnet operations following unrest
Transnet
on Friday morning (16 July 2021) issued the following statement, which appears here unaltered with any editing.
Service levels in the ports of Durban and Richards Bay have improved slightly since the start of Thursday working shifts, as the country begins mop-up operations after protest action over the past few days.
Port and terminal operations are slowly beginning to normalise as the number of employees reporting for shifts starts to increase following restoration of public transport in parts of KwaZulu-Natal.
The Port of Richards Bay has managed to clear all shipping backlogs. Terminal operations at the Port of Durban continue to improve. Marine service operations to service vessels have been  available throughout this period.
The Transnet Pipeline network remains operational.
However, fuel and food shortages, as well as remaining road closures in the Durban port vicinity,  continue to constrain the rest of the supply chain, as trucks cannot get into and out of the port,  resulting in backlogs. In Richards Bay, where trucks handle dry bulk commodities, truck  movements are underway.
Although no security incidents have been reported in the last 24 hours, Transnet remains on high  alert and additional security and protection of critical infrastructure remains in place. On the rail  side, work is underway to restart the suspended NATCOR line. However, this has been delayed by the need to clear remnants of the looting activities strewn along the railway.
Testing of the line is being undertaken to ensure it is safe. Transnet continues to monitor the situation and will resume rail services on this critical line as soon as it is safe to do so.
Transnet continues to work on solutions to mitigate the current challenges, and to ensure that once all blockages in the supply chain have been cleared, we are able to deliver goods into and out of the country.
A 24-hour Nerve Centre hotline remains operational to monitor and respond to security-related incidents. Transnet continues to work closely with law enforcement agencies, including members of the South African Defence Force to safe guard the infrastructure.
Transnet's operations in the rest of the country continue to operate normally.
Added 16 July 2021
♦♦♦♦♦♦♦♦♦
News continues below
GENERAL NEWS REPORTS – UPDATED THROUGH THE DAY
in partnership with – APO
More News at https://africaports.co.za/category/News/
♦♦♦♦♦♦♦♦♦
THOUGHT FOR THE WEEK
"Light travels faster than sound. That's why some people seem bright until they talk!" – Unknown
♠♠♠
News continues below………
♦♦♦♦♦♦♦♦♦
TO ADVERTISE HERE
Request a Rate Card from info@africaports.co.za
EXPECTED SHIP ARRIVALS and SHIPS IN PORT

Port Louis – Indian Ocean gateway port
Ports & Ships publishes regularly updated SHIP MOVEMENT reports including ETAs for ports extending from West Africa to South Africa to East Africa and including Port Louis in Mauritius.
In the case of South Africa's container ports of Durban, Ngqura, Ports Elizabeth and Cape Town links to container Stack Dates are also available.
You can access this information, including the list of ports covered, by  CLICKING HERE remember to use your BACKSPACE to return to this page.
News continues below
CRUISE NEWS AND NAVAL ACTIVITIES

QM2 in Cape Town. Picture by Ian Shiffman
We publish news about the cruise industry here in the general news section.
Naval News
Similarly you can read our regular Naval News reports and stories here in the general news section.
♦♦♦♦♦♦♦♦♦
♠♠♠
ADVERTISING
For a Rate Card please contact us at info@africaports.co.za
Don't forget to send us your news and press releases for inclusion in the News Bulletins. Shipping related pictures submitted by readers are always welcome. Email to info@africaports.co.za
TABLE BAY UNDERWAY SHIPPING
SHIP PHOTOGRAPHERS
Colour photographs
and slides for sale of a variety of ships.
Thousands of items listed featuring famous passenger liners of the past to cruise ships of today, freighters, container vessels, tankers, bulkers, naval and research vessels.
P O BOX 809, CAPE TOWN, 8000, SOUTH AFRICA
snai@worldonline.co.za
http://home.worldonline.co.za/~snai