Bringing you shipping, freight, trade and transport related news of interest for Africa since 2002
Stay Well, Stay Safe, Stay Patient, don't become one
Advertise here. For a Rate Card email us at terry@africaports.co.za
♠♠♠
Join us as we report through 2021
**********
TODAY'S BULLETIN OF MARITIME NEWS
These news reports are updated on an ongoing basis. Check back regularly for the latest news as it develops – where necessary refresh your page at www.africaports.co.za
Click on headline to go direct to story : use the BACK key to return  
EARLIER NEWS CAN BE FOUND AT NEWS CATEGORIES…….
The Sunday masthead shows the Port of Ngqura
♦♦♦♦♦♦♦♦♦
SEND NEWS REPORTS AND PRESS RELEASES TO
info@africaports.co.za
♦♦♦♦♦♦♦♦♦
News continues below
The arrival in Durban of the general cargo ship BBC PLATA (IMO 9291975) proved to be of some unusual interest on account of the project type cargo the little ship was carrying.
Not only did she have on board a number of new much-needed straddle carriers for the Durban Container Terminal, but the ship also carried on the deck two axe bow-design patrol boats built by Damen Shipyards in an Asian shipyard.
This led to immediate speculation that they were for the SA Navy, which heightened when it transpired that BBC Plata's next port is Cape Town! However a closer examination of the two patrol boats on the Plata's deck indicate they are smaller vessels, possibly destined for Nigeria. However, they may well be discharged at the next port of call under the care of Damen Cape Town, an action that has taken place before.
The arrival of the straddle carriers will be welcomed by Transnet Port Terminals following complaints that there were not enough of these machines at the busy DCT. This reason will now evaporate and shippers will be expecting further improvements in productivity at the terminal.
BBC Plata was built in 2005 and has a deadweight of 12,837 tons. The ship is just 138.5 metres in length and has a width of 31.34m – she flies the flag of Antigua Barbuda.
Having completed her work in Durban with the discharge of the straddle carriers, BBC Plata departed on Friday, 7 May shortly before midnight with Cape Town listed as the next call, where she is due on Wednesday 12 May.  -trh
The pictures above are by Trevor Jones
♠♠♠
Photographs of shipping and other maritime scenes involving any of the ports of South Africa or from the rest of the African continent, together with a short description, name of ship/s, ports etc are invited.
♦♦♦♦♦♦♦♦♦
♦♦♦♦♦♦♦♦♦
News continues below
WHARF TALK: COOL EAGLE – largest reefer ship to be built
Story by Jay Gates




& Terry Hutson
New-built ships on a maiden call at any South African port are always an exciting prospect, and welcoming a class of ship that is not often built today, as a result of containerisation, is doubly exciting. Such a vessel is a new build Reefer, and not just any new build reefer, but one that is considered to be in a class of the largest reefers in the world.
COOL EAGLE (IMO 9889801) arrived off the Durban's Bluff at 16h30 on Thursday, 13 May, in anticipation of a welcome by Durban harbour tugs performing a water spray display not only on for the ship but on behalf of a delegation from the Citrus Growers Association (CGA), Fresh Produce Terminal (FPT) and media waiting near the port's North Pier.
Unfortunately all that was in vain.
Cool Eagle arrived off Durban's Bluff at 16h30 and at the pilot station a short while later but it was deemed that she had arrived too late for an on-arrival entry on account of the approaching 18h00 shift change. This despite the vessel twice speeding up from her cruising speed of 16 knots to 18kn along the Wild Coast and then to over 20 knots along the KZN coast – all to no avail and instead of entering port the reefer was ordered towards the anchorage area to drift until the port was ready to take her.
Cool Eagle finally entered port at around 21h00 and was being placed on P berth after 21h30.
Earlier the ship had completed her maiden call at Port Elizabeth to load citrus, now it was the turn of Durban's FPT, the country's largest citrus terminal, to greet the world's largest new-built reefer ship.
Her arrival was to help meet the demand of South Africa's increasing citrus exports. Growers' are expected to export a record breaking 163 million cartons of citrus during the 2021 export season translating into more job opportunities, foreign exchange revenue and will contribute towards national government's goal of increased agricultural exports over the next few years.
Cool Eagle is the third of a set of six E-class reefers built by the Shikoku Dockyard at Takamatsu in Japan, as yard number 1152. Flying the flag of Panama, and nominally owned by Southern Route Maritime SA, Cool Eagle is operated by Nissen Kaiun KK of Imabari in Japan, and managed within the charter fleet of Cool Carriers of Stockholm in Sweden.
At 190 metres in length, with a beam of 30 metres, a deadweight of 21,900 tons and a container capacity of 607 TEU, Cool Eagle has a temperature controlled capacity is 880,000 ft3, which makes her the largest ever in the conventional world reefer fleet.
She is powered by a Mitsui MAN-B&W 7G60ME-CP 7 cylinder 2 stroke engine producing 25,037 bhp (18,670 kW) giving her a service speed of 21.5 knots. To cater for the considerable load required in a ship of such high reefer capacity, Cool Eagle has five diesel generators providing a combined power concentration of 9,600 kW. She also has a Miura oil fired boiler.
She is actually the third of a class of six with Cool Express and Cool Explorer coming into service before her in 2018 and 2019 respectively. The year gap between her sisters and Cool Eagle is a slowdown in construction possibly due to the pandemic. She is probably the first of her class to call at a South African port.
Cool Eagle was launched on 9 September 2020 and completed on 25 February 2021. On her maiden, and delivery, voyage, Cool Eagle loaded a cargo of 8,300 tons of Kiwifruit at Tauranga in New Zealand for delivery to the UK and Europe, sailing on 25 March, and a photograph showed her to be in Dover harbour in the UK on 22 April, so it becomes safe to assume her visit in Port Elizabeth and Durban is definitely not her maiden voyage, but seemingly her second voyage, and definitely her first to SA.
The ship's funnel arrangement is unusual, and it is assumed that the smaller, single pipe, funnel on her port side is the scrubber exhaust.
Added 13 May 2021
♦♦♦♦♦♦♦♦♦
News continues below
StormGeo to be acquired by Alfa Laval
It was reported from Bergen on 10 May that

StormGeo

, a global leader in weather intelligence software and decision support services, will be acquired by Alfa Laval – a world leader in heat transfer, centrifugal separation and fluid handling.
It is understood that this will accelerate digital services offered and add an important tool to the decarbonising tool box.
Alfa Laval is headquartered in Lund, Sweden and has a 138-year history of growth and visionary innovation, with 16,700 employees globally. The company serves the Food & Water, Energy and Marine industries and is listed on the Swedish stock exchange.
StormGeo provides weather-centric services to more than 2,200 customers globally in a variety of industries, including shipping, energy and onshore industries such as healthcare, hospitality, insurance and retail.
With extreme weather being the primary cause of business disruptions globally, the company's site-specific forecasts, coupled with asset specific data, enable customers, particularly ship masters, to safeguard people, assets and operations while minimising downtime, improving performance and saving fuel and resources.
It has been reported that from 2018, StormGeo advanced decarbonisation for its shipping customers by saving 2.1 million tonnes of fuel, thereby reducing CO2 emissions by 6.2 million tonnes.
Closing of the deal is expected during Q2 of 2021, subject to customary conditions. StormGeo will become part of Alfa Laval's Marine Business Division.
To quote Tom Erixon, President and CEO of Alfa Laval: "The acquisition of StormGeo will be a strong addition to our toolbox of solutions that help our customers address the decarbonisation challenge in the industry. Furthermore, StormGeo fits excellently to our digital acceleration ambition, and we will use their digital and customer experience to level up our offerings and to get deeper experience in the digital space."
Søren Andersen, StormGeo CEO added: "Joining Alfa Laval, a world-leading industrial owner, benefits StormGeo by developing our business through increased geographic and technological expansion. By investing even more into developing leading software and SaaS products, we enable our customers to improve efficiency and reduce their carbon emissions while keeping their people, assets and operations safe from increasingly extreme weather."
About Alfa Laval
Alfa Laval is active in the areas of Energy, Marine, and Food & Water, offering its expertise, products, and service to a wide range of industries in some 100 countries.
Innovative technologies are dedicated to purifying, refining, and reusing materials, promoting more responsible use of natural resources. They contribute to improved energy efficiency and heat recovery, better water treatment, and reduced emissions. The company has 16,700 employees. For more see: www.alfalaval.com
About StormGeo
StormGeo is a global leader in weather intelligence software and decision support services, with leading solutions in shipping, oil and gas, renewable energy, utilities, cross industry and aviation.
Its products help customers manage risk, optimize performance, reduce costs and increase revenue. Headquartered in Bergen, Norway, StormGeo has 24 offices in 15 countries. As a participant in the UN Global Compact for Sustainable Business in the Oceans, StormGeo's passion for climate and the protection of natural resources is a motivation to support its customers in making environmentally responsible business decisions.
For more information see: www.stormgeo.com
Reported by Paul Ridgway
London
Added 13 May 2021
♦♦♦♦♦♦♦♦♦
News continues below
Sudan halts development of a Russian naval base at Port Sudan
Has U.S. pressure spiked the guns of the Russian Navy after the latter signed a 2019 agreement of understanding that wold allow Russia to develop a naval base to the north of Port Sudan on the Red Sea, capable of handling nuclear-powered type naval ships.
Reports emanating initially from a Dubai-broadcaster, Al Arabiya, and repeated elsewhere, say that Sudan has "suspended" the naval base agreement, saying it was "signed by Moscow with the former regime".
The logistics naval base would have involved a 25-year deal for facilities for nuclear-powered warships and up to 300 military and civilian personnel and would have become Russia's first naval base in Africa (though developments in Libya can change this) and only a second naval base on foreign soil after Syria's Tartous.
In terms of the deal Russia would have been allowed to ferry weapons into Sudan without inspections, and in return Russia would provide Sudan free assistance with search-and-rescue operations and support in anti-sabotage.
If nothing else, that would have raised the interest of the U.S.
Several Russian naval ships have visited Port Sudan recently, seen as a precursor to the creation of the naval base.
Since then however, the U.S. under the former Trump administration, removed Sudan from its blacklist of state sponsors of terrorism – this being a result of Sudan formalising relationships with Israel.
The Russian Embassy in Khartoum denied the reports, using its Facebook page to say it "has not received any official notifications from the Sudanese side," but added that the agreement (of a naval base) had not been ratified by both countries and therefore could not be 'cancelled'.
Meanwhile, a Russian Navy Amur-class repair ship, P-138, was observed in Port Sudan on 2 May this year. This is the latest in a series of Russian navy ship visits to the Sudanese port, despite work on the Russian naval base on the Red Sea coast having ended.
P-138 wasn't alone as these vessels normally accompany Russian Navy flotillas on lengthy deployments. According to Sudanese sources, P-138 was voyaging with the Vishnya-class intelligence ship Vassily Tatischev on a two-day visit to Port Sudan, although a Vishnya-class was in port earlier on 27 April. Several other ships called at Port Sudan in recent months, as did the U.S. Navy destroyer, USS Winston Churchill.
Added 13 May 2021
♦♦♦♦♦♦♦♦♦
News continues below
Social Interaction Matters (SIM): Dealing with demographics
Multinational crews are now the norm within the global fleet and are broadly seen as an asset – the diversity and creativity they bring offers the opportunity to build stronger teams. However, it is important to be aware of different cultural preferences when bringing crew together socially to ensure that recreational activities suit the majority and maximise engagement.
More than a third of respondents in the ISWAN Phase One survey* of seafarers and other maritime stakeholders identified culture or language as a key barrier to social interaction on board. One seafarer interviewed after the survey told ISWAN: "If you're not able to speak your native language it creates a difficulty to communicate more freely … when I'm alone on board I find myself more confined to my cabin because I already speak English or another language in working hours and then after work, I just withdraw myself a little bit."
If a seafarer is the only one of their nationality on board, there is a chance they may be marginalised. This can also apply to other minority groups on board such as women, ethnic minorities and those from the LGBTQ+ community. If there is no cohesion between different groups on board, cliques can form and minorities can be isolated.
Another comment from one interview: "I was the only female [on board], so I felt segregated. I was also a cadet, so my opinion really didn't make it that far. In my off time I spent most times in my cabin watching movies or on deck looking at the ocean."
Good communication is crucial in combating isolation on board
The hierarchical nature of the Merchant Navy means that the onboard culture is strongly influenced by the behaviour and example set by the Master and other senior officers, so strong leadership is key, particularly in the case of multinational crews. Different nationalities can also have different responses to authority, as this respondent noted: "… some cultures are more free where you can openly ask questions, in other cultures the boss is the boss and he's always right, and that kind of culture we need to change the mindset of the senior staff. Juniors are coming in and they learn from us, so I think that must be the starting point."
Diverse crews can bring different skills, viewpoints and creativity – illustrated by these observations from female respondents: "I don't know if it is just because women are better at it, but normally on the ships where I go, I think that I am better at gathering people than a guy would have been. I always arranged movies nights, or football tournaments, and I go down and knock on people's doors or call them, and as my colleagues say, they don't experience the same with male colleagues.
"I think that men find it easier talking about the difficult stuff with women.
The age of crew members may also have an impact on socialising among the crew. Research by ISWAN found that 49% of respondents over 40 years old considered WiFi a barrier to social interaction, whilst only 12% of those aged 18-28 considered it an issue.
Connected
Younger generations have grown up with connectivity and internet access, whereas older generations may remember a time when alcohol and bars on board were focal points for social interaction. Engaging crew members of different generations with varying interests requires creative thinking – while activities involving social media and gaming may work for some, they will not necessarily suit everyone.
Now for Phase Two
Phase Two of the SIM project is continuing– ISWAN is working with a number of shipping companies who are trialling social engagement initiatives on board their vessels.
We understand that the data and feedback from the trials will be used to develop a toolkit containing guidance for shipping companies.
Readers wishing to learn more about ISWAN's SIM Project and download the Phase One report released in January 2021 are invited to SEE HERE
Reported by Paul Ridgway
London
Added 13 May 2021
♦♦♦♦♦♦♦♦♦
News continues below
Ocean Network Express (ONE) expands its refrigerated container fleet
On 10 May it was announced from Singapore that Ocean Network Express (ONE) is continuing to expand its current refrigerated container fleet by adding another 27,500 new units (including 850 units equipped with advanced Controlled Atmosphere (CA) technology) to meet the growing demand for refrigerated cargo around the world.
This new investment comes on the heels of 5000 units (all 40ft HC or high cube at 313mm taller than a standard TEU of FEU) invested by ONE in early 2020 to meet the demand for containerised reefer trade.
Despite the challenges triggered by COVID-19, the global refrigerated container trade showed strong resilience in 2020 compared to dry cargo and ONE expects this growth to be maintained in 2021. ONE is currently working towards the application of the latest IoT technology into its fleet of reefer containers which provides real time visibility of critical information such as the temperature and humidity inside the container, thereby enhancing cargo care during the passage.
Hiroki Tsujii, Managing Director, Marketing & Commercial in Ocean Network Express (ONE) commented: "ONE now has one of the largest and youngest reefer fleet in the world, equipped with the most advanced technologies designed to handle perishable cargo demand. Since inception, ONE has been consistently investing in new reefer containers, which in turn has helped to position ourselves in a strategically important & growing business segment."
ONE's Global Reefer Business Planning team based at ONE's HQ in Singapore, is developing ONE's global reefer marketing and business strategy through the close monitoring of market demand and the close collaboration with ONE's regional reefer teams located around the world.
At ONE the Reefer technical team is available both on board and on shore providing round the clock assistance and monitoring of its customers' precious reefer cargo throughout the voyage.
Reported by Paul Ridgway
London
Added 13 May 2021
♦♦♦♦♦♦♦♦♦
News continues below
TPT ready to launch newer version of Navis SPARCS N4 3.7 operating system
Transnet Port Terminals (TPT) says it will be launching a newer version of its container terminal operating system, Navis SPARCS N4 3.7 later this month. This will be part of a maintenance practice occurring every two years where both the company and its customers plan in advance for the 24-hour shutdown.
With technology now an integral part of executing daily tasks, the upgrade introduces improved performance, reliability, security and scalability, and support for later database software versions. The upgrade ensures that business intelligence and operational monitoring dashboards are tuned for better usability and performance.
According to Sharla Chetty, Chief Financial Officer at TPT, "We have been using Navis SPARCS N4 in our container terminal operations for a period of 14 years, maximising the potential and benefits the software offers to afford great value to our customers. This newer version offers nothing less."
She added that the software upgrade to version 3.7 will set the new architectural foundation for added enhanced features and capabilities that Navis will have to offer. The Navis Smart platform will bring in apps such as the Truck booking application and Real-time operations insights together with other optimised features such as Berth and Equipment Optimisation.
Transnet Port Terminals has over the years used the Navis system to manage its nine container terminals. Industry engagements are ongoing to ensure integrated planning is considered as the Durban, Port Elizabeth and Ngqura container terminals this month begin the export of citrus fruit – one of South Africa's biggest seasons annually.
"We have contingency plans in place in the event of any unforeseen delays. However, the set of skills and experience that our ICT team possesses is very encouraging," said Chetty.
The ICT team will be remotely supported by an experienced team of Navis engineers from around the world. During the cutover and support period both teams will ensure timeous resolution should any issues be experienced. The teams have collaboratively rehearsed the upgrade on multiple occasions adopting a remote working approach, the results of which have been successful.
Added 12 May 2021
♦♦♦♦♦♦♦♦♦
News continues below
WHARF TALK: MELTEMI – upside to a downside
Story by Jay Gates




Pictures by 'Dockrat'
The ongoing enforced closures of two of the country's major oil refineries in Durban, and especially Cape Town, continues to see a stream of spot market chartered product tankers arriving off the ports in an almost continuous operation to keep the country supplied with the necessities of fuel and power.
Up until recently the arrivals were generally the Medium Range 1 and Medium Range 2 class of product tankers, all between 35,000 and 55,000 deadweight tons. What now appears to be happening is that the arrival of the much larger Long Range 1, and the largest of them all the Long Range 2 class of tankers, all between 55,000 and 160,000 tons.
Notwithstanding the normal Cape Town arrival of tanker traffic of those MR class tankers that are on long term charter to the South African oil majors, and operate exclusively out of the Island View terminal in Durban to all Southern African ports, LR class tankers are now arriving at a rate of more than one a week. For Cape Town there have been five LR1 tankers and two LR2 tankers arriving in the last five weeks.
Currently, there are two LR class tankers holding in the Cape Town anchorage, one a LR2 class vessel, whilst one LR class tanker is currently alongside discharging at the tanker berth.
Within Cape Town harbour, the maximum quay length of the largest tanker berth being only 250 metres, means that only one LR tanker at a time is able to enter the port and discharge. Due to their increased size, the discharge of a LR tanker takes up to four days longer than the usual maximum three day average discharge of a MR tanker, hence the growing number of ships out at anchor awaiting their berth.
On 3 May at 05h00 the LR1 tanker MELTEMI (IMO 9407823) arrived from Sohar in Oman and went straight to the Cape Town anchorage, where she remained until 7 May. Her delay in getting an immediate berth on arrival was that the LR1 tanker Lian Gui Hu needed to vacate the 250 metre tanker berth, which she did at 10h00 on the 7th. At 11h00 Meltemi was brought alongside to begin her discharge of much needed refined fuel products.
Built in 2009 by New Times Shipbuilding at Jingjiang in China, Meltemi is 229 metres in length and has a deadweight of 73,289 tons. She is powered by a HHI MAN-B&W 5S60MC-C7 5 cylinder 2 stroke main engine producing 15,368 bhp (11,460 kW). She has three auxiliary engines providing 900 kW of power and three boilers, one being an Alfa Laval Aalborg Mission OC exhaust gas boiler, and the other two being Alfa Laval Aalborg Mission OL oil fired boilers.
Owned by Intelet Limited of Athens and operated by Dynacom Tankers Management Limited, also of Athens, Meltemi had previously made three back-to-back voyages to this region when delivering fuel products to Toamasina in Madagascar in late 2020.
The name Meltemi is the local Greek word for the dry north-westerly wind that blows down through the Aegean Sea during the summer in the eastern Mediterranean. South African ship spotters will remember the Safmarine refrigerated cargo ship S.A. Zebediela becoming the Meltem Universal between 1979 and 1982, where all Universal Reefers were named after winds.
The one main reason why we are now, possibly, seeing LR tankers replacing MR tankers in such numbers as 'one- off' spot market charters to South Africa is likely to be because winter is fast approaching in this region, and the requirement for domestic heating fuel, industrial premises heating and for a general increase in the power requirements means that more diesel, propane, butane and other fuels are required to be stocked up in advance of the demand for such national heating needs.
For as long as the local oil refineries remain firmly closed, and producing no refined products whatsoever, or at least not producing enough to satisfy the nation's needs, the likelihood is that this stream of interesting 'one-off'' LR tanker callers is going to continue. There is always an upside to a downside!
Added 12 May 2021
♦♦♦♦♦♦♦♦♦
News continues below
NIGERIA: UTM Offshore signs Pre-FEED contract for first floating LNG project
It was announced from Lagos on 11 May that UTM Offshore Limited, a Nigerian marine services company, had that day signed a pre-Front End Engineering Design (Pre-FEED) contract with JGC Corporation of Japan for the development of a floating liquefied natural gas (LNG) project offshore Nigeria.
Another contract was also signed with KBR, which is now the project's Owner's Engineer and will be executing a third-party review of the Pre-FEED study.
It is understood that signing of both contracts follows the issue of a Licence-to-Establish (LTE) for the same project to UTM Offshore in February 2021 by the Nigerian Department of Petroleum Resources (DPR). As the project progresses, the company will be applying for a Licence to Construct and finally a Licence to Operate.
With natural gas reserves estimated at about 200 trillion cubic feet (Tcf), Nigeria holds the eighth largest discovered gas reserves in the world. However, they remain largely undeveloped and wasted. In 2020, the country produced an average of 7,800 MMscfd (million cubic feet / day) of gas, out of which over 35% remained non-commercial. Furthermore, last year, an average of 540 MMscfd of produced natural gas was flared on site, contributing to heavy carbon emissions.
UTM Offshore has conceived the installation of the country's first FLNG unit in order to monetise gas and cut flaring. Both contracts signed on 11 May will be further advancing the project towards final investment decision (FID), it is understood.
The FLNG unit will be deployed on Oil Mining Lease (OML 104), operated by the joint-venture of Mobil Producing Nigeria (40%, operator) and the state-owned Nigerian National Petroleum Corporation (NNPC, 60%). ExxonMobil started development activities on the block back in 2002 and achieved first oil from Yoho in December of the same year. A term-sheet is currently being discussed between ExxonMobil and UTM Offshore to prepare for the deployment of the FLNG unit on the block.
Of equal importance UTM Offshore intends to target OML 104's associated gas, or the gas produced alongside, with crude oil that tends to be flared for lack of commercial viability or export infrastructure.
In the words of Julius Rone, Group Managing Director/CEO, UTM Group: UTM Offshore's FLNG project is the most logical continuation for our group as Nigeria embarks on a new era of gas monetisation and local content development.
"Nigerian companies have built the necessary capabilities to execute such ambitious projects and we intend to open up a whole new segment of the industry that brings positive environmental benefits to the country while continuing to build local capacities across the value-chain."
UTM Offshore has a clear vision to be the first African player to execute an FLNG project in Africa, but also to contribute to the decarbonisation of the industry by taking commercial advantage of gas that would be otherwise burnt during production.
The FLNG is targeting a capacity of 1.2 million tonnes per year (tpy). Upon its expected commissioning in 2025, the UTM Offshore FLNG unit would be sub-Saharan Africa's fourth such liquefaction facility set up offshore Africa after Cameroon (Hilli Episeyo), Mozambique (Coral Sul) and Senegal/Mauritania (Gimi).
Reported by Paul Ridgway
London
Added 12 May 2021
♦♦♦♦♦♦♦♦♦
News continues below
Mercy Ships new hospital ship Global Mercy completes sea trials
After several years of construction at the Tianjin Xingang shipyard in northern China, the official sea trial of the new Mercy Ships vessel, GLOBAL MERCY, has now been completed with good results.
The shipyard will finalise the ship for delivery in the coming months and Global Mercy will then sail to Antwerp on her maiden voyage, where some members of the crew will board and the medical equipment supplemented. This will be followed by a visit to Rotterdam, where festivities will be held in presenting the ship to sponsors, potential volunteers and other interested parties, and after this the Global Mercy will be ready for its first important mission in West Africa.
The ship has been built by Stena RoRo on behalf of the international charity organisation Mercy Ships, which provides free life-changing healthcare to people in some of the world's poorest countries. The project began in 2013 and Stena RoRo is responsible for design, contracting and execution.
The construction project is unique in its kind and places major and specific demands on both design and layout, dependent on the special needs that hospital operations entail. On board are operating theatres and hospital wards, and everything needed for both patients and those working on board, including schools and preschools for the children of the volunteers.
"The purpose of a sea trial is to ensure that the ship's systems are working properly during operation and that the requirements of the specifications and applicable standards are met," says Per Westling, CEO Stena RoRo. "The hospital services to be provided on the Global Mercy entail increased requirements for good ventilation and minimisation of vibrations, for example. This was also checked and she was approved on all counts."
Global project under Swedish management
The Global Mercy is the result of a global collaborative project with the participation of a number of subcontractors from around the world. Swedish Stena RoRo is leading the project and Finnish Deltamarin is conducting work with design. A French shipbroker, Barry Rogliano Salles, (BRS Group), assisted in preparing the contract and the ship is being built at the Tianjin Xingang shipyard in northern China. The vessel, classified by Lloyd's Register in the United Kingdom, will sail under the Maltese flag and operate along the coast of Africa.
Stena RoRo has based the project on a concept for passenger and cargo ships for international travel in the RoPax class. The concept has been modified to a purely passenger ship design with hospital activities. The Global Mercy will have six operating theatres, 200 hospital beds, a laboratory, a patient clinic and an eye and dental clinic. In total, she will be able to accommodate 950 people, of which 641 are crew.
"For a few years now, our team has consisted of up to 16 members, stationed at the Tianjin Xingang shipyard," says project leader and site manager Rikard Olsson, who has been in China with his family almost continuously since 2016.
"The team has mixed nationalities and part of the job has been to reconcile the different cultures. An important task has been to ensure that the ship is built according to the specifications. For this shipyard, this is the first time this kind of ship, which can be compared to a cruise ship, has been built. We have worked hard to meet the required standard and everything has gone very well. We are very pleased with the collaboration with the shipyard."
In addition to providing free medical and dental care, Mercy Ships contributes to building up local healthcare infrastructure by training local healthcare staff. This is why the Global Mercy is equipped with first-class training facilities, including equipment for virtual reality training and other simulations of care and methods for use in environments with limited resources.
"The Global Mercy is a special project that we are proud to be a part of. Mercy Ships is doing a fantastic job and with the new ship, their capacity to provide free medical care to many extremely vulnerable people will be more than twice as large," says Per Westling, who in 2017 visited the sister ship Africa Mercy when it was based in Madagascar.
Big difference for many people
The first mission will be during 2022, when the Global Mercy is expected to call at Dakar in Senegal. There will then be more than six hundred volunteers aboard from all over the world and from a variety of professional categories, who will make it all possible through their contributions of skills and time.
According to the Lancet Global Surgery 2030 Report, more than 93 percent of the population in sub-Saharan Africa do not have access to safe surgical care. The already very fragile medical care systems are at risk of being further degraded by the corona pandemic, and the need for basic but vital care is greater than ever in many poor countries.
The Global Mercy will make a big difference for many people in southern and western Africa.
About the Global Mercy:
Length: 174 metres
Breadth: 28.6 metres
Draught: 6.15 metres
Gross weight: 37,000 tonnes
Deadweight: 4,500 tonnes
Total area: 30,000 square metres
Added 12 May 2021
♦♦♦♦♦♦♦♦♦
News continues below
TPT's Durban Container Terminal receives a further batch of straddle carriers
Another ten new diesel electric
straddle carriers
have arrived at the Durban Container Terminal (DCT) Pier 2, taking the total number of new single lift straddle carriers delivered at the terminal in the last 10 months to 33. The final delivery of a further 12 is expected at the end of July 2021.
The order for 45 new straddles carriers have arrived in batches from Poland and China, with this most recent batch arriving from ZPMC in China.
It will take the technical team another month to complete both hot and cold commissioning on all the machines as they have arrived 50% commissioned to allow for flexibility during transit. This includes a variety of functions like hydraulic, auxiliary and load testing, installation of fire suppression, radio and WIFI as well as fitment of NAVIS vehicle mounted terminals.
A series of training sessions will take place parallel to the commissioning across operators, technical and maintenance employees before the straddle carriers are handed over for operational use.
"The terminal's equipment woes are well documented and having reliable equipment to work with solves a significant portion of the puzzle," said Jabu Mdaki, Managing Executive of Durban Terminals.
The straddle carriers have advanced safety and convenience features designed to assist the driver with the most burdensome parts of driving, such as container handling and in yard driving. The equipment also features a user-friendly interface for function activating and blind spot detection to avoid collision, with an ability to regulate and monitor driver behaviour.
"Perhaps the grandest of all features which is also a new straddle carrier technology for our terminal is the local crane monitoring system," Mdaki said. "It improves maintenance and productivity of the straddle carrier through providing a mechanical and performance status, fault management, production and energy reports."
Added 12 May 2021
♦♦♦♦♦♦♦♦♦
News continues below
IMO's Kitack Lim urges fair vaccine distribution for seafarers
On 11 May IMO Secretary-General Kitack Lim called upon all IMO Member States to support a fair global distribution of Covid-19 vaccines, beyond fulfilling their national needs, to ensure seafarers can access vaccines.
In a statement, Secretary-General Lim reiterated his call for seafarers and marine personnel to be designated as key workers and noted that some key maritime labour-supply countries are reliant on the Covax initiative of the World Health Organization to access vaccines.
Lim commented: "To ensure access to vaccines of those countries, I call on all IMO Member States to work together towards a fair global distribution, beyond fulfilling their national needs. No seafarers should be left behind or forced to forgo their careers because of limited resources in their home country."
He continued: "The health of the world's seafarers and the safety of their workplaces has to remain one of our main priorities and can only be guaranteed if industry and Member States continue to provide all necessary measures such as testing, appropriate PPE, access to medical care and sanitation facilities to prevent the spread of the virus."
In conclusion he said: "We cannot afford to be complacent when it comes to addressing the ongoing humanitarian crisis at sea. I therefore reiterate my call to all Member States to designate all seafarers and marine personnel as key workers providing an essential service. To date only 58 of our 174 Members have notified me that they have done so. The designation of seafarers as key workers will facilitate their access to vaccination, since most States are prioritizing essential workers in their national COVID-19 vaccination programmes, in accordance with the WHO SAGE Roadmap.
"However, this figure is still unacceptably high and the humanitarian crisis at sea is by no means over. Seafarers still face enormous challenges concerning repatriation, travelling to join their ships, proper access to medical care and shore leave. Despite these challenges, the seafarers on board ships have continued working, providing an essential service for the global population."
An estimated 200,000 seafarers remain stranded
Seafarers' lives and work have been affected dramatically by the Covid-19 pandemic. In the last quarter of 2020, the estimated number of seafarers globally waiting to either be relieved or join their ships stood at 400,000. Now, in May 2021, thanks to the collaborative efforts of IMO Member States, the shipping industry, social partners and IMO's sister UN agencies, the number is currently estimated to be about 200,000.
The full statement can be downloaded here as Circular Letter No.4204-Add.39.pdf
The list of notifications of key worker designation can be downloaded HERE
Reported by Paul Ridgway
London
Added 12 May 2021
♦♦♦♦♦♦♦♦♦
News continues below
Djibouti achieves top ranked container port in Africa
The Port of Djibouti has been recognised as the top container port in Africa and 61st globally by the World Bank and IHS Markit's latest global Container Port Performance Index.
Djibouti's investment in ports and infrastructure development continues to pay dividends, highlighted by another top performance in global rankings.
Djibouti has been ranked the top port in Africa in the latest global Container Port Performance Index (CPPI), published by the World Bank and IHS Markit. This latest recognition is a testament to the ongoing improvements in efficiency and productivity of Djibouti's world-class container port and its key role in strengthening the country's position as a global trade and logistics hub.
Djibouti is in the Gulf of Aden near the southern entrance to the Red Sea, one of the world's most important sea lanes.
According to the Index, Djibouti and Mombasa ports are the most technically efficient in Eastern and Southern Africa, based on three main variables: the sum of the length of all container and multipurpose berths in the port, the total container terminal area of the port, and the combined capacity of the cranes. Previous reports have also highlighted that Djibouti is one of only two African countries where ships spend a median time of less than one day in its ports, making it among the most efficient in the world. (source: UNCTAD)
Different metrics
The report scores ports against different metrics, making the efficiency ranking comparable around the globe by assessing and standardising for different ship sizes and container moves per call.
Djibouti's container terminal, Société de Gestion du Terminal à conteneurs de Doraleh (SGTD), is a key transhipment hub for the East African region. It is fully connected to the Addis Ababa-Djibouti railway, with 5 trains a day now stopping at the port and has a throughput capacity of 1.6 million TEU.
Djibouti's $15 billion investment plan to develop its ports and infrastructure has led to the country making consistent improvements in global rankings on ports and logistics performance. Djibouti also jumped 44 places in the World Bank's latest Logistics Performance Index in 2018.
Added 11 May 2021
♦♦♦♦♦♦♦♦♦
News continues below
WHARF TALK: PROUD UNITY – Ultramax bulker in port
Story by Jay Gates
Pictures by 'Dockrat'
There was a time when ships were built in classes, rather than a simple pair of sisterships, or a set of four. Notwithstanding the warbuilt classes such as the American Liberty and Victory or the Soviet project ships, the British SD-14, German Trampco and Japanese Freedom class of vessels were all frequently spotted arriving at, or sailing from, virtually every port around Africa.
On 4 May at 06h00 the Ultramax bulk carrier PROUD UNITY (IMO 9860659) arrived at Cape Town and went alongside B berth in the Duncan Dock to discharge her cargo. Arriving from Port Elizabeth, and prior to that from Durban, she was carrying her final large consignment of 16,500 tons of wheat, destined for South African ports, and which had been loaded at the Baltic port of Klaipeda in Lithuania.
Her discharge of wheat was unusual in that as well as the normal hoppers loading into a fleet of trucks, a line of railway wagons were also brought alongside the berth for discharge into. The loading of these railway wagons was achieved by having a conveyor belt directly below the hopper, to transfer the wheat across the berth to the waiting wagon. The conveyor belt being high enough not to restrict the movement of any truck, or forklift, traffic that was simultaneously taking place on the busy berth.
A relative newbuild, built in 2020 by the Imabari Tadotsu Shipyard at Kagawa Prefecture in Japan, Proud Unity is 200 metres in length and has a deadweight of 63,481 tons. She is powered by a MAN-B&W 6S50ME-B9.3 6 cylinder 2 stroke main engine, producing 14,521 bhp (10,680 kW) to provide a service speed of 14.5 knots.
Owned by Forward Gloria Navigation, and operated by Daiwa Kisen KK of Fukuoka in Japan, Proud Unity is an Imabari NEW I-STAR design of bulk carrier, which is more than 2,000 tons bigger than her predecessor I-STAR class and provides a 12% fuel consumption saving. The small increase in deadweight takes the vessel above the Supramax bulk carrier maximum weight, but not enough to place her into the Panamax minimum weight category, hence why she is called an Ultramax bulk carrier.
Ultramax bulker
This increase in deadweight gives Proud Unity a cargo carrying capacity of 79,000 m3, which together with her economic fuel consumption, makes her very attractive to shipowners. So much so that since 2010 there are now more than 200 examples of the I-STAR class of bulk carrier plying their trade across the world's oceans, overtaking the number of Freedom class ships built (126) and closing in on the total number of SD-14 class ships (221) that were built.
Added 11 May 2021
♦♦♦♦♦♦♦♦♦
News continues below
Rising Rollover Rates Show Worsening Maritime Supply Chain Delays
The latest report issued by project44, which specialises in advanced visibility for shippers and logistics service providers, indicates that maritime supply chain woes are worsening, with little indication that carriers are addressing the industry's serious capacity issues.
prohect44 says that data from ports across the world shows that the percentage of containers missing their scheduled sailing is still rising, with some major carriers and ports posting rollover rates over 50% for the month of April.
While the average rollover rate for April across all surveyed ports and carriers was 39%, individual ports that account for a significant portion of maritime cargo posted even worse results.
Data from Port Klang (Malaysia), Rotterdam, and Athens all showed endemic congestion, posting rollover rates of 64%, 54%, and 59% respectively.
On the carrier side, Hapag-Lloyd, CMA CGM, and ONE all showed worsening performance in April, posting rollover rates of 51%, 56%, and 53% respectively. Other global ports and carriers reported similar numbers showing that abysmal performance now seems to be the industry norm.
The new normal
With shippers entering their second year of pandemic-induced volatility, these numbers are a sobering reminder that volatility and under capacity are the new normal. Furthermore, rates are almost universally trending upwards, and well above the levels posted during April 2020.
Other ports where rollover rates are still rising include Kao-Hsiung, with a 53% rate, and Dubai's Jebel Ali, which reported a 48% rate for April. Other carriers that posted worsening rollover rates include Evergreen, at 47% and ANL, at 57%.
"Carriers have been watching their rollover rates increase for over a year, and have so far failed to mitigate the situation," says Josh Brazil, VP of Ocean Markets. "Shippers need to accept this as the new reality. They are going to have to start making structural adjustments to their supply chains and enhance their visibility if they want to keep shelves stocked and factories running."
project44
project44 addresses some of the world's most critical logistics challenges by connecting, automating, and providing real-time visibility into global transportation processes. project44 can be found HERE
Added 11 May 2021
♦♦♦♦♦♦♦♦♦
News continues below
MLC 2006 Interagency task force called for
by Paul Ridgway
Ship owners and seafarers' representatives have asked the UN to establish an interagency task force to examine the implementation and practical application of the MLC, 2006 during the pandemic, including its impact on seafarers' fundamental rights and on the shipping industry. This was reported by the ITF on 6 May.
The crew change crisis peaked at over 400,000 seafarers trapped on ships working beyond their contracts because of local Covid-19 restrictions and the failure of some governments to cooperate and coordinate to address the crisis.
As at the date of the statement it was understood that the number of seafarers still stranded is around 200,000 and is on the rise again as authorities respond to new variants and explosions in cases like the devastating second wave currently tearing through India.
It is the ITF's view that while some governments have responded well, designating seafarers as key workers and facilitating their travel, too many are sitting idly by while ship's crews are unable to get home in a situation that is tantamount to forced labour. Urgent action is needed.
Call for a UN investigation
The call for a UN investigation came in a resolution adopted at the 4th session of the ILO Special Tripartite Committee (STC) of the Maritime Labour Convention, held virtually between 19-23 April where ITF representatives, ship owners and governments met to keep the Convention under review. ¹, ²
In the words of Mark Dickinson, Seafarers spokesperson at the ILO and Vice-Chair of the ITF Seafarers' Section: "The Maritime Labour Convention is a international treaty designed to protect seafarers and contribute to the provision of decent work.
"The governance and structure of the industry was brutally exposed during the pandemic. The industry is fragmented despite the requirements of the UN Law of the Sea and this massively contributed to the chaos.*
"The major flag states are paper tigers – zero visibility, zero ability, zero interest in the welfare of their crews.
"Furthermore, the 97 governments who have ratified the MLC have a duty to make sure crew can get home at the end of their contracts. It's there in black and white. There are no get-out clauses or special conditions. Governments who failed to ensure seafarers are repatriated or prevented crew from getting home, denied them medical care ashore, and who failed to cooperate internationally to guarantee seafarers their rights are in clear breach of the MLC and thus their international obligations."
Travel bans ill thought-through
The STC meeting noted that, in spite of the pandemic, seafarers have continued to keep supply lines open, ensuring that essential food, fuel, medicines and medical equipment can get to where they are needed. However, governments have had 13 months to get their acts together and still too many impose ill-thought-through travel bans that are preventing seafarers' ability to sign on and off of ships.
Fabrizio Barcellona, ITF Seafarers' Section Coordinator commented: "If seafarers are designated as key workers globally and allowed to move freely, it will go a long way to resolving this huge human rights problem.
"There are a range of measure that authorities must put in place to stop the disease spreading to protect seafarers and port communities including testing and prioritising vaccines for seafarers and dock workers."
The meeting also recommended better co-operation between nations, temporary waivers to allow travel and international recognition of crew documents. All these things would help the crew crisis without significantly impacting governments' ability to control Covid-19.
Dickinson added: "Many seafarers have lost their jobs as a result of the pandemic and as a consequence of the way governments are handling the crisis many more are reconsidering their choice of career.
"That's had an impact on the shipping business with some companies unable to continue operating owing to crew shortages. That's affecting the whole world economy. Governments must act urgently to prevent the situation becoming even worse."
Vaccine priority
The meeting also agreed in a separate resolution that transport workers should be prioritised for Covid-19 vaccination ³, backing ITF's public call last week for governments to stop ignoring WHO advice and prioritise vaccines on humanitarian and economic grounds.
The resolution sets out how governments should make vaccinations available for seafarers and recognise other countries' vaccinations. It suggests setting up hubs in key ports for the vaccination of ships' crews.
* Article 94 is included in the Maritime Labour Convention (MLC). This is from the United Nations Convention of the Law of the Sea, 1982, which governs how all activities in the oceans and seas should be carried out, and Article 94 of the Law of the Sea establishes the duties and obligations of a flag state with respect to labour conditions, crewing and social matters on ships that fly its flag.
1

The International Labour Organization (ILO) is a UN specialised agency charged (among other things) with overseeing labour standards. The key international treaty relating to shipping and seafarers is the Maritime Labour Convention (MLC), often referred to as the Seafarers Bill of Rights, designed to protect the minimum rights of seafarers.
2

The fourth meeting of the Special Tripartite Committee of the MLC, 2006 – Part I (held virtually 19-23 April 2021) considered the impact of Covid-19 on the shipping sector and seafarers. The meeting concluded that the International Labour Organization should ask the United Nations Secretary-General to convene an inter-agency task force.
3 An ILO resolution concerning COVID-19 vaccination for seafarers recommended that all governments should prioritise seafarers for vaccination
Reported by Paul Ridgway
London
Added 11 May 2021
♦♦♦♦♦♦♦♦♦
News continues below
IN CONVERSATION: Moving US Africa Command to Africa will not solve the continent's security issues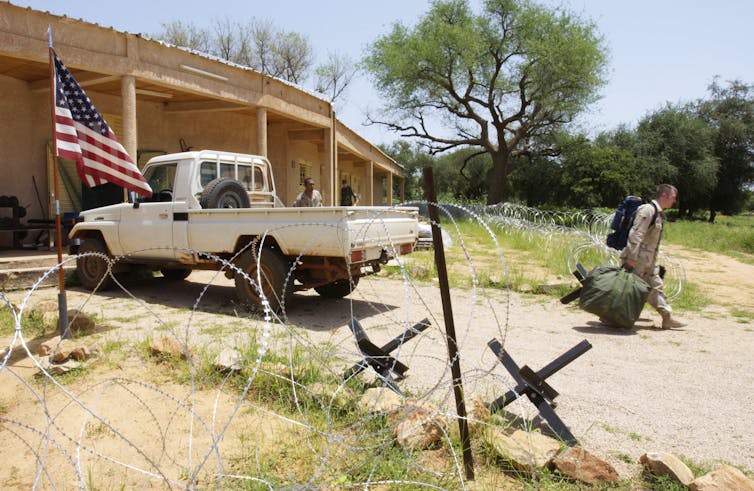 A US soldier carries his belongings to a waiting truck at a military camp on the outskirts of Niamey, Niger.  Jacob Silberberg/Getty Images
Nigeria's president, Muhammadu Buhari, has asked the United States to move its military headquarters overseeing Africa to the continent, from Germany. This is to better tackle growing armed violence in the region. The Conversation Africa's Wale Fatade asked peace and security expert Kester Onor

about the implications of this request.
What do you think of President Buhari's request that the US should move its Africa Command headquarters to the continent?
The request that the US should relocate AFRICOM headquarters to Africa contradicts the previous position taken by most African heads of governments when it was created. AFRICOM was formed in 2007. It was formed as a structure devoted to Africa (excluding Egypt) as part of US national security strategy. It became operational in 2008.
African policy makers, scholars and media resisted putting the command headquarters in Africa. They said it would undermine the precarious human security situation on the continent. They cited previous US military forays in Africa which led to a disproportionate development of military institutions relative to instruments of civilian rule.
Others saw AFRICOM as a naked attempt to exert American control over African resources. African leaders argued that Washington's concern about African development was just a cover for asserting power.
Buhari's request for AFRICOM's assistance in tackling the country's current security challenges may seem good in some aspects. These include providing technical assistance, intelligence gathering and logistics to Nigerian troops engaged in different operations locally.
But asking it to put boots on the ground may be detrimental to Africans. AFRICOM is a component of the US Department of Defense and State Department. The US Defence department places emphasis on traditional security imperatives that secure the state – guns and wars – rather than the principles of human security. The general fear is that highly centralised states with dictatorial leaders may further be militarised. This will be to the detriment of citizens.
Nigeria initially rejected the US setting up a military base in the country and in West Africa. Now insurgency, banditry and terrorism have escalated beyond manageable proportions due to acute deprivation and inability of the ruling class to allocate available resources equitably.
This is seen in lack of political will to confront and address the pathology of insecurity in Nigeria. Previous administrations were pragmatic in handling national issues. President Olusegun Obasanjo banned a radical Yoruba organisation, Odua Peoples Congress, even though it was formed by his own Yoruba people.
President Umaru Yar'Adua also offered an unconditional pardon to Niger Delta militants who agreed to lay down arms and assemble at screening centres. There was also cohesion among the security personnel in previous governments and superb inter-agency collaboration.
The US has not said whether the request will be granted or not. But I suspect it will, as this has always been its desire.
What are the implications of AFRICOM headquarters moving to Africa?
The implications are far-reaching.
We are in a multipolar world with China, US, Russia, India and France struggling to expand their spheres of influence. Just like China established its first overseas base in Djibouti, other foreign powers will likely follow the same direction, thereby making the continent a war zone.
---


Read more:
Why foreign countries are scrambling to set up bases in Africa


---
The United States military has intervened in many countries, thereby creating enemies. Examples are Iraq, Syria, Afghanistan, Libya and Mali. The relocation of AFRICOM headquarters to Africa will expose the continent to attacks from several fronts. Islamic fundamentalists might attack in ways perceived to inflict pain on US government and citizens. An example is the 1998 bombing of US embassies in Kenya and Tanzania. African countries could be caught in proxy wars between the US and its enemies.
African governments will tend to be influenced in decision-making. This can happen through application of hard and soft power instruments. This may lead to securitisation and militarisation of policy whereby scarce resources which should be directed to critical sectors may be diverted to military spending. The American large military industrial complex might lobby its government to create instability in Africa to enable them market its arsenals. We've seen this in Saudi Arabia and United Arab Emirates.
The establishment of a large American military institution on the continent may truncate Africa's nascent democracies. It undermines the establishment and growth of civil society. It also creates avenues for military incursion in politics. The Command will involve military training and this can encourage coups.
---


Read more:
Does US military training incubate coups in Africa? The jury is still out


---
Considering the growing security challenges in West and Central Africa, Gulf of Guinea, Lake Chad region and the Sahel, weighing heavily on Africa, is the relocation an answer to these challenges?
It will not ameliorate or eradicate insecurity bedevilling Africa. The present insecurity in Africa is the consequence of misrule, corruption and endemic poverty. Also, bad governance, gross marginalisation and political exclusion.
These cannot be resolved by mere relocation of a military institution to Africa. They are challenges caused by underdevelopment.
Insecurity causes are multifaceted, therefore, the solution lies in structural reformation of African society. The plural nature of African states demands structural reforms. Reforms that will entrench constitutionalism, the rule of law, and political inclusion.

Kester Onor, Lecturer, Department of Political Science and International Relations, Covenant University
This article is republished from

The Conversation

under a Creative Commons license. Read the

original article.
Added 11 May 2021
♦♦♦♦♦♦♦♦♦
News continues below
Helicopter called into duty to evacuate injured seafarer from ship off Cape Point
The National Sea Rescue Institute (NSRI) Airborne Sea Rescue (ASR) and Aerios Global Aviation (AGA) were tasked on Saturday 8 May to evacuate an injured seafarer from a ship at sea off Cape Point.
The tasking came from the Maritime Rescue Coordination Centre (MRCC) after it learned that a 26-year old Indian crewman had sustained injuries while perfoming his duties on board the ship. A WC Government Health EMS duty doctor had evaluated the patient's condition and considered it necessary for the crewman to be evacuated to hospital as soon as possible.
An EC-145 helicopter belonging to AGA Helicopters was prepared and crewed by the flight crew, AGA paramedics and an NSRI ASR rescue swimmer.
The helicopter rendezvoused with the vessel 57 nautical miles off-shore of Cape Point.
After an AGA flight rescue paramedic was hoisted onto the ship's deck he assessed the patient to be in a stable condition. The seaman was then hoisted into the helicopter and into the care of the flight rescue paramedics, while the helicopter returned to Cape Town directly to a Cape Town hospital where he is receiving further medical care.
Added 11 May 2021
♦♦♦♦♦♦♦♦♦
News continues below
DP World ready to commence construction and development of a deepwater port at DRC's Banana
DP World says it is set to start the development of the deep sea port at Banana, following agreement on amendments to the initial contract between the company and the Government of the Democratic Republic of the Congo (DRC).
A term sheet summarising the amendments to the contract, which was signed in Kinshasa by Guylain Nyembo Mbwizya, Chief of Staff to the DRC Head of State, and Suhail Al Banna, CEO and Managing Director of DP World, Middle East and Africa region, follows part of a review by the parties of some of the existing contractual document clauses signed in March 2018, when DP World was awarded the 30-year concession to develop and manage the Banana Port.
The objective of the amendments was to readjust the different obligations of the two parties for the development of the country's trade and logistic sector. The port will be the DRC's first deep sea port along its 37km coastline on the Atlantic ocean.
In 2018 during the signing ceremony of the 30-year concession (with a 20-year extension clause), Sultan Ahmed Bin Sulayem, chairman and CEO of DP World emphasised the importance of the Port of Banana to the DRC and also for all of West Africa.
"Congo will become a major player in west Africa trade and an important maritime hub for West Africa. We are proud of this opportunity and we can ensure that we are ready to make this project a success for the Democratic Republic of Congo," Sulayem said at the time.
The development of the Banana Port, which is expected to take two years, will bring significant cost and time savings for the country's trade, as it will attract more direct calls from larger vessels from Asia and Europe, and will boost not only the growth the country's economy, but also the region.
Added 10 May 2021
♦♦♦♦♦♦♦♦♦
News continues below
WHARF TALK: BBC PEARL – equipment for Debmar's diamond recovery vessel
Story by Jay Gates
Pictures by 'Dockrat'
Heavylift vessels are always a great sight as they generally come with some serious heavyweight cargo handling gear and often carry a deck cargo of startling proportions. On 8 May at 14h00 BBC PEARL (IMO 9504786) arrived in Cape Town, from Antwerp, and proceeded directly to L berth in the Duncan Dock.
L berth is an interesting place in its own right as it is here that Debmar is stockpiling all the various units, modules and equipment that is destined for their new diamond mining vessel BENGUELA GEM, still under construction in a Rumanian shipyard.
As a heavylift vessel BBC Pearl did not disappoint with her unusual deck cargo. Clearly two major modules destined for the Debmar vessel, and very reminiscent of pipeline or cable tensioning towers, seen on offshore pipelaying and subsea construction vessels, were visible on her expansive after deck. Both units were discharged into the Debmar compound at L berth using the heavylift cranes on BBC Pearl.
The two tower units and accompanying accessories had been loaded at the Vene-Balti port in Tallinn, Estonia, at the quayside directly adjacent to the manufacturer's premises. The two largest components comprised of the upper and lower parts of the drilling tower, weighing approximately 159 and 214 metric tons, respectively. Cases and crates with accessories accounted for a total weight of about 50 metric tons.
BBC Pearl departed Tallinn on 11 April for her arrival in Cape Town on 8 May.
Built in 2012 by Jiangzhou Union Shipbuilding of Jiangxi in China, BBC Pearl is one of 18 identical BBC Amber class of vessels, all built between 2010 and 2013, of which 14 were ordered by Bockstiegel Reederei GmbH of Emden in Germany from the Jiangzhou shipyard. She is 153 metres in length, with a deadweight of 14,418 tons and, despite her heavylift pedigree, has a container capacity of 985 TEU. Her cargo gear includes two 400 ton capacity cranes, which can operate in tandem for a single lift of 800 tons if required.
She is powered by a STX MAN-B&W 6S46MC-C8 6 cylinder engine, producing 11,104 bhp (8,280 kW) which drives a fixed propeller for a service speed of 17.5 knots. Her auxiliary engines include two Zhenjiang MAN 6L23/30H generators providing 792 kW, a single Zhenjiang MAN 8L23/30H generator providing 1,056 kW and a single MAN D2876 LE201 Emergency Generator providing 330 kW. She also has an oil fired TOH 1000H 40-W boiler, and a waste heat EGH 850V 40-DF boiler.
Her owners, Bockstiegel Reederei GmbH were taken over by Briese Schiffahrt GmbH of Leer in Germany who act as managers, and BBC Pearl is operated by BBC Chartering GmbH, also of Leer and a part of the Briese Group, whose logo can be clearly seen on her funnel. She is scheduled to continue her voyage to Moroni in the Comores, and her other visible and eclectic deck cargo of assorted trucks and containers are likely destined for the islands.
In November 2012, BBC Pearl was chartered to load the replica pirate ship 'Black Pearl' and transport it on deck from Barbers Point in Hawaii, via the Panama Canal, to St Thomas in the US Virgin Islands in Caribbean. Of course, the Black Pearl was under the sole command of one Captain Jack Sparrow, he of the magnificent Pirates of the Caribbean film series.
Added 10 May 2021
♦♦♦♦♦♦♦♦♦
News continues below
We are only safe when everyone is safe:
aviation unions join call for TRIPS Waiver to fight Covid
On 6 May ITF civil aviation unions joined growing calls for governments to pass an emergency waiver to enable universal access to Covid-19 vaccines, treatments and equipment.
With a devastating second wave tearing its way through the heart of numerous countries – including most notably India – governments are being urged to support the proposal put forward by India and South Africa to the World Trade Organization in October 2020. The proposal calls for emergency waivers on intellectual property rights under the Agreement on Trade-Related Aspects of Intellectual Property Rights (TRIPS) specifically related to 'prevention, containment and treatment' of the Covid-19 virus.
Devastation being caused by the virus in developing countries across the world, and the enormous inequality in access to vaccination and treatment, tragically means that the poorest in society are suffering the most.
Across the world, healthcare systems continue to be overwhelmed, resulting in deaths that could be avoided with sufficient access to medication, oxygen, equipment, and the protection that vaccination offers.
Developed economies have placed large orders for a variety of vaccines, often for quantities far larger than the size of their respective populations. At the same time, many countries are still waiting to receive even the first vial of a single vaccine.
Witnessing the daily cases and deaths in India is a brutal reminder of what can happen when profit is put before people.
Rise in SA
Proliferation of the disease in countries like the United Kingdom, Brazil, South Africa and India, has given rise to more virulent, deadlier strains of the virus. Despite travel restrictions and attempts to isolate strains, they continue to emerge even in countries with large scale vaccination programmes and can setback even relatively successful national recovery efforts.
The only way to successfully suppress Covid-19 is to do so globally and simultaneously. The call to remove all barriers to the production, distribution and access to vaccines and all other medical products and technologies is to ensure this is both possible and achievable.
For aviation, every resurgence of the virus and every new travel restriction sets back the recovery of the industry. In 2020, the pandemic caused demand for international travel to drop by 75%. International travel is the heart of the aviation industry globally and many nations' aviation industries and large parts of their economies are entirely based on it. In countries with domestic aviation routes, international travel is a key driver for the domestic aviation industry. As unions representing aviation workers, we know intimately that a true recovery from this pandemic can only occur when every country recovers.
Vaccine inequality, coupled with the role that a small number of countries are playing in blocking the TRIPS waiver and universal access to Covid-19 vaccines, treatments and equipment, has no place in a civilised world.
This is an emergency, when action is more urgent and important than ever. It is not just an economic question, but a moral question that is quite literally about life and death. For us in aviation, this is an industrial question too.
ITF has called on all nations to back the proposal from South Africa and India at the WTO, which is already supported by over 100 countries, and pass the emergency waiver on TRIPS. They make a call on all trade unions to join together and lobby their governments to this effect.
Edited by Paul Ridgway
London
Added 10 May 2021
♦♦♦♦♦♦♦♦♦
News continues below
TRADE NEWS: Voith to present technology for remote-controlled tugboats at National Maritime Conference in Rostock
More efficient vessel mooring and casting off manoeuvres thanks to remote-controlled tug assistants
Greater safety for crews
Voith contributing its comprehensive expertise in eco-friendly drive concepts and tugboat technology to the project
HEIDENHEIM/ROSTOCK, GERMANY.

Voith will present the FernSAMS technology as part of a live-streamed manoeuvre simulation at the 12th National Maritime Conference taking place in Rostock on 10-11 May 2021. The largest gathering of the German maritime sector – to be held virtually again this year due to the ongoing COVID-19 pandemic – places the future of the maritime industry in the spotlight.

The German acronym FernSAMS (Ferngesteuerte Schlepper bei An- und Ablegemanövern großer Schiffe) refers to the remote-controlled tugs used during mooring and casting-off manoeuvres of large ships. The objective of this collaborative project led by Voith is to make the use of tugs safer and more efficient. To realise this project, Voith assembled a consortium of industry and technology experts: the Hamburg University of Technology, the Fraunhofer Center for Maritime Logistics and Services, the Federal Office for Hydraulic Engineering, winch and crane manufacturer McGregor, the Marine Training Center (MTC) Hamburg and communication specialists from MediaMobil.

The project is funded by the German Federal Ministry for Economic Affairs and Energy (BMWi).
Read the rest of this report in the

TRADE NEWS

section available by CLICKING HERE
Added 10 May 2021
♦♦♦♦♦♦♦♦♦
News continues below
In Europe the strategic role of ports is respected
The European Sea Ports Organisation (ESPO) welcomes the adoption of the own-initiative (INI) report of TRAN-Committee Chair, Karima Delli, on technical and operational measures for more efficient and cleaner maritime transport by the European Parliament. This was reported at the end of April.
It is understood that the report was adopted with 453 votes in favour, 92 against, and 154 abstentions.
The final text adopted in the European Parliament plenary contains many of the key strong points which are supported by ESPO:
– The recognition of the strategic role of ports as hubs of transport, energy industry and blue economy.
– The recognition of the cross-border dimension of maritime ports.
– Support for bottom-up initiatives for zero-emission ports.
– The need for a revised concept of Motorways of the Sea.
– Acknowledgment of the role of ports in the review of TEN-T.
– Support for a modal shift towards short-sea shipping.
– A push for sufficient funding to both deliver the greening agenda and ensure the multimodal connectivity of Europe's seaports.
ESPO's Secretary General Isabelle Ryckbost commented: "Even if some outstanding issues were discussed up until right before the adoption of this own-initiative report, it is good to see that all points related to the essential and holistic role of ports, the importance of ports in the review of the TEN-T and the need to review the Motorways of the Sea concept, gained cross-party support. We are very grateful to the rapporteur and shadow rapporteurs for their understanding of the ports' sector and their strong proposals in that context."
The inclusion of maritime in the EU emission trading system and the role of LNG were the main discussion points in preparation of the plenary vote.
ESPO welcomes the ambitious wording on the inclusion of maritime in EU Emission Trading System (EU ETS). To deliver its goal, the revenues generated by the inclusion of maritime in the EU ETS must go towards the investments needed to decarbonise the maritime sector. This means that a substantial part of these revenues should be earmarked and go to the dedicated investments in alternative fuels infrastructure in European ports.
Secondly, it is ESPO's view that the Commission must consider and sufficiently address the interconnected issues of carbon leakage and the negative competitiveness effects associated with such a regional measure.
Furthermore, ESPO indicated that competitiveness of European ports and the maritime sector in Europe must be safeguarded by ensuring a level playing field in a global sector, and by accounting for exposed ports in the forthcoming ETS proposal. To be effective, a maritime EU ETS must look at preventing and minimising avoidance of the EU ETS regime by shipping companies calling at European ports.
With regard to LNG, ESPO welcomes the recognition of LNG as an available transitional fuel that can help improve air quality, and the need for LNG infrastructure f or a gradual transition towards zero-emission alternatives in the maritime sector.
Isabelle Ryckbost concluded by saying: 'This report shows the importance of the maritime and port sector and sheds a first light on the many challenges – and the opportunities – the sector will be facing on its journey towards reaching the Green Deal ambitions.
"ESPO and its members want to thank the rapporteur, shadows and all MEPs having worked on this report and are fully committed to continuing the constructive dialogue with the Parliament, the Commission and the Member States once concrete proposals are on the table."
The final European Parliament report can be found here: TA MEF (europa.eu)
Edited by Paul Ridgway
London
Added 10 May 2021
♦♦♦♦♦♦♦♦♦
News continues below
Another South African port-connected ship caught up in the Covid-19 crisis
In addition to several ships held up in South African ports under COVID-19 quarantine regulations, another ship on the service between South Africa and South East Asia, the container vessel ITAL LIBERA (IMO 9322475), has been quarantined at the Jakarta Anchorage following a voyage direct from Durban.
The Ital Libera sailed from Durban on 1 April and arrived off Jakarta after a 19 day voyage. During the voyage the ship's master, Captain Angelo Capurro, an Italian aged 61, who joined the vessel in Durban, became ill with the coronavirus and died while at sea on 13 April.
Captain Capurro joined the ship in Durban on 1 April after arriving from Doha via Johannesburg.
Because of the threat of the virus the ship was refused entry into Singapore or likewise at Malaysian ports, forcing the Ital Libera to continue on to Jakarta and go to anchor at the Jakarta Bay Anchorage on 19 April, after being refused permission to enter port. As of Sunday evening (10 May) the vessel remained at anchor in the anchorage.
Latest reports state that several of the crew have tested positive but this has not been confirmed. Italian authorities were negotiating with the Indonesian authorities for the body of the late captain to be released and returned to Italy.
The 294-metre long, 32m wide Ital Libera has a deadweight of 67986 tons and a container capacity of 5,090 TEU and is flagged in Italy. The ship was built in 2007 and is operated by Italia Marittima, formerly known as Lloyd Triestino. The ship is owned by Greek interests.
Italia Marittima S.p.A. is a subsidiary company of Taiwan's Evergreen Group.
Added 10 May 2021
♦♦♦♦♦♦♦♦♦
News continues below
WHARF TALK: SILVERFJORD – taking a rather special cargo
Story by Jay Gates
Pictures by 'Dockrat'
The German shipping company Maritime Carrier Services GmbH (MACS) of Hamburg offer a comprehensive service from South Africa on two major routes, one to North European continental ports and the other to United States Gulf of Mexico ports. The US Gulf service is known by the acronym GAL and there are seven MACS vessels plying the route, one of which is

SILVERFJORD (IMO 9225249)

.
She arrived in Cape Town on 5 May at 1400 from Durban, and proceeded to A berth in Duncan Dock to start a major onload, which included some fabulous examples of project freight destined initially for Florida.
The GAL service includes the obvious Southern African ports of Maputo, Richards Bay, Durban and Cape Town, with Walvis Bay calls only being on inducement. The regular US Gulf ports being Houston, Brownsville (both Texas), New Orleans (Louisiana) and Mobile (Alabama). Inducement calls are made to any other Gulf port as required.
On sailing from Cape Town on 7 May at Midnight, Silverfjord was bound for Port Everglades (Florida), which is an inducement port. The question is what cargo might be considered for a stop off in Florida?
Built in 2002 by the Shanghai Shipyard in China, Silverfjord is 186 metres in length, has a deadweight of 37,548 tons and a container capacity of 1,878 TEU. She is powered by a single Shangchuan MAN-B&W 6S50MC-C 6 cylinder 2 stroke main engine producing 11,506 bhp (8,580 kW) to give a service speed of 14.6 knots. She has been operating in the MACS fleet since 2014.
Alongside at Cape Town she loaded a big deck consignment of Sailing Catamarans, and other power catamarans. These catamarans were the world renowned Leopard 45 and Leopard 50 designs of Robertson and Caine, whose shipyard factory is located in Woodstock, close to Cape Town Harbour.
Founded in 1991, Robertson and Caine have achieved an astonishing record of producing almost 2,500 of their catamarans in that time, with every single one of them being for export, i.e. 100% of what is produced goes overseas. As project freight cargoes go, this particular continuous South African export trade is little known, but of great importance for the reputation of South Africa overseas, and for its lauded maritime technological expertise abroad.
The Leopard 45 achieved the internationally awarded status of 'Boat of the Year 2017', with her bigger cousin Leopard 50 achieving the status of 'Boat of the Year 2019'. Robertson and Caine export the vast majority of their catamarans to two of the world's largest yacht charter companies, namely The Moorings and Sunsail, with one of the catamarans loaded onto the 'Silverfjord' having the Sunsail logo prominently displayed on the bows of her twin hulls.
The Leopard 45 catamaran is 13.72 metres in length (45 feet), with a mast height of 21.34 metres (70 feet) and she carries a total upwind sail area of 120.5 m2. They have a displacement of 14.9 tons and for those occasions when power is needed, the Leopard 45 comes with two Yanmar 4JH45 4 cylinder 4 stroke main engines producing 45 bhp (33 kW).
The larger Leopard 50 catamaran is 15.4 metres (50 feet) in length, with a mast height of 25.51 metres (77 feet) and she carries a total upwind sail area of 154.2 m2. The Leopard 50 has a displacement of 20.6 tons and they are powered by two Yanmar 4JH57 4 cylinder 4 stroke main engines producing 57 bhp (42 kW).
With one of the main operating areas of The Moorings and Sunsail being the Caribbean it is thus no surprise that the first port of call in the US for 'Silverfjord' will be Port Everglades in Florida, which also ties in with where the sales company of Leopard catamarans maintain their main US office.
With the Mediterranean being the other important area for The Moorings and Sunsail, of interest is that only 3 weeks ago another small general cargo vessel, TEMA (IMO 9428786) called in at Cape Town and loaded a full deck cargo of a dozen Robertson and Caine catamarans, both sail and power Leopard models, and sailed on 15 April. Her cargo of catamarans were all destined for discharge at the French Mediterranean port of Nice, which lies just north of the Leopard catamarans Cote D'Azur office.
Added 10 May 2021
♦♦♦♦♦♦♦♦♦
News continues below
WHARF TALK: Durban Port Bulletin News
Moshe Motlohi, Transnet National Ports Authority General Manager reports:
This past week we have dedicated a great amount of time and attention on the COVID-19 cases emanating from the Eaubonne vessel* that was in the port to discharge. This event has been a harsh reminder that COVID 19 is still a reality and we have to keep our levels of vigilance at a steady consistency.
* SEE HERE
We want to assure port users that TNPA in collaboration with the various organs of state in the port, can effectively manage the challenges delivered by COVID-19. I would like to appeal to everyone to really think hard and deep before disseminating unverified reports about incidents of this nature.
I noted with concern some voice notes that were circulating and their contents were not wholly accurate. These messages do not assist with managing the situation instead they incite panic.
As the Authority we will be focusing on rolling out extra COVID 19 control measures in our operations. Our focus will be to enhance protection of front line employees. We want to appeal to everyone who has employees that interface with vessels to support the Harbour Master's regulations shared with port users.
The state will be determining the next steps to follow and announcements will be made on the state of variants of concern in our country's context and the necessary measures which will be implemented to mitigate the importation of COVID-19 in its entirety.
This week we got confirmation that the collaboration between the port and the private sector has yielded good results. Here I would like to commend the three terminal operators in Maydon Wharf that have identified staging facilities. These are going to come in handy in managing the income of expected high grain volumes this season.
In addition to our efforts towards a robust stakeholder engagement process with port users, we have started with our one-on-one engagements with tenants who will be impacted by the proposed Durban Master Plan and encourage for inputs and collaboration where needed.
Be safe as we approach the winter season and remember to maintain physical distancing, practice effective wearing of masks, sanitize and steam.
Added 10 May 2021
♦♦♦♦♦♦♦♦♦
News continues below
WHARF TALK: Durban Volume and Vessel Call Performance
Container terminals

were challenged by adverse weather in this reporting week; Pier 1 and 2 were on standby for 4hrs 40min and 4hrs 35min respectively and worked 2 vessels less than planned. The wind impact coupled with terminal closure amid the 1 May public holiday import and transshipment volumes fell below target by 29% and 32% respectively.

Automotive sector performed well in the past week with budget exceeded by 17%. Import volumes took a slight dip from the previous week's spike however both components within this sector performed at similar levels with total throughput of 3549 units for imports and 3943 units for exports respectively.

Dry bulk sector is over budget as agricultural commodities performed well with maize and fertilizer volumes driving up volumes in the reporting period.

Chrome ore exports also performed marginally well with just more than 43 000 tons loaded. Other ores also performed well with a registered throughput just exceeding 100 000 tons.

Break bulk sector exceeded budget in the reporting week by 65%. We note that cement was the primary driver of volume in this period coming in at just over 38 700 tons for the period.

Steel throughput and other project cargo performed on marginal levels.

Liquid bulk sector did not achieve set target, this is due to planned SBM vessels calling with smaller than budgeted parcel sizes due to less intake of crude oil due to the relevant shutdowns. Petroleum and chemical volumes exceeded targets 14% and 8% respectively, this is due to high import throughput currently for these products.    source: TNPA
Added 10 May 2021
♦♦♦♦♦♦♦♦♦
News continues below
Angolan Port of Luanda has slight decrease in volume throughput
The Angolan port of Luanda has reflected a small decrease in port volumes for the 2020 calendar year, but revenue increased by 60% to AKz (kwanza)79.5 billion. Revenue for the previous calendar year 2019 amounted to Kz 49.7 billion.
Net profit for the port amounted to Kz 27.1 billion (Kz 15.7bn for 2019).
Container volumes are reported as having reached 5.4 million tons – using an average of 14 tons per TEU means the container traffic at Luanda was 385,740 TEUs for 2020, compared with 350,600 in 2019, a roughly 10% increase.
The report says non-container cargo for 2020 was 830,403 tons, and increase from the 503,181 tons reported in 2019.
Bulk cargo showed a hefty drop from 613,324 tons in 2019 to 419,897 tons in 2020, a 32% decrease.
Ship calls for Luanda numbered 501, three less than in 2020. These numbers reflect deepsea or long-haul ship calls and not fishing or service type vessels, tugs etc. – source Angop
Added 10 May 2021
♦♦♦♦♦♦♦♦♦
News continues below
Cargo containment system for large liquefied hydrogen carrier
ClassNK issues Approval in Principle (AiP)
Development by Kawasaki Heavy Industries
It was announced from Tokyo on 7 May that ClassNK had issued an Approval in Principle (AiP) to Kawasaki Heavy Industries, Ltd for the design of a cargo containment system (CCS) of the world's largest capacity (40,000 m3 class per tank) developed for use on a large liquefied hydrogen carrier.
Hydrogen is expected to be used as a clean energy source to realise a decarbonised society as its burning does not emit CO2.
To contribute to the maritime transport of hydrogen, which is anticipated to expand its use worldwide, in 2017 ClassNK published Guidelines for Liquefied Hydrogen Carriers describing the safety requirements for liquefied hydrogen carriers based on IMO's Interim Recommendations for Carriage of Liquefied Hydrogen in Bulk.
It is understood that ClassNK has engaged in the classification survey during construction of a pioneering liquified hydrogen carrier, SUISO FRONTIER¹, with a 1,250 m³ carrying capacity built by Kawasaki according to its rules and guidelines.
Having received an application from Kawasaki, ClassNK carried out the design review of the newly developed CCS2² for a hydrogen liquified carrier based on its Part N of Rules for the Survey and Construction of Steel Ships incorporating the IGC Code, and its guidelines incorporating the IMO's interim recommendations.
In addition, a comprehensive safety assessment of the CCS was conducted based on the HAZID risk assessment results, which has led to the issue of the AiP.
The main features of the CCS announced by Kawasaki are as follows:
1.Construction enables transport of cryogenic liquefied hydrogen in large amounts thanks to tank capacity on par with tanks used on large liquefied natural gas (LNG) carriers
2.It uses an independent, self-supporting design with a structure capable of responding flexibly to thermal contraction that occurs when loading cryogenic liquefied hydrogen
3.Contains a newly developed, high-performance heat insulation system that mitigates boil-off gas (BOG) which occurs in response to heat ingress
4.It is designed to effectively utilise BOG as fuel to power the ship, thus contributing to reduced CO2 emissions from liquefied hydrogen transport operations
Edited by Paul Ridgway
London
¹ Constructed by Kawasaki as a member of the CO2-free Hydrogen Energy Supply-chain Technology Research Association (HySTRA; see here: http://www.hystra.or.jp/en/gallery/), as part of the demonstration project for establishment of mass hydrogen marine transportation supply chain derived from unused brown coal by the New Energy and Industrial Technology Development Organization (NEDO).
² Developed by NEDO Technology Development Project for Building a Hydrogen-based Society / Technology Development Project for Large-Scale Utilization of Hydrogen / Project for Enlargement of Liquefied Hydrogen Cargo Tank Facilities and Development of Unloading Terminal Equipment.
Added 10 May 2021
♦♦♦♦♦♦♦♦♦
News continues below
TPT in innovative development of logistics App for industry
Transnet Port Terminals' (TPT) has revealed that it is well on its way into building the Cargo Connect APP, which it says will become South Africa's digital marketplace for logistics services.
This development of the App is in response to calls from industry and is being undertaken in collaboration with primary customers and including first line end users of the import and export industry.
According to TPT, the Cargo Connect APP will introduce enhancements that will benefit customers and the broader supply chain by increasing the logistics' network visibility.
Participants in the development of the APP included a cargo owner, a clearing and forwarding agent, a transporter, shipping lines as well as information technology providers.
The App is planned for release during the second quarter of 2021 (before end June)
Insights gathered have demonstrated the need for one source of data. Some of the APP features include improved and expanded user benefits such as real-time container statuses with information on whether loaded, discharged, released or allocated.
With operational notifications, customers will have sight of vessel status whether berthing, loading, discharging and the percentage of work completed. The APP will also feature mobile terminal instruction requests such as pre-advise, truck appointments and truck assignments. Included is also a road haulage operating system.
"Cargo Connect is the innovative digital solution that meets customer requirements," said TPT General Manager: Sales and New Business Development, Siyabulela Mhlaluka.
"South Africa needs an online solution that gives an end to end supply chain view enabling the market to submit logistics related requests on the platform and allow service providers to bid and the preferred proposal to be selected."
Added 10 May 2021
♦♦♦♦♦♦♦♦♦
News continues below
Santa Rosa phase-out on South Africa-Northern Europe service
Container carrier Ocean Network Express (ONE) has announced the phasing out of one of the vessels deployed on the SAECS Africa Trade (SRX) service, due to maintenance requirements.
The container ship SANTA ROSA currently on voyage 211N will no longer carry out her southbound v.212S and northbound v.212 voyage.
The replacement vessel, SANTA CRUZ v.211N will phase into the service in Zeebrugge on 17 May 2021 and cover future voyages.
The London Gateway and Bremerhaven imports from the Santa Rosa v.211N will discharge in Zeebrugge for connection onto the Santa Cruz v211N.
Cargo destined for Algeciras will remain onboard the Santa Rosa v.211N for discharge 21 May 2021.
Santa Rosa 211N:
ARRIVAL PORT
Sat 15 May Rotterdam
Sun 16 May
Fri 21 May Algeciras NB discharge call
Santa Cruz 211N/212S
ARRIVAL PORT
Sun 16 May Zeebrugge
Fri 21 May London Gateway
Sun 23 May Bremerhaven
Tue 25 May Rotterdam
Added 10 May 2021
♦♦♦♦♦♦♦♦♦
News continues below
GENERAL NEWS REPORTS – UPDATED THROUGH THE DAY
in partnership with – APO
More News at https://africaports.co.za/category/News/
♦♦♦♦♦♦♦♦♦
News continues below………
♦♦♦♦♦♦♦♦♦
TO ADVERTISE HERE
Request a Rate Card from info@africaports.co.za
EXPECTED SHIP ARRIVALS and SHIPS IN PORT

Port Louis – Indian Ocean gateway port
Ports & Ships publishes regularly updated SHIP MOVEMENT reports including ETAs for ports extending from West Africa to South Africa to East Africa and including Port Louis in Mauritius.
In the case of South Africa's container ports of Durban, Ngqura, Ports Elizabeth and Cape Town links to container Stack Dates are also available.
You can access this information, including the list of ports covered, by  CLICKING HERE remember to use your BACKSPACE to return to this page.
News continues below
CRUISE NEWS AND NAVAL ACTIVITIES

QM2 in Cape Town. Picture by Ian Shiffman
We publish news about the cruise industry here in the general news section.
Naval News
Similarly you can read our regular Naval News reports and stories here in the general news section.
♦♦♦♦♦♦♦♦♦
THOUGHT FOR THE WEEK
"It is impossible to escape the impression that people commonly use false standards of measurement — that they seek power, success and wealth for themselves and admire them in others, and that they underestimate what is of true value in life."
-Sigmund Freud   
♠♠♠
♠♠♠
ADVERTISING
For a Rate Card please contact us at info@africaports.co.za
Don't forget to send us your news and press releases for inclusion in the News Bulletins. Shipping related pictures submitted by readers are always welcome. Email to info@africaports.co.za
TABLE BAY UNDERWAY SHIPPING
SHIP PHOTOGRAPHERS
Colour photographs
and slides for sale of a variety of ships.
Thousands of items listed featuring famous passenger liners of the past to cruise ships of today, freighters, container vessels, tankers, bulkers, naval and research vessels.
P O BOX 809, CAPE TOWN, 8000, SOUTH AFRICA
snai@worldonline.co.za
http://home.worldonline.co.za/~snai