Bringing you shipping, freight, trade and transport related news of interest for Africa since 2002
Stay Well, Stay Safe, Stay Patient, don't become one
Advertise here. For a Rate Card email us at terry@africaports.co.za
♠♠♠
Join us as we report through 2021
**********
TODAY'S BULLETIN OF MARITIME NEWS
These news reports are updated on an ongoing basis. Check back regularly for the latest news as it develops – where necessary refresh your page at www.africaports.co.za
Click on headline to go direct to story : use the BACK key to return  
EARLIER NEWS CAN BE FOUND AT NEWS CATEGORIES…….
The Sunday masthead shows the Port of Richards Bay Coal Terminal\
♦♦♦♦♦♦♦♦♦
SEND NEWS REPORTS AND PRESS RELEASES TO
info@africaports.co.za
♦♦♦♦♦♦♦♦♦
News continues below
 The Handysize chemical and fuel oil tanker FOREVER HARMONY (IMO 9796925) heads out from Durban for the high seas after discharging her cargo at the port's Island View terminal. Forever Harmony has a deadweight of 49,948 tons and a length of 183 metres and a width of 32m.  Built in 2018, the tanker is owned by a Chinese company known as Yong He Marine Pte Ltd of Nanjing with offices in China and is operated and managed by the Nanjing Tanker Corp, also of Nanjing.    The picture was taken by Trevor Jones
♠♠♠
Photographs of shipping and other maritime scenes involving any of the ports of South Africa or from the rest of the African continent, together with a short description, name of ship/s, ports etc are invited.
♦♦♦♦♦♦♦♦♦
♦♦♦♦♦♦♦♦♦
News continues below
WHARF TALK: Chartered container ship Cypress flies the CMA CGM flag
Story by Jay Gates
Picture by 'Dockrat'
The great French shipping concern, CMA CGM, run most of their South African schedules with chartered tonnage, and so it was on 26 April at 13h00 when the large container vessel CYPRESS (IMO 9461477) arrived in Cape Town from Luanda on the CMA CGM Asia West Africa service.
Built in 2011 by Hyundai Heavy Industries at Samho in South Korea, Cypress is 336 metres in length with a deadweight of 102,528 dwt. She is powered by a HHI-Wartsila 12RT-flex96C main engine producing an impressive 92,048 bhp (68,640 kW) to enable the vessel to maintain a service speed of 25.2 knots. She has a container capacity of 8,586 TEU.
Originally owned by the now defunct Hanjin Lines of South Korea, Cypress has been operated on behalf of a number of major container lines including SM of South Korea, MSC, Maersk and now CMA CGM. In October 2020 she was sold to a finance company linked to the J.P Morgan banking and asset management group, who operate a Global Maritime Investment Fund (GMIF). She is nominally owned by Jupiter 11 Ltd. of Monrovia, and she is managed by Oceonix Services of London, who are also linked to J.P Morgan, as part of the financiers desire to be a leading provider of ship management services.
In these days of regular reports of the new post panama container ships losing hundreds of containers in winter storms, when operating for SM Lines, Cypress lost 35 containers overboard in a storm off the coast of British Columbia when en route to Vancouver with some of the containers washing ashore along the BC coast.
On completion of her container discharge and onload at Cape Town, Cypress sailed for Port Klang in Malaysia on 28 April at 21h00 on her CMA CGM Asia West Africa service.
The port rotation of this service is Qingdao – Shanghai – Ningbo – Nansha (all China) – Tanjung Pelepas (Malaysia) – Singapore – Cape Town – Pointe Noire – Luanda – Cape Town – Port Klang – Singapore – Qingdao. It is very unusual for a major container schedule to South Africa not to have a port call at Durban.
Added 6 May 2021
♦♦♦♦♦♦♦♦♦
News continues below
Lekki port developers receive first installment of the loan facility to build the port
It has taken a long time to reach this stage, but Lekki Port LFTZ Enterprise Limited, the developers of the Lekki deep port near Lagos, Nigeria, has received the first instalment of $60 million towards the cost of construction.
In 2019 a loan facility agreement for $629 million was entered into with the China Development Bank.
Lekki will become one of the deepest seaports in the sub-Saharan African region.
Managing Director of Lekki Port LFTZ Enterprise Limited, Du Ruogang, said the development company had satisfied all conditions required for the release of the funds.
Du Ruogang said this meant the port development can go ahead with construction towards the aim of delivering a world-class deep seaport and to ensure that commercial operations commence before the end of 2022 (which seems a little ambitious).
As envisaged, the project calls for a multi-purpose, deepwater port in the heart of the Lagos Free Trade Zone (LFTZ) which will become one of the most modern ports in the West African region.
Added 6 May 2021
♦♦♦♦♦♦♦♦♦
News continues below
CAPE, an appropriate name for a ship calling at the Tavern of the Seas
Story by Jay Gates
Picture by 'Dockrat
It is always nice to see a ship with a simple name, and one that does not reflect the owner, charterer, trade or nationality and also reflects the port in which she lies.
Arriving at Cape Town on 24 April at 01h00, the CAPE (IMO 9498224) made a swift call to discharge a small bulk cargo of 3,500 tons of Phosphate Mineral Fertiliser. Her discharge was quick and was completed within 20 hours. She sailed, again on 24 April at 21h00, for Durban where she completed the discharge of the remainder of her cargo.
She had arrived from the two Russian Baltic ports of St. Petersburg and Kaliningrad, both of which have large bulk mineral fertiliser export terminals.
Built in 2010 by Shanhaiguan Shipbuilding at Qinhuangdao in China, Cape was originally launched as the Heloise, a former name which is still clearly visible on the bow under her present name.
A small Handysize bulk carrier at 186 metres in length and with a deadweight of 30,688 tons, Cape is powered by a Yichang MAN-B&W 6S46MC-C 6 cylinder 2 stroke main engine providing 9,789 bhp (7,200 kW). She is owned and managed by Parakou Shipping of Hong Kong.
Added 6 May 2021
♦♦♦♦♦♦♦♦♦
News continues below
TAZARA faces shortfall in freight carried for 2021/22
The Tanzania-Zambia Railway Authority (Tazara) says it has targeted the transportation of 450,000 tonnes of freight cargo along the Cape gauge railway (3ft 6ins gauge) connecting Zambia and the rest of the Cape gauge network, with the port of Dar es Salaam.
If it achieves this volume while also carrying 3.4 million passengers during the 2021/22 financial year, the company will generate revenue worth US$45.71 million from its operational and non-operational income sources.
Of this number, $36.03 million will come from freight and passenger services and another $9.67 from non-operational revenue streams, including open-access operations (an open-access operator is a train operating company that takes full commercial risk, running on infrastructure owned by a third party and buying paths on a chosen route and in countries where rail services run under franchises are not subject to franchising – Wikipedia).
These targets have been approved on 28 April 2021 by the Tazara board of directors meeting during the Board Meeting on that day. The board comprises the Permanent Secretaries for Transport in Zambia and Tanzania, together with four other Board Members from both countries.
However, in order to generate a profit Tazara requires carrying 600,000 tonnes of freight traffic.
This is not the first year that Tazara has operated with a loss. That has been the case for many years with the company unable to pay salaries and having to cut back on services, all of which further reduced the revenue stream.
Tazara has nevertheless shown more promising results recently as demonstrated by an increase in freight traffic of 19.4 per cent for the half year 2020/21 compared to the same period of 2019/20. This improvement has continued into the current financial year, despite the global slump arising from the COVID-19 pandemic.
In the first half of this fiscal year Tazara carried 105,222 tons of freight, up from 88,356 tons the previous half-year.
"With the addition of 127,259 tonnes moved by Calabash Freight Ltd, through Open Access operations, the total line capacity utilisation for the first half aggregated to 232,481 tonnes, up by 19.4 percent compared to the combined volume of 194,726 tonnes recorded in the previous FY's first-half," the Tazara's report states.
On the reverse side, overall passenger traffic for the current first half-year declined by 4.3 per cent. Passenger levels dropped from 1,544,068 passengers during the previous half-year, to 1,478,032 in this current period.
The report shows that the overall revenue earnings, however, increased by 19.4 percent to $14.88 million, compared to $12.56 million that was generated in the first half of the 2019/20 financial year. It appears that at last Tazara is back on the right track to operational self-sufficiency.
Added 6 May 2021
♦♦♦♦♦♦♦♦♦
News continues below
Scary moment on Lake Nyasa as mv Mbeya II is grounded by huge waves
It was a tense moment on Lake Nyasa as the vessel MBEYA II was swept by a series of waves that grounded the multipurpose ship on a sandbank outside Matema port.
On board were 87 passengers and 25 crew, who were left unhurt but shaken by their experience.
The incident occurred on Monday, 3 May 2021 at 18h00. mv Mbeya II was sailing from Songea to Kyela when the waves struck.
The vessel was also carrying a cargo of electricity transmission equipment to Kyela port. There was no damage to the 12 tons of cargo.
mv Mbeya II is one of the most modern of all Great Lakes ships of East and Central Africa, having entered service in January 2020. The ship, a multi-purpose vessel capable of carrying up to 200 passengers and 200 tonnes of cargo, was built by the firm of Sogoro Marine Company based at Mwanza on Lake Victoria.
She was the last of three new vessels built for Lake Nyasa (Lake Malawi in that country), the other two being cargo vessels capable of carrying up to 1000 tonnes. The two cargo ships are the Ruvuma and Njombe which entered service in 2017.
The three vessels were financed by the Tanzanian Ports Authority.
Added 6 May 2021
♦♦♦♦♦♦♦♦♦
News continues below
UPDATE on quarantined ship Eaubonne in Durban harbour
The bulk carrier EAUBONNE that arrived in Durban harbour from India on Sunday night with a cargo of rice to discharge at Maydon Wharf 2, has completed cargo working but remains under quarantine.
See report CLICK HERE
The 14 Filipino seafarers who were being tested have all proved positive for the coronavirus.  One of the men became seriously ill with breathing problems and has been admitted to a Durban hospital. The other 13 are remaining on board the ship in isolation from the remaining crew.
The port general manager, Moshe Motlohi, speaking to a national television station, said the seafarer who died on board the ship had passed away from cardiac arrest.
He also said the number of dock workers who have been on board the ship was 41, and not several hundred as stated in yesterday's report.  The dock workers are being traced for testing purposes by local health services.
Port Elizabeth
Another two ships at Port Elizabeth arrived in port where it was later discovered that certain of the crew had contracted COVID-19.
One ship, the CONSOLIDATOR (IMO 9368869), arrived from Mombasa in Kenya with four seafarers due to leave the ship and fly home. Requiring the compulsory PCR (polymerase chain reaction) before departing, they were found to be positive for the coronavirus and were placed in isolation at a quarantine facility ashore.
The remainder of the crew of 18 were then tested and nine were shown to be positive. One of these has been admitted to a Gqeberha (Port Elizabeth) hospital and the others placed in isolation. Operations on the ship have been curtailed and the vessel is under guard to ensure no unauthorised persons go onboard.
A second vessel, unidentified by name though some reports refer to the name Wilhelmsen which is a company, not a ship, is reported to have had three seafarers test positive who were placed in isolation by health department officials.
Added 5 May 2021
♦♦♦♦♦♦♦♦♦
News continues below
Port of Douala terminal orders two Konecranes Gottwald Mobile harbour cranes
Cameroonian terminal aims to raise productivity and handling capacity
The Port of Douala Régie du Terminal à Conteneurs (RTC), operator of the container terminal in Douala, Cameroon, has ordered two eco-efficient Konecranes Gottwald Model 6 Mobile Harbour Cranes to improve the overall capacity of the terminal's container handling.
The order was placed in the first quarter of 2021 in anticipation of an increase in the volume of cargo passing through the Port of Douala, resulting in RTC deciding to add to the fleet of mobile harbour cranes at their terminal.
Two Konecranes Gottwald Model 6 cranes have been ordered as this equipment will provide the port and terminal with more cargo handling capacity and help them raise their terminal, which handles the majority of Cameroonian port traffic, to a new level of efficiency, said Konecranes.
The cranes are due to arrive in Douala in early August 2021.
"Playing such an important part in the local economy, we need to maintain high-quality services for both Cameroonian and international clients," says Faustin Dingana, Managing Director of RTC Douala.
"Our two new Konecranes Gottwald mobile harbor cranes will help us continue to meet increasing customer demand well into the future."
According to Andreas Czwalinna, Regional Sales Manager for Konecranes Port Solutions, RTC already operates a fleet of Konecranes lift trucks and mobile harbour cranes.
"The fact that they have chosen us again demonstrates how the performance of our cranes helps them reach their productivity and growth objectives," he said.
Technical
The two new cranes are Konecranes Gottwald Model 6 Mobile Harbour Cranes in the G HMK 6507 variant. With a maximum radius of 51 metres, they can service container vessels up to post-Panamax class. A full range of smart crane features combined with a maximum lifting capacity of 125 tonnes offers high flexibility in handling any kind of cargo including general and even heavy project cargo.
Added 5 May 2021
♦♦♦♦♦♦♦♦♦
News continues below
WHARF TALK: MSC Gabriella: Bet you didn't know this
Story by Jay Gates
Pictures by 'Dockrat'
With the recent decisions by Maersk to remove the Safmarine brand from their fleet colours, and for Grindrod to sell off the last Unicorn vessel, local shipspotters are no longer able to scan the harbours of South Africa, or anywhere else on earth for that matter, to try and catch a glimpse of a familiar vessel in the colours of one of their favourite South African shipping companies.
All the passionate shipspotter can do now is try and spot a vessel they can identity as one that used to sail for either Safmarine, or for Unicorn Lines.
On 25 April at 15h00 MSC GABRIELLA (IMO 8413875) arrived in Cape Town from Durban, and proceeded directly to the Multi-Purpose Container Terminal in the Duncan Dock to spend five days discharging and loading a full cargo of containers before sailing on 30 April at 17h00 for Lobito on her regular Angola Service rotation for parent company MSC.
Nominally owned by Compania Naviera Gabriella SA since 2011, MSC Gabriella is operated by MSC Shipping of Geneva and managed by MSC Shipmanagement of Limassol in Cyprus.
Built in 1985, which is quite an age for a modern container vessel, by the Howaldtswerke Deutsche Werft shipyard at Kiel in Germany, MSC Gabriella is 190 metres in length, with a deadweight of 31,290 tons and a container capacity of 1,893 TEU. She is powered by a single MAN-B&W 5L70MC main engine producing 14,144 bhp (8,569 kW) driving a fixed pitch propeller for a service speed of 17.2 knots. She carries three auxiliary engines providing 450 kW (563 kVA), with an emergency generator providing 80 kW and two oil fired HDW boilers.
The South African connection of MSC Gabriella was that from 2000 to 2011 she was operated as SAFMARINE EUROPE, owned by Seal Shipping Ltd of Douglas in the Isle of Man and managed by Safmarine Shipmanagement (Pty) Ltd of Durban. In 2003 the ownership of Safmarine Europe was transferred to Safmarine Container Line BV of Antwerp in Belgium, with management of the vessel retained by Safmarine in Durban until her sale to MSC in 2011.
Added 5 May 2021
♦♦♦♦♦♦♦♦♦
News continues below
Update on Mozambique's Palma in the aftermath of the March attack, Part 3
News and information from the strife-torn Cabo Delgado province and the harbour towns of Palma and Mocimboa da Praia is difficult to attain, certainly from official government sources, but fortunately there are people and agencies who remain determined to bring news to the world of what is taking place in this far-north corner of Mozambique, an area that includes two small ports.
Without these people there would be little awareness of the emergence and atrocities of the Islamist insurgents that have grown in strength and power from those early days in October 2017. Nor of the suspect actions of some of the Mozambique security forces.
One of the sources is the weekly Joseph Hanlon Newsletter, from which we republish a section of the latest edition, with permission.
SADC team says send in 3000 troops
But does not fully accept government line
Military intervention was proposed by the SADC technical mission to Mozambique 15-21 April. The mission suggests 2,916 people including three light infantry battalions and seven special squadrons which would be both a fighting and training force.
Equipment would include one submarine, two surface patrol boats, six helicopters and five other aircraft.
Logistics would be established in the safest areas first, starting with Nacala port and a logistics base in Pemba. Forward Logistical Areas (FLAs) would then be created in two areas controlled by government, Mueda and lbo. FLAs would then be established in "Palma and subsequently Mocimboa da Praia once the area is cleared of terrorists."
The mission was only briefed by government in Maputo and military commanders on the ground in Cabo Delgado. But in one respect they tell a different story from the official line.
"Mocimboa da Praia town including the airport/airstrip and the harbour/port areas has been under the control of terrorists since August 2020. The town is considered to be one of the strong bases for the terrorists. The terrorists also occupy and operate from Siria (1 & 2) and Mbau."
The SADC mission takes a much more cautions line on foreign and Islamic State support, carefully using words like alleged, indications, unconfirmed and suspected.
"The terrorists are alleged to be financed through money transfer from sympathisers through electronic means of payment such as M-Pesa, M-kesh e E-mola and others. Funders are said to be mainly individuals and private organisations from South Africa, Tanzania, DRC, Uganda, Burundi and other parts of the world."
The mission continues: "There are indications that terrorists receive external support from individuals in various countries. lt is however not conclusive that they only get support from the above mentioned countries. The main suppliers of the terrorists are unconfirmed, but it is suspected that they are supplied by the Islamic State Central Africa Province (ISCAP)."
The mission notes that "There is currently no information with regards to where the terrorists get their arms from, but during the last attack new weapons were used. Some weapons are captured from the dead FADM soldiers but not in big numbers. The terrorists are currently using machetes, AK47, PKM, RPG7, 60 and 80mm mortars."
And it says that "FADM does not have adequate naval assets to patrol the maritime domain."
The mission would clearly take a long time to set up. The first step is to create an FADM intelligence operation with "an in-depth understanding of the enemy." The next step is to create the logistics structure. Money has to be found. SADC has to establish a "coordination mechanism" in Maputo. Links must be made with United Nations Office for Counter-terrorism (UNOCT)
SADC was to have met on 29 April to discuss the report, but the meeting was cancelled – allegedly due to Covid-19 isolation and a conflicting meeting – and no new date has been set. It is clear that there are sharp splits in SADC and in Frelimo over the proposals.
The team did not meet any independent local experts nor did it consider the issue of the origins of the war. It simply looked at a military response to terrorism.
The above comes from Joseph Hanlon's Newsletter "Mozambique News Reports and Clippings" by permission.
Added 5 May 2021
♦♦♦♦♦♦♦♦♦
News continues below
MSC Seaside returns to cruising with new Mediterranean destinations
Saturday, the 1st of May was a significant date for MSC Cruising and for the European cruising public, for this was the day when MSC Seaside joined
MSC Grandiosa

back at sea for weekly 7-night cruises in the Western Mediterranean.

These weekly cruises feature new destinations in Siracusa in Sicily and Taranto in Puglia, Italy. Having departed from Genoa in Italy on Saturday, the ship is now well into her voyage, having spent a relaxing day at sea followed by visits to the stunning port of Valetta, Malta and Civitavecchia for Rome.

MSC Seaside becomes the second ship back at sea for the 2021 summer season, with further ships, including sister ship and future flagship MSC Seashore to join them in the Mediterranean from August. All ships will implement MSC Cruises' rigorous health and safety protocol, which has been developed with a Blue Ribbon Panel.

The Sicilian port of Siracusa makes its MSC Cruises debut offering a choice of protected shore excursions so that passengers can discover the rich historical and archaeological sites in this area, including the Greek theatre of Siracusa, the biggest ever built in Sicily and one of the largest in the Greek world. Alternately they can immerse themselves in the beautiful countryside and baroque cities.

The southern town of Taranto in Puglia will offer something very special for those looking for a day to relax and unwind while making the most of this historic region. The old town of Taranto, full of charm with its winding alleys and dozens of churches and palaces and the National Archaeological Museum of Taranto (MArTA) displays the history of Southern Italy and the roots of its culture.
In addition to the range of protected excursions, MSC Cruises is introducing a special private beach experiences in Taranto from next month, exclusively for MSC Seaside's guests. A day out at the beach is an important part of a summer holiday so now guests on MSC Seaside will be able to relax on the sandy beach next to the clear waters of the Ionian Sea.
Incidentally, MSC Seaside rewrote the rule book of cruise ship design, combining indoor and outdoor areas to connect passengers with the sea like never before and features generous outdoor spaces with plenty of outdoor deck space and pools. Located as low as Deck 8 is a unique seafront promenade lined with places to eat, drink, shop, swim and sunbathe.
For those looking for exclusivity and privacy, the ship features the MSC Yacht Club, with the facilities of a private club and a 24/7 butler service.
This ship is specifically designed for warmer weather and is best enjoyed outdoors, making her the perfect ship for the start of summer in the Mediterranean when the climate is at its best.
Right now the Mediterranean might be a world away for us COVID-confined South Africans, but for our European and UK readers this might be your way of enjoying the northern summer.
Added 5 May 2021
♦♦♦♦♦♦♦♦♦
News continues below
Call for second Suez Canal channel to avoid another Ever Given
The DP World's Group chairman and CEO, Sultan Ahmed Bin Sulayem, says that Egypt should build a second channel to the Suez Canal in order to avoid the severe disruptions caused when the mega container ship Ever Given went aground shortly after entering the channel in convoy recently.
That's according to an article in the UK publication, The Loadstar.
"The canal is a critical artery for world trade and its blockage cost the world economy almost US$9 billion a day," said Bin Sulayem. "Weeks later, we are still giving relief to those who have had cargo delayed across our operations at Jeddah, Sokhna, Egypt and Dubai.
The chairman and CEO said that smooth world trade flows were the backbone of small and big business around the world. "Egypt should consider investing in another channel into the canal from the Red Sea to avoid future blockages.
"We must stay focused on infrastructure solutions that prevent supply chain disruptions while helping businesses move their cargo efficiently if they do happen."
A second and relatively short section of channel was built at the northern end of the canal and opened in 2015. Although intended as a replacement section, both channels at the northern end have remained in service.
Other shipping leaders have expressed similar statements to that of the DP World CEO.
This week an Egyptian court rejected an appeal by the Japanese owner of the Ever Given to release the ship which had been seized by Egyptian authorities immediately following the ship being freed, thus releasing the hundreds of ships backed-up in the canal or its approaches.
The ship's owner, Shoei Kisen Kaisha Ltd had asked the court to overturn the seizure which has also impacted its cargo and the crew, who are also not allowed to leave the vessel.
The court ruled that the ship could not leave until compensation has been paid to the Suez Canal Authority. The SCA is demanding US$916 million, which takes into account not only the cost of refloating the Ever Given, but also costs relating to stalled traffic and loss of SCA revenue for those 6 days.
Ever Given is carrying approximately 18,000 containers full of manufactured, textiles and other goods.
Added 5 May 2021
♦♦♦♦♦♦♦♦♦
News continues below
More Transnet Freight Rail cable theft arrests
Transnet Freight Rail (TFR), which operates freight rail services across South Africa, says it welcomes the recent arrests for cable theft. In a joint operation with Transnet's security division and the Directorate for Priority Crime Investigation (the Hawks), four Transnet employees from the Freight Rail division were arrested this week Monday (3 May 2021) at the Koedoespoort Infrastructure Maintenance depot in Pretoria.
They have been charged with theft of copper wires and were due to appear in the Pretoria Magistrate Court on Wednesday 5 May.
This latest arrest comes after another four employees were arrested on 24 February 2021, the case of which is still ongoing.
Between December 2020 and April 2021, Transnet Freight Rail experienced a total of 244 incidents of theft and vandalism of its infrastructure and managed to arrest 506 suspects in the same period in line with the Criminal Matters Amendment Act (18 of 2015) Theft of Ferrous or Non-Ferrous Metals forming part of Essential Infrastructure.
TFR says the series of arrests and successful convictions can be attributed to the intensified efforts by the joint operations with law enforcement agencies that seek to break the necks of the criminal syndicates and to curb the theft and damage to essential infrastructure. The deployment of technology in the fight against cable theft is also beginning to yield fruit.
Significant sections of TFR's rail services have been seriously impacted by the theft of copper cables. Social media has shown extensive section of railway line in the greater Johannesburg and Pretoria regions where electrically-hauled trains are unable to operate. Trains in these sections have to be hauled by diesel locomotives.
Even more impacted are the Passenger Rail Agency of South Africa (PRASA) operations, PRASA being responsible for metro and long-distance passenger services.
Added 5 May 2021
♦♦♦♦♦♦♦♦♦
News continues below
Update on Mozambique's Palma in the aftermath of the March attack, Part 2
News and information from the strife-torn Cabo Delgado province and the harbour towns of Palma and Mocimboa da Praia is difficult to attain, certainly from official government sources, but fortunately there are people and agencies who remain determined to bring news to the world of what is taking place in this far-north corner of Mozambique, an area that incluides two small ports.
Without these people there would be little awareness of the emergence and atrocities of the Islamist insurgents that have grown in strength and power from those early days in October 2017. Nor of the suspect actions of some of the Mozambique security forces.
One of the sources is the weekly Joseph Hanlon Newsletter, from which we republish a section of the latest edition, with permission.
Hunger and sickness but no foreign help allowed
Lack of food, clean water and health care has led to hunger (with reports of malnutrition) and disease, particularly malaria and diarrhoea. There are no international humanitarian and medical workers in the Palma area and there has been no foreign food or medical aid. The government and FDS insist that they must control distribution, and UN agencies such as World Food Programme will not accept that. Similarly foreign health workers are not allowed. And the stalemate continues.
Cabo Delgado governor Valige Tauabo told Radio Mocambique (26 April) said that an attempt would be made to move Mozambican medical teams to Palma. Many health workers are among the displaced still in Palma or Quitunda, but apparently there has been no attempt to mobilise them to reopen health posts.
There are two national exceptions to the ban on outside humanitarian assistance. Mission Aviation Fellowship's (MAF) local partner Ambassador Aviation has been has been flying a 14-seat Cessna Grand Caravan on the 50 minutes flight between Pemba and the Afungi airstrip. In April they made 80 flights, evacuated 559 people including children, the elderly, and sick and injured people.
Because the insurgents continue to have local support, the FDS are extremely worried about insurgents mixed in with refugees. Thus larger planes are not permitted, and MAF passengers are carefully vetted; nearly all are women, children and the elderly. Ambassador Aviation is a Mozambican company based at Nampula airport since 1999; all pilots have US licences which have been Mozambique-validated.
The other exception is VAMOZ (Voluntarios Anonimos de Mocambique – Anonymous Volunteers), an entirely local group based on local donations. On Thursday (29 Apr) a boat arrived from Pemba with 30 tonnes of food and clothing. It landed in Afungi and goods were transferred to containers. VAMOZ was allowed to distribute without problems in Quitunda. Local volunteers do the distribution, generally in collaboration with local elders. Distribution was not permitted in Palma town. The village of Maganja, just south of the Total fenced zone, has also received many displaced people, and VAMOZ volunteers drove there on Friday. After negotiations and satellite phone discussions they were eventually allowed by the FDS to do a distribution. Neither Frelimo nor FDS took items from the distribution, which remained controlled by the Palma volunteers.
The FDS finally began distributing food in Quitunda on Thursday. This apparently comes from a shipment of 100 tonnes to the government's INGD (Instituto Nacional de Gestao e Reducao do Risco de Desastres, ex INGC). INGD has no local distribution capacity or system. The shipment first arrived at Afungi three weeks ago and when no one from INGC could be found to accept it, it was returned to Pemba. A week later it was sent again, and offloaded and stored by the FDS. Some appears to have been distributed by Frelimo on 18 April and the FDS distribution in Quitunda probably comes from this shipment.
Medicines were also brought to Afungi on MAF flights on 25 April. These included 40 kg for VAMOZ, given to their health worker volunteers, and 400 kg sent by the district health directorate (now based in Pemba), which was received by the FDS. On 24 April MAF made three special flights to Ibo island to deliver 1125 kg of medicines.
Tanzanians expelling displaced
People fleeing Palma are also going north and west. Many are fleeing to Tanzania, 35 km north by road, or by dhow (prevailing winds at this time of year make it much easier to sail north). More than 1000 have tried to flee to Tanzania. Many were accepted but then Tanzania closed the border. Recently it began carrying the refugees by truck west 225 km to the Negomano border post on the Mozambique side of the Unity Bridge. This at least gets them out of the war zone.
The alternative is to go 95 km west to Nangade, though zones controlled by insurgents. People are continuing to arrive by foot and car. Police are holding 12 Palma civil servants who arrived in Nangade after 30 days being held by the insurgents. They had not been maltreated but some had malaria and swollen feet. It is not clear if they escaped or were released.
Part 3 tomorrow – SADC team says send in 3000 troops, but does not fully accept government line
The above comes from Joseph Hanlon's Newsletter "Mozambique News Reports and Clippings" by permission.
Added 4 May 2021
♦♦♦♦♦♦♦♦♦
News continues below
WHARF TALK: Unicorn tanker named SC Draco calls at Cape Town
Story by Jay Gates
Pictures by 'Dockrat'
With the recent demise of Unicorn Lines with the sale of their last products tanker, it was a tad confusing to witness the arrival in Cape Town of a products tanker owned by Unicorn Shipping. Other than the fact that the two events were not linked, and both were quite coincidental.
On 29 April at 21h00 the small MR1 class products and chemical tanker SC DRACO (IMO 9752022) arrived at the Cape Town anchorage and remained at anchor until the following morning when she berthed on 30 April at 12H00. She had arrived from the CEPSA Carteya Guadarranque refinery, adjacent to the port of Algeciras in Spain.
Built in 2016 by Jiangsu Hantong Wing Heavy Industries at Tongzhou in China, SC Draco is owned by Unicorn Shipping One Dac of Shanghai, which is a company owned by the Chinese State Sinochem Corporation of Shanghai, and she is operated by Sinochem Shipping of Singapore, hence the SC as her name prefix.
She is part of the Chempool 40 fleet, a tanker pool operated jointly by Sinochem and Odfjell Tankers of Norway. With a cargo carrying capacity of 30 cargo tanks, SC Draco is 183 metres long and has a deadweight of 40,924 tons. She is powered by a Hyundai MAN-B&W 6S50ME-B9 6 cylinder main engine producing 14,322 bhp (10,680 kW).
Unusually, whilst she was discharging in Cape Town, another Chinese state owned tanker LIAN GUI HU berthed directly behind her. See that story HERE
This was not the first visit to Southern Africa by SC Draco as she had discharged a cargo in Beira, Maputo and Durban in February 2021, which had been loaded in Sungai Udang in Malaysia.
She sailed for Durban on 1 May at 19h00.
Added 4 May 2021
♦♦♦♦♦♦♦♦♦
News continues below
SAMSA appoints new acting senior manager
The South African Maritime Safety Authority (SAMSA) has appointed four of its senior managers into the three positions vacated when the occupants were suspended with full pay on 26 April 2021.
SAMSA's chief operating officer (COO), Mr Sobantu Tilayi is replaced by two senior manager, Captain Vernon Keller, the current deputy COO, and Ian Calvert, currently executive manager of marine Special Projects.
The shared responsibility for the COO post sees Capt Keller taking over with effect from 1 May to 30 June 2021 and followed by Ian Calvert through to end of August 2021.
This was announced in Pretoria at the weekend by SAMSA's Acting CEO Ms Tsepiso Taoana-Mashiloane.
Chief Human Capital Officer (CHCO), Ms Lesego Mashishi and Company Secretary, Mr Moyahabo Raphadu are replaced by Mr Vusi September, current Head of Corporate Affairs, Government, and International Relations, and Ms Shelorne Muller, currently the assistant Company Secretary who will take over temporarily as Company Secretary.
The four managers will remain in the positions for the duration of the suspension of the three executives.
When making the announcement of the suspensions last week, the SAMSA Board said the suspensions were precautionary and that the decision to suspend them was based on "whistle-blowing and reports of alleged misconduct received from external and internal stakeholders."
No further details have been given.
The Board's action came barely two months after the secondment of a senior Department of Transport official, Ms Tsepiso Taoana-Mashiloane as SAMSA's new acting Chief Executive Officer, replacing Mr Tilayi who had been in that acting position since 2016.
Her appointment in turn had followed a few months after the appointment of a new Board at SAMSA by Department of Transport Minister, Mr Fikile Mbalula in the second half of 2020.
In its statement announcing the three top managers' suspension on Tuesday a week ago, the Board said: "A through forensic investigation will be undertaken on the range of serious allegations related to the three executives. The precautionary suspensions will provide an opportunity for the Board to undertake an independent forensic investigation.
"These suspensions are necessary to ensure that the Board investigations are efficient and free of any potential interference in order to be completed within a reasonable time frame. The Board will be guided by the findings and recommendations of the forensic investigation on which appropriate steps will be taken with the three executives.
Added 4 May 2021
♦♦♦♦♦♦♦♦♦
News continues below
Bolloré Transport & Logistics alongside UNICEF in fight against malaria
As part of the campaign to fight against malaria in Côte d'Ivoire, Bolloré Transport & Logistics is importing, storing and distributing 13 million mosquito nets for UNICEF.
Following the success of the campaigns in 2018 and 2019, Bolloré Transport & Logistics Côte d'Ivoire has renewed the process, delivering 418 containers of mosquito nets in Côte d'Ivoire. Since the end of 2020, these containers have been handled, stored and shipped by road to Bolloré Transport & Logistics warehouses.
The latter are used to dispatch 80,000 long-lasting insecticide-treated mosquito nets to 67 health districts in Côte d'Ivoire. The logistics operation for UNICEF equipment will be completed in May 2021.
Thanks to the expertise of the operational teams and its effective logistics solutions, Bolloré Transport & Logistics Côte d'Ivoire is able to contribute alongside UNICEF to the fight against malaria, a disease that affects four million people a year in Côte d'Ivoire, with 3,000 fatalities.
"We are pleased that UNICEF chose us for the logistics for the insecticide-treated mosquito nets, which are useful in the fight against malaria in our country," said Joel Hounsinou, MD of Bolloré Transport & Logistics Côte d'Ivoire.
Added 4 May 2021
♦♦♦♦♦♦♦♦♦
News continues below
Ship placed under quarantine in Durban in fear of Coronavirus
See Update above:
On the same day that the South African government issued a statement saying that the ports were on high alert for the Indian variant of the Coronavirus (B.1.617) that has emerged in devastating numbers in India, it was learnt that a ship that arrived on Sunday night, 2 May, has been placed under quarantine after the discovery that a crew member had died en route. Another 14 crew have since been taken for testing for Covid-19.
"All our ports of entry employ stringent containment procedures to minimise the importation of COVID-19," said Health Minister Dr Zweli Mkhize in the statement issued on Tuesday, 4 May 2021.
The ship EAUBONNE (IMO 9663104), sailed from the port of Kandla in India on 18 April 2021 on a 14-day voyage to Durban, where she arrived off port on Saturday, 1 May, prior to entering port and berthing at Maydon Wharf 2 on Sunday at 20h00.
During the voyage one of the crew members passed away and authorities in Durban were advised that he died of a heart attack.
The ship was carrying a cargo of 6,250 tons of rice to be discharged in Durban.
However, on Tuesday 4 May dock workers and others working on the ship were told to stop all operations and that the vessel was under quarantine. Fourteen of the crew were taken for COVID-19 testing but the real worry is that a large number of dockworkers had already been exposed to the crew.
It was suggested that as many as several hundred dock workers and others might have been on the ship since Sunday.
"All our ports of entry employ stringent containment procedures to minimise the importation of COVID-19," said Dr Mkhize, indicating a concern that a new variant of the virus might slip through.
He said while the variant was yet to be detected in South Africa, members of the genomics team had informed government that they had intensified surveillance to not only ensure detection of the virus but to also understand its implications.
This comes as India has seen a resurgence of COVID-19 cases attributed in part to the circulation of different variants, including the B.1.617 Coronavirus variant.
Michelle Groome, Head of the Division of Public Health Surveillance and Response at the National Institute for Communicable Diseases (NICD) said testing of COVID-19 positive samples from travellers entering South Africa from India and their close contacts will be prioritised.
"This will enable us to detect the B.1.617 and any other variants in a timely manner," he said.
Despite the Health Minister giving his reassurances that there were currently no direct flights from India, it would appear that seaports are lower on government's agenda.
Eaubonne
The ship is a bulk carrier of 63,308-dwt and has an overall length of 200 metres and a width of 32m.
Eaubonne is owned by Danish interests, operating with the name GH Storm Cat LLC which minus the LLC was also the name of the ship between 2016 and February this year when she was renamed Eaubonne. The ship and commercial manager is Celsius Shipping ApS of Hellerup in Denmark.
Registered in the Marshall islands, the vessel was built seven years ago in 2014.
Added 4 May 2021, updated 5 May 2021
♦♦♦♦♦♦♦♦♦
News continues below
Update on Mozambique's Palma in the aftermath of the March attack
News and information from the strife-torn Cabo Delgado province and the harbour towns of Palma and Mocimboa da Praia is difficult to attain, certainly from official government sources, but fortunately there are people and agencies who remain determined to bring news to the world of what is taking place in this far-north corner of Mozambique.
Without them them would be little awareness of the emergence and atrocities of the Islamist insurgents that have grown in strength and power from those early days in October 2017. Nor of the suspect actions of some of the Mozambique security forces.
One of the sources is the weekly Joseph Hanlon Newsletter, from which we republish a section of the latest edition, with permission.
20,000 hungry hostages
Following the model of attacks and occupation of Mocimboa da Praia, the insurgents are now trying to clear the population from Palma in advance of an attack expected soon after the end of Ramadan on 12 May.
Everyone wants to flee, but the Mozambican government is not letting anyone leave. Effectively they are keeping up to 20,000 people hostage to try to forestall the next insurgent attack. And the people are now sick and hungry, as no international humanitarian aid is permitted.
"In Quitunda, Palma area, UNHCR recently collected reports of grave abuses committed against vulnerable groups, including physical assaults on people trying to flee to safer areas on boats," reported the UN Refugee Agency (UNHCR) Friday (30 Apr). "Some people are still fleeing Palma, but with only a few evacuation routes remaining open, we are worried for those who are unable to leave the area."     SEE HERE
Roads out of Palma are closed and road traffic has been stopped in Palma itself which is largely a ghost town. The resettlement village of Quitunda just outside the gates of the Afungi gas project is 10 km from Palma by foot or 20 km by car. Thousands of displaced people are now camped there.
Insurgents took Palma – largely without resistance – on 24 March and held it for 10 days. Then the insurgents drifted back into the bush and the defence forces (FDS) regained control. There was widespread looting. Most residents fled into the bush or south to Quitunda, which seemed safer because it is on the Afungi peninsula with a larger military presence, and had not been attacked by the insurgents.
People did come out of the bush, at least to check their houses, and some life returned to Palma – including private minibus services. About two weeks ago the FDS put pressure on displaced people in Quitunda to return to Palma. But from 25 April there were a series of small attacks around the edges of Palma, with insurgents burning houses and warning people to leave town. They said there would be no major attacked during Ramadan, but they wanted the town empty before they attacked again after Ramadan.
The position was confused. Gunfire and shelling have been heard every night recently. The confusion is compounded when it was discovered soldiers were also burning peasant houses; some were caught by local "antigos combatentes" (liberation war veterans).
People again fled (see below) but police stopped the use of sailboats (dhows) to leave Palma, and many returned to Quitunda. Palma is now effectively closed and largely empty, but people are continuing to arrive in Quitunda.
The Afungi peninsula with Quitunda and the Total installation (now abandoned to the FDS) are slightly separated from Palma town. It appears that the insurgents want to next take, and perhaps try to hold, an empty Palma town (as they hold Mocimboa da Praia), without attacking Afungi. But people in Afungi are frightened as well as hungry, and fear an attack after Ramadan.
source: "Mozambique News Reports and Clippings" (Joseph Hanlon). Mr Hanlon's sources: Cabo Ligado, MediaFax, Zitamar, Pinnacle News and own contacts.)
More tomorrow.
Added 4 May 2021
♦♦♦♦♦♦♦♦♦
News continues below
WHARF TALK: Chinese tanker Lian Gui Hu calls at Cape Town
Story by Jay Gates
Pictures by 'Dockrat'
The growth of the Chinese economy is such that the Central Communist Party have tried to ensure that the state controlled shipping enterprise China Ocean Shipping Company, or COSCO, are in prime position to lead in almost every section of international shipping from container ships, through heavy lift ships, bulk carriers and Tankers.
Most observers in Southern Africa will have spotted many of the COSCO container ships plying the Far East-Africa routes, but few will have spotted any of their tanker fleet of over 120 vessels.
On 22 April at 08h00 the large LR1 Panamax class tanker LIAN GUI HU (IMO 9783409) arrived at the Cape Town Anchorage from Sohar in Oman, and sat quietly at anchor out in Table Bay for over one week, until 30 April at 10h00 when she entered Cape Town harbour and went alongside the tanker berths to discharge her cargo. Obvious to the observer was the emblazoned COSCO letters on her hull.
Built in 2018 by Dalian Shipbuilding Industries at Dalian in China, Lian Gui Hu is 220 metres in length and has a deadweight of 72,822 tons. Nominally owned by Lian Gui Hu Maritime Ltd. of Hong Kong, but managed by COSCO Shipping Energy Transportation of Shanghai, and operated by COSCO Shipping Tanker (Dalian) Ltd of Dalian. She is powered by a single MAN-B&W 6G50ME-C9 6 cylinder main engine producing 13,840 bhp (10,320 kW), and she is the last of five sisterships built originally to service the Chinese domestic market.
Her operating company, COSCO Shipping Tanker (Dalian) Ltd was placed on an international sanctions list imposed by the United States government, on the order of President Trump, in September 2019. This was as a result of the company being involved in imports of oil into China from Iran. The company was removed from the sanctions list in February 2020, with no reason given.
A good indicator that the ship actually remains under state control, and not a private company, is made evident from the press release when Lian Gui Hu was launched. The vessel's managers, COSCO Shipping Energy Transportation, stated in that release "The godmother of the new ship, christened the ship and cut the ribbon. Then, accompanied by the Captain, the Chief Engineer and the Political Commissar of the vessel, the leaders and guests present boarded Lian Gui Hu.
Anyone who thought that the role of a 'Ship's Political Commissar' was made redundant with the collapse of the Soviet Union and her Merchant fleet, will be surprised to see that the role is still very much alive and well onboard the ships of the Communist People's Republic of China, and the rank is the equivalent in importance to that of the Captain and the Chief Engineer.
Added 4 May 2021
♦♦♦♦♦♦♦♦♦
News continues below
IN CONVERSATION: Watching a coral reef die as climate change devastates one of the most pristine tropical island areas on Earth
The Chagos Archipelago is one of the most remote, seemingly idyllic places on Earth. Coconut-covered sandy beaches with incredible bird life rim tropical islands in the Indian Ocean, hundreds of miles from any continent. Just below the waves, coral reefs stretch for miles along an underwater mountain chain.
It's a paradise. At least it was before the heat wave.
When I first explored the Chagos Archipelago 15 years ago, the underwater view was incredible. Schools of brilliantly colored fish in blues, yellows and oranges darted among the corals of a vast, healthy reef system. Sharks and other large predators swam overhead. Because the archipelago is so remote and sits in one of the largest marine protected areas on the planet, it has been sheltered from industrial fishing fleets and other activities that can harm the coastal environment.
But it can't be protected from climate change.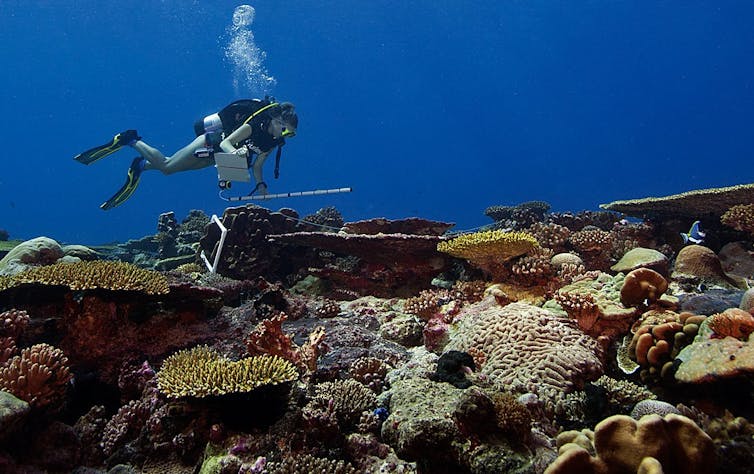 In 2015, a marine heat wave struck, harming coral reefs worldwide. I'm a marine biologist at the University of Miami's Rosenstiel School of Marine and Atmospheric Science, and I was with a team of researchers on a 10-year global expedition to map the world's reefs, led by the Khaled bin Sultan Living Oceans Foundation, wrapping up our work in the Chagos Archipelago at the time. Our report on the state of the reefs there was just published in spring 2021.
As the water temperature rose, the corals began to bleach. To the untrained eye, the scene would have looked fantastic. When the water heats up, corals become stressed and they expel the tiny algae called dinoflagellates that live in their tissue. Bleaching isn't as simple as going from a living coral to a bleached white one, though. After they expel the algae, the corals turn fluorescent pinks and blues and yellows as they produce chemicals to protect themselves from the Sun's harmful rays. The entire reef was turning psychedelic colors.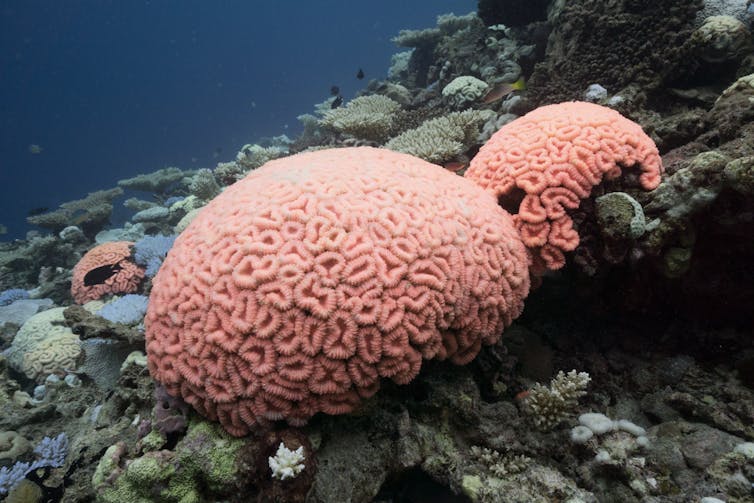 That explosion of color is rare, and it doesn't last long. Over the following week, we watched the corals turn white and start to die. It wasn't just small pieces of the reef that were bleaching – it was happening across hundreds of square miles.
What most people think of as a coral is actually many tiny colonial polyps that build calcium carbonate skeletons. With their algae gone, the coral polyps could still feed by plucking morsels out of the water, but their metabolism slows without the algae, which provide more nutrients through photosynthesis. They were left desperately weakened and more vulnerable to diseases. We could see diseases taking hold, and that's what finished them off.
We were witnessing the death of a reef.
Rising temperatures increase the heat wave risk
The devastation of the Chagos Reef wasn't happening in isolation.
Over the past century, sea surface temperatures have risen by an average of about 0.13 degrees Celsius (0.23 F) per decade as the oceans absorb the vast majority of greenhouse gas emissions from human activities, largely from the burning of fossil fuels. The temperature increase and changing ocean chemistry affects sea life of all kinds, from deteriorating the shells of oysters and tiny pteropods, an essential part of the food chain, to causing fish populations to migrate to cooler water.
Corals can become stressed when temperatures around them rise just 1 C (1.8 F) above their tolerance level. With water temperature elevated from global warming, even a minor heat wave can become devastating.
In 2015, the ocean heat from a strong El Niño event triggered the mass bleaching in the Chagos reefs and around the world. It was the third global bleaching on record, following events in 1998 and 2010.
Bleaching doesn't just affect the corals – entire reef systems and the fish that feed, spawn and live among the coral branches suffer. One study of reefs around Papua New Guinea in the southwest Pacific found that about 75% of the reef fish species declined after the 1998 bleaching, and many of those species declined by more than half.
Research shows marine heat waves are now about 20 times more likely than they were just four decades ago, and they tend to be hotter and last longer. We're at the point now that some places in the world are anticipating coral bleaching every couple of years.
That increasing frequency of heat waves is a death knell for reefs. They don't have time to recover before they get hit again.
Where we saw signs of hope
During the Global Reef Expedition, we visited over 1,000 reefs around the world. Our mission was to conduct standardized surveys to assess the state of the reefs and map the reefs in detail so scientists could document and hopefully respond to changes in the future. With that knowledge, countries can plan more effectively to protect the reefs, important national resources, providing hundreds of billions of dollars a year in economic value while also protecting coastlines from waves and storms.
We saw damage almost everywhere, from the Bahamas to the Great Barrier Reef.
Some reefs are able to survive heat waves better than others. Cooler, stronger currents, and even storms and cloudier areas can help prevent heat building up. But the global trend is not promising. The world has already lost 30% to 50% of its reefs in the last 40 years, and scientists have warned that most of the remaining reefs could be gone within decades.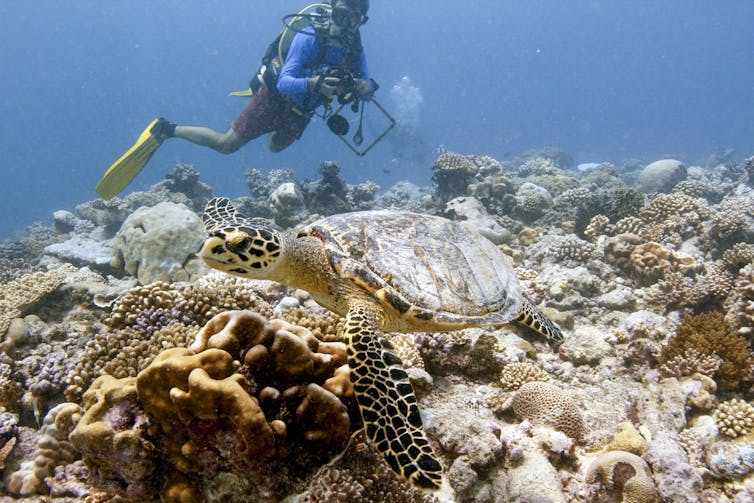 While we see some evidence that certain marine species are moving to cooler waters as the planet warms, a reef takes thousands of years to establish and grow, and it is limited by geography.
In the areas where we saw glimmers of hope, it was mostly due to good management. When a region can control other harmful human factors – such as overfishing, extensive coastal development, pollution and runoff – the reefs are healthier and better able to handle the global pressures from climate change.
Establishing large marine protected areas is one of the most effective ways I've seen to protect coral reefs because it limits those other harms.
The Chagos marine protected area covers 640,000 square kilometers (250,000 square miles) with only one island currently inhabited – Diego Garcia, which houses a U.S. military base. The British government, which created the marine protected area in 2010, has been under pressure to turn over control of the region to the country of Mauritius, where former Chagos residents now live and which won a challenge over it in the International Court of Justice in 2020. Whatever happens with jurisdiction, the region would benefit from maintaining a high level of marine protection.
A warning for other ecosystems
The Chagos reefs could potentially recover – if they are spared from more heat waves. Even a 10% recovery would make the reefs stronger for when the next bleaching occurs. But recovery of a reef is measured in decades, not years.
So far, research missions that have returned to the Chagos reefs have found only meager recovery, if any at all.
We knew the reefs weren't doing well under the insidious march of climate change in 2011, when the global reef expedition started. But it's nothing like the intensity of worry we have now in 2021.
Coral reefs are the canary in the coal mine. Humans have collapsed other ecosystems before through overfishing, overhunting and development, but this is the first unequivocally tied to climate change. It's a harbinger of what can happen to other ecosystems as they reach their survival thresholds.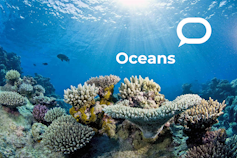 This story is part of Oceans 21
Our series on the global ocean opened with five in-depth profiles. Look for new articles on the state of our oceans in the lead-up to the U.N.'s next climate conference, COP26. The series is brought to you by The Conversation's international network.

Sam Purkis, Professor and Chair of the Department of Marine Sciences, University of Miami
This article is republished from

The Conversation

under a Creative Commons license. Read the

original article.
Added 4 May 2021
♦♦♦♦♦♦♦♦♦
News continues below
Celebrating Fish for Good: Setting a course for sustainable fishing in South Africa
The Marine Stewardship Council's 'Fish for Good' is driving progress in sustainable fishing, with five South African fisheries working to improve their fishing operations.
In 2017 the Marine Stewardship Council (MSC) and the Dutch Postcode Lottery joined forces to launch Fish For Good, a four-year project aimed at guiding fisheries in South Africa, Indonesia and Mexico towards more sustainable fishing practices.
Twenty fisheries were selected to partake in Fish for Good – a flagship 'pathway to sustainability' project enabling and supporting sustainable fishing in the Global South.
Fisheries in the Global South provide nearly three-quarters of the world's fish and seafood, but many of them are fishing unsustainably, often because they lack the resources and the capacity to improve the way they operate.
MSC pathway projects support fisheries at various stages of their sustainability journey, by providing them with the tools and support to improve and, in some cases, optimise their sustainability.
In 2018 the MSC conducted a scan of 63 fisheries in South Africa. These were whittled down to 18 that were considered for deeper mapping according to their target species, areas fished, gear used, catch volumes, stock status, environmental impacts and market potential.
A shortlist of nine fisheries were pre-assessed against the MSC Fisheries Standard by an accredited third-party assessor, to determine a reference point for sustainable fishing.
The project's advisory group, made up of industry, government and NGO stakeholders in South Africa, then selected a final five fisheries to proceed toward credible Fishery Improvement Projects (FIPs). These include:
1. Pole and line albacore tuna
2. Hand-collected East coast rock lobster
3. Rope-grown mussel
4. Squid jig
5. Longline yellowfin tuna
The gaps identified in the pre-assessments of the five South African fisheries engaged in Fish for Good were translated into a 'to do' list for each fishery so that stakeholders could begin working together towards improved sustainability. Each action plan was tailored to address challenges specific to the fishery.
Priority improvement actions relate to the development of harvest control rules and fishery-specific management plans, data collection, assessments of fishery interactions with endangered, threatened and protected (ETP) species, reducing catch of non-target stocks, and understanding potential ecosystem impacts WWF South Africa, the project's implementing partner in South Africa, coordinated the action plan development and implementation stages and continue to work with fishery stakeholders in meeting the goals set out in their FIP action plans.
Following successful implementation of the FIPs, some of the fisheries may meet the necessary criteria to voluntarily enter full assessment for MSC certification.
In 2020 the MSC awarded Ocean Stewardship Fund grants to the Albacore tuna pole and line and the rope-grown mussel fisheries to help them achieve their improvement actions, following expressed interest to meet the MSC's internationally recognised standard for sustainable fishing.
Andrew Gordon, MSC Fisheries Outreach Manager for Southern Africa, said: "As well as being vital for food security and people's livelihoods, fisheries in the Global South overlap with some of the most important marine biodiversity hotspots.
"Optimising the management of South Africa's fisheries, through projects like Fish for Good, can deliver sustained benefits throughout the seafood supply chain, benefiting coastal communities while maintaining healthy fish stocks. The fisheries engaged in Fish for Good have shown a real commitment to demonstrating the sustainability of their fishing operations."
Bokamoso Lebepe, Fishery Improvement Coordinator at WWF South Africa and implementing coordinator of the project, said the future looks bright for the fisheries that took part in Fish for Good. "To some, sustainability means more than just good management practice. For most, it is a way of preserving their livelihood."
To find out more about Fish for Good South Africa and the fisheries engaged CLICK HERE
Meanwhile, watch the Fish for Good South Africa Journey Film [08:15].
Added 4 May 2021
♦♦♦♦♦♦♦♦♦
News continues below
Höegh Autoliners launching Aurora class:
largest & most environmentally-friendly car carrier
Höegh Autoliners has launched what is claimed will be the world largest and most environmentally-friendly car carrier ever built – the Aurora class of ship designed to carry 9,100 motor car equivalent units and a crucial step of meeting Höegh Autoliners' decarbonisation efforts of a zero emissions future.
With the future of cargoes and zero carbon fuels in mind, the Aurora vessels have been designed for a greener future. "It is the most environmentally friendly car carrier. The Aurora Class represents a big step on our path to a zero emissions future," says Höegh Autoliners' Chief Executive Officer, Andreas Enger.
"We have entered a Memorandum of Understanding with our professional and long-term partner Xiamen Shipbuilding Industry. This will make it possible to have the first vessel delivered by the end of 2023," he said.
Höegh Autoliners has a solid history on emission cuts and long-term efforts to combating climate change. Since 2008 the company achieved an improved carbon intensity of 37 per cent in its fleet, which has put Höegh Autoliners in the forefront in sustainable shipping in the deep-sea RoRo segment.
The Aurora class is designed to transport the cargo of the future, said Enger. "Its strengthened decks and enhanced internal ramp systems enable electric vehicles on all decks and provides more flexibility for heavier project cargo."
The Aurora Class' multi-fuel engine can run on various biofuel and conventional fuels, including LNG. With minor modifications it can transition to use future zero carbon fuels, including Green Ammonia.
"With the multifuel engine and DNV's new ammonia ready notation, Höegh Autoliners is bringing the segment and work to decarbonise the maritime industry to a new level," said Hans Eivind Siewers, Segment Director Passenger Ships & RoRo at DNV.
"The Aurora design will further meet the enhanced safety standards and reduce environmental footprint significantly."
Siewers said DNV is proud to support Höegh Autoliners on their path to zero. "With the right partners, technology and mindset, we will be able to achieve a safe and sustainable maritime industry," he said.
According to Siewers the Aurora design has the following notations: +1A, Car Carrier, MCDK, ICE C, E0, NAUT-OC, CLEAN DESIGN, BWM-T, TMON, BIS, COAT PSPC (B), GAS FUELED, BATTERY (safety), F(C), Recyclable, SHORE POWER, Gas ready Ammonia (D, S, MEc, T), "which makes it the first in the segment that is ready for operation on carbon neutral ammonia. The Ammonia ready notation and the multifuel engine proves that Höegh Autoliners is a forerunner in sustainability."
MAN B&W engine
The Aurora class ship will operate with the MAN B&W engine and will be able to operate on various fuel types. "After modifications of the engine, tank and auxiliary systems, the engine will be ready to run on virtually any future zero carbon emission fuels: including ammonia. Reducing emissions is more important than ever," said Kjeld Aabo, Director New Technologies at MAN Energy Solutions.
Added 3 May 2021
♦♦♦♦♦♦♦♦♦
News continues below
Bon Voyage……saying 'Goodbye' to saying Goodbye
by Terry Toohey
With the termination in 1977 after 120 years of the weekly UK to South Africa mailship service, one ramification that understandably ceased forthwith with the final sailing was the Bon Voyage ritual that was part and parcel of the sailings of the ships.
Family and friends were allowed to come aboard a few hours before departure to bid their farewells. Thirty minutes prior to sailing the first of three bells would ring alerting visitors that the sailing of the mail vessel was imminent and the need for them to make their way to the gangway. Thereafter staff would then issue colourful streamers to the passengers at the ships rail.
This coincided with the PA system stirring into action delivering Vera Lynn's rendition of "We'll meet again". Part of the tape was "Wish me luck as you wave me goodbye" and as the vessel drifted regally away from the berth and as the streamers that were the final point of contact between the passenger and their loved one stretched and parted, many a moist eye resulted.
Those nimble of foot, who had a vehicle close by, would hasten to the harbour entrance to catch a final glimpse of their loved ones. The whole process was unashamedly choreographed to produce pure maritime theatre and the full gamut of emotions were on display….the sweet sorrow of saying goodbye, competing against the muted joyful anticipation of the travellers and the possible unknown that awaited them at their destination.
A touching scene all round, although the Cleaners who had the responsibility for clearing up the discarded streamers the following day might just have has a slightly less accepting take on the proceedings.
In 1969 I witnessed a mail vessel departure from Durban that 'raised the bar' related to this emotive spectacle, far more than the norm of the weekly sailing.
On board the Windsor Castle on this occasion was the Drakensberg Boys Choir, South Africa's equivalent to the Vienna Boys Choir. They were en route to Capetown performing concerts in the Mother City as well as at the ports along the way I would suspect.
I requested they form up on the Boat Deck on departure and asked if they would consider singing as the ship sailed. They agreed and slowly as the mailship left the berth they started to sing. It was a far more attractive alternative to the canned music normally provided.
By some strange miracle the normal noisy backdrop of harbour sounds of the shunting railway engines, tooting tugs and strident stevedores ceased for a few minutes. The Choirs crystal clear angelic voices were all that you could hear. The touching strains of "We will meet again" carried across the expanse from Boat Deck through to the side of the Ocean Terminal.
The song then commenced a return journey, reverberating off the wall of the Terminal and managed to produce an eerie echo. Two reactions resulted, the raised hair on the back of the necks of the hundreds of spectators was undoubtedly one…….the other, which was more visible, were the moist eyes from all present, both male and female alike.
Undoubtedly similar scenes were enacted in many other ports across the globe, not just in South Africa but also in Australia, New Zealand as well as in Europe and North America I would guess…. wherever line voyages were prevalent,
Now-a-days with our more stringent security requirements and with the existence of ISPS, departures are not the same…..however they haven't disappeared!
Initiated firstly by Princess Cruises in 2010, and no doubt copied by other lines subsequently, 'Bon Voyage Packages' are available. Befitting modern times, there is a cost!
With information drawn from a Princess Cruises website they have stated that they "are bringing back the good old days by making it possible for guests to come aboard cruise ships in port again. If you know someone about to take a Princess cruise you can get, after completing documentation, a guest pass to come onboard with them, walk around the ship, have lunch with them and visit them in their stateroom." (I somehow doubt if that package still exists in the heightened security times that exist in 2021 and it would have no doubt been amended !)
Guests who want to come aboard a Princess cruise ship in port will be able to apply for the "Bon Voyage Experience" ahead of time. Guests and the passengers participating in the programme get priority boarding privileges and are asked to be at the pier facility, checked in and ready to board at 11:30 a.m.
Once onboard everyone will first have a souvenir photo taken. They will then be invited on a guided tour of the ship. After the tour, passengers and their guests will attend an exclusive luncheon in the dining room with wine included as well as full traditional cruise ship service. Lunch will be held from 12:00 noon to 1:30 pm.
All non-sailing guests will be asked to leave at approximately 3:30 pm.
The cost is $39 per person, (that was the cost in 2010, it is no doubt higher now!) including the sailing passengers assuming they want to participate in the luncheon onboard. But the entire amount can be applied towards a future cruise, so for subsequent Princess cruisers who participate in the shipboard visit it is essentially free.
[A Durban man, Terry Toohey was the Natal P.R.O for Union-Castle (Cayzer Irvine) before being transferred to Johannesburg as the Sales Manager. He was later CEO of Durban Publicity Association between 1976 and 1986 and Chief Executive of the Isle of Man Dept of Tourism & Leisure between 1986 and 2004. Mr Toohey is currently Cruise Editor for Sea Breezes magazine]
Added 2 May 2021
♦♦♦♦♦♦♦♦♦
News continues below
Reporting by Paul Ridgway
London
Dazzling Tamar
An unusual paint scheme has been applied to HMS Tamar, the first time the design has been applied since the Second World War, it is understood.
Dazzle camouflage was introduced by the Royal Navy towards the end of the First World War and was intended to confuse enemy submarine commanders observing through the periscopes, making it hard to identify ships and disturb their calculations about the target's speed and direction.
After 1945 and with improvement of radar and optical devices, dazzle camouflage was quickly phased out by the Royal Navy – until now.
Tamar, which entered service last year, already stands out from much of the rest of the Fleet thanks to large red lion motifs on her superstructure (they are being replaced before the ship sails in a few days we learn).
Shipwrights at the A&P yard in Falmouth added the dazzle scheme to the warship's hull – 200 litres of paint in four shades of grey, plus black – during a maintenance period.
Commander David Louis, Commander of the Overseas Patrol Squadron, said that before dispatching Tamar on her Pacific patrol, the Royal Navy had decided to give the River-class ships a distinct identity to recognise their extended missions.
The squadron's vessels are deployed for several years at a time, operating out of overseas bases and ports in areas key to UK interests, national security and prosperity: the Caribbean, Falklands, Mediterranean and West Africa, and now Asia-Pacific.
Commander Louis explained: "Dazzle has much less military value in the 21st century although there is still value in littoral environments when viewed against the background of land. It is very much more about supporting the unique identity of the squadron within the Royal Navy as part of their forward presence mission."
Historical note
Dazzle paint/camouflage owes its existence to Royal Navy officer and artist Norman Wilkinson and the height of the first Battle of the Atlantic in 1917.
With Britain struggling to deal with the U-boat threat, Wilkinson came up with the idea of confusing U-boat skippers during patrols out of Plymouth. He couldn't make ships invisible – the smoke belching from their funnels were an obvious give-away – but he could make it much harder to identify them, or judge their course and speed.
After tests with miniatures, the paint scheme was approved by the Admiralty and introduced across the Fleet, the Merchant Navy and then the allies.
More than 2,000 ships received the strange livery before the end of the Great War, and despite improvements in technology such as the advent of better rangefinders and radar, the camouflage scheme returned early in the Second World War and remained in use until the fall of Japan in 1945.
Vaccination race
Over a six-day operation the Royal Navy delivered vaccines to one of the most remote communities in the world after a race against time in the South Atlantic.
In the last week of April HMS Forth landed doses of the Oxford-AstraZeneca Covid vaccine on Tristan da Cunha after a 2,500-mile journey from the Falklands to beat winter storms.
With no airport and no ships able to discharge cargo on the island during the austral winter, the 200-plus inhabitants of the British Overseas Territory are cut off from the world for months on end.
Forth, crewed by Portsmouth-based sailors and the Royal Navy's permanent presence in the Falklands, acted as the last 'baton carrier' in a 10,000-mile race to get the vaccine to islanders.
The Royal Air Force delivered the vaccine from RAF Brize Norton to Mount Pleasant in the Falklands with a refuelling stop at Dakar, Senegal.
Within an hour, the tiny phials were safely stored in Forth's sickbay and the ship was leaving her base for the ocean passage. The mission, on behalf of the Foreign, Commonwealth and Development Office, proved to be a challenge for Forth with the 5,000-mile round trip close to the limit of the patrol ship's fuel endurance.
With no opportunity to refuel en route, the voyage had to be cleverly planned to avoid the effects of the wind, sea and current. Throughout the voyage, the vaccine had to be kept in cold bags at an ambient temperature of between 2⁰ C and 8⁰ C, with sailors regularly checking them. It is understood that only 60 minutes were allowed to pass between the vaccine doses leaving the ship and arriving in the refrigerator on Tristan da Cunha.
Reported by Paul Ridgway
London
Added 2 May 2021
♦♦♦♦♦♦♦♦♦
News continues below
WHARF TALK: Oryong No.373 in port for planned maintenance & serious repair
Story by Jay Gates
Pictures by 'Dockrat' 
South Africa's geographical location, at the confluence of two great oceans, means that distant water fishing fleets operating in the South Atlantic and the South Indian Oceans are regular visitors to all of her major ports in order to bunker, resupply, offload frozen cargo, seek medical assistance, receive both scheduled and unscheduled maintenance and obtain required drydocking facilities.
The distant water fishing fleets of Japan, Taiwan, South Korea and, latterly, China have been regular visitors to South African ports, and the huge fleets of both Tuna Longliners and Squid Jiggers come in and out of port with nary a backward glance from the port observer.
The fact that they spend the vast majority of the year away from their home port and local facilities means that they are often seen in what appears to be a state of disrepair, often rust streaked, which often gives them the unwarranted and derogatory nickname of 'Cockroach', which belies the hard work they undertake and the fact that the results of their endeavours is that you can all enjoy a healthy tuna steak in a restaurant, or prepare a healthy tuna sandwich for 'Junior' to take to school in his, or her, packed lunch.
Yet, some of these tuna longliners have played a major part in conservation and protection of not only Tuna, but also Sharks, Turtles and Seabirds by reducing accidental bycatch. One such of those longliner vessels is the Korean flagged ORYONG No.373 (IMO 9159139) which arrived in Cape Town on 12 April at 08h00 and after transshipping her cargo into the Meita Maru, an accompanying fish reefer vessel lying at H berth in the Duncan Dock, proceeded to be slipped on the Harbour Synchrolift for an extended period out of the water for planned maintenance and to undergo some serious hull plating renewal.
Built in 1997 by Kanasashi Heavy Industries of Shizuoka in Japan, Oryong No.373 was originally launched as Ryoun Maru No.25 and was renamed in 2007 when purchased by her present owners, Sajo Industries of Seoul in South Korea, who are one of the largest fishing enterprises in the country. With a length of 58 metres and a gross tonnage of 663 tons, Oryong No.373 is powered by an Akasaka E28 6 cylinder 4 stroke main engine producing 1775 bhp (1,323 kW). She is capable of storing 310 tons of frozen fish in her main hold.
In 2013, under the auspices of the United Nations FAO programme, and in conjunction with the Royal Society for the Protection of Birds (RSPB), Birdlife International, the Korean Government Ministry of Oceans and Fisheries and the Korean National Institute of Fisheries Science, the Oryong No.373 was chosen as a trial vessel for various bird-scaring streamer lines, Tori lines and weighted lines in an effort to reduce accidental seabird mortality resulting from longline fishing bycatch.
The outcome of this important research conducted by Oryong No.373 was the introduction in Korea of additional safeguards in support of the Distant Waters Fisheries Development Act (DWFD Act), which taken with the International Plan of Action for Reducing Incidental Catches of Seabirds in Longline Fisheries, allowed South Korea to develop its own National Plan of Action for Reducing Incidental Catches of Seabirds in Longline Fisheries (NPOA-Seabirds), introduced in 2014 and based on the FAO IPOA-Seabirds.
Prior to her arrival in Cape Town, Oryong No.373 had been fishing for Tuna in the Equatorial and South Atlantic Ocean between the Cape Verde Islands and South Africa. Catches from Korean longliners are normally transshipped in Cape Town and almost the whole total of landed catch is exported directly back to Japan, hence the regular call into Cape Town of the small Japanese built fish reefer vessels at the port.
The catches come from two areas that are regulated by international agreements on Tuna conservation, namely the Indian Ocean Tuna Commission (IOTC) and the Commission for the Conservation of Southern Bluefin Tuna (CCSBT) which governs both the Indian and Atlantic Ocean areas, and for which South Africa has been signatory as contracting states to both Commissions since February 2016. For the Oryong No.373, the whole of the DWFD Act applies when fishing within either the IOTC's or the CCSBT's Convention Area, i.e. catches taken from waters outside South Korea's Jurisdiction.
Within the DWFD Act, Article 25 requires all distant water fishing vessels to report the estimated amount of landing to the government within 24 hours prior to the estimated time of arrival at the offload port. Unreported landing is subject to imprisonment of up to five years, or a criminal fine of up to five times the wholesale value of the fishery products obtained from relevant violations, based on the average wholesale prices of the products for the preceding three years; or a criminal fine at least KRW500 million (ZAR6.42 million) and up to KRW 1 billion (ZAR12.84 million), whichever is higher.
Despite her great work in 2013 in establishing the protections needed for reducing shark, turtle and seabird bycatch, in April 2009 the Oryong No.373 was cited by South African Fisheries Inspectors in Cape Town for offloading 389kg of Shark fins, in excess of her permit limit, and her Master and Mate were each fined ZAR500,000 (USD34,955) for contravening the Marine Living Resources Act, and their catch was forfeited to the State.
Added 2 May 2021
♦♦♦♦♦♦♦♦♦
News continues below
Royal Canadian Navy Ship HMCS Calgary seizes record drug haul
In the latest report from the Combined Maritime Forces (CMF) operating in the Gulf of Aden and Arabian Sea, the Royal Canadian navy ship HMCS CALGARY has set a new record for the largest ever heroin bust in CMF history.
Operating under the command of the Canadian-led Combined Task Force (CTF) 150, the naval ship intercepted another dhow and following a search of the stateless vessel, some 1,286-kg (2,835lbs) of heroin was discovered and seized.
Less than one day earlier HMCS Calgary intercepted and searched another vessel, discovering 360kg (794lbs) of methamphetamine being smuggled on that vessel.
The combined value of the two drug busts amounted to more than US$23.22 million, which CMF says has made a "salient impact to drug trafficking, often used to finance terrorism in the region." Some of these drugs are intended to smuggling south to the Mozambique coast and from there into South Africa.
Both vessels were intercepted off the coast of Oman.
"I'm speaking for everyone on HMCS Calgary when I say it's a great feeling to have made two substantial busts so early into our operation," said the Commanding Officer of Calgary, Commander Mark O'Donohue.
He said a lot of work and coordination at both the ship level, and throughout Combined Task Force-150, and the CMF coalition goes into their work. "It's fantastic to see that pay off and to know we are contributing to the interruption of a revenue stream that is being used to fund terrorism."
HMCS Calgary arrived in the CMF area of operations as a part of Canada's Operation Artemis on 15 April. In addition to the presence of the frigate, there is aerial support from a Royal Canadian Air Force patrol aircraft.
Added 2 may 2021
♦♦♦♦♦♦♦♦♦
News continues below
Demand for HSFO to remain until future fuels roll out on larger scale – BIMCO
"After the quick adjustment to the global sulphur cap, the decline in HSFO's (high sulphur fuel oil) share of total bunker sales has stopped. Although its share is much lower than any time prior to Q4 2019, the steadily rise in scrubber-fitted ships has supported demand for HSFO and will remain until new solutions and future fuels are widely introduced on the industry's path to decarbonisation," says Peter Sand, BIMCO's Chief Shipping Analyst.
"In addition to changing the share of fuel types being sold, the global sulphur cap has also resulted in larger bunkering hubs gaining an even larger market share, and recording growth in 2020 despite a drop in total bunker sales," Sand said.
He added that this development was due to owners and charterers seeking to minimise risks by choosing the biggest bunker hubs in the face of uncertainty surrounding the new fuel types.
According to BIMCO the number of scrubber-fitted ships doubled in the thirteen months after the global sulphur cap came into force, fuelling a rise in high-sulphur fuel sales. There are currently 4,006 scrubber-fitted ships, up from 2,010 ships in January 2020.
This resulted in sales of HSFO reaching 3.1 million tonnes for Q1 of this year – an increase of 47.2% compared to Q1 in 2020.
However, the pace of scrubber fittings has slowed since its peak in January 2020, during which 259 ships with a total capacity of 33.4 million dwt either had a scrubber installed or were delivered with one already on board. In the first three months of this year 228 ships have joined the number of scrubber-fitted ships each month, totalling 30.5m dwt in the first quarter.
Of the 228 ships, two-thirds (153) were newbuilds delivered with a scrubber already fitted, while 75 ships were retrofitted. BIMCO points out that this is almost the exact opposite of the shares in 2020, when only 27.1% were newbuilds (479), while the rest (1,289) were retrofits of the total 1,768 ships to have a scrubber installed.
Across the four major shipping segments, scrubber equipped tonnage accounts for an average of 24.1% of the fleet when measured in dwt or TEU for containerships.
The crude oil tanker fleet has the highest share at 30.5%, while the oil product tanker segment has the lowest at 13.8% of total capacity. At the start of 2020, the average share across these four fleets stood at 12.9%.
Asking the question whether there will be a "second wave" of scrubber installations, BIMCO suggests that although the pace of scrubber installations has slowed, the economic case for a scrubber remains strong. After the ups and downs of 2020, the price spread between HSFO and LSFO has stabilised at an average of USD 100 per tonne in the major bunkering hubs.
Despite the ups and downs of the spread in 2020, when averaging the HSFO and VLSFO spread over the whole year, it stood at almost exactly USD 100 per metric ton (100.7).
"With the spread now stabilising at a more normal level, a scrubber investment still represents a solid economic decision for owners, as higher earning -, thanks to lower voyage costs – are enough to cover the initial cost as well as the running costs of the scrubber within a reasonable period," said Sand.
"Low demand for certain oil products as a result of mobility restrictions has helped lower the price of LSFO. However, as demand for products such as jet fuel starts to recover, the HSFO-LSFO spread may well increase, solidifying the economic case for scrubbers.
"A return to the high levels of scrubber installations that we saw at the end of 2019 and start of 2020 is however unlikely, as the majority of owners who wanted to retrofit their ships have now done so, and the majority of scrubbers being added to the fleet now come from newbuilds," Sand said.
The full BIMCO report can be found HERE
Added 2 May 2021
♦♦♦♦♦♦♦♦♦
News continues below
WHARF TALK: Bittersweet as HORIZON sails on
Story by Jay Gates
Pictures by 'Dockrat' and Keith Betts
In a month when Unicorn Lines, one of the two great South African shipping concerns, was no more, it is bittersweet for a chartered ship carrying on the name and the traditions of that former company to be operating a coastal trade route that Unicorn Lines were famous for.
Still operating for the parent company of Unicorn Lines, Grindrod, on their Ocean Africa Container Lines (OACL) feeder service, the HORIZON (IMO 9242314) arrived in Cape Town on 28 April at 10h00 from Walvis Bay and Lüderitz. Proceeding to her familiar haunt at A berth in the Duncan Dock, she completed her container discharge and onload, and sailed for Ngqura and Durban just 32 hours later on 29 April at 18h00.
Built as one of 9 container ships to the Hegemann PW-1150 design, Horizon was built in 2002, unusually by two shipyards sharing the construction, with both shipyards belonging to the Detlef Hegemann Group. Initially Horizon had her hull, main engine, accommodation block and cranes built and installed at the Peenewerft Shipyard at Wolgast in Germany, close to the Polish border. She was then towed from the Baltic Sea round to the Rolandwerft Shipyard in Berne, close to Bremen on the North Sea coast, where all final outfitting and testing was carried out.
Owned by Tom Worden GmbH of Oldendorf in Germany, and managed by Navalis Shipping GmbH, also of Oldendorf, Horizon is 155 metres in length with a deadweight of 17,187 tons and has a container capacity of 1,157 TEU. She has been operating continuously on her regular OACL service for Grindrod since February 2016.
She is powered by a MAN-B&W 7S50MC-C 7 cylinder 2 stroke main engine producing 14,832 bhp (11,060 kW), driving a fixed propeller for a service speed of 19 knots. Her auxiliary engines includes four 4 stroke generators producing 2,960ekW total (3,700kVA total), plus a 4 stroke emergency generator producing 100ekW total (125kVA total), and she has a composite Alfa Laval Aalborg boiler.
As with all vessels on charter to Grindrod's Ocean Africa Container Lines service, she originally sailed with the words 'Ocean Africa' adorning her hull. Now, all of the OACL chartered vessels have had this replaced with 'Grindrod'.
Despite the hull name change, and despite the demise of Unicorn Lines, all vessels on this service have been given traditional names that hark back to the days when Grindrod's own Unicorn Lines general cargo division would be the vessels that plied this southern African coastal trade, with the four vessels of the current Grindrod OACL service being Horizon, Border, Barrier and Boundary.
Added 2 May 2021
♦♦♦♦♦♦♦♦♦
News continues below
At IMO a new series of webinars on oil spill preparedness and response
Global efforts to prevent oil spills continue despite the Covid-19 pandemic, we are informed. In mid-April IMO indicated that the first webinar of a new series on oil spill preparedness and response had been delivered by the Global Initiative West, Central and Southern Africa (GI WACAF) Project on 14 April.
For more on GI WACAF CLICK HERE
The webinar focused on developing a National Oil Spill Contingency Plan (NOSCP). Experts from ITOPF and OTRA presented both the development process and the content of a NOSCP, as well as the importance of its effective implementation.
According to IMO other webinars will cover related topics, including waste management, the use of dispersants, wildlife response and liability and compensation in case of an oil spill.
It was reported that the GI WACAF project launched its first webinar series on oil spill preparedness and response in June 2020. This helped provide key assistance to countries in improving their response plan, such as response techniques or implementing legal and institutional instruments to meet international regulations.
At GI WACAF the project is a collaboration between the IMO and IPIECA* to enhance the capacity of 22 partner countries in West, Central and Southern Africa to prepare for and respond to marine oil spills.
Readers are invited to CLICK HERE for a replay of the webinar.
*Originally the International Petroleum Industry Environmental Conservation Association. For more on this organisation CLICK HERE **Please note the IPIECA website is currently down.
Edited by Paul Ridgway
London
Added 2 May 2021
♦♦♦♦♦♦♦♦♦
News continues below
US cruising to re-start in mid-July subject to COVID vaccinations
In an acknowledgement of confidence in the efficacy of COVID-19 vaccinations and a possible return to some sort of normality, the US Centers for Disease Control and Prevention (CDC) has given the green light for cruising from US ports to commence again in mid-July.
This was indicated to industry leaders last week but the CDC requires that ships guarantee that at least 98% of crew and 95% of passengers will be fully vaccinated.
This rule is in keeping with decisions already made by many other countries to require proof of vaccination in order for cruise ships to operate again.
Although having a vaccine treatment is not favoured by all travellers, the cruise lines have no choice in the matter and will not be allowed to operate otherwise.
The cruise lines that apply this ruling will still have to meet the other elements of the Conditional Sailing Order, including enhanced medical facilities, protocols, and arrangements for medical care and quarantine.
The CDC warned that safety remains a priority and a careful approach was still required.
"We acknowledge that cruising will never be a zero-risk activity and that the goal of the CSO's phased approach is to resume passenger operations in a way that mitigates the risk of COVID-19 transmission onboard cruise ships and across port communities," the CDC's letter stated.
According to news reports over 50% of the US population has already taken the COVID-19 jab and by June/July this number will be significantly higher, with the US population achieving the so-called 'herd' immunity.
Added 2 May 2021
♦♦♦♦♦♦♦♦♦
News continues below
Port of Lüderitz to use feeder vessel for transships to Handymax or Capesize vessels
The port of Lüderitz is to have a transshipment vessel stationed at the port to serve as a feeder vessel for transferring manganese ore from the port to Handymax Capesize bulk carriers lying at anchorage outside.
This was disclosed to media representatives in Walvis Bay recently by the chief executive officer of Namport, Andrew Kanime.
"The plan is to load 80,000 to 120,000 tons twice a month and dispatch it directly to China. The main advantage is it will reduce the freight rate drastically," he said.
Kanime added that this placed the port of Lüderitz in the competitive sphere of trade facilitation and a catalyst towards SADC regional economic integration and Intra-Africa, under the African Continental Free Trade Area.
Currently the port handles two 30,000 ton shipments of manganese ore a month, amounting to a total of 720,000 tons annually. The port is limited in respect of the size of ship being able to enter, hence the use of a 30,000-ton vessel at present.
By transshipping manganese to the larger vessels outside the port allows the port to substantially increase the volume exported.
Shipping manganese via Lüderitz is a relatively new development, which commenced in August 2019. The manganese is delivered by road and rail to the port from mines in Northern Cape province of South Africa, as has been documented in Africa PORTS & SHIPS – CLICK HERE</a
Kanime emphasised Namport's revised vision, "to be the best performing seaports in Africa," and introduced four key strategic themes that will be deployed.
1. Build Institutional Capacity
2. Drive Operational Efficiencies
3. Enhance Customer and Stakeholder Value and
4. Optimise Sustainable Growth
"These are the themes that we will focus on over the next five years to enable us to achieve our vision of becoming
the best performing seaports in Africa," he said. "The themes are supported by specific strategic objectives and initiatives which we shall be aggressively executing."
Added 2 May 2021
♦♦♦♦♦♦♦♦♦
♦♦♦♦♦♦♦♦♦
News continues below
GENERAL NEWS REPORTS – UPDATED THROUGH THE DAY
in partnership with – APO
♦♦♦♦♦♦♦♦♦
News continues below………
♦♦♦♦♦♦♦♦♦
TO ADVERTISE HERE
Request a Rate Card from info@africaports.co.za
EXPECTED SHIP ARRIVALS and SHIPS IN PORT

Port Louis – Indian Ocean gateway port
Ports & Ships publishes regularly updated SHIP MOVEMENT reports including ETAs for ports extending from West Africa to South Africa to East Africa and including Port Louis in Mauritius.
In the case of South Africa's container ports of Durban, Ngqura, Ports Elizabeth and Cape Town links to container Stack Dates are also available.
You can access this information, including the list of ports covered, by  CLICKING HERE remember to use your BACKSPACE to return to this page.
News continues below
CRUISE NEWS AND NAVAL ACTIVITIES

QM2 in Cape Town. Picture by Ian Shiffman
We publish news about the cruise industry here in the general news section.
Naval News
Similarly you can read our regular Naval News reports and stories here in the general news section.
♦♦♦♦♦♦♦♦♦
THOUGHT FOR THE WEEK
"

One of the many things no one tells you about aging is that it's such a nice change from being young

"
– Will Rogers
♠♠♠
♠♠♠
ADVERTISING
For a Rate Card please contact us at info@africaports.co.za
Don't forget to send us your news and press releases for inclusion in the News Bulletins. Shipping related pictures submitted by readers are always welcome. Email to info@africaports.co.za
TABLE BAY UNDERWAY SHIPPING
SHIP PHOTOGRAPHERS
Colour photographs
and slides for sale of a variety of ships.
Thousands of items listed featuring famous passenger liners of the past to cruise ships of today, freighters, container vessels, tankers, bulkers, naval and research vessels.
P O BOX 809, CAPE TOWN, 8000, SOUTH AFRICA
snai@worldonline.co.za
http://home.worldonline.co.za/~snai