Bringing you shipping, freight, trade and transport related news of interest for Africa since 2002
Stay Well, Stay Safe, Stay Patient, don't become one
Advertise here. For a Rate Card email us at terry@africaports.co.za
♠♠♠
Join us as we report through 2021
A happy and blessed Easter to all
**********
TODAY'S BULLETIN OF MARITIME NEWS
(Friday is the start of the four-day Easter Weekend.  Our next edition will appear on Tuesday 6 April.  We wish all readers a pleasant and safe weekend.)
These news reports are updated on an ongoing basis. Check back regularly for the latest news as it develops – where necessary refresh your page at www.africaports.co.za
Click on headline to go direct to story : use the BACK key to return
Front Page: Lewek Ivory & Hai Soon 28  
EARLIER NEWS CAN BE FOUND AT NEWS CATEGORIES…….
The Monday masthead shows the Port of Tin Can Island (Lagos)
♦♦♦♦♦♦♦♦♦
SEND NEWS REPORTS AND PRESS RELEASES TO
info@africaports.co.za
♦♦♦♦♦♦♦♦♦
News continues below
Front Page: LEWEK IVORY & HAI SOON 28
The OSV LEWEK IVORY (IMO 9242663), assisted by three TNPA tugs, Lotheni, Pholela and Umkhomazi, tows the oil products tanker HAI SOON 28 across Durban Bay, heading at a slow 2 knots for the entrance channel and the high seas. Lewek Ivory arrived in Durban from Walvis Bay on 11 March. The offshore supply vessel (OSV) was built in 2001 and sails under the flag of St Kitts Nevis. The vessel has a length of 55 metres and a beam of 13.82m and a deadweight of 1093 tons. Her identification out at sea is now given as HIGH OCEAN 1
The bunker tanker being towed by Lewek Ivory, HAI SOON 28 (IMO 8905397), arrived in Durban from Abidjan on 13 July 2020 and went directly to the repair yards at Bayhead. Built in 1990, the 5,112-dwt tanker is owned by the Hai Soon Group of Singapore, which specialises in the trading of oil and petroleum products to fishing fleets at sea. Hai Soon 28 has a overall length of 98 metres and a beam of 15.2m and is registered in Dominica. It would appear the tanker is being towed to Pakistan but we have not been able to confirm this.     These pictures are by Terry Flynn
Added 28 March 2021
♠♠♠
We invite suitable photographs of shipping and other maritime scenes involving any of the ports of South Africa and from the rest of the African continent, together with a short description, name of ship/s etc
♦♦♦♦♦♦♦♦♦
♦♦♦♦♦♦♦♦♦
News continues below
Record IAG Cargo uplift on a Boeing 777-300 cargo flight from Nairobi to London
IAG Cargo, the cargo division of International Airlines Group (IAG) has uplifted 53,793 kgs of cargo on a cargo-only flight from Nairobi to London-Heathrow operated by a British Airways B777-300 aircraft during March – a record for Kenya.
IAG Cargo is the single business created following the merger of British Airways World Cargo and Iberia Cargo in April 2011. Following the integration of additional airlines into the business, including Aer Lingus, Vueling and Level, IAG Cargo now covers a truly global network.
The record cargo-only flight from Nairobi comprised of a mix of products including perishables (tropical fruits and vegetables), textiles and courier. IAG Cargo operates four weekly rotations from Nairobi to London Heathrow and popular exports from Kenya into the UK include cut flowers, fruits and vegetables, while imports are mainly automotive, pharmaceuticals, printed materials and consumer electronics.
Speaking about the achievement, Area Commercial Manager for East Africa, Michael Muriithi at IAG Cargo said the record uplift of nearly 54 tonnes shows the dedicated and committed efforts of the IAG Cargo team in Nairobi.
"The flight was carefully planned, ensuring efficient ULD planning, and we worked collaboratively with our ground handling partners to ensure loading was completed with care," he said.
"Since the start of the pandemic we have been committed to creating efficient solutions for our customers to maximise capacity and keep supply chains open. We are proud to support our customers across the world."
Last week marked the start of UK-Kenya Economic Partnership Agreement, providing Kenya unrestricted access to the UK market – free of duty and quota restrictions.
In a communication from the British High Commission Nairobi, UK Prime Minister's Trade Envoy to Kenya, Theo Clarke MP said he was delighted the Kenya-UK Economic Partnership Agreement is now legally in force – providing stability and certainty for UK and Kenyan businesses alike.
"The Agreement also guarantees permanent duty-free, quota-free access to UK markets for Kenya from day one, and gradually improved access for UK exports over time, whilst protecting sensitive goods."* he said.
* SEE HERE
In 2020 IAG Cargo had a commercial revenue of €1,306 million. It has a combined workforce of more than 2,250 people. Its parent company, International Airlines Group, is one of the world's largest airline groups with 533 aircraft on 31 December 2020.
Watch also this YouTube video 'Transforming logistics with Flybase….' where Carly Morris, IAG Cargo's Head of Innovation, takes us through how drones are poised to transform logistics.
Added 1 April 2021
♦♦♦♦♦♦♦♦♦
News continues below
REFLECTIONS: Pipelayer Seven Oceans makes a Cape Town call
The oil and gas industry provides the most diverse range, class and appearance of vessels in the maritime sector. These vessels are literally the good, the bad and the ugly, from the humble platform guard vessel to the giant semi-submersible crane ship.
One of the specialised vessels of this industry is the pipelayer, designed to lay the network of subsea pipelines and flowlines that connect the seabed oil and gas field infrastructure to the mother platforms and the shore terminals.
Cape Town saw the arrival of one such pipelayer, the SEVEN OCEANS (IMO 9358826), arriving on March 30th at 1000 after a long voyage from Willemstad, on the island of Curacao, in the Caribbean, 'Seven Oceans' berthed at the Eastern Mole to take on 2,900 tons of bunkers.
Built in 2007 at the Merwede Shipyard at Giessendam in Holland, Seven Oceans is 157 metres in length and had a deadweight of 12,430 tons. Owned by Subsea 7 of London, and managed by Subsea 7 International Contracting of Sutton of Surrey, located south of London.
Her design gives her great maneuverability and she if fitted with six thruster, with three Azimuth Thrusters aft, two Azimuth Thrusters forward and with a Tunnel Thruster forward. This manoeuvrability meant that on arrival in Cape Town Seven Oceans had no need for tug assistance and berthed by herself at her bunker berth.
A specialised pipelayer, Seven Oceans is designed for the installation of all known types of both flexible pipes and rigid pipes up to a diameter of 16″ on the ocean floor, in deepwater and in depths of up to 3000 metres using the pipereel 'J-Lay' method.
This method of pipe lay is the fastest method for installing oil pipelines on the seabed as the lengths of pipeline have already been welded together on shore and loaded onto the pipereel. This allows Seven Oceans to continue underway whilst the pipelaying is in progress.
With an installing speed of 35 metres per minute, a theoretical 100 kilometres of pipes can be installed on the seabed in just two days. Up to 3,600 tons of pipe can be loaded onto the main reel and Seven Oceans is able to deploy two remote operated vehicles (ROVs), which can monitor the pipelaying activities as they occur.
Besides pure pipelaying, the ship can also be used for offshore construction using her 400 ton capacity crane, for ROV support and seabed survey activities.
Prior to her arrival in Cape Town, Seven Oceans had laid the subsea pipeline network for the BP Mad Dog 2 project, located in the Gulf of Mexico, 200 miles south of New Orleans.
It is expected that when she sails she is headed for Northern Mozambique and the Rovuma Basin, where she will be involved in the pipeline installation project for ENI's Coral Sur gas field.
UPDATE:  When Seven Oceans sailed from Cape Town her destination was shown to be Fremantle, Australia and not Northren Mozambique.
Story by Jay Gates
Pictures are by 'Dockrat'
Added 31 March 2021
♦♦♦♦♦♦♦♦♦
News continues below
Global leaders unite in urgent call for international pandemic treaty
*
25 heads of government and international agencies came together in extraordinary joint call
*
New treaty would signal high-level political action needed to protect the world from future health crises
On 30 March it was announced from WHO HQ in Geneva that the international community should work together: "Towards a new international treaty for pandemic preparedness and response" to build a more robust global health architecture that will protect future generations, world leaders said in a commentary published that day in several newspapers around the world.
"There will be other pandemics and other major health emergencies. No single government or multilateral agency can address this threat alone. The question is not if, but when. Together, we must be better prepared to predict, prevent, detect, assess and effectively respond to pandemics in a highly coordinated fashion. The COVID-19 pandemic has been a stark and painful reminder that nobody is safe until everyone is safe."
The main goal of a new international treaty for pandemic preparedness and response would be to foster a comprehensive, multi-sectoral approach to strengthen national, regional and global capacities and resilience to future pandemics. This is an opportunity for the world to come together as a global community for peaceful cooperation that extends beyond this crisis.
According to the document the treaty: "Would be rooted in the constitution of the World Health Organization, drawing in other relevant organisations key to this endeavour, in support of the principle of health for all. Existing global health instruments, especially the International Health Regulations, would underpin such a treaty, ensuring a firm and tested foundation on which we can build and improve."
After the signing WHO Director-General Dr Tedros Adhanom Ghebreyesus jointly chaired a press conference with the President of the European Council, Charles Michel.
It was learnt that President Michel had championed the call for an international treaty to make the world better prepared to respond to pandemics and health crises. This powerful idea, of a treaty rooted in WHO resulted in the joint statement issued reported above on 30 March and published in major newspapers around the world and in multiple languages, which has been signed, so far, by twenty-five heads of state and heads of government representing a diversity of countries, from north and south, east and west.
We quote here highlights from Dr Ghebreyesus's presentation to the press: "It is now 425 days since I declared COVID-19 a global health emergency. In that time, the COVID-19 pandemic has brought out the best and worst in humanity.
"We have seen acts of incredible courage from health workers, and from communities around the world, on a daily basis. But the pandemic has also thrived amid the inequalities in our societies, the geopolitical fault lines in our world, and the frayed trust in our public institutions.
"It has exposed the gaps in national, regional and global preparedness and response systems, but also allowed us to identify opportunities to strengthen the international health architecture.
"The time to act is now. The world cannot afford to wait until the pandemic is over to start planning for the next one. We must not allow the memories of this crisis to fade and go back to business as usual.
"The impacts on our societies, economies and health, especially for the poor and the most vulnerable, are too significant. We cannot do things the way we have done them before and expect a different result. We must act boldly.
"Without an internationally coordinated, all-of-government, all-of-society, One Health approach to pandemic preparedness and response, we remain vulnerable."
Edited by Paul Ridgway
London
Added 31 March 2021
♦♦♦♦♦♦♦♦♦
News continues below
IN CONVERSATION: Offshore gas finds offered major promise for Mozambique: what went wrong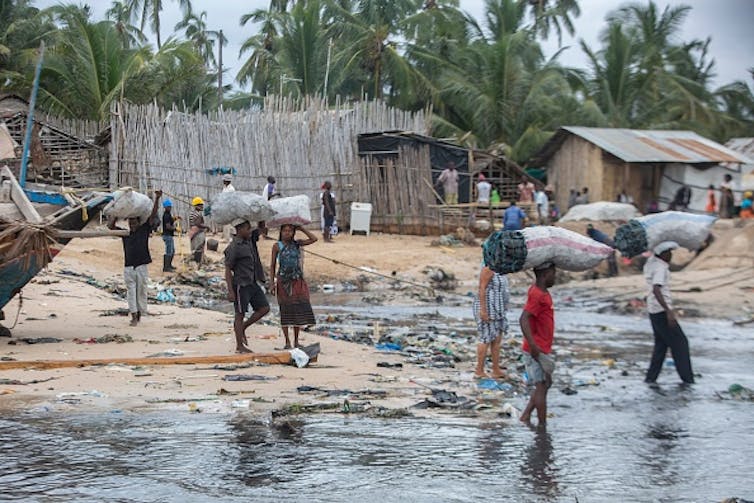 Recent events in Palma, a town in the volatile Cabo Delgado province in the north of Mozambique, have taken bloodshed in the region to new levels. Dozens of people were killed when hundreds of Islamist militants stormed the town on Wednesday, 25 March. They targeted shops, banks and a military barracks.
The attack has been devastating for the people living in the area – as well as the country. The escalating violence has already left at least a thousand dead and displaced hundreds of thousands more.
The conflict has put a temporary lid on plans that have been in the making for more than a decade since rich liquefied natural gas (LNG) deposits were discovered in the Rovuma Basin, just off the coast of Cabo Delgado. Western majors like Total, Exxon Mobil, Chevron and BP entered the Mozambique LNG industry as well as Japan's Mitsui, Malaysia's Petronas and China's CNPC.
The gas projects are estimated to be worth US$60 billion in total. Some observers recently predicted that Mozambique could become one of the top ten LNG producers in the world.
The development of the projects had led to the area becoming a hive of economic activity.
The plan was for Palma to become a LNG manufacturing hub where hundreds of skilled workers would be located. And, more broadly, the hope was that it would drive the rapid advancement of a country that ranks close to the bottom of the United Nations Human Development Index. More than 70% of the population have been classified as "multidimensionally poor" by the United Nations Development Programme.
The LNG projects in the northern Cabo Delgado area represented a silver lining of hope. Since 2012 the major multinational energy companies have spent billions of dollars on developing the offshore gas sites. Today, offshore exploration in the Cabo Delgado area includes Africa's three largest LNG projects. These are the Mozambique LNG Project (involving Total and previously Anadarko) worth $20 billion; the Coral FLNG Project (involving Eni and Exxon Mobil) worth $4.7 billion; and the Rovuma LNG Project (involving Exxon Mobil, Eni and CNPC) worth $30 billion.
Production was scheduled to start in 2024 but intensifying attacks near the gas site on the Afungi peninsula are now posing serious challenges to the production time lines.
There have been no material benefits for the people of Cabo Delgado thus far. Moreover, many local people feel deeply aggrieved because many were evicted and had to relocate soon after the discovery of gas in Cabo Delgado to make way for LNG infrastructure development.
History of instability
Cabo Delgado is Mozambique's most northern province. Neglected over many years, the people who live there have been politically marginalised. And the area is underdeveloped.
Since independence in 1975 investment, and rising incomes, were largely confined to the capital Maputo in the south as well as the southern parts of the country.
In addition, the central government in Maputo has only had a fragile and precarious control over the territory and borders of the country. A 16-year civil war that involved clashes between the central government and Renamo, a militant organisation and political movement during the liberation struggle and now opposition party, claimed more than a million lives.
More recently, since 2017, the militant Islamic movement, Ansar al-Sunna, locally known as Al-Shabaab, has been active in Cabo Delgado. It now poses the biggest security threat in the country, rendering some of the northern parts almost ungovernable.
The militants took advantage of the Mozambican government's failure to exercise control over the entire territory of the country.
Ansar al-Sunna reportedly pledged allegiance to the Islamic State of Iraq and Syria (ISIS) in April 2018. It was acknowledged as an affiliate of ISIS-Core in August 2019. In view of this, the US Department of State has designated Ansar al-Sunna Mozambique, which it refers to as ISIS-Mozambique, as a foreign terrorist organisation.
What makes this armed force so significant is that the movement has orchestrated a series of large scale and targeted attacks. In 2020 this led to the temporary capturing of the strategic port of Mocimboa da Praia in Cabo Delgado.
In addition, the turbulence caused by the militants' attacks has displaced nearly 670,000 people within northern Mozambique. Obviously, foreign companies in the LNG industry with their considerable investments feel threatened, especially at the current stage where final investment decisions have to be taken.
In recent months the situation in Cabo Delgado has gone from bad to worse. In November 2020, dozens of people were reportedly beheaded by the militants. Now the bloodshed has spread to Palma.
Amid the development of an increasingly alarming human rights situation towards the end of last year, the United Nations High Commissioner for Human Rights, Michelle Bachelet, appealed for urgent measures to protect civilians. She described the situation as "desperate" and one of "grave human rights abuses". Bachelet also stated that more than 350,000 people had been displaced since 2018.
Growing risk
There is little doubt that Islamist insurgents are increasing the scale of their activities in Cabo Delgado. A lack of governance and a proper security response by both the Mozambican government and southern African leaders make this a case of high political risk for the LNG industry.
The escalation of the insurgency can potentially jeopardise the successful unlocking of Mozambique's resource wealth. Until now, the main LNG installations and sites have not been targeted, but the attacks in Palma have brought the turbulence dangerously close to some of the installations.
The Mozambican armed forces are clearly stretched beyond the point where they can protect the local communities. A part of the solution lies in Southern African Development Community or at least South African military support to stabilise Cabo Delgado and restore law and order in the short term. Wider international support might even be necessary.
But this would require the Mozambican government to change its stance by allowing multinational foreign military forces on its soil.
At the same time, a long term solution should be pursued. This will require better governance of the northern areas and the local people in what has been called a forgotten province.
It is clear that Cabo Delgado is an area which the central government in Maputo is unable to control, govern effectively, or even influence. In short, weak state institutions – including weak armed forces – are key to the problems of Mozambique and specifically the turbulence in the northern parts.

Theo Neethling, Professor of Political Science, Department of Political Studies and Governance, University of the Free State
This article is republished from

The Conversation

under a Creative Commons license. Read the

original article.
Added 31 March 2021
♦♦♦♦♦♦♦♦♦
News continues below
Mackay Marine partners up with Raytheon Anschütz in South Africa
Earlier in March 2021, Mackay Marine finalised an agreement with Raytheon Anschütz GmbH, establishing Mackay Marine South Africa (Pty) Ltd as a Raytheon Anschütz Sales and Service Distribution Partner.
Although Mackay Marine South Africa is Mackay's newest global branch (September 2020), their highly trained technical and sales teams have long established relationships with marine customers in South Africa, formerly known as Dynamic Marine Systems.
Similarly, it's a natural fit to add the Cape Town branch to Mackay's current multi-regional distribution and service provider arrangement with Raytheon Anschütz.
Mackay South Africa will source equipment and spares and provide service for Raytheon Anschütz' comprehensive line of navigation electronics including Integrated Bridge Systems, Gyros, Steering Controls & Autopilots, Radar, ECDIS, and communications systems.
"Adding Raytheon Anschütz line-up to Mackay's extensive portfolio of complimentary electronics, value-added 24/7 global services, and our regional connection with commercial, offshore, and governmental/defense customers, is a powerful combination to offer South Africa's maritime community," Waldo Fourie, Mackay South Africa Manager, said.
Mackay Marine
Mackay Marine sells, installs, and services communication and navigation equipment on board vessels of all class and size. Mackay, in business for over 135 years, has 3,000+ customers spread over every continent, annually conducts 17,000+ service calls, employs 325 seasoned professionals, with locations in more than 45 major ports. Mackay World Service coordinates service, installation, and inspections 24/7 for all ports, worldwide. For more information visit: www.mackaymarine.com
Added 31 March 2021
♦♦♦♦♦♦♦♦♦
News continues below
President Sisi promises investment to avoid repeat of Suez Canal blockage
Egyptian President Abdel Fattah al-Sisi said on Tuesday, following the successful refloating of the 20,000-TEU container ship EVER GIVEN, that Egypt would invest in what he called 'equipment' to ensure that there will not be any repetition by another ship in the Suez Canal.
Having a working canal open to shipping at all times is vital to not only the global economy, but also to Egypt's fiscal well being. Earnings from the canal is one of the country's most important sources of revenue – the other being tourism, and is therefore vital to Egypt's economy.
"We will acquire all the necessary equipment for the canal," Sisi said during a visit to Ismailia, where the Suez Canal Authority (SCA) is headquartered.
While the SCA and the country as a whole will be proud of having cleared the obstruction in the canal within a week, with the aid of outside salvage experts, concern remains that with ships of a similar size to Ever Given, 200,000-dwt and 400 metres long, it may only be a matter of time before it happens again.
This time everyone was lucky, the ship did not suffer structural damage leading to a pollution problem to add to the economical setbacks for the SCA and for ships trapped in the tailback – quoted as over 400 vessels at the end. Another blockage like this might include an oil spill, with all those repercussions.
So while Sisi and the SCA are pleased with a successful conclusion to the canal being blocked (financial implications are still being calculated, but according to Egyptian authorities it lost between US$12 and $15 million per day), the SCA and Egypt itself are looking at installing additional equipment and technology to help ensure it will never happen again.
Some maritime transport experts go further and are calling for only small and medium size ships to transit the canal during hours of darkness.
The SCA meanwhile is ruling out any further widening of the canal – this despite having spent over $8 billion to widen a section during 2014/15. Further widening, it says, and the cost would be "very significant" and prohibitive.
What equipment and technology therefore is being considered to ensure nothing like the Ever Given incident never happens again, remains unclear. Perhaps it was just the correct thing to say at the time.
Added 31 March 2021
♦♦♦♦♦♦♦♦♦
News continues below
PUZZLED BY THE MOZAMBICAN ISIS CRISIS? – WATCH THE VIDEO
If you remain curious, puzzled or totally confused about the background and history of the emerging insurgency by ISIS fighters in the
Cabo Delgado province

of Mozambique, then the YouTube video below [07:42] can be recommended.

The strategic importance of this northern section of Mozambique will continue to embrace our attention and interest at Africa PORTS & SHIPS simply because of the continued importance of this neglected area of the SADC region, and in particular to its importance for South Africa. Smuggling by sea of heroin and other associated drugs is just one aspect of the maritime interest, as is the trafficking of people. Another significant aspect is the discovery and development of the world's largest deposits of Liquefied Natural Gas (LNG) offshore in what is referred to as the Rovuma Basin.

The discovery of LNG in large deposits has raised the profile and importance of two small harbour towns north of the bigger port at Pemba – Mocimboa da Praia and Palma, both of which are earmarked as logistics hubs for support services to the gas industry. Both have now come under attack from the Islamic insurgents, with the former under their control and regarded now as the capital of the Islamic State.

It appears the insurgents are not immediately attempting to hold Palma as they have done further south at Mocimboa da Praia, but that may change. Either way it is increasingly clear that the jihadist group, now certainly under the influence if not control of the Islamic State (ISIS), is having a profound effect on the future prospects of what Mozambique once thought of as its saving grace.

With Total having again withdrawn most of its people and ceased further development at the Afungi site, and ExxonMobil having previously withdrawn from its relatively safer offshore facility, leaving only Eni in possession of a workable project, the future of gas production for Mozambique is starting to look increasingly bleak. – trh
Added 30 March 2021
♦♦♦♦♦♦♦♦♦
News continues below
REFLECTIONS: Yasa Aygen, an unusual visitor to Cape Town
Cape Town harbour is known more as a net importer of dry bulk cargoes, rather than an exporter of bulk cargoes from South Africa. Whilst such cargoes are not unheard of, they are not frequent and most mineral bulk cargoes from South Africa are exported via Saldanha Bay, Durban or Richards Bay. So it is quite unusual to have a bulk carrier arrive in the port, in ballast, and arriving to onload a full cargo of a mineral bulk cargo, namely manganese ore.
On 23 March at 10h00 the bulk carrier YASA AYSEN (IMO 9300532) arrived in ballast from Qinzhou in China. This was the third 'back to back' visit of Yasa Aysen to a South African port in the previous six months, with her last voyage being a visit in late December 2020 to pick up a cargo of manganese ore from Ngqura, destined for Qinzhou in China, from whence she had just arrived in ballast, and prior to that in late October 2020 she had been in Richards Bay to pick up a cargo of steam coal destined for Paradip in India.
Built in 2007 by the Mitsui Shipyard of Tamano in Japan, Yasa Aysen is a Supramax bulk carrier of 190 metres in length and with a deadweight of 55,905 tons and is owned and managed by Ya-Sa Shipping of Istanbul. She previously operated as a time chartered pool bulker in the fleet of Oldendorff Carriers of Hamburg.
Lying at G berth in the Duncan Dock, Yasa Aysen loaded a cargo of 52,000 tons of manganese ore, brought into Cape Town from the mines of the Northern Cape region.
Yasa Cape Town is within the Duncan Dock in this view of the ship, and preparing to berth at G shed. Picture is by 'Dockrat'  
As Cape Town harbour is not a bulk export port, there is no automated bulk loading system in place, nor a large bulk stockpile storage yard, so the onloading process was more intensive than usual.
The manganese ore was brought into the harbour over a period of weeks, both by road transport and by rail, where it was stored temporarily in the sheds of G and H berths. From there large front-end loaders inside the sheds ran a continuous loading process of collecting the ore from the temporary stockpile and loading it into skips.
Each skip can hold around 20 tons of ore, and from there the loaded skips were taken alongside the Yasa Aysen and the skips hoisted aboard and the contents tipped into the holds.
The loading process in Cape Town took several days to complete, and once complete Yasa Aysen sailed for Port Elizabeth, where on Tuesday 30 March she had arrived in the Port Elizabeth anchorage, presumably to top up and complete her onload of manganese ore from the bespoke manganese ore berth located in the Eastern Cape port.
Story by Jay Gates
Pictures are by 'Dockrat'
Added 30 March 2021
♦♦♦♦♦♦♦♦♦
News continues below
IN CONVERSATION: Top three take-away lessons from the Suez Canal blockage
The Suez Canal on a normal day.  Photo by Camille Delbos/Art In All of Us/Corbis via Getty Images
For a week the world was gripped by the extraordinary sight of a massive container ship that had run aground in the Suez Canal in Egypt. The Ever Given is 400m long (1,312ft) and weighs 200,000 tonnes, with a maximum capacity of 20,000 containers. It was carrying 18,300 containers when it became wedged in the canal, blocking all shipping traffic. Efforts to free it finally paid off when it was partially dislodged in the early hours of Monday 29 March. Adejuwon Soyinka asked maritime security expert Dirk Siebels to unpack lessons learnt from the incident.
What maritime lessons can be learnt from this incident?
Choke points: The shipping industry provides an extremely efficient link to ensure just-in-time deliveries. This link, however, is largely invisible, underlined by the time it took most countries to classify seafarers as key workers during the COVID-19 pandemic.
When choke points are blocked, trade doesn't necessarily come to a standstill. Under normal circumstances, it is extremely cheap to transport all types of cargo over long distances on ships. Freight rates are barely noticeable in the price of most goods, so higher freight rates are unlikely to be a significant issue for economies as a whole. Nevertheless, the implications of a blockage as we've seen in the Suez Canal will have been felt in many sectors. For example, refineries need crude oil, factories need raw materials, shops need goods to sell.
Security threats: These are easy to exaggerate, but complicated to understand. Concerns about additional piracy threats on the route around Africa are, in my view exaggerated. In addition, there have been alarming headlines about ships waiting at the southern end of the Suez Canal, describing them as "sitting ducks" in a volatile region.
While there are certain threats for operations in the Red Sea, these have not changed overnight. Ships always have to wait in the area as Suez Canal transits are conducted in convoys. Moreover, the threat level is the same for all ships but the resulting risk is different for individual vessels, depending on factors such as ship type, cargo or even the owner's nationality.
Situational awareness is therefore important to ensure appropriate preparations and to avoid unwarranted alarmism.
Security and safety: These threats should receive similar attention. Potential security threats are often highlighted as worst-case scenarios, namely terrorist attacks which could cause high levels of economic disruption. These have often been identified as a particular threat for choke points such as the Suez Canal. Safety threats, on the other hand, are not as headline-grabbing. Accidents are much more likely to occur but are much less discussed.
In many cases, however, the actual implications of safety and security incidents are very similar. Countermeasures that are designed to increase resilience should therefore receive more attention. Better awareness of all types of threats is vital in this area as well because safety threats are largely static while security threats are much more dynamic.
Were there any maritime security implications from the incident?
This was a rare accident that has highlighted how much the world's economy relies on shipping. This has been the case for many years. But the global shipping industry is almost invisible most of the time.
While the Ever Given's grounding was not a security-related incident, the critical nature of certain choke points around the world has been discussed for many years.
These narrow channels – including man-made ones like the Suez Canal, but also natural ones like the Strait of Hormuz in the Persian Gulf and the Gulf of Oman or the Strait of Malacca between the Malay Peninsula and the Indonesian island of Sumatra – are part of the most important global sea routes. When merchant ships can no longer navigate through such a choke point, it may lead to supply delays and higher freight rates. These effects are already visible in the tanker market.
For container ships, the impact could exacerbate an already chaotic situation in the wake of COVID 19-related disruptions of long-established trading patterns.
Overall, direct implications on maritime security are unlikely. The commercial implications for the shipping industry – and, by extension, for global trade – are already significant and the ripple effects will be felt in many sectors beyond shipping.
What does the incident tell us about other sea routes around Africa?
The only alternative to a transit through the Suez Canal is the much longer passage around the African continent. Piracy in particular has been a significant concern for operators of merchant ships in recent years, first off the Somali coastline and more recently in the Gulf of Guinea.
Some shipping companies have already voiced concerns over piracy threats on the alternative route, even prompting inquiries to the US Navy. One of the largest industry organisations, BIMCO, recently published a related security guidance.
In recent years shipping industry associations as well as international navies have often pointed out that Somalia-based piracy has merely been suppressed, not defeated. In December, the European Union's naval mission in the western Indian Ocean was extended until 31 December 2022.
At the same time, it should be noted that the threat of piracy for a transit through the Gulf of Aden towards the Suez Canal is not significantly different from a voyage through the Indian Ocean towards South Africa. After passing the Cape of Good Hope, a ship with a destination in Europe is very likely to steam on a straight course and pass between Senegal and Cabo Verde. Any such transit will not be affected by the piracy threat in West Africa, which is significant in the inner Gulf of Guinea, but limited to an area around 250 nautical miles from the Nigerian coastline. Taking the shortest route around Africa means that ships will be almost 1,000 nautical miles away from Nigeria.

Dirk Siebels, PhD (Maritime Security), University of Greenwich
This article is republished from

The Conversation

under a Creative Commons license. Read the

original article.
Added 30 March 2021
♦♦♦♦♦♦♦♦♦
News continues below
Europe's Ports call for more onshore power
Onshore Power Supply (OPS)
is part of a contribution to greening the shipping sector. It is an important tool for reducing CO2 emissions and air pollution at berth and in ports. Many ports in Europe are increasing their efforts to deploy more OPS.
Large investment required
An ambitious OPS deployment plan entails large investments up front and significant operational costs. These costs cannot be borne by ports alone, making public funding a precondition for a successful deployment of OPS. For Europe's ports, the only way to ensure a rapid deployment of OPS and avoid a waste of public funds is to focus on deploying OPS where it delivers cost-effective reductions of greenhouse gas emissions and air pollution at berth.
Together with its members, the European Sea Ports Organisation (ESPO) has put forward a framework that can guide ports and policy makers in developing an effective and intelligent approach for OPS.
Key criteria
To help facilitate constructive and effective policy on OPS, ESPO has identified key criteria to be assessed together:
1.The OPS readiness of the ship (or shipping segment).
2.Is the vessel (segment) spending sufficient time at berth for it to make sense to connect?
3.Are there frequent users of a berth (OPS connection is easier in case of a regular vessel call at the same berth)?
4.Is the berth enough used to make it worth the investment, planned new berths (where OPS can directly be integrated in the planning of the port)?
In addition to these key criteria, some port-specific circumstances need to be considered:
* The location of the berth and of the port.
* Berth size and layout to match the vessel connection.
* Access to (public) funding.
* Available grid capacity.
* Access to renewable energy and space on the berth to integrate the OPS infrastructure.
As an overall criterion, ESPO believes there should be corresponding engagements between vessels, energy providers, and ports in order to make OPS a viable instrument in terms of both environmental and cost effectiveness.
Substantial public funding received
In its statement issued on 29 March ESPO indicated that while the cost of installing OPS varies from port to port and between different locations in ports, OPS generally is very costly. It is understood that all OPS projects so far have received substantial public funding or support. When preparing the financial case for OPS deployment, ports need to consider not only the cost of setting up the system, but also the grid connectivity and operational costs with potentially high fixed costs that are not borne by the user. It is ESPO's that an ambitious OPS deployment plan must be accompanied by an ambitious OPS funding policy.
With its communication Towards an intelligent legislative framework for OPS**, ESPO intends to contribute in a constructive way to the drafting and further discussions of two forthcoming European Commission proposals setting out the policy and requirements on the deployment and use of onshore power supply. The first is the FuelEU Maritime proposal, which will tackle the demand for clean fuels from shipping, including OPS. The second file is the review of the Alternative Fuel Infrastructure Directive, known as the AFID, which regulates the supply of fuels and the provision of clean fuel infrastructure
**  SEE HERE
Edited by Paul Ridgway
London
Added 30 March 2021
♦♦♦♦♦♦♦♦♦
News continues below
Mozambique to import locomotives from India's Banaras Locomotive Works
Mozambique and India have signed off on a deal by which the Banaras Locomotive Works (BLW) will export a number of 3000 HP Cape gauge diesel-electric locomotives to CFM, the state-owned railway operator in Mozambique.
The deal was announced when India's Railways Minister, Piyush Goyal, took part in the virtual signing off of the contracts for six of the locomotives in addition to 90 stainless steel passenger coaches.
He said India will work as Mozambique's trusted partner.
"With significant innovation, re-modelling and upgradation, Indian Railways wishes to become the preferred supplier for Mozambique and countries around the world for all their requirements," Goyal said.
"We are willing to support further development of rail network in Mozambique." Referring to India he added: "By 2030, we plan to become a net-zero railway, and power our entire electricity requirements by renewable energy. We will be the first large railway in the world to become 100 per cent electric traction driven."
The locomotives being exported to Mozambique are developed locally by Banaras Locomotive Works and financed in India under the 'Made in India' initiative.
The minister said the export of locomotives to Mozambique will boost the Indo-African relationship and pilot the economic empowerment through export.
Union Skill Development Minister, Mahendra Nath Pandey, said indigenously developed locomotives by BLW demonstrate the skills of India's workforce. "Our vision is to make India a skill capital," he said.
The 3,000 HP Cape gauge locomotive is capable of hauling 2,255 tonne at 100 km/h at level track. It is designed to operate on a maximum axle load of 20-tonnes and includes a computer-controlled brake system for ensuring highest safety standards, reliability and maintainability.
A large fuel tank for 6,000 litres provides for longer operation. The driver's console in the cabin is set up for right-hand drive.
BLW has exported 165 locomotives of various gauges to various countries. These included an ALCO 3000 HP locomotive to Mozambique in 2008-09
Added 30 March 2021
♦♦♦♦♦♦♦♦♦
News continues below
SAMSA announces end to nurdle collection along KZN coastline
SAMSA (South African Maritime Safety Authority) said on Tuesday (30 March 2021) that it has formally concluded the recovery of plastic nurdles (plastic pellets) along the KwaZulu-Natal Coastline.
This follows a directive issued by the safety authority in October 2017 for the collection of the plastic nurdles in October 2017. The plastic nurdles entered the waters of Durban Bay when several containers on board a MSC ship in Durban harbour, fell overboard during a violent storm.
The millions if not billions of nurdles, small plastic pellets used by the plastics industry, escaped the damaged container and were washed by the tide into the sea, from where they were dispersed in their millions along the coast to the north and south of the port.
This set off an intense collection of the nurdles, monitored by a Joint Operations Committee consisting of the South African Maritime Safety Authority (SAMSA) as the lead agency, Department of Environmental Affairs (DEA), Transnet National Ports Authority (TPNA), KZN Department of Economic Development, Tourism and Environmental Affairs (EDTEA), Ezemvelo KZN Wildlife, the Mediterranean Shipping Company (MSC)/Resolve Marine, The International Tanker Owners Pollution Federation (ITOPF) and the South African Local Government Association (SALGA).
In deciding on the stoppage of the collection SAMSA has taken into account the law of diminishing returns and decided that the amount of nurdles collected during the last inspection between the 11 and 12 December 2020 does not provide sufficient justification to continue with the recovery operation.
Approximately 70% of Nurdles are reported to have been collected to date.
All affected areas where nurdles were collected will be inspected and monitored. SAMSA also reserves the right to instruct the responsible party to conduct further clean up operations should there be a need.
To read more of the storm damage of 10 October 2017 leading to the loss of the nurdles, SEE HERE….SHIPS AGROUND…
and
Questions and answers….CLICK HERE
Added 30 March 2021
♦♦♦♦♦♦♦♦♦
News continues below
SUEZ CANAL UNBLOCKED: "WE PULLED IT OFF!" SAYS BOSKALIS/SMIT SALVAGE
Papendrecht, 29 March 2021, 14h00 GMT –

Boskalis

announced Monday afternoon the successful salvage operation of the grounded 20,000 TEU container vessel Ever Given in the Suez Canal.
With a length of 400 metres and a width of nearly 60 metres this giant ship had been wedged in this vital shipping route since 23 March 2021 blocking all shipping traffic ever since.
"Shortly following the grounding of the Ever Given we were requested through [subsidiary] SMIT Salvage to provide assistance with the salvage operation. I am excited to announce that our team of experts, working in close collaboration with the Suez Canal Authority, successfully refloated the Ever Given on 29 March at 15:05 hrs local time, thereby making free passage through the Suez Canal possible again.
"I'm extremely proud of the outstanding job done by the team on site as well as the many SMIT Salvage and Boskalis colleagues back home to complete this challenging operation under the watchful eye of the world. The time pressure to complete this operation was evident and unprecedented and the result is a true display of our unique capabilities as a dredging and marine services provider."
For the refloating of the 224,000-ton container vessel approximately 30,000 cubic metres of sand was dredged to help free the vessel and a total of eleven harbor tugs and two powerful seagoing tugs (Alp Guard and Carlo Magna) were deployed.
The Ever Given vessel is being towed to a location outside the channel for further inspection.
Added 29 March 2021  16h20 SA Time
♦♦♦♦♦♦♦♦♦
News continues below
VIEWPOINT: Xeneta container rates alert:
carriers flex financial muscles as rates climb continues
Oslo, Norway – Shippers are facing increasingly difficult negotiations over long-term contracted rates in a market described as nothing less than 'red hot. Rates climbed by a further 2.2% in March, consolidating gains of 9.6% in February and 5.9% in January.
The findings, disclosed in Xeneta's latest XSI® Public Indices report, mean that container ship operators are currently commanding rates that have soared by an extraordinary 18.6% since the start of the year (up 17.1% against March 2020). This, says Xeneta, which crowd sources its data from leading global shippers, is buoying the fortunes of carriers while causing cargo owner consternation.
Winning hands
The XSI® gives a real-time snapshot of the latest rates developments, utilising over 220 million data points, with more than 160,000 port-to-port pairings. With continued high demand exacerbated by coronavirus, port congestion and a lack of equipment, shippers are being forced to navigate an increasingly daunting rate landscape, while carriers, notes Xeneta CEO Patrik Berglund, are "enjoying their moment in the sun."
He comments: "It really is an extraordinary time for an industry that has faced some very difficult years recently, constantly juggling capacity and demand while fighting one another for market share. Now, it seems, the carrier community is being dealt winning hand after winning hand, and the financial ramifications of this red-hot streak are there for all to see."
Container confidence
Here Berglund points to the year-end results for a slew of the industry's biggest names. French carrier CMA CGM, he comments, recently posted a net profit for 2020 of US$ 1.75 billion, compared to a loss of US$ 229 million the previous year. Maersk recorded a colossal profit of US$ 2.9 billion, while Hapag-Lloyd raised its game from a profit of US$ 418 million in 2019 to US$ 1.1 billion last year. Zim reversed years of previous losses to post its largest ever annual profit of US$ 524 million.
"And industry insiders do not see it as a short-term aberration," Berglund says. "US retail sales are expected to grow by 8% this year, while new GRIs arriving in April could bolster rates by a further US$ 1,000 FEU. At the same time Peak Season Surcharges of around US$ 250 will be introduced on North Europe – Far East routes. The carriers are in a strong position and are working to maintain that, although spot rates (which have been driving long-term increases) are softening a little.
"There's a newfound confidence in the market," he says, "as shown by Hapag-Lloyd CEO Rolf Habben Jansen's recent comments that fundamentals should remain 'solid' for the next couple of years, not to mention Evergreen's announcement that it will boost fleet numbers by another twenty 15,000 TEU vessels.
"This is a boldness that speaks volumes. Unfortunately, that also means shippers looking to negotiate contracts are doing so from a position of weakness. In fact, we've heard that carriers are becoming increasingly selective about their customers as they seek to optimise future earnings. 2021 is, without doubt, a testing time to be a cargo owner."
Regional fortunes
Although the XSI® continued its climb in March, regional fortunes were more mixed than in February. In the US, for example, the import benchmark fell by 1.7% while the export figure plunged by 7.3% (although February had seen a giant 17.6% gain). This leaves the former up 4.8% year on year, while the latter is down 7% against the same measure.
The Far East saw a mixed performance, with imports falling away 9.1%, while exports recorded an impressive gain of 6.4%. Both figures are strongly up year on year, with imports rising by 13.8%, while exports have surged by 32.4% compared to March 2020. In Europe both benchmarks showed positive developments, as imports climbed by 7.3% (up a massive 31.2% year on year) while exports edged up 0.5%, translating to a rise of 7.8% over the last year.
Intelligent outlook
"It's difficult to see the light at the end of an increasingly dark long-term contracted rates tunnel for shippers at present," Berglund says. "Capacity is in short supply while demand is almost universally strong. All this is further exacerbated by the recent debacle in the Suez Canal. We must also consider that vessel orders were low while rates were depressed and, with long lead times for new deliveries, we're not expecting to see an injection of tonnage sufficient enough to upset the current market dynamic anytime soon.
"That said, this segment has a habit of surprising us, so it's imperative that all stakeholders in the container shipping value chain keep up to date with the very latest intelligence to ensure optimal value from difficult negotiations. There are issues far beyond the industry's control – from coronavirus to geopolitical fluctuations – and, as we all know, these have a habit of creating waves."
To get the full XSI® Public Indices report, please CLICK HERE
Companies participating in Oslo-based Xeneta's crowd-sourced ocean and air freight rate benchmarking and market analytics platform include names such as ABB, Electrolux, Continental, Unilever, Lenovo, Nestle, L'Oréal, Thyssenkrupp, Volvo Group and John Deere, amongst others.
Added 29 March 2021
♦♦♦♦♦♦♦♦♦
News continues below
IN CONVERSATION: Suez Canal container ship accident is a worst-case scenario for global trade
It's estimated that 90% of the world's trade is transported by sea. As consumers, we rarely give much thought to how the things we buy make their way across the planet and into our homes. That is, until an incident like the recent grounding of a huge container ship, the Ever Given, in the Suez Canal exposes the weaknesses in this global system.
High winds have been blamed for the container ship blocking the narrow strait, which serves as a trade artery that connects the Mediterranean and the Red Sea. But with shipping so heavily reliant on such narrow channels, the potential for these incidents is ever-present.
As researchers of maritime security, we often simulate incidents like the Ever Given grounding to understand the probable long and short-term consequences. In fact, the recent event is near identical to something we have been discussing for the last month, as it represents an almost worst-case scenario for the Suez Canal and for knock-on effects on global trade.
The Suez Canal is the gateway for the movement of goods between Europe and Asia, and it was responsible for the transit of over 19,000 ships in 2019, equating to nearly 1.25 billion tonnes of cargo. This is thought to represent around 13% of world trade so any blockage is likely to have a significant impact.
The Suez Canal Authority started expanding the strait in 2014 to raise its daily capacity from 49 vessels at present to 97 by 2023. This gives an indication of how many ships are likely to be affected by the current situation. There are reports that the incident has already halted the passage of ten crude tankers carrying 13 million barrels of oil, and that any ships rerouted will have 15 days added to their voyage.
The severity of the incident is because of the dimensions of the vessels using the canal. The Ever Given is 400 metres long, 59 metres at its widest point and 16 metres deep below the waterline. This makes it one of the largest container ships in the world, capable of carrying over 18,000 containers. Depending on the severity of the grounding, the salvage and re-floating of this type of ship is a complex operation, requiring specialist equipment and potentially a lot of time.
While the exact number of container ships of this size transiting the canal is unknown, container vessels account for almost a third of all canal traffic. Their depth and girth make for difficult navigation within the canal. When operating within such tight margins, ships of this size have to maintain a certain speed to keep their steering effective.
With the capacity to carry over 150,000 tonnes of cargo, these ships cannot stop suddenly. If something does go wrong, crews have very little time to react before the ship runs aground.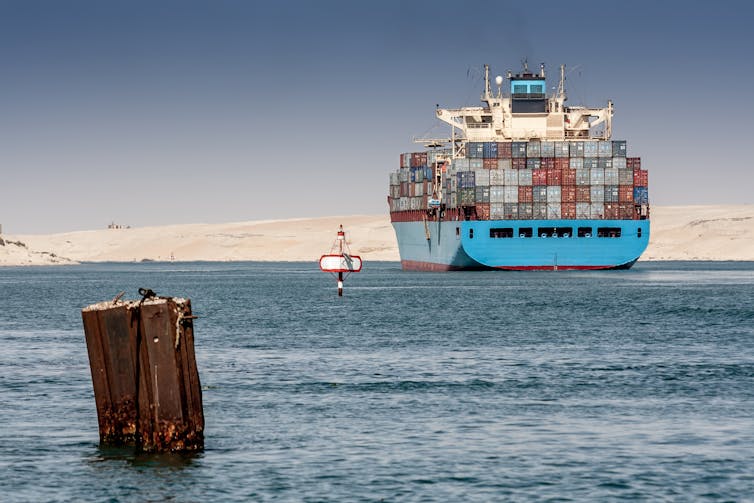 The Suez Canal was completed in 1869 – long before modern container ships existed.
Mr_Karesuando/Shutterstock
This makes a blockage of this type almost inevitable, especially considering that the length of these ships far exceeds the width of the canal. But what makes this incident particularly disruptive is the location of the grounding. Since the canal was expanded, the Mediterranean end of the Canal now has two channels for ships to take, allowing seamless transiting even if one channel is blocked.
But, in its current location at the Suez end of the Canal, the Ever Given is blocking the only channel for ships to pass through. As ships travel through the 193km of canal in convoys with tightly scheduled slots, vessels leading these groups can block the channel like this, creating a backlog of ships or even collisions. It's unclear if the goods being delayed are time-sensitive (for example: medicine or food), but understanding what effects these incidents have on trade can help us pre-empt effective solutions.
Could it have been worse?
We're also interested in what other factors can influence an event like this. One element is the time of year. Traditionally, in the build-up to Christmas, October and November are busy times for maritime trade. A disruption in the global supply chain during this period would have a far greater impact, and could coincide with difficult weather conditions which would exacerbate things, like visibility-reducing fog.
Another element is the unevenness of the canal's banks. If the incident had occurred only a few kilometres down towards the seaport of Suez where the strait ends, the ship would have run aground on banks composed of rock, not sand. An impact here might have caused serious damage to the hull, making salvage operations harder.
While not identical to our team's table-top scenario, the latest incident does highlight that as ships get larger and more complicated, their reliance on narrow shipping routes constructed in an earlier age looks increasingly risky. Today's blockage will have limited long-term implications, but incidents like it could be triggered maliciously, causing targeted or widespread impacts on global and local trade. We need to be more aware of these weaknesses as our world becomes more connected.
Rory Hopcraft, Industrial Researcher, University of Plymouth; Kevin Jones, Executive Dean, Faculty of Science and Engineering, University of Plymouth, and Kimberly Tam, Lecturer in Cyber Security, University of Plymouth
This article is republished from

The Conversation

under a Creative Commons license. Read the

original article.

Added 29 March 2021
♦♦♦♦♦♦♦♦♦
News continues below
REFLECTIONS: LR1-class oil tanker Yamilah arrives in Cape Town
Rather than the usual MR class of tanker, on Sunday (28 March 2021) a larger LR1 class tanker arrived at Cape Town. Yamilah III of the Abu Dhabi National Oil Company arrived from Bahrain to discharge her welcome cargo of refined products. Her second visit to Cape Town this year.
Most tankers that arrive in Cape Town are in the size class known as Medium Range (MR). It is not often that the larger Long Range 1 (LR1) class of tanker arrives.
On 28 March at 16h00 the LR1 tanker YAMILAH III (IMO 9487263) arrived from Sitrah in Bahrain. It is not her first call at Cape Town this year as she previously discharged a full cargo over a seven day period at the beginning of February.
Apart from length and deadweight, the main difference between the LR1 and the MR tanker is that the LR1 tanker is able to carry either refined oil products or crude oil, and the MR tanker is generally classed as one that carries refined oil products only.
As such, the LR class of tankers are the most common in the global tanker fleets, due to their ability to switch between carriage of either refined products or crude oil, and their capability to access most large ports. With the Cape Town refinery being currently out of action, Yamilah III will be discharging refined products on this call.
The difference in cargo carrying capacity between the LR1 and the MR tanker are the LR1 tanker can carry between 345,000 barrels and 615,000 barrels of refined products (66-117 million litres), whereas the MR tanker can carry between 190,000 barrels and 345,000 barrels of refined products (36-66 million litres).
Built in 2011 by the STX Shipbuilders of Busan in South Korea, Yamilah III is 228 metres in length and has a deadweight of 74,866 tons.
Proudly displaying the national symbol of Abu Dhabi on her funnel, the Falcon, Yamilah III is owned by the Abu Dhabi National Tanker Company, which is a subsidiary of the government-owned Abu Dhabi National Oil company (ADNOC), and she is managed by ADNOC Logistics and Services.
Story is by Jay Gates
Pictures are by 'Dockrat'
Added 29 March 2021
♦♦♦♦♦♦♦♦♦
News continues below
IN CONVERSATION: After the Ever Given: what the ship wedged in the Suez Canal means for global trade
In the early hours of March 23, the container ship Ever Given was blown off course by high winds on its way through the Suez Canal. At 400 metres long, the Ever Given is longer than the canal is wide, and the ship became wedged firmly in both banks, completely blocking traffic.
Dredgers, excavators and tug boats are working frantically to free the ship, but the operation may take weeks, according to the head of one of the rescue teams. About 10% of the world's maritime trade passes through the canal, which allows ships to shorten the trip between Europe or the American east coast and Asia by thousands of kilometres, saving a week or more of travel time.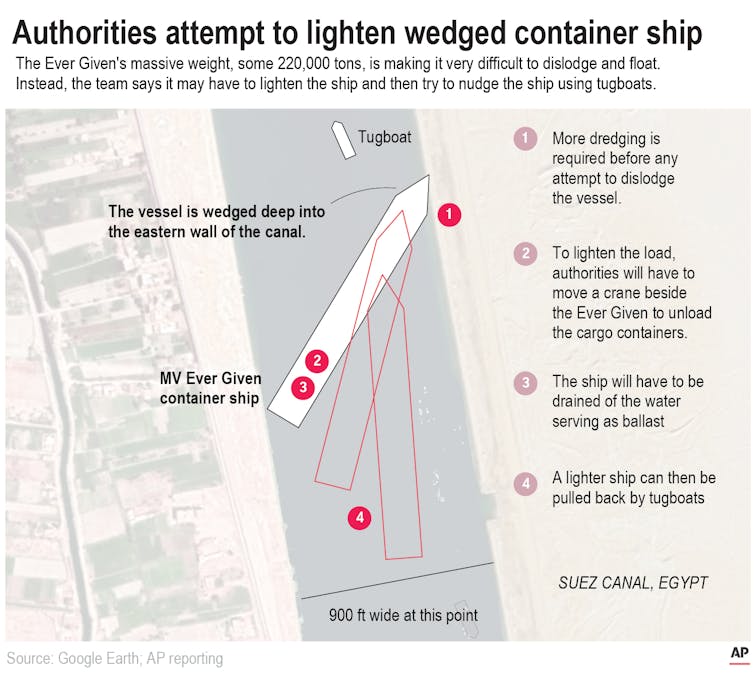 Around 50 ships a day pass through the canal under normal circumstances, split almost equally between dry bulk carriers, container carriers (like the Ever Given) and tankers. As the blockage continues, some shipping lines are considering diverting ships around Africa rather than wait for it to clear.
Coming on top of the COVID-19 pandemic, this event has highlighted the fragility of global supply chains – and is likely to accelerate changes in the world economy that were already under way.
Good news for oil tankers
The blockage is disrupting important energy trades, but probably not dramatically as there are alternative routes and sources should the blockage last a long time.
About 600,000 barrels of crude oil are shipped from the Middle East to Europe and the United States via the Suez Canal every day, while about 850,000 barrels a day are shipped from the Atlantic Basin to Asia also via the Suez Canal. While the SUMED pipeline, which runs parallel to the Suez Canal, will enable some crude to continue to flow between the Mediterranean and the Red Sea, European and North American refiners will want to replace Middle East oil with oil from sources that don't usually pass through the canal. Similarly, Asian refiners will want to replace North Sea crude oil.
Interest is growing in shipping crude oil around the Cape of Good Hope, which adds seven to ten days to the shipping time from the Middle East to Europe and North America, increasing the demand for ultra large crude carriers.
While the rerouting of crude oil is unlikely to have much effect on oil prices generally, as inventory levels are currently high, this comes at an opportune moment for crude oil tanker owners, as the charter rates for such ships have been rock bottom due to the depressed global demand for oil and the aftereffects of pandemic lockdowns. Owners of tankers carrying refined oil or LNG can expect a similar increase in demand for their ships and therefore charter rates.
A reminder of supply chain fragility
For commodities such as oil, LNG, coal and iron ore, there is a world demand and a world supply which must balance. However, one source can often be substituted by another. This means the blockage of the Suez Canal will affect the spot price of commodities locally and the charter rates for the ships that carry them, but the trade will continue.
It's a different story for products carried by container ships like the Ever Given. These products tend to be highly differentiated and more difficult to substitute. The blockage of the Suez Canal will undoubtedly cause shortages of specific products around the world, either because they don't arrive at their destinations on time or because manufacturers run short of key inputs or components.
Shortages will remind manufacturers of the fragility of global supply chains, and they may look at how to reduce their dependency on specific sources, particularly those that are distant and rely on container shipping.
Global supply chains are already shrinking
Advances in technology associated with digitisation and automation are making manufacturers less dependent on large skilled workforces found only in certain parts of the world. Production is becoming more mobile and therefore able to locate closer to the markets served.
More mobile production, along with the continued miniaturisation of some products (for example, flat screen TVs becoming ever flatter) and the advancing digitisation of things like books and manuals, is gradually shrinking global supply chains and reducing freight-kilometres, measured in terms of value or volume. Major disruptions such as the COVID-19 pandemic and the blockage of the Suez Canal can only hasten this development.
---


Read more:
Suez Canal container ship accident is a worst-case scenario for global trade


---
This trend predates the pandemic and the current blockage. It can be seen in a number called the world seaborne trade-to-GDP multiplier, which measures how much of the world's economic activity depends on shipping.
After the global financial crisis of 2008-09, this number fell below 1% on average. This tells us that a 1% increase in world GDP now leads to a less than 1% increase in world seaborne trade.
Who will pay the price?
The cost of the disruption caused by the blockage of the Suez Canal will weigh heavily with the insurers of the Ever Given. The ship is owned by Japanese firm Shoei Kisen Kaisha and chartered to the Taiwanese line Evergreen. The hull and machinery are insured on the Japanese marine insurance market, but at the moment damage to the ship appears to be minimal.
The major costs are loss of earnings by the Suez Canal Authority while the canal is closed to traffic, and losses incurred by the owners of the cargo in the many ships held up by the blockage. Depending on how long the blockage lasts, these may lead to huge insurance claims. Third party claims are covered by the London P&I Club, which is reinsured by the International Group of P&I Clubs.
In the long term, however, the blockage may be a good thing. If it offers a further nudge to shorten supply chains, the benefits to the global economy and environment will surely outweigh the cost to the insurers.
---


Read more:
What will freight and supply chains look like 20 years from now? Experts ponder the scenarios




---
Michael Bell, Professor of Ports and Maritime Logistics, University of Sydney
This article is republished from

The Conversation

under a Creative Commons license. Read

the

original article.
Added 29 March 2021
♦♦♦♦♦♦♦♦♦
News continues below
South Africa expresses concern over deadly Palma attacks
South Africa has expressed concern at the recent attacks against foreign nationals in Palma, northern Mozambique.
The conflict, which intensified on Friday, has left dozens dead while about 60 people are believed to be still missing after a group of terrorists stormed into the town.
"It is with grave concern to note that South Africans were also affected by these attacks," said the Department of International Relations and Cooperation (DIRCO).
According to media reports, many South Africans, some contractors working on the construction of the French Total energy company's Afungi liquid natural gas processing plant, were caught in the deadly insurgent attack.
A South African man, Adrian Nel, is among the dead, News24 said.
According to media reports, hundreds of locals and foreigners were reportedly rescued from Palma, a logistics hub for international gas projects in Cabo Delgado province.
In a statement released over the weekend, the department said South Africa is now working with the local authorities on verifications through its mission in Maputo, as well as providing the necessary consular services.
"The mission in Mozambique is being re-enforced with additional staff to handle the work at hand of locating, identifying and responding to the respective needs of the affected," the DIRCO statement read.
"South Africa stands ready to work with the government of Mozambique in pursuit of lasting peace and stability," it said.
Thousands evacuated
It is reported that several thousand people have been safely evacuated from Palma, mostly by sea.
Although details are sketchy it appears that non-government vessels took most if not all the local and foreigners collecting on the beaches. These reports suggest that government forces have yet to regain control but it appears that some form of security enabled the evacuees to board the vessels used to take them to safety in Pemba.
One such vessel carried off about 1300 people, it is reported.
Several landing craft type vessels are available in the region – South African company Grindrod alone operates about seven of these. Grindrod was intending building its logistics hub at Palma.
Total shutting down most operations
Another piece of unconfirmed reporting says that French oil major Total, which is heading the gas liquefaction consortium facility under construction on the nearby Afungi peninsula, has shut down most of its operations at least for now and is evacuating workers in Palma.
Total must be wishing it had acquired something similar to the ENI facility in the Rovuma Basin – an offshore operation that will perform its liquefaction process offshore on the CORAL SUL, a FPSO that is expected to arrive some distance offshore of Palma later this year.
Last year Total reduced its personnel at the Afungi facility from around 4000 to just 1600 because of the insurgency in the region. On Sunday (28 March) Total said it was halting the planned resumption of construction and would reduce its workforce to a bare minimum.
In the town of Palma bodies were left on the streets, some having been beheaded, following the attack last Wednesday late afternoon. The banks were attacked and looted, many buildings destroyed and fires set in others, including the Marula Hotel which served for a period as a place of refuge for expatriates and some locals.
Added 29 March 2021
♦♦♦♦♦♦♦♦♦
News continues below
WHARF TALK: Durban Port Bulletin News
Moshe Motlohi, Transnet National Ports Authority General Manager reports:
In the past 2 weeks we were inundated with saddening news, one of which was the passing and burial of His Majesty, King Goodwill Zwelithini. The Kings departure is indeed a huge loss for the entire port community. He has visited the Port of Durban on a few occasions and he always reassured us of his support. The King was instrumental in ensuring that our operations were not negatively affected by social disturbances. He rallied the Chiefs (Amakhosi) and communities to support our railway and Ports. We wish His family strength during this trying time. May His soul rest in peace. BAYEDE!!!
We also learnt with great appreciation, of the progress being made by some terminal operators from Maydon Wharf in pursuit of setting up off dock staging facilities [for trucks]. We strongly encourage this positive development and hope to see more traction on the initiative. TNPA has set up a multi-disciplinary team that will be designing the new process that will include off dock facilities – exciting and promising times ahead.
Traffic monitoring into Maydon Wharf Precinct has started and I would like to thank the operators there for sharing their plans. We want to use this information to model the volumes smoothing exercise for the Precinct.
We have had fruitful engagements with the leadership of the KZN Growth Coalition, Durban Chamber of Commerce and Industries, KZN MEC EDTEA, SAASOA, SAAFF and PRSA where we shared the Proposed Port of Durban Master Plan which aims to increase the port container capacity from 2.9m TEUs to 11.3m TEUs. We intend to do this by repurposing some
sections of the port and doing some infill of some parts.
The plans were positively received and stakeholders remain consistent with the message around successful implementation and execution of the plans. So, the challenge is on and we are working around the clock to ensure that we deliver on said plans and change the face of the Port of Durban.
As part of the robust stakeholder engagement plan, we have also taken the port master plan to other port cities which the intention of turbo charging their port plans to respond to market demands.
This coming week we continue to soldier on with stakeholder engagements and consultations around the proposed Port of Durban Master Plan. Going into the upcoming maize and citrus season, the port is bracing itself for a bumper season and gearing up to ensure that the customers' needs are taken care of.
Added 28 March 2021
♦♦♦♦♦♦♦♦♦
News continues below
WHARF TALK: Durban Volume and Vessel Call Performance
Containers were below budget by -2% this reporting week. The poor performance of container volumes was mainly due to weather delays and less vessels worked than committed at Pier 2. Empty containers fell short by 2% due to less volumes handled than budgeted.
Budget for the reporting week
The Automotive Imports performed extremely well in the reporting week with a total of 7,072 units landed for the period which is up from the previous weeks low of just over 3,000 units. We shall continue to see this erratic trend in the short to medium term as a result of inconsistent consumer buying behavior.
Exports also performed marginally well with a total of 4,925 units loaded with two major OEMs responsible for the majority of units exported for the week.
Dry Bulk volumes were above budget this reporting week. This sector has performed well with manganese ore exports totaling 44,000 tons. Gypsum imports also performed well with just over 51,000 tons landed. Wheat imports also performed well at just over 46,000 tons handled in the week.
Break Bulk volumes were above budget. This sector has also performed extremely well. This was due to cement being the primary driver of volume for the week totaling 54,008 tons. Steel and project cargo made up the majority on volume.
Liquid bulk volumes performed below budget this reporting week. Crude oil (SBM) was the main contributor for the negative variance achieving 58% below budget and this was due to one crude oil vessel handled as result of vessel scheduling. Petroleum and chemicals volumes achieved 36% respectively.   source: TNPA
Added 28 March 2021
♦♦♦♦♦♦♦♦♦
News continues below
Suez Canal disruption
Analysis of impact on tanker market by Signal Group
Visual illustration of number of tankers involved in making passage through the Suez Canal. Illustrations here by courtesy of Signal Group ©
Established in 2014, The Signal Group is a diversified shipping services group with offices in London and Athens. The Group offers commercial ship management services to a pool of Aframax class oil tankers. In addition the Group develops and invests in next generation shipping-related software technologies. It is led by an executive team with more than 65 years of collective experience in ship management at the highest level. This team is supported by a world-class mix of commercial shipping and finance professionals, strategists, energy market analysts, data scientists and developers.
Ever Given
At the time of writing, 28 March at 13h00 GMT, one of the largest container ships in the world has been partially refloated after it ran aground in the Suez Canal, causing a traffic jam of vessels at both ends of this vital international trade artery.
NEW UPDATE Monday 29 March 10h30:  Smaller ships have begun passing the position of the Ever Given but larger vessels will have to remain until the Evergreen ship has been fully shifted away. It is hoped this will be later today (Monday).  At this time 370 ships were prevented from passing through the canal while others have diverted via the Cape of good Hope. THESE REPORTS ARE AS YET UNCONFIRMED – AP&S
UPDATE Monday 29 March 2021: 08h00

 Early morning reports on Monday 29 March say that the Ever Given was partially refloated by the tugs attending to the vessel at 04h30.  The ship however is still agound by the bows.  Further details to follow.  – AP&S
The 400 metre loa Ever Given, operated by Evergreen, became grounded near the southern end of the canal on 23 March. According to Signal in the region of 12% of global trade passes through the Suez Canal, of which roughly 5% of the world's oil is carried on this waterway daily.
With this connector between the Mediterranean and Red Sea blocked, the alternative is to route vessels via the Cape of Good Hope or wait until the situation is resolved.
In its data here Signal has concentrated on about 30 of these tankers that are either laden or in ballast and of more than 25,000 dwt. The map below visualises them, heading towards Suez from both the West and the East.
Currently there are around 30 tankers above 25,000 dwt waiting to use the Suez Canal. It is expected that most vessels in ballast will decide to wait until the situation clarifies and, if fixed on a charter party, will likely get cancelled by charterers through protection clauses related to missing agreed upon laycan* dates.
This will no doubt affect vessel supply on both ends of the Canal, as well as market rates. Over the coming days and weeks, more vessels are expected to have to decide if they will take passage through the Suez Canal or via the Cape of Good Hope.
It is understood that a vessel currently crossing the Indian Ocean would take 14 days to reach Malta via the Suez versus 33 days via the Cape of Good Hope. The cost for a laden Aframax to pass through the Suez Canal is roughly US$300,000 in Canal dues.
Analysis of tanker types normally transiting the Suez shows that the most impacted are the Suezmaxes, Aframaxes and LR2 vessels**. These vessel types trade through the Suez in both directions.
The table below looks at the previous month's canal crossings as an indicator of which vessel sizes might be more likely to be affected by delays or the need to take alternative routing.
A major shipping lane is clearly closed, but this will most probably have a short-term effect for a few charterers and owners that are trying to carry cargo through the Canal. Most large crude tankers (VLCCs) have historically taken the route around the Cape when undertaking long East to West or West to East voyages. Mid-sized tankers (Suezmax, Aframax) are more likely to be affected, maybe more so on the carriage of refined products.
Low levels of crude oil demand due to the third wave of coronavirus across Europe and the USA are keeping oil prices in check, yet there reported a 4% rise in prices on Friday last (26 March).
The Signal Group
For more information on the Signal Group readers are invited to CLICK HERE
* An abbreviation for the Laydays and Cancelling Date clause in a charter party. This clause defining the time window in which the charterers are obliged to accept the vessel in the loading port. If the vessel arrives before the first date agreed, the vessel has probably to wait.
** For tanker sizes see a useful guide HERE
Edited by Paul Ridgway
London
Added 28 March 2021
♦♦♦♦♦♦♦♦♦
News continues below
REFLECTIONS: RT Spirit, an unexpected visitor
The only harbour tugs seen in South African ports are generally those operated by the national ports authority Transnet, so it is unusual when a harbour tug of another operator arrives. Cape Town welcomed the arrival of the harbour tug RT SPIRIT (IMO 9190054) on 23 March at 20H00 from Durban, when she berthed on the Landing Wall in the port.
Owned by the Dutch harbour and towing services provider Kotug International of Rotterdam, RT Spirit is managed by the German subsidiary Kotug International and operated by Kotug Mozambique.
Built in 1999 by Construcciones Navales Freire of Vigo in Spain. At 31 metres in length and with a deadweight of 325 tons, RT Spirit is one of a class of four uniquely designed Rotortugs, hence the initials 'RT' in her name, where 3 engines, producing 2,100 bhp each, drive three individual Azimuth Propulsion Units to give a bollard pull of 75 tons in both forward and astern configurations.
The unique drive setting of having 3 propulsion units in a two forward, one aft arrangement with no rudder, provides improved vessel safety, power provision and manoeuvrability. It was this aspect of her operating characteristics that allowed Kotug Mozambique to be set up in May 2016 when RT Spirit', and her sistership RT Magic, were selected for the Nacala Development Corridor (CDN) for the provision of all of the port and harbour terminal towing requirements for both the new coal terminal of Nacala-a-Velha and for the port of Nacala itself.
On 20 January 2020 the RT Spirit was involved in the salvage rescue of the 2,503 TEU containership EM Oinousses which had a serious engine fire when 50 miles offshore from Nacala, while underway between Maputo and Mombasa.
Whilst the ship's crew managed to extinguish the fire themselves, the ship was disabled and RT Spirit was able to put a towline aboard and tow the EM Oinousses and her crew back to the safety of Nacala.
The worldwide Covid-19 pandemic that has affected seafarers worldwide did not spare the crew of both the RT Spirit and RT Magic, who were unable to conduct their normal crew change for over four months from March 2020 onwards. In July 2020 agreement was reached between Kotug Europe and the health authorities in Mozambique, and a special chartered aircraft was flown from Dar es Salaam to Nacala to allow a fresh incoming crew from Europe to be brought in, and finally allow the repatriation of the existing Rotortug crews back to Europe.
The CDN towage contract, which Kotug Mozambique had been operating since May 2016, came to an end in September 2020 when the Danish towage operator Svitzer of Copenhagen took over the Nacala contract with the transfer of two tugs from their operation in the port of Sohar in Oman. Both RT Spirit and RT Magic departed from Nacala in October 2020 and headed south for Richards Bay and Durban, where they have been until now.
It is thought that RT Spirit will remain alongside in Cape Town for a number of weeks undergoing necessary maintenance and overhaul, but at 22 years of age and a long way from home, it is not known yet where her next harbour towing duties will be, be it in another African port or elsewhere, or whether or not she will remain in the Kotug fleet for much longer.
NOTE: A few corrections (highlighted) have been inserted in this article.  Apologies for any inconvenience.
Story by Jay Gates
Pictures by 'Dockrat'
Added 28 March 2021
♦♦♦♦♦♦♦♦♦
News continues below
Transnet Port Terminals gears up for another successful citrus season
Durban – Transnet Port Terminals (TPT) says it is gearing up for yet another successful citrus season, following a 16% year-on-year increase in volumes handled last year – the highest ever recorded. This, despite disruptions within the supply chain brought about by COVID-19.
A combination of interventions introduced last year will be employed again this season. These include a revision of TPT's reefer operating guidelines introduced last year to enhance user experience, following input from internal and external stakeholders.
"There were extensive pre-season engagements with all terminals to manage readiness with a key focus on people, equipment and process optimisation – something we are continuing with this year," said Siyabulela Mhlaluka, General Manager of Sales and New Business at TPT.
He said TPT has weekly integrated planning meetings with both internal and external supply chain stakeholders. "This proved especially crucial for deviation management throughout the season," Mhlaluka said.
He added that introducing the truck booking system at the Durban Container Terminals Pier 1 and Pier 2 had a significant contribution towards reducing peak congestion and ensuring workloads were spread out over a 24-hour period.
Citrus season will begin next month at the Durban, Port Elizabeth and Ngqura Container Terminals. According to Mhlaluka there will be a gradual resurgence in demand because of positive business sentiment attributed to vaccine rollouts in major economies, which will impose a strain on supply chain capacity.
However, he said, the arrival of 22 new straddle carriers at the Durban Container Terminals Pier 2 between May and July this year will boost season performance.
Citrus fruits form about 55% of South Africa's fruit production and are exported in refrigerated reefer containers to over 100 countries mainly in the European Union (EU), Russia, United States of America (USA) and Mediterranean countries.
Added 28 March 2021
♦♦♦♦♦♦♦♦♦
News continues below
TPT NETWORK SYSTEMS WILL BE UNAVAILABLE EARLY MONDAY
Durban – Sunday, 28 March 2021: Transnet Port Terminals (TPT) will embark on a three-hour systems upgrade tomorrow (Monday) to address intermittent network issues throughout its operations.
All information and communications technology systems will not be available for both internal and external users between 05h00 and 08h00 on Monday 28 March. While Durban will also be impacted, waterside and landside operations will continue although email and telephone services will be affected.
According to TPT Chief Financial Officer Sharla Chetty, "We have previously been reliant on a single link to feed our entire operation countrywide. This upgrade introduces a secondary link that will isolate an area experiencing any issues without interrupting the other terminals."
She added that TPT had notified all its customers and all stakeholders that would be affected.
Added 28 March 2021
♦♦♦♦♦♦♦♦♦
News continues below
NIGERIA: Two new Konecranes for Tin Can Island terminal
Tin Can Island operator Container Terminal Limited (TICT) in Lagos will take delivery in August this year of two new eco-efficient Konecranes Gottwald Model 7 Mobile Harbor Cranes.
The order was placed with Konecranes in January 2021 by TICT, a long-time customer of the manufacturer. TICT is a subsidiary of Bolloré Transport & Logistics (Bolloré), the largest transport and logistics operator in Africa. Despite the ongoing COVID pandemic, the order is in anticipation of expanded container traffic during 2021 and beyond.
The new cranes will also allow TICT to accommodate larger vessels.
Etienne Rocher, MD of TICT, said liner requirements were constantly evolving, increasingly requiring higher performance cranes with flexibility in cargo handling and twin-lift container operation . This has become a requirement as larger ships call more frequently at their port.
"Our experience with Konecranes equipment has always been excellent. We are pleased to add two more of the Model 7 cranes to our facility," Rocher said.
The new cranes will increase the TICT fleet of harbour cranes to twelve, which will provide TICT with the capacity to reduce vessel port stay as a result of improved operational efficiency and availability.
Tin Can Island's TICT fleet comprises six Model 4, two Model 6 and two other Model 7 Konecranes Gottwald Mobile Harbour cranes, which can service container ships up to super-post-panamax class.
Added 28 March 2021
♦♦♦♦♦♦♦♦♦
News continues below
EVER GIVEN: Statement from IMO Secretary General Kitack Lim
IMO Secretary-General Kitack Lim has issued a statement about the incident involving the mv Ever Given, which ran aground in the Suez Canal on 23 March 2021.
The IMO has been closely monitoring the incident involving Ever Given.
IMO Secretary-General Kitack Lim said:
"I offer my encouragement to the Egyptian Authorities, as well as the salvors, tug and dredger operators and all other parties, who are working tirelessly to safely re-float the ship and resume transit through one of the world's busiest maritime trade routes as soon as possible. I appreciate the efforts of every individual involved.
"I am aware of the implications of the temporary closure of the canal, and I ask for patience from stakeholders across the supply chain as everyone works to ensure that the ship, its crew, its cargo and the environment remain protected.
"I look forward to receiving information from the investigation into the incident so that IMO can act on any appropriate recommendations derived from the findings."
Reported by Paul Ridgway
London
Added 28 March 2021
♦♦♦♦♦♦♦♦♦
News continues below
SUEZ CRISIS – Situation remains unchanged on Sunday morning
NEW UPDATE Monday 29 March 10h30:  Smaller ships have begun passing the position of the Ever Given but larger vessels will have to remain until the Evergreen ship has been fully shifted away. It is hoped this will be later today (Monday).  At this time 370 ships are prevented from passing through the canal while others have diverted via the Cape of good Hope.   THESE REPORTS ARE AS YET UNCONFIRMED – AP&S
UPDATE Monday 29 March 2021: 08h00 Early morning reports on Monday 29 March say that the Ever Given was partially refloated by the tugs attending to the vessel at 04h30.  The ship however is still agound by the bows.  Further details to follow. – AP&S
The situation involving the fully-loaded 20,000-TEU container ship, EVER GIVEN (IMO 9811000), on Sunday morning (28 March, SAT) was largely unchanged from our previous reports, save that the dredger, assisted by a lonely backhoe on one side of the canal, have succeeded in moving a quantity of sand.
The 199,692-dwt ship, which went aground while sailing in convoy in the Suez Canal, fully blocking access from either the north or south of the canal, remained firmly wedged diagonally from one side to the other. The salvage company involved, SMIT Salvage, has at its disposal a number of tugs including those of the Suez Canal Authority.
It is understood a further attempt at pulling the giant ship back into clear water will be attempted today (Sunday).
Diverting round the Cape
With more than 300 ships now held up by the grounding of Ever Given, shipping companies, in particular the container lines, are examining options to move time-sensitive cargo by other means, including air transport for urgently required cargo.
The shipping companies have also begun diverting some ships the lengthier route around the Cape of Good Hope, which can add up to a fortnight of additional sailing time. Ironically, one of the first ships to be diverted via the longer route around the Cape was another Evergreen ship, EVER GREET (IMO 9832729), a 20,160-TEU sistership to Ever Given.
The ships already in the canal do not have that choice at this stage and are having to sit it out while hoping the Ever Given will soon be refloated. Reports suggest the giant ship has taken on water in several places. There has been no reports of contamination from oil or other products.
Initial reports from the canal authority suggested the ship going aground was the result of a sudden heavy gust of wind during a sandstorm, but since then there has been an acknowledgement that other factors may have been involved, including both mechanical and human failure. Two Suez Canal Authority marine pilots were on the Ever Given, as is the norm when any vessels transits the canal.
Maersk is one of the shipping lines most affected, with container ships and tankers among the 12 or 13 ships (including nine of its own and others in alliance) caught up in the canal. Hapag-Lloyd reports five ships directly affected and says it is looking at diverting other vessels round the Cape.
French carrier, CMA CGM, published the above on its website, showing direct and in alliance vessels affected.
"For the time being, the group is not considering rerouting ships," CMA CGM said. Later it issued another statement, saying: "For cargo yet to be loaded, we are considering alternative maritime routes, rail services or airfreight solutions with CMA CGM AIR CARGO. We'll keep you updated as these options become available."
Even if Ever Given is refloated immediately, it will take some days to clear the backlog, leaving the shipping lines with decisions to be made based on calculations involving sailing times, cost of additional fuel, etc. Several companies have already begun talking of an additional surcharge.
Piracy
A number of shipping agencies, managers etc have begun expressing their concerns over the threat of piracy attacks on ships caught up at anchor in the Red Sea approaches to the canal, and it appears that US naval authorities may have been approached in this connection.
Concern is also being felt about the re-routing of ships, although such a threat only exists in the Gulf of Aden/Arabian Sea region and that of close to the Gulf of Guinea area off West Africa. Diverted ships rounding the Cape would have no reason to sail anywhere near the latter region.
Added 28 March 2021
♦♦♦♦♦♦♦♦♦
News continues below
Prioritised vaccinations for aircrew and seafarers:
ICAO joins UN call
In an announcement from Montréal, on 26 March ICAO (International Civil Aviation Organization) joined four other UN agencies in calling on countries to prioritise Covie-19 vaccinations for aircrew and seafarers.
In addition to ICAO Secretary General Dr Fang Liu, the special Joint Statement was signed by the heads of the International Labour Organization (ILO), the International Maritime Organization (IMO), the International Organization for Migration (IOM), and the World Health Organization (WHO).
Dr Liu declared: "The implementation of the current WHO recommendations are of primordial importance to the continued and optimal operation of the international civil aviation network, and therefore to the transport worldwide of essential shipments and workers."
The Joint Statement stressed the WHO's advice that at the present time countries should not introduce requirements of proof of vaccination for international travel as a condition of entry, given both the critical unknowns regarding the efficacy of vaccination in reducing transmission, and the limited global availability of vaccine doses.
It also emphasised that maritime and air transport are essential activities underpinning global trade and mobility, and key to a sustainable socio-economic recovery, and notes the full joint support of the participating agencies for the timely development of an international harmonized framework for vaccination certificates to facilitate international travel for seafarers and aircrew.
Dr Liu noted: "As the Joint Statement draws attention to, the application of stringent public health rules to these key workers, including quarantine, has resulted in hindered connectivity, operational complexity, and significant costs."
She added: The statement also calls on governments to prioritise seafarers and aircrew in their national COVID-19 vaccination programmes, together with other essential workers, in accordance with the WHO SAGE Roadmap for prioritising the use of COVID-19 vaccines."
The total number of pre-pandemic licensed aviation professionals, including pilots, air traffic controllers, and licensed maintenance technicians, was 887,000 according to ICAO statistics. Air transport carried about 5.7 billion passengers in 2019, and airfreight pre-pandemic represented 35% of the value of goods shipped in all modes combined.
Edited by Paul Ridgway
London
Added 28 March 2021
♦♦♦♦♦♦♦♦♦
News continues below
DRAMA IN PALMA AS JIHADISTS OVERRUN TOWN – fears for locals and expats
The situation in the northern Mozambique harbour town of Palma, the logistics base for the massive Total LNG liquefaction plant on the nearby Afungi peninsula, remains confused with reports of the town having been overrun by the Al-Shabaab jihadists.
See our earlier report dated Thursday, 25 November CLICK HERE
The terrorists staged their attack on this strategically important harbour town on Wednesday, 24 March, after first tricking Mozambican FDS military forces based in Palma to deplete their forces in Palma by rushing to a nearby village where the jihadists had staged an attack. While villagers from Manguna fled towards Palma, the FDS responded by sending troops to the village's defence and leaving Palma with a reduced garrison.
The terrorists also blocked the route from Pundanhar to prevent the FDS from sending reinforcements from another FDS base at Mueda, which lies inland from both Palma and Mocimboa da Praia.
This indicated a fairly sophisticated level of planning which proved successful with the Al-Shabaab jihadists seizing their second harbour town – the other being Mocimboa da Praia which fell last year. Terrorists entered Palma carrying bundles and mixing with the fugitives and once inside they revealed their weapons and began shooting, attacking military and civilian targets.
Locals sought shelter wherever they could, including fleeing into the bush – this included some of the hundreds of expatriates, mostly employed at the Total plant but living in Palma. Other expats gathered at the Marula Hotel in the north of the town, which also came under sporadic fire.
Fighting was concentrated in the area near the Catholic church and the BCI bank branch. The amount of damage and loss of human life remains unknown at this stage.
Pinnacle News, a local Internet portal that has focused on the Cabo Delgado insurgency, reported that the terrorists, associated with the self-styled 'Islamic State', have set about two thirds of the town on fire. The bodies of dozens of civilians, some of them beheaded, are said to be lying in the streets.
As an aircraft was seen descending towards the nearby airport, shots were fired in its direction. The Vodacom network was cut off, eliminating easy access to local communication.
Reports suggest the Al-Shabaab force consisted of about a hundred armed men. At one stage on Thursday a DAG (Dyck Advisory Group) helicopter dropped bombs on terrorist positions although what effect this had is not known.
Later that day another DAG helicopter began evacuating some of the roughly 200 people trapped at the hotel. It is believed they were flown to the nearby Total liquefaction compound at Afungi, which it is thought has strong security. Subsequent reports say this facility has since been evacuated by all except security personnel.
Some of those at the hotel took it upon themselves to drive out from Palma in a convoy of 17 vehicles, but these came under attack shortly after setting off. During this attack several of those in the convoy, including South Africans, were killed – one unconfirmed report said seven expats died in the ambush.
A picture appearing on Twitter showed the letters 'SOS' written in white stones on the lawn outside the Marula Hotel.
People remaining in the hotel later went to FDS barracks on the beachfront from where they were ferried out on boats to an undisclosed location.
Later still it was revealed that Mozambique was sending reinforcements from Maputo, including a group of marines. It also said the FDS was mounting a counter-offensive but gave no other details.
A South African Department of International Relations and Cooperation spokesman said its offices in Mozambique were providing services to "distressed South Africans while it continues to monitor the situation". The European Union said something similar.
In Pretoria President Cyril Ramaphosa was reported to be meeting with security cluster heads on Saturday afternoon (27 March 221).
The insurgency in Cabo Delgado province has continued unabated since October 2017. Since then over 700,000 local people have been displaced, many flocking south to seek shelter in the port town of Pemba. Over 2,600 people have been killed in the fighting, with a number of these being innocent citizens at the hands of the terrorists.
Added 27 March 2021
♦♦♦♦♦♦♦♦♦
News continues below
GENERAL NEWS REPORTS – UPDATED THROUGH THE DAY
in partnership with – APO
More News at https://africaports.co.za/category/News/
News continues below
TO ADVERTISE HERE
Request a Rate Card from info@africaports.co.za
EXPECTED SHIP ARRIVALS and SHIPS IN PORT

Port Louis – Indian Ocean gateway port
Ports & Ships publishes regularly updated SHIP MOVEMENT reports including ETAs for ports extending from West Africa to South Africa to East Africa and including Port Louis in Mauritius.
In the case of South Africa's container ports of Durban, Ngqura, Ports Elizabeth and Cape Town links to container Stack Dates are also available.
You can access this information, including the list of ports covered, by  CLICKING HERE remember to use your BACKSPACE to return to this page.
News continues below
CRUISE NEWS AND NAVAL ACTIVITIES

QM2 in Cape Town. Picture by Ian Shiffman
We publish news about the cruise industry here in the general news section.
Naval News
Similarly you can read our regular Naval News reports and stories here in the general news section.
♦♦♦♦♦♦♦♦♦
THOUGHT FOR THE WEEK
"When you reach the heart of life you shall find beauty in all things, even in the eyes that are blind to beauty."
– Kahlil Gibran 
♠♠♠
♠♠♠
ADVERTISING
For a Rate Card please contact us at info@africaports.co.za
Don't forget to send us your news and press releases for inclusion in the News Bulletins. Shipping related pictures submitted by readers are always welcome. Email to info@africaports.co.za
TABLE BAY UNDERWAY SHIPPING
SHIP PHOTOGRAPHERS
Colour photographs
and slides for sale of a variety of ships.
Thousands of items listed featuring famous passenger liners of the past to cruise ships of today, freighters, container vessels, tankers, bulkers, naval and research vessels.
P O BOX 809, CAPE TOWN, 8000, SOUTH AFRICA
snai@worldonline.co.za
http://home.worldonline.co.za/~snai