Bringing you shipping, freight, trade and transport related news of interest for Africa since 2002
Stay Well, Stay Safe, Stay Patient, don't become one
Advertise here. For a Rate Card email us at terry@africaports.co.za
♠♠♠
Join us as we report through 2021
**********
TODAY'S BULLETIN OF MARITIME NEWS
These news reports are updated on an ongoing basis. Check back regularly for the latest news as it develops – where necessary refresh your page at www.africaports.co.za
Click on headline to go direct to story : use the BACK key to return
EARLIER NEWS CAN BE FOUND AT NEWS CATEGORIES…….
The Sunday masthead is of the port of Durban T-Jetty
♦♦♦♦♦♦♦♦♦
SEND NEWS REPORTS AND PRESS RELEASES TO
info@africaports.co.za
♦♦♦♦♦♦♦♦♦
News continues below
A regular caller for several years at South Africa's container ports is MSC ELMA (IMO 9735218), seen here arrivingback in Durban recently, and sailing later after having worked her cargo at the container terminal. Built in 2016, MSC Elma is an impressive looking vessel with a length of 400 metres, a beam of 48m and a deadweight of 110,400 tons. The ship flies the flag of Portugal with her homeport being Madeira, an archipelago in the North Atlantic some 250 miles north of the Canaries and 320 miles west of Morocco. Madeira is one of two autonomous regions of Portugal.
In the starboard view of the ship arriving in port, MSC Elma appears to have a barely noticeable scrubber device fitted, or none at all. Seen from the port side however, as she sails, the scrubber becomes most noticeable, occupying a significant part adjacent to the ship's accommodation deck.                             These pictures are by Keith Betts and Trevor Jones
♦♦♦♦♦♦♦♦♦
♦♦♦♦♦♦♦♦♦
News continues below
FLASH NEWS: US Navy ship Herschel 'Woody' Williams due in Cape Town Saturday
The US Navy ship Herschel 'Woody' Williams is due to dock in Cape Town tomorrow 20 February. Readers will recall the report of this ship calling at the Kenya port of Mombasa recently – see HERE fo details of the ship.
USS Hershel Woody Williams which has visited the Kenya port of Mombasa, the first US Navy ship to call at Mombasa in over ten years. The ship is now due in Cape Town on Saturday 20 February 2021.   Picture: US Navy
Added 19 February 2021
♦♦♦♦♦♦♦♦♦
News continues below
UPDATED NEWS: MSC cancels South Africa's 2020/21 cruise season
• 2020/2021 Cruise season cancellation – Despite strenuous efforts to restart operations with industry-leading health and safety protocol

MSC Orchestra, which was to have concluded the curren 2020/2021 cruise season, which has now been cancelled by MSC Cruises – see below for details. It is not yet clear whether MSC Orchestra will return immediately to Europe – the ship has been at anchor outside Durban since March 2020.
UPDATE: 
A spokesperson for MSC Cruises confirmed on Friday that MSC Orchestra, which has been homeported at Durban since November 2019, "… will return to Europe possibly in the next couple of weeks as we plan to operate MSC Lirica and MSC Musica next season."
MSC Cruises said today (Thursday 18 February 2021) that the delay in approving cruise operations in South Africa had led to the company cancelling all its remaining sailings for the 2020/21 season.
According to the cruise company, it has worked since March 2020 for approval of its comprehensive health and safety protocol designed for the wellbeing of its guests and crew.
'We have appreciated our interaction with government and thank them for their hard work and diligence in all our communication during these difficult times,' MSC Cruises said in its statement.
This included, in late December 2020, the showcasing of an onboard inspection of the vessels' 'rigorous and robust' protocol to the various authorities in South Africa.
MSC Cruises said that while relevant authorities – the Department of Transport, Department of Health, Port Health, Department of Home Affairs together with the South African Maritime Safety Authority – indicated a satisfaction with the protocol MSC Cruises had presented, they were awaiting approval to resume.
Disappointed
"We are as disappointed as our guests will be that we have had to cancel their holiday plans despite our strenuous efforts to demonstrate that we can operate safely and ensure the wellbeing of our customers, our crew and the destinations we visit with our industry-leading, proven and effective protocol," said Ross Volk, MSC Cruises South Africa's Managing Director.
"We did our best to resume operations in South Africa safely and responsibly so that it was possible to sail in the region, just as we did in Europe.
"This was a difficult decision to make as we had invested in preparing as much as possible while the relevant authorities conducted their analysis. While we await their final decision, the delay makes it impossible for us to perform the remaining sailings."
Ross Volk added: "At the same time, we are optimistic for the future about cruise holidays in South Africa and for the 2021/22 season we will offer our guests, with whom we already have a long-standing relationship, memorable, relaxing and safe holidays on board two MSC Cruises ships based in the country for the first time.
<p.
"We would like to thank all our guests, travel agents, partners, destinations and local authorities, who have given us support in these challenging times."
Added 18 February 2021, Updated 19 February 2021
♦♦♦♦♦♦♦♦♦
News continues below
MSC Cruises reveals 2021/2022 local cruise season
• MSC Cruises confirms 2021/2022 local season with two ships based in South Africa for the first time
2021/2022 Local Season Cruise Programme
MSC Cruises, the number one cruise line in South Africa, Europe, South America and the Gulf, has announced that the company will be bringing two ships to South Africa's shores for the 2021/2022 cruise season. This will mark the first time that two different class MSC Cruises' ships (Lirica and Musica Class) will be deployed in the country simultaneously and will mean that 42,300 additional guests can discover why cruising is popular in South Africa.
From November 2021 to April 2022 MSC Lirica, which will be homeported in Cape Town, will join MSC Musica homeported in Durban.
MSC Cruises confirmed today (18 February) full details of its summer 2021/2022 programme, offering over 14 different itineraries across South Africa with cruising ranging in length from 2 to 14 nights.
"We have reviewed and updated our complete summer 2021/2022 season, starting in late November, and we are pleased to now confirm the full details," explained Ross Volk, MD for MSC Cruises South Africa.
"Our summer programme sees us offering cruises in all of the destinations we traditionally operate, and while there are some exciting new updates to the original schedule, we are still able to offer our main itineraries so that guests can enjoy a safe and relaxing cruise holiday with us."
MSC Lirica and MSC Musica – an exciting new Southern African itinerary
MSC Lirica, which can host approximately 2,350 guests and was completely refurbished in 2015 as part of the Company's Renaissance Programme, will offer 24 cruises next season alongside MSC Musica.
MSC Musica can cater for approximately 3,200 guests and will offer 38 cruises.
The ships will alternate routes, providing South African cruisers with a wider choice of options to suit their holiday needs. This means that both Cape Town and Durban ports of embarkation will get to experience the leading cruise line's elegant and diverse product offering and enjoy more cruise destinations and packages than ever before.
One MSC cruise that promises to become extremely popular with MSC guests is the 14-night New Year Cruise around Southern Africa and the Indian Ocean islands. The cruise will depart from Durban on 26 December and will incorporate destinations including Portuguese Island; Nosy Be, Madagascar; followed by Port Victoria, Seychelles; and then Port Louis in Mauritius, returning to Durban on 9 January.
Passengers wanting to experience the delights of a briefer MSC Cruise holiday in the 2021/2022 season can book onto a myriad of departures that offer three-, four- and five-night sailings around the South African coastline until April 2022.
Highlights of these itineraries include Pomene Bay in Mozambique – a marine safari experience complete with its own beach club – Portuguese Island, and Maputo.
For further details visit the MSC Cruises website at www.msccruises.co.za
Added 18 February 2021
♦♦♦♦♦♦♦♦♦
News continues below
Back to the drawing board
Transnet seeking ways of avoiding rail washaways
Transnet says it is investigating methods to deal with unpredictable and severe weather patterns, which have negatively affected the railway network recently.
This is all part of an effort to improve reliability in delivery of freight for its customers.
Transnet says that increased changes and unpredictability in the weather patterns dictate that improved measures be implemented to avoid damage to the railway network and the broader port infrastructure.
One of Transnet's operating divisions, Freight Rail (TFR), has experienced disruptions in the past weeks, following severe damage caused by excessive rain brought inland by Cyclone Eloise.
Among the lines affected by washaways and damage caused by the excessive rain were the heavy-haul lines, including the iron ore line to the port of Saldanha and the manganese channel to Port Elizabeth (the Northern Cape from where these ores are railed suffered badly from the rain). A number of washaway incidents resulted.
Typically, these occur when there is sudden heavy rain, which scours away the base of the railway track leaving the rail and sleepers hanging without any support. This can lead to derailments or serious accidents.
TFR has had to shut down a number of railway lines to repair and replace culverts, used to allow water to be channelled in one direction. Such unplanned train stoppages results in volume losses and negatively affects TFR's customers.
Transnet said on Thursday (18 February 2021) that TFR will now conduct topography and hydrological surveys in all areas susceptible to heavy rains, the outcomes of which will be incorporated into the shutdowns that occur annually.
TFR also carries out inspections governed by the manual for infrastructure condition assessments, known as MICA. These occur at least twice a year before winter and summer and ensures that the culverts are cleaned of any debris, vegetation and blockages before heavy rains.
Another time-honoured measure involves physical inspections of railways using trolleys – a small motorised rail vehicle.
Added 18 February 2021
♦♦♦♦♦♦♦♦♦
News continues below
IN CONVERSATION: Why being endowed with oil is not always a boon: the case of Nigeria and Angola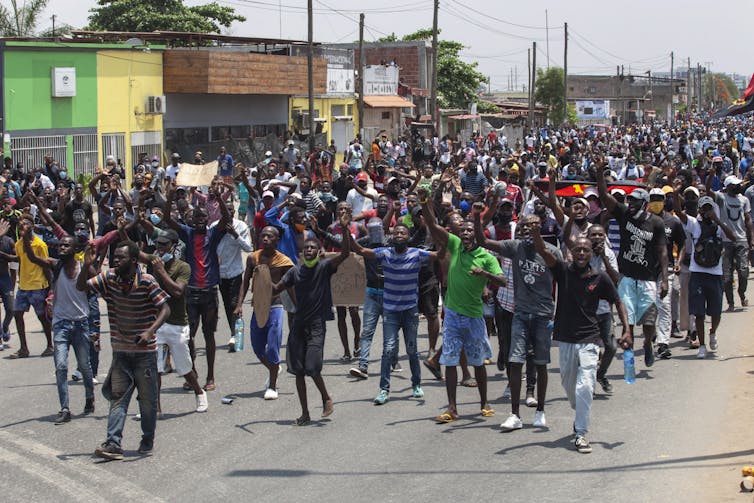 In countries with weak governance institutions, natural resource wealth tends to be a curse instead of a blessing. Where citizens are relatively powerless to hold ruling elites to account, resource wealth undermines development prospects. On the contrary, where citizens are able to exert constraints on executive power, resource wealth can generate development that benefits ordinary citizens.
Development scholar Richard Auty first coined the term 'resource curse' in the early 1990s. He used the phrase to describe the puzzling phenomenon of resource wealthy countries failing to industrialise. Manifestations of the 'curse' now range from widespread corruption to civil war to deepening authoritarian rule.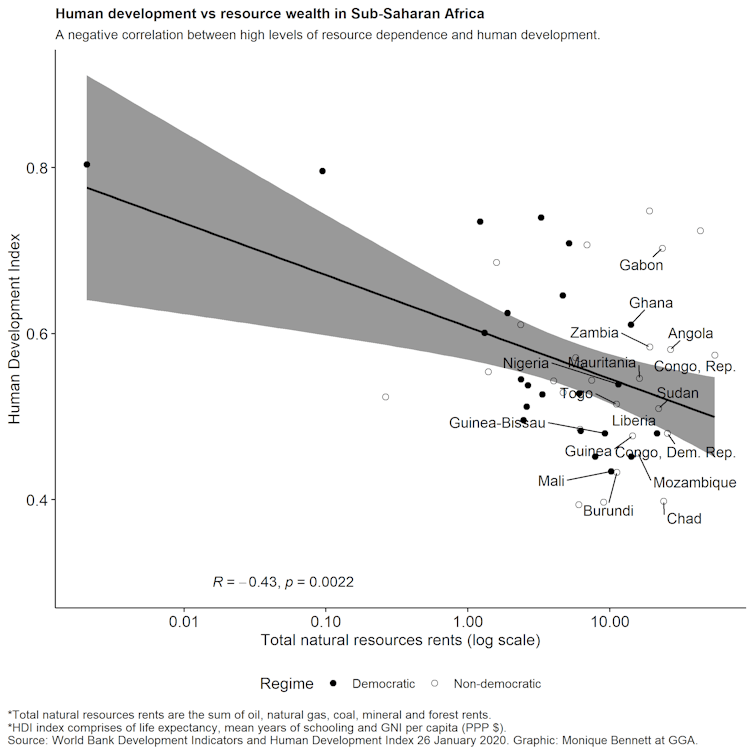 Literature on the resource curse has done an adequate job of describing the general nature of the relationship between resource dependence and underdevelopment. It now needs to focus on understanding specific manifestations.
In my latest book, I detail what these are in relation to oil in Nigeria and Angola, sub-Saharan Africa's two largest oil producers.
My book shows that the resource curse manifests differently in different contexts.
Why does this matter?
If governance interventions are to be useful, it's important to understand the context. Otherwise, policy interventions won't gain traction. If political dynamics play a determinative role in long-run economic outcomes, we must understand them better.
Two countries, two stories
In 2018, Angola's fuel exports constituted 92.4% of the country's total exports. Oil rents – the difference between the price of oil and the average cost of producing – accounted for 25.6% of the country's Gross Domestic Product (GDP). In 2019 the country ranked 148th out of 189 countries in the UN's Human Development Index.
Nigeria's oil exports in 2018 were 94.1% of total exports, oil rents amounted to 9% of GDP. In 2019 it ranked 161st on the human development index . As is clear from the graph above, sub-Saharan Africa's major oil producers are clustered around the lower end of the human development spectrum and are mostly autocratic.
Both Nigeria and Angola have been characterised by one form or another of autocratic rule for most of their post-independence histories. Autocracy invariably undermines a country's development prospects.
Angola was plunged into a civil war shortly after independence in November 1975. It then suffered an unsuccessful coup attempt in 1977.
In Nigeria, the balance of power at independence in 1960 was just as precarious as Angola's. Nigeria suffered two military coups in 1966, and a civil war from 1967-1970.
But why does oil fuel the consolidation of autocratic rule in one context, but not necessarily in another?
It all comes down to how the leader of the ruling coalition extracts and distributes the oil rents. In my book, I employ a game theory model developed by Princeton political scientist Milan Svolik to explain these divergent political outcomes.
Angola
Jose Eduardo dos Santos came to power in 1979 as served as president until 2017, grabbing power early and repeatedly. Svolik's model predicts that rulers who can do this at the same time as limiting the probability of a coup being against them manage to entrench their rule.
Within six years, dos Santos had consolidated power. He eliminated internal threats by subverting power sharing institutions and purging key individuals. For instance, in 1984 the central committee of the ruling Movimento Popular de Libertação de Angola (MPLA) – created a 'defence and security council', chaired by dos Santos. As I note in the book, it became an inner cabinet, "effectively eclipsing the Political Bureau as the country's top decision-making body".
A year later, dos Santos dropped Lúcio Lara, the party's stalwart intellectual, from the Political Bureau, thus removing the last potential threat to his rule. Simultaneously, he used the extensive oil rents at his disposal – and the cover of civil war – to either co-opt or eliminate opposition.
He did so by ensuring that the state oil firm, Sonangol, was proficiently run. It soon became Angola's shadow state through its vast web of subsidiaries. After the civil war – 1975 to 2002 – Sonangol became the driver of (limited) development, but also the key distributor of patronage to cement dos Santos's power. He not only bled it to enrich his family dynasty; he also used it to appease his inner circle.
Dos Santos ended up ruling for 38 years. But, his key strategic mistake was placing his children in plum Sonangol positions ahead of loyalists.
In 2017, João Lourenço, a former Defence Minister, became the new Angolan president. Dos Santos was to remain head of the MPLA until 2022. But, he was ousted through what was essentially a bloodless coup in 2018, engineered by his former loyalists like Manuel Vicente, the long-standing former head of Sonangol.
The Politburo appointed Lourenço president of the MPLA. He has since purged the dos Santos children from plum positions. Angola is still heavily dominated by the ruling MPLA, though. Prospects for a more competitive political settlement appear limited.
The case of Nigeria
Within six years of independence from Britain on 1 October 1960, the military launched a coup. This initiated a long period of military rule. Seven coups occurred between 1966 and 1993. Military rule was largely uninterrupted from 1966 to 1999.
But neither the coups nor the civil war were driven by oil.
Oil wealth only became a major factor in Nigeria's political economy in the early 1970s, when the price rocketed as a result of the global supply crisis. Windfall oil wealth exacerbated the preexisting fragility. The state run oil firm, the Nigerian National Petroleum Company, was inefficient compared to Sonangol. Nonetheless, it served as the country's cash cow, milked to extend patronage.
But, unlike in Angola, no aspirant Nigerian autocrat was able to monopolise personal control over the national oil company. As I detail in the book, oil exacerbated fragility in Nigeria. While Angola's dos Santos maintained a stable bargain among elites, Nigeria's balance of power remained precarious.
In 1975, another military coup toppled Yakubu Gowon who had ruled Nigeria through the civil war. Murtala Muhammed came to power but was assassinated in a coup attempt six months later, which brought Olusegun Obasanjo to power in 1976. Obasanjo guided a transition to civilian rule in 1979 but this only lasted four years.
A 1983 coup brought current president Muhammadu Buhari to power and another ousted him two years later. Ibrahim Babangida then ruled until 1993. After a brief attempt at civilian rule, Sani Abacha came to power through yet another coup that same year. He died in office in 1998. His successor, Abdulsalami Abubakar, returned the country to civilian rule a year later.
Former military ruler Obasanjo – who had been imprisoned by Abacha – won the 1999 elections but attempted to grab a third term as president in 2006. Despite alleged oil-funded bribery to lobby party members to support his cause, they held fast to the constitution's term limits.
The importance of that moment cannot be overstated. It has resulted in a more open and competitive political settlement in Nigeria. Maintaining constitutional term limits can stop autocratic entrenchment in its tracks. Unfortunately, this has not guaranteed stability in Nigeria. Post-2015 fragility has deepened considerably.
Where to from here?
As my book shows, oil rents grease the wheels of political dynamics very differently in Angola and Nigeria.
Existing explanations for different manifestations range from ethnic fragmentation, inherited colonial structures, the role of foreign actors and how lootable the oil is.
More attention now needs to be paid to how aspirant autocrats use natural resource rents to accumulate power for themselves. This can lead to policy practitioners developing an early warning system that may help citizens to nip power-grabs in the bud.
This may serve, in conjunction with other policy interventions, to ultimately reverse the curse.

Ross Harvey, Senior Research Associate, Institute for the Future of Knowledge, University of Johannesburg
This article is republished from

The Conversation

under a Creative Commons license. Read the

original article.
Added 18 February 2021
♦♦♦♦♦♦♦♦♦
News continues below
FIRST OF THREE NAVY IPVs NAMED AT DAMEN CAPE TOWN
Last Friday, 12 February, the South African Navy held a 'blessing' ceremony of the first of three Multi Mission Inshore Patrol Vessels (MMIPV)* at the

Damen Shipyards

in Cape Town.
Initially, the plan had been to hold a large launching ceremony, but due to the coronavirus pandemic the navy took the wise decision to mark the event on a smaller scale.
According to custom the new vessel (*we prefer not to use the acronym provided above, it being too much of a mouthful), the new vessel was blessed and a bottle of sparkling wine was broken over the bow as per custom.
As the South African flag was raised on the vessel she was cheered by her crew.
Sam Montsi Director at Damen Shipyards Cape Town said it remained a momentous occasion. "The blessing of the first of these three important vessels that we are building in Africa for Africa. He said that despite the safety measures in place to ensure the well-being of everyone connected to the contract, and amidst strict safety measures in place, the project remained on time and on budget, "something in which we can all take pride."
"Today marks another milestone in the history of the SA Navy," said the Chief of the SA Navy, Vice Admiral Mosiwa Hlongwane.
He described the patrol vessels as being crucial in search and rescue operations and a critical link in security operations.
"The reconfigurability of the ship makes it a force multiplier in any littoral environment for the SA Navy. What the future holds for this ship, is anyone's guess. What I do know, without a doubt, is that the brave men and women, who took an oath to uphold the constitution and protect the freedoms we hold so dear, are the true heroes and protagonists of this story."
The Inshore Patrol Vessels are intended to contribute to South Africa's maritime security in augmenting the country's capability to respond effectively, rapidly, and cost-efficiently to threats such as illegal trafficking and fishing – always providing the funding for their use can be found!
The 62 x 11 metre naval vessel will be the first Damen Sea Axe craft to operate in South Africa. The Sea Axe is a Damen patented design designed for exceptional seakeeping behavior. The straight-edged, axe shaped bow cuts through the water, minimising slamming for improved safety and comfort on board and significantly reduced fuel consumption and emissions.
On completion the three IPVs of Project Biro will be based at Naval Base Durban on Salisbury Island.
Added 18 February 2021
♦♦♦♦♦♦♦♦♦
News continues below
WHARF TALK: Port of Durban: in retrospect
As reported earlier this week (January port statistics), the effects of the COVID-19 pandemic on the country's economy continues to be evidenced in decreased volumes of cargo moving through the eight commercial ports under the control of Transnet.
This is unlikely to improve until the country literally 'gets back to work' across all sectors, and that remains unlikely until the spread of the virus is brought under better control, probably through the use of vaccines. Yesterday, (Wednesday 17 February) the first 'jabs' were provided South Africa albeit with extremely limited amounts of vaccine available.
Durban Container Terminals
Transnet reports container volumes as being above budget for the month of December by 16 per cent. Import cargo showed a steady recovery in the last quarter of 2020 and performed extremely well for the month of December with full containers at 13% above budget, a noted month-on-month increase of 4% resulting from a positive uptake of import cargo for the year end.
During the month of January 2021, container volumes were 1% below budget and 9% below budget for the year due to poor overall performance in both imports and exports.
This financial year (ending 31 March 2021) has experienced unprecedented challenges for the container sector due to a major decline in activities from the domestic and international economy following the outbreak of the pandemic. Manufacturing production and mining output plunged in the three months April, May and June 2020 as the country imposed a strict lockdown on 27 March that shut down almost all activity except essential services.
The closure of some ports mainly in Asia, SA's largest supplier of local imports, resulted in a decline of import cargo. Added to this, ongoing operational challenges were experienced by the terminals include work stoppages caused by adverse weather, equipment breakdowns and the necessary compliance with COVID-19 regulations.
On account of the above, container volumes are estimated to finish the fiscal year (31 March) at 9.9% below budget with overall imports forecast to finish at 11.8% and exports at 3.2% below target.
It's believed that even with the easing down again of lockdown regulations and reopening of the previously closed sectors, volumes will remain flat or low for the remainder of the fourth quarter.
Transshipments
Transshipments have performed well consistently throughout the year due to major shipping lines preferring to utilise the Port of Durban for this purpose.
Automotive
In January automotive volumes were under-budget by 29%.
Imports: Although automotive imports were under budget in January, the actual volumes improved from the previous period. Buyer sentiment in the new car market remains subdued impacting input into the South African market with dealership inventories being depleted at a slower pace.
Exports: Automotive exports are under budget by 44% due to Original Equipment Manufacturers (OEMs) coming out of their annual shutdowns. COVID-19 has had a material impact on the automotive industry with plant closures locally and globally impacted further by subdued demand from the market.
While volumes are in negative territory, there has been a marginal improvement from the initial mid-year forecast of 248,412 units vs to just over 299,000 units now forecast to be handled cumulatively in 2020/21.
It is thought that exports could remain buoyant as they were in positive territory between September and December 2020 before the January 2021 annual shutdowns. Automotive imports have been constrained by low consumer sentiment as well as low or no intake into rental and corporate fleets in 2020. Indications are that throughput will reach pre-COVID-19 levels in 2023/24.
Break Bulk
Break-bulk volumes in January were 12% below budget. YTD, Break bulk volumes are below target by 17% due to poor performance in rice imports and steel exports which remain in subdued territory. The latest estimate comes in at 15% below budget for the year due to reduced steel output.
Output was already low pre-COVID-19, before the pandemic forced industries to shut down. This was made worse by extremely low demand together with primary steel producers' operational woes. |It's estimated that steel exports will end the year under target by 75% with a shortfall of some 424,000 tons. As a result the entire sector looks to finish off in negative territory, despite the healthy performance of steel and cement imports, which are 33% and 4% above target respectively.
Dry Bulk
Dry bulk volumes were down in January following exceptional performance in December when manganese exports exceeded 290,000 tons.
Volumes YTD remain in healthy territory with the current budget exceeded by 23%. This is driven by good performances of fertiliser and wheat imports, as well as exports of manganese ore, chrome ore and woodchips.
Fertiliser volumes were the highest that the port has handled in the last 10 years and it is estimated that total volumes will breach the 1,4 million ton mark by the end of the financial year. The budget for wheat has been exceeded by 6% already and Transnet expects budget to be met by the end of this financial year. Manganese has performed exceptionally well beating budget by 56% with more than 2,6 million tons exported to date. Woodchip exports gained traction with budget exceeded in two consecutive months. Chrome ore exports performed exceptionally well with just over 2.6 million tons handled to date and budget exceeded by 58 per cent.
Liquid Bulk
January import volumes were below budget by 15 per cent. Year-to-date imports are 24% below budget having been negatively affected by various issues since the beginning of the pandemic, including an 80% drop in fuel sales.
As a result of low tank turnovers, operators cancelled vessel calls. The Engen refinery has been on shutdown for over a month resulting in minimal refined petroleum imports since the explosion in December 2020.
Crude oil import vessels have been cancelled until further notice and the refinery is only importing Diesel, Mogas and refined petroleum on a small scale. Exports from South Africa also declined due to importing countries' lockdowns. Animal and vegetable oils/fats are handled on an ad-hoc basis.
The sector is expected to finish off the year 17% under budget. SAPREF is expected to import more volumes to compensate for the demand that cannot be serviced by Engen during this period.
source: TNPA
Added 17 February 2021
♦♦♦♦♦♦♦♦♦
News continues below
Mauritius on the way to becoming an important bunkering hub
The Indian Ocean island of Mauritius, noted for its stunning beaches and island beauty, is well on the way to becoming a serious Indian Ocean bunkering hub.
In just five years between 2013 and 2017, Mauritius increased the amount of bunker fuel it has supplied from 270,000 tonnes to over 400,000 tonnes, whilst the Government has set a target of reaching two million tonnes a year.
These details were disclosed in a presentation by Gert Nell, Trading Manager for Delta Energy Fuel Supply & Trading at this week's virtual Petrospot Maritime Week Africa conference and exhibition. The virtual conference ended today (Wednesday 17 February).
Pointing out that Mauritius has never been regarded as a major bunkering hub, he said the transformation come about because "The Mauritian Government set themselves apart from other countries quite early on in realising the true untapped potential of the island and the financial and commercial impact the shipping sector could play in the local and national economy."
According to Nell, an estimated 35,000 to 40,000 vessels pass Mauritius every year in one of the world's main ocean routes from the Far East to the Americas.
Of the bunker fuels delivered to Mauritius, he said "the main sourcing regions include Fujairah, Durban and the Indian Sub-Continent but other limited supplies come from further afield, for example Europe or Singapore."
Delta Energy Fuel Supply & Trading's interest in Mauritius, he told delegates, was on account of the island "representing an ideally situated market to invest in long term for building sustainable bunker business and is a key part of our strategy moving forward."
Added 17 February 2021
♦♦♦♦♦♦♦♦♦
News continues below
DNV GL White Paper looks to close looming safety gap
Leading classification society DNV GL released a white paper this week,

Closing the safety gap in an era of transformation

. The white paper identifies a looming "safety gap" between shipping's existing approach to safety risks and its ambitions for greater digitalisation and the adoption of alternative fuels.
The maritime industry is undergoing a rapid transition to a decarbonised, digitally smart future. However, the new technologies and fuels that the industry is banking on to meet the challenges of the next decades are also creating a new risk landscape and demanding a new approach to safety.
If shipping is able to adapt and implement the new safety paradigm identified in the white paper – the end result could be a maritime industry that is not only more efficient and sustainable – but safer as well.
"To close the safety gap, we will need a collective, ongoing effort," said Knut Ørbeck-Nilssen, CEO of DNV GL – Maritime.
"As a class society, we can play a leading role by acting as trailblazers for regulators, gathering expertise, partnering with industry and developing guidelines," Ørbeck-Nilssen said. "Suppliers, owners, charterers, and yards can work together to ensure we treat vessels holistically, over the entire lifecycle, rather than a collection of separate sub-systems.
"We need to recognise how any single decision, for example the choice of fuel or introduction of a new digital system, impacts upon other ship systems, the vessel as a whole, and even the fleet. But, if we can all work together, step out of our silos, we can develop the procedures and competencies needed to meet these challenges and enable a culture of continuous improvement," he continued.
The white paper focuses on the twin trends shaping the industry – digitalization and decarbonization – and the different safety-related risks associated with these trends. Digitalization increases system complexity and introduces new ways of operation and collaboration. While decarbonization involves a significant increase in the use of alternative fuels and operations.
To deal with these, the white paper focuses heavily on the interaction between technology, organisations, and the greatest asset of the maritime industry: Its people.
"If we want to ensure our industry transforms safely, we must embrace the idea that whenever we are developing new technologies, systems and processes, the end user must be central to that development process," said Fenna van de Merwe, Principal Consultant at DNV GL – Maritime, and the paper's lead author.
"Our aim should be that throughout the industry we have a shared focus that in both design and operation we are supporting people in their work and decision making. This is essential to understanding these new risks and to building the safety barriers that will enable us to realise the potential of these new technologies and processes safely."
The white paper concludes that every maritime organisation can play a part in facilitating safe and efficient performance, by balancing technology and personnel, utilising human-centric design, and ensuring the overall wellbeing of their people. Because ultimately, it is the people in these organisations who will lead the industry forward as it transforms to a more digital and decarbonized future.
You can download your copy Closing the safety gap in an era of transformation by 
CLICKING
HERE
Added 17 February 2021
♦♦♦♦♦♦♦♦♦
News continues below
CMF SHIP HMS MONTROSE INTERCEPTS LARGE AMOUNT OF NARCOTICS IN ARABIAN SEA
In two separate incidents, the Royal Navy's Forward Deployed Frigate HMS MONTROSE, operating under the command of CMF Combined Task Force 150 (CTF-150), has intercepted over 2400kg of illicit drugs as a result of back-to-back successful interdictions in the Arabian Sea.
Commander Ollie Hucker, HMS Montrose Commanding Officer said the interdictions have prevented significant amounts of illicit substances being sold on the streets, whilst denying criminal groups an income source often associated with the funding of terrorism.
The boarding team from HMS Montrose discovered the drugs – with a combined estimated wholesale value of over US$15 million (£10.9m) – following searches of two suspicious vessels whilst undertaking a counter-narcotics patrol.
In the most recent operation, lasting over ten hours, over 2145kg of hashish, heroin, and methamphetamine were seized.
Two days earlier a separate interdiction of another dhow in the same area led to the discovery of 275kg of heroin.
"As Commander of Combined Task Force 150, my team is resolute in our objective to promote security, stability and prosperity in an area which comprises some of the world's most important shipping routes," said the Royal Canadian Navy's Commodore Dan Charlebois, the current commander of CTF-150.
He said the interdiction was a direct result of the collaborative effort between Task Force staff and HMS Montrose.
CTF-150
CTF-150 operates to disrupt the activity of criminal organisations, in particular narcotics and weapons smuggling. After taking command of the task force in late January 2021, The Royal Canadian Navy has already overseen multiple significant successful interdictions, of which these two are the latest.
HMS Montrose has been in the region since early 2019. The UK actively supports several operations and multi-national task forces in the Middle East in order to protect international and British interests.
Smuggling
Motorised and even sailing dhows are used to smuggle narcotics from Afghanistan through Pakistan to destinations in the Gulf of Aden or along the East Africa coast, taking them even as far south as Mozambique from where they are smuggled into adjacent countries including South Africa.
Recently the French frigate FS NIVÔSE, on routine patrol in the Mozambique Channel, intercepted and searched a dhow probably bound for a landing in north Mozambique. Hidden on board the dhow was almost half a tonne of methamphetamines and heroin, valued at more than €40 million. See that report HERE
In yet another bust on 30 January 2021, the US Navy's guided-missile cruiser USS PHILIPPINE SEA (CG 58), deployed to U.S. Fifth Fleet and operating in support of CMF, searched and seized 275kg of heroin worth $2.89 million wholesale. That report is available by CLICKING HERE
Added 17 February 2021
♦♦♦♦♦♦♦♦♦
News continues below
WHARF TALK: SA Port Statistics for January 2021 are now available here
Port statistics for the month of

January 2021

, covering the eight commercial ports under the administration of Transnet National Ports Authority, are now available.
Details of the port throughputs, ships berthed and motor vehicle and container volumes handled can be seen in the tables below.
Statistics involving motor vehicles are measured in vehicle units. These include imports and exports, earth-moving and other ro-ro or wheeled vehicles each qualifying as a single unit and are rated as at one tonne each.
With 2020 now complete, and the world still in the grip of a pandemic, the first month of the new year can hardly be looked back on with any degree of enthusiasm. The figures as always speak for themselves and a scrutiny of how the ports performed in January 2020, before the world went into lockdown, is an indicator of how bad things really are in terms of the economy.
For comparison with the equivalent month of the previous year, January 2020 GO HERE
These statistic reports on Africa PORTS & SHIPS are arrived at using an adjustment on the overall tonnage compared to those kindly provided by TNPA and include containers recorded by weight; an adjustment necessary on account of TNPA measuring containers by the number of TEUs without reflecting the weight, thus leaving the SA ports undervalued in volumes in comparison with others.
To arrive at such a calculation,  Africa PORTS & SHIPS uses an average of 13.5 tonnes per TEU, which probably does involve some under-reporting.  Africa PORTS & SHIPS  will continue to emphasise this distinction, without which South African ports would be seriously under-reported internationally and locally.
Port Statistics continue below
Figures for the respective ports during January 2021 are:
Cargo handled by tonnes during January 2021, including containers by weight
| | |
| --- | --- |
| PORT | January 2021 million tonnes |
| Richards Bay | 6.593 |
| Durban | 5.525 |
| Saldanha Bay | 4.753 |
| Cape Town | 1.255 |
| Port Elizabeth | 0.856 |
| Ngqura | 0.898 |
| Mossel Bay | 0.166 |
| East London | -0.150 |
| | |
| Total all ports | 20.166 million tonnes |
CONTAINERS (measured by TEUs) during January 2021
(TEUs include Deepsea, Coastal, Transship and empty containers all subject to being invoiced by NPA
| | |
| --- | --- |
| PORT | January 2021 TEUs |
| Durban | 193,100 |
| Cape Town | 57,580 |
| Port Elizabeth | 2,551 |
| Ngqura | 39,030 |
| East London | 2,523 |
| Richards Bay | -329 |
| | |
| | |
| Total all ports | 295,383 TEU |
MOTOR VEHICLES RO-RO TRAFFIC (measured by Units- CEUs) during January 2021
| | |
| --- | --- |
| PORT | January 2021 CEUs |
| Durban | 28,926 |
| Cape Town | 0 |
| Port Elizabeth | 3,654 |
| East London | 1,320 |
| Richards Bay | 5 |
| | |
| | |
| Total all ports | 33,905 CEU |
SHIP CALLS for January 2021
| | | |
| --- | --- | --- |
| PORT | January 2021 vessels | gross tons |
| Durban | 197 | 7,468,369 |
| Cape Town | 110 | 3,079,517 |
| Richards Bay | 126 | 4,678,154 |
| Port Elizabeth | 58 | 1,518,237 |
| Saldanha Bay | 49 | 3,304,145 |
| Ngqura | 53 | 2,561,364 |
| East London | 20 | 507,476 |
| Mossel Bay | 22 | 199,498 |
| | | |
| Total ship calls | 635 | 23,316,760 |
— source TNPA, with adjustments regarding container weights by AP&s
Added 16 February 2021
♦♦♦♦♦♦♦♦♦
News continues below
Major airlines join forces with UNICEF
in support of monumental COVID-19 vaccine roll-out plan
The world's leading airlines are backing a landmark UN Children's Fund (UNICEF) initiative to prioritise delivery of COVID-19 vaccines, essential medicines and other critical supplies across the globe.
More than ten airlines* are signing agreements with the UN agency to support its Humanitarian Airfreight Initiative, which will also act as a global logistics preparedness mechanism for other humanitarian and health crises over the longer term.
In the words of Etleva Kadilli, Director of UNICEF Supply Division: "Delivery of these life-saving vaccines is a monumental and complex undertaking, considering the sheer volumes that need to be transported, the cold chain requirements, the number of expected deliveries and the diversity of routes."
Protecting scores of people
Airlines covering routes to over 100 countries will support the COVAX Facility – the global effort aimed at equitable access to COVID-19 vaccines.
Beginning this year and subject to all requirements being met and allocation plans finalised, 145 countries will receive doses to immunize an average of three per cent of their populations.
This is according to the COVAX facility's first-round allocation plan.
In addition to prioritising the shipments of life-saving supplies, the airlines will take measures, such as temperature control and security, while also adding freight capacity to routes, as needed.
UNICEF stressed that their commitments are essential to the "timely and secure delivery" of vaccines and critical supplies.
UNICEF stated: "Safe, timely and efficient transportation of life-saving supplies is critical to supporting access to essential services for children and families."
Moreover, COVAX deliveries and the subsequent vaccination of frontline workers will support health and social care systems to safely resume these critical services.
For more information on UNICEF's activities in fighting the global pandemic readers are invited to SEE HERE
Edited by Paul Ridgway
London
* UNICEF and leading airlines join forces to deliver COVID-19 vaccines and medical supplies around the world. AirBridgeCargo, Air France/KLM, Astral Aviation, Brussels Airlines, Cargolux, Cathay Pacific, Emirates Skycargo, Ethiopian Airlines, Etihad Airways, IAG Cargo, Korean Air, Lufthansa Cargo, Qatar Airways, SAUDIA, Singapore Airlines Ltd, United Airlines.
Added 16 February 2021
♦♦♦♦♦♦♦♦♦
News continues below
NIMASA deploys patrol boats to Lagos Anchorage
NIMASA (Nigerian Maritime Administration and Safety Agency) is set to deploy 10 security patrol and surveillance vessels to protect ships at the Lagos ports' anchorage.
The report issued by Wilhelmsen Ships Agency in Lagos states that the multipurpose security surveillance vessels DB LAGOS and DB ABUJA, which were acquired by the Nigerian Federal Government through the Integrated National security and waterways protection infrastructures project otherwise referred to as the Deep Blue Project, will be taking up duty along with eight Fast Interceptor attack boats to guard the anchorage.
The patrol craft will commence the project this week.
DB Lagos and DB Abuja were built in 2019 specially for this project and the fast interceptor boats are all new assets.
The Deep Blue Project is a US$195 million dollar project of the Federal Government of Nigeria to provide comprehensive maritime security within the Nigerian maritime domain and Gulf of Guinea.
Assets for Deep Blue Project will include Unmanned Arial Vehicles (Drones), Hybrid multipurpose surveillance vessels, helicopters, special aircraft, Fast interceptor surveillance boats etc.
The report says that NIMASA will share with stakeholders the mode of operations, reporting detail for vessels entering the anchorage and if any charges will be applicable to sustain the project. source Wilhelmsen Ships Agency
Added 16 February 2021
♦♦♦♦♦♦♦♦♦
News continues below
New Government figures show 35% of UK importers are struggling at borders and Northern Ireland trade is collapsing says ParcelHero
The latest Office for National Statistics (ONS) economy report highlights soaring problems at Customs and a crisis developing in Northern Ireland trade, warns the international delivery expert ParcelHero.
ParcelHero is a parcel price comparison website and has international delivery partners serving 220 countries across the world, including Africa and the Middle East.
The latest ONS economy figures show businesses are reporting spiralling Brexit challenges.
According to ParcelHero doubt has also been cast on the viability of the Northern Ireland protocol. Transport costs, border disruption and customs duties problems soared in the two-week period between 24 January and 7 February.
David Jinks, ParcelHero's Head of Consumer Research, says the new figures highlight the full impact of Brexit on businesses.
In his words: "The ONS report, UK exporters and importers increasingly likely to face challenges, shows a sharp escalation in Brexit problems. They increased markedly in the two weeks from 25 January to 7 February compared to the preceding fortnight, 11-24 January."
Border disruption
On the subject of border disruption, it is reported that 35% of businesses experienced importing challenges because of disruption at the UK borders. That is an increase dramatically from the 25% of importers reporting challenges in the previous two weeks.
Similarly, 25% of exporters recorded disruption at borders, compared to just 19% reporting disruption in the preceding fortnight.
Transport costs
With regard to transport costs it is estimated that 34% of businesses experienced exporting challenges because of a rise in transport costs. That's up significantly from the 25% experiencing transport cost issues in the previous two-week period.
A reported 30% of firms experienced importing challenges because of a change in transport costs. Again, this is up significantly from the previous two weeks' figure of 28%.
Customs duties
On duties 26% of businesses experienced exporting challenges because of customs duties or levies, a big jump from the 16% of exporters reporting issues in the previous two-week period.
Likewise, 26% of companies experienced importing challenges because of customs fees in the fortnight between 25 January and 7 February, compared to 16% in the preceding two weeks.
Jinks continues: "Perhaps even more concerning, in terms of both trade and politics, are the escalating problems experienced by those shipping goods to Northern Ireland. The Northern Ireland Protocol is in danger of unravelling entirely if these trends continue.
"A massive 44% of retailers and wholesalers reported the volume of goods they shipped to Northern Ireland decreased in the latest two-week period, compared to the previous fortnight. 31.5% of manufacturers reported their export volumes to Northern Ireland fell during the latest period. Of all businesses who had sent, or intended to send, goods from Great Britain to Northern Ireland in the last two weeks, 38% reported sending fewer goods.
"These problems will only escalate as a waiver on customs declarations on parcels sent from the rest of the United Kingdom to Northern Ireland runs out on 31 March, and certification requirements ramp-up on supermarket goods in April. The Government urgently needs to renegotiate these deadlines with the EU.
"It is not as if these issues were unpredictable. As long ago as 2016, our pre-referendum report, Delivering Brexit: The true cost of leaving the EU, predicted SMEs would face Brexit costs of around £163,000 in the first year and a typical rise of 30% on the price of items purchased in the EU that had components originating outside Europe.
The 2016 study
To find out what other surprises Brexit could still have in store, readers are invited to read ParcelHero's report of the year 2016 which is still available to read HERE:
About the UK Government's Office for National Statistics (ONS)
The ONS report, UK exporters and importers increasingly likely to face challenges, was released on 11 February. It forms part of the ONS Covid-19 business insights and is available for downloading by CLICKING HERE
Reported by Paul Ridgway
London
With material kindly provided by www.parcelhero.com
Added 16 February 2021
♦♦♦♦♦♦♦♦♦
News continues below
Dr Ngozi Okonjo-Iweala of Nigeria
to be new WTO Director-General
On 15 February WTO members made history when its General Council agreed by consensus to select Dr Ngozi Okonjo-Iweala of Nigeria as the organization's seventh Director-General.
When she takes office on 1 March, Dr Okonjo-Iweala will become the first woman and the first African to be chosen as Director-General. Her term, renewable, will expire on 31 August 2025.
"This is a very significant moment for the WTO. On behalf of the General Council, I extend our warmest congratulations to Dr Ngozi Okonjo-Iweala on her appointment as the WTO's next Director-General and formally welcome her to this General Council meeting," said General Council Chair David Walker of New Zealand who, together with co-facilitators Amb. Dacio Castillo (Honduras) and Amb. Harald Aspelund (Iceland) led the nine-month DG selection process.
Walker added: "Dr Ngozi, on behalf of all members I wish to sincerely thank you for your graciousness in these exceptional months, and for your patience. We look forward to collaborating closely with you, Dr Ngozi, and I am certain that all members will work with you constructively during your tenure as Director-General to shape the future of this organization."
Great challenges ahead
Dr Okonjo-Iweala said a key priority for her would be to work with members to quickly address the economic and health consequences brought about by the COVID-19 pandemic.
She said: "I am honoured to have been selected by WTO members as WTO Director-General. A strong WTO is vital if we are to recover fully and rapidly from the devastation wrought by the COVID-19 pandemic.
"I look forward to working with members to shape and implement the policy responses we need to get the global economy going again. Our organization faces a great many challenges but working together we can collectively make the WTO stronger, more agile and better adapted to the realities of today."
A lengthy consultation process
The General Council decision follows months of uncertainty which arose when the United States initially refused to join the consensus around Dr Okonjo-Iweala and threw its support behind Trade Minister Yoo Myung-hee of the Republic of Korea. But following Ms Yoo's decision on 5 February to withdraw her candidacy, the administration of newly elected US President Joseph R Biden Jr. dropped the US objection and announced instead that Washington extends its 'strong support' to the candidacy of Dr Okonjo-Iweala.
Amb. Walker extended his thanks to all eight of the candidates who participated in the selection process and particularly to Ms Yoo: "for her ongoing commitment to and support for the multilateral trading system and for the WTO."
The General Council agreed on 31 July that there would be three stages of consultations held over a two-month period commencing 7 September. During these confidential consultations, the field of candidates was narrowed from eight to five and then two.
On 28 October, General Council Chair David Walker of New Zealand had informed members that based on consultations with all delegations Dr Okonjo-Iweala was best poised to attain consensus of the 164 WTO members and that she had the deepest and the broadest support among the membership. At that meeting, the United States was the only WTO member which said it could not join the consensus.
The consultation process undertaken by the chair and facilitators was established through guidelines agreed by all WTO members in a 2002 General Council decision. These guidelines spelled out the key criteria in determining the candidate best positioned to gain consensus is the breadth of support each candidate receives from the members. During the DG selection processes of 2005 and 2013, breadth of support was defined as: 'the distribution of preferences across geographic regions and among the categories of members generally recognised in WTO provisions: that is (Least developed countries), developing countries and developed countries.' This same process, agreed by all members in the General Council in 2020, was strictly followed by Chair Walker and his colleagues throughout the 2020-21 DG selection process.
The process for selecting a new Director-General was triggered on 14 May when former Director-General Roberto Azevêdo informed WTO members he would be stepping down from his post one year before the expiry of his mandate. He subsequently left office on 31 August.
About the WTO
The World Trade Organization (WTO) is the only global international organisation dealing with the rules of trade between nations. At its heart are the WTO agreements, negotiated and signed by the bulk of the world's trading nations and ratified in their parliaments. The goal is to ensure that trade flows as smoothly, predictably and freely as possible.
For more information readers are invited to see HERE
WTO has its HQ in Geneva. It was established on 1 January 1995, created by the Uruguay Round of negotiations over the period 1986-1994. There are 164 members representing 98% of world trade.
Secretariat staff totals 623.
We at Africa Ports & Ships throw our caps in the air and give loud hurrahs in sending a hearty welcome to the new SG.
Edited by Paul Ridgway
London
Added 15 February 2021
♦♦♦♦♦♦♦♦♦
News continues below
US NAVY SHIP VISITS MOMBASA PORT
The US Navy's Expeditionary Sea Base vessel USS HERSHEL 'WOODY' WILLIAMS (ESB4) arrived last Monday (8 February) in Mombasa Harbour in support of the US 2021 Africa coast deployment and to boost maritime security in the region.
USS Hershel "Woody" Williams became the first US Navy ship to enter the port of Mombasa in over a decade.
The Expeditionary Sea Base ship was named on 21 October 2017, at NASSCO in San Diego and delivered to Military Sealift Command on 22 February 2018, before entering into service the same day.
According to US Chargé d'Affaires to Kenya, Eric Kneedler, the arrival of the ship demonstrates the close ties between the two countries.
"Kenya is a close US strategic partner in Africa. Our visit to Mombasa confirms our resolve and commitment to the preservation of security and stability in Kenya and Africa," said Captain Michael Concannon, commanding officer, USS Hershel "Woody" Williams.
"Williams is currently deployed to the eastern coast of Africa to demonstrate growth in strategic partnerships and US commitment to African countries through interoperability training, maritime security, and safety to allow for freedom of navigation in the region," the US Navy said.
"The ship's rotational crew swap allows unlimited operations in the Africa area of responsibility".
Homeported in Souda Bay, Greece, the ship conducts US Africa Command (AFRICOM) missions in the Mediterranean and the waters around East, South, and West Africa to include the southern Mediterranean, operating with regional partners.
The US Embassy in Kenya said in a statement that the ship supports security cooperation missions and operations in and around the African continent.
It added that US Sixth Fleet, headquartered in Naples, Italy, conducts the full spectrum of joint and naval operations, often in concert with allied and interagency partners, in order to advance US national interests and security and stability in Europe and Africa.
The 239-metre USS Hershel 'Woody' Williams has a 4,380 square metre (52,000 square-foot), four-spot flight deck that helicopters can land on and accommodation for up to 250 personnel.
The ship is equipped with high tech surveillance systems to facilitate maritime operations such as counter-piracy, disaster relief, and crisis response operations.
Added 15 February 2021
♦♦♦♦♦♦♦♦♦
News continues below
WHARF TALK: Milestones for Djibouti port productivity
Productivity and efficiency of Djibouti's ports continue to improve, with several milestones recorded in recent months:
In November, Doraleh Multipurpose Port (DMP) achieved a new daily performance record, discharging 22,100 metric tonnes in 24 hours from the vessel PRINCESS SUZAN.
The teams at DMP also safely unloaded 200 vehicles per hour from NYK's RoRo car carrier DAEDELUS LEADER.
Meanwhile, the first ship of the season transporting over 60,000 tonnes of fertiliser to Ethiopia was unloaded in just five days.
"We have also been working hard to provide enhanced facilities at our world-class ports,"said Aboubaker Omar Hadi, Chairman of the Djibouti Ports and Free Zones Authority.
"We have just launched a new livestock terminal at Doraleh Port that covers a total area of 27,525 m2 and has the capacity to handle 2.5 million heads/year. As East Africa's livestock resources represent the largest proportion of Africa's livestock population and contribute greatly to the region's GDP and foreign currency earnings, this vital facility will help accelerate the region's socio-economic development.
"In particular, it will boost Ethiopian exports, guaranteeing more than US$120 million in foreign current earnings. It will also diversify activities at Doraleh terminal and create more than 1,000 jobs directly and 4,000 jobs indirectly."
Hadi said the terminal is also conveniently located next to the Ethio-Djibouti railway, meaning livestock can be transported efficiently by rail and sea to their final destination via the Djibouti ports.
"This is yet another example of the railway facilitating trade in the region, as seen by the recent development of the Cool Logistics Corridor, which allows Ethiopia to transport perishable goods via Djibouti," he said.
Added 15 February 2021
♦♦♦♦♦♦♦♦♦
News continues below
NATO focused security patrols in Western Mediterranean
According to the Public Affairs Office at NATO MARCOM at Northwood NW London the Spanish offshore patrol vessel METEORO, supported by maritime patrol aircraft from Portugal and Spain, has deployed to the Western Mediterranean as part of NATO's maritime security operation, Operation Sea Guardian (OSG).
NATO Operation Sea Guardian is a year-round, proactive and forward-looking total commitment of maintaining deterrence on terrorism and illegal activities. This operation is a fusion of information to create a comprehensive picture of daily activities in the Mediterranean, and NATO Maritime Command serves as the hub of maritime security information sharing for the Alliance.
Our illustration above from an earlier deployment is taken from https://mc.nato.int
The first OSG Focused Operation for 2021 focuses on the Alboran Sea (the westernmost portion of the Mediterranean Sea, lying between the Iberian Peninsula and the north of Africa), with a planned port visit to Tangiers, Morocco. Turkish and Spanish special operations forces support in stand-by under the OSG Special Operations Command and Control Element (SOCCE). Due to COVID measures, all personal interactions have been scaled down to protect the crew and the mission.
Operation Sea Guardian is a non-Article 5 maritime security operation of NATO aimed at working with Mediterranean stakeholders and partners to maintain maritime situational awareness, deter and counter terrorism and enhance capacity building.
With each OSG focused engagement, NATO seeks to further develop its partnerships so that they continue to meet the interests of both Allies and partners.
Over the last few years, the number of partner units certified and evaluated to NATO standards has increased, new partners have joined interoperability programmes, and opportunities for partner participation in NATO exercises have been widened.
This Operation remains one of the most important tools for NATO projecting stability throughout the Mediterranean Sea and sustaining maritime situational awareness. Focused patrols of NATO's Operation Sea Guardian help NATO maintain an accurate maritime picture of daily activity in the focused areas of the Mediterranean Sea and is an opportunity to increase cooperation and interoperability.
Edited by Paul Ridgway
London
Added 15 February 2021
♦♦♦♦♦♦♦♦♦
News continues below
IMO urges action to deter piracy in Gulf of Guinea
Enhanced cooperation and implementation of best practices needed to avoid, deter and report attacks threatening ships and crew
Implementation of Best Management Practices on ships as well as good coordination onshore can help deter and resolve attacks on ships
IMO Secretary-General Kitack Lim has expressed his deep concern about the escalation in the number and severity of attacks on ships and crew in the Gulf of Guinea region. He insisted on the need for all stakeholders to work together to restore security and reduce the threats to the safety and security of crews and vessels operating in the region.
The urgency of the situation has been underlined by the attack on the container ship Mozart on 23 January 2021, which resulted in a fatality and the kidnapping of 15 seafarers. In yesterday's news we carried an report that the 15 abducted seafarers had all been released. It is presumed that a ransom was paid for their safe release.
You can read that report by CLICKING HERE
The problem with paying ransoms is that it perpetuates the problem, causing the criminal gangs making up the pirate fleets in the Gulf to believe that the more seafarers they capture, the more ransoms will be paid to them (through their 'agents' in Europe or elsewhere).
In a circular letter (No. 4382, issued 10 February), the Secretary-General said that IMO has been taking action to enhance the coordination of initiatives among stakeholders, including facilitating meetings with representatives of the industry, the Nigerian Maritime Administration and Safety Agency (NIMASA) and the Interregional Coordination Centre for the Implementation of Regional Strategy for Maritime Safety and Security in Central and West Africa (ICC).
The Secretary-General also highlighted that ships need to implement the IMO endorsed Best Management Practices (BMP) for West Africa (WA) to avoid, deter, delay and report attacks. The BMP cover risk assessment, ship protection measures and reporting.
The BMP can be downloaded HERE
The IMO intends to convene a maritime security working group focusing on the Gulf of Guinea at the next session of the Maritime Safety Committee, MSC 103, scheduled to take place in May 2021. This will provide an opportunity for Member States and international organisations to discuss further collaboration and possible action to address the existing problems.
IMO continues to provide technical assistance to Member States in the region regarding the implementation of maritime security measures. The Organization is currently working with the Interregional Coordination Centre (ICC) to assist with the implementation of the Yaoundé Code of Conduct (YCC), a regional code aimed at enhancing maritime security and addressing piracy, armed robbery against ships, illegal fishing and other illicit maritime activity.
The IMO West and Central Africa Maritime Security Trust Fund enables the Organization's maritime security capacity-building programme to assist Gulf of Guinea coastal States as well as regional centres under the framework of the Yaoundé Code of Conduct.
Download:
Circular Letter No.4382 (10 February 2021) Piracy in the Gulf of Guinea
A comprehensive list of recommendations and guidance adopted/approved by the Maritime Safety Committee on the prevention and response to acts of piracy and armed robbery against ships can be found in the "Guidance on piracy" section of IMO's maritime security webpage.
Added 15 February 2021
♦♦♦♦♦♦♦♦♦
News continues below
SA borders reopen, but 30 remain closed
The South African Government announced on Monday (16 February) that 20 of the country's land borders which were closed due to the COVID-19 pandemic, were now fully reopened.
However, another 30 land borders will remain so. The closure of the land border posts was introduced last month as the country was seized by a rise in COVID-19 infections.
To view which of the land borders are now open, CLICK HERE
The Department Cooperative Governance and Traditional Affairs (COGTA) said travelling to and from South Africa was allowed subject to regulations.
"With regards to air travel, the department said this was restricted to the OR Tambo (Gauteng), King Shaka (Durban) and Cape Town international airports.
"All international travellers arriving at the airports listed above must provide a valid certificate of negative COVID-19 test recognised by the World Health Organisation obtained not more than 72 hours before travel," reads the statement.
Added 15 February 2021
♦♦♦♦♦♦♦♦♦
News continues below
WHARF TALK: Cape Town ship observations
For three days, the Atlantic Seaboard has been shrouded in mist, every morning and late evening. The longest that Table Bay was hidden in heavy mist was up until 15h00 on Saturday, 13 February.
The tanker HECTOR N from EAST LONDON was one of these vessels in the Bay and although it was shown on its own on the computer screen, when the mist lifted it appeared as three vessels. This slightly unnerving experience, despite all the mod-cons of today, demonstrated what the sailors must have gone through in years gone by.
The salvage tug SA AMANDLA and the MCDERMOTT 50 derrick barge departed Cape Town at 16h01 on 13 February bound for Durban and an ETA at Jebel Ali of 22 March 2021. On Sunday afternoon the two vessels were off Struisbaai.
CAMELOT, the accommodation barge, has now moved off the Atlantic coast, and although still showing Lomé as its final destination, the vessel is at present in the High seas off Plettenberg Bay.
The container ship MSC MAUREEN remains, one week later, still at anchor of the Sea Point coast. This is after having had her in port last Sunday (7 February) for a couple of hours and having spent the previous two days at the same anchorage position.
The situation regarding container ships on Sunday afternoon 4 February is that all OF Cape Town's container berths are working at present (YANGTZE SHANGHAI, COSCO IZMIR & MH HAMBURG), with another three container ships at anchor off Milnerton, the coaster BORDER, SANTA BARBARA & BAY BRIDGE, in addition to MSC Maureen off Sea Point and CMA CGM Cendrillon (ex Singapore) which is cruising far out to sea.
UPDATE 15 February 2021
In keeping with her unusual if not mysterious coming and goings between anchorage, consisting of an 8 hour berthing in the port of Cape Town and an eight day return to her original anchorage off Sea Point, the container ship MSC MAUREEN returned to berths 104/105 under cover of darkness at 01h00 on Monday morning, 15 February.
This followed the departure of the MH HAMBURG from the berth.
Later on Monday saw the departure of the container vessel COSCO IZMIR heading in the direction of Cape Point, followed by the berthing in her place of the CMA CGM CENDRILLON. The latter ship was coming from Singapore and 24 hours at anchorage of Cape Town. – JH
UPDATE 15 February 2021
In keeping with her unusual if not mysterious coming and goings between anchorage, consisting of an 8 hour berthing in the port of Cape Town and an eight day return to her original anchorage off Sea Point, the container ship
MSC MAUREEN

returned to berths 104/105 under cover of darkness at 01h00 on Monday morning, 15 February.

This followed the departure of the MH HAMBURG from the berth.

Later on Monday saw the departure of the container vessel COSCO IZMIR heading in the direction of Cape Point, followed by the berthing in her place of the CMA CGM CENDRILLON. The latter ship was coming from Singapore and 24 hours at anchorage of Cape Town. – JH

Report by John Hawkins
Cape Town
Added 14 February 2021, updated 15 February 2021
♦♦♦♦♦♦♦♦♦
News continues below
AFTER FIVE YEARS, SAMSA APPOINTS ANOTHER ACTING CEO
The South African Maritime Safety Authority (SAMSA) has announced the appointment of

Ms Tsepiso Taoana-Mashiloane

as an acting Chief Executive Officer of the parastatal.
Taoana-Mashiloane (at left) replaces SAMSA Chief Operations Officer, Sobantu Tilayi, who has been the acting CEO for the past five years. He goes back to his original position as Chief Operations Officer.
Taoana-Mashiloane's appointment is with immediate effect.
Her previous position was director for Maritime Industry Development with the Department of Transport.
SASA said at the weekend that Taoana-Mashiloane's appointment is a transitional arrangement pending the finalisation of the recruitment and appointment process of a permanent CEO.
The statement said she is an accomplished and experienced civil servant whose academic qualifications include a Master's Degree (MA) in Science, Botany & Environmental Management) as well as an MSc in Maritime Affairs Specialising in Maritime Safety & Environmental Administration.
In addition SAMSA said Taoana-Mashiloane is also no stranger to SAMSA as relative to her position at the Department of Transport, she is well acquainted with the Safety Authority having worked closely with its management for many years on key programmes.
Among these the International Maritime Organisation (IMO) periodic audits, the World Maritime Day parallel events – the next scheduled for South Africa later this current year – the SA National Inland Water Strategy and the National Ports Consultative Committee.
Mr Sobantu Tilayi was thanked by the SAMSA Board for his valuable contribution while in the role of Acting CEO.
Added 14 February 2021
♦♦♦♦♦♦♦♦♦
News continues below
NEW CABLE SHIP DESIGN:
VARD selected by Orange Marine
VARD, one of the major global designers and shipbuilders of specialised vessels, announced in mid-February that Orange Marine had selected design from its extensive portfolio when expanding their fleet of cable ships. This vessel is specifically designed for fibre-optic cable repair.
VARD and Orange Marine's cooperation goes back to 2012 when VARD was selected for the design and construction of their cable laying and repair vessel to VARD 9 01 design, PIERRE de FERMAT. The vessel will be built by Colombo Dockyard which has experience from building the cable laying and repair vessel KDDI CABLE INFINITY to the same design in 2019 for delivery to Kokusai Cable Ship Ltd of Japan.
The VARD 9 03 design for Orange Marine is specially created for the maintenance of submarine cables, both fibre-optic telecommunication cables and inter-array power cables used in offshore windfarms. VARD developed the vessel design according to the client's operating requirements with special attention given to hull design in terms of good sea-keeping qualities and low fuel consumption. Together with its manoeuvrability it is said to be a specialised element for the cable repair fleet market.
Well positioned in the cable ship market
VARD is continuously expanding its portfolio for power- and telecom cable laying and repair vessels as well as developing in-house competence and experience within this segment, working with significant companies in the industry. Currently VARD has two power cable-laying vessels under construction. The VARD 9 04 design for Prysmian, and the recently signed contract for the VARD 9 02 design for Van Oord.
Experience also includes design and construction from 2011 of the offshore construction and cable laying vessel CONNECTOR now owned by Jan De Nul Group, and the inter-array cable laying vessel of VARD 9 01 design SEAWAY AIMERY built at Remontowa Shipyard for Siem Offshore in 2016, in addition to the fibre-optic cable laying vessels Pierre de Fermat and KDDI Cable Infinity. With this extensive track record VARD is positioned as one of the most experienced designers of cable laying vessels.
VARD indicated that it is pleased to continue cooperation with Orange Marine and Colombo Dockyard and for the trust the cable ship market is showing.
Fredrik Hessen, General Manager of Business Unit Offshore and Specialized vessels commented: "We highly appreciate the close cooperation between Orange Marine, Colombo Dockyard and VARD to enable another innovative vessel design within the fibre-optic cable ship segment."
About Orange Marine
Orange Marine specialises in the field of submarine telecommunications from the initial design and engineering, to installation of intercontinental and regional links, and maintenance of existing cables.
In operation since the mid-nineteenth century, the submarine cable industry FCR – France Cables and Radio – became a 100% subsidiary of Orange Group in 1999.
The Orange Marine fleet is one of the most experienced in the world and represents 15% of the world cable ship fleet*. In total, Orange Marine has installed more than 200,000 kilometres of fibre-optic submarine cables in all oceans. Its ships have carried out over 670 repairs on routes, some of which are in 6000 metres of water.
In October 2010, Orange took control of Elettra, a subsidiary of Telecom Italia. Its management is delegated to Orange Marine, which now operates six cable ships and a survey vessel from marine bases or from foreign ports. See also: https://marine.orange.com/en/
*Another of Orange Marine's cable repair ships, LEON THEVENIN, is based permanent standby at Cape Town
Colombo Dockyard
Established in 1974, Colombo Dockyard is Sri Lanka's leading shipbuilding, ship repairing, heavy engineering, and offshore engineering facility conveniently located within the port of Colombo.
Colombo Dockyard operates in joint collaboration with Onomichi Dockyard Company Ltd of Japan and the collaboration has enabled Colombo Dockyard to blend in Japanese technological capability with the skill and competence of a fully Sri Lankan workforce.
This yard specialises in the construction of cable laying and repair vessels, offshore support vessels for offshore wind, oil and gas operations; eco-bulkers; passenger vessels of SOLAS class; harbour tugs; high speed patrol vessels; crew boats and workboats of diverse design for different services. Colombo Dockyard has successfully adopted latest advanced technology to stay updated and successful in what it calls its odyssey of excellence. See also: www.cdl.lk
VARD
VARD is one of the major global designers and shipbuilders of specialised vessels. Headquartered in Norway and with approximately 8,200 employees, VARD operates shipbuilding facilities in Norway, Romania, Brazil and Vietnam. Through its specialised subsidiaries it develops power and automation systems, deck handling equipment, and vessel accommodation solutions, and provides design and engineering services to the global maritime industry.
VARD's long shipbuilding traditions, cutting-edge innovation and technology coupled with its global operations and track record in constructing complex and highly customized vessels have earned it recognition from industry players and enabled it to build strong relationships with its customers.
<p?> The majority shareholder of VARD is Fincantieri Oil & Gas SpA, a wholly owned subsidiary of Fincantieri SpA with HQ in Trieste. This is one of the world's largest shipbuilding groups and has, over its 200 years of maritime history, built more than 7,000 vessels. For more information see: www.vard.com
Edited by Paul Ridgway
London
Added 14 February 2021
♦♦♦♦♦♦♦♦♦
News continues below
15 Squadron SAAF & NSRI Station 5 in long range emergency rescue of Chinese seafarer
A helicopter from 15 Squadron at Air Force Base Durban, and sea rescue personnel from the NSRI (National Sea Rescue Institute) Station 5 at Durban, were last week called to the rescue of a Chinese seafarer on board a bulk carrier offshore of Port St Johns on the Eastern Cape coast, 150 nautical miles south of Durban.
The SA Air Force Oryx helicopter, with a crew of two pilots and a flight engineer plus three NSRI rescue swimmers and three Netcare 911 rescue paramedics, lifted off from the Air Force Base Durban to rendezvous with the bulker offshore of the Transkei coast.
On arrival overhead of the vessel, and with a 3-metre swell running and a 29-knot gusting wind, two of the paramedics and one NSRI swimmer were deployed onto the ship via a winch hoist.
NSRI duty coxswain David Hoffman reported that they found the patient to be in a stable condition allowing him to be immediately hoisted into the helicopter overhead, followed by the paramedics and swimmer, after which the helicopter flew direct to a Durban hospital where he was taken into medical care by hospital staff.
The operation completed at 00h30.
To provide an idea of the complexity of such a medical emergency involving an offshore ship, the following organisations were involved in this particular rescue:
NSRI EOC (Emergency Operations Centre), NSRI Durban duty controllers, Netcare 911 ambulance services, a WC Government Health EMS duty doctor, Telkom Maritime Radio services, Transnet National Ports Authority and Port Health authorities assisted the Maritime Rescue Coordination Centre in logistics and coordination of the rescue operation.
A different kind of emergency
The NSRI, manned entirely by volunteers, provides such services from NSRI stations placed around the country's long coastline. Not all emergency calls involve ships however – the NSRI is frequently called out to many other forms of action.
One such took place last Friday morning, 12 February, when the NSRI Durban crew were requested to assist Police Search and Rescue at a scene where an injured Elephant Seal had washed up on Garvies Beach, near to Brighton Beach on Durban's Bluff.
uShaka Marine World and Wild Trust had requested assistance on the scene.
NSRI Durban rescue crew joined Police Search and Rescue, Metro Police Search and Rescue, eThekwini Lifesaving lifeguards and uShaka Maine World and Wild Trust members on the scene. Once again, a wide-ranging response.
The approximately 100kg animal was found to be aggressive and agitated.
Dr Francois Lampen, vet and curator of animal health at uShaka Sea World, made the decision to remove the animal to uShaka Marine World for care, treatment and rehabilitation and to safeguard the wellbeing of the animal.
The seal was secured into a Stokes basket stretcher and loaded into the back of an all terrain vehicle and transported the approximately 25kms by road to uShaka Marine World on the Durban main beachfront. All in a day's work for everyone concerned!
Added 14 February 2021
♦♦♦♦♦♦♦♦♦
News continues below
CMA CGM expands into air freight
A fleet of four Airbus A330-200F freighter aircraft
The CMA CGM shipping and logistics group is increasing its strategic development in logistics with the creation of a specialised air freight division: CMA CGM AIR CARGO.
Representing a major new component of the CMA CGM Group in both operational and commercial terms, this move into air freight will strengthen the Group's transport and logistics business, allowing it to offer its customers a new range of comprehensive, agile and customised solutions.
To support its expansion into air freight, the CMA CGM Group is buying four 60-tonne-payload Airbus A330-200F freighter aircraft, which came into service between 2014 and 2016. With a range of 4,000 nautical miles, they will connect Europe with the rest of the world.
The operation of the freighter fleet will be handled for CMA CGM by an European airline.
"In response to the growing demand from our customers for agile logistics solutions, we are creating a new division within the CMA CGM Group dedicated to air transport: CMA CGM Air Cargo," said Rodolphe Saadé, Chairman and CEO of the CMA CGM Group.
"This division will launch with four Airbus A330-200F aircraft and will leverage commercial partnerships with airlines in order to deliver global coverage. This is a major milestone in the development of our logistics services."
Added 14 February 2021
♦♦♦♦♦♦♦♦♦
News continues below
PIRACY: 15 highjacked crew from container ship Mozart have been released
The 15 crew members from the Turkish container ship MOZART, who were abducted by pirates while the ship was journeying in the Gulf of Guinea near Sao Tome and bound for Cape Town, have been released, it has been learned.
While the reports make no mention it can be assumed that a ransom for their release was paid.
The ship was boarded a fortnight ago – to see our report of this CLICK HERE
One crew member, an Azerbaijani, was killed and fifteen others from Turkey were taken away when the pirates left the ship. Now the good news is that they have been released and will be returning home via Istanbul, where Boden Shipping, the owner of the Mozart, has its office.
A spokesman for Boden Denizcilik (Shipping) told a local news station that the released crew members are all in good health and safe.
He disclosed that the negotiations for the release of the seafarers was handled in Hamburg. The Turkish foreign minister however said the negotiations were handled by a British company.
Ship and crew manager Borealis Maritime, who has also released a statement announcing their release of the crew, is based in London and Hamburg.
As part of its statement, Borealis Maritime complimented the remaining three crew members left on the Mozart when the pirates departed, for their skill, courage and discipline shown in taking their ship back to safety.
Added 14 February 2021
♦♦♦♦♦♦♦♦♦
News continues below
AfCFTA: ALIVE WITH POSSIBILITIES – SA GOVERNMENT
The South African government says it will maximise the opportunities presented by the African Continental Free Trade Area (AfCFTA), which came into operation on 1 January 2021, following the adoption of the Johannesburg Declaration by the African Union (AU).
The AFCTA is set to create a massive market and demand for locally-produced machinery, clothes and food, and provides a platform for South African businesses to expand into markets across the continent, and for South Africa to position itself as a gateway to the continent, President Cyril Ramaphosa said while delivering the annual State of the Nation address last week.
He said South Africa was already at work to reindustrialise the economy.
This was being done through initiatives such as the Ford Motor Company's investment into the economy. The company recently announced a R16 billion investment in the South African market, which is expected to majorly bump up jobs and local production. See that report by CLICKING HERE
"Last week, the Ford Motor Company announced a R16 billion investment to expand their manufacturing facility in Tshwane for the next generation Ford Ranger bakkie.
"This investment will support the growth of around 12 small and medium enterprises in automotive component manufacturing," the President said.
Nearly half of the procurement spend on construction of the bulk earthworks and top structure at the Tshwane Special Economic Zone during this phase is expected to be allocated to small, medium and micro enterprises (SMME's), an amount equal to R1.7 billion in procurement opportunities.
The President reiterated Toyota's investment in its KwaZulu-Natal facility to start production of the first generation of hybrid electric vehicles to come off a South African assembly line.
"This follows investment announcements by Nissan, Mercedes Benz and Isuzu in expanded production facilities, all of which cement South Africa's position as a global player in auto manufacturing.
"This year, our focus will be on getting the industry back to full production, implementing the Black Industrialist Fund and working on a new platform for expanded auto trade with the rest of the continent," he promised.
Added 14 February 2021
♦♦♦♦♦♦♦♦♦
News continues below
SA Government embarks on centralised SOE model
In his State of the Nation address presented in parliament on Thursday 11 February, President Cyril Ramaphosa revealed that government would in 2021 implement a centralised model for the country's embattled state-owned enterprises (SOEs).
Ramaphosa said the centralised SOE model would ensure a standardised governance, financial management and operational performance framework for all SOEs.
Among the SOE's are Transnet, National Ports Authority, Transnet Port Terminals, Transnet Freight Rail, Eskom, PRASA and SAA.
"To support our reform process, the Presidential State Owned Enterprises Council has outlined a clear set of reforms that will enable these vital public companies to fulfil their mandate for growth and development," he said.
The President added that overarching legislation for parastatals will be tabled in Cabinet this financial year and Parliament in the next financial year.
"The mandates of all SOEs are being re-evaluated to ensure that they are responsive to the country's needs and the implementation of the National Development Plan," he said.
The country's SOEs have over the years faced a financial and leadership crisis that have led to a near collapse and frequent government bailouts amounting to hundreds of billions of rands.
Added 14 February 2021
♦♦♦♦♦♦♦♦♦
News continues below
Nigerian corruption endemic because thieves are not jailed
Corruption is endemic in Nigeria because thieves are not jailed. That was the strong words from Transportation Minister, Rotimi Amaechi while delivering the 2021 Founders' Lecture at the University of Port Harcourt.
It must be assumed that when talking about corruption, the minister was also including the ongoing rampant piracy in Nigerian and other Gulf of Guinea waters.
It has long been whispered that certain senior people in both state and federal government were involved with the piracy and crime in Nigerian waters, and that their complicity in high office helped facilitate the activities of the pirates as well as other criminals active among the Niger Delta area.
Recently the new Nigerian Chief of Naval Staff, Rear Admiral Zubairu Gambo (left), added his voice when he declared that some personnel in the Nigerian Navy were colluding with "drug traffickers, bandits, kidnappers [pirates] and economic saboteurs".
If you missed it, Admiral Gambo's comments may be found by CLICKING HERE
According to the transport minister, corruption continues in the country because thieves are not jailed or severely punished. He added that the community should stop 'celebrating' these thieves and criminals, saying that such actions encourage corruption.
"Until we begin to jail thieves, corruption would continue, why corruption is on the increase is because the offenders have not been punished, nobody has been jailed," Amaechi, who is the former Governor of Rivers State, said.
He added that President of Nigeria, Muhammadu Buhari, was determined to fight corruption "frontally".
Added 14 February 2021
♦♦♦♦♦♦♦♦♦
News continues below
GENERAL NEWS REPORTS – UPDATED THROUGH THE DAY
in partnership with – APO
♦♦♦♦♦♦♦♦♦
More News at https://africaports.co.za/category/News/
News continues below
TO ADVERTISE HERE
Request a Rate Card from info@africaports.co.za
EXPECTED SHIP ARRIVALS and SHIPS IN PORT

Port Louis – Indian Ocean gateway port
Ports & Ships publishes regularly updated SHIP MOVEMENT reports including ETAs for ports extending from West Africa to South Africa to East Africa and including Port Louis in Mauritius.
In the case of South Africa's container ports of Durban, Ngqura, Ports Elizabeth and Cape Town links to container Stack Dates are also available.
You can access this information, including the list of ports covered, by going HERE remember to use your BACKSPACE to return to this page.
News continues below
CRUISE NEWS AND NAVAL ACTIVITIES

QM2 in Cape Town. Picture by Ian Shiffman
We publish news about the cruise industry here in the general news section.
Naval News
Similarly you can read our regular Naval News reports and stories here in the general news section.
♦♦♦♦♦♦♦♦♦
THOUGHT FOR THE WEEK
Religion, in any form, is always interesting to me because of how powerful it is.  Not even the religion itself, but to the people that follow it…. The effect it has had on people's minds.
– Chino Moreno
♠♠♠
♠♠♠
ADVERTISING
For a Rate Card please contact us at info@africaports.co.za
Don't forget to send us your news and press releases for inclusion in the News Bulletins. Shipping related pictures submitted by readers are always welcome. Email to info@africaports.co.za
TABLE BAY UNDERWAY SHIPPING
SHIP PHOTOGRAPHERS
Colour photographs
and slides for sale of a variety of ships.
Thousands of items listed featuring famous passenger liners of the past to cruise ships of today, freighters, container vessels, tankers, bulkers, naval and research vessels.
P O BOX 809, CAPE TOWN, 8000, SOUTH AFRICA
snai@worldonline.co.za
http://home.worldonline.co.za/~snai