Bringing you shipping, freight, trade and transport related news of interest for Africa since 2002
Stay Well, Stay Safe, Stay Patient, don't become one
Advertise here with us. For a competitive Rate Card email terry@africaports.co.za
♠♠♠
Join us as we report through 2021
**********
TODAY'S BULLETIN OF MARITIME NEWS
These news reports are updated on an ongoing basis. Check back regularly for the latest news as it develops – where necessary refresh your page at www.africaports.co.za
Click on headline to go direct to story : use the BACK key to return
Front Page: MP THE LAW & MP THE BRADY
EARLIER NEWS CAN BE FOUND AT NEWS CATEGORIES…….
The Saturday masthead shows the Durban Container Terminal by night. On Sunday it will show the Durban Point (City) Multi-purpose & RoRo terminal 
♦♦♦♦♦♦♦♦♦
SEND NEWS REPORTS AND PRESS RELEASES TO
info@africaports.co.za
♦♦♦♦♦♦♦♦♦
News continues below
Front Page: MP THE LAW & MP THE BRADY
Two unusually named container ships recently called at Durban. Seen entering port is the container vessel MP THE LAW (IMO 9401776), built in 2009 and with a deadweight of 52,315-dwt, while departing harbour is a sister company ship, the larger 68,017-dwt MP THE BRADY (IMO 9289972), built in 2005. Both vessels are owned and managed by Mediterranean Shipping Company (MSC) with Anglo-Eastern Shipmanagement as the ISM manager of both. Both vessels are flagged in Liberia. Note the large scrubber equipment on both ships. These pictures are by Keith Betts
♦♦♦♦♦♦♦♦♦
♦♦♦♦♦♦♦♦♦
News continues below
PIRATES BOARD CONTAINER SHIP MOZART IN GULF OF GUINEA – One crew killed and 15 abducted
Second ship approached but pirates flee after fired fired on
The latest report by security experts Dryad Global indicates that the Liberian-flagged container ship MOZART (IMO 9337274) of 39,399-dwt has been approached and boarded by armed pirates.
The boarding took place on Saturday 23 January 2021 98 nautical miles north-west of Sao Tome as the vessel was sailing from Lagos to Cape Town, in position 01 04.13N 005 04.22E.
UPDATE Saturday 23 January 2021: 
Dryad Global reports in an update that the citadel was breached and 15 crew were taken with one crew member killed (nationality of crew member not confirmed).  Three crew members were left onboard the Mozart
Dryad Analysis
This incident is an exceptional incident for both its severity and distance from shore. This is the furthest offshore incident recorded in West Africa.
The 222-metre long vessel becomes the 5th offshore incident and the 2nd boarding in the Gulf of Guinea HRA in just over three weeks of this year.
According to reports the crew remains safe and has mustered in the vessel's citadel but this situation is ongoing.
MSC container ship MSC Elsa 3 – shots fired at approaching pirates
In a second incident that took place at 12h00 on Friday 22 January, a pirate skiff approached the MSC ELSA 3 (IMO 9123221), a container ship owned and operated by Mediterranean Shipping Company.
The 22,994-dwt ship appears to be carrying armed guards and as the small boat approached a warning shot was fired in its direction, following which the would-be pirates turned away.
There was no harm done to any of the MSC Elsa 3's crew who are all safe, as is the ship.
Based on the experience of the Somalia coast in the north-western Indian Ocean, where piracy was once rife with ships being captured and held to ransom along with their entire crew, the only method of bringing things under control came about after merchant shipping introduced armed guards on board while transiting through at risk regions.
In addition naval ships of the European Union and a US-led coalition along with other supporting forces from as far apart as China, Japan and Iran, helped to bring piracy under an effective control.
Unfortunately, in the Gulf of Guinea there is rampant corruption ashore in Nigeria and several other countries, with suspected vested interests involved in the actual piracy and ransoming of crew. This prevents a similar approach from being effective, or so it appears, unless international shipping interests can bring about sufficient pressure to make the necessary changes.
Added 23 January 2021
♦♦♦♦♦♦♦♦♦
News continues below
CYCLONE ELOISE CROSSES MOZAMBIQUE COAST NEAR BEIRA
UPDATE SATURDAY 23 JANUARY 2021
In our latest update the news is that Tropical Cyclone Eloise 12S has come ashore just to the south of the port city of Beira in central Mozambique and is tracking west-southwestward at 9 knots with the eye deteriorating as the storm system moves further inland.
As at 06h00 on Saturday 23 January Cyclone Eloise was at position near 20.4S 34.0E, with sustained winds of 75 knots gusting to 90 knots.
Cyclone Eloise 12S is expected to continue tracking west-southwestward and can be expected to weaken as it continues overland. Heavy falls of rain can be expected to continue accompanying the cyclone/storm.    source: JTWC
End of update – added 23 January 2021
Earlier Report below
According to a report by the Joint Typhoon Warning Center (JTWC), Tropical Cyclone Eloise (TC12S) was situated near position 18.0S 40.1E, located approximately 265 nautical miles north of Europa Island (Mozambique Channel) and tracking west-southwestward at 13 knots over the previous six hours. This was based on a report dated at 21h00 on Thursday, 21 January 2021.
Described as having a very broad core circulation but with flaring closer to the centre, there were indications that the system may have begun a consolidation and intensification, which is not good news for those on the mainland near the port of Beira.
JTWC indicated that the cyclone would make landfall near or just south of Beira, with a considerable amount of rainfall that can be expected.
Wave height was reported as 18 feet. Maximum sustained winds were reported as being 45 knots gusting to 55 knots.
At the current trajectory the cyclone is unlikely to affect KZN in South Africa other than perhaps from some rain in the north of the province. However, Limpopo as well as parts of Zimbabwe and Botswana may expect to be affected by the remnants of the storm system as it moves inland. However the situation can change at short notice.
However, the Port of Richards Bay Harbour Master's office has issued the following statement as of this morning, 22 January 2021:
Port Information Update: Weather Predictions – Tropical Storm Eloise
As a result of the predicted strong winds gusting from Tropical Storm Eloise, the office of the
Harbour Master of the  Port of Richards Bay might take a decision to evacuate some of the vessels which are on berths more exposed to strong winds. "All ships are advised to keep a good
watch and put additional moorings to ensure safe mooring of their vessels."
The port authority warns of strong winds gusting more than 45KT is expected from this
Sunday until Monday.  "Wind speed is expected to start moderating towards mid-night.
There may be excessive rain and heavy winds gusting between 166-213km/h"
Graphic showing expected path of Tropical Cyclone Eloise, dated 21 January 2021 @ 21h00
Added 22 January 2021
♦♦♦♦♦♦♦♦♦
News continues below
DP World and Senegal sign agreement to develop Ndayane Port
DP World and the Government of Senegal, have signed agreements for the development of a deep water port at Ndayane, approximately 50kms from the existing port at Dakar and near the Blaise Diagne international airport.
The new port will further reinforce Dakar's role as a major logistics hub and gateway to West and North West Africa.
DP World's concession for the Port of Dakar already includes a plan to develop a new container terminal alongside the existing Container Terminal in the port of Dakar. However, after discussions between Senegal's President Macky Sall and Sultan Ahmed bin Sulayem, Group Chairman and CEO of DP World, it was agreed that it would be more appropriate for Senegal's development to carry out a more ambitious project and build an entirely new port outside of the city.
After constructive and detailed discussions, the agreements were recently signed in Dakar, paving the way for the development of the new port.
DP World Dakar SA, the local joint venture company between DP World and PAD, will not only develop and operate the 300-hectare container terminal but also finance, design and develop the land and maritime infrastructure of the new 600ha port.
The first phase of this project will see an investment by DP World Dakar of US$837 million, which will make it the single largest private sector investment in the history of Senegal and is expected to be followed by a second phase of investment of US$290 million.
Phase 1 will include a new container terminal with 840 metres of quay and a new 5km marine channel designed to handle 366 metre long vessels.
Phase 2 will create 410 metres of additional container quay and a further dredging of the marine channel to handle 400 metre long vessels including the largest container ships in the world.
The first phase of the Ndayane Container terminal will be operated alongside the existing DP World Dakar container terminal. Due to the Government's vision for the development of the Port of Ndayane as a site for the next 100 years of port activities in Senegal, the container terminal will eventually have over 3 km of quay and 300 ha for the container yard.
Redevelopment of Port of Dakar 
This will enable the existing Port of Dakar to be redeveloped into a mixed use residential and commercial waterfront and cruise terminal.
DP World is also planning to develop a special economic zone next to the Port of Ndayane to further strengthen the attractiveness of Senegal to foreign investors looking at the Ecowas region. The development of such an SEZ serviced by a world class port and airport will become another strong driver for growth of the economy and generation of jobs for the next generation of Senegalese citizens.
"The development of the new port at Ndayane will provide a strong engine of growth for the next phase of the Plan Senegal Emergent," said Sedikh Beye, Director General of the Port Authority of Dakar.:
Sultan Ahmed bin Sulayem, Group Chairman and CEO of DP World, described the venture as DP World's biggest port investment in Africa to date, which he said is a testament to DP World's commitment to Senegal and belief in its potential for further economic growth.
"The new port will create jobs, attract new foreign direct investment to the country, and enable new trading opportunities that bring about economic diversification," he said.
Senegal recently became the second country to join the World Logistics Passport, a major initiative by Dubai established to increase trading opportunities between developing markets, further boosting its position as a trade hub for Africa. The World Logistics Passport has been created to overcome trade impediments, such as logistics inefficiency, that currently limit the growth of trade between developing markets.
Added 21 January 2021
♦♦♦♦♦♦♦♦♦
News continues below
CEVA LOGISTICS CONTINUES AFRICAN EXPANSION INTO EGYPT & ETHIOPIA
CEVA Logistics, a division of French container line CMA CGM, has acquired a majority stake in IBA Freight Services in Egypt. In related news, CEVA Logistics has acquired a minority stake in MACCFA in Ethiopia.
Both joint ventures strengthen the presence of CEVA in East and North Africa.
IBA Freight Services has been CEVA's exclusive partner for the past 20 years.
Both joint ventures are effective immediately and further cement CEVA Logistics' aim of becoming a leading continent-wide player*. Through the new joint ventures both entities will be able to expand their products base which will help enhance the use of their local logistics services across the CEVA Logistics network.
* See related report Famous brand Manica disappears as CMA CGM's CEVA takes over
These new enterprises follow CEVA Logistics' acquisition of a majority stake in AMI Worldwide in the summer of 2020 which added an additional 12 countries to the company's African network.
IBA Freight Services in Egypt
Headquartered in Cairo close to the city's international airport, IBA Freight Services has been CEVA Logistics' exclusive agent in the country for 20 years. It offers a full range of multi-modal and 3PL services to a wide base of customers across the country. The broad spectrum of freight management services is operated from IBA Freight Services' offices in Cairo, at Cairo Airport and in the port city of Alexandria.
Onward destinations across Egypt are served through trucking operations.
MACCFA in Ethiopia
MACCFA has been established for some 25 years and operates from six offices and customs locations across Ethiopia offering a full range of logistics services. Outside the capital, it is the dominant player and operates two road corridors: Addis Ababa – Djibouti and Mekelle – Kombolcha – Addis Ababa.
MACCFA also provides intermodal solutions using fully booked Block Train services from the Port of Djibouti to Indode Freight Terminal near Addis Ababa with onward trucking services to final destinations across Ethiopia.
"Our strategic, continent-wide expansion plan continues to gather pace. These two Joint Ventures further consolidate our position in north Africa and the horn of Africa and will enable us to persevere in our intention of supporting its socio-economic emergence across all countries," says CEVA Logistics' Managing Director Turkey, India, Middle East and Africa, Bruno Plantaz.
Added 21 January 2021
♦♦♦♦♦♦♦♦♦
News continues below
ONE SIGNS LONG-TERM CHARTER FOR SIX ULTRA-LARGE 24,000-TEU CONTAINER SHIPS
In December 2020 Ocean Network Express Pte Ltd (ONE) signed a Letter of Intent with Shoei Kisen Kaisha, Ltd for the 15-year long-term charter of six new Ultra Large Container Ships (ULCS). Each vessel will have a capacity greater than 24,000 TEU, making them the world's largest class ever (so far).
The new buildings are to be built by the consortium of Imabari Shipbuilding Co and
Japan Marine United Corporation and delivery is expected in 2023/2024.
This new class of ships will join ONE's core fleet and forms part of its ongoing strategy to introduce large, modern, and fuel-efficient vessels to further strengthen fleet competitiveness.
Currently, the world's largest ULCS have a maximum capacity of slightly below 24,000 TEU. According to ONE, the six new ULCS with capacity exceeding 24,000 TEU will help bring economies of scale and significantly lower carbon emissions through a state-of-the-art hull design that aims to maximise cargo intake and minimise fuel consumption.
The vessels will be equipped with exhaust gas cleaning systems (scrubbers) to meet the emissions regulations of IMO.
Added 21 January 2021
♦♦♦♦♦♦♦♦♦
News continues below
HAPAG-LlOYD ORDERS SIX 23,500-TEU CONTAINER SHIPS FROM DAEWOO
Hapag-Lloyd is another of the major container carriers to improve the size and efficiency of its fleet with Ultra-Large container ship orders.
The German company placed its order with South Korea's Daewoo Shipbuilding & Marine Engineering for the construction of six 23,500+ TEU containerships. Each of the ships is to be fitted with efficient high pressure dual fuel engines operating mainly on LNG-fuel but able to use conventional fuel when necessary.
Hapag-Lloyd will deploy the six ships on its Europe-Far East service as part of THE Alliance service in a move expected to significantly improve Hapag-Lloyd (and THE Alliance's) competitiveness on the busy trade lane.
The cost of the investment will be in the region of US$ billion, with delivery commencing in April 2023 and ending in December that year.
Don't be surprised if the final delivery of the new ships sees them exceeding 24,000-TEU!
Added 21 January 2021
♦♦♦♦♦♦♦♦♦
News continues below
SHIPPING TRENDS: The bull run is wreaking havoc with cargo delays in major ports
Ocean Insights' statistics (a leading ocean supply chain visibility and market intelligence provider), show how the bull run is wreaking havoc on the market, with surging rollover rates across major ports during December and most major carriers seeing increases in delays.
Industry analysts are calling it, "one of the strongest bull-markets for container carriers seen in the last few decades."
Triggered by a 30% collapse in demand for container shipments in Europe and the US at the outset of the pandemic, a subsequent 30% increase in demand has created unprecedented negative market conditions. Data released yesterday (19 January 2021) by Ocean Insights highlights just how extensive delays have been, which ports and carriers are experiencing under capacity and a timeline of market volatility.
As the Covid-19 pandemic threw global markets into disarray, consumer behavior changed dramatically, leaving the carriers as well as shippers stranded, either with goods they could not sell, or, in the second half of the year, with goods that cannot be moved.
The latter crisis stems in part from a lack of containers, as the pandemic has caused box repositioning problems. Today, even if a beneficial cargo owner (BCO) can get an empty container for their cargo, there is no guarantee that the cargo will make it onto a ship.
The latest figures from Ocean Insights show that most major ports are seeing elevated levels of rollover cargo from November to December. Rather than cargo flows diminishing in line with historical seasonal precedent, there are growing levels of demand during a period that usually sees a decrease in volumes.
This in turn is forcing further delays to cargo, which is increasingly lying stranded at the quayside.
Ocean Insights calculates the rollover ratio for carriers as the percentage of cargo carried by each line globally that left a port on a different vessel than originally scheduled.
"Of the 20 global ports for which Ocean Insights collates data, 75% saw an increase in the levels of rollover cargo in December compared to the previous month. Major transshipment facilities such as Port Klang in Malaysia and Colombo in Sri Lanka recorded 50% or more of cargo delayed, with the world's largest transshipment hub in Singapore and leading primary ports such as Shanghai and Busan rolling over more than a third of their containers, last month," said Ocean insights' Chief Operations Officer Josh Brazil.
Industry experts are now warning that the cargo surge could last well into 2021, with a strong likelihood that the prevailing conditions will continue throughout the first half of the year.
Much of the recent concern for rollover cargo has focused on reefer containers. Some ports in China are reported to have run out of power points that are used to supply electricity to reefer containers, jeopardizing perishable cargo.
Port Rollovers:
Overall rollover levels increased to 37% month on month in December, averaged across the ports surveyed, which includes facilities in all the major cargo regions of Europe, the US, and Asia as well as less cargo intensive regions such as Latin America. However, Latin America accounts for a significant proportion of the reefer trade with the US, Asia, and Europe.
While rollover levels can vary considerably from 62% in Italy's Gioia Tauro, now owned and operated by MSC, to just 22% in Salalah in the Middle East, it is worth noting that Shanghai's 37% rollover level is likely considerably higher in actual container numbers than Cartagena's 56% rollover rate.
Meanwhile, the extra loader policy, seen in South Korea's Busan Port, which saw a 4% reduction in its rollover levels in November, has, for the most part, lost those gains with a 3% increase in December.
"This indicates that the levels of cargo are still rising while the extra loader capacity which has been deployed to meet the raised levels of demand appears to be having little effect," explained Mr Brazil.
Unsurprisingly, the major ocean shipping companies have also seen an overall increase in rollover values from 35% in November to 37% in December. Three of these lines saw more than 50% of cargo left at the departure port.
Alliance partners MSC and Maersk managed to stem the rise of rollover cargo month on month, both recording the same level of rollovers in December as in the previous month.
The one statistical outlier in the pack is the South Korean carrier HMM, which joined the THE Alliance in April and managed to limit its rollover cargoes to less than 30% in all but two of the subsequent months; until December when the previous month's figure of 23% more than doubled as the carrier saw a 26% increase in cargo rollover, reaching 49% for December.
About Ocean Insights
Connecting all the dots in ocean freight is not easy. Data is often unavailable and rarely comparable. Ocean Insights' consolidates and evaluates container shipping data from multiple sources to help logistics teams all around the globe stay on top of their shipping operations – whether for day-to-day business or strategic decisions. To learn more about Ocean Insights, visit: HERE
Added 20 January 2021
♦♦♦♦♦♦♦♦♦
News continues below
NEW BOOKS:
The Eastern Fleet and the Indian Ocean, 1942–1944: The Fleet that Had to Hide
by Charles Stephenson
This is new hardback from Pen & Sword Maritime at 327 pages with 20 black and white illustrations, 15 maps, is priced at £17.50. ISBN: 978 1 52678 361 5. For orders see: www.pen-and-sword.co.uk
The story of the British Eastern Fleet, which operated in the Indian Ocean against Japan, has rarely been told. It was the largest fleet deployed by the Royal Navy before 1945 and played a vital part in the theatre. Charles Stephenson's well-researched and absorbing narrative gives this forgotten fleet the recognition it deserves over fifteen chapters many of which include valuable eye-witness reports.
It never ceases to amaze that two generations after the war authors are still researching the conflict and finding untouched or little-known material and much of this will be found in more than 70 pages of notes, including bibliography, relative to the 15 chapters. Pen & Sword are one of the prime deliverers of naval, military and transport history.
Before the Second World War the Indian Ocean provided important steamship routes linking European states with their colonial territories in East and Southern Africa, the Arabian Peninsula, British India, Indo-China, the East Indies (now Indonesia) and Australia and New Zealand.
In these waters the naval presence was dominated by the Royal Navy Eastern Fleet and the Royal Australian Navy as well as the Royal Netherlands Navy operating in the Dutch East Indies. There was also a Red Sea Flotilla of the Italian Regia Marina operating from Massawa.
Axis naval forces disrupted Allied trade in the Indian Ocean. We have to remember that from the fall of France until well into 1943 the Cape was the route to Egypt and India as well as for cargoes to Russia via the Persian Gulf. German and Japanese anti-shipping measures included unrestricted submarine warfare and surface raiders to which were added airstrikes by the Imperial Japanese Navy.
Stephenson writes well on British pre-war naval planning. That for the Far East is part of the story, as is the disastrous loss of HMS Prince of Wales and HMS Repulse in 1941. It is little known that in the early 1920s there was a British Aviation Mission to the Imperial Japanese Navy and early in the book Stephenson delivers a question: how far did the transfer of Royal Navy technology and expertise to the Imperial Japanese Navy, whether acquired by espionage or legitimately, go in making the formidable force it was in relation to the former in 1942?
The body of the book focuses on the new fleet commanded by Admiral Sir James Somerville, based on Trincomalee and later Addu Atoll in the Maldives and operations against the Imperial Japanese Navy. There was also the invasion of Madagascar, Operation Ironclad, at the time the island was under Vichy control and had to be denied it to the Japanese. The Eastern Fleet eventually became the maritime component of South East Asia Command (SEAC) and in turn the British Pacific Fleet.
One of the book's strengths is its selection of maps and the quality of its cartography by 'CHB', believed to be Charles Blackwood. Some of these I flag up here: Mers-el-Kebir in Algeria and Dakar in Senegal where attacks were mounted to neutralise French naval power following the Franco-German armistice of 22 June 1040; Taranto where: 'twenty aircraft had inflicted more damage upon the Italian Fleet than was inflicted upon the German High Sea Fleet in the daylight action at the Battle of Jutland.'
The Indian Ocean is shown to illustrate the extent of the theatre and to indicate how important these waters were to the British war effort with its vital sea routes. Addu Atoll is shown. This of personal interest as it was for many years until the 1970s a warship bunkering base and an airfield on the RAF's route to Singapore. The atoll was selected as a fleet anchorage in 1941. Japan's sphere of occupation is shown over the waters from Burma, east to the Solomons then north to the Aleutians, 200,000 square miles.
Somerville's strategic operations against occupied targets enabled the Eastern Fleet to be trained up for modern carrier warfare which certainly was of value when it joined the war in the Pacific. Each map is well-provided for with highly informative captions, a welcome sight.
By 1945 Allied focus was on amphibious operations along the Burma coast of the Andaman Sea. At the same time Axis submarine operations were restricted by fuel shortage and maintenance difficulties.
Charles Stephenson is an established author on naval and siege warfare and the history of fortifications with the following books in print: The Fortifications of Malta 1530-1945; Zeppelins: German Airships 1900-40; The Channel Islands 1941-45: Hitler's Impregnable Fortress; The Admiral's Secret Weapon: Lord Dundonald and the Origins of Chemical Warfare; Germany's Asia-Pacific Empire: Colonialism and Naval Policy, 1885-1914 and The Siege of Tsingtau: The German-Japanese War 1914.
Reviewed by Paul Ridgway
London.
Added 20 January 2021
♦♦♦♦♦♦♦♦♦
News continues below
ONE ADDS HAMBURG & ANTWERP TO STRENGTHEN WEST AFRICA SERVICE –
African Rainbow Shuttle (ARS)
Ocean Network Express (ONE)

has announced the strengthening of its current Europe-West Africa services by adding Hamburg and Antwerp port call options to the African Rainbow Shuttle (ARS).

This alternative plan to the previously announced EWX service provides ONE's customers a weekly direct sailing between North Europe and West Africa with fast, reliable, and competitive transit times.
Port Rotation
The strengthened service will come into effect from 8 February 2021 with the following rotation:
Antwerp – Hamburg – Tangier – Tema – Abidjan – Tangier – Antwerp
Other West African ports such as Dakar, Lagos, Cotonou, etc will be served by transshipment at Tangier offering improved transit times, says ONE.
The enhancement of the ARS service provides ONE's customers an alternative solution to the EWX service connecting West Africa with North Europe, the Mediterranean, North America, and Asia.
Added 20 January 2021
♦♦♦♦♦♦♦♦♦
News continues below
UN ISSUES JOINT STATEMENT ON MOZAMBIQUE SECURITY CRISIS
by United Nations Regional Directors for Southern and Eastern Africa
The United Nations said today (Wednesday 20 January 2021) it is deeply concerned by the worsening humanitarian crisis and escalating violence forcing thousands to flee in Cabo Delgado province.
Escalating conflict and a deteriorating humanitarian situation in Cabo Delgado has left communities completely reliant on humanitarian assistance. According to the Mozambique Government, attacks by non-state groups have forced more than 565,000 people to flee their homes and villages, abandoning their crops and livelihoods.
Last December, the United Nations Regional Directors for Eastern and Southern Africa visited Mozambique to assess the plight and needs of displaced populations as well as of host communities in northern Cabo Delgado province, and met government officials in Maputo.
They expressed their deep concerns about the unfolding humanitarian situation in Cabo Delgado where violence has exposed people to human rights violations and left people with very limited access to food and livelihoods. The growing insecurity and poor infrastructure have meant that reaching out to people in need has become harder and coupled with the fallout of the COVID-19 pandemic, the crisis has become even more complex.
"We need to urgently increase our presence in Cabo Delgado in order to help those in need, especially women and children," said Lola Castro, WFP Regional Director for southern Africa.
The joint mission with Regional Directors of FAO, IFAD, IOM, UNFPA, UNHCR and WFP, as well as by the UNDP Resilience Hub Manager and members of the UN Country Team, allowed participants to witness firsthand the impact of continuing violence in Cabo Delgado and to show support for affected communities and the Mozambican people.
They heard extremely moving accounts from displaced men, women and children in the port city of Pemba, the capital of Cabo Delgado, and in the districts of Ancuabe and Chiúre, whose lives have been upended by conflict and insecurity. They also met communities accommodating the displaced, visited planned resettlement areas and held discussions with the provincial governor and Secretary of State, as well as with religious leaders and representatives of civic organisations.
The crisis in the north of the country is a complex security, human rights, humanitarian and development emergency, underscoring the imperative of continuing to provide life-saving assistance while collectively supporting government-led long-term resilience building.
While acknowledging that much has been done to help victims of the crisis, the Regional Directors stressed that with displacement increasing daily, the lack of adequate food, water, sanitation, shelter, health, protection and education was exacerbating an already dire situation – one set to be further compounded by the imminent rainy season in a country particularly prone to climate extremes, as cyclones Idai and Kenneth devastatingly illustrated in 2019.
Most recently, tropical storm Chalane, which hit the same populations last December, as cyclone Idai did less than two years ago, was a harsh reminder of the climate threat Mozambicans are facing and of the urgency to massively scale up investments in recovery and resilience.
With COVID-19 keeping most schools closed, the importance of robust investment in education to build Mozambique's social and human capital is a growing concern.
There is an urgent need to expand protection, health, food and nutrition programmes for vulnerable children and women, and vaccination and immunization interventions and psychosocial counselling, and of working to enable displaced farming and fishing families re-establish sustainable livelihoods.
The Regional Directors urged support for the adequate resettlement of uprooted families straining the already limited resources of impoverished host communities and slowing government efforts to effectively register and assist the displaced.
They noted that urgent investments in development and resilience-building are required to not only promote human rights and social justice, but also to limit the impact of current crises and help prevent future ones.
To curb violent extremism, they called for development initiatives to be transnational in approach and to prioritise the economic empowerment and social and political inclusion of women and young people.
They urged the Government of Mozambique and the international community to step up efforts to end all forms of violence in the country, including gender-based violence and child marriage, and to invest more in women and girls as agents of progress and change.
The Regional Directors expressed gratitude to the government for its role in helping to meet the humanitarian needs of people in the north of the country and re-affirmed the commitment of the United Nations to upholding human rights and promoting peace and sustainable development for all Mozambicans.
Ironically, the province of Cabo Delgado holds the best economic promise for the welfare and economic status of Mozambique, with what is claimed to be the world's largest LNG resources in the waters immediately offshore. Two major oil companies, ENI and Total are leading the consortiums that aim to exploit this new wealth for the country.
Link to the recording of Today's virtual media briefing (20 January 2021) which may be accessed here (Skip the first 4:45 minutes as the organisers set up the virtual meeting):
CLICK HERE for virtual meeting
Refer also to report dated 19 January announcing today's virtual UN meeting – CLICK HERE
Added 20 January 2021
♦♦♦♦♦♦♦♦♦
News continues below
CMA CGM ANNOUNCES NEW ROTATION FOR WEST AFRICA-SOUTH AMERICA SERVICE
French container carrier CMA CGM has announced a new rotation for its SAMWAF (South America-West Africa) service.
With effect from the end of January 2021, the SAMWAF service will call at Tema, Ghana instead of Pointe Noire, thus offering a direct call to one of the trade's main markets in West Africa.
The new rotation in 49 days commences with the vessel GH LESTE on voyage 04K83E1MA, ETA Paranaguá on 25 January 2021.
Rotation
Paranaguá ─ Itajai ─ Santos Brazil ─ Santos DPW ─ Durban ─ Cape Town ─ Luanda ─ Tema MPS ─ Paranaguá.
Other terminals of the rotation will remain unchanged with the new service improving the transit time to Ghana by 10 days (33 days from Santos).
Pointe Noire transshipment
Following the removal of the Pointe Noire call from the SAMWAF rotation, Pointe Noire is offered in transshipment via Cape Town.
Benin and Nigeria will be offered via Tema.
Douala, Matadi, Libreville and Cabinda will be offered via Luanda
Added 20 January 2021
♦♦♦♦♦♦♦♦♦
News continues below
WHARF TALK: SA Port Statistics for December 2020 are now available here
Port statistics for the month of
December 2020

, covering the eight commercial ports under the administration of Transnet National Ports Authority, are now available.

Details of the port throughputs, ships berthed and motor vehicle and container volumes handled can be seen in the tables below.

Statistics involving motor vehicles are measured in vehicle units. These include imports and exports, earth-moving and other ro-ro or wheeled vehicles each qualifying as a single unit.

With 2020 now complete, can we anticipate a more successful year for 2021 with strong performances in all sectors? The jury remains out on this but hopefully some valuable lessons were learnt during those lockdown days of 2020, when, it is suggested, South Africa over-reacted to the pressure of closing down business and social activities.

For comparison with the equivalent month of the previous year, December 2019 CLICK HERE

These statistic reports on Africa PORTS & SHIPS are arrived at using an adjustment on the overall tonnage compared to those kindly provided by TNPA and include containers recorded by weight; an adjustment necessary because TNPA measures containers by the number of TEUs and does not reflect the weight which unfortunately undervalues the ports.

To arrive at such a calculation,  Africa PORTS & SHIPS uses an average of 13.5 tonnes per TEU, which probably does involve some under-reporting.  Africa PORTS & SHIPS  will continue to emphasise this distinction, without which South African ports would be seriously under-reported internationally and locally.

Port Statistics continue below
Figures for the respective ports during December 2020 are:
Cargo handled by tonnes during December 2020, including containers by weight
| | |
| --- | --- |
| PORT | December 2020 million tonnes |
| Richards Bay | 7.914 |
| Durban | 6.056 |
| Saldanha Bay | 6.713 |
| Cape Town | 1.232 |
| Port Elizabeth | 0.935 |
| Ngqura | 0.914 |
| Mossel Bay | 0.059 |
| East London | -0.115 |
| | |
| Total all ports | 23.936 million tonnes |
CONTAINERS (measured by TEUs) during December 2020
(TEUs include Deepsea, Coastal, Transship and empty containers all subject to being invoiced by NPA
| | |
| --- | --- |
| PORT | December 2020 TEUs |
| Durban | 233,955 |
| Cape Town | 62,773 |
| Port Elizabeth | 7,514 |
| Ngqura | 48,086 |
| East London | 1,332 |
| Richards Bay | -162 |
| | |
| | |
| Total all ports | 353,488 TEU |
MOTOR VEHICLES RO-RO TRAFFIC (measured by Units- CEUs) during December 2020
| | |
| --- | --- |
| PORT | December 2020 CEUs |
| Durban | 29,497 |
| Cape Town | 6 |
| Port Elizabeth | 9,481 |
| East London | 3,280 |
| Richards Bay | 5 |
| | |
| | |
| Total all ports | 42,269 CEU |
SHIP CALLS for December 2020
| | | |
| --- | --- | --- |
| PORT | December 2020 vessels | gross tons |
| Durban | 215 | 8,010,017 |
| Cape Town | 132 | 3,198,375 |
| Richards Bay | 143 | 5,819,293 |
| Port Elizabeth | 53 | 1,681,692 |
| Saldanha Bay | 53 | 3,823,622 |
| Ngqura | 46 | 2,421,417 |
| East London | 15 | 516,847 |
| Mossel Bay | 19 | 131,600 |
| | | |
| Total ship calls | 676 | 25,602,863 |
— source TNPA, with adjustments regarding container weights by AP&S
Added 19 January 2021
♦♦♦♦♦♦♦♦♦
News continues below
IMO at work around Africa: Cameroon, Mediterranean, MENA
Maintaining connectivity during the pandemic
The COVID-19 pandemic has created important challenges in terms of coordinating work on safety and security within the Central and West African common maritime space. To address this, IMO helped set up a new video conferencing service for the Interregional Coordination Centre (ICC) in Yaoundé, Cameroon.
The new system, fully installed since 18 December, allows regional stakeholders to continue their activities using web-based interactive video and maintain connectivity with partners in the region. This will enable the ICC to continue its work on the sustainable implementation of the Yaoundé Code of Conduct (YCOC)*.
The Code's primary objective is to manage and reduce adverse impacts derived from piracy, armed robbery against ships and other illicit maritime activities, such as illegal, unreported and unregulated (IUU) fishing.
The new equipment was purchased by IMO and partly funded with contributions from the United Kingdom and the West and Central Africa Maritime Security Trust Fund. Progress here was reported by IMO on 23 December.
Keyworker seafarers: regional webinar for Arab States and the Mediterranean
On 22 December IMO reported the latest regional webinar focusing on the crew change crisis had been held for the Arab States and Mediterranean. The virtual meeting was addressed by eight panellists drawn from across the maritime industry with the aim to share and identify best practices for universal application.
Member States from the region and other relevant government agencies and stakeholders involved in crew changes participated in the regional webinar.
IMO's representatives highlighted the latest developments, including the UN General Assembly resolution calling on countries to designate seafarers as key workers (to read more see here **) and the published list of countries which have made this designation (again, see here ***).
Other speakers emphasised the need for the whole of government approach in addressing the issues related to crew change and repatriation. All stakeholders including diplomatic missions were urged to cooperate and collaborate.
Edited by Paul Ridgway
London
Based on material kindly provided by the IMO Media service
* Maritime Security and Piracy (imo.org)<br<
** Regional webinars: addressing challenges faced by seafarers in COVID-19 pandemic (imo.org)
*** WhatsNewNews (imo.org)
Added 19 January 2021
♦♦♦♦♦♦♦♦♦
News continues below
IN CONVERSATION: SOUTH AFRICA FAILED TO GET ITS ACT TOGETHER ON VACCINES:  HERE'S HOW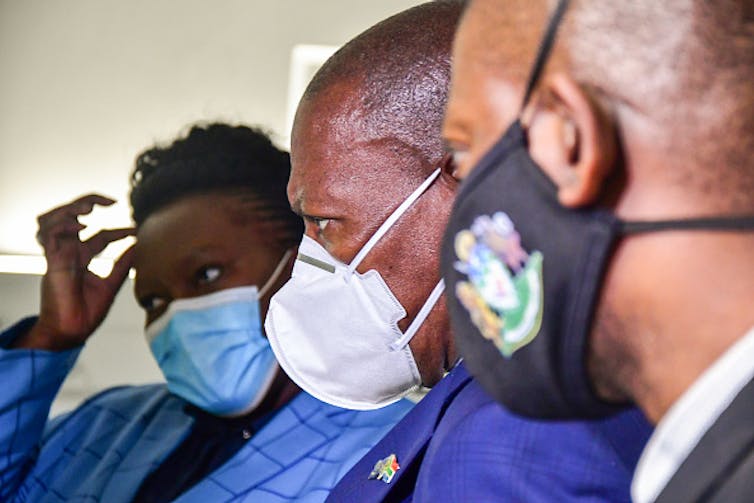 South Africa's Minister of Health, Dr Zweli Mkhize (centre). The government has been criticised for not having an actionable plan on vaccines.  Photo by Darren Stewart/Gallo Images via Getty Images
South Africa has an estimated population approaching 60 million. To achieve herd immunity against COVID-19, the government recently set the ambitious goal of vaccinating 67% of the population – roughly 40 million people. According to the outline of this plan, this would be achieved within 2021.
But is this ambitious target even feasible?
In my view the proposed COVID-19 strategy is not a strategy, but rather an aspirational goal. And an unrealistic one at that.
The elephant in the room is that the government has set a target of immunising two thirds of the population but it hasn't as yet secured the 80 million doses this would require.
This is what we know. South Africa had committed to purchasing enough vaccines for up to about 10% of the population through the COVAX facility – roughly 12 million doses. The facility is a global collaboration for speeding up the development, manufacture and "equitable" distribution of new vaccines. These vaccines are likely to become available from February onward and spread out over the course of the next few months.
The Department of Health has also indicated that 20 million doses of vaccine will likely be received by the end of June or July. As such, it appears that the government has been successful in procuring an additional 6.5 million over and above vaccines from the COVAX facility, and procured about 1.5 million doses from the Serum Institute of India (SII), which is producing the Astra Zeneca vaccine. The initial 1.5 million vaccines from SII have been earmarked for the immunisation of health care workers during the first phase of the COVID vaccine rollout.
But there's a lot that remains unclear. For example how will the jabs for 1.2 million workers in health facilities be covered given that the 1.5 million doses assigned can only reach 750,000 of them. This means that there would need to be some prioritisation of which staff to vaccinate in health facilities.
So aside from the reality that the country doesn't actually yet have the 80 million doses of vaccine required for 40 million people, there's been very little planning that's gone into how these vaccines are going to be deployed. This has become clear over the past four weeks as government has come under attack for not having a plan.
It appears that government put all its eggs in a single basket and decided to only focus on procuring vaccine through COVAX facility, and only started engaging in meaningful bilateral discussions with manufacturers over the past few weeks.
The Department of Health has now set up a task team to look at operational issues. A good place for this team to start would be to run a reality check in order to set more achievable targets and timelines. The team must also begin to broaden its approach to tap the potential of the private sector and civil society to deploy the vaccine.
Reality check
The government envisages three phases of immunisation. The first targets healthcare workers. The second would expand the rollout to essential workers – people involved in managing disasters such as fire fighters – individuals over 60 years and people with co-morbidities who are at particularly higher risk than most. In total 16.5 million people are targeted in this phase.
In the third phase, the general population older than 18 years would be the target – a total of 22.5 million people.
This is easier said than done. Health care workers are relatively easy to reach. But I'm not convinced that the logistics are in place to be able to reach out substantially – even just to individuals over the age of 65 and those with co-morbidities. Without proper planning, vaccines end up being stuck in depots simply because the logistics haven't been dealt with in terms of how to deploy them.
Even assuming that government procures 80 million doses of vaccine for the 40 million targeted, these are unlikely to become available in substantial quantities until April. And assuming the government started vaccinating people from April 1, 150,000 people would have to get the jab each day, seven days a week, for the first month. And after that, that number would have to climb to 300,000 people each and every day right through to the end of 31st of December 2021 as most vaccines would require a two dose schedule.
No country other than Israel has come close to 150,000 jabs per day, let alone 300,000. Even countries such as the UK and the US have been struggling to vaccinate even up to 50,000 per day.
Furthermore, since none of the COVID-19 vaccines are authorised for use in children under 16 years of age, who make up about 30% of South African population, the target of vaccinating 40 million South Africans would require immunisation of close to 95% of all adults in South Africa. Considering that a recent Ipsos poll of South African adults indicated that only about 53% of adults would be willing to be vaccinated – and it's unlikely COVID-19 vaccination would be made mandatory – the aspiration of immunising 40 million South Africans by the end of 2021 is unlikely to materialise.
A more realistic target is vaccinating about one third of the population. This is roughly two thirds of the adult population, but not two thirds of the South African population. But even for that to work, there would need to be decentralisation in terms of roles and responsibilities. If the country depends solely on public sector control in the distribution of COVID-19 vaccines, it will fail dismally.
For this reason, it's critical that the private sector takes a leadership role at the point of delivery. When it comes to the deployment of vaccines, the private sector with general practitioners and numerous number of pharmacies have got much better outreach in terms of being accessible to South Africans, than public health clinics.
The private sector – be it large pharmacies or general practitioners – need to show social solidarity. They should, for example, guarantee that anyone can walk in and be immunised without having to pay. Without this there will be inequity.
What went wrong
The current muddle stems from two mistakes over the past year. The first was government's decision to pursue – exclusively – vaccine access through the COVAX facility. COVAX was set up to ensure that countries can get enough vaccine for at least 20% of the population. The pricing mechanism built into the equitable access facility meant that bigger economies would pay a premium to subsidise poor economies.
---


Read more:
Dummy's guide to how trade rules affect access to COVID-19 vaccines


---
South Africa found itself having to pay $12-$13 per dose as an upper middle income country to participate in the COVAX facility. That is more than three times the cost of procuring the vaccine directly from AstraZeneca (or Serum Institute of India) at the prevailing price of $3 per dose.
Participation in the COVAX facility expresses social solidarity with less resourced countries whose per unit cost is cross-subsidised by wealthier countries and philanthrophic organisations. But the initiative is largely agnostic to the realities of the dire straits of South Africa's economy.
The second mistake is that government compounded the problem by not timeously engaging in bilateral agreements directly with manufacturers through an advanced market commitment mechanism. Many other countries, including middle income countries, did this as soon as vaccines went into phase two and three trials.
It's only recently – after the public uproar – that government appears to have been activated to engage in substantive bilateral discussions. The problem is that it's too little too late. Many of the vaccines, which have been authorised for use in North America and Europe, to be produced over the next 6 months are already earmarked to other countries that made prior commitments.
As a result, South Africa will probably experience another one to two resurgences of COVID-19, before a substantial proportion of the population will have been immunised.

Shabir A. Madhi, Professor of Vaccinology and Director of the SAMRC Vaccines and Infectious Diseases Analytical Research Unit, University of the Witwatersrand
This article is republished from

The Conversation

under a Creative Commons license. Read the

original article.
Added in the public interest 19 January 2021
♦♦♦♦♦♦♦♦♦
News continues below
TOTAL PULLS OUT OF LNG SITE IN NORTHERN MOZAMBIQUE
UN declares concern at deteriorating situation as 565,000 people are displaced
The security concerns in Mozambique's Cabo Delgado province took a new turn this week with news that foreign staff based at the Total liquid Natural Gas (LNG) gasification plant under construction on the Afungi peninsular of northern Mozambique, have been evacuated from the country, while all local personnel have been ordered to remain at home.
Following a series of attacks by an Islamist group of terrorists operating in the region since October 2017, all Total foreign staff have been airlifted from a local airstrip built to service the site.
<p.
A number of these workers are South Africans who have now returned home. All construction at the massive site on the coast has ceased.
Total, which acquired the LNG gasification extraction and conversion facility from US company Anadarko, has its factory site placed on the coast, as compared with Italian company ENI which chose instead to conduct all its operations offshore with the FLNG CORAL SUL, now nearing completion in South Korea.
The drastic move by the French company Total follows a series of deadly attacks on local inhabitants and Mozambique security installations throughout much of the northern province. The coastal port town of Mocimboa da Praia to the south of the Total site remains in the hands of the terrorists, or at least is out of bounds to government forces.
UN voices concern over deteriorating security position
The United Nations Regional Directors for Southern and Eastern Africa are among those to have raised their concerns over the deteriorating security conditions in Cabo Delgado province which has seen escalating violence and the displacement of more than 565,000 people from the region.
The UN body will address the media tomorrow (20 January 2021) at a virtual conference. This follows the regional directors having recently concluded a joint mission to assess the plight of displaced people and host communities in the conflict-affected Cabo Delgado province.
The mission met with internally displaced people who have been victims of attacks, continue facing insecurity and have lost everything – including their agricultural land, livelihoods and homes. With limited supplies reaching markets, the cost of food and household items has skyrocketed.
As displacement numbers increase daily, the lack of security, adequate food, water, sanitation, shelter, health, protection and education is exacerbating an already dire situation, says the UN organization.
The media conference will be held by Zoom starting at 10h00 SAST. Webinar registration is available by CLICKING HERE
Added 19 January 2021
♦♦♦♦♦♦♦♦♦
News continues below
CYCLONE ELOISE STRIKES MADAGASCAR, THREATENS MOZAMBIQUE & NORTHERN KZN
Fears are being raised that Cyclone Eloise, which had reached the northern coast of Madagascar by this morning (Tuesday 19 January 2021), was likely to extend its fury over large swathes of Mozambique and reaching as far south possibly as the northern KZN coast and inland areas.
The storm developed into a tropical cyclone over the mid-Indian Ocean region reaching the north section of Madagascar this morning (Tuesday 19 January 2021). If the storm's current tracking continues Cyclone Eloise will weaken slightly as it extends overland across the northern tip of Madagascar, before entering the Mozambique Channel by Thursday this week (21 January) and further intensifying in strength.
The southern parts of Madagascar will possibly be affected by Saturday (23 January) this week.
Until now the storm has been classified a moderate tropical storm but with the storm 12S (Eloise) now reaching Madagascar, this is expected to reach a full cyclone definition.
Should the cyclone reach into northern KZN to the south the small inland kingdom of Eswatini is also likely to be affected, at least across the lowlands in the east.
Tropical storms (cyclones) seldom reach as far south as the South African coast – the last time this occurred was with Cyclone Irina in 2011/12.
The southwestward tracking of the storm across Mozambique and towards South Africa is only one possible outcome – another possible result is for the storm to remain more northerly and to make landfall near Beira, which was the area severely struck by the world's second-deadliest Southern Hemisphere storm, Cyclone Idai, in March 2019.
Current position
The current position of Cyclone Eloise at 09h00 this morning, 19 January 2021, was at 14.5S 51.7E and moving southwest at 4 knots. Winds were then at 50 knots gusting to 65 knots. Warm seas of 29-30 degrees Celsius are adding to the storm's potential strength.
The warm waters of the Mozambique Channel are expected to enable TC12S Eloise to recover any strength lost overland of Madagascar before the storm enters the Mozambique coast, with the storm winds reaching 70 knots immediately prior to reaching the African coast near Maxixe, the capital town of Inhambane in southern Mozambique. sources: JTWC Naval Oceanography Portal, Cyclocane.com
Added 19 January 2021
♦♦♦♦♦♦♦♦♦
News continues below
FAMOUS BRAND MANICA DISAPPEARS AS CMA CGM's CEVA TAKES OVER
CEVA Logistics rebrands AMI Worldwide and MANICA as Africa acquisitions take the corporate identity
* From 1 January 2021, AMI Worldwide and MANICA become CEVA Logistics
* In Zimbabwe and Malawi, MANICA will become CEVA Logistics in January 2022
* CEVA commits to becoming a leading player in Africa
CEVA Logistics has completed the rebranding of the African acquisitions it made in the summer of 2020.
With effect from January 2021, AMI and MANICA will be fully branded as CEVA Logistics. Except for MANICA in Zimbabwe, Malawi and the borders, which will be branded MANICA a company of CEVA Logistics through until 1 January 2022.
Rebranding task is completed
Calling it a part of CEVA Logistics strategic plan to become a leading, continent-wide market player, the company made an important acquisition in June 2020 by taking a majority stake in AMI Worldwide and its brands AMI and MANICA.
Since then, teams in all locations have focused on rebranding facilities, equipment, IT and business development materials.
According to CEVA Logistics that task is now complete and effective from 1 January 2021.
All locations in Kenya, Uganda, Tanzania, Rwanda, Burundi, Mozambique, Botswana and Zambia will progressively be branded as CEVA Logistics. In Zimbabwe and Malawi the rebranding will take an additional year for completion.
From 1 January 2021, 'MANICA a company of CEVA Logistics' is being used in the two countries.
Other facilities also now branded CEVA Logistics:
* Three CCIS facilities which joined the CEVA Logistics network in Mali, Burkina Faso and Ivory Coast will also be branded CEVA Logistics.
* Four new CEVA Logistics operations have been established in Mauritania, Senegal, Benin and Cameroon under the company's own identity.
Direct African network is now branded CEVA Logistics
CEVA Logistics' network consists of 42 countries in Africa and is now branded in 21 countries. All 1,300 employees of the acquisitions have joined the CEVA Logistics global network with what CEVA Logistics refers to as the objective of offering' customers a seamless network, facilitating cargo movement within Africa and strengthening trade ties with the rest of the world.
The expanded African network maintains its close relationship with CEVA's parent company, the CMA CGM Group, which enjoys a historically strong continental presence in the continent of Africa.
"Customers will see a seamless transition as the locations become fully part of the CEVA Logistics network in Africa," says CEVA Logistics' Bruno Plantaz, Managing Director India, Middle East and Africa.
From the start of the New Year we will be further facilitating cargo movement within Africa and strengthening trade ties with the rest of the world, all under the CEVA Logistics brand. Our customers will recognise our strong global network alongside our best-in-class services and unmatched expertise."
Added 18 January 2021
♦♦♦♦♦♦♦♦♦
News continues below
SAMSA ISSUES WARNING OF HARMFUL SUBSTANCES SPILLED AT SEA
The South African Maritime Safety Authority (SAMSA) has issued a warning notice regarding the reporting of discharging of harmful substances at sea.
According to the SAMSA Marine Notice No.55 of 2020, "seafarers sailing their ships or manning installations across South Africa's vast three oceans at the tip of the African continent could face fines of up to R25,000, six months in jail or both, should they fail to inform local authorities of such discharges as soon as it is practically possible."
According to SAMSA, should any harmful substance be discharged from a ship, tanker or offshore installation, the involved parties are legally obliged to immediately report the incident to local authorities.
These include SAMSA and the Department of Environment, Forestry and Fisheries and are in terms of the Marine Pollution (Control and Civil Liability) Act 6 of 1981.
The reporting also includes any damage to a vessel, a tanker or installation from which a discharge of harmful substances onto the ocean may occur. This is regardless of whether such discharge has not actually occurred.
According to the Marine Notice No.55 of 2020: "…When any harmful substance has been discharged from a ship, tanker or offshore installation the master of such ship, tanker or offshore installation, or any member of the crew of such ship or tanker or of the staff employed in connection with such offshore installation, designated by such master, shall forthwith by the quickest means of communication available report the fact that such discharge has taken place to the principal officer at the port in the Republic nearest to where such ship, tanker or offshore installation is.
"If, while it is within the prohibited area (EEZ – Exclusive Economic Zone), a ship or a tanker sustains any damage, whether to its hull, equipment or machinery, which causes, or creates the likelihood of a discharge of any harmful substance from such ship or tanker, or having sustained such damage, enters the prohibited area in such damaged condition, the master of such ship or tanker, or any member of its crew designated by the master, shall forthwith by the quickest means of communication available report to the principal officer at the port in the Republic nearest to where such ship or tanker then is the fact that such damage was sustained, the nature and location on the ship or tanker of the damage, the position at sea where the damage was sustained, the name of the ship or tanker, its port of registry, its official number, its position, its course and, if in the Republic, its destination, the quantity and type of harmful substances on board and, in the case of a tanker to which the provisions of section 13 apply, the particulars contained in the certificate."
The Notice continues: "SAMSA, DEFF (Department of Environmental, Forestry and Fisheries) and African Marine Solutions (Pty) Ltd AMSOL (the managers of the standby tug 'SA Amandla') are all concerned with the prevention, containment and cleaning up of oil spills at sea. These organisations should be informed as soon as possible whenever there is an oil spill or a threat of an oil spill. SANNCOB (The South African Foundation for the Conservation of Coastal Birds) is dedicated to seabird rehabilitation. SANPARKS (South African National Parks) is the body responsible for managing South Africa's National Park to develop, expand, manage and promote a system of sustainable National Parks."
Contact details of all the relevant authorities and contributors to combating of pollution, inclusive of SAMSA regional offices from Port Nolloth on the Atlantic Ocean to Richards Bay near the border of Mozambique on the Indian Ocean, are given in the notice, which is available HERE.
If anything, however, the penalties involved appear to be be light and understated. MN No.55 states: "If the master of a ship or a tanker fails to comply with the provisions…. such master shall be guilty of an offence. Any person convicted of an offence …. shall be liable to a fine not exceeding R25,000 or to imprisonment for a period not exceeding six months or to both such fine and such imprisonment.."
In such circumstances R25,000 might appear to be a slap on the wrist for any ship owner or operator!
Added 18 January 2021
♦♦♦♦♦♦♦♦♦
News continues below
IN CONVERSATION: Climate change: what would 4°C of global warming feel like?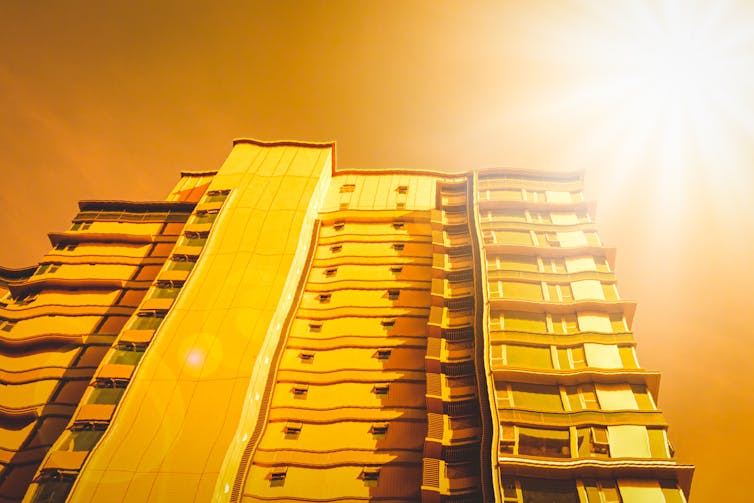 Another year, another climate record broken. Globally, 2020 tied with 2016 as the warmest year ever recorded. This was all the more remarkable given that cool conditions in the Pacific Ocean – known as La Niña – began to emerge in the second half of the year. The Earth's mean surface temperature in 2020 was 1.25°C above the global average between 1850 and 1900 – one data point maybe, but part of an unrelenting, upward trend that's largely driven by greenhouse gases from human activities.
Limiting the average global temperature increase to 1.5°C could help avoid some of the most harmful impacts of climate change. This target will feature prominently at the COP26 discussions, scheduled for Glasgow in November 2021. But whether the world warms by 1.5°C or 4°C, it won't translate into the same amount of warming for everyone. Previous research with climate models has shown that the Arctic, central Brazil, the Mediterranean basin, and the mainland US could warm by much more than the global average.
So what might that mean for you in the years and decades to come? Statistics for "global mean temperatures" and "regional hotspots" are abstract concepts – helpful for policymakers, but not something anyone can actually feel. What's more, temperature projections from global climate models are typically for wild or agricultural landscapes, averaged over tens to hundreds of square kilometres.
These projections are far removed from the conditions that will be encountered on city streets, inside workplaces, public spaces, and our homes. But these are the places where health, comfort and productivity will be decided during the more intense heatwaves that climate change will bring.
Feeling the heat
One way of bridging the gap between climate models and the real world is to draw on personal memories of past extreme heat. Stop to think about the highest temperatures you've ever experienced outdoors in the shade. For me, it was 43°C in a suburb of Melbourne, Australia. This felt hot but was much less than the highest temperature ever reliably recorded above ground – 54.4°C in Death Valley National Park, California, on August 16 2020.
How about the hottest you've ever felt indoors? If I ignore saunas, mine was inside a home in Accra, Ghana. The room had wooden walls, a metal roof, and no air conditioning. Here, the temperature reached 38°C. Even though this was lower than in Melbourne, with the poor ventilation and humid air, the heat felt stifling.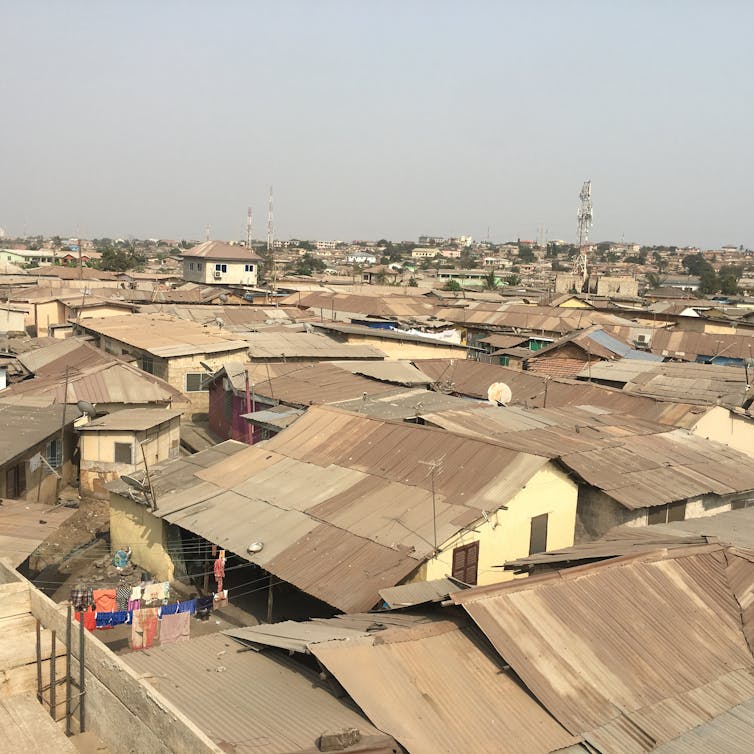 A neighbourhood in Accra, Ghana.   Robert Wilby, Author provided
The highest outdoor temperature ever measured in the UK was 38.7°C on July 25 2019 in the Cambridge University Botanic Garden. According to UK Met Office analyses, global temperatures that are 4°C above pre-industrial levels may be reached as soon as the 2060s. Climate projections at the postcode level suggest that 4°C of global warming could bring temperatures of 43°C to Cambridge. I can now recall what the suburb felt like in Australia, and understand that this could be Cambridge in 40 years' time.
But this projection for the hottest summer day for Cambridge in the 2060s involved tuning climate models with temperatures averaged from weather stations. These tend to be located away from artificial heat sources and often in areas with grass and vegetation. Asphalt surfaces and high-density city centres are typically several degrees warmer and behave very differently to rural weather stations.
Even when climate models simulate temperatures for urban areas, projections may be simplified in other ways. To produce monthly temperature averages, models might smooth out the peaks and troughs of individual days. Urban land may be fixed at its present extent and possible actions that cities might take to adapt to rising temperatures – such as more green spaces or reflective roofs – are ignored. Complex variations in temperature between streets are still not resolved either. This means that even state-of-the-art models probably underestimate the true severity of future warming in urban areas.
Bringing climate science indoors
We also spend much of our lives indoors so, if we really want to translate climate change into human experiences, we have to simulate conditions within homes and workplaces. To capture this "felt" temperature, the heat we experience, other factors have to be considered, such as humidity, ventilation, and heat radiating from hot surfaces, plus the metabolic rate of occupants and their clothing. An air temperature of 38°C is dangerous at 30% relative humidity but can be lethal at 80%. This is because high humidity reduces the effectiveness of sweating – our natural mechanism for keeping cool.
---


Read more:
Global warming now pushing heat into territory humans cannot tolerate


---
What might that room in Accra feel like with 4°C of global warming? Indoor conditions will track outdoor temperatures because the room has no air conditioning. Worldwide, more than one billion people live in similar conditions. Without any adaptations, high indoor temperatures with high humidity could become unbearable – even deadly – for millions.
Our research showed that an insulated ceiling beneath a metal roof could hold peak indoor temperatures at their current levels even if it gets 4°C warmer outside. Unfortunately, this modification would raise night temperatures, because heat that builds up inside during the day is less able to escape at night. Already, indoor temperatures may not fall below 30°C during some nights in Accra. There's a trade-off between lower indoor temperatures by day or by night, so affordable adaptations have to be tailored carefully to each home.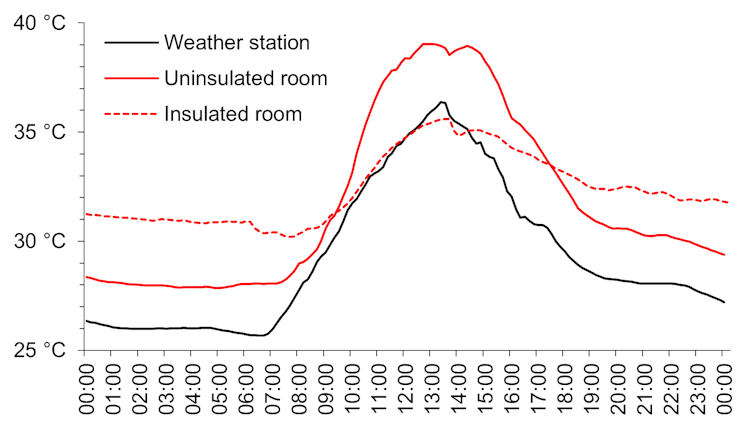 Without action, the number of unbearably hot homes is set to grow. By 2050, 68% of humanity may live in urban areas and populations in the tropics will be most exposed to extreme humid heat. We know surprisingly little about these front lines of climate change, especially within the streets and homes of low-income communities.
I will not forget that room in Accra, especially during the climate negotiations in Glasgow.

Robert Wilby, Professor of Hydroclimatic Modelling, Loughborough University
This article is republished from

The Conversation

under a Creative Commons license. Read the

original article.
Added 18 January 2021
♦♦♦♦♦♦♦♦♦
News continues below
Ports and shore side power – Video Conferencing
In December 2020 the Danish Maritime Authority co-hosted a digital conference on shore side power in the Baltic Sea, together with the Danish Ministry of Environment and the Council of the Baltic Sea States.
This digital event brought together over 100 participants with speakers from across the Baltic Sea Region, including non-EU members Russia and Norway, to discuss practical examples and the policy context of shore-side power facilities and how to ensure a transformation to a greener shipping and cruise industry in the Baltic Sea Region.
Among others, the list of speakers included Danish Minister of Environment, Mrs Lea Wermelin, who talked about the prospects for a green re-boot of the Baltic Sea Region post covid-19. She gave examples on the usage of shore side power for cruise lines and highlighted some of the recently adopted key political initiatives to promote increased investment in shore side power.
The conference concluded, that:
* Shore power is a sound business for ports and ship owners.
* Scale is needed for shore power to reach its potential.
* Financing shore power facilities is possible through the EU.
* Ports play a critical role in making the Baltic Sea Region a model region for sustainable solutions in shipping.
* Political support for a more sustainable maritime business model is in place.
The conference was organised by the Danish Maritime Authority in its capacity as former chair of the Expert Group on Sustainable Maritime Economy under the Council of the Baltic Sea States (CBSS) and its work with Clean Shipping under the EU Strategy for the Baltic Sea States, the Danish Ministry of Environment and the secretariat for the CBSS.
Readers who may wish to read a short summary of the conference are invited to see HERE
And more background notes are available by CLICKING HERE
VIDEO CONFERENCING (recorded)
The conference was recorded and a video can be found HERE   [3:15:59]
Links to these documents and a Powerpoint presentation can be accessed through the DMA website www.dma.dk
Edited by Paul Ridgway
London
Added 18 January 2020
♦♦♦♦♦♦♦♦♦
News continues below
CMA CGM INTRODUCES NEW MEDWAX SERVICE LINKING EUROPE & WEST AFRICA:
Improvements to EURAF 3 and WAZZAN services
New MEDWAX service connecting Europe and West Africa
MEDWAX
French container line
CMA CGM

has introduced a new service connecting Europe and West Africa known as

MEDWAX service

to compliment the current existing 31 shipping services it provides to Sub-Saharan Africa.

Taking effect on 14 January 2021 at Algeciras with m/v Atlantic Discoverer, the MEDWAX service will offer a lean product and a weekly service from Worldwide to the Republic of Guinea and Ivory Coast through CMA CGM's operational Med hub.

Dakar will be offered to Exporters on a seasonal call basis to meet with the demand during the reefer season.

MEDWAX features include the following:

The service is fully operated by CMA CGM Group
Fleet deployment of 5 vessels of 2,500 TEU nominal capacity

The Port rotation is: Algeciras – Tangier – Conakry – San Pedro – Abidjan – Dakar seasonal call – Algeciras
Improved EURAF 3 and WAZZAN services:
In addition to the new MEDWAX service, CMA CGM has revealed the following improved services involving EURAF 3 and WAZZAN
EURAF 3
Dedicated to the North Range West Africa Market, with effect 16 January 2021 with the vessel m/v CMA CGM Fort Saint Louis EURAF 3 will feature the following port coverage: Tangier – Algeciras – Freetown – Monrovia – Banjul – Tangier
WAZZAN
Dedicated to the Mauritania and Dakar markets and effective from 12 January 2021 with the vessel m/v CMA CGM Homere, the WAZZAN service covers the following port rotation: Casablanca – Algeciras – Tangier – Nouakchott – Dakar – Nouadhibou – Las Palmas – Casablanca.
Added 18 January 2021
♦♦♦♦♦♦♦♦♦
News continues below
TRADE NEWS: ClassNK certifies 'Kawasaki Integrated Maritime Solutions'
First Innovation Endorsement for Products & Solutions
Tokyo – Leading Classification Society ClassNK certified 'Kawasaki Integrated Maritime Solutions', jointly developed by Kawasaki Kisen Kaisha, Ltd. ('K' LINE) and Kawasaki Heavy Industries Group, as its first Innovation Endorsement* for Products & Solutions, the Society's new certification service for innovative technologies.
In July 2020, to promote the spread and development of innovative technologies, the Society launched Innovation Endorsement as the swift certification service in cooperation with technological front runners to establish appropriate evaluation criteria. Among the certification categories, "Products & Solutions" covers digital equipment and software technology installed for use on vessels.
Read the rest of this report in the
TRADE NEWS

section available by CLICKING HERE
Added 18 January 2021
♦♦♦♦♦♦♦♦♦
News continues below
JAMAICA AND KENYA SIGN MoU
Reciprocal Recognition of STCW Certificates
Shortly before the year's end the Maritime Authority of Jamaica (MAJ) has signed a Memorandum of Understanding with the Republic of Kenya to enable reciprocal recognition of STCW certificates for seafarers for their nationals.
On behalf of the Jamaican Government, MAJ Director General, Rear Admiral (ret'd) Peter Brady, signed the MOU during a ceremony conducted online due to pandemic restrictions. Nancy Karigithu, the Principal Secretary in the Kenyan State Department of Shipping and Maritime, signed on behalf of the Republic of Kenya, accompanied by Robert Njue, the newly-appointed Director General of the Kenya Maritime Authority.
A unique undertaking
The agreement means that Jamaican seafarers will now be able to serve on Kenyan-flagged vessels, and vice-versa. This undertaking is unique in that it establishes a Joint Committee on Shipping and Maritime Affairs. The joint committee's mandate is not limited to the review of the implementation of the undertaking but extends to conducting joint studies in the field of maritime transport and facilitating discussions of maritime safety, security, education and training.
Describing the event as "symbolic of the relationship between our two countries", Admiral Brady said: "The Maritime Authority of Jamaica, and by extension the Government of Jamaica, is tremendously proud to participate in this official signing ceremony between the Republic of Kenya and Jamaica.
"This is a significant occasion for both our countries' seafarers and indeed our respective maritime parent bodies and Governments as we utilise the facility of the International Convention on Standards of Training, Certification and Watchkeeping for Seafarers to allow our professional mariners to legally work on board the ships that are flagged by our two countries.
"We are linked by our past and we are determined to move our economies into the future by building partnerships and leveraging the maritime opportunities that abound in the global sphere," he said.
Praising the "mutual benefits which will accrue under this arrangement", Mrs Karigithu said: "We truly appreciate that going forward, the citizens of our two great nations can draw benefits in terms of maritime education and job opportunities in the shipping industry, following the execution of the undertaking on the recognition and endorsement of certificates as prescribed under the International Convention on Standards of Training, Certification and Watchkeeping for Seafarers, 1978, as amended."
Jamaica is a signatory to numerous IMO Conventions, many of which are now enshrined in its Shipping Act and regulations made thereunder. One such Convention is the Standards of Training, Certification and Watchkeeping for Seafarers, 1978 as amended,( STCW Convention). This Convention establishes the minimum standards for the training and certification of seafarers who must meet the qualifications for operating international seagoing ships in the nautical and marine engineering departments of these ships.
Reciprocal provision
The Convention, through a reciprocal provision, affords the employment of nationals on any vessel which trades internationally and for countries to recognise the qualifications of other nations' seafarers whom they may employ on their respective ships. Jamaica now has undertakings for the recognition of certification under the Convention with nineteen countries including the United Kingdom. This allows its nationals, who have been awarded Certificates of Competency (COC) by the Maritime Authority of Jamaica, to work on the ships of these countries with whom it has a reciprocal arrangement, through the facility of the STCW Convention.
The Republic of Kenya, through the office of Ministry of Transport, Infrastructure, Housing Urban Development and Public works, State Department of Shipping and Maritime, Principal Secretary, requested to enter into a MOU with Jamaica to provide for reciprocal arrangements under the STCW Convention for their respective seafarers to work on board ships flagged by the two countries.
Admiral Brady commented: "We recognise that our seafarers must be trained and certified according to the standards laid down by the STCW Convention if international recognition is to be maintained. Our approved maritime institutions, represented here today by the Kenya Maritime Authority and the Caribbean Maritime University, and our administrations are recognised by the IMO's panel of competent persons and are on IMO's white list of countries which are deemed to give full and complete effect to the STCW Convention, as amended. This is very critical because internationally trading ships operate at global standards required by international rules and measures promulgated in treaties or conventions by the International Maritime Organization (IMO), and both our countries have acceded to the STCW Convention which has been enshrined in our respective domestic laws.
"I am proud to say, both Kenya and Jamaica proudly serve on the IMO governing body as Council members. This places an extra obligation on us to ensure that, among other areas of maritime safety and security and the observation of the highest marine environmental standards at sea, Kenyan and Jamaican seafarers who operate the ships which conduct global trade must also maintain their quality standards as highly trained seafarers with internationally recognized certificates of competence duly awarded by our respective Administrations.
"It is hoped that this Undertaking will serve to strengthen our maritime relationships that will redound to our two countries' economies and serve to build further cooperation in many other areas."
Edited by Paul Ridgway
London
♦♦♦♦♦♦♦♦♦
News continues below
New ISWAN research:
Highlights benefits of regular social interaction on board.
Common obstacles to be overcome

Regular social interaction on board benefits overall crew wellbeing, reduces isolation and stress and helps to build and motivate safe and efficient teams on board, new research shows.
Research findings by ISWAN* from Phase One of the Social Interaction Matters (SIM) Project were published on 5 January with the support of the (UK) Maritime and Coastguard Agency (MCA) and Red Ensign Group who sponsor the project.
Funding was administered through Trinity House, London.
Encouraging social interaction on board
The SIM Project was initiated with the primary objective of encouraging social interaction on board. This was achieved by conducting research that examined the relevant drivers and barriers to the promotion of social interaction and specific activities which seafarers around the world identified as helping to engage people. The project acknowledges the importance of crew coming together during their leisure time and the positive impact this has on wellbeing and operational efficiency and safety as a result.
Need for this project was recognised long before the widespread impact of the COVID-19 pandemic, but the consequential crew change crisis placed even more importance on the need for strong crew cohesion. Connecting with others and time for hobbies and recreational activities are fundamental to wellbeing but this is challenging for seafarers who live and work on board for many months. Extended time on board has exacerbated these existing challenges and emphasises the value of strong relationships on board now more than ever.
The project is divided into three phases with the report marking the end of Phase One.
Research consisted of a large survey of seafarers and other maritime stakeholders as well as ten in-depth telephone interviews.
Necessity of good leadership highlighted
Key research findings highlight the necessity of good leadership – which supports an inclusive and unifying on board culture – to encourage crew to interact comfortably together. Conversely, increased workloads and fatigue were identified as the biggest barriers to social interaction on board. Evidence also showed that many obstacles to social interaction are seen to impact on each other. For example, smaller crew sizes and increased workloads can lead to fatigue and isolation with seafarers simply not having enough energy to mix socially during their down time.
Dr Kate Pike, research lead and author of the report commented: "Although measures can be put in place to facilitate recreational gatherings on board, it is these fundamental issues that need to be addressed for a long-term impact to take effect. Social interaction on board has a unifying impact that promotes a happier, more motivated crew that can work more effectively and safely together."

Continuing project
The project is still continuing but the report details many important lessons for shipping companies and ship operators. For example, the research shows that crew differences including nationality, gender and age should be considered in the planning of social activities as these factors can influence recreational preferences. It is therefore important for ship management to consider what engages and brings people together and to adapt suitable activities to their own company requirements. The research provides numerous examples of such activities and these can be adapted to accommodate most vessel types, voyage patterns, nationalities, and time constraints.
Ensuring that crew engage socially, even for small amounts of time every day, is vital and should be a priority on every voyage, however long, it is stated.
Katy Ware, Director of Maritime Services, also co-chairs the Red Ensign Group Conference and is the UK's Permanent Representative to the IMO. She said: "Our seafarers provide a vital service, keeping the hearts of nations beating and we can't underestimate their role in our lives. They work in unique environments that can be both immensely rewarding and at times incredibly demanding on physical, mental and emotional health.
"The MCA works closely with seafarer charities and industry to understand the challenges faced by seafarers and to strive to make further improvements which could potentially have positive short and long-term impacts on the wellbeing of seafarers and is committed to spotting early signs of people who may require help as well as providing suitable support to ship owners, who owe their crew a duty of care under the Maritime Labour Convention."
Building on these findings, ISWAN is working with a number of shipping companies interested in strengthening crew cohesion on their vessels to trial social engagement initiatives on board.
This will form Phase Two of the SIM Project. Following this, Phase Three will use the data and feedback from the trials to develop guidance for shipping companies in the form of a toolkit to be shared publicly. The toolkit will document proven successes, recommendations and ways to overcome challenges to social interaction on board, all with the end goal of happier, healthier, safer and more engaged crews on board.
Caitlin Vaughan, ISWAN Project Manager, added: "We began this project at a difficult time for the industry so the widespread enthusiasm we have received from many different companies and seafarers about participating in the project is very encouraging. We are looking forward to building on the valuable findings in this research to ensure all companies recognise the importance of facilitating social interaction on board."
The full report is available for download CLICK HERE://
There is also a summary of the key findings.
For more information about the Social Interaction Matters (SIM) project and Phase One research findings readers are invited to contact Caitlin Vaughan via caitlin.vaughan@iswan.org.uk
* The Internatioal Seafarers' Welfare and Assistance Network
Edited by Paul Ridgway
London
Added 17 January 2021
♦♦♦♦♦♦♦♦♦
News continues below
IN CONVERSATION: South African astronomy has a long, rich history of discovery – and a promising future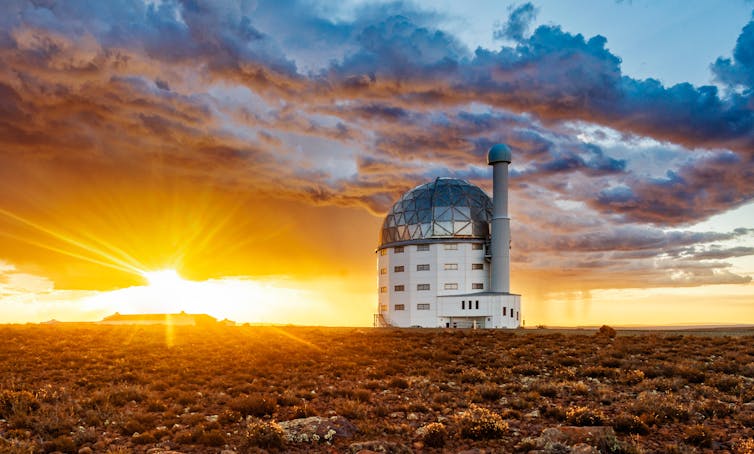 The South African Astronomical Observatory in Cape Town is the oldest permanent observatory in the southern hemisphere: it turned 200 in 2020.
This observatory is a fundamental part of South Africa's long history of astronomical research, which began when French academic Nicolas-Louis de La Caille visited Cape Town from 1751 to 1753. He undertook a careful examination of every square degree of the southern sky. This resulted in the first comprehensive sky survey ever made, in either hemisphere.
The Royal Observatory, Cape Town of Good Hope (today the South African Astronomical Observatory) was established in 1820. It became – and remained for 150 years – the most important source of star positions in the southern hemisphere sky. This was in terms of both accuracy and the number of measurements made. In the years that followed its foundation, the observatory's laborious work led to important scientific discoveries.
Cape astronomers were responsible for, among other things, the first measurement of the distance to a star; the first photographic sky survey and the accurate measurement of the distance to the sun. They were at the forefront of developments in stellar spectroscopy. This is the detailed analysis of a star's light to find out its composition and movement towards or away from the sun. They also determined the shape of the earth in the southern hemisphere and conducted the first accurate country-wide survey measurements of southern Africa.
Measuring stellar distances
In 1543 the mathematician and astronomer Nicolaus Copernicus asserted that the earth orbits the sun. This meant that people should be able to observe the apparent shift in the position of the nearest stars from different points in the earth's orbit. But that had not been observed in the centuries that followed. The reason was, of course, that even the nearest stars are incredibly far away and the effect being looked for is very small.
When the Royal Observatory was founded in 1820, it was equipped with the most accurate star position measuring devices available. Eleven years later Thomas Henderson used those devices to make the first believable measurements of this effect, known as "parallax". By observing the angular "movement" of Alpha Centauri – still the second-closest star known to us – and knowing also the size of the earth's orbit, this gave the distance to the star by simple trigonometry.
A different technology, photography, would lead to more important astronomical discoveries at the Cape. All observatories in the 19th century made precise observations of star positions one by one and published catalogues of these. In 1882 the head of the Royal Observatory, David Gill, was surprised to receive a letter from a Mr Simpson, an amateur photographer in Aberdeen, a town elsewhere in the Cape.
Simpson had managed to photograph a bright comet that had just appeared. His photographic plates were sensitive enough to register stars in the background. This led to a "lightbulb" moment for Gill: he realised that the positions of stars could now be recorded in quantity on a permanent medium, more reliably than any visual observer could ever hope to do.
So he set up a special photographic telescope using the largest lens that he could find and set about making the first photographic star catalogue. This was called the Cape Photographic Durchmusterung after its much more laboriously compiled northern hemisphere equivalent, put together in Bonn, Germany.
But it wasn't just Cape Town that hosted an important astronomical site.
In 1903, the Johannesburg Observatory was established. It achieved its greatest success in 1915 when its director, Robert Innes, discovered a very faint star near Alpha Centauri.
On various grounds he claimed it to be the nearest star to Earth; it took many years of investigation before this could be verified. The new discovery was named "Proxima Centauri", meaning the nearest in the constellation Centaurus. Not only was it the nearest star but at that time of discovery it was the least luminous star ever discovered. Other dimmer stars have been found since, but Proxima still retains its nearest star status and its distance has been thoroughly verified from space satellites.
---


Read more:
SETI: new signal excites alien hunters – here's how we could find out if it's real


---
Doubling the size of the Universe
In 1948 the private Radcliffe Foundation in the United Kingdom set up in Pretoria what was for a time the largest telescope in the southern hemisphere and joint fourth largest in the world. This is a title currently held by the Southern African Large Telescope.
Early on in the Radcliffe's existence the then director, David Thackeray, and his colleague Adriaan Wesselink discovered in our neighbouring galaxy, the Large Magellanic Cloud, a number of RR Lyrae variable stars that astronomers using smaller telescopes could not detect. These are stars that change their brightness in a well-defined manner over a cycle of a few days and whose average "wattage" is completely predictable.
By measuring the Magellanic Cloud stars' average apparent brightnesses and comparing them to other RR Lyrae stars at known distances they determined that the cosmic distance scale originally published two decades before by Edwin Hubble and others was underestimated by about a factor of two. In effect, they doubled the size of the Universe. This result was announced to great acclaim at the triennial meeting of the International Astronomical Union in 1952.
More to come
Today South African astronomy remains at the forefront of many initiatives and discoveries. It has become a leader in the field of radio astronomy with the MeerKAT telescope near Carnarvon and will within a decade be the host of an international project, the Square Kilometre Array.
This article is adapted from a piece that initially appeared in the South African National Research Foundation's Science Matters Magazine.

Ian Glass, Associate Research Astronomer, South African Astronomical Observatory
This article is republished from

The Conversation

under a Creative Commons license. Read the

original article.
Added 17 January 2021
♦♦♦♦♦♦♦♦♦
News continues below
ANOTHER MAERSK CONTAINER SHIP THREATENED BY WEST AFRICAN PIRATES
A second Maersk container ship has come under threat from pirates operating in the Gulf of Guinea.
The latest report involves the 65,458-dwt container vessel MAERSK CARDIFF (IMO 9529255) which earlier in the month sailed from South African waters bound for the ports of Walvis Bay, Tema (Ghana) and Kribi in Cameroon.
The approach made by a suspicious small vessel on the 249-metre container ship came 150 nautical miles south west of Bonny, according to Dryad Global.
The approach took place on 13 January 2021 at 19h50 UTC as the container ship was in position 02° 23N 005° 39E.
According to reports the crew mustered in the vessel's citadel following which the pirate vessel left the scene leaving the ship and crew reported to be in a safe condition.
An unconfirmed second report states that the 4,496-TEU ship was boarded twice during that particular night, with pirates returning to the vessel some four hours later at around midnight. On both occasions the pirates are reported to have boarded the vessel but departed later with the crew safely in the vessel's citadel.
Maersk has responded with calls for more naval patrols in the Gulf of Guinea, saying "it is unacceptable in this day and age that seafarers cannot perform their jobs of ensuring a vital supply chain for this region without having to worry about the risk of piracy."
However, it was also reported that crew on board Maersk Cardiff were able to alert a nearby patrol ship which made an approach, by which time the pirates had reportedly left the scene.
"We are fortunate that our crew on Maersk Cardiff are safe, and we will continue to seek solutions to an unacceptable situation where the security risk in Gulf of Guinea is increased," Palle Laursen, Chief Technical Officer A.P. Moller – Maersk, said.
According to Dryad Global Analysis, in 2020 a cluster of incidents occurred throughout the year in a triangle area south of Agbami and Egina Terminals. Since 1 December 2020 alone there has been 17 incidents in the Gulf of Guinea HRA, 10 of which were in this area including 5 boardings, 2 approaches, 2 incidents of shots fired and 1 attack.
This is the second recent attack involving a Maersk container ship in the Gulf of Guinea. On Sunday 20 December 2020 MAERSK CADIZ was also attacked by pirates while sailing between Tema and Kribi. The crew also managed to seek shelter in the citadel and the pirates later left the ship with no harm coming to any of the crew, although the crew quarters and bridge areas were visibly ransacked.
Shortly after that incident the Danish Minister of Defense Trine Bramsen called for supporting a naval initiative in the Gulf of Guinea.
See video showing the aftermath of a 'visit' by armed West African pirates on the vessel Maersk Cadiz in December 2020. (YouTube 1.29)
There have been a surge of incidents, resulting in an increased risk rating for the Gulf of Guinea HRA to CRITICAL on 11 November. The increase in risk profile was further underpinned by the release of an imminent attack warning by MDAT-GoG covering the waters of ECOWAS Areas F,E,D.
Vessels are advised to operate within this area at a heightened posture maintaining the highest levels of vigilance whilst implementing full hardening / mitigation in accordance with BMP West Africa where possible. In addition the IMB advises that vessels remain at least 200nm-250nm offshore where possible.
Added 17 January 2021
♦♦♦♦♦♦♦♦♦
News continues below
GRINDROD'S HESPER ENGINEERING ACQUIRES MOSSEL BAY ENGINEERING STALWART
Novatech

, trading as Hesper Engineering, a ship repair and general engineering company based in Cape Town, has purchased a 51% shareholding in Mossel Bay-based Swift Engineering.

Swift Engineering (now trading as SwiftNova Engineering) is a reputable specialised fabrication company servicing the marine, energy and oil & gas sectors in the Mossel Bay area and nationally. The company's acquisition will strengthen the capabilities of Sturrock Grindrod Maritime's (SGM) Technical Division which comprises Hesper Engineering, NovaMarine and United Container Depots (UCD).

Marcus Twine, CEO of SGM Technical said the relationship between Hesper Engineering and SwiftNova goes back many years.

"Discussions regarding a potential partnership started at the beginning of 2020. We were open to it because we are always on the lookout for complementary opportunities to grow our business and footprint with partners that uphold similar values.

"Director Danie Otto, and his team, have built a solid reputation and are established and respected in the construction community. They are known for delivering quality products with a high level of proficiency. I am confident that this partnership will be mutually beneficial."

When SGM and Novagroup joined forces in 2018, Andrew Sturrock, CEO of Sturrock Grindrod Maritime, stated that the intention was to strengthen their position in the niche technical market.

He added, "With the addition of SwiftNova, we are excited to see how we can leverage off their respective sales and service agreements and ultimately offer one-stop technical solutions to our clients.

"SwiftNova's expertise lies in steelwork, pipe fabrication, corrosion protection, design and diverse projects, which sits in the same service pool as Hesper Engineering; the partnership just makes sense."

SwiftNova was established in 1982 by Mr. J.D.T Otto. He decided to seize the opportunity of the development of the oilfields in Mossel Bay when news broke of major offshore developments that resulted in the PetroSA GTL refinery, a first SOE of its kind as it is known today.

Danie Otto took over the business in 2004 after completing intensive training and gaining experience in related fields to assist with business expansion. Their clientele includes state-owned entities such as PetroSA, GTL and Logistics & Offshore/Onshore, oil majors Shell SA, Total, Astron Energy, Engen SA as well as internationally renowned shipping companies.
Marcus Twine, CEO of SGM Technical (pictured left) and Danie Otto, Director of SwiftNova Engineering are excited for what new opportunities this acquisition will bring for both companies.
Danie Otto, Director of SwiftNova says, "The partnership with Hesper Engineering and the changing of our name to SwiftNova Engineering signifies a new era for the company. Nova in Latin means new and I am excited to see what the future holds. I appreciate the support we have received thus far from Hesper Engineering and the SGM Group."
Hesper Engineering is owned by Sturrock Grindrod Maritime (SGM) and, along with its sister companies NovaMarine and UCD, make up the SGM Technical Division within Grindrod Limited. SGM Technical offers solutions ranging from marine safety equipment and maintenance to steel/pipe fabrication, mechanical repairs as well as blasting and coating services.
Hesper Engineering now has offices and workshop locations in Cape Town, Saldanha and Mossel Bay.
More About Hesper Engineering:
Hesper Engineering is a ship repair and general engineering company strategically situated in Paarden Eiland, next to Table Bay Harbour in Cape Town. The company's service offering includes engineering (steel construction/ fabrication, repair & installation), marine technology, blasting and coating and shipwright services.
Hesper Engineering is a B-BBEE Level 2 Contributor and is TRACE, ISO 9001:2015 and ISO 45001:2018 certified.
Added 17 January 2021
♦♦♦♦♦♦♦♦♦
News continues below
NSRI CALLED TO RESCUE SEAFARER FROM PASSING BULK CARRIER
According to a report by Justin Erasmus, NSRI station 6 commander at Port Elizabeth, the station duty crew were recently called out to evacuate a Greek seafarer on board a passing bulk carrier en route from Durban to South America.
The seafarer was suffering from a medical complaint and after an assessment involving NSRI EOC (Emergency Operations Centre), Telkom Maritime Radio Services, a WC Government Health EMS duty doctor, the Transnet Port Health Authority, EC Government Health EMS, the ships agent, NSRI Port Elizabeth duty controllers and Transnet National Ports Authority, all of which assisted the MRCC (Maritime Rescue Coordination Centre) in operational logistics and coordination, it is decided to evacuate the patient from the ship as it passed Port Elizabeth.
The incident took place last Tuesday, 12 January and involved launching the NSRI sea rescue craft Spirit of Toft, accompanied by an EC Government EMS rescue paramedic.
On arrival on the scene, the patient, in a stable condition, was transferred onto the sea rescue craft and in the care of the EMS rescue paramedic he was brought to the NSRI Port Elizabeth sea rescue station where he was transported to hospital by EMS ambulance for further medical care.
The National Sea Rescue Institute (NSRI) is the charity organisation that saves lives on South African waters – both coastal and inland.
Operating from base stations along the SA coastline, and on inland dams, the rescue volunteers are on call, at all hours, every day of the year. The rescue crew receives no payment and neither does the NSRI charge the people they rescue.
The NSRI visits schools around the country, teaching children about water safety. NSRI drowning prevention measures include an online training academy, with free courses for crew and the public, emergency signage, Pink Rescue Buoys for emergency flotation, rescue swimmers, lifeguards, and active patrols during peak seasons.
The organisation is totally reliant on donations and sponsorships. This enables the NSRI to do the work of saving lives, changing lives, and creating futures. Please visit www.nsri.org.za for more information. The SEA RESCUE EMERGENCY number is: 112 or 087 094 9774
Added 17 January 2021
♦♦♦♦♦♦♦♦♦
News continues below
PROMOTING INTRA-AFRICAN TRADE:
UNCTAD Secretary-General winds award
It was reported from Geneva on 15 January that UNCTAD Secretary-General Mukhisa Kituyi had won an award for his tremendous contribution to the conceptualization, development and launch of the African Continental Free Trade Area (AfCFTA), under which trading commenced on 1 January.
The AfCFTA created the world's largest free trade area, a $3.4 trillion market that will ease trade across borders for the continent's 1.3 billion people. It will also promote industrialization, create jobs and improve the competitiveness of African industries on the global stage.
Dr Kituyi was recognised for his exceptional contribution to the AfCFTA process – from supporting negotiations to offering technical advice – and awarded during a ceremony held at the African Union Commission headquarters in Addis Ababa, Ethiopia.
He said by way of reflection: "I am humbled by the recognition of our tireless efforts to unleash the continent's immense potential through closer trade. The work has only begun. We will only ensure economic prosperity for all in Africa if we use the opportunity offered by the AfCFTA to enhance productive capacities across the continent."
Several African heads of state and heads of institutions were also given awards for their prominent role in bringing the AfCFTA into fruition.
The event was organised by the African E-Trade Group in collaboration with the African Union Commission, the African Business Council, the Pan African Chamber of Commerce and Industry, the Federation of West African Chambers of Commerce and Industry, and the East African Chamber of Commerce, Industry and Agriculture.
More on the African Continental Free Trade Area
Trading under the African Continental Free Trade Area started in earnest on 1 January 2021. This follows a five- and half-year period since negotiations were launched on 15 June 2015.
Tough negotiations were followed by signing of the Agreement on 21 March 2018, entry into force on 30 May 2019 and commencement of trading on 1 January 2021.
A total of 54 Member States of the African Union have signed, and 30 countries have deposited their instruments of ratification with the Chairperson of the African Union Commission.
The main objectives of the AfCFTA are to create a single market for goods and services, facilitate the movement of persons, promote industrial development and sustainable and inclusive socio-economic growth, and resolve the issue of multiple membership, in accordance with agenda 2063. It lays a foundation for the establishment, in future, of a Continental Common Market.
See also HERE
Reported by Paul Ridgway
London
Added 17 January 2021
♦♦♦♦♦♦♦♦♦
News continues below

NEW DAWN FOR SA TRADE WITH AFRICA
The 1st of January 2021 marked the start of South African firms trading under the African Continental Free Trade Agreement and with the United Kingdom under the Southern African Customs Union (SACU) Mozambique–UK Economic Partnership Agreement.
"South Africa has put in place the legal and administrative processes for preferential trade under the African Continental Free Trade Area (AfCFTA) on 1 January 2021, in line with the decision by the 13th Extra-Ordinary Session of the Assembly on the AfCFTA on 5 December 2020 to start trading under the AfCFTA. [This is] on the basis of legally implementable and reciprocal Tariff Schedules and Concessions, with agreed Rules of Origin," said the Department of Trade, Industry and Competition (dtic).
The historic AfCFTA Agreement has been signed by 54 of the 55 African Union (AU) member States, and 34 countries have already deposited their instruments of ratification to the AU Commission and have become State Parties.
The current State Parties are Angola, Burkina Faso, Cameroon, Central African Republic, Chad, Côte d'Ivoire, Congo, Djibouti, Egypt, Eswatini, Ethiopia, Equatorial Guinea, Gabon, The Gambia, Ghana, Guinea, Kenya, Lesotho, Mali, Mauritania, Mauritius, Namibia, Niger, Nigeria, Rwanda, Saharawi Arab Democratic Republic, Sao Tome and Principe, Senegal, Sierra Leone, South Africa, Togo, Tunisia, Uganda and Zimbabwe.
A number of the signatory countries have begun to put the domestic administrative arrangements in place to enable trading under the new terms. These should be progressively expanded within the next few months.
In addition, trade for local firms with the UK commenced on 1 January under the new Economic Partnership Agreement between six southern African countries and the UK, replacing the European Union partnership terms for the UK market that were in place until 31 December 2020.
Meanwhile, dtic Minister Ebrahim Patel has called on South African farmers and manufacturers to gear up for the new opportunities in export markets.
"Trade with the rest of the continent is a critical source of output and jobs growth. African countries recognise that industrialisation is critical to the development of the continent. The new agreement will take some time to be fully operational but has the potential to be transformative for Africa, breaking our dependence on a neo-colonial pattern of trade that characterised trade.
"Our continent exports raw materials and imports finished goods, with substantial value added in the process," said Patel.
COVID-19 has reminded the continent of the "enormous price we pay for not developing advanced economies", said Patel.
"This is Africa's moment to build resilient, innovative economies on the back of the large markets that the free trade agreement puts in place. It will take dedication and disciplined implementation over the next few years to fully realise the benefits," he said.
Patel said the Summit decision to commence trade under the AfCFTA was historic and a milestone in the continent's longstanding efforts to integrate and industrialise.
"The AfCFTA presents South African producers and manufacturers with an opportunity for expansion to new markets in West, Central, East and North Africa, and provides alternative markets for the export of value added goods, as well as services. In addition, exports to the United Kingdom can continue seamlessly with the new agreement with the UK in place," Patel said.
The UK Agreement effectively retains the terms of trade in the existing EU Agreement and will govern the bilateral trading relationship between each of the southern African countries (South Africa, Lesotho, Eswatini, Namibia, Botswana and Mozambique) and the UK.
Both the EU and the UK are significant trading partners for South Africa.
Added 17 January 2021
♦♦♦♦♦♦♦♦♦
News continues below
GENERAL NEWS REPORTS – UPDATED THROUGH THE DAY
in partnership with – APO
♦♦♦♦♦♦♦♦♦
More News at https://africaports.co.za/category/News/
News continues below
TO ADVERTISE HERE
Request a Rate Card from info@africaports.co.za
EXPECTED SHIP ARRIVALS and SHIPS IN PORT

Port Louis – Indian Ocean gateway port
Ports & Ships publishes regularly updated SHIP MOVEMENT reports including ETAs for ports extending from West Africa to South Africa to East Africa and including Port Louis in Mauritius.
In the case of South Africa's container ports of Durban, Ngqura, Ports Elizabeth and Cape Town links to container Stack Dates are also available.
You can access this information, including the list of ports covered, by going HERE remember to use your BACKSPACE to return to this page.
News continues below
CRUISE NEWS AND NAVAL ACTIVITIES

QM2 in Cape Town. Picture by Ian Shiffman
We publish news about the cruise industry here in the general news section.
Naval News
Similarly you can read our regular Naval News reports and stories here in the general news section.
♦♦♦♦♦♦♦♦♦
THOUGHT FOR THE WEEK
"The human spirit is not a patethic, wandering phantom of the universe, but is at home and meets with spiritual hopsitality and responses everywhere. Our deepest thoughts and emotions are but responses to stimuli which come to us not from an alien, but from an essentially friendly and kindred universe."
― Gen. Jan C Smuts – address to the British Association for the Advancement of Science Centenary Meeting, 1931
♠♠♠
♠♠♠
ADVERTISING
For a Rate Card please contact us at info@africaports.co.za
Don't forget to send us your news and press releases for inclusion in the News Bulletins. Shipping related pictures submitted by readers are always welcome. Email to info@africaports.co.za
TABLE BAY UNDERWAY SHIPPING
SHIP PHOTOGRAPHERS
Colour photographs
and slides for sale of a variety of ships.
Thousands of items listed featuring famous passenger liners of the past to cruise ships of today, freighters, container vessels, tankers, bulkers, naval and research vessels.
P O BOX 809, CAPE TOWN, 8000, SOUTH AFRICA
snai@worldonline.co.za
http://home.worldonline.co.za/~snai