Bringing you shipping, freight, trade and transport related news of interest for Africa since 2002
Stay Well, Stay Safe, Stay Patient, don't become one
TODAY IN HISTORY 17 October
1871 -The British annexes Griqualand (West), South Africa
1943 – Burma railway completed by Allied POWs and Asian laborers for use of the Japanese army
1973 – OPEC oil ministers use oil as an economic weapon in the Arab-Israeli War, mandating a cut in exports and recommending an embargo against unfriendly states
SUNDAY  18 October
1565 – Ships belonging to the Matsura clan of Japan are unsuccessful in capturing a Portuguese trading carrack in the Battle of Fukuda Bay, the first recorded naval battle between Japan and the West.
1851 – Herman Melville's Moby-Dick is first published as The Whale by Richard Bentley of London.
1867 – The Alaska Purchase takes place, in which the US takes formal possession of Alaska from Russia, having paid $7.2 million
1907- Guglielmo Marconi's company begins the first commercial transatlantic wireless service between Glace Bay, Nova Scotia, Canada and Clifden, Ireland.
1908 – The Belgian parliament voted to annex the Congo Free State, which was anything but free under the personal control of King Leopold since 1885. This annexation led to the creation of the Belgian Congo that lasted until 1971 when the Republic of Zaire was established (later the Democratic Republic of Congo).
♠♠♠
Come with us as we report through 2020
**********
TODAY'S BULLETIN OF MARITIME NEWS
These news reports are updated on an ongoing basis. Check back regularly for the latest news as it develops – where necessary refresh your page at www.africaports.co.za
Click on headline to go direct to story : use the BACK key to return
EARLIER NEWS CAN BE FOUND AT NEWS CATEGORIES…….
The Saturday masthead shows the port of Mombasa Container Terminal. On Sunday it shows the port of Durban Sugar Terminal
♦♦♦♦♦♦♦♦♦
SEND NEWS REPORTS AND PRESS RELEASES TO
info@africaports.co.za
♦♦♦♦♦♦♦♦♦
News continues below
In our busy harbours it is always pleasing to see some 'new faces' in terms of the ships that call, and any ship lover should be more than satisfied with the variety of ships calling at the ports of Durban, Richards Bay, Port Elizabeth and Ngqura, and Cape Town. A number of these ships are one-off calls, for bunkers or supplies but a significant amount of ship calls are made by regular visitors – and visitors they are, bringing or taking not only cargo but helping sustain a vast landside business element in the port cities and at inland centres such as Gauteng. One such recent container ship call was made by this ship, MSC JESSENIA R (IMO 9215672) which we think was a first-time call. The 51,087-dwt ship was built in 2001 and is managed by MSC Shipmanagement of Limassol, Cyprus. The ship has sailed under several other names, Domingo in 2016, and for Hamburg Süd as Cap Domingo from 2012 and Cap San Marco prior to that.   Pictures: Keith Betts
♦♦♦♦♦♦♦♦♦
♦♦♦♦♦♦♦♦♦
News continues below
GEO SEARCHER UPDATE: SA AGULHAS II RETURNING TO GOUGH ISLAND TO EVACUATE GEO SEARCHER SURVIVORS
The South African Antarctic research vessel, SA AGULHAS II, has turned round in Cape Town harbour and is returning to Gough Island to evacuate the 62 survivors of the sunken fishery research and supply vessel GEO SEARCHER, which struck a rock off the island on Thursday (15 October) and sank.
All 62 of the crew were able to board lifeboats and rafts and make their way around the island to the landing place opposite the South African weather station, where they have been accommodated. Only one of the crew received injuries which are not considered serious.
The South African Maritime Safety Authority's MRCC, Department of Environmental Affairs (SA AGULHAS II), and AMSOL along with the representatives and owners of the stricken vessel, have collaborated in arranging for the SA Research vessel SA AGULHAS II to sail this morning (Friday 16 Oct) for Gough Island in the south Atlantic Ocean to collect the Geo Searcher's seafarers.
The stricken seafarers are 47 South African, 3 Portuguese, 1 British, 2 Ghanaian, 1 Indonesian, 4 Namibian and 2 Tristan citizens.
The seafarers abandoned the vessel once the water ingress resulted in the vessel listing 45 degrees in what was reported as unfavorable sea conditions. The seafarers managed to climb into lifeboats and other onboard small craft before making their way from the northern point of the island around to the southern region close to the SA research station.
They were assisted ashore and have all been accommodated at the research base where they will remain until the arrival of the SA AGULHAS II.
The SA AGULHAS II is expected to take about three days to reach the island, if weather conditions allow. The vessel is carrying two helicopters onboard which will greatly assist in the transfer of the stricken seafarers from the island to the vessel. It is expected that the vessel will then make its return voyage arriving by possibly next week Friday or Saturday.
The South African search and rescue region covers approximately 28 million km² of ocean stretching half way across to South America and half way to Australia and includes the Antarctic area up to the South Pole. The area is one of the biggest regions in the world and covers some of the most treacherous seas on the planet.
The coordination and collaboration efforts between SAMSAs' MRCC and many other organisations deliver the service to seafarers in peril throughout this S&R region. Limited resources and the vastness of the area creates challenges but according to SAMSA, seafarers can rest assured that every possible effort will be made to render them the lifesaving service they may require.
♦♦♦♦♦♦♦♦♦
News continues below
BREAKING NEWS: BELIZE FLAGGED RESEARCH VESSEL GEO SEARCHER SINKS OFF GOUGH ISLAND
The South African Maritime Safety Authority (SAMSA) confirmed this afternoon (Thursday 15 October 2020) that a Belize-flagged 1848-gt fishery research and supply vessel, GEO SEARCHER (IMO 8028498) has sank about a mile off Gough island in the South Atlantic.
The vessel is reported to have struck a rock off the island earlier this morning and began taking on water in the engine room. Later this afternoon (Thursday) she sank.
All 62 members of the crew are safe and have landed on the island. One crew member sustained slight injuries.
Gough Island is one of the most isolated islands to be found anywhere in the world, 2,600 kilometres South-West of Cape Town and 400 km South-East of Tristan da Cunha.
Gough Island is uninhabited except for a South African weather station and personnel. The South African Antarctic research vessel SA AGULHUS II sailed in mid-September to the island with the relief crew for the weather and scientific station, but is expected back in Cape Town tomorrow (Friday 16 October 2020).
See our report of a month ago HERE
According to SAMSA, South Africa is currently investigating measures to safely recover the Geo Searcher's crew from the island as soon as possible.
♦♦♦♦♦♦♦♦♦
News continues below
WHARF TALK: R60m drydock refurbishments usher in new era of optimised growth for East London Port
The Port of East London's Princess Elizabeth Drydock has been successfully recommissioned after completion of two priority capital projects which Transnet National Ports Authority (YNPAS) believes will usher in a new era of optimised growth for the historic facility.
East London was previously identified by the Operation Phakisa ocean economy strategy as having significant potential and capacity to become one of South Africa's premier boat building and ship repair nodes.
The two projects – refurbishment of the dry dock's main shut-off valves, and rehabilitation of the caisson gate – successfully positions the port not only to start leveraging its facilities and capacities, but also to draw on the expertise and skill sets of the local community to develop the ship repair industry in the region.
"East London is uniquely positioned within the South African port system to facilitate and accelerate both ship repair and boat building operations," says Port Manager Sharon Sijako. "We have sufficient capacity to offer to the industry, and having newly modernised and upgraded our facilities, we are on track to start writing an exciting new chapter in the ocean economy story."
The revitalisation of the drydock not only positions the Port of East London for growth, it also unlocks significant economic opportunity for Buffalo City Metro and the wider region. "The eastern half of the Eastern Cape remains one of the most marginalised and under-developed regions in South Africa," Sijako notes.
"As the local port authority, we have a responsibility to leverage the full extent of our resources and facilities to enable growth, development and, crucially, job creation in the communities we serve."
It is envisaged that a revitalised dry dock could create significant downstream economic activity benefitting local engineers, artisans, suppliers and services SMMEs. Local leisure and hospitality businesses also stand to benefit, as ship repair and boat building activities traditionally attract large teams of specialist contract workers.
The refurbished drydock has already received its first customer, and is this week preparing for the docking of its second – the TNPA tug, Orca, which has arrived from the Port of Ngqura for a regulatory bi-annual lay-up.
Refurbishment projects
A R46-million project to refurbish the caisson gate addressed corrosion and leaks, successfully eliminated potential safety and operational risks and resulted in an improvement in the overall operational efficiency at the facility.
The project included design, fabrication and installation of steel plates on the main deck and outer shell, corrosion protection, replacement of anodes and D-fenders and installation of air pipes.
The final phase of the project, which was completed in September, saw the installation of the remaining seals, along with new valves. At the peak of the project almost 100 workers were employed on site.
Durban based ship repair company, Sandock Austral Shipyards (formerly Southern African Shipyards) carried out the design and main works making use of their floating dock which was relocated from Durban for the duration of the project.
SAS was supported by site supervision consultant, Lodemann Holdings and a large team from local marine engineering company, East London Shipyard.
In addition, successful refurbishment of the drydock shut-off valves and related equipment have significantly reduced the time required to flood the dock and improved its operational efficiency. This project created 29 jobs, with 70% of the contract value subcontracting benefiting Exempt Micro Enterprises (EMEs) and Qualifying Small Enterprises (QSEs).
Other work already completed under the drydock upgrade project included the replacement of electrical switch gears, crane rails, capstans, compressors and the fire protection booster pump.
Total investment from these capital projects has been in excess of R60-million.
The 72-year old dry dock was opened officially by Her Royal Highness Princess Elizabeth on 3 March 1947.
♦♦♦♦♦♦♦♦♦
News continues below
IN CONVERSATION: Kenya's Rift Valley lakes have been this high before.
But there's cause for concern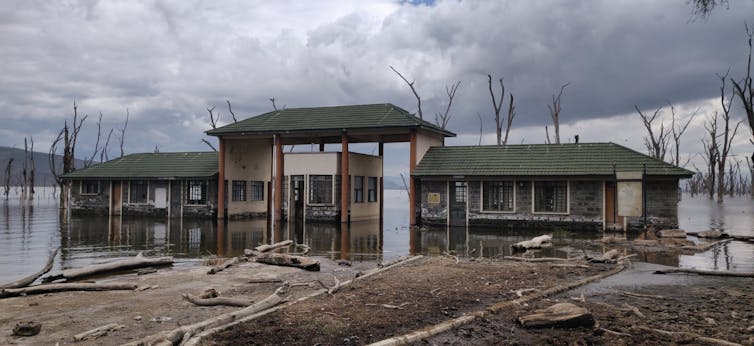 Recent high water levels of Kenya's Rift Valley lakes have flooded properties and displaced communities, most notably around Lakes Baringo and Naivasha.
There are many lakes along the length of the African Rift Valley, which runs from the Red Sea in the north to Mozambique in the south. Kenya's eastern Rift Valley has a string of eight lakes.
These lakes provide diverse habitats ranging from the freshwater lakes of Naivasha and Baringo to the semi-saline Lake Turkana, the saline alkaline lakes of Magadi, Elmentaita, Nakuru and Bogoria and the transient Lake Logipi.
The alkaline lakes provide unique feeding habitats for East Africa's famous lesser flamingos. The freshwater lakes support important fisheries and agriculture. Lake Turkana's unique semi-saline hydrobiology sustains indigenous fisheries, including some endemic species.
Some lakes are recognised as Wetlands of International Importance, and all are Important Bird Areas, with several being within UNESCO-listed World Heritage Sites.
The lake level rises are worrying because of the destruction to homes, livelihoods, industry and infrastructure, and loss of terrestrial wildlife habitat. So far this year, the rising waters of Lake Baringo alone have displaced more than 5,000 people and destroyed schools, hospitals, hotels and roads.
And the effects on lake ecologies are a concern as flooding increases lake turbidity and dilutes the saline waters of alkaline lakes.
Having worked on East African hydrology for decades, including these lakes, I wanted to share insights on the rise in water levels.
The Rift Valley is subject to ongoing plate tectonics and crustal movement that can affect the lakes. The recent rises, though, are directly associated with above-average rainfall. The lakes have been even higher in the past, and with rainfall in the Rift Valley Basin being on a rising rainfall trend, higher lake levels can be expected in the future.
Land use changes, riparian zone encroachment, loss of wetlands, and urban growth are all contributing to more extreme flooding. This is because the proportion of rain and sediment that runs off from the catchments is increasing.
Not unprecedented
The lakes' water cycles are governed by rainfall on highland catchment areas, evaporation and seepage. Water reaches the lakes through direct rainfall, rivers, groundwater flows, and in some cases hot springs from underground geothermal fields.
The eastern Rift Valley is semi-arid and its high evaporation rate concentrates salts in the lakes. The lakes are especially sensitive to changing catchment rainfall and have, in the past, ranged from near empty to much higher levels than today.
The studies I'm currently doing show, as have others, that there has been above-average annual rainfall over the last decade. Kenya's October to December 2019 rains were the highest on record for decades. These were followed by above-average rains in 2020. In some areas they were 400% more than normal.
With persistent rainfall, the catchment surface layers saturate, resulting in extended flood periods. For instance the Turkwel dam, which was built on the Turkwel river in the northern Rift Valley Basin, recently reached its highest level on record.
And in May this year, Lake Naivasha reached its highest level since 1932. The lake's expansion has flooded developments, such as surrounding flower farms.
Yet, like the other lakes, Lake Naivasha's waters have historically been higher. The lake is 1.4 vertical metres short of its official riparian boundary. In 1917, the lake was 2.4 metres higher. In earlier centuries, the lake was at least 13 metres higher.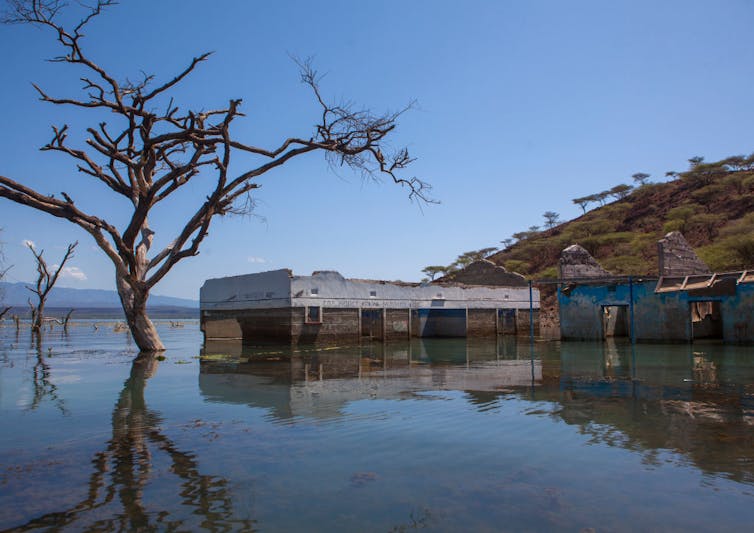 Lakes Nakuru, Bogoria and Baringo have also risen to their highest levels in decades, inundating roads and building infrastructure, yet they also are not as high as they were in the early part of the last century. Lake Turkana's current level was also reached in the 1970s and early 1900s, and in 1896 it was 14.6 metres higher.
Regional lake water levels were higher still during the Holocene, up to 10,000 years before the present, during a wetter period. For instance, Lake Turkana was 100 metres higher and Lakes Bogoria and Baringo had risen high enough to merge into one lake. Present-day Nakuru and Naivasha townships would have been under water.
While this shows that the levels aren't unprecedented, today all of Kenya's Rift Valley lakes face modern challenges arising from growing infrastructure development pressures.
Increasing pressure
The water cycles of Rift Valley lakes are changing as water is taken out for use and because the catchments and land surrounding the lakes are being degraded. For instance, forests are being converted into agricultural land, there is increasing urbanisation and people are encroaching onto riparian and wetland zones.
These catchment changes reduce rainfall recharging of underground aquifers, and cause more sediment – such as soil – to run off into rivers. This sediment reaches and accumulates in lakes and reservoirs. This can clog natural underground freshwater outlets, in which case lake salinity and levels will rise. The deposited sediments also build the lake beds and displace lake water levels upwards. I have measured up to 30 metres of sediment accumulated within Turkwel dam's reservoir since 1991.
Changes caused by people are different for different lakes.
Lake Nakuru's ecology has long been affected by catchment change. For instance, the forest cover of its catchment area is reported to have declined from 70% to 15% over the past 50 years, leading to greater runoff into rivers and thence to the lake. On top of that, the growth of Nakuru town requires more water supply which will be imported. Unless otherwise channelled, this extra water will end up in the lake, raising water levels, and if not properly treated, will worsen pollution.
Meanwhile, Lake Naivasha declined in recent years to critically low levels. Growing developments – such as Naivasha town and a new Industrial City – need water, which puts more pressure on the already critically stressed lake water resource. In addition, the lake suffers from heavy pollution loads.
The flow of water into Lake Turkana is being regulated by dam and irrigation developments, potentially affecting the lake ecology and fisheries.
Excessive river inflows into the lakes result from increasing catchment rainfall coupled with the effects of land use changes. Dilution of saline waters affects the production of cyanobacteria, the food sources of lesser flamingos. Increased turbidity reduces light penetration into water, and affects photosynthesis, an engine of the aquatic food chain.
Future concerns
While tectonic plate changes are beyond humans' control, biodiversity-friendly land use and commitment to existing legislation and national vegetation cover goals can limit catastrophic damage to lake ecological systems, people and property.
In the context of increasing rainfall trends, it is vital that official demarcation of riparian and wetland zones takes full account of the very well-documented extreme high lake level precedents and extent of flooding of the last century and before.

Sean Avery, Chartered Consultant in Hydrology and Water Resources, Visiting Research Fellow, King's College London
This article is republished from

The Conversation

under a Creative Commons license. Read the

original article.
♦♦♦♦♦♦♦♦♦
News continues below
NSRI TO THE RESCUE AS FISHERMAN LOSES CONSCIOUSNESS ON CHOKKA BOAT
Earlier this morning (Thursday 15 October 2020) the St Francis station NSRI duty crew were called out following reports that a fisherman had collapsed unconscious on his chokka (squid) boat out at sea off the Cape South Coast.
Neil Jones, NSRI St Francis Bay duty coxswain, reported that the activation call came at 05h51 on Thursday morning from the chokka boat which was deepsea West of St Francis Bay.
"Our duty crew responded to our sea rescue station and…[restrict] the sea rescue craft Spirit of St Francis II was launched while Private Care ambulance services dispatched an ambulance to stand by at our base," Jones reported.
"We rendezvoused with the Chokka fishing vessel in 4 to 5 metre swells approximately 22 nautical miles West of St Francis Bay.
"On arrival on the scene the patient, age 36, from Jeffreys Bay, was found to be barely conscious from a medical complaint and he was transferred onto our sea rescue craft."
With the NSRI medics taking care of the fisherman, he was taken to the NSRI sea rescue station and from there he was transported to hospital by ambulance in a serious but stable condition.
Organisations involved in this sea rescue and evacuation process included NSRI Emergency Operations Centre, Telkom Maritime Radio Services, WC Government Health EMS, EC Government Health EMS, NSRI St Francis Bay duty controllers, Transnet National Ports Authority and Port Health Authorities, who each assisted the Maritime Rescue Coordination Centre (MRCC) in communications, coordination and logistics during the operation, which was completed at 08h41.[/restrict]
♦♦♦♦♦♦♦♦♦
News continues below
IN CONVERSATION: LOCKDOWN DIDN'T WORK IN SOUTH AFRICA:
Why it shouldn't happen again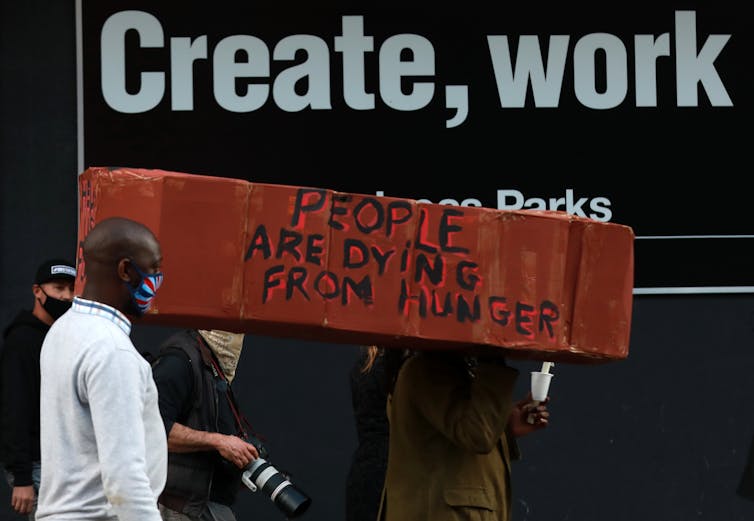 Businesses all over the country closed their doors for good.   GettyImages
At the start of October, the World Health Organisation (WHO) and the Chinese government lauded South Africa's response to the global COVID-19 pandemic. Yet data concerning both the spread of the virus and the indirect consequences of the lockdown suggest that the severe restrictions imposed in South Africa – some of the strictest in the world – were far from effective.
We recently reviewed the evidence for the effectiveness of the lockdown at slowing the spread of the pandemic. The mitigation strategies initially implemented may well have gone some way to "flattening-the-curve" – that is, reducing the rate at which the virus spreads through the population. But we found no decline in either daily new cases or deaths between around 27 March, which was the first day of level 5; and the latter part of July, when cases began to tail off during level 3.
Lockdown level 5 in South Africa was one of the world's strictest. Citizens weren't allowed to leave their residence except for essential purposes such as grocery shopping and medical care. All non-essential businesses were shut down, and cigarette and alcohol sales were banned.
If this "hard lockdown" had been effective, the rate of infection would have dropped significantly 7-14 days after lockdown was implemented. Note that one must look for a delay due to the disease's 5-6 day average incubation period, and time for test results to be released. This simply did not happen.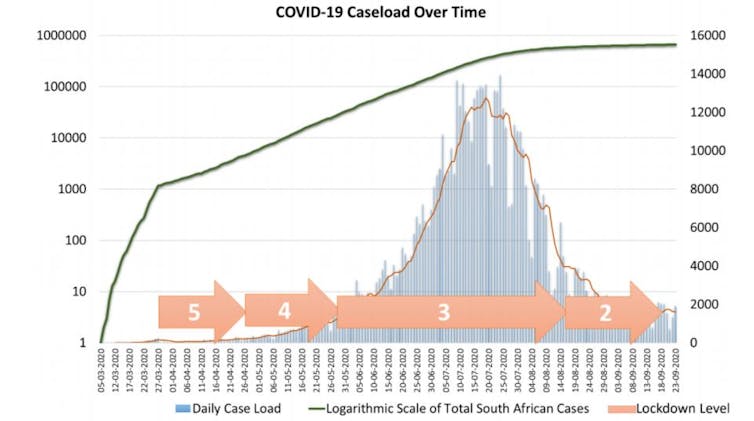 Of course, the number of cases did increase over time, but what counts is whether the rate of increase changed when lockdowns changed.
We found no such changes. As lockdown restrictions were relaxed and South Africa entered levels 4 and 3, when much of the economy re-opened and restrictions on movement were substantially reduced, there was no increase in the rate of infection.
In fact, during level 3, the pandemic peaked. And as the country entered level 2, the pandemic started to recede. If lockdown regulations were having the intended effect, one would expect the rate of infection to spike as restrictions were relaxed. This did not happen.
It is important to bear in mind that the correct way to assess harder lockdown measures is not against total inaction, but against a baseline of mitigation strategies such as the lockdown level 1 which is now in place. We found a sharp change in cases that could be attributable to initial mitigation strategies. But there were no subsequent changes that might be attributed to further regulation changes.
The evidence suggests that lockdown was not an effective strategy against COVID-19 in South Africa.
Was it the wrong decision?
It is easy to be right after the fact. However, in this case, it was easy to see from the outset that lockdowns would be unfeasible in much of South Africa, and in the region more generally. Overcrowded conditions, reliance on social grants and food parcels for which queuing is necessary, and shared ablutions all substantially change the effect of a regulation that says "stay at home".
Given the age demographics in African countries, and the existing data on those the disease affects most (primarily the elderly), Africa's population would be less susceptible to COVID-19 than its counterparts in Europe and the USA. A hard lockdown was always wrong for Africa.
Further, the contextual conditions of people living in Africa meant that lockdown strategies were unlikely to be very effective in curbing the spread of the virus, and the unintended health and non-health consequences of such interventions were likely to be more damaging than the virus itself. We thus previously warned against implementing the kind of lockdown strategies that may be effective in the West, and to look for interventions more suited to the African context.
It seems to us that South Africa succumbed to international pressure rather than considering what was best for its own particular circumstances. That is understandable, but it must not happen again.
The economic costs of lockdown in South Africa were enormous.
The net number of South Africans in the workforce dropped by 5.2 million during the second quarter of 2020.
The poorest 50% of workers – those who live hand-to-mouth – were affected ten times worse than the richest.
GDP dropped by 16.4% between the first and second quarter, leading to an annualised growth rate of -51%.
In April, 47% of respondents in a national survey indicated that they had no money for food by the end of the month.
Businesses all over South Africa closed their doors for good, as lockdown restrictions made operations impossible, forcing them into bankruptcy.
In addition to the economic costs, significant damage was done to South Africa's existing health programmes. Despite valiant efforts from the Department of Health to maintain the availability of free HIV testing throughout the country, there was a huge reduction in HIV testing of 57% from 1.6 million in March to 590,000 in April as travel restrictions put strains on community testing. As a result of interruptions to testing and to the availability of chronic medications, deaths from HIV and tuberculosis are projected to increase by 10% and 20% respectively over 5 years. That's 63,000 excess TB deaths, alone, exceeding any reasonable estimate of lives saved by the ineffective lockdown.
At the time of writing, there were 17,547 recorded COVID-19 deaths. But even if one attributes all of South Africa's 45,213 excess deaths in 2020 to COVID-19, the fact that the rate of infection was not affected by changes to lockdown regulations strongly suggests this number would be no higher had the country not gone into a hard lockdown.
These measures were implemented, one might note, off the back of wildly inaccurate COVID-19 mortality projections of up to 351,000 deaths.
No more lockdowns
Even though we didn't agree with it, putting South Africa into a hard lockdown was understandable as a precautionary measure in a state of ignorance.
However, there is no evidence for the effectiveness of these drastic actions.
The silver lining is that, if our analysis is correct, there is currently little reason to fear a severe second wave in South Africa (or the region generally). The most likely reason for the ineffectiveness of lockdown is that it did not reduce social contact sufficiently to achieve suppression (reproduction number below 1). Therefore exposure has probably been widespread, and dramatic resurgence is not likely.
Even if there is a resurgence, the government mustn't be tempted to start implementing similar strategies. Effectiveness is local, and there is no evidence that lockdown works in South Africa. As experience with HIV has conclusively shown, it is vitally important to understand the context before implementing public health interventions.

Benjamin T H Smart, Associate Professor, University of Johannesburg; Alex Broadbent, Director of the Institute for the Future of Knowledge and Professor of Philosophy, University of Johannesburg, and Herkulaas MvE Combrink, Research Coordinator/Strategic Data Science Support Specialist
This article is republished from

The Conversation

under a Creative Commons license. Read the

original article.
♦♦♦♦♦♦♦♦♦
News continues below
PIRATES ARE KIDNAPPING MORE SEAFARERS OFF WEST AFRICA, IMB REPORTS
ICC International Maritime Bureau (IMB) figures released from London and Kuala Lumpur on 14 October show a rise in piracy and armed robbery on the world's seas in the first nine months of 2020, with a 40% increase in the number of kidnappings reported in the Gulf of Guinea, compared with the same period in 2019.
Pirates armed with guns and knives are abducting bigger groups of seafarers at further distances off the West African coast.
IMB's latest global piracy report details 132 attacks since the start of 2020, up from 119 incidents in the same period last year. Of the 85 seafarers kidnapped from their vessels and held for ransom, 80 were taken in the Gulf of Guinea – in 14 attacks reported off Nigeria, Benin, Gabon, Equatorial Guinea and Ghana.
In the first nine months of 2020, seafarers reported 134 cases of assault, injury and threats, including 85 crewmembers being kidnapped and 31 held hostage onboard their ships. A total of 112 vessels were boarded and six were fired upon, while 12 reported attempted attacks. Two fishing vessels were hijacked, both in the Gulf of Guinea.
Here we quote from Michael Howlett, Director of IMB, whose Piracy Reporting Centre (IMB PRC) has responded to reports and shared data since 1991, supporting seafarers and fishers worldwide: "Crews are facing exceptional pressures due to Covid-19, and the risk of violent piracy or armed robbery is an extra stress.
"While IMB liaises with authorities swiftly in case of a pirate attack, we encourage all Coastal states and Regional Cooperations to take responsibility for ensuring maritime security within their EEZ to achieve safer seas and secure trade."
Gulf of Guinea the world's piracy hotspot
With approximately 95% of global kidnappings reported from within Gulf of Guinea waters, IMB warns that pirate gangs in the area are "well organised and targeting all vessel types over a wide range."
The furthest attack from shore also involved the most crew kidnapped from a single vessel in 2020. On 17 July 2020, eight pirates armed with machine guns boarded a product tanker underway around 196 nautical miles southwest of Bayelsa, Nigeria. They held all 19 crewmembers hostage, stole ship's documents and valuable items, and escaped with 13 kidnapped crew. The tanker was left drifting with limited and unqualified navigational and engine crew onboard. A nearby merchant vessel later helped the tanker to sail to a safe port.
Regional Authorities were notified and the 13 kidnapped crewmembers were released safely one month later.
A more recent example was on 8 September 2020, when armed pirates attacked a refrigerated cargo ship underway around 33 n.miles south-southwest of Lagos, Nigeria. Two crewmembers were kidnapped, but the rest of the crew managed to retreat into the citadel – one of the industry's recommended best practices endorsed by IMB. A Nigerian naval team was dispatched, who boarded, conducted a search, and then escorted the ship to a safe anchorage for investigations.
The IMB piracy report includes a special thanks to the Nigerian Authorities, particularly the Nigerian Navy and Nigerian Maritime Administration and Safety Agency NIMASA who "continue to provide timely information, actions and valuable cooperation between Agencies."
Knife attacks in Singapore Straits
The piracy centre recorded 15 attacks to ships underway in the Singapore Straits. While most are considered low level crimes, two crew were threatened, one injured and another taken hostage, indicating a continued risk to the crew. Knives were reported in at least ten of the incidents.
Indonesia brighter
There has been a sharp quarterly decrease in the number of incidents within the Indonesian archipelagic, with four reported in Q3, down from 14 in Q2. These are viewed as low level opportunistic thefts with most reported on anchored vessels.
Call for more reporting
All vessel types in in the Caribbean, Central and South America – including Brazil, Colombia, Ecuador, Haiti, Mexico and Peru are being targeted at anchor as well as underway, and during river passages under pilotage. On 26 September 2020, a container vessel was boarded by armed perpetrators during its river passage at Guayaquil. The attackers fired their weapons towards the accommodation and bridge, then opened containers and stole the contents before leaving.
However, as many more cases go unreported, IMB is urging all ship masters and operators to inform, in a timely manner, the 24-hour IMB Piracy Reporting Centre of any attacks to their vessels or crew.
Howlett said the IMB PRC has always believed in the power of sharing and exchanging information: "Understanding the true risk in the area is an important step towards improving safety for all seafarers. IMB PRC not only relays reports to appropriate response agencies and broadcasts incident information to ships via GMDSS, but we also use the reported statistics to raise awareness of these crimes and be a catalyst of change."
Somali piracy remains under control
No incidents of piracy have been reported around Somalia since 2018. In August 2020, pirates freed the last three of the thousands of hostages who have been held captive in the region over the years since ship hijackings peaked in 2011.
Despite this, as Somali pirates are still capable of carrying out further attacks, IMB urges vessels to continue implementing the industry's best management practices (BMP5), and encourages the continued, stabilising presence of navies in the region.
IMB Piracy Reporting Centre
Since its founding in 1991, IMB PRC remains a single point of contact to report all crimes of maritime piracy and armed robbery, 24 hours a day. Their prompt forwarding of reports, and liaison with response agencies, broadcasts to shipping via GMDSS Safety Net Services and email alerts to CSOs, all provided free of cost, help the response against piracy and armed robbery and the security of seafarers, globally.
Edited by Paul Ridgway
London
♦♦♦♦♦♦♦♦♦
News continues below
WHARF TALK: DNG ENERGY RECEIVES TRANSNET LICENCE TO CARRY OUT LNG BUNKERING IN NGQURA HARBOUR
Gauteng-based DNG Energy, a 100% black-owned African entity, has been granted a licence from Transnet National Ports Authority to conduct LNG bunkering within the port of Ngqura, operating from shoreside and from their floating storage unit (FSU).
The start-up of operations with LNG bunkering could…[restrict] commence during 2021, it is understood.
DNG Energy chief executive officer, Aldworth Mbalati is quoted as saying that South Africa will become a premium LNG bunkering hub in the Southern Hemisphere. Mbalati called this a positive outcome for both the company and South Africa.
He said the licence allows DNG Energy to respond to environmental, legislative and business needs for the South African and the international LNG fuel markets.
The LNG bunker licence, believed to be the first in Africa, will enable DNG to provide offshore as well as in harbour services.
Before operations can commence however, DNG Energy will have to complete its terminal infrastructure and facilities and arrangements for the delivery of its storage and bunkering equipment.[/restrict]
♦♦♦♦♦♦♦♦♦
News continues below
SARS ANNOUNCES IMPROVED TRADE FACILITATION MEASURES
by Prenisha Govender, Associate, Tax, Baker McKenzie 
Johannesburg
Following queries and concerns from various industry stakeholders regarding information that all bonded goods must be imported into South Africa under sealed conditions (i.e. containerised), the South Africa Revenue Service (SARS) published a notice on 25 September 2020 (Notice), which clarifies the customs declaration process under section 64D of the Customs and Excise Act 91 of 1964 (Act).
Section 64D of the Act regulates the removal of goods in bond and states, inter alia, that no person, except if exempted by rule, shall remove any goods in bond, or for export, or any other goods that may be specified by rule, unless licensed as a remover of goods in bond.
SARS, by way of the Notice, unequivocally states that recent amendments to section 64D of the Act does not, and will not, affect and/or influence the declaration process of cargo that is to be transported, nor will it affect and/or influence importations, exportation or transit cargo.
Accordingly, cargo can be either containerised, breakbulk or bulk cargo. Furthermore, SARS has advised clients to complete the mandatory fields on their declarations.
This approach appears to be in line with the World Customs Organisation's (WCO) trade recovery recommendations. The COVID-19 pandemic has increased the costs of exporting by at least 25% and accordingly, the WCO recommends that all countries apply improved facilitation measures for legitimate trade in order to maintain seamless flows of goods and allow companies to run their businesses to the greatest possible extent.
♦♦♦♦♦♦♦♦♦
News continues below
WHARF TALK: SAECS SERVICE UPDATE – mv SANTA BARBARA 204A
According to Ocean Network Express (ONE), the vessel SANTA BARBARA on voyage 2-4A is experiencing mechanical issues and will undergo repairs in Algeciras.
The vessel will complete her full North Europe load rotation and all cargo onboard will be transshipped in Tangier APM terminal to the…[restrict] mv Santa Clara v.204A. Export cargo from Algeciras will also be loaded directly to the Santa Clara.
Cape Town destined cargo will be discharged on the northbound call with an estimated arrival of 12 November 2020.
Santa Barbara 204A:
PORT                         ETA             ETD
LondonGateway     5-Oct-20     6-Oct-20
Bremerhaven          7-Oct-20     9-Oct-20
Rotterdam             10-Oct-20     11-Oct-20
Tangier APM         14-Oct-20     15-Oct-20
Santa Clara 204A/205B:
PORT                       ETA              ETD
Algeciras TTI          13-Oct-20    14-Oct-20
Tangier APM          15-Oct-20    16-Oct-20
Algeciras APM       17-Oct-20    18-Oct-20
Cape Town             OMIT           OMIT
Ngcura                    28-Oct-20   29-Oct-20
Durban                    31-Oct-20     4-Nov-20
Cape Town             12-Nov-20   14-Nov-20
* Dates subject to change.[/restrict]
♦♦♦♦♦♦♦♦♦
News continues below
THE IMPACT OF COVID-19 ON SEAFARERS & THE SOUTH AFRICAN MARITIME SECTOR
By Lwandile Mabuza
The impact of the Covid-19 outbreak on the global maritime sector has been devastating throughout the industry's value chain.
According to the International Maritime Organization (IMO), the COVID-19 pandemic has highlighted the professionalism and sacrifice of the two million seafarers who serve on the world's merchant fleets.
Shipping has continued to transport more than 80% of global trading volumes, including vital medical supplies, food and other essential goods that are critical for the COVID-19 response and recovery. But hundreds of thousands of seafarers face a humanitarian crisis, because they have been stranded at sea, unable to get off the ships they are working on, with their contracts extended by many months.
This matter needs to be addressed urgently, by governments classifying seafarers as essential workers, thereby ensuring crew changes can safely take place.
South Africa is an international hub for crew changes and is a preferred stopover for bunkering, and replenishing provisions and stores, fresh water, and ships' spares, and enabling medical evacuations and other husbandry services that are offered while ships anchor off port limits (OPL services). This ensures that ships keep moving, because in shipping 'time is money'. Therefore, to minimise port stay or the number of calls in a voyage, most ship-owners prefer outer port limit services to save costs.
South Africa's positioning on the maritime trade route offers maritime connectivity, with its modern airports providing easy access to major international destinations, hotels and medical facilities, which makes the country an ideal hub for crew changes and OPL services.
The border closures and travel restrictions of lockdown alert level 5 brought about the banning of crew changes in South Africa. While the world, including South Africa, shut its borders, seafarers were left stranded at sea with no way to get home. To assist the plight of seafarers, the IMO put forward protocols for the signatories to the maritime convention to conduct crew change under safe conditions.
It was not until May, during alert level 3 that South Africa opened two of its ports for safe repatriation of South African seafarers. While this has been a difficult time, government and state agencies did all they could to ensure a well-coordinated process that prioritised health and safety.
From the arrival of seafarers at the seaports, to the attendance of port health, immigration and the South African Police Service (SAPS) who escorted the vehicles to quarantine facilities to deliver the seafarers safely, all Covid-19 protocols were observed.
The industry must continue to adapt and refine the standard operating procedures in the maritime sector to enable the delivery of a world-class service and much needed support for seafarers.
Following the pronouncement of alert level 2 in July 2020, the regulations were amended to unban crew changes in the ports of Durban and Cape Town from 1 August 2020. Under more stringent conditions the industry once again prepared to conduct efficient logistics to support the safe evacuation of seafarers from vessels to airports.
Although successful operations were executed, the lack of clear and integrated processes, poor coordination and application of regulation posed major challenges, which impacted on cost, time and the inconvenience of missed flights which brought about a risk to compliance.
With every declined application for crew change by the authorities or inefficient execution of logistics, ship owners were left with no choice but to sail on to the next port of call at neighbouring ports, thereby reducing the competitiveness of South Africa's maritime industry.
On World Maritime Day – commemorated on 24 September, the IMO declared the plight of stranded seafarers as a 'humanitarian crisis' and called on governments to address this urgently, by classifying seafarers as essential workers and ensuring that safe crew changes can take place.
As South Africa embraces Transport Month, which is commemorated in October, stepping down to level 1, and opening its borders to permit the resumption of more economic activity, the maritime industry welcomes the new directives from the ministry of transport to permit foreign crew changes at all of South Africa's nine commercial ports, in an effort to alleviate the 'humanitarian crisis.'
While passenger ships for international leisure purposes remain prohibited from disembarking any international passengers at any South African sea ports, and with provisions only for disembarking returning South African citizens or permanent residents, for replenishing fuel, stores and provisions and for medical evacuation and search and rescue purposes, it is pleasing to see that registered foreign research vessels and marine safety tugs are now allowed to dock at sea ports, subject to mandatory quarantine laws.
In addition, cargo vessels are allowed to dock at seaports for purposes of cargo works, repairs, replenishing fuel, and provisions.
Among other things, this crisis has taught that collaboration remains a crucial element of addressing the challenges in the maritime industry.
We also have learnt never to let a crisis go to waste. In reviewing and enhancing our industry standard operating procedures to support safe crew changes, the country has been able to reposition itself as a hub for safe crew changes and outer port limit services.
Going forward, to ensure better preparedness in the event of a similar crisis, there is a need to ensure that there are integrated guidelines in legislation for all state agencies and the industry to support the ease of conducting safe crew changes. Furthermore, efforts must be made to ensure business continuity without risking lives, to minimise the economic impact of similar pandemics and the ripple effects on the livelihoods of those who depend on the sector.
Collaboration between government and industry remains crucial. There is a need for technological advancement of a national single window that will enable efficient and secure information flow between state agencies and industry to enable more agile operational processes.
Servest Marine has been working on operations readiness plans to ensure sufficient capacity to support customers in delivering seafarers on and off the ships so they can keep their vessels moving.
The ocean economy still has great potential and can contribute up to R177 billion to the country's GDP and create over one million jobs by 2033, as projected by Operation Phakisa, government's ocean economy strategy. However, to achieve this, a lot of effort must be channelled towards collaboration between the private and public sectors to ensure better recovery from the distress that the Covid-19 lockdown has caused.
The focus of this collaboration should be on regulation, water transport services, technology and enterprise development. The industry is looking forward to a positive recovery in the last quarter of 2020 with most ports now opened, however, how long this turnaround will take, unfortunately, remains unclear.
* Lwandile Mabuza is the managing director of Servest Marine.
♦♦♦♦♦♦♦♦♦
News continues below
SISHEN-SALDANHA IRON ORE CORRIDOR TO UNDERGO MAINTENANCE SHUTDOWN
The Sishen-Saldanha iron ore railway corridor is to undergo its annual 10-day maintenance, Transnet Freight Rail has announced.
The shutdown will commence this Friday, 16 October, with the anticipation that all work will be completed on Sunday, 25 October 2020.
Part of this year's maintenance will include the installation of a permanent bridge to replace the temporary emergency bridge that was installed at…[restrict] Vredendal following the incident that occurred on 29 November 2019 wherein an abnormal low bed vehicle loaded with an excavator collided and damaged the bridge deck.
The shutdown of the iron ore export line is part of the rail utility's annual scheduled maintenance window which presents an opportunity to "catch up" on maintenance backlogs such as replacement of obsolete and problematic infrastructure and accelerate major capital expansions in line with the expected volume growth on the Iron Ore Corridor.
The infrastructure upgrades and maintenance activities will be executed over the 861-km railway line section between Sishen and Saldanha. The railway line spanning over two provinces, Sishen in the Northern Cape and Saldanha in the Western Cape, and will be closed to traffic during this period as this is a pre-planned exercise following consultations with customers, cross functional departments within TFR and other third parties.
The railway line upgrades are put in place to enhance operations and safety. Benefits include an increase in the movement of trains on the rail since some of the speed restrictions will be lifted; increase in reliability; compliance with statutory requirements and the opportunity to implement the rail maintenance plan.
In light of the COVID-19 pandemic risks, the necessary PPE will be provided to all and safety standards, procedures and processes will be adhered to at all times.
Scope of work
Details of the scope of work to be executed during the shutdown includes the following:
– Replacement of 30,623 sleepers
– Replacement of 3 turnouts
– Ballast Screening 21km of track
– Ballast Tamping 242km of track
– Ballast Regulating 92km of track
– Replacement of 5km of catenary wire
– Replacement of 1.2km of contact wire
– Replacement of 870 insulators
– Replacement of 1 culvert
– Installation of 1 bridge deck
– Other OHTE components and Substation maintenance
– Various Telecoms and Signalling maintenance activities.[/restrict]
♦♦♦♦♦♦♦♦♦
News continues below
IN CONVERSATION: South African community wins right to access mining application.
But who will win the war?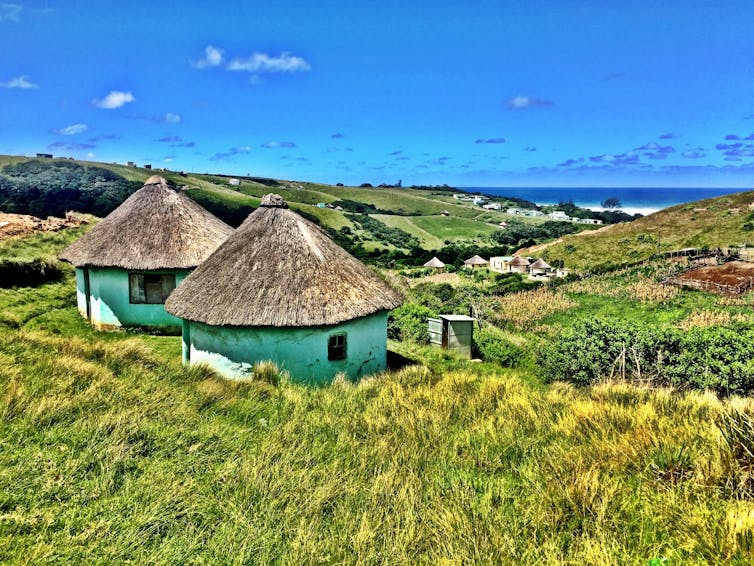 South African law states that mineral resources are the common heritage of all the country's people. The state is the custodian of these resources for the benefit of all citizens.
The Mineral and Petroleum Resources Development Act also states that mineral resources must be developed sustainably. The Constitution protects the right of all people to an environment that's not harmful to health or well-being. The Act aims to promote equitable access to the nation's mineral resources. It's also meant to ensure that holders of mining rights contribute towards the socio-economic development of the areas where they are operating.
But in reality, the situation is heavily skewed in favour of the mining industry. The Act fails to protect communities whose land, livelihood and culture will be directly affected, and possibly destroyed, by mining.
The most recent example of the Act's failure is the Umgungundlovu (known as "Xolobeni") community's struggle to access an application to mine heavy mineral sands on their land.
South Africa's coastlines contain some of the world's richest and unexploited deposits of heavy mineral sands. The minerals (zircon, ilmenite, rutile) are raw material for titanium dioxide, a white pigment used in paint, coatings, glazes, paper, and even the cosmetics industry.
Initiatives to exploit these mineral sands have gained momentum in recent years at the behest of the national Department of Mineral Resources and Australian mining multinational Mineral Commodities Ltd. Unfortunately, critical decisions about this were constrained by the bias inherent in the Mineral and Petroleum Resources Development Act.
Mining licences and community rights
To mine the heavy mineral sands, Mineral Commodities Ltd – through its subsidiary Transworld Energy Resources – needed to apply for a mining right from the Department of Mineral Resources. A mining right application includes important information such as the particulars of the applicant, the mining works programme and the social and labour plan for socio-economic development of mine-affected areas.
Within 14 days after accepting an application, the regional manager of the Department of Mineral Resources must make this acceptance known. The department must then call on interested and affected parties to comment within 30 days.
Until very recently, the forms of notice prescribed by the law were publication in the provincial Government Gazette, a notice in the magistrate's court or one in a local or national newspaper. In practice, these weren't conducive to reaching parties who need to know, particularly rural communities.
Importantly, the Act is silent on the right of interested and affected parties to know that an application has been submitted, and their right to access the information in an application. This information asymmetry immediately places parties such as the Xolobeni community at a disadvantage.
On the east coast, members of the Xolobeni community have been resisting mining on their land for more than 15 years. In March 2015, they learnt that Transworld Energy Resources had filed an application to mine on their land. They approached the Department of Mineral Resources' regional manager to get a copy of the application. He referred them to a Transworld Energy Resources representative and the environmental consultant. Community members became increasingly frustrated as these role players sent them from pillar to post.
Seeing the application, community members reasoned, would enable them to meaningfully consult with the mining company. It would help them determine how the mining might disrupt or benefit their lives.
In late 2015, they decided to approach the High Court for a determination of their rights to the information in the mining application. The company eventually forwarded a copy of the application to the community's attorneys in February 2016. It didn't concede that the community members were entitled to the information.
A court victory
On 14 September 2020, the North Gauteng High Court ruled that the community and other interested parties had a right to a copy of an application for a mining right. This, the court said, would enable "meaningful consultations".
This right, the court ruled, is grounded in the provisions of the Mineral and Petroleum Resources Development Act itself. The community need not rely on the cumbersome Promotion of Access to Information Act.
This decision builds on the Xolobeni community's first court victory against Transworld Energy Resources, in November 2018. In this case, Judge Basson ruled that the Department of Mineral Resources was obliged to obtain the "full and informed consent" of the community prior to granting any mining right. This right, the court said, is secured by the Interim Protection of Informal Land Rights Act, 1996.
Both decisions have been hailed as "groundbreaking", "game-changing", a huge victory for mining communities everywhere in the country.
A tactical gain or a game-changer?
But do these decisions correct the imbalance that existed? Or are they merely tactical gains in a war that has already been lost?
The plight of the Xolobeni community is not dissimilar to hundreds of other mining-affected communities across the globe who are at war with the proponents of mining. At war because what's at stake is survival itself: of people, livelihoods, species, landscapes, the survival of the company in the marketplace. At war because blood has already been spilled, at Xolobeni and elsewhere.
The war is essentially about two things. It's about different visions of development: agriculture, tourism, subsistence versus mining, urbanisation, industrialisation. And it's about the age-old question of whether mining, with all its adverse impacts, can benefit the many, or only the selected, significant few.
Currently, it is waged under opaque conditions:
Lack of access to information – applications, reports, the actual operations of the mine.
Opacity of shareholding structures and beneficial ownership.
The Xolobeni decisions bring a little more clarity. But without thorough institutional reforms, wise choices on the exploitation of mineral resources for the benefit of all South Africans will remain elusive.
The South African government should follow international best practice. It should require the disclosure of beneficial ownership in mining (and gas) companies. And it should crack down on the involvement of politically exposed persons, including traditional authorities, in mining deals.

Tracy-Lynn Field, Professor of environmental and sustainability law , University of the Witwatersrand
This article is republished from

The Conversation

under a Creative Commons license. Read the

original article.
♦♦♦♦♦♦♦♦♦
News continues below
SA PORT STATISTICS FOR SEPTEMBER 2020 ARE NOW AVAILABLE HERE
Port statistics for the month of
September 2020

, covering the eight commercial ports under the administration of Transnet National Ports Authority, are now available.

Details of the port throughputs, ships berthed and container volumes handled can be seen in the Tables below.

Statistics involving motor vehicles are also included, per port and measured in vehicle units. These include imports and exports, earth-moving and other ro-ro or wheeled vehicles.

The effects of the economic downturn…[restrict] remain apparent from the numbers reflecting imports and exports through the ports, although there are signs of a gradual recovery in respect of cargo volumes handled.

Container handling remains affected, representing as it does manufactured goods and household items of the wholesale and retail trades. September is ordinarily one of the peak months and this September was not a bad month considering the circumstances, although the year 2020 will certainly go down as one better forgotten.

These signs are likely to be repeated in the remaining months of this year, pointing to an overall dismal 2020 all round. For a comparison with the same month in 2019 we provide a link below.

For comparison with the equivalent month of last year, September 2019 CLICK HERE

These statistic reports on Africa PORTS & SHIPS are arrived at using an adjustment on the overall tonnage compared to those kindly provided by TNPA and include containers recorded by weight; an adjustment necessary because TNPA measures containers by the number of TEUs and does not reflect the weight which unfortunately undervalues the ports.

To arrive at such a calculation,  Africa PORTS & SHIPS uses an average of 13.5 tonnes per TEU, which probably does involve some under-reporting.  Africa PORTS & SHIPS  will continue to emphasise this distinction, without which South African ports would be seriously under-reported internationally and locally.

Port Statistics continue below
Figures for the respective ports during September 2020 are:
Cargo handled by tonnes during September 2020, including containers by weight
| | |
| --- | --- |
| PORT | September 2020 million tonnes |
| Richards Bay | 8.775 |
| Durban | 7.398 |
| Saldanha Bay | 7.373 |
| Cape Town | 1.393 |
| Port Elizabeth | 1.164 |
| Ngqura | 1.145 |
| Mossel Bay | 0.059 |
| East London | 0.146 |
| | |
| Total all ports | 27.403 million tonnes |
CONTAINERS (measured by TEUs) during September 2020
(TEUs include Deepsea, Coastal, Transship and empty containers all subject to being invoiced by NPA
| | |
| --- | --- |
| PORT | September 2020 TEUs |
| Durban | 225,039 |
| Cape Town | 70,312 |
| Port Elizabeth | 16,037 |
| Ngqura | 55,574 |
| East London | 3,339 |
| Richards Bay | 574 |
| | |
| | |
| Total all ports | 370,875 TEU |
MOTOR VEHICLES RO-RO TRAFFIC (measured by Units- CEUs) during September 2020
| | |
| --- | --- |
| PORT | September 2020 CEUs |
| Durban | 33,400 |
| Cape Town | 2 |
| Port Elizabeth | 7,318 |
| East London | 1,497 |
| Richards Bay | 0 |
| | |
| | |
| Total all ports | 42,217 CEU |
SHIP CALLS for September 2020
| | | |
| --- | --- | --- |
| PORT | September 2020 vessels | gross tons |
| Durban | 263 | 10,418,969 |
| Cape Town | 150 | 3,640,916 |
| Richards Bay | 150 | 5,921,415 |
| Port Elizabeth | 82 | 2,289,320 |
| Saldanha Bay | 64 | 4,424,590 |
| Ngqura | 62 | 3,010,849 |
| East London | 16 | 363,444 |
| Mossel Bay | 32 | 147,657 |
| | | |
| Total ship calls | 819 | 30,217,160 |
— source TNPA, with adjustments regarding container weights by AP&s[/restrict]
♦♦♦♦♦♦♦♦♦
News continues below
SAMSA AND ABSA IN ACTION TOGETHER TO ASSIST FISHING COMMUNITIES
It has been announced that the South African Maritime Safety Authority (SAMSA) and the banking organisation ABSA have begun collaborating to bring relief to fishing communities in the Eastern Cape, KwaZulu-Natal and the Northern Cape.
The fishing communities who are recipients of the assistance have all been adversely affected by the COVID-19 pandemic.
The intervention is a result of the call to action by the national government for citizens and business to do their part in assisting fellow South Africans who have been economically affected by COVID-19.
The collaboration which will be delivered in two phases will see both SAMSA and Absa committing three million rands to the project. The first phase launched on Monday (12 October 2020) and comprises the provision of immediate to near-term essential food support to communities in Mbizana and Coffee Bay in the Eastern Cape and communities of Kwa-Xolo, Gamalahle, Ndizimakwhe, Umzumbe and Umdoni in the province of KwaZulu-Natal.
Communities in the Northern Cape will be announced as soon as the interactions with the identified municipality are concluded.
The second phase of the collaboration will see unemployed or retrenched local small-scale fishers and other fishing workers receiving pre-sea training, skippers training and entrepreneurship training.
Included in the collaboration by SAMSA and Absa is the Moses Kotane Institute (MKI), which comes on board as a delivery partner, particularly on the training side of the intervention.
MKI is an internationally recognised research, innovation and maritime institution driving economic development in KwaZulu-Natal.
The programme will run from 19 October 2020 and should conclude in the first week of December 2020.
♦♦♦♦♦♦♦♦♦
News continues below
CMA CGM UPGRADES EURAF-1 SERVICE WITH DIRECT CALL AT TEMA, GHANA
French container line CMA CGM has announced an upgrade to its EURAF-1 service between Euraf and West Africa with a direct call at Tema in Ghana.
CMA CGM calls this a significant improvement of the EURAF 1 service connecting Europe and the Mediterranean to West African strategic markets.
As of mid-October 2020, EURAF 1 service will improve the service with a direct call at Tema.
The new product direct from Europe to Ghana offers competitive transit times with a gain of seven days. Tema will be reached in 20 days from Antwerp, 19 from Vlissingen, 21 from Rotterdam, 18 from Dunkerque and 22 from Tilbury.
Exporters in Ghana will benefit from excellent transit times and a direct service to Northern Europe. Dunkerque is reached in 16 days, Le Havre in 24 days and Antwerp in 19 days.
Additionally, there is now an inland service to Burkina Faso and Niger being offered through Tema gateway with very smooth connection.
The first vessel involved with the improved service is the mv CMA CGM AFRICA FOUR starting her rotation in Europe from 14 October with an ETA at Tema on 4 November 2020.
The port coverage and rotation will be as follows: Dunkerque – Tilbury – Antwerp – Vlissingen – Dunkerque – Le Havre – Montoir – Tanger – Algeciras – Dakar – Tema – Abidjan – Dakar – Algeciras – Dunkerque.
♦♦♦♦♦♦♦♦♦
News continues below
MAERSK BULLISH FOR Q3 & Q4 BUT 2,000 STAFF MADE REDUNDANT
Based on preliminary Q3 figures and the current outlook for Q4, AP Moller-Maersk (Maersk) has changed its full-year guidance for 2020.
Søren Skou, CEO of AP Moller-Maersk says that Maersk is on track to deliver a strong Q3 with solid earnings growth across all is businesses, in particular in Ocean and Logistics & Services.
"Volumes have rebounded faster than expected, our cost have…[restrict remained well under control, freight rates have increased due to strong demand and we are growing earnings rapidly in Logistics & Services. The outlook for Q4 is solid for the same reasons, and we are therefore able to upgrade our expectations for the full year," he said.
"The outlook for 2021 remains uncertain due to the ongoing pandemic. The positive impact from stimulus packages may be less strong in 2021, potential new lock downs will impact demand and the timing and effectiveness of a potential vaccine will impact 2021."
Skou said the company is now reporting an unaudited revenue of US$9.9 billion and an EBITDA before restructuring and integration costs of US$2.4 billion for Q3 2020, driven by a continued recovery in demand and initiatives to improve cost. Volumes in Ocean declined by around 3 per cent in Q3 2020 compared to previous year, which is slightly better than the anticipated mid-single digit contraction.
AP Moller-Maersk expects to take a restructuring charge of around US$100 million in Q3 2020 related to the redundancies of approximately 2,000 employees as the consequence of the changes to the organisation in Ocean and Logistics & Services announced on 1 September 2020.
"Given the result in Q3 2020 and the current earnings momentum we see across the businesses, the full year 2020 EBITDA is now expected to be in the range of US$7.5-8.0 billion, before restructuring and integration costs (previously US$6.0-7.0 billion). All other parameters of our guidance released on August 19th remain unchanged."
Trading conditions for the quarters ahead remain subject to a higher than normal uncertainty given the disruptions caused or potentially being caused by COVID-19.[/restrict]
♦♦♦♦♦♦♦♦♦
News continues below
US NAVY & US COAST GUARD REMAIN COMMITTED TO SUPPORTING AFRICAN NAVIES
Both the US Navy and US Coast Guard remain committed to providing support and helping build the security capabilities of African navies and coastguards.
This was the message coming from the commandant of the US Coast Guard, Admiral Karl Schultz, and Admiral Robert Burke, commander of the US Naval Forces Europe-Africa and NATO Allied Joint Command Naples.
Both gave assurances that their respective…[restrict] services remain committed to working jointly with African regional partners in building up maritime security in Africa and meeting threats posed to the region.
Admiral Burke emphasised that cooperation between the US and African partner nations together with European partners operating in the region remained essential in the face of security challenges and the need to build up the capabilities of African nations, with the goal of African nations taking on the security responsibilities within their own territorial waters.
Burke said there were a lot of visits by European nations as well as those of the US services. He said that sometimes these efforts were confusing because everyone had a different syllabus in hand and "sometimes we're picking up at a different part in the syllabus, and it's confusing to the nation," he said.
"We have a NATO Strategic Direction South function, which we refer to as the African hub, which is really designed at helping Africans identify solutions to African problems and bringing together all the right players – regional political leaders, military leaders, academic experts, whatever it takes to solve those issues. And we're using that NATO organisation to bring together US Navy, European navies, the US Coast Guard, and others to further organize and refine this."
The admiral said the US Coast Guard is concerned with illegal, unreported, or unregulated (IUU) fishing, particularly when IUU is perpetrated or abetted by state actors.
"Such states may use government resources to support unlawful fishing operations, encourage or assist their commercial fishing fleets to violate sovereign waters and exclusive economic zones, obtain dubious licensing and other certifications through illegal arrangements with corrupt officials, or even intimidate legitimate local fishermen using armed vessels and unsafe navigation practices," Schultz said.
Asked if this was specific to Chinese ships conducting such activities in Africa, he stated that the US was looking at any nation across the globe that was conducting IUU activities, and not just China.
But he noted that " it is a fact that China has the largest distant-water fleet, and that's 4,600 vessels. There's also estimates of up to 16,000 vessels that show Chinese characteristics that some are stateless, some have done some things with flag states."
Burke also mentioned that the Expeditionary Sea Base USS Hershel 'Woody' Williams (ESB-4) was currently in the Gulf of Guinea working with African partners. US Naval Forces Africa also runs an exercise program in Africa called the Express Series, which includes the Obangame Express (West African coast), Cutlass Express (East African coast) and Phoenix Express (North African waters), with each exercise addressing a number of law enforcement-related scenarios from smuggling and illicit fishing to piracy.
Read the full article in USNI by CLICKING HERE
[/restrict]
♦♦♦♦♦♦♦♦♦
News continues below
NSRI EVACUATES INJURED SEAMAN FROM SHIP IN ROUGH SEAS
Despite rough seas off the port of Durban, the National Sea Rescue Institute (NSRI) of Station 5 Durban carried out an evacuation of a seafarer who had suffered a serious injury on board his ship. The master of the vessel then radioed for assistance asking for medical assistance.
The 32-year old seafarer from the Maldives was injured while performing his duties on…[restrict] board the vessel, a bulk carrier. The NSRI duty crew, having been alerted, launched their rescue craft, Alick Rennie, to rendezvous with the bulker four nautical miles offshore of the port.
Accompanying the NSRI crew were Netcare 911 rescue paramedics.
Clifford Ireland, NSRI Durban duty coxswain, reported that the rendezvous and rescue was carried out in rough sea conditions, with three metre high swells.
Meanwhile, the ship's medical crew had stabilised the seaman in their medical room while awaiting the arrival of the NSRI.
Coming alongside the bulker, a paramedic and a NSRI swimmer were transferred on board the vessel where they took over care of the injured seaman.
With the patient in a stable condition,he was secured into a Stokes basket stretcher and transferred onto the Alick Rennie together with the two rescue personnel.
The NSRI craft then headed back into port and the NSRI base where the injured seaman was transferred into an ambulance and taken to hospital for further medical care.
Organisations involved in this rescue included the NSRI Emergency Operations Centre, Telkom Maritime Radio Services, WC Government Health EMS, Netcare 911 duty controllers, NSRI Durban duty controllers, Transnet National Ports Authority and Port Health Authorities, providing assistance with coordination, communications and logistics during the operation, which was completed at 00h16.[/restrict]
♦♦♦♦♦♦♦♦♦
News continues below
TRANSNET FOCUSES ON NATIONWIDE LEVEL CROSSING AWARENESS CAMPAIGN
With the month of October being observed as 'Transport Month', Transnet Freight Rail (TFR), the national rail freight carrier, together with a number of stakeholders, will embarked on National Level Crossing and Safety Awareness Campaigns from from 12th to 16th October 2020.
The aim of this initiative is to sensitise motorists, pedestrians…[restrict] and the general public about safety at level crossings, road and rail environments.
The awareness campaign is conducted by going out to designated level crossings as well as illegal level crossings where the safety teams engage motorists, pedestrians as well as communities residing along the rail infrastructure on safety awareness, and educate them about the dangers of not observing safety precautions.
The campaigns involve, among others, distribution of safety materials and educating the public about behaviour that renders them vulnerable to the unpleasant incidents often leading to loss of life.
Transnet will work together with the Rail Safety Regulator, PRASA, Railway Police, Rapid Rail Police, Metro Police, Fire Departments, Community Forums, Department of Transport and other external stakeholders in the campaign.
In a statement Transnet said it would like to appeal to road users, pedestrians and the community residing along the rail infrastructure to assist in eradicating level crossing incidents by exercising patience at level crossings as well as by obeying, at all times, the traffic laws governing rail level crossings.
"People involved in railway level crossing incidents are usually complacent when approaching crossings. The law requires motorists to bring the motor vehicle to a complete standstill at a level crossing. Similarly it also requires pedestrians to stop and observe both sides of the rail before crossing," the statement said.
"A fully laden goods train requires one kilometre to come to a stop and given their weight as well as their braking mechanisms, trains cannot swerve to avoid accidents. Road users are also reminded that trains have right of way at all times."
The 2020 theme for Transport month is 'Together shaping the future of transport.'[/restrict]
♦♦♦♦♦♦♦♦♦
News continues below
MARITIME SECURITY COLLABORATION:
Nigerian Government and Industry Joint Working Group
On 9 October the Oil Companies International Marine Forum (OCIMF*) issued the following statement:
The Joint Working Group (JWG) comprising the Nigerian Maritime Administration and Safety Agency (NIMASA), the Ministry of Transport, Nigerian Navy, Nigeria Ports Authority, Marine Police Interpol, the oil industry (represented by OCIMF) and shipping industry (represented by ICS, BIMCO, INTERCARGO, INTERTANKO and the Nigerian Shipowners' Association) was established in May 2020 in order to facilitate coordination between government and industry and align efforts to deter and respond to incidents of piracy and armed robbery in Nigerian territorial waters and EEZ.
The NIMASA/Industry Working Group (NIWG) is the first coordinated effort between industry and the Nigerian Government (represented by…[restrict] NIMASA, Ministry of Transport, Nigerian Navy, Interpol, Marine Police, Customs and Nigerian Ports Authority) to address the issues of maritime security.
The objective of the working group is to accelerate efforts to tackle maritime security threats by facilitating interaction between the stakeholders, pursuing projects through mutual collaboration, and enhancing transparency between government and industry in addressing the shared goal of achieving the permanent prevention of piracy and armed robbery in the region. By extension, ensuring the safety of seafarers and shipping operations in the region will enable Nigeria and other coastal states in the Eastern Gulf of Guinea to realise the full potential of their Blue Economies.
Progress update from the NIWG
Since the NIWG was established, considerable progress has been made to deepen collaboration between agencies and navies, build operational response capabilities, develop more robust reporting frameworks and share best practice between Government and industry.
It is the view of the NIWG the progress made to date demonstrates enthusiasm on both sides to tackle the problem despite considerable challenges posed by the pandemic. Now that the foundations for more collaborative working are in place, there is considerable momentum behind the NIWG's efforts to reduce maritime security incidents in the region.
At a regulatory level, NIMASA is now working directly with the IMO in developing a National Maritime Security Strategy, Nigeria has formally endorsed industry's Best Management Practices West Africa (BMP WA) guidance and, following the entry into force of, Nigeria's Suppression of Piracy and Other Maritime Offences Act, 2019 (SPOMO Act), prosecutions are underway.
The NIWG industry partners have been working with NIMASA to finalise a new Nigerian National Maritime Reporting Framework which will support merchant vessels in distress, and NIMASA's Command, Control, Computer Communication and Information (C4i) Centre has been identified as a national focal point for coordinating the multi-agency response. These developments are a significant step forward in improving Nigeria's response capabilities and potentially enhancing security for vessels operating in Nigerian Waters.
The NIWG recognises the role of the Maritime Domain Awareness for Trade -GoG (MDAT-GOG) as the single point of communication for merchant ships and is pleased to inform that cooperation between the IMB, MDAT-GoG and NIMASA's C4I Centre is progressing well.
There has also been a welcome escalation in the Nigerian Navy's maritime security response activities. Conduct of two military exercises (Operation Calm Water and Operation Sanga Sung) by NIMASA and the Nigerian Navy in recent months have been successful in testing and demonstrating response capabilities.
Importantly, considerable progress has also been made to advance The Integrated National Security and Waterways Protection Infrastructure project, otherwise known as the Deep Blue Project (DBP), which aims to comprehensively address insecurity and criminality in Nigeria's territorial waters and exclusive economic zone. While COVID-19 has caused disruptions to this landmark project, delayed training required to deploy DBP assets Q4 2020/Q1 2021 has recommenced. It is agreed by the NIWG that progressing the DBP is a key priority, which will require continued support by industry and sustained resource from the Nigerian government.
While this positive progress speaks to the benefits of leveraging the collective strength and capabilities of both Government and industry in striving toward a shared goal, the reality is that the risk of maritime security incidents in Nigerian waters remains high and is likely to increase in the coming months now that the monsoon season has ended.
The NIWG recognises that there is a considerable way to go, and therefore it is essential that momentum is maintained in implementing maritime security programmes and initiatives to effect real and lasting change and secure the waters blighted by maritime crime.
Edited by Paul Ridgway
London
* Founded in 1970 the Oil Companies International Marine Forum is a voluntary association of oil companies having an interest in the shipment and terminalling of crude oil, oil products, petrochemicals and gas, and includes companies engaged in offshore marine operations supporting oil and gas exploration, development and production.[/restrict]
♦♦♦♦♦♦♦♦♦
News continues below
SEEING BELOW THE SURFACE:
LADAR trials promise enhanced vessel safety
Knowing what lies ahead is essential to safe navigation. Now innovative Ladar technology is being tested onboard operating vessels to help captains to see not only objects on the surface of the water, but underneath.
Ladar is a light-based laser technology anti-collision system that identifies floating objects on or under the surface of the water, including drifting fishing nets, logs, containers and ice, but also plastic and other flotsam.
"We can detect items that lie well ahead, as the ship is sailing," says Sverre Dokken, founder of Offshore Monitoring, developers of Ladar.
The system was recently put to the test on a Color Line ferry in the seas around Scandinavia, then on a test vessel in the Mediterranean. "Since the beginning of the Ladar system development, we have placed great emphasis on testing the system's performance in every way possible, not only in controlled environments in the laboratory, but also in real-life settings," Dokken says.
"We recently had the opportunity to set up the system on board Color Magic and execute a series of tests and benchmarks along the Oslo-Kiel route," he relates. The team first detected objects on the route sailing from Oslo to Kiel, then ran the same tests on the return leg to verify the identity of objects detected on the first pass. "The test was a success. First we identified a series of objects, and then we were able to verify the findings," Dokken reports.
Color Line was particularly interested in learning more about the moving sandbanks in Kattegat, the stretch of water between Denmark and Sweden.
"We want to exploit wind and current conditions in order to reduce resistance and lower fuel consumption, and this sometimes involves varying from the pre-determined course," says Jan-Helge Pile, Technical Manager in Color Line.
Read the rest of this report in the TRADE NEWS section available by CLICKING HERE
♦♦♦♦♦♦♦♦♦
News continues below
ZAMBEZI BRIDGE AT KAZUNGULA COMPLETED
connects Botswana and Zambia
Construction of the international bridge connecting Botswana and Zambia at Kazungula has finally been completed, the contractors have announced.
The 923-metre-long, 18.5-metre-wide bridge has been under construction since 2014. The announcement by South Korea's Daewoo Engineering & Construction Co in August said the bridge was undergoing a road test.
The bridge crosses the wide Zambezi river and is reported to be one of the biggest construction projects in southern Africa.
Comprising both a road and rail bridge, an extradosed bridge model (prestressed box girder and cable-stayed bridge) was applied to widen distances between piers and to allow vibration control.
The principal of an extradosed bridge is where a girder-reinforcing cable is attached to the main tower similar to the cable of a cable-stayed bridge, except the height of each tower is lower than that of a cable-stayed bridge. As a result the cable plays a relatively small role in buttressing the upper layer of the bridge, therefore the upper layer is designed to be stronger.
The new bridge has six main towers standing in a row and is built on a curve to avoid the adjacent borders of Zimbabwe and Namibia, making the bridge into a landmark for the region.
The bridge is almost on the spot where four countries meet – Botswana, Zambia, Namibia & Zimbabwe.
The benefit of the new bridge is aimed at bolstering trade between the two countries as well as the entire region involving four countries, by reducing the time taken to cross the river and to facilitate trade including imports and exports through the port of Walvis Bay.
In addition to being a road bridge it includes a single line rail crossing as well as a pavement for pedestrians. The railway is to be connected to the Mosetse–Kazungula–Livingstone Railway.
The bridge will also facilitate the use of a single border crossing post.
Construction of the Kazungula bridge has been financed by the Japan International Cooperation Agency and the African Development Bank.
♦♦♦♦♦♦♦♦♦
WHARF TALK:  Durban Port Bulletin News
Moshe Mptlohi, Transnet national Ports Authority General Manager reports:
This week (3-ct10 Oober), the Port of Durban leadership team had the honour of welcoming TNPA's incoming Chief Executive, Mr. Mninawe (Pepi) Silinga. We had fruitful conversations with him and he promised to come back to our shores to have engagements with you, our valued stakeholders.
In not so good news this week. The Port of Durban is currently challenged by congestion in the Maydon Wharf Precinct of the port. Challenges noted were as a result of trucks that made their way to the precinct ahead of time in terms of terminals not being ready to process them. The trucks then obstructed access to the weighbridges as a result the trucks ready for processing were unable to. Law enforcement agencies were deployed to try and control the congestion on roads in this precinct. From a Port perspective, work is being done in the background to address the issues of congestion and safety in this precinct. A process is currently under way where the City is being requested to grant the Port permission to control Maydon Wharf road (as currently this is a public road).
A Mandatory booking system has been on the cards for some time now for terminals in this area and now the time for enforcement is a priority. Property Developers who have land in the western sides have also been engaged with the view of having a staging area which can be used by transporters.
It was with great pleasure to note that the last 10 of the new straddle carriers were injected into operation at the Durban Container Terminal – Pier 2. It must be noted that these 10 machines will be going through the endurance test before they can be factored fully into the current fleet. This concludes the deployment of the 23 straddle carriers that were promised to industry last year. From a Decongestion Task Team point of view, we are optimistic that this will signal our strong commitment towards improving the fleet availability and better handling rates. With that being said the port has lost significant operating time due to wind stoppages.
On the wind stoppage challenge, I would like to invite innovative ideas from you on how port operations can mitigate against these winds and ensure efficiency for our customers. Suggestions can be forwarded to my email address moshe.motlohi@transnet.net
This week we had an engagement with the members of the Progressive Freight Solution (PFS). The PFS is a stakeholder that is interested in contributing towards improving port efficiency. We have resolved that they become a member of the Decongestion Task Team. I am looking forward to their positive contribution. With this said, our focus for the upcoming week will be to integrate PFS into the various Decongestion work streams.
The economic impact of COVID-19 is still being felt across the world. In terms of projections, we do not see an increase in cargo movement that is normally envisaged to build up before Christmas.
source: TNPA GM Office
♦♦♦♦♦

♦

♦♦♦
News continues below
WHARF TALK: Durban Volume & Vessel Call Performance
Durban port container volumes were below budget, reports TNPA General Manager, Moshe Motlohi. The ongoing effects of the global outbreak of Covid-19 coupled with weather delays remain the leading reasons for the negative deviation.
Poor productivity at the terminals was due to wind delays in the container terminals. Pier 2 being the most impacted with delays of up to 22 hours which led to 3 vessels less handled than planned. Imports drove the negative performance and were below budget by 29% and exports were also below budget by 6%.
Underperformance of imports was due to a decline in demand, which can be attributed to reduced consumer spending and poor economic conditions.
For the reporting week, automotive volumes were also below budget. Exports registered a total of 5157 units handled across the quay with one of the major OEMs performing well at 3257 units. Automotive imports also performed marginally well with a total of 3726 units landed for the period.
Our Dry Bulk volumes have performed well above budget for the reporting week. Chrome exports bolstered volume with just over 123 000 tons loaded for the period. Fertilizer imports also performed well with a total of 94 216 tons landed, fertiliser throughput generally increases at this time of the year pre-planting season. Wheat imports and manganese ore exports also performed marginally well.
Break Bulk volumes were below budget. Volumes were primarily made up of rice imports which amounted to 18019 tons with the remainder being project and steel.
Our Liquid Bulk volumes were below budget for the reporting week. Petroleum volumes were the major contributor for the negative variance, achieving 53% below budget due to vessel scheduling where vessels scheduled for the previous week will now be arriving in this reporting week. SBM and chemicals achieved 2% and 24% respectively.
source: TNPA GM Office
♦♦♦♦♦♦♦♦♦
News continues below
WHARF TALK: Ngqura's role as first Liquefied Natural Gas (LNG) import terminal affirmed
Last week's Africa Oil Virtual Summit was used as a mean of affirming the Port of Ngqura and the Coega Special Economic Zone (SEZ) as the location of South Africa's first Liquefied Natural Gas (LNG) import terminal.
This was spelt out by Minister of Mineral Resources and Energy, Gwede Mantashe, who emphasised that natural gas utilisation and monetisation is a priority for the country.
"We are re-positioning South Africa to be a serious player in…[restrict] the global gas market," Mantashe said. "We will promote the development of a domestic and regional gas market. We continue to advance our Gas to Power projects with the Coega Special Economic Zone (SEZ) identified as the first Liquefied Natural Gas (LNG) import terminal."
The minister said this lays a foundation for Gas to Power plants and converting existing power plants from Diesel to Gas.
In a reference to 2019's gas deposit discovery and current further offshore drilling discoveries at the Brulpadda well (Bullfrog well), located south of Mossel Bay, should be used for internal power plants and other petrochemical facilities.
"This will reduce the importation of beneficiated hydrocarbons. To this end, a Technical Working Group that will produce a commercial business plan for the development of the LNG import-export facilities across various ports of our country, has been established."
Mantashe said that the Gas Amendment Bill will be tabled in Parliament in line with the appropriate legislative process. This Bill aims to, among others, attract infrastructure investment for LNG imports; increase exploration; create domestic gas feedstock; diversify the energy mix and reduce carbon emissions.
"The national Gas Master Plan 2020 is being developed. This will consolidate our participation in the development of the SADC Regional Gas Master Plan aimed at strengthening regional cooperation in the creation of a regional gas market.
"Integral to the LPG Expansion Initiative, we have set a target to double LPG consumption over the next five years. Also localise the manufacturing of gas cylinders and appliances," the minister said.[/restrict]
♦♦♦♦♦♦♦♦♦
News continues below
WHARF TALK: WALVIS BAY ATTRACTS INCREASED RO-RO TRAFFIC
The Namibian Ports Authority says it is becoming increasingly the choice of call for Roll-on-Roll-off (Ro-Ro) car carrier vessels.
During the COVID-19 pandemic period the Namibian Ports Authority has received 17 Ro-Ro vessel calls over the roughly six months with four calls in September and a further four such ships due during October.
Namport says that although these numbers do not show an increase, "it is worth noting that these vessels were allowed to dock at the Port of Walvis Bay despite…[restrict] the pandemic, this allowance is due to the strict health practices that the Port Authority ascribes to."
Much of the Ro-Ro cargo arriving at Walvis Bay is destined for neighbouring or more distant countries across the greater Southern Africa Development Community (SADC) region where the market for this type of cargo is increasingly favourable.
One of the more recent Ro-Ro vessels to call was the car carrier RRC COMPASS which discharged a total of 217 vehicles destined for different markets in Southern Africa.
"With Namibia located at the very strategic location that it is, the country is given a favourable advantage to be a connecting point to other neighbouring land-linked countries such as Zambia, Zimbabwe, Botswana and DRC Congo who make frequent use of the seamless offerings of Namport."
Typical cargo discharged at Walvis Bay includes wheeled cargo, such as cars, trucks, semi-trailer trucks, trailers, and railroad cars, which are driven on and off the ship on their own wheels or using a platform vehicle, such as a self-propelled modular transporter.
Namport says it remains committed to realising its dream of becoming the best performing world-class port in Africa.[/restrict]
♦♦♦♦♦♦♦♦♦
News continues below
ROYAL NAVY NEWS:
UK Carrier Strike Group assembles for the first time
In the first week of October the Ministry of Defence reported that the Royal Navy's new Carrier Strike Group had assembled for the first time, marking the beginning of a new era of operations.
At the time of writing HMS Queen Elizabeth is at the centre of the group which is witnessing the commencement of joint carrier operations between the Royal Navy and its NATO allies.
Nine ships, 15 fighter jets, 11 helicopters and 3,000 personnel from the UK, US and the Netherlands are now carrying out exercises in the North Sea.
The strike group is the largest and most powerful European-led maritime force in almost 20 years.
Commodore Steve Moorhouse, Commander UK Carrier Strike Group, said: "The new UK Carrier Strike Group is the embodiment of British maritime power, and sits at the heart of a modernised and emboldened Royal Navy.
"Protected by a ring of advanced destroyers, frigates, helicopters and submarines, and equipped with fifth generation fighters, HMS Queen Elizabeth is able to strike from the sea at a time and place of our choosing; and with our NATO allies at our side, we will be ready to fight and win in the most demanding circumstances.
"Carrier Strike offers Britain choice and flexibility on the global stage; it reassures our friends and allies and presents a powerful deterrent to would-be adversaries."
The Carrier Strike Group includes NATO's most sophisticated destroyers – the Royal Navy's Type 45s HMS Diamond and HMS Defender and US Navy Arleigh Burke-class USS The Sullivans as well as frigates HMS Northumberland and HMS Kent from the UK and the Dutch Navy's HNLMS Evertsen.
These warships will not only protect the Queen Elizabeth-class carriers from enemy ships, submarines, aircraft and missiles, but are also capable of conducting a range of supporting missions, from maritime security to disaster relief.
Meanwhile, two Royal Fleet Auxiliaries, Tideforce and Fort Victoria, will supply fuel, food, spares and ammunition, to enabled sustained operations from the sea without host nation support.
Commander Vince Owen, Commanding Officer of HMS Defender, said: "Providing air and missile defence to a Carrier Strike Group is exactly the task HMS Defender and the Type 45 has been designed to do.
"Having previously supported the French aircraft carrier Charles de Gaulle in the fight against ISIL in 2015 and more recently been part of the USS Abraham Lincoln task group as she transited through the Strait of Hormuz last year, it is exciting to be integrating HMS Defender into the UK-led Carrier Strike Group for the first time.
"Having just successfully completed a period of Basic Operational Sea Training over the summer, the men and women that make up my ship's company are motivated and ready to take part in the next stage of our training in preparation for deploying with the Carrier Strike Group next year."
HMS Queen Elizabeth and her Strike Group are currently exercising alongside allied nations in the North Sea, as part of NATO's largest annual exercise, Joint Warrior.
Cdr Rick Ongering, Commanding Officer of HNLMS Evertsen, added: "The Royal Netherlands Navy and the Royal Navy have been very close maritime partners for decades.
"Our marines have been working together through the UK-Netherlands Amphibious Force for almost fifty years and our ships regularly undertake Fleet Operational Sea Training in the UK.
"However, the opportunity to accompany HMS Queen Elizabeth is a new experience and HNLMS Evertsen is excited to be working with the UK Carrier Strike Group during Exercise Joint Warrior this October."
Edited by Paul Ridgway
London
♦♦♦♦♦♦♦♦♦
News continues below
NOBEL PEACE PRIZE GOES TO….World Food Programme (WFP
This year's Nobel Peace Prize has been awarded to, deservedly, the United Nation's World Food Programme, often referred to simply as WFP.
In its work across many parts of Africa among the more than 80 countries in which it provides services, the WFP makes use of shipping, with cargoes regularly delivered to Somalia and other troubled regions, with ships of the EU NAVFOR (European Naval Forces) providing escorts to ensure safe delivery.
In this regard we have frequently reported such activities, hence the following comments by WFP Executive Director David Beasley are appropriate in our news today.
Speaking from Rome, the headquarters of WFP, Beasley had this to say:
The awarding of the Nobel Peace Prize to the World Food Programme (WFP) is a humbling, moving recognition of the work of WFP staff who lay their lives on the line every day to bring food and assistance for close to 100 million hungry children, women and men across the world. People whose lives are often brutally torn apart by instability, insecurity and conflict.
Every one of the 690 million hungry people in the world today has the right to live peacefully and without hunger. Today, the Norwegian Nobel Committee has turned the global spotlight on them and on the devastating consequences of conflict. Climate shocks and economic pressures have further compounded their plight. And now, a global pandemic with its brutal impact on economies and communities, is pushing millions more to the brink of starvation.
The Nobel Peace Prize is not WFP's alone. We work closely with government, organizations and private sector partners whose passion for helping the hungry and vulnerable equals ours. We could not possibly help anyone without them. We are an operational agency and the daily work of our staff each day is driven by our core values of integrity, humanity and inclusion.
Where there is conflict, there is hunger. And where there is hunger, there is often conflict. Today is a reminder that food security, peace and stability go together. Without peace, we cannot achieve our global goal of zero hunger; and while there is hunger, we will never have a peaceful world.
♦♦♦♦♦♦♦♦♦
News continues below
DJIBOUTI BEGINS TRANSFORMATION OF HISTORICAL PORT
Out with the old, in the with new! Djibouti has commenced with the transformation of the old historical port of Djibouti into an international business district.
The commencement of this project was inaugurated this week by Ismail Omar Guelleh, President of the Republic of Djibouti at an inaugural function for the 6-phase regeneration plan.
This will see the historical port transformed into a district called the East Africa International Special Business Zone.
The first phase is the International Demonstration Area – the core part…[restrict] of the district – and will have a site area of approximately 220,000 square metres and a total investment of approximately US$513 million. Phase 1 is due to be completed within 5 years.
The first phase involves the construction of an exhibition centre, including a centre of excellence for maritime studies, as well as conference rooms, a hotel and apartments.
The whole project will ultimately create around 27,000 jobs, directly and indirectly.
"The regeneration of the Historical Port of Djibouti is the natural continuation of Djibouti's recent developments," said Chairman Abubaker Omar Hadi of the Djibouti Ports & Free Zones Authority (DPFZA).
"This project implements the Port-Park-City concept, which refers to the integration of ports, industrial parks and services. The ports are a key node in the transportation of goods; the international free trade zone brings added value to these goods; and this new business district will facilitate the development of services, particularly in the financial sector."
Maximising the country's geostrategic position
The development of an international business district will advance Djibouti's Vision 2035, the national development strategy to maximise the country's geostrategic position.
This transformation of the historical Port marks the final step in the implementation of the Port-Park-City concept; the full integration of Djibouti's ports, industrial parks and services sector.
The Historical Port of Djibouti was initially built in 1888 and has developed in tandem with the country's growth, undergoing several transformations
Over the last decade Djibouti has built new specialised port infrastructure to gradually relocate the activities of the historical Port:
Doraleh Multipurpose Port is one of the most modern ports in Africa; it was launched in 2017, has the ability to accommodate vessels with up to 100,000 dwt.
Société de Gestion du Terminal à conteneurs de Doraleh (SGTD) is a key transhipment hub for the region; now fully connected to the Addis Ababa-Djibouti railway.
The Ports of Ghoubet and Tadjourah are two multipurpose ports mainly designed to handle salt and potash respectively, which supplement the service of the other ports
Djibouti is also developing a heavy industry and petrochemical base – Djibouti Damerjog Industrial Park – which will drive forward the industrialisation of Djibouti and of the East African region.
About the Djibouti Ports and Free Zones Authority
Djibouti Ports and Free Zones Authority (DPFZA) is the governmental body overseeing ports in the country. The organisation also oversees the national free trade zones, serving as a liaison between the companies working therein and other government agencies. DPFZA is the sole authority in charge of the administration and the control of all the free zones and ports in Djibouti. The entity also plays an instrumental role as the sole interface between the free zone companies and any other governmental bodies and comes under the direct authority of the Djibouti Presidential Office.[/restrict]
♦♦♦♦♦♦♦♦♦
News continues below
MSC SEES HYDROGEN & BIOFUELS AS KEY TO FUTURE OF SHIPPING
Mediterranean Shipping Company (MSC), a leader in transportation and logistics with a string presence in South, East and West Africa, said last week it is further exploring the viability of hydrogen and fuels derived from it as a possible fuel source for the future for container shipping. The company, it said, is increasingly pioneering the use of biofuels within its existing fleet.
Speaking on 5 October at the inaugural Maritime Transport Efficiency Conference in Geneva, Switzerland, where MSC is headquartered, MSC Group's Bud Darr, Executive Vice President Maritime Policy & Government Affairs, outlined…[restrict] some preferred options in a keynote speech on decarbonisation and during a panel discussion on fuels for the future.
"There's no one single solution to decarbonise shipping; we need a range of alternative fuels at scale and we need them urgently," said Darr.
"The future of shipping and decarbonisation will rely on strong partnerships from both the perspective of technology collaboration and procurement."
In support of the UN International Maritime Organization's (IMO) policy goals to decarbonise shipping, MSC is actively exploring and trialling a range of alternative fuels and technologies and is already actively bunkering biofuels at scale.
Fossil-sourced LNG remains a transitional option, while carbon capture and storage, if perfected for marine use, could be useful, Bud told the conference, which gathered together a variety of shipping companies, fuel providers, academics, policy makers and representatives of the UN and Geneva government.
MSC employs more than 1200 people in Switzerland, where the company has been based since 1978.
In a statement MSC said that industry partnerships could help accelerate the development of clean hydrogen for the benefit of the entire container shipping industry. Despite some significant challenges to overcome mainly related to density, volume and safe handling, MSC is in favour of further R&D efforts to produce it in a greenhouse gas neutral way and to develop it at scale, along with other fuels that may derive from it.
MSC is also pioneering the large-scale usage of biofuel blends for container ships and is already bunkering up to 30% biofuel blends on a routine basis in Rotterdam. The world's largest class of container ships, MSC's Gülsün Class, was fitted at delivery in 2019-20 with the option to convert in future to liquefied natural gas (LNG) as a potential bridging fuel as part of the industry's transition towards a zero-carbon future.
Saying that MSC contributes actively to the work of industry groups and associations and supports their proposal to the IMO to create a new R&D fund to support GHG reduction in the maritime sector, it said it believes there must be a massive injection of energy and capital into R&D efforts to bring alternative fuels and alternative propulsion technologies to the marketplace for us to deploy and decarbonise in the longer term.
MSC is as a result engaging with potential vendors to investigate new solutions that would help to minimise and one day, to eventually eradicate CO2 and other GHG emissions from shipping fleets.[/restrict]
♦♦♦♦♦♦♦♦♦
News continues below
THE SOUTH AFRICAN NAVY HYDROGRAPHIC OFFICE (SANHO)
1922 to 2020
article by PAUL RIDGWAY
Hydrography is the applied science which deals with the measurement and description of the features of the seas and coastal areas for the primary purpose of navigation. Hydrographic Services support safe and efficient navigation, foster national maritime development, help to safeguard life and property at sea, facilitate the protection of the marine environment and support the administration and sustainable development of the national maritime zones.
More than 80% of international trade in the world is carried by sea. Maritime commerce is a basic element for a coastal nation's economy. Modern nautical charts are required for safe navigation through a country's waters and along coasts and to enter its ports.
Chapter V of the International Convention on Safety of Life at Sea (SOLAS) stipulates the provision of Hydrographic Services as follows:
* Regulation 2.2 defines the following, "Nautical chart or nautical publication is a special-purpose map or book, or a specially compiled database from which such a map or book is derived, that is issued officially by or on the authority of a Government, authorized Hydrographic Office or other relevant government institution and is designed to meet the requirements of marine navigation."
* Regulation 4 requires that Contracting Governments, "Shall take all steps necessary to ensure that, when intelligence of any dangers is received from whatever reliable source, it shall be promptly brought to the knowledge of those concerned and communicated to other interested Governments."
* Regulation 9 requires that Contracting Governments, "…undertake to arrange for the collection and compilation of hydrographic data and the publication, dissemination and keeping up to date of all nautical information necessary for safe navigation. In particular, Contracting Governments undertake to co-operate in carrying out, as far as possible, the following nautical and hydrographic services, in the manner most suitable for the purpose of aiding navigation:
* to ensure that hydrographic surveying is carried out, as far as possible, adequate to the requirements of safe navigation;
* to prepare and issue nautical charts, sailing directions, lists of lights, tide tables and other nautical publications, where applicable, satisfying the needs of safe navigation;
* to promulgate notices to mariners in order that nautical charts and publications are kept, as far as possible, up to date; and
* to provide data management arrangements to support these services.
Contracting Governments undertake to ensure the greatest possible uniformity in charts and nautical publications and to take into account, whenever possible, relevant international resolutions and recommendations. Contracting Governments undertake to co-ordinate their activities to the greatest possible degree in order to ensure that hydrographic and nautical information is made available on a world-wide scale as timely, reliably, and unambiguously as possible.
Contracting Governments are all those nations that are signatories to the International Maritime Organisation (IMO) resolutions and South Africa is one of them. It is therefore the responsibility of the South African Navy Hydrographic Service to meet these international obligations on behalf of the South African Government.
History
The SA Navy has conducted hydrographic surveying since 1922 when the HMS CROZIER converted to HMSAS PROTEA. She was followed by the converted Flower class corvette HMS ROCKROSE, and also named Protea. The current hydrographic survey ship SAS Protea (Hecla Class) was commissioned on 23 May 1972. South Africa joined the International Hydrographic Organisation (IHO) as a member in 1951. The South African Navy Hydrographic Office (SANHO) was established in Cape Town on 1 April 1955 as a result of a Ministerial Delegation issued to the SA Navy in 1954 for the provision of a hydrographic service.
Hydrographic Act of 2019
In order to fully comply with SOLAS regulations, the replacement of the 1954 Ministerial Delegation commenced with a draft Proposed Hydrographic Bill of 2017. The Hydrographic Act of 2019, signed and gazetted by the State President of South Africa on 3 June 2020, provides legislative status to the SA Navy Hydrographic Office to be the National Hydrographic Office and the SA Navy Hydrographer to be the National Hydrographer. The Act enables the following:
* To provide for the establishment of the Hydrographic Office;
* Provide for the safety of navigation in the exclusive economic zone and the internal waters of the Republic;
* Ensure that hydrographic surveying is done in accordance with the requirements of internationally accepted specifications and standards;
* Provide for the appointment of the Hydrographer; and
* Provide for the powers and duties of the Hydrographer.
In the execution of his/her duties, the South African National Hydrographer is therefore responsible for:
* Compilation, printing, supply and maintenance of local and international charts;
* Coordinator of all charting in the IHO Charting Area H;
* Preparation of Tide Tables and other navigation publications;
* Coordinator within the Worldwide Navigation Warning Service (WWNWS) for the transmission of radio navigational warnings for NAVAREA VII; and
* Custodian for all bathymetric and tidal data for the Republic.
The SANHO has a post structure for 31 staff members, many of whom are non-uniformed or civilian members of the national Defence Force, and comprises five Sections, namely.
* Paper Charting;
* Electronic Navigation Charting;
* Tidal;
* Maritime Safety Information and Nautical Publications; and
* Detached Survey Operations and Survey Training.
The latter Section is closely linked to the survey vessel SAS Protea. It conducts detached surveys around the coast utilising small craft of opportunity or a survey motor boat (SMB) from SAS Protea. Additionally this Section conducts all the hydrographic survey training of Ratings and Officers as well as foreign learners as part of a regional capacity building initiative.
International Commitments
South Africa has been a full member of the International Hydrographic Organisation (IHO) since 1951. Active participation in IHO committees and working groups ensures that the SANHO continues to deliver products and service of the highest international standards. SANHO is represented on the following IHO Committees:
Capacity Building Sub-Committee.
ENC Standards Maintenance Working Group.
Hydrographic Commission on Antarctica.
Hydrographic Services and Standards Committee.
Inter-Regional Coordination Committee.
Marine Spatial Data Infrastructures Working Group.
Nautical Cartography Working Group.
Southern Africa and Islands Hydrographic Commission.
Tides, Water Levels and Currents Working Group.
World-Wide ENC Database Working Group.
World-Wide Navigation Warning Service Sub-Committee.
National and International Capacity Building Initiatives
In order to build in-house capacity, the SANHO utilises bilateral agreements with United Kingdom Hydrographic Office (UKHO) to train Defense Act Personnel (DAP), or uniformed personnel, as cartographers. Furthermore, the SANHO has also embarked on enrolling cartographers for tertiary studies to obtain qualifications and register as Geomatics Technicians. In addition to training offered to the SA Navy survey recorders and officers at the SANHO Training Facility, the SANHO has also provides training opportunities in hydrographic surveying and cartography to several neighbouring states, and has also assisted with the installation of tide gauges in Namibia and Mozambique. Through regional partnerships and SAIHC, the SANHO continuous to provide capacity building initiatives in hydrographic surveying, marine cartography and Maritime Safety Information. The SANHO is developing e-Learning material for the Regional partners for Maritime Safety Information, Tide and Water Levels and Basic Hydrographic Surveying Techniques in an effort to boost capacity building.
Gathering of New Information
Although all the waters around the coastline of South Africa have been surveyed, some areas (± 40%) still require surveying by modern standards. This is an ongoing task and SAS Protea aims to spend approximately 180 days per year at sea on survey operations. SAS Protea underwent a modernisation, some years back, in terms of underwater sensors to enable her to conduct deep-water surveys. The modernisation included the fitment of a deep-sea echo sounder and a multi-beam system with a 3000 metre-range capability. The three SMBs are also fitted with multi-beam echo sounders for inshore survey operations.
The Hydrographic Office is responsible for the issue of Hydrographic Instructions to the survey vessels in accordance with a prioritised survey plan specifying the surveying requirements.
The completed survey is rendered to the Hydrographic Office and once it has passed a rigorous validation process, it is accepted and incorporated into the survey database. This new data is then used to update existing charts and publications or to produce new charts or new editions.
Use is also made of satellite imagery and aerial photographs as well as visits to harbour authorities in order to obtain the latest information about harbour changes and developments for inclusion into the products of the SANHO.
Where possible the SANHO contributes to the General Bathymetric Charts of the Oceans (GEBCO) by providing data collected by research and other vessels operating from South African ports and within RSA waters to the IHO GEBCO Data Centre in the USA.
Products and Services
South African products conform to International Standards and recommendations issued by the IHO.
Navigational Charts and other Charts
The South African paper chart folio currently consists of 104 charts; 44 of which are international (INT) charts. The majority of navigational charts and publications are printed at the Naval Printing Unit situated in Simon's Town and stored and issued from the SANHO Chart Depot. All products are available to the public through a network of appointed chart agents. Since 2007 the SANHO has also introduced a Print-on-Demand (POD) facility at the Office for the printing of paper-based navigational charts. The acquisition of high-end large format inkjet printers to support the POD requirements of paper chart products is also being addressed through the Hydrographic Capability Replacement Project. POD will eventually overtake conventional lithographic printing method of reproduction. This will enable the SANHO to reduce the National stock level of printed charts and migrate to a POD system, enabling the SANHO to be less dependent on external sources of paper chart reproduction as well as the time required to enable chart corrections to be made on charts in stock.
In addition to its national charting policy covering the waters of South Africa and Namibia, the Hydrographic Office has an international charting responsibility to provide full coverage in the IHO Charting Region H (Southern Africa and adjacent islands) as well as in Region M (Antarctica) (for the approaches to Dronning Maud Land where South Africa has a research station SANAE IV).
Instructional Charts, Dam Charts, Small Craft Charts and a newly proposed Leisure Craft Chart series of waters of interest to leisure craft are also produced.
Electronic Navigational Charts (ENCs)
In 2003 SANHO became the first African Hydrographic Office to produce and publish ENCs on the continent. These charts are based on the paper navigational chart and therefore have an equal standing as a navigational product in terms of IMO Regulations.
The SANHO conforms to international resolutions with respect to the production of electronic charts and navigation publications. In this regard the SANHO produces Electronic Navigation Charts (ENC's), which comply fully with IMO / IHO S57 data exchange format. The SANHO is also preparing for the new S100, S101 and S104 (which includes tidal data as a layer of data within ENC's) IHO standards and specifications. These digital charts are maintained and distributed via a Regional Electronic Navigation Chart Centre for final validation, and are then distributed through a system of Value Added Resellers (VARs) of IC-ENC to the end user.
The SANHO in conjunction with the IC-ENC is in the process of developing a non-ECDIS navigation service aimed at use on board small vessels not fitted with ECDIS systems. To date fifty-seven ENCs are commercially available and maintained up to date from Notices to Mariners.
Publications
The SANHO is responsible to produce the following hydrographic publications:
* South African List of Lights and Radio Signals.
* South African Sailing Directions.
* Volume I – General Information.
* Volume II – Namibia and West Coast.
* Volume III – South and East Coasts.
* South African Symbols and Abbreviations for Charts.
* International Regulations for Preventing Collisions at Sea (Colregs 72).
* Catalogue and Indexes of SAN Charts, ENCs and Hydrographic Publications.
* South African Tide Tables.
* Annual Summary of SA Notices to Mariners.
* Cumulative List of SA Notices to Mariners.
Maritime Safety Information (MSI)
The National Hydrographer is the International as well as the National NAVAREA-VII Co-ordinator and is also responsible for the Coastal Radio Navigation Warnings (CRNW) for South Africa as well as Namibia. He is thus responsible for the collection, collation and dissemination of all information relevant to the safety of navigation within the requirements of the World-Wide Navigation Warning Service (WWNWS).
Tidal Service
The tide gauge network is critical in the calculation of the tidal predictions for South Africa and Namibia, and spans from Walvis Bay on the West Coast to Richards Bay on the East Coast. The Tide Gauge Network has been completely upgraded with all twelve tidal stations having radar type gauges. The South African Navy Tide Gauge Network communication method has been upgraded from land lines to GSM communication. Solar power has been installed in Cape Town and Simon's Town and will be expanded throughout the network. Bi-annual calibration and maintenance site visits are carried out by the Tidal Department.
Based on this database of tide recordings, the tidal predictions for each year are produced and published in the South African Tide Tables. These Tide Tables are available in hard copy from appointed chart agents. Limited data is also provided for the current month as well as the month thereafter on the SANHO website.
This Section also supplies near real time data to the Indian Ocean Tsunami Warning Centre as well as several institutes that monitor sea level rise, both nationally and internationally.
The SANHO Website
SANHO maintains a website ( www.sanho.co.za ) in which the information about current and new hydrographic products and services is provided as well as the provision of certain data and publications such as MSI, Notices to Mariners and tidal information.
Supply of Data
The SANHO is the nodal point for all Marine Environmental Information (MEl) for the SA Navy. In this regard the SANHO will co-ordinate the collection and collation of all requests for MEl data and provide services and products to meet the statutory and specific requirements of the SA Navy. Operation Phakisa which means "hurry up" in Sesotho has been implemented by the South African Government to make use of the Ocean's Economy also known as the Blue Economy to contribute towards the economic development of South Africa. The SANHO is also fully committed to providing continued support to ensure the successful implementation of Operation Phakisa Initiative 6, Marine Spatial Planning (MSP) and Initiative 10 Oceans and Coastal Information Management System (OCIMS) project by providing access to accurate, complete, current and well maintained spatial information. The SANHO plays a crucial role in MSP by being actively involved as a participant in the National Working Group (NWG), participating in the South African Spatial Data Infrastructure (SASDI) workshops and meetings to ensure compliance, adherence to policies, standards and specifications for the base data sets, in order to accomplish South Africa's national and international priorities. The SANHO also provides data to approved individuals, academia and commercial companies for academic and commercial usage under data usage agreements.
Awards
SANHO was awarded the trophy as the best exhibitor at the 21st International Cartographic Conference held in Durban, in 2003.
Captain Abri Kampfer, the previous SA Navy Hydrographer (2003 – 2017) was awarded the prestigious Alexander Dalrymple Award for services to hydrography at the United Kingdom Hydrographic Office's World Hydrography Day celebrations in 2009. The award is a symbol of recognition for outstanding dedication and contribution to world hydrography and as such is an extremely prestigious award in this sector. It takes its name from Alexander Dalrymple who established the UK Hydrographic Office in 1795 and is regarded as a leading figure in the history of the development of hydrography.
New Technologies
The replacement of SAS Protea and her systems is being addressed under the Hydrographic Capability Replacement Project that is currently underway. The new Hydrographic Survey Vessel (HSV) will be capable of being deployed independently within the African theatre to conduct surveys in support of peace support and peace keeping operations in the SADC region. The HSV will be fitted with hydrographic sensors capable of conducting ocean depth surveys from 50m to 7000m.
The sensors that will be fitted includes Multi Beam Echo Sounders that will produce Digital Terrain Maps of the sea floor and provide a full seafloor search capability to the RSA. Secondary survey systems include a Single Beam Echo Sounder and a Side Scan Sonar. The HSV will be fitted with a limited suite of oceanographic survey technology, capable of conducting current measurements, sound velocity observations, seismic and magnetic surveys as well as meteorological observations. The project also includes three survey motor boats, also capable of independent survey operations.
The SMBs will be utilised for survey operations in the inshore and surf zones from 2m to 50m, and harbours and approaches where under keel clearance is critical. The HSV as well as the SMBs will be fitted out with common survey systems and will be able to integrate with each other seamlessly. The Hydrographic Information, Navigation, Acquisition and Processing System (HINAPS) that is currently the basis of the survey systems utilised by the survey fleet, will be replaced by Teledyne CARIS planning, acquisition and processing software, in conjunction with Kongsberg survey systems under the Hydrographic Capability Replacement Project. This larger suite and greater family of operating systems will be fully integrated with the newly installed Teledyne CARIS cartographic software at the SANHO, realising the "ping to chart" philosophy and capability.
The infrastructure upgrade uniquely positions the SANHO as a data centric organisation to serve the marine community in the future.
Conclusion
Since its establishment the SA Navy Hydrographic Office has demonstrated innovative planning and rendered excellent service and as a result has earned a reputation with the international hydrographic community for proven professional conduct. After 65 years of dedicated service, the SA Navy Hydrographic Service is abreast with modern technology and has embraced the challenges of ENC production, Print-on-demand technology and data centricity. The South African Navy Hydrographic Service will strive to continue its national, regional and global effort for increasing safety at sea and protecting the marine environment and to live up to its vision:
"TO BE RECOGNISED AS THE CENTRE OF HYDROGRAPHIC EXCELLENCE IN AFRICA BY THE HYDROGRAPHIC COMMUNITY THROUGH PROFESSIONAL CONDUCT, PRODUCTS, INNOVATION AND SUPREME SERVICE."
Collated by Paul Ridgway
London
Editor's note:
We are most grateful to the South African Navy Hydrographic Office (SANHO) for valuable assistance with this article.
For more information readers are invited to see: www.sanho.co.za
This article is also available in the FEATURES section
♦♦♦♦♦♦♦♦♦
News continues below
GENERAL NEWS REPORTS – UPDATED THROUGH THE DAY
in partnership with – APO
♦♦♦♦♦♦♦♦♦
More News at https://africaports.co.za/category/News/
News continues below
TO ADVERTISE HERE
Request a Rate Card from info@africaports.co.za
EXPECTED SHIP ARRIVALS and SHIPS IN PORT

Port Louis – Indian Ocean gateway port
Ports & Ships publishes regularly updated SHIP MOVEMENT reports including ETAs for ports extending from West Africa to South Africa to East Africa and including Port Louis in Mauritius.
In the case of South Africa's container ports of Durban, Ngqura, Ports Elizabeth and Cape Town links to container Stack Dates are also available.
You can access this information, including the list of ports covered, by going HERE remember to use your BACKSPACE to return to this page.
News continues below
CRUISE NEWS AND NAVAL ACTIVITIES

QM2 in Cape Town. Picture by Ian Shiffman
We publish news about the cruise industry here in the general news section.
Naval News
Similarly you can read our regular Naval News reports and stories here in the general news section.
♦♦♦♦♦♦♦♦♦
THOUGHTS FOR THE WEEK
– Coco Land (YouTube)
♠♠♠
♠♠♠
ADVERTISING
For a Rate Card please contact us at info@africaports.co.za
Don't forget to send us your news and press releases for inclusion in the News Bulletins. Shipping related pictures submitted by readers are always welcome. Email to info@africaports.co.za
TABLE BAY UNDERWAY SHIPPING
SHIP PHOTOGRAPHERS
Colour photographs
and slides for sale of a variety of ships.
Thousands of items listed featuring famous passenger liners of the past to cruise ships of today, freighters, container vessels, tankers, bulkers, naval and research vessels.
P O BOX 809, CAPE TOWN, 8000, SOUTH AFRICA
snai@worldonline.co.za
http://home.worldonline.co.za/~snai