Bringing you shipping, freight, trade and transport related news of interest for Africa since 2002
Stay Well, Stay Safe, Stay Patient, don't become one
Advertise here with us. For a Rate Card email us at terry@africaports.co.za
♠♠♠
Come with us as we report through 2020
**********
TODAY'S BULLETIN OF MARITIME NEWS
These news reports are updated on an ongoing basis. Check back regularly for the latest news as it develops – where necessary refresh your page at www.africaports.co.za
Click on headline to go direct to story : use the BACK key to return
EARLIER NEWS CAN BE FOUND AT NEWS CATEGORIES…….
The  Sunday masthead Is of the Port of Durban Container Terminal, Pier 2
♦♦♦♦♦♦♦♦♦
SEND NEWS REPORTS AND PRESS RELEASES TO
info@africaports.co.za
♦♦♦♦♦♦♦♦♦
News continues below
Ro-Ro vessels calling at the port of Durban have become fairly common and while possessing certain similarities in design, it has been interesting to witness subtle changes in designs that have emerged, with the dual purpose of increasing vehicle-carrying capacity as well as having to cope with navigational issues, weather and sea conditions. Few can be referred to as good-looking ships, although efforts have been made in this respect by their designers, although not always with success. One of the more attractive of these ro-ro ships to appear locally in recent times has been this vessel, the 50,714-dwt Saudi-owned vessel BAHRI JEDDAH (IMO 9626522) which called at the South African port while en route between Ennore in India and Salvador. The 220-metre long, 32m wide ship was built in 2014 and is owned by the National Shipping Company of Saudi Arabia and managed by Mid East Ship Management of Dubai, UAE. Bahri Jeddah was built at the Hyundai Mipo Shipyard in Ulsan, South Korea.      Picture: Trevor Jones
♦♦♦♦♦♦♦♦♦
♦♦♦♦♦♦♦♦♦
News continues below
The project cargo ship BBC TEXAS (IMO 938883) arrived in Durban recently carrying eight new straddle carriers for the Durban Container Terminal Pier 2. The 12,669-dwt BBC Texas is owned by German interests and managed by Held Bereederungs GMBH & Co of Ems, Germany. The ship was built in 2007 and flies the flag of Antigua and Barbuda. See the report concerning the arrival of the straddle carriers HERE The picture is by Trevor Jones.
♦♦♦♦♦♦♦♦♦
News continues below
GOVERNMENT ANNOUNCES MAJOR ROAD UPGRADE PROGRAMME
Good news for road users, in particular road hauliers who make their living running freight and cargo between various centres and mining operations, and the ports.
The national government says, despite budget constraints, it is prioritising road infrastructure that adversely affects the livelihood of people.
This announcement was made on Thursday, 1 October, by Transport Minister Fikile Mbalula.
The Minister was speaking at the launch of…
♦♦♦♦♦♦♦♦♦
News continues below
THE RAILWAY TO ADVENTURE
A new Book covering the 2ft Gauge Railway from Port Elizabeth to Avontuur and Patensie
The railway was originally described in detail in Sydney Moir's seminal book, Twenty-four Inches Apart (Oakwood Press in 1963). More recently the story has been covered in eight parts of the authors' Soul of a Railway (SOAR) series published online and it is this material which forms the basis of this new book.
This 265 page hardback book printed on high quality paper brings the story up to date and focuses on new, fascinating and compelling information about the railway, particularly the political shenanigans that plagued its turbulent latter years.
These are recounted by the author (Charlie Lewis), the Regional Engineer responsible for the line from 1981 to 1986 and also one of South Africa's most prolific photographers.
The SOAR material has been edited by John Hunt, Dick Manton and John Middleton who have all spent a lot of time in South Africa and visited the line on many occasions.
The text is complimented by a wide selection of over 350 photographs, many in colour and previously unpublished, with contributions from many of the world's leading railway photographers.
The authors believe this new book will form THE definitive record of the Railway in its latter years.
To Purchase go to: The Railway to Adventure
♦♦♦♦♦♦♦♦♦
News continues below
SCRUBBERS BEAT COMPLIANT FUEL IN RACE TO REDUCE CO2 EMISSIONS
Trade Report
As part of an ongoing commitment to support greener shipping, Yara Marine has jointly commissioned a report to quantify the climate impact of scrubbers compared to low sulphur fuel oil.
"Well-to-wake, using HFO as fuel in combination with scrubbers generates less CO2 than using compliant fuel," says Kai Låtun, Director in Yara Marine Technologies.
He notes the report shows that use of compliant fuel could potentially generate as much as 25% increased CO2 emissions (see attached graph from the CE Delft report). "In real life this is probably not the case, but there is no doubt that using compliant fuels, all things considered, will result in three to five times higher CO2 emissions than using HFO as fuel in combination with scrubbers."
The rest of this report can be read in the TRADE NEWS section available by CLICKING HERE
♦♦♦♦♦♦♦♦♦
News continues below
CANTON FAIR TO GO ONLINE THIS YEAR FROM 15-24 OCTOBER
The China Import and Export Fair (Canton Fair), one of the world's greatest trade fairs, has announced that the 128th edition will go online from 15 – 24 October. This 10-day virtual exhibition will leverage its digital interaction features to create new opportunities for global companies to source products and forge trade partnerships.
"To hold the Canton Fair online is conducive to further…
♦♦♦♦♦♦♦♦♦
News continues below
NEW GUIDANCE TO FACILITATE REPATRIATION FLIGHTS FOR SEAFARERS
Passenger and repatriation flights are essential to allow stranded seafarers to go home, and for their relief crews to be able to join ships.
New guidance issued by the International Civil Aviation Organization (ICAO) and indicated by link below is to facilitate such flights and marks a further step to alleviate the ongoing crew change crisis.
This guidance outlines specific recommendations for seafarer changeover flights, including the need for advanced bilateral communication, coordination and planning between ship owners, aviation stakeholders and the relevant authorities. It also highlights the importance of seafarers and requests States to grant rapid authoriSation for the entry, departure and transit of aircraft, including seafarer changeover flights.
The International Civil Aviation Organization (ICAO) guidance specifically applicable to facilitating passenger and repatriation flights using Public Health Corridors (PHC) during the COVID-19 pandemic is to be found by CLICKING HERE
SG IMO's confidence
IMO Secretary-General Kitack Lim expressed his confidence that this new contribution by the United Nations will have a positive impact on the crew change crisis. It is estimated that 400,000 seafarers are still trapped at sea, due to restrictions imposed by Governments in response to the COVID-19 pandemic.
This guidance will be reviewed and updated as necessary by ICAO as the global situation evolves.
See also South African-specific report dated 1 October HERE
Edited by Paul Ridgway
London
♦♦♦♦♦♦♦♦♦
News continues below
IN CONVERSATION : Here's why South Africa and its neighbours are anxious about EU and UK post-Brexit trade talks
As the deadline for the post-Brexit trade talks between the European Union (EU) and the United Kingdom (UK) looms, concerns have arisen as to whether the two parties will be able to conclude a deal. In terms of the Brexit divorce agreement, the UK is expected to leave the EU single market and customs union on 1 January 2021. A trade deal will govern future trade relations between the EU and the UK. The prospect of striking such a deal, however, has been thrown into doubt by the publication recently of a new controversial bill by the British government that seeks to overrule parts of the Brexit withdrawal pact.
The outcome of these talks will have implications for the South African economy, specifically trade. The EU as a regional bloc is South Africa's largest trade partner in the world, and South Africa is the EU's biggest trade partner in Africa. South Africa has longstanding and extensive trade relations with the UK. Prior to exiting the EU, the UK was South Africa's second largest trade partner, after Germany, in the EU regional community. The country is also South Africa's fourth biggest market for exports, behind only China, Germany and the United States.
Until the UK decided to leave the EU, it traded with South Africa under an economic partnership agreement (EPA) between the EU and some member states of the Southern African Development Community (SADC). The EU-SADC EPA entered into force on 10 October 2016. Under this agreement, the EU has fully or partially eliminated custom duties for South African exports, except for aluminium and various agricultural products.
The EU-SADC EPA specifies rules of origin to fulfil in order for products to obtain preferential market access. Rules of origin refer to the criteria used to determine the national source of a product. The agreement provides for trade remedies to tackle unfair trade practices. It also contains safeguard measures to increase import duties in cases where a surge in imports unduly threatens to cause serious injury to the domestic market.
With the UK deciding to quit the EU it meant that it would no longer be a part of the EU-SADC EPA. This implied, in turn, that trade between the SADC countries and the UK would no longer enjoy the preferential terms that existed under the EU-SADC EPA framework.
The new deal
To prevent disruption to trade, the Southern African Customs Union nations struck a deal with the UK in 2017. The custom union countries are South Africa, Botswana, Lesotho, Namibia, and Eswatini – plus Mozambique (SACUM). The agreement in principle is that SACUM and UK will carry over the terms of the provisions of the EU-SADC EPA into a new bilateral trade agreement. The roll-over was intended to ensure continuity in trade ties after the UK had left the EU.
Following two years of negotiations, a new agreement, the SACUM-UK EPA, was concluded in September 2019. In essence, this entailed a transfer of the terms of the SADC-EU EPA into the new SACUM-UK EPA. These terms cover rules for:
trade in goods,
preferential tariff rates on all sides,
trade remedies,
technical standards for health and safety for agricultural and industrial products,
protection of South African and UK's geographical indications, and
dispute settlement.
But, there were some issues that needed further discussion and resolution. These are tariff-rate quotas, and the sourcing of inputs from across the EU region into production for export. There's also the treatment of bilateral safeguard measures, other transitional arrangements, geographical indications, and the built-in agenda.
SACUM countries are entitled to duty and quota-free access for their exports under the EU-SADC EPA. Given the developed nature of its economy, South Africa enjoys less favourable treatment for some of its agricultural, fish and aluminium exports. A new trade provision was agreed that allowed SACUM nations and the UK to source and use EU inputs for production to export to each other's markets. This ensured the continuity of integrated value chains across South Africa, the EU and the UK, particularly in the automobile industry.
The SACUM-UK agreement provides for transitional arrangements. These enable the transfer to it of certain provisions from the EU-SADC EPA. These include, among others, customs matters concerning the protection of geographical indications. On the other hand, the UK is required to provide sufficient time for exporters from SACUM countries to adjust to new technical rules for manufactured goods in cases where those deviate from EU regulations.
An agreement was also reached on a built-in agenda to address areas of interest in future that could not be resolved during the negotiations. These include market access issues, regional cumulation, export taxes, technical barriers to trade, geographical indications, and electronic certification.
Need for certainty
There has been a great deal of anxiety on the part of SACUM countries about the final outcome of the EU-UK trade talks, and the impact this will have on the trade relationship between SACUM nations and the UK. A deal between the EU and the UK will help reinforce the certainty and continuity that the SACUM-UK agreement seeks to achieve when the UK exits the EU customs area. If the EU and the UK are unable to agree on any deal, their trade relationship will be regulated by the rules of the World Trade Organisation. This means the UK will be treated as any trading nation that does not enjoy preferential trade with the EU.
In this scenario, the SACUM-UK arrangement will be preserved, but it will also introduce new complications in trade and uncertainty concerning how certain issues, such as the level and quantity of local inputs in the production of motor cars in South Africa for export to the EU and UK markets, will be addressed. A deal between the EU and the UK, therefore, will be the most preferable outcome for SACUM countries.

Mills Soko, Professor: International Business & Strategy, Wits Business School, University of the Witwatersrand
This article is republished from

The Conversation

under a Creative Commons license. Read the

original article.
♦♦♦♦♦♦♦♦♦
News continues below
CREW CHANGES NOW FULLY POSSIBLE AT SOUTH AFRICAN PORTS
With effect from Thursday, 1 October 2020 ships in South African ports will be allowed to

dock load and off-load cargo

without any restrictions arising out of the previous COVID-19 regulations.
In a statement issued on Wednesday, the government said the easing of restrictions was to facilitate the ease of transportation of goods and medicines to and from the country.
Crew changes will again be possible from cargo vessels in the ports, subject to the crew members undergoing a medical screening for COVID-19 symptoms.
Cruise ships will continue to be barred from docking or discharging passengers.
"We want to appeal to all travellers and tourists for cooperation and increased vigilance in observing all the health and hygiene protocols we have announced today so that we stop the spread of COVID-19," said International Relations and Cooperation Minister, Naledi Pandor.
"Even though we celebrate the reduced numbers of infections, there is still no vaccine to the virus.
"We should continue to protect ourselves and those who are close to us from the devastating effects of this pandemic. We call on international travellers to enjoy the diverse tourist attractions of this country and to meet our friendly hospitable people," she said.
It was also announced that South Africa was opening its international borders for travellers from the African continent with effect from 1 October 2020.
The decision to open up the country's borders to Africa is in a bid to facilitate the free movement of people, goods and services from South Africa, SADC and the rest of the continent.
"Travellers from all African countries are allowed and must possess relevant travel documents, and will also be screened for COVID-19 symptoms. To allow ease of travel from the African countries, 18 borders will be opened.
"Thirty-five border posts will continue to offer restricted services due to insufficient capacity for screening, testing and quarantine," said Minister Naledi Pandor.
Leisure travellers from 60 high-risk countries will not be allowed into the country. This list will be updated every fortnight.
To read the full list of high-risk countries CLICK HERE
♦♦♦♦♦♦♦♦♦
HUNDRED MAURITIAN CRUISE SHIP CREW REPATRIATED AFTER HUNGER STRIKE THREAT
According to official reports there are now about 400,000 ships' crew affected by the the COVID-19 pandemic that has left them unable to travel home on completion of their contracts.
This enormous crisis has reached the august halls of the United Nations with Secretary-General António Guterres expressing his growing concern…
♦♦♦♦♦♦♦♦♦
News continues below
PORT OF WALVIS BAY FULFILLING ROLE AS REGIONAL LOGISTICAL HUB
The following report, courtesy the African Development Bank, contains nothing that hasn't been covered before in these pages, but is worthy of repeat as it provides a useful summary of what has been achieved at the

Namibian port of Walvis Bay

, depicting what is currently available to stakeholders.
The new container terminal at the Namibian port of Walvis Bay, built between 2014 and 2019, gives the country a high-end port facility. The terminal, commissioned in August 2019, is now fully operational, according to a report by the African Development Bank published earlier in September 2020.
Constructed on 40 hectares of land…
♦♦♦♦♦♦♦♦♦
News continues below
BORDERS OPEN TOMORROW, 1 OCTOBER – SIGNIFICANT FOR SEAFARERS
South Africa is officially opening its international borders as from Thursday, 1 October 2020. Not only is this of importance to the tourism sector, what it means is that seafarers signing on or off their ships in South African ports will now be able to arrive or return to their homes internationally.
This comes after more than six months of restrictions on international travel with all borders closed as a result of the COVID-19 pandemic.
There are however some strict requirements in place for those arriving in South Africa from a foreign country. A schedule of those countries is to be published.
During Level 1 which the country has now entered into, visitors will have to prove they are COVID-negative on arrival. As announced previously, only three three of South Africa's international airports will allow for international travel. Fortunately for seafarers, two of these involve the King Shaka International Airport at Durban, and Cape Town International Airport. The third airport is OR Tambo International near Johannesburg.
In addition, a total of 18 land borders are now open for the movement of all people. Another 35 remain closed.
"This means all travellers from the African Continent and from countries outside the African Continent with low rates of infections and transmission, will resume subject to them having a health clearance certificate and the directions by the relevant ministers," the government said in a statement.
Passenger (Cruise) Ships
It was also announced that the sea ports remain closed to international passenger ship travel.
It is believed that MSC Cruises, which has one of its cruise ships, MSC ORCHESTRA, stationed in Durban, is hoping to introduce coastal cruising as from November, subject to permissions being granted. The cruise company will also apply to operate cruises from Durban to its private resort on the Mozambican coast at Pomene, on the grounds that the resort is isolated and can be made secure from outside access.
♦♦♦♦♦♦♦♦♦
News continues below
USE OF BARGES AT LAGOS PORTS INCREASES BY 45 PER CENT
The growing importance of barges in the movement of cargo including containers at Lagos ports can be seen by the reported 45 per cent increase in traffic.
According to a report by the Daily Trust, this increase comes at a time when the Nigerian Ports Authority (NPA) is intent on enforcing safety regulations in order to…
♦♦♦♦♦♦♦♦♦
News continues below
IN CONVERSATION: South Africa mulls future of its military to make it fit-for-purpose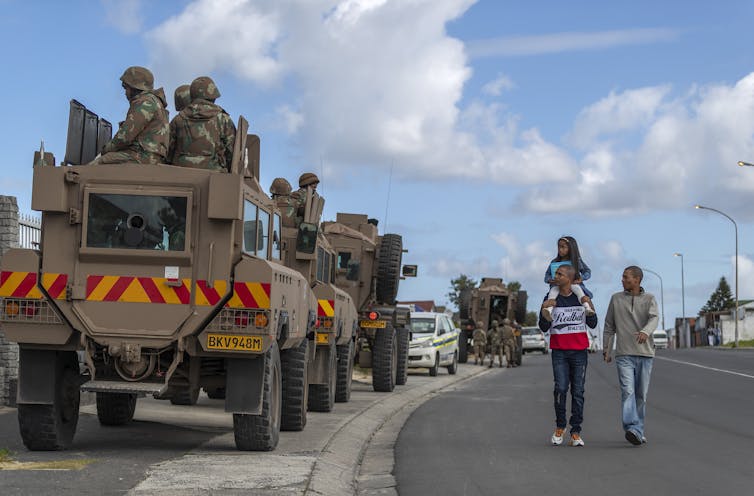 Some hard decisions need to be taken about the future of the South African National Defence Force.   Nic Bothma/EFE-EPA
South Africa's parliament has opened discussions about how to redesign the country's lumbering military to make it fit-for-purpose for the 21st Century. To kick-start the process, a parliamentary committee charged with oversight over the military hosted a mini-symposium addressed by military leaders and experts, academics, political parties as well as civil society. Politics Editor Thabo Leshilo asked Lindy Heinecken, a military sociologist, for her insights.
Historically, a review of the country's defence has been informed by a white paper or a defence review produced by the Ministry of Defence. What informs the parliamentary process?
The 1996 White Paper on Defence established a broad policy framework for defence in the country's new democracy from 1994, while the 1998 Defence Review outlined the appropriate size, structure, force design and tasks of the South African National Defence Force.
But, as the force became increasingly drawn into peacekeeping and internal roles – such as fighting crime, the balance between what it is trained, funded and equipped for became misaligned.
In 2015 a new Defence Review was produced given the changes in the strategic environment, and the forces's state of critical decline, resulting mainly from operational overstretch.
While comprehensive, the 2015 review did not specify what the design and structure of the force should look like. This was left to the politicians, military leadership and ultimately society to decide upon. Five years later, there is still no clear direction and the military continues to muddle along.
What is wrong with the military that needs fixing?
Some hard decisions need to be taken on the future of the defence force. Besides the misalignment of its resources, design, equipment and its additional roles, the military has also been hobbled by misappropriation of funds.
The National Treasury highlighted in a briefing to the Joint Standing Committee on Defence that growing personnel expenditure was the main issue incapacitating the defence force, leaving little money for capital and operational expenditure. This has left the military with ageing equipment, and hardly any funds for maintenance. Meanwhile, the deployment of the military has increased substantially, both internal and externally.
The over expenditure on personnel stems from imbalances in the force design and structure. Over time, instead of having 40% personnel in the short term service (2-5yrs), 40 % in the medium term service (up to age 45yrs), an only 20% in the long term service (until 60yrs), 87% of the regular force personnel ended up serving on medium to extended long-term tenures.
This, together with the failure to implement effective personnel exit mechanisms, has led to deviation from the ideal situation of expenditure being 40% on personnel, 30% on capital, and 30% on operations. Personnel costs are now reportedly almost 80% of the defence budget.
Added to this, personnel expenditure has been driven up to unsustainable levels by increases in pay and benefits that have not been budgeted for, rank inflation and the stagnation of junior and middle ranking personnel. This means that people sit in posts for long periods at the top of their scale, or end up being promoted to a higher rank, beyond the post profile. Other anomalies are a high ratio of general officers and a failure to rightsize the forces in accordance with mission demands. These problems are eroding the defence force's capital and operating budget.
There is a pressing need for the military to address its human resource management systems.
Going forward, this means accelerating the exit of unfit, overage, unhealthy and supernumerary personnel over the short to medium term. The longer term should see the military shedding all overage personnel, reversing rank inflation and rebalancing the force. This means looking at the ratio of officers to other ranks, and the ratio of support to combat personnel.
This is a difficult political decision. It entails putting former soldiers out onto the streets, with little other than military skills, making it hard for them to get jobs.
More attention needs to be paid to exit mechanisms for the short and medium terms in order to prepare them for a second career. Another problem is that there are not enough young people transferring from the full-time forces into part-time and reserve forces. This affects both the numerical and functional flexibility of the military in times of crises, when it suddenly needs extra personnel, such as during the Covid-19 crisis.
Why is there need for national consensus on the military?
Before the military can address these challenges, there is a need to reach national consensus on what type of defence force the country wants. At present there is a chasm between what the military leadership believes it should be doing, according to the constitution, what the government and politicians demand, and what the public considers important.
Transformation cannot happen without a clear understanding of the military's future role. Without this, military leadership cannot design, plan, or train personnel for their future roles and missions.
The defence force cannot fulfil its obligations within the current organisational and budgetary constraints.
What should the future military look like?
The defence force is caught in a time warp. It still operates with a mindset and equipment geared for the 20th Century. It has not made the transition into the 21st Century in terms of how to combat future threats, and the use of technology as a force enabler and multiplier. Many tasks, like intelligence gathering and surveillance, can now be done by unmanned aerial vehicles, which are cost effective. But, there is no money for these.
Any restructuring should consider what the future military should look like. But right now, some pressing decisions need to be taken on whether to shut down the military, or channel it towards more pressing issues that affect the safety and security of the country's citizens.
Given the current budgetary constraints, scaling down to playing only a developmental role is possibly the way to go. This means focusing only on border and maritime security, disaster relief and public order functions.
At the same time, there must be capacity to respond to other pressing geo-strategic security concerns unfolding on the country's borders, and beyond, that may require a military response.
Does the country have the money to afford the military it needs?
The simple answer is "no". But, the reality is that there needs to be a balance between the agreed mandate and budget. Within the current context, the mandate is budget driven, not the other way round, unless the security dynamics change dramatically. It is like taking a risk with an insurance policy, what to secure and what not.
Another way to cut costs is to reduce personnel expenditure to fit sustainably into a smaller funding allocation. This is a difficult political decision, but preferable to the military sliding into further decline.
The current impasse makes it the perfect time to march the defence force in a new direction in accordance with what the country needs, can afford, and deliver. Now, more than ever before, robust debate is needed on the future of South Africa's military.

Lindy Heinecken, Chair of the Department of Sociology and Social Anthropology, Stellenbosch University
This article is republished from The Conversation under a Creative Commons license. Read the original article.
♦♦♦♦♦♦♦♦♦
News continues below
MACKAY ACQUIRES CAPE TOWN-BASED DYNAMIC MARINE SYSTEMS

Mackay Marine South Africa Now Open for Business
US company Mackay Marine, specialist in the servicing of communication, navigation, safety, and anti-pollution electronic equipment, has announced the opening of its newest marine electronics sales and service center in Cape Town, South Africa.
This follows the acquisition of Cape Town-based Dynamic Marine Systems (DMS) (Pty) Ltd, a similar specialist in nav/comm electronics, dynamic positioning systems (DP), and automation equipment, DMS serves high-seas, oil & gas, coastal, commercial fishing, and naval customers.
The Dynamic Marine Systems' team consists of a highly skilled staff with over a hundred years collective maritime and naval experience.
"Expanding our global network to include South Africa has been a long-term goal for Mackay Marine," said Jeff Schlacks, President of Mackay.
"Waldo Fourie and Todd Gaine – who will remain in charge – have built a stellar team serving nav/com and dynamic positioning customers. Combining DMS with Mackay's 43 global locations, abundant inventory, extensive training, and breadth of comm/nav partners, will elevate both organisations to better serve current and future customers," he said.
Mackay Marine South Africa's capabilities include:
* Complete bridge electronics, DP & automation sales and service
* DP, FMEA, and OVID Surveys
* Flat-rate Lump-Sum 'Anytime' Prices, globally on all "Annuals" (i.e. VDR, Gyro, Radar Groom, GMDSS)
* Stocked Service Kits for all major nav/comm electronics brands and models
* Access to USD $10 million global equipment & spare parts inventory
* Global Class Society Approvals
* 24/7 global marine service coordination through Mackay World Service
Contact for further details
Mackay Marine South Africa
Director Waldo Fourie
+27 21 276 1240
Cape Town
email: southafrica@mackaymarine.com
https://dynamicmarine.co.za/
♦♦♦♦♦♦♦♦♦
News continues below
ATSB INVESTIGATION AND REPORT:
Grounding of bulk carrier Bulk India, Dampier, Western Australia
11 March 2018
On 11 March 2018, during departure from Dampier, Western Australia, under harbour pilot guidance, the bulk carrier BULK INDIA (Panama-flag, Class NK, 289 metres loa, 177,640 dwt)experienced an electrical blackout resulting in loss of propulsion and steering control. As a result, the ship exited the channel and ran aground. The ship was recovered into the channel with the aid of tugs, before being taken out the channel, to anchor, for further investigation.
Findings
In its investigation the Australian Transport Safety Bureau (ATSB) found that the electrical blackout occurred because the auxiliary diesel generator engines shut down after the cooling water temperature controller malfunctioned, resulting in overheated cooling water. The ship's engineers did not immediately identify the problem and were unable to manually operate the cooling water temperature control valve in time to prevent the blackout.
In addition the ATSB found that problems in the engine room started about 13 minutes before the blackout, however the two pilots on board were not informed of the situation. This removed the opportunity for the pilots to prepare for the loss of control, and delayed actions that may have assisted in a more timely or more effective response.
Further, it was found that Bulk India's emergency generator was not fit for service. When the blackout occurred, the engine started but shut down shortly after, due to overheating. The radiator fan belt had failed several months prior but had not been replaced. The vessel's operator, Kowa Marine Service of Japan did not have in place adequate procedures to ensure that critical spares were identified and their inventory level maintained, to guarantee availability when required on board.
Action taken
Kowa Marine Service has undertaken a fleetwide programme of continual improvement of its safety management and operating systems, and staff education and training processes. This included actions directed at identification, operation, maintenance and spare parts management relating to critical plant and machinery.
Rio Tinto have revised escort towage arrangements for ships departing their facilities in Dampier on the basis of extensive simulation exercises and a review of existing risk assessments. As a result, attendance by a second tug remains in attendance with bulk carriers further along the channel.
Furthermore, a comprehensive guidance manual for ship towage operations in Dampier and Port Walcott has been developed.
Safety message
In its report of the incident ATSB urged ship operators and crew members to ensure that systems, machinery and equipment, critical to the continued safe operation of the ship, are thoroughly understood, as well as appropriately maintained and tested. This will reduce the likelihood of an emergency situation relating to these items developing and provide a defence against adverse outcomes, should such a situation arise.
The 37-page ATSB investigation report is available HERE
Edited by Paul Ridgway
London
♦♦♦♦♦♦♦♦♦
News continues below
TRANSNET ENGAGES WITH NORTHERN CAPE PROVINCE OVER EXPORT OPPORTUNITIES
Kimberley: Transnet CE, Ms Portia Derby met earlier this month with the premier of the Northern Cape government, Dr Zamani Saul, to examine existing export opportunities and better support programmes with key stakeholders in the province.
The Northern Cape forms part of the key iron ore export channel and has…
♦♦♦♦♦♦♦♦♦
News continues below
WHARF TALK: Port Statistics for August 2020 are now available
Port statistics for the month of August 2020, covering the eight commercial ports under the administration of Transnet National Ports Authority, are now available.
Details of the port throughputs, ships berthed and container volumes handled can be seen in the Tables below.
Statistics involving motor vehicles are also included, per port and measured in vehicle units. These include imports and exports, earth-moving and other ro-ro or wheeled vehicles.
The effects of the economic downturn are very apparent from the numbers reflecting imports and exports through our ports, all a result of the COVID-19 pandemic and lockdown structures that fractured the economy of not just South Africa but many other countries across the globe. This is particularly evident with the container ports of Durban and Ngqura, whereas the fruit export season now in swing at Cape Town appears to be assisting to maintain that port's export numbers.
This situation is likely to continue for probably the remainder of the year, pointing to a dismal year when 2020 comes to an end. For a comparison with the same month in 2019 we provide a link below.
For comparison with the equivalent month of last year, August 2019 CLICK HERE
These statistic reports on Africa PORTS & SHIPS are arrived at…
♦♦♦♦♦♦♦♦♦
News continues below
IN CONVERSATION: How many people will migrate due to rising sea levels? Our best guesses aren't good enough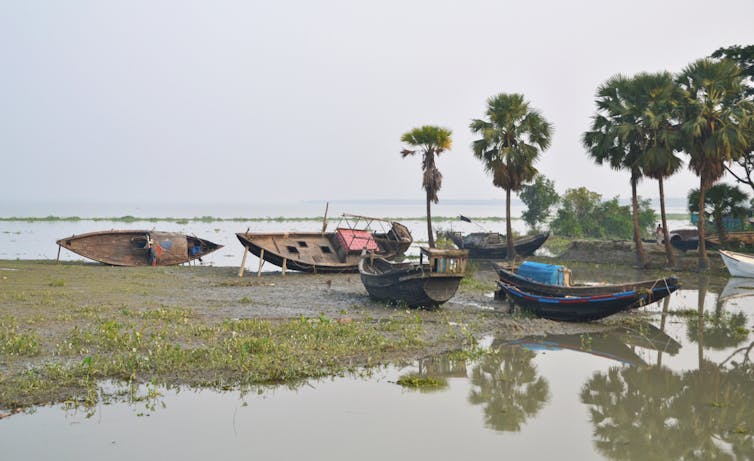 Many villages in coastal Bangladesh are struggling with erosion of land, homes and crops.  Sonja Ayeb-Karlsson, Author provided
An article in 2011 shocked many by suggesting that up to 187 million people could be forced to leave their homes as a result of two metres of

sea level rise

by 2100. Almost a decade on, some of the latest estimates suggest that as many as 630 million people may live on land below projected annual flood levels for the end of the century.
The idea that rising seas will force millions to move, unleashing a refugee crisis like no other, has now become commonplace. It's a narrative that the media are fond of, but that does not mean it is based on evidence.
The potential scale of sea level rise is becoming clearer, but this does not necessarily translate into population movements. Everything we have learned so far suggests that decisions to migrate are far more complex than a simple flight response.
In our new review article, we looked at 33 different studies that have estimated how sea level rise will affect migration patterns. Reliable estimates are important to help support vulnerable populations, but there is deep uncertainty around the amount of people who will be exposed to rising seas, and how they will respond.
Trapped populations
We looked carefully at the methods and data sets of these studies to try and tease out uncertainties. One issue plaguing their estimates is assumptions about the number of people who will be living in vulnerable low-lying areas in the future.
Most of the studies we reviewed did note that the connections between migration and sea level rise are incredibly complex. Every person directly affected isn't guaranteed to move away as a result. People may be just as likely to try and protect their homes against the water, by building sea walls or elevating their houses.
It's impossible to predict how each person will respond, and there are countless reasons why someone might choose to stay in the place they call home rather than move or seek shelter elsewhere. Those who may be forced to migrate and resettle due to climate change receive far more attention than those left behind. These so-called "trapped" populations can be just as vulnerable as those on the move, if not more so.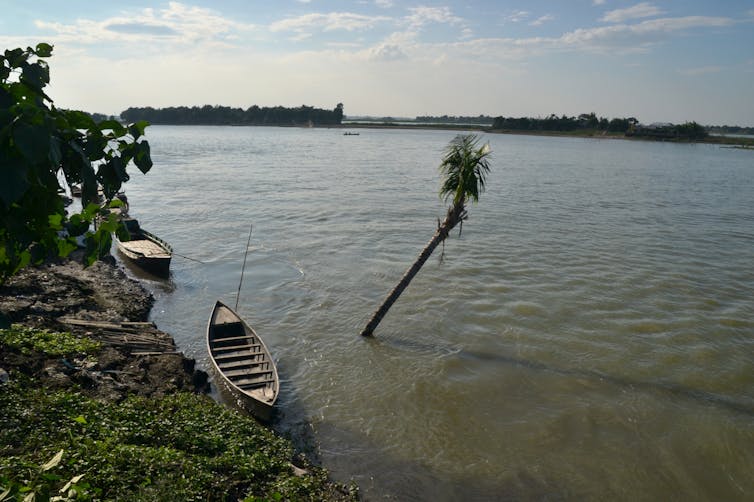 Despite flooding and erosion, many of the Bangladeshis we interviewed said they cannot or do not want to leave their home villages.  Sonja Ayeb-Karlsson, Author provided
Research suggests that the decision to stay or leave will have as much to do with emotional and social pressures as financial or practical reasons. People may feel afraid or find it unbearable to leave, while others lack the necessary support. Many may feel obliged to stay due to binding social ties and reponsibilities.
How the health and wellbeing of those staying behind will be affected by rising seas is poorly investigated. More research is needed to understand the realities of staying put, for those who choose to stay and those who are unable to leave.
Where do we go from here?
Research on sea level rise and migration has often tried to obtain global estimates of those likely to be affected. These are useful for drawing attention to the potential scale of future impacts, but they lack local insights that could help make the picture clearer for different areas.
Rising sea levels are just one of the many ways climate change is remaking our world. Understanding how sea level rise interacts with other environmental changes, such as increased temperatures and changing rainfall patterns will be important, but this stretches the ability to predict exact migration numbers.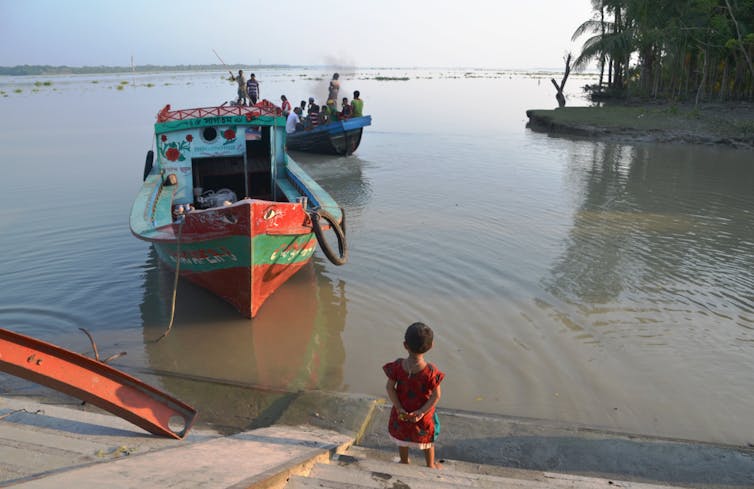 A young girl watches as a group of men return home from a fishing trip.
Sonja Ayeb-Karlsson, Author provided
Despite all the unknowns, we do know that coastal changes wrought by climate change will be significant, and they require action now. That means devising measures to prevent or reduce inundation, figuring out how to live with the water, and planning for successful ways to migrate and resettle. Evaluating options, developing scenarios, and making decisions around this must happen now, rather than waiting for the issue to become more urgent.
It is just as important to avoid repeating myths around climate change triggering vast flows of people from the so-called "Global South" seeking refuge in the so-called "Global North". We do know that people will not inevitably flee across borders in a warming world. Where migration does happen, movements within countries are often neglected on the likely flawed assumption that most migrants are crossing borders.
The narratives create unnecessary concern while shifting focus away from what really matters – helping vulnerable people. Not only do these myths reproduce xenophobic and outdated colonial power relations based on unfounded arguments, but they also create unnecessary fear and hostile environments for migrant populations around the world.

Sonja Ayeb-Karlsson, Senior Researcher, Institute for Environment and Human Security (UNU-EHS), United Nations University; Celia McMichael, Senior Lecturer in Geography, University of Melbourne; Ilan Kelman, Professor of Disasters and Health, UCL, and Shouro Dasgupta, Lecturer in Environmental Economics, Università Ca'Foscari
This article is republished from The Conversation under a Creative Commons license. Read the original article.
♦♦♦♦♦♦♦♦♦
News continues below
WHARF TALK: More news straddles for the Durban Container Terminal
Another eight new electric straddle carriers have arrived at the Durban Container Terminal (DCT) Pier 2 fully assembled, completing the terminal's order of 23 for the current calendar year.
"The arrival of the straddles fully assembled is a move that will inject improvements within a short space of time in Operations," said Zamo Ngcobo, Pier 2 Terminal Manager.
Ngcobo added that commissioning and endurance testing would still be conducted, with handover estimated in early October.
The Durban Container Terminal (DCT) Pier 2 is one of the largest container terminals in the southern hemisphere and forms part of a network of Transnet Port Terminals (TPT), South Africa's leading terminal operator responsible for loading and offloading cargo aboard vessels calling the seven South African ports.
DCT Pier 2 is responsible for handling most of South Africa's container volumes.
The investment in container handling equipment replaces ageing equipment in order to improve efficiency within the system.
Complementing the equipment boost is the increased number of resources working the vessels, a new terminal structure, technological advancements for better decision-making and the implementation of a mandatory truck appointment system.
The straddle carriers boast improved drive technology, starting reliability, maintainability, safety, usability, ergonomics as well as an ability for a computer application to read data from the control system via Ethernet – providing comprehensive detail on statistics, real time performance data and operational reports.
DCT Pier 2 is one of 16 sea-cargo and three inland terminals managed by Transnet Port Terminals (TPT) that have benefited from the R2 billion set aside to invest in replacement equipment this current calendar year.
A further 22 straddle carriers are on order, expected to arrive between March and May 2021.
♦♦♦♦♦♦♦♦♦
News continues below
TRANSNET REACTS TO CONTINUED INFRASTRUCTURE THEFT
Transnet

says it condemns the continued attack on strategic economic infrastructure, which has been on the rise in recent months.
The statement comes after approximately six kilometres of overhead cables were stolen from a number of different rail network corridors in South Africa in a single 24 hour period last week, with the Natcor (Natal Corridor) line being the worst hit.
The Natcor line, which operates 22 trains a day transporting automobiles, domestic coal, general freight and agricultural goods, is one of the strategic corridors delivering goods between the country's economic hub of Gauteng, and the port of Durban in KwaZulu-Natal.
Other targeted rail networks include the Central Corridor, which services the automotive industrial parks in Pretoria and the North-East Corridor servicing the mining industry, including coal exports to Richards Bay.
Transnet Freight Rail technical teams were meanwhile working around the clock to restore parts of the affected rail network.
The increase in the number of cable theft incidents leads to train cancellations and volume losses, says Transnet.
"Transnet's security team, in collaboration with a number of law enforcement authorities including railway police from SAPS, the Directorate for Priority Crime Investigation (Hawks), National Intelligence Agency amongst others continue to make headway in the fight against cable theft."
The joint security efforts have yielded some positive results with two separate convictions totalling 18 years of imprisonment achieved in the Mpumalanga province this month and an arrest of 87 suspects linked to the crime in August.
"Transnet urges all its stakeholders including scrap metal, foundries and smelters businesses to refrain buying overhead cables from unregistered traders. We also encourage members of the community to report any suspicious activities using the TFR's anonymous hotline number 0800 003 056 or email transnet@tip-off.com
♦♦♦♦♦♦♦♦♦
News continues below
UN's WFP EXTREMELY CONCERNED OVER CONFLICT IN NORTHERN MOZAMBIQUE
The United Nations World Food Programme (WFP), the world's largest humanitarian organisation, says it is extremely concerned about the escalating conflict and deteriorating food security situation in Cabo Delgado, Mozambique. This is where WFP says over 300,000 people have fled their homes and villages, abandoning their crops and leaving them completely reliant on humanitarian assistance.
"We are deeply concerned about the unfolding humanitarian situation in…
♦♦♦♦♦♦♦♦♦
News continues below
DANISH MARITIME AUTHORITY WATERS
New routeing systems provide visible traffic changes
This summer new shipping routes were established in Skagerrak and Kattegat to create more predictable traffic patterns and separate oncoming ship traffic better. First analysis indicates that the routeing systems work as intended. This was explained in a Danish Maritime Administration (DMA) communiqué of 12 September.
At the DMA it continuously uses digital tools to…
Edited by Paul Ridgway
London
♦♦♦♦♦♦♦♦♦
News continues below
FREIGHT TRAIN DERAILMENT & TANKER FIRE: INVESTIGATION REPORT
Tanker train at Llangennech, South Wales 26 August 2020
Once again at Africa Ports & Ships we reflect on the work of the United Kingdom's Rail Accident Investigation Branch (RAIB).
It is important to note that documents produced by RAIB, although particular to the UK will be of interest to all who are concerned with railway safety wherever in the world it may be.
On 21 September the RAIB issued a report of its…
Edited by Paul Ridgway
London
♦♦♦♦♦♦♦♦♦
News continues below
WHARF TALK: Wildlife documentary series to be filmed on Marion Island
South Africa's Department of Environment, Forestry and Fisheries (DEFF) has approved a proposal by United Kingdom-based film and production company, Plimsoll Productions, to film a wildlife documentary series on Marion Island.
The approval, which follows a rigorous approval process involving key stakeholders, will see film makers and scientists collaborate to ensure the continuation of important research projects on Marion Island.
"There are significant, globally valued long-term science and conservation projects on Marion Island that were interrupted by the COVID-19 pandemic, and both parties viewed this as an opportunity for collaboration," the department said last week.
The agreement with Plimsoll Production includes the charter of a private vessel at their own cost, with an offer to transport seven members of the M77 over-wintering team to the island in September 2020.
The department said this would allow for the mitigation of the impact of COVID-19 on science activities by enabling filmmakers and scientists to combine efforts to enable the continuation of field science programmes on Marion Island, as well as filming incredible natural behaviour. "Some of these scientific datasets on Marion Island are nearing 40 years of uninterrupted observations," the department said.
There has been a thorough analysis of the proposed activities and a permit with very strict conditions has been issued.
To monitor compliance with the permit conditions, a departmental official will accompany the film crew to ensure that they observe the necessary regulations and protocols. The proposal also went through an extremely rigorous interrogation by the Prince Edward Island Advisory Committee (PEIAC).
The PEIAC was established in compliance with the Prince Edward Island Management Plan to ensure that the pristine nature of the Prince Edward Island is maintained and all activities are controlled and in compliance with the Management Plan.
♦♦♦♦♦♦♦♦♦
WHARF TALK: Namibia issues new COVID-19 guidelines to seafarers
With the lifting of the state of emergency in Namibia, a new set of guidelines affecting seafarers and crew changes comes into effect.
In a message from Walvis Bay's port captain, Captain Lufus Kufuna, the following will apply:
Foreign seafarers on foreign vessels arriving from outside the country will still have to comply with a seven day quarantine period. Provided they show a negative result after seven days they will be allowed to go ashore.
Namibian and foreign seafarers working on Namibian-registered vessels working in Namibian waters are allowed to go ashore.
Foreign vessels on the Synchrolift, Namdock (floating dock) and vessels at anchorage areas for repairs who have been in Walvis Bay as described for more than a month will also be allowed ashore.
♦♦♦♦♦♦♦♦♦
News continues below
WHARF TALK: TNPA marks 20 years of achievement
With September being South Africa's National Heritage Month, which included World Maritime Day on Thursday 24 September, Transnet National Ports Authority (TNPA) used the occasion to host a virtual Maritime Heritage Celebration event on Wednesday, 23 September, while also unveiling its Maritime Transformation Legacy coffee table book and documentary.
Both the book and the event showcase the stories of those who helped transform TNPA marine operations 20 years ago while paving the way for a new generation of marine pilots, specialists in port control and aids to navigation, as well as harbour masters, who today include historically disadvantaged individuals.
Throughout the month TNPA has been commemorating its 20th year of existence and the strides made since the first group of marine trainees of colour, including females, began their maritime careers two decades ago.
Last Wednesday, 23 September, during its virtual Maritime Heritage Celebration event, TNPA unveiled a Maritime Transformation Legacy coffee table book and documentary, showcasing the stories of that first group or 'Class of 1999'. See below for the documentary.
The 12 candidates were selected for an accelerated training programme in Rotterdam aimed at bringing in a new generation of marine pilots, managers and other marine professionals into an industry which at the time was reluctant to change.
Two decades later, many of them have ascended to senior roles in the industry as documented in the book and documentary, among them being Captain Rufus Lekala, TNPA's Chief Harbour Master, who began his working life as a taxi driver and worked his way right through the ranks to become the youngest Harbour Master in the world and South Africa's first Black Chief Harbour Master.
The controversial fast-tracked training of the Class of 1999 and others to follow was introduced to address a critical shortage of marine pilots in South Africa and globally, as well as the need to create opportunities for previously disadvantaged individuals in a democratic South Africa.
The programme was delivered by Shipping and Transport College (STC) in the Netherlands. They were early adopters of simulators for training, and designed a programme that enabled the candidates, who already had at least a third class ticket, to qualify as marine pilots in a shorter period than the traditional first class ticket.
TNPA Acting Chief Operating Officer, Captain Rufus Lekala, said that looking back on 20 years with TNPA as an operating division of Transnet, "…it is with great pride that we reflect on our achievements to transform our maritime resources.
"TNPA has replaced and built new infrastructure, replaced and grown its fleet and developed its mariners and personnel to ensure we're able to handle new generation vessels and to compete effectively in an increasingly competitive global market."
More recently, TNPA also developed its own insourced aviation service, manned by a new generation of helicopter pilots and avionics engineers from previously disadvantaged backgrounds, taking its transformation agenda to the skies.
TNPA's transformation efforts were led by Commander Tsietsi Mokhele, who was appointed as Transformation Manager at Transnet in 1999, with the mandate of positioning the country's maritime sector as part of the global maritime space.
Maritime Transformation Legacy coffee table book
To view TNPA's Maritime Transformation Legacy coffee table book, CLICK HERE
and to view the documentray VIDEO [21:00] below
♦♦♦♦♦♦♦♦♦
News continues below
WHARF TALK: Placenames along the coast: Port Grosvenor
Sailing south from Durban along the KZN South Coast we come to Port Edward, on the KZN border with the Eastern Cape. From here until the Kei River mouth north of East London is reached is what is known as the Wild Coast, a stretch of wild but beautiful terrain with only the occasional coastal village or holiday resort and no places of refuge for a ship or yacht in distress to seek shelter.
Yet it is along this stretch that the maps will show two 'ports' – one being the better-known Port St Johns and the other, some 50 kilometres to the north, Port Grosvenor.
It is the latter that we look at today, with Port St Johns a separate topic for another time.
Port Grosvenor is located in a little bay, hardly more than a dent in the otherwise inhospitable coast. The nearest landmarks are Waterfall Bluff a few kilometres to the south, and to the north the nearby South Sand lighthouse on the south-western bank of the Umsikaba river.
It is doubtful whether Port Grosvenor could offer anything in the way of encouragement to any sailor seeking shelter, yet Port Grosvenor has its own fascinating history and intrigue mixed in with a little mystery, involving two European nations and the ambitions of a paramount chief of one of the few independent territories remaining in Africa, anxious to maintain independence from foreign nations.
It was here that the 729-ton British East Indiaman, the Grosvenor, came ashore during the night of 4 August 1782, the result of poor navigation by the ship's master. The story of that wreck and the plight of the many survivors, is one of South Africa's great shipwreck sagas and mysteries, but that's not for now. Our interest lies in how this site came to be named Port Grosvenor.
It was commonly believed that the Grosvenor carried a vast treasure and among the earliest of those to carry out expeditions bent on discovering the treasure lost in Lambasi Bay (the original name), was a Durban ship's master and unsuccessful sugar farmer, Captain Sidney Turner. A report in The Mercury on 20 May 1880 quotes Turner and his partner in the venture as having used explosives to blast the rocks where the great ship lay. They discovered a number of silver and gold coins and trinkets, as well as several ships' cannon – two of which are on display at the Port Natal Maritime Museum in Durban.
The coins that Turner found and later sold were sufficient for him to float a company which commissioned the building in Greenwich, England of a small coastal steamer, the Lady Wood.
In late 1882 Turner arranged for the Lady Wood to be sailed to Durban from where he commenced a trading venture along the coast. George Rennie, a shareholder in Turner's venture, took over the vessel a few years later after trading conditions deteriorated.
Turner was in good standing with the paramount chief of the Pondos, Mqikela, who earlier had refused the British permission to set up a Customs post in his territory. The British then turned to his rival, Chief Nqiliso who in 1878 granted them the southern bank of the Umzimvubu river and a strip of land inland for a river port to be developed, all for the sum of £1,000 and recognition of his standing as an independent ruler. Port St Johns as it was called was then annexed to the Cape government.
This action did not endear Mqikela towards the British, added to which he began to take note of the amount of trade that began flowing through Port St Johns, with Customs revenues going to Cape Town. He thus approached his friend Turner and invited him to establish a rival port at a place of Turner's choosing along the Pondoland coast.
Turner selected his landing site on an open bay where the small Mkweni river enters the sea, close to the site of the Grosvenor wreck and named it Port Grosvenor. From his home on Durban's Bluff, Turner took his family south and on 21 May 1885 went ashore to open and operate the new port. Mooring rings were anchored in rocks onshore to secure the lighters that would be used to bring cargo ashore, while a cable ropeway was also made use of for the same purpose.
By 1 September that year Turner was able to write to his mother that the Lady Wood had made four trips between Durban and Port Grosvenor, bringing goods one way and shipping away cattle, hides and maize.
Unknown to Turner when he wrote this, the British, annoyed by the actions of Chief Mqikela and in particular by reports that he was negotiating with German traders with a view to establishing commercial and possibly diplomatic relations with the German government, had declared Pondoland a Protectorate in the name of the British queen.
In January of 1886 the Cape government declared Turner's concession to be invalid, forcing him to abandon the venture and relocate to Port St Johns where he and his family established a home. His wife Bella opened a guest house, the Needles Hotel. Meanwhile the last ship to make Port Grosvenor its port of call was the famous Durban coastal steamer, the Somsteu in January that year. After that all work and development at Port Grosvenor fell away, with the landing place reverting to nature and Port Grosvenor becoming another of South Africa's 'forgotten' ports.
♦♦♦♦♦♦♦♦♦
News continues below
A MESSAGE FROM HE ANTÓNIO GUTERRES
Secretary-General of the United Nations

World Maritime Day: 24 September 2020
The theme of this year's World Maritime Day – sustainable shipping for a sustainable planet – has gained extraordinary resonance as shipping has continued to transport more than 80 per cent of world trade, including vital medical supplies, food and other basic goods that are critical for the COVID-19 response and recovery.
The COVID-19 pandemic has also highlighted the professionalism and sacrifice of the two million seafarers who serve on the world's merchant fleet.
I remain very concerned about the growing humanitarian and safety crisis facing hundreds of thousands of these indispensable workers. Despite the unprecedented conditions brought about by the pandemic, seafarers have continued to tirelessly support the often invisible global logistics chain. Physically and mentally exhausted, away from their families and loved ones, their time at sea has now been extended far beyond the standards stipulated in international conventions, with some tours of duty now stretching more than 17 months. Fatigued seafarers cannot operate indefinitely, and disruptions to international shipping would have devastating consequences.
I renew my appeal to Governments to address their plight by formally designating seafarers and other marine personnel as "key workers", ensuring safe crew changes and implementing the protocols developed by UN agencies, as well as the International Chamber of Shipping and the International Transport Workers' Federation, allowing stranded seafarers to be repatriated and others to join ships.
In the longer term, a sustainable shipping industry is vital. Shipping will play a central role in achieving most, if not all, of the seventeen Sustainable Development Goals. But shipping activities must be balanced with the long-term health and biodiversity of the oceans. The UN's International Maritime Organization (IMO) has developed global standards which support cleaner and greener shipping. Governments and IMO must continue to work together to support the decarbonisation of shipping and improved energy efficiency; the facilitation of shipping through increased digitalization, involving ports; and efforts to ensure the sustainability and protection of the workforce, including a focus on diversity.
Shipping can and must continue to make its contribution to the global economy without upsetting nature's delicate balance. The maritime sector underpins world trade and will continue to be essential for building a sustainable future for people and planet.
♦♦♦♦♦♦♦♦♦
News continues below
NIGERIAN HYDROGRAPHY SURVEY VESSEL LAUNCHED IN FRANCE
Nigeria's new hydrographic survey vessel has been launched at the OCEA shipyard in Les Sables d'Olonne in France.
The launching took place on Thursday 24 September before a delegation from the Nigerian Navy headed by Rear Admiral Abraham Adaji who spoke at the ceremony on behalf of the Chief of Naval Staff, Vice Admiral Ibok-Ete Ibas.
The vessel will be named NSS LANA and is based on the design of the successful OCEA OSV 190 SC-WB vessel. She is seen as a replacement for Nigeria's previous survey vessel, which was also named NNS Lana, that was decommissioned about 10 years ago.
Admiral Adaji said the new ship will play a critical role in protecting maritime resources and the preservation of law and order at sea, while contributing significantly to the promotion of global maritime commerce.
The president of Nigeria, President Muhammadu Buhari, was thanked for his unflinching support towards the recapitalisation of the Nigerian Navy fleet.
On behalf of OCEA, Mr Fabrice Weinbach said the new vessel reflected the excellent cooperation between the Nigerian Navy and OCEA and demonstrated Nigeria's willingness to further its knowledge of coastal waters and the sea.
Weinbach said these good relations will be further strengthened with the supply of integrated logistic support services, including training, aimed at maintaining the operational readiness of the crew, the ship, and on-site technical assistance.
The new NNS Lana is scheduled to join the Nigerian fleet in 2021.
Equipment
* A deep water multibeam echo sounder
* A single beam depth-water sounder
* Side scan sonar
* A current meter
* Means of sampling, storage and analysis of water, fish and sediment
* On-board laboratory hardware and software
* An 8 m hydrographic boat equipped for data surveys along the coasts in small and very shallow waters.
♦♦♦♦♦♦♦♦♦
News continues below
CMA CGM's WAX SERVICE UPGRADED:
direct weekly service to Cameroon
French container line CMA CGM has announced it is upgrading its
WAX container service (Asia-West Africa)

by including calls at the new Cameroon port of Kribi with effect from the beginning of October 2020.

The inclusion of Kribi emphasises the growing importance of this Cameroon port.

The call will provide a competitive transit times to Kribi from Shanghai of 33 days, Ningbo 32 days, and Nansha 28 days and offering multimodal solutions to Douala Door/Ramp, North Cameroon, Chad and the Central African Republic.

The service commences with the vessel NAVIOS NERINE starting her rotation in Shanghai ETS 2 October and ETA Kribi on 3 November 2020.

The full rotation of the WAX service is:

Shanghai – Ningbo – Shekou – Nansha – Tanjung Pelepas – Singapore – Kribi – Cotonou – Abidjan – Tin Can Lagos – Lome – Colombo – Singapore – Shanghai
♦♦♦♦♦♦♦♦♦
News continues below
Why US diplomatic muscle could achieve more in Somalia than drone strikes
Why do we republish this particular report when there is no apparent maritime connection? The reason lies in the 'side effects' of foreign military action across all of Africa, which increases year by year. Such side effects close to South Africa are visible in Cabo Delgado province in northern Mozambique and several other parts of Africa, including the DRC and West Africa where Islamic militant organisations are active wherever an opportunity is seen with the aim of establishing an ideological 'caliphate' in which fundamentalist doctrines and ideas can be enforced on a population that in most circumstances simply wants to get on with the challenges of living. When these actions begin to escalate they bring with them inevitable effects on the region's stability, including its maritime domain, and which in turn begins to attract the attention of other outside forces.
If this is not your thing, that's understandable – move to the next story!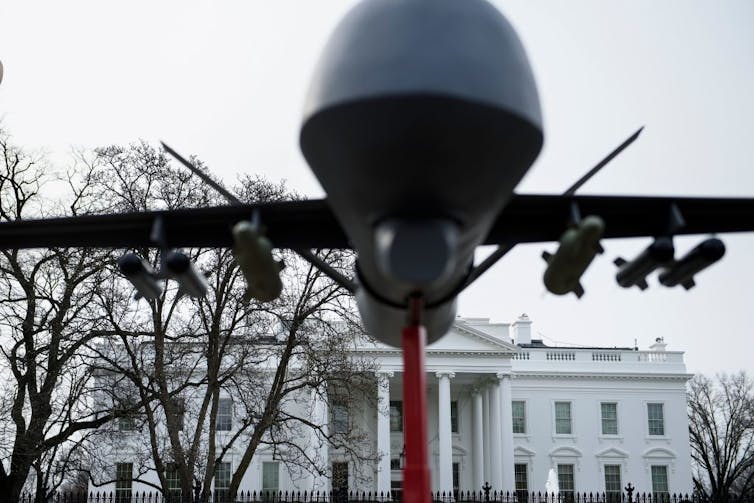 A military drone replica is displayed in front of the White House during a protest against drone strikes on January 12, 2019 in Washington, DC.
Brendan Smialowski/AFP via Getty Images
Paul D. Williams, George Washington University
The United States has used airstrikes against al-Shabaab forces in Somalia since January 2007, including armed drone strikes from June 2011. From early 2017, Donald J. Trump's administration loosened the targeting rules and significantly increased the number of strikes in Somalia, apparently with the consent of the Somali federal government.
The new rules were intended to degrade al-Shabaab and reduce its ability to continue its series of particularly deadly attacks on African Union and Somali army bases between June 2015 and January 2017.
Now Trump's administration is reportedly considering expanding its use of such airstrikes against the militants into parts of eastern Kenya. This follows al-Shabaab's deadly attack on the US naval base at Manda Bay in January 2020. Three US security personnel – one service member and two Department of Defence contractors – were killed.
Most American airstrikes have been conducted in defence of US personnel or in collective defence of African Union forces and Somali National Army troops. A smaller number have been offensive strikes designed to kill "high-value" members of al-Shabaab.
In general, Barack Obama's administration conducted far fewer strikes. Most of these were aimed at high-value targets. Trump's administration has often struck rank-and-file al-Shabaab fighters as well as high-value figures. Some US strikes have also caused civilian casualties.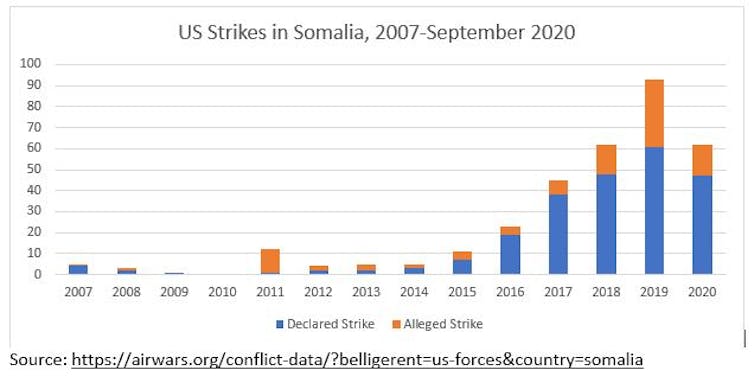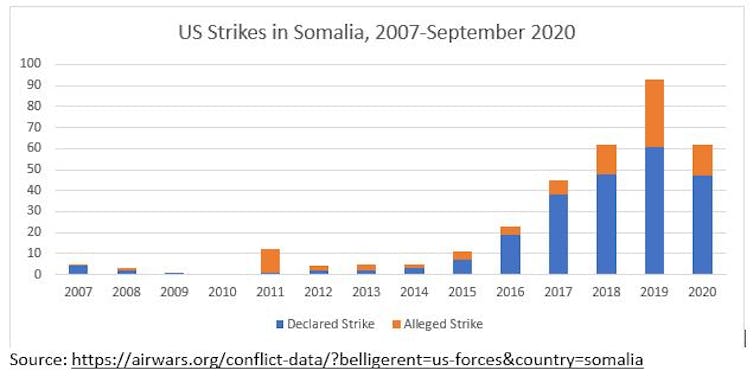 Although the number and types of airstrikes often capture the media headlines, Washington's strategy to counter extremist groups in the region has remained consistent across three administrations for well over a decade. A 2016 report called it a "tailored engagement strategy."
Under this strategy, the US supports various partner forces in order to resurrect a Somali state based on a federal system of governance that could contain those extremist groups. To achieve this strategic goal, successive US administrations have poured most resources into their military operations in Somalia. But there have been political, economic, and humanitarian forms of engagement too.
In a recent report, I argued that despite these American efforts, the war against al-Shabaab has been effectively stalemated since 2016. This is partly because the Somali federal and regional authorities remain fragmented. It is also because the US, African Union and Somali troops have no obvious way to inflict a decisive military defeat on a transnational, networked organisation like al-Shabaab.
Consequently, instead of intensifying airstrikes or simply disengaging militarily from Somalia, the US should increase its diplomatic muscle in order to help secure a negotiated end to the country's civil war.
Military muscle
Ethiopian forces installed the Somali Transitional Federal Government in Mogadishu in December 2006. Since then, Washington's principal goal has been to degrade and contain al-Shabaab, the Somali federal government's principal opponent. To that end, successive US administrations have considered al-Shabaab to be an "associated force" of al-Qaeda, for the purposes of the 2001 Authorization for Use of Military Force.
Since 2006 the United States has spent approximately $2.5 billion on bilateral and multilateral forms of security assistance for contributing countries of the African Union Mission in Somalia. This includes training, equipment, advising and field mentoring programs, often implemented by contractor firms.
Washington has also provided security assistance to some Somali forces, now totalling over $500 million. The plan was to help build local security forces that could take on al-Shabaab and stabilise the country. This would then allow the African Union mission to draw down and eventually leave the country. But attempts to build an effective Somali army encountered many problems.
In December 2017, concerns about corruption led to the suspension of Washington's security assistance to non-mentored units of the Somali National Army. The main exception was the Danab advanced infantry units that have been trained, equipped, financed and mentored by the United States since 2014.
In July 2019, enough concerns had been allayed for Washington to resume some non-lethal assistance to Somali national army units engaged in Operation Badbaado. This was a joint effort with African Union troops to recapture several towns southwest of Mogadishu. The United States also provided information and surveillance support for these operations.
In February 2020, Washington restored lethal, direct security assistance to the European Union-trained 143rd battalion of the national army, which was involved in this operation.
In addition, several hundred US troops have been deployed in Somalia since at least 2014. They operate out of several commands, including the US Africa Command, US Army Africa, the Combined Joint Task Force-Horn of Africa, Joint Special Operations Command, as well as a Military Coordination Cell based in Mogadishu.
These American forces have regularly conducted offensive operations, usually in partnership with Danab units, targeting important al-Shabaab figures and facilities. So far, two US soldiers have been killed in such operations, and several others injured.
Negotiated settlements
It is difficult to measure the effect of US military actions on the overall war.
This is evident from the relevant fatalities and conflict data produced by the Uppsala Conflict Data Program and the Armed Conflict Location and Event Data Project. These suggest there is no obvious or direct relationship between US airstrikes and either the number or lethality of al-Shabaab attacks across south-central Somalia.
It is my view that rather than intensify airstrikes, the US should increase its diplomatic muscle in Somalia in order to secure two linked negotiated settlements.
First, a genuine political deal between Somalia's Federal Government and regional administrations, now known as the Federal Member States. This must clarify the outstanding details of Somalia's federal governance and set out a new, comprehensive security strategy.
To that end, Washington should be willing to place more conditions in order to increase its political leverage. These could apply on security force assistance, airstrikes and potential debt relief to the Somali government.
If such a deal can be achieved, the US should then support the idea of peace talks between the reconciled Somali authorities and al-Shabaab. In this scenario, Washington should see the strategic function of its airstrikes as being to incentivise al-Shabaab's leadership to negotiate an end to the civil war.
Extending its air war into Kenya would only make strategic sense if there was good evidence it would help make a negotiated settlement more likely. At present, it's difficult to see how this would be the case.

Paul D. Williams, Professor of International Affairs, George Washington University
This article is republished from The Conversation under a Creative Commons license. Read the original article.
♦♦♦♦♦♦♦♦♦
News continues below
WMO and 20 partners have held the first meeting to launch FOCUS-Africa – Fully Optimised User Centric Climate Services Value Chain for Southern Africa – see HERE.
This is a four-year € 7 million initiative funded by the European Commission and was reported by the World Meteorological Organization on 22 September.
FOCUS-Africa aims to deliver tailored climate services to increase resilience and adaptation in the Southern African Development Community (SADC) region in four key sectors: agriculture and food security, water, energy and infrastructure.
It is understood that the full value chain for climate services will be demonstrated through eight pilot case studies in six countries, which will involve a wide range of end-users and beneficiaries. They will illustrate how the use of climate science, forecasts and projections can maximize socio-economic benefits in specific national private and public sectors in the region.
Southern African vulnerability
Southern African countries are vulnerable to climate variability, change and extremes. Water resources, agriculture, hydropower generation, ecosystems and basic infrastructures are under stress, it is reported, as a result of increasing frequency and intensity of floods, landslides and droughts.
Development of improved climate information and forecasts of decision-relevant parameters are essential to addressing these challenges. Tailored forecasts such as rainfall onset and cessation are regularly requested by users, along with the associated skill information. Development and delivery of such products and services, and the evaluation of their socio-economic benefits, are central to FOCUS-Africa.
FOCUS-Africa, which embraces ten partners from Africa and ten from Europe, will benefit SADC-based users and the European consortium partners who will also greatly enhance their scientific knowledge and climate services provision knowledge.
FOCUS-Africa is one of a number of WMO activities highlighted in the latest projects newsletter which provides details of:
* Building Resilience to High-Impact Hydro-Meteorological Events in Small Island Developing States and South East Asia
* Polar Prediction Project
* Subseasonal-to-Seasonal South East Asia Real Time Pilot Project
* Improved Coastal Inundation Forecast System in Tuvalu, and
* Data Exchange Through the South East European Multi-Hazard Early Warning Advisory System-A project
The newsletter is available by CLICKING HERE
Edited by Paul Ridgway
London
♦♦♦♦♦♦♦♦♦
News continues below
GENERAL NEWS REPORTS – UPDATED THROUGH THE DAY
in partnership with – APO
♦♦♦♦♦♦♦♦♦
More News at https://africaports.co.za/category/News/
News continues below
TO ADVERTISE HERE
Request a Rate Card from info@africaports.co.za
EXPECTED SHIP ARRIVALS and SHIPS IN PORT

Port Louis – Indian Ocean gateway port
Ports & Ships publishes regularly updated SHIP MOVEMENT reports including ETAs for ports extending from West Africa to South Africa to East Africa and including Port Louis in Mauritius.
In the case of South Africa's container ports of Durban, Ngqura, Ports Elizabeth and Cape Town links to container Stack Dates are also available.
You can access this information, including the list of ports covered, by going HERE remember to use your BACKSPACE to return to this page.
News continues below
CRUISE NEWS AND NAVAL ACTIVITIES

QM2 in Cape Town. Picture by Ian Shiffman
We publish news about the cruise industry here in the general news section.
Naval News
Similarly you can read our regular Naval News reports and stories here in the general news section.
♦♦♦♦♦♦♦♦♦
THOUGHT FOR THE WEEK
"I slept and I dreamed that life is all joy. I woke and I saw that life is all service. I served and I saw that service is joy."
– Kahlil Gibran
♠♠♠
♠♠♠
ADVERTISING
For a Rate Card please contact us at info@africaports.co.za
Don't forget to send us your news and press releases for inclusion in the News Bulletins. Shipping related pictures submitted by readers are always welcome. Email to info@africaports.co.za
TABLE BAY UNDERWAY SHIPPING
SHIP PHOTOGRAPHERS
Colour photographs
and slides for sale of a variety of ships.
Thousands of items listed featuring famous passenger liners of the past to cruise ships of today, freighters, container vessels, tankers, bulkers, naval and research vessels.
P O BOX 809, CAPE TOWN, 8000, SOUTH AFRICA
snai@worldonline.co.za
http://home.worldonline.co.za/~snai