Bringing you shipping, freight, trade and transport related news of interest for Africa since 2002
Stay Well, Stay Safe, Stay Patient, don't become one
♠♠♠
Come with us as we report through 2020
**********
TODAY'S BULLETIN OF MARITIME NEWS
These news reports are updated on an ongoing basis. Check back regularly for the latest news as it develops – where necessary refresh your page at www.africaports.co.za
Click on headline to go direct to story : use the BACK key to return
EARLIER NEWS CAN BE FOUND AT NEWS CATEGORIES…….
Sunday's masthead shows the Elliott Basin, Port of Cape Town
♦♦♦♦♦♦♦♦♦
SEND NEWS REPORTS AND PRESS RELEASES TO
info@africaports.co.za
♦♦♦♦♦♦♦♦♦
News continues below
One of the features of offshore supply vessels is that they frequently have simple uncomplicated names, very often remembering wives, girl friends, mothers, daughters. Such an example is with this little ship (1731-gt) that arrived in Durban harbour recently, INGRID K (IMO 9444132). You can judge that this was during the late winter months by the brownness of the Bluff – that's about as dry as it gets along the KZN coast, had it been late spring or summer the bush along the side of the Bluff would have been a deep verdant green. The 60m long, 16m wide Ingrid K was built in 2010 and flies the Marshall Islands flag. She arrived in Durban from Mossel Bay, and before that was in West African waters. From Durban Ingrid K has proceeded to the port of Al Hamriyah in the Persian Gulf. Her registered ownership is listed in Singapore, as are the ship managers, RK Offshore Shipmanagement Pte. Pictures: Keith Betts
♦♦♦♦♦♦♦♦♦
♦♦♦♦♦♦♦♦♦
News continues below
ROYAL IHC DELIVERS EASYDREDGE 2700 TSHD DREDGER TO DOUALA
Cameroon's Port Authority of Douala (PAD) has taken delivery of its new 2700 cu metre capacity Easydredge from Dutch builder, Royal IHC.
The Easydredge 2700 joins a Beaver 50 dredge supplied earlier and will be joined…
♦♦♦♦♦♦♦♦♦
News continues below
A NEW PUBLICATION FROM THE NAUTICAL INSTITUTE
There is no doubt that bulk carriers are some of the workhorses of international maritime trade. Those responsible for operating them need to manage significant risks inherent to the dry bulk trade. Certain cargoes can deplete oxygen, catch fire, explode, corrode holds or simply deteriorate. At terminals, the Master may come under pressure to accept cargoes that are too hot or wet, which could endanger vessel and crew.
In recent years the dry bulk sector has made huge efforts to improve safety, but to quote Intercargo Secretary General Dr Kostas Gkonis: "…there is no room for complacency and more work is needed."
With the support of Intercargo and vetting organisation RightShip**, The Nautical Institute has responded by publishing A Guide to Bulk Carrier Operations.
In the words of RightShip General Manager David Peel, the book has been designed as: "…a comprehensive end-to-end guide to exemplary safety practices that will be useful for all participants in our workforce, including ship owners, ports, terminals, charterers and associations."
This highly practical guide draws on the expertise of more than 20 contributing experts representing a wide range of disciplines involved with the dry bulk trades. A Guide to Bulk Carrier Operations…
** See also: CLICK HERE
Edited by Paul Ridgway
London
♦♦♦♦♦♦♦♦♦
News continues below
KENYA RAILWAYS TO OPERATE KISUMU PORT ON LAKE VICTORIA
It has been reported that
Kenya Railways

will officially operate the Lake Victoria port of Kisumu following its recent refurbishment. This follows the merger of Kenya Ports Authority, Kenya Pipeline and Kenya Railways Corporation,which is due to be commissioned by President Uhuru Kenyatta later in September.

A working framework was agreed in Mombasa by the three organisations for the creation of the overarching Kenya Transport & Logistics Network (KTLN).

Kisumu port, where a much-needed KSh700 million refurbishment was recently completed, has since 1978 been a part of the Kenya Ports Authority domain. However, with the principal users of the port being Kenya Railways and Kenya Pipeline involving the transportation of oil products, the decision was taken to allow Kenya Railways to accept responsibility for operating the port.
The port has rail connections with the Kenya Pipeline Kisumu depot as well as to the Kenya Cereals Board facility.
Kenya Ports Authority operates the port of Mombasa as well as other smaller ports and landing points along the Indian Ocean coast. These include Lamu, where a major new deep-water port is under construction as part of the Lamu Port-South Sudan-Ethiopia-Transport (LAPSSET) Corridor project, Malindi, Kilifi, Mtwapa, Kiunga, Shimoni, Funzi and Vanga.
The KPA also operates Inland Container Depots (ICDs) at Embakasi(Nairobi) and the new Naivasha ICD, while having previously operated ICDs at Eldoret and Kisumu that have since closed.
Fuel Exports via Kisumu
Since December 2019 it is reported that 17 million litres of fuel has been transshipped by the lake vessel MV UHURU from Kisumu to Port Bell and Jinja in Uganda, involving 17 voyages.
It had been intended to link Kisumu with the main Mombasa – Nairobi – Uganda standard gauge railway, until construction of the SGR came to a halt at Naivasha, to the north-west of Nairobi, with little likelihood of further work continuing in the near future to the Uganda border at Malaba and a branch line to Kisumu on Lake Victoria.
Instead, Kenya Railways is currently refurbishing the metre-gauge railway to the port and to the Uganda border, with reconstruction of the 217-kilometre Nakuru – Kisumu line expected to be completed by May 2021, at a cost of KSh3.8 billion (US$35.06 million).
The redevelopment of the metre gauge railway has effectively breathed new life into the Rift Valley Railway, a division of Kenya Railways.
♦♦♦♦♦♦♦♦♦
News continues below
SRI CALLS FOR INVESTIGATION INTO PERFECT STORM FOR SEAFARERS
The recent spate of grim casualties cannot simply be written off as bad luck, says Seafarers' Rights International (SRI), the international pan-industry body researching maritime and seafarers' law.
It points out that the failure to treat seafarers as keyworkers during the COVID-19 pandemic is having devastating effects…
Edited by Paul Ridgway
London
♦♦♦♦♦♦♦♦♦
News continues below
SHIPPING AGENTS AT SHARP EDGE OF COVID CREWING CRISIS
The personal experience of one Inchcape marine services manager based in St Croix in the US Virgin Islands paints a vivid picture of the current crisis and how shipping agents are negotiating all sorts of hurdles to get exhausted and homesick crew members repatriated, and new ones boarded.
As we have highlighted on numerous occasions, the Covid-19 pandemic has been especially cruel on seafarers, often trapped on ships for months on end far away from their loved ones. Those who were looking forward to going home in around March or April basically couldn't, as permission for crew changes were denied in almost every port around the world. For a while it looked as if restrictions would be lifted, but many places are closing back down again due to a surge in new cases.
While seafarers have been bearing the brunt of restrictions, shipping agents and crewing managers the world over have been busy trying to find solutions and workarounds. Although this particular weekend in August took all Joanna Walker could sling at it, as a shipping agent she always knew what she was getting into.
"My first interview after graduating with a BSc in Maritime Administration was with Biehl & Company in Houston," she says. "So, what do you know about shipping?" the manager asked me. ""Well, I replied, I've got a maritime degree and I grew up in the business. But in shipping I also know that whatever can go wrong, will go wrong, usually at the worst possible time and in the worst possible place."
That candid answer helped land her the job. Fast forward to now and the Covid-19 pandemic is certainly ticking some of those boxes. "It was totally unexpected and it's been a huge challenge, scrambling to adapt while trying to continue to provide the best services for customers," she says.
With the lockdown, crew changes suddenly became a thing of the past, not only at St Croix but most other ports around the world. "Later, as the restrictions eased we were able to do a couple of changeovers. The biggest challenge was the terminal, with no taxis or transport providers allowed in. Then with poor flight availability and the terminal schedule and so on, it soon became too uncertain, so we had to start saying no again," Joanna says.
Then along came an oil tanker managed by one of our Crew Logistics HUB customers. "Please can we have a crew change?" "Sorry, no, I'm afraid we can't do it." "But we really need it." "I understand but there's really no way we can do it." "But why can't you do it?" "And so it went on," Joanna says. The vessel was allowed to discharge but was then told to wait offshore for a few days before coming in to load. "That actually opened a window for us to do the crew change by launch, without having to transit the terminal," she says.
US Customs and Border Protection (CBP) were willing to allow Inchcape to use the launch if the crew change was approved, as the ship would be within port limits and hadn't been cleared for departure. Inchcape submitted the request then dug in to wait. "The approval process was finally completed two hours before the first crew member was due to board his inbound flight. Permission was granted but we were advised this would be the last time for some time," Joanna says.
Then the fun began. "We told the principal we'd have to get the off-signers tested prior to flying, as per airline rules. But after the incoming crew were already on their way we were asked by the vessel manager to test them as well. The first off-signers disembarked and were taken to a local clinic and given the Covid antibodies test, which is sufficient for our local American Airlines desk to allow them to check in.
"Next problem: the on-signers needed the proper polymerase chain reaction, or PCR, test, but the local clinic couldn't do that," she said. "For a while it looked like the whole thing was about to unravel before our eyes, hours before the plane was about to arrive with all seven new crew. It was nail-biting but in the nick of time we managed to find a clinic that would test them. Next challenge: would we get the results in time for the launch to still make it to ship?"
Joanna takes her hat off to Clinical Laboratories in St Croix. "They were awesome. They rushed the results and we managed to get everyone safely on board before dark."
Three more crew members disembarked the next day, processed by CBP and duly tested. "It was Saturday and the cook got on his plane one very happy man. He'd been on the ship for 392 days! The others spent the night at the Inchcape office, according to CBP quarantine rules, and were able to leave at the crack of dawn the next day."
The remaining crew including the captain and chief officer were allowed to disembark on the Monday morning following what had so far been a safe and successful handover. They were tested and brought to the Inchcape office for the night. "Simple enough, right?" Joanna says. "No! One crew member tested positive for antibodies!"
That wasn't a big deal in itself, she says, as he wasn't ill. He may have caught the virus months earlier but not known it, and had been confined on the ship for five months. "But it was a mad scramble to get him to the other clinic for the PCR test. We begged them to jump the queue. Four hours later we got a negative result. I can't tell you how relieved we were!"
Joanna says all this wouldn't have been possible without the support of a great team. "Manning check-in at the office, answering e-mails when I was too busy, taking paperwork over to CBP, overseeing the testing, cleaning the accommodation after each wave of guests, they were there every step of the way," she says.
"A lot of jobs are 90% boredom and 10% sheer terror. An agent's job is exactly the reverse. And that weekend was 100% sheer terror! But we just had to battle through and find a way to make it happen."
While she says it was a white-knuckle ride, it most probably won't be the last and she is fully aware that agents around the world are facing the same kind of situation on a daily basis.
"Few people see how much work it takes to pull off what seems impossible. But it's important to remember we aren't alone; as an Inchcape agent especially, I can pick up the phone and call any of our offices around the world and speak to someone who understands," she says.
Three cheers for them and all the dedicated seafarers making the world go around.
♦♦♦♦♦♦♦♦♦
News continues below
GLOBAL INDUSTRY ALLIANCE FOR MARINE BIOSAFETY
IMO reports new member joining
Early in September the IMO Media service reported that Hapag-Lloyd AG was the latest entity to join the Global Industry Alliance (GIA) for Marine Biosafety, an initiative launched in June 2020 by the IMO GloFouling Partnerships project. Here the initiative works to promote collaboration with the private sector to address two of the most pressing environmental issues of our time: invasive species and greenhouse gas (GHG) emissions.
At this time the new member of the GIA joins forces with…
More information on the GIA is available by CLICKING HERE
Edited by Paul Ridgway
London
♦♦♦♦♦♦♦♦♦
News continues below
HERITAGE MONTH: ROMAN ROCK LIGHTHOUSE CELEBRATES 159 YEARS OF SERVICE
The Roman Rock Lighthouse, situated in False Bay, celebrates 159 years of service this Heritage Month. The lighthouse – the fifth oldest in South Africa, and the only one that has been erected on a rock that is awash almost continuously at high water – was first lit on the night of 16 September 1861.
The 14-metre circular cast-iron tower is painted white with a white lantern house. The optic produces one flash every 6 seconds with a range of 20 nautical miles and is powered by a solar photovoltaic system.
The lighthouse is made of cast-iron segments bolted together, and a deep circular trench had to be cut in the rock for the foundation. It took four years to complete the installation, as only 962 hours could be spent on the rock due to the rough seas, bad weather and the fact that the rock is accessible only at low tide in calm water.
The original optic consisted of eight single-wick burners set in silvered metallic reflectors, that provided a white flash that was visible for twelve miles. It was rotated by a weight-driven machine, which was manually operated.
Two men were on duty at a time, with a relief crew ashore. Crews were changed every week, weather permitting, and were required to take with them oil to power the light, as well as food and water for cooking and hygiene requirements.
Transport between the shore and the lighthouse was by means of a small row boat, and later by motor boat. Helicopters were introduced in the 1960s, and the protruding gangway was used as a platform onto which the visiting technical personnel and equipment were lowered.
The lighthouse became fully automatic on 25 March 1919, with the installation of an acetylene gas apparatus that was controlled by a sun-valve. The gas accumulators were replenished every six months, and a staff presence was no longer required at the lighthouse.
A decision was taken to electrify the light, to increase its intensity to make it more visible against the growing background illumination. A wind-driven generator was initially proposed, but was abandoned due to serious mechanical damage discovered during the trial at nearby Cape Point Lighthouse.
The alternative was to obtain electric power from the local municipality by means of a submarine cable, with a small diesel generator to provide emergency supply if the cable was damaged. The improved light, together with a new lantern house with a glass reinforced plastic design, was commissioned on 5 March 1992.
The submarine cable was damaged more than once, and the protruding gangway at the lighthouse had corroded to such an extent that it became a safety hazard. In 1994, a helipad was installed on top of a freestanding stainless-steel tower on a separate protruding rock, and solar power replaced the mains supply. The solar modules were mounted on the 13-metre walkway linking the lighthouse and the helipad.
This unique lighthouse is one of 45 operational lighthouses along the coast of South Africa, from Port Nolloth on the West Coast to Sodwana Bay on the East Coast. Transnet National Ports Authority (TNPA), through its Lighthouse and Navigational Systems business unit, is mandated by the National Ports Act No 12 of 2005 to provide, operate and maintain lighthouses and other Marine Aids to Navigation (AtoNs) along South Africa's coastline.
Photo gallery:
The lighthouse underwent several changes to its appearance, or daymark: originally, the lower half of the tower was painted black and the upper half white; between 1888 and 1902 the colour scheme was changed to red and white bands (as shown above); and on 15 November 1929 it was changed to all white with a red lantern house and dome. The lantern house and dome were later changed to white (TNPA Archives).
Before the introduction of helicopters in the 1960s, lightkeepers would have to row across False Bay and use a rope ladder to access the tower (TNPA Archives).
The rock atop which the stainless-steel tower and helipad was mounted in 1994 (TNPA Archives).
A helicopter was used to transport the stainless-steel structure from the Simon's Town naval yard to the rock (TNPA Archives).
The acetylene gas lens that was replaced on 5 March 1992, was donated to the Simons Town Museum (TNPA Archives).
♦♦♦♦♦♦♦♦♦
News continues below
HAPAG-LlOYD OPENS OFFICE IN LAGOS
On Tuesday (15 September) Hapag-Lloyd opened its new office in Lagos, its first in Nigeria. With the two ports of Apapa and Tin Can and with Nigeria possessing the largest economy in Africa in addition to being one of the most populous countries in Africa, perhaps the only question to ask is why it has taken so long.
"We are happy to welcome the new team and…
♦♦♦♦♦♦♦♦♦
News continues below
Why foreign countries are scrambling to set up bases in Africa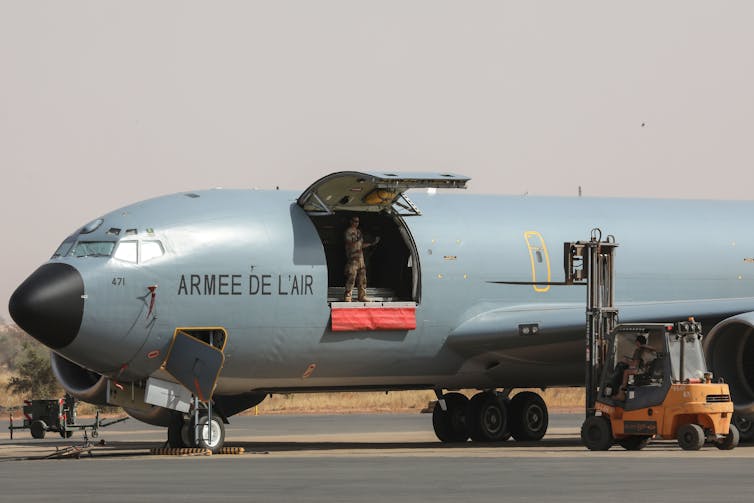 French Air Force soldiers work on a Boeing C135 parked on the French Air Force base in Niamey, Niger in December, 2017.
Recent media reports claim that a covert Kenyan paramilitary team is responsible for the unconstitutional killing of terror suspects in nighttime raids. The reports are based on interviews with US and Kenyan diplomatic and intelligence officials.
The team was trained, armed and supported by US and British intelligence officers.
It has been reported that since 2004, a Central Intelligence Agency (CIA) programme has been operational in Kenya without public scrutiny. For its part, the British Secret Intelligence Service (MI6) has played a key role in identifying, tracking and fixing the location of targets.
This has drawn renewed attention to the reality of widespread foreign security operations in Africa.
Several African governments are hosting foreign military bases. This is despite the African Union (AU) Peace and Security Council's ongoing concerns about the proliferation of foreign military bases on the continent. The AU is also concerned about its inability to monitor the movement of weapons to and from these military bases. Regardless, a host of bilateral agreements between AU member states and foreign powers underlie the spread of foreign military forces across the continent.
At least 13 foreign powers have a substantial military presence on the continent. The US and France are at the forefront of conducting operations on African soil.
Moreover, private military groups are active in several conflict zones on African soil. Northern Mozambique is the most recent case.
These dynamics coincide with claims that Russian MiG-29 and Su-24 warplanes have now conducted missions in Libya in support of Kremlin-backed private military forces to extend Moscow's influence in Africa.
Military base mapping
Currently, the US has 7,000 military personnel on rotational deployment in Africa. These troops carry out joint operations with African forces against extremists or jihadists. They are hosted in military outposts across the continent, including Uganda, South Sudan, Senegal, Niger, Gabon, Cameroon, Burkina Faso and the Democratic Republic of Congo.
In addition, 2,000 American soldiers are involved in training missions in 40 African countries. American special forces operate across east Africa in so-called forward operation locations in Kenya and Somalia.
Like the US, France has either deployed military forces or established bases in a number of African countries. The country has more than 7,500 military personnel currently serving on the continent. Its largest presence is in the Sahel, especially in the border zone linking Mali, Burkina Faso and Niger.
The presence of foreign military forces in Africa is not limited to Western powers. China has been particularly active with its military presence in the Horn of Africa. It has become more engaged since 2008 when it participated in the multinational anti-piracy mission in the Gulf of Aden.
Since then China has maintained an anti-piracy naval presence in the Horn of Africa and Gulf of Aden. Between 2008 and 2018, the Chinese Navy deployed 26,000 military personnel in a variety of maritime security operations.
In 2017, China inaugurated its first overseas military base in Djibouti. This came after the US established Camp Lemonnier in Djibouti in 2003.
Lemonnier was established alongside French, Italian, Spanish, German and Japanese bases. China has developed a 36-hectare military facility to host several thousand Chinese troops and provide facilities for ships, helicopters and fixed-wing aircraft.
China's military base in Djibouti was set up to support five mission areas. These are counter-piracy in the Gulf of Aden; intelligence collection on other countries; noncombat evacuation of Chinese citizens in East Africa; international peacekeeping operations where Chinese soldiers are deployed; and counter-terrorism operations.
India is another Asian nation that has increased its naval presence in Africa. The country has established a network of military facilities across the Indian Ocean to counter China's rising military footprint in the region.
It also wants to protect its commercial sea lanes from piracy.
India has ongoing deployments that monitor developments in the Horn of Africa and Madagascar. The country also plans to establish 32 coastal radar surveillance stations with sites in the Seychelles, Mauritius, and other locations outside Africa.
When it comes to the Middle East, Turkey and the United Arab Emirates (UAE) are the two countries with a notable military presence in Africa.
Turkey joined the international counter-piracy task force off the Somali coast in 2009. In 2017, it opened a military base in Mogadishu, Somalia. The purpose is to train recruits for the Somali National Army. Turkey will also support the Somali navy and coastguard.
The UAE has had a military base in Eritrea since 2015. It comprises a military airfield with aircraft shelters and a deepwater naval port. The base has been used in operations against opposition forces in Yemen.
Foreign military motivations
It is clear that the Horn is the epicentre of foreign military activity in Africa. Foreign troops have been deployed there to counter threats to international peace, subdue terror groups and pirates, and support foreign security initiatives.
But there are other motivations to establish military bases in Africa. These include protection of commercial interests, aligning with friendly regimes, and expressing dominance on a continent that is the focus of rising global competition.
Of course, Africa is not the exception. The US, for example, also maintains a substantial military and security presence in the Gulf region. It has bases in countries such as Bahrain, Kuwait, Qatar and UAE.
For some observers it might seem like foreign governments are imposing their militaries on Africa, but, in fact, many African governments are keen to host them.
Bilateral agreements with major powers generate income for African states. The opening of China's military base in Djibouti is a case in point. Most of Djibouti's economy relies on Chinese credit.
The presence of foreign military forces has also played a significant role in fighting terror groups. These include groups like al-Shabaab in East Africa and jihadists in Mali. This explains why several African countries are willing to turn to foreign governments for advice, intelligence and support.
But there is a downside to the presence of foreign forces on the continent. For instance, the African security landscape has become overcrowded by a multiplicity of foreign security and military activities. These activities often function at cross purposes.
The competition among some of the world's powers has been heightened by the increasing presence of Asian powers. China's expanding presence in Djibouti has caused concern.
Its influence in Africa and the Indian Ocean has ruffled feathers within Japanese and Indian political and security circles. A Chinese monopoly could impede their engagement with the continent.
Finally, African countries are not agreed on how to regulate foreign security and military activities. The approach so far has been disjointed.
Though Africa's peacekeeping capacity has increased significantly, the AU is still highly dependent on external funding and resources for its peacekeeping operations. It does not have the freedom to take independent strategic, operational and even tactical decisions in its operations.
As long as these shortcomings exist in Africa's response to armed conflict, foreign militaries and intelligence services will continue to operate on the continent.
These are matters that have to be addressed before African states can heed the AU Peace and Security Council's concerns about extensive foreign military involvement on the continent.

Theo Neethling, Professor of Political Science, Department of Political Studies and Governance, University of the Free State
This article is republished from The Conversation under a Creative Commons license. Read the original article.
♦♦♦♦♦♦♦♦♦
News continues below
NEW SEAGOING BURSARY:
available for early career researchers
It was reported that the new bursary has
In the UK the Southampton-based

National Oceanographic Centre (NOC)

announced early in September that a new seagoing bursary had been set up. It is understood that this will enable students and early career scientists, including those from developing countries, who are keen to become involved in the field of marine science or oceanography, to gain practical experience of shipborne science.
It was reported that the new bursary has been made available by West of England P&I Club, a leading insurance provider to the global maritime industry, through the establishment of a long-term charity programme to mark its 150th anniversary year. The Club has made initial commitments to the NOC, as well as Sailors' Society and the Blue Marine Foundation, and will be continuing to support the charities Symplefsi and Feeding Hong Kong.
Tom Bowsher, Group CEO, West of England Insurance Services, commented: "West is delighted to collaborate with the NOC to establish the Seagoing Science Bursary. We are serious about investing in the education of future ocean scientists and the study of oceanography and marine sciences. Climate change is an issue of global importance and West is committed to helping ensure that the marine industry has a strong interest in advancing the understanding of our oceans and the marine environment."
Over the next ten years the bursary will be managed by the NOC and will enable recipients to join seagoing expeditions on the NOC's two world-class research vessels RRS James Cook and RRS Discovery, as well as other vessels involved in its research projects.
Professor Ed Hill the NOC's Chief Executive commented: "We are delighted to be working with West of England P&I Club on this initiative. The beneficiaries will never forget their early seagoing expeditions, and for many it will be the start of a lifelong career studying the ocean, in some of the most remote areas of the globe.
"Research at sea and supporting the education and training of scientists, engineers and marine professionals, especially at postgraduate level, is at the core of our mission as a charity, and so we are especially pleased to have found a partner who shares these values."
Further details of the bursary and how to apply will be announced in due course, it is understood.
Edited by Paul Ridgway
London
♦♦♦♦♦♦♦♦♦
News continues below
CREW CHANGE CRISIS: UN ENTITIES ISSUE JOINT STATEMENT
On 11 September
UN entities
issued a joint statement to urge action on the crew change crisis
In an agreed document all Governments were called upon to immediately recognise seafarers as keyworkers, and to address the humanitarian crisis faced by the shipping sector
The Director-General of the International Labour Organization (ILO), the Secretary-General of the United Nations Conference on Trade and Development (UNCTAD), the Director-General of the International Organization for Migration (IOM), the Director-General of the Food and Agriculture Organization of the United Nations (FAO), the United Nations High Commissioner for Human Rights (OHCHR), the Secretary General of the International Civil Aviation Organization (ICAO), the CEO and Executive Director of the United Nations Global Compact and the Secretary-General of the International Maritime Organization (IMO) have jointly issued the statement indicated below to urge all United Nations Member States to take action to urgently resolve the crew change crisis to avert a humanitarian disaster that will also affect the safety of shipping, the protection of the marine environment, the continuation of efficient trade and the recovery of the world economy.
The joint statement can be downloaded: HERE:
report continues below….
The maritime shipping sector faces a humanitarian crisis
The maritime shipping sector moves more than 80% of global trade and is a crucial component of the global economy. As a direct result of the COVID-19 pandemic this sector, and in particular the seafarers who drive it, are facing severe challenges in making the necessary crew changes of seafarers. This is due, among other reasons, to restrictions on travel, embarkation and disembarkation in ports; quarantine measures; reductions in available flights; and limits on the issuing of visas and passports.
It is because of the sacrifices of seafarers, who have continued working after their contracts have expired, that ports have remained open for trade, so allowing cargo operations to be carried out in a timely manner and goods to continue to circulate smoothly. The world owes a great debt to seafarers for maintaining supply chains throughout the pandemic.
Actions taken by many governments that limit or prevent ship operators from conducting crew changes is the single most pressing maritime operational challenge to the safe and efficient movement of global trade. This has created a humanitarian crisis, with approximately 300,000 seafarers trapped working aboard ships who cannot be repatriated, and an equal number of unemployed seafarers ashore because they are unable to board ships.
Those on board have had their contracts extended, sometimes beyond 17 months, and are facing fatigue and physical and mental health issues, leading to fears of self-harm and suicide. The International Maritime Organization (IMO), International Labour Organization (ILO) and International Transport Workers' Federation (ITF) have received thousands of urgent calls for help from seafarers and their families.
Governments around the world have been asked to bring the contents of this joint statement to the attention of the competent authorities and all others concerned.
Edited by Paul Ridgway
London
♦♦♦♦♦♦♦♦♦
News continues below
WHARF TALK: News From Along the Coast
♠♠♠♠♠♠
News continues below
WHARF TALK: Heritage Month – Let the past be remembered & respected
With September being National Heritage Month, Transnet together with the

National Ports Authority (TNPA)

 and Transnet Port Terminals (TPT) are celebrating what they rightly refer to as their rich maritime heritage. In the instance of TNPA the port authority says it is celebrating two decades of maritime evolution, being 20 years of existence as a Transnet operating division, and 21 years of maritime transformation.
While TNPA certainly does have plenty to celebrate with some remarkable developments particularly at the ports of Durban and Ngqura, we should remind ourselves that the creation of Transnet as an organisation was borne out of a previous existence as Portnet and before that South African Transport Services (SATS) and South African Railways & Harbours (SAR&H).
Its right and a joy to celebrate the recent achievements but with a tendency in South Africa to regard the country's history as having commenced in 1994, we should remind ourselves that the same transport organisation goes all the way back to 1910 and even before that to the respective administrations of the Cape, Natal and the Central South African Railways and its forebears. The heritage of that past cannot be rubbed out as though it never existed along with the many achievements, the outstanding developments of the heavy-haul railways leading to the ports of Richards Bay and Saldanha and indeed the consequent development of those two harbours into the world-class ports that they now are. These cannot be quietly forgotten.
The same goes for the engineering feats of the past, of locomotives of immense strength and ability that were designed in the SAR&H workshops by South African engineers, of the world-class harbour tugs and other craft that performed herculean tasks throughout the decades, including the crowded years of both world wars and the massive workloads placed on them as convoys of ships gathered in ports such as Durban. Of the harbour workshops and dry docks that repaired and rebuilt ships, including famous battleships and cruisers, battered and bruised in a war that will never be forgotten.
As TNPA and the rest of Transnet celebrates the last 20 years, with justification, let what went before not be ignored as though of no consequence.
♠♠♠♠♠♠
Wind has continued to be a problem that affects ship handling at the port of Cape Town and the previous week was no exception, being windbound at several times during the week. On the previous weekend strong swells also affected ship working at certain times.
Apart from the above, which can be regarded as normal seasonal challenges to shipping at Cape Town, Transnet regards the port as being 'back on track' but will continue holding weekly stakeholder meetings although the weekly bulletin issued by TNPA will revert to a quarterly newsletter sent to external stakeholders.
This is a pity as the weekly bulletins served a good purpose of informing port users of the current situation. Quarterly newsletters can only look back into the recent past and serve little purpose otherwise.
Marine Operations at Cape Town port:
All marine pilots were reported as being back on duty, with two tugs in operation and a third on standby. The port has one pilot boat, one work boat and one launch available. Berthing services consisted of two berthing gangs being available. On 10 September the port reported three vessels delayed – one due to fog, one due to undercurrent and one due to wind.
The latest ship movement reports can be found at our SHIP MOVEMENTS page for Cape Town by CLICKING HERE
At 10 September the port reported two vessels in the Robinson Dry Dock, one (Gariep!) in the Sturrock Dry Dock and two vessels on the Synchrolift. Extended working hours were under consideration.
Port Terminals:
CAPE TOWN CONTAINER TERMINAL:
On Tuesday 15 September two container ships were on berth at CTCT with none waiting at the anchorage outside. See above link for more current information.
MULTI-PURPOSE TERMINAL (MPT)
Transnet Port Terminals (TPT) reported last week that the Multi-Purpose Terminal (MPT) had in operation two mobile cranes, five straddle carriers and three reach stackers, but no vessels at that time. One vessel was however due later that day 10 September.
Berth occupancy was 80%, SWH (Ship Working Hour) was 44 moves and GCH (Gross Crane Hour) 15 moves.
FRESH PRODUCE TERMINAL (FPT)
It was reported that over the previous week the terminal worked five vessels and handled 5,000 tons of break bulk and 1500 containers. One sailing was delayed at the agent's request.
The present week includes seven vessels, 5,500 tons of break bulk, 2,700 tons of agribulk and 771 containers.
LIQUID BULK
Astron Energy:
Two vessels and 31,000 tonnes were handled. On Wednesday there were two vessels on berth and one waiting to berth, however operations then stopped that night due to wind.
Astron reported that seven vessels were expected and a volume of 121,000 tonnes was planned to the end of September.
Burgan Cape Terminal (BCT):
The terminal reported that 44,000 cubic metres of product had been handled at Eastern Mole 2 from two vessels.
It had received 2,800m3 via the Astron pipeline and 895 bulk trucks had been loaded during the previous seven days.
Ship Repairers Association:
The association reported having 400 people working in ship repair, as well as 2,248 people working on the Gariep!* project.
(* Gariep! Debmarine's diamond recovery vessel)
Truck Staging Areas:
At a meeting of the Ease of Doing Business Forum a decision was reached that terminals should create space within each terminal for truck staging and that Transnet should address the matter.
Port Liaison Forum:
It was reported by the forum that although productivity at CTCT had improved, performance was erratic and it was recommended that the terminal aim to achieve in excess of 20 GCH. It was also noted that two shipping lines (not identified) would once again make calls at Cape Town.
♠♠♠♠♠♠
WHARF TALK: Port Elizabeth ends citrus season on a high
The TNPA has docked the last official specialised export reefer fruit vessel calling this season to load citrus from the Eastern Cape through its Multi-Purpose Terminal.
The Nelson Mandela Bay ports of PE and Ngqura completed a total of approximately 460,000 pallets of fruit moving across its shores this year, an estimated 44% increase from the previous year.
The MV LADY ROSEBUD docked at Berth 10/11 to discharge 45 empty reefer containers and to load 215 pallets of citrus fruit, 46 full reefer containers with citrus fruit and 37 empty reefer containers. The vessel had previously sailed from the Port of Durban for PE and would be sailing from PE to Cape Town, with her cargo destined for Lisbon, Rotterdam and St Petersburg.
The terminal operators managing the cargo handling through both the container and multi-purpose terminals are Transnet Port Terminals (TPT) and Bidfreight Port Operations (BPO) in the Port of PE and TPT in the Port of Ngqura.
A challenging season
"This year was a challenging season due to COVID-19 and the worldwide shortage of reefer containers," said Captain Faisal Sultan, PE port's Senior Operations Manager.
"The shortage meant the resurgence of palletised fruit exports through specialised reefer ships, however, this challenge also presented an opportunity for the Port of PE. It enabled the port to play a complementary role, especially through its Multi-Purpose Terminal due to challenges experienced by the ports of Durban and Cape Town.
"COVID-19 impacted the economy negatively as a whole, but it did not negatively impact citrus exports from South Africa, given our COVID-19 compliance, dedication and the record crops achieved."
The MV Lady Rosebud arrived in the port on 13 September 2020 and is due to depart from PE for Cape Town today (Wednesday, 16 September 2020).
PORT RAILWAY REFURBISHMENT
The port of PE is currently undertaking a R10 million refurbishment of the second railway line into the port's car and container terminal which is expected to unlock substantial business potential for the Eastern Cape.
This, it is believed, will be achieved by opening doors to OEMs (original equipment manufacturer) such as Ford Motor Company, currently exploring logistical solutions for the export of thousands of units.
"One of the celebrated successes of the Port of PE in the past financial year was the successful export of Ford units through the Automotive Terminal," said Sujit Bhagattjee, the port's New Business Development Manager.
"This opened greater opportunities for both the OEM and the port to collaborate on logistics solutions for the import and export of all components and units. In addition, this presented the port with an opportunity to grow its strategic positioning as an automotive hub."
The impact of COVID-19 has required of Ford to revalidate its forecasted units which were planned to be exported through the Port of PE. Revisions to this forecast project a significant increase to the volumes expected to be exported though the port over the next few years.
Markets around the globe
The type of cargo and destinations include engine components to Turkey, Russia, Thailand, Argentina and North America. It also covers catalytic converters to 25 Ford consumer plants and two aftermarket divisions internationally as well as indirect exports of Ford Rangers and Ford Everests to more than 100 markets globally.
Increased demand
The railway refurbishment works are planned to be completed by the end of November this year, bearing in mind any unforeseen circumstances such as the availability of the berth, construction contingencies and any adverse weather conditions, said Theo Sethosa, Port Engineer at PE.
"The repairs will cover a railway track of about 340 metres from bollard no.1, to the stop block in the Container Terminal. This specific track has been dormant over the past few years due to a lack of demand."
Facilitating trade
According to Bhagattjee this investment offers proof that the port is facilitating trade and unlocking economic growth, and also contributing to reducing the cost of doing business."We are developing a globally competitive port, transport and logistics system," he said.
Proven success
Since the inception of using the empty rail wagon leg from Gauteng to PE in April 2019, this step greatly addressed the capacity challenges in the Port of Durban's Roll-on Roll-off Terminal, resulting in greater efficiencies and reduced delivery times with nearly 7,000 Ford Rangers shipped from PE to Europe. This ability is testament to the operation of a complementary port system.
♠♠♠♠♠♠
WHARF TALK: Durban's feared truck congestion rears its head
In his weekly 'State of the Port Address' for the week ending Friday, 11 September, by GM, Moshe Motlohi reported that as indicated the previous week… "as we sorted out Bayhead & Island View Precincts, the dreaded truck congestion popped up in Maydon Wharf and Point Precincts.
"The two occurrences vindicated the view that all the businesses in the port have to update their traffic management plans," Motlohi said.
Some of the key challenges were high stack occupancy and the absence of volume smoothing when it came to truck arrivals. We are working hard at getting the same alignment and compliance from the operations in the two affected precincts."
He said that of consolation is the fact that the traffic experienced in Maydon Wharf and Point was not the traffic displaced from Bayhead and Island View precincts. "This is a clear indication that the Bayhead and Island View precinct interventions are working," he said.
According to Motlohi, most of the week was characterised by operational challenges in the Point terminal. "The terminal management has been preoccupied with problem solving of operational and truck booking system related challenges."
As part of the PCC processes, Durban port users were engaging with port management where port KPI's were discussed. "This week we also witnessed the second of the TNPA Maritime Heritage Month Webinars. It focussed on the maritime sector in the 4th industrial revolution & beyond. The attendance was phenomenal and the audience was engaged through the question and answer portals. We look forward to the rest of this month's activities with the next being the TNPA Maritime Heritage celebration scheduled to take place on Wednesday,
23 September 2020."
He said that for the coming week (this week), "we are going to continue focusing on the depots along Bayhead Road, Maydon Wharf and Point Terminal precincts. We have noted that truck congestion in these precincts has been persistent. We will work together with the affected stakeholders to address these issues."
Bulk Truck Booking System Introduced
The introduction of an off-site truck staging facility this month by a private bulk terminal in the Island View Precinct has had a positive impact in alleviating truck congestion in the Bayhead Precinct and surrounding roads, reports TNPA.
This month Transnet also extended its own truck booking system to the Durban Multi-purpose Terminal (MPT), the third Transnet terminal to come on board after Durban Container Terminals Pier 2 and Pier 1.
The Durban MPT booking system enables transporters to book delivery slots 48 hours in advance or cancel a booking two hours prior to the time slot, while the private bulk terminal's truck staging facility at the Old Durban Airport south of Durban requires trucks to be pre-processed before calling at the port.
Truck appointment systems are being implemented to alleviate truck congestion in roads surrounding the port and are among the initiatives being spearheaded by the Port of Durban Decongestion Task Team.
"There have been positive results since the activation of the interim staging facility at the airport," says Motlohi. "For week ending 4 September we had no queues and access to the facility and the hit rate for the booked slots had improved."
The bulk staging facility accommodates between 90 and 100 trucks at any given time and no bulk tipper truck will be permitted directly into the terminal or port precinct without a booking reference for each day and a sticker on the windscreen. Each customer will be allocated a number of trucks per day as per the terminal's operations and shipping plan.
Motlohi added, "This process will allow the terminal to call in trucks in manageable batches helping to alleviate the congestion on Bayhead Road. This initiative combined with the recently launched booking system, will help with volume smoothing into the port.
"There is a lot of work still to be done in this space but through our collaborative approach
with stakeholders, I remain optimistic while working on the TNPA port's over-arching booking system. We hope that, ultimately, we will realise the benefit of having a broader booking system where trucks will be regulated in this fashion."
EARLY WARNINGS
In the past two weeks TNPA, through forums including the Port of Durban Decongestion Task Team and the port's daily virtual operations meeting with all stakeholders, has escalated calls for all businesses in the port to revise their protocols around giving early warnings of any business disruptions. This would ensure that others who might be affected by the after-effects of such disruptions can be alerted.
A joint planning meeting was also held with businesses in the Cutler Complex during August at which Complex management committed to getting their users to implement their own booking systems.
"In the next three months, we hope to have 80% of the port having adopted a truck booking system," says Motlohi.
COMMENT & PRAISE WHERE IT IS DUE
Truck congestion has been a persistent and ongoing problem over many years. I have personally been reporting on this factor as a stumbling block to efficient port working involving the Durban container terminals as well as other terminals in the Island View complex over the past 25 years. This is beginning to feel like the first time that real progress is being made in dealing with road congestion and all it has taken is dialogue between the parties allied to a realisation of the necessity of truck staging areas and booking schedules. It is also gratifying to see such plans being brought into play at Cape Town.
♠♠
Volume and Vessel Call Performance
Container volumes were again below budget during this reporting period. The main driver for the
negative deviation was the poor performance of both import and export cargo at 31% and 10% below target respectively. Less vessels were worked than planned at Pier 2 due to weather delays amounting to 28 hours (8 planned, only 4 handled). Vessels at Pier 1 arrived with small parcel sizes (4,038 TEUs planned).
Automotive volumes were below budget. Imports in the week performed a bit better than exports registering a total of 3,971 units with exports of only 1,429 units. Based on the current low demand situation attributed to the impact of Covid-19, Transnet says it expects to see weeks where volumes will spike and then drop due to the inconsistent demand and higher inventory levels locally and globally.
Durban's Dry Bulk volumes were once again above budget for this reporting week. We note that manganese ore exports performed exceptionally well with the port handling a total of 161,301 tons for the period, reports Motlohi
Break-bulk volumes were below budget. This is due to the fact that the sector is under budget as no cement was handled in the period. Low volumes of steel were also noted.
♠♠♠♠♠♠
WHARF TALK: MPDC and Maputo Municipality agree on rehabilitating areas surrounding the port
Maputo Port Development Company (MPDC) has signed a Memorandum of Understanding with the Maputo Municipal Council to rehabilitate parts of the area surrounding the Port of Maputo.
Included in this memo is the rehabilitation of the promenade alongside the port.
"This memorandum that we signed with the Municipality of Maputo, is part of a voyage that we have taken so that the port is returned to the city, an entity present in the lives of its people," said Osório Lucas, Executive Director of Porto.
He said this would include several features including a passenger terminal, the Galeria do Porto, a cultural and leisure infrastructure available to the city and tourists who visit it, the Xihlawuleni conference room located in the port Operations building serving the city and various social initiatives, and Kaya, a space for social inclusion on Rua do Bagamoyo.
♠♠♠♠♠♠
WHARF TALK: SA Agulhas II prepares to set sail for Gough Island
Under strict health protocols, the Antarctic polar research and supply ship SA AGULHAS II will sail tomorrow (Thursday 17 September) for the annual relief voyage to Gough Island in the South Atlantic.
Gough Island is some some 2,600km south-west of Cape Town and is very strategic for South Africa's weather observations and forecasting.
The weather data collected at Gough and at Marion Island in the Indian Ocean and at SANAE IV (South African National Antarctic Expedition) on Antarctica, is important for the navigation of passing vessels, and in the case of Gough Island, warning South Africa of impending severe weather systems, as well as providing insight into climate change.
These data sets are also key to improving the accuracy of SA's global and regional weather forecast models.
In a statement on Tuesday, the Department of Environment, Forestry and Fisheries noted that within the current context of the Coronavirus lockdown period, the schedule and procedures were adjusted to accommodate a strict quarantine and COVID-19 testing process before departure, as well as a strict adherence to sanitisation procedures during the loading of the vessel.
"The recruitment process, including psychometric testing for the expedition members, was finalised on 24 August 2020. The team also undertook training in Cape Town. Most of the team members appointed have some experience of life on Gough Island," the department said.
The department explained that strict lockdown requirements and quarantine procedures require a significantly reduced team for the relief voyage, which will focus on the logistical functions necessary to keep the base operational.
Overwintering scientific functions will be limited to maintaining the long-term meteorological record by the South African Weather Service (SAWS) and the seabird monitoring by the Royal Society for Protection of Birds (RSPB) United Kingdom (UK).
All passengers were quarantined for 10 days before departure on one of the approved quarantine facilities and in accordance with requirements by the Department of Health. The passengers in quarantine were tested for Coronavirus and only participants with negative test results are being allowed to continue with the voyage.
Gough Island lies 400km south-east of Tristan da Cunha of which it is a dependency and is part of the British overseas territory of Saint Helena, Ascension and Tristan da Cunha. It is also a part of part of the UNESCO World Heritage Site of Gough and Inaccessible Islands. South Africa has maintained a weather station there on the basis of a lease agreement, renewed each year since 1956.
The annual relief voyage on the SA Agulhas II transports scientists from the Department of Environment, Forestry and Fisheries, various tertiary institutions and research agencies with approved scientific projects.
The voyage takes place annually in September, taking approximately four days sailing time from Cape Town to Gough Island.
SA Agulhas II is expected to return to Cape Town on 16 October 2020.
sources for WHARF TALK: Transnet National Ports Authority, SAnews.gov.za, MPDC, Richard Vashan, Terry Hutson
♦♦♦♦♦♦♦♦♦
News continues below
GENERAL NEWS REPORTS – UPDATED THROUGH THE DAY
in partnership with – APO
♦♦♦♦♦♦♦♦♦
More News at https://africaports.co.za/category/News/
News continues below
TO ADVERTISE HERE
Request a Rate Card from info@africaports.co.za
EXPECTED SHIP ARRIVALS and SHIPS IN PORT

Port Louis – Indian Ocean gateway port
Ports & Ships publishes regularly updated SHIP MOVEMENT reports including ETAs for ports extending from West Africa to South Africa to East Africa and including Port Louis in Mauritius.
In the case of South Africa's container ports of Durban, Ngqura, Ports Elizabeth and Cape Town links to container Stack Dates are also available.
You can access this information, including the list of ports covered, by going HERE remember to use your BACKSPACE to return to this page.
News continues below
CRUISE NEWS AND NAVAL ACTIVITIES

QM2 in Cape Town. Picture by Ian Shiffman
We publish news about the cruise industry here in the general news section.
Naval News
Similarly you can read our regular Naval News reports and stories here in the general news section.
♦♦♦♦♦♦♦♦♦
THOUGHT FOR THE WEEK
"I look to a day when people will not be judged by the colour of their skin, but by the content of their character."
– Martin Luther King, Jr
♠♠♠
♠♠♠
ADVERTISING
For a Rate Card please contact us at info@africaports.co.za
Don't forget to send us your news and press releases for inclusion in the News Bulletins. Shipping related pictures submitted by readers are always welcome. Email to info@africaports.co.za
TABLE BAY UNDERWAY SHIPPING
SHIP PHOTOGRAPHERS
Colour photographs
and slides for sale of a variety of ships.
Thousands of items listed featuring famous passenger liners of the past to cruise ships of today, freighters, container vessels, tankers, bulkers, naval and research vessels.
P O BOX 809, CAPE TOWN, 8000, SOUTH AFRICA
snai@worldonline.co.za
http://home.worldonline.co.za/~snai