Bringing you shipping, freight, trade and transport related news of interest for Africa since 2002
Stay Well, Stay Safe, Stay Patient, don't become one
♠♠♠
Come with us as we report through 2020
**********
TODAY'S BULLETIN OF MARITIME NEWS
These news reports are updated on an ongoing basis. Check back regularly for the latest news as it develops – where necessary refresh your page at www.africaports.co.za
Click on headline to go direct to story : use the BACK key to return
EARLIER NEWS CAN BE FOUND AT NEWS CATEGORIES…….
The Saturday masthead is of Port of Ngqura 
♦♦♦♦♦♦♦♦♦
SEND NEWS REPORTS AND PRESS RELEASES TO
info@africaports.co.za
♦♦♦♦♦♦♦♦♦
News continues below
Looking the worse for wear is the container ship CONTI LYON (IMO 9222285), shown here arriving at the port of Durban recently. The former CMA CGM Baudelaire is 300 metres in length with a beam of 40m and is capable of carrying up to 6,628 TEU. The 77,946-dwt ship was built in 2001 and is sailing under the flag of Liberia. Conti Lyon is German owned and managed by NSB Niederelbe Schiffahrtsges based in Buxtehude, Germany. In the lower picture note the two characters relaxing as they enjoy the scenery on arrival in port.    Pictures are by Keith Betts
♦♦♦♦♦♦♦♦♦
♦♦♦♦♦♦♦♦♦
News continues below
VOTE NOW FOR YOUR FAVOURITE AFRICAN CRUISE PORT
Three South African ports have once again been recognised for flying the flag high and cementing the country's reputation as a leading cruise destination in the continent.
In South Africa, the ports of Cape Town, Durban and Port Elizabeth, operated by Transnet National Ports Authority (TNPA), have been shortlisted in the Africa & Indian Ocean segment of the 27th annual World Travel Awards in the category of 'Africa's Leading Cruise Port 2020'.
East Africa also has three ports in contention – Mombasa, Dar es Salaam and Zanzibar.
The Africa leg opened for voting on 15 June and members of the public have until midnight on 22 August 2020 to vote for their favourite port.
The Port of Durban will be seeking a hat-trick of wins, after taking home the coveted prize in both 2018 and 2019.
TNPA's Acting Chief Executive, Khomotso Phihlela, said getting these repeated nods from an international body has been a privilege for TNPA, but the authority remained cognisant of the need to reconsider the role of its cruise ports in a post-COVID-19 world.
"Globally the 2019/20 cruise season was significantly affected by the COVID-19 pandemic, which changed the world in ways we could have never anticipated a mere few months ago. There are challenging times still ahead for the sector, but as the port landlord we remain committed to developing our cruise facilities so that the country can continue to reap the benefits of being a cruise tourism leader, even post COVID-19," he said.
South Africa's popularity as a cruise destination has grown exponentially in recent years and has led to its six cruise ports – Durban, Richards Bay, Cape Town, Mossel Bay, Port Elizabeth and East London – appearing frequently on the itineraries of luxury cruise line operators. Annual escalations in the number of visitors and liners have afforded TNPA, and the country as a whole, positive socio-economic spin-offs such as tourism development, job creation, skills development and supplier development.
In the 2019/20 cruise season, TNPA was due to welcome at least 23 luxury cruise ships, operated by 17 international cruise lines, before COVID-19 brought a premature end to the season.
Through port concessions in the stimulus cruise home ports of Durban and Cape Town, the authority has brought onboard private operators to use their expertise to develop the cruise facilities and attract greater global interest.
Construction on the new Durban passenger terminal resumed during the first week of June 2020 after the announcement of Lockdown Level 3 Regulations by the South African government. The project has been delayed by six months according to the appointed terminal operator, KwaZulu Cruise Terminal Consortium (KCT) in which MSC Cruises has a 70% stake.
The new completion date is projected for the latter part of 2021.
Meanwhile, the V&A Waterfront continues to develop the Cape Town passenger terminal and surrounding areas as part of its own concession with TNPA.
In Nelson Mandela Bay, the Port of Port Elizabeth's cruise offering provides a boost for the local economy, allowing tourists to access recreational, leisure and wildlife experiences in and around the city.
To cast your vote for the Port of Durban, Port of Cape Town or Port Elizabeth, or for one of Mombasa, Dar es Salaam or Zanzibar, register an account by CLICKING HERE . A verification email will be sent to your email account and you will need to click the verification link before you can login to cast your vote.
Check your junk mail folder if you do not receive the verification email in your inbox. Select 'Africa' as the region and the category of 'Africa's Leading Cruise Port' to vote.
Voting is open until 22 August 2020 at midnight.
The World Travel Awards, founded in 1993, recognises, rewards and celebrates excellence across all sectors of the global travel and tourism industry. For now, the Africa & Indian Ocean Gala Ceremony 2020 is scheduled to take place in Nairobi, Kenya on Saturday, 3 October 2020.
♦♦♦♦♦♦♦♦♦
News continues below
Review of nine African 'blue economy' projects shows what works and what doesn't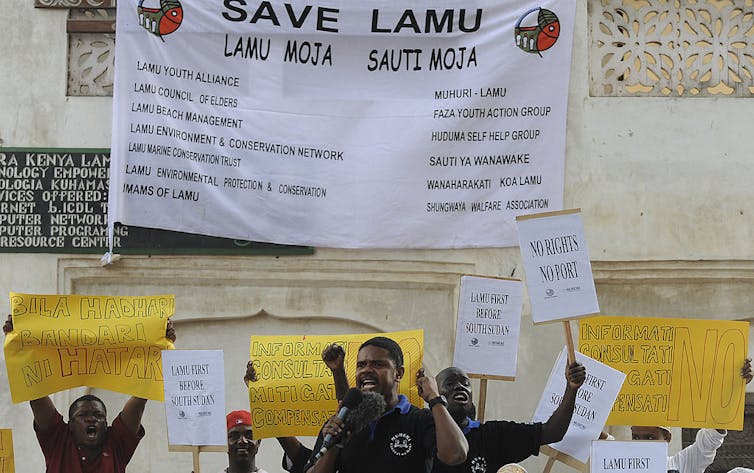 Africa has 38 coastal countries and six islands whose maritime industry is estimated to be worth US$1 trillion per year. This figure will increase as they develop their offshore hydrocarbon, energy, tourism, maritime transport, shipping and fishing sectors.
These industries are collectively called the "blue economy". They are recognised as central to Africa's sustainable development. They can also play a key role in achieving the continent's Agenda 2063. This includes achieving integration, prosperity and peace.
But for this to happen, it's important that the benefits are equally distributed. And resources must be used in a way that's ecologically sustainable.
My colleagues and I reviewed nine case studies of blue economy projects across the continent. These included the Kribi Port project in Cameroon and the Lamu Port project in Kenya.
We were able to extract findings from both successful and unsuccessful projects.
Findings from unsuccessful projects showed that governments had the right intentions. But the emphasis was on economic outcomes. Social equity and ecological sustainability got limited attention.
We concluded that, to achieve blue economy goals, coastal states must reconsider their strategies.
We propose a collaborative framework. This would amalgamate the top-down and bottom-up approaches to blue economy management. It would entail active engagement between government, industry, other stakeholders and the local communities throughout the process – from conception to implementation.
What success looks like
The projects we looked at all involved investors, governments and communities. They included marine transport and shipping, port infrastructure, fisheries and aquaculture, marine phosphate mining and marine protection.
The nine projects we looked at affected 11 countries. These were Cameroon, Côte d'Ivoire, Kenya, Namibia, The Gambia, Madagascar, Seychelles, Tunisia, Egypt, Algeria and Morocco. Three of the case studies were from Kenya, while one cut across five countries.
Drawing on our case studies we found that successful initiatives accentuated the involvement of local communities and promoted sustenance of natural ecosystems. They successfully balanced ecological, social and economic features.
This happened through the active engagement of the government, and other stakeholders, with local communities. Examples included seaweed farming in Kenya and the community of fishers project in Madagascar. Another was the community-led mangrove conservation and restoration project – "Mikoko Pamoja" – in Kenya.
Unsuccessful projects
Unsuccessful projects were likely to exclude local communities in the process and undermined their livelihoods. They also tended to prioritise economic gains at the expense of the environment.
These projects included the development of port infrastructure and marine phosphate mining.
Projects in Cameroon, Côte d'Ivoire, Kenya and Namibia all showed that key ecological and social cultural criteria were missing. This happened even after the government engaged local communities at the start. But they didn't follow through on some of their promises.
Another factor was that governments focused solely on developing their economies, forgoing the negative impact on the ecology and people.
This was the case for the phosphate mining initiative in Namibia. It was also the case for port infrastructure projects. In Cameroon, the Kribi Port project led to the displacement of communities and large-scale deforestation. Kenya's Lamu port project led to habitat destruction.
Negative consequences like these can lead to instability or secessionist movements. Examples include Nigeria's Niger Delta and Angola's Cabinda.
Moving forward
Achieving the goal of successful blue growth in Africa requires strong political commitment. This is vital to balance economic, social and environmental benefits.
We propose the adoption of a collaborative framework involving various stakeholders. These would include government, international corporations, scientific communities, NGOs and local communities. They would work collectively throughout the process, from inception to completion.
They would need to consider a range of criteria, including:
ecological, relating to biodiversity and ecosystem integrity;
economic, related to sustainable livelihoods and equitable distribution of access and benefits;
social and cultural, related to health and wellbeing and sustainable communities;
governance and institutional, related to legal and policy support and cooperation and accountability in decision processes.
All parties must be actively engaged throughout. By being involved, from the beginning to the end, communities can solve issues that arise along the way.
Seeing communities as equal partners also means that fears – for instance about timing or compensation – are allayed. And grievances about livelihoods or ecological concerns would be identified early on and addressed.
As coastal states look to make gains, they must aim for economic development, local community inclusion and environmental sustainability. One aspect can't be prioritised over the other. Without this they risk perpetuating a cycle of instability. This could be social, economic or political.

Ifesinachi Okafor-Yarwood, Lecturer, University of St Andrews
This article is republished from

The Conversation

under a Creative Commons license. Read the

original article.
♦♦♦♦♦♦♦♦♦
News continues below
OIL & GAS DRILLING RIG DEEPSEA STAVANGER WELCOMED BACK IN SOUTH AFRICA
The oil & gas drilling rig DEEPSEA STAVANGER, that was successful in striking sizeable gas and light oil deposits in Total's Brulpadda prospect off the Cape southern coast early last year, has returned to South Africa to take up a second session of drilling of the Luiperd prospect in Block 11B/12B in the same area off the Mossel Bay coast, Western Cape.
On hand to welcome the rig was…[restrict] Mineral Resources and Energy Minister Gwede Mantashe.
"The arrival of the drill rig, following the recent successful Brulpadda discovery, reaffirms confidence in South Africa as an investment destination of choice for the exploration of oil and gas," he said. "This is despite the negative impact of the COVID-19 pandemic on economies around the world."
The rig is part of the US$400 million oil and gas exploration drilling campaign by Total, of which R1.5 billion will be spent in South Africa through the hospitality industry; off-shore services and equipment; training and contracting of local companies to support the drilling programme.
Mantashe said the investment will further enable South Africa to diversify its energy mix, as envisioned in the Integrated Resources Plan, by using all the primary energy resources that the country is endowed with, including gas.
"Government will be supporting this project by finalising the Upstream Petroleum Bill which aims to strike a balance between the need to attract investment into this key sector of the economy, and ensuring that oil and gas activities do not happen at the expense of the environment and water resources," the minister said.
The duration of the drilling campaign is expected to be between 6 and 12 months.
Drilling undertaken for Total last year using the Deepsea Stavanger struck 57 metres of wet gas (gas condensate, i.e. containing small amounts of oil) at a depth of 3,633 metres, leading to predictions that the field is worth up to 1 billion barrels of gas.[/restrict]
♦♦♦♦♦♦♦♦♦
News continues below
ISLAMIST INSURGENTS SEIZE PORT OF MOCIMBOA DA PRAIA, MANY CASUALTIES
Islamist insurgents have again attacked and captured the heavily-defended harbour town of Mocimboa da Praia in northern Mozambique, according to various reports other than official statements.
Insurgents also attacked and overran a number of villages in the same area, as the terrorists stepped up their activities despite…[restrict] the presence of a strong Mozambican army force, elements of its navy, and aerial support provided by a South African private security operator.
Independent news providers have so far proved more reliable in their reporting the situation in the troubled region, while official government statements are generally slow in appearing.
A local news site named Zitamar said the attacks by insurgents began earlier this week and were successful at Mocimboa da Praia on Tuesday (11 August 2020) with the terrorists overrunning the town after Mozambique naval and other security forces ran out of ammunition.
A separate report by a local source said one of the Mozambique fast patrol boats, acquired from France in controversial circumstances, was sunk after being struck by a rifle propelled grenade.
The reports say that around 50 Mozambican soldiers have been killed – this number has not been verified. Remaining Mozambican forces withdrew by boat.
The Islamists also captured large quantities of weapons, though presumably little or no ammunition.
Mocimboa da Praia is about 60km from where the Total oil company is busy establishing its shoreside LNG gas processing plant.
The Islamist insurgents claim to have as their intention the establishment of a Islamic State or caliphate for the region, where the population is mainly Muslim. Apart from the LNG developments in the region of the Cabo Delgado province up to the southern Tanzania border, the area also boasts the pristine Querimba archipelago of islands along the northern coast, some of which like Ibo and Querimba Island are occupied and others such as Matemo also feature luxury tourist lodges.
Local sources say that around 250,000 people in the province have been displaced and that 1,400 have lost their lives due to the insurgency. Mozambique has been slow to acknowledge it has a problem in the region and seldom reports details of attacks, except on the rare occasions that its forces are successful. The situation is highly sensitive owing to the importance of the international oil and gas investments taking place.
Nevertheless, Total has said it intends going ahead with its US23 billion gas project, as has Italian oil major Eni, which however is processing gas production offshore by way of a floating production storage and offloading (FPSO) vessel.
FDS Response
Conversely, a Chinese news broadcaster (Xinhua) states that 59 terrorists were killed over the past week by Defense and Security Forces of Mozambique (FDS). Xinhua quotes a statement from FDS as reporting "the terrorists were trying to occupy the district of Mocimboa da Praia for a week, and they infiltrated the communities before attacking local villages.
"In the course of actions to defend populations against terrorist actions, the Defense and Security Forces have achieved various operational results, highlighting 59 human casualties from the terrorists, and the destruction of six camps and means used by terrorists," the Joint Command of the FDS is reported as saying in a statement.[/restrict]
♦♦♦♦♦♦♦♦♦
News continues below
5.9 MAGNITUDE EARTHQUAKE SHAKES SOUTHERN TANZANIA
An earthquake measuring 5.9 on the Richter Scale is reported to have taken place at around 20h13 on Wednesday, according to the US Geological Survey (USGS).
The area is about 85km south of Dar es Salaam, the main port and city of Tanzania.
The report has been confirmed by…[restrict] the Tanzania Metrological Authority which added there were no possibilities of causing a tsunami.
The quake struck at a depth of 15.5 kilometres with its epicentre 66 kilometres offshore, to the north of Mafia island, according to the USGS.
So far there have been no reports of damage arising from the earthquake. Deep quakes are said to result in less tremors than shallow quakes.[/restrict]
♦♦♦♦♦♦♦♦♦
News continues below
Mauritius is reeling from a spreading oil spill – and people are angry with how the government has handled it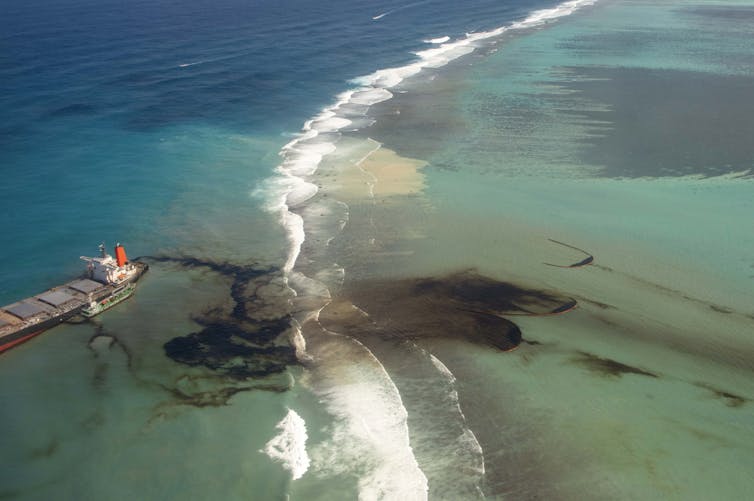 MV Wakashio, a Japanese owned Panama-flagged bulk carrier ship leaks oil after drifting ashore over coral reefs.
Etat-major des Armees/EPAhandout
On the evening of Saturday July 25, the MV (Merchant Vessel) Wakashio grounded on coral reefs in the south-east of the Indian Ocean tropical island of Mauritius. The ship, a Japanese-owned but Panama-registered bulk carrier designed to transport unpackaged goods such as coal or grain, was empty of cargo but had an estimated 200 tons of diesel and 3,800 tons of heavy fuel oil onboard. The ship sat for over a week before cracks emerged in its hull.
Fuel oil began to leak into the expansive turquoise blue lagoon outside the coastal village of Mahébourg. Striking satellite images show the resulting oil spill weaving a black slick between the mainland at Pointe D'Esny and the flat round island of Ile-aux-Aigrettes. The impacts seen closer up are gruesome. On August 7, nearly two weeks after the shipwreck, the government declared the incident a national emergency.
With at least 1,000 tons of fuel oil estimated to have already emptied into the lagoon, two ships moved alongside to transfer off remaining fuel in a race against time as the vessel threatened to shear into two.
I'm a Mauritian living in the UK and visit my dad's house in Mahébourg once or twice a year. The coastline affected is the waterfront at the end of our street and the beaches where we swim and picnic. It feels scary and strange to be writing this from 10,000km away but inspiring to see local people taking action and coming together.
What's under threat?
Spills like this harm marine life because the chemicals that make up oil are toxic to plants and animals, including mangrove forests and the corals that build reefs. While the black and sticky heavy oils used to fuel ships are less toxic than light oils like diesel or petroleum, they persist longer and smother life in the sea and on the coasts. Ecological effects ripple across interconnected marine and land ecosystems.
It's very difficult to predict how severe the impacts will be in Mauritius – and how quickly or well the environment might recover – from even detailed analyses of case studies and ecology of mangroves and coral reefs. There are just too many variables, including the complexity of the ecosystems, what mix of oil has been spilled, and how clean up is attempted, which can have negative environmental impacts too.
The 22 hectares of mangrove that make up the Pointe D'Esny Wetlands (roughly the area of 22 soccer pitches) are designated as a Ramsar site, a protected area for internationally important wetlands. The mangroves are home to species and habitats of conservation importance and to nurseries of fish supporting coastal fisheries.
Just along the coastal road to the south is Blue Bay Marine Park, another Ramsar site, with 353 hectares of coral reefs, seagrass meadows, and more mangroves. It is home to turtles, 72 species of fish, and an exceptional coral diversity of 38 species from 15 families.
Ile-aux-Aigrettes, opposite Pointe D'Esny, has the last remaining coastal ebony forest in Mauritius and is an island I spent three months living on as a volunteer in my youth. The coastal ebony species is one of 11 remaining endemic ebony species of Mauritius, a twelfth is believed extinct. This 27-hectare island nature reserve is named for the egrets, various long-legged and typically white-feathered species of the heron family that fish these coasts.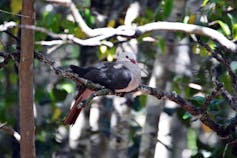 Rare pink pigeon.
Peter Hatch/EPA
Successful conservation efforts have restored numbers of the Pink Pigeon, one of the rarest birds in the world in 1990, on Ile-aux-Aigrettes. It was brought to the island by the Mauritian Wildlife Foundation, the conservation charity that has painstakingly restored its ecosystems. Conservationists have been helped by the reintroduction of free-roaming giant tortoises who act as ecological engineers in the restoration of the various coastal islands.
Local fishermen depend on the now oil-polluted lagoon for their livelihoods and local people depend on it for most of the fish they eat. Many local small businesses, often family run, such as guest houses, tour guides, eateries and tourist shops are geared towards holidaymakers attracted by the beautiful sea, beaches and nature that Mauritians enjoy every day.
And it seems the oil spill could eventually devastate most of the east coast of Mauritius. This includes stretches further north that host a large share of luxury coastal hotels. The coronavirus has closed international tourism since March. It would have been a slow recovery even without the environmental degradation.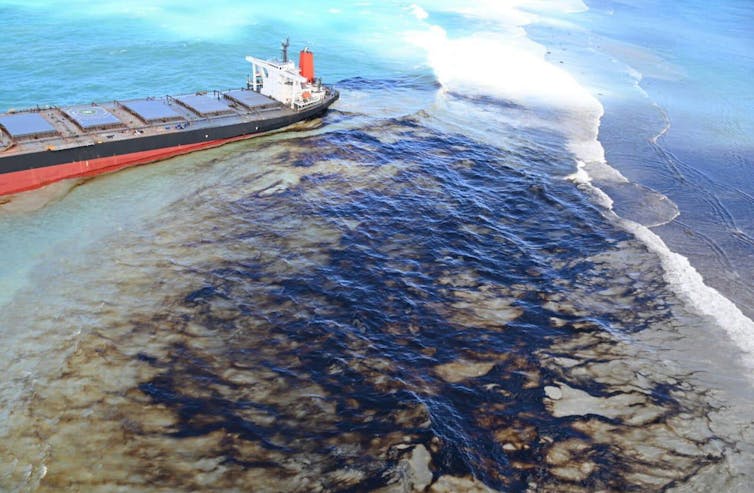 Volunteer efforts
The MV Wakashio is wrecked on almost the same spot where a British steel-hulled sailing vessel, the Dalblair, sank carrying coals to Mauritius in 1902. The jagged remains of its decaying hull protrude to this day as a landmark above the waves, which ironically in daylight would have been a sobering warning.
After the oil spill, the usual sights of families strolling by the sea were quickly replaced by volunteers working hard in a grassroots effort to protect their coast. Packing straw from the fields of tall swaying sugar cane into homemade floating booms, self-organised groups of local people and activists deployed these along kilometres of coast with visibly evident success, halting expansion of the slick and soaking up oil.
The Mauritian government has told volunteers to stop and leave any efforts to officials. But people and local organisations are carrying on their making and deploying booms, which is the only apparent action dealing with the oil floating on the sea. It seems better to risk a fine or arrest than to stop. And local sentiment seems to be unanimously negative about the government's slow response and lack of action targeting the slick.
Why the mistrust? Just four years ago on June 17 2016 another bulk carrier, the MV Benita, ran aground in Grand Port just 7km along the coast to the south. I was in Mauritius when this happened and looked out at the MV Benita (which had a fifth the cargo capacity of MV Wakashio) from the beach at Blue Bay.
There had reportedly been a fight on board and the ship had lost power, before drifting to Mauritius – without coming to the attention of the national coastguard. How the ship could simply crash into Mauritius without the authorities knowing bewildered people locally.
The vessel was there for five weeks before it was finally refloated, thankfully the oil having been taken off without major spillage or tank rupture. It was being towed to be scrapped in India when it then sank 90km offshore from Mauritius.
Satellite evidence suggests in July 2020 the MV Wakashio had been on a clear direct collision course with Mauritius for several days and hit the reefs at Pointe D'Esny with ocean cruising speed maintained, meaning the government was again likely taken by surprise. The same evidence suggests it took six days for the government to even send out a tug to try to refloat the ship.
Governance failures in shipping
The recent Beirut tragedy – a deadly explosion of ammonium nitrate in long-term port storage – and now this Mauritius incident raise questions about governance and security in international shipping. Ships can be registered (flagged) in any country of choice, meaning owners are able to find jurisdictions with least regulations. As a Forbes article suggested: "It is unclear how effective the regulators of the flagged nations were in ensuring the safety of the vessel, port, crew and locations through which the vessel travelled."
This will need to be investigated.
---


Read more:
Beirut explosion: the disaster was exceptional but events leading up to it were not – researchers


---
Mauritius is perhaps best known for the flightless bird, the dodo, that has become emblematic of the island and of extinction. The tragic case of the dodo became a lesson for the environmentally conscious who developed the modern conservation movement. If the grounding of MV Wakashio and its destruction of environment and livelihoods can become a lesson for the global leaders who can bring about change, maybe we can at last have international shipping fit for the modern world.

Adam Moolna, Lecturer in Environment and Sustainability, Keele University
This article is republished from

The Conversation

under a Creative Commons license. Read the

original article.
♦♦♦♦♦♦♦♦♦
News continues below
CANADIAN NAVY TAKES DELIVERY OF FIRST OF SIX FULL ELECTRIC ICE PATROL SHIPS
The first of six Arctic and Offshore Patrol Ships (AOPS) – HMCS HARRY DeWOLF – has been delivered to the Royal Canadian Navy (RCN).
HMCS Harry DeWolf is the first full-electric power and propulsion ice class patrol vessel for the RCN.
The electric propulsion solution delivers efficiency, redundancy and reduced cost-of-ownership; state of the art automation and machinery controls help to reduce crewing requirements.
GE leveraged proven technologies to deliver a low risk, robust full-electric propulsion system which is ideally suited to long range operations above the Arctic Circle.
Read the rest of this report including technical detail in the TRADE NEWS section                       by CLICKING HERE
♦♦♦♦♦♦♦♦♦
News continues below
4,000 SHIP MOVEMENTS FOR A NGQURA MARINE PILOT NAMED ZIGGY
Transnet National Ports Authority's (TNPA) Port of Ngqura customers can count on experienced piloting services when their vessels are being moved in and out of the port. Ngqura boasts the services of Marine Pilot Ziggy (Siegfried) Duwe (62), who has achieved more than 4,000 ship movements in the last 12 years. He is the first pilot with this accomplishment in Algoa Bay, according to company records.
It is this scarce skill of a human being enabling gigantic ships to safely enter ports, exit ports and being manoeuvred inside ports – allowing essential trade of goods across shores to keep the global economy going.
A significant achievement
"I regard this achievement as significant as we don't have the high volumes of the ports of Durban and Cape Town in the Nelson Mandela Bay ports. My best practice experience has also contributed meaningfully to the young Port of Ngqura, which opened for operations partially in 2009 and fully in 2012. As the port is susceptible to prevailing winds, my seafaring and surveyor experience was used to develop Standard Operating Procedures to address some of these problems," Duwe says.
"I guess the sea is in my veins. I really enjoy piloting – I am grateful for good health and a measure of fitness. You need this, especially if the ship's elevator is not working you have to climb the equivalent of 13 stories on some ships!"
Ziggy believes that the strengths of his type D personality according to the DISC analysis – being a driver and not easily side-lined – stand him in good stead as a Marine Pilot. "I'm a team player who is clear about my plan. The bridge team, tugs, pilot boat and berthing crew all work together to accomplish each job. I enjoy working towards excellence, where I have control."
Ziggy is excited about the construction of the bulk and liquid bulk berths nearing completion. He believes that it will add a unique dynamic to shipping in the port as it will attract bigger bulk carriers and tankers to South African shores.
Piloting challenges
He elaborated on challenges he faced since 2008 as he moved 10% of the vessels in the Port of PE and 90% in the Port of Ngqura. "Each movement is unique regarding vessel size and weather conditions. Sometimes there are issues with tugs, such as a line parting, some vessels don't have English speaking officers and some don't follow pilot's instructions – if unchecked this can negatively impact a movement. Ngqura is 5°C colder than PE in winter – add rain and an open bridge wing, which dampens piloting. I have moved a number of oil rigs without propulsion early in the history of Ngqura, which were challenging due to their shape and high towers," he said.
Changing challenges into highlights
The challenges that Duwe has overcome have become the highlights of his career. "My highlights include sailing two ships in a 68 knot wind and one in a 72 knot wind in the windy city of PE. The latter was breaking away from the quayside and I had to stay on board the vessel for 8 hours before I could disembark.
"Another highlight was when we had to salvage a ship with engine problems off Mbashe during one of the tug trips from East London about three years ago. We eventually had to tow the vessel to East London. I had to manoeuvre a number of 'dead ships' with engine problems into the harbour."
Pilot responsibilities
In a nutshell, Duwe's responsibility is to navigate ships safely in and out of the port. He is the master of the harbour tug when it travels to East London and back for dry docking. He also mentors understudy pilots.
"Port Control, in conjunction with other role players, compile a daily schedule of ship movements. The pilot is notified whenever there is shipping, at least one hour before the movement, to help prepare him. For docking, I will board the pilot boat, which will take me to the vessel approaching the pilot boarding station at Racon Tango sea buoy (2 nautical miles from the outer breakwater).
"Once the pilot boat comes parallel with the moving ship, I climb aboard using the pilot ladder provided by the vessel. The captain of the vessel will do an exchange of information and I will do the same concerning my intentions. I then assume 'command' and give instructions regarding the vessel's engines, bow-thruster and rudder. I communicate with and give instructions to the harbour tugs about and during the movement.
"Likewise with the berthing master who relays instructions regarding the receiving of the vessel's mooring lines. I will then manoeuvre the vessel until it is safely alongside the designated position. I will then hand the vessel back to the captain and return to the office to complete the paperwork. I do the reverse when the vessel has to leave the port. Sometimes we have to move vessels to different berths within the harbour," he explains.
A typical day for Ziggy Duwe starts by touching base with Port Control to determine shipping movements before handling emails and correspondence. Before shipping, he checks his Personal Protective Equipment, the anticipated weather and his hand held radio. He also makes sure that the anticipated move is possible – bearing in mind space, lighting and sufficient berthing crew. He works 12-hour shifts, with 36-hour breaks.
From the Harbour Master
"Ziggy's customer focus and pride as well as his willingness to go the extra mile – working long hours in an unusual environment and enjoying dealing with challenging situations, have contributed to his success," said Captain Thulani Dubeko, Harbour Master of the Port of Ngqura. "His piloting service is based on professionalism, centred around fulfilling the customers' needs. Our pilots are true ambassadors for our country as they are the first and last people to see the ships' crew."
The man behind the pilot
Raised in Vereeniging and Middelburg (Mpumalanga) Ziggy obtained a Class I (Master Certificate of Competency) and a Diploma in Theology. After Matric, he joined Safmarine as a deck cadet, working and studying intermittently. He answered a call to ministry in The Salvation Army and was later a Pastor for the Bikers Church in PE too.
In 2005 he worked as a marine surveyor to supplement his income and in 2007 he joined the Port of PE as a tug master trainee. He completed his open license in 2009 – the year that shipping commenced in the Port of Ngqura. He worked for both ports until the Port of Ngqura received its own tugs.
Ziggy Duwe is a keen cyclist who has completed 16 Argus Cycle tours and a number of others. Due to a lack of time, he now enjoys regular shorter cycling trips. "Motorcycling is a major part of my 'other' life. As Eastern Cape President of the Christian Motorcyclist Association (CMA) I take long rides and participate in local biking events. I am also the Pastor of the Bikers Church Port Elizabeth."
Ziggy has been married to Jenny for 26 years, who is a teacher at Erica Primary, and they have two daughters. Their oldest daughter obtained a teaching degree and is a teacher in South Korea. Their youngest daughter is a fourth year student in Veterinary Science at the Onderstepoort campus of the University of Pretoria.
Want to become a Marine Pilot?
Ziggy's advice to newcomers is straight forward – "When I was at sea many of my colleagues didn't last long as they didn't realise the type of dedication required. We work any hour of the day or night and in whatever the weather throws at you. People have asked to join me on a tug voyage to East London, only seeing the smoothness of the waters in the harbour. Once out at sea the tug pitches and rolls constantly – 13 hours of this takes its toll. So go out to sea on a yacht or fishing trip in rough seas to see if you can manage. If you don't get on with someone on a vessel during your training period, you can't walk ashore. Your contract of four months or more has to be completed. There is no short cut of moving quickly through the ranks to be in an office without the riggers of sea life."
♦♦♦♦♦♦♦♦♦
News continues below
AFRICAN PORTS NEED TO LEARN THE LESSONS OF BEIRUT
The disastrous explosion in Beirut on 4 August 2020 was caused by hazardous materials stored in the port. How likely is a similar incident in an African port and what would be required to prevent it? Maritime security experts Christian Bueger and Scott Edwards analyse the risks
The disastrous explosion in Beirut on 4 August 2020, which was reported to have taken at least 135 lives at the time of writing, was fuelled by 2,750 tonnes of the highly reactive chemical ammonium nitrate that had been held in the port for nearly seven years. As such, the disaster puts a spotlight on the global trade in hazardous materials and the importance of port security. It also contains some important warnings for African ports.
As recorded in shipping industry journal The Arrest News, in 2013 the chemicals arrived onboard the MV Rhosus. Flying the Moldovan flag, the vessel was heading to Beira in Mozambique. En route the ship faced technical problems and entered Beirut port. Upon inspection the vessel was considered unsafe, and not allowed to proceed. The vessel and its cargo were abandoned and efforts to get in touch with the owner and charterers failed. With no one claiming the property, the dangerous chemicals were stored in the port's warehouses.
While the tragedy is still under investigation and all the details are as of yet unknown, the inappropriate storage and handling of the hazardous material played a major role in the event.
Risks for African ports
What, if any, are the lessons for Africa? The very fact that the chemicals were destined for Mozambique raises concerns. Hazardous materials are frequently shipped to African ports. Even when African ports are not the ultimate destination of dangerous substances, containers may be held in transit. Weak management might increase the length of time such materials have to be managed, and the risk they entail. As African ports are increasingly expanded as part of blue economy strategies, these risks need to be taken seriously.
Ports in Africa are also faced with another kind of material that can be hazardous: waste. The waste trade is a thriving global economy, with material ranging from electronics (e-waste), plastic, medical, chemical or even radioactive waste shipped across the globe daily. Ports in West and East Africa are the primary destinations of such goods.
Often such waste is traded illicitly. Through false papers, wrong declarations, and other smuggling activities toxic waste can enter African ports undetected. Frequently such cargos are then either inappropriately disposed of, or even abandoned. UN reports indicate that there might be a substantial number of such abandoned containers in Africa and elsewhere. Such containers pose a significant risk.
A disaster as it occurred in Beirut is certainly the exception. Yet, there are other, more silent, ways in which dangerous substances such as toxic waste and chemicals can cause significant harm to the inhabitants of port cities, and even those beyond. Waste and chemicals can pollute ground and surface water around the ports if abandoned, or managed, and packaged improperly (as the majority of smuggled waste is) and hence impact on public health.
This traded waste can also have more significant health implications if it is not intercepted and instead goes on to be disposed of improperly in areas beyond the port. In a now landmark case, the Trafigura ship Probo Koala, handed its toxic waste over to a local company in Côte d'Ivoire. That waste was then dumped in multiple locations in Abidjan, sparking a major long-term health crisis [reported in PORTS & SHIPS at the time].
Such impacts can also be seen in Ghana, where flows of illegal e-waste clear Ghanaian ports to be disposed of unsafely by informal actors salvaging valuable elements such as gold, copper, and nickel, and rare materials of strategic value such as indium and palladium. The improper dismantling and recycling of e-waste has a detectable impact on the health of workers, who are often already vulnerable. The rest of the waste is burned, allowing for the leakage of toxicities into the environment, creating toxic smog, and even contributing to climate change.
Ports are the first line of defence in preventing dangerous substances causing significant harm to the environment and those living in port cities.
Preventing the next disaster
African ports are core hubs in the global trade of dangerous substances and waste. Yet, they often lack adequate procedures to detect and handle hazardous materials. They are hence particularly vulnerable. As ports are expanded, become more vital in national economies, and may often move closer to populated areas and informal settlements, these vulnerabilities need to be addressed.
Port safety and security has become a growing concern as part of the international maritime security agenda. In particular, the threat of maritime terrorism has led to more measures aimed at increasing the level of security in ports through surveillance, training and guidelines. The Basel Convention regulates the global waste trade, yet it does not aim at tackling illicit activities.
Evidence points to significant gaps in the Basel Convention, including a lack of harmonisation and difficulties in ensuring the convention is properly interpreted and implemented. As smuggled dangerous substances are often mislabelled or disguised, containers need to be carefully inspected and the inspectors need to have a strong degree of training in order to recognise it.
Programmes run by the UN Office on Drugs and Crime's Global Maritime Crime Programme, the International Maritime Organization and the European Union aim at building capacity in African ports to raise security levels and ensure the implementation of international legal provisions.
The focus of such programmes is, however, general port management, or blue crimes such as the smuggling of narcotics and weapons. Dangerous substances and waste crimes require more attention. Too often the waste problem is considered as a minor environmental problem, rather than a public security concern. Agencies tasked with dealing with the issue remain under-resourced. After Beirut, the way in which all dangerous substances are handled in ports, including waste, needs to be re-evaluated.
A wake-up call
The lesson of Beirut for Africa is that dedicated capacity building activities are required. These must ensure that the current procedures for handling and storing hazardous materials in African ports are reviewed and strengthened. Better detection and handling of dangerous substances, especially those that result of waste smuggling, also need to be focused upon. In terms of waste in particular, legislation need to be reviewed, to assess whether it sufficiently criminalises waste crimes or their facilitation.
Port operators or port cities will not be able to deal with the challenge on their own. Given the transnational scale of the problem, it is not only a national responsibility, but requires regional and global responses. The burgeoning waste trade into Africa highlights that the trade of dangerous substances needs to be better monitored and regulated, and information on waste crimes should be shared.
The tragedy of Beirut is an important wake-up call to take the threats presented by the global trade of hazardous goods seriously, and to tackle it by improving port security.
Dr Christian Bueger is Professor of International Relations at the University of Copenhagen and the Director of the SafeSeas network for maritime security research. Christian.bueger@ifs.ku.dk
Dr Scott Edwards is a Research Associate at the University of Bristol. scott.edwards@bristol.ac.uk
This article is republished with permission from

African Business

. Read the original by CLICKING HERE
♦♦♦♦♦♦♦♦♦
News continues below
CMA CGM ANNOUNCES SERVICE IMPROVEMENT FOR NOURA EXPRESS
French container line CMA CGM has introduced its latest service improvement on the weekly dedicated NOURA EXPRESS service which is aimed at reinforcing product reliability and competitiveness on the company's Middle East and East Asia to East Africa and Indian Ocean trades.
The changes take…[restrict] effect as from the first week of September 2020.
CMA CGM says the strengths of the new set up include:
* Reliable and weekly direct service from Middle East and East Asia to East Africa and Indian Ocean
* Service fully operated by CMA CGM Group with 6 vessels of 2,500 TEU nominal capacity
* Port rotation Colombo – Jebel Ali – Mogadishu – Longoni – Beira (1/2) – Nacala (1/2) – Port Victoria – Colombo
* New direct service and weekly frequency from Jebel Ali to Mogadishu in 5 days
* Competitive transit time to Mayotte 11 days, Mozambique 15 days and Seychelles 24 days from UAE
* Reefer cargo from Seychelles benefits of excellent 5 days transit time to Colombo[/restrict]
♦♦♦♦♦♦♦♦♦
News continues below
BAYHEAD ROAD AFFECTED BY SEVERE TRAFFIC CONGESTION AFTER TRUCK CAPSIZES
Monday 10 August may have been a public holiday but the Port of Durban's Bayhead Precinct was severely affected by traffic congestion after a truck capsized along Bayhead Road.
While the port was attending to the resulting backlog at the Durban Container Terminals, a further…[restrict] challenge arose when the IT system of private terminal operator Bulk Connections experienced a network outage and affected their three truck loading bays in the Island View complex. This compounded the traffic congestion and caused delays to many facilities in Bayhead and Island View.
The capsized truck was moved on Monday afternoon. The Bulk Connections system was restored on Tuesday morning and the terminal resumed servicing trucks.
GM: Port of Durban, Moshe Motlohi, said that as the port landlord Transnet National Ports Authority (TNPA) has taken the action of requesting Transnet Port Terminals (TPT) to allow its Pier 1 container terminal to absorb some of the bulk trucks into the Pier 1 truck staging facility in an effort to decongest Bayhead Road. "We are also working with the bulk terminal to have a second access gate opened into Island View," he said.
"As a longer term solution, we are motivating through the Port of Durban Decongestion Task Team for all terminals to have a booking system that will give port users full visibility of cargo handling equipment deployed and truck volumes so that they can plan when and when not to send vehicles to the port."
Motlohi urged all terminal operators to activate an early warning system to communicate any system failure so that Transnet can sensitise other port users of congestion incidents.
The Durban Container Terminal experienced a backlog due to the traffic congestion, which caused some container trucks to miss their scheduled slots in the Transnet booking system.[/restrict]
♦♦♦♦♦♦♦♦♦
News continues below
IMO ASSISTING IN MV WAKASHIO OIL SPILL RESPONSE
On 11 August the IMO reported that it has joined international efforts to assist the Government of Mauritius, following an oil leak from the bulk carrier mv Wakashio, which ran aground on 25 July off Pointe d'Esny natural area, south-eastern coast of Mauritius.
IMO and the United Nations Environment Programme (UNEP)/United Nations Office for the Coordination of Humanitarian Affairs (OCHA) Joint Environment Unit have jointly deployed an oil spill response expert. Due to COVID-19 travel restrictions and border closures in Mauritius, the expert was (on 11 August) awaiting onward travel via specially chartered UN flight from Nairobi, following COVID tests.
Approximately 3,894 tonnes of low-sulphur fuel oil, 207 tonnes of diesel and 90 tonnes of lubricant oil were on board the Wakashio. An amount of oil leaked following severe weather.
the affected area is located in a very sensitive zone that includes the Blue Bay Marine Park, Iles aux Aigrettes, and the Ramsar sites.
Satellite mapping support is being sought from UNOSAT, to provide an indication of the extent of the spill and to inform the response effort.
Alongside IMO and OCHA, the United Nations development Program (UNDP) Mauritius and the International Tanker Owners Pollution Federation (ITOPF) are also mobilising environmental and oil spill experts.
A number of countries, including France and Japan, are also assisting Mauritius, which has activated its national oil spill contingency plan.
IMO is supporting the Government of Mauritius by providing technical advice on oil spill response issues and in the coordination of assistance.
Edited by Paul Ridgway
London
♦♦♦♦♦♦♦♦♦
This short YouTube video footage shows the Wakshio in danger of breaking up, with wide cracks now visible on the port side as well as earlier cracks on the starboard
♦♦♦♦♦♦♦♦♦
News continues below
UK & INTERNATIONAL RELIEF TO LEBANON
On 9 August
HMS Enterprise

departed Limassol port, Cyprus, on a short-notice deployment to Lebanon.

The warship was loaded with 500-person operational catering field units and tents, plus associated equipment. Cargo was loaded by Royal Air Force movements personnel throughout the night 8 / 9 August.

Over the past five years, this warship has been involved in a diverse range of activities, from detecting mines in the Arabian Gulf to saving lives and disrupting the work of human traffickers.

By 18h00 GMT on 10 August the UK Ministry of Defence reported that Enterprise had arrived in Lebanon, where her role will be to access the damage of Beirut's port following the explosion and help return it to normal operations.

Edited by Paul Ridgway
London
International response
In addition to the UK, several other European nations have responded to the human crisis in Beirut by dispatching naval ships with aid to the Middle East country. Among these are…[restrict] the French Marine Nationale, Hellenic Navy, Germany's Deutsche Marine and the Brazilian Navy.
The French Navy has sent their amphibious Mistral-class LHD Tonnerre from the Toulon Naval Base with approximately 700 army personnel and equipment to be used for securing maritime approaches and generally assessing the port environment and infrastructure, and assisting with the clearance of debris. Included in the team is a detachment of divers to conduct underwater investigations.
The ship is also carrying fire-fighting equipment for donation to Lebanon.
From Greece a landing ship tank (LST) has deployed the short distance to Lebanon to assist with the aftermath of the massive explosion that destroyed a large part of the port and city, leaving hundreds of thousands of citizens homeless and killing hundreds. The Greek Navy ship was calling at Limassol en route to load supplies made available by Cyprus.
The German Navy Corvette Ludwigshafen am Rhein detached from the its current assignment with the UN Interim Force in Lebanon and has arrived in Beirut to provide on-site support with the crew, including a ship's doctor.
A Brazilian Navy frigate Independência (F44) and a Bangladesh Navy corvette BNS Bijoy which are also deployed with the UNIFIL Maritime Task Force have carried out a preliminary survey of the port access channel and berths.[/restrict]
♦♦♦♦♦♦♦♦♦
News continues below
Kenya's coast is losing huge amounts of seagrass. But all isn't lost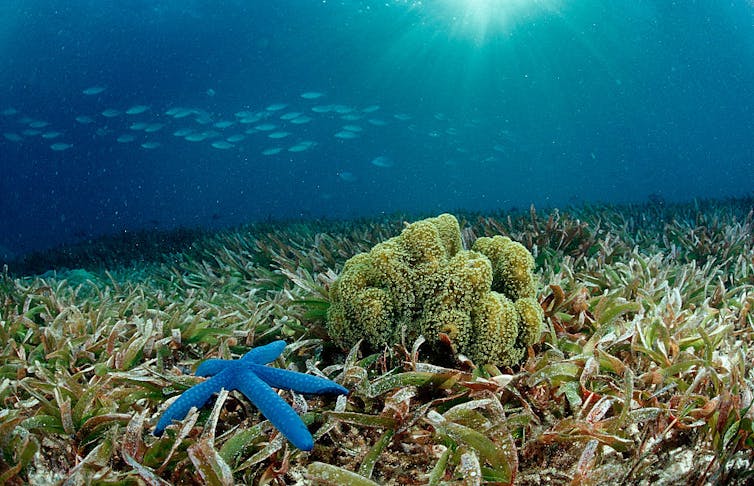 Seagrasses support a wide variety of life.
Reinhard Dirscherl/ullstein bild via Getty Image
The UN environmental programme has released a report warning that fishing trawlers, seaweed farming, and tourism off the coast of Kenya is threatening the survival of seagrasses. Moina Spooner, from The Conversation Africa, asked Lillian Daudi to explain why the grasses are important and what must be done to protect them.
What is seagrass and why is it important?
Seagrasses are flowering marine plants that have adapted to survive in marine conditions. They are mostly found in shallow sandy bottom habitats and can form dense extensive meadows.
There are about 72 seagrass species distributed across the world's temperate and tropical oceans. These meadows trap sediment, absorb nutrients and give us clear waters.
They're a source of food, shelter and nursery areas for many organisms, including commercially important fish. This means that they provide food security for coastal communities by supporting artisanal fisheries and are an integral part of coastal livelihoods. They also support a number of endangered species such as dugongs, sea turtles and sea horses.
Seagrass meadows are also important carbon sinks, capable of trapping carbon from the atmosphere 40 times faster than tropical rainforests and storing it for hundreds of years.
What's happening to it along the coast of Kenya?
There are about 12 species of seagrasses distributed along the Kenyan coast. According to the latest research (published about two years ago), seagrasses along the Kenyan coast covers an area of about 317km².
But these meadows are subject to frequent disturbance. For instance people disturb sediment on the seabed which suffocates the seagrass, or they damage the seagrass by trampling it. There are also natural disturbances, such as grazing by sea urchins. In some areas this has led to the total loss of seagrass.
Overgrazing, in particular by the collector sea urchin, has been a major factor in how seagrass is distributed along the Kenyan coast. This is because there's been a fast rise in sea urchin populations which I believe is due to overfishing. Fish, such as the parrot fish, are the natural predators of sea urchins.
When urchin populations are high (about eight or more urchins per m²), they move in aggregations and can clear seagrass shoots at the rate of five shoots per day per urchin. In Kenya, they have been reported to move in aggregations of up to 137 urchins per 10m², consuming huge amounts of seagrass.
For instance, in Kenya's north-coast area of Watamu and Malindi about 4.6% of seagrass is lost each year to urchins.
Is there any indication of how much is being lost and what type of effects will this loss have?
Between 1986 and 2016 – a period of 30 years – Kenya lost about 21% of its seagrass cover. The intensity and frequency of seagrass loss varies along the coastline. Some areas show signs of natural recovery while others have become altered habitats with a different composition of seagrass species.
The disturbance of seagrass meadows has caused fragmentation of continuous seagrass beds. These shallow ecosystems support most artisanal fishermen along the Kenyan coast, providing important habitats for fish, including rabbit and seagrass parrot fish.
Ongoing research work in my department at the Kenya Marine and Fisheries Research Institute shows that these losses may, in the long term, affect the dynamics of the food webs, especially the fish supported by these meadows, such as parrot fish.
Is enough being done to protect these grasses?
There are several efforts towards the protection of seagrasses.
Over the last decade researchers at the Kenya Marine and Fisheries Research Institute have been conducting research on seagrasses. This research supports the activities of various organisations responsible for the protection of seagrasses.
For five years, there have been efforts to protect seagrasses through restoration trials carried out by the Kenya Marine and Fisheries Research Institute. These trials provided data on the best species to use, the most cost effective ways and implications of restoration efforts. These trials are important to recolonise areas that have lost grass and increasing meadows. So far, the one that's shown the greatest success involved planting seagrass seedlings in punched holes in large bags on the ocean floor.
Kenya's seagrass rehabilitation efforts are commendable and contributed to the development of seagrass ecosystem restoration guidelines for the Western Indian Ocean region, supported by the United Nations Environment Programme.
There are also encouraging signs from government as there are currently efforts to review and implement the national coral reef and seagrass conservation and management strategy.
There are still some challenges when it comes to managing and protecting seagrasses, because we're still not sure of the distribution and actual cover estimates of seagrass along the coast. This requires sound techniques such as remote sensing and remotely operated vehicles that are now underway to enable mapping and monitoring of changes to seagrass beds over time. Until this happens, there's no certainty about which conservation strategies do or don't work.
The future is bright since the capacity in seagrass research has grown over the years, especially as more scientists have developed a passion for exploring these unique habitats.

Lillian Daudi, Scientist, Kenya Marine and Fisheries Research Institute
This article is republished from The Conversation under a Creative Commons license. Read the original article.
♦♦♦♦♦♦♦♦♦
News continues below
DOUALA PORT MANAGEMENT CONTRACT EXTENDED BY THREE YEARS
The management contract for the port of Douala Container Terminal has been extended by a further three years, it has been announced.
The decision was made public by the Port Authority of Douala's (PAD) supervisory board who extended the contract delegated to Régie de Son Terminal à Conteneurs (RTC) for…[restrict] a renewable three years.
PAD said the extension is a result of RTC having successfully carried out its missions by "providing the terminal users with quality services in compliance with the performance and outcome goals assigned to it."
This, it said, was despite the difficult context in which PAD began managing and operating the terminal from 1 January this year, following a disputed tender process.
The dispute arose over claims of irregularities that led to the selection of Swiss Terminal Investment (TIL) as the winner of the tender process to manage and operate Cameroon's main port container terminal. Bolloré-APMT, which had previously managed and operated Douala terminal, was ranked 7 out of nine candidates, and then contested the matter in court, which subsequently ruled in its favour.
PAD followed this development by stating that the court order could not apply as it (PAD) was not obliged to launch a new tender process for a concessionaire "since the decree of 24 January 2019, reorganising the PAD, "enabled it to manage the container terminal using a delegated management model.[/restrict]
See our related story CLICK HERE
Bolloré Transport & Logistics retrenches staff
In a related matter, Bolloré Transport & Logistics in Cameroon has laid off more than 200 staff members, amounting to over 20% of the company's workforce.
The retrenchments cover all segments of the company's logistics operation and is the result of a redundancy plan being negotiated with the Ministry of Labour and Social Security.
According to the general management of Bolloré Transport & Logistics Cameroon, this 'difficult' task had become 'inevitable' because, since 2017, the company has been recording negative performances.
"Our sector is experiencing the full impacts of an internationally unfavorable situation that has caused many firms to go bankrupt. We were able to deal with it until now because of support from our shareholders. However, the strategic plan we started implementing in January 2020 was negated by the fast-moving impacts of the coronavirus," said Mohamed Diop, director of Bolloré Transport & Logistics Cameroon.
The company continues to employ around 900 people in direct jobs in Cameroon. This is despite the loss of the concession to operate the Douala container terminal. Bolloré continues to hold several other concessions in the country.
♦♦♦♦♦♦♦♦♦
News continues below
TRANSNET TO BUILD 300 RAIL WAGONS FOR MOZAMBIQUE'S CFM
Transnet Engineering has signed a rolling stock supply agreement to build and deliver 300 freight wagons to Mozambican rail operator (CFM).
The agreement with Caminhos De Ferros De Mocambique (CFM), the Mozambican state owned railway operator is valued at over R400 million and forms part of efforts to…[restrict] strengthen regional integration and the revitalisation of the Mozambique railway industries.
At the heart of this agreement is the manufacture, supply and delivery of 300 high- sided Gondola type freight wagons to CFM.
This transaction follows an earlier successful delivery by Transnet Engineering (TE) of over 300 locally manufactured freight wagons to CFM in December 2019.
This repeat purchase by CFM further strengthens the business relationship between these two entities, and is a demonstration of confidence in TE's manufacturing capabilities as an independent Original Equipment Manufacturer (OEM).
"Our long standing partnership with CFM is a source of great pride for us especially the opportunity to meaningfully contribute to Mozambique's programme of action, igniting economic opportunities and providing support to CFM recapitalisation project," says Ralph Mills, Transnet Engineering Chief Executive.
The successful conclusion of this agreement with CFM is part of a bigger narrative of Transnet's vision to grow its footprint in Africa – and showcase TE as a serious player in rolling stock manufacturing in Sub-Sahara Africa.
The latest order for wagons will be manufactured at the TE Bloemfontein centre, creating local supply opportunities.[/restrict]
♦♦♦♦♦♦♦♦♦
News continues below
The port of Beirut: vital, historic centre of a complex city
The centre of Beirut has suffered devastation following an explosion which has destroyed the port, caused massive damage to the Lebanese capital and resulted in numerous deaths.
The blast, in the early evening of August 4, has been reported as having the force of a 3.5 magnitude earthquake – and is believed to have been fuelled by 2,750 tons of ammonium nitrate stored in a warehouse at the port.
While post-civil war Lebanon's economy, infrastructure and basic services are already on their knees due to an unprecedented economic crisis, widespread public protest about believed government corruption and recently the COVID-19 pandemic, another portion of Lebanon's crucial national infrastructure now lies in ruins. The port of Beirut handles 60% of Lebanon's imports as well as the storage of its food and medical reserves.
The history of a port at Beirut stretches back to as far as the 15th century BC. In the 20th century, Beirut became a key seaport serving the oil trade and related passenger and cargo movements in the Levant and the Gulf.
The port has played a key role in Beirut's history and stands at the centre of the city, surrounded by some of its most important neighbourhoods.
Divided past
From 1975 until 1990, Lebanon endured a vicious and prolonged civil war. Beirut became the site where sectarian tensions and regional geopolitics became part of urban space. It resulted in profound divisions and changes in the geography of the city. In September 1975, a few months into the civil war, the centre of Beirut became the core of militia fighting.
During the war the city was partitioned by a "Green Line" which split Beirut into an eastern and western sector. Demographic redistributions took place: people moved from one side of the city to the other along sectarian and political lines, with Christians settling mainly to the east and Muslims mainly to the west of the line.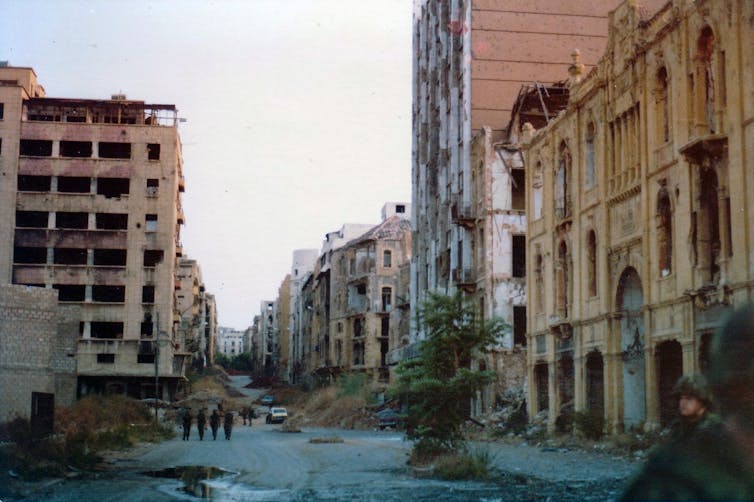 The Green Line gradually progressed from the southern suburbs to the west gate of the harbour. In 1981 the New York Times reported that the port was one of the only places in the city where the Green Line could be crossed.
In the post-war era, the port of Beirut has expanded into a major regional hub seaport. It recently called for tenders for an international bid to manage a container terminal, to the east of where the explosion took place, and has experienced a significant increase in its vessel capacity.
Development and protest
Crucially, the port of Beirut stands adjacent to the most expensive real estate in town: the the Beirut Central District. In the early 1980s, this area was pinpointed for redevelopment, and at the end of the civil war it was the target of one of the biggest investment operations in Lebanese history. The redevelopment was considered controversial due to concerns about a lack of sustainability, inequality with the rest of the city, high property prices, lack of public spaces and costly services.
In 2015 and 2019, this area became the fulcrum of public anti-government protests. Until the interruption of the coronavirus pandemic, protesters took over several buildings and squares in the city centre. They campaigned against government corruption, and – among other things – for the right of access to pubic services and resources. In addition, they called for government accountability amid crumbling infrastructure and services, the loss of public space and environmental decline.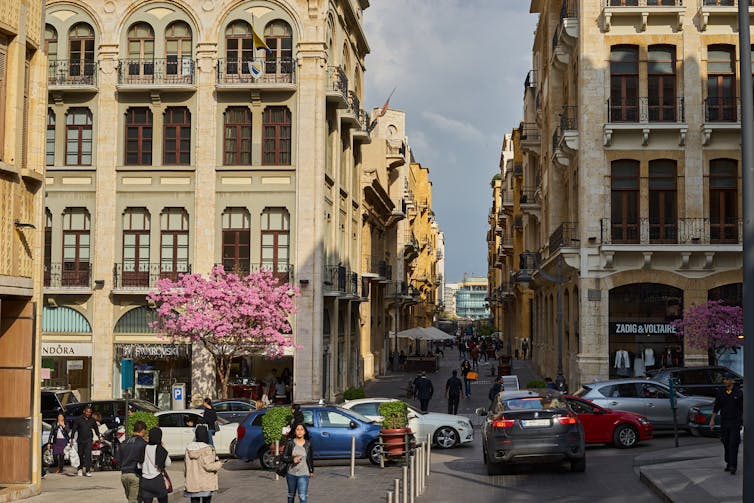 The port of Beirut also stands close to the dense residential areas of Gemmayzeh, Geitawi and the upmarket urban pockets of Sursock and Tabaris, separated only by a motorway. East of the port, and directly adjacent, are the neighbourhoods of Mar Mikhail and Karantina – the Ottoman quarantine station which marked the point of arrival and settlement for successive waves of refugees, including from Armenia in the 1920s and Palestine from the 1940s.
A portrait of the city
This cluster of neighbourhoods hosts many of Lebanon's state and private services, including the electricity provider (EDL), a bus terminal and three hospitals. Gemmayzeh and Mar Mikhael, in particular, have undergone a process of gentrification in the last decade, prompting protests from residents against demolitions of heritage buildings, noise pollution and soaring property prices.
The popular quarters around the port and the reconstructed city centre present two sides of Beirut's postwar reconstruction. Top-down regeneration with a master plan has taken place in the Beirut Central District, while a slow-burning gentrification characterises the other neighbourhoods.
It has been reported that operations will shift from Beirut's devastated port to Lebanon's other seaport with container capacity in Tripoli, around 80km along the coast. But it cannot be understated how much has been lost in terms of investment in the port of Beirut, and in the surrounding city.

Sara Fregonese, Lecturer in political geography, School of Geography, Earth and Environmental Sciences, University of Birmingham, University of Birmingham
This article is republished from The Conversation under a Creative Commons license. Read the original article.
♦♦♦♦♦♦♦♦♦
News continues below
Beirut explosion: the disaster was exceptional but events leading up to it were not – researchers
At the time of writing at least 100 people have lost their lives and a further 4,000 have been wounded following an explosion in the Port of Beirut. While the actual cause remains uncertain, the tragedy calls to attention the tremendous consequences of a lack of port security.
The explosion, on August 4, at around 6pm local time, appears to have been fuelled by 2,750 tons of the highly reactive chemical ammonium nitrate. The chemical had been the cargo on a ship, the the MV Rhosus, which entered the port at Beirut in 2013 due to a lack of seaworthiness and was prohibited from sailing. After the ship's owner abandoned the vessel soon afterwards, the ammonium nitrate remained in a storage facility in Beirut's port.
While the disaster itself was exceptional, the events leading up to it were not. Hazardous material is shipped across the world's oceans on a daily basis. It is often mishandled or illegally traded. Abandoned containers of hazardous goods are found regularly in ports.
While maritime security tends to focus on preventing high-profile events such as piracy, terrorism or cyber-attacks, all too often it is daily mishandling that makes disasters possible. Part of preventing disasters such as what has happened in Beirut will mean strengthening port management and addressing crimes such as smuggling and corruption.
Abandoned ships
The International Maritime Organization (IMO) has recorded 97 cases of abandoned ships and crews since 2017. Ships are abandoned by their owners if a vessel is no longer lucrative to maintain, or perhaps if the ship has been stopped by authorities and fined. While the situation of the seafarers aboard these ships is often tragic, as they may receive little pay or even food for months, what happens to the load of the vessels is often unclear.
And the IMO number only reflects the cases of ships – we know little about how many containers stand abandoned in ports around the world.
A UN report indicates that this number may be large. Containers often lie abandoned within ports, sometimes even by design, fuelled by criminal activities such as waste smuggling and corruption. Despite some efforts to counter this, the issue remains widespread and there are continued obstacles to tackling it.
International waste trade
Shipping companies often sail to Asia with empty containers, as much of the flow of trade is from Asia to Europe. As a result, they are willing to take low-value and high-volume bookings on the initial leg.
This has facilitated a burgeoning waste trade and with it a smuggling sector, where illegal forms of waste such as unrecyclable plastics are shipped from western countries to countries such as Indonesia and Malaysia. Thousands of these containers lie abandoned once they reach the port.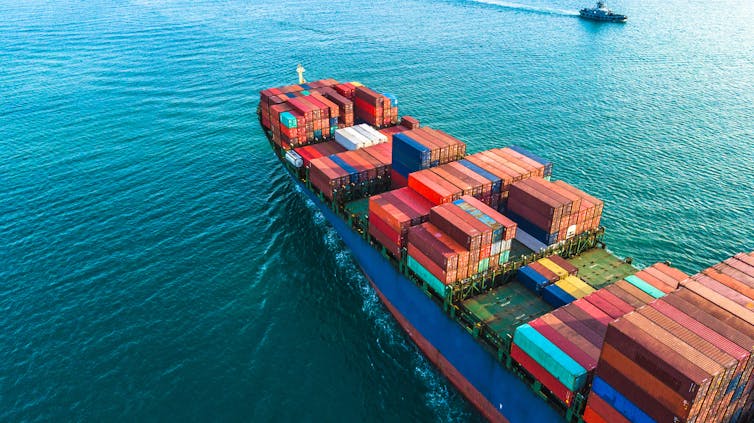 Much of the waste is less dangerous than the ammonium nitrate that fuelled the Beirut explosion, but it can still have dreadful effects. Plastics, for example, can cause hazards if not properly disposed of. Much of it ends up in the ocean, fuelling the ocean plastic crisis.
In 2019, Sri Lankan authorities discovered more than 100 abandoned containers in the port of Colombo. They contained clinical waste, potentially including human remains, and were leaking fluids. The risk that the containers had contaminated the ground and surface water in the two years they had lay in port unnoticed fuelled public health concerns. Sri Lanka has been able to investigate this problem – but it is likely that, in many cases, abandonment goes undiscovered.
Prevention
The abandonment of dangerous containers in ports is not a new problem. Since the 2000s there have been significant efforts to increase security levels in ports through surveillance, training and safety protocols. In light of the continuing abandonment problem, we know that these measures – and their implementation – are insufficient.
First, we have to start seeing the smuggling of waste and the abandoning of ships and containers as major offences. They should be seen as important parts of the blue crime and maritime security agenda. Appropriate legislation is needed to criminalise them. An international database for such crimes is required, as is transnational cooperation to address them.
Second, corruption in ports plays a key part in ensuring that abandonment goes unnoticed. It needs to be addressed with a concerted international effort.
Finally, increased efforts in building the capacity of ports to deal with hazardous waste, to detect smuggling and to deal with abandonment cases are needed. In particular, this will be necessary for ports which have limited resources and are common destinations for abandoned containers, such as ports in Asia and Africa.
The UN Office on Drugs and Crime, the International Maritime Organization and the European Union already conduct port security capacity building work, in particular in Africa. More of this kind of work is needed.
Beirut has shown us the kind of impact a port disaster can have on a city and its inhabitants. Lessons must be learned to make sure a tragedy like this does not happen again.

Scott Edwards, Research Associate, University of Bristol and Christian Bueger, Professor of International Relations, University of Copenhagen
This article is republished from The Conversation under a Creative Commons license. Read the original article.
♦♦♦♦♦♦♦♦♦
News continues below
NEWS & VIEWS FROM ALONG THE COAST
♠♠♠
♠♠♠
News continues below
WHARF TALK: Strong response to sale of tanker Advantage Sky
An auction of the detained suezmax tanker ADVANTAGE SKY (IMO 9419888) took place from a Cape Town law office last week Thursday (6 August) and attracted unusually high interest, with no less than nine bidders taking part in the virtual online auction. The final price for the 2010-built 156,658-dwt tanker was US$25.25 million.
The tanker, which…[restrict] was controlled by Turkish shipowner Advantage Tankers, has remained under arrest at the Durban outer anchorage since 2019 for reasons involving mortgage payments. The first auction was cancelled after remaining inconclusive, and subsequently re-scheduled for 6 August 2020.
A second online ship auction, of the 2011-built Liberian-flagged general cargo ship EKARMA (IMO 9630016) will take place from the offices of a Cape Town law firm this coming Thursday, 13 August at 11h00 SAT. Case AC14/2020.[/restrict]
♠♠♠♠♠♠
News continues below
WHARF TALK: More cruise ships head this way
Having duly delivered 'passengers' – cruise ship staff being repatriated home to India and South East Asia – several cruise ships are now returning to their usual homeports in the Caribbean and Eastern US to await a restarting of cruise operations.
Two, possibly three ships are currently…[restrict] heading towards Durban where they will bunker and take supplies, although one looks doubtful. These are the Holland America ships VOLENDAM* which shows an ETA at Durban for Tuesday 18 August 2020, followed by EURODAM and NIEUW AMSTERDAM, with the latter two sailing together ex Cochi in India and due in Durban on Wednesday 19 August.
Durban port schedules shows a fourth Holland America ship, WESTERDAM, as ETA in Durban on 19 August but AIS indicates the ship's current position to be in the northern mid Indian Ocean passing the Seychelles and on a heading for her next given port, Mombasa. Interestingly, VOLENDAM*, supposedly heading for Durban according to the port and the ship's given next port, is currently sailing north of Seychelles along a similar route to WESTERDAM, which indicates Mombasa to be her likely next port. This places Volendam's arrival in Durban as being in doubt.
Conclusion: The two ships that can be expected in Durban next week are Eurodam and Nieuw Amsterdam. Westerdam and Volendam we shall have to wait and see.[/restrict]
♠♠♠♠♠♠
News continues below
WHARF TALK: Port Tariff Application
The National Ports Authority has submitted its tariff application to the Ports Regulator for the 2021/22 – 2023/24 tariff period.
Readers can find the application on the Regulator's website: www.portsregulator.org or by going on the TNPA's website by CLICKING HERE.
Stakeholders are invited to submit written comments on the Tariff Application by Wednesday, 30 September 2020, addressed to:
The Chairman, Ports Regulator
Private Bag X54322, Durban, 4000 or
1101, The Marine Building, 22 Dorothy Nyembe Street, Durban, 4001.
E-mail: comments@portsregulator.org
Tariff Roadshows will be hosted via webinar on dates and times to be confirmed.
♠♠♠♠♠♠
News continues below
WHARF TALK: Bangkok Express COVID-19 update
Shipping company

Hapag-Lloyd

has provided an update on the movement of the K-Line operated container ship

BANGKOK EXPRESS

which is deployed on the South Africa Asia Express 2 (SA2) service, of which Hapag-Lloyd is a participating member. When the ship called recently at the Chinese port of Shekou, one of the crew was tested positive for the coronavirus, which brought a halt to the vessel's schedule.
See our initial report on this CLICK HERE.
The vessel has since been…[restrict] diverted to Manila for an entire crew change and sanitisation, after which Bangkok Bridge will resume her voyage 097W to Singapore with the following estimated schedule dates:
ETA Singapore 11 August 2020 ETD Singapore 12 August 2020
ETA Port Kelang 13 August 2020 ETD Port Kelang 13 August 2020
ETA Durban 26 August 2020 ETD Durban 29 August 2020
ETA Cape Town 1 September 2020 ETD Cape Town 3 September 2020[/restrict]
UPDATE

Tuesday 11 August 2020, 14h00 SAT
South Africa Asia Express 1 (SA1) Service – MV ITAL LIRICA
A second vessel ITAL LIRICA, voyage 106W, deployed in the South Africa Asia Express 1 (SA1) Service, was also affected by an outbreak of the coronavirus among crew.  Hapag Lloyd now advises that the vessel completed the required 14-days-quarantine and consequently, Ital LIrica sailed from Hong Kong on 7 August and continued her voyage in the original rotation, as per below revised schedule:
ETA Singapore 10 August ETD Singapore 11 August
ETA Durban 24 August ETD Durban 28 August
♠♠♠♠♠♠
News continues below
WHARF TALK: Photo Interlude – RCC AMERICA
The Höegh Autoliner-operated vehicle carrier RCC AMERICA (IMO 9277802), featuring a large R on the funnel, called at Durban recently for what is thought to have been the first time, even though the ship is 17 years old. Any corrections to this statement welcomed! It happened to be a rather windy day with strong swells sweeping across and into the entrance channel – August being the start of the windy 'season' along the KZN coast. This led to thoughts of the port being closed to such bulky vessel movements, and indeed another vehicle carrier was declined entry at that time.
Instead, RCC America proceeded to sail after having completed her cargo working at the port's car terminal, with an interesting development following. As the pilot boat came alongside the vehicle carrier to allow the marine pilot to disembark, the harbour tug PHOLELA also came alongside but ahead of the pilot boat to provide some protection for the disembarkation. Once this had been safely accomplished both craft pulled away and re-entered port as the RCC America continued down channel for the high seas.
The 57,718-gt RCC America is managed by Ray Car Carriers of the Isle of Man, hence the RCC prefix. These pictures are by Keith Betts
♠♠♠♠♠♠
News continues below
WHARF TALK: Cape Town port back to normal
On Monday morning (10 August)

Deepsea Stavanger

was observed approaching Cape Town. The oil drilling semi-submersible is scheduled to go to site on the Outeniqua Basin south of Mossel Bay to resume drilling for gas and possible oil deposits. In 2019 the same rig was successful is uncovering payable deposits of gas that has breathed new life into prospects for oil & gas exploration off the southern Cape coast.
Back at Cape Town, at midday on Monday there were two container ships on berth in port, three tankers waiting outside with another two inside while a couple reefers loaded fruit at the terminal – Cape Town port, it appears, is back to normal. The usual substantial number of fishing and auxiliary vessels were also present in the port.
♠♠♠♠♠♠
News continues below
WHARF TALK: Focus on truckers and road congestion at Port of Durban
Moshe Motlohi, GM at the Port of Durban and chairman of the multi-disciplinary Port Decongestion Team, said last week that the transport industry had a critical role to play in supporting efforts to alleviate congestion at the Port of Durban and its surrounding road networks, which negatively impacts communities in and around the port's Bayhead Precinct.
The task team has been working with the transport…[restrict] industry to motivate for depots around the port to operate 24 hours a day / seven days a week in line with port operating hours. Also under a big focus is trucker compliance and training.
In as much as the port is working 24/7, some of the businesses dependent on the port are not really geared towards that. Hence you will have these high peaks when everybody is trying to chase the narrow window that is called normal business hours", Motlohi said.
"So, we have looked at how we can sensitise port users and make them aware of opportunities outside of these normal business hours. I'm happy to report that we are seeing positive results in this regard around truck volume smoothing."
In March this year Transnet Port Terminals (TPT) piloted its truck booking system that predetermines the number of slots available in every hour and customers choose their preferred slots. Motlohi said the system has had a positive impact.
"We're beginning to flatten those high peaks and seeing increased utilisation of slots that would traditionally be off peak or after hours, which is encouraging," he said, adding that he hoped that this trajectory would continue with getting everybody to use those windows.
Because if we do that, we will have transport companies and truckers realising that it is not necessary for them to come and queue for hours on Bayhead Road. Instead you can come at another time and be in and out of the port more quickly, saving costs and increasing overall competitiveness.""
Meanwhile, the task team has developed Standard Operating Procedures (SOP) for the trucking fraternity and law enforcement agencies on the necessary steps to undertake when Bayhead Road is congested.
Together with the Transnet Maritime School of Excellence a comprehensive Truck Drivers Induction programme is being developed to bring truckers onboard and address pockets of ill-discipline.
The programme includes modules related to terminal operations, incident management, the use of correct Personal Protective Equipment, the port's stance on substance abuse, among other focus areas.
The next steps include piloting the Truck Drivers Induction although this has been delayed by COVID-19 and there may be a need to look at conducting this training virtually.
Truck owners will also be requested to declare whether they belong to any formal industry association.
"We want to have an all-inclusive approach in engaging with independent players as well as trucking companies that belong to the two big harbour carriers' associations. We will allocate equitable attention to these companies and associations so that we have a shared view of how we can all work together. It will also help us gather intelligence on trucking companies and truckers, including a record of behaviour so that we can professionalise and raise the levels of ethics and fairness," Motlohi said.
Sue Moodley, chairman of the Harbour Carriers division within the South African Association of Freight Forwarders, said transporters would still have freedom of choice in terms of whether they wish to align themselves with any association.
She emphasised that the harbour carriers division would continue to engage and provide feedback on the various workstreams which report into the Port of Durban Decongestion Task Team.
Motlohi said the support of law enforcement was critical in ensuring compliance. eThekwini Metro Police will continue to be visible on Bayhead Road intersections between 06h00 – 23h00 to help instil law and order including checks on roadworthiness and adherence to traffic rules.[/restrict]
News continues below
♠♠♠♠♠♠
COVID-19
As KwaZulu-Natal shifts to become the new epicentre of South Africa's COVID-19 outbreak, the Ports of Durban and Richards Bay are ramping up employee communication to ensure that port workers adhere to preventative measures both on and off duty.
GM Moshe Motlohi said the port authority (TNPA) is hard at work to avoid the effects of employee absences experienced at the Port of Cape Town in May and June. TNPA held its…[restrict] first joint COVID-19 Virtual Imbizo with the Ports of Durban, Richards Bay and Cape Town, with the focus on sharing the lessons learnt in the Western Cape and looking at how those lessons could be of value to the Kwa-Zulu Natal Ports.
Operational Improvements
On the operational side, focus at the Durban port during week ending 7 August was on embedding the Pier 1 terminal's migration to an automated truck slot booking system which was introduced a week prior. Employees at the terminal have been working around the clock to ensure that the system performs optimally.
A recent highlight was the arrival 13 new straddle carriers for TPT's Pier 2 container terminal. For week ending 13 August, the focus will be on their deployment at Pier 2, which now has 15 new electric straddle carriers that are planned for commissioning and handover to operations this month. The remaining eight will also be arriving in August, to complete the full order for the current calendar year.
Another focus has been the quest to decongest access to Island View and DCT Pier 1 within the Bayhead Precinct, where truck traffic congestion is an ongoing challenge. "We have set up a tri-partite team to work out a short-term intervention to address problems experienced in that precinct. An announcement will be made in due course," said Motlohi.
It is intended to reopen a fourth berth at Pier 2 Container Terminal, which will have the effect of reducing vessel waiting time at anchorage. According to TNPA it will continue to monitor the developments and provide feedback in this regard. Not all container berths have been reopened following the onset of COVID-19.
The port also saw the return of 20 employees from the Durban Container Terminal (Pier 1) who had volunteered to assist with COVID-19 recovery measures at the Port of Cape Town, which has since passed its peak of the outbreak.
Volumes & Performance
The Port of Durban's Container volumes were below budget by -11%. This was a result of the lower than budgeted number of import and export containers handled due to less cargo output from China and low demand for export cargo. The minimal demand for cargo is a direct impact of the global COVID-19 outbreak and resultant reduced purchasing power. Imports were 25% below and exports 18% below target for the reporting week.
Automotive volumes were below budget again this week. However, they reflected a slight recovery with the highest number of units handled since week 14. Import and export volumes were somewhat similar with exports being the highest in week 19. Imports still remain lower than usual based on the subdued demand.
For this reporting period, dry bulk volumes have remained above budget. Maize exports topped the list with a total of 127,738 tons handled during the current peak in the season. Manganese ore exports also performed well with a total of 114,854 tons handled, while fertiliser imports and chrome exports also drove up volumes.
Break bulk volumes were below budgeted target. However, this sector has improved since last week. Bagged rice totalling 14,689 tons bolstered volumes during the period. Steel performed at low levels. Citrus also performed well at 10,850 tons which is the highest weekly figure YTD.
The latest Port of Durban stats confirm that this reefer season has seen the port exporting its highest number of reefer containers – at 30,535 TEUs, 20% higher than the same period last year when it handled 25528 reefer TEUs.
Liquid Bulk volumes were once again above budget during the reporting period. The main contributors were single buoy mooring (SBM) and refined petroleum which achieved 30% and 11% respectively. Major refineries are starting to operate at 100% capacity and there is high demand for diesel, refined petroleum and other products from crude oil, since most sectors (mining, transport, etc.) have now opened and are fully operational in COVID-19 Alert Level 3.[/restrict]
♠♠♠♠♠♠
Contributors to Wharf Talk: TNPA, Keith Betts, Richard Vashan, John Hawkins, Terry Hutson
♦♦♦♦♦♦♦♦♦
News continues below
TRANSAID TRANSFORMING LIVES
Through safe, available, and sustainable transport
Founded by Save the Children and the Chartered Institute of Logistics and Transport (CILT) this international development organisation shares 25 years' expertise in 23 countries with partners and governments empowering people to build the skills they need to transform their own lives. Its Patron is HRH The Princess Royal.
Readers will find a report of the charity's activities and achievements with a set of audited accounts here:
CLICK HERE
Records show Transaid's reach has included: Ghana, Kenya, Madagascar, Namibia, Nigeria, Sierra Leone, Tanzania, Uganda and Zambia.
Updates from Zambia: combatting COVID-19 with MAM at Scale
In April Transaid announced that its highly successful MAM at Scale programme – whose pilot saw a 96% reduction in child mortality from malaria – would be adapting to combat COVID-19 in rural Zambia. Since then, the MAM at Scale team have been hard at work disseminating information in their communities and distributing PPE to health workers.
Emergency Transport Scheme (ETS)
A total of 174 ETS riders and health facility staff have been trained on COVID-19 and new emergency transport protocols. The ETS riders will cascade their training to other volunteers in their communities to ensure they can continue to provide emergency transport for rural communities in a COVID-19 secure way.
Procuring face masks for community health workers and volunteers
Transaid has procured a number of items to protect community health workers and volunteers from the spread of COVID-19, including 2,500 face masks, 4,200 pairs of gloves, and 1,357 tablets of soap.
Installing 'tippy taps'
A tippy tap is a simple handwashing solution that can be installed in areas without a running water supply. The charity has procured 256 water containers to be turned into tippy taps to ensure that rural Zambian communities have access to handwashing facilities
In addition to using public announcements and door-to-door visits, the MAM at Scale team have been using community radio to publicise important public health messages around COVID-19. Community radio covers around 90,000 listeners in the Serenje and Chitambo districts of Zambia; broadcasts include Q&A sessions, jingles, and radio drama segments.
Transaid's mantra: Every driver should be able to leave for a day's work without the fear they may not come home because of a lack of training, or dangerous vehicles and roads. Every family should be able to access vital healthcare; nobody should be left behind.
Contact details:
info@transaid.org
Transaid
137 Euston Road
London NW1 2AA, UK
Telephone: +44 (0)207 387 8136
Collated by Paul Ridgway
London
♦♦♦♦♦♦♦♦♦
News continues below
WAKASHIO GROUNDING, OIL COMES ASHORE ON MAURITIUS
An environmental disaster has taken place on the former pristine beaches of east Mauritius, bringing pollution to the waters of the Blue Bay Marine Park and other beaches already covered in a thick layer of heavy fuel oil.
The oil is leaking from the grounded Japanese ore carrier, WAKASHIO, which…[restrict] motored ashore on the evening of Saturday 25 July, despite repeated warnings from the Mauritian coast guard that the vessel was at risk.
When the vessel did respond to these it was to say that everything was under control – minutes later the ship was radioing to say she had gone aground.
Since then salvors were appointed, two tugs hastened to the scene and another two were on their way to assist with the salvage of the 300-metre long, 50m wide, 203,130-dwt bulk carrier. Then bad weather set in, making salvage attempts difficult if not impossible.
Wakashio was sailing empty from Asia for Brazil when the grounding occurred. She had on board 3,840 tons of heavy fuel oil, of which an estimated 1,000 tons has already leaked from a wide crack in the side of the hull. Also on board is 207 tons of diesel fuel and 90 tons of lube oil. Salvors have been attempting to pump the remaining oil into tanks to transfer to another ship of the same company as owns Wakashio.
The prime minister of Mauritius, Pravind Kumar Jugnauth, has declared a state of environmental emergency as a result of the disaster, but while salvors stood by helplessly as bad weather made it impossible for attempts to save the ship and pull her clear, hundred of Mauritians hastened to the scene, not to gawk but to collect grass, even some who cut their own hair, to place into sacks to help soak up the oil despoiling their beaches.
France has despatched a military aircraft to make several fights from the neighbouring island of Reunion with urgently needed oil pollution control equipment. A French naval ship was being readied to make the journey to the island with additional equipment. This was after the Mauritian prime minister made an appeal to France, which regards Reunion and several other Indian Ocean islands in its possession as being a part of France, to provide aid in dealing with what must be Mauritius' worst oil pollution ever. There have been ships aground on the island before, but nothing on this scale.
Mauritius relies on tourism as one of its main sources of foreign income. The island is a large sugar producer and any threat to either of these two 'industries' poses not just a risk to the environment but also to the island's economy and well-being.
Criticism of the government's slowness to respond is mounting with claims that for a week little or no action was taken, as though in the belief that all would come right and the bulker pulled free and taken away. Then the weather broke and everything changed.
Wakashio is owned by Japanese interests and operated by the Japanese firm, Nagashiki Shipping, which issued a statement saying "Due to the bad weather and constant pounding over the past few days, the starboard side bunker tank of the vessel has been breached and an amount of fuel oil has escaped into the sea."
The ship is registered in Panama.[/restrict]
♦♦♦♦♦♦♦♦♦
News continues below
GENERAL NEWS REPORTS – UPDATED THROUGH THE DAY
in partnership with – APO
♦♦♦♦♦♦♦♦♦
More News at https://africaports.co.za/category/News/
News continues below
TO ADVERTISE HERE
Request a Rate Card from info@africaports.co.za
EXPECTED SHIP ARRIVALS and SHIPS IN PORT

Port Louis – Indian Ocean gateway port
Ports & Ships publishes regularly updated SHIP MOVEMENT reports including ETAs for ports extending from West Africa to South Africa to East Africa and including Port Louis in Mauritius.
In the case of South Africa's container ports of Durban, Ngqura, Ports Elizabeth and Cape Town links to container Stack Dates are also available.
You can access this information, including the list of ports covered, by going HERE remember to use your BACKSPACE to return to this page.
News continues below
CRUISE NEWS AND NAVAL ACTIVITIES

QM2 in Cape Town. Picture by Ian Shiffman
We publish news about the cruise industry here in the general news section.
Naval News
Similarly you can read our regular Naval News reports and stories here in the general news section.
♦♦♦♦♦♦♦♦♦
THOUGHT FOR THE WEEK

source: www.goodmorningquote.com
♠♠♠
♠♠♠
ADVERTISING
For a Rate Card please contact us at info@africaports.co.za
Don't forget to send us your news and press releases for inclusion in the News Bulletins. Shipping related pictures submitted by readers are always welcome. Email to info@africaports.co.za
TABLE BAY UNDERWAY SHIPPING
SHIP PHOTOGRAPHERS
Colour photographs
and slides for sale of a variety of ships.
Thousands of items listed featuring famous passenger liners of the past to cruise ships of today, freighters, container vessels, tankers, bulkers, naval and research vessels.
P O BOX 809, CAPE TOWN, 8000, SOUTH AFRICA
snai@worldonline.co.za
http://home.worldonline.co.za/~snai