Bringing you shipping, freight, trade and transport related news of interest for Africa since 2002
Bringing you shipping, freight, trade and transport related news of interest for Africa since 2002
Stay Well, Stay Safe, Stay Patient, don't become one
Advertise here. This space above is available. For a Rate Card email us at terry@africaports.co.za
♠♠♠
Come with us as we report through 2020
REQUEST THAT ALL SHIPS IN PORT SOUND TO HIGHLIGHT THE CREW CHANGE ISSUE
 Action required:    To ask shipowners, managers, port operators and any relevant national stakeholder to encourage ships captains to sound their horns when in port at 12.00 local on Wednesday, 8 July as a way of reminding governments not to forget the crew change issue ahead of a ministerial summit meeting on the subject.
**********
TODAY'S BULLETIN OF MARITIME NEWS
These news reports are updated on an ongoing basis. Check back regularly for the latest news as it develops – where necessary refresh your page at www.africaports.co.za
Click on headline to go direct to story : use the BACK key to return
The Sunday masthead is of the Tin Can Island Container Terminal, Lagos 
♦♦♦♦♦♦♦♦♦
SEND NEWS REPORTS AND PRESS RELEASES TO
info@africaports.co.za
♦♦♦♦♦♦♦♦♦
News continues below
Messina Line's Ro-Ro container vessel JOLLY TITANIO (IMO 9547219) makes a colourful and altogether spectacular entry into the Port of Durban, resplendent in her new livery – much the same as before the line was largely acquired by MSC, but as the photographer points out, no Messina houseflag on the aft house, and no Messina name on the hull, which he suggests may be an improvement.  Built in 2014 the 51,055-gt Italian-flagged ship is one of a number of similar vessels built around the same time for the Italian Ignazio Messina Line, which has been calling for many years between the Mediterranean and the East Coast of Africa, turning at Durban.  These pictures are by Trevor Jones
♦♦♦♦♦♦♦♦♦
♦♦♦♦♦♦♦♦♦
News continues below
PIRATES BOARD GENERAL CARGO SHIP KOTA BUDI OFF COTONOU, KIDNAP CREW
Pirates have attacked and boarded a ship Kota Budi 153 nautical miles South-West of the port of Cotonou, kidnapping some of the crew in the process.
The report from Dryad Global indicates the attack took place on Wednesday 2 July at…
♦♦♦♦♦♦♦♦♦
News continues below
TPT REMAINS OPTIMISTIC ABOUT SA's REMAINING CITRUS SEASON
With three to four months still to go, Transnet Port Terminals says it is optimistic about the 2020 citrus season.
Buoyed by the anticipated arrival at the terminals of new equipment, TPT believes the current citrus season is progressing amid COVID-19 challenges. The new equipment will boost operations across the Port Elizabeth, Durban and the Ngqura container terminals, it says, although much of the challenge it currently faces comes from not having enough personnel (as a result of COVID-19) to work existing machines.
The state-owned terminal operator prepared for a 13% increase in citrus volumes this year. The Citrus Growers Association's (CGA) attributed this year's growth to new orchards coming into production and good rain across some regions.
"We remain confident in servicing industry well despite the impact of the global pandemic. The fruit industry has remained a focus since the beginning of citrus season last month," said TPT's Siyabulela Mhlaluka, General Manager of Sales and New Business Development. He claimed the workforce has continued since the beginning of lockdown.
Season preparations require sufficient plug points across all container terminals as well as human capital. "We have made provision for additional plug points to ensure reefer handling, leasing generator packs as back up in some areas of the business," Mhlaluka said.
Earlier in the lockdown period the container terminals across TPT operated at an average of 75% capacity. The performance was impacted by a number of employees with chronic medical conditions, compromised immune systems and those that were 60 years and above, in line with the special measures implemented arising from the government regulations.
The Port Elizabeth's two new mobile harbour cranes have been commissioned and handed over to operations. Equally, Durban Container Terminal (DCT) Pier 2 will have taken delivery of 23 of its 45 new straddle carriers from the end of July.
"Regular industry engagements and integrated planning leaves us optimistic," Mhlaluka said. "The guided levels of operation over Level 5 cannot be isolated. Over a two-month period, the Level 5 lockdown regulations restricted the movement of cargo."
"Now it's all systems go."
The current R2 billion investment in replacement equipment will see an additional four rubber-tyred gantry cranes for CTCT arriving in November this year. A total of 22 additional straddle carriers will be delivered to DCT Pier 2 in December and two rubber-tyred gantry cranes for DCT Pier 1 in the same period. "We have a robust plan for replacing equipment across our terminals through to 2024 and as we have promised to industry, we are tracking according to plan."
Meanwhile, TPT is continuing to comply with all standard preventative measures as guided by the Department of Health. All employees are provided with the necessary PPE and care packs to assist them beyond the workplace. The company upholds daily educational awareness to prevent the spread of infections and the workspaces are regularly disinfected and decontaminated.
More about SA's fruit export
South Africa ranks 16th in terms of world fruit production, accounting for over 50% of the country's overall agricultural exports, according to Fruits SA. This is a total contribution of about R43 billion annually to the country's Gross Domestic Product.
♦♦♦♦♦♦♦♦♦
News continues below
FPSO SENDJE BERGE ATTACKED BY MILITANTS – NINE PERSONNEL KIDNAPPED
In what security company Dryad Global describes as a unique attack, the FPSO SENDJE BERGE has been boarded by pirates who kidnapped nine of the personnel on board – all Nigerians.
The latest act of piracy took place yesterday (Thursday 2 July 2020) in position 03°51.8'N, 006°58.5'E, which places the FPSO vessel in the…
♦♦♦♦♦♦♦♦♦
News continues below
VEECRAFT MARINE-BUILT WORKBOAT INKANYAMBA HANDED OVER TO ARMSCOR
The delivery of the specialised workboat, built by Cape Town's Veecraft Marine to an Incat Crowther design, has been handed over by the builder to the Armaments Corporation of South Africa (ARMSCOR).
Named INKANYAMBA (Xhosa word meaning Tornado), the 20-metre monohull vessel will be tasked by the South African National Defence Force (SANDF) with the…
♦♦♦♦♦♦♦♦♦
News continues below
TEN SOLSTAD OFFSHORE VESSELS DEPARTING FOR AFRICA AND RUSSIA
During 2019 three Solstad Shipping vessels spent the summer months up north in Russian waters, and this year the number is increasing to seven vessels. In addition, another three Solstad vessels will head to Africa with two of those coming on long-term to South Africa.
Those coming into South African waters are the identical vessels NORMAND PROSPER (IMO 9447952) of 8053-gross tons and the 8057-gt NORMAND DROTT (IMO 9447964), both…
♦♦♦♦♦♦♦♦♦
News continues below
NAVIS TRUCK APPOINTMENT SYSTEM INTRODUCED AT CITY DEEP TERMINAL
Transnet Freight Rail will implement the Navis Truck Appointment System at its City Deep Terminal in Johannesburg from Monday, 6 July 2020. This new online truck scheduling system will regulate the flow of road trucks to the terminal and also enable physical distancing during the Covid 19 pandemic.
"The appointment system aims to improve customer service…
♦♦♦♦♦♦♦♦♦
News continues below
UK's ECONOMIC RECOVERY
Department for International Trade launches modelling review to support economic recovery
The UK Department for International Trade is reviewing its trade modelling to ensure that all Britain's new trade deals are specifically tailored to shape the country's economy as it recovers from the impacts of Coronavirus. This was announced on 1 July.
Modelling trade is an important part of the Department for International Trade's negotiating capability. Given the significant global impact of Coronavirus, now is considered an appropriate time for DIT to review its trade models, as free trade agreements will play a crucial role in the UK's economic recovery.
Panel of experts
As part of its programme of continuous development, the department will consult with a panel of external experts and academics, led by Professor Tony Venables, BP Professor of Economics at Oxford University. This internal review will be led by DIT's Chief Economist, Richard Price, drawing on expertise from other Government departments, including the Treasury.
An array of matters for consideration
DIT's modelling of new free trade agreements has won praise from leading commentators, it is reported. The department is now reviewing its approach to take account of new techniques and insights to make sure it remains best in class. The external panel will support the development of advanced models and analysis. The review will also help the department to draw on diverse thinking and expertise from across the world.
Negotiating team assembled
The UK has drawn up a team of negotiators with a wide range of specialisations and international negotiating experience, including from the WTO and UN.
DIT's highly regarded analysts will be able to draw from the updated trade models and inform its negotiators on which areas would most benefit the UK economy. This will help them to secure benefits for every region and nation of the UK, as well as for small business and entrepreneurs who may have suffered during this difficult time.
Liz Truss, International Trade Secretary, commented: "More trade is essential if the UK is to overcome the unprecedented economic challenge posed by Coronavirus. The pandemic has given oxygen to the politics of protectionism across the globe, and to those who advocate closed, statist economies.
"We will use our voice as a new independent trading nation to champion free trade, fight protectionism and remove barriers at every opportunity. This review will support our analysts, and their work supporting our trade negotiators as they seek to sign new free trade agreements."
Use of trade modelling
DIT uses trade modelling to identify the potential impacts of its trade agreements.
Drawing on insights from its trade modelling, DIT recently published scoping assessments for its negotiations with the United States, Japan, Australia and New Zealand. These reflected the potential gains for the UK, including impacts on different regions and sectors, effects on different groups and on the environment.
It is reported that DIT will publish impact assessments at the end of each negotiation.
Free trade is championed by:
1. Supporting and encouraging UK businesses to drive sustainable international growth
2. Ensuring the UK remains a leading destination for international investment
3. Opening markets, building a trade framework with new and existing partners which is free and fair
4. Using trade and investment to underpin the government's agenda for a Global Britain and its ambitions for prosperity, stability and security worldwide.
DIT support during Coronavirus
HMG is supporting businesses and employees through a package of measures to help manage the impact of Coronavirus (Covid-19). These measures include financial support packages for businesses, support for employees' wages and Export Insurance Policy (EXIP).
There is a Business Support website here: www.businesssupport.gov.uk
Edited by Paul Ridgway
London
♦♦♦♦♦♦♦♦♦
News continues below
WORLD MARINE AtoN DAY
COINCIDES WITH 122nd ANNIVERSARY OF LIGHTHOUSE
South Africa's

Great Fish Point Lighthouse

celebrated 122 years of service on 1 July 2020, the same day that also marked World Marine Aids to Navigation Day (AtoN).
Great Fish Point Lighthouse is one of 45 active lighthouses operated and managed by Transnet National Ports Authority (TNPA), and it is one of few with a lightkeeper. Martin Peterson, a second-generation lightkeeper, and Mzwamadoda Siyazi look after the day-to-day maintenance of the lighthouse, the surrounding buildings and the extensive grounds. They also welcome visitors to climb the tower, and host guests at the two self-catering cottages on the grounds*.
The Great Fish Point Lighthouse stands 85 metres above sea level and 800 metres from the beach, due to the prevailing drift sands. The 9-metre octagonal masonry tower is painted with vertical black and white stripes and has a white lantern house with red dome. The revolving electric light produces one flash every 10 seconds that can be seen 55 kilometres out to sea.
World Marine Aids to Navigation Day was established by the International Association of Marine Aids to Navigation and Lighthouse Authorities (IALA), the only international body concerned with the provision of marine aids to navigation systems at sea and on inland waterways.
South Africa, represented by TNPA, is a founder member of IALA and was re-elected to serve on the Council for the period 2018-2022.
* The lighthouse and accommodation are currently closed due to COVID-19.
Report continues below…..
Some more information about Great Fish Point Lighthouse:
Latitude: 33o 31.2' S; Longitude: 27o 06.5' E
Date commissioned: 1 July 1898
Architect/builder: Constructed by Messrs McAllister, Murray and Ross
Primary structure/material of construction: Octagonal masonry tower painted with alternative vertical black and white stripes, white lantern house with red dome
Height of tower: 9 metres
Height of focal plane: 85 metres above sea level
Optic: 1st Order, 2-panel Chance Brothers dioptric rotating lens system equipped with a 400-watt metal halide lamp
Character of light: One flash every 10 seconds
Intensity of light: 5 000 000 candelas
Range of light: 30 nautical miles
♦♦♦♦♦♦♦♦♦
News continues below
TRANSNET APPOINTS NEW CHIEF FINANCIAL OFFICER
After a lengthy period in which Mark Gregg-Macdonald held down the position of Acting Group Chief Financial Officer (CFO), the Transnet Board of directors announced on Wednesday (1 July) the appointment of Ms Nonkululeko Dlamini as Group Chief Financial Officer, with immediate effect.
Dlamini will also serve as…
♦♦♦♦♦♦♦♦♦
News continues below
COVID-19 & THE OIL PRICE SLUMP IN AFRICA
which countries will fare better?
Report by the Oxford Business Group
In Africa, the twin challenges of the coronavirus pandemic and subsequent drop in oil prices are affecting countries in different ways: net energy exporters are braced for headwinds, but net importers have some relief from current account pressures.
Globally, lockdown and social distancing measures resulted in a sharp drop in demand for oil, particularly in the first quarter.
The price of Brent crude fell from just under $59 a barrel on 19 February to a 20-year low of around $20 a barrel in late April, before an agreement from OPEC+ countries to slash global output helped prices recover to current levels of around $41.
Also in late April, with storage capacity running dangerously low in the US, the price of West Texas Intermediate (WTI) crude oil futures plummeted into negative territory for the first time in history, with prices falling as low as -$40 a barrel.
report continues below……..
Exporters to bear the brunt
This impact of the price slump was felt in particular by the African continent's net energy exporters, which in many cases derive significant proportions of GDP and revenue from the sale of hydrocarbons.
With annual budgets premised on higher oil prices, governments in these countries have had to look at cutting expenditure or sourcing additional finance to adjust to the fall in revenue.
Nowhere is this more evident than in Nigeria, Africa's largest oil producer with an output of around 2m barrels per day.
While oil makes up about 10% of the country's GDP, it accounts for 57% of government revenues and more than 80% of exports, meaning that any drop in export income could have significant effects on the broader economy.
In its 'Global Economic Prospects' report released in early June, the World Bank predicted that Nigeria's energy sector is set to shrink by 10.6% this year.
In response to the price fall, the government's revised budget, passed by Parliament on 10 June, altered the benchmark oil price from $57 a barrel to $25, while officials also approved $5.5bn in additional loans to help fund the new budget deficit.
Austin Avuru, CEO of independent oil and gas firm Seplat Petroleum, told OBG that, while the company was continuing to invest in gas projects, efforts were being made to reduce operational spending.
"Overall, our target is get close to a neutral cash flow position in 2020. So the main target of our budget restructuring is to be able to survive FY 2020, with the hope that during 2021 prices will climb back and we will manage to resume our planned investments. Meanwhile, in 2020 the key word is survival."
Elsewhere, low oil prices are also set to have a significant impact on Angola and Algeria, the second- and third-largest African oil producers, respectively.
In Angola, where oil makes up 90% of total export revenues, the value of oil exports fell by nearly 50% from April to May, while in Algeria, which similarly derives over 90% of export revenue and funds 60% of its budget from oil, the government announced in May that it would slash the 2020 national budget by 50%.
In an indication of the importance of oil prices to the wider business environment in producing countries, while 34% of respondents to OBG's Africa Covid-19 CEO Survey said that the fall in prices would affect their company's recovery plan, this figure rose to 60% in Algeria and 65% in Nigeria.
report continues below………
A reprieve for energy importers?
While they are not immune to the economic fallout of Covid-19, net energy importers on the continent will be better insulated from the direct effects of low oil prices.
Countries that do not rely on energy exports for a significant portion of national revenue will not directly suffer from the fall in oil prices. In addition, those that source their energy from abroad will see some benefits from lower oil prices in their balance sheets.
Despite these positives, however, the World Bank has warned that the prospective benefits for energy importers will be minor in comparison to the broader economic damage of virus-related lockdowns.
"In the context of the current restrictions on a broad swath of economic activity, low oil prices are unlikely to do much to buffer the effects of the pandemic, but they may provide some initial support for a recovery once these restrictions begin to be lifted," the bank stated in a report released in early June.
One notable benefit from lower oil prices could be be in the area of energy subsidies. Analysts have suggested that a reform of subsidies in energy-importing countries, such as those seen after the oil price slump of 2014-16, could free up significant public funds to be directed towards other pandemic recovery efforts.
Although net importers are still experiencing a negative impact on other key industries, they are set to fare far better overall than their exporting counterparts.
According to the World Bank, oil importing economies in MENA – which includes African countries Djibouti, Egypt, Morocco and Tunisia – are expected to experience a 0.8% average fall in GDP this year, compared to the 5% average contraction projected for oil exporters in the region.
Similarly, in sub-Saharan Africa exporters are tipped to experience a 3% fall in GDP, slightly above the overall average of 2.8%.
♦♦♦♦♦♦♦♦♦
News continues below
NO FUEL, NO FUMES …..
Water Witch clears pollution with electric clean-up boats
Torqeedo-powered vessels provide efficient, emission-free solution to remove plastics and debris in waterways and harbours
Water Witch has been building specialised clean-up boats for over 50 years, with some 200 debris and trash retrieval workboats deployed in harbours and waterways around the world. More than just an eyesore, it's estimated that 300 million tons of plastic have entered the water since the 1940s, harming marine life and damaging ecosystems on which humans rely. Harbours are often the last opportunity to intercept plastic before it enters the ocean, where it is much more difficult to remove.
The Liverpool-based boatbuilder has announced that Torqeedo electric power is now offered as a replacement for the standard four-cycle outboards on its whole range of Versi-Cat litter collection craft and pontoon workboats.
You can read the remainder of this report in our TRADE NEWS section available   CLICK HERE
♦♦♦♦♦♦♦♦♦
News continues below
MOL SPEARHEADS DEMO VOYAGES OF AUTONOMOUS COASTAL VESSELS
Japan's Mitsui OSK Line (MOL) has announced that two group companies together with other consortium members, have applied to the Nippon Foundation to fund demonstration voyages aimed at testing technologies for autonomous sailing within the current fiscal 2020 year.
The MOL Group has been working with Mitsui E&S Shipbuilding and Furuno Electric to develop the necessary technologies for…
♦♦♦♦♦♦♦♦♦
News continues below
HISTORIC MINE SWEEPER SAS DURBAN PARTIALLY SINKS IN DURBAN HARBOUR
SAS DURBAN, the 'Ton' class mine sweeper that shared pride of place at Durban's Port Natal Maritime Museum, sank at her mooring early yesterday. The ship, a donation from the SA Navy in the 1980s, was not long back from a six-month refurbishment and repair at Southern African Shipyards which included a spell on the floating dock.
The basin where the former naval vessel, as well as an historic harbour tug JR MORE, are permanently berthed is fortunately extremely shallow, because of not having been dredged for many years, and this allowed the stern of the minesweeper to settle on the seabed, leaving the forward half of the ship out of the water and dry.
Divers were called to assess the damage to the ship and although their report is not yet public knowledge, it would appear that water began entering the ship through a section of the wooden hull. With the COVID-19 lockdown still in force the museum is shut at present with no staff present to monitor the condition of the two vessels.
The vessel has been 'dry' for over 30 years and there is no risk of oil contamination into the bay. Efforts will now turn to refloating the ship and undertaking necessary repairs.
SAS Durban has been the most popular exhibit at the museum with visitors able to inspect all sections of what is the very first new vessel to have built specifically for the SA Navy – all previous ships having been vessels transferred from the Royal Navy. In 2011 the vessel, then in a sad state of repair owing to neglect, capsized and was only saved from turning right over by virtue of leaning on the JR More alongside.
Following that mishap a group of volunteers styling themselves the 'Friends of the Museum' set about restoring the ship and making her safe, after which visitors were again permitted on board. In 2019 the Museum authorities, who fall under the eThekwini Municipality (Durban), allocated money to enable both SAS Durban and the tug JR More to be drydocked and refurbished.
♦♦♦♦♦♦♦♦♦
News continues below
DURBAN PROVIDES ADDITIONAL CAPACITY TO ASSIST CAPE TOWN TERMINAL
Transnet said in a statement on Tuesday it has introduced a number of solutions to deal with operational backlogs at the Port of Cape Town, resulting from the COVID-19 pandemic in the region.
In order to alleviate pressure at the terminals, 20 employees from the Durban Container Terminal (DCT) have volunteered to be deployed to the container and the multi-purpose terminals at the Port of Cape Town.
The employees from DCT are…
♦♦♦♦♦♦♦♦♦
News continues below
CMA CGM GROUP HELPING AFRICA ACCELERATE ITS ECONOMIC DEVELOPMENT
Full range of transport solutions
With Africa having recorded a growth rate averaging 5% for the past decade, the CMA CGM Group says by leveraging its longstanding presence on the continent coupled with investments in logistics, it is helping spearhead this development.
Although Africa has not been left unscathed by the Covid-19 pandemic, the World Bank believes its economy will not be hit as badly as that of other regional blocks and is on the fast-track to economic development.
Spurred on by a dynamic demographic profile that is stimulating economic growth, the face of Africa has changed. "By 2025, Africa's population will be three times that of the European Union," says Eric Bonnemaison, CMA CGM's VP, Head of Africa Inland Services Development.
"By 2050, its population is forecast to be five times the size, with Nigeria the world's third-most populous country, trailing only China and India." This is a key factor for understanding what is driving the continent's economy.
According to the African Development Bank, in 2019 six African countries ranked among the world's top 10 fastest-growing economies:
Rwanda: 8.7%
Ethiopia: 7.4%
Côte d'Ivoire: 7.4%
Ghana: 7.1%
Tanzania: 6.8%
Benin: 6.7%
African economies are changing and starting to industrialise
This trend is taking hold in a region with abundant natural resources. "Ghana and Côte d'Ivoire alone supply 60% of the world's cocoa production," explains Georges Serre, Africa and Institutional Advisor for the CMA CGM Group. "When it comes to timber and the forestry economy, the Congo basin is Africa's equivalent of the Amazon forest, with vast potential for sustainable management. And that's not to mention the region's mining and oil resources."
Georges Serre is keen to point out that African economies are undergoing radical change: "Six years ago, agriculture accounted for 35% of Côte d'Ivoire's economy. Today, agriculture's share is down to just 20% as services have gained traction. African economies are changing and starting to industrialise. Ghana, for example, now exports cocoa powder rather than beans."
Nowhere is the progress made by the African economy more obvious than with its digital transformation. During the 1990s, the penetration rate of fixed-line telephony was just 2%, whereas by 2025, the proportion of sub-Saharan African population with smartphone internet access is forecast to reach 40%.
This fast-track digitalisation (in which South Africa's MTN has played a significant role) has paved the way for the rapid uptake of innovative services.
At CMA CGM, the covid-19 crisis led to an acceleration in the digitalisation of its agencies. "We kept our business running with 70% of our employees working from home," explains Alain Aurousseau, Commercial & Agency Network, North & West Africa, CMA CGM Group.
The agencies in Nigeria and Cameroon have even started to issue their first fully digitalised—and thus completely paperless—bills of lading.
Strong growth in shipping traffic
Businesses lie at the forefront of these far-reaching changes on the continent and trends in shipping are a bellwether of how the African economy is performing.
"Shipping traffic has picked up over the past few years in Africa, and new routes are opening up with India, the Middle East and Turkey," says Hervé Zongo, CMA CGM's General Manager Côte d'Ivoire.
"Europe, which used to account for 80% of trade with Africa, now stands at just 15%," he points out. With Tanger Med 2, Morocco has now broken into the highly exclusive club of the world's top 20 ports, with a total capacity of 9 million TEUs.
Port Said in Egypt and Durban in South Africa, which handle close to 3 million TEUs, both rank among the world's top 100. And behind them, the race is heating up, especially between the West African ports, which include three with a million TEU-plus capacity – Lagos in Nigeria, Lomé in Togo, and Tema in Ghana – followed closely by Pointe-Noire, Dakar, Abidjan and Cotonou.
On Africa's East Coast, Mombasa in Kenya posted a record performance last year, handling 1.4 million TEUs.
Port of Lekki
And there is a whole raft of new projects, chief among which the deepwater port at Lekki, 30 or so kilometres from the Nigerian capital. CMA Terminals officially agreed in late September 2019 a 45-year contract to manage the new port facility.
Lekki is scheduled to enter service in 2022 and will ultimately have a total capacity of 2.5 million TEUs. With a depth of 16 metres, it will be able to accommodate vessels with a capacity of up to 18,000 TEUs and thereby ease congestion at existing facilities serving Lagos (Apapa and Tin Can) from which trucks face a journey of several days to reach the ports.
Developing an integrated range of transport services for the African market
According to Pascal Hirn, Vice President Africa Lines CMA CGM, "logistics is one of the key factors that will help to step up and secure the continent's future development. Investing in deepwater terminals alone is not enough. That needs to be supported by a genuine strategy within the continent."
Eric Bonnemaison shares his view: "Today, an African producer looking to export their production to another continent has to reckon with a shipping cost of €2 per kilometre for their containers. That puts it at a major disadvantage to other countries where overland transport costs are far lower. We need to build facilities that will enable local producers to export their goods at a lower cost because an economy that does not export usually struggles to expand."
Three new Hubs
He says that is why CMA CGM Inland Services (CCIS) is to open up three new hubs in Egypt, South Africa and Nigeria — Africa's three leading economies. Creating a larger number of logistics hubs in Africa helps to foster the development of the domestic markets.
The strategy is thus to establish positions on trade corridors between the main port hubs and inland areas, while in parallel developing an extensive and integrated range of logistics services. That is why the Group, via its CEVA Logistics subsidiary, recently acquired AMI Worldwide, a major force in logistics in East and Southern Africa.
"Since it acquired Delmas, CMA CGM has managed to build and expand a highly extensive network of shipping services," Paul Haéri, Vice President CEVA, Business Development Africa says. "Rodolphe Saadé's aim today is to develop an integrated range of transport services for the African market."
With CEVA Logistics, the Group says it will soon be in a position to offer an extensive and seamless catalogue of logistics services spanning 41 countries on a continent where the sector remains highly fragmented.
"Some of our customers still have reservations about expanding into Africa given the issues they may face," notes Pascal Hirn. "We want to able to support businesses with their development by building a full-range of transport services, including both shipping and air freight solutions, as well as customs clearance, storage and intermodal transport services."
By doing so, CMA CGM will be helping Africa raise its sights further still.
♦♦♦♦♦♦♦♦♦
News continues below
UK GOVT COMMITS TO PROTECT SEAFARERS
and help stabilise global shipping market
UK will hold first summit to address the impact of coronavirus on shipping crew changes
As part of its announcements on Day of the Seafarer, 25 June, the UK Department for Transport stated that the first summit to address the impact of COVID-19 on shipping crew changes will be held in July.
It is understood that this event will bring together UN, political and business leaders from across the globe.
Led by UK Maritime Minister, Kelly Tolhurst, the event will take place virtually and will be an opportunity to reflect on the impact of the pandemic on the global shipping industry, and what governments and industry must do to protect the welfare of crew workers around the world.
In a further Day of the Seafarer address, HE Kitack Lim, the UN Secretary General of the IMO highlighted the humanitarian need to safeguard workers across the seas and states' duties to repatriate workers swiftly.
Unprecented impact
Due to the unprecedented impact of COVID-19 on countries around the globe, with many shutting down borders, it is now estimated there are more than 1.2 million seafarers at sea at any one time and currently 200,000 seafarers due to change over on and off leave, including up to 2,000 from the UK.
On the same day Kelly Tolhurst commented: "Seafarers have worked tirelessly during this pandemic to ensure people across the globe can access the essential food, medicine and supplies we all need, but thousands have been left with no way of coming ashore when faced with border restrictions.
"This government has helped more than 7,000 crew get home back to their loved ones across the world, regardless of nationality or circumstance.
"I hope that this meeting will be a reminder of the international collaboration required by all states to bring people home."
Many crews have had their contracts extended but this is not a long-term solution, with many seafarers on board a ship for months despite having had no contact with coronavirus and posing no risk.
To ensure their swift repatriation, and to safeguard workers' mental health, the Maritime Minister wrote to the IMO, the International Labour Organisation and the World Health Organisation at the start of the outbreak on 23 March pressing that all states follow the UK's work in repatriating workers regardless of their nationality or employment.
UK remains open
The UK has remained open for seafarers to come and either stay on vessels, go ashore, take shore leave or be repatriated, abiding by Public Health England requirements and social distancing.
ICS comment
Guy Platten, Secretary General of the London-based International Chamber of Shipping (ICS), added: "We welcome the announcement to hold a virtual summit on this critical crew change issue. The fragile supply chain and global trade is now at threat of logjam due to government inaction and bureaucracy. Government leaders must cut through the bureaucracy, lift the continuing imposition of travel restrictions on these key workers and focus on this issue now.
"The solutions do not need money; they do not even need complicated negotiations, this is simple. The leadership provided by the UK to cut through this red tape is just the sort of initiative that is needed to free the thousands of seafarers who are trapped onboard ships across the world."
Unique collaboration with many players
This meeting, set up by the UK Maritime Minister, is a unique collaboration between the UK government, UN through the IMO, ICS and key international trade associations to help all countries pull together to ensure that ships' crews– regardless of nationality – are repatriated as swiftly as possible.
In the UK, more than 7,000 cruise ship workers have been repatriated since the pandemic began, it is reported.
Edited by Paul Ridgway
London
♦♦♦♦♦♦♦♦♦
News continues below
MSC CRUISES CELEBRATES KEEL-LAYING OF LNG-POWERED MSC WORLD EUROPA
MSC Cruises bucked the current trend among cruise ship companies when, as a sign of confidence in the future of cruising, it held a maritime coin ceremony tradition on Monday (29 June 2020) at the Chantiers de l'Atlantique shipyard in Saint-Nazaire, France, when the keel was laid for MSC Cruises' first liquefied natural gas (LNG)-powered ship, MSC WORLD EUROPA.
The 200,000-plus GT ship is scheduled to enter service in 2022 when she will…
♦♦♦♦♦♦♦♦♦
News continues below
NSPCA SUCCESSFUL IN 2nd HIGH COURT ACTION AGAINST LIVE SHEEP EXPORT
The National Council of SPCAs (NSPCA) were again victorious in the Grahamstown High Court yesterday (30 June) after an Urgent High Court Application was brought against them by Al Mawashi and their counterpart; Livestock Transport and Trading Company KSC (KLTT) to have the interim interdict of 9 June 2020 reconsidered.
The latest case was heard urgently on Thursday morning (25 June 2020) following…
♦♦♦♦♦♦♦♦♦
News continues below
TRANSNET PORT TERMINALS PLACES ORDER WITH ZPMC FOR 22 STRADDLE CARRIERS
Transnet Port Terminals has placed an order with Chinese port equipment supplier, ZPMC, for 22 intelligent straddle carriers to go into service at South Africa's container terminals.
This is the second recent order placed with ZPMC for new equipment which…
♦♦♦♦♦♦♦♦♦
News continues below
WESTERN CAPE GOVT CONCERN OVER OPERATIONAL ISSUES AT CAPE TOWN PORT
David Maynier

(above), the Western Cape Minister of Finance & Economic Opportunities, says urgent intervention is required to address the operational issues at the Port of Cape Town.
In a statement issued last week he emphasised the efficient and effective performance of the Port of Cape Town remains critical to economic recovery and growth for the Western Cape.
"We are very concerned about…
♦♦♦♦♦♦♦♦♦
News continues below
STS SEIZES CONTROL OF SOCOTRA
Ramifications & Risk
Dryad Global reports that Southern Transitional Council (STC) units have seized the island of Socotra and deposed its governor, whilst simultaneously driving out forces loyal to the Yemeni government.
The island, which lies 205 n.miles South of Yemen and 43nm East of the Horn of Africa, saw government facilities and military bases occupied on 21 June. Yemen's UN-recognised government has denounced the actions as a 'coup' and has asserted that the Saudi-led coalition operating…
Who is the Southern Transitional Council (STC)?
The STC is a secessionist organisation in Yemen, the Council consisting of 26 members including the governors of five southern governorates and two government ministers and has as its aim the separation of southern Yemen from the rest of the nation, as was the case until 1990.
♦♦♦♦♦♦♦♦♦
News continues below
A massive Saharan dust plume is moving into the southeast US, bringing technicolor sunsets and suppressing tropical storms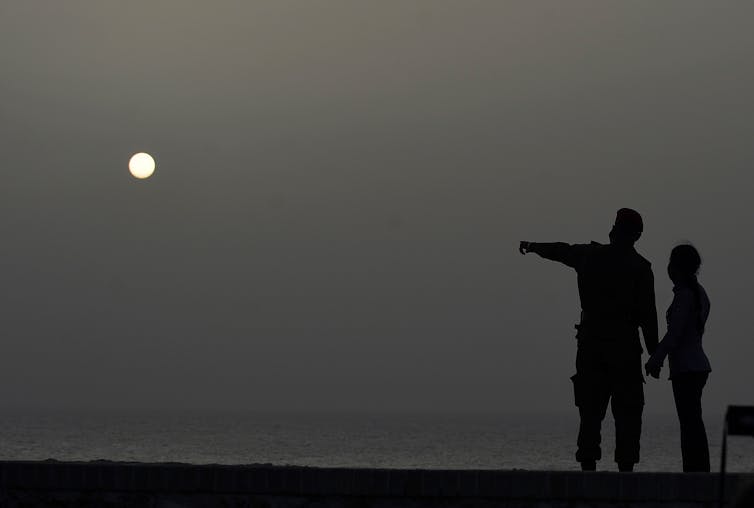 Scott Denning, Colorado State University
A hot desert wind is carrying a massive cloud of Saharan dust into the southern United States this week. Dust plumes from the Sahara routinely blow westward across the Atlantic at this time of year, but this event is a doozy – by some measures, the biggest in decades. And a second plume appears to be forming about a week behind the big one.
Across the southeastern U.S., from the Gulf Coast to the Carolinas and potentially as far north as Indianapolis and Cincinnati, dust effects will likely be visible in the coming days. Trillions of dust grains will reflect sunlight in every direction, creating milky white skies. The dusty haze reflects some sunshine back to space, cooling the surface a bit where the plume is thickest.
Longer waves of red and orange light tend to penetrate the dusty haze, so sunrises and sunsets are likely to be especially beautiful. On the downside, where the plume mingles with showers or thunderstorms, downdrafts may carry desert dust to Earth's surface. This will impair air quality and could trigger allergic reactions and asthma attacks. The more dust reaches an area, the more pronounced the effects will be.
For atmospheric scientists like me, this huge dust plume is more than a cool event – it also shows how the Earth's physical geography creates weather and climate patterns. Here's what causes these plumes to form.
Earth's rotation and uneven heating create climate zones
Our planet's climate and weather systems start with motion in the atmosphere – swaths of air rising and falling, or moving horizontally from high-pressure areas to low-pressure areas.
Earth's rotation and the fact that the planet is warmer near the equator than at the poles create circulation patterns in the atmosphere. At higher latitudes, toward the poles, winds blow faster and move from west to east. Near the equator, winds blow more slowly and travel from east to west. These are the trade winds that blew ships toward the New World during the age of exploration.
In the deep tropics, rising air expands and cools. The water vapor in it condenses and falls, producing rainforests that are the most productive ecosystems on the planet in the Amazon, the Congo, parts of Southeast Asia, Indonesia and the Philippines.
In the subtropics of both hemispheres, sinking air compresses and warms, vaporizing every little wisp of cloud to produce the world's arid regions: the Gobi, Atacama, Sonoran, Namib and Australian deserts. The largest desert is the belt of searing aridity that stretches across the Sahara and Arabian Peninsula and reaches deep into Central Asia. This is where trans-Atlantic dust plumes form.
Wavy winds and lofting dust
The Sahara is so hot and dry that North Africa is hotter than the equator at this time of year, although it lies thousands of miles farther north. This is the only place on the planet where the gradient of hot to cold runs backward – from the subtropics to the equator.
In the space of 1,000 miles, from the Atlantic coast of Ghana to the deep interior of Mali, the landscape changes from dripping jungle to searing sand. Evaporation keeps the rainforests cooler than the deserts to their north. This reversed thermal gradient affects the predominant trade winds, causing them to undulate back and forth and up and down in gigantic easterly waves from June through October.
The combination of a huge expanse of roasted land and an upside-down thermal pattern allows billows of high wind to free sand and dust from the Sahara's hot surface, lofting it high on buoyant thermals and carrying it far to the west. As the air acquires a heavier and heavier burden of dust, it becomes even more erosive, sandblasting the arid landscape ever more thoroughly.
The largest dust plumes are ejected westward across the tropical Atlantic. Much of this desert dust is deposited in the ocean, but some of it reaches the Americas.
Fertilizing rainforests and short-circuiting hurricanes
Over the ocean, African easterly waves gobble up water vapor from the warm sea surface and can blow up into tropical storms. Nearly all Atlantic hurricanes start out as undulating breezes over the reversed thermal regime of West Africa.
Big Saharan dust plumes interfere with the formation of Atlantic hurricanes in at least three ways. First, their very dry air dilutes the humidity whose condensation forms the fuel of tropical storms. Second, upper-level winds that carry these plumes blow more strongly than winds at the surface. This variation in wind speed, known as wind shear, blows the tops off of thunderstorms before they can become organized into bigger systems. Third, dust plumes reflect and scatter tropical sunlight, reducing the tropical sun's evaporating power and starving storms of their moisture.
For all of these reasons, tropical depressions, storms and hurricanes are less likely when big Saharan dust plumes are active over the Atlantic. That's good news for coastal residents in the U.S. but bad news for surfers, since tropical storms are the main generators of waves in summer.
And dust plumes provide other benefits. Desert dust is an important source of nutrients for downwind ecosystems, both in the ocean and on land. Soluble iron in the dust helps some species of algae in surface waters to thrive. These tiny organisms form the foundation of food webs that sustain thousands of other species.
The dust also contains phosphorus, which is critical to the growth of tropical forests in Central and South America. These rich ecosystems get some phosphorus by dissolving local rocks at their roots but need more, which they receive from desert dust wafted thousands of miles westward by African easterly waves.
If you're in an area affected by a dust plume, don't forget to look up. You may see odd-looking skies or stunning sunsets, created by interlocking chains of cause and effect that link vast regions on both sides of the tropical Atlantic and sweep us into the drama of our spinning planet.
[Understand new developments in science, health and technology, each week. Subscribe to The Conversation's new science newsletter.]

Scott Denning, Professor of Atmospheric Science, Colorado State University
This article is republished from The Conversation under a Creative Commons license. Read the original article.
♦♦♦♦♦♦♦♦♦
News continues below
LPG CONVERSION ACCEPTED BY FLAG FOR USE AS FUEL ON VLGC
Milestone for first LPG conversion with Isle of Man design acceptance
Hamburg: BW LPG, the Isle of Man Ship Registry, Wärtsilä Gas Solutions, MAN Energy Solutions, and DNV GL, the world's leading classification society, celebrated the first flag acceptance of a conversion to LPG as fuel for a VLGC.
With the successful acceptance BW LPG will begin the conversion of 12 vessels to dual fuel LPG engines. The conversions will be the first of a VLGC to run on LPG. After the conversion the vessels will also receive the newly developed DNV GL class notation "GF LPG".
Read the rest of the report in our TRADE NEWS section of Africa PORTS & SHIPS available by CLICKING HERE
♦♦♦♦♦♦♦♦♦
News continues below
ROYAL AIR FORCE FLIES AID TO AFRICA
Tackling Coronavirus
The first of a series of Royal Air Force flights taking medical supplies to Africa to help fight the coronavirus pandemic departed the UK on 27 June.
An RAF C-17 took off from RAF Brize Norton, Oxfordshire, on a flight funded by the Department for International Development. The transport aircraft was carrying a field hospital, which will be used for frontline aid workers in Africa. Aid workers are playing a crucial role particularly in West Africa working to improve health systems, to prevent the spread of coronavirus and to save lives.
Defence Secretary Ben Wallace commented: "The RAF and NATO are always here to help our Allies, friends and those in need around the world. I'm proud that while dealing with Covid we have the generosity of spirit to provide such support to Ghana and other countries."
UN-NATO request
The RAF response follows a request to the UK by the UN through NATO's Euro-Atlantic Disaster Relief Coordination Centre. It is understood that the field hospital is from the UK aid-funded UN agency The World Food Programme (WFP) which has capacity to care for 92 people medevaced from the region. Previously the UK had announced £15 million funding to the WFP to support its coronavirus response.
The 130 tonne field hospital will be transported to Accra in up to five flights. WFP will then arrange for it to be erected to support the coronavirus response where the need is most.
It is understood that up to £1.2 million of UK aid money has been made available to pay for these military flights.
SA regional hub
At the UN the WFP has set up Global Humanitarian Response Hubs in Guangzhou (People's Republic of China), Liège (Belgium) and Dubai (UAE), close to where supplies are being manufactured – alongside regional hubs in Ghana, Ethiopia, Malaysia, Panama, South Africa and Dubai.
Euro-Atlantic Disaster Response Coordination Centre
At NATO the Euro-Atlantic Disaster Response Coordination Centre (EADRCC) is NATO's principal civil emergency response mechanism in the Euro-Atlantic area. It is operates around the clock, day-in-day-out, year round and involves all NATO Allies and partner countries. The Centre functions as a clearing-house for coordinating both requests and offers of assistance mainly in case of natural and man-made disasters.
Edited by Paul Ridgway
London
♦♦♦♦♦♦♦♦♦
News continues below
News & Views From Along the Coast
As the situation around the ports of South Africa begin to return to something resembling normal, the news from Cape Town is equally encouraging with all sections operational and this despite the challenges posed by the growing impact of COVID-19 on the Western Cape, the epicentre of the pandemic in South Africa.
Port manager Mpumi Dweba-Kwetana accepts that availability of staff has hampered the operational capacity at the Cape Town port terminals. She says bi-weekly virtual meetings between port stakeholders and port officials are taking place in efforts to address these matters.
"Transnet will continue to work closely with stakeholders around the impact of constrained port terminal resources on their operations. However, we respect the fact that some shipping customers need to make difficult decisions to keep their operations efficient over this unprecedented period," she said.
What she is referring to is that some of the shipping companies have taken strategic decisions of their own and are bypassing the port in order to maintain their own schedules.
This being the peak of the citrus season, and Cape Town an important export centre of the agricultural commodity, makes for difficult decisions on the part of shipping lines, and worrying times for those marketing South Africa's citrus exports.
The country is fortunate in that citrus is handled at three ports, Durban, Port Elizabeth and Cape Town and the other ports have been able to compensate to some degree, Port Elizabeth in particular, and much of the product has been trucked across provinces to be loaded into ships at Port Elizabeth.
At the initial stages of the national lockdown, only so-called essential goods were allowed to be moved through the ports. It was therefore no surprise when the port system became clogged by cargo and trucks on the roads stopped outside the respective ports with goods categorised as non-essential.
With restrictions being now allowed to ease somewhat, much of that logjam has eased. Similar challenges have applied in the Port of Durban where the port management is also engaging in regular virtual meetings with stakeholders looking at ways of avoiding congestion outside the port and within.
Cape Town Container Terminal is reported as now operating at just below 60% while the port's Multi-purpose Terminal claims a 75% rate.
"The port is committed to safeguarding port users and employees while ensuring the movement of cargo for our customers," emphasises Dweba-Kwetana.
"It has been a challenge for all in managing positive cases of COVID-19 in our port, along with self-isolation, staff absences and employee anxiety. Currently we have 40% of staff on duty after Transnet Port Terminals added a fifth gang on the waterside. We communicate daily to inform, educate and reassure our employees.
She acknowledges the port has experienced a decrease in ship calls and throughput volumes since the lockdown began. There was an increase in vessel waiting time at the outer anchorage and a deterioration in berth turnaround time, largely due to berth operations and staffing levels being reduced in line with COVID-19 preventative requirements.
She says the port will continue engagements with industry, while upholding stringent measures to ensure the safety of port users and employees. "The terminal operator [Transnet Port Terminals] also continues to monitor shift performance and COVID-19 compliance on a daily basis and provides updates to customers."
Earlier this year the Cape Town Container Terminal received four new straddle carriers from Kalmar. With the advent of the coronavirus pandemic and restrictions on travel, technicians from that company were unable to travel to South Africa to assist with the assembly of the machines. Instead, TPT had to receive approval for South African technicians to do the job.
A similar situation faces the delivery of four new rubber tyre gantries (RTGs) that are scheduled for arrival in November but instead these will now be fully assembled at the manufacturer before being shipped to South Africa.
♠♠♠
Peak Season Surcharge
French container line CMA CGM has introduced a Peak Season Surcharge applicable to cargoes loaded in Asia and bound for the Port of Cape Town, effective from 19 July 2020 (loading date). This refers to dry cargo, reefer, OOG and Breakbulk cargoes in the amount of US$ 300 per 20ft, US$ 600 per 40ft container.
♠♠♠
Notice to all Port Stakeholders
In a Port Notice to all port stakeholders, issued by the Acting Chief Harbour Master, Capt Sabelo Mdlalose (who is also the Harbour Master at Richards Bay), port stakeholders are reminded of the requirement to disclose suspected and confirmed COVID-19 cases to the port authority and the National Institute for Communicable Diseases (NICD), for the purposes of addressing, preventing or combatting the spread of COVID-19 in the port system.
This is in accordance with governmental published regulations.
Likewise, the wearing of appropriate Personal Protection Equipment (PPE) as prescribed by the regulations, which includes a face mask/screen and hand gloves where applicable.
"As previously communicated, the authority has put in place stringent health and safety measures in all our entry and exit points to limit the spread of COVID-19 infections. All port users must be in possession of the Essential Services Permit with port access/ID and they will be subjected to standard COVID-19 screening process (temperature checks) on arrival.
Failure to adhere to these measures will result in access being denied.
"Port users are further requested that, in addition to published COVID-19 reporting protocols, are to report positive COVID-19 case(s) to the Port Manager of the affected port by telephone."
♠♠♠
Xin Dan Yang / SA Amandla update
In last week's Wharf Talk we followed the unusual movements of the Chinese tanker XIN DAN YANG which arrived off the Cape from Gola in the United States. The tanker headed away from Cape Town on 19 June accompanied by the South African standby salvage tug SA AMANDLA, which kept her company as they made their way along the southern coast. The tanker's indicated destination was given as Sungai Linggi in Malaysia but on the Sunday (22 June) while opposite Still Bay and well out to sea both vessels altered direction and headed towards Mossel Bay. It appeared as though something was wrong.
Before arriving in the shelter of the bay both vessels came to a halt while still out in the shipping lanes and for the next 18 or more hours they remained where they were before the tanker began moving, this time back on her original course. SA Amandla meanwhile turned for Cape Town and home. As of this most recent Sunday (28 June) SA Amandla was back in port at Cape Town, awaiting the next winter emergency.
♠♠♠
Twenty Years Since Sinking of MV TREASURE on Cape Coast
Twenty years ago on 23 June the bulk carrier TREASURE (IMO 8011251) sank six miles off the South African coast outside the Port of Cape Town. The fully loaded bulker had arrived with a gaping hole in her hull and was ordered to move away until an assessment could be made of the damages. Some six miles out the vessel began to sink, taking with her the cargo of iron ore and an estimated 1,300 tonnes of bunker fuel plus some lube oil. Soon an estimated 400 tonnes of fuel oil began to spill into the sea.
The resultant oil spill was one of the worst to occur along a coast noted for its many shipwrecks.
The environmental impact of this was immense, with oil spreading across the ocean and contaminating the rocks and gullies of the islands and posing an immediate threat to the large African penguin population in the area. Particularly threatened was Robben Island, which not long previously had been designated as a World Heritage Site.
While the impact of losing a ship of this size, loaded with 140,0000 tonnes of iron ore in Brazil and bound for China, was serious, it was the effect on the penguins that grabbed most of the attention as people scrambled to save as much of the bird life as possible, in particular the penguins. Volunteers came from across the world to join locals in helping save the birds.
The resultant rescue of 19,500 penguins and the relocation of almost 20,000 to the Eastern Cape has been described as the biggest animal oiled rescue in the world. Another 19,000 penguins and hundreds of other seabirds were reported as oiled and treated locally.
This was possible due to the Southern African Foundation for the Conservation of Coastal Birds (SANCCOB) which launched a 12-week long rescue mission. An impressive number of volunteers were supervised by a team of professionals, and these cleaned and fed the thousands of penguins. Over 7,500 litres of detergent was used to wash the oil off the penguins.
It was one of the most remarkable and heartwarming stories in recent years to come as a result of a shipwreck.
Watch now two YouTube videos of this amazing spontaneous achievement:
Operation Penguin (commercial video) [09:49]
second video
SANCCOB [11:14]
WHARF TALK reported by John Hawkins, Richards Vashan & Terry Hutson
♠♠♠
World Record for Container Moves
Readers will excuse this for not being within the local coastline of our title but in far distant Los Angeles, California, where a new record has been set that can be both an inspiration and a gentle warning of what to expect, much scaled down, on our own coast one day in the not too distant future.
Durban has already handled 5,000 moves from a single ship and is certainly feasible that in the future even greater numbers of containers might arrive for discharging at sub-Saharan Africa's busiest port.
In Los Angeles the terminal operated by APM Terminals Pier 400 has just handled 18,456 container moves on the MSC ISABELLA. This mammoth task took them six days to complete during which an average of 128.166 container moves per hour were achieved.
MSC Isabella is one of MSC's latest generation of Gulsun-class of ships, with a nominal capacity of 23,656 TEU.
While it is unlikely that the port of Durban, or Ngqura for that matter, will ever handle anything of that magnitude, it is very likely that one day a ship with anything between 6,000 and 9,000 TEU could arrive in the port.
While Durban is technically capable of handling such a number, what isn't worth considering is the effect this would have on the land side of the operation, with that number of boxes having to be moved out of the port in a limited period of time.
What's interesting in this little comparison is that APM Pier 400 terminal handles about 2.5 million TEU a year – which is quite a bit less than the Durban Container Terminal. Consider that for a moment!
♦♦♦♦♦♦♦♦♦
News continues below
UGANDA: PROTECTION OF HGV DRIVERS FROM COVID-19
Transaid's emergency project
Supported by the Employment and Skills for Development in Africa (E4D) Programme, London-based Africa road safety charity Transaid reported earlier in the month that it had launched an urgent response to support heavy goods vehicle (HGV) drivers in Uganda, as Africa reacts to the growing COVID-19 pandemic.
Transaid is working with local partners to roll-out driver-specific COVID-19 safety advice and provide hand-washing facilities, cab sanitisation materials, and personal protective equipment (PPE) to keep drivers safe, reduce transmission rates and build community confidence in the safety of the logistics sector.
Caroline Barber, Transaid's CEO, explained that truck drivers were facing hostility as a result of the measures taken to prevent the spread of COVID-19. She commented: "Road transport is vital for delivering food, medicines and essential goods; but the race to control the outbreak in Africa means truck drivers are facing increased scrutiny whilst enduring evermore challenging and unpredictable hazards to keep supply chains running.
"Truck drivers entering the country are perceived by some to be facilitating the spread of the virus, and have faced hostility from communities and long delays at borders, often with no access to sanitation facilities. Securing this funding means we can start work immediately to improve the preparedness of drivers to meet national guidelines on the use of PPE, cab sanitisation and social distancing."0
Transaid is developing driver-specific factsheets as well as short information videos to be sent to drivers' phones to raise awareness and reduce the risk of exposure.
Road safety messaging has been integrated into these materials to warn how changing conditions – such as how fewer vehicles on the roads and reduced access to facilities en route could lead to increased speeds and fewer rest stops – may affect driving behaviour and the risk of road crashes, at a time when health systems are already overburdened.
Currently (mid-June), closure of businesses along transport corridors is making it difficult for drivers to access running water to wash their hands. To counter this, Transaid is procuring soap and disinfectants for regular hand-washing and cab sanitisation, as well as locally made, washable and reusable face masks.
Support at driver rest stops
Transaid's in-country partner Safe Way Right Way is also supporting transport associations at driver rest stops and border posts, to help keep drivers informed of the latest national guidelines. With official advice being updated regularly, it has been difficult for employers to communicate with drivers who may be on the road for days or weeks at a time without returning to base.
About E4D
This is a regional employment initiative funded by the German and Norwegian, governments (and until recently by the British government), and implemented by GIZ*.
Julia Mager, E4D Team Leader in Uganda at GIZ commented: "We've been working with Transaid and Safe Way Right Way for the last three years to build HGV driver training capacity in Uganda. Both organisations are well placed to deliver this critical work."
Transaid's Caroline Barber added: "We put forward a proposal which could be implemented at speed, and GIZ has worked very quickly to make the funding available. This is a fast-moving situation and we want to ensure that drivers have access to these materials without delay.
"Road transport is a sector Transaid has huge experience in, and we're aiming to reach a minimum of 10,000 drivers in Uganda as part of our initial work. Everything we are doing is replicable in other sub-Saharan countries too, and we're actively looking for additional funding to ensure we can extend our support and increase the number of truck drivers we can reach."
*The Deutsche Gesellschaft für Internationale Zusammenarbeit GmbH is a German development agency with HQ in Bonn and Eschborn (Frankfurt) and provides services in the field of international development cooperation.
Edited by Paul Ridgway
London
♦♦♦♦♦♦♦♦♦
News continues below
UK RAIL ACCIDENT INVESTIGATION BRANCH (RAIB)
Investigation into human performance in signalling operation
Once again we introduce the work of the RAIB and continue with a report on rail investigations. Documents produced by RAIB, although particular to the UK will be of interest to all who are concerned with railway safety wherever in the world it may be.
On 12 May RAIB issued: Report 03/2020: Class investigation into human performance in signalling operation.
See HERE
Since it became operational in 2005, RAIB has…
Edited by Paul Ridgway
London
* See pages 45-47 of the document by CLICK HERE
♦♦♦♦♦♦♦♦♦
News continues below
NIGERIAN FEDERAL GOVT TO TAKE CONTROL OF ALL ANCHORAGES
Nigerian Federal Govt to take control of all anchorages
Nigeria's Federal Government has given a clear indication of its determination of having total control of the country's maritime security by announcing through the Nigerian Ports Authority and Nigerian Maritime Administration and Safety Agency (NIMASA) that it will fund the US$195 million

Deep Blue Project

to ensure that Nigeria handles all security matters in relation to vessel movements and calls at ports and anchorages.
The Deep Blue Project is another name for the Integrated National Security and Waterways Protection Infrastructure, which is…
♦♦♦♦♦♦♦♦♦
News continues below
GENERAL NEWS REPORTS – UPDATED THROUGH THE DAY
in partnership with – APO
♦♦♦♦♦♦♦♦♦
More News at https://africaports.co.za/category/News/
News continues below
TO ADVERTISE HERE
Request a Rate Card from info@africaports.co.za
EXPECTED SHIP ARRIVALS and SHIPS IN PORT

Port Louis – Indian Ocean gateway port
Ports & Ships publishes regularly updated SHIP MOVEMENT reports including ETAs for ports extending from West Africa to South Africa to East Africa and including Port Louis in Mauritius.
In the case of South Africa's container ports of Durban, Ngqura, Ports Elizabeth and Cape Town links to container Stack Dates are also available.
You can access this information, including the list of ports covered, by going HERE remember to use your BACKSPACE to return to this page.
News continues below
CRUISE NEWS AND NAVAL ACTIVITIES

QM2 in Cape Town. Picture by Ian Shiffman
We publish news about the cruise industry here in the general news section.
Naval News
Similarly you can read our regular Naval News reports and stories here in the general news section.
♦♦♦♦♦♦♦♦♦
THOUGHT FOR THE WEEK
♠♠♠
♠♠♠
ADVERTISING
For a Rate Card please contact us at info@africaports.co.za
Don't forget to send us your news and press releases for inclusion in the News Bulletins. Shipping related pictures submitted by readers are always welcome. Email to info@africaports.co.za
TABLE BAY UNDERWAY SHIPPING
SHIP PHOTOGRAPHERS
Colour photographs
and slides for sale of a variety of ships.
Thousands of items listed featuring famous passenger liners of the past to cruise ships of today, freighters, container vessels, tankers, bulkers, naval and research vessels.
P O BOX 809, CAPE TOWN, 8000, SOUTH AFRICA
snai@worldonline.co.za
http://home.worldonline.co.za/~snai
South Africa's most comprehensive Directory of Maritime Services will shortly be listed on this site. Please advise if you'd like your company to be included. To sign up for a free listing contact info@africaports.co.za or register online