Bringing you shipping, freight, trade and transport related news of interest for Africa since 2002
Bringing you shipping, freight, trade and transport related news of interest for Africa since 2002
Stay Well, Stay Safe, Stay Patient, don't become one
Advertise here. This space above is available. For a Rate Card email us at terry@africaports.co.za
♠♠♠
Come with us as we report through 2020
**********
TODAY'S BULLETIN OF MARITIME NEWS
These news reports are updated on an ongoing basis. Check back regularly for the latest news as it develops – where necessary refresh your page at www.africaports.co.za
Click on headline to go direct to story : use the BACK key to return
Earlier News Headlined in Blue…….

EARLIER NEWS CAN BE FOUND AT

NEWS CATEGORIES…….

The Sunday masthead is of the Port of Cape Town, Dry Dock
♦♦♦♦♦♦♦♦♦
SEND NEWS REPORTS AND PRESS RELEASES TO
info@africaports.co.za
♦♦♦♦♦♦♦♦♦
News continues below
The chemical and oil products tanker HECTOR N (IMO 9384100) seen arriving in Durban, with the familiar shape of the end of the Bluff forming a background. The 38,402-dwt tanker, built in 2008, has an overall length of 183 metres and a beam of 27m and is part of the Navios Tanker Management fleet, a Piraeus-based ship management company. The Panamanian-flagged tanker operates from Durban to the coastal ports of South Africa. This picture is by Trevor Jones
♦♦♦♦♦♦♦♦♦
♦♦♦♦♦♦♦♦♦
News continues below
DJIBOUTI OFFERS TO FACILITATE SHIP CREW CHANGES
In an announcement made at the United Nations on Monday, Djibouti

i

ndicated its readiness to facilitate crew change operations involving ships passing its coast via the Bab el Mandeb Strait.
This would be assisted with the cooperation of the Djibouti Ports and Free Zones Authority (DPFZA).
The announcement follows a joint statement issued by the UN's International Maritime Organization (IMO) and UN Conference on Trade and Development (UNCTAD), calling for ways to be found to support crew changes so that seafarers can return home safely when their contracts come to an end.*
* See our earlier reports UN Secretary-General speaks out on seafarers
and   2020 campaign: Seafarers are Key Workers
An estimated 150,00 seafarers are trapped on board their vessels at sea and unable to return home at the end of their contracts. This is because of the bans on international travel due to the COVID-19 pandemic. A similar number of replacement seafarers also have to travel to where the ship is to relieve those that would be returning home.
In addition an estimated 70,000 cruise ship staff remain trapped on their ships which are at anchor in various parts of the world, many with full staff complements on board and unable to leave. Some cruise lines have attempted to overcome this by transferring staff and crew of similar nationalities around the respective ships of the fleet and then sailing those vessels to the countries involved, such as to South America, Indonesia, India and the Philippines.
The recent visits to South Africa of Holland America and Carnival Cruise ships fell into this category.
Djibouti's DPFZA said it remained committed to becoming part of the solution to support seafarers.
♦♦♦♦♦♦♦♦♦
News continues below
OPINION PIECE: SECURING LOGISTICS OPERATIONS IN A DATA-FIRST WORLD
By Chris de Bruyn, Operations Director at Gabsten Technologies
Have you noticed any changes in how courier packages are delivered? Electronic signature pads accompany more and more of the deliveries. Delivery employees tap away on apps on their phones, telling them where to go next. Even the simple act of finding your location is now a very digital experience thanks to GPS and electronic maps.
The logistics industry has been a prime investor in data-centric technologies. Data is their lifeblood – business information has always been important in this high-volume, low-margin sector, but the means provided by digital tools have raised the bar. Everything – from driver behaviour to accurate addressing to vehicle maintenance to route and warehouse optimisation – is driven by data. It's led to greater automation of processes, enabling customers to track packages and delivery staff to follow calibrated schedules pushed to their devices.
It's also made logistics businesses very vulnerable to cyber-attacks.
For example, the Australian logistics giant, Toll, has been hit twice this year by ransomware attacks. And every time this happens, it's a question of whether to redo their entire IT environment. Toll's example is not unique, nor is how it was attacked. Ransomware is an insidiously easy and effective way to block access to data. All it takes is a well-placed infection, and the whole operation can stop. In a data-first sector such as logistics, ransomware can be devastating.
Many companies still don't appreciate how important data is, not until that flow stops and everything grinds to a halt. Data isn't just about insight. It's the fuel for digital engines, and the grease for all the automated and even manual cogs in that machine. If you lose access to your data, you might as well also turn off the power and save some money, while your business tries to drive off the impending financial impact and losses
Criminals don't need this lesson. They understand that companies rely on data. If we just look at marketing information, it's worth billions for big organisations. The criminals understand this. They know exactly what to target and who to talk to.
Logistics companies have been investing in better security, though it's a varying spectrum depending on the size of the company and what they can afford. Smaller logistics businesses are more vulnerable, and when these are brought into the fold of larger companies, they can be a security risk.
Attackers can use techniques such as 'island hopping' to break into the larger systems. But larger companies are not immune – don't underestimate how motivated and knowledgeable cybercriminals are. Ransomware is powerful enough that even the dumb ones get lucky, and the smart ones have your number before you do.
Data management fights ransomware
But this can be tackled at the source, namely how you manage your data. I honestly believe that companies should focus on their core strengths. A logistics company should not be worried about security to the point where they have to do it themselves. A managed data service provider can give them the best fit and step in when things go wrong. A ransomware attack is almost inevitable. But recovering from one can be quick with the right data management culture supported by a tried and tested plan.
Data is what modern logistics companies run on, and it's that flow of data that cyberattacks aim to disrupt. A reputable managed data protection service can secure that data and, in the worst case, restore it quickly. It's not just about backup and recovery but appreciating the presence and flow of data in an organisation.
To get to that point, I recommend that logistics companies don't assume that managed data services should cost them an arm and a leg, or that all they get is a service that makes copies of their data. The provider should play a very trusting, integral role to assist in managing the data and growing the business. Small and medium enterprises should be open with the service provider and say: "This is what I'm looking for," and the service provider should be able to say "This is what I can give you."
Data is the lifeblood of modern logistics, and criminals are actively targeting it. Solving this issue can seem very daunting, expensive, complicated and removed from core business activities. It doesn't need to be. The answer lies in data management (not just backup and restore), and managed data protection service providers are the experts in that world. Talk to us, and together let's keep data flowing and your business protected.
Gabsten Technologies can be contacted at nora@gabsten.co.za or tel Nora Van Schalkwyk 087 654 1615
♦♦♦♦♦♦♦♦♦
News continues below
IMarEST ANNOUNCES PARTNERSHIP WITH ITN ON ONLINE SERIES
The Institute of Marine Engineering, Science and Technology (IMarEST) and ITN Productions Industry News will be co-producers of an online series called 'Ocean Aware' exploring ocean health, the stewardship of the seas and the impact the oceans have on society.
'Ocean Aware' will explore the challenging issues in the sector, highlight the importance of preserving the ocean resources and show how marine professionals are addressing the challenges of the modern world; including climate change and renewable energy, scientific advances and the ethical issues surrounding marine exploration, as well as the use of new technology.
The programme, launching in the…
For more information on this project or to participate in the programme, contact Georgia Gerstein, Programming Director, Industry News at ITN Productions, on 07891 014 840 or Georgia.Gerstein@itnproductions.com
♦♦♦♦♦♦♦♦♦
News continues below
FISHING VESSEL ATTACKED BY PIRATES OFF COTONOU, 6 CREW KIDNAPPED
Security consultants Dryad Global reports that a fishing vessel, PANOFI FRONTIER (IMO 8988806), has been attacked by armed pirates who boarded the Ghanaian owned and flagged vessel from a speedboat 61 nautical miles South of the port of Cotonou.
When they left Panofi Frontier the pirates took with them six of the fishing vessel crew, believed to be…
♦♦♦♦♦♦♦♦♦
News continues below
DECARBONISATION INITIATIVES WILL POSITION SHIPPING AHEAD OF THE REGULATORY CURVE
Shipping should urgently implement a range of short-term efficiency gains to reduce carbon emissions while also embracing more radical long-term sustainability challenges if it wants to get ahead of the regulatory curve, is the opinion of Captain Rajesh Unni, CEO and Founder of Synergy Group, one of the world's leading ship managers.
Speaking last week during 'The Path To Decarbonisation' session of the 10th Annual Capital Link Operational Excellence in Shipping Forum held virtually, Captain Unni said in the short-term there were ample, achievable "low hanging fruit" efficiency gains that would make shipping more sustainable.
For example, improvements in Energy Efficiency Design Index (EEDI) plans and in vessel Ship Energy Efficiency Management Plans (SEEMP) offer the potential to reduce emissions in the short-term, while also creating opportunities for those partners with the technical expertise to help ship owners navigate the technological and regulatory challenges.
"I think there are still low-hanging fruits we can capitalise on in the short-term including EEDI (Energy Efficiency Design Index) which we've done a lot of work on, plus SEEMP," Captain Unni told delegates.
"We need to look at Negawatts – negative watts – because we need to look at how to save energy rather than using it."
He also called on the International Maritime Organization (IMO), which is targeting a reduction of at least 50% in greenhouse gas emissions by 2050 compared to 2008 levels, to create a regulatory framework that better encourages decarbonisation innovation and provides incentives to increase the range of …
♦♦♦♦♦♦♦♦♦
News continues below
MORE ARRESTS INVOLVING THEFT OF RAIL EQUIPMENT
In addition to the recent court appearance of a number of persons accused of being involved in the theft of petroleum products from the national pipeline in Gauteng recently, additional arrests have been made in connection with various stolen rail equipment.
This was announced yesterday by Transnet SOC Ltd which said that…
The toll free number to report incidents on the pipeline is 0800 203 843. The toll free number for Transnet's Fraud hotline is 0800 000 3056.
♦♦♦♦♦♦♦♦♦
News continues below
RECORD REEFER MOVEMENT SET IN WALVIS BAY
The Port of Walvis Bay has been in the news today for all the right reasons. The first of our reports in this edition concerns the achievement set on Saturday, 21 June 2020, when an African record for reefer lifts on a single vessel was set in the port.
The ship involved was the SANTA ROSA, which as one of the Santa class of Hamburg Süd vessels, itself carries a larger than average number of reefer points within their 7,100-TEU nominal capacity.
The vessel, now sailing as part of parent Maersk Line company and deployed on the Europe-Southern Africa service (SAECS), lifted 334 full reefers at the Namibian port to top off on the journey back to Europe with 1,763 full reefers. Maersk and sister company Safmarine accounted for 1,326 of these which apparently is a new record for them, breaking their previous highest number of 1,244 reefers.
The reefers were loaded primarily with South African fruit for export to Europe.
The report says the previous highest number of reefers carried was with the vessel MAERSK LEBU which loaded a total of 1,682 full reefers.
Louis Coetzee, Maersk Port Captain (Angola & Namibia), thanked the Namport team led by Adolph Egumbo for their assistance in breaking an African record. He expressed his gratitude for a job well done and productivity achieved during these difficult times.
The Santa class of ships, 10 in number, were built as reported above for Hamburg Süd when that company was an independent German line. The builder was South Korea's Daewoo Shipbuilding and initially the Santa-class ships boasted a maximum total of 7,100 TEU including 1,600 reefer points. That number has presumably been added to since then. Clarification anyone?
As a footnote, one of the Santa class, SANTA CLARA was used to honour and respect southern African ports when she was officially christened in Durban on 21 January 2011, with dignitaries from Hamburg Süd in attendance. At that time the German carrier operated a scheduled service between Asia, South Africa and the South American East Coast as well as Europe and South America East Coast.
♦♦♦♦♦♦♦♦♦
News continues below
PIRATES FACE TRIAL UNDER NEW NIGERIAN LAW
The prosecution of pirates arrested by the Nigerian Navy following intelligence provided by the Nigerian Maritime Administration and Safety Agency (NIMASA), was due to commence this week under the anti-piracy law signed in June last year by President Muhammadu Buhari.
The law made Nigeria the first in West and Central Africa to have a standalone anti-piracy legislation.
The new legislation was…
♦♦♦♦♦♦♦♦♦
News continues below
WALVIS BAY TARGETS 9,000-TEU SHIPS AS LARGE SHIP CALLS
One of the biggest container ships so far to call at the new container terminal at the Port of Walvis Bay arrived in port this week.
The vessel, the 335.6-metre long MEDITERRANEAN BRIDGE has a container capacity of 9,000-TEU and discharged a total of 1,781 TEUs at the port, while…
♦♦♦♦♦♦♦♦♦
News continues below
TODAY MARKS 2020 INTERNATIONAL DAY OF THE SEAFARER
Virtual Discussion on Day of the Seafarer
Today marks the International 2020 Day of the Seafarer which is observed every year on 25 June by all IMO member states. On this day time is taken to pay tribute to millions of seafarers from across the globe, for their unique contribution to international seaborne trade, the world economy and civil society as a whole.
In South Africa the celebration of this event is spear-headed by the South African Maritime Safety Authority (SAMSA) and the National Department of Transport (DOT) who join the International Maritime Organization (IMO) in marking the occasion.
Each year, the IMO adopts a campaign theme for going forward through 2020 and this year this is", not surprisingly, 'Seafarers are Key Workers'.
The 2020 campaign seeks to raise awareness of the work of seafarers in response to the COVID-19 pandemic and to thank them for their contribution. Seafarers are on the frontline of the COVID-19 response, playing an essential role in maintaining the flow of vital goods, such as food, medicines and medical supplies.
"We acknowledge the sacrifices of the seafarers and the adverse effects of the coronavirus on their personal and professional wellbeing," said South Africa's Minister of Transport, Fikile Mbalula.
"The outbreak of COVID-19 has exacerbated seafarers' already difficult working conditions, as it has led to the restriction of port access, crew changeovers and repatriations, in an attempt to flatten the curve," he said.
"Many seafarers have been away from home for months and are uncertain about when they will be able to return home or go back to their international posts, due to global travel restrictions. The South African government is mindful of this dire situation and is doing all it can to ensure that seafarers are prioritised as the economy gradually reopens."
SAMSA, the DOT and other maritime institutions will host a virtual discussion to mark the Day of the Seafarer. The virtual discussion will be held this morning, 25 June 2020, from 10h00 until 12h00 (local time), and attended by key stakeholders in the maritime industry.
Seafarers will use the opportunity to highlight issues affecting them during the prevalence of COVID-19.
♦♦♦♦♦♦♦♦♦
News continues below
NAMPORT ENJOYS 30% INCREASE IN CARGO HANDLING
– thanks largely to Lüderitz
The twin ports of Namport,

Walvis Bay

and Lüderitz enjoyed a successful fiscal year 2019/2020 by recording an impressive 30% increase in cargo throughput.
The combined efforts of both ports totalled 5,561,999 tonnes for the year ended on 31 March 2020.
One of the success stories for the year was the introduction of manganese ore exports at the Port of Lüderitz.
This was serviced on the Trans-Orange Corridor between the port and the South African…
♦♦♦♦♦♦♦♦♦
News continues below
NAMPORT DONATES MOBILE OFFICE TO WALVIS BAY COVID-19 SECURITY CHECKPOINT
The
Namibian Ports Authority (Namport)

, acting through its Social Investment Fund, recently donated a mobile office to the Namibian Police in the Erongo region, which encompasses the Walvis Bay and Swakopmund areas.

The office is intended to be used by the men and women in uniform manning the Walvis Bay COVID-19 checkpoint. The need arose due to the fact that the staff members deployed at the checkpoint were being exposed to unfriendly weather elements which hampered their performance.

The donation, which comes at a time where the Erongo region continues to record an increase in the number of positive COVID-19 cases will ensure that the security forces are able to executing their duties unhindered at the checkpoint.

The checkpoint became operational on 5 May 2020 when the Temporary Isolation Truck port facility was officially opened in collaboration with various stakeholders.

See related report Cross-border truck drivers face 7-day quarantine at Walvis Bay
The donation is valued at N$50,000 (R50,000) which will be used to pay the rental fee of the mobile office for the next 6 months subject to future renewals.
Namport has since the beginning of the outbreak in March 2020 spent over N$400,000.00 towards the fight against the COVID-19 pandemic, with donations to the residents of the Twaloloka Informal Settlement in Kuisebmond with health and sanitation equipment, and a monetary donation towards the Walvis Bay Corridor Group Wellness team to purchase gloves and thermal (temperature) guns which would be used at border posts.
A donation was also made towards the Keetmanshoop Police in the IIKaras region.
♦♦♦♦♦♦♦♦♦
News continues below
WE TAKE A LOOK AT THE US NAVY DEPLOYED AROUND THE GLOBE
(In waters near to Africa)
Here at Africa PORTS & SHIPS we are privileged to report on the activities of the United States Navy as it goes about its duties keeping the seas safe, maintaining the right of navigation and protecting US interests around the globe.
Manning
As for manpower the US Navy had, as at 17 June, a total of 337,517 individuals on active duty with a ready reserve of a further 102,003 staff. To this needs to be added 282,121 Navy Department civilian employees.
Assets
Of warships and submarines the USN has a Deployable Battle Force of 299 ships across the Fleet including forward deployed submarines:
Carriers
The USN's carrier fleet leads with USS Dwight D Eisenhower (CVN 69) under way with the 5th Fleet; USS Nimitz (CVN 68) in the 7th Fleet with USS Ronald Reagan (CVN 76) and USS Theodore Roosevelt (CVN 71).
Amphibious assault ships underway are USS Bataan (LHD 5) with the 6th Fleet and USS Wasp (LHD 1) in the 2nd Fleet.
Deployment through Suez, in the Baltic, the Caribbean and the Arabian Sea
The amphibious dock landing ship USS Oak Hill (LSD 51) transits the Suez Canal on 15 June.
Oak Hill, with the Bataan Amphibious Ready Group and with embarked 26th Marine Expeditionary Unit (MEU), is deployed to the US 5th Fleet area of operations in support of naval operations to ensure maritime stability and security in the Central Region, connecting the Mediterranean and Pacific through the Western Indian Ocean and three critical choke points to the free flow of global commerce. US Navy photo by Mass Communication Specialist 3rd Class Griffin Kersting/Released USN ©
Bataan with embarked 26th MEU is deployed to the US 5th Fleet area of operations. US Marine Corps photo by Corporal Nathan Reyes/Released. USN ©
BALTOPS is the premier annual maritime-focused exercise in the Baltic Region, marking the 49th year of one of the largest exercises in Northern Europe enhancing flexibility and interoperability among allied and partner nations. US Navy photo by Mass Communication Specialist 1st Class Kyle Steckler/Released. USN ©
Detroit is deployed to the US Southern Command area of responsibility to support Joint Interagency Task Force South's mission, which includes counter illicit drug trafficking in the Caribbean and Eastern Pacific. US Navy photo by Mass Communication Specialist 2nd Class Anderson W Branch/Released. USN ©
Ike is deployed to the US 5th Fleet area of operations in support of naval operations to ensure maritime stability and security in the Central Region, connecting the Mediterranean and Pacific through the western Indian Ocean and three critical chokepoints to the free flow of global commerce. US Navy photo by Mass Communication Specialist 3rd Class Kody A Phillips/Released. USN ©
Collated by Paul Ridgway
London
♦♦♦♦♦♦♦♦♦
News continues below
WHY SOUTH AFRICA HAS A KEEN INTEREST IN EXTREMIST VIOLENCE IN NORTHERN MOZAMBIQUE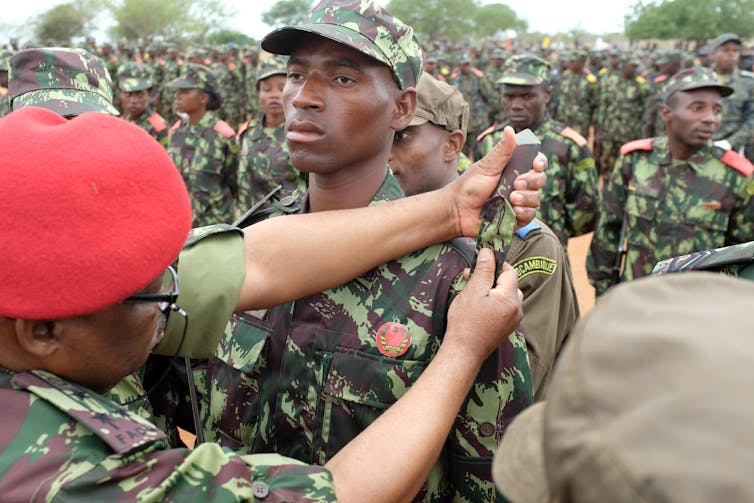 The Mozambican military has proven to be inept at stopping atrocities by extremist insurgents in the Cabo Delgado province. 
EPA-EFE/Antonio Silva
Theo Neethling, University of the Free State
A growing insurgency in the northern parts of Mozambique has caught the attention of conflict analysts and observers worldwide. There is now even a possibility that the South African National Defence Force might become involved in the most northern Cabo Delgado province, with a view to ending the deadly violence and litany of atrocities, abductions and destruction of infrastructure.
Should the South African government decide to send in its military, the main aim would be to focus on the violent activities of an extremist and militant Islamic group, Ahlu Sunnah Wal Jammah. It is also locally known as Al Shabaab, even though it has no connections with the Somali movement of the same name. The group aims to establish its own mosques and madrassas to enhance the spread of its radical dogma.
Ahlu Sunnah Wal Jammah started as a religious sect which turned into a guerrilla group. Initially its goal was to impose Sharia law (Islamic law) in Cabo Delgado. It rejected the state's schooling, health system and laws, which resulted in much tension in the province. Some analysts argue that the movement is motivated more by greed than by dogma or grievance: that it is making millions of dollars a week through criminal activities relating to mining, logging, poaching and contraband.
Be that as it may, many of its members appear to be socio-economically marginalised young people without a proper education and formal employment. They have been joined by young immigrants in a similar marginalised position. It is estimated that the movement's members are organised in tens of small cells along the coast of northern Mozambique.
There is rightly widespread concern over these developments. Should South Africa – and specifically its defence force – get involved, it would certainly be venturing into a highly violent and complex landscape, requiring a counter-terrorism type of operations.
Such operations are always highly challenging. Countering terrorist and insurgent forces in Mozambique could be as challenging as the protracted operations against Boko Haram and Al Shabaab, the militant Islamist sects that operate predominantly in Nigeria and Somalia, destabilising large areas with their terror campaigns.
Why should there be serious concern over the situation in Mozambique?
Mozambique borders Tanzania, Malawi, Zambia, Zimbabwe, South Africa and eSwatini. Four of these six countries are landlocked, and hence depend on Mozambique as a gateway to global markets. Events in Cabo Delgado could thus threaten regional stability.
Even though Mocímboa da Praia, which is regarded as the headquarters of the extremists, is about 2,500km from South Africa, the group nevertheless poses a challenge to the country too. After all, Mozambique has strong economic ties with South Africa as the region's economic engine. Regional stability is certainly in the interest of South Africa.
From a South African standpoint, four main issues stand out. These are: the danger of the spread of Islamist extremism so close to home; the strategic importance of the area under siege; weakness of Mozambican security forces; and combating organised crime.
Violent extremism
This is the first case of violent extremism of this kind in southern Africa. It is also the first manifestation of a militant movement which is associated with the Islamic State of Iraq and Syria, and the notion of a jihadist insurgency.
Until recently, acts of terror conducted by extremists in southern Africa were confined to Tanzania and Zanzibar.
The death toll and displacements of Mozambican locals in Cabo Delgado are difficult to verify. But reports indicate that more than 1,000 people have died and about two million are affected by the crisis overall.
Secondly, in recent years massive offshore natural gas deposits have been identified, drawing some of the world's biggest energy players. Offshore exploration in the Cabo Delgado area is among Africa's three largest liquid natural gas projects.
Investments of billions of dollars have already been made, but an escalation of violence is putting the future of these investments at risk.
These projects could be of major importance to poverty alleviation in the country. Poverty affects most of those in rural areas with low levels of formal education. Economic activity in Mozambique has improved in recent years and has the potential to strengthen in the foreseeable future. But much will depend on the megaprojects in Cabo Delgado, debt restructuring, COVID-19, macroeconomic stability and improved political and economic governance, among other key factors.
For decades, South Africa has experienced an illegal influx of Mozambicans due to development challenges in their country. Thus, economic, political and social development in Mozambique are of the utmost importance to South Africa, which is battling massive poverty and unemployment of its own.
Although exploration in Mozambique is offshore, support facilities are onshore and most vulnerable to attacks. The foreign companies with their massive investments feel threatened, especially now that final investment decisions have to be taken.
South Africa has another interest in these developments. The South African energy and chemical multinational Sasol has invested heavily in gas exploration projects since 2014.
The arrival of foreign companies has led to deep discontent among local people who are deeply aggrieved by their activities. They had to relocate to make way for the infrastructure development, amid complaints about the compensation they received. They're also aggrieved that they have been resettled inshore, away from the coastal fishing areas.
These factors further complicate security challenges in the very delicate social landscape. Moreover, the insurgents can easily exploit local grievances as matters play into their hands.
The Mozambican military and police have proven to be no match for the militants. They have been unable to prevent them from taking the northern strategic town of Mocímboa de Praia, as well as invading a town near Quissanga.
To counter the growing insurgency, the Mozambican government has contracted the Wagner group, a private Russian military company, to assist government forces. But the situation appears to have gone from bad to worse.
A South African security group, the Dyck Advisory Group, was also allegedly assisting the Mozambican government.
A fourth cause for concern over dynamics in the Cabo Delgado province relates to organised crime. The area is a major conduit for smuggling drugs and other contraband. The volume of heroin produced and shipped from Afghanistan along a network of routes, via East and southern Africa, has increased considerably in recent years.
Cabo Delgado is a key point for smuggling drugs, wildlife, timber, gems and gold. The insurgency makes it more difficult to enforce the law in the province.
No choice
Operations aimed at countering Islamist extremists tend to continue for many years. Success at curbing violent terrorist attacks requires careful and long term responses.
Ideally, these should comprise a mixed set of interventions, including social reform, economic development and varying degrees of military force.
South African political involvement is now almost inevitable as the Southern African Development Community has already undertaken to help Mozambique in its fight against the insurgency. This makes it highly likely that South Africa's military forces will somehow get involved.

Theo Neethling, Professor of Political Science, Department of Political Studies and Governance, University of the Free State
This article is republished from The Conversation under a Creative Commons license. Read the original article.
♦♦♦♦♦♦♦♦♦
News continues below
LATEST TERRORIST ACTIVITY IN CABO DELGADO, MOZAMBIQUE
Read this next report in conjunction with the

CONVERSATION

article above.
♠♠♠♠♠
Security forces recapture terrorist-held villages
but atrocities continue
According to the Mozambique Defence Force two villages previously held by Islamist terrorist in northern Mozambique in the Mocimboa da Praia district, have been recaptured. After the villages of Makulo and Cabacera were occupied by the terror group, members of the local population managed to alert security forces resulting in the defence force sending units to recapture the villages.
As the security forces approached, supported overhead by helicopters, the terror group was seen to…
♦♦♦♦♦♦♦♦♦
News continues below
FUGRO COMPLETES MIDDLE EAST'S FIRST AUTONOMOUS GEOPHYSICAL ROUTE SURVEY
In response to increasing demand for remote offshore services, Fugro has completed the Middle East's first fully autonomous geophysical shallow-water route survey.
Controlled from their remote operations centre in Abu Dhabi, an uncrewed surface vessel (USV) captured a full range of geophysical data across a survey area some 40 km out from the coast of Abu Dhabi to support a client's critical project entirely remotely.
The results of the fully autonomous geophysical shallow-water route survey…
♦♦♦♦♦♦♦♦♦
News continues below
NSRI RESPONDS TO CALLS TO EVACUATE INJURED OR ILL SEAFARERS
NSRI Mykonos Station 15
The National Sea Rescue Institute (NSRI) at Langebaan in the Western Cape and at Durban on the east coast both responded to calls requiring the evacuating of seafarers in need of medical attention.
This is one of the few examples of how a seafarer can legally leave his ship in South African waters during the COVID-19 lockdown.
At Langebaan the Mykonos station was…
♦♦♦♦♦♦♦♦♦
News continues below
SAECS MAIN STRING STOPS CALLING AT CAPE TOWN DUE TO DELAYS
Weekly service Durban & Ngqura to Europe
The SAECS main string service between South Africa and northern Europe will stop calling at the port of Cape Town and instead provide a weekly coverage for Durban and Port Elizabeth ports to Europe.
Announcing this is an advisory, Maersk Line indicated this was a result of the current congestion in the Cape Town Container Terminal.
"Maersk has endeavored to make proactive adjustments to our Europe service to ensure we continue to provide a best in class coverage and reliability as required by our customers in South Africa. As a result, both SAECS and WAF1 services will change rotations to adjust to the new operational conditions."
The WAF1, which is currently dedicated to the Eastern Cape market, will become a dedicated Cape Town to Europe Shuttle. According to customer demand Maersk will deploy additional feeders from Cape Town, for onward transit to Europe.
"We believe this plan is the best solution available basis current port and market situation, however, we fully understand that the dynamics of the port situation in South Africa will likely continue to change constantly. Thus, for the remainder of the citrus season, Maersk will continually (every week) re-evaluate our product to ensure it meets our customer needs. We feel our current deployment, assets and capabilities give Maersk the following operational agility to do so," the Maersk advisory stated.
The line said that having two ocean services calling South Africa and Europe (WAF1 and SAECS) allows them to better isolate a particular port and better ensure schedule reliability.
Maersk said it has deployed additional geared feeder vessels which allow it more choices in loading cargo faster and calling at different terminals (berthing faster).
In addition it has multiple feedering options in Europe to ensure that, due to port delays, cargo will arrive at destination with minimal delay.
The new vessel service rotations will be:
SAECS: Durban – Port Elizabeth (PECT) – Algeciras – Rotterdam – London Gateway – Bremerhaven – Rotterdam – Algeciras – Walvis Bay – Port Elizabeth (Coega) – Durban
WAF1: Cape Town – Port Tangiers – Algeciras – Cape Town
The deployment changes will provide the following benefits:
"Without Cape Town on the SAECS rotation but still deploying the same number of vessels, we expect that we will have enough buffer to ensure timely arrival in Europe and reduce any omissions or serious delays in European ports, while at the same time considerably improving the transit time from Durban.
"With a direct sailing from Cape Town to Algeciras, we aim to provide a dedicated and reliable service to this market with a fast transit time into the Mediterranean. Cargo to North Europe and Russia will transship in Algeciras with minimal impact to transit time.
"Algeciras continues to be an integral part of our network and will not be omitted on either service to ensure the required connections."
The first sailings under this new set-up will be the following:
SAECS: MOL Proficiency Durban 24 June 2020, Port Elizabeth 30 June 2020.
WAF1: Lana Cape Town 28 June 2020.
Congestion at the Port of Cape Town has come right in the middle of the citrus season, when South Africa's citrus farmers were looking forward to a record crop of 143.3 million cartons – an increase of 13% on 2019.
Citrus is exported from Durban, Port Elizabeth and Cape Town.
♦♦♦♦♦♦♦♦♦
MSC 2020/2021 CRUISE SEASON ANNOUNCED
MSC Orchestra and MSC Musica to cruise South Africa

MSC Cruises

confirmed on Monday (22 June) full details of its

Winter 2020/2021 Season

, offering over 90 different itineraries across the Caribbean, Mediterranean, the Gulf, South Africa, South America and Asia – all of the regions where MSC Cruises traditionally operates.

Itineraries range in length from two to 24 nights, along with the third MSC World Cruise departing in January 2021 and an extensive Grand Voyages programme.

Gianni Onorato, MSC Cruises' CEO commented, "We have reviewed and updated our complete Winter 2020/2021 Season, starting in late October and we are pleased to now confirm the full details. Our Winter programme sees us offering cruises in all of the regions of the world where we traditionally operate and whilst there are some updates to the original planned deployment of specific ships, we are still able to offer our main itineraries so that guests can enjoy the holiday that they booked with us."

Yesterday's announcement follows the Company's recent confirmation that the entire MSC Cruises fleet, including two brand new vessels currently under construction, will be in operation starting from March 2021 for the Summer 2021 Season (Northern Hemisphere summer).

In addition, MSC Cruises confirmed today the voluntarily further extension of the halt of operations of its ships operating from U.S. ports in the Caribbean until 15 September 2020. The announcement impacts two ships – MSC Seaside and MSC Armonia – that were previously scheduled to sail in the region during this time period.

Guests affected by the cancelled cruises will receive a Future Cruise Credit (FCC) by 13 July, where they have the opportunity to transfer the full amount paid for their cancelled cruise to a future cruise of their choice – on any ship, for any itinerary — through to the end of 2021. Meanwhile for the Summer 2020 Season, MSC Cruises has previously announced the temporary halting to its current ship operation up until 31 July in the other regions where the Company operates.

In conjunction with yesterday's announcement, the Company also revealed that a new comprehensive and enhanced health and safety protocol is being developed in collaboration with relevant national health authorities and with the support of a team of external medical experts.

This protocol will cover all aspects of the cruise from the booking phase through to disembarkation and the return home. It will also include all aspects of life on board and the precautionary measures will ensure the health and wellbeing of guests and crew including enhanced sanitation measures, guidelines for life on board as well as enhanced medical facilities and health screenings for guests and crew. The full details of these new precautionary health and safety measures will be announced in the coming days.
Winter 2020/2021 programme overview
MSC World Cruise 2021
MSC Magnifica will sail her third World Cruise, following on from the high level of appreciation from World Cruise guests in 2019 and 2020, replacing the previously announced MSC Poesia. MSC Magnifica is the latest ship in the Musica class and is well-placed for this voyage with one of the highest ratios of balcony cabins and impressive onboard features including the pool with a magrodome and extended dining areas. The original itinerary is fully confirmed and the 119-day journey around the globe will commence on 5 January 2021, with guests travelling to 53 destinations across 33 countries in style and comfort.
The Mediterranean
MSC Grandiosa will replace sister-ship MSC Virtuosa for the winter, as delivery of this ship is delayed due to the delays and postponements caused by the health pandemic. All guests currently booked on MSC Virtuosa will be automatically reprotected to MSC Grandiosa, the Company's current flagship, with the original itinerary – the MSC Cruises signature seven-night "Six Pearls" western Mediterranean cruises, with embarkation possible at each port: Marseille, France, Genoa, Italy, Civitavecchia/Rome, Italy, Palermo, Italy, Valetta, Malta and Barcelona, Spain.
MSC Magnifica will offer two festive cruises in December with a five-night Christmas cruise calling Genoa, Marseille, Barcelona and Civitavecchia and a ten-night New Year cruise from Genoa, Marseille, Barcelona before calling Gibraltar, Lisbon/Cascais in Portugal, Cadiz/Seville and Malaga in Spain before returning to Civitavecchia/Rome and Genoa.
The Caribbean
MSC Meraviglia will sail every Saturday from Miami, United States, on one of two itineraries: an evening experience in San Juan, Puerto Rico, Charlotte Amalie, US Virgin Islands, Nassau, The Bahamas and Ocean Cay MSC Marine Reserve, The Bahamas or Ocho Rios, Jamaica, George Town, Grand Cayman, Cozumel, Mexico and Ocean Cay MSC Marine Reserve.
MSC Armonia homeporting in Miami, will offer three-, four- or seven-night cruises to Key West, Nassau and Ocean Cay MSC Marine Reserve.
MSC Seaside will offer three-, four- or seven-night cruises from the brand-new embarkation port of Port Canaveral in Florida, United States, with cruises calling at a range of destinations including Ocean Cay MSC Marine Reserve, George Town, Grand Cayman as well as Cozumel and Nassau.
Ocean Cay MSC Marine Reserve will remain a key highlight of the MSC Cruises offering from Florida, with all three ships calling at the private island destination in The Bahamas. Exclusive to MSC Cruises' guests and located just 65 miles from Miami, the island is surrounded by 64 square miles of marine reserve, offering guests a unique opportunity to discover local marine life, soak up the spirit of Bahamian culture and reconnect with themselves and each other.
MSC Poesia will replace MSC Splendida, to serve the South Caribbean and the Antilles with the original planned itineraries departing from Fort de France, Martinique on seven-night, seven-destination itineraries and 14-night from Barbados sailing to some of the best of islands the Caribbean has to offer.
Dubai, Abu Dhabi and Qatar
MSC Fantasia will replace MSC Seaview and MSC Lirica in this region, offering seven-night sailings with Dubai, Abu Dhabi and the exclusive beach resort of Sir Bani Yas island in The United Arab Emirates, as well as Bahrain and Doha, Qatar. The cruise concludes with an overnight Dubai stay for time to explore all that the cosmopolitan city has to offer.
South America
MSC Seaview with her stunning outdoor areas will replace MSC Grandiosa, offering seven-night cruises from Santos, Brazil to the Northeast of the country and calling the new port of Maceio, Salvador and the island of Ilha Grande/Angra dos Reis and Buzios.
MSC Musica, replacing MSC Fantasia,will offer seven -night cruises from Santos calling Itajai/Santa Catarina, Brazil, Punta Del Este, Uruguay and an overnight in Buenos Aires, Argentina.
MSC Sinfonia replacing MSC Orchestra will offer eight or nine-night cruises from Buenos Aires calling Montevideo, Uruguay, Buzios, Rio de Janeiro, Ilhabela or Ilha Grande/Angra dos Reis, Itajai Brazil, with the possibility of embarking in the ports of Buenos Aires and Montevideo.
MSC Preziosa will operate her original planned itineraries from Rio de Janeiro, Brazil with a range of cruises from three to eight nights.
South Africa
MSC Orchestra, replacing MSC Musica will offer a range of cruises from either Durban or Cape Town to destinations including Maputo, Mozambique, Portuguese Island, Pomene, Mozambique and Port Elizabeth, as per the original planned itinerary.
MSC Opera will operate the planned itinerary from Cape Town and Durban.
A highlight for the season will be a 14-night New Year cruise on MSC Orchestra visiting five spectacular destinations, including an overnight stay in Port Louis, Mauritius.
The Far East
MSC Bellissima will offer a choice of different length cruises in Asia- a detailed sailing programme will be announced soon.
Spectacular Grand Voyages
MSC Fantasia, which replaces MSC Seaview, will depart on her Grand Voyage from Barcelona, Marseille and Genoa on 14, 15 and 16 November, respectively, as she moves to Dubai for winter. MSC Opera will offer the original planned itinerary from Italy to South Africa. All other Grand Voyages from Europe to the Caribbean, South America and South Africa will be cancelled.
In Spring 2021, nine Grand Voyages will be available with ships returning from the Emirates, Brazil, South Africa, Martinique and the United States, sailing to Europe for the start of the Summer 2021 Season.
Further booking information for international cruises
All guests whose booking is affected by any changes will be automatically reprotected to another ship serving the same or similar itinerary. These guests will be eligible for compensation as follows:
All guests who have booked an inside or ocean view cabin will receive a cabin upgrade [2]
All guests booked in a balcony cabin, a suite or a Yacht Club cabin will receive a shipboard credit of €100/$100 per cabin (€50/$50 for single cabin occupancy) for cruises up to six nights and for cruises of seven-nights or above [3], guests will receive €200/$200 (€100/$100 for single cabins occupancy) [4]
All new guests booking with MSC Cruises before 31 July 2020 will benefit from flexible booking conditions to give them added peace of mind should they need to reschedule or cancel their cruise covering cruise departures from 1 August 2020 through to 2 May 2021 with the possibility to reschedule free of charge up to 15 days prior to the cruise departure date for cruise only bookings; up to 21 days for Fly&Cruise bookings.
For further details on existing bookings, guests should contact their Travel Advisor or visit the MSC Cruises website at www.msccruises.co.za
Notes
1]  Winter Season 2020/2021 runs from October 31 through to March 2021.
2]  Compensation does not apply for MSC World Cruise, MSC Preziosa as well as bookings previously made on MSC Musica and MSC Opera South Africa.
3]  Applies to all ships and itineraries with the exception of MSC Magnifica World Cruise and MSC Preziosa
4]  Not applicable for Yacht Club cabins
This article also appears in the Cruise section
♦♦♦♦♦♦♦♦♦
News continues below
Marion Island's last ice age happened earlier than we thought. Why it matters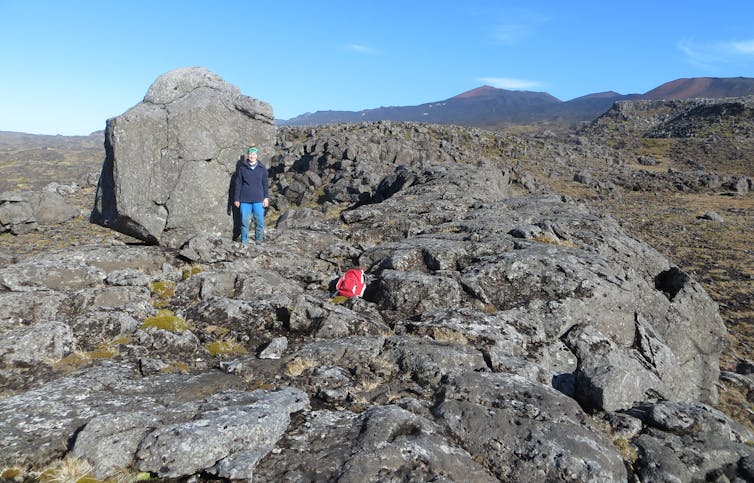 A glacial depositional feature – an erratic – is a large rock that has been 'bull-dozed' and deposited by a moving glacier.
Elizabeth Rudolph
Elizabeth M Rudolph, University of the Free State; David William Hedding, University of South Africa, and Werner Nel, University of Fort Hare
The Prince Edward Island group lies about 2300km south-east of South Africa in the Southern Indian Ocean. There are two islands in this group: Prince Edward and Marion Island, both of which are peaks of oceanic shield volcanoes.
Marion Island, the larger and older of the two, is about 293 km² in surface area and is estimated to be younger than 1 million years old. The island is still considered active, with volcanic eruptions recorded in 1980 and 2004. Marion's average annual air temperature is 6℃ and it receives about 2200 mm rainfall a year.
These islands are significant. They've been declared a South African special nature reserve; and, given that they are the only specks of land across thousands of kilometres of open ocean, they are also extremely important sentinels for palaeo-climate research.
This branch of study focuses on investigating how earth surface processes and ecological systems responded to changes in ancient climatic patterns. For example, changes in air circulation (winds), the position of ocean currents and changes in rainfall patterns have a direct effect on the island's landscape development. Understanding the links between landscape responses and climate change of the past can help us to better predict some of the climate change processes that currently threaten the planet.
Marion Island's last ice age has been a topic of scientific enquiry since a research expedition discovered glacial striations in 1965. Striations are grooves eroded, or scratched, in the rock surface as a glacier – a large, heavy 'stream' of ice – moves over the rock. Before this remarkable discovery, little consideration was given to the fact that the island may have been glaciated, or covered in ice, in the past.
Since then, scientists have worked to learn when that ice age happened and how extensive the glaciation was. More glacial striations have been found on the island and, with the tools and knowledge available to them, research teams have, until now, estimated that Marion Island's last ice age occurred between 20 000 and 15 000 years ago.
Now, thanks to improved dating techniques and some cutting edge technology, we believe we've found the real – and surprising – answer. Our findings suggest that Marion Island's last major ice age ended prior to 35 000 years ago, and that most of the glaciers had retreated by 17 000 years ago.
These findings are in stark contrast with the original worldview that suggested the entire globe was at a maximum glaciated state around 20 000 years ago. Instead, we see increasingly that the Northern and Southern Hemisphere did not respond equally to climate changes in the past. This mean they most probably do not respond to current climate change in a similar manner.
This can help researchers to better understand the current physical landscape's age, the history of island's ecology and the response of Marion Island to climate change since the last glaciation, as well as understanding the island's response to current and future climate change. These findings also contribute to the greater picture of palaeo-climate change and response across the Southern Ocean, for other sub-Antarctic islands like the Kerguelen Archipelago, Auckland and Campbell Islands or South Georgia.
Calculating the ice age
Our research was made possible by recent improvements in cosmogenic nuclide dating techniques, in particular that of cosmogenic chlorine-36 (³⁶Cl).
Cosmogenic ³⁶Cl is an isotope – an atom with the same number of protons, but a different number of neutrons – of otherwise naturally occurring chlorine ³⁵Cl and can only be produced within a rock surface when cosmic rays (extremely high-energy particles) from outer space pass through our atmosphere and collide with the atoms in the rock. These ³⁶Cl isotopes are produced as long as the rock lies exposed to the open atmosphere. Measuring the quantity of isotopes in the rock surface allows us to calculate how long the rock has been left exposed.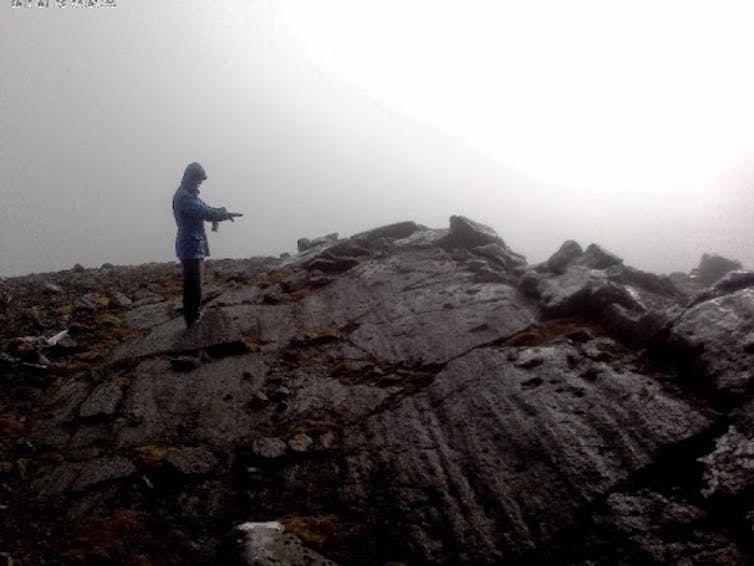 A roche mountonnée is a French name for glacially eroded bedrock that looks like a sheep's back, such as in this photo. These features are also found on Marion Island.
Elizabeth Rudolph
This principle can be applied to, for example, bedrock that was once glaciated but has since become exposed after the glaciers have retreated (melted out). That means the timing of the last glacial retreat can be established by determining the exposure age of a once glaciated bedrock.
We are a team of geomorphologists – earth scientists – from the universities of Fort Hare, the Free State and South Africa. We sampled rock surfaces of numerous glaciated features on Marion Island to determine their ³⁶Cl exposure ages.
The quantity of ³⁶Cl isotopes was determined using an accelerator mass spectrometer at the Scottish Universities Environmental Research Centre. This showed that Marion Island's most recent ice age ended prior to 35 000 years ago, and that most of the glaciers had retreated off the island by 17 000 years ago. These dates show that the climate at Marion Island changed from glacial conditions (cold and wet) to interglacial conditions (warmer and drier, or precipitation as rain instead of snow) much earlier than thought.
Our findings agree with more recent hypotheses that suggest the Northern and the Southern hemispheres do not respond synchronously to climatic changes. Researchers have argued in recent years that the Southern Hemisphere may have been at a glacial maximum long before the Northern Hemisphere reached its maximum glaciated state.
This emphasises the importance of studying and understanding the Southern Hemisphere's response to climate change, and not making assumptions based on Northern Hemispheric studies.
Review
These new insights call for a review of existing theories regarding Marion Island's landscape history and ecology, mainly because the island surface after glaciation has existed far longer than previously thought.
We also hope our study will serve as a reminder that collaboration across research disciplines, technical expertise and geographical boundaries are imperative to gain a full picture on our earth's past – and future – climate.

Elizabeth M Rudolph, Lecturer in Geography, University of the Free State; David William Hedding, Associate Professor in Geography, University of South Africa, and Werner Nel, Professor in Physical Geography, University of Fort Hare
This article is republished from The Conversation under a Creative Commons license. Read the original article.
♦♦♦♦♦♦♦♦♦
News continues below
NEW ZEALAND BAN ON CRUISE SHIPS EXTENDED
Determined to remain a country in control of the coronavirus pandemic, New Zealand has extended its ban on visiting cruise ships.
New Zealand has become a popular country to visit for cruise ships but as the coronavirus spread elsewhere, cruise ships grew a rapid reputation for…
♦♦♦♦♦♦♦♦♦
News continues below
VOITH SCHNEIDER'S INNOVATIVE ELECTRIC PROPELLER
Impressing with its resource-saving operation and minimal noise emission
* Voith continues to advance the electrification of its drive technologies and offers all-electric marine propulsion

*

The integrated electric motor enables an even more environmentally friendly and resource-saving operation
With the new electric Voith Schneider Propeller (eVSP), Voith is pushing ahead with the continuous electrification of its proven drive technologies, thus meeting the growing demand for resource-saving and energy-efficient mobility as well as future-oriented mobility concepts.
Among the advantages of the new eVSP are high efficiency and the reduction of complexity, since the permanent-magnet synchronous motor is already integrated in the propeller.
TO continue with the rest of this report, please go to our TRADE NEWS section.
♦♦♦♦♦♦♦♦♦
News continues below
UK ANNOUNCES FREE TRADE AGREEMENT NEGOTIATIONS
Australia and New Zealand

Currently there is much activity in hand in Whitehall on the trade negotiations front. This is anticipated activity especially as the closing stages are near for the withdrawal of the UK from the European Union, otherwise known as Brexit.
Africa to be considered, Japan too
At the same time potential trade agreements with other states are under active consideration and it is to be expected that free trade agreements with African countries could now be energetically pursued. On 9 June negotiations commenced with the opening of formal trade talks between the UK and Japan, already a close partner.
On 17 June the UK Government, through its Department of Environment, Food & Rural Affairs (DEFRA), announced the launch of free trade agreement (FTA) negotiations with each of Australia and New Zealand.
Furthermore, it was reported that the first round of UK-Australia negotiations are due to begin on 29 June, with UK-New Zealand negotiations following on 13 July. It is understood that each round will be conducted virtually.
It was indicated in the DEFRA communiqué that the UK remains committed to upholding its high health, environmental, labour, food safety and animal welfare standards in these FTA discussions.

Australia
A UK-Australia FTA will be ambitious and comprehensive. It will be a modern agreement with best-practice trade rules on emerging and increasingly important issues. It will include outcomes that benefit the small and medium-sized enterprises who already sell goods and services between the two countries, as well as encouraging more to do so. It will also contribute to economic growth and job creation, drive increased two-way trade in goods and services (worth £18.1bn in 2019 it is reported), and encourage two-way investment.
New Zealand
A UK-New Zealand FTA will be ambitious, comprehensive, future-focused, and will support sustainable and inclusive trade. By removing tariffs and tackling non-tariff barriers, the agreement will reduce costs for exporters and consumers, support job creation, innovation and collaboration, and boost two-way trade in goods and services worth £2.9bn in 2019.
With shared ambition in leading the global fight against climate change a UK-New Zealand FTA will support the two countries respective targets to reach net zero carbon emissions by 2050.
Stronger economic partnerships
These FTAs will also serve as a framework for an even stronger economic partnership as the UK seeks to expand its already close relationships in the Asia-Pacific region.
Australia and New Zealand are both members of the Comprehensive and Progressive Agreement for Trans-Pacific Partnership (CPTPP), and they welcome the UK's intention to join this group of committed free trading nations.
It is understood that collectively CPTPP members represented 13% of global GDP in 2018. The UK is determined to turbocharge its economic activity through membership.
Australia's Trade Minister, The Hon Simon Birmingham, said: "We will pursue deals that open up new opportunities for our farmers, businesses and consumers, support job creation and strengthen our economies as we recover from the impacts of COVID-19."
The Hon David Parker, NZ Trade Minister commented: "New Zealand and the United Kingdom have a close relationship, including strong trade and economic ties, common values and traditions and a shared history. A free trade agreement will be an important new milestone in that relationship.
"In the post Brexit environment, it makes more sense than ever for us to be working together to grow this partnership for the future."
Reported by Paul Ridgway
London
Joint statements
Australia
The joint statement by Australia's Trade Minister Simon Birmingham and UK Secretary of State, The Rt Hon Liz Truss*, on the launch of negotiations in 17 June for the Free Trade Agreement (FTA) is to be found CLICK HERE
New Zealand
Joint Statement by UK Secretary of State Liz Truss and NZ Trade Minister David Parker on the launch of negotiations for the UK-New Zealand Free Trade Agreement is available CLICK HERE
* Secretary of State for International Trade and President of the Board of Trade.
♦♦♦♦♦♦♦♦♦
News continues below
KENYA HIGH COURT ORDERS SUSPENSION OF NAIVASHA CARGO ORDER
Kenya's order that all cargo bound for inland destinations, including to Uganda, Rwanda and other landlocked neighbours, be railed on the standard gauge railway (SGR) as far as the terminus at Naivasha before being trucked to final destinations, has been temporarily set aside by the Kenya High Court.
The Kenya Government introduced the order after…
♦♦♦♦♦♦♦♦♦
News continues below
PSC IN ACTION IN THE UK
Cruise ships in Tilbury and Bristol inspected
Crew welfare concerns
Surveyors acting for the (UK) Maritime and Coastguard Agency (MCA) have detained the cruise ship Astoria, which at the time, 19 June, was at Tilbury Docks on the London River.
As is well known detention is a preventative measure in line with UK regulations in order that a full inspection of the ship related to…
Edited by Paul Ridgway
London
♦♦♦♦♦♦♦♦♦
News continues below
WHARF TALK NEWS & VIEWS FROM ALONG THE COAST
TRIALS & TRIBULATIONS AT CAPE TOWN
The situation at the Port of Cape Town remains largely unchanged since a week ago, with shortages of personnel at the port and terminals arising from the COVID-19 outbreak and impacting on the number of ships and cargo that can be handled. On top of this has been spells of bad weather, with a reported 72 hours lost at the container terminal due to this factor.
There's little question that the port has been more severely affected by the coronavirus than any of the other South African ports and to a large degree there's a good understanding of the predicament that Transnet as a whole (i.e. both Transnet National Ports Authority (TNPA) and Transnet Port Terminals (TPT) find themselves in.
Africa PORTS & SHIPS is not in a position to pass comment let alone judgement on the matter – all we seek to do is report what we see and hear from stakeholders. Readers must make their own minds up on the various issues but certainly this is a most unusual and unexpected situation that everyone involved with shipping through Cape Town now finds themselves in.
We are aware that Transnet is doing everything it can to alleviate the situation and to avoid having ships bypassing the port or alternately sitting outside for lengthy and costly periods.
On Saturday 21 June there were 13 vessels at the inner anchorage, whilst three vessels, MSC Mirella ex Durban, MSC Carlotta ex Las Palmas and one other were at the outer anchorage.
In port since Tuesday morning (16 June) was Maersk Line/Hamburg Süd's SANTA ISABEL (IMO 9444728) ex Durban, after having spent 22 days since 27 May 2020 at anchorage. This vessel initially bypassed Cape Town on the southwards journey from northern Europe going on to Ngqura and Durban but was caught in delays outside Cape Town on the return northern voyage.
Santa Isabel is deployed on the SAECS service – several of the SAECS vessels have been obliged to adopt the measure of skipping one Cape Town call although with two calls scheduled at Cape Town, one when arriving from Europe and the second when returning from Durban and Ngqura, they have been able to take advantage of the latter in order to maintain schedules until Durban.
An interesting movement took place on 12 June when the M H Hamburg arrived from Las Palmas and went in to the inner anchorage. At 12h00 she sailed for Port Elizabeth, but by 16h31 had returned and taken up her position in the inner anchorage, where she remained as of Sunday afternoon.
As reported earlier this month and two weeks ago when Cape Town was hit by gale force winds, all but two of the vessels at inner anchorage moved out to sea, the only two that did not were those that were in line with and closest to Robben Island, the Santa Isabel and the Charlotta Star.
Another manoeuvre that attracted attention last Thursday, 18 June involved the reefer FRIO LAS PALMAS that had been at inner anchorage for a few days until sailing at 22h20 for P.E. As she moved out, the reefer WILD COSMOS ex P.E. came into the Bay at 22h30 and entered port and berthed at the reefer sheds in Duncan Docks at 23h02. After spending 24 hours on her berth she then moved outside to the anchorage where she remains at present.
The reefer Wild Cosmos, at present outside the port of Cape Town, likely waiting for cargo
On Sunday the number of ships at the inner anchorage of Cape Town was 10, with a further five at the outer anchorage. Two of the vessels in port were tankers, JAG PUNIT and ECO REVOLUTION which had just arrived from Mossel Bay as this report was being compiled, while a third, STOLT PONDO ex Jamestown, St Helena remained at the outer anchorage.
Another tanker, the Hong Kong registered XIN DAN YANG arrived from Gola, USA and then departed on Friday 19 June with the standby coastal salvage tug SA AMANDLA appearing to be escorting her along the Cape coast. The tanker is headed for Sungai Linggi in Malaysia and is sailing under her own power. On Sunday early afternoon both vessels were well out to sea and opposite Still Bay on the Cape South Coast. Late update received just as this is about to be published is that both vessels have turned and were heading towards the land in the direction of Mossel Bay.
Cape Town Container Terminal is possibly the hardest affected area of the port with three instead of four gangs (teams) available and according to the fruit sector's daily logistics report, is operating at 50% efficiency. From an average of almost 72,000 TEU monthly, the port could only manage 54,000 TEU in May this year. In February 2020 shortly before the onset of the COVID-19 crisis the port container terminal managed just short of 75,000 – draw your own conclusions from these numbers.
According to the fruit sector berthing delays at Cape Town are estimated at around two weeks. Some of the port's citrus exports have been trucked to Port Elizabeth to avoid the port congestion but at accompanying increase in costs.
Last week the French line CMA CGM announced that on account of the current congestion in Cape Town, it was implementing a port congestion surcharge of US$ 550 for a 20ft container / $1,100 per 40ft, applicable as from 1 July 2020. This was for all imports and exports with the exception of imports from the Indian Subcontinent, Middle East Gulf, and East Mediterranean. To and from China also not applicable while the USA and Brazil will see the surcharge kicking in on 18 July.
♠♠♠♠♠
NEW CMEO APPOINTED AT EAST LONDON
Khayakazi 'Pinky' Somzana has been appointed as the new Chief Marine Engineer Officer (CMEO) at the Port of East London.
The 37-year old is responsible for the safe and efficient operation of all machinery and engineering functions on tugboats which includes watch keeping, repair and maintenance.
Somzana has been with TNPA since 2002 when with N1 – N4 electrical engineering qualifications, she joined the company as an apprentice Millwright.
In 2005, she qualified as a Millwright and then went on to serve as a Trainee Marine Engineer Officer at the Port of East London to gain more experience. Five years later, she received a bursary to pursue Maritime Studies at the Durban University of Technology to qualify as a Marine Engineer. Later that year, she embarked on a 12-month-long cadetship training period onboard a sea-going vessel.
Somzana completed her Maritime Studies S3 at Cape Peninsula University of Technology in 2018, which allowed her to work full-time as a Second Engineer on the Port of East London's tugs. The following year she obtained a SAMSA Certificate of Competency as a CMEO Port Operations.
♠♠♠♠♠
MONTPELLIER BACK IN SERVICE AT DURBAN
At the start of June we reported that the Hapag-Lloyd container ship MONTPELLIER (IMO 9314973) had completed her 14-day period of quarantine and would be allowed to enter port at Durban. This was after several members of the crew were tested positive with the coronavirus. Before the ship entered port another crew member was tested positive, meaning a second 14-day period of quarantine for the ship and her cargo, which could not be discharged in Durban nor new cargo loaded.
The vessel is deployed on Hapag-Lloyd's MIAX service between the Middle East, India, South Africa and West Africa.
It was second time lucky after the extra period of quarantine expired last week, and with a clean bill of health the ship was able to enter port, now 28 days over her schedule. She entered port last week to have the ship fully cleaned and disinfected prior to cargo operations commencing on 18 June and to have all the Durban-bound and Cape Town-bound containers offloaded.
Cargo destined for Cape Town is planned to be loaded onto the next MIAX vessel NYK PAULA Voyage 2022W, which is scheduled to arrive at Durban on 29 June and will sail on 1 July with arrival in Cape Town for 3 July.
Meanwhile Montpellier was still in Durban on Sunday afternoon with Tema and Tincan (Lagos) given as her next ports.
♠♠♠♠♠
BARGING ABOUT DURBAN BAY
There's a renewed interest in using barges to move containerised cargo across Durban Bay in order to alleviate traffic congestion along the Esplanade, Maydon and Bayhead Roads.
The idea is not new – as far as we can trace it was the late Dick Barens, father of ship building in Durban from the 1960s who first proposed to the then South African Transport Services (SATS, now Transnet) to allow him to introduce working barges on Durban Bay. He envisaged a barge port in or near the Silt Canal with tug-drawn barges used to move cargo from the Point docks across to the then undeveloped Bayhead region.
His proposal was rejected by the authorities.
Since then there have been one or two efforts with the same idea, the latest coming from the citrus fruit sector who have suggested using barges to carry containers from the T Jetty-based FPT terminal across the bay to the container terminal, where they would be loaded onto ships already working cargo at the berths.
When the Fresh Produce Terminal (FPT) was first established almost all citrus exports were loaded into conventional reefer vessels. Over the years this has changed dramatically and today more then 80% of citrus exports at Durban are containerised.
Durban still receives conventional reefer vessels, at the FPT terminal and a second reefer terminal at Maydon Wharf. Much of the citrus arriving at the FPT terminal is now packed into reefer containers, which then have to make the 15km journey by road to the container terminal on the south side of the port. FPT handles up to 20% of South Africa's citrus exports.
Because of congested roads, notably Bayhead Road, this short journey can take anywhere between 4 and 24 hours to navigate, competing with thousands of other trucks all heading in the same direction, with a couple of gates at the end holding them up.
Hence the suggestion that a number of barges could move these reefer containers across the much shorter distance of the harbour in a fraction of the time, while taking a significant number of up to 240 trucks off the busy city roads each day.
It seems a sensible idea although it unfortunately did not come from within Transnet. Nevertheless it has lots of merit – it's quite a common practice in many ports elsewhere and should be given serious consideration here.
About 10 years ago in the pages of Africa PORTS & SHIPS we suggested something even more radical for Durban. It was at the time of the proposed new Dig-Out Port to the south of Durban Bay and we suggested building a navigable canal from the present port across the flat former flood plain towards Clairwood to a series of container depots, where containers could be barged from the container terminal to the depots and from there trucked or railed elsewhere. An existing canalised Umhlatuzana/Umbilo river could be utilised for much of the way.
Not surprisingly there was no response to the suggestion but out-of-the box (no pun) thinking is required to solve an ongoing road congestion problem that we have been reporting in one form or another for the past 25 years.
Sources for Wharf Talk: John Hawkins, Dick Vashan, FPT, Hapag-Lloyd, TNPA, Terry Hutson
♦♦♦♦♦♦♦♦♦
News continues below
GENERAL NEWS REPORTS – UPDATED THROUGH THE DAY
in partnership with – APO
♦♦♦♦♦♦♦♦♦
More News at https://africaports.co.za/category/News/
News continues below
TO ADVERTISE HERE
Request a Rate Card from info@africaports.co.za
EXPECTED SHIP ARRIVALS and SHIPS IN PORT

Port Louis – Indian Ocean gateway port
Ports & Ships publishes regularly updated SHIP MOVEMENT reports including ETAs for ports extending from West Africa to South Africa to East Africa and including Port Louis in Mauritius.
In the case of South Africa's container ports of Durban, Ngqura, Ports Elizabeth and Cape Town links to container Stack Dates are also available.
You can access this information, including the list of ports covered, by going HERE remember to use your BACKSPACE to return to this page.
News continues below
CRUISE NEWS AND NAVAL ACTIVITIES

QM2 in Cape Town. Picture by Ian Shiffman
We publish news about the cruise industry here in the general news section.
Naval News
Similarly you can read our regular Naval News reports and stories here in the general news section.
♦♦♦♦♦♦♦♦♦
THOUGHT FOR THE WEEK
"Know that you are not alone and that you are not forgotten. Your work at sea often keeps you apart from others, but you are close to me in my thoughts and prayers, and in those of your chaplains and the volunteers of Stella Maris."
Pope Francis, addressing all seafarers locked in at sea
♠♠♠
♠♠♠
ADVERTISING
For a Rate Card please contact us at info@africaports.co.za
Don't forget to send us your news and press releases for inclusion in the News Bulletins. Shipping related pictures submitted by readers are always welcome. Email to info@africaports.co.za
TABLE BAY UNDERWAY SHIPPING
SHIP PHOTOGRAPHERS
Colour photographs
and slides for sale of a variety of ships.
Thousands of items listed featuring famous passenger liners of the past to cruise ships of today, freighters, container vessels, tankers, bulkers, naval and research vessels.
P O BOX 809, CAPE TOWN, 8000, SOUTH AFRICA
snai@worldonline.co.za
http://home.worldonline.co.za/~snai
South Africa's most comprehensive Directory of Maritime Services will shortly be listed on this site. Please advise if you'd like your company to be included. To sign up for a free listing contact info@africaports.co.za or register online