Bringing you shipping, freight, trade and transport related news of interest for Africa since 2002
Bringing you shipping, freight, trade and transport related news of interest for Africa since 2002
Stay Well, Stay Safe, Stay Patient, don't become one
Advertise here. This space above is available. For a Rate Card email us at terry@africaports.co.za
♠♠♠
Come with us as we report through 2020
**********
TODAY'S BULLETIN OF MARITIME NEWS
These news reports are updated on an ongoing basis. Check back regularly for the latest news as it develops – where necessary refresh your page at www.africaports.co.za
Click on headline to go direct to story : use the BACK key to return
Earlier News : Headlines in Blue

EARLIER NEWS CAN BE FOUND AT

NEWS CATEGORIES

The Sunday masthead is of the Port of Durban, T Jetty

♦♦♦♦♦♦♦♦
SEND NEWS REPORTS AND PRESS RELEASES TO
info@africaports.co.za
♦♦♦♦♦♦♦♦♦
News continues below
Apart from the general attractiveness of the setting, what is of strong interest in these pictures showing the container ship, MSC CORINNA (IMO 9307267) arriving along the channel leading to the port of Lyttelton in New Zealand, is the scrubber fitted behind the smokestack, bridge and accommodation block. Photographer Alan Calvert described the scene by saying that as the ship arrived along the channel she emitted what looked like smoke signals which instead turned out to be steam. Despite the sunshine it was a cold day after a heavy frost in the morning. "One of the cleanest operating scrubbers I have seen," he said.
MSC Corinna was built in 2006 by STX Shipbuilding at their Jinhae yard. The 27,469-gt, 210-metre long, 30m wide container ship was originally named JPO Sagittarius until 2006 when she came under the ownership and management of MSC, who renamed her MSC Corinna. These pictures are by Alan Calvert
♦♦♦♦♦♦♦♦♦
♦♦♦♦♦♦♦♦♦
News continues below
SA PORT STATISTICS FOR THE MONTH OF MAY 2020 ARE NOW AVAILABLE HERE
Port statistics for the month of

May 2020

, covering the eight commercial ports under the administration of Transnet National Ports Authority, are now available.
Details of the port throughputs, ships berthed and container volumes handled can be seen in the Tables below.
Statistics involving motor vehicles are also included, per port and measured in vehicle units. These include imports and exports, earth-moving and other ro-ro or wheeled vehicles.
The effects of the countrywide lockdown as it concerns the nation's seaports can be clearly seen in the dramatic decrease in cargo handled at South Africa's ports, although there is an improvement on the month of April which took the brunt of the early lockdown process. For a comparison with the same month of 2019 we provide a link below. For how long this situation of economic downturn will continue is difficult to judge, as no-one has yet calculated or can estimate the full effect of the coronavirus-induced lockdowns at ports across the world, or the short, medium and long-term effects the crisis is going to have on not only the local South African economy, but world trade and shipping in general. This is an ongoing matter.
These effects are being seen with the number of ship services blanked (cancelled) and similarly the increasing number of ships diverting around the Cape of Good Hope and even Cape Horn in order to delay arrival in Europe, North America or China and to lower the costs of the voyages by avoiding the Suez or Panama Canal fees. We reported this a month ago and the trend continues.
How long this growing worldwide recession will last before world trade can begin to rebound depends may depend on the discovery of a cure or vaccine or even a treatment for COVID-19. Indications are that this may not be until 2021 at the earliest but even then the effects may remain long-lasting. However there are indications of world economies beginning to stir and reopen nothwithstanding the continuing risks of the pandemic.
Total cargo handled for the month of May 2020 amounted to…
♦♦♦♦♦♦♦♦♦
News continues below
LIFESTYLE AUDITS FOR ALL TRANSNET EMPLOYEES
Transnet SOC Ltd announced on Thursday (18 June 2020) that it has instituted a process of lifestyle audits for its employees, as part of its efforts to ensure high standards of ethics and integrity.
Transnet as one of the larger state-owned enterprises has not been spared gaining a reputation for corruption among senior personnel, running into claims of billions of rands having been looted in one way or another.
Now, in setting the tone and leading by example, senior management that includes executive management (Level A – C), have become the first category of employees to undergo the initial phase of the lifestyle audit.
The lifestyle audit is one of a number of initiatives to rebuild trust within Transnet and between ourselves and the public we serve, said the company statement.
The lifestyle audit is intended as an additional governance tool to improve transparency and prevent conflicts of interest.
The audit is in line with directives issued by Government on security checks for employees in government departments and state-owned entities.
It will be rolled out over time, prioritising functions such as procurement, IT and security.
Employees are required to submit forms declaring – among others – their assets, credit history as well as those of their immediate family members, and a declaration of their interests. It will allow Transnet to assess whether an employee's lifestyle is in line with their known income.
The process aims to ensure that all necessary declarations and recusals are in place when related entities do business with Transnet.
Transnet said the response has been overwhelmingly positive thus far, with over 90% of employees submitting themselves to the process. "This attests to the fact that the majority of us support and treasure an environment where the primary motive of all employees is to acting the interests of Transnet and South Africa," said Transnet.
When asked about the other 10 % of employees who hadn't submitted themselves to the process, we were told that the company would get back to us shortly. Africa PORTS & SHIPS will publish that response when it is received.
RESPONSE:  Friday 19 June 16h00:  Responding to the above query from this publication, a Transnet spokesperson said the following:
"Transnet SOC Ltd believes that all managers will submit to the process, as it is in the broader interests of the company, and the country.  However, in instances of non-compliance, Transnet will afford employees an opportunity to explain their non-compliance before implementing necessary disciplinary action, in line with its labour relations policies." 
According to Transnet the process of the audit is independent and confidentiality is assured. "Engagement on the information will be undertaken between the individual and the service provider, to afford comfort of protection of privacy of information. The service provider is subject to strict confidentiality and indemnity undertakings.
"In instances where discrepancies are identified, individuals will be given an opportunity to provide additional information or clarification before any further action is taken."
♦♦♦♦♦♦♦♦♦
News continues below
PORT OF DURBAN USING VIRTUAL TECHNOLOGY TO ADDRESS PORT ISSUES
The operation of a port the size of Durban requires close interaction and collaboration with various stakeholders and the national lockdown brought introduced in March as a result of the COVID-19 pandemic has introduced serious challenges in this respect.
As other sectors have discovered, it becomes necessary to…
♦♦♦♦♦♦♦♦♦
News continues below
AN INTERESTING BOOK FROM WESTERN AUSTRALIA
A Hazardous Life: Captain George Forsyth, Mariner and First Harbour Master for the Colony of Western Australia
By Ron Forsyth & Ian Forsyth
Published by Maritime Heritage Association Inc
P O Box 1080
Guilderton
Western Australia 6041
www.maritimeheritage.org.au
First published in 2019, softback, 274 pages ISBN 978 0 9944304 1 0
George Andrew Duncan Forsyth (born Southwark, London, 1843, died Fremantle, 1894) led a varied and hazardous life after arriving in the Colony of Western Australia as a 21-year-old in 1864. Through hard work and natural ability he worked his way up through the Harbour Master's Department and was appointed the inaugural head of the Department of Harbour and Light in 1879.
Fremantle was a notoriously difficult port in the 19th century. It is important to note that in 1864 Fremantle was a town of 3,500 people and saw one ship a week from beyond the colony and at that time the voyage from England was of from 10 to 12 weeks duration.
The Inner Harbour is at the mouth of the Swan River, on the edge of the Indian Ocean and a gateway to Western Australia. This is a place of plentiful resources where people met for thousands of years as well as a place of spiritual meaning where ancestors walked, camped, hunted and fished, naming the features they saw.
In the early years of European settlement, the port comprised various wooden jetties in the area known as Bathers' Beach and Arthur's Head. These jetties were exposed to the elements, including the strong SW winds known locally as the Fremantle Doctor. Work began on the Fremantle Inner Harbour, designed by State Engineer CY O'Connor, in 1892 and the harbour was officially opened on 4 May 1897.
Without doubt the port has played a significant part in Western Australia's development and history, including wartime. There is much on the port's early history to be found on the port's website by CLICKING HERE
Major imports through the port in the early years of its history were manufactured goods, food products and some raw materials such as coal. Fisheries products, sandalwood and other timbers, wool, gold and later wheat were the major exports,
As George Forsyth struggled to improve safety and port operations, he became a thorn in the side of ship owners and the colonial administration which eventually led to his dismissal on spurious charges in 1885. The opposition he encountered from branches of the shipping community and the Legislative Council were unbelievable as he was attempting to professionalise the port's operations. Power and personalities of others played no small part here such that returned to a life at sea and fell into obscurity.
George was also an amateur artist. While he was a painter of moderate talent, his legacy is a collection of sketches and paintings that hold tremendous historic value. His scenes of Western Australia were executed with great attention to detail and are a valuable reference for researchers. Some of his work is included in the book.
In all the tale is told over 18 chapters introduced with a foreword by Hon Kerry Sanderson, former Governor of Western Australia and CEO of Fremantle Ports.
Chapters are supported by a preface, acknowledgments and brought up in the rear with an appendix concerning Captain George Forsyth's prolific artwork to which is added references, a list for further reading, endnotes, an index of vessels, places and people and organisations in the text. At the front there is a valuable set of five pages of maps showing: Western Australia and the approaches to the Port of Fremantle. To conclude there are brief introductory notes to the authors Ron and Ian Forsyth and to the Maritime Heritage Association of Western Australia, the publisher.
Brothers Ian and Ron Forsyth knew very little about their great grandfather George until Ron began researching their family history. It became apparent that he had uncovered a fascinating story from Australian maritime history. This deserves a wide audience. The Forsyth family was very much part of the Western Australia maritime community.
Here is a fascinating insight into port management and colonial administration in WA in the second half of the 19th century. A well-written account of which Captain Allan Gray, President of IHMA, commented: "…provides a great window into the life of Fremantle in colonial days…I have seen the same role through different eyes more than a century later."
As a dedication readers are informed that the book pays tribute to the Colony of Western Australia's valorous harbour masters, pilots, coxswains and crews who performed a vital role in keeping the colony afloat. How very true.
To buy a copy
Readers are invited to make contact with the Maritime Heritage Association based in Guilderton, Western Australia, by e-mail: info@maritimeheritage.org.au
The Home page is here: www.maritimeheritage.org.au
A pdf order form may be found HERE
The price is currently (1 June 2020): Au$29 or GBP14.50 plus postage.   Cost including postage to an address outside Australia can be advised by the Maritime Heritage Association.
Reviewed by Paul Ridgway
London Correspondent
www.africaports.co.za
♦♦♦♦♦♦♦♦♦
News continues below
MAERSK FLEET SETS OUT TO ASSIST OCEAN & CLIMATE SCIENCE
Ships of the Maersk fleet will shortly be assisting global research efforts on weather patterns and climate change when the Danish company commits 300 company-owned vessels to participate in the global Voluntary Observing Ship (VOS) program.
While Maersk already has many ships already contributing to the VOS, the newly expanded commitment will see its entire fleet participating by the end of 2020. The recorded data helps meteorologists create more accurate weather and storm forecasts – and will also…
♦♦♦♦♦♦♦♦♦
News continues below
TRANSNET PORT TERMINALS INVESTS R40 MILLION A YEAR ON YOUTH DEVELOPMENT
Transnet Port Terminals, which operates with 16 port and three inland terminals in South Africa, has become a significant investor within the technical and maritime logistics skills landscape, having spent over R40 million the the development of young people during the recently concluded 2019/2020 financial year.
Annually, over 400 young people…
♦♦♦♦♦♦♦♦♦
News continues below
MAERSK AND COSCO SET UP MASHARIKI EXPRESS SERVICE BETWEEN FAR EAST AND EAST AFRICA
Maersk Line

and China Ocean Shipping Company (Cosco) have combined operations to form a joint service between the East African ports of Mombasa and Dar es Salaam and China and South East Asia.
Given the name 'Mashariki Express' the shipping service is further evidence that the days have passed when the ports of East Africa relied on feeder services to connect with the outside world.
The ports of Mombasa and Dar es Salaam are now directly connected with ports in China and have an effective saving in time of an average of two weeks.
The two East African ports each provide gateway services to neighbouring landlocked countries including Zambia, Malawi, DRC, Burundi, Rwanda, Uganda, South Sudan, and Ethiopia.
The first vessel under the new Mashariki Express agreement, the 41,500-dwt COSCO YINKOU (IMO: 9403011) has already arrived in East Africa from Far East and South East Asian ports.
♦♦♦♦♦♦♦♦♦
News continues below
CRUISING: FOUR FREDS IN THE FIRTH OF FORTH : VIDEO INTERLUDE
Take a break from all the reading that lies ahead with these two cruising videos, courtesy Fred. Olsen Lines. After all, who knows how long before we see cruise ships with real passengers lining the decks. Both videos are short – this is just an interlude.
Four Freds in the Firth of Forth [1:12]
And if that was enjoyable but too short, watch FRED OLSEN CAPTAINS IN CADIZ which is slightly longer at [2:43]. Afterwards you can remain online with YouTube for more video clips, but do remember to return to this page.
Fred Olsen Captains in Cádiz [2:48]
♦♦♦♦♦♦♦♦♦
News continues below
ALFA LAVAL PURESOx EXPRESS OFFERS EASY ACCESS TO SOx SCRUBBER ADVANTAGES
For smaller vessels like handymax bulkers or product tankers, the cost of installing a scrubber for SOx compliance has sometimes outweighed the benefits. Now Alfa Laval PureSOx Express makes it simple for these vessels to continue using HFO and comply with SOx regulations.
The new PureSOx Express is an open-loop PureSOx system, but one delivered as a fully enclosed module. Adapted for a simple and cost-efficient fit on smaller vessels, it reduces the investment cost, engineering time and physical work of installing a SOx scrubber.
TO continue with the rest of this report, please go to our TRADE NEWS section.
♦♦♦♦♦♦♦♦♦
News continues below
NEW KONECRANES REACH STACKER FOR APM TERMINALS PORT ELIZABETH
APM Terminals has taken delivery of a new Konecranes reach stacker at its Port Elizabeth inland terminal.
Delivery was made last month (May) with the new Flow Drive-equipped reach stacker as a replacement for an older machine and introducing the latest in fuel-efficiency truck technology to Africa.
According to Konecranes, the reach stacker, a model SMV 4531 TC5, is able…
♦♦♦♦♦♦♦♦♦
News continues below
RAIL ACCIDENT INVESTIGATIONS: AUSTRALIA
At the end of May I introduced the (UK) Rail Accident Investigation Branch (RAIB), one of three offices with responsibilities for accident investigation; others concern aviation and maritime accidents. You can see that report HERE
Introducing the ATSB
In Australia the Australian Transport Safety Bureau (ATSB) is the national transport safety investigator. This is an independent Commonwealth Government statutory agency. It is…
Rail defect derails freight wagons
The derailment of two freight wagons and the subsequent disruption to freight and passenger services has highlighted the importance of inspection techniques that effectively monitor and report on asset condition.
On 7 June 2019, Pacific National freight train 6CM3 was operating between Griffith, in New South Wales' Riverina region and Melbourne's Appleton Dock. A roll-by inspection…
Edited by Paul Ridgway
London
Text here based on media information kindly provided by ATSB. Illustrations published by courtesy of ATSB and OTSI ©
♦♦♦♦♦♦♦♦♦
News continues below
WALVIS BAY ACQUIRES ITS OWN BUNKER BARGE SERVICE
The Port of Walvis Bay on the long Namibian coast continues to punch above its own weight. The port which recently opened a new state-or-the art container terminal that is providing impetus to the port's status as a regional hub serving significant parts of Central Africa, has now acquired its own bunkering service.
This has come about in a collaboration between Namport and…
♦♦♦♦♦♦♦♦♦
News continues below
ENOUGH IS ENOUGH – ITF ACTS TOUGH OVER PLIGHT OF TRAPPED SEAFARERS
World's seafarers will now exercise right to leave ships amid Covid-19 failures
The International Transport Workers' Federation (ITF) and its affiliated seafarers' unions will now assist hundreds of thousands of seafarers to exercise their right to stop working, leave ships, and return home.
The new approach, which could be highly disruptive to global trade, comes after insufficient action by governments to designate seafarers as 'key workers', exempt them from Covid-19 travel restrictions and facilitate repatriation of around 200,000 seafarers who have been caught up in the crew change crisis, said ITF Seafarers' Section Chair Dave Heindel.
"We are sending a very strong message to seafarers: you have selflessly extended and extended your contracts to do your part to keep critical supplies flowing around the world during this pandemic."
"Some seafarers have been onboard for more than a year, and over the course of this pandemic many have been prevented by governments from coming ashore even for a walk and alarmingly refused emergency medical care. Frankly, we have seafarers killing themselves at the prospect of this misery continuing without end. They call them 'floating prisons'. This situation is intolerable to the ITF family," said Heindel.
ITF President and Dockers' Section chair Paddy Crumlin reiterated the repeated warnings given to governments from unions and industry of this unfolding humanitarian crisis: "We have urged them on the consequences of tired, fatigued, depressed crew – to trade, to the environment. We have worked with industry and the international community to offer solutions."
"But enough is enough. We have to draw a line in the sand and today is the day that we make it crystal clear to governments, that from 16 June, seafarers are going to start enforcing their right to stop working and to return home. No more contract extensions." said Crumlin.
ITF General Secretary Steve Cotton said all that governments need to do is make practical exceptions to coronavirus restrictions, and allow these key workers to transit through their territories and return to their families. A few small changes by national governments would allow seafarers to get home, and be relieved by a fresh crew, he said.
"If a seafarers wants off a ship, then the ITF, our affiliated unions and the ITF inspectorate will do everything we can to assist them. We fully expect port state authorities in all countries where ships dock to honour their obligations under the Maritime Labour Convention to get these seafarers safely home. That is their legal obligation."
"If getting seafarers off these ships causes chaos in supply chains, if ports back up from Singapore to San Francisco, and if this causes ship insurance providers to pull their coverage and global trade to grind to a halt; then that is on the heads of politicians, not the world's seafarers."
"Seafarers have done our part in this pandemic, and plenty more. Enough is enough, said Steve Cotton.
See following report ……
♦♦♦♦♦♦♦♦♦
News continues below
2020 CAMPAIGN – SEAFARERS ARE KEY WORKERS
This year, the annual Day of the Seafarer (DotS) will be celebrating its 10th anniversary on 25 June
​As we all know seafarers are on the frontline of the COVID-19 pandemic, playing an essential role in maintaining the flow of vital goods, such as food, medicines and medical supplies. However, the crisis has led to difficult working conditions for seafarers, including uncertainties and difficulties about port access, re-supply, crew changeovers and repatriation.
This year, the Day of the Seafarer campaign calls on Member States to recognise seafarers as key workers – and to provide them with the support, assistance and travel options open to all key workers during the pandemic.
SG IMO's message
IMO Secretary-General Kitack Lim has himself issued a moving personal message to seafarers everywhere, assuring them that IMO understands the unique problems they face during the coronavirus pandemic and has been working tirelessly at all levels to find solutions for them.
Secretary-General Lim has also urged IMO Member States and shipping companies to adopt a practical and pragmatic approach to issues like crew changeovers, resupply, repairs, survey, and certification and licensing of seafarers.
The 2020 Day of the Seafarer campaign pays tribute to seafarers, acknowledging their sacrifice and the issues they face. Many seafarers have been away from home for months and are unsure when they will be able to return home due to travel restrictions.
Raising awareness
This campaign also seeks to raise awareness of the work achieved by seafarers in response to the pandemic and to thank them for their contribution. Everyone is invited to recognise that the ability of seafarers to deliver vital goods is central to responding to, and eventually overcoming, this pandemic.
Furthermore the campaign encourages everyone to treat seafarers with the respect and dignity they deserve so that they can continue to provide their vital services to keep world trade moving.
Edited by Paul Ridgway
London
♦♦♦♦♦♦♦♦♦
News continues below
AFRICAN COUNTRIES NEED TO SEIZE OPPORTUNITIES CREATED BY US-CHINA TENSIONS        – Feature article
Mzukisi Qobo, University of the Witwatersrand and Mjumo Mzyece, University of the Witwatersrand
The unfolding US-China power rivalry 
bears a striking resemblance to the tensions between the US and the Soviet bloc during the Cold War years. Back then, African countries were positioned like pawns on a grand chessboard. Their social and economic progress was hampered because they expended energy aligning themselves with either of the superpowers in the battle for world supremacy between communism and capitalism.
With notable exceptions, African states generally failed to exercise positive agency for their own development. They also eroded the institutional and governance foundations vital for economic success.
In the current context of rising geopolitical tensions between the US and China, African countries may find themselves repeating the same mistakes unless they proactively shape their own destinies.
The tensions between the two great powers, characterised by a vicious trade war, are deepening at a time when the world economy is under enormous strain due to COVID-19. At the same time African countries are facing their worst economic crises since independence.
Africa is institutionally under-prepared to weather the combined effects of the health pandemic and severe economic recession. Its leaders will need to consciously design strategies of engagement that will help them to manage the ongoing superpower tensions to their advantage. They should do so without taking sides. This requires that they deal with each of these great powers based on pragmatic – rather than ideological – choices.
Despite their institutional under-preparedness, African countries can – and indeed must – be highly strategic and tactical in how they respond to the US-China tensions. Failure to do so will inevitably mean sacrificing their own interests.
There are three arenas of challenges and opportunities for the African continent in the current geopolitical climate. The first involves technological frontiers, the second is global supply chains, and the third is trade integration and economic cooperation.
New technological frontiers
There is overwhelming evidence that technological innovation is the key driver of economic growth. Therefore, access to and exploitation of new technologies such as 5G is vital to Africa's development. Fifth generation technologies are important options for a continent like Africa where mobile technology has leap-frogged more traditional technologies.
Access to technologies like 5G offers access to universal broadband, which is critical for the continent's advance to a digital economy.
In May last year the US government put the Chinese firm Huawei, the world's leading supplier of 5G network infrastructure, on its list of entities deemed to pose a significant risk to national security and foreign policy interests.
Huawei was effectively banned from importing and incorporating key US technologies into its products and services. This included both hardware, such as high-tech semiconductor components, and software, like Google Mobile Services (GMS). The ban was later extended to key technologies from non-US firms. These included the Taiwan Semiconductor Manufacturing Company, a major Huawei supplier.
In the month following the initial ban, the CEOs of four major South African telecommunications operators – Telkom, Vodacom, MTN and Cell C – wrote a joint letter to South African president Cyril Ramaphosa requesting his urgent intervention on the US action against Huawei. Their aim would have been to lend diplomatic weight to prevent damage to South Africa's telecommunications sector.
In July last year Ramaphosa came out in support of the four operators as well as Huawei. He said the ban was:
an example of protectionism that will affect our own telecommunications sector, particularly the efforts to roll out the 5G network, causing a setback on other networks as well.
This was an example of pragmatism on the part of the South African government.
African policymakers should strenuously safeguard their right to choose from the widest possible range of technology options that suit their countries' development needs. And they should insist on acquiring and developing new technologies like 5G based on pragmatism.
Global supply chains
The second theatre of struggle for African countries is in global supply chains.
The COVID-19 reality, combined with the ratcheting up of US-China tensions over trade, technology and supply chains, has opened up opportunities that African countries should exploit.
Combined, they have exposed serious problems in supply networks across various sectors. These include digital products, food, pharmaceutical and medical supply chains.
These sectors represent opportunities for African countries to develop new products, services and capabilities. They could, for example, provide answers to safeguarding Africa's food security needs, local production of essential drugs and medicines, low-cost medical tests and equipment, and logistics.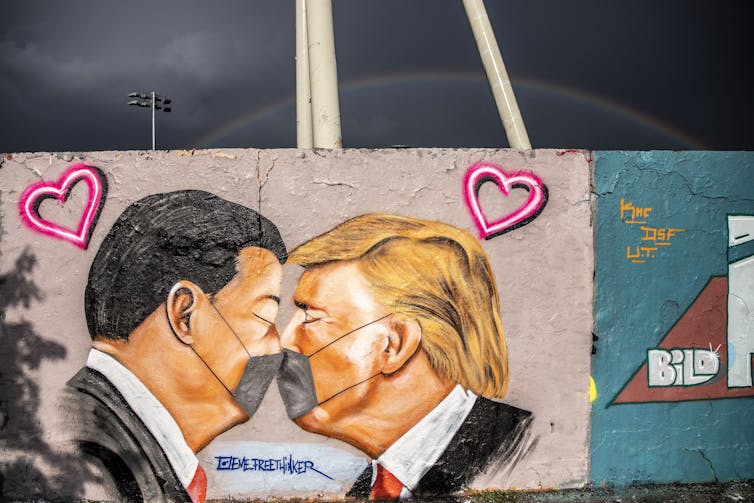 A mural of presidents Donald Trump and Xi Jinping in Berlin.
EFE-EPA/Omer Messinger
But African countries will need to work more collaboratively to develop thriving economic sectors and cross-border industrial linkages. Trade will, in our view, be a critical enabler for this.
This leads us to the third domain, namely the need for African countries to deepen trade integration and economic cooperation. This will provide a basis for diversifying from over-reliance on export markets such as China and the US, and to build internal resilience.
Intra-Africa trade
Intra-African trade accounts for just 16% of total African trade. This compares with 52% in Asia and 73% in Europe. African trade is highly concentrated on a few economic hubs: China and Europe together account for 54% of total African trade, with China being Africa's single largest trading partner. It accounts for over 14% of total African trade.
The African Continental Free Trade Area creates the institutional and infrastructural framework for Africa to strengthen intra-African trade, diversify its trading partners and implement long-overdue trade policy reforms.
COVID-19 has induced significant delays in the implementation of this trading arrangement. It should, in fact, have magnified a sense of urgency. But instead of showing adaptability, African leaders pressed a pause button. As a result, the continent could miss an opportunity to accelerate development of cross-border value chains in medical supplies and equipment and other areas.
Imagination and courage
African countries should seize the opportunities presented by deepening tensions between China and the US to realise positive agency and chart their own future. They will need to be more proactive and adaptive under the fluid and uncertain global environment. This will require a great deal of imagination and courage.
African countries face a daunting set of challenges and constraints. But policymakers always have options.

Mzukisi Qobo, Head: Wits School of Governance, University of the Witwatersrand and Mjumo Mzyece, Associate Professor of Technology and Operations Management, University of the Witwatersrand
This article is republished from The Conversation under a Creative Commons license. Read the original article.
♦♦♦♦♦♦♦♦♦
News continues below
MOZAMBIQUE AUTHORITIES SEIZE 13 TRUCKS TRANSPORTING ILLEGAL TIMBER
A total of 13 trucks transporting logs most likely for export have been seized by authorities in Dondo, Sofala province in central Mozambique. This was over a three day period last week.
The report was made by José Ncuinda, head of inspection for…
♦♦♦♦♦♦♦♦♦
News continues below
BREXIT TRADE DEAL
New border procedures
UK Government announces phased transition
Commenting on confirmation by the UK Government of new border controls and procedures from the end of the Transition Period, the trade association for UK freight forwarders questioned whether the phased transition will succeed in giving the companies managing cross-border trade between the UK and EU…
Edited by Paul Ridgway
London
♦♦♦♦♦♦♦♦♦
News continues below
CORONAVIRUS IMPACTING ON AFRICAN AGRICULTURAL EXPORTS
Africa faces serious losses in crop exports as a result of the ongoing COVID-19 pandemic, forecasts consultancy firm McKinsey.
The impact of this can affect an estimated 60 per cent of the economically active people across sub-Saharan Africa with the possible loss of US$ 4.8 Billion in exports mostly in crop exports.
The loss of markets involving the…
♦♦♦♦♦♦♦♦♦
News continues below
UN SECRETARY-GENERAL SPEAKS OUT ON SEAFARERS
Statement attributable to the Spokesman for the Secretary-General on the repatriation of seafarers
The UN Secretary-General is concerned about the growing humanitarian and safety crisis facing seafarers around the world. As a result of COVID-related travel restrictions, hundreds of thousands of the world's two million seafarers have been stranded at sea for months. Unable to get off ships, the maximum sea time stipulated in international conventions is being ignored, with some seafarers marooned at sea for 15 months.
Shipping transports more than 80% of world trade, including vital medical supplies, food and other basic goods that are critical for the COVID-19 response and recovery. This ongoing crisis will have direct consequences on the shipping industry. The world could not function without the efforts of seafarers yet their contributions go largely unheralded; they deserve far greater support at any time but especially now.
The Secretary-General calls on all countries to formally designate seafarers and other marine personnel as "key workers" and ensure crew changeovers can safely take place.
United Nations agencies, including the International Labour Organisation and the International Maritime Organization, have worked with the International Chamber of Shipping and the International Transport Workers Federation to develop protocols for crew changeovers, taking full account of public health concerns. The Secretary-General calls on all governments to urgently implement these protocols, allowing stranded seafarers to repatriate and others to join ships.
Stéphane Dujarric, Spokesman for the Secretary-General
Issued by IMO 12 June 2020
Edited by Paul Ridgway
London
♦♦♦♦♦♦♦♦♦
News continues below
Lake Victoria could burst its banks more often in the future.  What can be done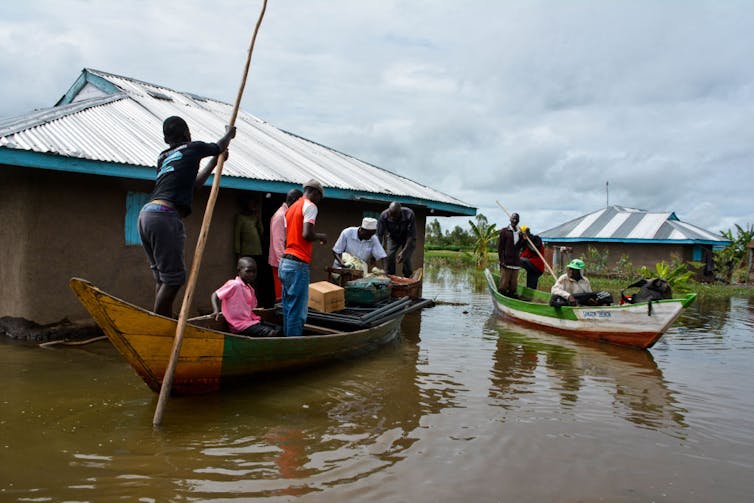 Lydia Olaka, University of Nairobi
In recent weeks, water levels in Lake Victoria have reached unprecedented heights as a result of heavy rains in the East African region which started in August 2019. Some say the lake's levels have not been this high for 50 years. According to the Lake Victoria Basin Commission, the lake hit a new record level of 13.42 meters – marginally higher than the 13.41 meter mark recorded in 1964.
Nestled between Rwanda, Burundi, Uganda, Kenya and Tanzania, Lake Victoria supports the livelihoods of over 35 million people and is crucial for many sectors. The rising water levels have been devastating, particularly for those that live close to the lake and depend on it.
The lake supports fisheries, agriculture (through providing irrigation), hydropower (mainly for Uganda), domestic water supply and industry.
The lake is also an important tourist destination and provides the habitat for many key species – such as endemic cichlid fishes, birds and sitatunga antelopes.
Because of the floods, it's been reported that over 200,000 people have been displaced in Kenya, Uganda and Tanzania.
The floods have destroyed infrastructure, farmland and crops, and property around the lake. They have also increased the spread of pollution. This is increasing water treatment costs and affecting those living in the surrounding areas. There are now concerns that there will be outbreaks of vector borne diseases – such as malaria and bilharzia – and gastrointestinal diseases such as cholera.
Heavy rains
The rains the region received were unusually heavy and attributable to the Indian Ocean Dipole – a weather phenomenon caused by differences in sea surface temperatures between the eastern and western tropical Indian Ocean. Last year, the differences in temperatures were higher than usual, causing much more rainfall over East Africa from September to January.
Though the rain caused by the dipole have ended, the region then moved into its rainy season which typically runs from March to May.
Lake Victoria has an enormous surface area of 68,800sqkm. Rainfall is very important for the lake as it accounts for 80% of its recharge. The 23 rivers that recharge the lake account for only 20% of its input.
From research my colleagues and I have done – examining the projected changes in weather in the Lake Victoria basin – we've found that these high water levels will be more frequent in the future because there'll be much more rainfall.
The aim of our study was to look at how the rivers that drain into the Lake Victoria basin will change as a result of increased greenhouse gases in the atmosphere.
We show that, between 2036 and 2065, there will be 25% more annual rainfall in the eastern part of the lake Victoria catchment (Kenya and Tanzania side) area and between 5 and 10% in the western part of the catchment (Rwanda and Burundi side).
Our models use data from the Rossby Center Regional Atmospheric Model along with the global climate model from the Coordinated Regional Climate Downscaling Experiment project.
We coupled this with information on how much greenhouse gas there could be in the future. There are a series of scenarios – known as Representative Concentration Pathways – which represent what could happen in the future based on different emission trajectories. The more pessimistic scenarios, for instance, assume that no climate change policies are implemented and so there is an increase in greenhouse gases. These, more pessimistic, scenarios are what we based our models on.
Our data shows how much rain there could be. Lake Victoria is an open lake meaning whenever the lake level rises, spill-off should occur – this makes it hard to predict how much the lake will rise because the control of the spillover is through manmade dams in Jinja.
When the lake's levels do get high, there are measures that countries affected can take to mitigate the effects – but they are not easy. They require careful planning and availability of funds.
What can be done
It's all about managing the inputs and outputs and developing floodplain regulations.
The first step will be to plan how to reduce the flow of water into the lake by creating storage within the catchments – such as dams or reservoirs – or finding ways to divert the water – for instance through the use of canals or spillways.
However this will only manage 20% of what goes into the lake, as most of the recharge is because of rainfall. So we need to also consider outputs.
The only surface outlet of the lake is through the Victoria Nile river which forms the upper section of the Nile River. The Kiira and Nalubale dams, in Jinja, control the outflow of Lake Victoria into this river. Dam management scenarios that regulate the outflow to mimic natural lake level fluctuations are needed.
There are currently tensions over this, as there are accusations that Uganda could have done more to prevent the current floods by regulating the dams better. More must be done to ensure this does not happen again and that countries have strict agreements in place.
In addition to managing the lake's levels through inputs and outputs, its extremely important that the region increases investments in monitoring systems that provide national early warning and communication. This will alert residents in a timely manner.

Lydia Olaka, Lecturer, University of Nairobi
This article is republished from The Conversation under a Creative Commons license. Read the original article.
♦♦♦♦♦♦♦♦♦
News continues below
TRANSNET STEPS UP EFFORTS TO SECURE FUEL SUPPLY
Transnet SOC Ltd says it has managed to meet the supply of fuel demand in Gauteng, the economic hub of the country.
This amidst efforts to curb criminal incidents of fuel theft on the multi-product pipelines that resulted in damage to the 24-inch multiproduct pipeline from the Durban Harbour to Gauteng.
To meet the fuel demand, Transnet had to work around the clock to ensure…
♦♦♦♦♦♦♦♦♦
News continues below
WHARF TALK: News and Views From Along the Coast
COASTAL PORTS
The Port of Cape Town was affected by further delays in the past week when a cold weather front moved in from southern waters, drenching the Peninsular and Cape Town harbour with heavy rain and strong winds. This was on Wednesday 10 June and with the port windbound little further work was possible either in the terminals or with regards ship movements.
Wind speeds reached 70 km/h (44 mph) in the morning but abated…
Sources: John Hawkins, Richard Vashan, AIM, TRH
♦♦♦♦♦♦♦♦♦
News continues below
GENERAL NEWS REPORTS – UPDATED THROUGH THE DAY
in partnership with – APO
♦♦♦♦♦♦♦♦♦
More News at https://africaports.co.za/category/News/
News continues below
TO ADVERTISE HERE
Request a Rate Card from info@africaports.co.za
EXPECTED SHIP ARRIVALS and SHIPS IN PORT

Port Louis – Indian Ocean gateway port
Ports & Ships publishes regularly updated SHIP MOVEMENT reports including ETAs for ports extending from West Africa to South Africa to East Africa and including Port Louis in Mauritius.
In the case of South Africa's container ports of Durban, Ngqura, Ports Elizabeth and Cape Town links to container Stack Dates are also available.
You can access this information, including the list of ports covered, by going HERE remember to use your BACKSPACE to return to this page.
News continues below
CRUISE NEWS AND NAVAL ACTIVITIES

QM2 in Cape Town. Picture by Ian Shiffman
We publish news about the cruise industry here in the general news section.
Naval News
Similarly you can read our regular Naval News reports and stories here in the general news section.
♦♦♦♦♦♦♦♦♦
THOUGHT FOR THE WEEK

Submitted by Lauren Covington /www.motivateus.com
♠♠♠
♠♠♠
ADVERTISING
For a Rate Card please contact us at info@africaports.co.za
Don't forget to send us your news and press releases for inclusion in the News Bulletins. Shipping related pictures submitted by readers are always welcome. Email to info@africaports.co.za
TABLE BAY UNDERWAY SHIPPING
SHIP PHOTOGRAPHERS
Colour photographs
and slides for sale of a variety of ships.
Thousands of items listed featuring famous passenger liners of the past to cruise ships of today, freighters, container vessels, tankers, bulkers, naval and research vessels.
P O BOX 809, CAPE TOWN, 8000, SOUTH AFRICA
snai@worldonline.co.za
http://home.worldonline.co.za/~snai
South Africa's most comprehensive Directory of Maritime Services will shortly be listed on this site. Please advise if you'd like your company to be included. To sign up for a free listing contact info@africaports.co.za or register online