Bringing you shipping, freight, trade and transport related news of interest for Africa since 2002
Bringing you shipping, freight, trade and transport related news of interest for Africa since 2002
Stay well, Stay Safe
Advertise here. This space above is available. For a Rate Card email us at terry@africaports.co.za
♠♠♠
Come with us as we report through 2020
**********
TODAY'S BULLETIN OF MARITIME NEWS
These news reports are updated on an ongoing basis. Check back regularly for the latest news as it develops – where necessary refresh your page at www.africaports.co.za
Click on headline to go direct to story : use the BACK key to return
Earlier News (headlines in Blue)

EARLIER NEWS CAN BE FOUND AT

NEWS CATEGORIES…….

The Sunday masthead is of Port of Walvis Bay

♦♦♦♦♦♦♦
SEND NEWS REPORTS AND PRESS RELEASES TO
info@africaports.co.za
♦♦♦♦♦♦♦♦♦
News continues below
Two good 'working pictures' of a container ship, CELINA STAR (IMO 9210086) leaving port at Durban in those innocent days of January this year, when no-one had any idea of a global lockdown. So treasure such images, with helicopter and pilot boat both in action as the ship heads down the channel towards the open sea. Why both, one wonders? The 40,059-dwt self-geared Celina Star was built in 2001 and is Cypriot owned, with German and Cypriot managers. The vessel is flagged in Liberia. These pictures are by Keith Betts
♦♦♦♦♦♦♦♦♦
♦♦♦♦♦♦♦♦♦
News continues below
DURBAN CAR TERMINAL SHATTERS RECORD IN A CONSECUTIVE RUN
The Durban Car Terminal has broken its handling record for two years running, with exports and transshipments playing a key role in the latest run.
The terminal handled over 526,000 FBUs against a target of 487,000 fully built units [FBUs] during the 2019/2020 financial year – a 7% increase year on year. These included 13,000 units in transshipments while export targets were exceeded by about 10,000 units.
Despite market conditions being driven largely by local and global demand in the automotive sector, it is critical that units are handled safely in order to maintain their integrity. Equally, efficiency means that units are delivered on time to the customer and ultimately the consumer.
Terminal Manager Phumi Blose commended the team for achieving yet another record-breaking performance, two years running. 'The latest performance is very encouraging, considering the challenging global economic conditions that have resulted in a recession. This is yet another illustration of what a co-ordinated approach to planning and execution can achieve," she said.
The terminal recently employed an insourcing strategy that required management to balance the challenge of continued operations while rolling out refresher training in health and safety for all employees.
"Adhering to compliance and maintaining a safe working environment are everything in the protection of human capital and while we were challenged during the rollout of training – the outcome speaks for itself," said Blose.
She added that it was especially impressive how the terminal had turned the tide in terms of performance, having failed to achieve its target a mere three years ago to achieving back-to-back record performances.
♦♦♦♦♦♦♦♦♦
News continues below
SOUTH AFRICA REGISTERS STRONG AGRICULTURAL TRADE SURPLUS
South Africa's agricultural sector registered a strong trade surplus for the first quarter of 2020, according to the chief economist at the Agriculture Business Chamber (Agbiz), Wandile Sihlobo.
The onset of the COVID-19 pandemic has had little affect at this stage on…
♦♦♦♦♦♦♦♦♦
News continues below
IMO & UNCTAD SGs URGE KEEPING SHIPS MOVING,
Ports Open and Cross-Border Trade Flowing
The world's reliance on maritime transport makes it more important than ever to keep ships moving, ports open and cross-border trade flowing, and to support ship crew changeovers, the United Nations maritime and trade entities said in a joint statement issued on 8 June 2020 and available HERE
The IMO and the United Nations Conference on Trade and Development (UNCTAD), which tracks world trade, reiterated calls for Governments to promote crew well-being by allowing crew changes and ensuring seafarers and other maritime personnel have access to documentation and travel options so that they can return home safely.
Huge demand for seafarers' flights
It is estimated that starting in mid-June 2020, as many as 300,000 seafarers a month would require international flights to enable ships' crew changeover: about half will travel home by aircraft for repatriation while the other half will join ships, and 70,000 cruise ship staff are waiting for their repatriation.
This process is currently hampered by travel restrictions imposed due to the COVID-19 pandemic. But, to comply with international safety and employment regulations, and also for humanitarian reasons, crew changes cannot be postponed indefinitely. Access to medical care for sick or injured crew and to medical prescriptions must also be provided.
Key worker designation
IMO and UNCTAD also reaffirmed the urgent need for 'key worker' designation for seafarers, marine personnel, fishing vessel personnel, offshore energy sector personnel, and service personnel at ports. Governments and relevant national and local authorities must recognise that these workers provide essential services, regardless of their nationality and should exempt them from travel restrictions when in their jurisdiction.
"Such designation will ensure that the trade in essential goods, including medical supplies and food, is not hampered by the pandemic and the associated containment measures," the joint statement said.
It continued: "We emphasise that, for trade to continue during these critical times, there is a need to keep ships moving, ports open and cross-border trade flowing, while at the same time ensuring that border agencies can safely undertake all necessary controls. International collaboration, coordination and solidarity among all is going to be key to overcoming the unprecedented global challenge posed by the pandemic and its longer-term repercussions."
Collaborative efforts by governments
Looking beyond the current situation, IMO and UNCTAD urged governments to pursue collaborative efforts to identify and remove any unnecessary regulatory obstacles to post-pandemic recovery and to facilitate maritime transport and trade in these difficult times.
They encouraged pragmatic approaches, such as granting exemptions and waivers where necessary and appropriate. Efforts should be made to facilitate electronic means for ship-shore, administrative and commercial interactions. There should be effective sharing of pre-arrival information and other COVID-related reporting requirements for ships; and provision of adequate equipment and resources to customs and border control stations in ports.
Future lessons
Lessons could be learned for the future. The joint statement points out that, in the longer term, some of the measures to confront the COVID-19 crisis may offer other important benefits, for instance encouraging further investment in digitalisation and advancing efforts to improve ships' energy efficiency and reduce greenhouse gas emissions from shipping.
Maritime transport is dependent on the two million seafarers who operate the world's merchant ships, which carry more than 80% of global trade by volume. Sea transport moves the world's food, energy and raw materials, as well as manufactured goods and components, and is vital to sustainable development and prosperity.
Continuity of shipping
Crew changeovers are essential for the continuity of shipping in a safe and sustainable manner. IMO Secretary-General Kitack Lim has endorsed a series of protocols developed by a broad cross-section of global maritime industry associations to ensure that ship crew changes can take place safely during the COVID-19 pandemic.
The joint statement was signed by Kitack Lim, Secretary-General of IMO and Mukhisa Kituyi, Secretary-General of UNCTAD.
For further information and guidance on coronavirus readers are invited to SEE HERE
Edited by Paul Ridgway
London
♦♦♦♦♦♦♦♦♦
News continues below
ROLLS-ROYCE SECURES CONTRACT FOR RN TYPE 31 FRIGATE PROPULSION SYSTEM
Rolls-Royce is to supply complete MTU propulsion systems for five new Type 31 general-purpose frigates for the Royal Navy, it has been announced.
In total, the order comprises of 40 engines and generator sets to be used for main propulsion and on-board power generation, the MTU Callosum propulsion control and monitoring system, and Integrated Logistics Support (ILS).
Each new frigate will be powered by four MTU 20V 8000 M71 engines, each delivering over 8,000 kW.
TO read the rest of this article, please go to our TRADE NEWS section.
♦♦♦♦♦♦♦♦♦
News continues below
GE POWERS US NAVY's FULL-ELECTRIC POWER & PROPULSION SHIP, USS ZUMWALT
The US Navy has taken delivery of the USS ZUMWALT, its first full-electric power and propulsion ship. GE's Power Conversion business was the designer and provider for the high-voltage system (HV), propulsion drive trains consisting of multiphase converters and Advanced Induction Motors (AIM) for the DDG 1000 class of futuristic destroyers.
"Delivery is an important milestone for the Navy, as the…
♦♦♦♦♦♦♦♦♦
News continues below
COURT ORDERS A HALT TO LOADING OF SHEEP IN EAST LONDON HARBOUR
pending a hearing on 16 July
The ongoing battle of wits between the NSPCA and the respective interests involved in exporting large numbers of live sheep by ship to Kuwait, took another turn yesterday (Wednesday 10 June) when the Grahamstown High Court ruled in favour of the NSPCA preventing the immediate loading of animals ahead of a July court hearing.
Readers may recall the NSPCA sought legal action to prevent the loading of an estimated 70,000 sheep late last year. That action was unsuccessful and the ship, Al Shuwaikh eventually sailed from East London after some delay and with a smaller cargo than originally intended.
More recently NSPCA learned of a new export of 70,000 live sheep for Kuwait by the same company, Al Mawashi, and in a legal attempt to prevent this the animal rights organisation applied for an interdict against the company and its Kuwaiti principal with the application being set down for 16 July 2020.
However, Al Mawashi and the Kuwaiti owners of the livestock carrier Al Messilah brought the vessel to load 70,000 sheep in June, ahead of the court hearing. The vessel is currently in the port of East London ready to commence loading.
As a result an urgent interim interdict against Al Mawashi and the Kuwaiti owners of the livestock carrier Al Messilah was heard on Wednesday 10 June following news of the unexpected early arrival of the vessel.
In the Grahamstown High Court, Judge Jaji ruled in favour of the NSPCA, confirming the interim interdict against Al Mawashi and the Kuwaiti company, together with an order for costs in favour of the NSPCA.
This interim interdict is in place, pending the hearing of 16 July 2020 and as a result Al Mawashi and the Kuwaiti company may not transport any sheep from the feedlot, nor export any sheep from South Africa, pending the outcome of the 16 July court hearing.
"Although this fight is far from over, we are overjoyed with this victory," said Marcelle Meredith, the NSPCA's Executive Director.
She thanked the legal team as well as Animals Australia for its support and dedication to the cause of stopping live export. "Finally, we thank our supporters for their continued support and faith in our organisation," but warned that although the battle had been won, it was time to win the war.
♦♦♦♦♦♦♦♦♦
News continues below
TRADE NEWS: Autonomous drone inspections move step closer after successful test
News from Norway is that a

drone

has successfully inspected a 19.4 metre high oil tank on board a Floating Production, Storage and Offloading (FPSO) vessel.
The video shot by the drone was interpreted in real-time by an algorithm to detect cracks in the structure. It is the latest step in a technology qualification process that could lead to tank inspections becoming safer and more efficient.
Scout Drone Inspection and DNV GL, the quality assurance and risk management company, have been working together to develop an autonomous drone system to overcome the common challenges of tank inspections. For the customer, costs can run into hundreds of thousands of dollars as the tank is taken out of service for days to ventilate and construct scaffolding.
TO continue with the rest of this report, please go to our TRADE NEWS section.
♦♦♦♦♦♦♦♦♦
News continues below
GE POWERS US NAVY's FULL-ELECTRIC POWER & PROPULSION SHIP, USS ZUMWALT
The US Navy has taken delivery of the USS ZUMWALT, its first full-electric power and propulsion ship. GE's Power Conversion business was the designer and provider for the high-voltage system (HV), propulsion drive trains consisting of multiphase converters and Advanced Induction Motors (AIM) for the DDG 1000 class of futuristic destroyers.
"Delivery is an important milestone for the Navy, as the…
♦♦♦♦♦♦♦♦♦
News continues below
TFR AND ARCELORMITTALL IN TALKS ABOUT IMPROVING FREIGHT OPERATIONS
Transnet Freight Rail (TFR)

last week met with ArcelorMittal SA (AMSA) to address concerns raised by AMSA regarding TFR's impact on its business operations.
TFR said the meeting was part of efforts to improve efficiencies and productivity.
TFR described…
♦♦♦♦♦♦♦♦♦
News continues below
REBUILDING SA SHIP REGISTER IS VITAL, SAYS SAMSA
The rebuilding of a South Africa ship register and development of a greater population awareness is vital to South Africa's maritime sector, according to the South African Maritime Safety Authority (SAMSA).
Pivotal to the redevelopment and expansion of the country's maritime sector is a requirement for a viable channel of education and training through to meaningful engagement of people through careers, said Sobantu Tilayi, SAMSA acting Chief Executive.
Tilayi was speaking during a live national radio interview.
He decribed the rallying call for special focus on redeveloping the country's ship register as being based on empirical evidence according to the massive economic contribution that shipping makes, inclusive of education and training as well as significant jobs creation.
South Africa currently has no more than half a dozen vessels under the country's flag.
In his 20 minutes radio interview, he briefly unpacked the country's maritime economic sector's Government led initiative, Operation Phakisa (Ocean Economy), which was launched in 2014. This is aimed at not only repositioning the sector into the country's main economic development agenda, but also to facilitate redevelopment as well as expansion of the maritime sector inclusive of all the country's people.
Mr Tilayi also explained briefly the rationale behind the recent set up of a major ship bunkering service along the country's south-eastern seaboard in Algoa Bay outside Port Elizabeth. He described it as exemplifying the numerous business and economic opportunities the country is able to explore for further growth.
♦♦♦♦♦♦♦♦♦
News continues below
TOTAL DEVELOPING CLEANER FUELS FOR MARITIME INDUSTRY
– has joined the Getting to Zero Coalition
Joins the 'Getting to Zero Coalition' to contribute to shipping industry's decarbonisation
Total has joined the Getting to Zero Coalition to support the maritime industry's decarbonisation by collaborating with companies across the maritime, energy, infrastructure and finance sectors.
The Getting to Zero Coalition's ambition is to help achieve the target set by the International Maritime Organization to reduce Greenhouse Gases emissions from shipping by at least 50% by 2050 – compared to 2008 levels. To that extent, the Coalition is aiming, through its members, at getting commercially viable deep-sea zero-emission vessels powered by zero-emission fuels into operation by 2030.
TO continue with the rest of this report, please go to our TRADE NEWS section.
♦♦♦♦♦♦♦♦♦
News continues below
TFR REOPENS PYRAMID SOUTH FREIGHT LINE FOR MINING & AUTOMOTIVE SECTORS
Transnet has re-opened the freight line from the Pretoria complex to

Pyramid Station (Pretoria North to Hercules)

, following years of closure as a result of challenges with cable theft and sabotage.
This significant milestone, which took place in Pretoria's Capital Park on Monday, is aimed at improving efficiencies and reliable delivery of services to Transnet's customers in the mining and automotive sectors.
Part of the implementation of Transnet's Road to Rail Strategy, the initiative is one of the key projects to revive rail services in the Pretoria area. It is also part of the Transnet-PRASA Collaboration Program that has recently been established between the two entities, to identify common challenges, and jointly develop solutions to improve service offerings to customers and passengers respectively.
The line has been out of operation since August 2014 due to theft of signalling equipment and over-head track equipment, which resulted in decreased capacity and longer turnaround times of rolling stock.
"The reopening of the line, which has been enabled for the most part by listening to people running the operations and implementing their proposals, will result in a more reliable network, which we believe will improve customer satisfaction," said Transnet Freight Rail Chief Executive, Ms Siza Mzimela.
She said the plan is to curb cable thefts through aggressive initiatives such as reviewing operations methods, augmenting the physical guarding of assets with technology and engineering solutions. "This we will do in partnership with our key stakeholders such as PRASA and SAPS, and by so doing, we will ensure that TFR delivers on time to customers in this important economic area."
♦♦♦♦♦♦♦♦♦
News continues below
RAMAPHOSA SIGNS HYDROGRAPHIC ACT INTO LAW
South Africa's President Cyril Ramaphosa has signed into law legislation that will improve the safety of navigation in South Africa's territorial waters, professionalise the country's diplomatic Foreign Service and give citizens access to information about funding for political parties.
The Presidency made the announcement in a statement on Friday.
The Hydrographic Act provides…
♦♦♦♦♦♦♦♦♦
News continues below
NIGERIA HANDS OVER TO GHANA DETAINED SUSPECTED PIRATE MOTHERSHIP
A fishing vessel detained by Nigerian authorities on suspicion of being involved in piracy, has been handed over to Ghanaian officials for further investigation.
The fishing vessel, the 1975-built, 497-gt MARINE 707 (IMO 7419755), was taken into custody by…
♦♦♦♦♦♦♦♦♦
News continues below
TOTAL RESUMES LNG OPERATIONS IN AFUNGI, NORTHERN MOZAMBIQUE
ExxonMobil FID delayed
French oil and gas company TOTAL has received the go-ahead to continue its natural gas activities on the Afungi Peninsula in northern Mozambique, following an outbreak of COVID-19 earlier this year.
The authorisation came from the Mozambican health authorities following…
MOBIL'S ROVUMA LNG FID DELAYED UNTIL 2021
In a related item, Carlos Zacarias, the chairman of Mozambique's National Petroleum Institute (INP) has announced that the final investment decision (FID) on the country's planned $30 billion Rovuma LNG project would likely…
♦♦♦♦♦♦♦♦♦
News continues below
NSRI RICHARDS BAY CALLED OUT TO EVACUATE ILL SEAFARER FROM SHIP AT SEA
On Monday afternoon the National Sea Rescue Institute (NSRI) Station 19 at the Port of Richards Bay was called out to evacuate a seafarer who had fallen ill on board a ship at sea.
The call-out came at 15h00 on Monday 8 June when…
♦♦♦♦♦♦♦♦♦
News continues below
SUPERTUG SA AMANDLA RETURNS TO CAPE TOWN AFTER LONG & ARDUOUS TOW
On Saturday morning South Africa's supertug, SA AMANDLA (IMO 7385215) arrived back in her home port of Cape Town after a 30-day round voyage to rescue the distressed and abandoned fishing trawler KOSTAR (IMO 9202687) in the middle of the South Atlantic.
The 1353-dwt fishing vessel, owned and managed by Sunwoo Corp of Gyeonggi-do in South Korea, became immobilised after the rudder fell off, leaving the vessel unable to navigate and at the mercy of the seas. The crew abandoned their ship by crossing to another fishing vessel, leaving Kostar to drift in the empty ocean.
When SA Amandla left Cape Town to race to the rescue of the Kostar it required a round trip voyage of 4220 miles, lasting 30 days in total, and involving a tow of 15 days and 2146 miles to Cape Town.
During that voyage the tug and tow experienced wind forces of over Beaufort Force 12 at stages, which is the highest wind force on the Beaufort Scale, and the highest swell height experienced was 13-14 metres.
Who said the Old Lady can't handle it anymore?
Kostar is now berthed at the repair quay in Cape Town and SA Amandla was taking a short rest in the V&A Waterfront harbour at the weekend.
The pictures above and below are courtesy of AMSOL, the owner and operator of SA Amandla. As is evidenced in them the difficulty of towing a vessel minus a rudder can be seen. This was to be a feature of the long tow. But all good things come to an end and in time-honoured tradition, Dave Murray, AMSOL's Manager – Offshore Marine Services was at the harbour to welcome the master, Captain Russel Duse, and crew back home after another success, presenting Captain Duse with the daily newspaper, and as the obligatory bottle of Scotch is no longer permitted (in view South Africa's COVID-19-related alcohol zero tolerance policy), he presented him with a bunch of flowers (South African Proteas).
"Not in the normal ruffie-tuffie tugman tradition, but they do have a softer side!!" explained Murray.
♦♦♦♦♦♦♦♦♦
News continues below
HAPAG-LLOYD'S MONTPELLIER BACK IN QUARANTINE
– another crewman tests positive for COVID-19
Hapag-Lloyd's container ship MONTPELLIER, deployed on the Middle East India Africa Express (MIAX) service, will have to remain under quarantine after another seafarer on board tested positive for the coronavirus. The ship is currently at the Durban outer anchorage.
On 18 May we reported the ships having to go under 14 days of quarantine at the Durban outer anchorage after…
♦♦♦♦♦♦♦♦♦
News continues below
ITF affiliated unions in the USA along with hundreds of thousands of seafarers are celebrating 100 years of the Jones Act – the law that requires cargo be moved from one domestic US port to another in US-crewed, -flagged, -built and -owned vessels.
The Jones Act has been crucial to the US maritime industry. It has ensured that workers in US shipyards and seafarers working aboard ships in the US domestic trade are employed in safe and well-paid jobs.
In the words of Seafarers International Union (SIU) President Michael Sacco: "The Jones Act remains a pillar of not only the United States maritime industry, but also our country's national, economic and homeland security. It's a source of family-wage jobs both on the water and ashore. It protects our nation in so many ways."
Since it was enacted, the Jones Act has enjoyed broad bipartisan support from the White House and throughout the halls of Congress. US Congress Representative Sean Patrick Maloney (Democrat, New York) chairman of the Subcommittee on Coast Guard and Maritime Transportation, released the following statement on the 100th anniversary of the Jones Act:
"The bedrock principles and protections of the Jones Act are as essential today as they were when the bill was passed a century ago. We are, at our core, a maritime nation. The U.S. merchant marine enables the country to project force anywhere around the globe and ensures the security of our waters at home. We cannot be complacent in our defense of the Jones Act, which remains a critical component of U.S. maritime and military strategy."
Chairman Maloney went on to say: "Throughout our history, the Army has relied on US-flagged commercial vessels and American mariners to carry weapons and supplies and ferry troops to the battlefield. We've confronted many challenges since its inception, but the Jones Act has ensured that the men and women of the merchant marine have been there to meet them."
The Jones Act and the protections and benefits it affords to domestic seafarers in the US is internationally lauded by ITF affiliated maritime unions. It is the standard towards which other national seafarers and their unions strive to achieve, since it protects the right and opportunity to work in their national trade on higher national wages and working conditions. The Jones Act also helps to raise global wages and working conditions for seafarers in international trades through its establishment of such high standards.
Over the years, there have been several attempts by foreign interests to dismantle the Jones Act but the US unions supported by their seafarers, their social partners and the International Transport Workers' Federation (ITF) have vigorously defended the Jones Act against all attacks.
ITF Cabotage Task Force Chair and President of SIU Canada James Given said: "The ITF congratulates US seafarers and their unions on the 100-year anniversary of the Jones Act. We will continue to give our full support to our sisters and brothers to defend the Jones Act against foreign companies that want to use foreign flagged vessels so that they can undermine US wages and working conditions that have been so hard fought for and won.
"The Seafarers' Rights International 2018 study found that over 90 countries have some type of cabotage law to protect their maritime industry, but the Jones Act is still the 'flagship' of cabotage laws and seafarers' unions worldwide stand together to ensure that national conditions for national seafarers in national trade are not eroded by Flag of Convenience vessels. Let's continue to raise the bar for the seafarers and the maritime industry."
On 5 June, a day of reflection and celebration for US maritime labour, the ITF commended the hard work and dedication of its US affiliates who have fought diligently to maintain this important Act and all the benefits it yields to working men and women both throughout the USA and internationally.
Edited by Paul Ridgway
London
Based on material kindly made available at www.itfglobal.org
CABOTAGE – YOUR VIEWS
The subject of the Jones Act and its close cousin, cabotage, are of relevance and important right now not only for this being the centenary of the former, but because many countries in Africa already operate with various degrees and styles of cabotage, which often present opportunities for corruption, while other nations including South Africa show intent on introducing cabotage to their list of maritime laws. Africa PORTS & SHIPS would like to know what readers think on this matter and welcomes the opportunity of hearing and sharing your views. Long or short, email them to terry@africaports.co.za
♦♦♦♦♦♦♦♦♦
News continues below
Exploring the Indian Ocean as a rich archive of history
– above and below the water line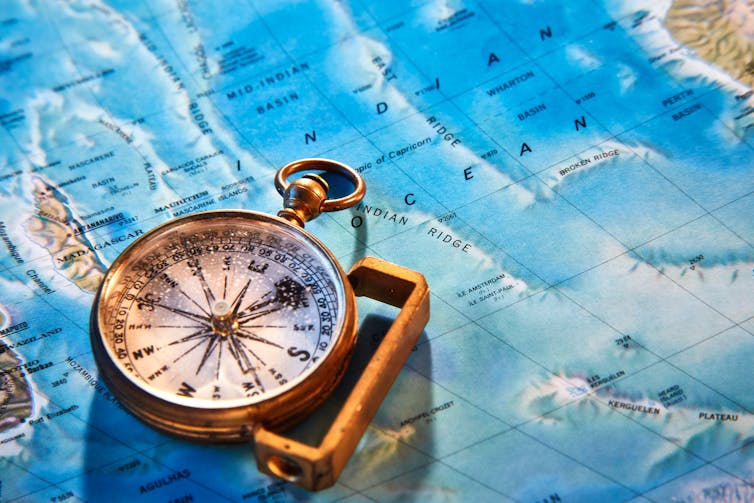 Shutterstock
Isabel Hofmeyr, University of the Witwatersrand and Charne Lavery, University of the Witwatersrand
This article is part of a series on oceans being co-ordinated across all The Conversation sites. This is an introductory article on the Indian Ocean. Similar essays will be featured on the other oceans of the world. These essays are longer than usual.
On many beaches around the Indian Ocean, keen observers may spot bits of broken pottery. Washed smooth by the ocean, these shards are in all likelihood hundreds of years old, from centres of ceramic production like the Middle Eastern Abbasid caliphate and the Chinese Ming dynasty.
Originally destined for Indian Ocean port cities, this pottery would have been purchased by merchant elites accustomed to eating off fine plates. These traders formed part of vast commercial networks that crisscrossed the Indian Ocean arena and beyond, from East Africa to Indonesia, the Middle East and China.
These trade networks stretched back thousands of years, powered by the monsoon winds. Reversing direction in different seasons, these winds have long shaped the rhythm of life around the ocean, bringing rain to farmers, filling the sails of dhows and enabling trade between different ecological zones.
The monsoon wind pattern makes the Indian Ocean relatively easy to cross both ways. In the Atlantic, by contrast, winds blow in one direction all year round. That's why the Indian Ocean is the world's oldest long-distance trans-oceanic trading arena, and is sometimes known as the cradle of globalisation.
This cosmopolitan world has long fascinated scholars and has become a vibrant domain of research. Yet this work has had little to say about the sea itself. Its focus is on human movement with the ocean as a passive backdrop. In the age of rising sea levels and climate change, it's important to learn more about the sea from a material and ecological point of view.
Over the past few years, this situation has started to shift. In this article we survey both the older and the newer forms of Indian Ocean studies, of surface and depth.
Surface histories of the Indian Ocean
Given the long millennia of trade and exchange, one key concern of Indian Ocean studies has been a focus on cultural interaction. Cities on the shores have sustained deep forms of material, intellectual and cultural exchange, so that the denizens of these ports had more in common with each other than with their fellows inland.
This early cosmopolitan world has famously been explored in Amitav Ghosh's In an Antique Land, which traces the travels of Abram bin Yiju, a 12th century Jewish Tunisian merchant based in Cairo and later in Mangalore, India. The book contrasts the rigidity of borders in the 1980s with the relative ease of movement in the late medieval Indian Ocean.
The Swahili coast provides another famed example of Indian Ocean cosmopolitanism. Stretching a thousand miles from Somalia to Mozambique, Swahili society arose from centuries of interaction between Africa, the Middle East and Asia.
Centred on coastal city states like Kilwa, Zanzibar and Lamu, Swahili trade networks reached far inland to present day Zimbabwe and outward to Persia, India and China. After reaching their height from the 12th to the 15th centuries, these city states were eventually undone by the Portuguese, who arrived from the early 16th century, seeking to establish a monopoly of the spice trade.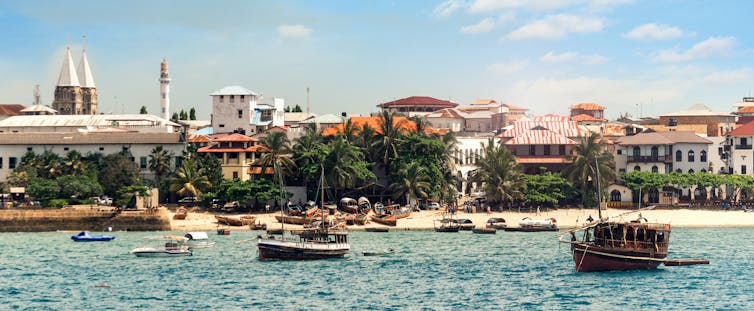 Zanzibar, Tanzania.
GettyImages
Central to these histories of mobility and exchange in the Indian Ocean has been the spread of Islam across land and sea from the 7th century CE. By the 14th century, mercantile networks around the Indian Ocean were almost entirely in the hands of Muslim traders.
In their wake came scholars, theologians, pilgrims, clerks, legal pundits and Sufi divines. Together, these groups created a shared economic, spiritual and legal frameworks. Sufism, a mystical form of Islam is an important strand in the Indian Ocean histories, as is the centrifugal power of the Hajj pilgrimage to Mecca.
European Colonisation along the Indian Ocean
When the Portuguese rounded the Cape in the late 15th century, they entered what many have termed a Muslim Lake, dominated in the north by the Turkish Ottoman, Persian Safavid and Indian Mughal empires. When the Dutch arrived in the Indian Ocean in the 17th century, "they were able to go from one end of it to another by carrying letters of introduction from Muslim sultans on various shores".
As Engseng Ho has indicated, these sprawling networks of Muslim commerce operated without the backing of an army or a state.
The Portuguese, Dutch and English in the Indian Ocean were strange new traders who brought their states with them. They created militarised trading-post empires in the Indian Ocean, following Venetian and Genoese precedents in the Mediterranean, and were wont to do business at the point of a gun.
Early European entrants to the Indian Ocean world initially had to adapt to the trading orders that they encountered. But by the 19th century, European empires dominated. Their military, transport and communication infrastructure intensified the movement of people across the Indian Ocean world.
As Clare Anderson has demonstrated, much of this mobility was forced and conscripted. It involved slaves, indentured labourers, political exiles and prisoners who were transported between regions. At times, these systems built on existing foundations of labour exploitation. As recent research indicates, South Asian indentured labour was often taken from regions in India where slavery existed. Old and new systems of unfree labour produced an archipelago of prisons, plantations and penal colonies.
As an archive, the Indian Ocean provides a new way of looking at world history, that has previously been dominated by European accounts. The age of European empires is only one tiny sliver of time in a much longer arc. A view from the Indian Ocean unsettles ideas of the relationship between European colonisers and colonised groups.
As historians like Engseng Ho and Sugata Bose have argued, the Indian Ocean world was an arena of competing claims.
The ambitions of British imperialism, for example, were countered by the equally grand visions of Islam. Indeed, the Indian Ocean arena produced a rich repertoire of transoceanic ideologies, including Hindu reformism and pan-Buddhism.
Such ideologies eventually acquired an anti-imperial character which also fed into ideas of Afro-Asian solidarity and non-alignment. These arose from the Bandung Conference in 1955 at which 29 newly independent nations gathered to forge a new path rather than falling in line with either of the rival camps in the emerging Cold War.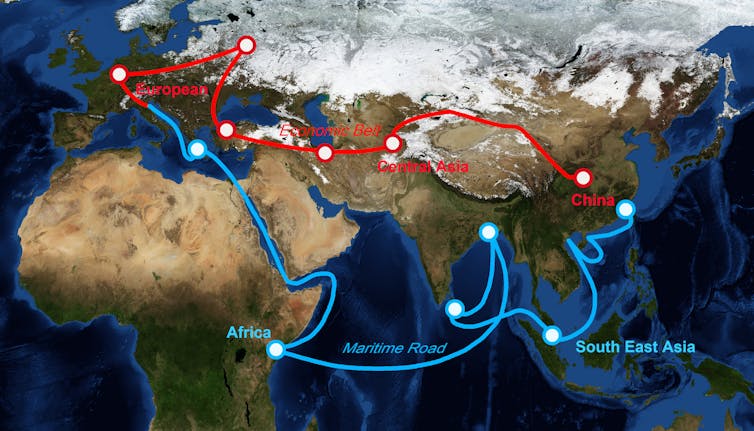 The Belt and Road Initiative.
Shutterstock
In the 21st century, these older alliances have come under pressure as China and India elbow each other for dominance in the Indian Ocean. China's ambitious Belt and Road Initiative involves massive transport and port infrastructure and aims to extend China's footprint across much of the Indian Ocean arena. In response, New Delhi has bolstered its economic and military activity in this domain.
Deep histories of the Indian Ocean
While the uniquely well-travelled surface of the Indian Ocean has received much attention, its depths barely register in the cultural or historical imagination. Its waters constitute nearly 20% of the ocean's total volume, and its deepest point, the Sunda Deep of the Java Trench, lies nearly 8km below the surface. Yet its seafloor, like much of the world's oceans, is largely unmapped.
Seafloor features determine weather patterns, fish concentrations and tsunami dynamics. Initial explorations by mining companies revealed mineral-rich deposits on submarine volcanic vents, while new species are continually being discovered.
---


Read more:
How many undiscovered creatures are there in the ocean?


---
The deep Indian Ocean is far less studied than the depths of the other oceans, for economic reasons: it is ringed by underdeveloped countries. The second International Indian Ocean Expedition was launched only in 2015, fifty years after the first. It aims to increase understanding about the oceanographic and biological characteristics of this undersampled ocean, as well as the ways in which it is changing.
Maldives Indian Ocean coral reef.
Shutterstock
Paying attention to the submarine world is becoming increasingly important in a time of climate change prompted by human activities. The Indian Ocean is warming faster than any of the other oceans, holding more than 70% of all the heat absorbed by the upper ocean since 2003. Indian Ocean islands – the Maldives being a well-known example – are already being submerged by rising global sea levels.
Cyclone patterns are shifting further south and happening more often as a result of the ocean's rising temperature. The monsoon, which underpinned the Indian Ocean's shipping networks and the rainfall patterns on its coastlines, is losing its power and predictability.
Deities, spirits and ancestors
While the Indian Ocean's depths are in many ways opaque, they are not unpopulated in people's imaginations. The ocean bustles with water deities, djinns, mermaids and ancestral spirits – a mythical submarine world that reflects the cosmopolitanism of its land populations.
In southern Africa this mix is especially rich: Khoisan/ First Nation water sprites, Muslim djinns introduced by South East Asian slaves, African ancestors, one of whose domains is the ocean, and British imperial ideas about the romance of the sea.
These ideas encounter each other and turn bodies of water into rich sites of memory and history. They have been explored by the Oceanic Humanities for the Global South project. Work by Confidence Joseph, Oupa Sibeko, Mapule Mohulatsi and Ryan Poinasamy explores the literary and artistic imaginations of southern Africa's creolised waters.
Afrofuturist science fiction is also turning to the deep Indian Ocean. Mohale Mashigo's Floating Rugs is situated in a submarine community on South Africa's east coast. Mia Couto's stories from the Mozambican coastline have long paired myths of mermaids with marine biology. Yvonne Adhiambo Owuor's novel The Dragonfly Sea links contemporary Afro-Asian networks to the undersea.
Deep sea mining
Some exploration of the deep ocean can seem science-fictional, but isn't.
The International Seabed Authority, a branch of the United Nations in operation since 2001 and responsible for parcelling out potential marine mining areas, has granted contracts for mining exploration in the Indian Ocean. At the same time, researchers are discovering an astonishing number of new deep ocean species on the same sites.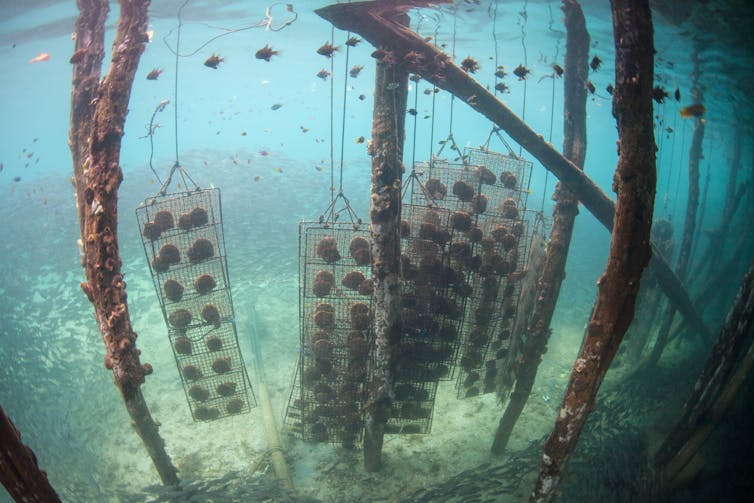 The submarine world has long been plundered for riches. Histories of pearl diving in the Indian Ocean – as in a central scene of Jules Verne's Twenty Thousand Leagues under the Sea – are continued in today's illegal abalone trade. Poachers on the coast of South Africa don scuba gear to harvest abalone to trade with Asian markets, linking the undersea to Indian Ocean criminal underworlds, along the same lines as the ancient trade networks.
At times these networks are the source of treasure. On the Island of Mozambique, for instance, the shards of blue pottery that were traded around the Indian Ocean are one of the objects of the active treasure hunting trade today. While some of the treasures are sold by dealers in antiquities, others provide crucial evidence for maritime archaeological research. Recently, the Slave Wrecks Project has discovered slave shipwrecks that provide concrete symbols of the transatlantic slave trade and link it to histories of Indian Ocean slavery and indenture.
The old waterfronts of East African port cities like Mombasa, Zanzibar and Lamu are dominated by buildings with a pure white finish. This present-day architecture echoes a centuries-old tradition of building houses, mosques and tombs from white coral stone and dressed with lime plaster. Made from shells and corals that began their life under the sea, this luminous plaster made port cities visible from afar to incoming vessels.
The ocean's submarine life and its human histories are always entangled. And now writers, artists and scholars are increasingly drawing attention to their connectedness.

Isabel Hofmeyr, Professor of African Literature, University of the Witwatersrand and Charne Lavery, Lecturer and Research Associate, University of the Witwatersrand
This article is republished from The Conversation under a Creative Commons license. Read the original article.
♦♦♦♦♦♦♦♦♦
News continues below
NO PLAY WITH VESCONITE HILUBE RUDDER BUSHING – TRADE NEWS
A Vesconite rudder bushing has been an important part of the step-by-step dismantling, parts procurement and reassembly of the rudder of a 30ft Jeanneau Arcadia sailing yacht known as the Ghaaata.
When an annual maintenance inspection revealed significant rudder play caused by the internal structure, Jeanneau Arcadia sailing yacht owner Jorge Veiga embarked on a full rudder replacement, including everything from the pins, bolts and bushings, through to the actual rudder.
For the rudder bushings he chose Vesconite Hilube, since he had read good references and the technical data sheet presented beneficial characteristics, including its excellent reputation for self-lubrication and ability to maintain shape, under load, while submerged in salt water.
"I contacted Vesconite, asking where I could have the bushing manufactured here in Norway," describes Veiga.
TO continue with the rest of the Jeanneau Arcadia sailing yacht Vesconite story, please turn to our TRADE NEWS section.
♦♦♦♦♦♦♦♦♦
News continues below
THE NORTHERN SEA ROUTE
Sovcomflot's trailblazing LNG carrier Christophe de Margerie
ABB provides 24/7 remote support
ABB has signed a contract to support icebreaking LNG carrier CHRISTOPHE DE MARGERIE with remote diagnostic services for increased safety and performance as the vessel completed the transit of the Northern Sea Route, bound for China with Yamal LNG cargo two months earlier than usual.
The pioneering icebreaking LNG carrier Christophe de Margerie will now have…
♦♦♦♦♦♦♦♦♦
News continues below
KENYA ORDERS NEW 120-TON BOLLARD PULL SALVAGE & HARBOUR TUG
Med Marine, Turkey's leading tugboat builder, towage and pilotage operator has signed a new deal with Kenya Ports Authority (KPA) for a brand-new RAstar 4200 (MED-A42120) tugboat. This award followed a bidding process in a highly competitive international tender issued by the Kenya Ports Authority.
The state-of-the-art vessel scheduled for delivery in 2021 will be a vital addition to East Africa's largest port of Mombasa and is part of the Kenya Ports Authority equipment modernisation and…
♦♦♦♦♦♦♦♦♦
News continues below
WHARF TALK: NEWS & VIEWS FROM ALONG THE COAST
CAPE TOWN TERMINALS OPERATIONAL, SAYS TPT
Spare a thought or two for the predicament that Cape Town's noble port finds itself in during the COVID-19 crisis. While other ports have begun a return to something resembling normal operations, Cape Town has been struck hard by the pandemic. This is in line with the Western Cape registering more than two thirds of the entire country's cases of infection and the city of Cape Town, or sections of it remaining among the worst-hit hotspots.
The port as a significant employer has not been spared and as has been already reported, force majeure was declared as terminal congestion worsened, with reports of export containers being halted for a day last week and the terminal management having to operate the business around staff shortages arising from self-quarantining by employees caught up in the spread of the virus.
One of the effects of introducing force majeure includes the removal of berthing windows, with repercussions for container lines' scheduling and the slipping of some scheduled calls.
Despite these challenges, says acting terminal manager Oscar Borchards, the loading and offloading of cargo is continuing.
Last week the container terminal at the Eastern Cape port of Ngqura was closed during the 12-hour day shift to allow for deep-cleaning of facilities and equipment. The Cape Town Container Terminal underwent similar treatment earlier in May.
With containers among the cargo types mostly severely affected, the crisis has come at a critical time for citrus exporters with the season already well underway. Large amounts of citrus were exported before lockdown with citrus exported from Cape Town, Port Elizabeth and Durban. Since then, the agricultural chamber, Agbiz, has found itself having to engage with government regarding concerns for ongoing exports.
♠♠♠♠♠♠
SERENE CAPE TOWN V&A HARBOUR
♠♠♠♠♠♠
FAREWELL TO THE CRUISE SHIP PARADE
With the departure of the last of five Carnival cruise ships for India and Indonesia, it brings to an end an extraordinary period of activity quite unexpected at the start of 2020. Four South African ports were involved, Richards Bay, Durban, Ngqura, Cape Town while even Walvis Bay in Namibia got a look in when one of the cruise ships, Carnival Fascination, suddenly diverted there to disembark a number of Zimbabwean and Namibian citizens who had been working on Carnival ships across the Caribbean and eastern United States.
Several of these ships hung about in Algoa Bay before surprisingly entering Ngqura to be bunkered at the container terminal from bunker tankers that followed them into harbour. Algoa Bay had been experiencing quite high swells and this may have been the reason to change plans and bunker from within the shelter of a harbour, becoming in the process the first cruise ships to go alongside at the port.
♠♠♠♠♠♠
NSRI has busy week
The National Sea Rescue Institute seldom experience long periods of quiet without sudden call-outs, and one wonders if enough appreciation of this voluntary body exists in official circles.
Traditionally, Africa PORTS & SHIPS only reports on NSRI activity when those actions involve shipping, as our first story today demonstrates. On many occasions much smaller craft are caught up in urgent moments of emergency and today we relate two such for your interest and to highlight the immense dedication of the men and women who take care of safety at sea along our coast. But first….
PORT ELIZABETH:
Station 6 at Port Elizabeth possibly carries out more patient evacuations from ships at sea than any other NSRI rescue station, if only because of its geographic position. This week it handled yet another case. This was on Wednesday last week, 3 June when the duty crew were activated following a report from a ships agent requesting medical assistance to evacuate a 34-year old Filipino crewman from a bulk carrier then approaching Port Elizabeth.
This was a fairly routine operation involving the duty crew launching their rescue boat JLT Rescuer and rendezvousing with the bulk carrier that earlier had diverted to approach Algoa Bay. The rescue craft met the bulker some 18 nautical miles offshore from Port Elizabeth. There a rescue paramedic and the NSRI swimmer went onboard and assisted the seafarer, in a stable condition and able to walk by himself, onto the rescue craft which then took him ashore at the NSRI rescue station. The patient was then transferred to hospital for treatment.
During this operation all Covid-19 precautions and protocols were observed, reported Justin Erasmus, NSRI Port Elizabeth station commander.
DURBAN:
In Durban a similar medical evacuation of a patient, a 58-year old Indian crewman from an oil tanker that was deepsea and opposite Durban when the emergency occurred. In this case the man was reported to be in a serious condition, hence that evening at 19h20 the rescue boat Alick Rennie was launched to rendezvous with the tanker out to sea.
Two rescue paramedics and the necessary NSRI swimmer went on board where the patient was secured in a Stokes basket stretcher and transferred to the Alick Rennie using high angle ropes and safety ropes.
Once back at the base at 22h05 the crewman was transferred by ambulance to hospital. Durban NSRI station commander Jonathan Kellerman reported that in this case too, all Covid-19 precautions and protocols were observed throughout.
FISHERMEN and FOG
Several other rescue events took place last week, these involving small fishing craft and of a sort that we seldom record.
We usually don't report on the numerous rescues undertaken by NSRI that involve small fishing or pleasure craft, or cases involving swimmers but the next couple of stories have, we think, added interest, while also providing some insight into the rescue systems and the organising techniques that are available on 24-hours standby for such emergencies.
The fact that many of these, particularly NSRI, are entirely voluntary, is further credit to the many South Africans who give of themselves so unstintingly.
Lost in the fog off Lambert's Bay
I'm not sure how many readers are familiar with Lambert's Bay or know exactly where it is, this being a small fishing town of white buildings on the Cape West coast, some 280km north of Cape Town and reportedly named after a British naval officer named Lambert who undertook a marine survey of the Cape West coast in the early 1820s.
Another little known fact involving Lamberts Bay is that it was the scene of the only naval action of the South African War. The story was told by Col Denys Reitz in his informative book of that period, Commando. Reitz accompanied General Smuts on his raid into the Cape in the latter period of the war. A number of the horsemen moved down to the coast where Lamberts Bay now is and there they found a small British naval vessel at anchor offshore. Nothing daunted, they opened fire on the ship from among the dunes, whereupon the British ship returned fire with her gun.
This engagement didn't last very long and no harm to either side was done but this became the only time a British warship was drawn into an engagement with the enemy.
Lambert Bay is also known for its snoek run between the months of April and July, which brings us to the drama of last Friday.
It was on Friday, 5 June at 15h30 that the NSRI Lamberts Bay NSRI was activated for the reason that four local fishermen in an open fishing boat had communicated by cell phone with the shore to say they were disorientated by dense fog and unable to find their way back to the Lamberts Bay harbour.
In plain, they were unsure whether they were north or south of the little harbour.
In response the NSRI launched its rescue craft Spirit of St Francis and began a search north of Lamberts Bay, still in dense fog conditions. At the same time a NSRI rescue vehicle with shoreline crew was dispatched to search along the shoreline.
The fishermen meanwhile were contacted by cell phone and advised to go to anchor.
Subsequent investigations led the NSRI to think the the missing men were south of Lamberts Bay and the search by sea and on shore was redirected.
As night fell and with no signs of the missing men or their boat the NSRI took to mustering at strategic points along the coast and sounding their sea rescue vehicle siren in the hope that the fishermen might hear them. This continued at various points along the coast until a last the fishermen reported by phone they could hear the siren.
"We were extremely pleased to at least now know where they were off-shore although in the dense fog they could not be seen," said Avril Mocke, NSRI Lamberts Bay station 24 commander.
The fishermen were advised to remain where they were and to begin sounding their fog horn. The NSRI rescue craft was then diverted to a point offshore of the NSRI vehicle which was 7 nautical miles south-west of Lamberts Bay. Once they reached this position and with the landbased vehicle sounding its siren and the fishermen their foghorn, the NSRI also deployed a white illuminating flare.
In this manner the missing fishing boat was finally located with the four fishermen safely on board.
The two vessels then began making their way back towards Lamberts Bay with the NSRI crew making use of navigational equipment to find the harbour, and subsequently towing the fishing vessel after its outboard engine developed a mechanical problem.
On arrival in the harbour a large crowd had gathered including family members relieved to see their people arriving back on shore in safety.
Search and Rescue off St Helena Bay
In an even more dramatic fashion, two fishermen from Paternoster on the West coast, aged 27 and 15, were reported overdue from a day's fishing. They went to sea in a small open boat intending to fish in the vicinity of Seal Island but apparently they missed the island and instead ventured further away from Paternoster.
According to fishermen on some snoek fishing boats offshore of North Blinder, which is about 10 nautical miles north of Shelly Point, they had pointed the two in their open boat in the direction back towards Seal Island. However, in a final cell phone call to family before battery power ran out the two said they ran out of petrol while returning and had resorted to rowing but were now disoriented by the dense fog.
When they failed to arrive home the family raised the alarm and the NSRI Mykonos station activated a search between Paternoster and St Helena Bay. Two craft were launched, Spirit of Surfski 5 which initiated a search from Paternoster in thick fog, and Spirit of Rotary East London which was towed to St Helena Bay and launched also into dense fog.
Mike Shaw, NSRI Mykonos station commander, reports that the SA Police Services were alerted and assisted by family of the missing two took up patrols along the coast, assisted also by NSRI coast watchers. Telkom Maritime Radio Services broadcast an all ships alert and ships at anchorage in the area and fishing boats in the search area were asked to keep a look out.
Telkom Maritime Radio Services increased the ships alert from a Maritime Security broadcast to a Pan Pan broadcast, before escalating the message to a Mayday relay broadcast as the gravity of the situation increased and fears for the wellbeing of the two missing fishermen intensified.
No cell phone contact could be made with the missing two.
"MRCC (Maritime Rescue Coordination Centre) was notified of the search and MRCC and our NSRI EOC (Emergency Operations Centre) monitored the search and rescue operation and assisted with coordination," said Shaw.
The NSRI kept up the search until approximately midnight when the sea rescue craft were withdrawn from the search area to refuel. MRCC was requested to arrange for airborne resources to be placed on alert to possibly join the search if dense fog lifted in the morning. NSRI ASR (Airborne Sea Rescue) were also placed on alert as was the SA Air Force (SAAF) by MRCC.
At first light on Saturday additional NSRI crew were arranged to take over the search with NSRI crew from Cape Town activated to respond to NSRI Mykonos and relieve some of the NSRI Mykonos crew in crew rotations. This was now becoming a massive coordinated search and rescue mission.
In lifting fog conditions Spirit of Surfski 5 was re-launched and began a search northwards from Paternoster. Spirit of Rotary East London was towed to Vluisterbaai and launched there to also begin a new search.
Meanwhile, WSAR (Wilderness Search and Rescue) was placed on alert to prepare to assist with helicopter landing zones and airborne communications should an airborne search be launched.
As the fog showed signs of lifting Metro EMS Control was alerted and the EMS/AMS Skymed rescue helicopter and a SAAF 35 Squadron fixed wing aircraft were prepared to join in the search. Local fishermen in the area were also launching fishing craft to assist searching.
Onshore, NSRI coast watchers continued to keep a lookout, while Telkom Maritime Radio Services continued to broadcast Maritime radio messages for all ships in the search area to be on alert.
Then a break! During the morning word was received by family. They had received a cell phone message from the two missing fishermen that as daylight and fog lifted a snoek fishing boat had found them and they could see a tanker motor vessel nearby which indicated to the rescue teams that they were possibly in the vicinity of ships at the offshore anchorage of St Helena Bay.
By giving a description of the tanker the NSRI rescue craft were able to be diverted to the area.
As it turned out the snoek fishermen had been heading out to sea when they came across the missing two in their small boat. After giving them fuel they advised them to head closer to a nearby tanker and there to await the arrival of the NSRI. Using of the snoek fishermen's cell phone they contacted their family with the good news.
The NSRI craft were re-directed and found the two in their missing boat among the ships in the bay and 6.4 n.miles offshore.
Coxwain of the sea rescue craft Spirit of Rotary East London, Bruce Sandmann, described the scene as they approached the missing men, saying the two were overcome with emotion. "Our own emotions ran high," he added.
As the rescued fishing boat was again out of fuel the NSRI towed them into St Helena Bay for an even more emotional reunion with family, friends and the local community.
About NSRI
The NSRI operates from base stations along the SA coastline, and on inland dams, with rescue volunteers on call at all hours, every day of the year. NSRI rescue crew receive no payment and neither do they charge the people they rescue. The NSRI visits schools around the country teaching children about water safety. Drowning prevention measures include its online training academy, with free courses for crew and the public, emergency signage, Pink Rescue Buoys for emergency flotation, rescue swimmers, lifeguards and active patrols during peak seasons.
♦♦♦♦♦♦♦♦♦
News continues below
GENERAL NEWS REPORTS – UPDATED THROUGH THE DAY
in partnership with – APO
♦♦♦♦♦♦♦♦♦
More News at https://africaports.co.za/category/News/
News continues below
TO ADVERTISE HERE
Request a Rate Card from info@africaports.co.za
EXPECTED SHIP ARRIVALS and SHIPS IN PORT

Port Louis – Indian Ocean gateway port
Ports & Ships publishes regularly updated SHIP MOVEMENT reports including ETAs for ports extending from West Africa to South Africa to East Africa and including Port Louis in Mauritius.
In the case of South Africa's container ports of Durban, Ngqura, Ports Elizabeth and Cape Town links to container Stack Dates are also available.
You can access this information, including the list of ports covered, by going HERE remember to use your BACKSPACE to return to this page.
News continues below
CRUISE NEWS AND NAVAL ACTIVITIES

QM2 in Cape Town. Picture by Ian Shiffman
We publish news about the cruise industry here in the general news section.
Naval News
Similarly you can read our regular Naval News reports and stories here in the general news section.
♦♦♦♦♦♦♦♦♦
THOUGHT FOR THE WEEK
♠♠♠
♠♠♠
ADVERTISING
For a Rate Card please contact us at info@africaports.co.za
Don't forget to send us your news and press releases for inclusion in the News Bulletins. Shipping related pictures submitted by readers are always welcome. Email to info@africaports.co.za
TABLE BAY UNDERWAY SHIPPING
SHIP PHOTOGRAPHERS
Colour photographs
and slides for sale of a variety of ships.
Thousands of items listed featuring famous passenger liners of the past to cruise ships of today, freighters, container vessels, tankers, bulkers, naval and research vessels.
P O BOX 809, CAPE TOWN, 8000, SOUTH AFRICA
snai@worldonline.co.za
http://home.worldonline.co.za/~snai
South Africa's most comprehensive Directory of Maritime Services will shortly be listed on this site. Please advise if you'd like your company to be included. To sign up for a free listing contact info@africaports.co.za or register online