Bringing you shipping, freight, trade and transport related news of interest for Africa since 2002
Stay Well, Stay Safe, Stay Patient, don't become one
Advertise with us. For a Rate Card email terry@africaports.co.za
♠♠♠
Come with us as we report through 2020
**********
TODAY'S BULLETIN OF MARITIME NEWS
These news reports are updated on an ongoing basis. Check back regularly for the latest news as it develops – where necessary refresh your page at www.africaports.co.za
Click on headline to go direct to story : use the BACK key to return
EARLIER NEWS CAN BE FOUND AT NEWS CATEGORIES…….
The Thursday masthead is of the Port of East London. On Friday it shows the Durban Container Terminal by night
♦♦♦♦♦♦♦♦♦
SEND NEWS REPORTS AND PRESS RELEASES TO
info@africaports.co.za
♦♦♦♦♦♦♦♦♦
News continues below
The self-geared container ship GH ZEPHYR (IMO 9374442), built in 2008, sails from Durban harbour after completing cargo working at one of the container wharves and heading for Jebel Ali as her destination port. The 34,324-dwt ship is owned and managed by Danish interests with the ISM manager based in Hong Kong. The container ship has carried her current name since 2017 – prior to July of that year she was named CITY OF XIAMEN and in April 2013 while on charter to Maersk Line on that group's FEW1 service, but operated by Germany's Sunship Schiffahrtskontor KG, the ship became the victim of a pirate attack in the Gulf of Guinea while en route between Lomé and Onne. Five crew were abducted by the pirates and later ransomed. Picture by Trevor Jones
♦♦♦♦♦♦♦♦♦
♦♦♦♦♦♦♦♦♦
News continues below
IN CONVERSATION:  Toxic waste dumping in the Gulf of Guinea amounts to environmental racism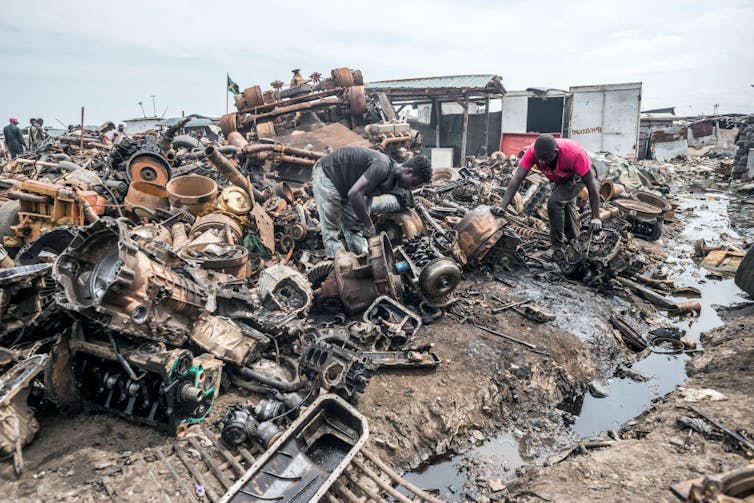 Toxic waste and electronic waste (e-waste) is generated from a wide range of industries – such as health, hydrocarbon or manufacturing – and can come in many forms, such as sludges or gas. E-waste is used electronic items that are nearing the end of their useful life, and are discarded or given to be recycled. If these types of waste aren't properly discarded they can cause serious harm to human health and the environment.
This makes the proper disposal of toxic and e-waste expensive. Because of this a market has been created and some companies and independent waste brokers circumvent laws. They disguise toxic waste as unharmful and e-waste as reusable electronics. It is then exported to countries in West and Central Africa where it is often disposed of unethically at dump-sites.
In our recent paper, we show how Western companies and businesses (primarily those in Europe and the US) target countries in the Gulf of Guinea – we covered Nigeria, Ghana, and Côte d'Ivoire – as a dump for their toxic waste. This, despite the knowledge of the physiological and environmental effects of this waste.
These African countries do not have the facilities to enable the safe disposal of hazardous and toxic waste. And the true contents of the waste are almost always unknown to them. Exporters label unsalvageable electronic goods as reusable. This allows them to circumvent international laws which prohibit the transboundary transport of this waste.
Drawing on examples from Côte d'Ivoire, Nigeria and Ghana, our paper argues that toxic waste dumping in the Gulf of Guinea amounts to environmental racism. This is a term that's used to describe a form of systemic racism – manifested through policies or practices – whereby communities of colour are disproportionately burdened with health hazards through policies and practices that force them to live in proximity to sources of toxic waste.
Other victims of environmental racism are Native Americans. In 2002 the US Commission for Racial Justice found that about half of this population live in areas with uncontrolled hazardous waste sites.
The dumping of toxic waste into Africa, while deliberately concealing its true content, shows that companies know it is ethically wrong. To protect communities within these countries, governments must implement the provisions of the Basel and Bamako Conventions. These conventions classify the transboundary movement of hazardous waste without the consent of the receiving state as illegal.
We also argue that the dumping of hazardous waste must be recognised by the United Nations and its member states as a violation of human rights.
What we found
We focused on three recent case studies of toxic waste dumping in Cote d'Ivoire, and e-waste dumping in Nigeria and Ghana to illustrate how specific acts of environmental racism happen.
Nigeria and Ghana
We looked at waste dumping in Nigeria and Ghana because they are both identified by the United Nations Environmental Programme as among the world's top destinations for e-waste. This includes discarded computers, television sets, mobile phones and microwave ovens.
In Nigeria, each month an estimated 500 container loads, each carrying about 500 000 pieces of used electronic devices (many of which can't be used again), enter Nigeria's port from Europe, the US and Asia. Similarly in Ghana, hundreds of thousands of tons of used electronics, mainly from Europe and the United States, are delivered in huge containers.
Because the electronics aren't properly recycled, this waste has caused huge amounts of pollution to enter the environment. Communities in both countries are also exposed to toxic chemicals such as mercury and lead. Burning e-waste can increase the risk of respiratory and skin diseases, eye infections and cancer for those that work on and live close by.
This is in stark contrast to what happens in the origin countries of the waste. For example, in the United Kingdom electronic waste is required to be appropriately recycled and is barred from incineration and landfills.
Misguidedly, the importation of e-waste to countries like Nigeria and Ghana continues because it generates much-needed revenue. For instance, Ghana is set to generate up to US$100 million each year from levies collected from importers of e-wastes. The informal sector is also a source of employment for many poor and vulnerable people. In Nigeria for example, up to 100,000 people work in the informal e-waste sector, processing half a million tonnes of discarded appliances each year.
Côte d'Ivoire
Côte d'Ivoire serves as a good example to show the secrecy that is inherent in the toxic waste industry and the human and environmental cost of toxic waste dumping.
In 2006 Trafigura, a Netherlands-based multinational oil trading company, didn't want to pay the EUR500,000 (about US$620,000) to treat and dispose of its toxic waste in the Netherlands. And so it approached an Ivorian contractor to dispose of over 500,000 litres of toxic waste. They paid the Ivorian subcontractor in Abidjan EUR18,500 (about US$22,000). The waste was disposed of at over 12 different locations around Abidjan. They claimed the material was non-toxic, hence no need for treatment.
The environmental racism is reflected in the fact that Trafigura knew that the waste was toxic and lied to discharge it in Côte d'Ivoire. Its decision is one of convenience and it is racist because it shows a disregard for African lives.
In the aftermath of the incident, over 100,000 people became sick and 15 people died. According to a 2018 assessment some of the sites are still contaminated.
The Ivorian government entered into a settlement agreement with the Trafigura Group, receiving CFA95 billion (approximately US$200 million). This was intended to compensate the state and the victims and to pay for clean-up of the waste. However, some victims haven't received compensation. Subsequent bids by victims for compensation have been rejected by a court in Amsterdam.
Moving forward
We recommend that countries in the region implement the provisions of the Basel and Bamako conventions in their entirety. Doing this would ensure that the countries of origin would be active players, monitoring the brokers on their end and ensuring waste is stopped before it's exported.
Currently, Nigeria and Ghana haven't ratified the Bamako Convention; they must do so. Recipient countries must take the necessary steps to ensure that they're not used as a dumping ground.
There's also a need for an international tribunal on toxic waste dumping and related crimes – just like the International Criminal Tribunal for the Former Yugoslavia – to pass appropriate retributive justice. And though the Basel convention stipulates that the state can develop laws regarding liability and compensation for the victims, this has not yet resulted in fair compensation for victims.
Finally, it is imperative that Gulf of Guinea countries equip their seaports with technology and trained personnel that can detect hazardous waste.

Ifesinachi Okafor-Yarwood, Lecturer, University of St Andrews
This article is republished from

The Conversation

under a Creative Commons license. Read the

original article.
♦♦♦♦♦♦♦♦♦
News continues below
Reflecting on Port of Durban Decongestion Task Team Initiatives
It has been a year since the inception of the multi-disciplinary Decongestion Task Team at Southern Africa's busiest port. Headed by General Manager at the Port of Durban, Moshe Motlohi, the Task Team has achieved notable milestones and improvements in port efficiencies and processes.
"As I look back at the enormous work that had been done by fellow colleagues and stakeholders, I bear testament to the power of collaboration and I am proud to have been part of this journey," says Motlohi.
"It is not the end as yet and there is still a lot of work to be done to take the Port of Durban back to being the busiest port on the continent."
Motlohi said it was encouraging to see improvements in key measures of efficiency including ship waiting time, ship turnaround time, reduced truck turnaround time and staging times, improved fluidity on Bayhead Road leading into the container terminals and improved rail turnaround time. "But we know we must not rest on our laurels and will continue collaborating with all role players to sustain these improvements," he added.
Looking back
It was during the launch of the District Development Model in October 2019 in Durban, that President Cyril Ramaphosa was made aware of the concerns of businesses regarding the Port of Durban, among them the horrendous congestion experienced in Bayhead and neighbouring roads.
Representatives from the Durban Chamber of Commerce and Industry (DCCI) shared their dissatisfaction around port congestion and inefficiencies, Nigel Ward of the DCCI said that while significant progress had been made, there was a need for initiatives to be expedited.
The City of Durban and the Port of Durban were mandated to form an integrated multi-disciplinary stakeholder structure, in the form of a working committee, to join forces and develop sound solutions to deal with the truck congestion and ultimately facilitate business within the port.
About 12 months ago when the task team was formulated, Bayhead Road was plagued by heavy truck traffic congestion attributed mainly to operational inefficiencies at the container terminal. The Decongestion Task Team began to drive more robust collaboration with public and private industry stakeholders to develop initiatives to assist in addressing the challenges.
Participants include Transnet, the Department of Public Enterprises, KwaZulu-Natal provincial government, eThekwini municipality, Durban Metro Police, SAPS, organised business through the Durban Chamber of Commerce and Industry, the South African Association of Ship Operators and Agents (SAASOA), South African Association of Freight Forwarders (SAAF), representatives of the shipping lines, private terminal operators, trucking fraternity, depot operators, research organisations and other industry associations and bodies.
The Task Team kicked off by establishing work streams to focus on key areas which were informed by the burning outcry of the businesses. The workstreams adopted an integrated approach to tackle the root causes of Bayhead traffic related congestion and to ensure improved coordination, planning, operations, cargo flows and capacity.
Priorities
The following interventions were top of the priority list when discussions commenced a year ago:
As a global best practice in the container sector globally, terminal operator Transnet Port Terminals (TPT) was tasked to reintroduce the Mandatory Truck Appointment system. At the Durban Container terminals, the project has since been closed out and fully handed over to the operations department of the two terminals.
The Point terminals also fully implemented the system and it has reached its mature stage. Not only has TPT implemented this system, but many other terminal operators, such as the Bulk Terminal depots, Grindrod and FPT, have started using a booking system to control the number of trucks arriving and exiting their facilities and ultimately control the truck traffic on the city's roads.
In the future, all terminal operators within the port will be mandated to have a booking system in line with global best practices.
To control and standardise the level of conduct within the port, the Task Team ensured that a comprehensive transporters induction programme was developed by the Transnet Maritime School of Excellence in consultation with industry.
The programme has since been rolled out and will ensure that all truck drivers and transport company owners are aware of their obligations, responsibilities, port processes, do's and don'ts before being permitted to operate in the port. Transporters are encouraged to take their truck drivers through this programme.
Terminal efficiencies remain a priority for the task team with various improvement initiatives in place over the past year. One of the major root causes identified for poor productivity at the container terminals was the low morale of employees. The container terminal management, working with customers, soon introduced the container terminal incentive scheme.
Equipment challenges were also noted as key contributors to inefficiencies.
As such, 23 Kalmar straddle carriers were injected into Pier 2 operations and two Kalmar rubber tyred gantry cranes (RTGs) were delivered in component form at the Pier 1 container terminal. Many other interventions and initiatives have been introduced which were originally not key priorities, however the task team resolved that quick wins will also help to change the picture of the Port of Durban.
The task team also focussed on increasing rail utilisation. About a year ago, the task team reported that there had been less rail coming to the port and was tasked with ensuring that all rail appropriate cargo was transported via rail. The stream dedicated to this intervention has improved rail supply in the Island View precinct from one train to four trains per week for manganese and chrome and in Maydon Wharf supply also increased to four trains per week for grains.
Mega projects are still a priority for this task team, as it looks to the future and responds to market demands through improved infrastructure, rail and port capacity, as well as improving road traffic compliance to prevent intersection gridlocks. The second access road and Bayhead widening projects have kicked off and are all in the inception stages.
Positive Sentiments
At the early stages of the Decongestion Task Team, Chairperson of the Harbour Carriers division of SAAFF, Sue Moodley, said: "The engagement sessions have been very interactive and informative, and it has been enlightening as there are many streams which contribute to the narrative, and this project is starting to take the direction it was designed for.
"We also have recognised that the feedback provided over the weeks are being noted, and this has created much improvement to the booking system and the quality of reports which are being provided to the trucking industry. There is still much more work that needs to be done by the larger logistics community, and these gaps have been identified and highlighted to incorporate the wider logistics community."
CEO of SAASOA, Peter Besnard, agreed: "We are very pleased that finally we are beginning to see light at the end of the tunnel."
In an engagement with the MEC: Economic Development, Tourism and Environmental Affairs and Leader of Government Business, Nomusa Dube-Ncube which was prior to the implementation of the province's economic redevelopment plans, she shared positive feedback on the progress made by the task team.
MEC Dube-Ncube also pledged her support to some of the initiatives which required provincial and national interventions.
The United National Transport Union (UNTU) also mentioned in an article that it welcomed the implementation of the truck appointment system which they said eased the years of complaints around heavy traffic congestion due to trucks in the Bayhead area.
Trevor Wasserfall, vice-president of UNTU, said this system will enhance the service delivery of Transnet to its clients in line with the best practices being used by other big ports globally.
Co-operative Governance & Traditional Affairs (COGTA) Minister, Nkosazana Dlamini-Zuma, was part of the District Development Model (DDM) gathering in Durban a few weeks ago where she indicated her satisfaction with the progress made by the Decongestion Task Team and highlighted the need for the Port of Durban help facilitate job creation.
♦♦♦♦♦♦♦♦♦
News continues below
The 2020 ESPO Environmental Report
EP-Transport Committee's TEN-T report reflects ESPO's view on the forthcoming TEN-T review
On 2 December the European Sea Ports Organisation (ESPO) welcomed the European Parliament's own-initiative report on the revision of the Trans-European Transport Network (TEN-T) guidelines by rapporteur Jens Gieseke (German, EPP), which was adopted on 1 December.
In the words of ESPO's Secretary General Isabelle Ryckbost: "I would like to congratulate the rapporteur and the Transport MEPs for the work on this important own-initiative report. The report very well caters to the points to be addressed in the review.
"We are happy to see that the strategic and complex role of seaports is well recognised, that the need to level the playing field between Motorways of the Sea and other land-based modes in the setting of requirements is addressed and that the need for synergies between the TEN-T and TEN-E policy is put forward.
"Finally, we appreciate the paragraphs campaigning for sufficient funding to complete Europe's Transport Infrastructure Network. One should consider an efficient, sustainable and resilient Transport Infrastructure Network as an important enabler of Europe's Recovery Strategy. We do hope this report will be taken into account for the preparation of the new TEN-T proposal."
ESPO especially welcomes that the strategic role of European maritime ports has been recognised by many members of the Committee during the compromise negotiations and is well reflected in the final voting result.
The report further underlines the need for sufficient EU funding to complete the TEN-T network, regretting the recent cuts to the Connecting Europe Facility, decided by the Council.
In the framework of modal shift, as one of the tools to decrease emissions from the transport sector, ESPO especially values the fact that the report underlines the importance of Motorways of the Sea (MoS) and short-sea shipping (SSS) as a sustainable mode of transport. The call for a simplification of the MoS requirements in order to create a level playing field with the land-based modes is fully in line with ESPO's position on the TEN-T revision, it is reported.
The report properly reflects the complex nature of European maritime ports by stressing that ports are not only a component of maritime transport, but increasingly clusters of all modes of transport, energy, industry and blue economy, by highlighting the cross-border dimension of maritime ports and by recognising the necessity to increase synergies within ports between transport, energy and digital infrastructure.
ESPO also welcomes that the news that the Transport Committee recognises the continued importance of capacity-ensuring measures to remain competitive transport nodes. Despite the diversity of European ports' investment needs, investments in basic infrastructure and maritime access infrastructure make up a large share of the planned projects.
Moreover, ESPO supports the promotion of better connectivity with third countries, including transport connections to candidate countries, the Western Balkan, as well as countries of the Southern Mediterranean and Eastern Partnership.
In the light of the withdrawal of the UK from the Union, the report rightly stresses the effective connection of Ireland with mainland Europe with particular attention for the maritime routes as crucial.
ESPO hopes that the report will be largely supported in the plenary vote and will serve as an important input to the European Commission in the preparation of the legislative proposal for the revision of the TEN-T guidelines.
For the report The Infrastructure Investment Needs and Financing Challenge of European Ports by ESPO readers are invited to see HERE
ESPO's 2020 Environmental Report
On 10 November ESPO presented its fifth annual Environmental Report during a dedicated Webinar. The ESPO Environmental Report 2020 includes more than 60 different environmental performance benchmarks, such as the Top 10 Environmental Priorities of the European ports, and figures on the green services to shipping (shore-side electricity, LNG and environmentally differentiated port dues).
The report can be downloaded HERE
Edited by Paul Ridgway
London
♦♦♦♦♦♦♦♦♦
News continues below
IN CONVERSATION: Slavers in the family: what a castle in Accra reveals about Ghana's history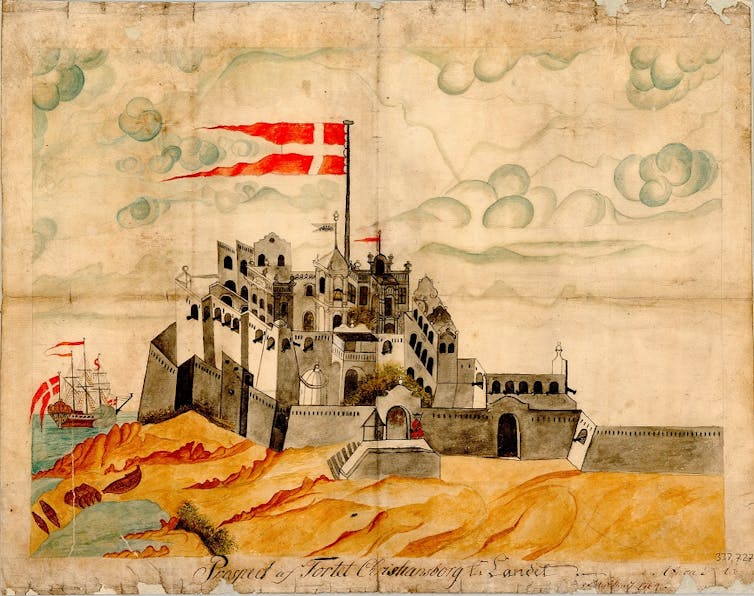 As a Ghanaian archaeologist, I have been conducting research at Christiansborg Castle in Accra, Ghana. A UNESCO World Heritage site, the castle is a former seventeenth century trading post, colonial Danish and British seat of government, and Office of the President of the Republic of Ghana. Today, it's known in local parlance as simply "Osu Castle" or "The Castle".
My research is the first archaeological excavation of the castle. I became interested in the history of the castle when several years ago, my aunt remarked,
Go to The Castle and see your surname inscribed on the castle wall.
I was confused. The story I'd grown up with was that my family – the Engmanns – descended from a Danish Christian missionary stationed on the coast. As I discovered after taking my aunt's advice, there was a great deal that I did not know.
When visiting the castle, I noted a water cistern in the courtyard inscribed with the name "Carl Gustav Engmann". This led me to the Danish National Archives, where I studied boxes of archival manuscripts written by Engmann. What I learnt during this early part of my exploration was that Engmann – my great great great great great grandfather – was in fact a Governor of Christiansborg Castle from 1752 to 1757. He later became a board member of the Danish Slave Trading organisation between 1766 and 1769.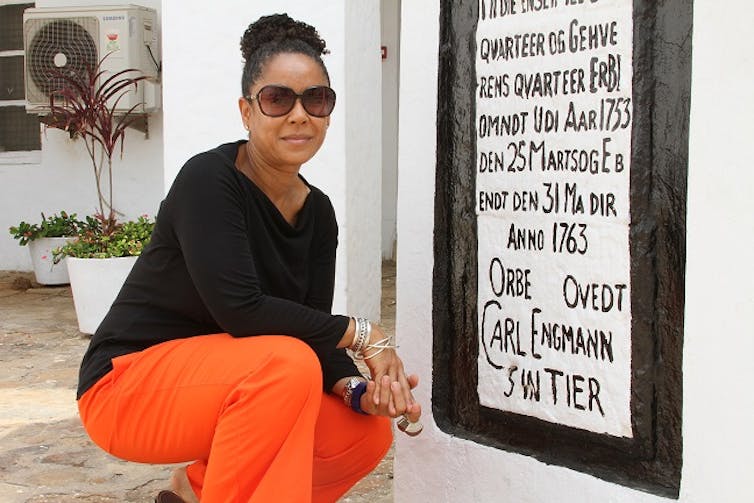 What is more, oral and ethnographic accounts in Ghana revealed that during Engmann's time on the coast, he married Ashiokai Ahinaekwa, the daughter of Chief Ahinaekwa of Osu, from whom I am descended.
The Castle
The Castle is situated on the West African coast, formerly and notoriously known as the "White Man's Grave". The castle's origins can be traced to a lodge built by Swedes in 1652. Nine years later, the Danish built a fort on the site and called it Fort Christiansborg ("Christian's Fortress"), named after the King of Denmark, Christian IV.
Over time, the fort was enlarged and converted into a castle.
An impregnable imperial fortification, the castle contained a courtyard, chapel, "mulatto school", warehouse storerooms, residential quarters, dungeons, bell tower, cannons and saluting guns.
The Castle was so vital to the Danish economy that between 1688 and 1747 Danish coinage depicted an image of the castle and the inscription, "Christiansborg". The castle operation included a governor, bookkeeper, physician and chaplain, alongside a garrison of Danes, in addition to Africans, known as "castle slaves".
Between 1694 and 1803, guns, ammunition, liquor, cloth, iron tools, brass objects and glass beads were exchanged for gold and ivory, as well as enslaved Africans. Approximately 100,000 enslaved Africans were transported to the Danish West Indies, comprising St Croix, St John and St Thomas islands.
The Danish Edict of 16 March 1792 officially marked the end of the Danish transatlantic slave trade, though it was not enforced until 1803.
Apart from a few brief periods, the site remained occupied by the Danish. In 1850, Denmark sold Christiansborg Castle to the British for £10,000.
Local communities
At the castle, we adopt a collaborative, democratic approach to archaeology, working with local communities. The team includes Danish-Ga direct descendants whose ancestors lived close to the castle during the eighteenth century, and who continue to do so today.
Its focus on an archaeology "for, with and by" direct descendants emphasises its decolonising agenda. For these reasons, I use the term "autoarchaeology".
Ultimately, it contests archaeologists' legitimacy, authority and self-proclaimed exclusive rights as stewards, interpreters and narrators of the material past.
Prioritising direct descendants' narratives and the histories they reconstruct, sheds light on little-known episodes in the history and legacies of the transatlantic slave trade. At the same time, it reveals the complexities of the politics of the past in the present.
Together, we are rewriting history.
Community involvement in the project.
Words and Things
As a historical archaeology project, we employ a "multiple lines of evidence approach" to research. We combine several sources – objects, texts, oral narratives and ethnography since there are multiple, often competing understandings of the past.
In this way, our work challenges traditional historical interpretations of the transatlantic slave trade based on European colonial written accounts. Such sources present history from a European (often white, male, elitist) colonial perspective, frequently marginalising or disregarding African and Afro-European experiences.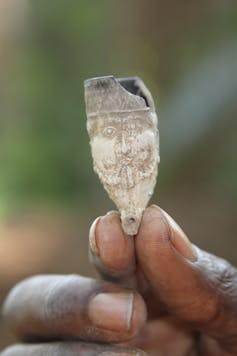 We have excavated an extensive pre-colonial settlement. This includes the foundations of houses and what is tentatively thought to be a kitchen since it contains three stones (for balancing a cooking pot) and charcoal, in keeping with local cooking area design.
We have also retrieved what are commonly known as "African trade beads" that were produced in various parts of Africa, as well as Europe, including Italy and Holland. Ceramics include Chinese and European ceramics (Wedgewood and Royal Doulton), alongside local pottery.
An African smoking pipe and numerous Dutch, English, German and Danish clay smoking pipes were recovered from the site. European glassware ranges from every day usage to refined, luxury ware. There are a number of other small finds including a slate fragment, typically used for writing, as well as faunal remains, seeds, metals, stone, daub, cowrie and other shells.
With the assistance of local fishermen, we even excavated a canon immersed in sand that had fallen from the castle above on to the beach below. Under the castle, we also discovered the entrance to an underground tunnel that led to the nearby Richter House, formerly owned by a successful "mulatto" Danish-Ga slave trader. This tunnel meant captive Africans could be transported from the house directly onto slave ships at sea without much opportunity for escape or drawing the attention of others.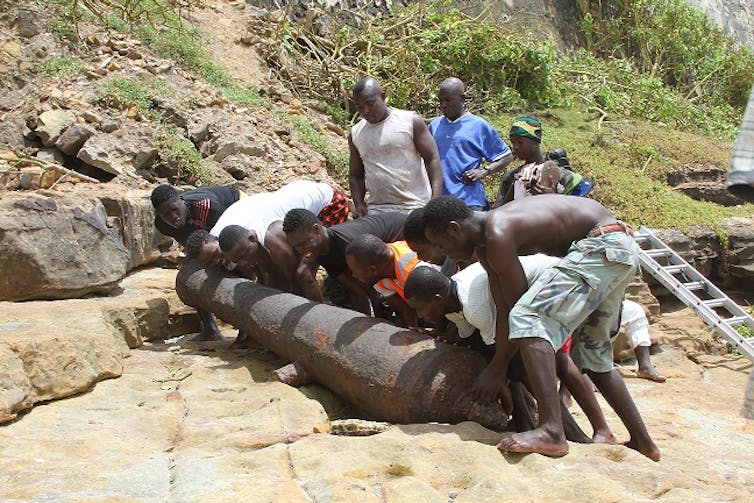 Future plans
We plan to continue with the archaeological excavations, artefact analysis and educational outreach. The project has received generous support from all the current and former presidents of Ghana, the national government, Osu chieftaincies, Osu Traditional Council and the Osu community – without it this project would not have been possible. The excavated artefact collection will contribute to plans to develop the castle into a museum.
In the meantime, I'll continue to wonder which one of these thousands and thousands of artefact ragments once belonged to my great great great great great grandfather.

Rachel Ama Asaa Engmann, Assistant Professor, African Studies, Archaeology, Anthropology and Critical Heritage, Hampshire College
This article is republished from

The Conversation

under a Creative Commons license. Read the

original article.
♦♦♦♦♦♦♦♦♦
News continues below
INDIAN NAVY SHIP HANDED OVER TO MALDIVIAN COAST GUARD AS MNDF CGS HURAVEE
The Indian Navy has completed a refit of the Maldivian Coast Guard ship MNDF CGS HURAVEE, which was handed over to Maldives in a ceremony last week at Visakhapatnam.
MNDF CGS Huravee was formerly INS Tillanchang, a Trinkat class patrol vessel constructed in India at Garden Reach Shipbuilders and Engineers, Kolkata in 2001.
The patrol ship was…
♦♦♦♦♦♦♦♦♦
News continues below
MALAWI WARNED AGAINST GETTING INVOLVED WITH MOZAMBIQUE INSURGENCY
As the Islamist terrorist activity continues unabated in Cabo Delgado province of northern Mozambique, with little sign of Mozambique security forces gaining full control of the region, and the port town of Mocimboa da Praia reportedly still under some form of terrorist control, Mozambique's neighbour in the North West, Malawi, has been advised not to become involved by sending soldiers unilaterally to assist Mozambican forces.
The warning has come from an international relations affairs expert, Wilson Khembo, who advises that such an unilateral involvement without…
♦♦♦♦♦♦♦♦♦
News continues below
UN General Assembly Resolution calls for seafarer key worker designation
and implementation of crew change protocols
IMO Secretary-General urges priority vaccination
The UN General Assembly (UNGA) has called on UN Member States to designate seafarers and other marine personnel as key workers and to implement relevant measures to allow stranded seafarers to be repatriated and others to join ships, and to ensure access to medical care. This was the subject of a communiqué issued by IMO on 1 December at 17h59.
In a resolution on International cooperation to address challenges faced by seafarers as a result of the COVID-19 pandemic to support global supply chains, adopted on 1 December, the United Nations recognises the need for an urgent and concrete response from all stakeholders, including the private sector, to resolve the situation of seafarers stranded at sea and/or unable to join ships because of national travel restrictions introduced across the globe as a result of the pandemic.
Safe ship crew changes
The resolution also encourages Governments and relevant stakeholders to implement IMO-recognised protocols to ensure safe ship crew changes and travel during the COVID-19 pandemic, thereby allowing stranded seafarers to be repatriated and others to join ships, taking into account essential preventive measures taken by port states against COVID-19.
Welcoming the adoption of the resolution, IMO Secretary-General Kitack Lim said, "Sadly, hundreds of thousands of seafarers, who are vital to maintaining supply chains, remain stranded at sea for months beyond their contracted time. This is causing immense strain, fatigue and exhaustion and is unsustainable. I hope that this call to action will result in positive momentum to resolve the crew change crisis."
Mr Lim added: "I am grateful to those countries who have already taken steps to designate seafarers as key workers and to all UN agencies and industry partners who have been working tirelessly to find ways to resolve the difficult situation. This is a human rights issue. Seafarers' lives are being made impossible through the crew change difficulties and this can only have a detrimental effect on ship safety and on the supply chain, the longer the situation continues."
The UN resolution calls on international organisations and other relevant stakeholders, including workers and employers organisations, to support Governments, upon their request, in the design and implementation of their responses and policies aimed at ensuring the integrity and increasing the resilience of global supply chains, decent working and living conditions and human rights of seafarers.
Vaccination for seafarers
Noting recent positive news regarding the development of vaccines against COVID-19, Mr Lim said the key worker designation should ensure seafarers and maritime workers receive priority vaccination, to allow them to work and maintain vital global supply chains.
He concluded by saying: "I hope that the key worker designation will ensure that seafarers can be vaccinated expeditiously. This will go some way to resolving the ongoing crew change crisis."
UNGA resolution on International cooperation to address challenges faced by seafarers as a result of the COVID-19 pandemic to support global supply chains.
The resolution was adopted during a session of the 75th United Nations General Assembly on 1 December 2020.
The full text can be downloaded HERE
UN General Assembly special session on COVID-19
Later in week ending 5 December it is understood that the UN General Assembly will hold a special session on COVID-19 – CLICK HERE
Edited by Paul Ridgway
London
♦♦♦♦♦♦♦♦♦
News continues below
TRANSNAMIB IN PROCESS OF ACQUIRING 33 DIESEL-ELECTRIC LOCOMOTIVE
According to the chief executive officer of Namibia's railway company, TransNamib, it is in the process of acquiring 33 refurbished locomotives to augment its existing fleet and double the potential cargo volume.
CEO Johny Smith said this was in line with the organisation's integrated business strategic plan (ISBP) covering the period 2018/19 to 2022/23, which had been approved…
♦♦♦♦♦♦♦♦♦
News continues below
US NAVY TO DECOMMISSION FIRE-DAMAGED USS BONHOMME RICHARD
The US Navy says that after thorough consideration, it has decided to decommission the fire-damaged amphibious assault ship, USS BONHOMME RICHARD (LHD 6).
The ship suffered extensive fire damage in July while alongside the quay in the navy yard at San Diego. The assault ship was assigned to…
♦♦♦♦♦♦♦♦♦
News continues below
DRAMATIC RESCUE OF LONE SAILOR IN SOUTHERN OCEANS
Vendeé Globe Yacht Race
In a dramatic rescue of a fellow yachtsman taking part in the Vendeé Globe Yacht Race, a lone sailor on board the yacht

'PRB'

, Kevin Escoffier, has been rescued by a fellow competitor, Jean Le Cam, sailing in the yacht

'YES WE CAM!'

over a thousand kilometres south-west of Cape Town.
In a statement on Wednesday the South African Maritime Safety Authority (SAMSA) said it notes with appreciation the successful retrieval of a sailor whose yacht experienced problems and eventually sank while participating in the Vendeé Globe Yacht Race some 1083km south of Cape Town on Tuesday morning (1 December 2020).
The successful retrieval of Escoffier of the yacht 'PRB' at about 03h00 on Tuesday morning (1 December) came about from collaboration between SAMSA's Maritime Rescue Coordinating Centre (MRCC), its French counterpart, Griz Nes, and the Vendeé Globe Yacht Race authorities and race participants.
The emergency rescue of the skipper ensued shortly after MRCC based in Cape Town was notified by MRCC Griz Nes (France) of an Emergency Position Indicating Radio Beacon (EPIRB) activation from the yacht PRB. The notification was received shortly after 16h00 on Monday afternoon (30 November 2020) and MRCC Cape Town assumed Search and Rescue (SAR) Coordination of this incident.
The EPIRB position was located approximately 1083km South West from Cape Town. Supplementary information provided with the EPIRB detection allowed MRCC Cape Town to confirm that the yacht was part of the Vendeé Globe Yacht Race.
With that confirmation the Vendeé Globe Yacht Race Organisers were contacted, and they confirmed to being aware of the EPIRB detection but were not able to make contact with Escoffier. They had alerted competitor Jean Le Cam, on board his yacht 'Yes we Cam!' and three other competing yachts to head towards the distress location for assistance.
MRCC Cape Town continued to provide EPIRB position updates and alerted the race organisers to the activation of the skipper's Man Overboard Device (MOB). The MOB device coordinates were then used to direct the yacht 'Yes we Cam!' to the PRB skipper who had taken to a life raft after abandoning his yacht, which had broken in half before sinking.
At least six initial efforts by Le Cam to recover Escoffier from his life raft were unsuccessful due to winds of up to 50 km/h and a sea swell of up to 5 metres. Each time he had to pull away Le Cam signalled to Escoffier that he would return and make another attempt. Eventually, by 03h00 the morning of 1 December 2020 Escoffier was safely taken on board the rescuing yacht.
He will be disembarked at the Kerguelen Islands.
The success of this rescue in the world's loneliest ocean was thanks to close collaboration, a crucial aspect to effective monitoring and safety of sailors globally. source: SAMSA
♦♦♦♦♦♦♦♦♦
News continues below
COMESA GRANTS KENYA FURTHER TWO-YEAR EXTENSION TO LIMITATION OF SUGAR IMPORTS
Kenya has been granted a further two-year extension to the limitation of sugar imports by the Common Market for Eastern and Southern Africa (COMESA).
The two year extension, which was due to expire on 28 February 2021, was requested by Kenya as a means of providing a lifeline to the country's ailing sugar industry.
Kenya indicated it requires the…
♦♦♦♦♦♦♦♦♦
News continues below
MERIDIAN ADDS EXTRA SCANNER AT TEMA TERMINAL GATE FOR ADDED SECURITY
In order to to improve operational efficiency for the Ghanaian port, Meridian Port Services (MPS) has installed an additional container scanner at its Tema Terminal 3, bringing to six the total number of drive-through container scanners installed in the terminal.
"This is being proactive to have reserve capacity and a good response to the foreseen future," said Matthieu Ferraro, Head of Construction at MPS.
"When you look at the growth of volumes since the start of operations at MPS Terminal 3, there has been a steady volume increase. This sixth scanner will serve as a back up to the other five scanners during routine maintenance without interrupting the flow of cargo," he explained.
The HCVP Scanner is the latest of a kind drive-through portal for the inspection of trucks, containers and other vehicles providing the Customs Officers with cargo manifest verification against the captured X-Ray images, reducing the need for manual inspections.
It can also detect drugs, explosives and weapons. Its accelerators allow for steel penetration from 230mm (9in) to 300mm (11.8in) while providing a high throughput. It has a small carbon footprint with the ability to allow a throughput of 100 to 120 vehicles per hour.
The container scanners' sophisticated software has been made available for the exclusive use of the Customs Division of Ghana Revenue Authority and the respective Government Agencies for enhancing Border Security and safeguarding state revenue while providing the highest operational standards to the port users.
MPS chief executive, Mohamed Samara, said that in line with the start of the Africa Continental Free Trade Agreement (AfCFTA), MPS is also looking at the necessary vital investments that will gear up its facilities to present a secure trading platform and enhance the role of MPS as a gateway to the economy.
"This cutting-edge machinery is part of the MPS's long standing vision of creating a digitally advanced port facility integrated with the latest technology. It is also in line with the Vice President's ease-of-doing-business measures that MPS has implemented to enhance Tema Port's competitiveness and attract more cargo," he said.
About MPS
Meridian Port Services Limited (MPS) is a joint venture between Bolloré Transport & Logistics, APM Terminals and the State of Ghana via the Ghana Ports and Harbours Authority (GPHA). With 700 employees and generating 1,000 indirect jobs, MPS is developing container storage and stevedoring activities to the benefit of the Ghanaian economy.
♦♦♦♦♦♦♦♦♦
News continues below
MSC PLANS ON REINTRODUCING TWO SHIPS IN SA FOR 2021/22 CRUISE SEASON
Unveiling its planned 2021/22 summer cruise season MSC Cruises intends locating two ships, MSC MUSICA and MSC LIRICA in South Africa to offer over 62 cruises sailing from the homeports of Durban and Cape Town.
The introduction of two ships at the same time means that 42,300 additional passengers will be able to partake of a cruise from a South African port during that period.
Initially, the 3,200-passenger MSC Musica will operate out of Durban, providing the popular cruises mainly to Mozambique destinations, while the smaller 2,350-passenger MSC Lirica will cruise from Cape Town, operating essentially to Walvis Bay and Lüderitz and and in an easterly direction to Mossel Bay.
Coastwise cruises between Durban and Cape Town will also be possible as the two ships swap homeports for short periods.
A highlight of the end of year (2021) cruise will be a 14-night New Year Cruise departing from Durban on 26 December and incorporating destinations including Portuguese Island, Nosy Be (Madagascar), followed by Port Victoria, Seychelles, and then Port Louis in Mauritius, returning to Durban on 9 January.
This will be the first time that the New Year cruise will include visits to Nosy Be and the Seychelles.
In general many of the cruises on offer will be of three, four, and five-night sailings out of either Durban or Cape Town.
The announcement follows a frustrating period in which cruising internationally came to a halt with the onset of the coronavirus pandemic. Selected cruising in several areas of the world, including a small part of the Mediterranean, has recently recommenced, but in general cruise ships the world over remain at anchorage awaiting an end to the restrictions of COVID-19.
Had the pandemic not occurred, South Africa would have experienced a wider selection of locally available cruises with a number of ships of several different lines announcing their intention on cruising in South African waters and providing MSC Cruises with competition not yet experienced locally.
One of the results of the worldwide lockdown that brought a sudden end to international cruising is that a significant number of cruise ships, including some famous names, have been sent to the breakers yards, resulting in a smaller fleet that will be available when cruising resumes. Whether this will impact on cruise lines intentions or ability to cruise in South Africa remains to be seen, but MSC Cruises has meanwhile put down its marker and revealed its intention.
One of MSC's ships, MSC Orchestra, a sister vessel to MSC Musica, has remained on laybye off the port of Durban since March 2020 and MSC Cruises has indicated it hopes to resume cruising locally early in the New Year, possibly from February. That still depends on the march of the 'second wave' of the coronavirus and the South African Government's decision on allowing cruising to resume.
♦♦♦♦♦♦♦♦♦
News continues below
HMS Dragon returns home from Black Sea and E Med
On 21 November HMS Dragon returned to her home base of Portsmouth following her deployment in the Black Sea and the eastern Mediterranean throughout the autumn.
Since leaving UK waters in early September, the Type 45 destroyer [which spent time in Cape Town in March 2015 when the ship drew large crowds to visit her while at the V&A Waterfront] has been operating as part of the Littoral Readiness Group (Experimentation), also comprising HMS Albion and RFA Lyme Bay.
She also spent nearly a month patrolling the Black Sea and training with Ukrainian, Georgian and Romanian warships in the region.
Affirming her presence in the Black Sea during a time in which many countries have been affected by Covid-19, Dragon applied stringent protection measures in order to ensure that the virus had not compromised her ability to conduct operations.
Commander Giles Palin, Dragon's CO commented: "It speaks for volumes for the UK that, despite the challenges wrought by Covid-19, the Royal Navy is still able to provide a reassuring presence to our partners and allies in the Black Sea and eastern Mediterranean.
"HMS Dragon has seen first-hand how favourably our friends in Ukraine, Georgia and Romania view our presence in the region during what is a difficult time given the on-going pandemic.
"But HMS Dragon's actions to preserve of freedom of navigation, and deterring any adversaries that would challenge, have been felt much further than regional partners: they are just as crucial to both UK and European security."
Following a successful deployment, HMS Dragon is about to commence a maintenance period before starting sea training in order to remain ready for tasking in 2021, is reported.
Edited by Paul Ridgway
London
♦♦♦♦♦♦♦♦♦
News continues below
TEMA PORT RANKED THE LARGEST IN WEST AND CENTRAL AFRICA
The President of the Ports Management Association of West and Central Africa (PMAWCA), Michael Luguje, who happens also to be the Director-General of Ghana's Ports and Harbours Authority, has revealed that with the completion of phase 1 of the MPS Terminal 3, the Tema Port is currently the biggest in terms of capacity of all ports in the West and Central Africa.
"We have the biggest container terminal within West and Central Africa. If you look at single terminal volumes that are handled, we were able to do 1 million TEUs at the close of 2018 and 2019. Barring COVID-19, our target was to cross the 1 million mark," the DG said.
He said this is being complemented by ongoing expansion of the Takoradi Port which includes the upgrading of the dry bulk jetty with conveyor systems, construction of the multipurpose Atlantic Terminal, the completed liquid bulk terminal, and the pending oil and gas services terminal.
"The Liquid Bulk Terminal has the capacity to serve the whole liquid bulk industry for as many years to come," he said.
Luguje added that the fourth phase of development in Takoradi which is the oil and gas services hub will be a concentration of everything the offshore oil industry needs.
The Director-General of the GPHA also revealed that these port facilities will be additionally boosted by the initiative to construct the Mpakadan Inland Port and the Boankra Integrated Logistics Terminal which will begin soon.
"Mpakadan is going to be linked by rail to the Tema Port. So, once Mpakadan is able to demonstrate the economic advantage of picking the container on rail and putting it on a barge via the lake to the North and continuing by road to its destination, naturally it will generate volumes," he suggested.
He also highlighted the Keta Port which is going to be the third major seaport in Ghana, and revealed that feasibility studies currently ongoing will be completed by end of the first quarter of 2021.
In addition he revealed that the revamping of the Tema Shipyard has not been neglected but said that interested investors in developing the facility were inhibited from coming to Ghana to assess facility earlier in the year due to COVID-19.
Luguje said the masterplan of the Ghana Ports and Harbours Authority gave room for the development of a cruise terminal at both the Takoradi and Tema Ports, therefore, the Port Authority would pursue such developments with the private sector when the opportunity presented itself in the future.
Mr Luguje said these port infrastructure developments coupled with the development of intermodal transport linkages such as rail and inland water transports, will enable Ghana to position itself as one of the best destinations for intra-African trade, especially as the novel Free Trade Agreement presents a 3-trillion-dollar economy for the taking. source GPHA
♦♦♦♦♦♦♦♦♦
News continues below
In the UK the results of a recent Chartered Institute of Logistics and Transport (CILT; see: CILT Home ( ciltuk.org.uk ) survey investigating the preparedness of Institute members ahead of the end of the transition period on 31 December 2020, reveals that a clear majority of members are concerned about the UK's transition period coming to an end.
It is understood that the results show that 82% of CILT members who are involved in the movement of goods in and out of the EU are concerned (44% of them greatly concerned) about…
Edited by Paul Ridgway
London
♦♦♦♦♦♦♦♦♦
News continues below
KZN PREMIER APPEALS FOR ROAD FREIGHT RESOLUTION
as police ask army to step in
KwaZulu-Natal premier Sihle Zikalala has called for a peaceful resolution to the ongoing

truck violence

in which foreign truck drivers are being targeted by road thugs. Trucks have forced to stop, mostly late at night, and set alight and at least one driver has been killed as the violence on the country's main roads continues.
At the heart of the matter are claims that trucking companies have a preference for employing foreign drivers because they will work for less money than a local. This question has not been satisfactorily answered, nor another claim that foreign drivers are preferred because they work harder than locals.
In KZN the local government wants to engage with…
♦♦♦♦♦♦♦♦♦
News continues below
TRADE NEWS: Castor Marine takes over SeaVsat assets
Castor Marine

, a leading Global VSAT Network Operator, has announced its acquisition of the activities of SeaVsat, a maritime satellite internet provider at sea based in Lelystad, the Netherlands. SeaVsat provided satellite Internet access to offshore vessels and rigs.

SeaVsat was declared bankrupt on 23 November 2020, leaving customers at sea in uncertainty about their Internet connection. With this acquisition Castor Marine has ensured continuity of the Internet services ensuring business continuity and taking care of the welfare of people at sea that are affected by this bankruptcy.
Read the rest of this report in the TRADE NEWS section available by CLICKING HERE
♦♦♦♦♦♦♦♦♦
News continues below
WHARF TALK: Durban Port Bulletin News
Moshe Motlohi, Transnet National Ports Authority General Manager reports:
Last week the Decongestion Task Team received a second presentation from a private property developer. The essence of the presentation was to share with the committee how private partners can contribute towards unlocking value within the supply chain.
While on unlocking value, on 23 November we held a Port of Durban Procurement Masterclass Webinar, which was the first of its kind within the TNPA. The purpose of the session was to take along those SMME's that find it difficult to access opportunities in the port and empower them with relevant knowledge on the procurement processes, governance as well as support available for their businesses.
We partnered with the likes of CIPC as well as SEDA to help share information on SMME programmes available for our audience. We look forward to hosting more of these masterclasses and partnering with more organisations to ensure that we align to the government's mandate of economic reconstruction and recovery plan.
The session was a great success and I would like to thank everyone who participated.
On the downside we received shocking developments where some trucks that move cargo in and out of our port had been torched. We are mindful that any disturbance that occurs in any node of the supply chain affects the efficacy of the entire supply chain. We want to call for calm as if this is not attended to, our port will be negatively affected.
The focus remains on improving the processing rate within all terminals. As everyone is focusing on improving the Turnaround Time of vessels, trains and trucks. We encourage all terminals to adopt small wins approach that will bring about incremental gains.
I would like to express my appreciation to MSC and King Rest Container Depot for donating containers and thereby assisting women owned businesses that have been affected by heavy rains – I take my hat off for empowering female businesses.
Be safe and remember to keep a safe social distance, always wear your masks, wash your hands with soap and water or alternatively sanitize with an alcohol based solution. Have a great week ahead and until next time.
♦♦♦♦♦♦♦♦♦
News continues below
WHARF TALK: Durban Volume and Vessel Call Performance
Container volumes

at the

Port of Durban

were above budget by 13% this reporting week. This was due to higher than budgeted export cargo handled. The main contributor being the export of empty containers which performed extremely well at 160% above budget. This is the result of customers evacuating empties for repacking.

Demand for import goods has begun to…
♦♦♦♦♦♦♦♦♦
News continues below
SAMSA TO PROBE FATAL CAPSIZING OF FISHING BOAT OFF WEST COAST
The South African Maritime Safety Authority (SAMSA) has launched an investigation into the circumstances of the capsizing of a fishing vessel off the Cape West coast in the vicinity of Rooi Els on Thursday afternoon (26 November) during which one fisherman died, three sustained minor injuries and one still missing.
In a statement in Pretoria on Friday, SAMSA said the fatal incident reportedly involved…
♦♦♦♦♦♦♦♦♦
News continues below
PIRACY: ANOTHER TANKER AGISILAOS BOARDED IN GULF OF GUINEA
Reports on Monday morning 30 November say that yet another tanker has been attacked and boarded by pirates while sailing in the Gulf of Guinea.
The Greek tanker AGISILAOS (IMO 9315745) came under attack and was boarded by an as yet unknown number of pirates while sailing in position 04°54.3N 001°10.7E, some 75 nautical miles South of…
♦♦♦♦♦♦♦♦♦
News continues below
CALLING BOAT AND YACHT OWNERS WORLDWIDE
IMO is asking recreational boat owners worldwide to take part in a global survey on how they deal with fouling on their craft, as part of a major project to help address the spread of aquatic invasive species.
The survey is available HERE
This is for owners of all types of sailing boats, motorboats and yachts and is being carried out by IMO's GloFouling Partnerships Project, which aims to protect marine ecosystems from the negative effects of invasive aquatic species.
Boat owners are asked to provide information in the short survey on their location, what kind of anti-fouling paint or system they use, where do they moor and winter the boats, preferences for cleaning, challenges, and so on.
The results will help identify the main challenges and what kind of solutions would be easier to implement.
Apart from improving the environmental performance of their boats, it could save them money spent on fuel or on cleaning the hull when it is too late (and there is so much biofouling it has spoilt the paint).
The survey is available in English, Spanish, French and Arabic.
The survey has the support and collaboration of World Sailing, ICOMIA* and IUCN**.
A recently-launched film explains the role of recreational boating in relation to the introduction of Invasive Aquatic Species via biofouling and can be seen in the video below [6:07
Biofouling or biological fouling is the accumulation of microorganisms, plants, algae, or animal species on boat hull surfaces. It is a pathway that helps non-indigenous species to spread from one geographical area to another, where they can become invasive and have serious impacts on their adopting habitat.
*The International Council of Marine Industry Associations: ICOMIA | The voice of the recreational marine industry worldwide
**The International Union for Conservation of Nature: https://www.iucn.org/
Edited by Paul Ridgway
London
♦♦♦♦♦♦♦♦♦
News continues below
SA PORTS REGULATOR'S DECISION ON PORT TARIFFS
   
At a virtual meeting today (Monday 30 November 2020) the chairman of the Regulatory Committee of the Ports Regulator of South Africa, Dr Tshisikhawe Victor Munyama, made the following announcement.
This concerned the application to the Ports Regulator of South Africa, in terms of Section 72 of the National Ports Act, 12 of 2005, for approval of the tariffs for services and facilities offered by the TNPA of an average of 19.74% increase for the period 01 April 2021 to 31 March 2022, together with indicative tariffs of -0.29% for the period 01 April 2022 to 31 March 2023 and -7.86% for the period 01 April 2023 to 31 March 2024.
Dr Munyama's statement follows:
After considering the application and the submissions made by all of the stakeholders during the consultation period, and based on latest available data, the Ports Regulator has concluded that an appropriate overall increase in average tariffs for the financial year 2021/22 is 0%. In particular:
* Marine services and related tariffs (Sections 1-8 of the Tariff Book, excluding Section
7 that deals with cargo dues) are to increase by 5%
* Container (Full) export cargo dues to decrease by 10%
* Container (Full) import cargo dues to decrease by 3%
* Coal export cargo dues to increase by 5%
* Magnetite export cargo dues to increase by 5%; and
* All other tariffs are to remain unchanged.
Tariff Assessment
In conducting its assessment, the Ports Regulator takes a view on a number of cargo volume and market-related factors, including the inflation outlook and the cost of debt, the operational and cash flow requirements of the National Ports Authority, as well as the implementation of the published Tariff Strategy that aim to rebalance the tariff structure to closely reflect the underlying cost and benefit to specific users of port infrastructure.
In addition, the Ports Regulator was cognisant of the poor economic climate in the country, both from the underlying structural challenges facing us, but also more pressing the impact of the COVID-19 pandemic on the port system.
The decision was therefore taken in line with the call by President Ramaphosa for all role-players to contribute to the recovery of the South African economy as a matter of urgency. In this regard, the Ports Regulator is of the opinion that an overall 0% tariff increase as well as an export biased lowering of container cargo dues would be in the best interest of stimulating local manufacturing, beneficiation, and employment creation.
For the tariff year 2020/21, the Ports Regulator approves revenue of R11.970 billion against the R13.569 billion applied for by the NPA.
The Ports Regulator is confident that the use of the Excessive Tariff Increase Margin Credit (ETIMC)͕, a facility put in place to smooth future tariff spikes to lower the revenue requirement of the NPA will ensure the sustainability of the NPA and provide the financial space to ensure that the capital program (totalling R3.147 billion in the Application) is fully implemented, despite previous under-expenditure on CAPEX.
Concerning the under-expenditure on CAPEX, it is evident that in spite of a clear regulatory incentive to increase CAPEX spending (re: the Revenue Required Methodology) the NPA has consistently failed to execute the full CAPEX program as allowed for by the Regulator.
The Ports Regulator, however, determines that capital expenditure is a key component to the development and sustainability of our port system. In this context it would not be prudent to cut back on capital expenditure in a downturn as spending on infrastructure also contributes to the country's gross fixed capital formation and allows the port system to be ready for the eventual economic upswing.
Thus, the Regulator is committed to a continued and increased focus on the Authority's CAPEX under-expenditure and shall, among other initiatives:
* carry out capital works-in-progress assessments
* closely monitor the expenditure improvement program (game-changer)
* periodically conduct meetings at respective ports; and
* receive reports from the NPA that include technical skills and capacity, planning and supply chain processes impacting CAPEX implementation.
Further, it must again be noted that besides capital expenditure allowed, operational cost amounting to R 5 503 billion, including Group overhead costs was allowed for fully, thus ensuring both the sustainability and further development of the South African ports system.
Other measures in support of the Economic Recovery effort
In addition to the 0% tariff change allowed for during the 2021/2022 tariff year, the incentive for South African flagged vessels (in its final year) is retained and will be revisited in the next tariff application process.
However, specific to the 2021/22 tariff year, and aimed at reducing the cost of doing business for entrants to the port system:
* All licence fees will be reduced by 30%. All licence fees (Tariff) applicable per port for the tariff year 2021/22 can be paid in equal instalments on an annual basis over the period of the license.
* Whilst the Regulator requires the NPA to develop and introduce a system to target and support the SMME licence holders, especially historically disadvantaged individual (HDI) and Women owned and/or managed businesses, this ROD on the license fees shall hopefully benefit small businesses that remains a key to sustainable job creation.
* A further reduction in the existing discounts to non-cargo working vessels for the 2021/22 tariff year is included in the Record of Decision (ROD) with short stay vessels taking on bunkers, water or stores receiving a 60% discount. Other vessels not engaged in cargo including vessels not engaged in cargo working for the first 30 days only; bona fide coasters; passenger vessels; and some small vessels will receive an increased discount of 35% from the 25% allowed previously. More details are available in the ROD.
Conclusion
The Ports Regulator remains committed to reducing the cost of living and the cost of doing business through fair pricing within the South African ports system, and this balanced tariff decision is considered the most prudent course of action for the 2021/22 tariffs period under the extraordinary circumstances we find ourselves in.
The official tariff Record of Decision for the period 2020/21 – 2022/23 may be found on the Ports Regulator website: CLICK HERE
♦♦♦♦♦♦♦♦♦
News continues below
WHARF TALK: Snippets of news from the port of Cape Town
Port Omission Report
Ocean Network Express (ONE) shipping group reports that the scheduled call at Cape Town by the SAECS (SA-Europe Container Service) ship SANTA ROSA on southbound voyage 205A will, as a result of strong winds, omit her Cape Town import call.
ONE advises that the Cape Town import cargo will be retained on board for discharge on the Cape Town export northbound call with an ETA at Cape Town of 17 December 2020.
Tug and Tow
In other news from Cape Town the AMSOL tug SA AMANDLA arrived in Table Bay early on Sunday morning (29 November 2020) with the Spanish-owned trawler UMZABALAZO in tow. The trawler was later taken to the Tanker Basin in the Duncan Dock while the salvage tug has berthed in the Victoria Basin of the V&A harbour. – report courtesy John Hawkins
♦♦♦♦♦♦♦♦♦
News continues below
NAVY'S FORMER STRIKE CRAFT, SAS GALESHEWE DECOMMISSIONED
SAS GALESHEWE P1567, one of the remaining three former missile strike craft of the SA Navy, has been decommissioned in Simon's Town, leaving just two of the vessels, now converted to patrol craft duties, to carry the load out of Naval Base Durban.
It is expected the two remaining patrol ships, SAS ISAAC DYOBHA (P1565) and SAS MAKHANDA (P1569) will remain in service until at least mid 2021 when the first of the new multi-mission inshore patrol vessels becomes available.
Three of these inshore craft are under construction at the Damen Cape Town Shipyard as part of Project Biro. An order for three offshore patrol vessels is on hold for financial reasons.
Six of the original nine missile strike craft were built locally at the Sandock Austral Shipyard in Durban. The first three vessels were built in Israel and sailed to South Africa by the SA Navy in the 1970s.
The nine strike craft formed the main strength of the navy during the years of sanctions and threats of armed incursion. Several top secret missions were carried out by these vessels which performed their duties with reliability throughout.
With the procurement of new frigates and submarines in the early 2000s the strike craft were converted for use as patrol ships, losing their missile launchers to the frigates and ultimately one of their 76mm guns. Nevertheless they continued to perform their duties including long-range patrols in the Mozambique Channel.
The full story of the strike craft squadron remains to be told, hopefully while there are still those who served in them to relate some of the extraordinary and absorbing tales.
Read a short background to SAS GALASHEWE The Final Voyage of SAS Galeshewe
The photographs appearing below are a small tribute to the memory of these remarkable ships of the SA Navy and the men who sailed them. Some of the pictures are courtesy of Jop Fourie
♦♦♦♦♦♦♦♦♦
News continues below
SECOND HYDROGRAPHIC SURVEY BOAT FOR PROJECT HOTEL COMPLETED
The second of three hydrographic survey craft for Armscor's SA Navy Project Hotel has been completed at Paramount's Veecraft Marine in Cape Town.
The three motor survey craft will eventually join with the major component of Project Hotel, the building of a highly sophisticated hydrographic survey ship at the Sandock Austral Shipyard in Durban to replace the navy's existing survey ship, SAS PROTEA.
The first of the three smaller craft was launched in August this year – see that report by CLICKING HERE
The launching of the second vessel took place earlier in November (16 November) when a series of harbour and sea trials will precede the acceptance of the vessel by Armscor and the SA Navy.
A third similar craft is still under construction at the Veecraft boatyard. Two of the craft will travel with the new and as-yet unnamed hydrographic survey ship, while the third will remain ashore in reserve.
As reported here in August with the launching of the first vessel, the 11-metre length overall (LOA) Survey Motor Boat hosts two twin Volvo Penta duo-prop propellers, providing for greater fuel efficiency and effective and predictable handling alongside a Volvo Penta D3 joystick helm control system.
The vessel's advanced survey equipment includes Multi-Beam and Single-Beam echo-sounders and Side-Scan Sonar and a Seabed Sampler to recover sample material from the sea-floor and underlying sub-strata for detailed analytical and testing purposes.
See related article The South African Navy Hydrographic Office (SANHO) 1922 TO 2020
♦♦♦♦♦♦♦♦♦
News continues below
WHARF TALK: Transnet Pipelines provides update on uMbilo River crude oil clean-up
Transnet Pipelines (TPL) has completed the clean-up of the crude oil contamination in the Durban harbour and uMbilo River, following an oil spill caused by an attempted fuel theft incident last month.
To see our initial report on the spill CLICK HERE
The clean-up, which took about a month, was achieved through a joint operations committee compromising of TPL and Transnet National Ports Authority (TNPA) as well as various government departments including the Department of Environment Forestry and Fisheries, Department of Water and Sanitation, eThekwini Environmental Heath and Pollution branch, and the KwaZulu-Natal Department of Economic Development and Tourism and Environmental Affairs.
Since the start of the clean-up, about eight skips of plastic and rubble have been removed along the riverbank and at the mangroves.
Although there is no visible free phase product in the river, two booms are strategically placed as a precautionary measure, one at the storm water outlet, which was a flow path from the spill site, and one at the harbour mouth. These booms will contain any residue that may be present in the storm water culvert.
In accordance with the advice from environmental experts, the mangrove area will not be disturbed further while the natural biodegrading process is being promoted. The actual spill area has been cordoned off while remediation is continuing. This will not have an impact on the river.
"Transnet would like to express its appreciation to all the role players involved in the clean-up process. We also appeal to all industries upstream to put measures in place to prevent further contamination of the river," TPL said in a statement.
A criminal case has been opened for this incident, however, there have been no arrests yet.
"We appeal to residents or any persons living near the pipelines or driving past, especially at night, to report any suspicious activities e.g. bakkies, fuel tankers in the area of the block valve chambers or near our pipeline markers. The TPL toll free number is 0800 203 843."
♦♦♦♦♦♦♦♦♦
News continues below
Seafarers Delivering Christmas Campaign 2020
In the UK it is reported that the Merchant Navy Welfare Board (MNWB) and the International Port Welfare Partnership (IPWP) are involved in a programme that is part of a joint maritime industry initiative entitled Seafarers Delivering Christmas Campaign.
This is aimed at making sure seafarers are not forgotten this Christmas, especially as they have had to deal with both the COVID-19 pandemic and the crew change crisis.
Supporting partners include the ICS, ITWF, Seafarers UK, INTERCARGO, INTERTANKO, INMARSAT and others.
As part of this posting readers will see a flyer indicating a range of initiatives for the benefit of the world's seafarers. This may also be accessed using the hashtag: #SeafarersDeliveringChristmas
These initiatives by the shipping industry show how individuals or groups can become involved in the programme.
Examples of support for seafarers include:
* Donations of gifts or money to seafarers' missions and seafarer charities
* Provision of 10 minutes of free telephone calls
* Joining in a 12 Days of Christmas singalong video
* Provision of company or other support helplines for seafarers
* Organising festive activities
We at www.africaports.co.za would be most grateful if readers could kindly promote the campaign withi their own organisations please.

♦♦♦♦♦♦♦♦♦
News continues below
WHARF TALK: Transnet Port Terminals warns of scams
Do Not Part With Your Hard-Earned Cash
Transnet Port Terminals (TPT) has issued a warning to service providers and job seekers who are increasingly falling prey to scammers requesting cash upfront for securing COVID-19 related tenders and general employment.
TPT says that while social media platforms have previously been used throughout the year to advertise false opportunities, the intensity this year is at an all-time high.
"We will keep appealing to members of the public not to part with their hard earned cash. No legitimate Transnet opportunity will ever require cash upfront," says Mbali Mathenjwa, TPT Corporate Affairs Executive Manager.
She added that verifying all opportunities on the official company website and that of the National Treasury was a sure way to establish whether the adverts were valid or not.
Last year, TPT launched its annual nationwide #PhansiNgoTsotsiAwayWithCriminals campaign tipping members of the public on how to spot job scams. "We would like to thank members of the public for the information they have been sharing with us and for calling our offices when not sure of advertised opportunities," said Mathenjwa.
TPT averages about seven calls on a daily basis from victims desperate to get their money back from criminals who have vanished. At this time, it is often too late and the information required by investigators to help them is often not available or outdated.
"To determine whether adverts are real or fake, there are three main red flags. The first one is that a Transnet email address ends with a dot net (.net). No cell phone numbers are ever shared by recruiters and Supply Chain Management personnel. And lastly, no money is ever required from interested individuals," said Mathenjwa.
Members of the public are urged to use the anonymous tip offs line 0800 003 056 especially when they see a friend or family member fall for the scam. Providing details like cellphone numbers and names of the criminal, receipts and proofs of payment as well as date and venue of arranged meetings will go a long way in helping with the arrest criminals.
TPT is responsible for 16 seaport terminals and three inland terminals across South Africa and employs over 9,000 people.
♦♦♦♦♦♦♦♦♦
News continues below
ROYAL NAVY AID IN HONDURAS WATERS
Devastation and flooding caused by Hurricane Eta and Hurricane Iota
At the time of writing the
Royal Navy

has been flying crucial sorties in Honduras to support the US military in ongoing disaster relief efforts.

On 20 November it was reported by the UK Ministry of Defence that the Royal Navy recently deployed RFA Argus to the north east coast of the Central American nation to support the United States military in the ongoing disaster relief efforts.
Argus is being used as a 'lily pad' by US Army Chinooks to drop aid supplies ashore, while the embarked air group of three Merlin helicopters and a Wildcat have been flying crucial information-gathering sorties over ravaged areas.
Pilots and aircrew from the Royal Navy's 845 and 815 Naval Air Squadrons are conducting reconnaissance flights, using their helicopters' powerful sensors and specialist equipment to collect information.
RFA Argus has responded to a request from the US military in delivering emergency aid and disaster relief to Honduras following the devastation and flooding caused by Hurricane Eta and Hurricane Iota.
Royal Navy Wildcat helicopters from 815 Naval Air Squadron and Merlin machines from 845 Naval air Squadron are conducting aerial surveys and damage assessment flights.
Intelligence gathered will help the US Military and aid agencies better direct their aid to reach those most in need. Argus supports US Army CH47 Chinook helicopters by providing fuel and extending their reach deeper into Honduras to deliver lifesaving aid.
For Tropical Weather Outlook
Readers are advised to take a look at this website from time to time: https://www.nhc.noaa.gov/
Edited by Paul Ridgway
London
♦♦♦♦♦♦♦♦♦
News continues below
GENERAL NEWS REPORTS – UPDATED THROUGH THE DAY
in partnership with – APO
♦♦♦♦♦♦♦♦♦
More News at https://africaports.co.za/category/News/
News continues below
TO ADVERTISE HERE
Request a Rate Card from info@africaports.co.za
EXPECTED SHIP ARRIVALS and SHIPS IN PORT

Port Louis – Indian Ocean gateway port
Ports & Ships publishes regularly updated SHIP MOVEMENT reports including ETAs for ports extending from West Africa to South Africa to East Africa and including Port Louis in Mauritius.
In the case of South Africa's container ports of Durban, Ngqura, Ports Elizabeth and Cape Town links to container Stack Dates are also available.
You can access this information, including the list of ports covered, by going HERE remember to use your BACKSPACE to return to this page.
News continues below
CRUISE NEWS AND NAVAL ACTIVITIES

QM2 in Cape Town. Picture by Ian Shiffman
We publish news about the cruise industry here in the general news section.
Naval News
Similarly you can read our regular Naval News reports and stories here in the general news section.
♦♦♦♦♦♦♦♦♦
THOUGHT FOR THE WEEK
"The struggle for a free intelligence has always been a struggle between the ironic and the literal mind."
― Christopher Hitchens
♠♠♠
♠♠♠
ADVERTISING
For a Rate Card please contact us at info@africaports.co.za
Don't forget to send us your news and press releases for inclusion in the News Bulletins. Shipping related pictures submitted by readers are always welcome. Email to info@africaports.co.za
TABLE BAY UNDERWAY SHIPPING
SHIP PHOTOGRAPHERS
Colour photographs
and slides for sale of a variety of ships.
Thousands of items listed featuring famous passenger liners of the past to cruise ships of today, freighters, container vessels, tankers, bulkers, naval and research vessels.
P O BOX 809, CAPE TOWN, 8000, SOUTH AFRICA
snai@worldonline.co.za
http://home.worldonline.co.za/~snai