Bringing you shipping, freight, trade and transport related news of interest for Africa since 2002
Stay Well, Stay Safe, Stay Patient, don't become one
♠♠♠
Come with us as we report through 2020
**********
TODAY'S BULLETIN OF MARITIME NEWS
These news reports are updated on an ongoing basis. Check back regularly for the latest news as it develops – where necessary refresh your page at www.africaports.co.za
Click on headline to go direct to story : use the BACK key to return
EARLIER NEWS:   Headlined in Blue
EARLIER NEWS CAN BE FOUND AT NEWS CATEGORIES…….
The Monday masthead is of the Port of East London, on Tuesday it shows the Durban Container Terminal by night
♦♦♦♦♦♦♦♦♦
SEND NEWS REPORTS AND PRESS RELEASES TO
info@africaports.co.za
♦♦♦♦♦♦♦♦♦
News continues below
We keep enjoying the sight of Ignazio Messina line's fleet of RoRo ships which operate a regular service between the Mediterranean and Durban via the East Coast of Africa. Here we see JOLLY QUARZO (IMO 9578983) as the 46,704-dwt ship enters the port of Durban at the completion of her voyage south. Jolly Quarzo was built in 2013 and is 239 metres in length with a beam of 37.5 metres. This picture by Trevor Jones
♦♦♦♦♦♦♦♦♦
♦♦♦♦♦♦♦♦♦
News continues below
CREW CHANGE: Drastic measures needed
Per INTERCARGO:
About 300,000 seafarers remained trapped on board their ships as at 27 July
and
a similar number awaiting re-employment
According to a report from INTERCARGO of 27 July the organisation cannot begin to contemplate the impacts if terminal and cargo operations were halted and cargo vessels stopped operations and trading, as a result of crew remaining on board for 12 to 17 months. This compromises the safety of crew, ships, and cargoes, if worldwide progress is not made on crew change. About 300,000 seafarers remained trapped on board their ships and a similar number were awaiting re-employment with financial hardship.
Despite a universal campaign from all sectors of the shipping industry, INTERCARGO says that hundreds of thousands of seafarers still continue serving after completing their Seafarer Employment Agreement (SEA), and that many of them have now spent well over 12 months on board. This situation is exacerbated by the fact that bulk carriers on tramp trading call at many more ports than other shipping sectors do, piling added strain on an already fatigued workforce with no hope of crew change.
Said Dimitris Fafalios, Chairman of INTERCARGO: "Very soon the industry is going to have to say enough is enough.
"The situation is reaching farcical proportions. We have seen crew changes refused because a COVID test could not be carried out within the prescribed 48-hour window before the crew's arrival, despite the journey to the port taking three days. In some other countries which claim to allow crew change, in fact this happens only if crew can be replaced with the country's nationals. These are just some examples."
It is understood from INTERCARGO that the two key bottlenecks are the airlines' unwillingness to make flights available between shipping destinations and crew source countries; and the lack of commitment from Health and Immigration Authorities to facilitate seafarers' travel and the issue of visas.
Inhumanity
In the words of Jay K Pillai, Vice-Chairman of INTERCARGO: "The situation is escalating from bad to worse as the United Nations IMO protocols for Key Workers are not being honoured by all Port States. About 35% to 40% of all seafarers on board cargo ships are serving well over their SEA and about 10% of all seafarers on board are serving between 12 to 17 months.
"This is inhumane and countries should bear full responsibility for it. Some Governments are not facilitating the crew change even for their own citizens. This includes imposing all possible restrictions on crew change in their home country, restricting flights and applying policies which do not allow seafarers to fly to foreign countries to join ships.
"It is a sad story and it can't continue like this unless Port States who export/import cargoes ensure that ships will not depart with seafarers serving over the MLC* limit. More and more countries are prohibiting crew change, though they welcome the cargoes the ships bring to support the welfare of their society."
Focus of attention on measures
INTERCARGO believes that the focus of attention should be on following measures:
INTERCARGO supports the cross-industry recommended framework of protocols for ensuring safe ship crew changes and travel during the coronavirus (COVID-19) pandemic and places great emphasis on accurate testing procedures, especially for on-signing crew. Recent occurrences of Covid-19 positive crew being allowed to travel from their home countries cannot be condoned by INTERCARGO as it puts seafarers on board and civilians at risk. INTERCARGO calls for increased diligence by crewing agents arranging on-signing crew so that this does not happen again.
Seafarers shall be tested prior to departure from their home country and tested again at arrival to port prior to going on board ship. Similarly, seafarers disembarking from ships shall be tested prior to coming ashore or flying out. If tests are negative, they shall be exonerated from quarantine.
All seafarers shall be allowed to travel with visa exemptions for joining ships.
Port States must allow seafarers to sign off without confirmed flight tickets and wait in isolation hotels while awaiting flights, which could be long, subject to availability of flights.
International Maritime Summit, July 2020
INTERCARGO fully supports the outcome of the International Maritime Summit on Crew Change in July, where thirteen countries signed agreements to facilitate crew changes. INTERCARGO encourages all governments that are signatories to the IMO SOLAS convention to join and implement the above agreement and especially countries which benefit most from the import and export of dry bulk cargoes.
INTERCARGO has reminded the airline industry of the great economic support provided through seafarer and shore staff travelling to and from ships before the Covid-19 crisis. Hundreds of thousands, possibly more than a million tickets annually provided a significant economic boost to airlines globally. Furthermore, INTERCARGO has asked the airlines not to forget seafarers during these difficult times.
Spyros Tarasis, Vice-Chairman of INTERCARGO concluded by saying: "This has become a talking shop. Everybody knows where the problems lie – with the airlines, with visas and with health authorities not recognising seafarers as key workers. But nothing is being done, and very soon the shipping industry itself may well be obliged/forced to stop the trading of cargoes essential for welfare and sustaining the smooth running of societies worldwide."
About INTERCARGO
Dry bulk carriers account for 43% of the world fleet (in tonnage).
The International Association of Dry Cargo Shipowners (INTERCARGO) represents the interests of quality dry bulk ship owners, with close to 2,400 registered ships out of more than 11,000 ships in the global dry bulk fleet, corresponding to over 25% of the global dry bulk fleet basis deadweight. INTERCARGO convened for the first time in 1980 in London and has been participating with consultative status at the IMO since 1993.
INTERCARGO provides the forum where dry bulk ship owners, managers and operators are informed about, discuss and share concerns on key topics and regulatory challenges, especially in relation to safety, the environment and operational excellence. The Association takes forward its Members' positions to the IMO, as well as to other shipping and international industry fora, having free and fair competition as a principle.
* ILO Maritime Labour Convention 2006
Edited by Paul Ridgway
London
♦♦♦♦♦♦♦♦♦
News continues below
SA COAL SHIPMENT SEES DJIBOUTI'S TADJOURA PORT RETURN TO SERVICE
The Port of Tadjoura in Djibouti has returned to service with a shipment of 50,000-tonnes of South African coal intended for Ethiopia. This took place earlier in July (17 July 2020) when the ship, the Norwegian-flagged 58,000-dwt SPAR CAPELLA (IMO 9490844) arrived from Richards Bay and docked at the reopened port to begin discharging her cargo.
The announcement of this came from the…
♦♦♦♦♦♦♦♦♦
News continues below
CUSTOMS CHALLENGES IN GUINEA & SUB-SAHARAN AFRICA:
WCO & Expertise France in technical workshop
From 22 to 23 July 2020, experts from the World Customs Organisation* (WCO) Secretariat and the WCO Regional Office for Capacity Building for West and Central Africa (ROCB-WCA) ran a major virtual workshop on Customs challenges in Guinea and Sub-Saharan Africa. This was reported by WCO Media staff on 30 July.
This workshop followed up on a request to bring Expertise France in to assist the technical team of the Mission to…
* http://www.wcoomd.org/
† la Mission d'Appui à la Mobilisation des Ressources intérieures.
Edited by Paul Ridgway
London
♦♦♦♦♦♦♦♦♦
News continues below
COASTAL SERVICE INTRODUCED LINKING DJIBOUTI, SOMALIA, SOMALILAND & PUNTLAND
The Djibouti Shipping Company, formed under the auspices of the Djibouti Ports and Free Zones Authority (DPFZA), has commenced operations with a regular service across the Gulf of Aden and coast of Somalia.
The first vessel, AFRICA SUN (IMO 9359105), arrived at the port of Djibouti on 19 July to commence operations with calls between…
♦♦♦♦♦♦♦♦♦
News continues below
Why the African free trade area could be the game-changer for the continent's economies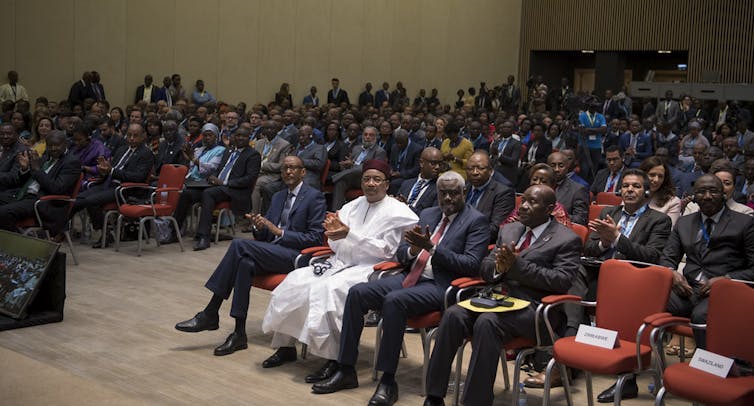 Most economists see structural transformation as one of the main routes to Africa's sustainable development. What it means is changing the share of agriculture, manufacturing and services in an economy. It is a central aim of the African Union's Agenda 2063.
With this aim in mind, economists and policymakers need to know what determines structural transformation. They have flagged factors like demand for goods and services, trade policies, financial development, institutional quality and economic integration.
But researchers haven't closely examined the way economic integration through trade and finance influences structural transformation.
I therefore set out to study African countries' integration with the rest of the world and the effect of that integration on their structural transformation. This study provides fresh evidence about whether integration is good for Africa. It also unearths the right levels of integration necessary to increase structural transformation.
Trade and financial integration are both about countries exporting to and importing from each other. The two are often referred to as economic integration. Opening national borders to trade has a number of potential benefits which can promote development. For example it creates comparative advantage, access to external finance and opportunities for risk sharing. It also enables technology transfer. Local firms serving larger foreign and domestic corporations can acquire knowledge and skills and transfer them to the rest of the economy.
All these benefits are essential for structural transformation. But excessive openness and integration may also come at a cost, largely from distortions around trade policy. For instance, if certain local industries have been protected, local firms may not be fit enough to compete with foreign counterparts. Opening these industries to competition may harm them.
Balancing the potential benefits and dangers of integration is a pressing policy issue now that African countries have signed the African Continental Free Trade Area agreement, which aims to foster integration.
Policy makers need to know whether there is an ideal level of trade and financial integration that will change economies in the desired ways.
The study: findings and implications
With this background, I examined the effects of economic integration on structural transformation in 32 African countries from 1985 to 2015. The time period and choice of countries were based on data availability.
I created an index of structural transformation that incorporates changes in sectoral value addition and demographic characteristics. The index ranges between 0 (low transformation) and 1 (high transformation). I found that structural transformation on the continent was low, with an average value of 0.419, but varied across countries.
The majority of the countries' indices were lower, suggesting that structural transformation is only just beginning.
I also found that African countries were less integrated in terms of trade and finance than other developing economies.
I measured trade integration as the ratio of countries' imports and exports to GDP. This shows the degree of openness. I found that the optimal level for trade integration was 73.29% of GDP. By this I mean the level of trade integration that produces an improved effect on structural transformation.
The data suggested that trade integration encourages the reallocation of resources to more productive sectors.
To measure financial integration, I used the ratio of countries' total foreign liabilities and assets to GDP. This shows the degree of restriction of capital flows. The optimal level for financial integration was 137.5% of GDP. Ten African countries were above these levels and 22 were below.
The 10 countries that are above this financial integration threshold are Botswana, Congo Republic, Côte d'Ivoire, The Gambia, Guinea Bissau, Mauritania, Mauritius, Seychelles, Sudan and Togo. Similarly, the 10 countries above the trade integration threshold are Botswana, Congo Republic, Côte d'Ivoire, Gabon, Mauritania, Mauritius, Seychelles, Eswatini (formerly Swaziland), Togo and Tunisia.
I observed that structural transformation increases more in countries that are below these levels of integration compared to countries that are above the thresholds. Integration increases structural transformation, but too much integration slows that process, producing undesired effects.
The positive effect of integration on transformation occurs through enhanced efficiency, comparative advantage, external finance and risk diversification. Countries can have these features despite being less integrated and operating below the thresholds. The benefits of integration come from efficiency of integration rather than unbridled integration.
A key implication is that efficiency in both trade and financial integration is critical to driving structural transformation in Africa. This explains the urgent need for African countries to simultaneously deepen trade and financial integration. Economies that embark on economic integration along both lines can expect to have improved transformation for sustainable development.
The role of the free trade area
The study shows that Africa has opportunities to integrate further. The African free trade area has the potential to defragment the continent and bring its economies into the global economy.
The free trade area aims to progressively eliminate tariffs and non-tariff barriers to trade in goods and to liberalise trade in services. It will establish a single continental market for goods and services: a bigger and more competitive market.
A bigger free trade area will not only boost intra-regional trade, it will also hasten the development of regional supply chains. These have driven structural transformation in other regions, for example Asia. It is also necessary for policy to address the non-tariff barriers to trade. Among these are poor logistics and infrastructure (such as roads, rail, ports, power and digital connectivity).
Countries should be focusing on removing such bottlenecks. The African Union, United Nations Economic Commission for Africa and the African Development Bank should get the free trade area working as soon as possible.
It has the potential to make a big difference to structural transformation and could be the game-changer for Africa.

Muazu Ibrahim, Lecturer, Department of Banking and Finance, University for Development Studies
This article is republished from

The Conversation

under a Creative Commons license. Read the

original article.
♦♦♦♦♦♦♦♦♦
WHARF TALK:
NEWS & VIEWS FROM ALONG THE COAST
News continues below
WHARF TALK: COVD-19 impacts two South Africa-bound ships
As we enter the fifth month since the declaration of the
COVID-19 pandemic

by the World Health Organization, it is easy to understand how a sense of acceptance to new ways of life is able to creep in, leaving us in the process of generally relaxing our guard against this silent killer going about among us.

Just how potent the virus remains is made clear not only with the numbers of infections and deaths announced daily across the world, but with news of ship's crews around the world going down with the disease and forcing their vessels into periods of quarantine and cleansing. This applies across the board and includes several cruise ships as parts of that industry venture out, tentatively, only to hurriedly stop operations again. The Norwegian cruise company Hurtigruten being the latest with their expedition ship ROALD AMUNDSEN which set off on a cruise with almost 200 passengers on board.

Shortly after disembarking the passengers at the end of the cruise, four of the crew were diagnosed with coronavirus and were hospitalised, where one has since died. Then a further 32 of the 158 crew also tested positive, demonstrating that it is far too early to restart cruising and that while passengers may – just – be able to socially distance themselves while on board, the crew in cramped quarters usually cannot.

Passengers who left the ship before the crew were diagnosed have been advised to self-quarantine (and if wise, to get tested).

The above highlights the background of reports received of crew on ships becoming infected. Among these are two container ships deployed on the South Africa service, which are now going to be late arriving on their scheduled calls in this country after crew on board tested positive to the virus. Remember the Montpellier (which is coincidentally in our waters once again), that had to quarantine twice outside Durban for a total of 28 days as first one, then another crew member tested positive for the virus.

Now we receive news that the container ship BANGKOK BRIDGE, which is deployed on the South Africa Asia Express 2 (SA2) Service has been affected following the discovery of a crew member testing positive for COVID-19. This was when the ship arrived at the port of Shekou.

The vessel is currently at anchorage outside the Chinese port.

Hapag-Lloyd, one of the member lines of the SA2 service, advises that "together with our partners, we are currently evaluating the potential impact on vessel and cargo operations. Berthing dates for the subsequent ports of the rotation will be adjusted accordingly." In other words, delayed.

There is similar news concerning the vessel ITAL LIRICA which is deployed on the South Africa Asia Express 1 (SA1) Service, on which a crew member tested positive for Covid-19 while the vessel was on the way from Ningbo to Singapore and from there to South Africa. This ship is being held under quarantine outside the port of Hong Kong.

So if anyone has cargo (containers) on either of those ships, their arrival in Durban or other ports in South Africa will obviously be delayed by up to two weeks and you should contact your agent or shipping line for details.

These infections are happening while in most cases ships are unable to exchange crew due to travel limitations, but crew do come into contact with others while in port, sometimes with port workers who come on board their vessels. The point is they do get infected like anyone else and when that happens the whole ship is affected.

In addition to these reports, Japanese shipping group ONE (Ocean Network Express), which comprises MOL, NYK and K Line, has published a list of void sailings due to the effects of the COVID-19 infections. While none of these affect South Africa directly,the group says there are disruptions to port operations at Durban due to the increase in COVID-19 infections across South Africa, and these are causing vessel delays to ships operating on its South Africa Central service, which is operated jointly with Zim Integrated Shipping Services and other lines.

The vessels impacted includes the 4,250-TEU COSCO SURABAYA and the 4,800-TEU ZIM SHANGHAI, which were being delayed by up to a week before being able to berth in Durban.

The effects of COVID-19 is, unfortunately, going to continue impacting our port and shipping operations for some tine to come – probably into 2021.
♦♦♦♦♦♦♦♦♦
News continues below
WHARF TALK: REPORT ON THE PORT OF DURBAN STATUS
Further impacts on port operations resulting largely from the COVID-19 crisis becomes clear clear when container performance at the Port of Durban is revealed as being well below budget and previous year performances.
In its latest report on the port status by Transnet National Ports Authority's general manager, Moshe Motlohi, both container imports and exports were down, by 33% and 22% respectively. This has to be of serious concern, not only as far as the port is concerned, but by the country as a whole as it reflects the economic depression that South Africa is sliding into.
Some adverse weather did play a part, but not on too great a scale with about nine hours affected during the week.
Bulk commodity volumes at the port were however bucking the trend, with the primary driver being maize exports of 144,955 tons for the week. You'll remember that South Africa has just experienced a near record maize crop and these export figures may be expected to impress even further as excess maize is exported, much of into Africa.
Chrome and manganese ore exports also performed well for the week.
Break bulk commodity volumes were unfortunately also under the planned budget. The majority of volume was made up of steel exports amounting to 31,566 tons. Citrus and steel imports resided in marginal territory.
The Single Buoy Mooring (SBM) situated outside the port opposite Isipingo, was marginally (-1%) below budget. This was due to stockpiling as a result of previous weeks low volumes handled. Four tankers with large parcel sizes were handled. Only one refined petroleum vessel was handled during this period as four other petroleum vessels were on berth working cargo, which resulted in a changed ETA. Liquid-bulk volumes were below budget.
The SBM handles about 80% of South Africa's oil product imports.
At the time of counting (Sunday 16h00) there were 34 ships inside the port on their berths, not counting tugs and other harbour craft or vessels such as dredgers or those at ship repair. There were another 34 ships outside the port of Durban, awaiting entry or for other reasons. One of these was the cruise ship MSC Orchestra, on layby, and another the tanker Advantage Sky awaiting an auction on Thursday this week.
Among other ships expected at Durban in the coming weeks and of special interest is another of the returning cruise ships, VOLENDAM of Holland America Line which is due in port for bunkers and supplies on Friday week, 15 August 2020.
The number of ships at the port of Richards Bay on Sunday at 16h00 was 14 vessels in port, all for working cargo, and five waiting outside.
♦♦♦♦♦♦♦♦♦
News continues below
WHARF TALK:  NEW DURBAN CONTAINER TERMINAL STRADDLE CARRIERS ARRIVE FULLY ASSEMBLED
The Durban Container Terminal (DCT) Pier 2 has taken delivery of another 13 of 23 electric straddle carriers which arrived yesterday (Sunday 2 August). According to Transnet Port Terminals (TPT), this introduces a major impact in the availability and reliability of equipment across waterside, landside and rail operations.
In total, DCT Pier 2 is now in possession of 15 new electric straddle carriers that are planned for commissioning and handing over to Operations during the month of August. The remaining balance of eight will also be arriving later in the month to complete the full order for the current calendar year.
The investment is a direct response to industry calls and TPT's commitment of an improved service at the country's largest and busiest container operation. The eighth-generation equipment arrived fully assembled with improved drive technology, starting reliability, maintainability, safety, usability, ergonomics as well as an ability for a computer application to read data from the control system via Ethernet – providing comprehensive detail on statistics, real time performance data and operational reports.
"Observing the necessary governance processes in acquiring these assets to the tune of R236,884,000 was necessary although it may have seemed like a long wait," said Pier 2 Terminal Manager Zamo Ngcobo. "Even while we waited, our employees were giving us hundred percent effort despite ageing equipment and challenges posed by COVID-19."
He said TPT was confident of new performance records at DCT with the boost in operational equipment. Customers will be happy of this claim is achieved.
Other terminals to have benefited
DCT Pier 2 is one of 16 sea-cargo and three inland terminals operated by Transnet Port Terminals (TPT) to have benefited from the R2 billion set aside to invest in replacement equipment this current calendar year.
The Port Elizabeth and Cape Town container terminals have taken delivery of two mobile harbour cranes and four straddle carriers respectively. The Durban Point Multipurpose Terminal has also taken receipt of four new reach stackers at a cost of R47 million to boost its container handling service that serves as a diversion contingency for the Durban Container Terminals Pier 1 and 2.
The East London Multipurpose Terminal will soon receive four straddle carriers to better service the automotive sector while a new tippler for the Saldanha Bulk Terminal will support growing bulk volumes attributed to the mining activities in the country.
The Richards Bay Bulk Terminal will also take delivery of five excavators, a ship loader and a new conveyor belt that will unlock tippler capacity.
♦♦♦♦♦♦♦♦♦
News continues below
WHARF TALK: PORT ELIZABETH & NGQURA AIMING AT RECORD CITRUS EXPORTS
With South Africa enjoying a bumper citrus season and Cape Town port having been severely affected by a deluge of problems from the COVID-19 pandemic to a particularly stormy winter season, and resulting in citrus exports being trucked across the southern Cape to Port Elizabeth for export, the two Eastern Cape ports are confident of not only enjoying strong exports themselves, but also of clearing the export logjam that arose from the situation in Cape Town.
The two Eastern Cape ports are in fact at the centre of efforts to ensure South Africa reaps maximum benefit from the bumper citrus crop.
According to the Citrus Growers Association's (CGA) South Africa should export more than 140 million tons of citrus in the 2020 season, compared to 127 million tons in 2019. That's a 10.23% increase on the previous year.
The CGA says this has been because of an early start to the season that saw crops maturing earlier than in previous years, which in turn meant South African citrus could arrive in Northern Hemisphere countries ahead of some competition and just as demand was rising.
The problems at Cape Town have been well documented with the Western Cape having an early rise in COVID-19 cases that outstripped the rest of the country. This resulted in large numbers of port and terminal staff being unable to work and the port operating at one stage at 50% of its capacity. The trucking sector was smiling as a long stream of trucks carried citrus containers and cartons across country to the Eastern Cape ports.
Siyabulela Mhlaluka, TPT's General Manager of Sales and New Business Development said TPT had catered for a 13% increase in citrus volumes for 2020 and was confident of handling this capacity despite the impact of the pandemic. He said TPT has remained fully focused on the fruit industry since the citrus season opened.
New Mobile Cranes
Port Elizabeth's two new mobile cranes have been commissioned and handed over to operations, providing relief for the loading and discharging of cargo. Mhlaluka said that while Level 5 lockdown conditions had restricted the movement of cargo to and from the ports over a two-month period, with these relaxed now to Level 3 it was all systems go.
"Regular industry engagements and integrated planning leaves us optimistic," he said. "We have a robust plan for replacing equipment across our terminals through to 2024 and as we have promised to industry, we are tracking according to plan."
Port Elizabeth and Ngqura each had four ships in port, not counting the bunker tankers or fishing vessels and harbour craft. There were 12 vessels outside in Algoa Bay, some for bunkering.
♦♦♦♦♦♦♦♦♦
News continues below
WHARF TALK: CAPE TOWN PORT RAMPS UP MARINE OPERATIONS
The
Port of Cape Town

is reporting it has all of its marine crew back on duty and is continuing to ramp up operations and reduce shipping backlogs caused by the impact of COVID-19 on the port's human resources.

By 30 July, volumes had increased, container terminal performance had improved and only one container vessel was at outer anchorage, reduced from nine vessels just two days earlier. Transnet Port Terminals said it is confident the backlog of cargo will be cleared by mid-August, this after the previous week's inclement weather delayed progress and shifted the original target of end July.

Marine operations human capital has improved – from 60% capacity at the beginning of July due to actual cases of staff with the coronavirus coupled with employees in quarantine, to 100% as at 30 July.

All marine pilots have been on duty throughout the month and TNPA has been able to offer a full marine service to move vessels in and out of the port. The full marine fleet available includes two tugs, and a third tug on standby, one workboat, one pilot boat and one launch.

Berthing services – which was most affected by the virus spread among employees – was back to normal at the beginning of the month with two berthing gangs in place.

The trucker strike action outside the port had not impacted port operations at the Port of Cape Town Container Terminal. The port handled 17,438 TEUs versus 12,000 TEUs the previous week. Efficiency rates had improved last week with gross-crane moves per hour (GCH) slightly up to 18 from 17.

The average waiting time at anchorage for container vessels had been reduced to four days by 28 July and by 30 July there was only one vessel at anchorage and one on the horizon.

The terminal operators from Durban returned back to KZN on 29 July, but the Cape Town terminal is able to maintain the six-gang operation due to Cape Town employees being back at work. Preparations to introduce the seventh gang in time for the reefer season were underway with recruitment and training progressing well.

The four new straddle carriers were handed over to operations during the past week, following their commissioning.

The Multi-Purpose Terminal (MPT) was working two berths with two gangs, two mobile cranes, four straddle carriers and two reach stackers and has handled 1450 tons of cargo since the last report.

There were 11 ships in port on Sunday late afternoon and two cargo vessels outside, of which one is a reefer and the other a container ship.
♦♦♦♦♦♦♦♦♦
News continues below
WHARF TALK: TRANSNET GROUP CE MEETS SALDANHA BAY COMMUNITY LEADERS
Earlier last week (Monday 27 July) the

Transnet Group Chief Executive Portia Derby

met with the leaders of various community organisations in Saldanha Bay, in order to address challenges in the port town that have led to protests in the area.
The meetings were part of Derby's engagement with stakeholders in the west coast, including the Saldanha Bay IDZ and the local municipality, to strengthen collaboration between Transnet and the broader Saldanha Bay community.
Included in groups she met with were All Truck Drivers Foundation (ATDF), Cosatu, Satawu and SANCO.
The community forums raised issues challenging Transnet procurement processes, employment practices by Transnet suppliers and service providers, as well as development and upskilling of communities in Saldanha Bay.
Derby committed Transnet to providing an update in three months to the stakeholders on steps Transnet has taken to address all the issues raised.
The organisations that met with the GCE include the All Truck Drivers Foundation (ATDF), Cosatu, Satawu and SANCO.
♦♦♦♦♦♦♦♦♦
News continues below
WHARF TALK: SOUTH AFRICAN PORTS COLLABORATE AMID COVID-19
South Africa's eight commercial ports have shown the way in collaborating to minimise the effect of COVID-19 on its marine operations.
Lessons learnt at the Port of Cape Town, which was badly affected in June and into early July, have since been transferred to other ports. This has included redeploying staff and equipment where necessary to support ports more severely affected by the coronavirus.
TNPA's Acting Chief Operating Officer, Captain Rufus Lekala said the COVID-19 pandemic has given rise to a new spirit of collaboration between the eight complementary ports in South Africa. "Less affected ports have stepped in to assist by deploying members of their teams to provide relief service to keep cargo flowing into and out of the country. We have virtual meetings where we can all come together and plan across the entire network of ports," he said.
Earlier in July a potential crisis was averted at the Port of East London, where a critical employee in the Marine Operations department tested positive for COVID-19 and a number of close contacts in the department had to go into self-quarantine awaiting test results. The affected workspaces and the port's marine craft were sanitised.
With East London airport still closed at that time due to the lockdown, TNPA was able to use its own helicopter service to fly Captain Gengan Pillay from the Port of Durban to East London, to assist with vessel docking and sailing for a few days.
Captain Pillay is a qualified marine pilot, tug master and trainer from the Transnet Maritime School of Excellence, with many years of experience. He is also one of only a few personnel able to operate the older tugs in use at the Port of East London, which use Z-Peller propulsion unlike the newer tugs which use Voith Schneider propulsion and are more easily manoeuvred.
The Port of Richards Bay also rose to the occasion to offer support to the Port of East London, with tug master Njabulo Gina later deployed to East London to relieve Captain Pillay.
The marine personnel in East London, South Africa's only river port, have since been given a clean bill of health and operations are back to normal.
"We are thankful for the position we have as a multi-port authority and to our port users and stakeholders for their patience while we explore and implement measures to minimise the impact of COVID-19 on our ports and on their businesses,"said Lekala.
Wharf Talk reports from TNPA, Transnet Group, TPT, Richard Vashan, John Hawkins, edited by Terry Hutson
♦♦♦♦♦♦♦♦♦
News continues below
GENERAL NEWS REPORTS – UPDATED THROUGH THE DAY
in partnership with – APO
♦♦♦♦♦♦♦♦♦
More News at https://africaports.co.za/category/News/
News continues below
TO ADVERTISE HERE
Request a Rate Card from info@africaports.co.za
EXPECTED SHIP ARRIVALS and SHIPS IN PORT

Port Louis – Indian Ocean gateway port
Ports & Ships publishes regularly updated SHIP MOVEMENT reports including ETAs for ports extending from West Africa to South Africa to East Africa and including Port Louis in Mauritius.
In the case of South Africa's container ports of Durban, Ngqura, Ports Elizabeth and Cape Town links to container Stack Dates are also available.
You can access this information, including the list of ports covered, by going HERE remember to use your BACKSPACE to return to this page.
News continues below
CRUISE NEWS AND NAVAL ACTIVITIES

QM2 in Cape Town. Picture by Ian Shiffman
We publish news about the cruise industry here in the general news section.
Naval News
Similarly you can read our regular Naval News reports and stories here in the general news section.
♦♦♦♦♦♦♦♦♦
THOUGHT FOR THE WEEK
There is no shame in having fallen. Nor any shame in being born into a lowly estate. There is only shame in not struggling to rise. And also shame for not wishing to attain the better. Or not dreaming about it and praying for it.
– Samuel Amalu
♠♠♠
♠♠♠
ADVERTISING
For a Rate Card please contact us at info@africaports.co.za
Don't forget to send us your news and press releases for inclusion in the News Bulletins. Shipping related pictures submitted by readers are always welcome. Email to info@africaports.co.za
TABLE BAY UNDERWAY SHIPPING
SHIP PHOTOGRAPHERS
Colour photographs
and slides for sale of a variety of ships.
Thousands of items listed featuring famous passenger liners of the past to cruise ships of today, freighters, container vessels, tankers, bulkers, naval and research vessels.
P O BOX 809, CAPE TOWN, 8000, SOUTH AFRICA
snai@worldonline.co.za
http://home.worldonline.co.za/~snai