News continues below
Bringing you shipping, freight, trade and transport related news of interest for Africa since 2002
Stay Well, Stay Safe, Stay Patient, don't become one
Advertise with us – left or right sidebar or centre column banner space available – strengthen brand awareness at affordable rates – email us for a Rate Card to terry@africaports.co.za
For a free daily newsletter via email?  Send your email marked NEWSLETTER to terry@africaports.co.za 
♠♠♠
Join us as we report through 2022
'and stay up to date with Africa Ports & Ships' 
****

**

****
TODAY'S BULLETIN OF MARITIME NEWS
These news reprts are updated on an ongoing basis. Check back regularly for the latest news as it develops – where necessary refresh your page at www.africaports.co.za
Click on headline to go direct to story : use the BACK key to return  
FIRST VIEW: 

CLEAROCEAN MUSTANG
The week's mastheads:
Monday: Port of Durban Sugar Terminal
Tuesday: Port of Durban T-Jetty
Wednesday: Port of Durban Container Terminal (DCT)
Thursday: Port of Durban DCT by Night
Friday: Port of Durban Multi-purpose Terminal (Point)
Saturday: Port of Durban Island View Terminal
Sunday: Port of Durban Maydon Wharf
♦♦♦♦♦♦♦♦♦
SEND NEWS REPORTS AND PRESS RELEASES TO   info@africaports.co.za
♦♦♦♦♦♦♦♦♦
♦♦♦♦♦♦♦♦♦
News continues below
FIRST VIEW:  CLEAROCEAN MUSTANG
The MR2 oil products products tanker CLEAROCEAN MUSTANG (IMO 9893761) makes her entrance into Durban harbour earlier in June, with a cargo of oil products for the Island View Terminals. The 49,999-dwt tanker, which is owned nominally by Stringaster Line Inc, is managed and operated by Fleet Management Ltd, part of the Hong Kong-based Caravel Group which operates more than 600 ships and claims to transport over 1% of the world's containers and more than 2% of commodities.
Clearocean Mustang has a length of 183 metres and a panamax size width of 32m and was built in 2020. She arrived off Durban from Singapore and after the almost compulsory spell in the outer anchorage, entered port on 2 June and proceeded to Island View to discharge her cargo. One day and 19 hours later, discharge completed, Clearocean Mustang sailed on 4 June bound for the port of Panambur in Mangalore on the west coast of India.
Incidentally, the name Panambur means the 'place of money' in the Tulu language.
The tanker is flagged in Liberia.
This picture is by Trevor Jones
♦♦♦♦♦♦♦♦♦
MORE NEWS
♦♦♦♦♦♦♦♦

♦♦♦♦♦♦♦♦

♦♦♦♦♦♦♦
♦
♦♦♦♦♦♦♦♦♦
News continues below
French naval & polar supply ship L'Astrolabe arrives in Durban
French naval ship visits Durban
The French Polar logistics and navy patrol ship L'ASTROLABE (P800), based out of Port des Galets in La Reunion, arrived in Durban on Thursday (23 June) for a short visit for resupply and R&R for her crew.
Built in 2017 Piriou Shipyard in Concarneau, France, the 3000-dwt L'Astrolabe is 72 metres long and 16 metres wide, and has accommodation for up to 60 personnel including the crew and can carry 1,200-tons of cargo. She can also accommodate a helicopter below deck.
L'Astrolabe is owned by Les Terres australes et antarctiques françaises (TAAF – the French Southern and Antarctic territories) and is operated by the French Navy.
Her engines consist of four 1,600 kW (2,100 hp) Wärtsilä 8L20 medium-speed diesel engines driving two stainless steel controllable pitch propellers. She is also fitted with selective catalytic reduction units to reduce NOx emissions and comply with IMO Tier III emission regulations.
L'Astrolabe is classified as Icebreaker 5, meaning she is allowed to operate independently in medium first-year-ice up to 1.2 metres thick during the summer and autumn and up to 1 metre during the winter and spring. Her ice-strengthened bows permits the vessel to ram ice at a speed of 5.5 knots once-off.
The ship first called at Durban in August 2019 but also called at Cape Town in June 2018.
Sign up for Africa Ports & Ships – it's free
Added 24 June 2022
♦♦♦♦♦♦♦♦♦
News continues below
WHARF TALK:  diamond exploration ship – THE EXPLORER
Story by Jay Gates




Pictures by 'Dockrat'
It is a well known maritime fact that Southern Africa in general, and Namibia in particular, is the location of one of the most lucrative marine diamond mining operations anywhere on Earth. Most people know that the bulk of that activity is carried out north of the Orange River mouth, off Oranjemund, in Namibian waters, and by the Namibian arm of De Beers Marine.
What is less known about, is the offshore mining activity that takes place south of the Orange River mouth, off Alexander Bay, in South African waters, by a company other than De Beers Marine, and using equally sophisticated mining vessels. As with the De Beers Marine vessels, they also require shoreside engineering support, and annual drydocking requirements.
As far back as 24th April at 14h00, the Sampling and Mineral Exploration vessel THE EXPLORER (IMO 7904932) arrived off Cape Town, from an offshore concession off Alexander Bay, in the Northern Cape, just south of the border between South Africa and Namibia. She entered Cape Town harbour, and initially proceeded to the Repair Quay in the Duncan Dock.
Over the next 56 days, she underwent a wide ranging engineering programme, fulfilling her annual refit requirements, and was moved around the port on an irregular basis, from the Repair Quay in the Duncan Dock, to the Lay-Up berths in the Ben Schoeman Dock, and a period in the Sturrock Drydock conducting hull surveys and a hull clean and repaint.
Despite her complex, and hi-tech, appearance, 'The Explorer' is a venerable old lady, built as far back as 1979 by Nobiskrug Shipyard in Rendsburg, in then West Germany. She is 114 metres in length, and has a deadweight of 1,980 tons. She was built originally as a heavylift ship, before being converted as a trenching vessel for the offshore oil and gas industry, before being purchased for conversion to a diamond mining and sampling vessel in 2009.
She is powered by MaK 6M452AK 6 cylinder 4 stroke main engine, giving her a service speed of 8 knots. Unusually, for an offshore diamond mining vessel, she does not require a four point anchoring and mooring system, as she has a Dynamic Positioning classification to DP2, which allows her to maintain station keeping to within 1 metre using her own manoeuvring systems.
To achieve her accurate station keeping, 'The Explorer' has a Kongsberg Dynapos AM/AT R control system, and for her DP2 classification, she utilises two propellers providing 1,085 kW each, two bow azimuth thrusters providing 980 kW each, one stern azimuth thruster providing 980 kW and a stern transverse thruster providing 350 kW.
Her auxiliary machinery includes four Caterpillar 3516 generators providing 1,800 kW each, and a further two generators providing 230 kW each. The large power provision is to enable 'The Explorer' to provide sufficient onboard power for both her onboard domestic needs, and for her substantial onboard mining plant requirements.
As a sampling vessel, 'The Explorer' utilises seabed drilling technology, with a 5 metre diameter sampling tool, which is a drill head that is capable of drilling down 12 metres into the seabed, down to a water depth of 180 metres. A 200 ton 'A' frame is provided to launch and recover the sampling tool, and this is achieved through a 8 x 10 metre moonpool. The sampling tool weighs 147 tons, and a heave compensation tower manages the sampling tool, in relation to any pitching movements of the vessel when it is deployed on the seabed.
All drilling spoil is raised from the seabed through pipes connected to the sampling tool, and brought to the onboard processing unit, which processes seabed spoil as at rate of 20 tons per hour, with all unwanted spoil being discharged back into the sea, and a further processing unit dealing with any remaining diamond recovery through an X-Ray system. The security of the diamond processing unit is covered by a network of 46 CCTVs cameras.
For any crew change, logistic and urgent requirements, 'The Explorer' is fitted with a 20 metre helideck, mounted above the bridge, and above her bow mooring station. The helideck is certificated for helicopters up to 9.3 tons in weight. On her working deck spaces she has two 30 ton cranes to assist with moving, and placing, her mining support equipment, and she has accommodation provided for up to 54 crew members.
Despite her given length being 114 metres long, 'The Explorer' has an overall length of 131 metres. This is due to her helideck being mounted in such a way that it protrudes beyond the most forward section of the bow, as well as having mining plant exhaust pipes that protrude further aft than the rearmost section of the stern.
Nominally owned by Pathfinder Shipping Co. Ltd., 'The Explorer' was operated by Cape Town based International Mining and Dredging Holdings Ltd (IMDH), and is managed by Argo Shipmanagement Srl of Pozzuoli in Italy.
Whilst she is mostly to be found working on the South African 1C offshore concession, off Alexander Bay in the Northern Cape, there have been occasions when she has been tasked to move north of the Orange River and undertake sampling work on behalf of Debmarine Namibia.
On completion of her annual drydocking, 'The Explorer' was moved back to the Repair Quay. The bunker tanker 'Southern Valour' came alongside to transfer bunkers to her, and on 18th June at 18h00, 'The Explorer' sailed from Cape Town, and once more headed north to a position within the 1C offshore concession to continue with her sampling and mineral exploration work.
Sign up for Africa Ports & Ships – it's free
Added 24 June 2022
♦♦♦♦♦♦♦♦♦
News continues below
Cruise News: Stories from the world of cruising
Giant cruise ship to be scrapped before ever setting sail
A cruise ship still under construction, which would have become the largest ever built in terms of passengers, is to be scrapped before it is even completed.
The ship was one of two ordered by the Asia-based Dream Cruises – a brand belonging to the in-liquidation Genting Hong Kong Group, which owned Star Cruises, Dream Cruises and Crystal Cruises.
If completed the 208,000-gt 'Global Dream 2' as she was dubbed by some, would have carried 9,000 passengers.
* see related report A&K Travel Group acquires two gems in Crystal Serenity and Crystal Symphony in an earlier Africa Ports & Ships.
It was reported this week that liquidators for the bankrupt MV Werften shipyard in Warnemunde, Germany, whose parent company Genting Hong Kong Group, will sell the half-completed ship for scrap while attempting to resell some of its systems and engines.
The other sister ship, which was to be named Global Dream, is more advanced in construction and is not to be sold as scrap.
Dream Cruises catered for Asian travellers.
New cruise ship SH VEGA to be auctioned
Another product of the financial upheavals that beset several cruise operators, the smaller 10,000-gt boutique cruise ship SH VEGA, which was originally ordered by Swan Hellenic, then under a previous ownership, is to be auctioned on 19 July 2022.
On delivery the ship would have been owned by a Russian-leasing company, GTLK Europe, from whom Swan Hellenic was to have chartered the vessel. Following the sanctions against Russia, which saw GTLK Europe's assets frozen in the EU, the Russian firm went into default.
Left without a buyer, the Helsinki Shipyard has now invited tenders for the sale of the ship although it is also learned that the current owner of Swan Hellenic, Andrea Zito, who intends reviving the brand, has become a priority buyer with a bid already submitted.
Swan Hellenic also intends acquiring the 2021-built sister vessel MINERVA, which was arrested in a South American port during the height of the Covid crisis, Swan Hellenic will also take delivery of a still under construction third sister ship, SH DIANA, which is due for completion in 2023.
Swan Hellenic intends sailing SH Vega on its original itinerary to Trömso, Norway at the commencement of an inaugural Arctic season.
Sign up for Africa Ports & Ships – it's free
Added 24 June 2022
♦♦♦♦♦♦♦♦♦
News continues below
IN CONVERSATION: World Trade Organization steps back from the brink of irrelevance – but it's not fixed yet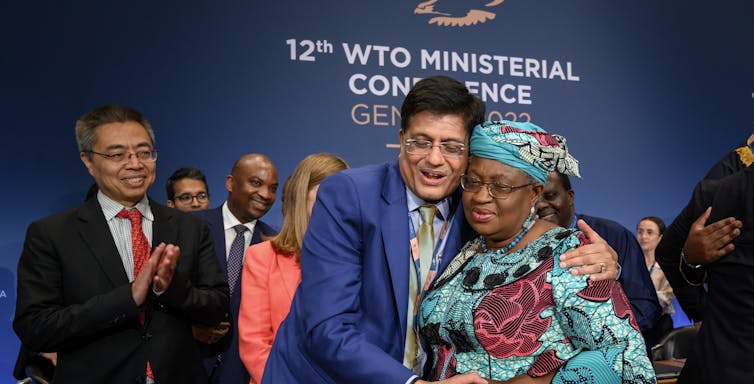 India's minister of commerce Piyush Goyal and WTO director-general Ngozi Okonjo-Iweala celebrate the end of the WTO's 12th Ministerial Conference. Fabrice Coffrini/Pool/Keystone via AP
After decades of conflict that has neutered its work, the World Trade Organization looks to be back in business.
Its highest decision-making body – a conference of ministers from the organisation's 164 member nations – has just met for the first time since 2017.
None of what the ministerial conference (dubbed MC12 due to being the 12th such meeting) agreed on was particularly groundbreaking. But the fact there was agreement at all – on areas such as agriculture, fishing, intellectual property, e-commerce and food insecurity – was itself a milestone.
The question is what happens now, with considerable challenges ahead for the WTO and its role in promoting and protecting a global rules-based trading system.
Fighting for relevance
The WTO's job is to be the forum for multilateral rule-making, to observe the implementation of these trade rules, and to settle disputes among members.
In most situations, decisions must be made by consensus. This means a single detractor can scuttle initiatives supported by the rest of the WTO's membership.
This has proved particularly problematic for the WTO's rule-making function, which has largely been comatose for two decades, since negotiations on reducing trade barriers ground to a standstill at the ill-fated Doha Round launched in 2001.
Particularly damaging to the WTO has been the hostility of the US. Past administrations, especially the Trump administration, stymied the WTO's dispute-settlement function by blocking the appointment and reappointment of judges to its appeal court (known as the Appellate Body). By 2019, there were not enough judges to hear appeals, leaving disputes in limbo.
The WTO has also been criticised for having few to no answers to the world's most pressing issues: how to craft modern trade rules that support climate action and sustainability.
The rise of economic nationalism and unilateralism has increased trade friction making the WTO look increasingly irrelevant.
Reaching agreement
Given this, the ministerial conference held in Geneva last week delivered welcome agreements on several sometimes long and strongly contested areas.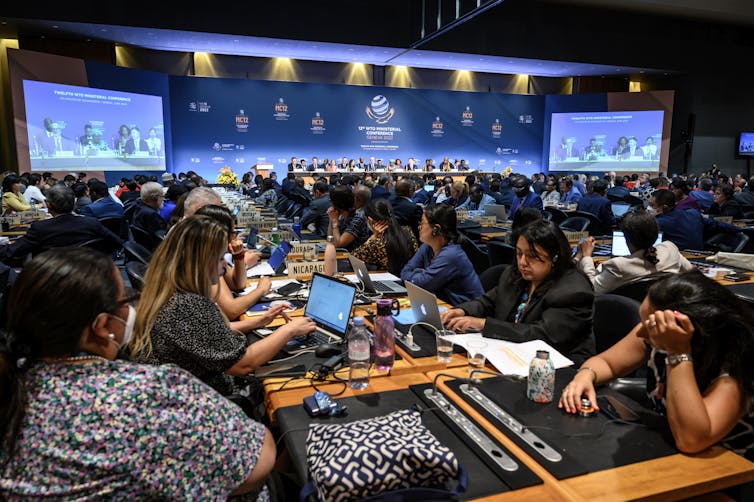 It agreed on limiting government subsidies for harmful fishing operations in an attempt to slow the depletion of rapidly declining fish stocks. This agreement will aid in curbing food insecurity and increase the sustainability of certain fish species.
Importantly, it is the first WTO treaty with environmental protection and sustainability as its objective.
It agreed to relax intellectual property rules for COVID-19 vaccines.
Countries such as South Africa have been pushing for a waiver from provisions in the Agreement on Trade-related Aspects of Intellectual Property Rights so they can produce cheaper generic versions of vaccines. The impact should be limited, given vaccine supply is now enough to meet demand, but the concession may serve as a blueprint for the future.
It agreed to extend the moratorium on customs duties on "electronic transmissions" first agreed to in 1988.
It agreed to co-operate to resolve issues to do with food insecurity. With Russia's war on Ukraine driving up food prices, some countries have restricted certain food exports or are subsidising the price of food from domestic farmers.
It also agreed on reforming the WTO dispute settlement process, committing members – including the US – to "conduct discussions" to arrive at a "fully and well-functioning dispute settlement system accessible to all Members by 2024".
Such soft language is a far cry from reinstating the Appellate Body. It was likely the only way to bring the US on board.
But fundamental differences remain
The ministerial conference is only the first step. It will be difficult – and take time – for WTO members to reach a compromise on many important issues.
Compromise is needed between the policy space governments demand for themselves and effective international trade rules.
For example, the US and its allies have been pushing for tightening the rules on China's state-owned enterprises and industrial subsidies. China has showed strong resistance to any new rules it views as being against its interests.
Another issue is support measures adopted during the pandemic. Some governments understandably adopted policies to support domestic businesses in a time of crisis. But some of these measures are arguably against the WTO's rules to eliminate trade distortions.
These points are symbolic of the larger disagreements between WTO members, with economic nationalism and unilateralism presenting a fundamental challenge to the organisation's reason for being.
Examples abound. There are the US tariffs on steel and aluminium on national security grounds. China's trade sanctions against Australia on products such as wine, coal, lobster, barley and beef. China's Anti-Foreign Sanctions Law and the European Union's Anti-Coercion Instrument allow these governments to retaliate against any foreign actions they deem to be unfair.
A common feature of these instruments or actions is governments taking the law into their own hands, ignoring the WTO's rule book and its dispute resolution mechanisms.
To overcome these existential challenges, the multilateral trading system will need strong and sustained commitment from member governments.

Markus Wagner, Associate Professor of Law and Director of the UOW Transnational Law and Policy Centre, University of Wollongong and Weihuan Zhou, Associate Professor, Director of Research and member of Herbert Smith Freehills CIBEL Centre, Faculty of Law and Justice, UNSW Sydney, UNSW Sydney
This article is republished from

The Conversation

under a Creative Commons license. Read the

original article.
Sign up for Africa Ports & Ships – it's free
Added 24 June 2022
♦♦♦♦♦♦♦♦♦
News continues below
Zero shipping carbon emissions by 2050 – Gibson Shipbroker report
In its weekly Tanker Market Report: Mounting Pressure, Gibson Shipbroker suggests that in the face of mounting pressure from NGOs and governments, there appears to be support for achieving zero carbon emissions by 2050 instead of just a 50% reduction in emissions.
The report reads: "Last Friday saw the close of the much-anticipated Marine Environmental Protection Committee (MEPC 78) meeting at the IMO. The main focus was to progress IMO policy to build an effective greenhouse gas emissions (GHG) reduction strategy to be approved at MEPC 80 in 2023.
The main focus was to progress IMO policy to build an effective greenhouse gas emissions (GHG) reduction strategy to be approved at MEPC 80 in 2023. Whilst the meeting was never intended to be a decision-making event, it did signal that sufficient momentum and support exists among most member states for the IMO to begin setting more ambitious targets and policy that will be centre stage at upcoming IMO meetings.
However, environmental and industry groups have been critical of the MEPC for failing to achieve unanimous support amongst all members. They highlight the relative pace of decarbonisation proposed by the IMO and the ability of shipping to remain aligned to the 1.5C target agreed in the Paris Climate Agreement. This will only add to the pressure of subsequent IMO meetings to secure a plan for achieving adequate decarbonisation whilst ensuring an equitable transition process that can achieve broad member state support.
In terms of what was achieved, two points stand out. Firstly, there appears to be support for achieving zero carbon emissions by 2050 instead of just a 50% reduction in emissions. The technical guides for EEXI, CII and SEEMP regulations have been finalised and adopted for future implementation. This will be crucial for setting the trajectory of industry emissions out to 2050.
Several environmental groups are advocating bringing forward the trajectory for achieving net zero emissions by 2040 and halving emissions by 2030; although this does not seem to be on the IMO's agenda at present given the challenges of achieving such reductions and the lack of support from some member states. Therefore, it appears these measures will be approved at MEPC 80 where lifecycle emissions guidelines are also likely to be agreed.
Secondly, the proposal to establish a Sulphur Emission Control Area (SECA) in the Mediterranean Sea was approved for adoption at MEPC 79 in December 2022. This would require the use of bunker fuel with a sulphur content no greater than 0.1% such as low sulphur MGO or a scrubber system for vessels trading in or passing through the Mediterranean. If there are no delays, the Mediterranean SECA could be implemented as early as 2025.
It is also worth noting that the likely inclusion of shipping into the EU ETS from 2023 will add an extra layer of complexity and cost on top of already highly elevated bunker prices.
Another notable aspect of MEPC 78 was the rejection of a proposal by the International Chamber of Shipping (ICS) for a $5bn decarbonisation research and development fund that would have provided a market-based approach to reducing shipping's carbon emissions. The plan focused on a mandatory levy of $2/tonne on bunker fuel that would have financed zero emission technology and had the backing of most major shipping bodies.
This would have helped facilitate the application of new technologies at scale, although its rejection signals a reluctance by the IMO to be responsible for managing and supervising such a scheme. Any future proposed market solutions will likely have to be operated at the industry level instead of seeking official approval and implementation at the IMO if such proposals are to have any role in decarbonising shipping.
As the market looks ahead to MEPC 79-80, many will now be finalising their plans to achieve compliance with the proposed IMO regulations, especially in terms of CII and EEXI. MEPC 78 gives owners an indication that the IMO is now more committed to reducing the industry carbon emissions to net zero by 2050 and are unlikely to be watered down by some member states, given the broad support that exists both inside and outside shipping for concrete action., the report stated.
Sign up for Africa Ports & Ships – it's free
Added 23 June 2022
♦♦♦♦♦♦♦♦♦
News continues below
Emerging technology gives first ever global view of hidden vessels
Satellite radar and machine learning publicly reveal previously unseen vessel activity around the world
YouTube video [1:46] Introducing Global Fishing Watch's revolutionary technology
Global Fishing Watch

has developed and publicly released the first ever global map of previously undetected dark fleets, or vessels that do not broadcast their location or appear in public monitoring systems.
Powered by satellite radar imagery and machine learning, the map layer* is updated daily within the main Global Fishing Watch map application. The portal is available for free to anyone in the world with an internet connection, helping arm authorities, researchers and the public alike with the power to monitor vessel activity in all coastal waters, identify dark fleet patterns and build the necessary understanding to quantify threats to the ocean. The user-friendly new map layer helps create equitable access to marine-related data in time for World Ocean Day on June 8.
The lack of information pertaining to how and where vessels are fishing has clouded our understanding of the true global footprint of fishing activity. This makes meaningful change difficult. To see these impacts, satellite radar technology, known as synthetic aperture radar (SAR), functions day and night in all types of weather and can generate imagery despite cloud cover or storm systems, resulting in detection capabilities that are significantly advanced over other satellite-mounted sensors.
"It is surprising how little we have known to date about the true scale of human activity on the water," said David Kroodsma, director of research and innovation at Global Fishing Watch. "If you combine vessels that intentionally shut off their signal with the significant number of boats that don't make their whereabouts known in public systems at all, you end up with gaps in data, monitoring and accountability. We are using satellite radar imagery to reduce that information gap and put our findings at the fingertips of those who want to ensure our ocean is managed equitably and sustainably."
The new global map layer draws from a massive data-processing pipeline and uses machine learning to crunch petabytes, or millions of gigabytes, of radar imagery taken by the European Space Agency's Sentinel-1 satellites. By analyzing the entire archive of Sentinel-1 radar imagery, Global Fishing Watch has made 20 million detections of sea-going vessels greater than approximately 10 meters in length—and matched these detections to 100 billion GPS points from vessels broadcasting their position on the automatic identification system. This matching differentiates vessels that broadcast their position from those that remain dark in public monitoring systems, resulting in more comprehensive views of vessel movements across the global ocean. This information can help authorities pinpoint areas with suspicious activity and identify vessel patterns that may indicate illegal activity or previously unquantified fishing pressures.
Global Fishing Watch used satellite radar and optical imagery to reveal around 900 vessels of Chinese origin fishing illegally in North Korean waters in violation of United Nations sanctions—the largest known case of illegal fishing by an industrial fleet operating in another nation's waters. Global Fishing Watch has since improved and expanded its use of satellite radar to study previously unseen fishing activity near marine protected areas in the Mediterranean Sea and hotspots of previously hidden activity in coastal waters around Africa. This emerging method of "seeing" vessels is revealing that the ocean is far busier than conventional monitoring systems show.
"While there are often legitimate reasons for not broadcasting a vessel's location—not all governments require it—illegal operators will often turn off their signals to conceal their activity," added Kroodsma. "The use of satellite radar to detect and map previously hidden and potentially illegal or harmful activity has opened a new realm of possibilities for remote sensing and big tech's battle for the environment."
Amplifying the potential of satellite radar technology, Global Fishing Watch partnered with the Defense Innovation Unit in July 2021 to host the xView3 competition. The challenge invited machine learning developers from all over the world to create and submit computer algorithms to help detect dark vessels, drawing 1,900 registrants from 67 countries. Global Fishing Watch is using the winning entries announced earlier this year to refine and advance dark vessel detection methods at global scale, and expects to be able to shed light on many human activities on the ocean in the near future.
"By seeing and characterising the activity of these expansive dark fleets, we can begin to better understand and quantify not just illegal fishing but a great deal of human activity that is impacting our marine environment," said Paul Woods, chief innovation officer at Global Fishing Watch. "These are exciting times when it comes to open, accessible data that anyone can use for free to understand and advocate for the fragile marine areas they care about most."
Source: Global Fishing Watch
Now watch this older (2014) YouTube video Technology Illuminating the Globa Fishing Fleet  [4:50] 
Sign up for Africa Ports & Ships – it's free
Added 23 June 2022
♦♦♦♦♦♦♦♦♦
News continues below
WHARF TALK: Gulf Castle class LR1 tanker ALPINE PEARL
Story by Jay Gates




Pictures by 'Dockrat'
In the shipping world, one of the well known outcomes of the brutal attempted annexation of parts of Ukraine by Russia, is that the government controlled shipping company, Sovcomflot, found that its vessels were 'persona non grata' in many ports around the world. This was especially so for its product tanker fleet that found itself locked out of markets that it had previously been operating in, with no chance of carrying on in that trade.
The result was that, with almost immediate effect, Sovcomflot saw it had a problem with a fleet of vessels, with nowhere to utilise them and with no access to foreign currency with which to operate. There was no other choice but to offload as many vessels as they could, and as quickly as they could, so as to remain viable. Within three months of the start of the Russian invasion of Ukraine, Sovcomflot had entered a 'fire sale' and divested itself of at least 20 vessels in a mass tanker sale.
On 12th June at 07h00 the LR1 Panamax tanker ALPINE PEARL (IMO 9577109) entered the Table Bay anchorage, at the conclusion of a voyage from Aliaga in Turkey, and remained at anchor for just over three days. On 15th June at 15h00 she finally entered Cape Town harbour and proceeded into the Duncan Dock, and went alongside the long berth in the tanker basin.
Built in 2011 by the Hyundai Mipo Shipyard at Ulsan in South Korea, 'SCF Pearl' is 229 metres in length with a deadweight of 74,552 tons. She is powered by a single HHI MAN-B&W 6S60MC-C8 6 cylinder 2 stroke engine producing 14,439 bhp (10,620 kW), driving a fixed pitch propeller for a service speed of 14.5 knots.
Her auxiliary machinery includes three Hyundai 6H21/32 generators providing 800 kW each, with a Cummins 6CT83DM emergency generator providing 180 kW. She has a single oil fired Kangrim Boiler, and a single composite Donghwa Pneumatic boiler. She has 12 cargo tanks with a capacity of 82,360 m3.
Nominally owned by Twister Navigation Inc, 'Alpine Pearl' is operated by ST Shipping and Transport Pte. Of Singapore, which is the shipping arm of the Anglo-Swiss commodity trading company Glencore SA, where Glencore is an acronym for Global Energy Commodity Resources. She is managed by Ishima Pte. Ltd., also of Singapore, where Ishima is an acronym for International Ship Management.
Known as the Gulf Castle class, 'Alpine Pearl is one of 9 sisterships which, all between 2010 and 2012, were entered into a joint venture (JV) between the giant Swiss commodities company, Glencore SA, and the Russian state owned shipping company Sovcomflot (SCF). Her ownership in 2011 was the same as it is now, i.e. Twister Navigation Inc., and her operating company was also the same, as ST Shipping and Transport Pte.
The vessels all entered into the JV directly from the builder's yard. All the vessels in the JV were given the SCF prefix, with their names all beginning with the letter 'P', and 'Alpine Pearl' was originally known as 'SCF Pearl'.
In May and June 2022, some three months into the Ukraine War, Glencore SA appeared to terminate their joint venture with Sovcomflot, almost certainly as a result of both British and Swiss government edicts relating to sanctions linked to trading with Russia, and Russian companies. Lloyds List reported that new ownership structures were taking over Russia's rapidly diminishing tanker giant, and it appeared that Glencore SA, amongst a few others, were among the majority buyers of the Sovcomflot tanker fleet.
In May, Glencore took over three of the sisters, and removed the SCF prefix to their names, replacing it with the prefix of 'Alpine'. The three included 'Alpine Pearl', 'Alpine Pacifica' and 'Alpine Plymouth'. A further two sisters followed this June, with 'Alpine Pioneer' and 'Alpine Pembroke'. No doubt more will be announced shortly.
The takeover of 'Alpine Pearl' took place as soon as she arrived in Turkey, immediately prior to her loading for Cape Town at Aliaga. The SCF logo on her accommodation front, and on her funnel was simply painted over, and her SCF prefix on her bow and stern were hurriedly replaced.
It was obvious that the crew were tasked with the name change, rather than a professional ship painting company, or drydock enterprise, as the 'Alpine' on her bow is rather poorly painted and clearly applied in a rush, without measuring it up first.
This is not the first time that "Alpine Pearl' has visited Cape Town, as she was here in May 2021, as 'SCF Pearl', and the current untidiness of her name on her bow, is in stark contrast to how she looked back in 2021, when things were looking rosier for Russian shipping concerns. See theAfrica Ports & Ships edition on 19th May 2021 for the story.
So strangely, you have the sight in Cape Town harbour of an erstwhile Russian controlled vessel, which had to be dumped as quickly as it can by its former owner, due to its inability to trade with the said vessel, berthed across the harbour from a Russian controlled reefer vessel, one of a steady stream of them, which is happily loading South African fruit, destined openly for export to Russia, and bound for St. Petersburg.
On Midwinter's Day in the Southern Hemisphere, and whilst alongside in Cape Town on the 21st June, after almost a week alongside, which appears to be the 'norm' for the discharge rate for an LR1 tanker in Cape Town, 'Alpine Pearl' was visited by the bunker tanker 'Al Safa'. This meeting between the two vessels indicated that she was getting ready to complete her discharge, and she finally sailed from Cape Town on 22nd June at 09h00, bound for her next loading port, which was Sitrah, in Bahrain.
Sign up for Africa Ports & Ships – it's free
Added 23 June 2022
♦♦♦♦♦♦♦♦♦
News continues below
CRUISE NEWS: A&K Travel Group acquires two gems in Crystal Serenity and Crystal Symphony
A&K Travel Group Ltd, also known as Abercrombie & Kent, announced today (Wednesday) that it has acquired the two luxury cruise ships, CRYSTAL SERENITY and CRYSTAL SYMPHONY, together with the award-winning 'Crystal Cruises' brand from collapsed Hong Kong-based Genting Cruise Lines.
The two ships, which are no strangers to South Africa, will resume service in 2023 after undergoing extensive refurbishment and will continue to operate under the award-winning 'Crystal Cruises' brand.
"I am thrilled to start this new chapter and to be back in an industry that has always had, and always will have a special place in my heart," said Manfredi Lefebvre d'Ovidio, Co-Chairman of A&K Travel Group Ltd., Crystal Cruises and Abercrombie & Kent.
"Thirty-five years ago, my family acquired control of Sitmar Cruises, building three of the first purpose-built cruise ships, and 30 years ago my family pioneered a new way of cruising. Our goal was to deliver the best experience, pampering guests from all over the world with around-the-clock butler service and extraordinary culinary experiences.
"Selling the cruise business that belonged to my family for a quarter of a century was a difficult decision, as I knew I would miss this industry immensely. Therefore, when the opportunity arose to acquire Crystal Cruises, I did not think about it twice. Having next to me my incredible friend and inspiring leader Geoffrey Kent makes this venture even more enjoyable," he said.
Geoffrey Kent, Co-Chairman of A&K Travel Group Ltd. and Crystal Cruises, and Founder, Co-Chairman and CEO of Abercrombie & Kent, said the idea of combining the unparalleled onboard service that Crystal Cruises is known for, with the extraordinary tailor-made experiences Abercrombie & Kent has been successfully providing for its guests for the past 60 years, fills him with excitement, enthusiasm and pride.
Crystal Cruises and Abercrombie & Kent will report to Cristina Levis, CEO of A&K Travel Group Ltd, who said it was
an immense privilege to serve these two incredible brands that in the past decades have disrupted the travel industry numerous times.
"Manfredi, Geoffrey and I look forward to welcoming past Crystal and Abercrombie & Kent guests onboard, as well as those seeking rewarding luxury experiences," she said, adding that the acquisition of Crystal has been extremely challenging "but the satisfaction of having this jewel in our family is the best payoff for all the hard work and efforts of the A&K team. Ad maiora Crystal Cruises!"
A&K Travel Group Ltd has partnered with V.Ships Leisure, the world's leading cruise ship manager, based in Monaco.
Sign up for Africa Ports & Ships – it's free




Added 23 June 2022
♦♦♦♦♦♦♦♦♦
News continues below
IN CONVERSATION: Alarm bells ring after 15,000 sheep drown as transport ship capsizes in Port of Sudan
by Don Pinnock, Daily Maverick




June 21, 2022
More than 15,000 sheep drowned last weekend when a ship capsized in the Port of Sudan and
sank
in its moorings. About 800 animals that were rescued are displaying symptoms of illness and are not expected to live. 
Al Badri 1 was an ageing converted ro-ro (roll-on/roll-off) vessel. Images from before and after its conversion suggest that four extra decks were welded on above the ship's main deck to add more space for livestock. 
Livestock carriers are generally older than the average merchant ship, with the fleet exceeding 40 years. Almost all are conversions, often from ro-ro vessels.  
The ships selected for conversion have usually already arrived at the normal age for demolition (about 30 years) when they begin their new life. 
Detention list
Meanwhile, the LSS Success, another live export vessel, is docked in the East London harbour and destined for Mauritius with a cargo of cattle. In 2019, it was placed on a detention list by European authorities because they deemed the vessel unfit to sail. 
Not long afterwards, the Success appeared in South Africa without intervention by local authorities.   
The Success is 52 years old and well past her safe-use age. Another disaster is clearly on the cards. 
Last year, it was responsible for the death of 40 cattle that died on board during export from South Africa to Mauritius. According to the vessel's incident report, the cattle died from head and leg injuries or sea sickness because the vessel was unstable in rough weather. 
A year earlier, the vessel was in trouble after a significant amount of drugs were found on board by Mauritian officials after a trip from South Africa. 
According to the National Society for the Protection of Animals (NSPCA), the ship is a "rust bucket" and shouldn't dare another live export journey risking the lives of thousands of animals as well as the crew. 
In 2020, the NSPCA attempted to stop the proposed shipment of between 55,000 and 85,000 live sheep from South Africa to the Middle East.
"The conditions experienced by animals during long-distance sea voyages contravene many standards of South Africa's Animal Protection Act 71 of 1962," said the director of Humane Society International-Africa Tony Gerrans.
 "Transporting tens of thousands of sentient animals on a vessel means they endure 21 days of being packed together in pens without proper food and care. 
"They stand in their own excrement, breathe in ammonia which can lead to respiratory problems, are exposed to the perpetual noise of the ship's motors and to heat stress which can be so extreme as to kill the animals, much like leaving a dog in a car on a hot day." 
In 2016, about 3,000 sheep died en route from Fremantle to Doha aboard the same ship – the Al Messilah – that was waiting in East London's port in 2020 to load sheep.  
"Every year, without fail, the live export industry causes one crisis after another at the expense of the lives of thousands of animals and even human beings," said the NSPCA. 
"Supporters of the live export trade need to re-evaluate live export when there is an alternative (exporting chilled meat)." 
According to Professor Kristen Stilt, director of Harvard's Animal Law & Policy Program: "The transport of chilled and frozen meat is the way that nearly all meat travels in commerce today. The idea of sending live animals is a holdover from a bygone era."  
"Judging by the average age of the 150-odd global livestock fleet," said the NSPCA, "we expect these tragedies to escalate from their already unacceptable current sinking record." DM/OBP
This

article

first appeared on

Daily Maverick 

on 21 June 2022 and is republished here under a Creative Commons license

.

The loss of Al Badri 1 and its cargo of sheep was reported in
Africa
Ports & Ships
in our 15 June News Bulletin,
SEE HERE
Sign up for Africa Ports & Ships – it's free
Added 22 June 2022
♦♦♦♦♦♦♦♦♦
News continues below
Constitutional Court rules in favour of Transnet over pipeline dispute
Transnet says it welcomes the decision handed down by the Constitutional Court on Tuesday (21 June 2022), concerning a dispute over the use of the liquid fuel pipeline between the port of Durban and Gauteng.
In a unanimous judgment penned by the Honourable Justice Madlanga, the Constitutional Court ruled that Transnet had validly terminated a 50 year-old agreement with Total and Sasol – an agreement which regulated the conveyance of crude oil from Durban to the Natref inland refinery in Sasolburg.
The Court's ruling follows Transnet's application for leave to appeal to the Constitutional Court against a judgment of the High Court of South Africa, Gauteng Local Division, Johannesburg, which initially held that Transnet's notice to terminate the 50 year-old agreement was invalid.
"The ruling is a major win for Transnet in a litigation battle which has been ongoing since 2013, under which Total South Africa (Pty) Limited and Sasol Oil (Pty) Limited are presently claiming damages for an alleged breach of Transnet's obligations under the crude oil conveyance agreement," Transnet said today (Wednesday).
The ports and pipeline company says it will continue to provide use of the pipeline from Durban to the Natref refinery.
"While some issues in the matter remain to be decided (both before the High Court and in respect of Transnet's formal complaint to the National Energy Regulator of South Africa), the effect of the Constitutional Court's judgment is that, as of 13 September 2020, Transnet is no longer bound to the terms of an outdated pre-constitutional agreement."
Sign up for Africa Ports & Ships – it's free
Added 22 June 2022
♦♦♦♦♦♦♦♦♦
News continues below
IATA AGM Day Two
Safe carriage of lithium batteries: Parallels with maritime carriage
As we reported on 21 June the

78th IATA Annual General Meeting and World Air Transport Summit

was underway in Doha, Qatar, hosted by Qatar Airways.
Some 1,000 aviation leaders from IATA member airlines, governments, industry stakeholders, strategic partners and members of the media attended the event.
Lithium battery concern
On the final day, 21 June, IATA called on governments to further support the safe carriage of lithium batteries by developing and implementing global standards for screening, fire-testing, and incident information sharing.
As with many products shipped by air, effective standards, globally implemented, are needed to ensure safety. The challenge is the rapid increase in global demand of lithium batteries (the market is growing 30% annually) bringing many new shippers into air cargo supply chains. A critical risk that is evolving, for example, concerns incidents of undeclared or mis-declared shipments.
Step-up of enforcement called for
IATA has long called for governments to step-up enforcement of safety regulation for the transport of lithium batteries. This should include stiffer penalties for rogue shippers and the criminalization of egregious or willful offences.
IATA asked governments to shore up those activities with additional measures:
* Development of safety-related screening standards and processes for lithium batteries
Development of specific standards and processes by governments to support the safe transport of lithium batteries, like those that exist for air cargo security, will help provide an efficient process for compliant shippers of lithium batteries. It is critical that these standards and processes be outcome based and globally harmonised.
* Development and implementation of a fire-testing standard that addresses lithium battery fire containment
Governments should develop a testing standard for fires involving lithium batteries to evaluate supplementary protection measures over and above the existing cargo compartment fire suppression systems.
* Enhance safety data collection and sharing information between governments
As with carriage by sea of this cargo safety data is critical to understanding and managing lithium battery risks effectively.
Without sufficient relevant data there is little ability to understand the effectiveness of any measures. Better information sharing and coordination on lithium battery incidents among governments and with the industry is essential to help managing lithium battery risks effectively.
These measures would support significant initiatives by airlines, shippers, and manufacturers to ensure lithium batteries can be carried safely. Actions have included:
* Updates to the Dangerous Goods Regulations and the development of supplementary guidance material,
* The launch of a Dangerous Goods Occurrence Reporting Alert System that provides a mechanism for airlines to share information on events involving undeclared or misdeclared dangerous goods,
* The development of a Safety Risk Management Framework specifically for the carriage of lithium batteries.
* The launch of CEIV Lithium Batteries to improve the safe handling and transport of lithium batteries across the supply chain.
In the words of Willie Walsh, IATA's Director General: "Airlines, shippers, manufacturers, and governments all want to ensure the safe transport of lithium batteries by air. It is a joint responsibility.
"The industry is raising the bar to consistently apply existing standards and share critical information on rogue shippers. But there are some areas where the leadership of governments is critical.
"Stronger enforcement of existing regulations and the criminalization of abuses will send a strong signal to rogue shippers. And the accelerated development of standards for screening, information exchange, and fire containment will give the industry even more effective tools to work with."
IATA represents some 290 airlines comprising 83% of global air traffic.

Edited by Paul Ridgway
London
Sign up for Africa Ports & Ships – it's free
Added 22 June 2022
♦♦♦♦♦♦♦♦♦
News continues below
New dredger named Estoril arrives for port of Beira
The Mozambique state-owned dredging company Emodraga has taken delivery of a new dredger for the port of Beira.
The dredger named Estoril was built by the Damens Shipyard Group.
The small vessel will be utilised mainly for maintenance dredging at the Mozambican river port, where there are ongoing challenges from silt and mud posing risks for shipping movements.
The port is built in a river mouth fed by the Buzi and Pungwe rivers.
Estoril measures 16.2 metres x 1.8 metres and has a total installed power of 156 kW, and is capable of dredging at a rate of 800 cubic metres of sediment an hour.
The dredger has an advantage over larger vessels by being able to dredge alongside a single berth at a time. Apart from the flow of muddy water coming down the rivers into the port, ships and tugs churn up mud from the seabed which builds up against the quayside, affecting the draughts of individual ships alongside.
The dredger was inaugurated at the port on 10 June 2022 by the Minister of Transport, Janfar Abdulai.
Macuti
Readers will recall another 2013-built Beira-based Emodraga hopper dredger named MACUTI (IMO 9641144) which in June 2016 was involved in a collision with a MSC container ship, MSC Chiara, near the mouth of the port, resulting in Macuti being deliberately run-aground on a sandbank to avoid sinking.
The dredger underwent temporary repairs in the Beira dry dock and was towed to Durban for more permanent attention. According to a Mozambican source, these would include installing news engines and general repairs to the engineroom which had been flooded. The reported cost (Rádio Moçambique) of these repairs was US$10 million. In February 2017 she entered the Durban dry dock and was later taken to a mooring in the adjacent Bayhead.
According to AIS signals and visuals the Macuti remains in this position, five years later.
Sign up for Africa Ports & Ships – it's free




Added 22 June 2022
♦♦♦♦♦♦♦♦♦
News continues below
WHARF TALK:  Supramax bulk carrier – DE SHENG 1
Story by Jay Gates




Pictures by 'Dockrat'
There was a time back in the mid-1970s when the import of cement into Nigeria, became quite a worldwide story. Nigeria was benefiting from the 'oil boom' at the time, and wanted to develop her infrastructure with some major construction projects. A requirement for 5 million tons of cement was needed to carry out the national building programme, and for some very 'African' reasons, an order was placed for over 20 million tons of cement instead.
The outcome was the famous 'Cement Armada' of cargo vessels loaded with cement, and lying at anchor off Lagos. At one point over 400 vessels were to be seen at anchor, with some vessels remaining pinned to the sea bed for over two years awaiting a berth. They say that there was enough cement ordered to coat the entire surface area of Nigeria in a thin layer of cement. Fast forward to today, and whilst the 'Cement Armada' is long gone, Nigeria still needs to import the odd cargo of cement.
On 15th June at 17h00 the Supramax bulk carrier DE SHENG 1 (IMO 9237199) arrived off Cape Town, in ballast, after a short trip down the coast from Saldanha Bay, and entered Cape Town harbour, proceeding to the Eastern Mole in the Duncan Dock. Such an arrival is normally indicative of a vessel requiring bunkers, as Saldanha Bay cannot provide this service. However, it transpires that this appears not to be the main reason for her arrival in Cape Town.
Built in 2003 by Kanasashi Dockyard at Toyohashi in Japan, 'De Sheng 1' is 190 metres in length and has a deadweight of 53,350 tons. She is powered by a single Mitsui MAN-B&W 6S50MC-C7 6 cylinder 2 stroke main engine producing 9,916 bhp (7,293 kW), to drive a fixed pitch propeller for a service speed of 14.3 knots.
Her auxiliary machinery includes three generators providing 400 kW each. She has five holds, served by four, 30 ton, electro-hydraulic cranes, each equipped with a 12 ton electro-hydraulic grab. Her cargo carrying capacity is 68,259 m3.
Nominally owned by DS Shipping Co. Ltd. of Hong Kong, 'De Sheng 1' is both operated and managed by Ocean Fleet Shipmanage Ltd. of Qingdao in China. She is a popular design of Supramax bulk carrier, and one of many built as a SKDY-52 class vessel.
Her previous voyage had begun in Tianjin in China, where she had loaded a full cargo of cement for West Africa. She arrived off Lagos in Nigeria on 7th March, and only 37 days later, on 13th April, did she sail from Lagos. She then proceeded to Abidjan, where a similar time was spent, both in port and anchor, before she eventually arrived off Saldanha Bay on 13th June at 21h00, after spending over three months in West African waters.
Her arrival in Saldanha Bay, to begin loading her next bulk cargo, did not go to plan, and less than 24 hours later on 14th June at 20h00 'De Sheng 1' sailed from Saldanha Bay for Cape Town. It would appear that, on arrival in Saldanha Bay, that the state of her holds was not suitable for loading her next cargo, and that they would need to be cleaned, and washed out properly before loading could begin.
As Saldanha Bay, with its dust laden atmosphere, is not a conducive port to conduct hold washing, the decision was taken for her to proceed to Cape Town to allow this service to be undertaken. It would explain to the marine observer in Cape Town why 'De Sheng 1' was alongside a non-cargo working berth, with her cranes swung out over her side away from the berth, and all five of her McGregor hatch fitted holds being wide open.
With high pressure compressors and washer units visible on deck, adjacent to each hold, and with 5 individual high capacity hoses rigged from the quayside up to each hold, it was thought that the operation to wash out the holds would take around two days.
In the end it took slightly longer, and after three days alongside, on 18th June at 16h00, 'De Sheng 1' sailed from Cape Town, bound once more for Saldanha Bay. After a leisurely overnight cruise, at 06h00 on 19th June 'De Sheng 1' arrived at the Saldanha Bay anchorage, located to the north of the port in St. Helena Bay, to await her loading berth.
In her long career, 'De Sheng 1' has received a total of 54 Port State Inspections. Her last Port State Inspection took place the day after she arrived at Lagos, on 8th March 2022, and was completed under the auspices of the Abuja MoU. There were no recorded deficiencies. Of her other inspections, she was actually inspected at Saldanha Bay back in January 2019. That Port State Inspection was undertaken under the auspices of both the Abuja MoU, as well as the Indian Ocean MoU, and there were also no recorded deficiencies as a result of that inspection.
Sign up for Africa Ports & Ships – it's free
Added 22 June 2022
♦♦♦♦♦♦♦♦♦
News continues below
US visit to APM Terminals at the Liberian Free Port of Monrovia
Earlier this month the US ambassador to Liberia, Ambassador Michael McCarthy, accompanied by a delegation from the US Embassy and USAID, paid the port of Monrovia an official visit, with special emphasis on APM Terminals in the port.
The purpose of the visit was to see progress with ongoing improvement initiatives, and in particular to receibe an update on the Port Digitisation partnership between APM Terminals Liberia and the Liberia Revenue Authority.
Ambassador McCarthy also showed interest in the situation involving the port channel and Monrovia's dredging abilities, with associated challenges arising from the lack of suitable dredgers that resulted in additional care with the manoeuvring necessary to safely berth of undock a ship.
To observe port operations at first hand he and the delegation boarded harbour tugs which then took part in the docking of a large bulk carrier carrying clinker.
"The Freeport of Monrovia is critical to Liberia's future," he said, adding that the United States and Liberia's other trading partners believe efficient and transparent operation of the port is vital to Liberia's future growth and prosperity.
He said it requires ongoing collaboration between Liberian government agencies and private concession holders to provide the most efficient operations for Liberian businesses and ultimately the consumers.
"We support the efforts by APM Terminals Liberia to fully digitise customs and port processes to help achieve that goal. We are pleased with the progress we have seen with digitisation so far, and we expect to see it completed without delay."
Jonathan Graham, APM Terminals Liberia's managing director, agreed with the importance of collaboration among the stakeholders, especially when it came to implementing the Port Digitisation programme.
"The journey we have embarked on to partner with the Liberia Ministry of Finance, Liberia Revenue Authority, Liberia Custom Brokers Association, Liberia Shipping Line Association, and Liberian Commercial Banks to implement digitisation at the Freeport required strong partnerships with a clear vision of benefiting Liberia consumers," Graham said.
"The US government has been a strong partner in this direction and is fully on board in supporting the process. We are very pleased to have such an important partner providing such great support to this improvement initiative. And most importantly support to an initiative that will bring such a great benefit to the Liberian business community and to the Liberian population."
Sign up for Africa Ports & Ships – it's free




Added 22 June 2022
♦♦♦♦♦♦♦♦♦
News continues below
The Future is Here: ESL Shipping to use Neste's co-processed marine fuel
Finnish shipping company ESL Shipping is about to become the world's first shipping company to start utilising new low-emission

Neste Marine co-processed marine fuel

in its vessels in Finland and Sweden. The ISCC PLUS certified*
marine fuel enables up to 80%
**
reduced greenhouse gas emissions over the life cycle compared to fossil fuels without compromising the product quality and performance.
ESL Shipping is the leading carrier of dry bulk cargoes in the Nordic and Baltic regions and says it is constantly in search of sustainable shipping solutions and to minimise the adverse environmental impacts of its fleet.
"The co-processed marine fuel is something we have been waiting for a long time," says Mikki Koskinen, Managing Director of ESL Shipping.
"ESL Shipping is committed to leading the way in reducing greenhouse gas emissions of the maritime industry, and we are now fortunate to be able to use this low-emission alternative without having to do any fleet modifications. We believe this is the right thing to do, and I'm convinced we in the Nordics are well-positioned to show the way for the global maritime industry."
According to Sveta Ukkonen, Head of Marine Fuels and Services at Neste, supporting the shipping industry towards carbon neutrality requires partnerships, all available solutions and further innovations.
"We are proud of the solutions we have provided to the global aviation and road transport sectors to reduce greenhouse gas emissions, and it is a big step for Neste to be able to offer similar solutions to maritime transport, too."
Ukkonen pointed pointed out that as 90% of world trade and 13% of global transport emissions are the result of the shipping industry, it requires lower-emission solutions that are already available.
"Neste Marine 0.1 Co-processed marine fuel is currently in the piloting phase and it is produced at Neste's refinery in Porvoo, Finland, where part of the fossil raw materials have been replaced with renewable raw materials in the conventional refining process. The drop-in fuel can be taken in use without any fleet modifications as it has a similar composition to conventional bunker fuels."
The co-processed marine fuel is ISO 8217 compliant with consistent refined quality. The sustainability characteristics of the co-processed marine fuel are certified with International Sustainability and Carbon Certification (ISCC PLUS) with a mass balance approach.
*: During the piloting phase of this new co-processed marine fuel, the GHG emission reduction calculations are not included in the ISCC PLUS certification process.
**: The method used to calculate life cycle emissions and emission reduction is guided by the EU Renewable Energy Directive II (EU)2018/2001.
For information about Neste, CLICK HERE
Sign up for Africa Ports & Ships – it's free




Added 22 June 2022
♦♦♦♦♦♦♦♦♦
News continues below
The Future is Here: First commercial flight using sustainable fuel (SAF)
On Monday, 21 June 2022, regional aircraft manufacturer

ATR,

Swedish airline

Braathens Regional Airlines

and

Neste

collaborated to enable the first ever 100% SAF-powered test flight on a commercial regional aircraft.
The test flight was to further support aviation's decarbonisation targets and acceleration of SAF certification. When used in neat form Neste MY Sustainable Aviation Fuel™ reduces greenhouse gas emissions over its life cycle by up to 80%* compared to fossil jet fuel use.
This historic test flight took place in Sweden and is part of the 100% sustainable aviation fuel (SAF) certification process of ATR aircraft that started in September 2021 in cooperation with Braathens and Neste and should be completed by 2025. It has been the latest in a series of successful ground and flight tests on the ATR 72-600 prototype aircraft performed at the beginning of 2022, including flights with 100% SAF in one engine, and on Monday it was the first time it was done with 100% SAF in two engines.
"Today is a historic day for aviation," said ATR CEO Stefano Bortoli. "After more than a century of commercial flights powered by kerosene, we are at the dawn of a new era. In recent months, we carried out a series of successful flights with sustainable aviation fuel in one engine. We now decided it was time to perform the first test flight with 100% SAF in both engines.
"This helps us to certify our aircraft to fly solely on sustainable aviation fuels faster and to enable more sustainable connections as a result. The flight represents a true milestone for the entire aviation industry as it shows that this technology works and can be promptly adopted by many in our industry to speed up the transition to low-emission aviation."
For information about Neste, CLICK HERE
Sign up for Africa Ports & Ships – it's free
Added 22 June 2022
♦♦♦♦♦♦♦♦♦
News continues below
LNG-powered MSC World Europa completes first set of sea trials
Double LNG newbuild milestone as MSC's second LNG ship MSC EURIBA floats out
MSC Cruises, its Geneva-based group, and the Chantiers de l'Atlantique shipbuilder held a double celebration on Sunday (20 June) involving MSC Cruises' first two liquefied natural gas (LNG) cruise ships, which are under construction at the Saint-Nazaire yard in France.
MSC WORLD EUROPA, the first LNG vessel to join the cruise line's fleet and set to become the biggest LNG-powered cruise ship in the world, completed her first set of sea trials in the Atlantic Ocean that included testing the performance of the ship's engines, manoeuvrability, fuel consumption, safety systems, speed and stopping distances.
Meanwhile, MSC EURIBIA was floated out and has now been moved to a wet dock for work to continue on the ship before she also joins MSC Cruises' fleet in June 2023.
MSC has invested €3 billion in three LNG-powered cruise ships and the construction at the Chantiers de l'Atlantique yard in Saint-Nazaire of the third ship – 'World Class II' – is due to start early next year.
"We made an important pledge last year to achieve net-zero greenhouse gas emissions by 2050, leading the cruise industry on the path to decarbonisation," said Pierfrancesco Vago, Executive Chairman of the Cruise Division of MSC Group. "MSC World Europa and MSC Euribia will play a fundamental role in this journey.
"LNG is the cleanest marine fuel currently currently available at scale that reduces emissions significantly and also offers compatibility with future alternative fuel solutions for which we are actively investing in research and development, including a pilot LNG-powered solid oxide fuel cell onboard MSC World Europa.
"If bio or synthetic LNG was available at scale today, both our newbuilds could operate with net zero emissions from the very first day."
MSC World Europa
– next-generation cruise experience
MSC World Europa is the first in the trailblazing MSC World Class – a brand new class of ships that will introduce a completely new cruising platform – and will be able to accommodate up to 6,762 passengers.
MSC says that, boasting future-proof marine and onboard hospitality technologies, MSC World Europa will redefine the cruise experience with a variety of never-before-seen concepts and creative areas unlike anything at sea today.
"The ground-breaking design features a Y-shaped aft that leads to the impressive 104-metre long half-open half-covered Europa Promenade with breathtaking ocean views. Brand new balcony cabins overlook the stunning promenade, which features a striking architectural centrepiece in the form of The Venom Drop @ The Spiral, an 11-deck-high slide, the longest at sea."
MSC World Europa will debut in the Arabian Sea in (northern hemisphere) winter 2022/23 with MSC Cruises set to deploy its largest ever capacity in the Middle East for the season as it aims to strengthen its position as the region's market leader for holidays at sea.
The ship will offer seven-night voyages between December 2022 and March 2023 from Dubai to Abu Dhabi and Sir Bani Yas Island in the United Arab Emirates, Dammam in Saudi Arabia and Doha in Qatar before returning to Dubai. [Link to itineraries]
MSC World Europa in March 2023 will then head to the Mediterranean Sea and sail seven-night cruises calling at the Italian ports of Genoa, Naples and Messina, as well as Valletta in Malta, Barcelona in Spain and Marseille in France.
MSC Euribia
MSC Euribia will become one of the most environmentally advanced ships in MSC Cruises' fleet to date and is named after the ancient goddess Eurybia who harnessed the winds, weather and constellations to master the seas.
MSC Euribia will strike a markedly different look than other ships in MSC Cruises' fleet thanks to an exclusive artwork design that transforms the hull of MSC Euribia into a giant, floating canvas to communicate the importance of sustainability and the Company's commitment to the sea.
From this time next year MSC Euribia will spend her inaugural season in Northern Europe sailing from the German port of Kiel with seven-night itineraries to the Norwegian fjords with calls including Copenhagen, Denmark; Hellesylt, Norway for the Geirangerfjord; as well as Alesund and Flam, also in Norway, among other destinations.
MSC World Europa and MSC Euribia
– environmentally advanced ships at sea
Both MSC World Europa and MSC Euribia will be powered by LNG fuel which eliminates local air pollutant emissions like sulphur oxides and reduces nitrogen oxides by up to 85 per cent. LNG also plays a key role in climate change mitigation as it reduces CO2 emissions by 25 per cent and is paving the way for the uptake of sustainable non-fossil fuels including green hydrogen.
The two vessels will each feature selective catalytic reduction systems, shore-to-ship power connectivity, advanced wastewater treatment systems to comply with the so-called Baltic standard, the strictest global standard for wastewater disposal to sea, underwater radiated noise management systems to reduce potential noise and vibration impact on marine mammals, as well as a wide range of energy efficient equipment and systems to optimise engine use.
Sign up for Africa Ports & Ships – it's free
Added 22 June 2022
♦♦♦♦♦♦♦♦♦
News continues below
Expansion plans for Durban, Ngqura port terminals welcomed
The Select Committee on Public Enterprises and Communication has welcomed the expansion plans at Durban's container port terminal and Ngqura port.
Briefing the committee on the capacity expansion programme to increase exports/imports at both ports, Transnet National Ports Authority Chief Executive, Pepi Silinga, said it is an organisational priority to develop Durban's port into a modern deep-water facility.
"Bringing this task to a conclusion requires multi-phased investments, the first being the conclusion of a partnership to drive a turnaround strategy for Durban Container Terminal Pier 2. The partner is expected to support the required investments to modernise the terminal.
"Part of Transnet's hub port strategy includes further development of the Ngqura port into an efficient, trans-shipment-focused container terminal. The port has modern infrastructure and equipment, and is capable of handling large container vessels," Silinga said.
Due to operational challenges and lack of competition, Silinga said the Ngqura container terminal is currently not making effective use of its capacity.
Regarding the impact of the floods in KwaZulu-Natal, Silinga told the committee that the resulting damage is huge and repairs amount to billions of rands.
Committee Chairperson, Zolani Mkiva, said the projects Transnet is currently working on are significant and meaningful in job creation and employment opportunities.
"Investing in infrastructure is the creation of more employment opportunities," Mkiva said.
The committee commended an announcement about future plans for East London, noting that the port has enormous potential and can provide much-needed economic activity, although little work is planned for the immediate future.
Mkiva said for a long time there has been a suggestion that the sector is dominated by particular companies, requiring an indication of how the sector is being opened and made more accessible to the majority of South Africans.
The committee also wanted to understand if the sector is making progress towards transformation, to ensure that the majority of South Africans from historically marginalised communities have access in the sector.
Sign up for Africa Ports & Ships – it's free
Added 21 June 2022
♦♦♦♦♦♦♦♦♦
News continues below
WHARF TALK: LR1 oil products tanker – LEADER
Story by Jay Gates
Pictures by 'Dockrat'
The very obvious increase in product tanker traffic into South African ports, as a result of the nation being down two major domestic oil refineries, over the last two years, has brought these vessels in from all over the world, including from some places that would never have been an obvious oil products export port to many, as opposed to a crude oil export port.
The obvious oil products export ports, for most folk, would be anywhere in the Middle East, and especially in the Persian Gulf region. Not surprisingly, Saudi Arabia, UAE, Oman, Qatar and Bahrain have figured largely over the past two years, as loading ports for South African bound products tankers. This leaves one major oil products exporting nation, fairly unrepresented in South African ports, up to now.
On 11th June at 11h00 the LR1 products tanker LEADER (IMO 9403542) arrived off Cape Town from Mina Al Ahmadi, in Kuwait. She entered Cape Town harbour and entered the Duncan Dock, proceeding to the large tanker berth, in the tanker basin.
Built in 2009 by Sungdong Shipbuilding at Tongyoung in South Korea, 'Leader' is 228 metres in length and has a deadweight of 74,999 tons. She is powered by a Doosan MAN-B&W 6S60MC-C 6 cylinder 2 stroke main engine producing 16,646 bhp (12,240 kW), driving a fixed pitch propeller for a service speed of 15.3 knots.
Her auxiliary equipment includes three Yanmar 6N21AL-DV generators providing 745 kW each. She has a Kangrim CHR exhaust gas boiler, and two Alfa Laval Aalborg Mission OL oil fired boilers. She has 14 cargo tanks, and a cargo carrying capacity of 83,104 m3.
Nominally owned by Agro Ltd. of Athens, 'Leader' is owned and managed by Dynacom Tankers Management Ltd., also of Athens, whose funnel colours she displays.
The design of 'Leader' is a popular eco-design with over 30 LR1 sisterships, of the 75,000 dwt class, having been built. An obvious anti-piracy measure that she displays, are that all of her windows surrounding her bridge area are covered by burglar bars, to prevent forced access.
Her last Port State Inspection took place in October 2021 in Mombasa, in Kenya. She was inspected under the auspices of the Indian Ocean MoU, and there were nil deficiencies recorded on that occasion by the Kenyan maritime authorities.
Her loading port, Mina Al Ahmadi in Kuwait, is located at 29°04' North 048°09' East, some 21 nautical miles south of Kuwait City. The port is linked directly by pipeline to the Mina Al Ahmadi oil refinery, operated by the Kuwait National Petroleum Company.
The port itself had two piers for export product tankers, with the South Pier having 5 berths, and the North Pier having 6 berths. The port is the principal exporting petroleum products port for the state of Kuwait. There are also 2 LNG export berths in the port.
The Mina Al Ahmadi oil refinery is one of 3 that operate within Kuwait, and is the oldest of the three, having been opened as far back as 1949. All are located south of Kuwait City, and all have their own associated port complexes for export.
Despite this early, post Second World War, refinery development, and her 73 year history, Mina Al Ahmadi is not the oldest oil refinery in the Gulf Cooperation Council (GCC) region. The oldest refinery in the gulf region being Sitra in nearby Bahrain, which was developed in 1936.
Mina Al Ahmadi is also not the largest oil refinery in the GCC region, but she is the second largest in terms of daily production, with a capacity of 442,000 barrels per day. The largest refinery is Ras Tanura, in Saudi Arabia, which has a daily production capacity of 550,000 barrels per day. Ras Tanura came into operation in 1945.
On completion of her discharge in Cape Town, 'Leader' sailed from the port on 15th June at 09h00, bound for Fujairah in the UAE.
Sign up for Africa Ports & Ships – it's free
Added 21 June 2022
♦♦♦♦♦♦♦♦♦
News continues below
IATA Assembly: Need to adopt long term aspirational goal to save aviation
The

78th IATA Annual General Meeting & World Air Transport Summit

is taking place in Doha, Qatar, this week from 19-21 June, hosted by Qatar Airways.
Some 1,000 aviation leaders from IATA member airlines, governments, industry stakeholders, strategic partners and members of the media are attending the event.
IATA (International Air Transport Association) represents some 290 airlines comprising 83% of global air traffic.
At the opening of the event IATA called for governments to adopt a Long Term Aspirational Goal to decarbonise aviation at the 41st Assembly of the International Civil Aviation Organization (ICAO) later this year.
The call came at the AGM and WATS where airlines are mapping out the pathway to the industry's commitment to achieve net zero emissions by 2050 in line with the Paris Agreement's 1.5°C goal.
Investment required
In the words of Willie Walsh, IATA's Director General: "The decarbonisation of the global economy will require investment across countries and across decades, particularly in the transition away from fossil fuels. Stability of policy matters. At the IATA AGM in October 2021, IATA member airlines took the monumental decision to commit to achieving net zero emissions by 2050. As we move from commitment to action, it is critical that the industry is supported by governments with policies that are focused on the same decarbonisation goal."
He continued: "Achieving net zero emissions will be a huge challenge. The projected scale of the industry in 2050 will require the mitigation of 1.8 gigatons of carbon. Achieving that will require investments across the value chain running into the trillions of dollars. Investment at that magnitude must be supported by globally consistent government policies that help deliver the decarbonisation ambition, take into account differing levels of development, and do not distort competition.
"I am optimistic that governments will support the industry's ambition with an agreement on a Long Term Aspirational Goal at the upcoming ICAO Assembly. People want to see aviation decarbonise. They expect the industry and governments to be working together. The industry's determination to achieve net zero by 2050 is firm. How would governments explain the failure to reach an agreement to their citizens?"
The environment, a post-pandemic priority
Data from a recent IATA survey shows that improving the environmental impact of airlines is seen as a post-pandemic priority for passengers, with 73% of people polled wanting the aviation industry to focus on reducing its climate impact as it emerges from the Covid crisis.
Two-thirds of people polled also believe that taxing the industry will not achieve net zero faster and expressed concern about the money raised not being earmarked for decarbonisation projects.

Edited by Paul Ridgway
London
Sign up for Africa Ports & Ships – it's free




Added 21 June 2022
♦♦♦♦♦♦♦♦♦
News continues below
Coral Sul FLNG takes in its first natural gas from offshore northern Mozambique
According to the Mozambican Ministry of Mineral Resources and Energy, the Coral Sul (South) project in northern Mozambique has begun pumping natural gas into its floating platform.
The Coral Sul FLNG is anchored in Area 4 of the Rovuma Basin off the coast of the northern province of Cabo Delgado and the way is now paved for the first export of liquefied natural gas (LNG) later this year and adding Mozambique to the LNG-producing countries.
Late last week the Italian energy company Eni, which also holds exploration rights to offshore blocks A5-B, Z5-C and Z5-D in the Angoche and Zambezi basins, and as Upstream Delegated Operator of Area 4 on behalf of its Partners ExxonMobil, CNPC, GALP, KOGAS and ENH, said that the Coral South Project has safely achieved the introduction of hydrocarbons to the Coral Sul Floating Liquefied Natural Gas (FLNG) plant from the Coral South reservoir offshore Mozambique.
As a result, Coral Sul FLNG will now be ready to achieve its first LNG cargo in the second half of 2022, it said.
The introduction of hydrocarbons comes after the safe and timely conclusion of the offshore commissioning activities. The FLNG arrived at the final operating site offshore Mozambique in early January 2022, and mooring and connection to six underwater production wells activities were finalised in March and May 2022, respectively.
The Coral South project achieved Final Investment Decision in 2017, only 34 months after the last appraisal well. FLNG fabrication and construction activities started in September 2018 (first steel cut for the hull), and were completed in 38 months as planned, despite the COVID19 pandemic, with a FLNG Sail Away, from South Korea to Mozambique, in November 2021.
You can see and read more about CORAL SUL in Africa

Ports & Ships

by CLICKING HERE
While performing the construction activities in Korea, several significant activities were undertaken in Mozambique, with support from the Mozambican authorities. These included the ultra-deep water (2000m) drilling and completion of the offshore installation campaign that involved the highest technological and operational skills.
Coral-Sul FLNG has been implemented with an energy optimisation approach, integrated in the design via a systematic analysis of energy efficiency improvements. These include among others, zero flaring during normal operations, use of thermal efficient aero-derivative gas turbines for refrigerant compressors and generation, use of Dry Low NOx technology to reduce NOx emission and waste heat recovery systems for the process.
Mozambique's Minister of Mineral Resources and Energy, Carlos Zacarias, said that achieving this latest landmark puts Mozambique on the map of countries producing LNG.
"This will have a significant impact on revenue, and is a contribution to global energy security. It shows that the conditions established by the government for the development of this project have allowed it to be implemented within the deadlines," Zacarias said.
The Coral Sul FLNG is 432 metres long and 66 metres wide, weighs around 220,000 tons and has the capacity to accommodate up to 350 people in its eight-story Living Quarter module.
The facility is located at a water-depth of around 2,000 metres and is kept in position by means of 20 mooring lines that weight a total of 9,000 tons. Coral Sul FLNG has a gas liquefaction capacity of 3.4 million tons per year (MTPA) and will put in production 450 billion cubic metres of gas from the giant Coral reservoir, located in the offshore Rovuma Basin.
Coral-Sul FLNG is the first floating LNG facility ever deployed in the deep waters of the African continent.
Sign up for Africa Ports & Ships – it's free
Added 21 June 2022
♦♦♦♦♦♦♦♦♦
News continues below
IN CONVERSATION: What's driving the surge in South Africa's fuel price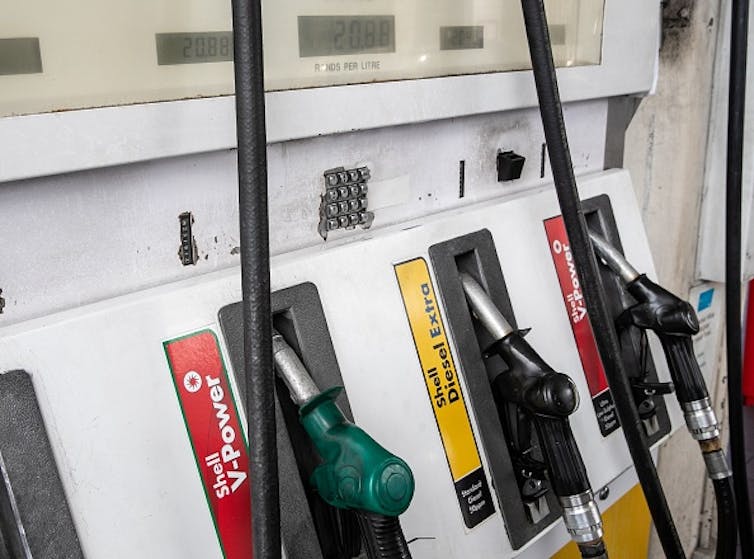 Photo by Lyu Tianran/Xinhua via Getty Images
Increases in the domestic price of fuel are big news in South Africa, with the price of petrol, diesel and paraffin reaching new highs. The underlying reason for the price increases is movements in the international price of crude oil. The acceleration in the international price of crude oil is linked to the Russian war in the Ukraine.
The expectation is that the crude oil price will remain at an elevated level for the duration of the war.
Internationally, crude oil is priced in US dollar per barrel. Recently the price exceeded US$120 per barrel. This is not the highest level ever for the crude oil price. The highest ever nominal historic level of US$147.02 per barrel was reached on 11 July 2008. On that occasion the price of crude oil increased owing to military tension about Iran. Adjusted for inflation since 2008, this amounts to some US$200 per dollar in current values. There is therefore room for further increases in the price of crude oil.
The crude oil price in US dollar is determined by international forces of supply and demand.
The international oil price pressure leads to higher landed cost for fuel in South Africa. The landed cost in US dollars is converted to rand at the prevailing exchange rate. Any weakness in the rand exchange rate against the US dollar therefore results in a higher domestic petrol price.
Political and economic stability to ensure a stable (or even appreciating) exchange rate is therefore of the utmost importance in the strategy to contain the domestic fuel price.
Once the domestic base price for fuel is determined, a variety of levies, taxes and margins are added to calculate the pump price that the consumer pays. In an attempt to alleviate the impact of the increase in fuel prices, the government has waived some portion of the fuel (tax) levy as a temporary relief measure.
However, this cannot be done on a permanent basis, given the precarious fiscal position of the government. Any permanent reduction in the government's fuel levy will necessitate an increase in other taxes raised by the government.
There is, however, one charge in the cost structure of the fuel price that can be reconsidered. This is the merchant service fee banks charge for the use of debit and credit cards. Admittedly, any reduction in this fee will impact negatively on the gross revenue of banks, but will also reduce the cost of filling station operations.
What goes into the fuel price
The fuel levies include transport to inland provinces, thus explaining the difference in the fuel price between coastal and inland regions. These levies are fixed and subject to periodic revision.
The most important are government's fuel levy (about 20% of the retail price) and the road accident fund levy (about 11%). These levies apply to both petrol and diesel.
Another important levy is the gross margin allowed for filling station operators. This levy amounts to some 10% of the retail price of petrol, while it is determined through retail price setting per filling station in the case of diesel sales. Filling station operators determine their gross margin on their diesel sales, as only the wholesale price is regulated.
To soften the blow of higher fuel prices for consumers, the South African government decided to waive some portion of the fuel levy as a temporary relief measure. However, this measure is not sustainable, as government revenue is eroded.
The retail levy on petrol accruing to the operators of filling stations is currently R2.29 per litre. But this is not the profit per litre of petrol sold at retail level.
This retail levy of R2.29 includes 87c per litre for the remuneration of pump attendants and other administrative staff members at filling stations. South Africa has about 5,000 filling stations where some 60,000 pump attendants are employed. In addition, it is estimated that these filling stations employ some 15,000 to 20,000 administrative staff members.
If the petrol price is deregulated and the margin for the remuneration of these staff members is removed, South Africa might lose as many as 80,000 job opportunities. Given South Africa's official unemployment rate of 34.5% , this increase in unemployment can't be afforded. In addition, the cancellation of this wage levy on petrol will reduce the price by only about 3.6%.
The retail levy also provides for site rental of filling stations in instances where sites are not owned by the operators. After the deduction of the rental allowance of 75c per litre and the allowance of 87c per litre for staff costs, site operators are left with 67c per litre. This is their gross revenue and is used to cover other costs such as municipal services, bank charges, other overheads and professional fees. Whatever remains, is the net income of the fuel station operator.
One important cost item that is not provided for sufficiently in the fuel levy structure, is the merchant service fee charges of the financial services industry on payment for fuel by credit and debit cards. Until 2009, South Africa allowed fuel sales only by means of cash or debit card, but this changed with the addition of credit cards as a payment instrument for fuel as one of the preparatory measures for the country's hosting of the World Soccer Cup.
The use of debit and credit cards comes at a cost for fuel station operators. This merchant service fee differs for debit and credit cards, and also differs between banks and card service providers. On debit cards the merchant service fee is in excess of 0,5% of the transaction value, or more than 12c per litre. On credit cards this fee [amounts to as much as 1,75% of the transaction value](https://www.iol.co.za/business-report/economy/sas-latest-fuel-hikes-benefit-financial-service-firms-like-visa-and-mastercard-says-fuel-retailers-association-53bd26f3-84c6-4fae-a2e2-d57ed013a4e1 as much as 1,75% of the transaction value (credit card interchange plus bank commission), or some 42,3c per litre at inland filling stations.
This merchant service fee is also the only component in the fuel retail value chain that increases automatically when the fuel price increases, as was the case in recent months.
Admittedly, this fee will also decrease when the fuel price declines.
In the quest to find alternatives to reduce the retail price of fuel, one strategy is a revision of this "invisible" fuel levy charged in the form of the merchant service fee.

This article is republished from

The Conversation

under a Creative Commons license. Read the

original article.
Sign up for Africa Ports & Ships – it's free
Added 21 June 2022
♦♦♦♦♦♦♦♦♦
News continues below
Latest Service Operation Vessel (SOV), Edda Brint, is named
On Friday 17 June, offshore wind service company Edda Wind celebrated the naming ceremony of their latest vessel, EDDA BRINT (IMO 9914125), its latest offshore support or Service Operation vessel (SOV).
The traditional ceremony where a bottle of champagne was sacrificed for good luck took place at Astilleros Balenciaga Shipyard in Zumaia, Spain.
Edda is a name tradition that Edda Wind has continued from its founding company Østensjø Rederi, and 'Brint' is Danish for Hydrogen.
The Godmother of the vessel, Danielle Harris, works as a Team Leader in the Service Readiness department at Vestas Wind Systems. She has been the team leader for all the technicians who were recruited and went through the training/service readiness for the Seagreen project in Scotland, where Edda Brint will be deployed.
"In directly managing the Seagreen technicians over the past two years, I have thoroughly enjoyed getting to know each of the team, and supporting their progression has been a pleasure. From at times feeling like their mother to now being the 'Godmother' for the vessel too, it is an honour to be so involved with the Seagreen project, and I am extremely excited to see the project move into its next phase," Harris said.
Edda Brint is a purpose-built Service Operation vessel (SOV) designed with unparalleled flexibility and operability, and prepared for emission-free operations with a hydrogen-based propulsion system. The vessel will serve as the mother vessel for wind turbine technicians as they perform commissioning and maintenance work on offshore wind turbines. The SOV is 82.85 m in length and can accommodate up to 60 persons in total.
Edda Wind's SOVs are designed to set a new standard in the offshore wind market and every effort has been made in the design to maximise the efficiency of operations of the wind farm. In addition, these vessels will be ready for running emission-free on a hydrogen-based propulsion system, hence the name 'Edda Brint'. Within just a few years, they will be the first SOVs operating without carbon emissions, enabling a green future.
The SOV is almost completed and is now being prepared for her sea trials. Edda Brint will be delivered from Balenciaga in August, and following installation of the gangway system, the vessel will commence the contract with MHI Vestas at the Seagreen Offshore Wind farm. The contract has a firm period of 15 years, i.e. running until 2037.
Edda Wind is in a very active period, with Edda Breeze(C489) being delivered from Gondan two weeks ago and newbuild no.C490 was launched at the same yard in March for delivery in the first quarter of 2023. Balenciaga will launch the second SOV to Edda Wind no.C416 in July for delivery in the first quarter of 2023.
Sign up for Africa Ports & Ships – it's free
Added 21 June 2022
♦♦♦♦♦♦♦♦♦
News continues below
Oil starts 'flowing' along Nacala Rail Corridor to Malawi
Following his recent visit to neighbouring Mozambique by President Dr Lazarus Chakwera, the first 500,000 litres of petroleum has arrived by rail in Malawi via the port of Nacala.
The petroleum was railed direct to Malawi. Until now Malawi has had to source its fuel requirements mainly from South Africa or from Tanzania. With the deal struck between President Chakwera and Mozambique's President Nyusi recently, tankers will now deliver Malawi's petroleum requirements by sea to the northern Mozambican port of Nacala and from there rail transport will take over, helping to deliver fuel at a lower cost than before.
See more of this in Africa Ports & Ships by CLICKING HERE
"The resumption of rail transport is great news to this country as it will facilitate the transportation of goods especially fuel into the country. Certainly, this development will translate into the reduction of transportation costs," said Martin Msimuko, general manager of Malawi's Petroleum Importers Limited.
Earlier deliveries by rail had been interrupted due to damage experienced along the rail corridor.
The Nacala Corridor, which runs into Malawi from Moatize in Mozambique's Tete province, and from Malawi to the port at Nacala, suffered from infrastructure damage recently which prevented rail operations until the line was repaired.
The rail corridor carries coal for export from Moatize, and general cargo and passengers between the port and Malawi.
Rehabilitation of Limbe-Sandama railway
In related news, the rehabilitation of the 72-km Limbe-Sandama line in southern Malawi is being undertaken by CEAR (Central East African Railway) with the aim of further reviving the use of rail in the country.
Traditional leaders in the southern part of the country applauded the efforts, saying they are excited at the prospects of once again having a working railway in their region of the country.
Malawi and Mozambique have agreed of reviving the line from Blantyre to Sandama near the Malawi/Mozambique border where the line will connect with the Sena Railway that operates between Moatize and Beira.
In 2015 a section of the original line in Malawi was washed away by floods.
Although rehabilitation of this section commenced in 2017, various factors including the onset of Covid-19 brought all operations to a halt.
Due to Covid 19 restrictions, the contracted company, Central East African Railway (CEAR), downsized its workforce which further inhibited progress in bringing the line back into service.
The line received further damage during cyclones Ana and Gombe that swept into southern Malawi earlier this year.
Sign up for Africa Ports & Ships – it's free
Added 21 June 2022
♦♦♦♦♦♦♦♦♦
News continues below
High volumes amid signs of recovery in auto industry
Transnet Port Terminals (TPT) reports that the East London Terminal recorded a 67% increase in container volumes at the end of May, when compared to budget.
The terminal had budgeted for the handling of 3,058 twenty foot equivalent units (TEU) but ended up moving 5,131 TEU. The bulk of the containerised cargo in the region services the automotive sector.
"The automotive industry has had shortages on critical parts needed to fully assemble vehicles owing to COVID-19 interruptions but for the month of May, East London has seen higher export volumes," said terminal manager, Naliya Stamper.
In the same month, the terminal exported 17% more fully built units (FBU) totalling 7,688 against a budget of 6,555. The number of vessels calling the terminal also increased from four in January to an average of between 9 and 11 since then.
According to Stamper, the operational team had also managed to perform above key performance indicator targets averaging 183 units per hour at the end of May against a target of 160. "Sticking to maintenance regimes to ensure 100% equipment availability, having employees show up for duty and finding opportunities to improve efficiencies daily made this achievement possible," said Stamper.
The terminal currently has a design capacity of 5,054 fully built units, 93,000 twenty foot equivalent units (TEU) as well as 66,000 tons for agricultural bulk.
The port of East London is 'home' to the Mercedes Benz factory adjacent to the port.
The port of Durban, which is 'home' to the giant Toyota plant within the city, handled 40,539 motor vehicle units during May. This is below last year's monthly average but auto handling at the Durban Car Terminal, the country's largest, has been hampered by the severe flood damage at the Toyota plant.
Over 4,000 completed motor vehicles were damaged in the flood and have been written off, and the plant has lost production of over 40,000 units up to May. A high percentage of these would have been for export through the port.
Sign up for Africa Ports & Ships – it's free
Added 20 June 2022
♦♦♦♦♦♦♦♦♦
News continues below
WHARF TALK: HMS BOUNTY OF 1788 AND THE RETURN OF THE BOUNTY MUTINEERS 1792
Story by Jay Gates
If one were to ask an enthusiast of naval history to name one ships' commander who had a negative image, or to name a naval vessel that had succumbed to a mutiny, then there would only be one answer for each question, and that would be William Bligh, and HMS BOUNTY.
Yet, all the books, the Hollywood blockbusters and naval historians rarely, if ever, make mention of Cape Town in that story, or its aftermath. Not many folk are aware that Cape Town saw 'HMS Bounty' with her mutineers outbound, but also was involved in the capture and return of some of the mutineers, or that William Bligh came back through Cape Town on a number of occasions in later years.
On 24th May 1788 'HMS Bounty', often referred to as His Majesty's Armed Vessel 'Bounty', arrived off Simonstown. Her late season arrival from the UK was because she had originally hoped to enter the Pacific Ocean via Cape Horn, but after a month of bad weather that prevented her passage around the Cape, she doubled back across the South Atlantic Ocean, and headed for False Bay, and the winter anchorage in Simons Bay.
Built in 1784 at the Blaydes Shipyard, at Kingston-upon-Hull, in the UK, originally as a merchant collier vessel, she was 28 metres in length and had a burthen tonnage of 220 tons. She had a crew of 44 seamen and officers, was three masted, and rigged as a ship. In 1787 she was purchased by the Admiralty, and converted for a scientific expedition to the South Pacific, to collect breadfruit and transport it back to the West Indies.
Her purchase price was £1,950, or the equivalent today of £225,000 (ZAR4.33 million). Given the name 'Bounty', she was lightly armed with four 4 pounder cannons, and 10 swivel guns. Lieutenant William Bligh RN was appointed her first commander. Bligh himself was an experienced expeditionary naval officer, as he had sailed as Captain James Cook's Sailing Master on 'HMS Resolution', on Cook's third, and final, voyage of exploration.
On arrival in Simonstown, 'HMS Bounty' needed a small refit, due to weather damage received on her attempt to sail around Cape Horn. The Governor of the Cape, Cornelis van de Graaff, (whose name was given to the town of Graaff-Reinet) loaned the services of Colonel Robert Gordon (whose name was given to the town of Gordons Bay) to Bligh, in order to assist him to effect the necessary repairs, and resupply, to HMS Bounty.
On 1st July 1788 'HMS Bounty' sailed from Simons Bay, bound for Tahiti and the famous mutiny. The mutiny itself occurred on 29th April 1789, and resulted in Bligh's famous small boat journey, where he navigated a ships boat, loaded with loyalists, on a 47 day, 3,500 nautical mile, voyage to Coupang in the Dutch East Indies, losing only one of his men on the fateful journey.
The first news of the mutiny and the loss of 'HMS Bounty', received in Cape Town, was on 16th December 1789, when the Dutch East Indiaman 'Vlydte', arrived in Table Bay, from Batavia in the Dutch East Indies. Onboard was Lieutenant William Bligh.
On 13th January 1790 'Vlydte' sailed from Cape Town with Bligh onboard, and he was dropped off at Portsmouth on 14th March 1790, and he reported the mutiny, and the loss of one of their ships, to the Lords of the Admiralty.
Naturally, the outcome was that nobody would be allowed to take one of His Majesty's naval vessels, and the perpetrators of such a heinous crime should be found and brought back to face naval justice.
Though Bligh wished to conduct that voyage, he was not in a physical state to allow him to do so, and the Admiralty sent 'HMS Pandora', under the command of Captain Edward Edwards RN. The vessel sailed from Portsmouth on 7th November 1790, and into the Pacific Ocean in search of the mutineers, via Cape Horn, and not via Cape Town. However, after finding and arresting 14 of the mutineers in Tahiti, 'Pandora' was lost after running aground on the Australian Great Barrier Reef, on a spot now called 'Pandora's Reef'.
Four of the mutineers perished in the sinking of 'HMS Pandora', but in a similar feat to that of William Bligh, Edwards completed a perilous small boat journey to Coupang with the remaining 10 mutineers. News of the capture of the mutineers arrived in Cape Town on 18th March 1792 when the Dutch East Indiaman 'Vredenburgh' arrived in Table Bay from Batavia. Onboard was Captain Edward Edwards and the ten Bounty mutineers.
At the same time, lying at anchor in Table Bay was the 44 gun, fifth rate, Royal Navy vessel 'HMS Gorgon'. She was an Adventure Class warship, built in 1785 at the Perry & Hankey shipyard, at Blackwall in London. Built as a troopship, and converted to a stores ship, she was 43 metres long and had a burthen of 911 tons. She had a crew of 300 officers and men, was three masted, and rigged as a ship. She was armed with twenty 18 pounder cannons on her lower deck, twenty-two 12 pounder cannons on her upper deck, and two 6 pounder cannons on her forecastle.
On 15th March 1791 'HMS Gorgon', under the command of Commander John Parker RN, had sailed from Portsmouth, as a part of the 'Third Fleet' who were transporting stores to the young colony of New South Wales in Australia. She arrived in Simons Bay outbound on 21st June 1791, and sailed for Botany Bay on 31st July 1871.
Her return voyage to the UK saw her arriving in Table Bay on 12th March 1792, just eight, fortuitous, days before the arrival of Captain Edwards and the mutineers. On the 20th March 1792, the official log of 'HMS Gorgon' recorded the following historic entry:
"Came onboard from the Dutch ship 'Vreedenburgh' 10 Pirates
belonging to His Majesty's Ship Bounty"
On 6th April 1792 'HMS Gorgon' sailed from Cape Town, bound for Portsmouth where she arrived on 18th June 1792. The mutineers were all court martialed, with three of them being hanged, four acquitted, and three pardoned. One of those pardoned was Midshipman Peter Haywood, who claimed he was a Loyalist and held on 'HMS Bounty' against his wishes, and who would go on to become a Captain in the Royal Navy.
William Bligh was insistent that he complete the original mission that he had been sent out on 'HMS Bounty' to achieve. The Admiralty sanctioned the Second Breadfruit Expedition, and selected 'HMS Providence' to lead the expedition back to Tahiti. On 2nd August 1791, she sailed from Portsmouth, with her initial call being Cape Town.
On 6th November 1791, more than five months before Edward Edwards had arrived in Cape Town on the VOC vessel 'Vredenburgh', and with the Bounty mutineers aboard, the sixth rate 'HMS Providence' arrived in Table Bay, with now Captain William Bligh RN in command. She sailed from Cape Town on 22nd December 1791, bound for Tahiti. She did not return to Cape Town on her return voyage, as her return voyage bypassed the Cape and she sailed from Batavia, directly for St. Helena.
Built in 1791 by Perry & Company shipyard at Blackwall in London, 'HMS Providence' was 33 metres in length and had a burthen tonnage of 406 tons. Her armament included ten four pounder cannons, and fourteen swivel guns. She had a crew of 100 officers and seamen, was three masted, and rigged as a ship.
William Bligh passed through Cape Town on two future occasions. The first in May 1806 when en-route to New South Wales, to take up the position of Governor of the Colony. He sailed out in the 'Lady Madelaine Sinclair', under escort of 'HMS Porpoise'. He returned in late 1810, onboard 'HMS Hindoostan', returning to the UK after he had been replaced as Governor.
As a postnote, in today's vernacular, a Bounty Hunter is a person who goes out to seek, and return, a person to face justice. There are some that say that, as a result of his epic voyage to seek out, and return the mutineers to face justice, Captain Edward Edwards was forever known as 'The Bounty Hunter', and the origin of the term, However, there is another body of thought, especially by an organisation known as CANOE (The Campaign Against the Naval Origin of Everything), who say this is not true, and its origins are to be found elsewhere.
Sign up for Africa Ports & Ships – it's free




Added 20 June 2022
♦♦♦♦♦♦♦♦♦
News continues below
Strengthening Port Security in South Africa: IMO and UK DfT input
Strengthening port security was the focus of two five-day workshops on the implementation of the International Ship and Port Facility Security Code (ISPS Code) for Designated Authorities and Port Facility Security Officers (PFSOs) held from 6-10 June and again from 12-17 June in Cape Town.
It is understood that the IMO course, jointly organised with the UK Department for Transport (DfT), brought together maritime security professionals from the Department and training providers who are keen to improve their knowledge and skills to become ISPS trainers.
ISPS across the region
These training courses have contributed to developing a pool of maritime security experts who can conduct ISPS training in South Africa and across the region.
Participants had an opportunity to practice what they learned in the first training period during the second week. The activities took place at the port of Cape Town in the TNPA Maritime Training Centre.

Edited by Paul Ridgway
London
Sign up for Africa Ports & Ships – it's free




Added 20 June 2022
♦♦♦♦♦♦♦♦♦
News continues below
WHARF TALK: Maritime News in Brief
Wärtsilä Voyage, part of the technology group Wärtsilä, has announced the acquisition of PortLink Global, a global port solutions company headquartered in Vancouver, Canada. The move it says will speed Wärtsilä Voyage along its path towards creating an end-to-end connected maritime ecosystem in which intelligent port logistics solutions play a nodal role.
The transaction was signed and closed in June 2022.
PortLink and Wärtsilä Voyage have partnered in the past – successfully collaborating on projects including the co-development of a next-generation Port Management Information System (PMIS) for the largest Mediterranean and African port, Tanger Med, for the Callao Port Authority (Peru) modernisation project, and the delivery of Brazil's first Smart Port Solution at Porto do Acu.
"Bringing PortLink into Wärtsilä Voyage isn't just about expanding our portfolio, but further strengthening our expertise in the smart port sector by bringing in highly experienced people into our team," said Sean Fernback, President, Wärtsilä Voyage and Executive Vice President, Wärtsilä.
***
SAECS Service Update
In a service advisory, ONE Line has announced that, due to delays in North Europe, the container ship SANTA RITA on voyage 222S will omit her Algeciras TTIA call.
Cargo originally planned for loading from Algeciras TTIA Terminal will be transferred to the vessel MOL PRESENCE v.222S, which is ETA Algeciras on 27 June 2022.
***
Jailtime for seven thieves
Seven men accused of stealing Transnet railway infrastructure worth around R1 million were each sentenced to an effective seven years in prison by the Camperdown Magistrates Court in KZN. The men each pleaded guilty after being found in possession of railway property, namely sections of railway tracks and for having tampered with essential infrastructure.
After removing the steel track from the disused line near Richmond it was cut into two-metre lengths and was being transported from the scene in three bakkies when apprehended near Umlaas Road.
The sentences handed down were for ten years with three years provisionally suspended for five years (which sounds a bit daft as they will be in jail during that provisional period).
Sign up for Africa Ports & Ships – it's free
Added 20 June 2022
♦♦♦♦♦♦♦♦♦
News continues below
IN CONVERSATION: China to adopt genetically modified maize and soy: why it matters for South Africa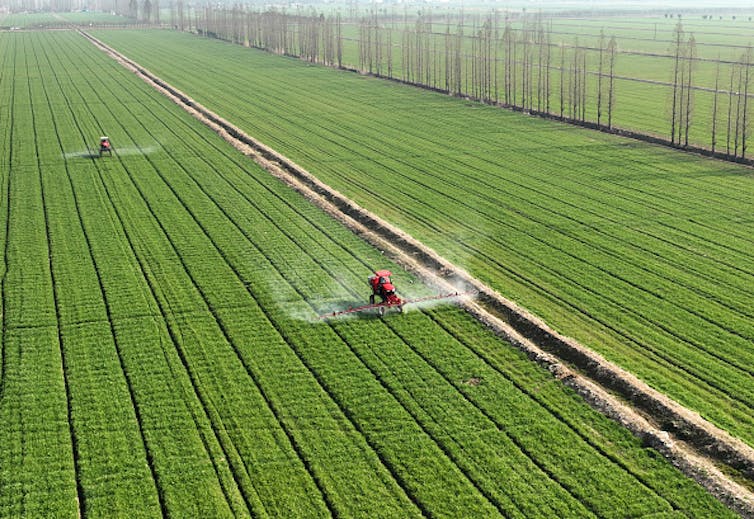 Farmers drive sprinkler irrigation machines in a wheat field in East China's Jiangsu province.
Costfoto/Future Publishing via Getty Images
Something important for global agriculture happened this past week but received minimal media coverage. The Chinese National Crop Variety Approval Committee released two standards that clear the path for cultivating

genetically modified (GM)

crops in the country.
This has been the missing piece in the regulations for the commercial growing of genetically modified maize and soybeans in China. The government has two steps in these regulations. These are a "safety certificate" and a "variety approval" before crops can be commercially cultivated.
Various genetically modified maize and soybean varieties have received the safety certificate since 2019. What's been missing has been the "variety approval". Now that hurdle has been cleared and commercialisation of genetically modified crops in China is a real possibility.
This message was also echoed by the Chinese Agriculture Ministry. It noted that "China plans to approve more genetically modified (GM) maize varieties." Currently, China imports genetically modified maize and soybean but prohibits domestic cultivation of the crops.
The change in regulations would potentially lead to an improvement in yields. This is aligned with China's ambition of becoming self-sufficient in essential grains and oilseeds in the coming years. There are specific targets in products like pork, where the country wants to produce 95% of its consumption by 2025.
South African farmers and agribusinesses need to pay close attention to these developments because it will have an impact on the long-term growth of the domestic agricultural sector.
The increase in production in other parts of the world, specifically in maize, where South Africa is a net exporter, could bring increased competition and downward pressure on prices in the medium term. Some of South Africa's key maize export markets are South Korea, Japan, Taiwan and Vietnam. All have proximity to China.
If China progressively increases production and becomes a consistent net exporter of maize, South Africa would have to explore markets elsewhere. This would be a challenge.
The debate
China's maize yields are comparable with South Africa, the United States, Argentina and Brazil, which have long adopted the genetically modified seeds (see Exhibit 1).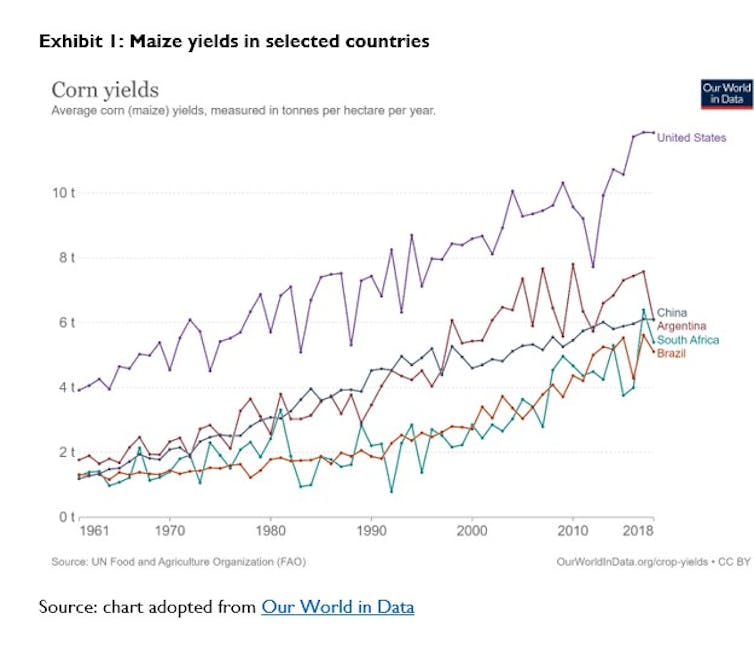 In these countries, among others, genetically modified seeds have had additional benefits such as lowering insecticide use, encouraged more environmentally friendly tillage practices and crop yield improvements.
If maize and soybean yields improve in the coming years, China's import dependence could lessen.
China is one of the world's largest maize and soybean importers. The country accounted for 13% of global maize imports in 2021 and roughly 60% of the world's soybean imports. Reducing import volumes is likely to lead to downward pressure on global prices.
A reduction in the global maize and soybeans prices would be positive for consumers and the livestock and poultry sectors. This is much needed as the world has been in a period of elevated food prices over the past two years.
This is unlikely to happen within the next two seasons as widespread planting of GM crops in China will likely take some time. China has been slow in GM adoption, but made significant progress in gene editing, which has different regulations, and has helped improve the crop yields.
The consequences
There are lessons here for the African countries, most of which have resisted the cultivation of genetically modified crops. South Africa is the exception.
According to the International Grains Council, South Africa produces about 16% of sub-Saharan maize, using a relatively small area of an average of 2.5 million hectares since 2010. In contrast, countries such as Nigeria planted 6.5 million hectares in the same production season but only harvested 11.0 million tonnes of maize, equating to 15% of the sub-Saharan region's maize output.
Irrigation has been an added factor in South Africa, but not to a large extent, as only 10% of the country's maize is irrigated, with 90% being rainfed. This is similar to other African countries.
South Africa began planting genetically engineered maize seeds in the 2001/02 season. Before its introduction, average maize yields were around 2.4 tonnes per hectare. This has now increased to an average of 5.6 tonnes per hectare as of the 2020/21 production season.
Meanwhile, the sub-Saharan African maize yields remain low, averaging below 2.0 tonnes per hectare. While yields are also influenced by improved germplasm (enabled by non-genetically modified biotechnology) and improved low and no-till production methods (facilitated through herbicide-tolerant GM technology), other benefits include labour savings and reduced insecticide use as well as enhanced weed and pest control.
With the African continent currently struggling to meet its annual food needs, using technology, genetically modified seeds, and other means should be an avenue to explore to boost production. The benefits of an increase in agricultural output are evident in Argentina, Brazil, the United States, and South Africa.
Many African governments should reevaluate their regulatory standards and embrace technology. Of course, this typically introduces debates about the ownership of seeds and how smallholder farmers could struggle to obtain seeds in some developing countries.
These are realities that policymakers in the African countries should manage in terms of reaching agreements with seed breeders and technology developers but not close off innovation. The technology developers also need to be mindful of these concerns when engaging various governments in the African countries.
Geopolitical and climate change risks present the urgency to explore the technological solutions to increase each country's agricultural production. The Chinese regulators are following that path.

This article is republished from

The Conversation

under a Creative Commons license. Read the

original article.
Sign up for Africa Ports & Ships – it's free




Added 20 June 2022
♦♦♦♦♦♦♦♦♦
News continues below
MSC makes bid for leading cruise port operator, Global Ports Holdings
Geneva-based MSC Group has issued a bid to acquire all the shares in a leading cruise port operator, Global Ports Holdings (GPH).
GPH is the world's largest cruise port operator, with 26 ports in 14 countries but was impacted by Covid-19 pandemic travel restrictions and only returned to profit in the 12 months to the end of March.
Deliberations were at a preliminary stage, GPH said in its filing with the London Stock Exchange. MSC has until 13 July in which to make a firm offer or walk away from the deal.
Such a takeover is bound to have significant implications for cruising, generally.
MSC Cruises is the largest cruise operator in Europe and one of the largest worldwide.
Turkish-owned GPH, listed in the UK, has cruise port operations in the Mediterranean and the Caribbean, both areas where MSC Cruises has a strong presence as well as in Singapore. GPH also operates several commercial ports, one of them being Montenegro in southern Europe.
The Mediterranean ports that GPH is involved with include Barcelona, Cagliari, Kuşadası in Turkey, Lisbon, Valetta, Málaga, Valletta, and Venice.
Those in the Caribbean include Antigua and Nassau, while Singapore in South-East Asia is another.
MSC has the ability to grow further in the cruise and commercial port spheres, following record breaking profits that the major container shipping companies have generated in the past few years. MSC is also investing or looking to invest in other areas including the airline industry (ITA Airways ex Alitalia) while it has recently acquired Bolloré Africa Logistics to strengthen landside operations in Africa and Asia.
The Geneva-based Italian company also has a major interest in the new cruise terminal in Durban.
Sign up for Africa Ports & Ships – it's free
Added 20 June 2022
♦♦♦♦♦♦♦♦♦
News continues below
BUSA slams government over last week's road blockades
Last week's truck blockade along the N3 highway between Gauteng and the Free State to Durban, caused serious disruption to traffic movements and cargo being moved to or from the port at Durban.
The blockade took the form of trucks obstructing the road lanes at several strategic points, including Van Reenen Pass, and the Tugela toll plaza and the Howick areas of the N3. It is believed the reason for the disruption involved the call to trucking companies to stop employing foreign drivers.
By Thursday morning Van Reenen Pass was brought to a standstill, with trucks completely obstructing this vital chokepoint across the Drakensberg Mountain, while further into KZN between Howick and Lions River some arriving drivers were forced at gunpoint to stop and hand over their keys.
Travellers were advised by road safety authority Arrive Alive to avoid using the N3 northbound in the vicinity of Tweedie and advising that disruptions were present on the Van Reenen pass.
Business Unity SA (BUSA) issued a statement saying it noted with serious concern the blockage on the N3 by truck drivers and reports of disruptions on some of the alternative routes between Johannesburg and Durban.
"This is a recurring occurrence and BUSA has consistently appealed to government to take proactive measures to stop such blockages and arrest those that are responsible.
"It is very clear that our appeals have not been heeded and there appears to be no accountability in government for this and we do not see any consequences for those perpetrating these acts," the statement signed by BUSA CEO Cas Coovadia said.
It added that the economic impact of such blockages is obvious, given that the N3 is a critical arterial for the transport of essential and strategic good between Johannesburg and Durban, and to areas like Richards Bay.
"We despair at the silence from the Minister of Transport about this significant disruption of economic activity, at a time when the country needs to instil confidence amongst investors and put SA onto a sustainable growth path. We consider this continued disruption of economic activity a crisis and ask the President to intervene to ensure appropriate resources are mobilised to pre-empt these disruptions and to clear up the current blockage urgently."
BSA said it will be seeking a meeting with the President "to raise our concerns and to get a commitment that this matter will be given the urgent attention it requires."
The Durban Chamber of Commerce & Industry issued its statement on Thursday night calling the truck blockade "an act of economic sabotage."
"Such behaviour cannot become a norm for addressing social issues in South Africa when so many other functional platforms exist.
"These acts cannot only be viewed as acts of sabotage towards the businesses directly affected, but this affects all members of society due to the far-reaching economic consequences."
Chamber president, Palesa Philli said the congestion and road closures were increasing and should no longer be tolerated.
"These factors create uncertainty and delays in freight turnaround times, creating additional costs for businesses and other economic problems."
The KZN Road Traffic Inspectorate said about 200 vehicles were involved in the blockade. Only "moderate" numbers of police were present, the spokesman for the Inspectorate said. "Not what we would have wanted."
Other regional roads were also blockaded, it was reported, including the N12 between Bloemhof and Schweizer Reneke.
Later on Thursday night the blockades were lifted and traffic was able to move freely.
Meanwhile the transport ministry was due to hold a meeting with stakeholders yesterday (Sunday 19 June 2022).
Sign up for Africa Ports & Ships – it's free
Added 20 June 2022
♦♦♦♦♦♦♦♦♦
News continues below
WTO Ministerial Conference MC12 outcomes: The Geneva Package 12-17 June
World Trade Organization (WTO) members successfully concluded the 12th Ministerial Conference (MC12) in Geneva on 17 June, securing multilaterally negotiated outcomes on a series of key trade initiatives.
Known as the Geneva Package this confirmed the historical importance of the multilateral trading system and underlined the important role of the WTO in addressing the world's most pressing issues, especially at a time when global solutions are critical.
Round-the-clock negotiations among delegations produced the Geneva Package, which contains a series of unprecedented decisions on fisheries subsidies, WTO response to emergencies, including a waiver of certain requirements concerning compulsory licensing for Covid-19 vaccines, food safety and agriculture, and WTO reform.
In the words of WTO Director-General Ngozi Okonjo-Iweala (pictured, left with Chairman Suleimenov): "The package of agreements you have reached will make a difference to the lives of people around the world. The outcomes demonstrate that the WTO is, in fact, capable of responding to the emergencies of our time.
"They show the world that WTO members can come together, across geopolitical fault lines, to address problems of the global commons, and to reinforce and reinvigorate this institution. They give us cause to hope that strategic competition will be able to exist alongside growing strategic cooperation."
DG Okonjo-Iweala expressed her conviction that: "Trade is part of the solution to the crises of our time."
She emphasised that the WTO: "Can and must do more to help the world respond to the pandemic, tackle environmental challenges and foster greater socio-economic inclusion."
The package adopted by members included an outcome document and a package on WTO response to emergencies, comprising a Ministerial Declaration on the Emergency Response to Food Insecurity. In addition there was a Ministerial Decision on World Food Programme (WFP) Food Purchases Exemptions from Export Prohibitions or Restrictions.
All documents can be FOUND HERE
Importance of agriculture
Acknowledging the vital importance of agriculture DG Okonjo-Iweala noted that differences on some issues, including public stockholding for food security purposes, domestic support, cotton and market access. In her words: "[This]Meant that we could not achieve consensus on a new roadmap for future work. However, members found a renewed sense of purpose: they are determined to keep at it on the basis of existing mandates, with a view to reaching positive outcomes at MC13."
For her full remarks SEE HERE
The WTO's MC 12 started in Geneva on 12 June 2022 and was initially scheduled to end on 15 June, but was extended by two days to allow more time for negotiations and reaching agreements. Co-hosted by Kazakhstan, the Conference was chaired by Timur Suleimenov, First Deputy Chief of Staff of the Kazakh President.
In his closing remarks, Mr Suleimenov thanked the DG for never giving up. He reflected: "Her determination, her leadership, her perseverance made all the difference. Dr Ngozi, the WTO owes you a great debt."
He continued: "Congratulations to you all. Congratulations on going beyond your national interests and looking to the common good that the WTO embodies, and in doing so, carrying out our shared responsibility to restore confidence in this organization. It is so much needed in these difficult times."
MC13 Cameroon offer to host
The Ministerial Conference requested the General Council to hold consultations with a view to deciding on the date and venue of the 13th WTO Ministerial Conference (MC13). The Chair recalled that the Decision on the Work Programme on Electronic Commerce contains an understanding that MC13 should ordinarily be held by 31 December 2023.
It is understood that two proposals — by Cameroon and the United Arab Emirates — have been received to host the ministerial gathering.

Edited by Paul Ridgway
London
Sign up for Africa Ports & Ships – it's free
Added 20 June 2022
♦♦♦♦♦♦♦♦♦
News continues below
GENERAL NEWS REPORTS – UPDATED THROUGH THE DAY
in partnership with – APO
More News at https://africaports.co.za/category/News/
♦♦♦♦♦♦♦♦♦
THOUGHT FOR THE WEEK
"If you can be Kind and Intelligent at the same time, you will be able to see the complete perspective, normally people are either too kind or too intelligent and that's when they miss the point !"
― 
♠♠♠
News continues below………
♦♦♦♦♦♦♦♦♦
TO ADVERTISE HERE
Request a Rate Card from info@africaports.co.za
EXPECTED SHIP ARRIVALS and SHIPS IN PORT

Port Louis – Indian Ocean gateway port
Ports & Ships publishes regularly updated SHIP MOVEMENT reports including ETAs for ports extending from West Africa to South Africa to East Africa and including Port Louis in Mauritius.
In the case of South Africa's container ports of Durban, Ngqura, Ports Elizabeth and Cape Town links to container Stack Dates are also available.
You can access this information, including the list of ports covered, by  CLICKING HERE remember to use your BACKSPACE to return to this page.
News continues below
CRUISE NEWS AND NAVAL ACTIVITIES

QM2 in Cape Town. Picture by Ian Shiffman
We publish news about the cruise industry here in the general news section.
Naval News
Similarly you can read our regular Naval News reports and stories here in the general news section.
♦♦♦♦♦♦♦♦♦
♠♠♠
ADVERTISING
For a Rate Card please contact us at info@africaports.co.za
Don't forget to send us your news and press releases for inclusion in the News Bulletins. Shipping related pictures submitted by readers are always welcome. Email to info@africaports.co.za
TABLE BAY UNDERWAY SHIPPING
SHIP PHOTOGRAPHERS
Colour photographs
and slides for sale of a variety of ships.
Thousands of items listed featuring famous passenger liners of the past to cruise ships of today, freighters, container vessels, tankers, bulkers, naval and research vessels.
P O BOX 809, CAPE TOWN, 8000, SOUTH AFRICA
snai@worldonline.co.za
http://home.worldonline.co.za/~snai
================================================================