Bringing you shipping, freight, trade and transport related news of interest for Africa since 2002
Stay Well, Stay Safe, Stay Patient, don't become one
Advertise with us. For a Rate Card email terry@africaports.co.za
♠♠♠
Come with us as we report into 2021
♠♠♠
We wish all our readers a very
Happy
New Year 
*

*

*

*

*

*

*

*

*

*
*
TODAY'S BULLETIN OF MARITIME NEWS
These news reports are updated on an ongoing basis. Check back regularly for the latest news as it develops – where necessary refresh your page at www.africaports.co.za
Click on headline to go direct to story : use the BACK key to return
EARLIER NEWS CAN BE FOUND AT NEWS CATEGORIES…….
The Monday masthead shows the Port of Durban Container Terminal by night
♦♦♦♦♦♦♦♦♦
SEND NEWS REPORTS AND PRESS RELEASES TO
info@africaports.co.za
♦♦♦♦♦♦♦♦♦
News continues below
An unusual visitor at the port of Durban this past week was the ice-strengthened general cargo ship VASILIY GOLOVNIN (IMO 8723426) which arrived for hull cleaning. This was after spending a week at the outer anchorage. Owned and operated by Russia's shipping and and transportation company, FESCO, the 13,514-gt ship was built in 1988 and is named after a late 18th/early 19th century Russian naval officer and navigator, Vice Admiral Vasiliy Mikhailovich Golovnin, who early in his career had the distinction of serving under several famous British admirals including Nelson, Collingwood, and Cornwallis. He later saw action against the French while serving under Nelson.
After returning to Russia he was given command of a vessel named Diana in which he set out to explore and circumnavigate the world. Unaware that war had again broken out between the French and English and that this time Russia was siding with France, in 1808 he called at Simon's Town to resupply his ship and was promptly detained by the British at the Cape. Along with his ship and crew, Golovnin was held for more than a year while awaiting clarification on his status from the British authorities in London. In 1809 and with no indication how much longer they would remain under detention, on a day of fair winds and poor visibility the Russians were able to slip their anchor cables and sail quietly away, under the very noses of several British warships. Although pursued later by these, the Diana was able to make good its escape and the feat later became widely-known across the world.
Golovnin led an interesting and adventurous life as a navigator and explorer, including being captured and imprisoned by the Japanese – you can read more of the man and his career in brief form on the Wikipedia page
The ship that bears his name was built as an Antarctic supply ship and amongst its deck 'cargo' is what appears to be a landing craft for use when supplying inaccessible bases in the Deep South or the Far North.  See report below.
The ship pictures are by Trevor Jones (top) & Keith Betts
♦♦♦♦♦♦♦♦♦
♦♦♦♦♦♦♦♦♦
News continues below
BEST OF DEFENCE IMAGERY (UK) 2020
On 26 December as the year was coming to a close we were invited to take a look back at some of the most memorable images of 2020 for the UK Armed Forces.
Here are a few from the Royal Navy's selection. All illustrations MoD Crown Copyright 2020 ©

Collated by Paul Ridgway, London
MoD pics 2020 ONE
Royal Norwegian Navy submarine HNoMS Utsira (S 310), surfacing off the coast of Iceland. Two members of the boat's crew are photographed waving at a Royal Navy photographer, who was on board HMS Kent's Merlin helicopter at the time.
HMS Kent has been involved in a wide array of operations over the last three months, from exercising with the Americans in the Arctic Circle, taking part in Exercise BALTOPS 20 with numerous NATO units to working alongside HMS Queen Elizabeth in the North Sea.
♦♦♦
MoD pics 2020 TWO
The ship's company of HMS Montrose are seen here carrying out a man overboard exercise (MOBEX), using a rigid hull inflatable boat. On 19 January 2020 HMS Montrose conducted a man overboard exercise (MOBEX) after sailing from Bahrain. A MOBEX is always required within 24 hours of a ship sailing. In the event that a man falls over the side an alert will be made and whole ship's reactions will be required.
HMS Montrose is currently carrying out duties patrolling the Persian Gulf, keeping the shipping lanes safe and ensuring that international trade is not threatened. The warship is also carrying out counter narcotic operations for CTF 150.
(Combined Task Force 150 is a multinational coalition naval task force working under the 33-nation coalition of Combined Maritime Forces and is based in Bahrain. It was established to monitor, board, inspect, and stop suspect shipping to pursue the Global War on Terrorism and in the Horn of Africa region including operations in the North Arabia Sea to support those in the Indian Ocean. These activities are referred to as Maritime Security Operations).
♦♦♦
MoD pics 2020 THREE
Every four months the port and starboard crew crews of HMS Montrose rotate; the Starboard crew of HMS Montrose is made up of sailors from HMS Monmouth.
♦♦♦
MoD pics 2020 FOUR
HMS Tamar, seen here steaming past Saint Michael's Mount, Cornwall. Tamar is a Batch 2 River-class offshore patrol vessel of the Royal Navy. She is the seventh British warship ship to be so named and is the fourth Batch 2 River-class vessel to be built. She was commissioned on 4 June 2020.
♦♦♦
MoD pics 2020 FIVE
HMS Queen Elizabeth, as she leads a flotilla of destroyers and frigates from the UK, US and the Netherlands, together with two Royal Fleet Auxiliaries.
The full UK Carrier Strike Group assembled for the first time during Group Exercise 2020 on 4 October. This was said to be the most powerful task force assembled by any European Navy in almost 20 years.
♦♦♦
MoD pics 2020 SIX
Chief Engineering Officer, David Mann, at his station in RFA Argus. A Primary Casualty Receiving Ship of the Royal Fleet Auxiliary Argus is a 100-bed floating medical facility.
The Royal Navy plays an essential part of the UK's military response to support populations affected by hurricanes by providing humanitarian and disaster relief in the Caribbean. When disasters occur, infrastructure and resources can be crippled, with shortages of food and water and a lack of basic services such as sanitation and electricity.
Responding humanely to these life-threatening scenarios is central to the Royal Navy's ethos. The service has the skills, know-how and equipment to make a real difference, however extreme the circumstances and is a self-sustaining, flexible force for good even in the most challenging conditions. The ship's company will work alongside local emergency services re-establishing law and order, restoring water and power, repairing buildings for example hospitals and schools, reopening airstrips and roads.
♦♦♦♦♦♦♦♦♦
News continues below
THE BREXIT DEAL:
Maritime professionals' union Nautilus welcomes approval
Presses for certification confirmation
Nautilus International

is the trade union and professional organisation for maritime professionals at sea and ashore. It represents 20,000 maritime professionals including ship masters, officers, cadets and shipping industry personnel, such as maritime pilots, inland navigation workers, vessel traffic services operators, harbourmasters, seafarers in the oil and gas industry, and shore-based staff.

On 30 December Nautilus International announced that it has cautiously welcomed approval of the future trade agreement with the European Union (EU) by the House of Commons (UK Parliament, Lower House).

While the deal does not include many of the assurances that the Union had been seeking during the last four years, it does mean that a no-deal Brexit has been avoided.

Continuation of tariff-free trade with the EU will come as a relief to the UK maritime sector, especially in light of the problems that delays in trade can cause, as was seen when many countries closed borders to the UK due to a new variant of the Covid-19 virus just before Christmas.

However, while the agreement will avert some of the likely downside caused by the UK defaulting to World Trade Organization rules on 1 January 2021, Nautilus has warned that much of the detail still needs to be resolved before the full impact on the UK maritime sector, and UK seafarers, can be fully understood.

The 1,240-page agreement was finally reached by the EU and UK on Christmas Eve, and passed by the UK Parliament on 30 December, just two days before the New Year's Day deadline. This has left very little time for the maritime sector to adjust to any unexpected arrangements to cross border trade, which the Nautilus has warned will lead to a bumpy road ahead.

Commenting on the situation on 30 December, Nautilus general secretary Mark Dickinson said: "We have been clear from the start that a no-deal Brexit would have serious implications for UK seafarers and the UK maritime sector more widely, so we welcome the fact that this deal has been approved.

"However, our members working on ships of other EU shipping registers still need reassurances that their Certificates of Competency will continue to be recognised and what steps will be taken to expedite this recognition.

"Alongside this, the UK government needs to stand by its commitment to maintaining standards and parity with Europe on for example social and employment standards and not engage in a new race to the bottom."
Edited by Paul Ridgway
London
♦♦♦♦♦♦♦♦♦
News continues below
FURTHER UPDATE ON THE MOVEMENTS OF RUSSIAN VESSEL VASILIY GOLOVNIN
An update by
Jay Gates

on the movements of the Vasiliy Golovnin, which include the likelihood of seeing her back in SA waters shortly. See earlier reports immediately below this report, in addition to those viewed  HERE

The following is the proposed sailing schedule for the ship, under the command of Captain Iksan Yusupov, which may however change again as a result of Covid restrictions in SA announced on Monday (28 December). Vasiliy Golovnin was due to sail with 42 members of the Indian Antarctic Expedition on board. Here's hoping the details remain unaltered…

Goa ETA 26/Dec/20 ETD 31/Dec/20
Cape Town ETA 20/Jan/21 ETD 23/Jan/21
Bharati (69S 42E) ETA 7/Feb/21 ETD 24/Feb/21
Maitri (70S 11E) ETA 7/Mar/21 ETD 24/Mar/21
Cape Town ETA 5/Apr/21 ETD 8/Apr/21
Goa ETA 28/Apr/21

The other two Russian Antarctic supply ships that are Cape Town regulars, which operate for the Russian Antarctic Expedition, are Akademik Tryoshnikov and Akademik Federov. The Akademik Tryoshnikov has come and gone already (over Christmas) and is not scheduled to return. She was due to depart Cape Town and sail for Molodozhnaya (67S 46E) on 26 December. Details may have changed over the Christmas break.

The Akademik Federov is running a late Antarctic resupply season schedule, with three Cape Town visits planned, as follows…

St. Petersburg ETD 14/Jan/21
Cape Town ETA 13/Feb/21 ETD 16/Feb/21
Mirnyy (66S 93E) ETA 28/Feb/21 ETD 3/Mar/21
Progress (69S 76E) ETA 6/Apr/21 ETD 10/Apr/21
Cape Town ETA 23/Mar/21 ETD 26/Mar/21
Progress (69S 76E) ETA 6/Apr/21 ETD 10/Apr/21
Novolazarevskaya (70S 11E) ETA 18/Apr/21 ETD 23/Apr/21
Bellingshausen (62S 58W) ETA 30/Apr/21 ETD 4/May/21
Cape Town ETA 14/May/21 ETD 17/May/21
St. Petersburg ETA 14/Jun/21

It will be interesting, in light of the failure of the Vostok aspect of the expedition, if she does now make two calls at Progress.

The third regular Russian Antarctic vessel, the research ship Akademik Aleksandr Karpinskiy, is still lying alongside in Cape Town but I am not aware of her planned future movements, if any, as of yet.

One other Antarctic resupply ship passed through Cape Town over Christmas. The Malik Arctica, on charter to the Norwegian Polar Institute, sailed on 21 December for Troll (72S 02E). She is due back in Cape Town just after mid January.

S.A. Agulhas II also sailed for SANAE over the Christmas break, with the team members of the 60th South African Antarctic Expedition.

by Jay Gates
Cornwall, UK
♦♦♦♦♦♦♦♦♦
News continues below
RUSSIAN VISITORS IN SOUTH & SOUTHERN AFRICAN WATERS
In this current edition, the 'Front Page' photographs at the top of the news pages feature the Russian ice breaking cargo ship VASILIY GOLOVNIN. The additional information and comments that follow are courtesy of Mr Jay Gates, who has been an occasional correspondent to Africa PORTS & SHIPS and who now resides in the UK.
Mr Gates writes:
The 13 December edition started off with another of the stunning photographs of the Russian VASILIY GOLOVNIN arriving at Durban for some minor hull maintenance. She is a 1988 built Vitus Bering class icebreaking cargo ship of the Far East Shipping Company, based in Vladivostok, and she is in South African waters to prepare for her next Antarctic mission, but not for the Russians.
This is the third year that Vasiliy Golovnin has been chartered by the Indian Antarctic Expedition (NCPOR) to resupply the Indian Antarctic bases of Bharati and Maitri. After completion of her maintenance in Durban she sailed for Cape Town to load all the supplies, equipment, food and fuel destined for the Indian bases, plus take on some Indian Antarctic research scientists. She is due to sail from Cape Town at the end of December and is expected to return to Cape Town in April 2021.
Your Cape Town correspondent mentioned the 1980 built KAPITAN DRANITSYN (IMO 7824405) arriving in Cape Town in early December. The Kapitan Dranitsyn is a pure icebreaker and operated by the Murmansk Shipping Company. She was on charter to the Russian Antarctic Expedition, and not operating for any tourist company. She was carrying over 90 construction workers, Engineers and Technicians who were being taken to the Russian 'Progress' station in Antarctica where they were to be involved in the construction of the new Russian 'Vostok' base.
All of the components of the new 'Vostok' base were being transported to Antarctica by the 1988 built Murmansk Shipping Company icebreaking vessel SEVMORPUT (IMO 8729810). Both ships were due to arrive at 'Progress' in early November to start the work.
However, the Sevmorput, which is the only nuclear powered cargo ship in the world, suffered a propeller blade loss en route south, whilst north of Angola. She ended up off Luanda waiting for a team of divers to fly out from Russia to try and repair the damage.
What Sevmorput really needed was a drydock as trying to repair a propeller in the open ocean is nigh on impossible. Unfortunately, she could not proceed to Cape Town for a drydocking due to the South African government not allowing nuclear powered ships into South African ports. The Sevmorput had no choice but to turnaround and head back to St Petersburg.
This meant the 'Vostok' construction programme had to be cancelled and the team on Kapitan Dranitsyn were no longer required and so she also headed north for home, with a refuel at Cape Town en route, and hence why it was unusual for a northbound Antarctic vessel to be calling at Cape Town in early December, which is the start of the season!
The cancellation of the mission, and the problems with Sevmorput were kept very quiet by the Russian authorities (very Soviet!) as this was quite a catastrophic failure of their programme, an extremely costly failure and would be considered very embarrassing for them.
The programme is now delayed for a year. The new 'Vostok' base is clearly modelled on the British Antarctic Survey base at 'Halley', which itself was manufactured and tested in Cape Town.
Cape Town was, is and will continue to be the 'Gateway to Antarctica' for many nations.
I am still enjoying keeping abreast of all SA maritime news despite now being in Cornwall. Great publication, and extremely educational, as always.
Jay Gates
Cornwall, UK
UPDATE: 23 December 17h00.   According to a Vesselfinder AIS report the Vasiliy Golovnin is currently heading for the Indian port of Goa with an ETA of Saturday, 26 December 2020.  Judging by this we can assume that, due to the upsurge in cases of the coronavirus being reported across South Africa, together with confirmation of a variant of the virus being the cause of the upsurge which is leading to cancelled international flights to and from South Africa, that the ship is sailing to India to collect the Indian Antarctic team described above by Mr Gates.  From there the ship will be able to sail direct to Antarctica, or call at Cape Town en route if there is cargo to be loaded for the Indian Antarctic base.
♦♦♦♦♦♦♦♦♦
News continues below
TWO MORE SHIPS ATTACKED BY PIRATES IN GULF OF GUINEA
Two more ships have been attacked and boarded by pirates in the Gulf of Guinea during the past week, further raising the risk profile of these waters, with Maersk Line calling for action to be taken to prevent further attacks.
The latest attack, according to Dryad Global, was on the Maltese-flagged container ship PORT GDYNIA (IMO 9526459) as the ship was sailing from the port of Lomé to Bata. This latest attack took place on Monday, 21 December at 04h10 UTC and in position 02° 37N 005° 37E, which is 95 nautical miles south of Brass.
An unknown number of pirates boarded the 220-metre long ship. According to Dryad, details regarding the welfare of the crew remain unknown at this time.
Two days earlier, on Saturday 19 December another container ship, the MAERSK CADIZ (IMO 9526459) was approached by pirates and boarded while sailing 118 n.miles south-west of Bonny Island, in position 02° 39N 006° 14E.
The Singapore-flagged 249-metre Maersk Cadiz was in transit between the port of Tema in Ghana and Kribi in Cameroon when this happened at 14h06 UTC. On Sunday 20 December Maersk Line confirmed the attack by pirates and reporting that all 21 of the crew were safe and unharmed. No crew were kidnapped, which indicates they had probably sought shelter in the ship's citadel.
However, Maersk was scathing of the matter, calling the pirates a gang of criminals. "We are very concerned about the increased security risk from armed attacks on merchant vessels in the area," said Palle Laursen, Maersk's chief technical officer.
"The risk has reached a level where local governments and the international community must take action to deal effectively with an unacceptable situation."
It appeared that the Nigerian Navy responded by sending patrol vessels to the scene but by then the pirates had departed the scene. It appears from ongoing experiences in this region that regional naval forces often do not arrive in time to intervene when reports are made of ships being boarded.
It is significant that on several occasions when various European naval ships have conducted anti-piracy interdictions during 2020, including ships of the Spanish, Portuguese and Italian navies, they have frequently arrived as first responders with the result of preventing several commercial ships from being boarded. sources:    Dryad Global, Maersk Line, AP&S
♦♦♦♦♦♦♦♦♦
News continues below
MORE STATES JOIN CALL TO DESIGNATE SEAFARERS AS KEY WORKERS – IMO
The International Maritime Organization (IMO) has welcomed the fact that forty-five IMO Member States, including six from Africa, and one Associate Member* have now designated seafarers as key workers, which it says is a key step in resolving the ongoing crew change crisis.
In a circular letter (4204/add.35) issued on 14 December, IMO Secretary-General Kitack Lim called on Member States that have not yet done so to take action as a matter of urgency.
The IMO points out that key worker designation for seafarers is essential to exempt these professionals from specific COVID-related travel restrictions, allowing them to travel between their country of residence and ships, and to be repatriated at the end of their contracts.
Announcing this before the latest development of a variant of the coronavirus that is resulting is more stringent lockdowns, the IMO said in a statement that the key worker designation is critical to resolve the crew change crisis, which currently leaves hundreds of thousands of seafarers (an estimated 400,000) trapped at sea or stuck at home and unable to join ships.
It could even play a key role in granting them priority access to safe vaccination, said the IMO.
The plight of stranded seafarers is highlighted in an IMO video featuring seafarers who describe the challenges they have faced due to the pandemic, and the impacts of the ongoing crew change crisis on their physical and mental health.
Resolutions urging Governments to designate seafarers as key workers have been adopted by IMO, the United Nations General Assembly and the International Labour Organization (ILO).
Member States to have designated seafarers as key workers:
Azerbaijan, Bahamas, Bangladesh, Barbados, Belgium, Brazil, Canada, Chile, Cyprus, Denmark, France, Gabon, Georgia, Germany, Ghana, Greece, Indonesia, Iran (Islamic Republic of), Jamaica, Japan, Kenya, Kiribati, Liberia, Marshall Islands, Moldova, Montenegro, Myanmar, Netherlands, New Zealand, Nigeria, Norway, Panama, Philippines, Republic of Korea, Romania, Saudi Arabia, Singapore, South Africa, Spain, Sweden, Thailand, United Arab Emirates, United Kingdom, United States, Yemen.
* Associate Member: Hong Kong (China)
♦♦♦♦♦♦♦♦♦
News continues below
NEW SHIPPING SERVICES ANNOUNCED FOR EUROPE – MIDDLE EAST & INDIAN SUB-CONTINENT VIA RED SEA CALL
Several new services between Europe, the Middle East and the Indian Sub-Continent have been announced that include Egypt and Red Sea calls, involving a number of shipping lines and commencing in January 2021.
The Hapag-Lloyd designations for these services are improved IOS, GEM and IMX services, as well as introducing a new IO3 service. Hapag-Lloyd's 's involvement and offering of the IO2 service is being terminated, with the last sailing being WB voyage IP053R, ETD PKBQM on 31 December 2020.
"With the revised services we are offering an optimal geographic coverage with direct and best in class connectivity from North Europe and the Mediterranean to and from the Middle East and Indian Subcontinent," said Marc-Simon Vick, Senior Director Trade Management Middle East.
Indian Ocean Service (IOS) and Indian Ocean Service 3 (IO3)
Hapag-Lloyd will be offering IOS and IO3 as direct services between North Europe and the Middle East and Indian Sub-continent. The new setup is provided by way of vessel sharing agreement comprising Hapag-Lloyd, CMA CGM, COSCO and ONE.
Each weekly service will be made up of eight 8,500 TEU vessels, with Hapag-Lloyd contributing seven vessels overall. On IOS, round voyage transit-time will be reduced therefore reinforcing the schedule reliability.
The rotations will be as follows:
IOS
Rotterdam – Hamburg – London Gateway – Antwerp – Tangier – Jeddah – Jebel Ali – Karachi – Nhava Sheva – Hazira – Mundra – Jeddah – Tangier – Rotterdam
♠♠♠♠♠
IO3
Southampton – Bremerhaven – Rotterdam – Antwerp – Le Havre – Algeciras – Jeddah – Jebel Ali – Abu Dhabi – Port Qasim – Nhava Sheva – Mundra – Jeddah – Tangier – Southampton
♠♠♠♠♠
Gulf East Mediterranean Service (GEM)
The GEM service will be upgraded and run with seven 9,000 TEU vessels operated with Hapag-Lloyd, CMA CGM and COSCO with Hapag-Lloyd providing three vessels in the service.
The rotation remains as follows:
Mersin – Piraeus – Izmit – Istanbul – Aliaga – Iskenderun – Damietta – Jeddah – Jebel Ali – Hamad – Dammam – Jubail – Jebel Ali – Jeddah – Port Said
♠♠♠♠♠
Indian Subcontinent Mediterranean Express (IMX)
The IMX service will be operated with eight 7,500 TEU vessels jointly operated with Hapag-Lloyd, CMA CGM and COSCO with Hapag-Lloyd providing four vessels in the service.
The rotation will be as per follows:
Piraeus – Marsaxlokk – Genoa – Valencia – Barcelona – Fos – Genoa – Marsaxlokk – Damietta – Aqaba – Jeddah – Hamad – Jebel Ali – Karachi – Nhava Sheva – Mundra – Jeddah – Piraeus
According to Hapag-Lloyd, these announcements are subject to further changes and additional details, which would be provided in due course.
♦♦♦♦♦♦♦♦♦
News continues below
APPLAUSE FOR SECURITY OPERATION AGAINST CABLE & FUEL THEFT
Earlier this month Transnet issued another statement applauding the continuing security operation against the ongoing cable and fuel theft in South Africa.
Transnet in its several divisions has suffered heavily with theft of overhead cables from the country's rail network, which in places has crippled some rail operations, and the thieving of fuel direct from the pipelines extending from the port at Durban inland to the Gauteng distribution points.
Brazen theft of the latter sees tanker trucks stopping alongside the pipeline which is tapped into to access whatever fuel happens to be pumped at that time. In a recent case in the Durban area the pipeline was broken into allowing diesel fuel, then being pumped inland, to run freely into the nearby uMbilo river from where it ran into Durban harbour, polluting both the river system and the Bayhead region of Durban Bay.
In its recent statement Transnet SOC Ltd, the parent company of Transnet Pipelines and Transnet Freight Rail, as well as the National Ports Authority, said that a joint security operation resulted in the recovery of two tonnes of copper cables with a value of about R250,000 in Newcastle in northern KZN. One suspect was arrested.
Between August and November 2020, 281 suspects linked to cable theft have been arrested across the country, Transnet SOC said.
Several other suspects were arrested in two separate fuel thefts in Ogies in Mpumalanga province.
According to Transnet, the theft of overhead cables on Transnet Freight Rail's (TFR) railway line and siphoning of fuel from the Transnet Pipelines network has reached unprecedented levels in recent times.
"This not only has a negative impact on the company, but also has a knock-on impact on Transnet's customers and the economy as a whole," Transnet said in its statement.
Transnet appealed to the public to report fuel theft, railway equipment theft, vandalism of its infrastructure and any suspicious activities near the company's operations by calling the following toll free numbers:
*   For pipeline incidents: 0800 203 843
*   For railway infrastructure: 0800 000 3056
Suspicions or reports can also be made via an email to transnet@tip-offs.com or by reporting the matter to the nearest police station.
♦♦♦♦♦♦♦♦♦
News continues below
UK retailers and food manufacturers demand inquiry into port disruption
*
Continuing disruption at UK ports is affecting customers and retailers in the run up to Christmas.
*

British Retail Consortium and the Food and Drink Federation call on MPs to launch inquiry.
*

Shipping costs have risen by as much as 25% week-on-week due to logjam.
The British Retail Consortium (BRC) and the Food and Drink Federation (FDF) have written to Lilian Greenwood MP, Chair of the Commons Transport Select Committee, and Angus Brendan MacNeil MP, Chair of the Commons International Trade Committee, to request an urgent inquiry into the ongoing disruption at UK ports and across the shipping market.
The impact of Covid-19 on global shipping schedules and the shipping workforce along with a shortage of empty containers has created significant disruption at many of the UK's key ports in the crucial run up to Christmas. This has meant retailers face "major challenges in building up stock for the Christmas period and for the end of the transition period at the end of December."
The letter points to the significant impact that disruption is having on shipping-related costs, noting that "container spot rates have jumped considerably – in one instance, by 170% from this time last year. Others have noted week-on-week cost rises of 25%. In addition, congestion charges are being levied by carriers for imports into Felixstowe and Southampton."
Food manufacturers have been badly affected by the delays. "Food manufacturers now face additional cost to source key inputs elsewhere, whilst also losing sales due to missed retail promotions in the run up to a key seasonal period – one company has lost over £1 million in sales due to the delays."
The BRC previously wrote to the Secretary of State for Transport on the 20 November to call for action. At the behest of the BRC and other organisations, the Government temporarily relaxed the enforcement of EU drivers' hours rules until 31 December to help delivery of essential items and reduce the backlog in some ports.
Retailers and their supply chains are working tirelessly to build stock ahead of the festive season and the end of the transition period, including redirecting consignments to other ports. However, some delays are inevitable. Once the Brexit transition period ends, UK ports will be placed under even greater pressure.
The letter requests the Transport Select Committee holds a joint-inquiry with the Commons International Trade Committee on Port Disruption and Functioning of the Shipping Market. Such an inquiry would give affected businesses the opportunity to set out how the disruption has impacted their operations and could help support planning and troubleshooting of this crucial issue.
Helen Dickinson, Chief Executive of the British Retail Consortium said: "The lead up to Christmas is the most important time of year for retailers; ordinarily accounting for up a fifth of the entire year's sales and generating a large part of annual revenues. After a tremendously challenging 2020, many firms' cashflows are under severe pressure, and so businesses are in no position to absorb these additional shipping costs.
"As a result, consumers will pay the final price. Christmas orders could be delayed, and retailers might be left with no option but to increase product prices. These issues must be addressed urgently; an inquiry would provide the scrutiny needed to help get our ports flowing freely again."
Tim Rycroft, Chief Operating Officer of the Food and Drink Federation, added: "Food and drink manufacturers are extremely concerned about the delays we are witnessing at the ports. Our members are incurring costs totalling tens of thousands of pounds, and in some cases hundreds of thousands. In some cases, it is directly impacting on the ability of businesses to build up stockpiles of products and ingredients ahead of the end of the transition period."
Edited by Paul Ridgway
London
2020-12-18
♦♦♦♦♦♦♦♦♦
News continues below
US DONATES EQUIPMENT TO NIGERIAN NAVY TO HELP COMBAT PIRACY
It is reported by Dryad Global that the United States government has handed over maritime equipment to the Nigerian Navy to assist with securing maritime safety in the Gulf of Guinea.
Described as Regional Maritime Awareness Capability (RMAC), Nigerian Navy's Chief Staff Officer, Rear Admiral Tanko Pani, said the handing over of equipment was part of measures aimed at re-activating and sustaining the operations of the RMAC facilities donated to the NN some years ago.
"This will greatly mitigate the operational deficiencies occasioned by lack of spares in the recent past," the admiral said.
He added that the introduction of the RMAC facilities in the NN had greatly assisted in enhancing its maritime policing efforts through intelligent based patrols.
"It reduces the cost of logistics, which hitherto was the case when we go on blind patrols looking for targets of opportunity," Admiral Pani said.
Among the Nigerian Navy fleet are two former US Coast Guard cutters now serving as small patrol frigates with the NN.
Claire Pierangelo, Consular General, US Embassy, said the US Government is supporting the Nigerian Navy with equipment to secure the threats in the Gulf of Guinea, especially with rising piracy.
"The US is committed to supporting the navy and its effort to secure its territorial waters but also the larger Gulf of Guinea. You are uniquely placed here and your responsibilities are greater than many of your neighbouring countries." source: Dryad Global
2020-12-16
♦♦♦♦♦♦♦♦♦
News continues below
PIRACY: YET ANOTHER SHIP ATTACKED, 8 CREW ABDUCTED
Dryad-global has reported yet another ship having been attacked and boarded by pirates in the Gulf of Guinea. This is the third such report in two days and the ninth this December. This was the 27th kidnapping, with a total number of 138 persons kidnapped in Gulf of Guinea in 2020.
The latest attack to be reported took place 28 nautical miles south-west of the port of Brass in Nigeria, in position 03° 50N 006°09E and took place this morning, Wednesday 16 December, at 07h45 UTC.
The vessel involved is another Cameroonian-flagged general cargo feeder vessel just 52-metres in length named STEVIA (IMO 8107000), which was sailing between Port Harcourt and Abidjan when boarded.
An unknown number of pirates boarded the vessel and when they departed a short while afterward they abducted eight members of the crew, taken away as hostages and for ransoming purposes.
As Dryad comments, there has been a surge of incidents in the past five weeks, resulting in an increased risk rating for the Gulf of Guinea HRA to CRITICAL on 11 November.
Vessels are advised to operate within this area at a heightened posture maintaining the highest levels of vigilance whilst implementing full hardening / mitigation in accordance with BMP West Africa where possible. In addition the IMB advises that vessels remain at least 200nm-250nm offshore where possible.    source: Dryad Global
2020-12-16
♦♦♦♦♦♦♦♦♦
News continues below
PIRATES STRIKE TWICE AT SHIPS IN GULF OF GUINEA – MT NEW RANGER
A boarding by pirates of the tanker NEW RANGER (IMO 9328326) 160 nautical miles SW of Brass, Nigeria has been reported by Dryad Global.
The 127-metre long tanker was approached and boarded in position 02°00N 004°33E on Tuesday, 15 December at 03h37 UTC as the vessel was underway in the Gulf of Guinea.
Initial reports lodged at 10h55 today indicate the ship's crew are all safe and the incident has been concluded, i.e the pirates have departed from the ship.
Dryad points out that this is the second incident this week in the Gulf of Guinea and the sixth time this particular tanker has been boarded by pirates. According to Dryad New Ranger was boarded in June and September 2011, January 2015 and most recently on 5 and 6 December this year.
2020-12-15
♦♦♦♦♦♦♦♦♦
News continues below
PIRATES ATTACK CEMEROON-REGISTERED CAP SAINT GEORGES, 5 CREW KIDNAPPED
In a second pirate attack on a ship reported today (Tuesday 15 December 2020), Dryad Global reports that the Cameroon-registered fishing trawler CAP SAINT GEORGES (IMO 7312529) was attacked and boarded in position 04°37.4N 004°38.12E, 48 n.miles west of Bayelsa.
It is reported that five of the ship's crew have been kidnapped (3 Cameroonians, 1 Ghanaian, 1 Sierra Leonian).
This attack took place earlier on 10 December 2020 at 08h00 UTC. Following the pirates having left the scene, the small (48m long) Cap Saint Georges was able to continue its voyage to Lomé where it has arrived safely on 13 December. source: Dryad Global
2020-12-15
♦♦♦♦♦♦♦♦♦
News continues below
WHARF TALK: SAECS Service updates
Ship phase-out & replacement
The South Africa-Europe Container Service (SAECS) is performing a further exchange of a ship in early January, as follows:
This applies to the vessel SAN VICENTE on voyage 210A which will be phased out of the SAECS SRX service in the port of Tangier on 6 January 2021.
The replacement vessel, SANTA ISABEL on v.210S will phase into the service in Algeciras, 3 January 2021.
The Algeciras imports from San Vicente v.205B will discharge in Rotterdam for connection onto M/V Santa Rita v.206A ETA 27 December 2020.
North Europe exports will load to the San Vicente v.210S, discharging in Tenerife to connect with the Santa Isabel v.210A.
Schedules as below:
San Vicente 205B/210S:
ARRIVAL PORT                    DEPARTURE
5 Dec      Cape Town             8 Dec 2020
21 Dec     Rotterdam              21 Dec
23 Dec    London Gateway   24 Dec
27 Dec    Bremerhaven          28 Dec
29 Dec    Rotterdam              30 Dec
OMIT      Algeciras TTI           OMIT
OMIT      Algeciras APM        OMIT
3 Jan       Tenerife                   5 Jan
6 Jan       Tangier                    7 Jan
Santa Isabel 210S:
ARRIVAL PORT                    DEPARTURE
3 Jan       Algeciras TTI          3 Jan
6 Jan      Tenerife                   8 Jan
17 Jan     Cape Town              18Jan
SRX SERVICE UPDATE – M/V AKADIMOS V. 205A
Advisory
Due to bad weather in the Bay of Biscay, the container vessel AKADIMOS on v.205A will omit her Cape Town Southbound call and sail directly to Ngqura.  Cape Town cargo will be discharged on the 2nd Cape Town (Northbound) call ETA on Thursday 7 January 2021.
2020-12-15
♦♦♦♦♦♦♦♦♦
News continues below
Tunisia: support to boost maritime security
As we all know proper implementation of IMO's maritime security measures is essential for trade.
Now Tunisia is the latest country to benefit from training on the ISPS Code for port personnel with security duties.
Early in December IMO reported that a national workshop in Sfax, Tunisia held from 30 November to 4 December brought together 26 port personnel and representatives of all entities involved in maritime and port security.
It was the intention of the workshop to provide the knowledge required for port facility personnel with designated security duties. Those duties are linked to a Port Facility Security Plan (PFSP), in order to meet the requirements of maritime security regulations in Chapter XI-2 of the SOLAS Convention, the International Ship and Port Facility (ISPS) Code, the International Maritime Dangerous Goods (IMDG) Code, the IMO/ILO Code of Practice on Security in Ports, IMO guidelines on security-related training and familiarization for port facility personnel (MSC.1/Circ.1341) and best practices in the security industry.
The workshop included practical exercises and role playing. It was organised by IMO and the Ministry of Transport and Logistics of Tunisia, under the auspices of IMO's Global Maritime Security Programme.
Relative IMO documentation
*For documentation in connection with the IMO Global Maritime Security integrated technical cooperation programme readers are invited to CLICK HERE
*   For the Code of Practice on Security in Ports CLICK HERE
*   For Guidelines on Security-related Training and Familiarization for Port Facility Personnel CLICK HERE

Gulf of Guinea: supporting maritime security
On 4 December IMO reported that it had taken part in the annual plenary meeting of the G7 Group of Friends of the Gulf of Guinea (G7++ FoGG) which focuses on dealing with illegal activities at sea in the Gulf of Guinea.
Over the period 1-3 December the online event included discussions on how the Yaoundé Code of Conduct will function in the future. The Code's primary objective is to manage and considerably reduce the adverse impacts from piracy, armed robbery against ships and other illicit maritime activities. It was adopted in 2013.
In his opening remarks, IMO Secretary-General Kitack Lim highlighted the urgency of the security situation in the Gulf of Guinea and the need for cooperation. He also reiterated that: "IMO, in collaboration with the G7++ Friends of the Gulf of Guinea, will continue to support training and other capacity-building activities for individual Gulf of Guinea states as well as cooperative regional efforts."
Speaking at the event, IMO's Acting Head of the Maritime Security Section, Gisela Vieira, emphasised that IMO is continuing to work with Member States via virtual platforms, despite much of the in-the-field work being suspended due to the COVID-19 pandemic. For example, IMO's Gulf of Guinea expert has conducted several virtual meetings with the Inter-regional Coordination Centre (ICC) to discuss implementation, sustainability and to assess a possible need for revision of the Yaoundé Code of Conduct framework.
The FOGG was hosted under the Co-Chairmanship of the United States and Gabon, with more than 80 participants from G7++ FoGG countries including those in West and Central Africa, international organizations and industry taking part. The co-chairs in 2021 will be the UK and Senegal.
Reported by Paul Ridgway
London
Text based on material kindly provided by the IMO Media service.
2020-12-14
♦♦♦♦♦♦♦♦♦
News continues below
RUSSIAN NAVAL BASE PLANNED FOR SUDAN
According to reports by the BBC, Details have emerged of an agreement between Khartoum and Moscow for Russia to establish a naval base on Sudan's Red Sea coast.
The deal, signed two weeks ago, will allow Russia to keep up to four naval ships, including nuclear-powered vessels, in Port Sudan for the next 25 years.
This is yet another step by the major powers to extend their geopolitical influence onto and into the African continent and for Russia, to reassert its own standing and influence.
Further south in the enclave of Djibouti several major international powers have used various excuses to establish their military presence, including the USA and China.
For Russia, this is another opportunity of asserting itself its role in international affairs. Russia suffered a series of setbacks this year in its backyard, including the defeat last month of its traditional ally Armenia by Turkey-backed Azerbaijan.
Turkey is another power that has been extending its influence in several African countries in the region of Sudan and further south.
According to the BBC, in 2017, on his first visit to Russia, Sudan's former president, Omar al-Bashir asked President Vladimir Putin to "protect" his country from United States' aggression.
Mr Bashir has since been ousted from power and is being held in prison in Khartoum. On Monday this week (14 December) the United States formally removed Sudan's designation as a "state sponsor of terrorism", 27 years after putting the country on its blacklist.
Reports said the move could help the African country get international loans to revive its battered economy and end its pariah status.   Sources: BBC & Aljazeera
2020-12-14
♦♦♦♦♦♦♦♦♦
News continues below
IN CONVERSATION: Arctic Ocean: climate change is flooding the remote north with light – and new species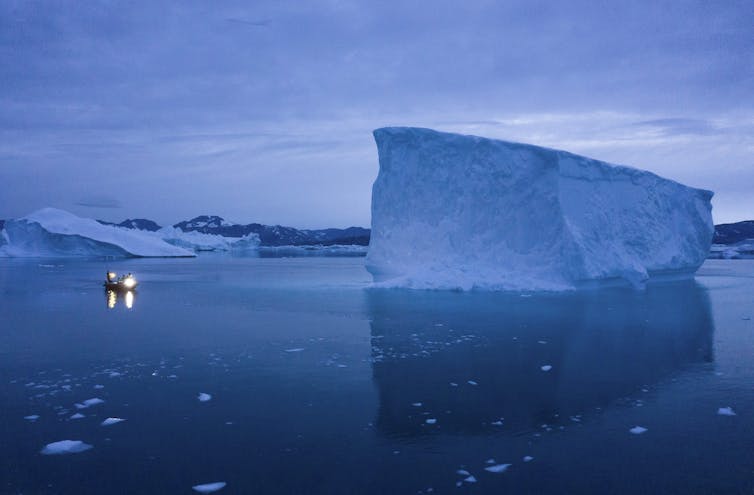 At just over 14 million square kilometres, the Arctic Ocean is the smallest and shallowest of the world's oceans. It is also the coldest. An expansive raft of sea ice floats near its centre, expanding in the long, cold, dark winter, and contracting in the summer, as the Sun climbs higher in the sky.
Every year, usually in September, the sea ice cover shrinks to its lowest level. The tally in 2020 was a meagre 3.74 million square kilometres, the second-smallest measurement in 42 years, and roughly half of what it was in 1980. Each year, as the climate warms, the Arctic is holding onto less and less ice.
The effects of global warming are being felt around the world, but nowhere on Earth are they as dramatic as they are in the Arctic. The Arctic is warming two to three times faster than any other place on Earth, ushering in far-reaching changes to the Arctic Ocean, its ecosystems and the 4 million people who live in the Arctic.
---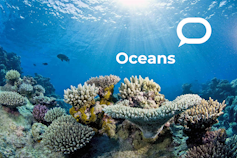 This story is part of Oceans 21
Five profiles open our series on the global ocean, delving into ancient Indian Ocean trade networks, Pacific plastic pollution, Arctic light and life, Atlantic fisheries and the Southern Ocean's impact on global climate. All brought to you from The Conversation's international network.
Some of them are unexpected. The warmer water is pulling some species further north, into higher latitudes. The thinner ice is carrying more people through the Arctic on cruise ships, cargo ships and research vessels. Ice and snow can almost entirely black out the water beneath it, but climate change is allowing more light to flood in.
Artificial light in the polar night
Light is very important in the Arctic. The algae which form the foundation of the Arctic Ocean's food web convert sunlight into sugar and fat, feeding fish and, ultimately, whales, polar bears and humans.
At high latitudes in the Arctic during the depths of winter, the Sun stays below the horizon for 24 hours. This is called the polar night, and at the North Pole, the year is simply one day lasting six months, followed by one equally long night.
Researchers studying the effects of ice loss deployed moored observatories – anchored instruments with a buoy — in an Arctic fjord in the autumn of 2006, before the fjord froze. When sampling started in the spring of 2007, the moorings had been in place for almost six months, collecting data throughout the long and bitter polar night.
What they detected changed everything.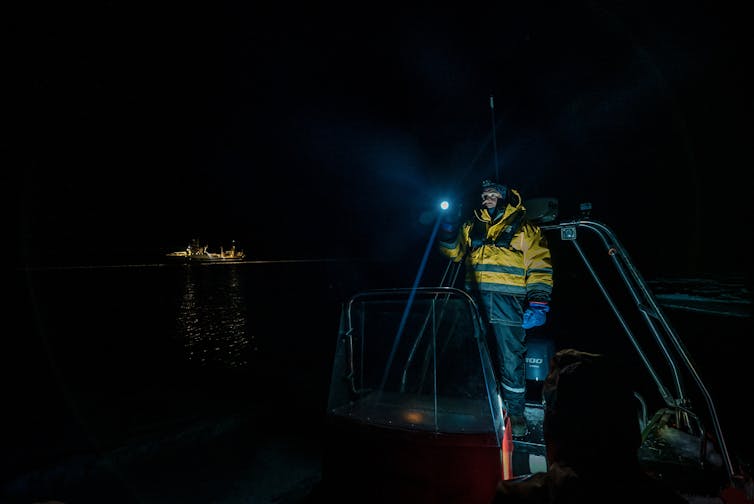 Life in the dark
At that time, scientists assumed the polar night was utterly uninteresting. A dead period in which life lies dormant and the ecosystem sinks into a dark and frigid standby mode. Not much was expected to come of these measurements, so researchers were surprised when the data showed that life doesn't pause at all.
Arctic zooplankton — tiny microscopic animals that eat algae — take part in something called diel vertical migration beneath the ice and in the dead of the polar night. Sea creatures in all the oceans of the world do this, migrating to depth during the day to hide from potential predators in the dark, and surfacing at night to feed.
Organisms use light as a cue to do this, so they shouldn't logically be able to during the polar night. We now understand the polar night to be a riot of ecological activity. The normal rhythms of daily life continue in the gloom. Clams open and close cyclically, seabirds hunt in almost total darkness, ghost shrimps and sea snails gather in kelp forests to reproduce, and deep-water species such as the helmet jellyfish surface when it's dark enough to stay safe from predators.
For most of the organisms active during this period, the Moon, stars and aurora borealis likely give important cues that guide their behaviour, especially in parts of the Arctic not covered by sea ice. But as the Arctic climate warms and human activities in the region ramp up, these natural light sources will in many places be invisible, crowded out by much stronger artificial light.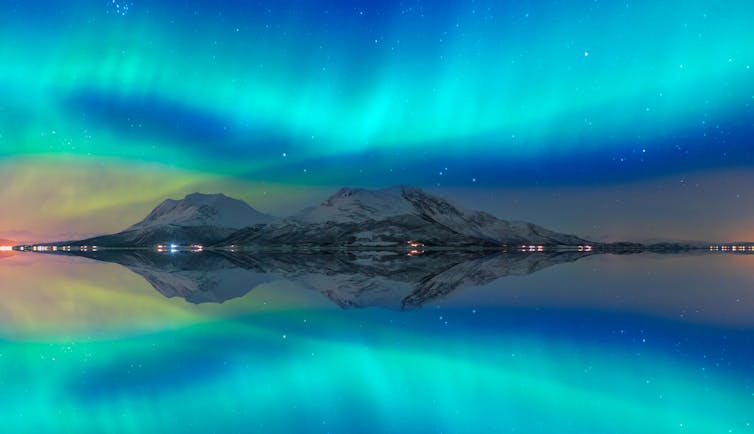 Artificial light
Almost a quarter of all land masses are exposed to scattered artificial light at night, as it's reflected back to the ground from the atmosphere. Few truly dark places remain, and light from cities, coastlines, roads and ships is visible as far as outer space.
Even in sparsely populated areas of the Arctic, light pollution is noticeable. Shipping routes, oil and gas exploration and fisheries extend into the region as the sea ice retreats, drawing artificial light into the otherwise inky black polar night.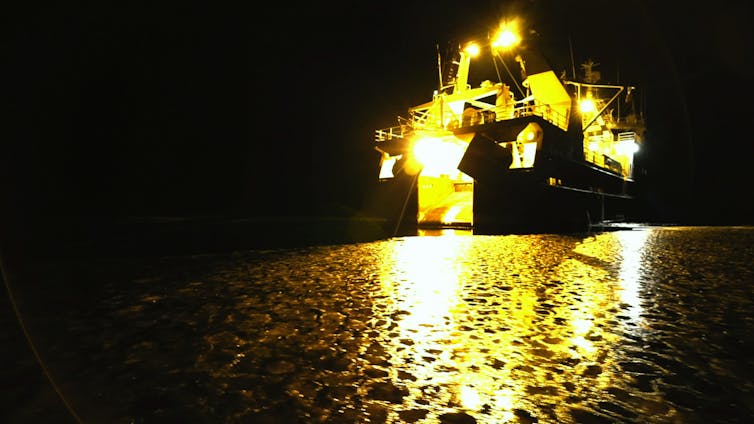 No organisms have had the opportunity to properly adapt to these changes – evolution works on a much longer timescale. Meanwhile, the harmonic movements of the Earth, Moon and Sun have provided reliable cues to Arctic animals for millennia. Many biological events, such as migration, foraging and breeding are highly attuned to their gentle predictability.
In a recent study carried out in the high Arctic archipelago of Svalbard, between mainland Norway and the north pole, the onboard lights of a research vessel were found to affect fish and zooplankton at least 200 metres down. Disturbed by the sudden intrusion of light, the creatures swirling beneath the surface reacted dramatically, with some swimming towards the beam, and others swimming violently away.
It's difficult to predict the effect artificial light from ships newly navigating the ice-free Arctic will have on polar night ecosystems that have known darkness for longer than modern humans have existed. How the rapidly growing human presence in the Arctic will affect the ecosystem is concerning, but there are also unpleasant questions for researchers. If much of the information we've gathered about the Arctic came from scientists stationed on brightly lit boats, how "natural" is the state of the ecosystem we have reported?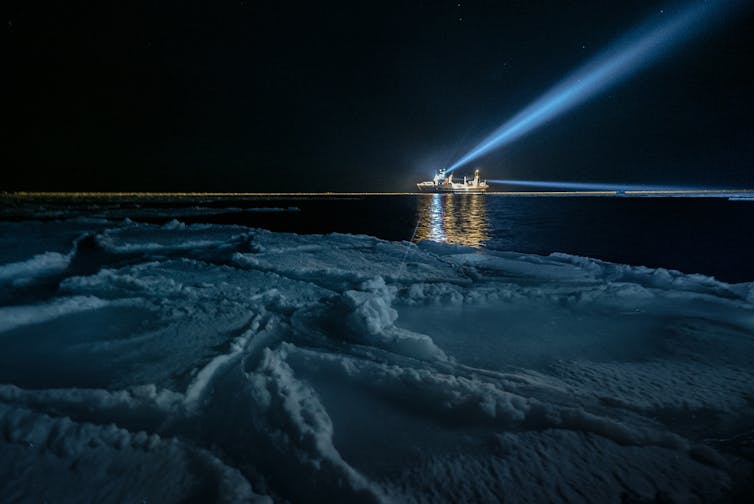 Arctic marine science is about to enter a new era with autonomous and remotely operated platforms, capable of operating without any light, making measurements in complete darkness.
Underwater forests
As sea ice retreats from the shores of Greenland, Norway, North America and Russia, periods with open water are getting longer, and more light is reaching the sea floor. Suddenly, coastal ecosystems that have been hidden under ice for 200,000 years are seeing the light of day. This could be very good news for marine plants like kelp – large brown seaweeds that thrive in cold water with enough light and nutrients.
Anchored to the sea floor and floating with the tide and currents, some species of kelp can grow up to 50 metres (175 feet) – about the same height as Nelson's Column in Trafalgar Square, London. But kelp are typically excluded from the highest latitudes because of the shade cast by sea ice and its scouring effect on the seabed.
These lush underwater forests are set to grow and thrive as sea ice shrinks. Kelp are not a new arrival to the Arctic though. They were once part of the traditional Greenlandic diet, and polar researchers and explorers observed them along northern coasts more than a century ago.
Some species of kelp may have colonised Arctic coasts after the last ice age, or spread out from small pockets where they'd held on. But most kelp forests in the Arctic are smaller and more restricted to patches in deeper waters, compared to the vast swathes of seaweed that line coasts like California's in the US.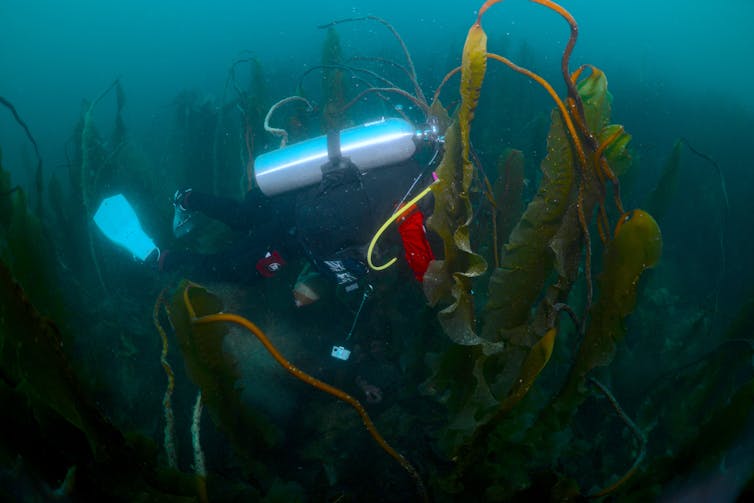 Recent evidence from Norway and Greenland shows kelp forests are already expanding and increasing their ranges poleward, and these ocean plants are expected to get bigger and grow faster as the Arctic warms, creating more nooks for species to live in and around. The full extent of Arctic kelp forests remains largely unseen and uncharted, but modelling can help determine how much they have shifted and grown in the Arctic since the 1950s.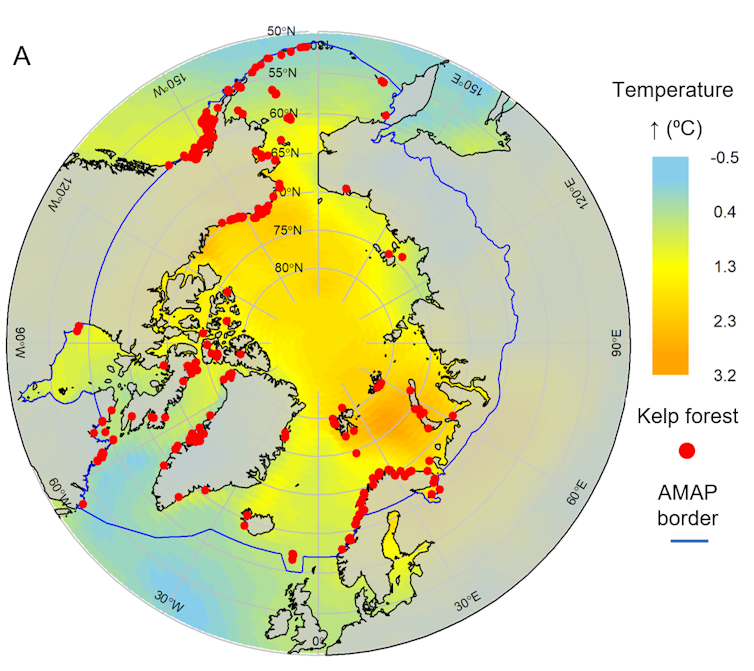 A new carbon sink
Although large seaweeds come in all shapes and sizes, many are remarkably similar to trees, with long, trunk-like but flexible bodies called stipes. The kelp forest canopy is filled with the flat blades like leaves, while holdfasts act like roots by anchoring the seaweed to rocks below.
Some types of Arctic kelp can grow over ten metres and form large and complex canopies suspended in the water column, with a shaded and protected understorey. Much like forests on land, these marine forests provide habitats, nursery areas and feeding grounds for many animals and fish, including cod, pollack, crabs, lobsters and sea urchins.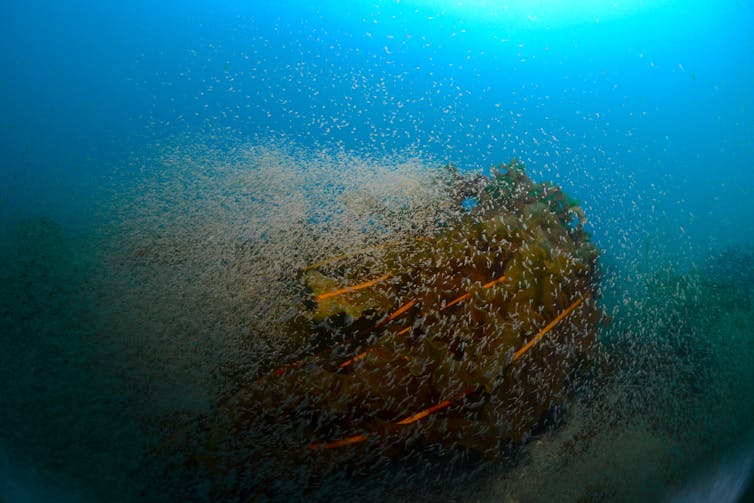 Kelp are fast growers, storing carbon in their leathery tissue as they do. So what does their expansion in the Arctic mean for the global climate? Like restoring forests on land, growing underwater kelp forests can help to slow climate change by diverting carbon from the atmosphere.
Better yet, some kelp material breaks off and is swept out of shallow coastal waters and into the deep ocean where it's effectively removed from the Earth's carbon cycle. Expanding kelp forests along the Earth's extensive Arctic coasts could become a growing carbon sink that captures the CO₂ humans emit and locks it away in the deep sea.
What's happening with kelp in the Arctic is fairly unique – these ocean forests are embattled in most other parts of the world. Overall, the global extent of kelp forests is on a downward trend because of ocean heatwaves, pollution, warming temperatures, and outbreaks of grazers like sea urchins.
Unsurprisingly, it's not all good news. Encroaching kelp forests could push out unique wildlife in the high Arctic. Algae living under the ice will have nowhere to go, and could disappear altogether. More temperate kelp species may replace endemic Arctic kelps such as Laminaria solidungula.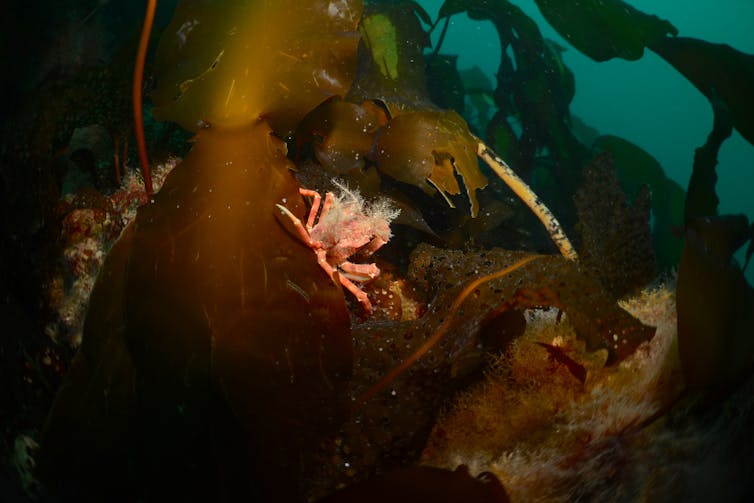 But kelp are just one set of species among many pushing further and deeper into the region as the ice melts.
Arctic invasions
Milne Inlet, on north Baffin Island, Nunavut, Canada, sees more marine traffic than any other port in Arctic Canada. Most days during the open-water period, 300-metre-long ships leave the port laden with iron ore from the nearby Mary River Mine. Between 71 and 82 ships pass through the area annually, most heading to — or coming from ports in northern Europe.
Cruise ships, coast guard vessels, pleasure yachts, research icebreakers, cargo supply ships and rigid inflatable boats full of tourists also glide through the area. Unprecedented warming and declining sea ice has attracted new industries and other activities to the Arctic. Communities like Pond Inlet have seen marine traffic triple in the past two decades.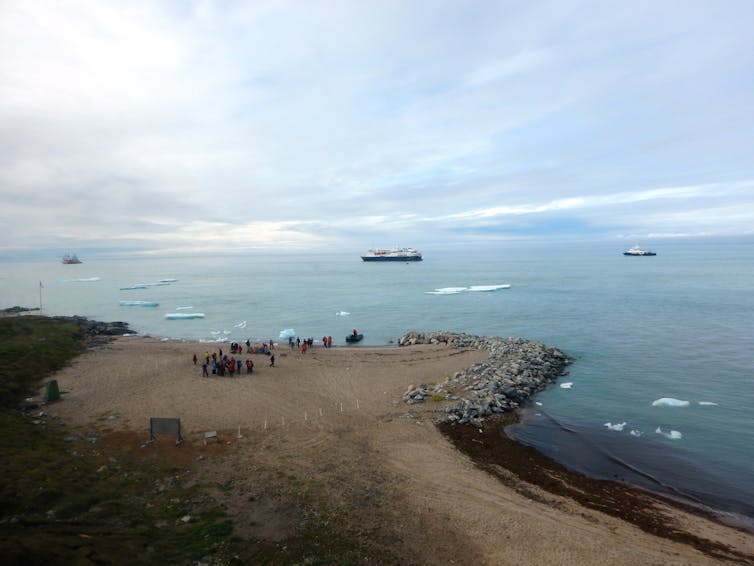 These ships come to the Arctic from all over the world, carrying a host of aquatic hitchhikers picked up in Rotterdam, Hamburg, Dunkirk and elsewhere. These species — some too small to see with the naked eye — are hidden in the ballast water pumped into on-board tanks to stabilise the ship. They also stick to the hull and other outer surfaces, called "biofouling."
Some survive the voyage to the Arctic and are released into the environment when the ballast water is discharged and cargo loaded. Those that maintain their hold on the outer surface may release eggs, sperm or larvae.
Many of these organisms are innocuous, but some may be invasive newcomers that can cause harm. Research in Canada and Norway has already shown non-native invasive species like bay and acorn barnacles can survive ship transits to the Arctic. This raises a risk for Arctic ecosystems given that invasive species are one of the top causes for extinctions worldwide.
Expanded routes
Concern about invasive species extends far beyond the community of Pond Inlet. Around 4 million people live in the Arctic, many of them along the coasts that provide nutrients and critical habitat for a wide array of animals, from Arctic char and ringed seals to polar bear, bowhead whales and millions of migratory birds.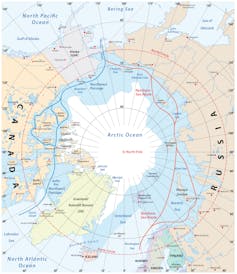 As waters warm, the shipping season is becoming longer, and new routes, like the Northwest Passage and the Northern Sea Route (along Russia's Arctic coast), are opening up. Some researchers expect a trans-Arctic route across the North Pole might be navigable by mid-century. The increased ship traffic magnifies the numbers and kinds of organisms transported into Arctic waters, and the progressively more hospitable conditions improve their odds of survival.
Prevention is the number one way to keep invasive species out of the Arctic. Most ships must treat their ballast water, using chemicals or other processes, and/or exchange it to limit the movement of harmful organisms to new locations. Guidelines also recommend ships use special coatings on the hulls and clean them regularly to prevent biofouling. But these prevention measures are not always reliable, and their efficacy in colder environments is poorly understood.
The next best approach is to detect invaders as soon as possible once they arrive, to improve chances for eradication or suppression. But early detection requires widespread monitoring, which can be challenging in the Arctic. Keeping an eye out for the arrival of a new species can be akin to searching for a needle in a haystack, but northern communities may offer a solution.
Researchers in Norway, Alaska and Canada have found a way to make that search easier by singling out species that have caused harm elsewhere and that could endure Arctic environmental conditions. Nearly two dozen potential invaders show a high chance for taking hold in Arctic Canada.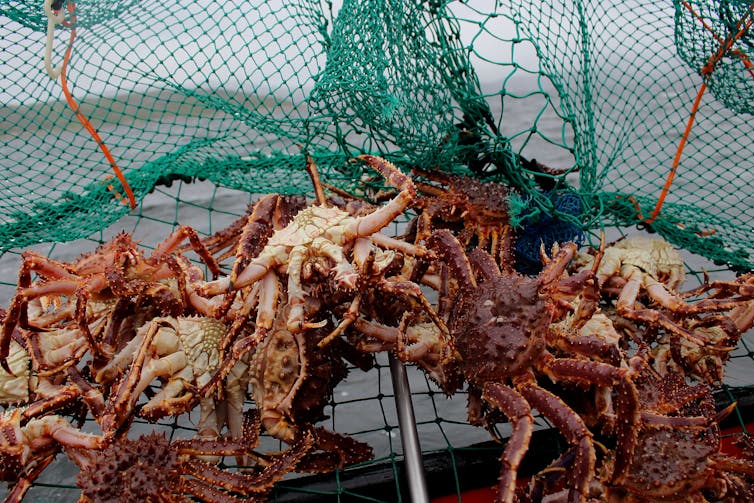 Among these is the cold-adapted red king crab, native to the Sea of Japan, Bering Sea and North Pacific. It was intentionally introduced to the Barents Sea in the 1960s to establish a fishery and is now spreading south along the Norwegian coast and in the White Sea. It is a large, voracious predator implicated in substantial declines of harvested shellfish, sea urchins and other larger, slow moving bottom species, with a high likelihood of surviving transport in ballast water.
Another is the common periwinkle, which ruthlessly grazes on lush aquatic plants in shoreline habitats, leaving behind bare or encrusted rock. It has also introduced a parasite on the east coast of North America that causes black spot disease in fishes, which stresses adult fishes and makes them unpalatable, kills juveniles and causes intestinal damage to birds and mammals that eat them.
Tracking genetic remnants
New species like these could affect the fish and mammals people hunt and eat, if they were to arrive in Pond Inlet. After just a few years of shipping, a handful of possibly non-native species have already been discovered, including the invasive red-gilled mudworm (Marenzellaria viridis), and a potentially invasive tube dwelling amphipod. Both are known to reach high densities, alter the characteristics of the seafloor sediment and compete with native species.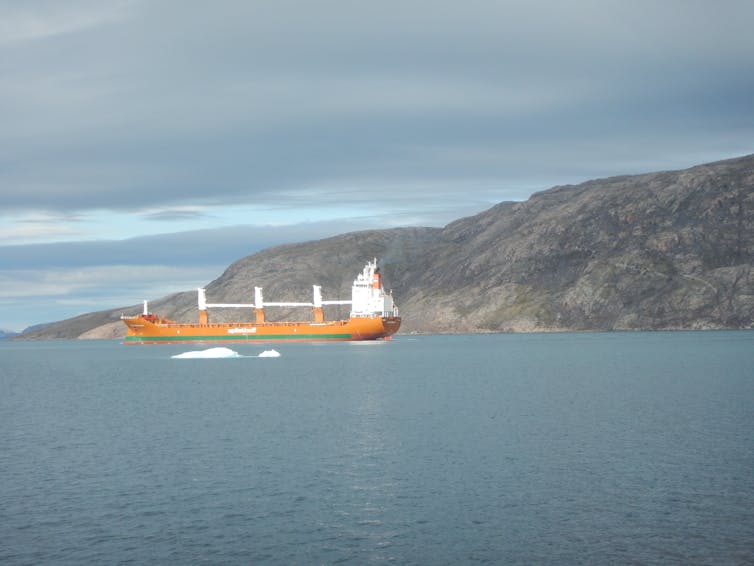 Baffinland, the company that runs the Mary River Mine, is seeking to double its annual output of iron ore. If the expansion proceeds, up to 176 ore carriers will pass through Milne Inlet during the open-water season.
Although the future of Arctic shipping remains uncertain, it's an upward trend that needs to be watched. In Canada, researchers are working with Indigenous partners in communities with high shipping activity — including Churchill, Manitoba; Pond Inlet and Iqaluit in Nunavut; Salluit, Quebec and Nain, Newfoundland — to establish an invasive species monitoring network. One of the approaches includes collecting water and testing it for genetic remnants shed from scales, faeces, sperm and other biological material.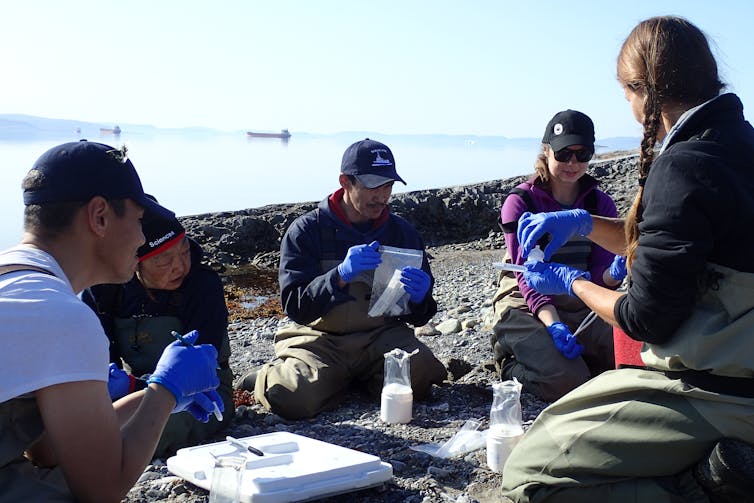 This environmental DNA (eDNA) is easy to collect and can help detect organisms that might otherwise be difficult to capture or are in low abundance. The technique has also improved baseline knowledge of coastal biodiversity in other areas of high shipping, a fundamental step in detecting future change.
Some non-native species have already been detected in the Port of Churchill using eDNA surveillance and other sampling methods, including jellyfish, rainbow smelt and an invasive copepod species.
Efforts are underway to expand the network across the Arctic as part of the Arctic Council's Arctic Invasive Alien Species Strategy to reduce the spread of invasive species.
The Arctic is often called the frontline of the climate crisis, and because of its rapid rate of warming, the region is beset by invasions of all kinds, from new species to new shipping routes. These forces could entirely remake the ocean basin within the lifetimes of people alive today, from frozen, star-lit vistas, populated by unique communities of highly adapted organisms, to something quite different.
The Arctic is changing faster than scientists can document, yet there will be opportunities, such as growing carbon sinks, that could benefit the wildlife and people who live there. Not all changes to our warming world will be wholly negative. In the Arctic, as elsewhere, there are winners and losers.

Jørgen Berge, Vice Dean for Research, Arctic and Marine Biology, University of Tromsø; Carlos Duarte, Adjunct Professor of Marine Ecology, King Abdullah University of Science and Technology; Dorte Krause-Jensen, Professor, Marine Ecology, Aarhus University; Karen Filbee-Dexter, Research Fellow in Marine Ecology, Université Laval; Kimberly Howland, Research Scientist/Adjunct University Professor, Université du Québec à Rimouski (UQAR), and Philippe Archambault, Professor & Scientific Director of ArcticNet, Université Laval
This article is republished from

The Conversation

under a Creative Commons license. Read the

original article.
**

The story of the Indian Ocean was published here in Africa

PORTS & SHIPS

on 7 June 2020 – see HERE.     Similar pieces on the other oceans of the world appeared during the week that has just passed. Today's feature brings this specific

In Conversation

series to a close.
2020-12-14
♦♦♦♦♦♦♦♦♦
News continues below
WHARF TALK: SA Port Statistics for November 2020 are now available here
Port statistics for the month of November 2020

, covering the eight commercial ports under the administration of Transnet National Ports Authority, are now available.

Details of the port throughputs, ships berthed and motor vehicle and container volumes handled can be seen in the tables below.

Statistics involving motor vehicles are measured in vehicle units. These include imports and exports, earth-moving and other ro-ro or wheeled vehicles each qualifying as a single unit.

There has been a marked upswing in port volumes over the last couple of months with several of the ports faring well if compared with November 2019. Had iron and manganese ore exports at Saldanha not taken a 2.032 million tonne 'dip' during November this year when compared to last year, the overall port performance would have equalled that of 2019. The two Eastern Cape ports …
2020-12-13
♦♦♦♦♦♦♦♦♦
News continues below
TRANSNET HALF-YEAR RESULTS IMPACTED BY COVID-19, COMPANY REMAINS CAUTIOUSLY 'OPTIMISITIC'
Transnet SOC Ltd half-year results reveal the impact of the phased lockdowns brought about by the Covid-19 pandemic
Lower demand in rail, container and petroleum volumes, on the back of limited economic activity, saw a decrease in Transnet revenue for the half-year ended 30 September 2020. For the period under review, the company reported R32,0 billion in revenue, down 17,3% when compared to the same period in the previous year.
The general slowdown in economic activity saw a decline in performance of key sectors, including mining and manufacturing. This resulted in the decline of rail (-16,4%) and port (-20,7%) volumes for the period, when compared to the same period in the previous year.
Bulk terminals were operating at reduced capacity during the initial hard lockdown, which weighed heavily on the exports of iron ore, manganese and chrome. During the same period container terminals were equally impacted.
After the initial hard lockdown, output was adversely impacted by regulations that prohibited mines from operating at full capacity in the interest of 'flattening the curve' and protecting the safety of workers.
Port volumes were also impacted by the reduced number of employees at work, due to the effects of positive COVID-19 cases, whilst pipeline volumes were significantly impacted by the total shutdown of airports, imposed travel restrictions, and the negative impact of fuel theft incidents.
However, as restrictions began to ease and demand rebounded, Transnet has experienced month-to-month improvements in performance across key indicators.
During this period Transnet supported the economy by focusing operations on moving essential cargo, decongesting the ports, operationalising container terminals and ports as well as essential rail corridors.
Transnet's costs are largely fixed, which resulted in an EBIDTA of R9,8 billion, a reduction of 47,3% compared to the prior reporting period.
The closure of construction sites and disruptions in procurement supply chains during Level Five of the lockdown resulted in a decline in maintenance with capital investments reduced to R4,9 billion.
Transnet says it is continuing to strike a careful balance between the need to protect its employees during the pandemic, and ensure reliable delivery to its customers.
Transnet raised R11,1 billion in long-term funding for the period from bank loans, development finance institutions and bonds.
The company's gearing ratio at 48,7% and rolling cash interest cover, including working capital changes at 2,5 times, remained within the triggers in loan covenants.
Transnet is a going concern, and has continued to adopt the going concern principle in preparing its financial results.
Outlook
In its outlook, Transnet has started to see improvements in performance in the second half of the year, as a result of growing demand and a rebound in economic activity. As a second wave of the pandemic emerges, Transnet says it will continue to focus its attention on ensuring its employees operate in a safe environment, whilst delivering to its customers.
"At the same time, we are consistently increasing efficiencies and developing a more customer-focused business offering. We are making positive strides in enhancing the efficiency of our procurement processes."
The Transnet SOC Ltd half-year results have been reviewed by the Auditor-General of South Africa, who has issued an unmodified review opinion.
2020-12-13
♦♦♦♦♦♦♦♦♦
News continues below
NATO IN THE MED
NATO trains in the E Med
A Greek-led task group for the current NATO Operation Sea Guardian-focused security patrol conducted training with the Israeli Navy in the eastern Mediterranean Sea on 7 December.
This was part of the third series of what is known as Crystal Sea, a cooperation designed to develop maritime medical support around the Mediterranean for Operation Sea Guardian. Here the aim was to ensure that any health issue among the ships' companies in warships participating in Sea Guardian could be addressed quickly and at the level of care required.
In the words of Vice-Admiral Keith Blount, Commander of NATO Maritime Command: "Israel has been an important partner to NATO for more than 20 years, as well as an active member of NATO's Mediterranean Dialogue.
"Exercises at sea are fundamental in preserving and consolidating that partnership and Crystal Sea is an excellent example."
This year, HS Spetsai (flagship, Greek Navy) and BGS Smeli (Bulgaria) sailed in company with Israeli maritime units Lahav and Romah, to go through challenging medical evacuation and SAR scenarios. Air units were involved to transport the simulated injured personnel to a local Israeli hospital as part of the exercise.
Such cooperation between all NATO partners is greatly valued and this was the third time a naval medical exercise has taken place between the Israeli Navy and NATO forces,
To conclude Rear-Admiral Eyal Harel, Head of Naval Operation, Israeli Navy, commented: "…a joint PASSEX was held between the Israeli Navy and NATO, with the focus on medical cooperation. This exercise included a number of scenarios with increasing complexity that tested both medical and maritime professional standards. We greatly value the cooperation between all NATO partners…"
Operation Sea Guardian (OSG) is a year-round, proactive and forward-looking commitment maintained as a deterrent on terrorism and transnational illegal activities. That of November / December 2020 was the final episode of the year.
Appropriate COVID-19 measures were taken while preparing for the mission and as with previous patrols this year, Hellenic Navy ships' companies were briefed via teleconference from NATO Maritime Command. Several other measures were implemented to ensure crews were able to operate safely carrying out the NATO mission.
This task group consisted of the warships detailed above with the Royal Navy's offshore patrol vessel (OPV) HMS Trent supported by submarines from Greece and Turkey. Maritime Patrol Aircraft (MPA) and Airborne Early Warning units were provided by Greece, Italy, Portugal, Spain, Turkey and the US contributed to the focused patrol with associated air support.
Earlier Standing NATO Mine Countermeasures Group Two (SNMCMG2) visited Malta and conducted training with the Maltese Forces between 27 November and 1 December.
Measures taken to minimise the risk of COVID-19 meant port interactions had to be significantly scaled down. However, engagements at sea were not hampered.
Flagship of this force, HS Aliakmon, trained with a Maltese maritime squadron during a passing exercise on 1 December where seamanship and maritime security drills were conducted. Exercises such as these continue to provide a unique opportunity for NATO and partners to exercise potential real-life scenarios, building on interoperability between both forces.
Edited by Paul Ridgway
London
2020-12-13
♦♦♦♦♦♦♦♦♦
News continues below
WHARF TALK: Durban Port Bulletin News
Moshe Motlohi, Transnet National Ports Authority General Manager reports:

As we begin our much deserved break for 2020, I would like to take this opportunity to thank you for your co-operation and support during the last 12 months. The time you gave towards improving the

Port of Durban

is truly appreciated.
This week we held our last Decongestion Task Team meeting for 2020. This has been a very long year on many fronts. We had to deal with decongestion work, cope with subdued economic environment, and manage in an environment where COVID-19 was on the rampage.
It took a great balancing act from all stakeholders involved in the shipping industry. We had to quickly unlearn hogging of information in favour of collaboration, we had to learn to trust in the goodness of others, and lastly we had to relearn that only when we work together will we prevail over difficulties.
Ban on trucks parking along Maydon Road
With effect 1 February 2021, we will not allow trucks to park along any of the Maydon Wharf roads. We hope the operators in that precinct will use this time to find back of the port staging facilities, where they will be calling trucks in manageable batches.
As we travel cautiously during this season let's arrive alive and stay safe from COVID-19.
On behalf of the committee I would like to pass our heartfelt condolences to Paul Sessions and Peter Besnard who lost a Mother and a sister respectively. I hope that they will find strength in knowing that our prayers are with them and their families during this trying time.
Be safe and remember to keep a safe social distance, always wear your masks, wash your hands with soap and water or alternatively sanitize with an alcohol based solution. Have a great week ahead and until next time.
source: TNPA   2020-12-13
♦♦♦♦♦♦♦♦♦
News continues below
WHARF TALK: Durban Volume & Vessel Call Performance
Yet another week Durban recorded container volumes performing above the targeted budget.
Import cargo remained within budget; however exports and transshipments drove performance for the week.
Major contributors were exports at 61% above budget due to high export of empty containers and transshipments which were well above target by 28%.
Planned vessels called with larger than budgeted parcel sizes (4,754 TEUs budgeted and 4,855 handled on average).
Automotive volumes were below budget this reporting week. This sector is just under target in the period. Imports once again performed well with a total of 4,183 units throughput with exports coming in under in comparison to last week at just over 2,700 units.
Dry Bulk volume were above budget this reporting week. This sector is 6% over budget in reporting week.
It is noted that manganese exports surpassed 77,000 tons for the week with chrome ore totalling 105,221 tons. Fertiliser products performed marginally well in the week.
The break bulk sector performed exceptionally well in the week. Cement bolstered volume in week 37 with just more than 54,000 tons landed in the period. Steel imports also was in healthy territory as just more than 27,000 tons were handled.
Liquid bulk volumes were below budget this week again. SBM and petroleum volumes were 68% and 19% below budget respectively. An SBM vessel was still working cargo and would sail after cut off time. Petroleum vessels carried lower than budgeted parcel sizes. Chemical volumes achieved 40% above budget.
source: TNPA    2020-12-13
♦♦♦♦♦♦♦♦♦
News continues below
WHARF TALK: Cape Town port report
Santa calls early
Santa has called early this year, at least as far as Cape Town is concerned. Maybe being at the foot of Africa he has a long way to travel!
With little in the way of wind disruption to port and terminal working, things appeared to have moved smoothly at the Mother City port, enabling the early arrival of Santa in Cape Town.
On Sunday 13 December SANTA BARBARA sailed for Rotterdam at 0h50, passing SANTA URSULA that had arrived from Algeciras, while SANTA ROSA moved into the outer anchorage following her arrival from Durban.
The tanker build-up reached something of a peak with three vessels in port and another three at anchor. These vessels did not include the ever passing line up for tankers stopping outside for stores and supplies, a daily happening.
Also on Sunday this week, the supertug SA AMANDLA slipped into port after a 24-hour trip from Mossel Bay – no known reason for having been there.
At the same time the diamond mining vessel GARIEP! sailed to anchor at the outer anchorage on the Atlantic seaboard. This impressive vessel has been undergoing a major refurbishing in the port over that few weeks.
Another Sunday 13 December departure, or pair of, involved two offshore supply vessels, sister ships BOURBON RAINBOW and BOURBON CLAM that sailed from Cape Town within an hour of each other bound for Walvis Bay
An arrival on the previous Sunday (6 December), which went unreported, was the passenger-carrying Russian ice breaker KAPITAN DRANITSYN which is returning to Europe from the ice.
The 12,919-gt ice breaker was built in 1980 and completely refurbished in 1999 to accommodate 100 passengers in addition to a crew of 60. Kapitan Dranitsyn is owned and managed by Russia's Rosmorport, a division of the Russian Federation's Ministry of Transport, and is on charter to the Greek operator, Poseidon Expeditions who generally operate her in the Arctic region.
Cape Town reporting by John Hawkins    2020-12-13
♦♦♦♦♦♦♦♦♦
News continues below
GENERAL NEWS REPORTS – UPDATED THROUGH THE DAY
in partnership with – APO
♦♦♦♦♦♦♦♦♦
More News at https://africaports.co.za/category/News/
News continues below
TO ADVERTISE HERE
Request a Rate Card from info@africaports.co.za
EXPECTED SHIP ARRIVALS and SHIPS IN PORT

Port Louis – Indian Ocean gateway port
Ports & Ships publishes regularly updated SHIP MOVEMENT reports including ETAs for ports extending from West Africa to South Africa to East Africa and including Port Louis in Mauritius.
In the case of South Africa's container ports of Durban, Ngqura, Ports Elizabeth and Cape Town links to container Stack Dates are also available.
You can access this information, including the list of ports covered, by going HERE remember to use your BACKSPACE to return to this page.
News continues below
CRUISE NEWS AND NAVAL ACTIVITIES

QM2 in Cape Town. Picture by Ian Shiffman
We publish news about the cruise industry here in the general news section.
Naval News
Similarly you can read our regular Naval News reports and stories here in the general news section.
♦♦♦♦♦♦♦♦♦
THOUGHT FOR THE WEEK
"The old believe everything, the middle-aged suspect everything, the young know everything."
― Anon
♠♠♠
♠♠♠
ADVERTISING
For a Rate Card please contact us at info@africaports.co.za
Don't forget to send us your news and press releases for inclusion in the News Bulletins. Shipping related pictures submitted by readers are always welcome. Email to info@africaports.co.za
TABLE BAY UNDERWAY SHIPPING
SHIP PHOTOGRAPHERS
Colour photographs
and slides for sale of a variety of ships.
Thousands of items listed featuring famous passenger liners of the past to cruise ships of today, freighters, container vessels, tankers, bulkers, naval and research vessels.
P O BOX 809, CAPE TOWN, 8000, SOUTH AFRICA
snai@worldonline.co.za
http://home.worldonline.co.za/~snai